In This Moment/Escape The Fate -
The Grove, Anaheim, California, USA, Saturday, January 24th, 2015
Well it's NAMM weekend and this is the Schecter Guitar Party at the Grove, co-sponsored by Schecter Guitars and Monster Energy- probably one of the best I have ever attended by far.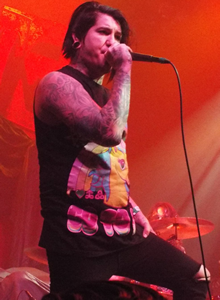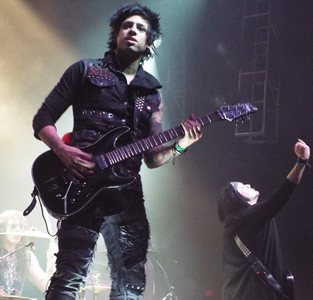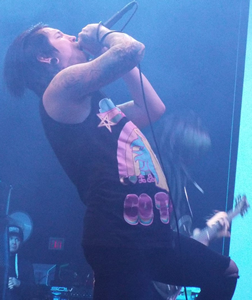 Escape The Fate were a real firm fave with the people who had queued for well over an hour outside who go over really well. They've got the original singer, Craig Mabbitt back in tow so I guess that's why there was so much enthusiasm present in a venue that reminds me of the Hammersmith or Manchester Apollo over here in the UK.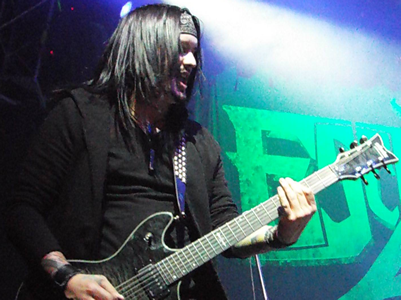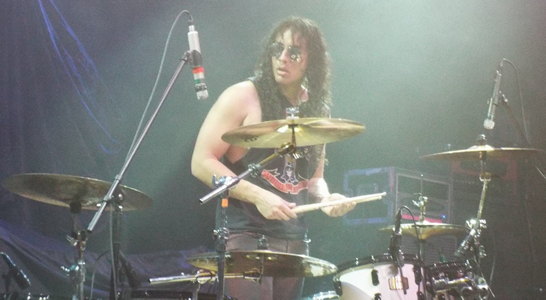 They come across an excellent band, catering to a younger crowd since it was an all-ages show tonight with their fresh and zesty Emo meets Nu-Metal crunchy kinda style with some cookie monster like backing vocals at times. Craig had great powerful pipes, not to mention being a vibrant screamer too - man how does this dude do that and keep his voice in one piece throughout their 45 minute+ set? Pretty incredible! By the way, nice t-shirt Sir! Highlights of ETF's set included the heavy loaded 'Fire It Up' and the melodically laced 'One For The Money' with its catchy chorus.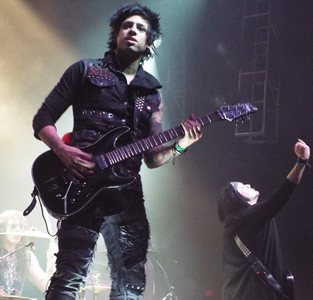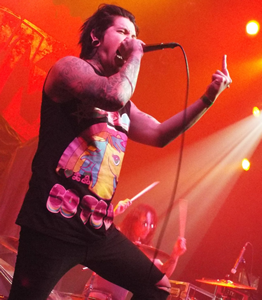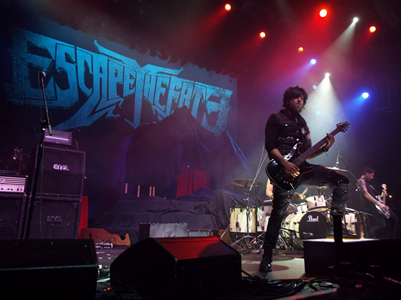 As a support act they made the absolute most of the amount of stage space they were allocated since the main act required loads running about quite a bit and getting the rabid fans going wild. Action packed and hardly let up for a second. It's little wonder that they have such a massive following.
Set List: Intro - The Infection/Sick Like Me/Black Widow/Adrenalize/Sex Metal Barbie/Burn/Into The Light/Fallen Heroes/Big Bad Wolf/Whore.
Encore: Blood.
After first hearing 'In This Moment' via OZZFestAmy, I made a mental note to witness them live some time, therefore I was overjoyed when it turned out they would be headlining this show at the Grove who were definitely one for the adult crowd in here tonight.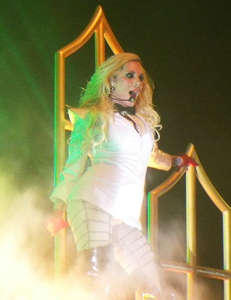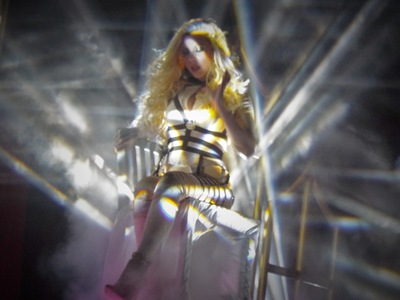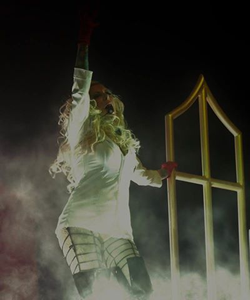 It really is a full-on energetic show or choreographic brilliance with every single move of the band and its two dancers are nailed down to complete and utter perfection. The stage set that frontess, Maria Brink has created is nothing short of a royal spectacle of supreme ringleadership with flamboyant expensive stage costumes worn by the lady and her two female cohorts. The show is made even more atmospheric through excellent use of smoke that when combined with strong lighting made for something visually incredible and almost dream-like.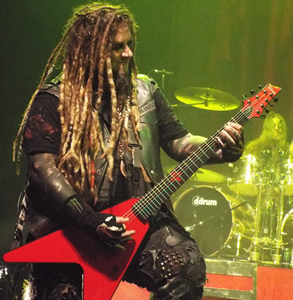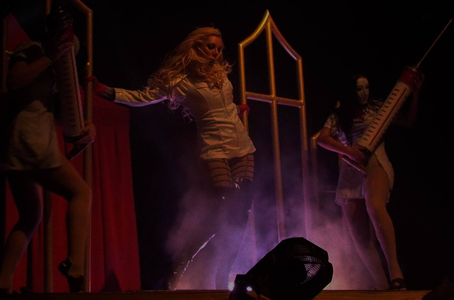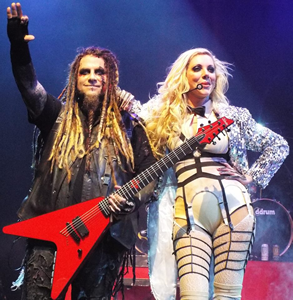 Everything that was happening on that stage complimented totally complimented the strong presence of Miss. B with her dancers at her side at times looking like her slaves. Maria came across on occasions like the singing soul sister head of dominance looking extremely provocative in her garments during the various songs in the set. She made full usage of her vocal headset since a hand-held microphone would prove to be cumbersome and in the way of her stage carousing and general antics overall.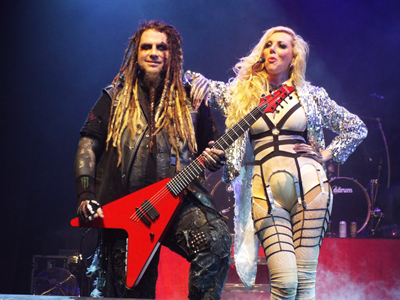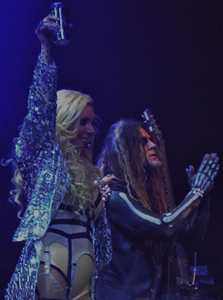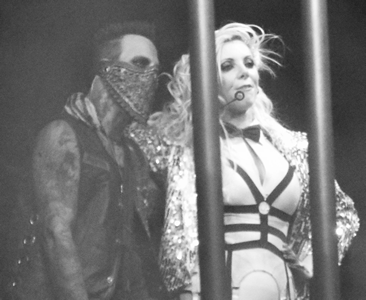 So sassy and sexy to say the least with a change of costume between just about every song as well that worked a treat for the numbers performed. The set contained both light and heavy moments and went from full on loudness to a great ballad performed by Maria alone on the stage.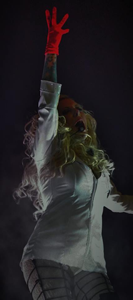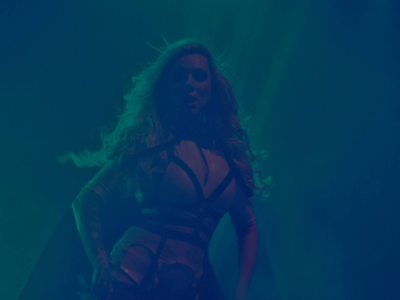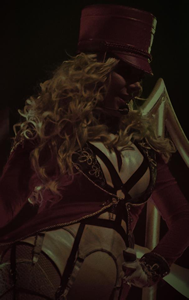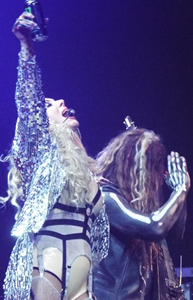 As an audience, we could hear all members of the band really well. What a great mix since no matter how loud the Guitarists (Chris Howarth 'Lead' & Randy Weitzel 'Rhythm'), Bassist (Travis Johnson) and Drummer (Tom Hane) happened to be because their clarity was excellent. They were like ragamuffins to riches when you compared them to Maria but this visually made them stand out more to be honest – a proper metal look going down for real.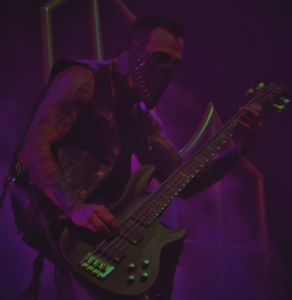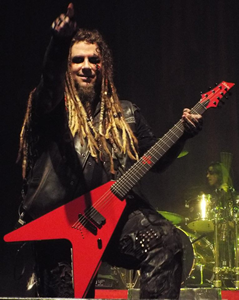 They shined in their own right as a band too and played us a classic instrumental medley of milestones by Pantera, Megadeth, Metallica, much to the delight of the folks in here who were getting down to some serious head-banging and fist-pumping in this segment of the show. This no doubt gave Maria the opportunity to take a well-needed break before returning for the last part of the show the included with the well-loved 'Whore' and finally 'Blood' as the encore. I must say that because I was new to the band I was unfamiliar with the track list so apologies there.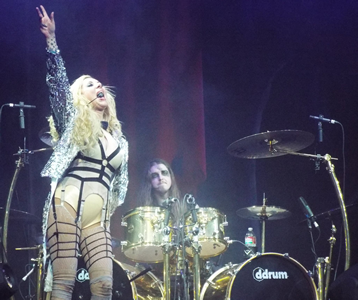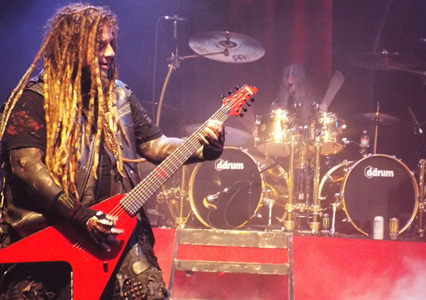 Truly a most excellent choice of bands overall for a 'Schectacular Party' and we would like to thank Skum Love and Schecter Guitars for putting on such an incredible event. It was totally off the chain! We can't wait until NAMM next year – bring it on! Catch Skum as a heavy supporter of the scene in North Hollywood with his Live Band Rahk Karaoke, and other nights that pay tribute to the music we love.
10/10
Review by Glenn Milligan
Photographs by OZZFestAmy
I Am I/Arthemis/Fahran - Corporation, Sheffield, Thursday, October 25th, 2012
Set List: Ascension/Silver Scene/Cynics & Dreamers/Serenade/We See Right Through You/Stay Alive/Ashes.
Anyone remember a band called 'Toxic Federation'? They ring a bell to me. Well they've regrouped and got a new singer and changed their name to Fahran and have been given the opening opportunity on this 'ere small tour that the headliners are doing.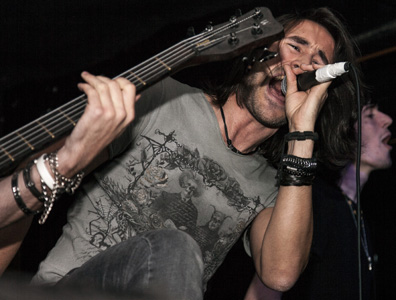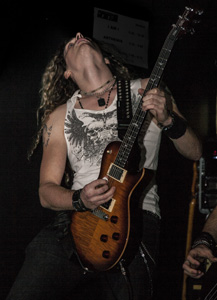 These guys have a heavy hard full-on melodic rock thang going down and we get a good helping of songs that feature on their debut album. Doing a grand job for no doubt their 1st time in the area as a new unit they excite the small gathering in the little room with their fresh songs on offer.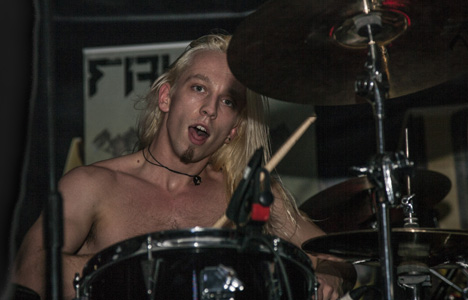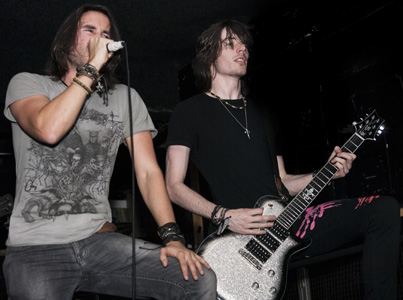 Highlights included atmospheric intro that is 'Ascension'; the ballsy 'Cynics & Dreamers' & the powerful 'Stay Alive'. This band have plenty to give and could do well in this hard to crack environment giving a bit more banter on the stage to prove to be a memorable act to follow.
7.5/10

Next up are a real excellent quartet with plenty of hair that have travelled all the way from Italy to be part of the Tour. The awesome Arthemis confidently fill the room with their own slant of Euro-Metal that has a smattering of killer soloing on both guitar on bass, not to mention some solid slamming on that kit and confident as hell vocals and rapport from frontman.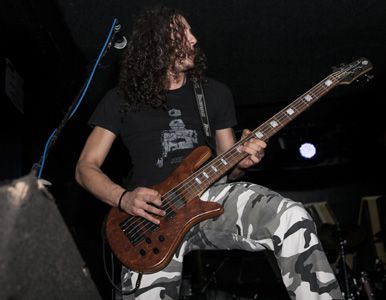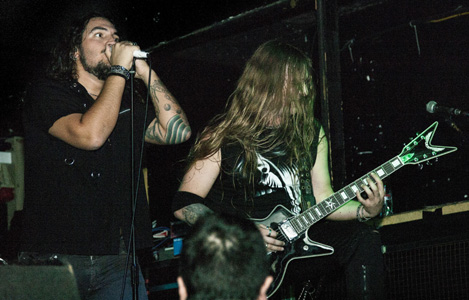 They really lifted up the crowd in here with agressive in your face fast numbers like 'Vortex'; 'We Fight' that have cracking fortceful melodies and machine-gun like obliterating arrangements to them. Holy sh*t what a set of pipes this dude has.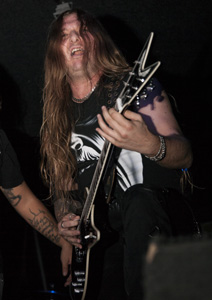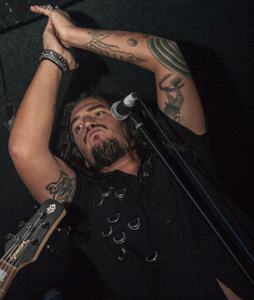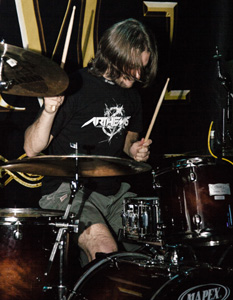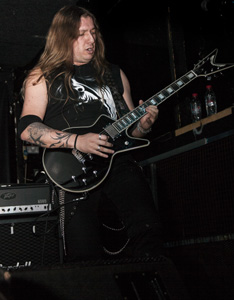 With a few more tours over here these guys should put Italy on the Metal Map!
9/10
Set List: This Is My Life/In The Air Tonight/Cross The Line/Dust 2 Dust/Pave The Way/Stay A While/Inside Of Me/Kiss Of Judas/Wasted Wonders.
Encore: You're The Voice/Silent Genocide.
Well I've seen the frontman of I AM I on the main stage at Download Festival at Donington Park since, Z P Theart previously was the voice of Dragonforce. I must that this band is way more entertaining than that unit as there is way more soul and emotion than his previous band had. Also for the Rock hoards out there, you may recognise the drummer too Phil Martini who provided the backbeat for Tokyo Dragons, Quireboys and also part of The Union and Joe Elliots Down 'N' Outs too.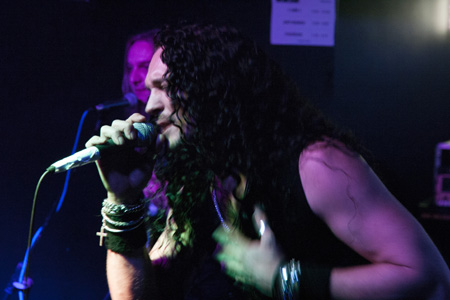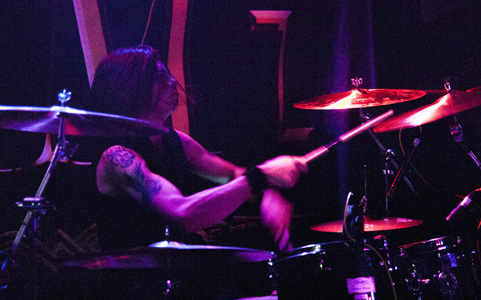 It's their first ever tour of the UK and this is their 5th gig ever and I feel we priviledged to see them here in Sheffield in such an incredibly intimate setting. Mr. Theart chats away to members of the crowd while on stage, coming down and giving us whisky that's poured directly into our very mouths, not to mention handshakes, handslaps and a cool as hell, laid back, what the hell way about him. He's been there, he's done it and he has the CV and stamina to prove it too.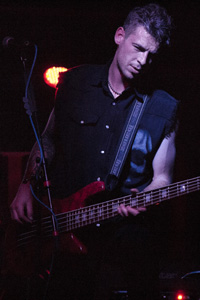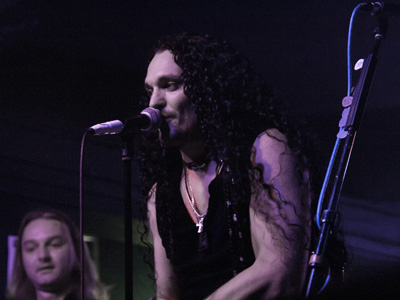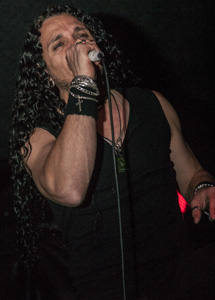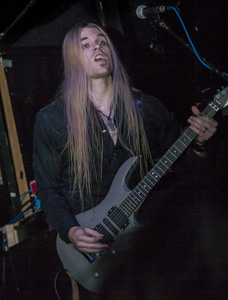 Without sounding too cliched, this band are simply on fire up their and warm us up to top heat with soon to be anthems such as the opening deadset classic 'This Is My Life'; 'Cross The Line' and 'Kiss Of Judas'. The real standout for the show was the hardly ever heard John Farnham classic 'You're The Voice' that astounded us all in the encore.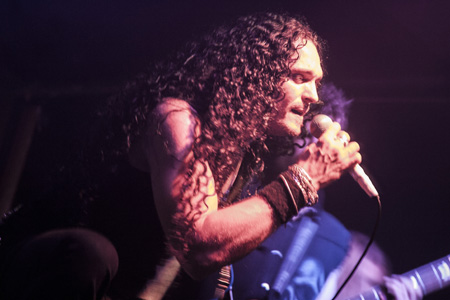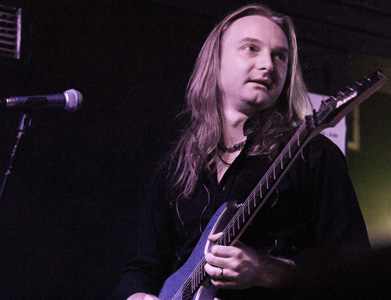 They nail the number perfectly and get everyone singing at the top of their voices to that momentous chorus - man I remember it coming out around 1985 - seems like yesterday. Photographer, Nigel even said it was better than the original and I must agree with him there.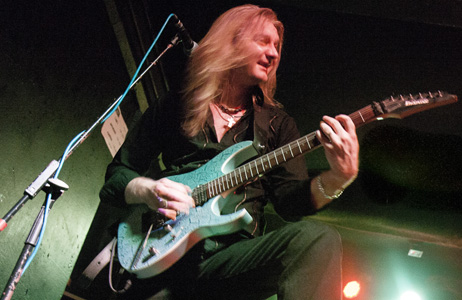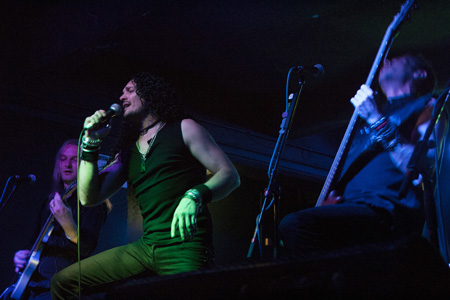 The very impressive 'Silent Genocide' shoots 'n' blows off the last few minutes of their time up there on the stage with rapturous applause from us all but the guys are straight down to meet their fans, have photos and sign autographs.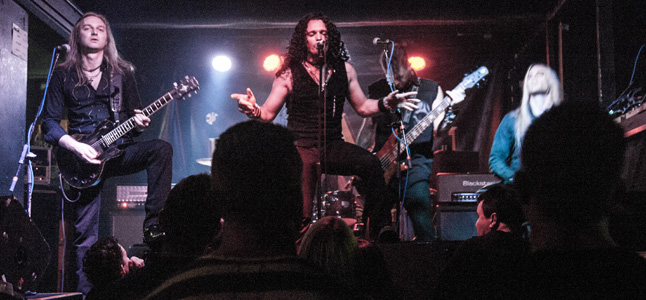 Believe me, this band are gonna be big.
10/10
Review By Glenn Milligan
Pictures by Nigel James
Invisible Idols – O2 Academy 2, Sheffield, Thursday 27th August, 2009
Well it's a toss-up between watching 'Mock The Week' on BBC 2 or checking out these guys and since Mock' can be watched on BBC I-Player I decided on Invisible Idols – only kiddin' - I'd been looking forward to seeing the Wombwell, Barnsley 3-piece for a good few week. Knowing hardly anything about them apart from frontman Matt Black working with Zal from SAHB, I thought I'd give them a butchers. Most of their fans were bussed in on 2 white coaches from Barnsley so it was a kinda home crowd in a Sheffield venue as I only knew 2 other peeps at the venue.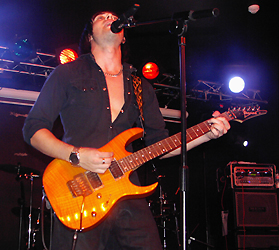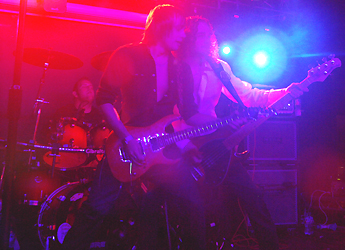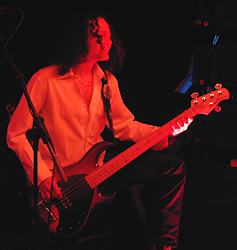 They hit the stage and opened up with one hell of a powerful rocking number that Matt informed me was called 'Right Now' that got the place up for it straight away. Keeping them on their toes – well there ain't many seats in that venue so they didn't have much choice, we were presented with a perfect cover of Queen's 'Tie Your Mother Down' and a slower number of their own 'No More Lies' that Matt said took hours to write.. I gotta say that it's evident how strong the vocals are and how tight a unit the trio is.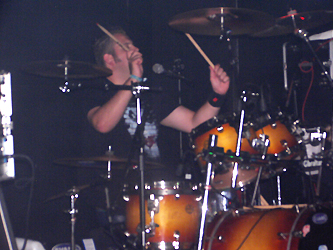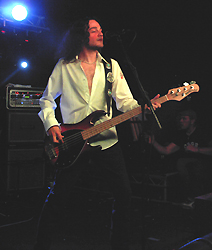 Since their orginal drummer left about 2 weeks ago a lot of the orginal material unfortunately had to be shelved so we got many covers tonight and armed with only an acoustic we were asked if there were any Def Leppard fans in and were given a brilliant 'Miss You In A Heartbeat' where the vocals were a lot better than Mr. Elliott's. After keeping to acoustic for 2 more ballads – 'Watch Over You' and new number, 'The Last Kiss' – not to be confused with a similar titled number by Pretty Boy Floyd. It did break the strong worked-up vibe of the set with 3 acoustic numbers so early in the set and would have been better later on.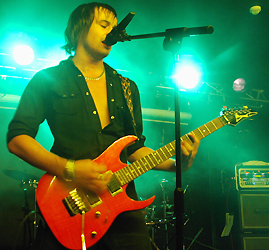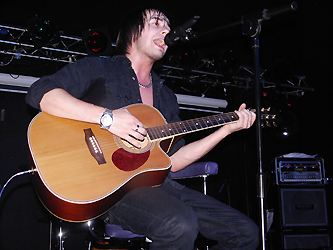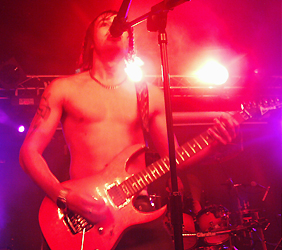 Bassist, Joe Lally got chance shine his bass moves next with a solo that included snippets of The Beatles 'Eleanor Rigby'; The Rolling Stones 'Paint It Black' and U2's 'With Or Without You that saw the other 2 guys take the stage again for a full version of the song. New Drummer, Lee Brook also got chance to solo a bit too much to his delight. Roadhouse Blues' was a great pub rock choice – a number by The Doors that Status Quo revamped later before I was pleased to hear an original song called 'Highway Child' – a real ballsy rocker that stood it's ground with the opener 'Right Now', not to mention 'Dance with The Devil' as well.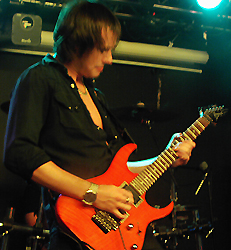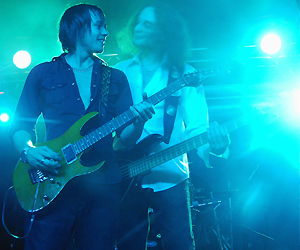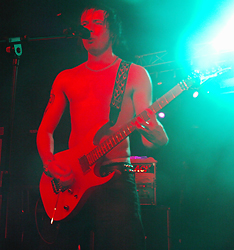 'If You Love Me' came over as a decent poppy rocker that has some milage in it with the band shutting the show down with Led Zep's 'Rock 'n' Roll'; a little heard Von Groove killer cut 'Once Is Not Enough' and encoring with Deep Purple's 'Hush'. Love the dual poses from Matt & Joe and the great confidence that all 3 showed for their 1st ever gig in Steel City.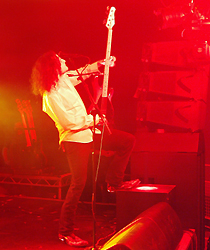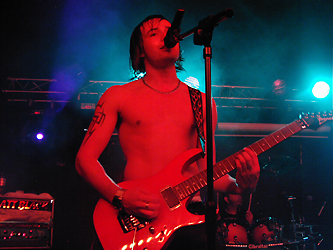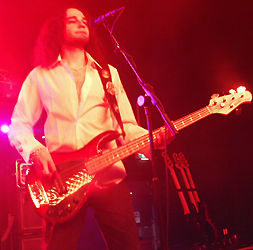 Decent local band – looking forward to seeing them play again with a set compiled of more original material.
7.5/10
By Glenn Milligan

IN FLAMES/Gojira/Sonic Syndicate -
BIRMINGHAM ACADEMY, 27th September 2008
Sonic Syndicate - 7:20-7:50
A remarkable evening at the Academy began in rather inauspicious style with the dull pop-metal of Sweden's Sonic Syndicate. Coming from the Avenged Bullet for my Prophets Funeral school, we were entertained by thirty minutes of generic pap. The sooner this Littlewoods catalogue model metal becomes unfashionable the better. At least pretty bass player Karin Axelsson gave us something to look at.
3/10
Gojira - 8:00 – 8:45
Ocean Planet/Backbone/Remembrance/Clone/Flying Whales/In the Wilderness/The Silver Cord/Drum Solo/Heaviest Matter of the Universe.
Hats off to the road crew, who changed over in 10 minutes! Time enough to be annoyed by the t-shirt prices, which have risen to 20 pounds – this is silly. Regular readers will be away of my contempt for anything French. That was suspended for the brilliant performance by Bayenne's Gojira, who treated us to a dazzling display of brutal death metal.
Making full use if the excellent lighting, Gojira took us through most of 'From Mars to Sirius', and gave us a soupcon of the new CD, which sounds even better than the last one. I hope that this lot come back on their own soon, they were fantastic.
9/10
In Flames - 9:15 – 10:50
The Chosen Pessimist/I'm the Highway/Vanishing Light/The Mirror's Truth/Bottled/Satellites & Astronauts/System/Pinball Map/Delight & Angers/Sleepless Again/Zombie Inc./Cloud Connected/Dead Eternity/The Jester Race/My Sweet Shadow/Come Clarity/The Quiet Place/Move through Me/Alias/Trigger/Take This Life.
The first of many surprises in the In Flames set came with the white curtain which was lowered to cover the stage. In the two years since the Slayer tour, the Gothenburg lads have taken a hard look at their set list and came up with a radical rethink. Not that there was anything wrong with the old set.
Starting with an eight minute slow song and playing behind the curtain was a brave move, but it worked and the crowd went suitably crazy went the curtain dropped mid-song. Anders Fridén was his normal shy self, and had the crowd following his every move. The ninety-five minute set, which featured an amazing light slow including a gorgeous backdrop, was full of surprises, included the best from the new CD and numerous rarely (or never) played classics.
Some of the between song pauses were rather long, but it was only the second show of the world tour, and all-in-all it was a tremendous performance. No encore – is this becoming the fashion or something?
9/10
By Roy Evans

IRON MAIDEN/Trivium/Lauren Harris –
Hallam FM Arena, Sheffield, Monday 18th December 2006


Like as if 2003 never went, our beloved blighty's no.1 metalmeisters make their way to steel city at Christmas, once again on the back of another blinding album. The difference from three years ago is that they've decided to bring the family along with them, and that's on the bill itself this time.

Steve Harris daughter Lauren opens up tonight's dealings with twenty-seven minutes of typically sass-laden eighties rock that has a few modern turns but it impresses whichever way and even though the punters were probably hoping for something heavier, there's all cheers and very few boos. Steve should be proud.

When Funeral for a Friend showed up with the Iron Men last time, the audience were less charitable and I'm a little worried as to how current heroes Trivium are going to be taken, considering they are quite a screamy lot themselves. Consdering the size of their following however, they do inevitably fare better than the Welsh fivesome did – their old-school sound with a lot of Metallica, Testament and a smidgen of Maiden essence itself in the recipe that constructs their crushing metal style.

12,000 noisy spectators suitably warmed up, the might Maiden make their way on and confirm rumours of a full playing of their incredible new disc 'Matter Of Life And Death', with their devastating double attack of 'Different World' and 'These Colours Don't Run', the former also an imminent single.

Released two months earlier in relation to the tour than 'Dance Of Death' was gives the fans a few more weeks to learn the words which is handy if you're wanting to avoid yawning one's way through the first 75 minutes of the show. Such people should be ashamed of themselves too, the songs are even more powerful than you'd imagine live, especially with the justice Dickinson's range does the high notes tonight, so it's just as well that he saves his voice for his initial natter with the gathered throngs til five songs in.

Ever the worldy fellow he is, he hasn't ignored the fact that the tour has sold out and that 'A Matter Of…..' is their fastest selling album of all time as he makes clear in due course and inevitable applause is due. Applause that stays for the other five cut, especially 'Reincarnation Of Benjamin Breeg', probably one of the heaviest songs they have done, with a crunching beat that turns it into a beefier version of 'Stranger In A Strange Land' on stage. Closing epic 'The Legacy' sounds way quicker than the nine-and-a-half minutes it lasts on record but at least that means the older fans can hear the classics sooner.

And so on to 'Fear Of The Dark', the last song that Dickinson sung before disappearing for five years in the nineties. Ever a crowd pleaser, it appears to be more worthy of retaining on the limited space left on the set than their two biggest hits of all time as 'number of The Beast' and 'Run To The Hills' have both to all disbelief failed to find a place in the list tonight. The army bunker-themed stage set, based on the cover of their latest lp sees an extra addition as 'Iron Maiden' tself comes to a close with a giant tank rising from behind the sandbags, pointing straight in our direction with Eddie rising from the hatch.

The words 'Iron Maiden's gonna get you, no matter how far' about to take an near-literal turn, the lads themselves disappear stage right for two minutes but everyone knows they ain't done yet. They may have sacrificed their two immortal anthems this evening but they couldn't get away with not giving us 'Two minutes To Midnight' or the 'Evil That Men Do' could they. Me zinks the capacity of this venue would have gone mental in a rather different way if that were so, and the most noise is still saved for closing classic 'Hallowed Be Thy Name, the only song from '….Beast' we will hear today.

Saying their goodnights, Messrs Dickinson, Harris, Smith, McBrain, Gers and Murray disappear into the depths once again, and though most stay put, the loudest boos of the night are reserved for the lack of a further encore. Not the most memorable concert they have put on, it is still a less than easy one to forget but I do think playing all of an album only just out is a dodgy move if they are expecting everyone to sing along. While countless many, including Metalliville, have praised 'A.M.O.L.A.D.' for it is indeed a belter Maiden are still best advised not to do it at the expense of the songs that got them to where they stand today as it does, I feel, do a mere injustice to the veteran followers who have supported them for all of the last thirty years.

The only weakness of the set, the Maiden still of course however played their Iron-clad backsides off throughout the entire of the two-hours and here's to hoping it can be two years and not three before we can do it all again as they say in the program, you are indeed in a different world when you listen to these chaps.

A world that should beckon more often.

9/10

By Dave Attrill
IRON MAIDEN/Trivium/Lauren Harris –
The NEC, Birmingham, 12th December, 2006
Main Set - Different World, These Colours Don't Run, Brighter Than A Thousand Suns, The Pilgrim, The Longest Day, Out Of The Shadows, The Reincarnation of Benjamin Breeg, For the Greater Good Of God, Lord Of Light, The Legacy, Fear Of The Dark, Iron Maiden.
Encore - 2 Minutes To Midnight, The Evil That Men Do, Hallowed Be Thy Name
Well, Yes did it. Genesis did it, as did Elton John, Camel, Jethro Tull and Marillion (the Steve Hogarth version). They all at one time or another played the whole of their latest release in sequence, to largely bewildered crowds.
Now it was the turn of Iron Maiden to perform all 75 minutes of 'A Matter Of Life and Death' in a row, but more of that later.
The evening began with 35 minutes of bland hard rock from Lauren Harris. As she is Steve Harris's daughter, she can play on any Iron Maiden bill she likes. Not wildly inspiring, but quite attractive.
Trivium were massively promoted in 2005, and this was my first opportunity to see these US Metallica clones. I was actually pleasantly surprised, as their 45 minute set was varied and exciting. Now that the press has left them alone a little, they can stand or fall on their own merit, and they are far better than I imagined.
Dead on 9 o'clock the familiar strains of UFO's 'Doctor Doctor' came over the pa, and I was surprised how few attendees recognised that this has ALWAYS been the Maiden's warm up number, since, well, about 1936.
Sure enough on they came to a superb war-themed set complete with dead parachutist. Launching straight into 'Different World', for the next hour and a quarter you got the new album. All of it. Although there were times when I yearned for a 'Run To The Hills', the band's passion for the new material carried them through. Jannick Gers in particular was absolutely superb. The Dickinson cobblers for tonight was a moan about not reaching number one in the UK, because Bob Dylan's album came same week.
Strange fellow, but he sang consistently throughout. Dave Murray seemed a little out of sorts tonight, he seems to fit least successfully into the three guitar line up; he did contribute some decent solos though. Steve Harris was great. When isn't he? Ada and Nicko were their usual dependable selves.
After a couple of old numbers, they were off, but not before Eddie had entered the stage on a giant tank. As ever they played three encores, but no 'Hills' or 'Beast'. Brave fellows, but they could do little wrong for the sell-out crowd.
By Roy Evans

In Flames/Sepultura/Dagoba -
Birmingham Academy,Birmingham, UK 26th March, 2006
The night started with an entertaining half-an-hour from French band Dagoba, who despite having heard rather too many Machine Head albums for their own good, put on a ferocious display of Death Metal.
It has been sixteen years since I last saw Sepultura so initially singer Derrick Green came as something of a shock. It was a brave move replacing Max Cavalera with a giant American Rasta, and Green acquits himself well. There was a stand-in drummer for this tour as well, but he was damn good whoever he was.
Unfamiliar as I am with the band's recent material, I enjoyed the songs they did from 'Roorback' and 'Dante's 21. They did not have the classic Sepultura feel, but their versions of the old material such 'Refuse/Resist', 'Arise' and 'Roots Bloody Roots' were all superb. The crowd loved them, demanding a encore after their 50 minute set (We didn't gt one though).

In Flames Set list- Intro : Your Bedtime Story Is Scaring Everyone; Pinball Map; Leeches; System; Trigger; Behind Space; Colony; Black & White; Crawl Through Knives; Take This Life; Come Clarity; Scream; Cloud Connected; Drifter; Moonshield; Only For The Weak; The Quiet Place; My Sweet Shadow. Enc: Episode 666, Touch of Red.
In Flames are gradually becoming one of my favourite bands, and after the excellent new CD 'Coe Clarity'I was expecting a lot from tonight - I certainly got it, as Gothenburg's fab five demolished Birmingham Academy with a ninety minute exercise in controlled brutality. Anders Friden looked a bit of a dick as usual with a big red tie, but he has dropped his desire to be Jonathan Davis, a good thing for all I think. Anders was on wonderful form all night, and the band played a blinder. Not content to just toss us a few well-known tunes to go with the songs from the new album, the band dug deep into their back catalogue to find some little heard beauties - I could not believe that they played the wonderful 'Moonshield' from 'Jester Race'.

Finishing the set with the popular Soundtrack… song 'My Sweet Shadow', there was time even with the Sunday curfew for a couple of encores and the 800-strong crowd filed out happy. Not a sellout, but In Flames are still growing, which is impressive after eight albums.
10/10
By Roy Evans

Iced Earth -
House of Blues, Lake Beuna Vista, Orlando, Fl. USA, Wednesaday May 5th, 2004
Under no circumstances must you ever try and get to 'The House of Blues' via local bus - over 3 f*cking hours it took me and that's no exaggeration to get there - two standard ones and three bl**ding Disney buses - cheers Walter. No direct route to this cracking venue makes no sense to me whatsover - and it caused me to miss both support bands - Children of Bodom and the excellent Power Metal band, Evergrey - a diabolical tragedy. Thank the lord I made it in time for the headliners - Iced Earth who I've wanted to witness for a couple of years after hearing the 'Horrow Show' album (reviewed a while ago in the I section of CD Reviews.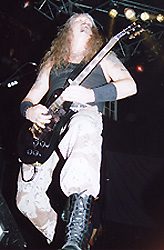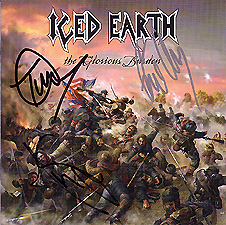 A change in line-up, most notably ex-Judas Priest frontman, Tim (don't call him 'Ripper' anymore) Owens and the recent stickman change also who happens to be a mate of one of the guys also taking pix tonight. Guess what, The H.O.B. is completely packed and no wonder - is it to do with the frontman being part of the realm or simply because the band is big in this Southern US State - one can never tell. Anyway, the Iced Earth/Judas Priest fans go wild in here shouting out to band-leader Lead/Rhythm Guitarist, Jon Schaffer and cries of 'Ripper' to Tim Owens - what a voice he has, what a voice when he rips (scuse the pun) into songs from new album 'The Glorious Burden' such as 'Declaration Day' and 'Hollow Man' 'When the Eagle Cries'. This must be one of the tightest bands of the Metal Age that I have ever seen (no joke there either) and all seem in great mood as well.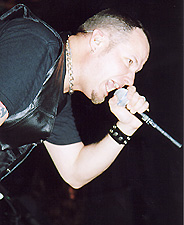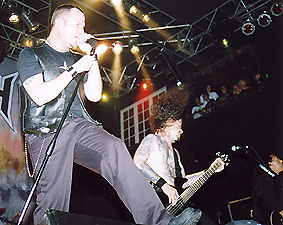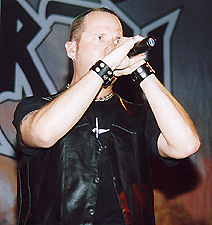 'How about something from 'Horrow Show?', Mr. Owens asks -As if they'd say 'No' and we were greeted with a blistering 'Frankenstien' - much to everyones approval. This set was a blistering Metal ecstasy from start to finish which saw the 'Earth visit the past with their band signature tune (well Sabbath and Maiden did it didn't they) - yes of course, the heavy classic 'Iced Earth'comes pouring out the PA. The biggest highlight of the show came in 'Gettysburg (1863)' - being perfomed in its entirety. The band even had a costume change and came on dressed in authentic USA and Confederate clothing - most natably with Jon dressed as a Rebel General. Pity the Prague Orchestra intro kept cutting out - much all's embarrassment - not to worry as this was soon forgotten when Part One 'The Devil to Pay Kicked In' with the intensity of the new live epic blowing everyones mind'. Now this was a song that was completely unmatchable and the only way to bring the night to an end especially in the Southern State of Florida.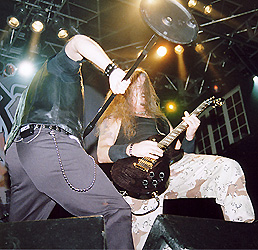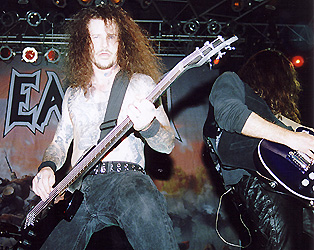 Afterwards quite a number of us stayed back and met the band - a cool set of guys- not to say impeccable performers - if a chance arises to witness Iced Earth live make sure you take it - I travelled over four thousand miles for the priviledge and every inch of the journey was well travelling time well spent indeed.
10/10
By Glenn Milligan
IRON MAIDEN + Funeral For A Friend -
Sheffield Hallam FM Arena,Saturday December 6th 2003
Iron Maiden have a very unhealthy habit of visiting sheffield on only every alternate UK trek, or put another way, every five years. And even then, this is their first appearance at the Arena for a decade, the lull in their popularity during the Blaze Bayley regime confining their '98 show to the City Hall amongst the smaller venues they were playing across the island at that time.
Having a new metal act - or whatever category this lot come under - as support was as likely to be about as popular as a paper teacup with a hall of 12, 000 Maidenites, but Welsh fivesome Funeral For A Friend proved me wrong, their BoySetsFire-esque brand of melodic skatecore metal finding plenty of new fans this evening. Perhaps it's because a lot of the songs were about Orcs as their frontman introduced almost every number. I wonder if doing a few about Frodo Baggins might have made them even more popular.
Enter the headliners themselves and this is the first time the Steel City has been graced with their current six-strong formation. Kicking off, after a typically spooky intro tape, with recent single 'Wildest Dreams', the show that everybody has been waiting for since 1993 is finally in full swing and a triple-header of three of their all-time classics 'Wrathchild', 'Can I Play With Madness' and 'The Trooper' wait right behind and jump on the heads of any disbelievers from a very high angle.
'Dance Of Death' is one of another four numbers from recent like-named album which like predecessor 'Brave New World', re-established Bruce Dickinson as one of the world's greatest metal voices and it's a pity that only the title track is played from the aforementioned tonight, not even The 'Wicker Man' shows up on the set list. What is though is 'Lord Of The Flies' the only Blaze-era number, which Bruce does a terrific job of by raising the vocal line an octave, making it sound better than it ever tried to be on record. The classics are back before too long though. 'Hallowed Be Thy Name' and 'Fear Of The Dark' both seven minutes long and both evil as hell have all those leather clad fists connecting repeatedly with the air and several thousand voices in unison sounding like the world's biggest accapella act, before the history books are delved as far back into as can go with 'Iron Maiden' itself.
The band are already into the encores by the next three numbers, beginning with 'Journeyman', a very catch Celtic-oriented number from the latest disc but learning the words seems not to prove too difficult for those in tonight - is this likely to be one of your singles, lads? The two songs everyone has been waiting for follow, 'Number Of The Beast', an establishment in Maiden shows since 1982 and no live set from the Iron Men is one without 'Run To The Hills', the gathering sent appropriately ape-poop on both. Then the lads vanish into the back again, And this time, despite us waiting for several minutes, eventually fail to re-appear, the lights coming on cueing an deafening arena-full of booing after a show lasting only 1 hr 40 min, and the obligatory PA airing of 'Always Look On The Bright Side Of Life' (well, we'll try to).
That put aside, what is rumoured to be their last arena tour was valued all the same in attending and I hope that they continue to play in venues of some size at least as well as make continue to make great Iron Maiden records as they have done for the last 23 years - and as Bruce promises they will.
The best Saturday night a metal-fan could wish for.
9/10
By Dave Attrill