Last In Line/Inglorious – Corporation, Sheffield, Friday December 2nd, 2016
Set List: Until I Die/Breakaway/I Surrender/High Flying Gypsy/Warning/Fool For Your Loving/No Good For You/Girl Got A Gun/Inglorious/Holy Water/Unaware.
So outside on this Sheffield night it's absolutely pouring with rain – it had ironically been dry all day but the heaven's decided to open when Corporation did – thanks for that!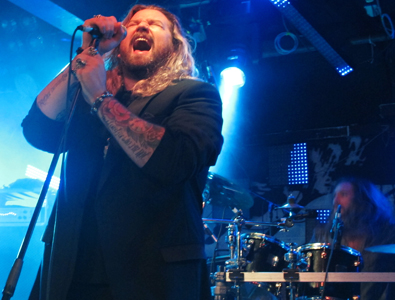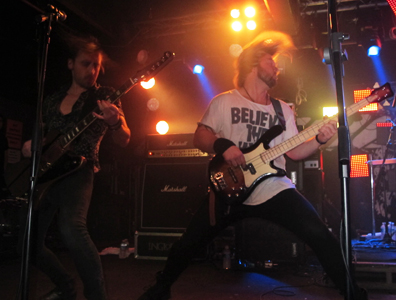 Oh well inside the venue it is well, as we say over here on this side of the pond, pretty rammed tight full of folk – "Rock Is Dead?" Exclaims my buddy, Nic Rudd in utter disbelief! Well it certain isn't in this venue tonight for these two bands who have built quite a huge reputation in the time they've been together.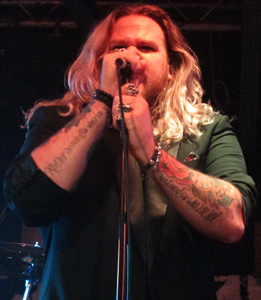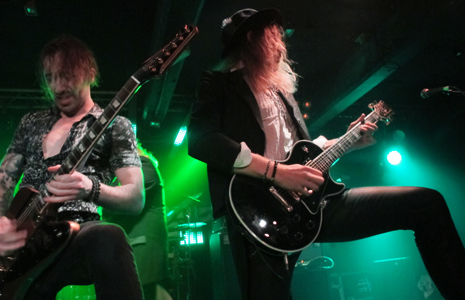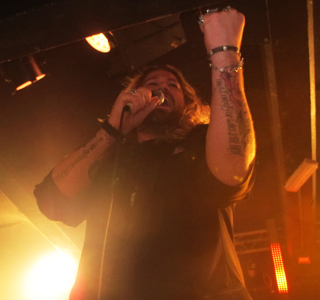 Inglorious made up of Nathan James (Lead Vocals); Andreas Eriksson (Lead Guitar); Wil Taylor (Guitar); Colin Parkinson (Bassist) and Phil Beaver (Drums) completely blew mind as soon as they cranked up – what a voice Nathan has – hitting the highs with beautiful tone and clarity – definitely a guy who brings the chops stylings of Coverdale, Gillan and Turner to the younger crowed and amazing us all with his vocal prowess!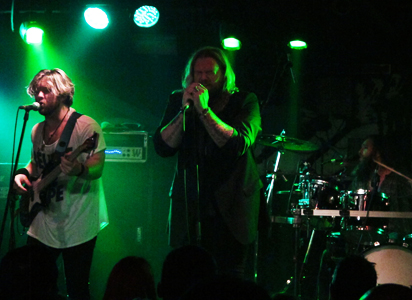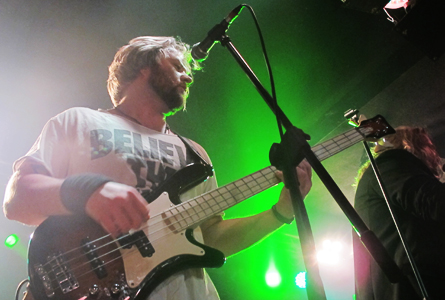 With one album out and another one on the way very soon they really show that they are one of the best new UK Rock bands around giving it their all on some amazing original songs like 'Holy Water' the self titled 'Inglorious' from the debut of the same name having a big Alice In Chains feel too it! Marvellous choices!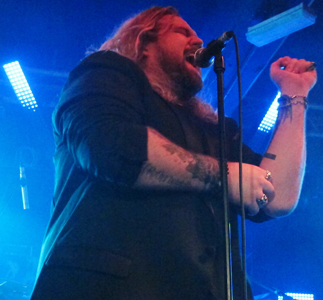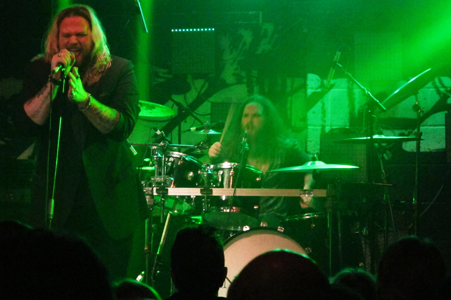 The covers of 'I Surrender' and 'Fool For Your Loving' were nothing but perfect in every way possible, with Mr. Coverdale saying how much he liked the cover of his 'Snake song – now that's a compliment! Little wonder why as well! Nathan said he hates the bit that is a solo vocal in David's well known classic but nails it with no worries at all – this guy needs no Memorex safety net!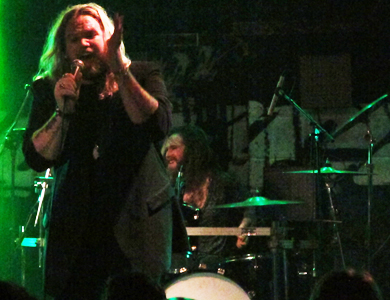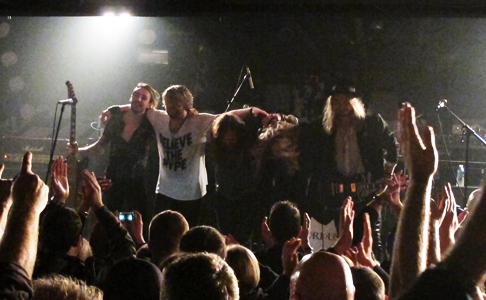 There was some sing-along action with this band and plenty in here waling along to their own material too! One of the best support bands or should I say co-headline bands I have ever had the joy to see in Corporation!
10/10
Set List: Stand Up And Shout/Straight Through The Heart/Devil In Me/Don't Talk To Strangers/Holy Diver/Martyr/Last In Line/Already Dead/Invisible/Rainbow In The Dark.
Encore: Starmaker/Evil Eyes/Revolution/We Rock.
I know it's sounding like a personal cliché of mine now but I have been so looking to seeing Last In Line since I saw the date go up on Corporation's website a few months ago and I wasn't disappointed either.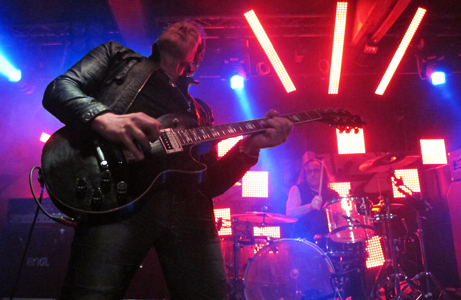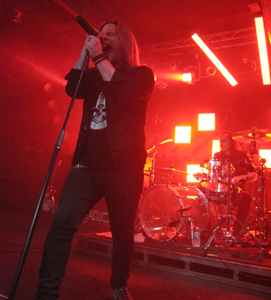 The electricity from the crowd in here was very vibrant since many of us had never seen these ex-Dio guys together back the day. Of course I am talking about Vinny Appice (Drums) and Vivian Campbell (Guitar) alongside Robert Freeman (Vocals) and Phil Soussan (Bass). Talk about impressive right from the word go, in fact Vinny was even on stage before showtime, helping set his kit up – now not many would do that these days who are at this level!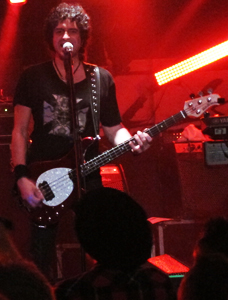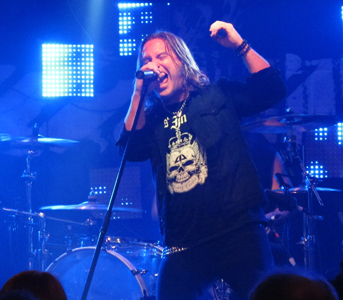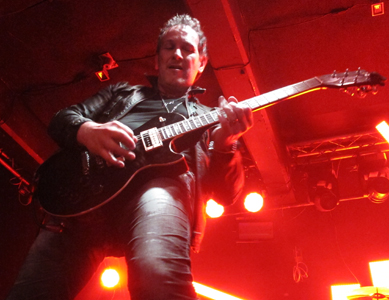 Coming on at 9.15pm this show proved to be a salute to Ronnie James Dio, featuring songs from the first two DIO albums and of course cuts from their own 'Heavy Crown' album that appeared to go down as well as the 30+ year old classics! Andrew proved he could deliver those RJD classics without a problem and made it look really easy – the best always can right?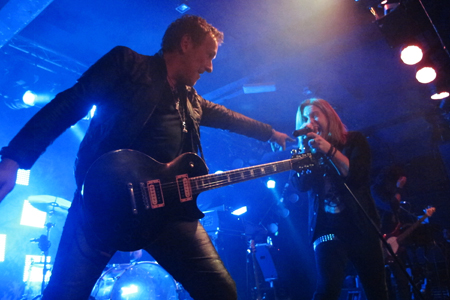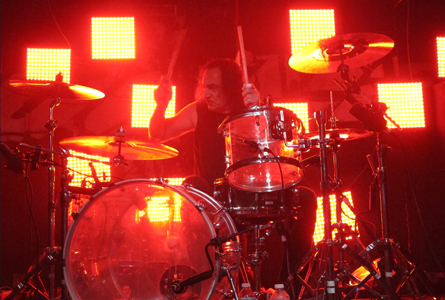 The two V's need no introduction and you can't help but feel that Vivian Campbell's guitar skills are wasted in a band like Def Leppard since he has way more to give talent and skillwise than what he can do in the other position. Hopefully there will be more new music from this band in the future since numbers like 'Devil In Me' & 'Invisible' and 'Starmaker' (which Phil says is dedicate to the late Jimmy Bain) are incredible in their own right.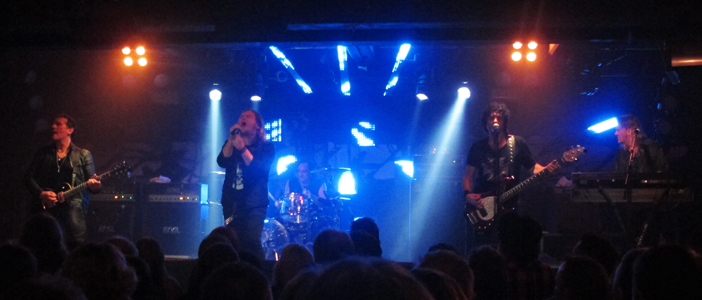 Finishing touches were added with Erik Norlander who I remember from the band Norlander back in the day on Lion Music who was piping up those keyboards that add extra dimension needed for numbers like 'Rainbow In The Dark' and more depth to the songs throughout the set.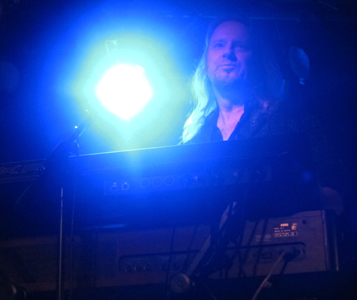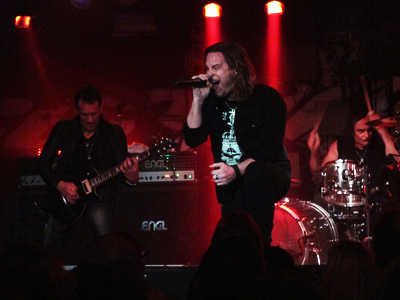 The sound was phenomenal – very deep and bombastic with the high end coming outon top perfectly with plenty of artistic white-outs and fantastic lighting overall as well. Their was full usage of the appropriate colours that created the perfect visual ambience in the room to match the vibe of the songs in the good old dark night mountainous fashion that made DIO so famous in the first place. Before you ask, Mr. Freeman did not battle a dragon on stage like Ronnie did! The night came to a fitting end with 'We Rock' – we did and they certainly did!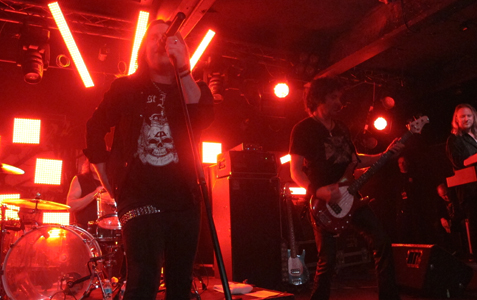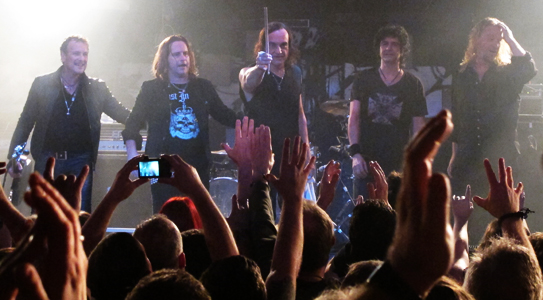 A marvellous show that made up for a very wet Friday night in Sheffield!
10/10
By Glenn Milligan
London - Crazy Girls, Hollywood, California, USA, Monday 28th March, 2016
Set List: The Wall/Drop The Bomb/Ride You Through The Night/Heartbeat/It's So Easy/Killing Time/Hot Child In The City/Gimme Shelter/Honky Tonk Women (Both with Roberta Freeman)/Get Back Home/Fast As Light/Russian Winter.
Now I've wanted to see London after watching The Decline Of Western Civilisation Part II: The Metal Years in 1988. Since this time, only frontman, Nadir D'Priest remains in the line-up but we do get that killer drummer, Alan Krigger manning the kit and three other cool cats who are Billy The Fist (Bass) alongside Guitarists, Ronee Pena and Dominic Muzio .It's f*ck*n' fantastic to hear classics like 'The Wall & 'Drop The Bomb' that I've liked for a long time. It's a shiny, shiny time on that stage when it comes to witha tamborine maracas being shook at the right moment too.
How cool to hear 'Hot Child In The City' as well that no-one seems to play these days.. To break it up a bit Nadir introduces an incredible female singer called Roberta Freeman for a couple of Rolling Stones faves who nails that high part of 'Gimme Shelter' with seemingly no effort at all. In fact, she was one of the backing singers for Guns 'N' Roses in the 'Use Your Illusion' era with other notables to her name including Jeff Beck, Pink Floyd & Elton John! You simply never know who is gonna turn up in Hollywood do you? Hey we were even given free copies of London albums! I now own the 'Don't Cry Wolf' album on CD now which is cool since I have the original vinyl copy that came out in 1987 and produced by the late legend, Kim Fowley who sadly passed away not too long ago.
Anyways, it's back to a few originals for a rest of the show. Unless I am mistaken, I get the impression his voice is starting to go a bit unless he is on an off night or can't hear himself well enough up there due to a lack of decent monitor sound so has to shout and strain to hear himself. To hear 'Russian Winter' is a special treat - a song that is a rare gem of a glam classic with a guitar solo to die for which turns out to be the last track of the night. Would love to see them play our UK shores in the not too far away future!
8/10
By Glenn Milligan
L.A. Guns/Scarlet Vice -
The Whisky A Go-Go, West Hollywood, California, USA, January 16th, 2015
Set List: Boogeyman/You're The One/Waste Of Time/Living After Midnight (Judas Priest cover)/Talk Of The Town/Poison.
Another packed night at the Whisky ensued like what happened the previous night. Boy they are seriously driving them into the venue when it's the anniversary. Scarlet Vice hit the stage who were given a warm response straight away in here tonight. Well they are local boys and obviously liked a lot by the Hollywood dudes and dudesses. Unfortunately though, they don't have the best sound - it's really boxy and bassy with the guitar and vocals very much lost in the mix.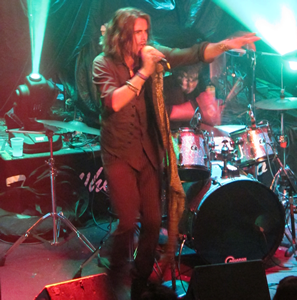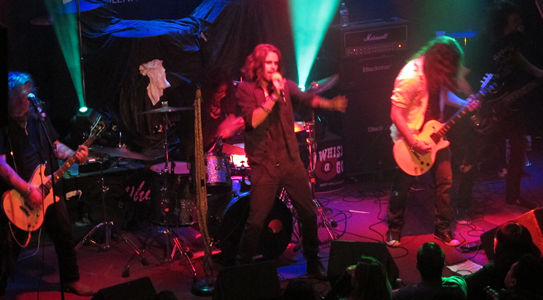 Style-wise they have the Backyard Babies meets Hardcore Superstar kind of thing going on which they accomplish damn well and even invite female vocalist, Devon of the band Mycah to classic bit of Judas Priest in 'Living After Midnight'. They had speeded it up a bit though which I was personally rather puzzled by. Highlights of the set included the opener, 'Boogeyman' and the almost George Thorogood sounding 'Talk Of The Town'. Overall, they were pretty good and it's cool to see a younger band playing this kinda stuff for a change.
7/10
Set List: No Mercy/Sex Action/Never Enough/I Wanna Be Your Man/Over The Edge/Wheels Of Fire/Hellraisers Ball/Gypsy Soul/Slap In The Face/One More Reason/Electric Gypsy/The Ballad of Jayne/Rip & Tear.
We were waiting quite a while for L.A. Guns to hit the stage, probably to rile up the crowd up and get them on edge ready for their high voltage set of 80's Rock 'N' Roll. As many will probably know, they have a new bassist and lead guitarist in Kenny Kweens and Michael Grant respectively who match the previous members Scott Griffin and Stacey Blades in talent and presence quality.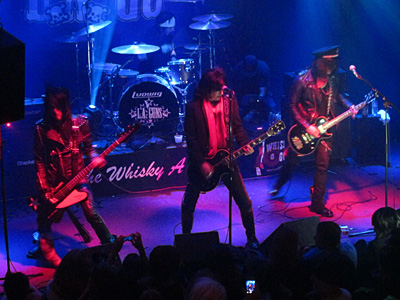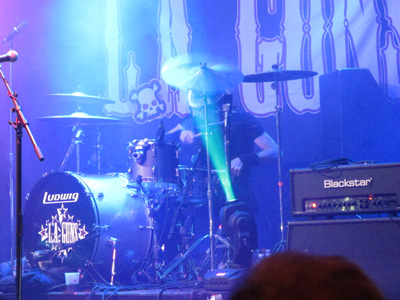 Frontman, Phil Lewis said it was his favourite venue and the first one he played with the band 27 years ago and that he must have done well in the audition that mainstay Drummer, Steve Riley was obviously present at - the other original member of the band left. Their sound was perfect in every possible way with everything cutting through well at the right levels.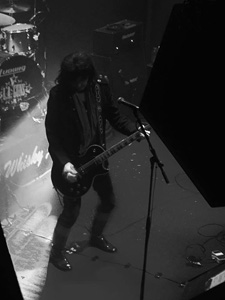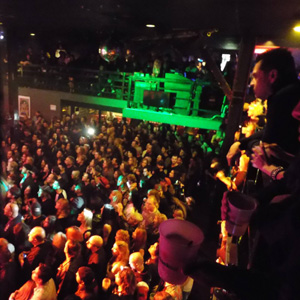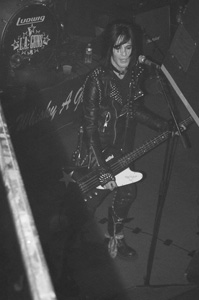 Anyways, set-wise we get a familiar bag of classic songs that are well-loved that include fast 'n ' gutsy faves like 'Never Enough'; 'Rip & Tear'; 'Sex Action'; 'Electric Gypsy' and ballads like 'Over The Edge' and the milestone that is 'The Ballad Of Jayne'. L.A. Guns were on fine form and to be honest I have never seen these boys do a bad show yet over the numerous times I have watched them over the years. They've been there and like many of the 80's decade are guilty of writing the debauchery book of the heady glam-filled craziness of the hair band heyday of the Sunset Strip.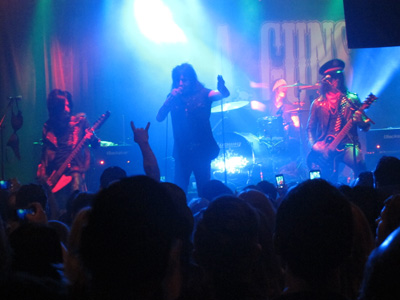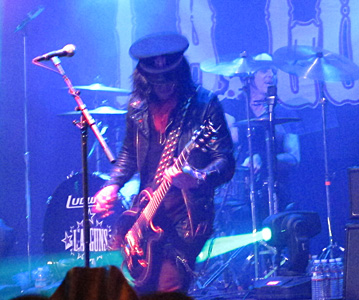 They could do no wrong tonight and did themselves proud in every single aspect of their tight well-rehearsed performance at this legendary Hollywood venue.
10/10
Review By Glenn Milligan
Photographs by Glenn Milligan & OZZFestAmy
Little Caesar/Boomville/Spill Sixteen – Corporation, Sheffield, Friday 11th April, 2014
Setlist: Doing It Tonight/On My Way/Reaper/Hammer To Fall/One Way To Go/By You/Come With Me.
Okay so it turned out that the band were actually on stage at 7.15 while I was still in the pub – we thought it was gonna be 7.30 so I sadly missed half of the set but luckily caught some of my fave song of there's which was the sure-fine epic rocker that would no doubt be a hit going by the name of 'One Way To Go' which went down damn good.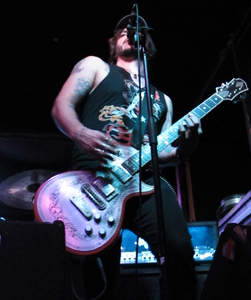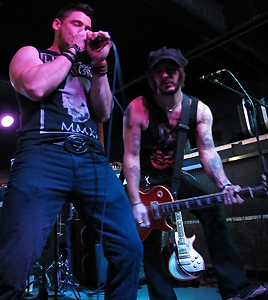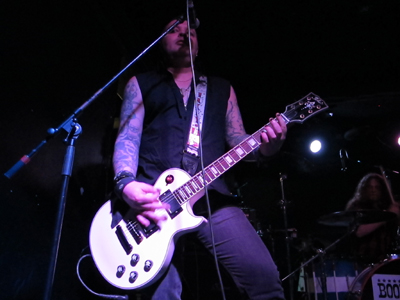 Nice to see that there was a healthy handful of fans in early to see the double S and rightly so too because this was Dominic Rudd's premier gig with the band – he fit like a glove on a perfectly formed hand as well – a perfect attribute to this excellent Sheffield based band.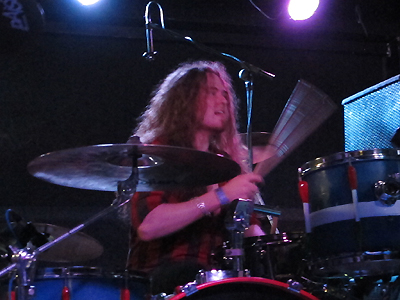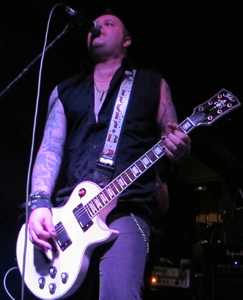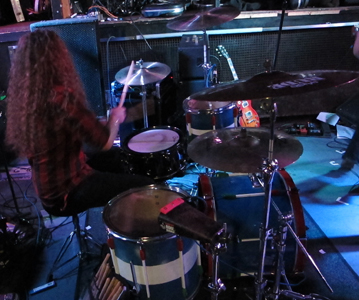 The rest of the guys, Indy, JJ and Andy are in top-dollar form too with frontman, Stephen Church telling the folks that there is dancing space down at the front – hey that's my space for taking pictures dude – hahaha. There are joyful smiles and rocking out a plenty up there with a happy vibe flowing throughout the songs (that I saw that is!)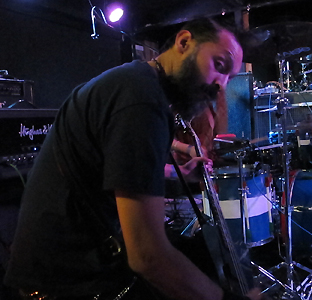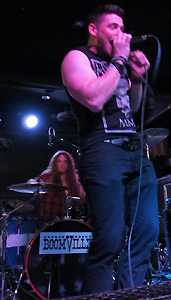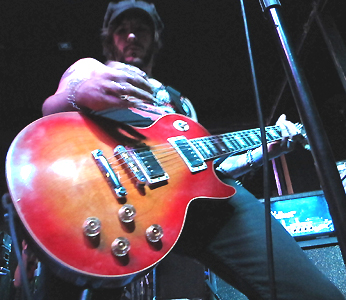 It's always a joy to see Spill Sixteen live and I am looking forward to hearing a new album from them soon with Drudd manning that drum-kit now.
Next up are a new one for all of us, a band going by the name of 'BoomVille' from Leeds who feature none other that Mark Shutt on guitar (or Shutty from Terrorvision as most of you out there will know him better as no doubt). Okay, I don't know too much about them but can report to you that they are a real tight unit and come across very well oiled.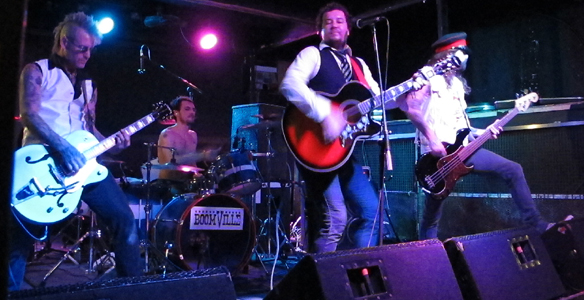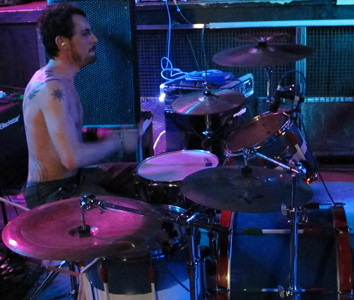 Shutty has got a wild Mohican going on these days with the other quys looking pretty intesting too – especially that hairy bass guitarist – cool as! Musicallythey sound a bit like a cross between Terrorvision (the opening number riminding me of 'Best Friend' with its quirky riffery, good ole rock 'n' roll – think Faster Pussycat meets a bit of Ramones meets thick 70's rock and you are somewhere there.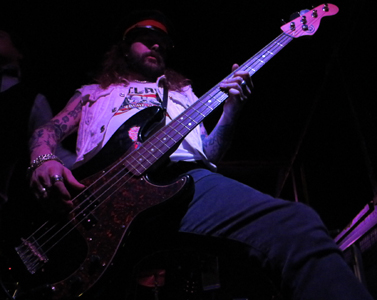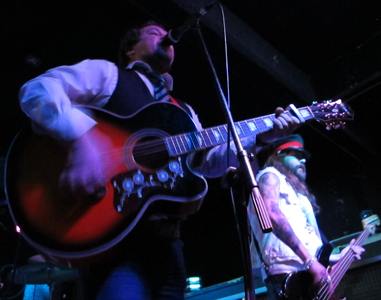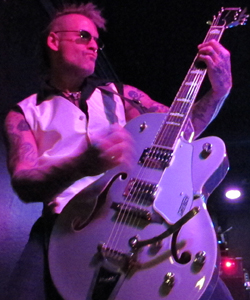 It was a nice touch that their curly haired frontman switched between hands on the microphone stand to playing an acoustic guitar which you don't see too often in sets of this nature.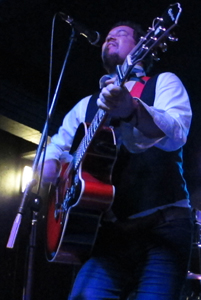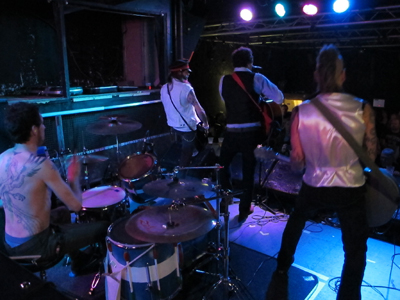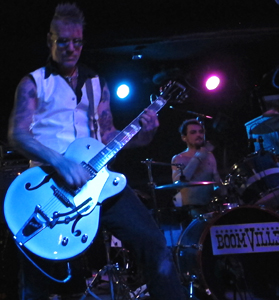 Something tells me that BoomVille will be going with a bang and unleashing their music upon the world like an explosion – but in a good way.
Setlist: Rock N Roll State Of Mind/Hard Times /Super Sonic/Down N Dirty/Tastes Good To Me/American Dream/Hard Rock Hell/Redemption/Prisoner Of Love/Real Rock Drive/In Your Arms/Rum And Coke/Chain Of Fools/Every Picture Tells A Story/Drive It Home.
Encore: Dirty Water/The Girl's Rockin'/Sick N Tired.
The New Yorkers via Los Angeles are back in Sheffield again and they are greeted with a ton of respect and admiration from all and sundry in the room. They have a new guitarist up there now – gone is Joey Brassler and in his place is Joe Malone who is just as awesome on the riffery and rhythm.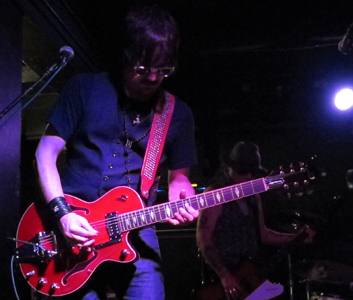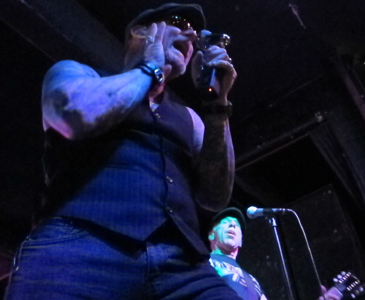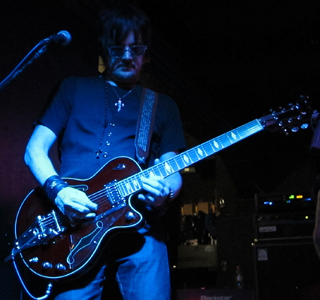 There are plenty in here to see them and they aren't disappointed by what they receive from Ron Young and the boys who seem to have a boundless amount of energy during the entire show – they are pro's at this way of life though – so little wander – in fact the frontman himself has been suffering with his back these last few days – not that you'd even notice until he actually mentioned his ailment.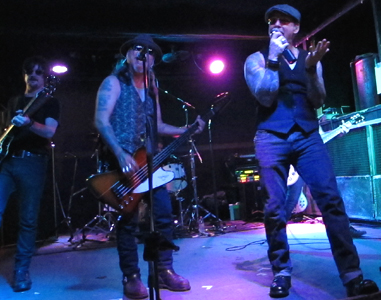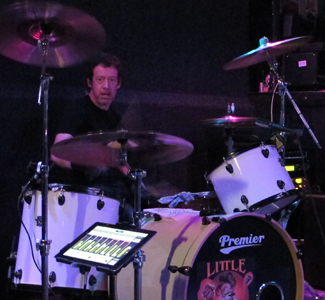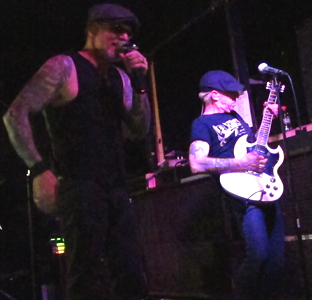 It's a set packed to the hilt with classics old and new with highlights from the current album such as the title track itself, 'American Dream'; 'Prisoner Of Love' and my personal fave 'Hard Rock Hell' not to mention other great numbers from yesteryear with good examples being 'Rum And Coke'; the gorgeous ballad 'In Your Arms' & the sleazy 'Down N Dirty'.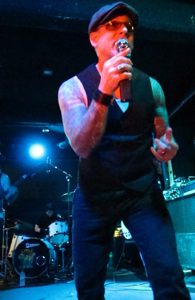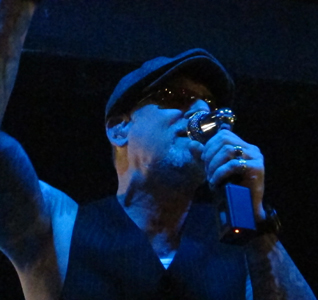 Little Caesar are so on form bounding about the stage and rocking out continuously, enjoying every single second of it with the Sheffield fans who wholeheartedly give the band the love back with boundless enthusiasm which fires up the band even more with some off the chain and in the zone performances all round.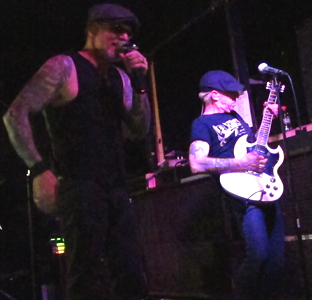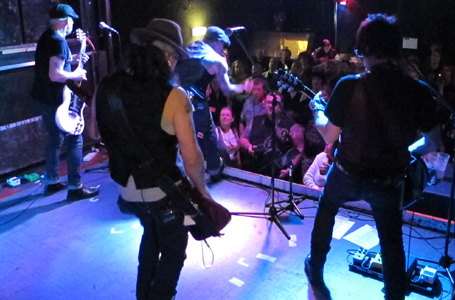 You can't fault the 6 string axe slaying of Loren who leaps around the stage like a 20 year lad on heat and then there's the downright coolness of bassist, Fidel with those kick ass shades and designer beard nailing the look, while Tom lays down that solid back-groove on that kit and then adding the icing to the cake with Ron on piping, fine deliverance of vocals.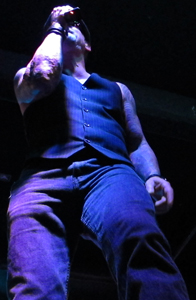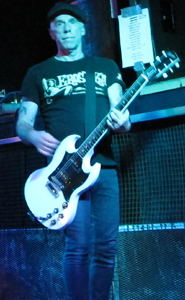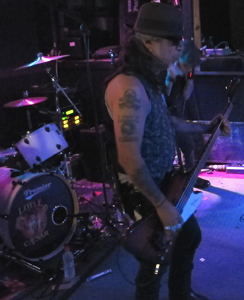 The great thing about Little Caesar is that they also inject some excellent covers in the set as well and you can't beat their red hot version of Rod Stewart's'Every Picture Tells A Story' or the excellent soulness of 'Chain Of Fools' too plus even a touch of 'Mustang Sally' and 'Proud Mary' and I usually hate that the one that mentions the care in it with passion.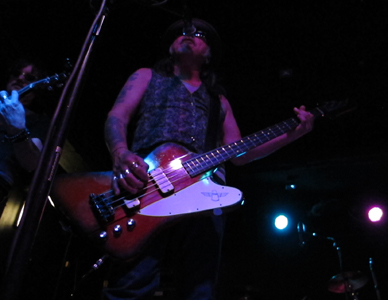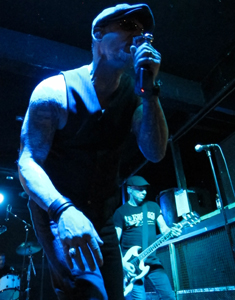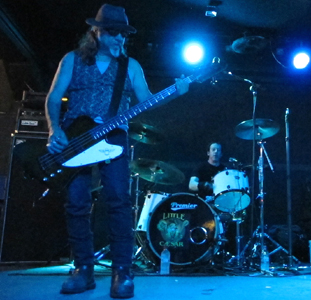 So much interaction takes place with the band and crowd and it's one of those gigs that gives you the impression that it's taking place in your front room rather than in a venue. Little Caesar also come out to meet everyone about 5 minutes or so after the encore is over that featured the fast stomper 'This Girls Rockin'. There's no doubt that these guys are the real deal and pure street level with their fans, friends and followers. Everyone should be like that.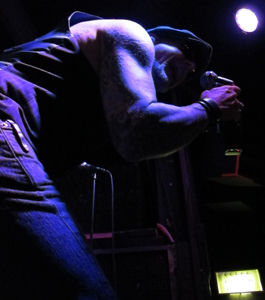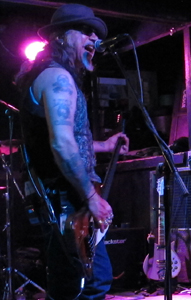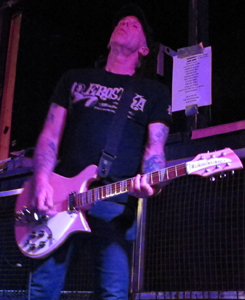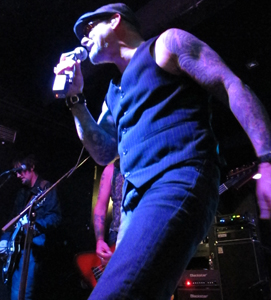 What a great way to spend a Friday night – with three Rock bands who completely complement each other.
10/10
By Glenn Milligan
Little Caesar - Corporation, Sheffield, Sunday 2nd December, 2012
Set List: Rock N Roll State Of Mind/Hard Times/Supersonic/Hard Rock Hell/The Girl's Rockin'/Prisoner Of Love/American Dream/Redemption/Cajun Panther/Rum And Coke/I Wish It Would Rain/Chain Of Fools/Sick And Tired/Dirty Water/Drive It Home.
Encore: Down To The Wire/Every Picture Tells A Story.
Well being back on UK ground ain't a bad thing at times, especially when I get to witness Little Caesar, the 1st band I saw in concert in a line of many when I hit the USA last month. Such a cool *ss coincidence is that!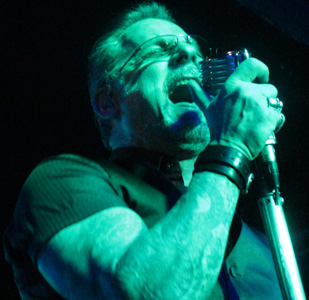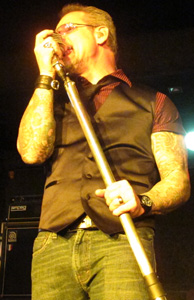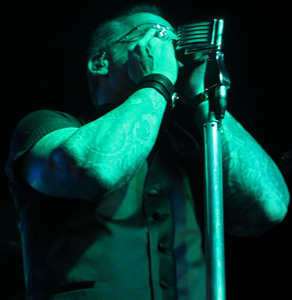 So in Hollywood they played a larger spot that was the Key Club in a supporting role but tonight it's their turn to take top billing in the smaller setting of Room 2 in our dear Corporation to an intimate audience that frontman Ron is very much taken aback with and thanking us for the appreciation in there. "No Thank You", shouts a guy in the crowd which was unexpected - though did it a few times in the night so became rather tedious. There's always one I guess.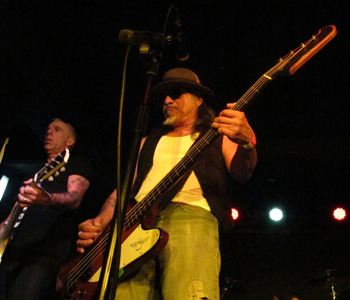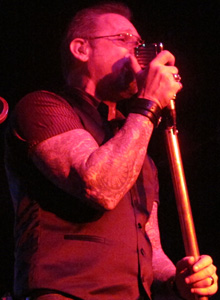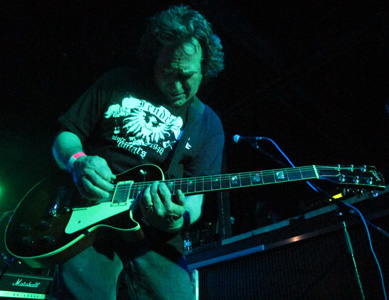 "So this is how real people live - no silicon and plastic here", says Mr. Young jokingly, telling us that they are from Los Angeles which I know from experience personally can sometimes be the town of phoniness, fakesness and flakiness. No doubt they are happy to get some humble realism and none more so than up north here in the city of Sheffield.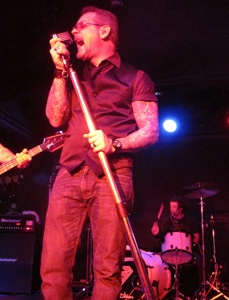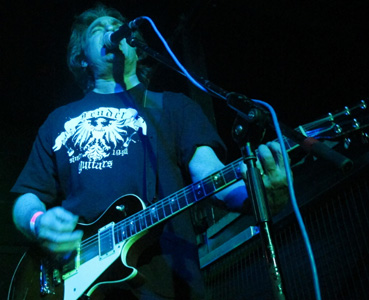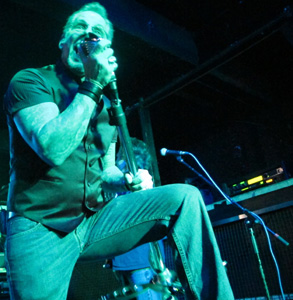 Their balls out biker rock goes out a treat in here which throttles up straight away with 'Rock 'N' Roll State Of Mind' not to mention 'Hard Rock Hell' which ironically enough, an indoor festival they played at night before in Wales. Bandwise these older guys show what an aretform it is to really hone your instrumetns and they certainly teach the young up and coming bands a thing of how to play and perform properly - that is for certain.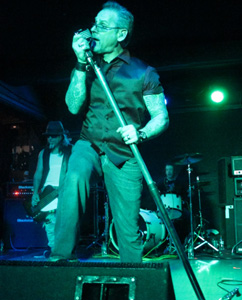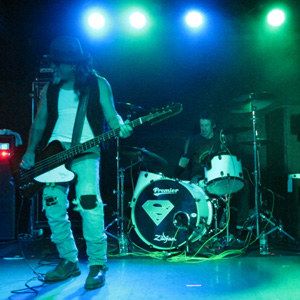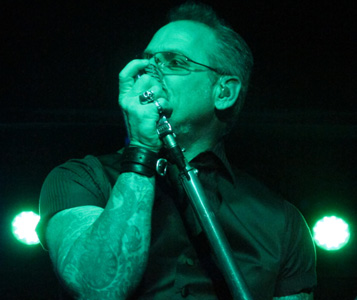 Loved the song called 'Rum And Coke' where you go out and have too many drinks and end up in a gutter and try and get home as opposed to the usual out with the boys and have a night at the strip club after - a thing that Ron said never happened and was total b*llsh*t - no doubt so many songs are utterly fabricated by so many bands of the hair rock heyday.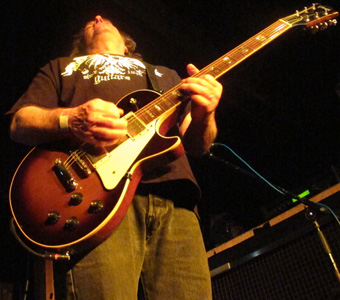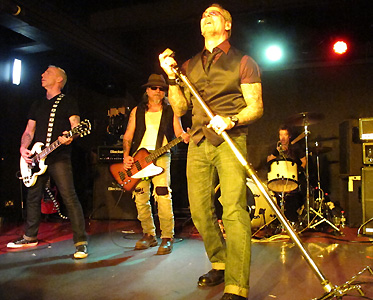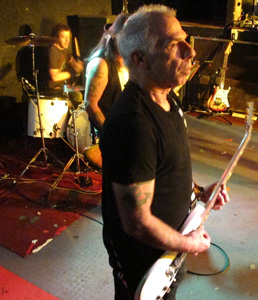 Then there was the song about falling for the wrong girl which many of us do that is 'Prisoner Of Love' and exceptional covers of 'I Wish It Would Rain' and 'Chain Of Fools' too - proving that these guys certainly have soul. Vocally, their very tattooed fronter is exceptional and those backing throatals are truly impressive, especially the high gospel like sounds from bassist, Fidel who would fit in with a black spiritual choir with pipes like that for sure. Loren and Joey lay down some cool *ss licks on guitar throughout the gig too while Tom provides a sold backbeat for the other guys to groove right into.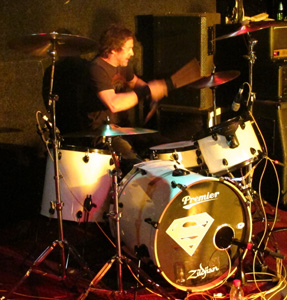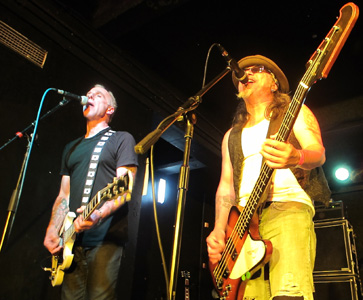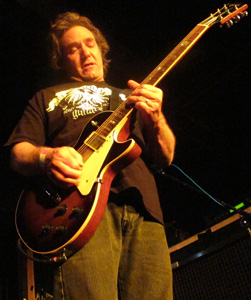 Having 'Every Picture Tells A Story' - the Rod Stewart classic was an immense way of closing the night especially when The Rolling Stones 'Happy' was injected in the middle of it (with Fidel syringing in those lead vocals) and also saw Ron do a quick impression of Mick Jagger in the moves dept.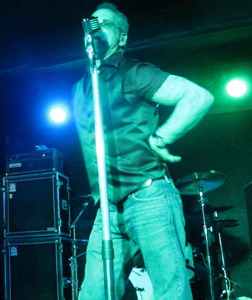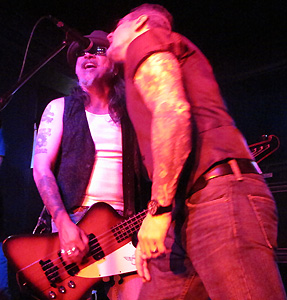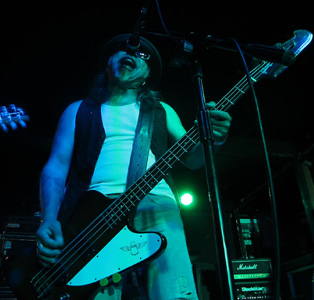 Afterwards they come out and sign autographs and have pix with fans too. Now this was a fine way to spend the opening to yet another school week ahead.
10/10
By Glenn Milligan
Led Zepagain - Canyon Club, Agoura Hills, CA, USA Friday April 27th 2012
I've heard about this venue before but never had the priviledge of being there. That was all to change on this night and I was in awe of what a gorgious place it is. All very plush, velvet finishings, wooden decor, statues and brilliance - kinda like The Key Club that's outta the way.
To see a Led Zep tribute perform is always gonna be something rather spectacular if it's done correctly and Led Zepagain do just. Soundwise the band are impeccably perfect getting every bit of the frequency dead effin' right - from the mirrored Plant vocals right to the massive, cavernous John Bonham drum sound. They do a cross section of Led Zeppelin material that ranges from the early to the latter material with all points in between.
The CC was pretty packed as well and it's little wonder as they are just like seeing the real thing that you don't get anymore as Robert ain't into that kinda stuff these days - more to the pity for the fans - but he has left a rock legacy that still continues to grow. Anyways, the clothes, the moves and even the speech inbetween the songs - although it was bizarre to hear the Percy in a Californian accent but I'll let him off for that - lol.
Highlights in the show included favourites like 'Immigrant Song' which if memory serves me right they opened up with and cool numbers such as 'Heartbreaker'; 'Whole Lotta Love'; 'The Song Remains The Same' & 'Over The Hills & Far Away'; 'Rock & Roll'. The earthy blues of 'Since I've Been Loving You' and 'In My Time Of Dying' also mellows the set out a bit we and we even get a more obscure song from the 'Presence' album which name escapes me right now - I think it was 'Achilles Last Stand' actually. And before you ask, yes they do play that song that is banned from many guitar shops too - hahaha - sorry couldn't resist a Wayne's World moment there.
They have been together in this line-up for well over a decade and I expected that judging by the stamina of the quintet, their love for one of the world's best rock bands - from the UK of course they will be going a way to longer. The audience were as incredibe as the band too, singing, clapping and cheering to every single musical milestone that the Zepagain laid upon us.
They do us Brits proud - no wonder the likes of Mr. Jimmy Page himself likes them so much.
10/10
By Glenn Milligan
LA Guns/Damn Dice - The Diamond, Sutton-In-Ashfield, Friday 30th September, 2011
Damn Dice Set List:
One More/All Night Long/Taking Over/It's A Miracle (Crash Diet Cover)/Promise/Tears In The Night/You Give Love A Bad Name (Bon Jovi Cover)/In Your Eyes.
Encore: Youth Gone Wild (Skid Row Cover)/Roll The Dice.
Within a month I am back in what is becoming one of my favourite local rock venues in a very short period of time. I was here to see some buds not long since and couldn't wait to zoom down the M1 (not over the speed limit of course - don't wanna blow all my gas do I as I'd just filled up that night) and see some more USA legends. Before we were entertained by that particular 4-piece, it was the turn of some young European Boys (France & Italy in this case) who are based in London, who go by the name of 'Damn Dice', who are doing a handful of dates on the tour.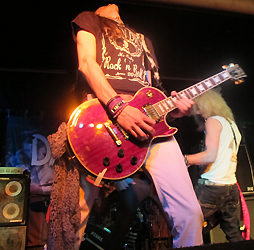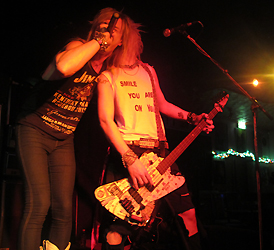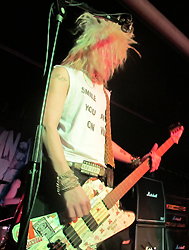 Consisting of Bobby Valentine (Lead Vocals); Wallis (Guitars); Marco (Bass) and Fransoa (Drums) they are full of confidence and great hair from the get-go and warm up the crowd quite a bit and got plenty of pose to them for the full set. Musically they remind me of Pretty Boy Floyd without the really high ended vocals alongside the ballsiness of Skid Row.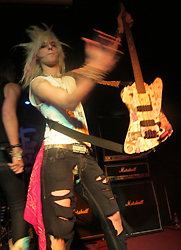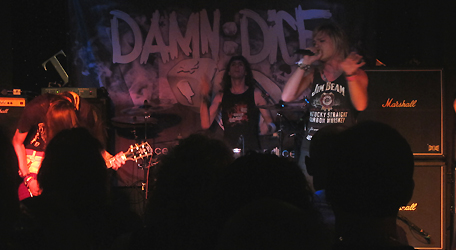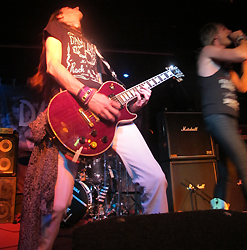 Their original material seems to go down ok and they get a warmish response and I suppose that they throw a few covers in to keep the audience happy covering the usual song topics like sex, partying and fun 24/7, forgetting about the darker side of life - well someone has to and it is Friday night. Not the best band in the world but certainly not the worst - all the passion was there though that shined through - a band that I expect will be a lot better in 2 or three years. It's a start.
6/10
LA Guns Set List:
It Don't Mean Nothing/Gypsy Soul/Sex Action/Never Enough/Over The Edge/I Wanna Be Your Man/Vampire/My Koo Ka Choo/Sleazy Come Easy Go/Showdown/Hellraiser's Ball/Guitar & Drum Jam/Electric Gypsy/ Ballad Of Jane/Rip 'N' Tear.
Encore:
The sleaze and glam fans are here in a pretty full force to lap up one of the finest foursomes from Hollywood, CA - the LA Guns - the band that has the orginal founder members, Phil Lewis on Lead Vocals/Guitar and Steve Riley on Drums in the fold with Stacey Blades on Lead Guitar and Scotty Griffin on Bass.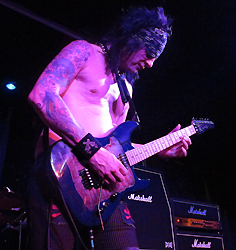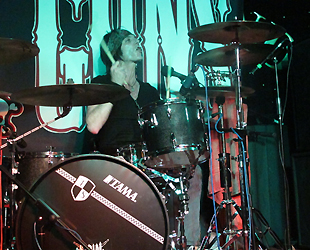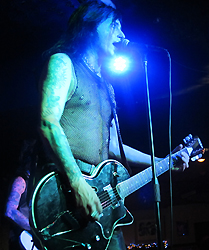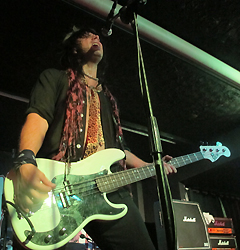 You've no doubt read about the other version that goes out under the same name but anyway, let's face it - the people right here want to see the original singer and not the 9th or 10 replacement as the case may be elsewhere, of which was seen a couple of years ago just 20 miles up the road. It was pretty rammed up front for the LA legends and rightly so too because these guys have still got it - the live status and chops in every single way you can imagine.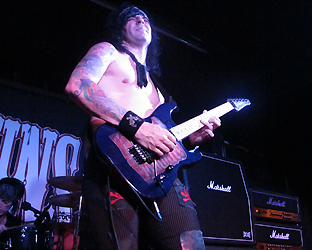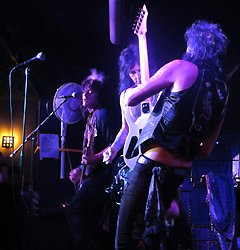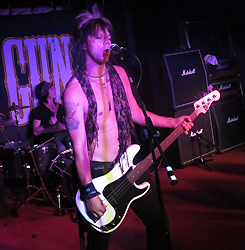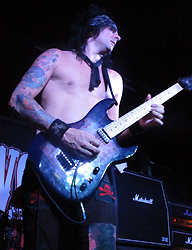 What is so impressive is that they have no intention of relying on their past credentials and classic songs and introduce brand new ones that are to be on a forthcoming album. I remember Stacey telling me in April they had a new CD ready in the can and if what we here tonight is anything to go by, it's gonna be one hell of an exceptional release.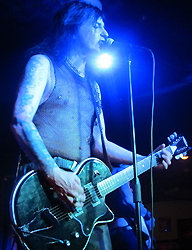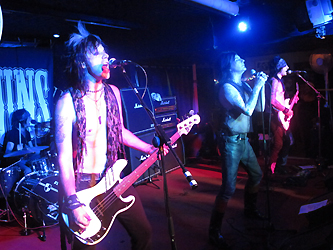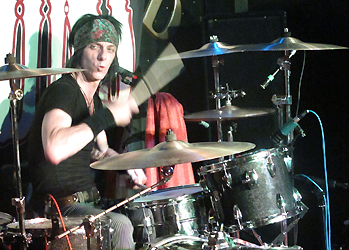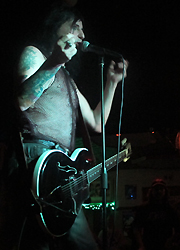 The band totally gell from the beginning and they are enjoying being here for us and the feeling is mutual all round with a killer sound that's just the right volume as well - credit to the soundman on this one! A string broke on Phil's guitar early on so he swapped to another while it was being sorted with the frontman at times putting the axe to one side to concentrate on virtuoso vocal moments when far more concentration was needed on the tougher material.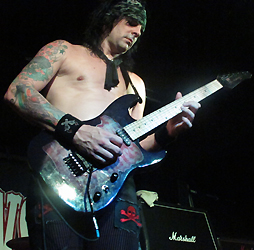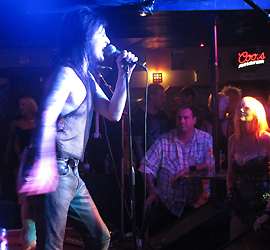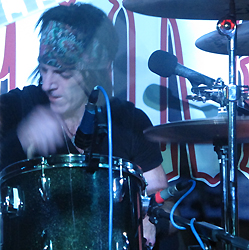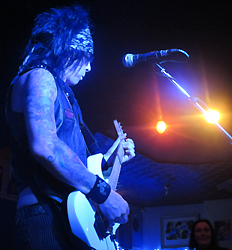 Highlights in the show included faves like 'Never Enough'; 'Sex Action' the later number 'Hellraiser's Ball', 'Electric Gypsy' and the song they loved, then hated and now friends with again - yes that big hit about a certain actress that goes by the name of 'Ballad Of Jane'. There are top notch vocal harmonies from all the members of the 'Guns that are fired out with major precision with pitch perfect results.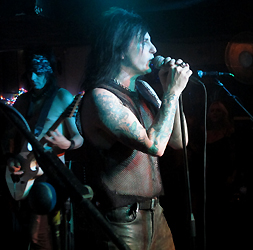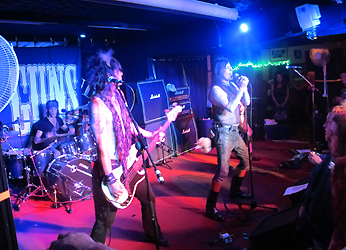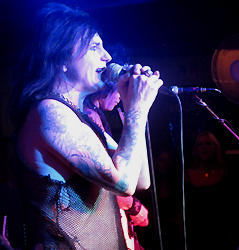 It's well worth mentioning that the Diamond Girls and Geezers singing along and rocking out to the entire set. At one point Phil Lewis introduced Stacey and Scotty as 'The Bookends' and got them to perform a song while he took a well earned breather - they kicked major ass not to mention their cool posing and soloing.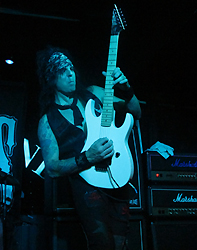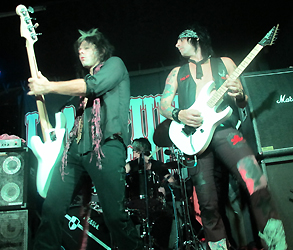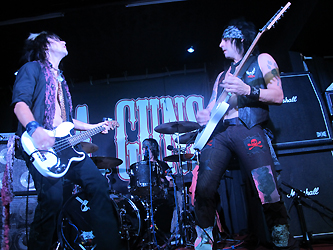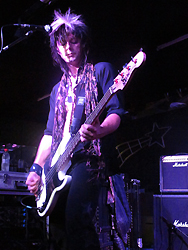 Phil joked about getting arrested in Grimsby back in the day because they had a crap promoter who had done no postering or advertising, so therefore sprayed the bands name all over the town getting arrested but getting out in time for the gig the next night, only to have a heckler giving him the finger in the next row so Phil punched him out after a few mins, all hell broke loose and they ended up getting band and never allwed in the town ever again - this is the nearest he gets to Grimsby he tells us and not been back since - hahaha - classic!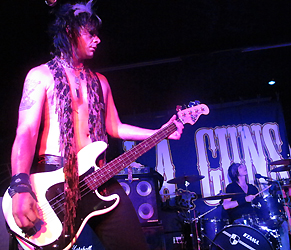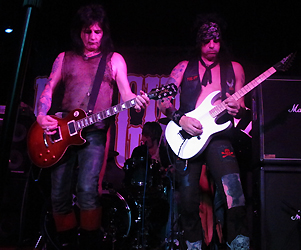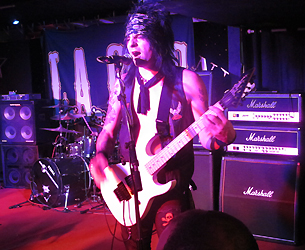 There's another cool bit in the show where there's a young guy in the crowd at the front who Phil has a cute little chat to who we find out is only 14 and called Alan. Mr Lewis even gets him to give us a 'F*ck Yeah' and gets full respect and his name chanted in the club too by numerous peeps! After such an amazing set of songs it closes on 'Rip N Tear' but encores with another great number in 'Hollywood Tease' when Gary C. Melvin manages to to mike them back on stage after a healthy helping of crowd appreciation.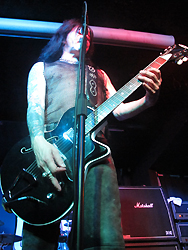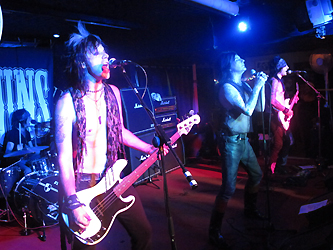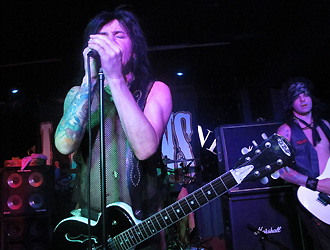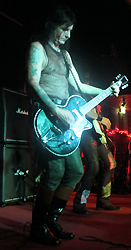 They cares about their fans and prove it by coming out after to chat to everyone, sign autographs and have photos with them too. We can't wait to see them back at the Diamond and the band are looking forward to being there too in the future. Another good night in the Diamond.
10/10
By Glenn Milligan
LACUNA COIL/SLAVES TO GRAVITY/TROIKA -
The Corporation, Sheffield, Tuesday, 28th September 2010
So another frantic day of running from work to home, to picking up a new camera, before jumping on the bus to get to the show. Nothing was going to stop me from getting to this show... so when the bus made an unforeseen stop, I began swearing to myself cus that meant missing the first band so my apologies to TROIKA for missing ya but that is down to mechanical failures of the bus.....
So feeling like I was, I needed a good dose of music to bring back the mood.... and that's about the time SLAVES TO GRAVITY hit the stage. The London based quartet didn't know how I was feeling but from the opening notes of the well honed guitars I knew I was going to be in for a good night...Tommy's vocals were spot on and the fun he was having as they ripped through tracks "Ignition", "Big Red", & "Heaven Is a Lie" spread to the rest of the band and soon bassist Toshi and lead guitarist Mark joined the fun and the stage was like a playground with all band members jumping around like there was no tomorrow. The audience soon were jumping and I knew I had to stop taking photos to join in the fun.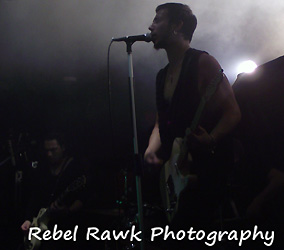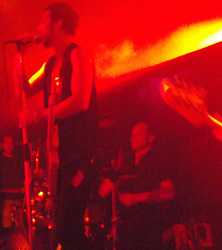 But, then Tommy decided he was going to join the audience and off he went straight into the crowd.... so the chaos was spreading in a good way and by the time "Doll Size" started both the audience and SLAVES TO GRAVITY had a built up a union so I took the photos and then joined.....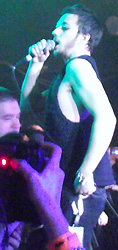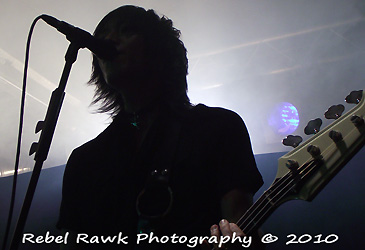 These guys are destined for bigger things and can't wait for them to break through the stratosphere... SLAVES TO GRAVITY were fantastic and so they deserve a...9/10.
To say I was now well stoked and feeling good I went to the bar and got me a beer and got ready for the headline act.... The beer only lasted about 60 seconds and I needed a refill so back I went and that one went they way of the first gone in 60...... So reloaded the camera and went back to the stage just in time for the lights to dim and the intro to start...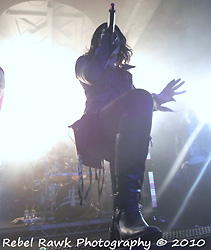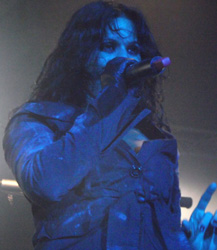 The opening chords started from "Underdog" and then the stage filled with red and band hit the stage before about 1,000 led's from the stage-set came on and then there was Cristina with her angelic voice. The audience went crazy and LACUNA COIL responded going through tracks like "I'm Not Afraid","Fragements of Faith", "What I See"", Honeymoon Suite", & "Closer".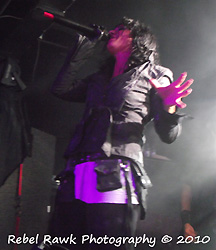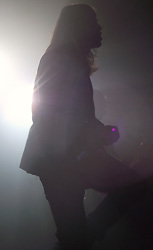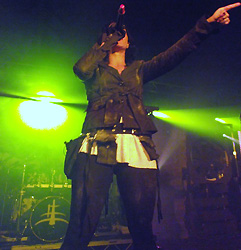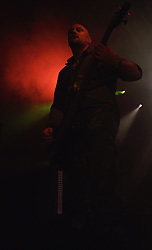 The audience was mesmerized and the interaction between Cristina and Andrea as they performed showed that the 15 years they have been together on stage was not a fluke. My track of the night had to be LACUNA COIL's version of "Enjoy The Silence". The haunting vocals were delicate but sweet at the same time..so when the encore came I was astounded with the performance of "Our Truth".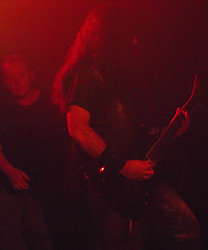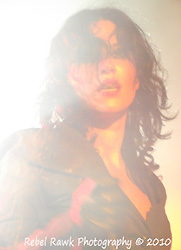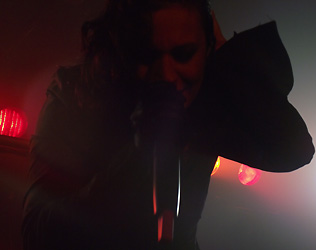 I had always been a fan of LACUNA COIL but this was the first time I had seen them live... A fabulous performance and the musicianship was second to none.... I will definitely be seeing them again and for those that have not... you need to do so...10/10.
A great nite of music and energy... 10/10
By Geno D
LA GUNS + The Black Stars - Corporation, Sheffield, Sunday 20th September, 2009
Exactly one night after Bonfire, - and one year after Y&T - and we're back in the Corp's phone booth for another fondly loved name of the hair metal legacy. Like their German counterparts, LA Guns also ensure to bring a support band of relevant musical form, to warm the waiting public up…although the lack of any recognised ventilation on the premises has already seen to that before Black Stars even strike their first chord. Kinda like a Motley Crue/Pretty Boy Floyd hybrid on first entry, these lads soon shift to Dogs D'amour- mode a couple of tunes in but please either way.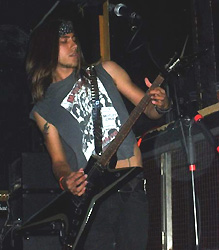 Having a bassist called Nikki Seven inevitably aids the appeal brought on by their strongly old-school sound that has 1989 written all over it and the noise you'd expect from fans of this material 20 years ago, here starts to match the volumes of that reserved for the headlining combo. 'All f**k*d Up', 'Sex Drugs' and 'New Rose' should have told us something. Another slot, preferably before a crowd at least ten times bigger would be appreciated but Black Stars still turn their share of heads this evening.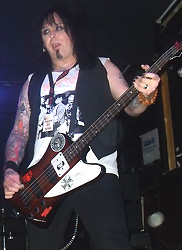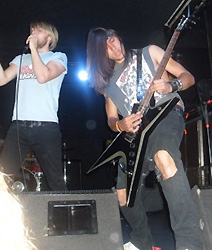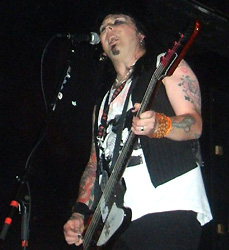 Being two bands at the same time is a primary too for confusion as Saxon fans will tell you though at least they added the names Oliver and Dawson to the moniker of one of their two concurrently active incarnations. LA Guns are as you read them - not Tracii and Jizzy's…. though this formation of the Sunset Strip veterans see the band making their first appearance in Sheffield without Phil Lewis at the mike stand.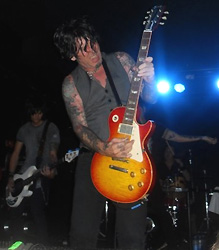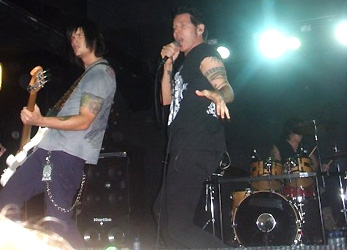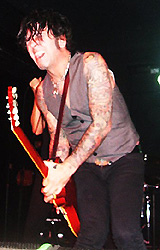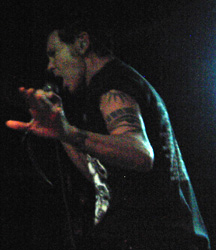 Their loss is another gain however as they are today fronted by Love/Hate legend Jizzy Pearl who proceeds to destroy his English predecessor throughout the 75 minutes that follow. 'kill That Girl is strong not just as an opener but as an example of their faster, heavier edge that they braved to expose outside of the panned 'American Hardcore' disc.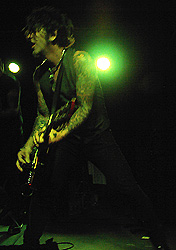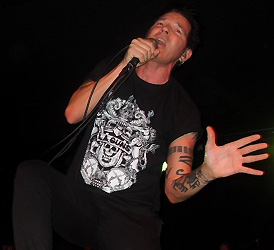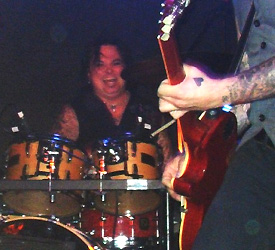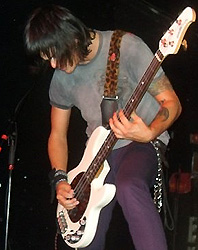 The hits had to hit in quick obviously so as to swing the balance sand the double assault of first album cornerstones 'Nothin' To Lose' and 'Electric Gypsy' gets everyone back up to the boards again. From here on its classics all the way as 'Bitch Is Back', 'One More Reason' and 'Never Enough' plus an excellent performance of 'Knocking On Heaven's Door' (we do have an ex-Gunners member on board here, in case one forgets) leaves little time to let those poor old lip-synching muscles a bit of down time.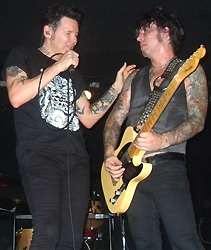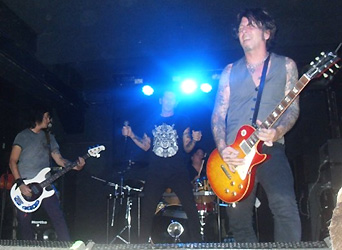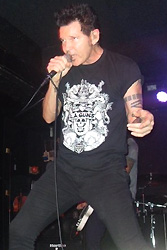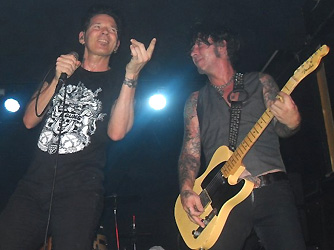 Even less one to relax, Jizzy kicks about like metal's answer to a whirling dervish as he refuses to stand in one place for even the slightest hint of seconds, throwing his arms round Tracii at least once during every tune and achieving miracles not to trip *rs*-over-t*t over that mike flex.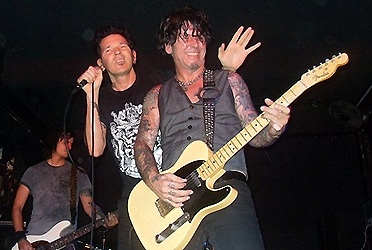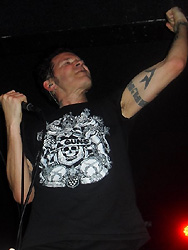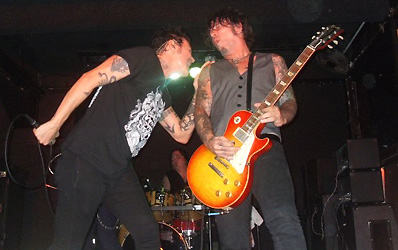 Some are equally astonished…albeit appalled too I might add, by the meagre portion of 'Hollywood Vampires' material we hear this evening- 'Over The Edge' being the sole entry from their awesome second album but then you should see how they did make up for it tonight. Sandwiched between 'No Mercy' and 'Rip n' Tear' comes a pounding rendition of one of my personal L/H faves 'Spinning Wheel' and is welcomed warmly as if it was 'Sex Action' the punters were listening to right now.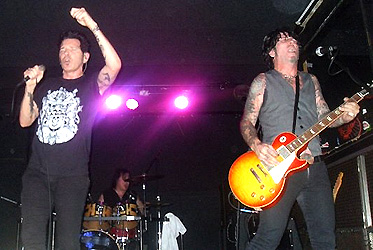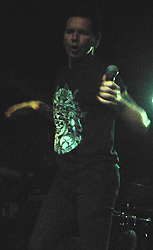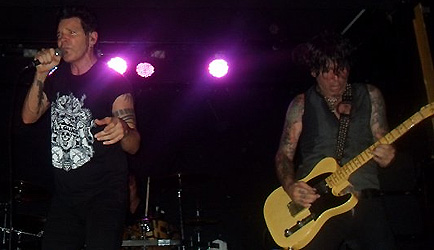 Which leaves only one song they could possibly keep for the encore… no, make that two as 'Blackout In The Red Room pogos the night to an end - and we the floorboards to nearly smithereens - and one fine Sunday evening of Sunset strip metal is sadly over again.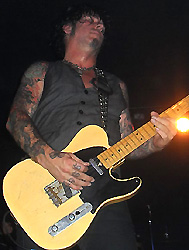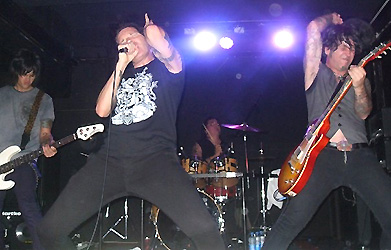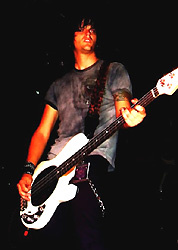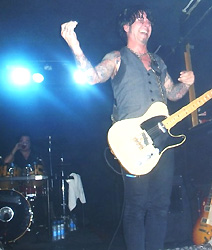 Five years since either band last visited Sheffield, having a bit of both is a blessing for many who've missed them and seeing these two giants on the same stage for the first time on the isle is a bullion-coated bonus that only having had it a day earlier in the week (i.e Saturday) would have improved. .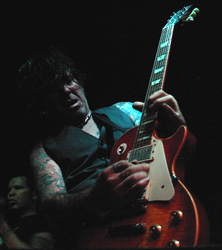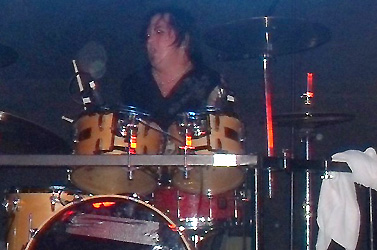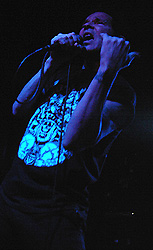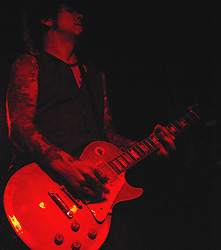 Awesome stuff, lads.
9.5/10
By Dave Attrill

Bob Log III – The Boardwalk, Sheffield, Wednesday, 16th September, 2009
After seeing just a photo on the venues website I was totally intrigued to see what this guy was all about so consulted the mans website and considered this gig to be a 'complete must go to gig'. This would be a night of brilliant out-there trash-scuzz blues of the hightest quality indeed.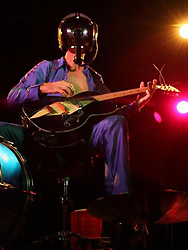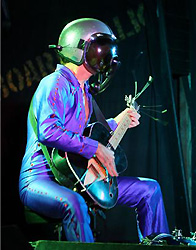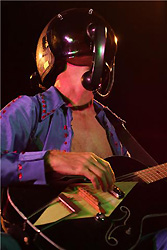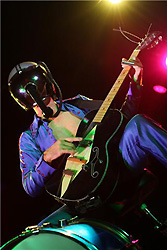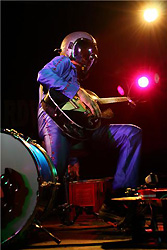 Bob came on stage in a suit and his crash helmet – a crash helmet !! Yes this dude plays in a crash helmet. Firstly he played us a really cool, energetic bluesy in ya face instrumental and then apologized that his dog had eaten his set list – lol. The suit was soon discarded after this 1st or 2nd number to reveal him in his blue jump suit number for the rest of the night. His voice has an incredible sound to it since it's stuck inside a helmet, with the sound being picked up by an old telephone – pretty unique or what !! He's also got a kick drum by his feet to complete his spot-on 1-man band act.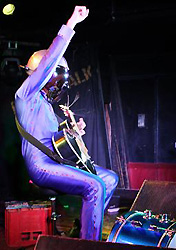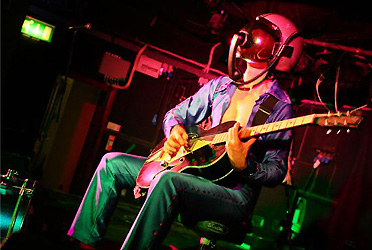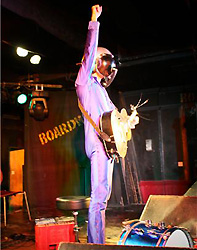 He took a drink now and again with his back to the audience, so not to show his identity and even joked that he hoped that he hadn't been given a pint of pee – you wouldn't do that to me would you Sheffield ? Of course we wouldn't – hahaha. I've never seen anyone drink so much on stage – it's a wonder he didn't collapse after the 1st few numbers.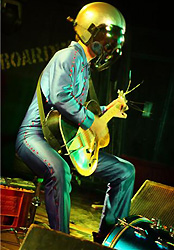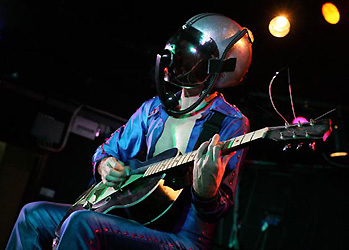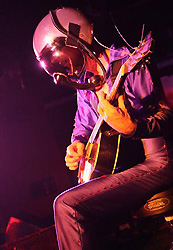 The material being played sounds very similar but the cool thing is that Bob is selling it to the crowd with loads of humour which keeps everybody entertained throughout the night such as the band meeting he says he is gonna have and turns around to sup some guinness. It's really funny that he shouts 'Woo' and puts his guitar and arm up in the air after each song in true rock 'n' roll fashion, not to mention talking away to us in that hardcore southern state american accent of his on the stage that trul adds to the brilliance.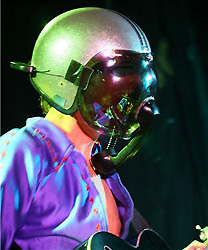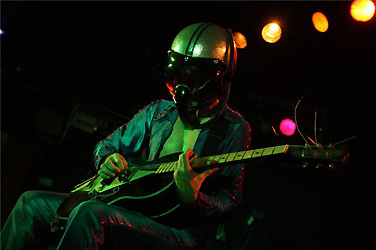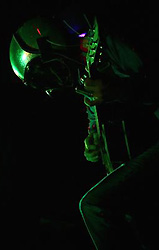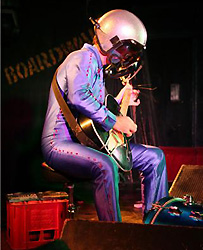 Someone shouts for some ZZ Top of which he say's, "Who'd heard of someone in a crash helmet playing ZZ Top?". Well it's a new one of us anyway and jokes that he will play us a tune with all the ZZ Top in it – giving us some fast agressive amazing delta sliding guitar work and totally impressed us no end.He then gets 2 girls out of the audience and has them sit on his knee (he's just a perv really – lol) and bounces them in time now again to the beat of one of his songs). As can be seen from the photos they seem to be loving the attention up there on stage. Now this is something I've never witnessed before and I guess unless you've seen Bob before then you haven't either.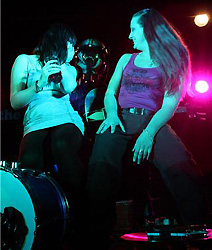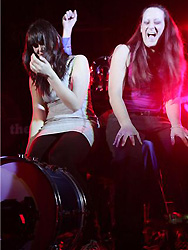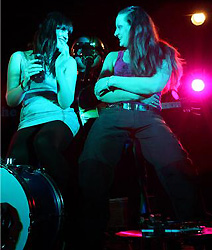 He didn't bother going off stage and doing an encore – he instead chilled onstage for a bit and joked that he wasn't back yet – a line that reduced people to tears nearly. You had to be there to totally appreciate his humourly quirks as it just aint the same to try and tell you about it in word form – seeing is believing in this case. People are dancing away to the last few number and he comes out to sign and meet the fans after the show – minus his crash helmet and jump suit that are throughly drenched in sweat.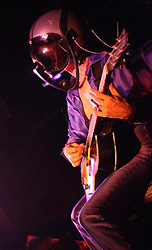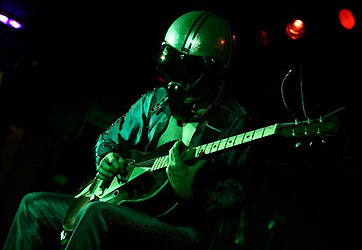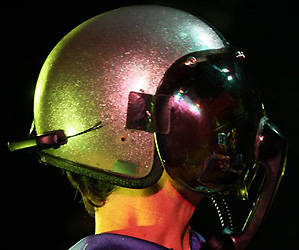 An amazing spectacle indeed. Sheer originality so for that reason the gig gets top marks.
10/10
Review by Glenn Milligan
Photographs by Bernard Froggatt

LITTLE FEAT/Ian Parker - WOLVERHAMPTON CIVIC HALL, 9th July 2008
The rain falls hard on a humdrum town, as a disappointingly small crowdmilled about outside the Civic at opening time. The band had been delayed onthe ferry from Ireland, so Stourbridge -born support act Ian Parker didn'tbegin until just after 8.He treated us to a 40 minute set of modern blues, kind of a blues answer to Jamie Cullum. Highlight was a blistering solo in 'Love is Cold'.
8/10
The ground floor was arranged into cocktail lounge tables like they did lasttime. It certainly helps break the ice with your neighbours, as I met Americans, Scousers, and a guy who was at the Warner Brothers Package Showin '75. The Feat came on at 9:05, and dazzled us with a blistering 2 hour set thatwelded funk, blues, country and rock with a soupcon of jamming.
Barrere and Gradney seem to play better the more ancient they become. I was also one of the youngest members of the audience which is always a nice feeling. Bill Payne's inventive piano zipped us through an early set 'All That You Dream' that was excellent.'Dixie Chicken' was stretched out into an extraordinary jam, where a teaseof 'China Cat Sunflower' got me all excited (to no avail as it morphed into'Get Up Stand Up' instead - four years ago to my great delight, Featperformed 4 Grateful Dead songs).
Sam Clayton showed us his 'Spanish Moon', 'Fat Man in the Bathtub' had usall gyrating feverishly, and they even played 'Willin'. I still strugglewith anybody except Lowell George singing this song, but it was a fairversion. I still don't think much of 'Don't Bogart That Joint', but thecrowd enjoyed it.A superb 'Feats Don't Fail Me Now' encore had us rolling right through thenight back to the metro stop, having seen an excellent performance.
9/10
By Roy Evans
Love/Hate + New Generation Superstars –
The Rescue Rooms, Nottingham 22/12/07
Well I ain't been in Nottingham to see a gig in many a year – I think the last one was Motorhead @ Rock City at least 3 years ago and this is my only my second visit to this little spot – ok, it's bigger than the small live room at the said mentioned gig but the acoustics in this room aint very sparkling to say the least – it's like tuning into a radio station on medium wave – Uh – a bit too mushy for my liking but there ya go.
Up 1st supporting tonight were a bangy, crashy set of glam-sleazers who actually come from Nottingham and go by the name of New Generation Superstars – talk about loads of merchandise for sale – I've never seen so much for un-signed support before – well they didn't have to cart it too far so I guess that's the reason – lol.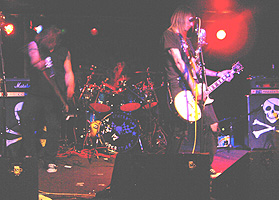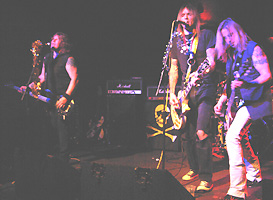 Anyways they appear to be well liked – well it is their home city ain't it so I guess you can expect no less here. Their singer appears to be on the f*ck*d side in the vocal dept – god damn cold dude – I know how ya feel as I suffered during the week as well, but their Tour Manager/Roadie Geezer helped out and sang lead vocals for one of their rowdier songs tonight. A decent band but would have enjoyed them more if the sound was better, especially with regard to the vocal mix – sack the engineer that's what I say.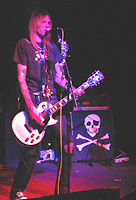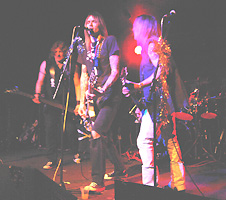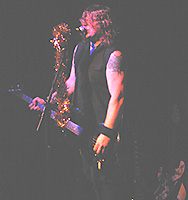 We appeared to be waiting a while overdue for Love/Hate – about 15 mins, but we needn't have worried because they appeared to give us their full set anyway, regardless of some daft curfew of 10pm set by the venue – now that's too early if you ask me! First onstage was drummer Joey who ambly took to his kit while we had previously seen Bassist Skid Rose looking over from above at the back watch the bulk of the NGS but come stage-time he was shirtless looking rather not very sober carrying the Love/Hate cross covered in Budweiser cans that he danced with to the intro music, nutting it and causing his forehead to bleed throughout the entire gig – nicely done Skid!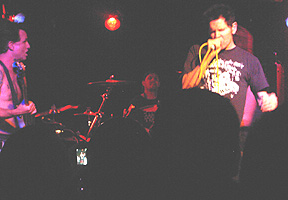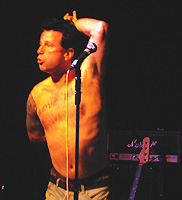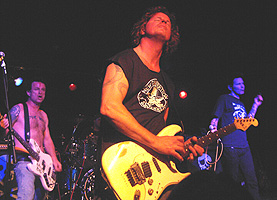 Skid never appeared to miss one low note though leaping around and funking out as though he was Flea from The Red Hot Chilli Peppers, while Jizzy Pearl entered with a mass of applause alongside the hired guitarist going by the name of ----- as Jon E. Love couldn't make the tour for some reason.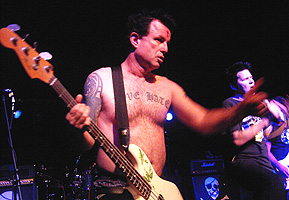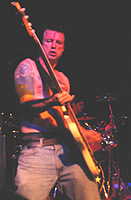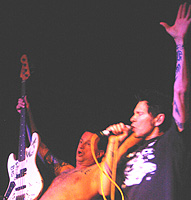 The sound quality had improved too – still a bit mushy though but ¾ decent enough to be considered acceptable – wonder how it sounded onstage? Anyways, Jizzy Pearl is still a diamond showman onstage and what he ain't got in height, he totally makes up for in vocal range and sheer aggression and power – he's as in-your-face and as confident as when I saw him in the live room of Rock City when he supported Gilby Clarke a few years since – this guy never loses it no matter what venue he is performing in.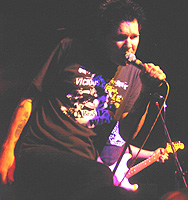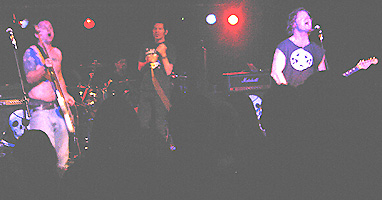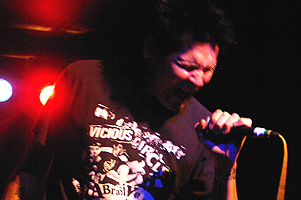 Songwise we are pleasured with a variety of favourites that are most notably from the 1st two albums with highlights of the set being rock dance-floor staples such as 'Blackout in the Red Room' (which they actually opened with); 'Slutsy Tipsy'; 'Spinning Wheel'; 'Wasted In America'; 'Why Do you think they call it dope' and 'Let's Rumble', not to mention an awesome version of 'Mary Jane' with an accompanying sing and screaming along during the high-ended chorus. Beats the hell outta me where Jizzy gets all that energy from as there's not really a ballad in sight and its full-on octane jet engine wails as soon as he opens his mouth – unbelievable.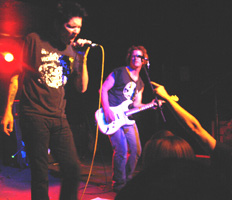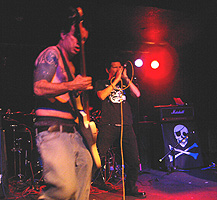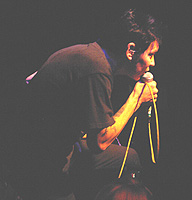 New Generation Superstars were also invited up for a song towards the end of the night as well. Jizzy had no idea how it was as gonna go as they hadn't tried it before - but it turned out fine - no doubt making the Nottingham bands night.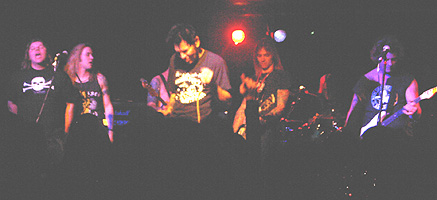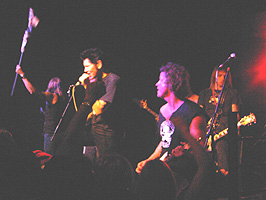 We are enjoying the gig so much that their 90 mins (inclusive of the encore) goes so damn quick. No-one appeared to leave disappointed and the band even came out virtually straight away afterwards to meet the fans – now that's a rare occurrence these days.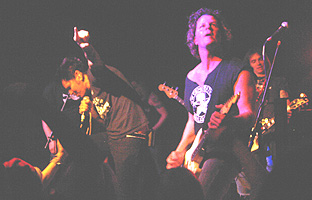 Reform again before the decade is out as this gig was well worth seeing.
8/10
By Glenn Milligan

Letz Zep – The Boardwalk, Sheffield, Saturday 18th March, 2006
Not seen a Led Zep tribute for quite a few years – the last one I saw weren't that brilliant – now this was a different story altogether. Letz Zep are a name I'd seen advertised in a well known UK Rock Magazine so a trip to one of my favourite Sheffield Live Music venues had to be made.
After getting into the Boardwalk, I got the impression that this was gonna be something rather big as the place was packed at 9pm – when the band kicked off their set. Now I know it sounds rather corny and unimaginative to say but this really was like watching and experiencing the sounds and spectacle of the real thing on stage – the Robert Plant was a pure lookalike and soundalike even the there's little wonder that Robert Plant looked on stage and said here saw himself up there. The stage moves and mannerisms of Percy were all there as well – it could have even been the real Bonzo on the drums – if only for the fact that he sadly passed away in 1980. Ok, so the John Paul Jones and Jimmy Page characters were wearing wigs but I'll let 'em off for that as everything else was purely intact.
Instead of a usual rock by numbers greatest hits set they played a good variety of album tracks and well-known by the masses songs as well . I'm sure they played 'Dancing Days' – think they opening with it – or something you wouldn't expect to be track number 1. Also played gems like 'Since I've been lovin' you'; the very impressive 'No Quarter' with an organ sound just like the original record itself. As well as and ditties like 'What is and what should not be;' the Ocean' and faves like Kashmir (without some black geezer rapping over it – man, it's good to hear the proper version); The Song Remains the Same' and of course 'Moby Dick' with the obligatory drum solo in the middle. Oh yeah, 'Dazed and Confused' was exceptional too and I'll let him off for not using the violin bow.
A stand-out part of the set was the acoustic section that included the exceptional 'That's the Way' and I have to say some of the crowd p*ss*d me off for talking through this section – I mean, why can't they go and talk in another pub that plays pre-recorded stuff or simply no music at all - that's people for ya – some have simply no respect for artists at times. I can't stand ignorant punters, to say the least. Funnily enough they soon shut up when 'A song of hope' was introduced - this being 'Stairway to Heaven' which got many a person sing-a-long as well as 'Black Dog' with its crowd interlude as well.
It was nice to see the jam section in 'Rock n Roll' as well plus for the encore a song from Coda. All in all, they were best Led Zeppelin tribute I have ever seen, probably the best in a handful of tribute bands around in the UK today.
10/10
By Glenn Milligan

Live Wire – The Boardwalk, Sheffield, Saturday October 1st, 2005
I ain't seen this band for about 5 years and they've improved a lot – reckon they've changed the line-up a bit and they added a second singer as well who takes care of the Bon Scott stuff, leaving Billy to get on with the Brian Johnson material – much obliged sirs, much obliged.
Up first is Bon who struts his ample stuff and opening with the classic rarely heard 'It's a long way to the top (if you wanna rock 'n' roll) – dude, where's the bagpipes – OK, I'll let you off if ya play 'em at the next gig. He's got the voice and the zest as well – even cranks out the oz dialect on occasions – good one, me old sport! Especially when the band give us some 'Jailbreak' and 'Gone Shootin' too.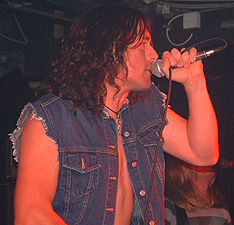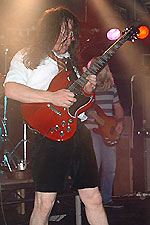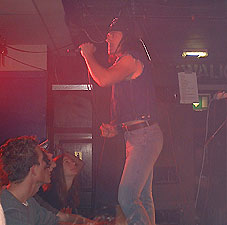 We get a few more classics before Billy takes over with his Brian impersonations – nice to hear songs like Hell's Bells (with the sound effect) and Heatseeker but more importantly is the chance to hear 'Let me put my love into you' from the 'Back In Black' album which is a rare opportunity – in fact my mate Paddy stated he'd never known AC/DC themselves do that one live.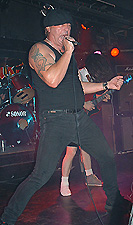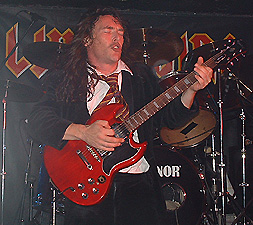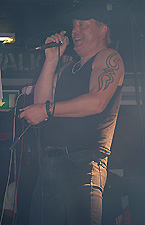 It really is an explosive set and the atmosphere is electric from the packed crowd – how can you argue with a solid 2 hours of rock blastin at ya? It's a exceptional rhythm section too, Angaz is on great form musically but we miss out on this duckwalks etc because he broke his foot a few gigs ago dancing on a bar in Hastings, so i'm told– which explains why he's only wearing one trainer boot.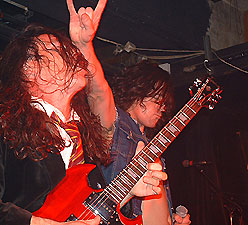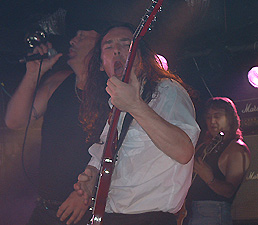 None of the numbers need any introduction at all and we are of course treated to the delights of the delectable 'Whole lotta Rosie', 'Let there be rock' and 'TNT' (that would sound crap if the crowd gave no 'OY' in the crucial parts of the riff – they oblige – as if they wouldn't !!). It was also nice to see both singers on stage for 'Highway to Hell' – I was hoping they would duet somewhere during the proceedings (as opposed to just the out of sight, off stage deeper backing vocals).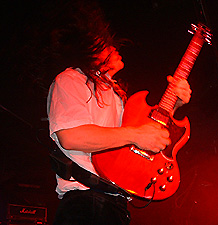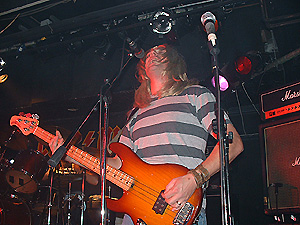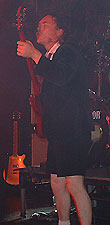 'For those about to rock (we salute you)' is the only way to finish the gig – and both band and audience were in well deserve of one as well. Looking forward to the next one.
8.5/10
By Glenn Milligan

LOVE/HATE + Kickback + Mudmen -
Sheffield Corporation, Saturday 15th May 2004
I've rarely seen any band, in my 26 years walking the Earth's surface, as the first act to hit the stage in support of LA glam metal legends Love/Hate tonight. Toronto sextet The Mudmen play sleaze fuelled rock n'roll in the Enuff Z'nuff/Bubble/ Samantha 7 vein, but topped by two twin bagpipe-playing fellas who steal the entire show sevenfold. A band in a class of their own - and I mean with the room to themselves - these boys are instantly registered as ones to watch closely, with a signing to TB Records likely to help them on their way.
KickBack - not to be confused with the French metal outfit of matching tag, deliver sadly little more than formulaic trad rock but quite well with it - I'd rather see them turn up on this bill than some bunch of baggy-trousered trendies, anyday.
Over two years since I last saw L/H (with Gilby Clarke, Feb '02, in case you're wondering), it doesn't seem that long but it's been too long. Jizzy and co kick ass right from the very second the first chord is twanged and the small room of seventy-eighty -odd lay straight into it. As expected, about half of the 'Blackout' album is included but other faves such as 'Wasted' and 'Spinning wheel can never be left out of a Love Hate live set. Jizzy even dons a guitar fro a couple of solo numbers, even though the band feels like a solo act to him now as it is, he being the only originals member left. The closing number ,Blackout In The Red Room'… you needn't ask how the crowd reacted to that last slection. THen they are gone after only an hour..
Still one of their finest. Jizzy Pearl's voice still in top shape after all these years. A killer gig - please don't leave it another two years before you're next over, Jiz, you know we can't live without you. !
9/10
By Dave Attrill
LA GUNS + Pretty Boy Floyd + Renegade Playboys - Corporation, Sheffield, Monday 23rd Feb. 2004
It's got to be either a sudden windfall of seismic proportions, or front man Phil Lewis's British Nationality that has brought the glam metal legends back to these isles for the third time in actually less than as many years. Barely ten months in fact since they were last seen rippin' it up down our beloved NMB, Sheffield plays host to these lads again.
On with the openers, British unknowns, Renegade Playboys wet many appetites with a pleasant half-hour of Firehouse-meets-Danger Danger shenanigans that turn quite a few heads. The unusual guitar of the year award goes hands down to one of the fellas in this act - a Les Paul with an up-ward slanted headstock is a rare enough bird, let alone one left-handed.
Some very special guests follow on tonight's bill, fellow Hollywood scene heavyweights 'Pretty Boy Floyd' delivering a set that at 52 minutes lasts longer than their headliner here, a year earlier. Still capable of putting on the show, tonight's proceedings are only ruined, if amusingly so to some, by PA foul-ups at the beginning of opener 'Leather Boys With Electric Toys', meaning the classic clattering drum intro has to be extended to about four minutes while the remaining three musicians struggle to rectify the predicament. Needless to say, Mr Summers was less than amused.
The Guns appear finally, to stiff competition from their Californian counterparts but just about do the job in un-blowing themselves offstage (whatever that means). Back down to a foursome, and still Tracii-less, the band, with Lewis also now donning a rhythm guitar for the first couple of numbers, rumble into action with 'Over The edge' from their classic 'Hollywood Vampires' album and so begins a sizzling seventy-minute collection spanning 1987-present and all that lie along the way.
No set of there is complete without 'Sex Action' , 'Electric Gypsy' and 'Ballad Of Jane' and these, which come as standard with all the other classics, support the newer material very well. Drummer Steve Riley, the only other original member in the ranks gets himself a solo spot this time round, too and fro five minutes, it's a chance to enjoy the one-time WASP sticksman's evident talents.
They dominated the scene in its day and today remain a considerable force on their face of the rock n' roll world - LA Guns keep coming back with a full round of deadly ammunition. Tonight, they hit point blank, once again. It'd be nice to have Tracii Guns back again some day though. Don't you reckon.
9/10
By Dave Attrill
LA GUNS/Enuff Znuff/The Plastics -
Nelson Mandela Building, Sheffield, Wednesday May, 2003
What? More already?! Only two months after Pretty Boy Floyd graced us with a visit to these shores do not only one but two more of the US hair-rock scene's biggest names roll into Steel City. Firstly, it's the turn of Brit support act hindsight to entertain those already in the building by that time, with similar material to that of Floyd openers The Plastics, a fusion of sleaze and pop-oriented material that garners nods of approval from all around.
Enuff Z'nuff are the first of the two heavyweights on tonight's billing. The biggest shock greeting their fans is the absences of frontman Donnie Vie but Chip and the other guitarist split the vocal duties ably between them and the 40-minute set straddles their entire catalogue. It's been two years since I'd last seen them, (Z-Rock and Notting Rock City, May '01) but it doesn't seem that long in weeks, the memories of my last encounters with the Chicago boys still quite fresh in my ears.
LA Guns are loaded from the start. The opening double barrel of 'Over The Edge' and 'Kiss My Love' get everyone up and singing from then very beginning, then coming off their most acclaimed release, '91's 'Hollywood Vampires', it's only to be expected. 'Sex Action' comes surprisingly early in the set but it remains as accurately aired as it did a decade-plus ago. Phil Lewis's voice could be heard all the way to Hull if this venue was open roofed - which he nearly makes it, and the smile he wears endlessly on his face throughout says something about what it means to be playing the UK again - he is British, after all.
The band have become a fivesome again but with Tracii Guns still in the USA working on a different band project altogether the Guitarists are Faster Pussycat's Brent Muscat and that LA Geezer who everyone wants in their outfit, Keri Kelli (Slash's Snakepit, Love/Hate, Pretty Boy Floyd.. the list goes on…) on the boards, and it all goes, along with the performance of the other players in the team, into keeping songs like 'Hellraiser's Ball', 'Gypsy', 'Ballad Of Jayne' and 'Rip n' Tear' in full calibre. Playing for a paltry hour, they manage to cram in all the nuggets but I felt there was way too little from the 'Vampires' album on tonight's list. That one moan over with, it was an evening to remember for Sheffield's cock rock lovin' population, and I'm sure that the measly 200-odd crowd were only a fraction of it who had the common decency to attend.
8/10
By Dave Attrill
L.A. Guns/Steevi Jaimz-
Nottingham Rock City, 22nd September 2001


The half American, half British Sleazy Goth-Rockers haven't played over here in years - so imagine my glee when the LA Guns announce a handful of UK dates with Faster Pussycat (who sadly pulled out!!! due to the bad state of affairs regarding aeroplanes - need I go on !!! ).

Firstly (in support), we were entertained by the original squawker of Tigertailz - Steevi Jaimz (who now looks more like Iggy Pop dressed up as a clown in Billy Smarts Circus (no honestly!!). Anyway, he fired some classic glam at us from the fist 'tailz album 'Young and Crazy' like 'Star Attraction' plus cuts from his new album 'Damned if you do, damned if you don't'. Steevi paraded around the stage like he was in his own front room - oozing pure confidence throughout his 35 mins'ish set.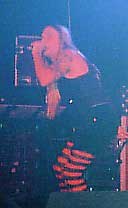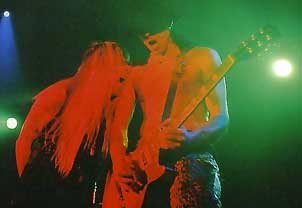 The man even greeted us with his wrinkle-free hairy arse!!! Such a
Gentleman - there's no doubt about it !!
7/10

Then came the real Pro's - not that I'm dissing Steevi or anything but the LA Guns were made for the stage. They were in great mood backstage and on-stage they matched up just as good. By throwing in faves like 'Sex Action' early into the set more than guaranteed them hitting it off with the packed glammmy audience from the start. Also present were plenty of newies from the 'Man in the Moon' album (which I incidentally gave 10/10). These included the title track itself, 'The Dealer' and the Beatley - almost Oasisy gorgeous ballad 'Beautiful' which Phil loves singing dearly (as he informed me in the interview I did with him - check the interviews section for that).

Good humour was well up-front especially from Tracii Guns (Lead Guitarist), who was forever teasing the crowd with classic G'N'R riffs like 'Sweet Child O' Mine' and 'Paradise City' - he literally had us in stitches.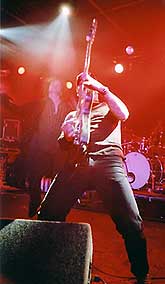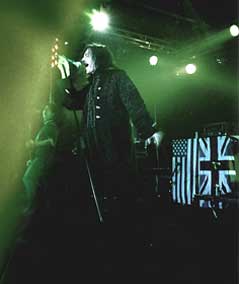 The six-foot plus black-cladded front-man, Phil Lewis still reaches those high notes in classic Guns songs like 'Crystal Eyes' and 'Bloody Jayne' as he refers to it (Ballad of Jayne). He was also as gutsy as hell on during the rockers, 'Electric Gypsy' and 'Never Enough' - Brilliant!!!
The new addition to the band, ex-Burning Tree member, Muddy (Bassist) with his bushy curly locks fits in like he's been there from the start and even performs a knockout version of David Bowie's 'Ziggy Stardust' which the crowd had to vote for - you ought to have heard the response to a Neil Young number - good job the Canadian himself wasn't present. Muddy's bit gave Phil the chance to cool down and "do a mound of cocaine" he informed us - I'm sure he was joking.
Drummer, Steve Riley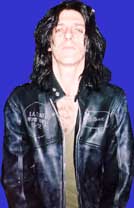 (ex-WASP) bashed out his kit like the demon child of Keith Moon for his energy was phenomenal throughout the entire show.
The best on-stage quote came from Phil, who sniped,
"We arrived here on Friday and I checked out 'Top of the Pops' to see what I wasn't missing"
Funnily enough, he missed nothing!!!
This night at Rock City was Rock 'n' Roll at its rawest and best - no tacky effects, smoke bombs and fandangled props just great music played by a great band. LA Guns even hung around after the show signing autographs.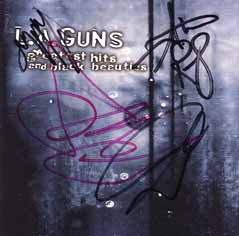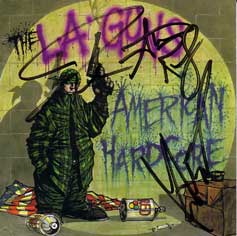 It's nice when artists go out of their way to do a meet 'n'greet for the fans - and a friendly bunch the LA Guns are at that.
10/10
By Glenn Milligan, BA Hons CS
Liquid Angel - The Boardwalk, Sheffield 28/07/01
It's always an important gig for any band - the album launch - and for liquid angel - this was the night. The 'angel featuring Jaemi - Lead Vocals/Guitar, Rob - Drums and Mark - Bass took the stage after a splattering of Cradle of Filth (from the P.A.) - much to the delight of many of the kids present.
Kicking out full-on 'No-Bull-Sh**' renditions from their 'Small Perversions' album - Jaemi's crew proved just how well they could deliver the goods live. I've seen many bands live in concert (major names including The Who, Def Leppard, Megadeth etc. etc.) and have to say that in their own way they come across with a similar sort of presence. Jaemi alone has those certain something's that can only be described as rock star qualities - imagine an industrial/black metal equivalent of Lenny Kravitz (when he had dreads) - that's Jaemi!!! He looks and acts the part when he performs and is backed up extremely well by Rob and Mark. Rob is a real powerhouse behind that kit while Mark throbs out some top-notch bass work - and then there's his adventurous red make-up to stand in awe at. Never have I witnessed such a solid strong live unit at such a young age.
We were treat with cooking versions of tracks like 'Tragic', 'Horny Bitch Monster', 'Virgin' and 'My Perversion' as well as many, many more from the 'Small Perversions' album. The sound quality was excellent - in a venue that at times can be rather echoey. The entire set was well received by the audience present - and yes - a number of CD's were sold that night!!
A Barn-Storming Gig. I can't see 'em just playing small local pub and club venues for long - they are worthy of better.

9/10
By Glenn Milligan, BA Hons CS
Love/Hate featuring Jizzy Pearl -
Nottingham Rock City, 6th April 2002
Nottingham was the final night of the short UK Tour - where frontman, Jizzy Pearl (who is the only original member left) supported ex-Gunner, Gilby Clarke with a backing band that included Keri Kelli (last seen on this stage with Pretty Boy Floyd), bassist, Robbie Crane (who seems to have a problem having his picture taken - after throwing his mike at our photographer, brother Paul) and drummer of 2 years, Dave.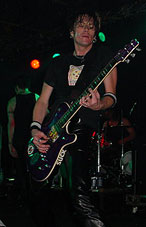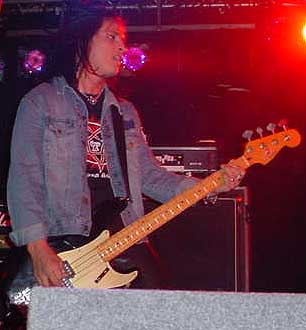 King Jizzo has lost none of his vocal chords since he last graced Great Britain in the early 90's - it's as strong as hell and leaves you amazed at it's immense power. He commands with every wail, squawk and scream and mixes in new material with faves like 'Spinning Wheel' that was aired early on in the set and other classic cuts including 'Blackout in the Red Room'; 'Wasted in America' and which Jizzy said was dedicated to... no we never did find out - as he said 'F*ck it' and got on with the song - he'd either got sick of the dedication bit or was running out of time - knockout version as well - engulfing the crowd into a perfective sing-a-long routine.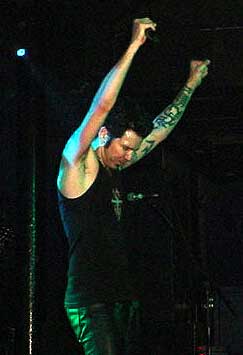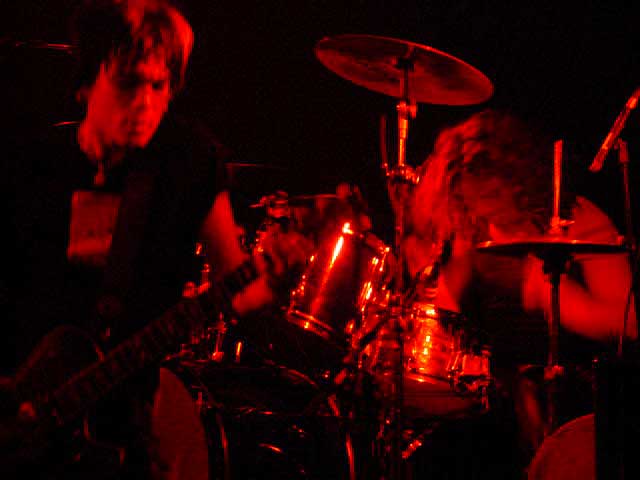 'Why do you think they call it dope?' is the number that proved to be the ultimate excitement ditty - more singalongs ensued - in fact Jizzy let Nottingham take over on a lot of the lyrics - they sounded in good form as well. The chorus section wasn't fast enough though and the bass line lacked atmosphere and presence - slightly disappointing - although newness does eventually grow on you.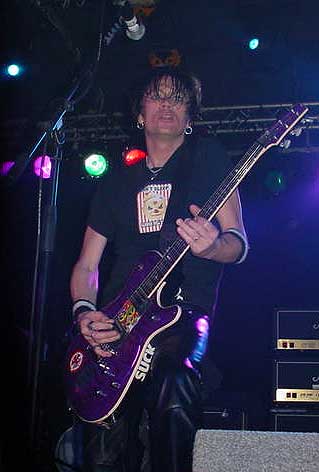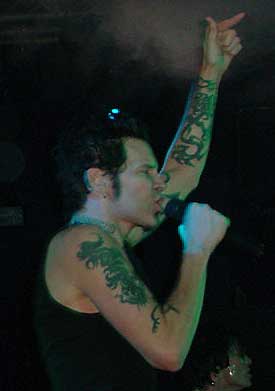 This was one of the best support slots witnessed at this venue - it was a constantly exciting performance all the way to the it's finish. A record deal is looming and yet another new book, 'Angst for the memories', - the follow-up to 'More Crickets than Friends'.
9/10
By Glenn Milligan, BA Hons CS