Legends of Rock - German American Club, Cape Coral, Fl. USA, Saturday, 21st April, 2012
Now here's a show I've looked forward to seeing over in the South West area of Florida as I get to see some 80's icons I've been wating literally years to see but more on that later. The gig is set in a large field at the side of the club - I mean, how could you house 4000 people in there - pretty impossible - so there was a halfway decent turnout for the show.
The hardest part is always being the opener for an event of this nature, with the duty this time going to LA's 3 girls, 1 guy outfit who are a great set of cats up there called 'Hear Kitty Kitty'. They are have a style that cannot be pinned down which is a good thing from where I am standing because it's an impossibilty to get bored with them as they are so adventurous in their musical attributes who lay out a mix of rock and metal with a fresh alternate kinda outlook.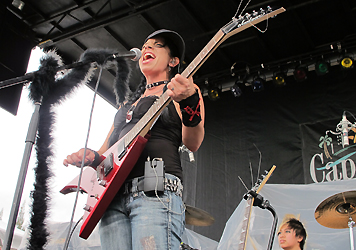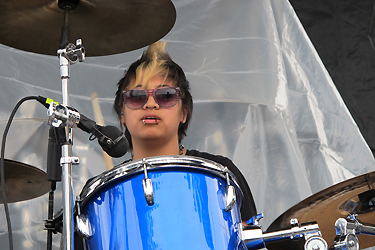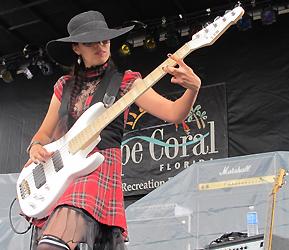 To place them into any perspective they are kinda like the alternative to all the mainstream sh*t that continually pollutes many of the major rock magazines these days - a bit like what Faith No More did in the late 80's and early 90's.They play some cooking songs from their debut album 'Tales From The Alley' and grabbed the audience straight away and their cuty sweetness and tequila slurping from Kitty has them loved by all.

They even finish off their show with that old dancehall classic 'Highway To Hell' and overall go down a f*ck*n' storm before the rain fired up. Highlights of their set included 'Waiting' ; 'Vampires' and a healthy helping of tequila too that Kitty swills down and salutes each and everyone of us with that bottle.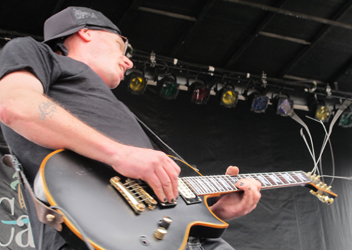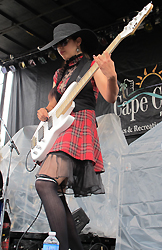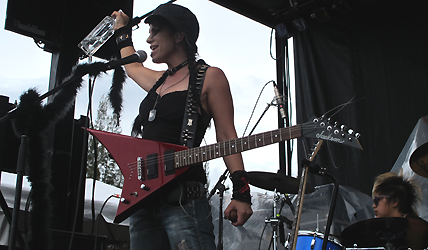 Local boys, A200 are up there next and the heaven's have decided to open and it's literally p*ss*ng it down for the bands new lineup, since they have a brand new frontman in Jason Polly who has a different sound to Mr. Clanton but a similar look going down.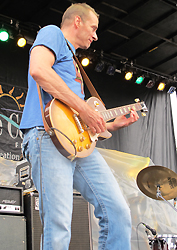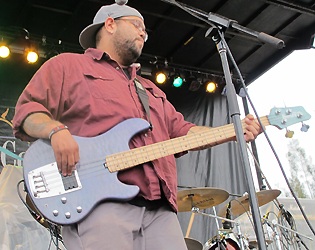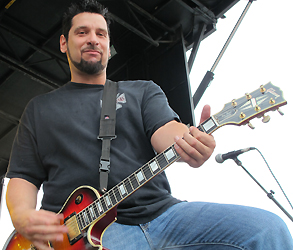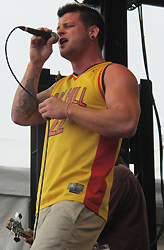 They do well up there even though only covers are played due to either not having the rights to playing songs written by their previous frontman or because the new guy has not had chance to learn them yet. Good work guys - looking forward to seeing some original songs in the set soon.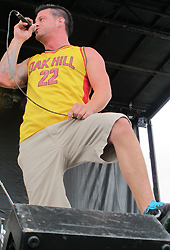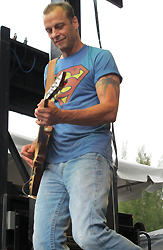 10,000 Views, probably the hottest act from the Fort Myers area hit the crowd hard from their opening note with their brash 'n' harsh set of fired up songs that are kinda like a cross between Metallica and Tool with frontman/guitarist, Timmy Johnston revving everyone up and roaring for all its worth to the rain-soaked crowd who soon get rocking out and making them forget about the atrocious UK-like weather they are having to endure in the late afternoon.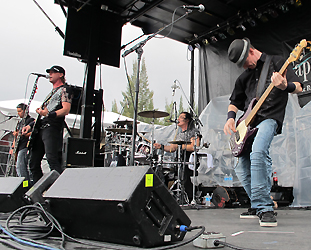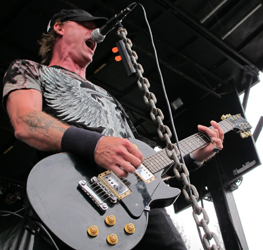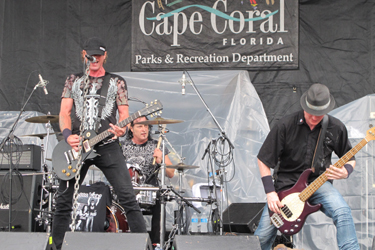 Drumming legend, Mr. Stet Howland whose recent addition to the band has created a whole new lease of life to the already excellent unit making it nothing less than brilliant in nsuch a short period of time . The 'Views can easily match any of the big bands out there today who pack out the arenas and the almighty metal festivals - it's just a matter of time.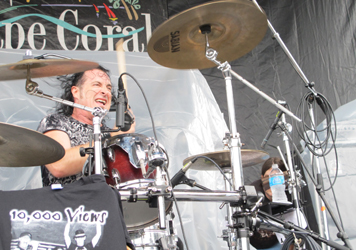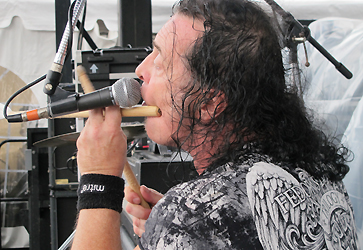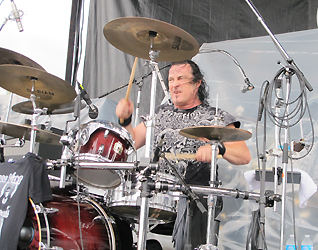 They are at the top of the pack around here and I personally can't see anybody matching them for a long, long while. Songs like 'Lust' have people going mental out there on the field since they are so well structed and memorable. Aside from the highlight of Stet's solo (arguable one of the best parts of the entire day), bassist Patrick Naidl was as cool as sh*t and put me in mind of Flea from the Red Hot Chilli Peppers with his unbelievable 4-string gymnastics.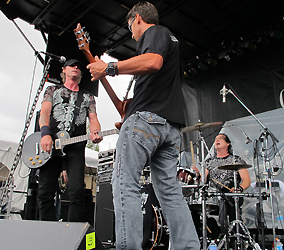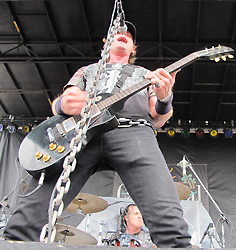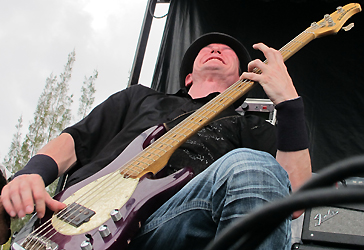 Extra guitar sound was also provided by 2nd guitarist, Scott Krehling who complimented Timmy tremendously well. Go see 'em locally while you still have chance - I expect big things soon - maybe a European Tour is in order.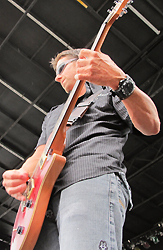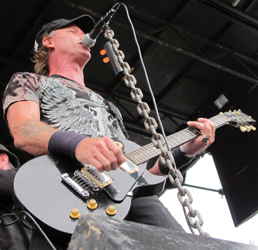 Push are a bunch of local heros who have played virtually every venue in Fort Myers and Cape Coral over the last few years including the odd bike night, not to mention Cocofest too. Ex-Headeast dude, JJ Steele commands the crowd real well and lightens them up with brand new ditties from their up and coming new album. They have a great 80's hard melodic rock style to them, similar to what you'd expect to hear on labels like Z, Frontiers or Escape Records.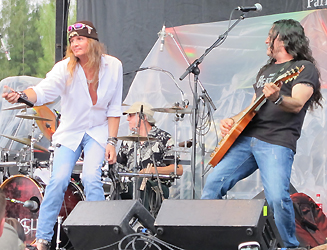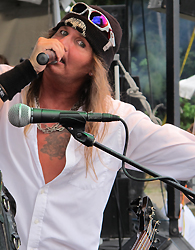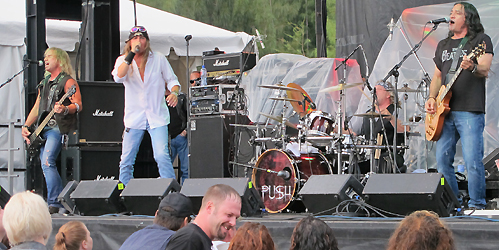 They are an enegetic joyous band with guitarist Marky Chang being as good as Slash - I kid you not. Their drummer kicks ass and he even gives up his seat for a rendition of Dirty White Boy' that sees ex-Foreigner stickman, Dennis Elliott manning the seat who JJ announces as being a true 'Legend of Rock' that places big smiles on the crowds faces.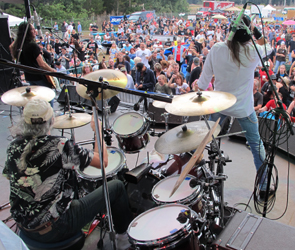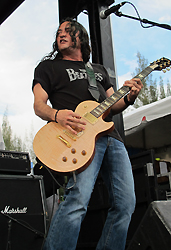 Bassist, Tommy Yates is a true pro up their too throbbing out some cool low ones with the guys even throwing in an epic cover of 'Whole Lotta Love'. How the hell he manages to hold them high notes for so long I will never know. Push start up the 80's extravaganza and for what we recieved we are truly thankful.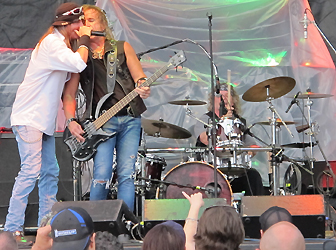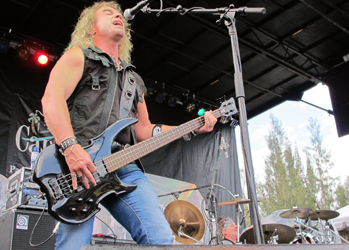 What's that? Sharks on the stage in a minute or two? Only kidding - hah! It's Great White time so let's up the bar a level or two. There's been a lot written about this band in the last few months with regard to line-ups etc but I ain't gonna go on about any of that as we are gonna rock nice and hard with the big boys right now.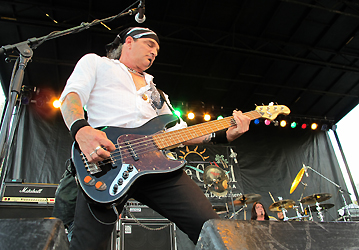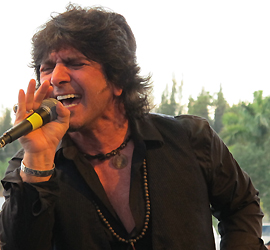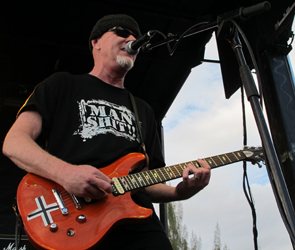 What surprises me more than anything is how incredible Terry Ilouis is at fronting a band he's not been in too long at all. Every part of his persona up there is absolute perfection hitting every note of every single song spot on - he's a pure diamond and was born for the big stage.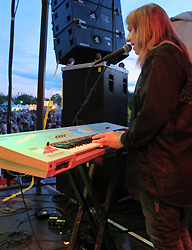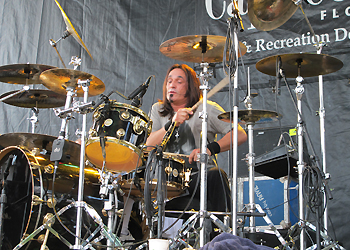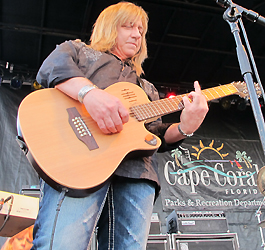 The band are simply exceptional and so, so tight firing out hit after hit that included 'Rock Me'; 'Once Bitten Twice Shy' as well as the heart clenching ballad 'Save All Your Love' that moves the the whole field of people. Really, what can I say apart from the fact that I would not like to be the band that has to follow the 'White.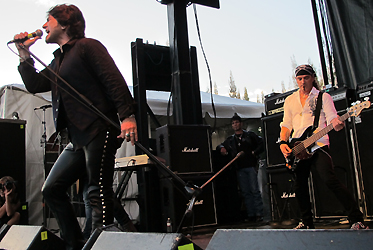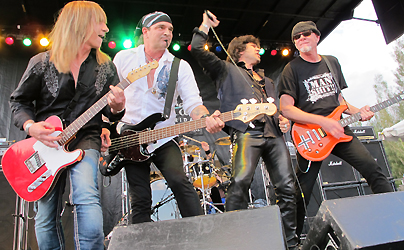 These silver finned rock demons will eat up anything in their path - all other fishes out there need to be afraid - sorry, I mean all you bands out there. We look forward to the brand new album 'Elation' that is out very soon. These guys could turn out to be the best band of the whole event!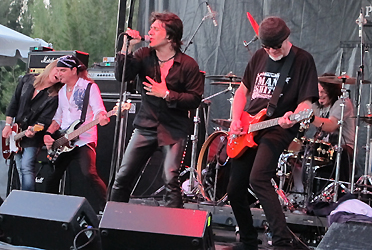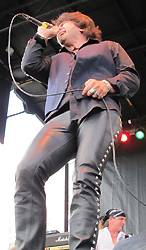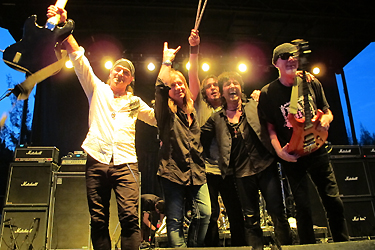 On a similar basis Quiet Riot also have a new vocalist in the fold who joins Chuck Wright, Alex Grossi and Frankie Banali for a 'Metal Health' sing-along showstopping set of songs that makes for a magical experience. Scott Vokoun, dude is a deadringer in the vocal department for Kevin Dubrow so no wonder he was picked for the job.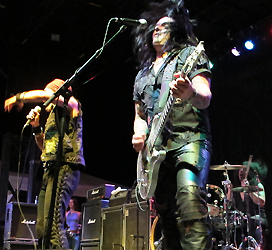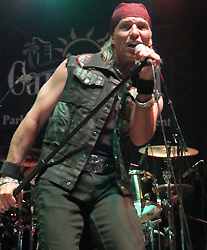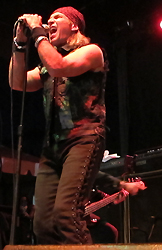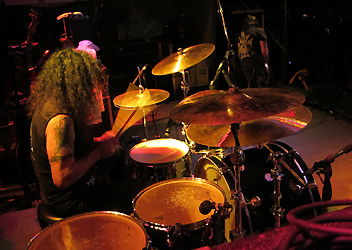 The power in the band overall is pretty immense with offerings including the Slade epics that the 'Riot had big hits with back in the 80's heyday - yes I'm talking 'Cum Feel The Noize' and 'Mama We're All Crazee Now' that have everyone screaming along at the tops of their voices for all it was worth.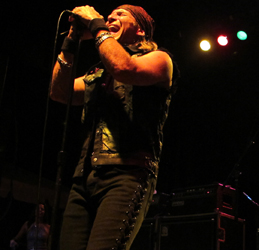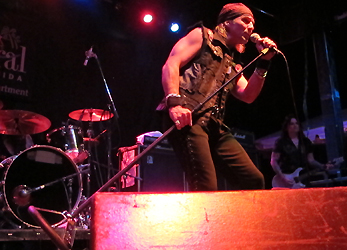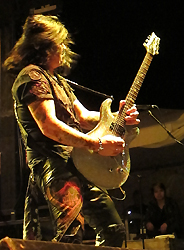 Drummer, Frankie Banali after being introduced, takes up frontman position and tells us what a great time he is having and then pays tribute to their late band members Kevin Dubrow and Randy Rhoads and having a moment of silence in their memory - it's all quiet until some drunk decides to start screaming Randy Rhodes at lung bursting level - have some respect bro.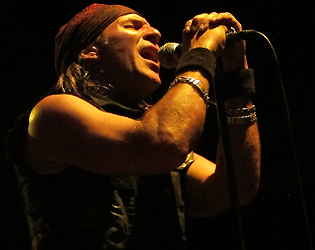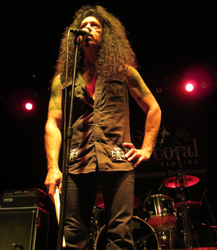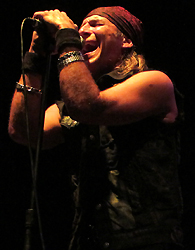 Frankie seems p*ss*d by it but keeps his pro-ness together and thanks the crowd all the same for their co-operation. Anyways, what they present us with after is anything but quiet and I'm pleased to say that they played my fave and no doubt many more peoples in the form of the big hair classic 'Bang Your Head' that closes their encore section.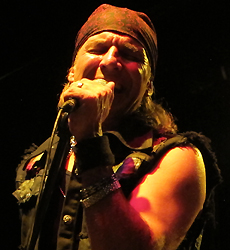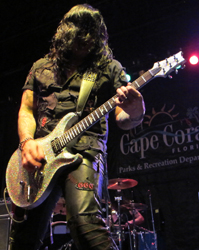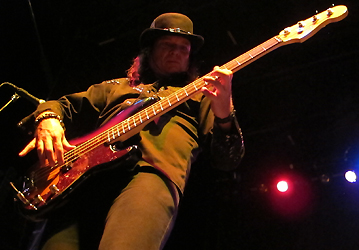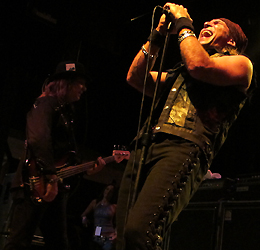 We seem to be waiting forever for Skid Row to hit the stage as we got an albums worth of AC/DC over the PA to listen to - maybe that was the idea - get people revved up and agitated so they are ready to burst when the band hit the stage. It also turns out to be Promoter, Rob Lyon's sons birthday so he is brought up on stage and we sing 'Happy Birthday' to him which makes his night totally as well as giving Rob himself a loud applause for putting the day on.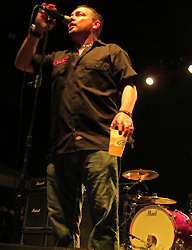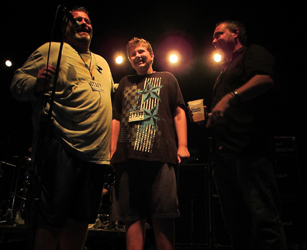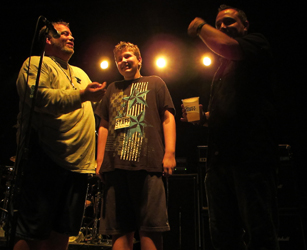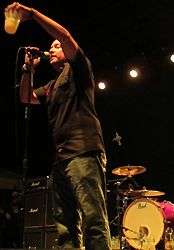 Soon after Skid Row take the stage who are as loud as hell and I personally think that the sound is being driven way too high for what the gear can cope with with Johnny Solinger leading the band who has been fronting the New Jersey rockers for 13 years now. It's all bass and sounds damn bad at times - unless that's how the band wanted it.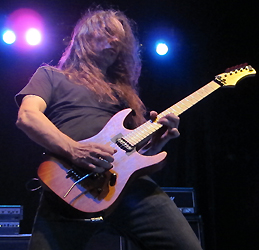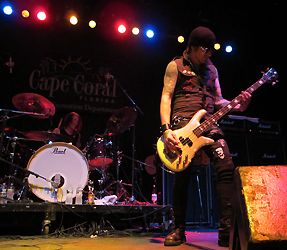 They open up with 'Big Guns' and follow up with well-known classics such as 'I Remember You'; 'Monkey Business' and later on the massive vocal ranged '18 & Life' where all and sundry tests out their singing skills. Even the main guy himself struggles at times with songs that were written for original vocalist, Sebastian Bach.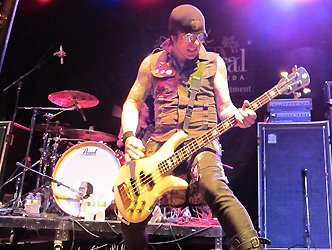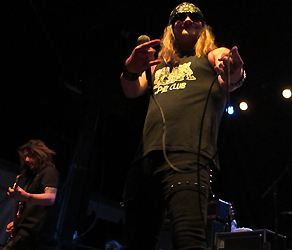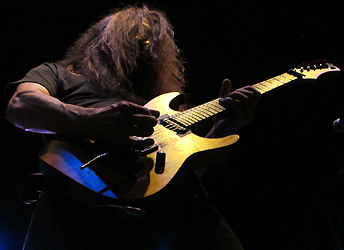 Mixed in between the faves are more obscure Skid Row songs like 'In A Darkened Room'; 'Thickskin' and 'Ghost', the latter 2 being numbers that are solely from the Solinger years that sit well with the older ditties in their show. The band work well with each other but I just wish that the sound was better with the nose ring bassist that is Rachel Bolan turning up his fatty 4 stringer up even more than we needed.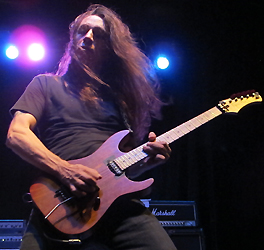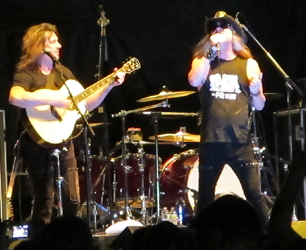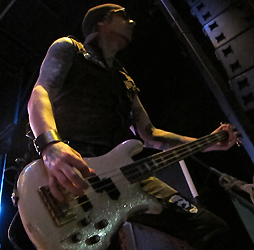 This in turn made the lowness of the overall mix pretty unbearable. I've seen the band before and it's the worst I have heard them to be honest with you. I hate to say that but it's true (this being my only grumble of the entire day). Oh well - you can't win them all can you? - at least they have some superb songs to take your mind off the fact.

Overall it was one hell of a great afternoon and night with the weather holding out for the the latter half of the event - let's hope we get another day like this very soon - preferably when I am in town as well.
9/10
By Glenn Milligan