MITCH MALLOY/Sordid Lies – Corporation, Sheffield, Saturday 17th September, 2016
Set List: Turn It Up/Eyes Of Rapture/Tonight's The Night/Dirty Girl/Sleaze Rock Sinner/Devil's Daughter/Rebel Child/Rockin' Ain't A Crime/Rebel Yell/Fist Of An Angry God/Party all Night.
And here we go people with the openers for the America's Double M tonight, Hull's Sordid Lies who dish up a sweet Tigertailz-meets-Pretty Boy Floyd plateload for fifty five minutes In fact, their slot space was increased due to the other act Kaato having been forced to jump ship at last munite. The bands audience-pleasing eighties barrage is as outrageously behaved as it would have been in the genre's heyday.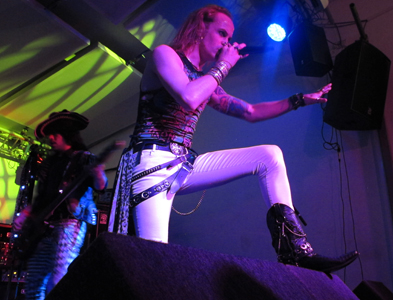 Huge anthems such as 'Turn It Up', 'Tonight's The Night', 'Rockin' Ain't A Crime' and their riotous run-over of Billy's 'Rebel Yell' lure rapturous attention. Singer, Valen Vain keeps stage presence at the height of his priorities with plenty of prancing across the back of his three bandmates and a multitude of classic mike stand postures whilst pelting out hook after hook.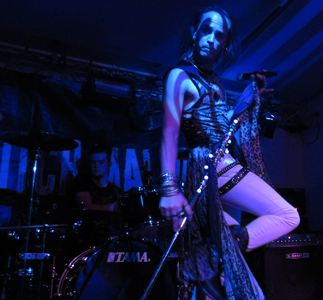 Despite their line up having apparently shrunk (their rhythm guitarist left earlier this year) these lads don't let anything loosen the boards beneath them. The Priest influences evident on the lead guitarist's shirt spread audibly to their singers delivery with a deliciously Halford-like scream at the end of a couple of tracks which starts to wring out a couple of smiling reactions in the crowd.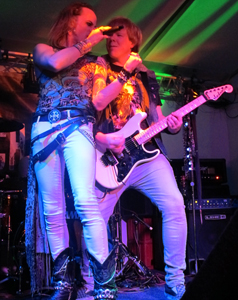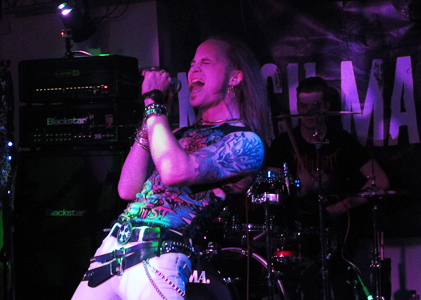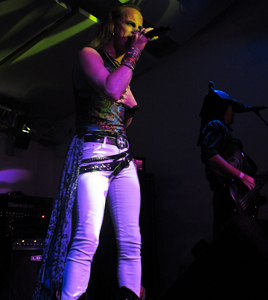 Despite their line up having apparently shrunk (their rhythm guitarist left earlier this year)this set is an evidently significant dot in the dairy for these bolshy British lads making a lamented sound people still long for here in 2016.
Set List: Rock N Roll/It's The Right Time/Mission Of Love/Over The Water/Stranded In The Middle Of Nowhere/Love Song/Cowboy And The Ballerina/Our Love Will Never Die/My Therapy/Forever.
Encore: I'm The One (Van Halen)/Anything At All.
Twelve years is a long wait for an active player to put foot in Sheffield, during the course of a UK jaunt... especially those of AOR legend Mitch Malloy's calibre. The nice guy from Nashville last graced steel city in September 2004 with an unplugged slot at the sadly now defunct Boardwalk establishment and hell, how the wait since has tortured.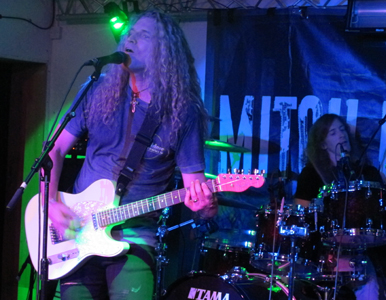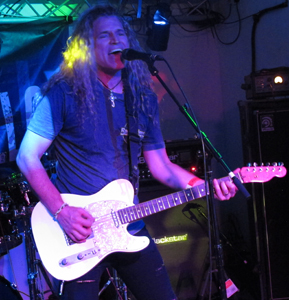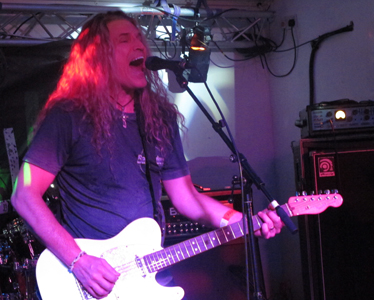 Finally the Malloymeister returns, and the agonising wait is at long-effing-last over. I'd be the first to admit initial entry gives me the shock impression that I've got the wrong gig as his backing group arrive onstage two minutes ahead of him, before he finally appears and then launches into both the opening numbers without his guitar (well if I'm going to miss out on seeing him for twelve years, I'm going to miss learning one or two things.).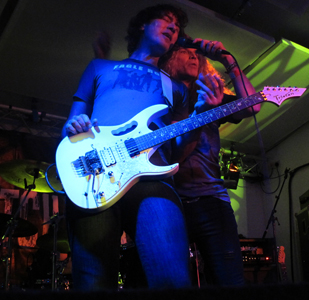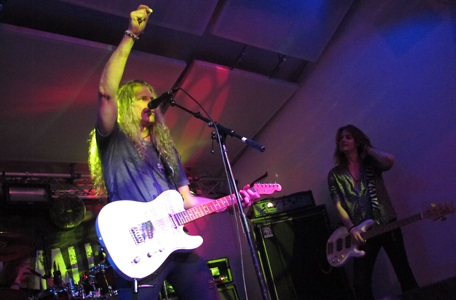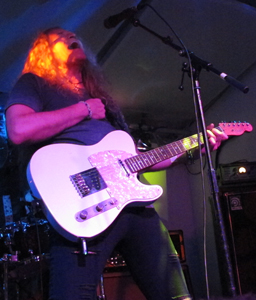 'Rock n Roll' and 'It's The Right Time' nonetheless kick up a grand starting salvo as Mr M struts round the stage swinging his mic at every direction between the huge melodies he still pumps out to this day. "I'm taking more off - I get paid extra for that", the man jokes as he removes his leather jacket and necktie before eventually reaching for his axe and offering people below him 'The first album'...well you know what their answer's going to be, don't you?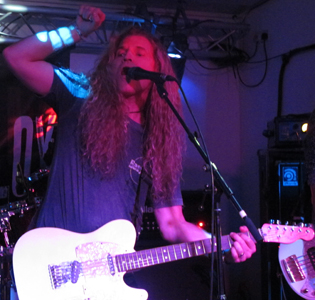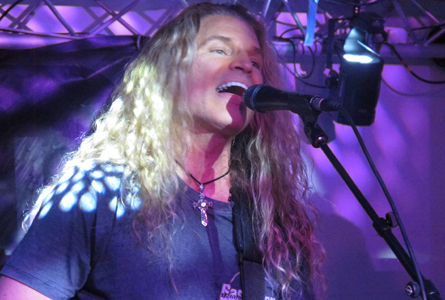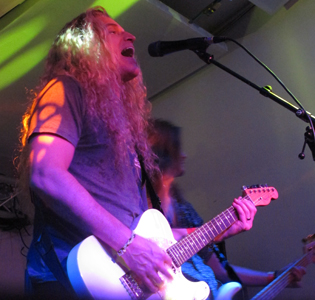 'Mission of Love' gets the small but psyched up crowd moving like a January rush in 'Poundland' as he launches a testosterone-laden triple header from his legendary '92 debut. 'Take Me Over The Water' sets the cig lighters swaying before my all time Malloy fave 'Stranded In The Middle of Nowhere' sets the room hugely on fire - the fact that Mitch has introduced it into the set due to audience demand does surprise me as much as not. Back to the new stuff and 'Love Song' in spite of its Bon Jovi-like slushiness is another titanium live entry with another of his famously big choruses.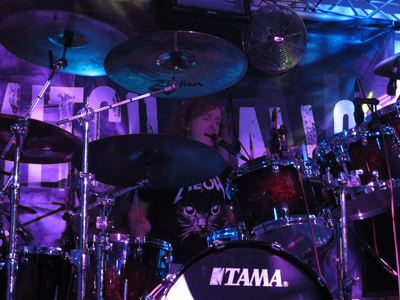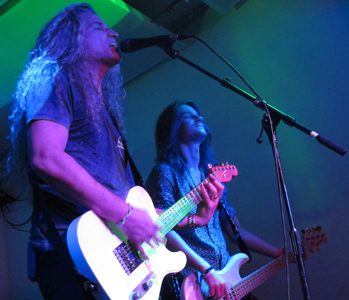 A couple more classics however come charging up behind as 'Cowboy & The Ballerina' and 'Our Love Will Never Die' create waves with Mitch's voice soaring through the room. New single 'My Therapy' is the other stand-out moment tonight. Just about takes to it as if it had been something off the debut, and not one person is spotted backing away to the bar at any time during its four minutes.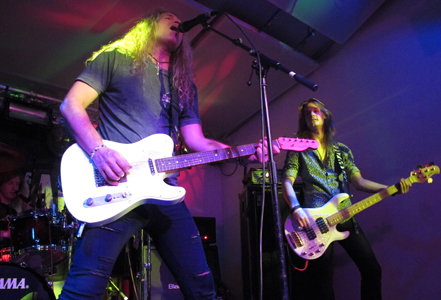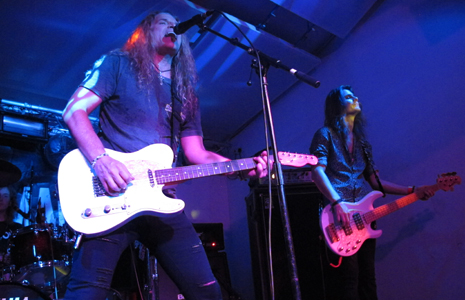 It's off with the guitar again as Mitch leaps into 'Forever' which he performs, perched comfortably on the edge of the amp beckoning, over-enthusiastic participation from one female audience member in particular. With the crowd totally revved up, our man makes stage right before returning for the encores, starting with a cover of Van Halen's 'I'm The One'. "Just one song left" Mitch announces, strapping his instrument on for the final time this evening...like you need to ask what that might be.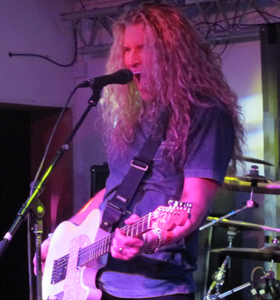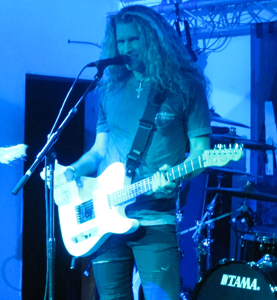 'Anything At All' hardly has the status of 'Sweet Child of Mine' or 'Smells Like Teen Spirit' but for the seventy-odd in this room tonight it means more than either of those said classics could ever manage to, with a bridge melody that for me at least, still sells the song as much as the chorus itself. If you're looking for somebody to put your mind at ease about real music still living here in 2016, Mitch Malloy is your man. The fact that he is kidnapped for hour and a half by fans seeking signatures and photos afterwards shows the hardcore loyalty his timeless melodic rock generates today, and to hell with the crowd size.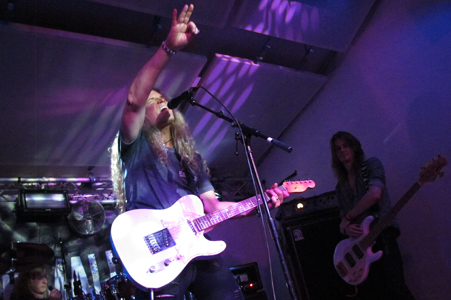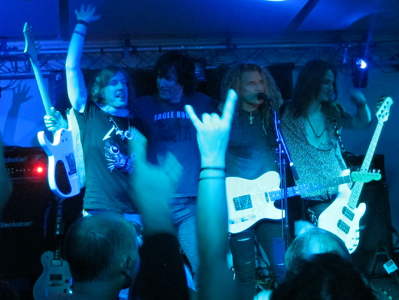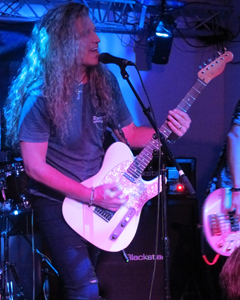 Mitch might well be on a mission of love - I meanwhile am on a mission not to have to wait another twelve years to savour the experience once again.
10/10
Review By Dave Attrill
Photographs by Glenn Milligan
MotorBone – Crazy Girls, Hollywood, California, USA, Monday, March 21st, 2016
Set List: Deeper Hole/Crawl/Wake Me/Lost And Found/S&M/Walkin'/Get In The Game/B*st*rd.
Well it's the first time Metalliville has covered a rock concert at a Strip Club and I say, why not indeed, especially since Motley Crue shot their 'Girls Girls Girl' Promo in one not too far away from this location. This joint is on Sunset and La Brea and it's a fun way to end the first working day of the week – the night run by Promoter, Nick Fuoco, Frontman of the Alice Cooper Tribute 'Nightmare'!
Anyway, Motorbone are local Rock 'N' Roll Heroes playing tonight. The crazy thing is, is that you have to get right up front to see their heads somewhat due to the low ceiling in here which was rather annoying to say the least. The lighting 'n' sound could be better too as well as the drink prices but let's not take that away from the band which is what we were here for.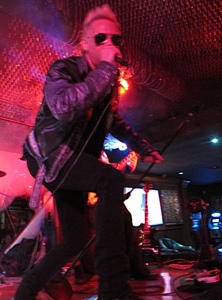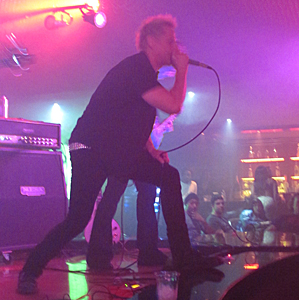 Frontman, Josh Tripp and the 'bone boys pull it off for sure telling us, "You guys make 75 people sound like 75,000" and even giving yours truly a shout out before playing 'S&M' – a song rather fitting for this venue – hahaha! It's a song set that includes numbers like 'Walkin' where Josh jokes that they are about to walk off & also asks how many times folk had been here and if it was there first time there as well. Great banter from him indeed. Even giving their drummer, Keith a mention too. Cool Cat!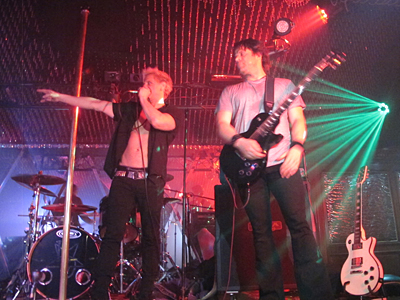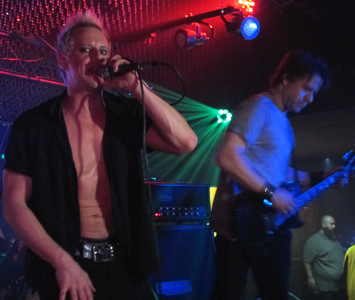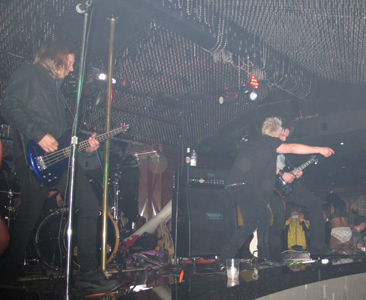 Their songs were both high-octane or deep and or slow, powerful and epical like 'Crawl' that has an Ozzy era-Sabbath feel to it. Some material reminds me a bit of Stone Temple Pilots gone 80's Rock. The 'Bone grab your attention in here tonight in this hot club with Mr. Tripp his shirt was discarding early on in the set. Such a Great Band indeed!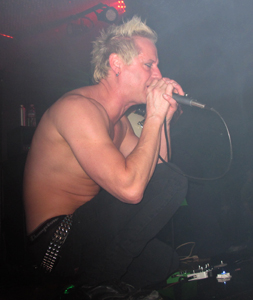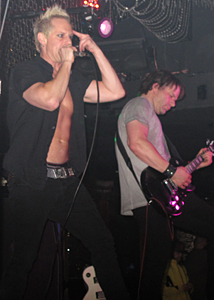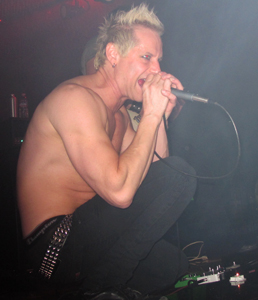 After rounding off with a killer cover of Motley Crue's 'B*st*rd' that coaxed many attendees to sing along to the chorus, they chilled out and grabbed a beer by the bar – the only way to do it! Now it would be nice to see these guys wangle their way onto a UK or European tour in the near future since they have the chops to make it happen for them on my own personal hime turf!
7/10
By Glenn Milligan

Michael Monroe/Hardcore Superstar/Chase The Ace –
Corporation, Sheffield, Saturday, October 10th, 2015
Well I gotta say, it's been a damn long time since I saw a band in he big room at Corporation. I think the last one was something like Royal Hunt Last year. Anyways, good to be back. It was pretty packed out by the time we got there with Chase The Ace hitting the stage early at 6.40 so we only caught the last couple of songs.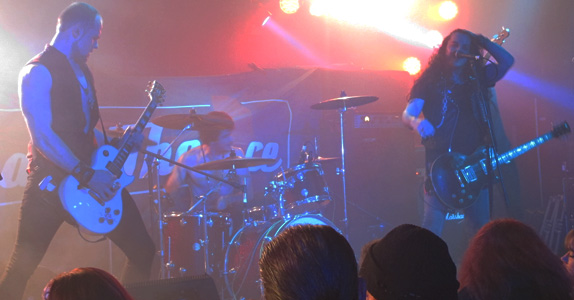 Pity about that as these young Israeli Sleazers really had it going down and the peeps in here were really digging it.
Set List: Sadistic Girls/Guestlist/Touch The Sky/Medicine Me/Bully/Wild Boys/Dreamin' In A Casket/Into Debauchery/Here Comes That Sick Bitch/Don't Mean Sh*t.
Encore: Hateful/Moonshine/Last Call For Alcohol/We Don't Celebrate Sundays/Above The Law.
I have a sneaky feeling that a lot of the younger crowd in here came especially to see the first of the double headline Swedish acts and yes, I am referring to Hardcore Superstar, a band that were meant to play the venue when it was on Bank Street many years ago but literally pulled out at the last minute – so it was great that this didn't happen tonight.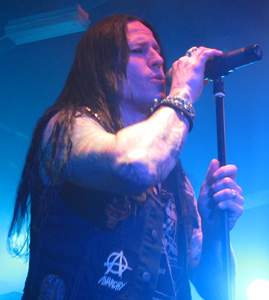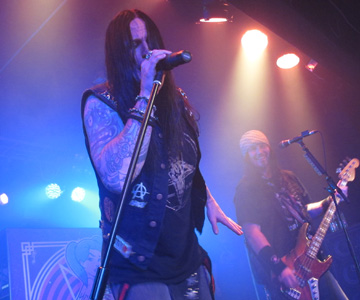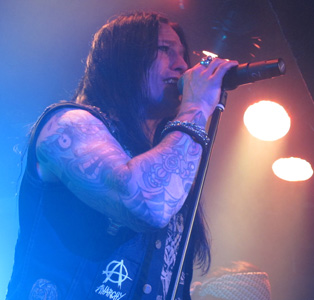 Yep the first time, these youngish guys had ever set their songs alight in Sheffield, and by the sound and energy from the crowd before they even went near the stage they were well and truly ready for them. Cranking into 'Sadisitic Girls', this was definitely a major party to be at. Frontman, Jocke Berg simply does not keep still much at all and gave me major run for my money to get killer shots of – I managed it though. What made it even better is that two of my good friends, Ian & Beth Dickson for taking care of the merchandise area so this was a real buzz to connect with this cool pair again!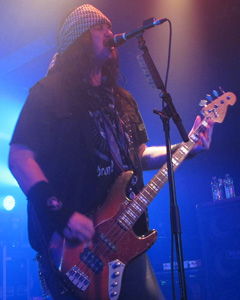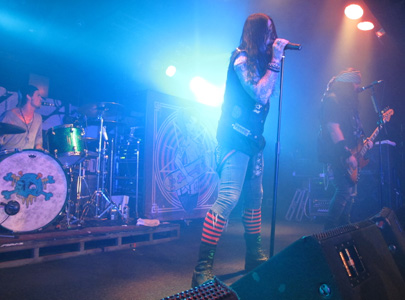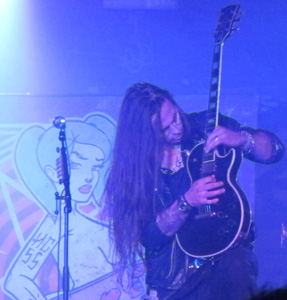 These dudes ploughed through the songs with boundless amounts of energy like a acid-spirtting Euro-equivalent of early GNR meets The Sex Pistols meets the next act on the bill and then some… Sounding so good and making it such fun to watch, it was like the songs all went by in about 30 minutes flat. Full-on, firing on all cylinders and tons of testosterone to match they slayed the crowd with their sleaze filled excitement.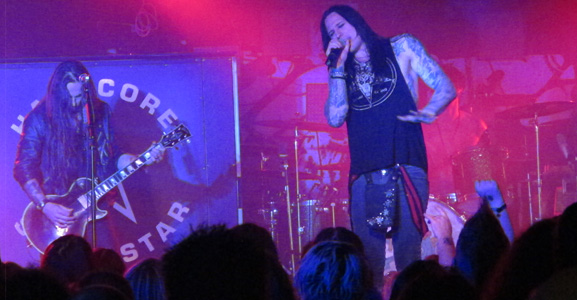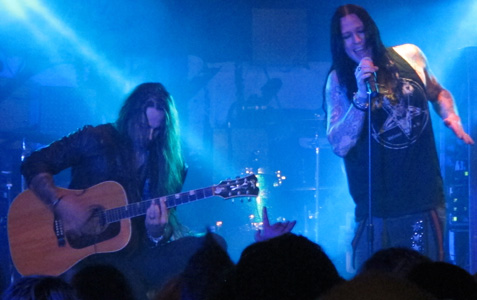 They even threw in a lighter moment, performing the acoustic number 'Here Comes That Sick Bitch' which pleased big fan, Georgia Green no end, not to mention making her day with material from 'Beg For It' and 'Dreaming In A Casket'. She said, "They've just got the stage presence of an 80's band - I love them. They are my all time favourite band", further mentioning the fact Jocke's "stage presence & interaction with the crowd being so good too" and naming 'Touch The Sky', 'Into Debauchery', 'Don't Mean Sh*t' & 'Last Call For Alcohol' as being major highlights of the set as well. Somehow I can see these guys returning soon as they blew the place away and received a rapturous ovation in here.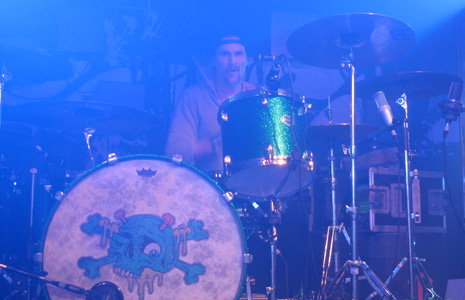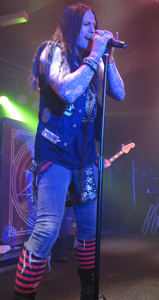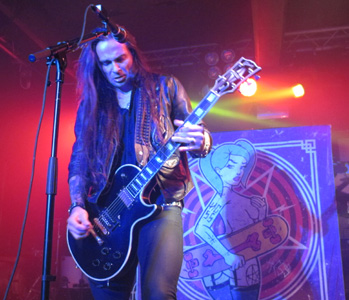 Sheffield Salutes these Swedish Sleazers!
Set List: '78/This Ain't No Love Song/Old Kings Road/Oriental Beat/L.E.S./Man With No Eyes/R.L.F/Hammersmith/Down With The Ship/Got Blood/Tragedy/Malibu/?/Up Around The Bend/Dead, Jail Rock 'N' Roll.
Encore: Nothing's Alright/Wanna Be Loved.
Well the last time I saw the double M in these parts he was fronting that legendary outfit that starts with an H but this solo band I have to say was just as good, especially when you consider he has original Hanoi' Bassist in the line up - none other than Sami Yaffa plus Steve Conte (of The Crazy Truth) on guitar & Karl Rosqvist from The Chelsea Smiles on drums as well.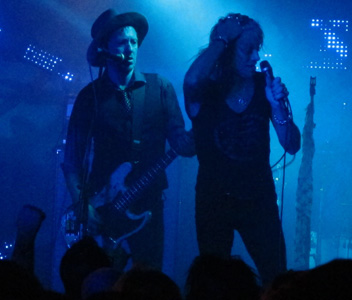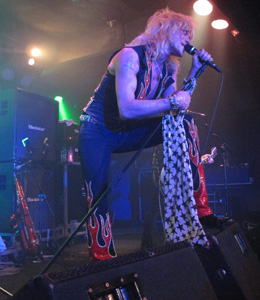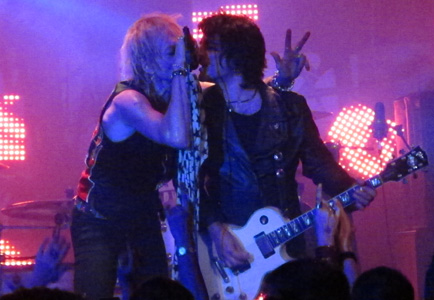 Yes we were being spolit when it came to supremity from the country to the right of Sweden since frontman, Michael Monroe is quite easily Finland's finest Rock & Roll export by far. He still struts his stuff like the impregnated product of an orgy that featured Mick Jagger and Steven Tyler in equal shares. Only this legend has blonde hair and also doubles up on saxophone as well.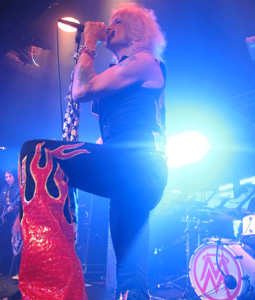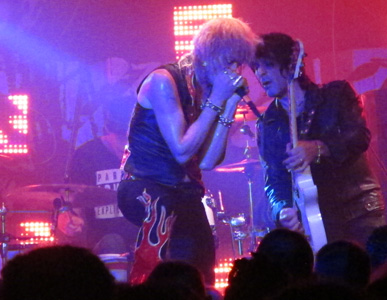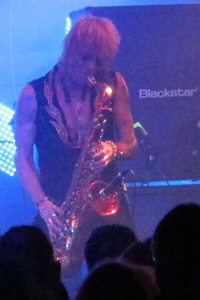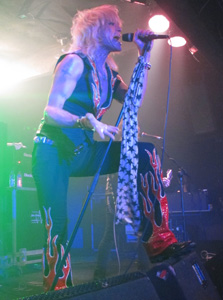 The folks in here appeared to be just as excitable about Michael's material as they were with that of the 'Superstar regardless of the fact that some left early – the younger end of the spectrum. It didn't bother the numbers hardly at all since so many had come to see both or Mr. Monroe in particular. Songwise this was great with a cracking cross section of songs from both his solo career and a healthy handful of gems dating back to the Hanoi Rocks era like Malibu Beach; 'Oriental Beat' or Tragedy'.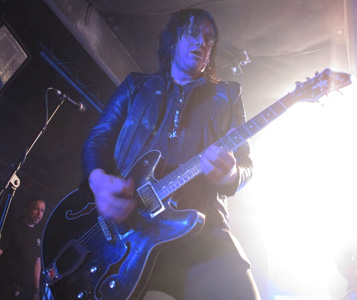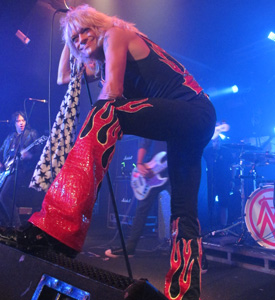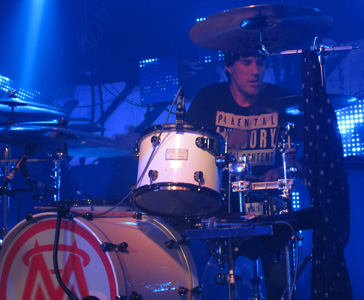 One major thing about the new cuts that come from this man which I must say, my buddy Steve Froggatt pointed out was that they sound really familiar like you have known them for ages – something I really have to agree with him on as I have been thinking it for a while too. I mean, material on 'Old Kent Road' could have come out 20 or 30 years ago because he has that knack of having some retro sounding licks and riffery, vocal accents and melodies, not to mention a similar vibe and sound that runs through his work. This pays off major dividends too since it always has that needy feel-good factor throughout all of his songs with the perfect band to play them. Always good to see him play that sax to the max and crank up that harp as well in the show.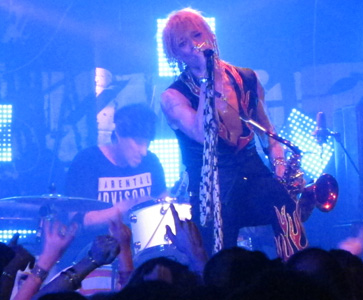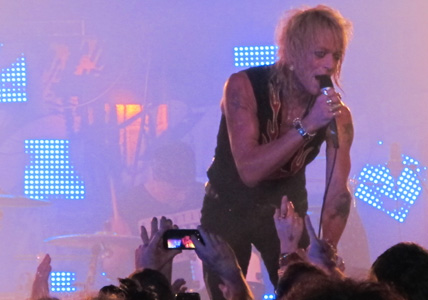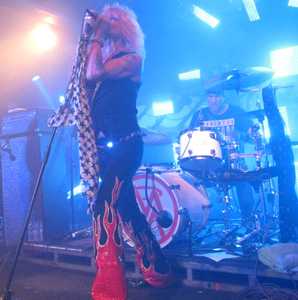 So where the hell does this guy get his limitless energy from? He appears to be simply unstoppable on this Sheffield stage with the audience giving back just as much boundless enthusiasm for every word that comes out of his mouth. He really does command his crowd and I ain't surprised as he's been at it long enough. I am sure he has done some sort of deal with the devil as well because he never seems to age at all!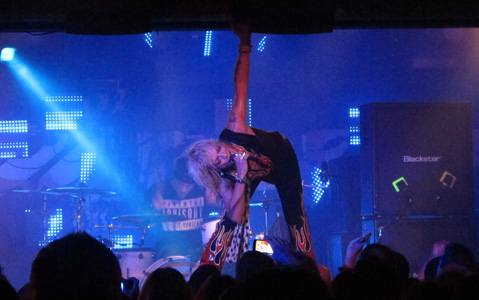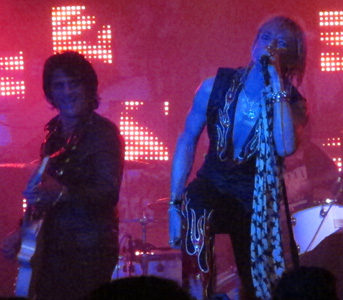 Still at the top of his game! Looking forward to seeing Michael Monroe back here again!
10/10
By Glenn Milligan
Kee Marcello Band/StopStop – The Lincoln Imp, Scunthorpe, Friday 9th October, 2015
My wife (a big Europe fan) and I were surprised to hear about this gig just a couple of days ago, you might charitably think maybe Kee's promoter got confused and thought they were playing Lincoln, but to be fair the Lincoln Imp is a brilliant small sized venue that has previously hosted bands like 'While She Sleeps' and 'Enter Shikari'.
Support act StopStop brought back the 80's, hair metal and ripped clothing, bright wigs and face paint. No bad thing though, as their songs scream party on and lose yourself. 'Toilet Party' probably the most arresting of these get up and dance songs with an extended break in their final number 'StopStop' for a Pink Panther rendition and for lead singer Jakob A.M. to walk around the audience, who although few in number did join in the call and response which was far too rude for an English person to write down here. Rough around the edges as in their cover of 'Hush' but devoted to their cause and well worth seeing if you get an opportunity.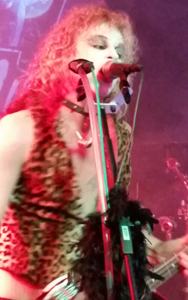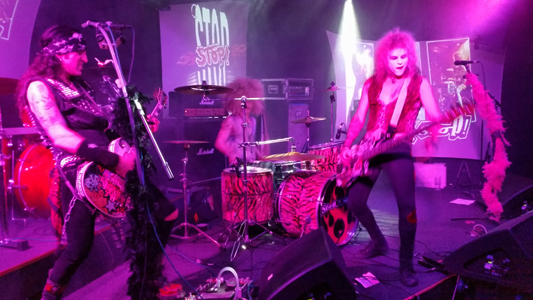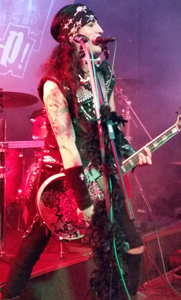 There's no doubt though that it was a small, loyal contingent who arrived to hear Kee Marcello, the guitarist with Europe through their most commercially successful phase and also leader of Easy Action. Kee took the stage with more calm and professionalism but immediately got rocking with 'Seventh Sign' one of several Europe favourites which came out along with some excellent solo work. Kee's style of melodic guitar playing with a blues influence works excellently alongside his bands tight rhythms, guitarist Jonny Scaramanga providing support on lead on occasion and solid playing from Alien's Ken Sandin and Darby Todd.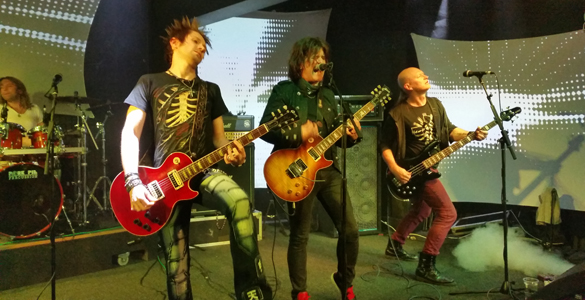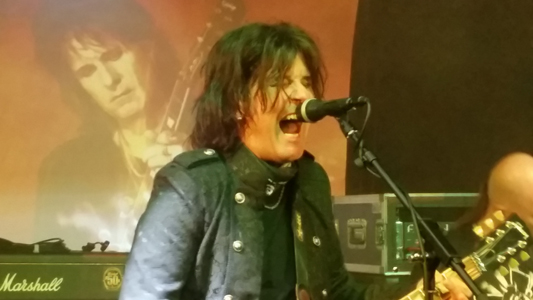 After some good songs of his own notably 'Dog Eat Dog' and 'Dead End Highway' the band led into the Europe songs most fans were there for: 'More Than Meets The Eye', 'Here Comes The Night', 'Superstitious' (with a cover of 'So Lonely' in the mid-section breakdown), then 'Rock The Night' (which was before his time but could hardly be left out!). It's fair to say that Kee's voice doesn't match Joey Tempest's, and these would never be definitive performances of these songs, but it was great to hear them at all.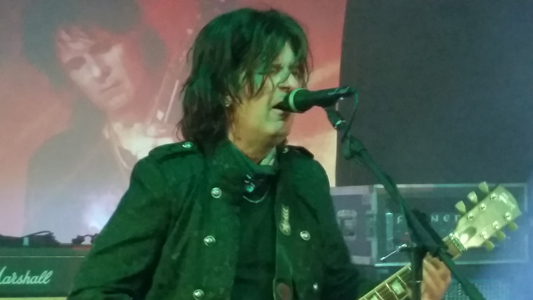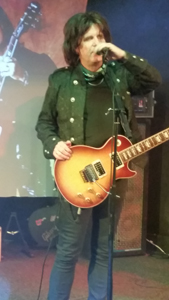 The encore highlighted the absence of a keyboard player, with a backing track instead, and the otherwise enthusiastic audience didn't sing out TFC's chorus as loud as they might have done, but it was well delivered, nostalgic and above all FUN: which after all is part of the massive contribution Europe made to us.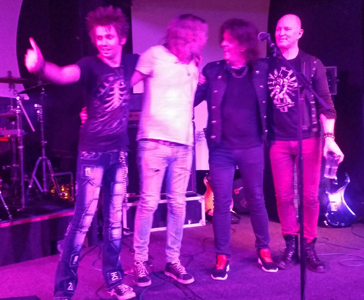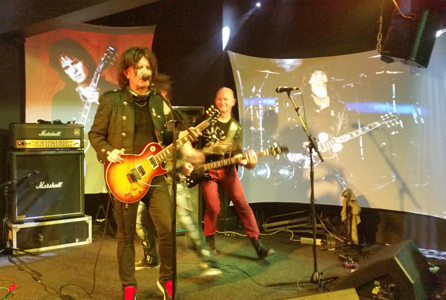 Afterwards we met Kee and told him that our son, Anders-Kee, is named after himself and Anders Johansson of Hammerfall. He seemed touched by this and said he would tell Anders – just another aspect of the legacy which we glimpsed watching his band today.
7/10
By John Robinson
Eric Martin – The Local Authority, Sheffield, Tuesday, August 18th, 2015
Set List: Where Do I Fit In?/Electrified/What If We Were New?/Just Take My Heart/Voodoo Kiss/Kansas/Goin' Where The Wind Blows/Fragile/Lost In America/Shine/Wild World/Daddy, Brother, Lover, Little Boy (The Electric Drill Song).
Encore: Gotta Love The Ride/To Be With You/Dancing With My Devils.
One man armed only with an acoustic guitar and a total voice from heaven all these years on. This was utterly mind-blowing as it didn't sound any different to what it did back in the day of the late 80's/early 90's in the prime of the Mr. Big days.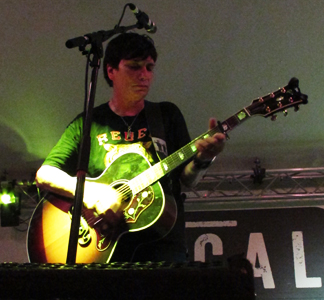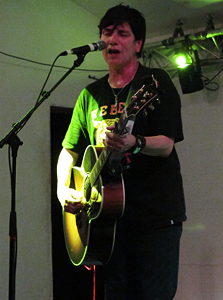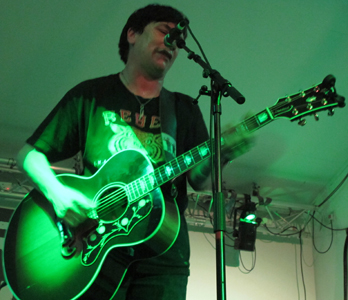 Eric Martin delivers each song with powerful perfection and bluesed it up firstly with the cooking 'Where Do I Fit It?' that got everyone going and bopping to with the sound so warm here in The Local Authority.There is so much humour coming out the man in between songs and we are forever laughing at some of the things he says such his question 'Chips or Crisps?'; the reason he wants to sell Simon Kaviani's merch (his Tour Support) so he can recline his seat, since the two of them had been travelling all over the UK in the car that's boxed up to the max.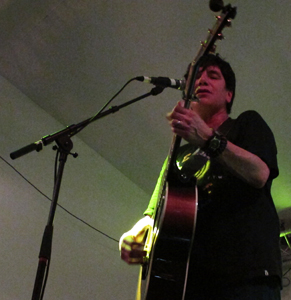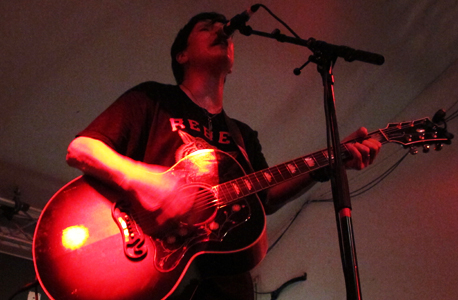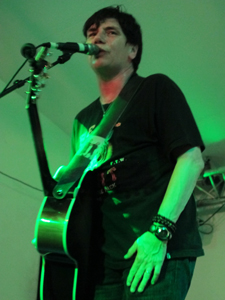 He told us that Mr. Big's next album will be written and recorded in the fall of 2016. This delighted everyone here and went on to perform numbers from bands current release '...The Stories We Could Tell' that came out the end of last year. These were the ballsy 'What If We Were New?'; 'Fragile' that could have been 'Lean Into It' with a melody like that and later on the punchy 'Gotta Love The Ride'. He asked a girl at stage left if she's the mother of his child or one of his kids who was speechless to say the least and even said Steve Baronovich's Daughters reminded him of the programme 'Twilight' as they just appeared in front of him. It seriously was an endless night of gags – so, so funny.. you had to be there to really get it as it was very ad-lib and off the cuff.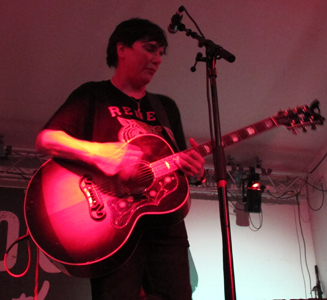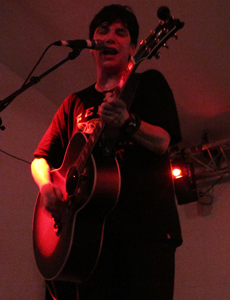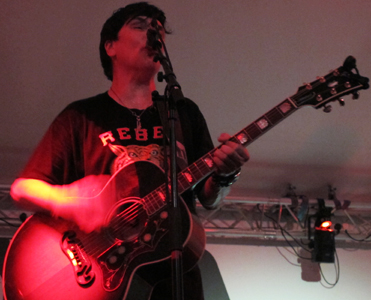 Mr. Martin had us singing along with him to many songs and even on our own too with numbers like 'Shine' and the classic Cat Stevens cut 'Wild World' coming to mind immediately. Talking of songs, he had his set list on his mobile and laughed that he facebook butt-dialled a new friend he had made in Brazil about 20 times – oh we all do it mate! Eric told us how he originally hitched from San Francisco to Hollywood and lived with Paul Gilbert in a small apartment with junkies in the backyard. Mr. G was forever driving him mad playing the same riffs on the guitar while he was trying to watch General Hospital – "There goes the guitar lessons", he jokes. He also laughed about the fact that they were pretty broke while Billy Sheehan was getting his royalty checks from David Lee Roth.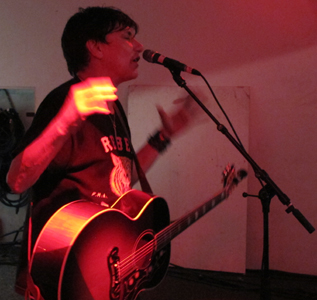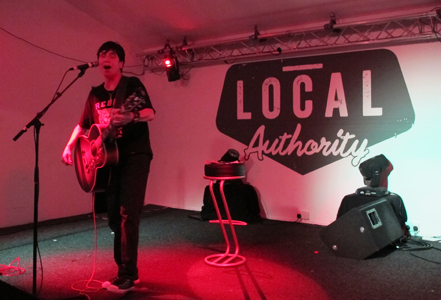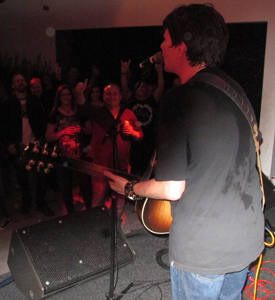 You could tell he was really enjoying himself and has us clapping to cuts like 'Voodoo Kiss' that was all about him going to a Witch Doctor in New Orleans and getting some mojo and gris-gris as they call it and had us go crazy, stomp and clap in the number. There even was camaraderie with the barmaids as well since he knew they were watching the show. It was a sheer joy to experience the famous 'To Be With You' in this acoustic form – a song that I've always loved since I saw it on MTV – god it seems like just yesterday and it's over 20 years ago. Where does time go?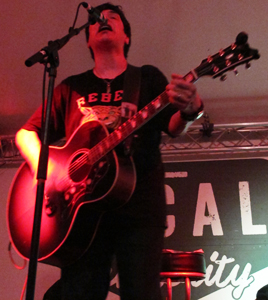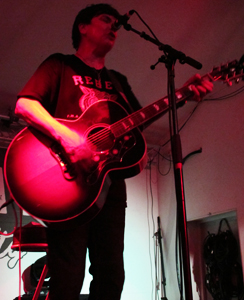 Eric's voice never went which was pretty incredible really as these numbers are damn hight the majority of the time which he puts so much passion into not to mention being a very full-on energetic and vibrant guitar player.A gig after a few minutes I knew we would talk about for many years to come. It's not every often these days that I am mesmerised by a performance since I'd been to so many shows over the years but this has so much energy, personality and incredibly strong material in the set, not to mention an immensively positive professional vibe as well throughout the entire duration of the concert.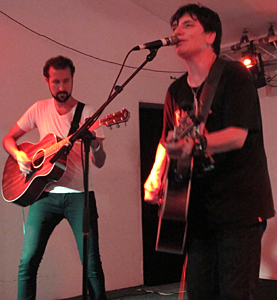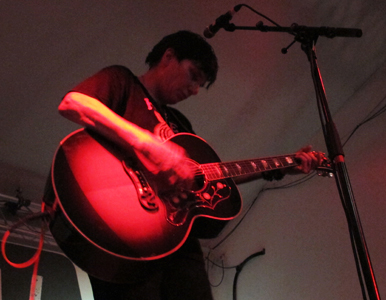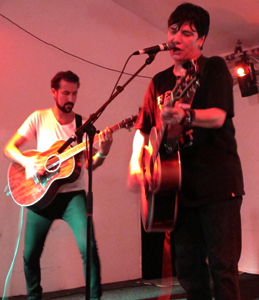 Simon Kaviani came out for a couple of numbers too to make the sound even bigger (scuse the pun), not to mention Sheffield's own Steve Baronovich being invited up onstage to do harmony and backing vocals for 'Daddy, Brother, Lover, Little Boy' that also had Eric quiffing that he was getting p*ss*d off with the crowd on a sing-back chorus section which made them work harder – lol. How nice it was for a fan at the front to ask how Mr. Big Drummer, Pat Torpey was who has Parkinson's Disease with Eric saying he was good and told us a story about being in Japan and Pat saying he had a 'Whole Lotta Shaking Goin' On' which he said made him feel uncomfy about.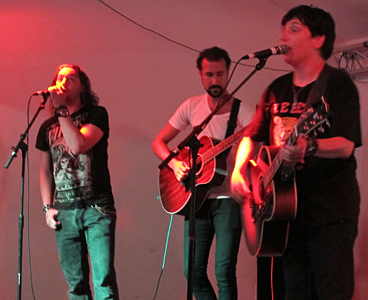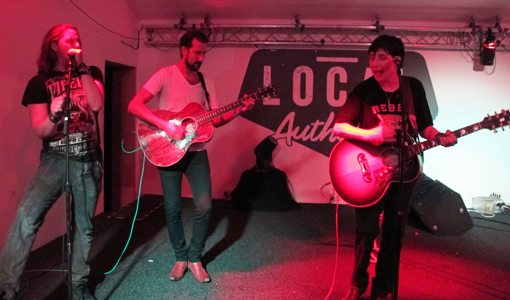 What a joy to be invited up on stage by the man himself – "No more chin shots – get up here moth*rf*ck*r", he shouts to me – hahahaha – class! Nice to get some audience pix in what has now become my favourite venue in Sheffield – The Local Authority is a fabulous place indeed. In fact, Eric said we ought to make it every Tuesday there and call it 'Tuesday Night Music Club' – what do you reckon? He even came out to meet the fans after his set and was extremely personable – talking away, signing photos and having pictures with us too. We could have chatted with this great man for hours too given half the chance – just a pity it was a bloody school night – hahaha!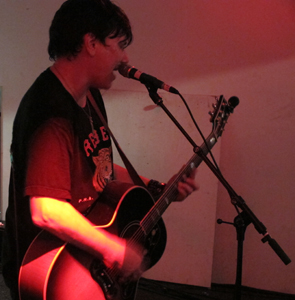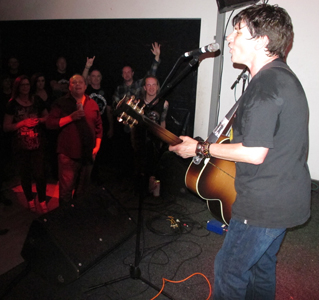 Anyway, I would love to see him come back with his own electric band or even better still, Mr. Big in 2016! In the meantime, make sure to catch Eric on his tour as he is going all over with at least 45 more dates after the Sheffield gig.
10/10
By Glenn Milligan

Molly Hatchet – Dixie Roadhouse, Cape Coral, Florida, USA, May 1st, 2015
Dixie Roadhouse in Cape Coral, Fl chose a beautiful Southwest Florida evening to feature Molly Hatchet in a street concert that rocked the whole downtown area. 40 years after the original inception of the band, who would have thought that Molly Hatchet would still be playing live stage performances and rocking the crowd like they used to 'back in the day'? Of course over the span of 40 years, many band members have come and gone, but these guys together put on an awesome performance.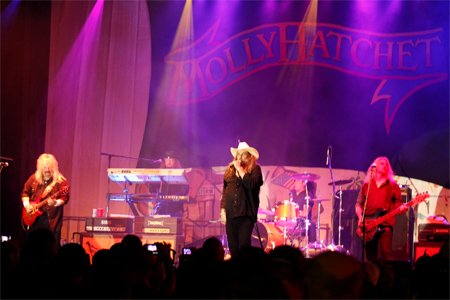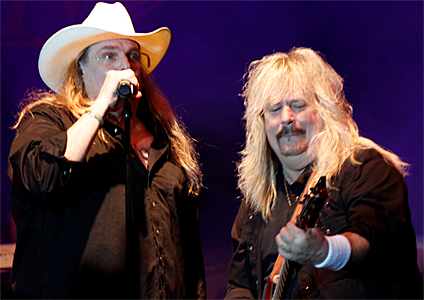 Not young chickens anymore, clearly, from the looks of it, Molly Hatchet could certainly still draw a crowd, filling the street and rocking the entire show all the way to the end. Phil McCormack came out and spoke to the crowd as if he was just a good friend hanging out with the hundreds of die hard southern rockers who attended the show.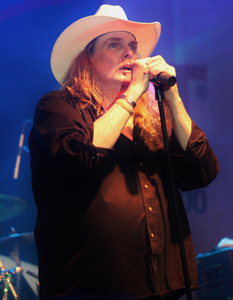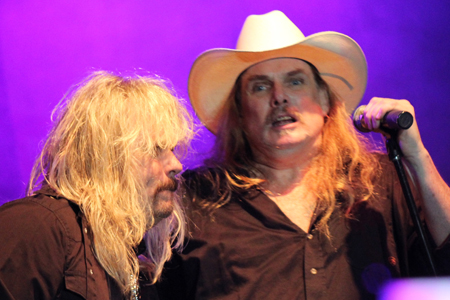 Bobby Ingram had the energy of a young man on the stage...running left and right...jamming with everyone. He most definitely drew his energies from the crowd that were all singing along and rockin' it like they were all back in their 20's.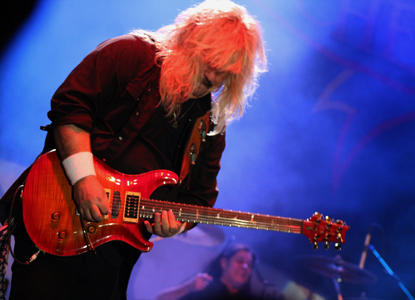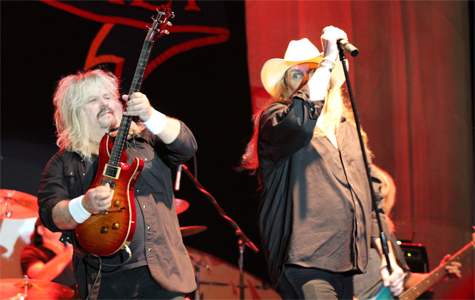 Everyone in the crowd enjoyed the popular "Whiskey Man", while Tim Lindsey put on his own performance slapping the bass as Shawn Beamer banged out the beats on the drums. John Galvin brought the sound of the keyboards to give them the sounds that no other band had back when they were in their prime.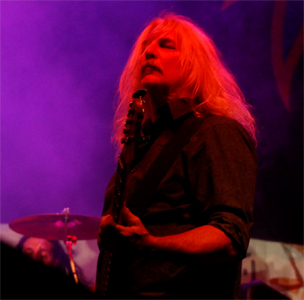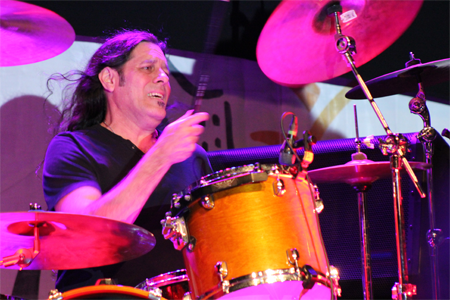 I'm not sure, but maybe it's all the whiskey consumed over the years that has preserved these guys well enough to give a rockin' show to some hard rock, head banging, over 40 somethings, but Molly Hatchet can still make everyone want to get up and dance to the groove or bang their heads while shaking their fists in the air!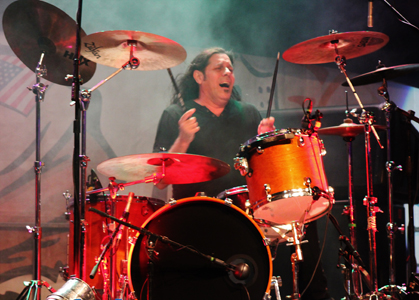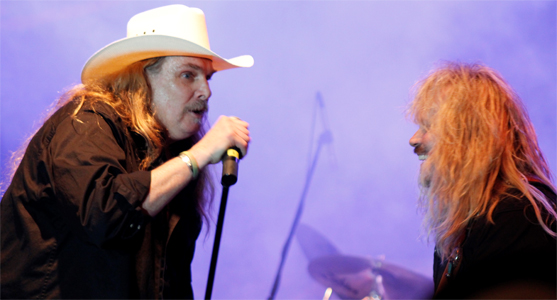 As it should have been, they closed with "Flirtin' With Disaster"...leaving the concert attendees singing all the way home, smiling, and reminiscing about the good times that they used to have partying along with Molly Hatchet years ago when rock and roll was REAL rock and roll.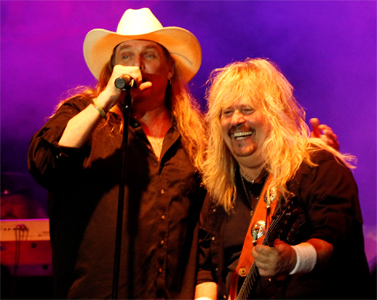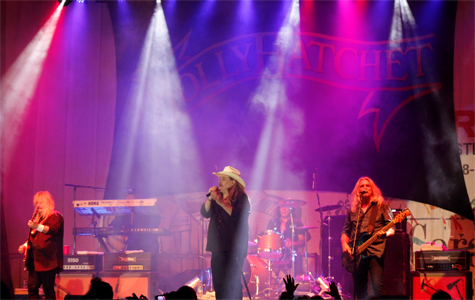 Thanks for keeping it real guys.
7/10
By Juliana Kenyon-Anderson
Jason Charles Miller – The Dragonfly, Hollywood, California, USA April 29th, 2015
Set List: Raise Hell/Devil's Whisky/Uncountry/Riverbank/Damn Love/The River/Get What You Pay For/Losing My Way/Hollywood.
When it comes to being successful in this industry, you know that you are making your mark when you can bring people to the Dragonfly in Hollywood that normally might not have ventured out for anything except to see a good band on a Wednesday Night.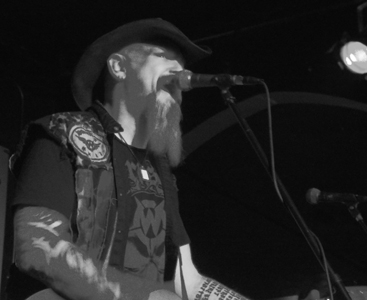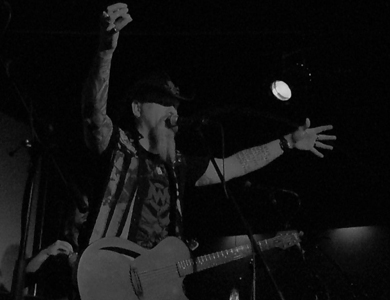 The influences and the people that were responsible for helping out Jason in his career of music writing and making a great song are always acknowledged in his performance. He acknowledges who he might have created a song with by naming them as he acknowledges their contribution, or who helped with the writing experience. He writes songs about where he is from in Virginia. He is very prideful in who he is, and grateful to have this opportunity to share his story through music. That part shows. To be included in the audience of this live performance was melodic and good beer drinking; good time sort of music! And when it is over you kind of wish it would keep going.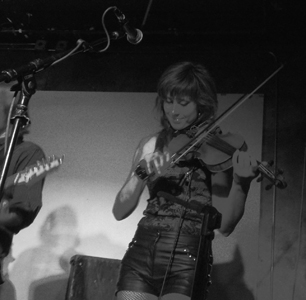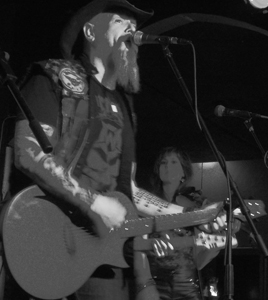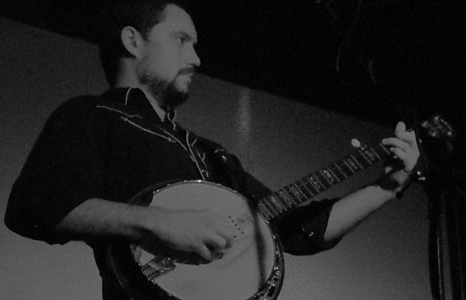 It is wonderful to see such a great vibe in the room when people get together. There is not a mosh pit, and there was no one wanting to bloody one another. It was just simple music that set the tone for tranquility and peace for a good time. I had to leave before 8MM ever took the stage afterwards and it is unfortunate as I have heard equally good things about them.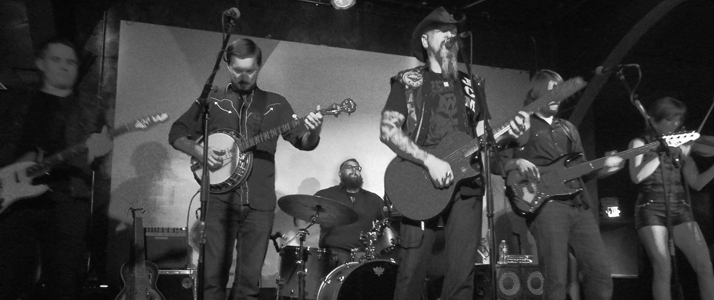 Jason and his band offer decent quality merch and you can grade a band equally on the fact they want their fans to leave the show with something that is worth what they paid for and not overpriced. The t-shirts and merch are so reasonable that if you can get online and pay these low prices know that here it is genuinely true that "you get what you pay for". So, if you are interested in having a look at the merch you might even like it as well as the songs. Tell them that OZZFestAmy @ Metalliville Webzine referred you. And play the music while you are grilling out in the backyard or working in your garage on that project that you want music for. If you like it let me know. If you really like it let Jason know as you can surf this website of his (the link is provided below) for information as well about his music or when he might be coming to a town near you. http://jcmmerch.bigcartel.com/
By OZZFestAmy
Mordred/Kaine – O2 Academy 2, Sheffield, Friday August 29th, 2014
I found out about this show totally by chance through having a quick gander at the O2 concert listings on the venues website. I nearly jumped out of my skin when I saw the name Mordred on there and that they were doing a show – wow – a UK Tour too. Therefore, it was a no brainer – one gig not to be missed.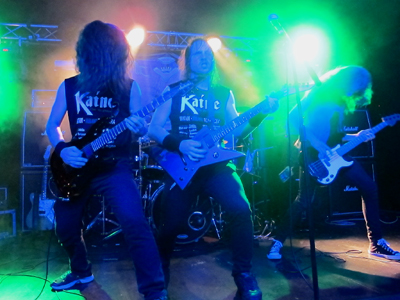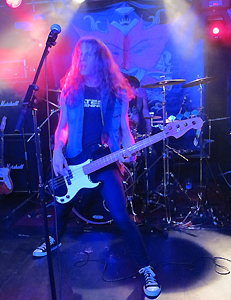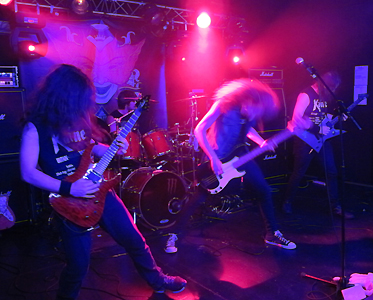 The first act I catch tonight are a young up and coming Heavy Metal band going by the name of Kaine who have a real love for the old school sounds of stuff that came out between 1985 and 1990 since When I arrived it was rather quiet and I was thinking, 'Oh no, I hope the attendance gets better than this'. In fact, Arron Pause Vaughn and Scott Holderby (Frontman) themselves came in for a beer and a chat with the already present fanbase.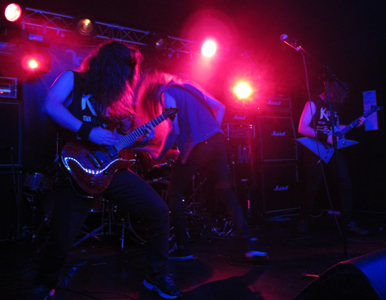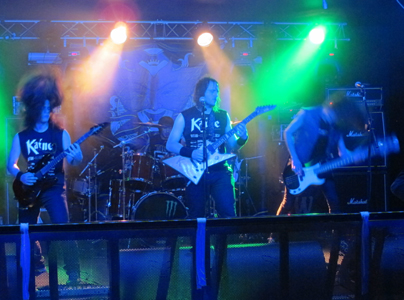 Their aesthetic imagery and music overall comes across like a salute to artists such as Iron Maiden and other cohorts. Kaine are approved of warmly by the folk here and especially Mr. Vaughn who rocks out to the band in the audience with a CD he's just got his hands on. It's good to see that the real deal look and sound has not died and seems from what's on offer here to be coming back with a vengeance.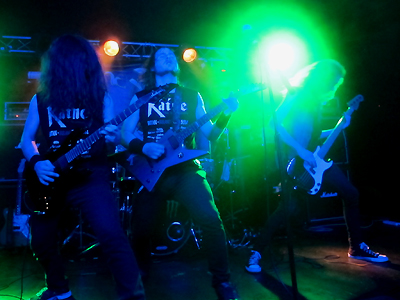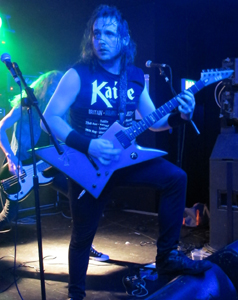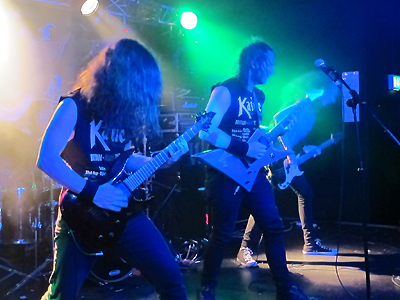 I can see these guys coming back around in the near future and touring as a headliner in their on right.
Set List: State Of Mind/Spectacle Of Fear/Window/Fragrance Of Violence/The Strain/Killing Time/Reach/Esse Quam Videri/Spellbound/Johnny The Fox Meets Jimmy The Weed (Thin Lizzy)/The Baroness/Close Minded/Every Day's A Holiday/Falling Away/Sever And Splice/In This Life.
Just like Scott Holderby was telling me before they hit the stage, there seems to be a small amount of people in the venue beforehand but then all of a sudden the folk come from nowhere and the room fills up more. Now that seems to be the case here in Sheffield too but I can't help but think that there should be a hell of a lot more. That aside, it's great that a healthy handful of fans went out of their way to support these reformed pioneers.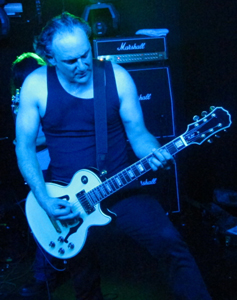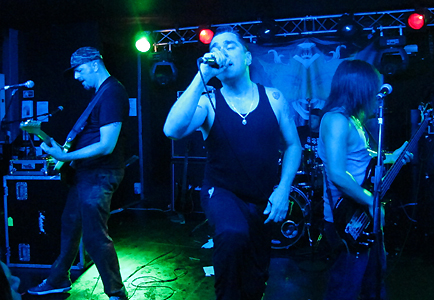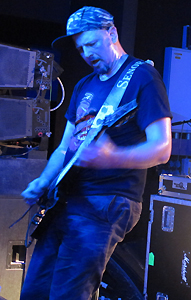 From when Mordred took to the small stage in the upstairs O2 room, the fans were right behind them like they've never been away – passionately getting into the riff and lyric of every single song thrown at them through that PA. The sound took a while to get sorted out as Scott's voice at times were a bit buried in the mix and echo of the room but that was soon rectified and it became clear he's lost nothing in the vocal dept since the heyday of the late 80's and early 90's.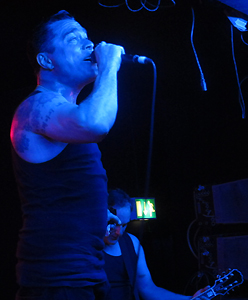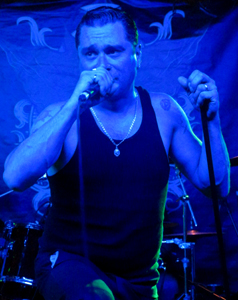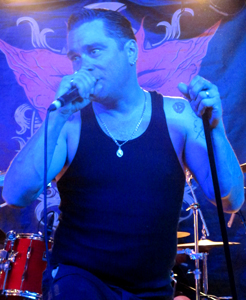 They may look a bit older and some members having less hair than back then but musically they are still bang on form and are as tight as hell with their funked up, thrashed out and appropriately placed hip-hop scratch beats emanating from a band who left a gap in the musical market when they vanished a few moons ago. Song-wise we were pleasured with some of the best moments from the 1st two albums of the bands career when Singer Scott fronted the band.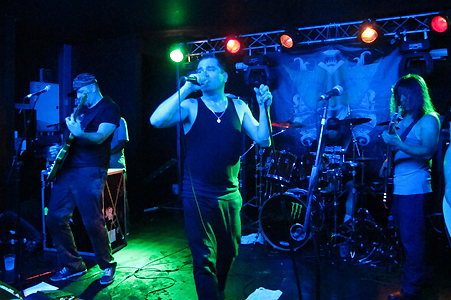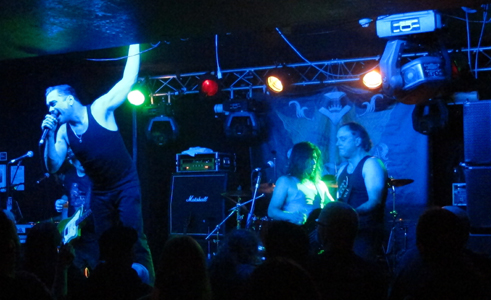 Highlights of the night included speed metal gems and crazy well-calculated ear-blistering diamonds like 'Spellbound' and of course well-known hit singles of the time like 'Falling Away' (with its 'Get On Out' sample voice)'; 'Essam Quam Veridi' and the ground-breaking 'Every Day's a Holiday' – the number that originally fused the turn-table genius with the Heavy Metal Masses World-wise and making them a household name in all things denim and leather or the ever still excellent 'Killing Time'. They even surprised us with throwing in a kicking cover of Thin Lizzy's 'Johnny The Fox Meets Jimmy The Weed' that saw them place their own stamp on perfectly as though they had written it themselves as it fit them like a glove.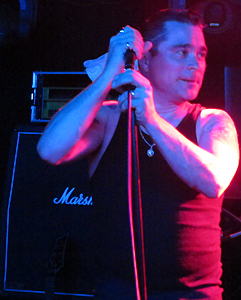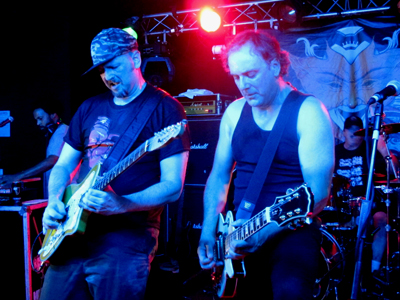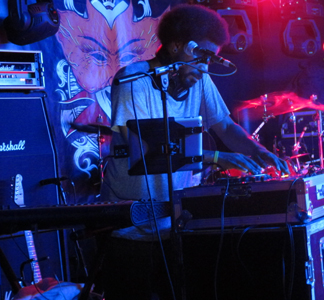 Mr. Holderby is nothing short of an orangutan meets gymnast swinging around at the front of the stage which really added to the dramatic vibe of the songs and overall power of the night to the amazement of all present. Even DJ Pause Vaughn came to the front of the stage and rapped his ass off for us all much to our surprise which was as cool as sh*t!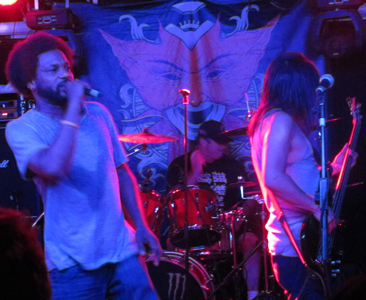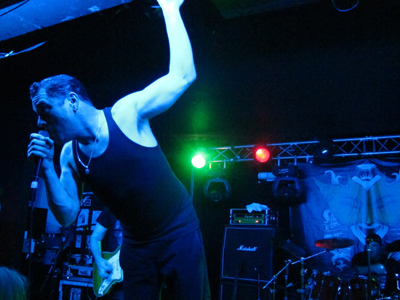 Every member was electrifying with Jimmy Sanguinetti and Danny White providing us with amazing guitar solos throughout, not to mention outstanding rhythm that moulded incredibly well with the gripping foundation bass-work from Art Liboon and never let up for a second kit smashing of Jeff Gomes. Mordred guaranteed that the crowd bawled out for more which they got from the guys who didn't bother leaving the stage to do an encore and kept up there, finishing up with the immense & vibrant 150 miles an hour at times 'In This Life'.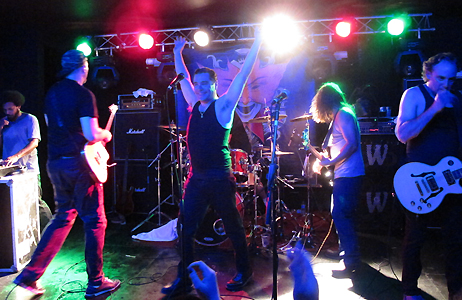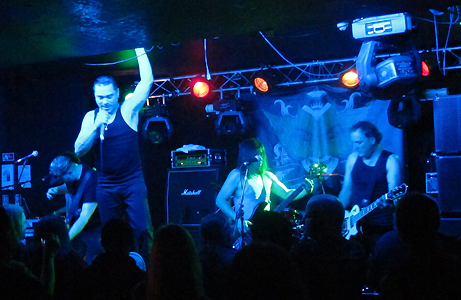 Definitely one of those shows I am pleased I was in attendance for. We await the return of one of San Francisco's finest exports to our UK shores again soon.
9/10
By Glenn Milligan

The Moby Dicks - The Viper Room, West Hollywood, Ca. USA, Saturday 11th May, 2013
Setlist: Rock 'N' Roll/Celebration Day/Black Dog/Over The Hills & Far Away/Misty Mountain Hop/Since I've Been Loving You/No Quarter/The Song Remains The Same/The Rain Song/Dazed & Confused/Moby Dick/Heartbreaker/Stairway To Heaven/Whole Lotta Love/The Ocean/Communication Breakdown.
Well by looking at the name of the band and the set list I suppose you get the idea what this gig is all about. Yep - you are right - it's a Led Zeppelin tribute show - but not no ordinary show but an exact replica of the box office record breaker that the UK legends perfrormed at Tampa in 1973 which I doubt has ever been done before until now - they even used a recording of US news coverage regarding that exact gig to make it even more authentic than it already was.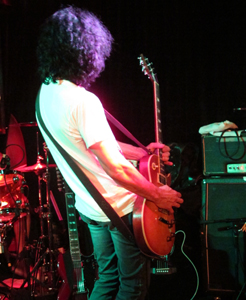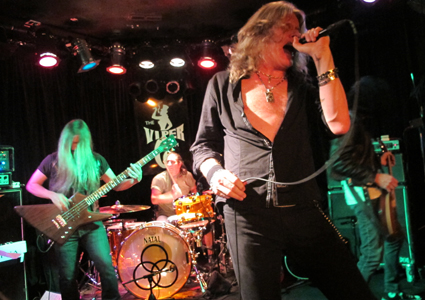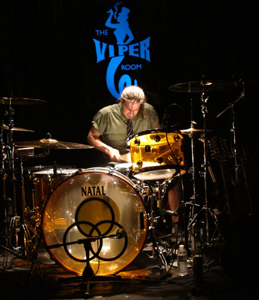 A band made up of frontman Chas West (who actually sang for Jason Bonham's band, 'Bonham' for a time); Michael Levan on Bass; Brian Tichy on Drums; Brent Woods on Guitar and Robert Leblank (also of Jason Bonham's band), taking care of keyboard duties. From the word go, these guys have simply got it grovving spot on perfect and it's so spooky how much they sound just like the real thing without one single mistake at all. Then again we are dealing with pedigree performers here who have been or are still in bands since Michael is in Whitesnake, Brian used to be and also drummed for Foreigner too for a time - not to mention Brent also being the guitarist for a while with Vince Neil & Sebastian Bach among others.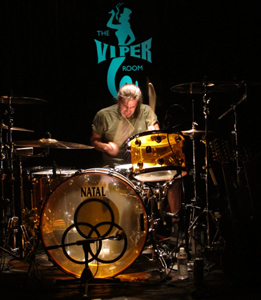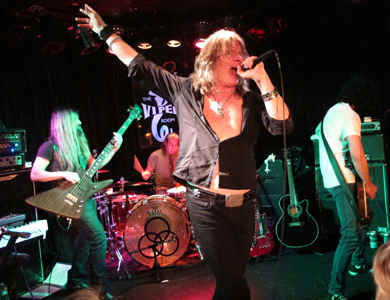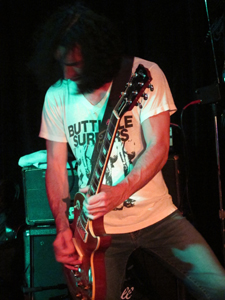 It was a hot day and it was also a hot night in here - probably the most heat I have ever experienced in a music venue and I can't feel any fans or aircon blowing around at all which makes it a very intense sweaty experience if you are in the crowd. In fact it was way too overpowering to drink alcohol actually and drank water for the bulk of the night so I didn't dry up and pass out as this was too good to miss. Highlights of the show included a real atmospheric 'No Quarter' with a perfect organ sound from Mr. Leblank - now who needs to cart around big Hammond these days and a Lesli speaker that weigh a ton when you just need to press a button on a keyboard. 'Dazed & Confused' had Brent on the bow - the violin type of course that sounded totally killer and even on got going with the theramin too.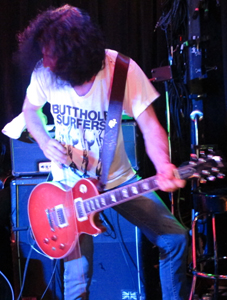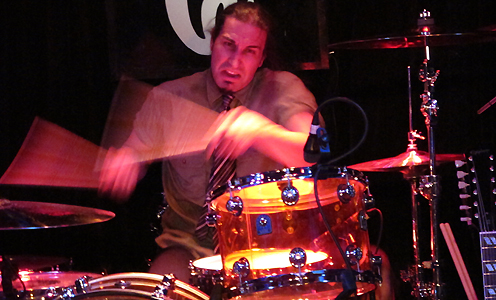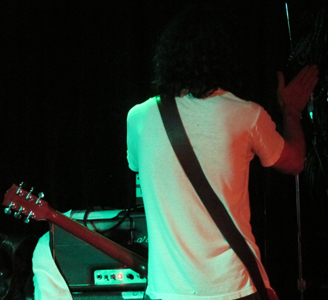 Drumwise it was simply outstanding with Brian Tichy locking hard with Michael Levan throughout with plenty of looks and psychic know-how going on between them. Then then there was the point where the famed drummer got to shine in his own right performing a gargantuan unbelievably extensive epic solo, never getting outta breath once or so it seemed that blew the packed crowds mind. Even Frankie Banali took a major interest in watching and had a big smile on his face while he took it all in.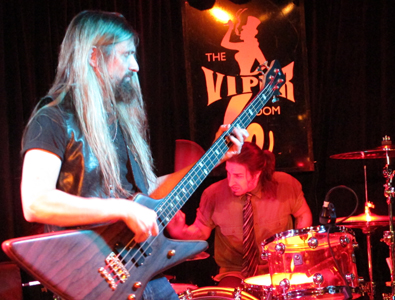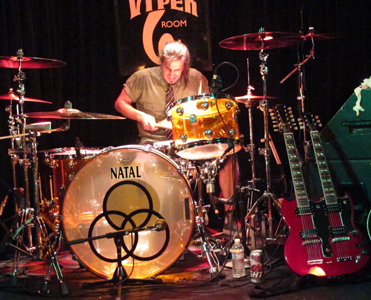 Talking of the Quiet Riot drummer, he actually got up to play the drums on 'Stairway To Heaven', giving Brian the chance to flex his muscles and perform a two Gibson guitar assault with Brent. Nice to see Frankie up there as not seen him perform since Legends Of Rock in Cape Coral, April 2012 and was good to see him play a slower number for a change which of course builds up later on. Frankie was bang on form too and enjoyed every second on stage.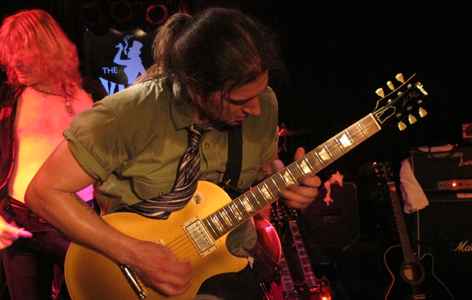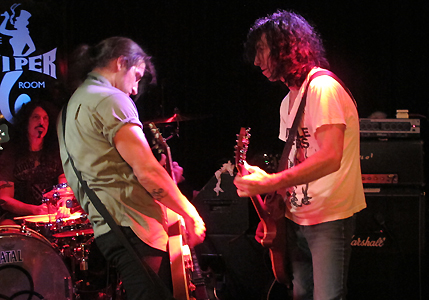 Chas West was so on the ball vocally, getting perfect pitch everytime he opened his mouth be it a quieter melodic moment or a banshee scream that would see most guys blowing there voice out with only a croaky whimper coming out for the rest of the set - but not this guy as he never dropped a single note throughout this show that was a warm-up gig for New York later that month. Overall you just couldn't go wrong with a gig that featured classics like 'Heartbreaker'; 'Over The Hills And Far Away'; 'Whole Lotta Love'; 'Rock & Roll' and 'Communication Breakdown' - it tells you right there that it was an excellent show. So now I feel that ought to look out for a copy of the Led Zep show itself as it's bound to be around somewhere in some dodgy bootleg form or another.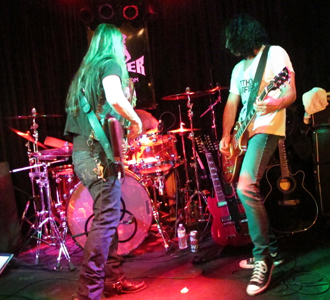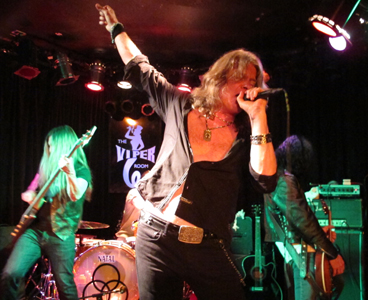 Man I just love the Viper for all its Rock & Roll intimate splendour that always seems to guarantee a tremendous vibe between a highly energetic crowd and band every time I have seen a show there. Now I gotta say that this was a perfect way to end another great stay in Californ-I-A!
10/10
By Glenn Milligan
Yngwie J. Malmsteen's Rising Force -
House of Blues, West Hollywood, Ca. USA, Friday 10th May, 2013
Set List: Rising Force/Demon Driver/Spellbound/Overture/From A Thousand Cuts/Arpeggios From Hell/Crown Of Thorns/Badiniere/Adagio (Niccolo Paginini Cover)/Far Beyond The Sun/Dreaming/Gates Of Babylon/Into Valhalla/Baroque & Roll/Masquerade/Red Devil/Trilogy Suite/Blue/Fugue/Drum Solo/Heaven Tonight.
Encore: Black Star/I'll See The Light Tonight.
Well it's been a couple of years since I saw the Swedish Maestro and his band Rising Force and various changes have taken place since that time.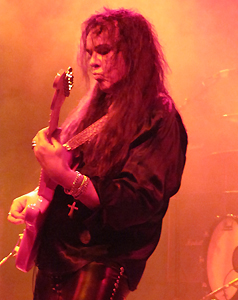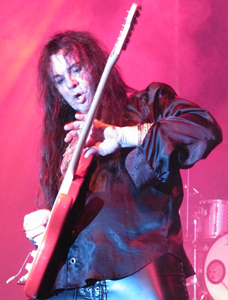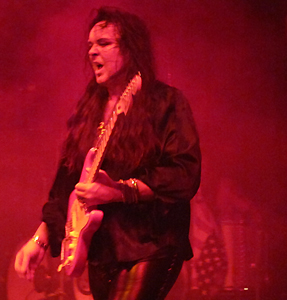 There is no what you would call a frontman anymore as such like we have always been used to which alters the dynamics on stage to say the least. Taking care of the vocals now the keyboard player, who has a Jeff Scott Soto timbre to his voice which is definately a welcome to the fold - not that I am dissing Ripper of course, but it makes it way more retro, taking many back to the good old days of the 1st two albums in the throatal dept.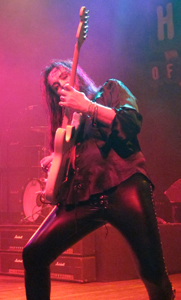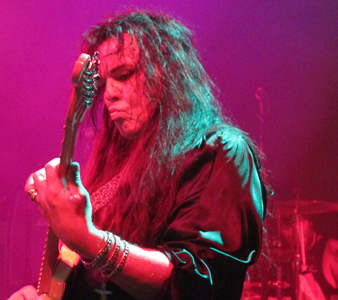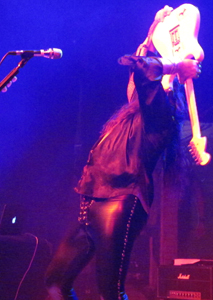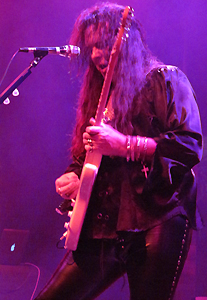 Yngwie now has way more space to move around on the stage now with new bassist, Ralph Ciavolino, being the only other non-stationary member of the band. I guess this was a conscious decision of Mr. Malmsteen's because the set has way more instrumental pieces in it than what I have heard in the past.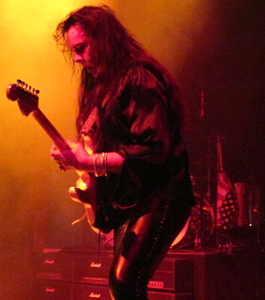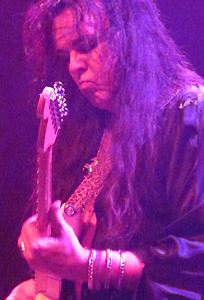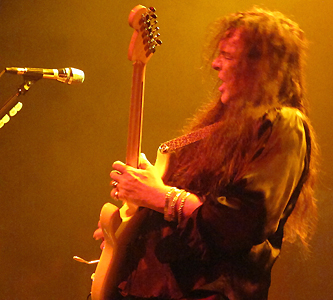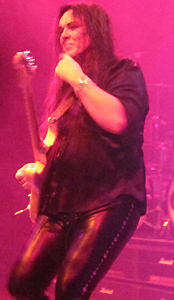 This allows him the ability to shine on his recent material from the 'Spellbound' album as well as bring other instrumental faves to the fore like 'Trilogy Suite'; 'Far Beyond The Sun' & 'Baroque & Roll' and mixing them perfectly with great sung numbers like 'Red Devil'; 'Dreaming'; the cover of Rainbow's 'Gates Of Babylon' and hit single 'Heaven Tonight'.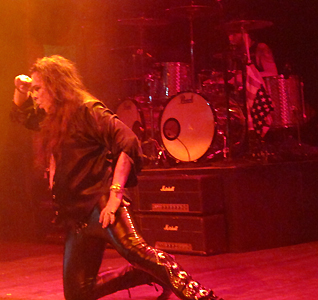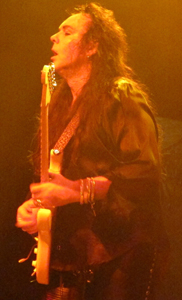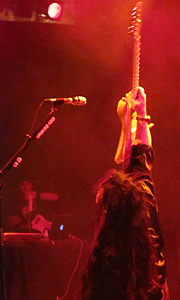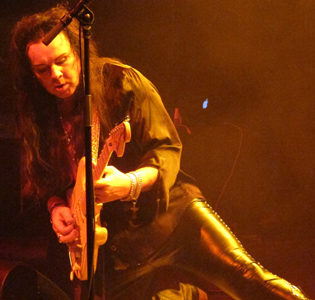 Yngwie never ceases to amaze his fans and totally blows everyone away with his precision mastercraft technique which completely proves he is the best of the best when it comes to racing around the fretboard of his custom made Fender Stratocasters like no one else has been able to do before or since with such ease and brilliance.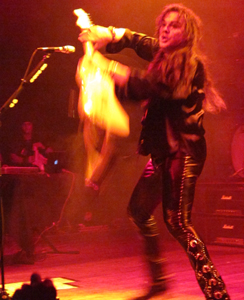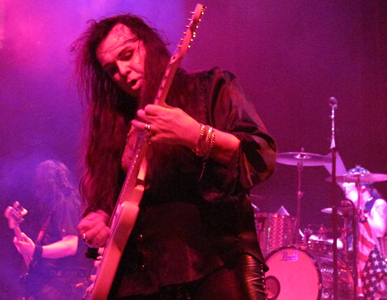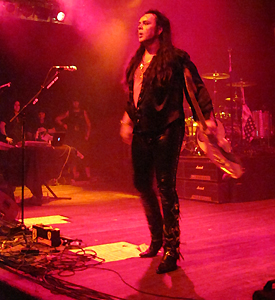 The majestic classical technique he has made his own just seems to get better and better and it is simply incredible what the great man can do with a guitar. In fact, his playing is capable of reducing many of us to tears when we hear the incredibly, beautiful rich tones that come through the House Of Blues P.A.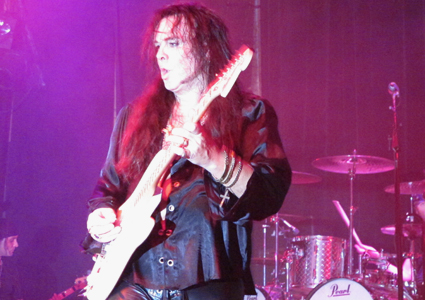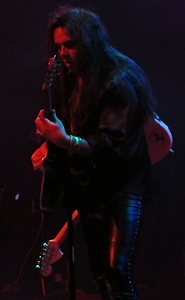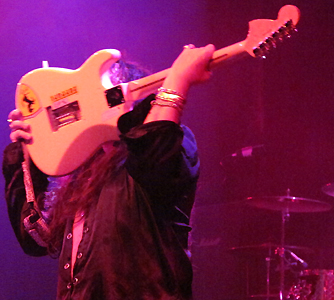 Cool to see that Patrick Johansson is still manning the drum kit and he gives us a knockout solo as well which the fans lap up nearly as much as they do when Malmsteen himself appears back on stage again armed with a semi-acoustic work of art that he delights the whole audience with before returning to the demonic scalloped axe of his and firing out riffs and licks to die for.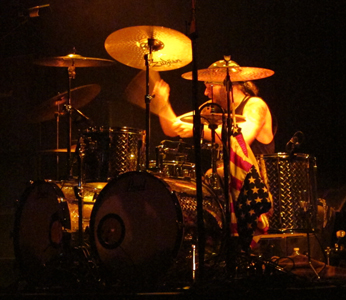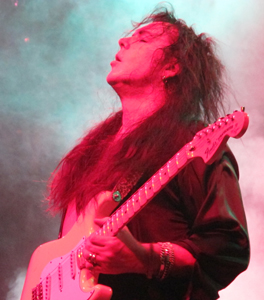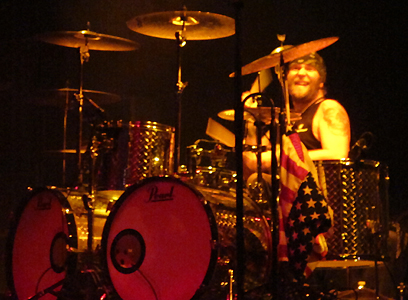 Plenty of plectrums get flicked and kicked into the crowd which has been one of his gimmicks for many years and he also customary destroys a Strat towards the end of the night. We get to enjoy the powerful 'n' atmospheric acoustic 'Black Star' and the epic 'I See The Light Tonight' which finish off the Swedish virtuoso's Hollywood happening.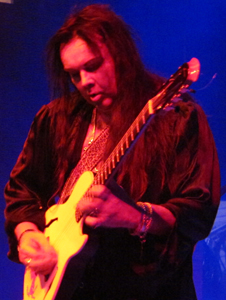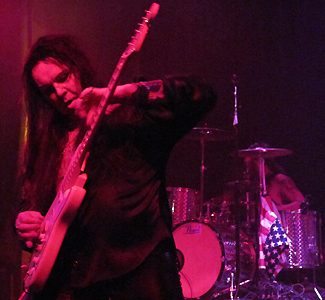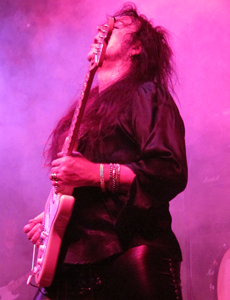 You could tell Yngwie had a good night throughout the evening as he was smiling a lot and thanked the fans in Hollywood a couple of times too - which is where his career first started as a solo artist. The best I have seen yet from Yngwie - Malmsteen is still the God of the Guitar and this spectacle of a show most certainly proves this point for sure.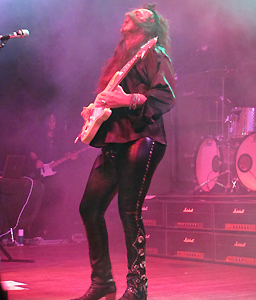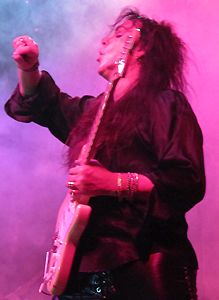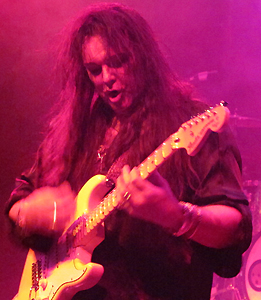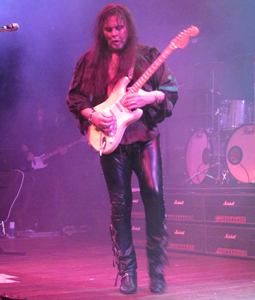 No words can completely describe the vibe & excellence of this concert.
10/10
By Glenn Milligan
Mushroomhead - Whisky A Go Go, West Hollywood, Ca., USA, Thursday 9th May, 2013
Set List: 43/Kill Tomorrow/Sun Doesn't Rise/12 Hundred/Bwomp/Come On/Save Us/Embrace The Ending/Becoming Cold (216)/I'll be Here/Damage Done/Simple Survival/Solitaire Unraveling/Empty Spaces (Pink Floyd Cover)/Born Of Desire.
Well this was one of those gigs that I can most definately say I've never seen anything of the like before. Oh ok, maybe I have as it was kinda like mixing Mortiis with Slipknot with elements of Nu-metal as well.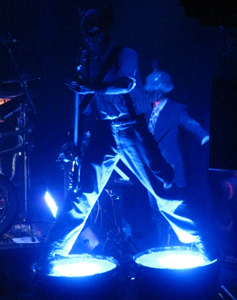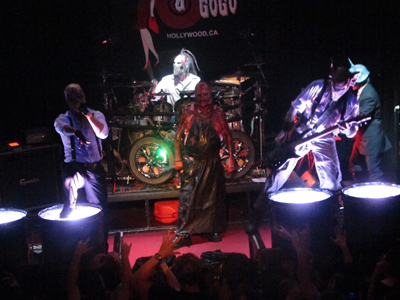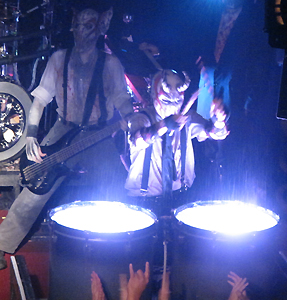 Mushroomhead are a band that I have seen photos of and read the odd review over the last 20 years or so but never had the joy of witnessing in the flesh - this was the night when it was about to change since I had been recommended to go and see them by a buddy in South West Florida, Rick Tiner as the 'head were there recently there.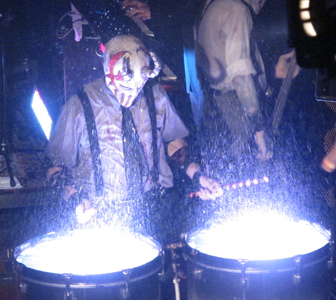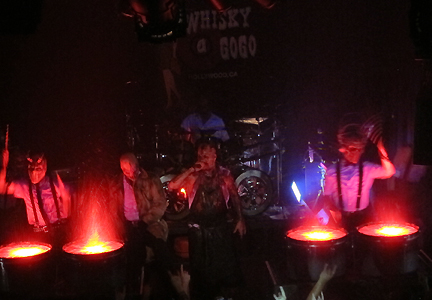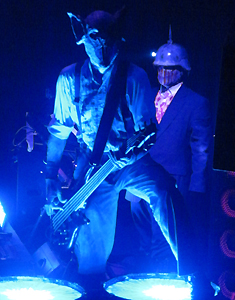 The Whisky tonight was absolutely exploding to the seams and pretty hot down there on the floor too so I wisely decided to stop upstairs and view the show from the balcone area near the mixing desk where I would be a lot safer, hahaha, since it was a crazy swirling mosh of big geezers down there going crazy and filling themselves with bruises.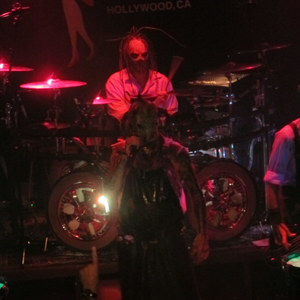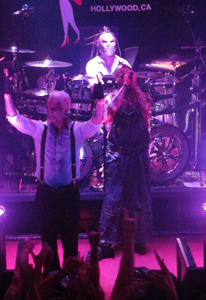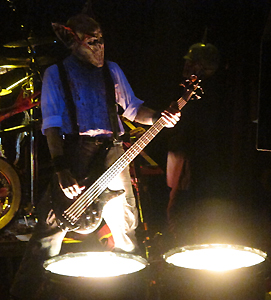 The show was one of those experiences were you kinda leave your usual expectations at the door and simply take it all in as this was rather off the wall to say the least. Incorporating darkness with outstanding lighting that was a series of a lot of blue, red and green that worked incredible with shadows that all blended well with the explosive in-your-face brutal and destructive energy that was created from the force of this 8-piece band.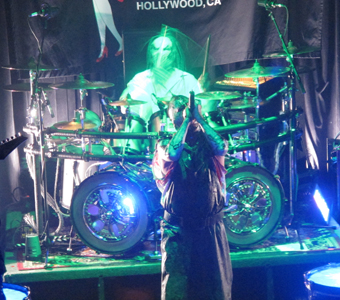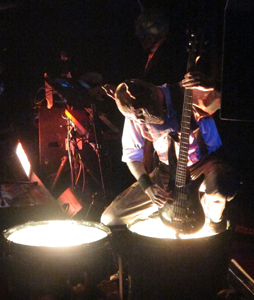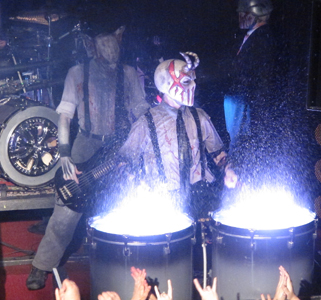 The Mush' boys took you on this scary musical journey that bewildered you and enlightened you at the exact same time. Having 2 vocalists works well too who between them mould a series of singing, screaming & rap aspects that tops off the precision obliteration that is thrashed out from this landmine tapestry of insane sound and majesticism up there on stage. Then there was the bashing of the water induced bass drums, sinister posing in those initimidating masks and running around like there was no tomorrow.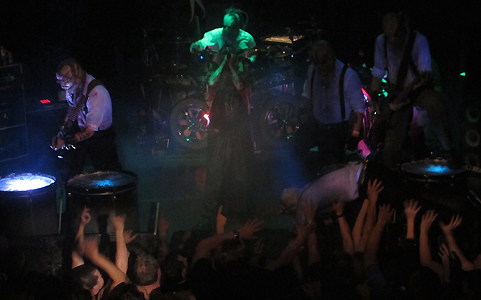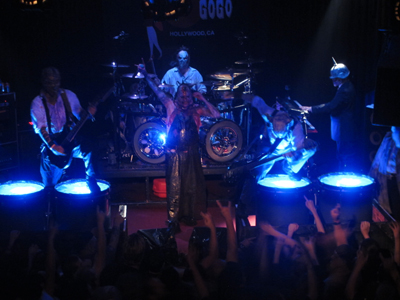 Okay, I have to admit that they knowledge of their songs is very minimal to say the least but some of the material stood out against the rest like the numbers that reminded me very much of Faith No More such as the quiet and slow 'Save Us/Embrace The Ending' or heavy 'Simple Survival' with its almost Mr. Bungle qualities as well as 'Sun Doesn't Rise'. Now how could I forget of course the cover of Pink Floyd's 'Spaces' that was left towards the end of the the set.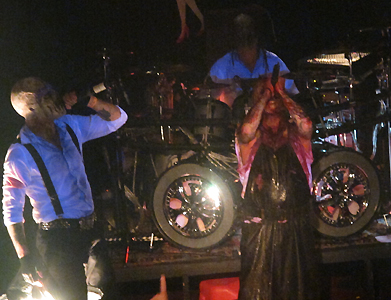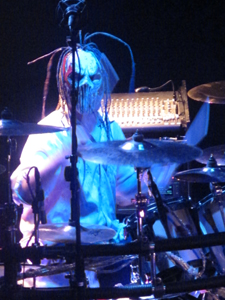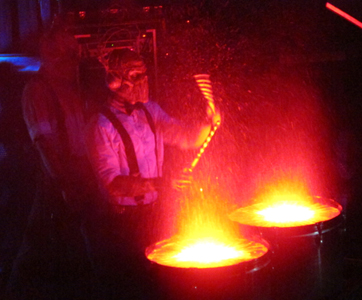 Then there was the slow balladeering 'n' nasty 'Solitiare Unraveling'; the deep satanic sounding growling openers '43' & 'Kill Tomorrow'. There's no doubt all you guys out there can pick out your faves from tonights mayhemic menu but I guess those are my fave moments. I thought it was really cool of the guys to have photos with the fans after the show as well.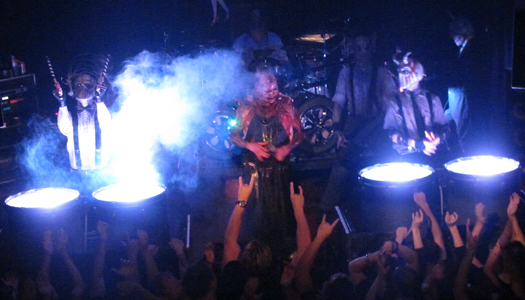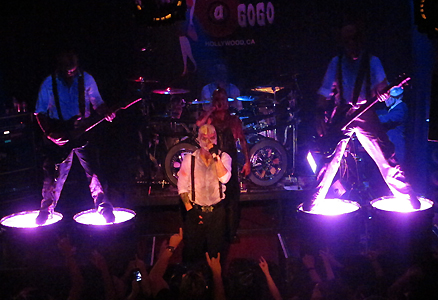 Man I would hate to be in a band that followed these guys as they have so much going on and going down, with or without the boiler suits and masks.
10/10
By Glenn Milligan
Ian McLagan – The Backroom @ Greystones, Sheffield, Friday 12th August, 2011
It's back for a night at The Greystones to see a 'Rock Legend' who simply needs no big introduction apart from 'Ladies and Gentleman, Please Welcome Mac', amid a big round of applause when the main man gets on the stage to pulverise his keys and marvel us with the microphone. Last time I saw Mac at the Boardwalk he had all the Bump Band with him but just one member is present on this tour, John Notarthomas who plays bass for the majority of the numbers tonight.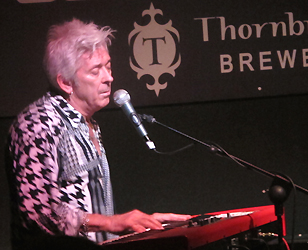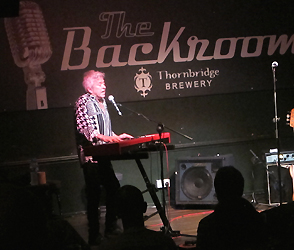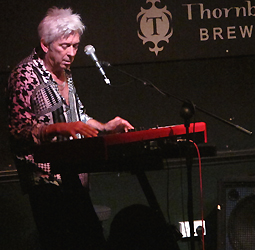 'Hello Old Friend' opens up the night – a song that he played for Ronnie Lane when he was looking after him at his place in Los Angeles and joked that Plonk could not get away from it – even laughing about Ronnie shouting for when he wanted the 'Toilet' that Mac pushed him to in his wheelchair. 'Who You Love' followed up about unrequited love that Mac said he knew all about and no doubt many others too. Man it's so hot and sold out – talk about being pretty rammed in here to say the least. We get treated to 'Mean Old World' – a ballad off the next album that is as yet untitled due to being so busy with the reunited Faces gigs, not to mention solo concerts too.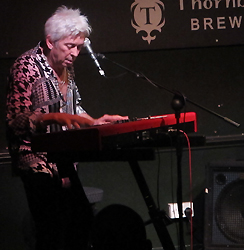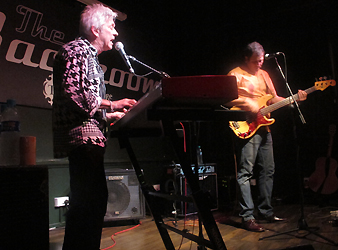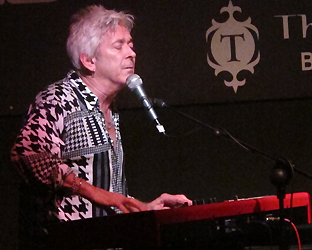 He tells us about when they 1st played Sheffield at the Mojo Club or didn't in about 1964 as they turned up on the wrong weekend (the one before their gig with some blues icons like Humbert Sumlin and Howlin' Wolf) and realised 'The Pretty Things' were playing so had to find their way home back to London again with no money!'It's Been A Long Time' about being homesick from 'Rise And Shine' greets us next about the time he was missing how London used to be back in the day as well as missing Austin too. Talking of Austin Tx., 'Warm Rain' is up next about his studio in Texas - it was raining outside and the rain happened to be warm – lol – I guess you knew it'd be the case. But it's a rarity over here in the UK! How about the story of 'Get Yourself Together' – this was Paul Weller's favourite Small Faces song but Mac could not remember it as it was simply a b-side and they only ever played it 3 times, the 3rd was when Steve Marriott put his vocals on as well as informing us that the b-sides were normally just jams in the studio and didn't really exist as songs at all - so know you know!!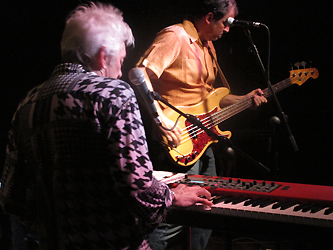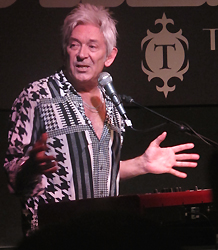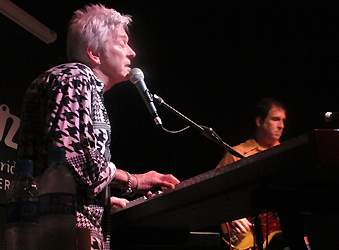 There's another number for us all from Never Say Never in 'An Innocent Man' which features John Notarthomas on acoustic guitar – he's a brave man exclaims Ian as there's no safety net tonight at all which is followed by 'I'm Hot, You're Cool' and 'Killed Me With Love' also from the 'Never Say Never' album. Also in the set is 'Trapped' about a phone call not being made to someone and then feeling trapped as a result of it. "Anyone out there called Cindy?" he asks the crowd, "There's always someone who puts their hand up and says 'Yeah' but not tonight – hahaha and then light the place up with that incidental classic! ('Cindy Incidentally' to those not in the know haha). Why aren't you singing for the Faces?", John asks – Never say Never Mac says – lol.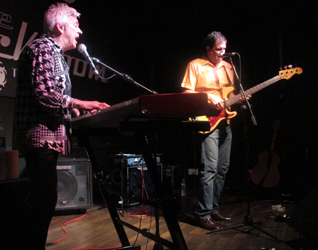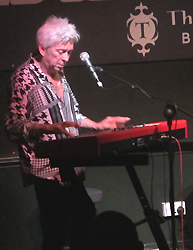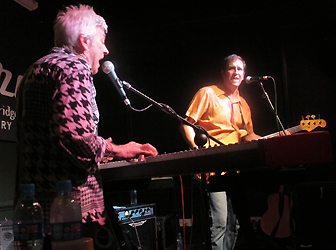 The last official song is 'I will follow' from 'Never Say Never' but jokes that he can't see the point in leaving the stage to walk to the side of the pub next door and come in again so they let us applaud after it where we are treated to the encore number that is 'Debris' from the Faces 'Ooh La La ' album that Ronnie Lane sang – one of my favourite all time songs as well and got massive appreciation from the fans in here. There is a 'Meet and Greet' immediately after which sees a long line in the pub as so many happy folk wanna chat, have photos and autographs from Mr. M – he is such a people person and a genuinely all round nice guy – even informing me there will be a Face Tour over here next year – hope it hits Sheffield – just wish Rod was part of it – never say never as MAC says!!
10/10
By Glenn Milligan
Simon McBride/JJ Grey & Mofro - O2 Academy 2, Sheffield, 11th May, 2010
Set List: War/A Woman/Hide & Seek/GA Warhorse/Lochloosa/Everything Good Is Bad/Orange Blossoms/Sun Is Shining Down.
Well this was my 1st visit to the small room upstairs at the Academy this year and tonight was a healthy helping of retro sounds from 2 artists from 2 different areas - the USA and Ireland. Therefore tonight was gonna prove to be an interesting musical ride. 1st to hit the stage was a total newcomer to our shores who went by the name of JJ Grey from Jacksonville, Fl. whose band was called Mofro who has got the most powerful souliest voice I have heard in absolutely years.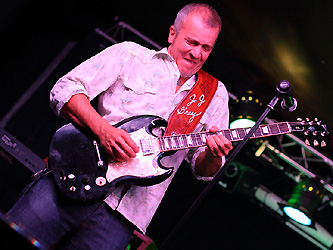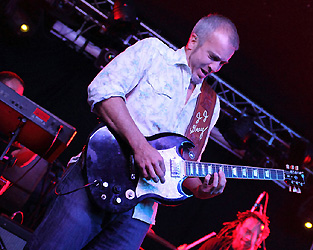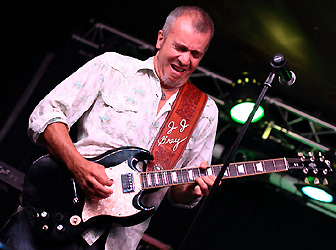 His band aren't too bad either in fact they are out of this world to be honest with you and come complete with bassist/saxophonist, trumpeter, organ play connected to a Lesley Amp giving one hell of sound and drummer too.The whole set was a blissful mix of Soul and Blues with JJ Grey having a voice that puts me in mind of Andrew Strong meets Otis Redding with elements of Chris Robinson. He grabbed the audience immediately with opener th grrovin' 'War' and keeps them too in the palm of his hands throughout the entire set which ain't hard with the sheer quality of the performance and great standard of songs on offer in the short set. Highlights include the acoustic and energetic 'Woman' and a killer souly song that went by the name of Hide & Seek'.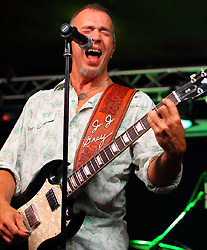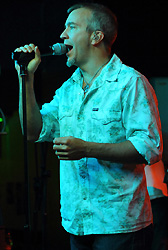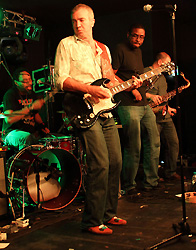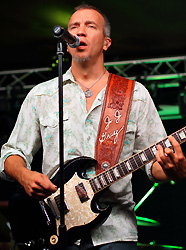 Love the epic called 'GA Warhorse' about his Grandma from Georgia, not to mention the slow souly rock number about Florida entitled 'Lochloosa' where he asked who had been to Jacksonville - just me again then! that puts me in mind of my great times I have had in Florida so far - 'Thank Y'all' says to us - no thank you JJ. Other the great numbers that blow us away tonight include the building 'Everything good is bad' that's pure late 60's soul; 'Orange Blossoms' about crime and the last beauty from the boys that is 'Sun Is Shining Down'.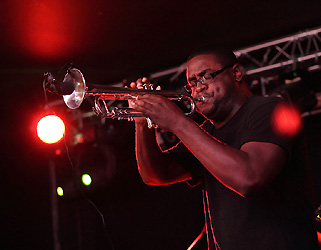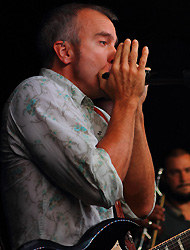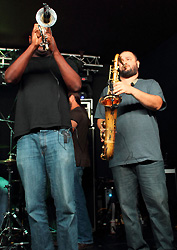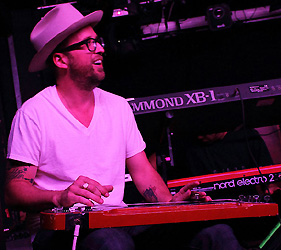 We are even treated to some exquisite trumpet and harp solos that no-one can get enough as part of the 8 song slection as well - brilliant!JJ Grey & ofro are full of personality and a pure joy to see with even some cool ass dancing going down from them as well. Now these guys are good and I just can't see them being very unknown for long if this incredible performance is anything to go by.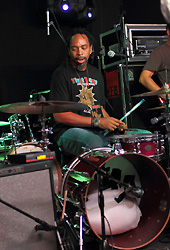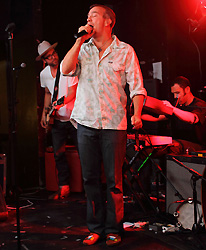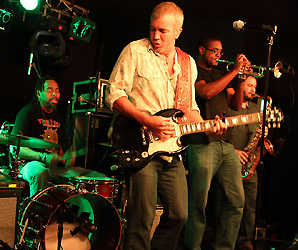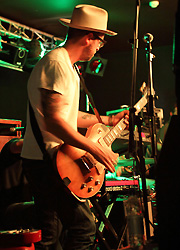 Looking forward to seeing the man and his band on this side of the pond again soon.
10/10
Irish guitarist, Simon McBride had a lot to step up to after following JJ Grey and what is amazing is that fact that half the audience seems to have left - so many must have come to see the opener. Simon battles on all the same though and although comes across rather nervous at times plays really solid with his Gary Moore like tones and riffery - with one or two other influences coming in too - dare I say it, hints of Joe Bonamassa and at times the odd bit bit of agressive riffing of the late, great Rory Gallagher.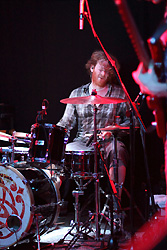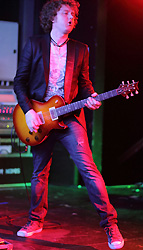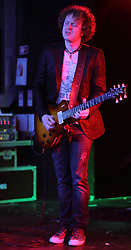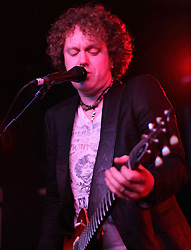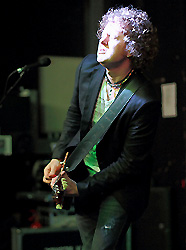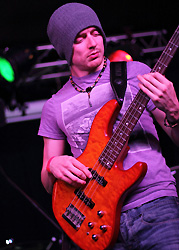 He's a fine guitarist, but so are many others in the blues league and doesn't really give off that much different to what's been and gone already - I even notice that the same kinda solo is forever cropping up in numerous songs in the 90+ minute set of his - still many are extremely guilty of that in past and present too. Many of the people here don't appear to be very familiar with his material about from 4 or 5 hardcore fans bang at the front of the railings and it is particularly embarassing when tries to get the small crowd to sing along to a song as no-one appears to know the words - ouch.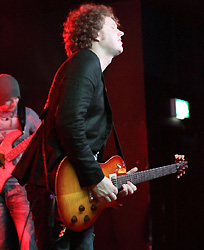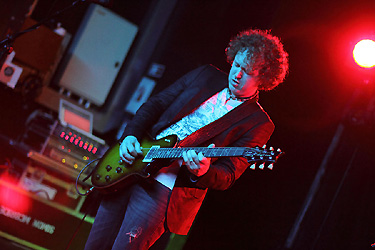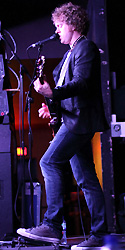 Mr. McBride and his men play their hearts out and try so hard to get something back from the audience which they do get - pity there ain't many of them in though. Highlights in the set include souly funk blues of 'Down To The River'; & and the powerful Glenn Hughes like 'So Much Love To Give'; the dirty waily southern like blues of 'Hell Waters Rising' and 'Dead Man Walking' from the new album 'Since Then' and the harsh and grooving 'Power Of Soul' complete with crowd cheers at the appropriate times.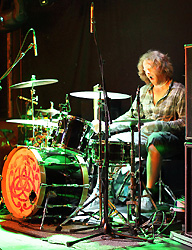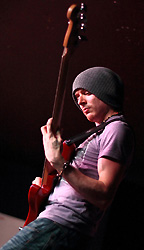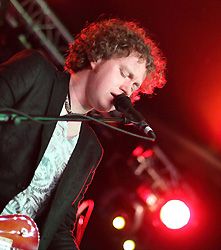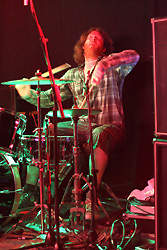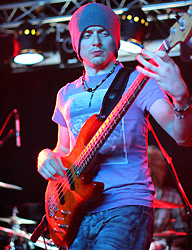 I've seen better and I've seen worse too.
6/10
Review By Glenn Milligan
Photographs By Bernard Froggatt
Barry 'The Fish' Melton/It's a Beautiful Day/Dan Ogus –
The Boardwalk, Sheffield, Wednesday 29th July 2010
Well it's not every night that you get to witness a legend that was at the original Woodstock Festival in 1969 as well as Monterey Pop in '67– but tonight was such an occasion.1st to grace the boards though is a Southern Boy – no not from a Southern State of America – but from the UK – Oxfordshire to be exact who warms the crowd up a bit with some of his own numbers on acoustic and then powers into a few covers bythe likes of The Split Endz and Led Zeppelin.
Now Barry 'The Fish' Melton was the Fish in 'Country Joe & The Fish' who were famous for the number the Anti-Vietnam number 'Fixin To Die' who in the Boardwalk opens up with a song that is very like 'House Of The Rising Sun' in the riff section of it that was actually an old Leadbelly number called 'In The Pines'. Next up is 'Electric Music For The Mind And Body' where Barry says it's 43 years since it came out. It's one hell of a tune as well with that old Rhodes sound on the piano, some real aggressive guitar-work that works perfect with Mr. Melton's high pitch voice – it's like the mid to late 60's all over again – wish I could have been over there in California at the time when it was all happening.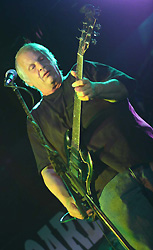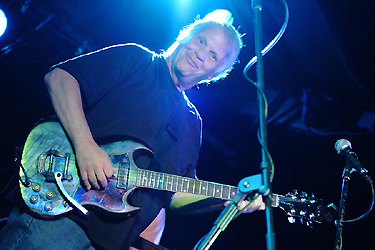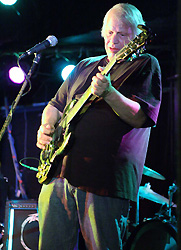 After introducing all the UK based band members, Barry talks about the fact that we have a guy who was called Robin Hood and they have their guy in the USA and they do a song about Jesse James. It's like a Grateful Dead number with very Southern feel to it with regard to the main riff of it and was like what Jerry Garcia would sound like if he was born in a state like Florida or Georgia. I was in my element lapping up this and loved every single second of it.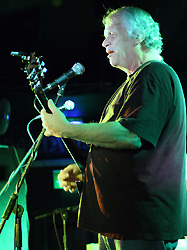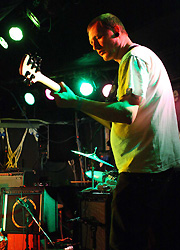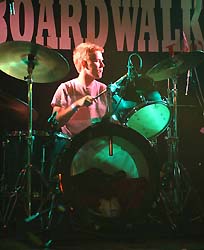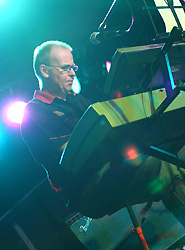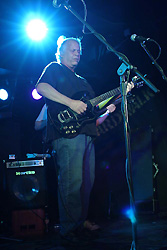 Barry then told us about the song 'Who Makes The Moves' that came from Barry's 'Dinosaurs' band that featured people like Robert Hunter (Grateful Dead lyricist) who joined them firstly as a guest - then as part of the band which was an amazing psyche out number with a riveting solo to match with tons of notes in it. It was mesmerizing to watch 'The Fish' fly up and down the fret-board as though he was a cross between Alvin Lee (Original 'Ten Years After' Guitarist cross with a San Francisco equivalent of Rory Gallagher) – I am guessing that these guys actually took some of their style from Barry himself. He said he last played here in 1970 and that he still feels 16.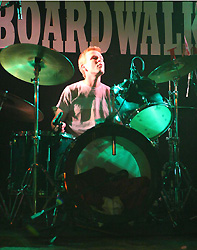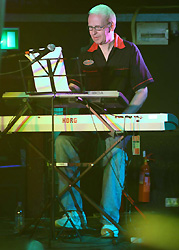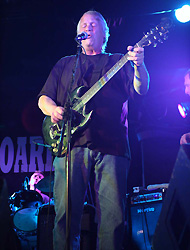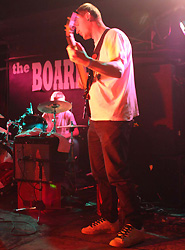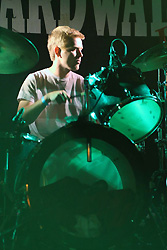 What's great about this gig is that you get to learn about what Barry is about and where his heart is which is especially apparent in the song 'SOS' about life on the tough side of town in Haight Ashbury and concerns shelters and soup kitchens where you can get help and food if you are homeless that Barry and his band help raise money for. 'Mojo Navigator' is the last number from Barry's set that's about the magazine of the same name. It has an exceptional instrumental section and reminds me a bit of Blind Faith.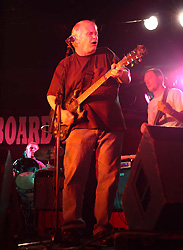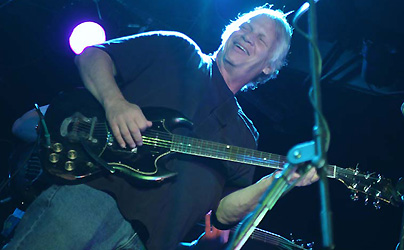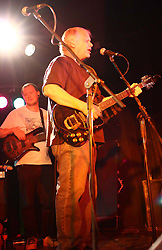 The second part of the night features David & Linda LaFlamme from the late 60's psychedelic outfit called 'It's A Beautiful Day' who are different from many others as the lead work is done on a violin and to top that off features David on lead vocals with Linda providing plenty of backing, tambourine and great hippy dancing. The start off with a jazzy bluesy instrumental number entitled 'Don & Duey' that is a tribute to blues trio of the same name.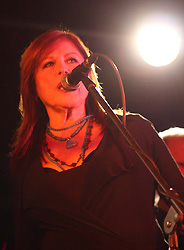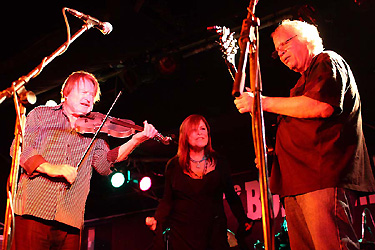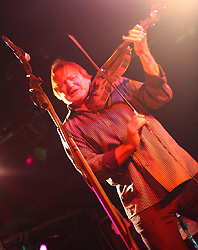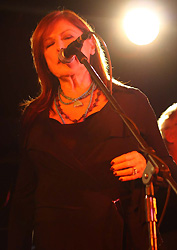 They then give us a song about the Berkeley scene (late 60's that is) which had that hippy scene before everywhere else with a ditty entitled 'Don't Do Me' with David joking that he always likes to play when it's a blue sky and has it written in the contract - lol. Here's one from 1st album 'The Girl With No Eyes' followed by their main song 'White Bird' who has to fly high or she'll surely die - now all you need is a tab of micro-dot (Great quote Mr. Froggatt)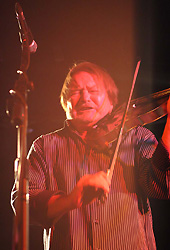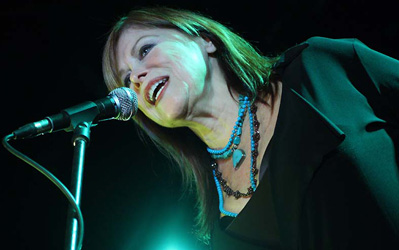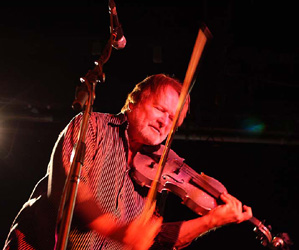 If you fancy something that sounds like a psychedelic 'The Devil Went Down To Georgia' then you can't go wrong with. 'Time Is' which appears on the "Its a beautiful day" album of the same name in 1969 has a cool lyric in it that is 'The Love Stays On' that turns into a killer chorus chant as well as featuring 'Phantom Of The Opera' bits in it for good measures. Love those solos from David's Violin and Barry's Guitar in the number. Because they don't have a lot of songs in the pot that they all know as a unit (as they only been together as a band for a week) they encore with 'Soulshaker' by Delaney and Bonnie that is a real gutsy 12-bar of a classic that everyone goes full-on for.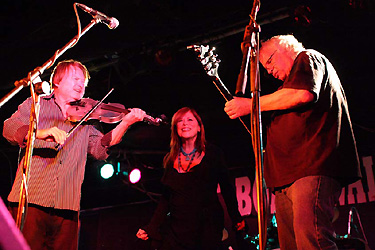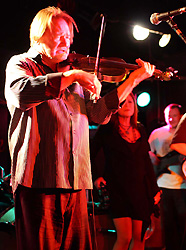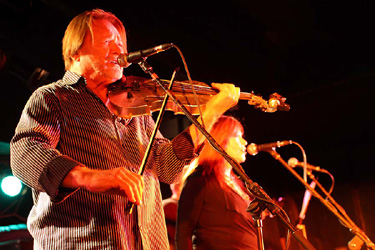 AGreat Ending to a great night with some of the band members even coming out to meet the fans.
10/10
Review By Glenn Milligan
Photographs By Bernard Froggatt

Misstallica – O2 Academy 2, Sheffield, Saturday, 22nd May, 2010
Hit The Lights/Ride The Lightning/Leper Messiah/Four Horsemen/Trapped Under Ice/Harvester Of Sorrow/Motorbreath/Disposable Heroes/Fade To Black/Orion/Creeping Death/Seek & Destroy/Dyer's Eve.
A gig that I'd been looking forward to for a while after finding out about it way back - it went straight in the diary. In this small sticky room the band had 2 supports, one I heard was like a Rage Against the Machine type thing and the other going by the name of 'Black Horizon' were like heavy metal Mission-like Wanna'bes and was glad when the headliners hit the stage.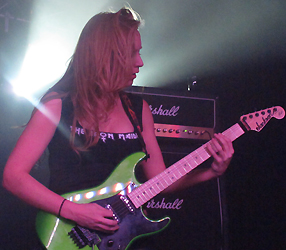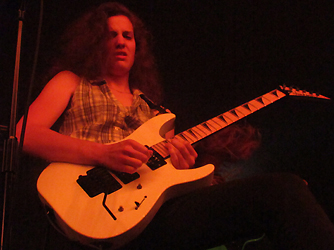 The room was a healthy half full or so with many Metallica fans (younger in age than I expected) crammed onto the middle of the floor in front of the band. As tribute bands go, you never know what to expect and no doubt many went in there sceptical, not knowing if they were gonna be any good. Going onstage to the familiar intro of 'The Good, The Bad & The Ugly' Theme that the main men use, it was obvious from the start that these girls meant business.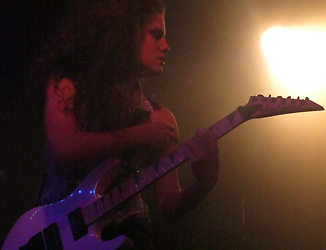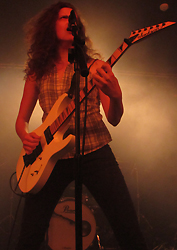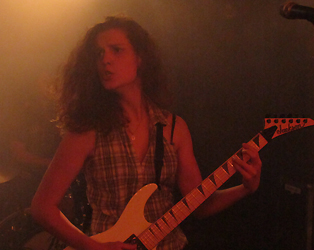 They had the volume well cranked up and you could tell they had really done their homework well - the speed, notation and vocals were spot on with plenty of ferociousness, angst and aggression that many wouldn't have thought possible. Starting with Kill 'Em All's 'Hit The Lights' and closing with 'Dyers Eve' they were a sincere thrash metal haven to behold and didn't have any problem at all winning over the fans. They've even got a hot new recruit in the lovely Courtney Cox who also plays in The Iron Maidens.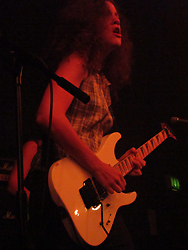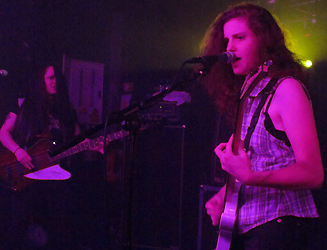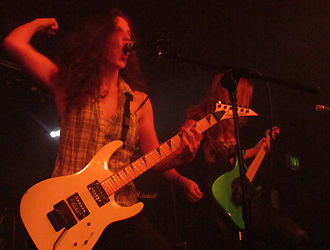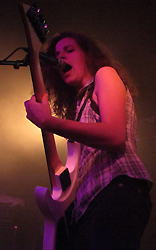 What I thought was brilliant about Misstallica (great name by the way) is the fact the they don't bother playing anything after the '...And Justice For All...' album from 1988 - which saves them going through all the overplayed numbers like 'Sad But True'; 'Enter Sandman' and all that dirge from the Load sessions and St. Anger etc. Gigi and the girls give it all they've got all they way through. What a drummer Kaleen is as well - not missing a beat!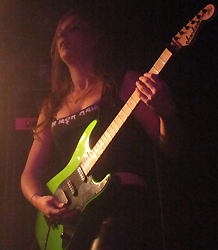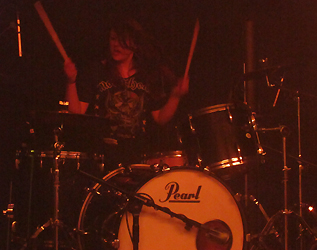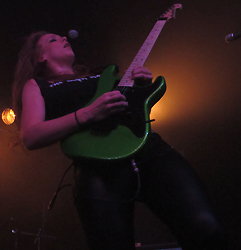 Highlights of their set included the lesser heard tracks 'Leper Messiah'; the instrumental 'Orion' that gives bassist Teddi a real shining moment; 'Motorbreath' and live staples like 'Seek & Destroy' (making sure to sing 'Scanning The Scenes Down In Sheffield Tonight - insert roar of approval here); 'Creeping Death' and the nice longies in 'Master Of Puppets' & 'Harvester Of Sorrow' - now you can't hear fairer than that can you?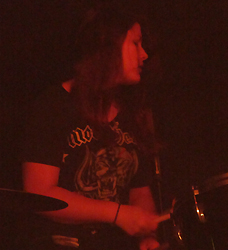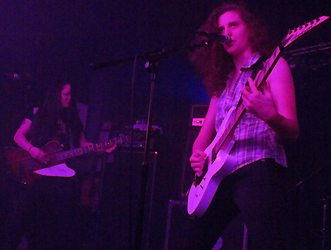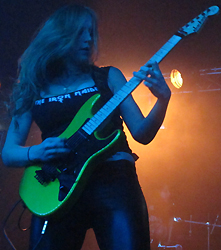 A pity the curfew was 10pm as I am sure that many would have loved to hear more. Looking forward to seeing them back again on our side of the pond. Hey Courtney bring your other band over too and let's make it a double headliner. Pure Thrashing Perfection indeed.
10/10

By Glenn Milligan

The Scott McKeon Band/The Mitch Laddie Trio – The Boardwalk, Saturday 17th April, 2010
It's blues at The Boardwalk tonight with two bands that could be the next Joe Bonamassa, John Maher or Jon Amor.After a local dude – the frontman of The Talk armed with just an acoustic guitar it's the turn of Mitch Laddie who comes from Newcastle who gives us around an hour of material that mainly comes from their new album entitled 'This Time Around' – much of it is of decent quality stuff – but it's really nothing new and you've heard it all before and a case of what well known blues riff is gonna be used for this song.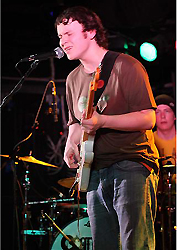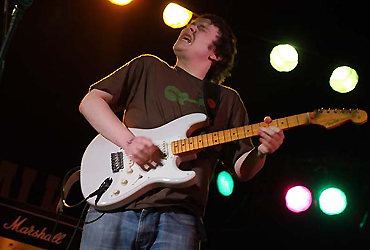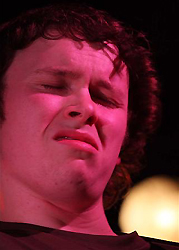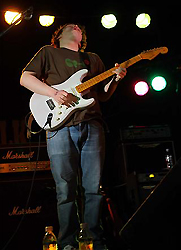 They are competent musicians and you can't take that away from them at all – but they need to get their own style and not rely on times past as there are a million that sound like Eric Clapton, Buddy Guy and others of that ilk and groove – that way I am sure they will get noticed on their own terms.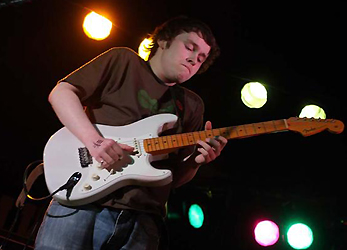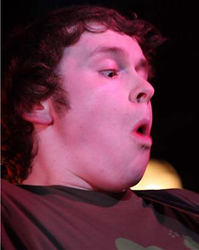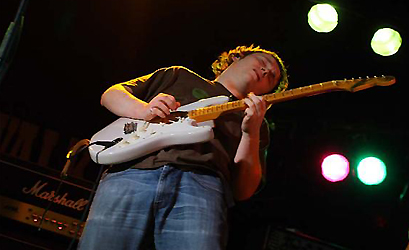 It steps up a bit when it comes to the headliner though – The Scott McKeon Band and without sounding cliche, these guys set the stage on fire – as Bernard says, they appear to have that commercial style to them that isn't unlike new acts that have hit the big time such as Joe Bonamassa as well as elements of Jon Amor who played here earlier in the week – sadly we missed that splendid gig – dammit!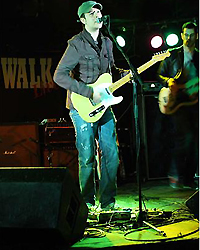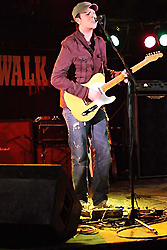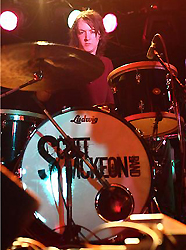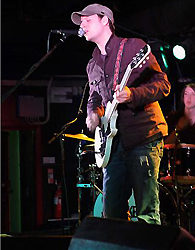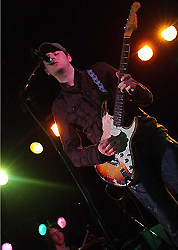 They really were a dynaic trio especially with the electrifying opening number which name escapes me right now and immensely effective echoes were used in the lead vocals making it sound miles bigger than it actually was. Many of the numbers came from their new album, 'Trouble' with major highlights being a cover of ex-Paul McCartney Guitarist, Robbie Mackintosh – a cool number entitled 'Scarecrow' – in fact the man himself actually plays on the album version.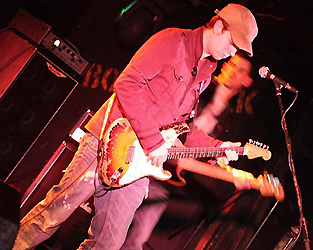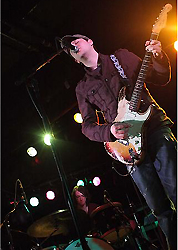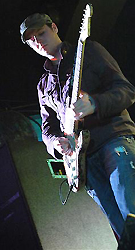 Another really great song is 'Talk To Me' by the well known lyricist who goes by the name of 'Babyface' who has written for a massive array of people – this number was actually written for Eric Clapton and Scott has always loved the song so gave us a rendition of it tonight. The drummer of the night origianlly comes from a band called 'The Melt' and he batters the sh*t out of his kit – in fact he often has to have it nailed down to stop it moving away from him. His snare drum is homemade and has a tambourine in it – talk about Blue Peter.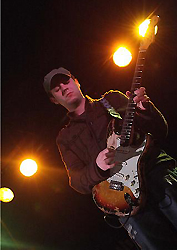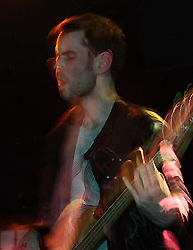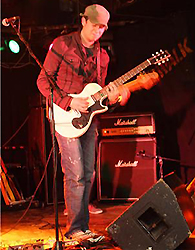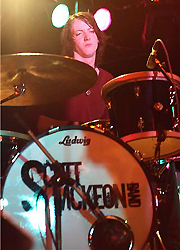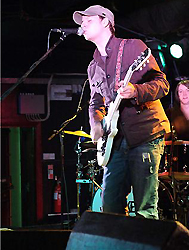 Scott plays a battered old Fender at times and returns to it for a track from his 1st album. At the end of the night he invites Mitch up and they perform a cracking cover of Robert Johnson's 'Crossroads'. Decent Enought night was had by all in attendence.
8/10
By Glenn Milligan
Photos by Bernard Froggatt
Dave Matthews Band - Birmingham Academy, Friday 12th March, 2010
1910 -2155
Proudest Monkey/Satellite/Shake Me Like A Monkey/Seven/Funny The Way It Is/Seek Up/Stay Or Leave/Lying In The Hands Of God/Spaceman/Cornbread/# 27/Lie In Our Graves/Crash Into Me/Don't Drink The Water/Time Bomb/Ants Marching/Big Eyed Fish/Baby Blue/All Along The Watchtower.
You wait fifteen years for a DMB show, then two come along in the space of nine months!
This was my first time at the new Academy which is in the old Night Out building, and as Dave commented your feet already stick to the floor there – kind of home from home really with overpriced beer in plastic cups. The sound was great and due to a club night after, there was a 10pm curfew so the show started at 710! DMB provided us with a marvellous near three hour set that only repeated seven songs from last year's incredible Wolverhampton show.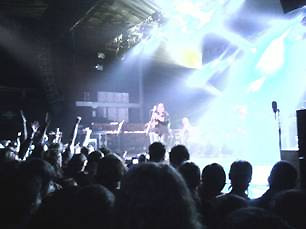 After an opening paring of 'Monkey and Satellite, we got a few tunes from the latest CD (Boyd threw some nice violin into 'Funny..). 'Lying in the Hands of God' was tremendous as a fine sax groove took to the band to the zone. 'Crash Into Me' was awesome, and then...they played it. 'Don't Drink The Water'. My favourite DMB song. Just lovely. As it is usually a set opener, I didn't expect it so late, and it rocked like billy-o.
Ants was a superb main set closer, and some tidy encores sent us home smiling.
9/10
By Roy Evans

Gandalph Murphy & The Slambovian Circus Of Dreams –
The Boardwalk, Sheffield, Sunday 31st January, 2010
There's a damn good handful of peeps in here tonight for an obscure band with an incredibly original name. We had to come down to see what these Slambovians were all about.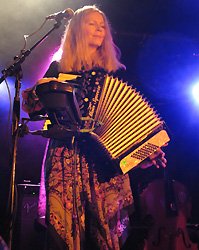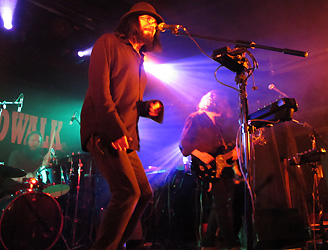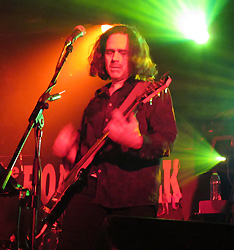 They open with a number going by the name of 'Sunday In The Rain' that receives a big applause that's followed by 'The Great Unravel' from the album 'The Great Unravel'. This song is very Tom Petty, Soul Asylum, Counting Crows and has a real nice harmonica section in it. 'Pushing Up Daisies' slows downthe proceedings somewhat, but makes no difference to the strong connection between band and audience.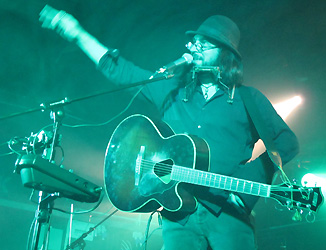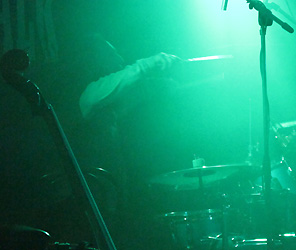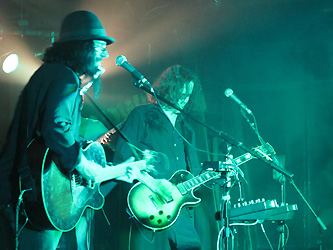 This group is extremely focussed on its audience, so no wonder that they have such an amazing following – it isn't very often you get so many people in here on a Sunday night – so they definitely have got a certain thing going – in fact they are a band you simply can't categorise. I think I'll refer to their style as Slambovian as you'll find an array of melting pot incredients right here.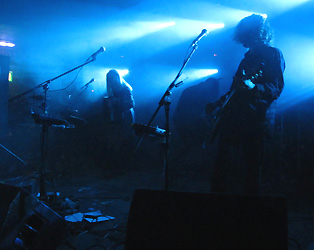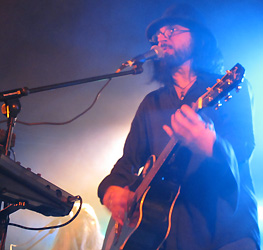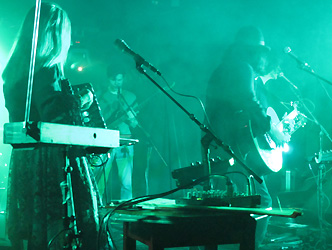 Frontman, Joziah told us that this was a venue that really looked after the acts that played there as they were fed well and the band loved the stew that they had at the prestigious venue. Furtherly joking that they had to give us a good show because they wanted to come back again and have some more stew. Loved their country version of The Who's 'Pinball Wizard' that's in pure Johnny Cash style – well those guys did once cover 'I walk the line' when all's said and done and a great song with a lot of mentions of 'I see you' in it with plenty of fixed harp – a la Bobby Dylan. Joziah told us about a gig they do back home in Coldspring, New York on a river on July 4th – a free gig that he invited us all to attend – so ho is going then?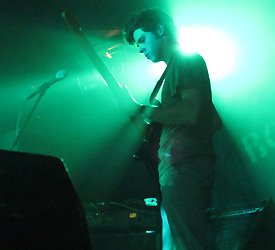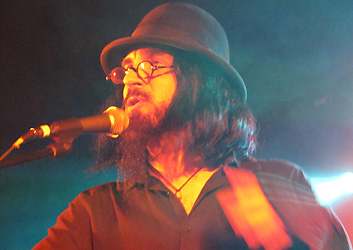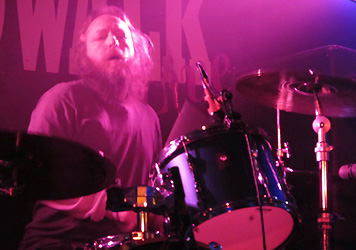 Gandalph' have one hell of an imagination, I mean calling a song 'The Translambovian Bi-Polar express' is going into major far-out mind territory – a song where Joziah sings in a brilliant Neil Diamond styled voice. Then there's a real poetical song about the fact that Clearchannel are taking over the tv channels and radio waves – not to mention the major tours and venues – but they haven't got their hands on the BBC yet! The next number reminds me of Pink Floyd with the aptly named titled 'Flapjacks In The Sky' – reminding me of something like 'Interstellar Overdrive' and even Bon Jovi's 'Wanted Dead Or Alive' as well and they even got the theramin goin as well.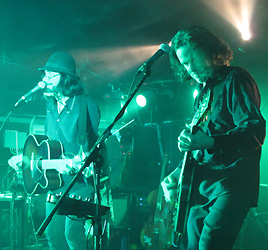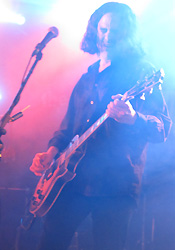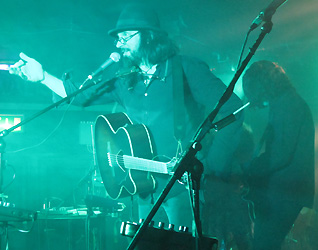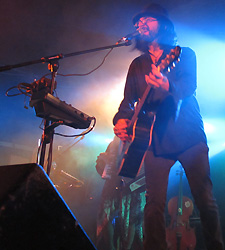 One number played was 'Already Broken' that there was story regarding it that goes something like this – a lady's sister found a box of cds tht had been left in the lost and found section at a coach firm and gave them to her after they had not been claimed. Anyway she too them home to her place in Pocklington and decided to play them for her friends randomly at a BBQ she was having – the 1st cd was the 1st Gandalph album 'A Hat For Thieves'. The said song stood out she followed the band online with her husband. They did a great rendition,on the 2nd take because the guitar was outta tune when they first got into it. Great number as well!!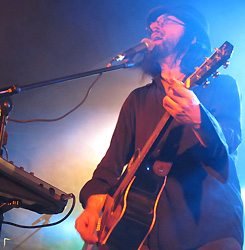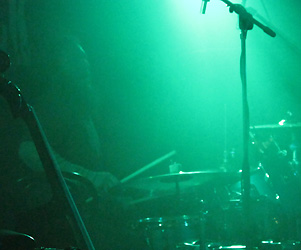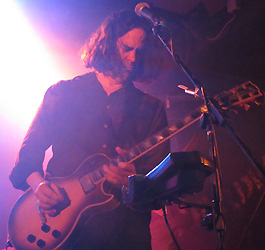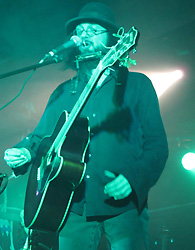 In the 2nd half of the concert they did a far-out medley of their fave covers that they called the Extra Terrestrial Slambovian medley or something like that, that included numbers like David Bowie's 'Teenage Daydream' & 'Starman', a bit of Pink Floyd and meshed it all together alongside The Beatles 'Across The Universe'. Another great song was 'Look Around' as well as the excellently titled 'Moondog House that was a real down 'n' dirty number coming complete with some killer slide guitar-work.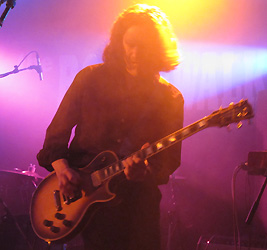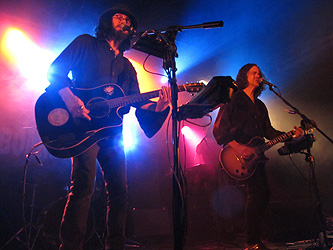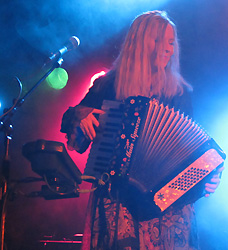 The last song of the set was the epic 'Talking To Bhudda' with an encore that Joziah joked was a cissy song that thry did if any potential folk record companies were out there watching – lol and then left us with a song of theird that they dedicated to those country pioneers, The Who (hahaha) – good to see they got a killer sense of humour.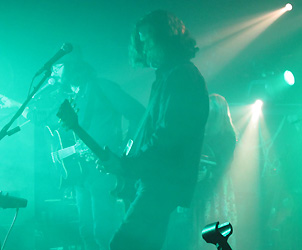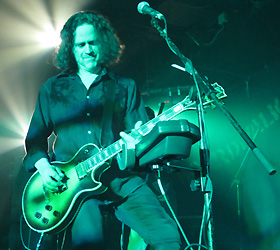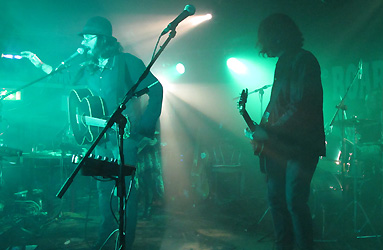 A band that I reckon will be back at the Boardwalk before the year is out – go and see them or check them out in any way you can.
10/10
By Glenn Milligan
Molly Hatchet/Guns 4 Roses/The New Kings –
Coconut Festival, Sun Splash Family Waterpark, Cape Coral, Florida,14th November, 2009
Well the New Kings ain't gigged at all since last March, well apart from a brief stint as a certain persons backing band in May/June but you'd never have known from their excellent set that warmed up the crowd here in this waterpark. Out with the old and in with The New Kings, the compere informed us with a brilliant rocking instrumental to get us in the mood of the cool covers that the guys had put together for us that included workings of numbers by The Rolling Stones & Bad Company. All members provided killer vocals and Stet made sure to give us that special drum solo that we so much miss him do down on the beach and beyond. Welcome back guys – the crowd loved you and there's little wonder why!!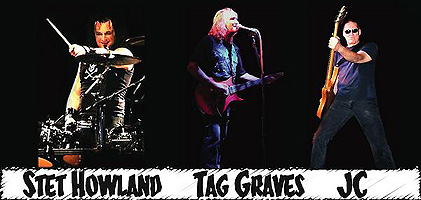 Next up were a tribute to one of my fave bands, Guns 'n' Roses, who go by the name of Guns 4 Roses, ironically enough, we have a tribute over here entitled Guns2Roses, I am guessing that 1 and 3 don't exist but you can never tell these days can you – lol.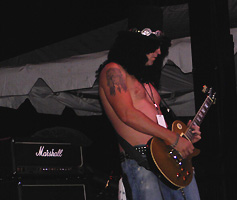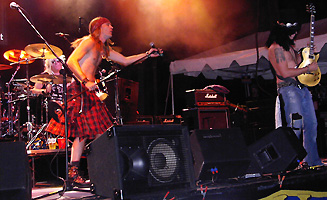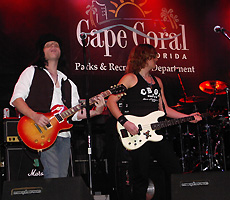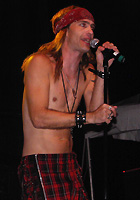 Anyways, this was a cool old wigs galore kinda band but they sounded damn good and like the New Kings, the cape coral crowd could not get enough of this 5 piece entourage that gave us a healthy helping of numbers that included 'Used To Love Her'; 'Paradise City'; 'November Rain'; 'Sweet Child of Mine' and 'Welcome To The Jungle'. Very convincing and looking forward to seeing these guys again sometime on a future trip to Florida.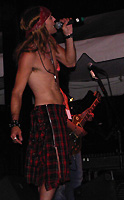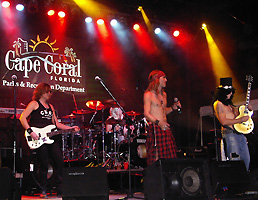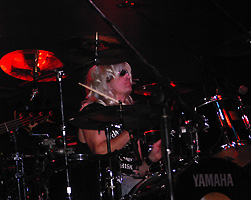 I've been wanting to see this headline band for a good few years, who don't come to the UK very often, simply because Southern Rock ain't as big in ole blighty as it is in the USA – much to my dismay as it's my fave – many peeps don't know what they are missing. Well I certainly weren't missing out on this. In fact, I only found out they were playing the day before via a phone text, while I was chilling out in a hotel on the Sunset Strip in Hollywood. Anyways, I made it as the above reviewed 2 bands plainly show.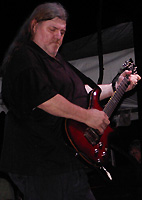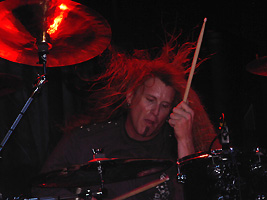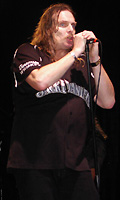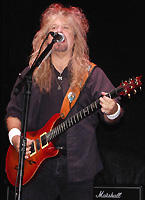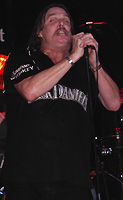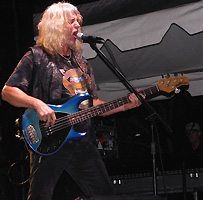 I got talking away to a dude in the front row who told me he had been to 3 of the Simple Man cruises that Molly Hatchet play on, early in the year – I must get on that some time – most likely 2011, anyways, he said that the band were amazing and we were all extremely excited to see them. The band were preceeded by a really large impressive fireworks display from Coco Boom Boom – I am guessing that was a made up name for the Cocofest where we got to see and hear plenty of Roman Candles and Rockets – a mass of colours in the sky that must have cost the promoter a f*ck*n' fortune to say the least. In fact they were that good that even some of the Molly Hatchet members were absorbed in them too.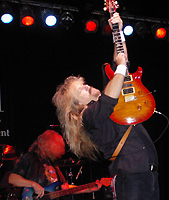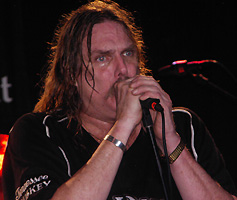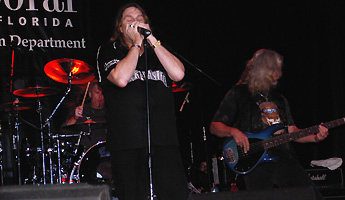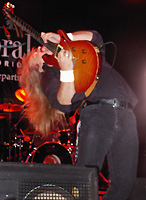 Anyways the band cranked up after the final gunpowder lights had burnt out and it was straight into an array of classics for the next couple of hours or so. First up was the amazing 'Whiskey Man' closely followed up by 'Gator Country' much to the delight of everyone. We all sang along to the songs, especially in the chorus sections. Even being bang at the front, the sound was simply superb and that's saying something for an outdoor gig because you never know what to expect.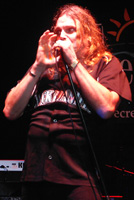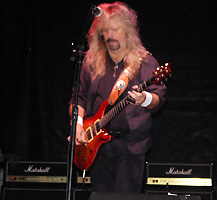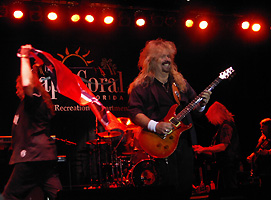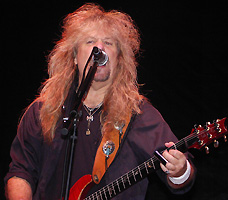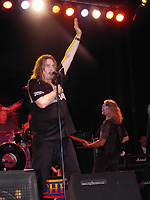 There were 'Hell Yeahs' a plenty with Phil demanding them louder and louder as the gig went on – he got them as well. The whole of the 'Hatchet were having a terrific time and Phil told us it was a joy to be there as they don't get to play many gigs in their home state of Florida – a fact that made me feel even more so lucky to have been at the concert tonight.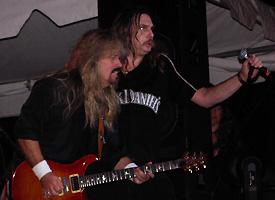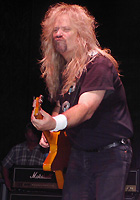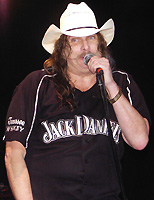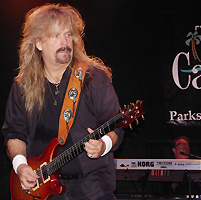 They aired a brand new song yet to be recorded as well that was a tribute to a 3 year old who was murdered in Jacksonville, that Phil said they had just played a benefit for the previous night in their home town of the same name and raised thousands of dollars, exclaiming that they hoped she was in a better place now. It was a wonderful ballad about the love of children and I am guessing it is most likely to be featured on a forthcoming album. By way of interest, we were also told that Molly Hatchet had just signed a deal with Sony for 3 albums, which of course guaranteed another massive surge of 'Hell Yeahs'.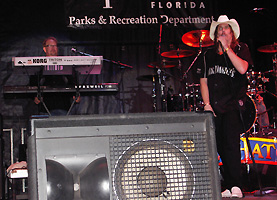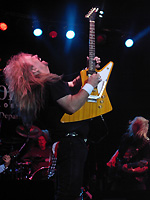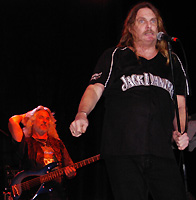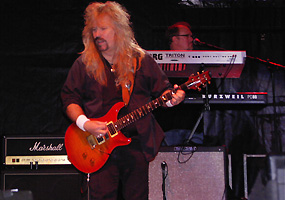 Other highlights of the show included many a classic such as 'Bounty Hunter'; the epic 'Fall Of The Peacemakers'; the short but by no means weak, 'Jukin' City'; a mammoth version of 'Dreams I'll Never See' originally by The Allman Brothers; a number from the 'Devils Canyon' album as well as the title track itself; & 'Beatin' The Odds'.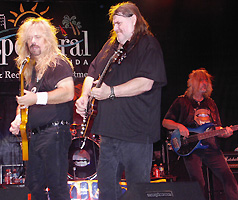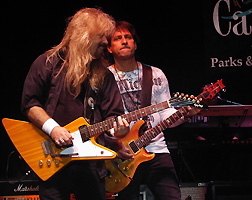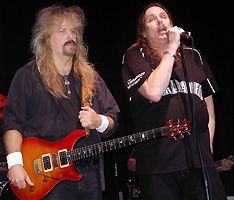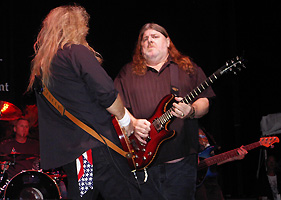 They encored with one of their major numbers 'Flirtin' With Disaster' before closing the show with Lynyrd Skynyrd's 'Freebird's a tribute to the sadly departed pianist, Billy Powell that also featured Hatchet's Agent, Mark Lymons on the 3rd guitar, so we got the full triple axe treatment on the six strings. Every member of the band was introduced to the fans who in turn received a massive ovation, especially Guitarist and leader Bobby Ingram who soldiers on with his southern boys – a man who has been there for over 30 years.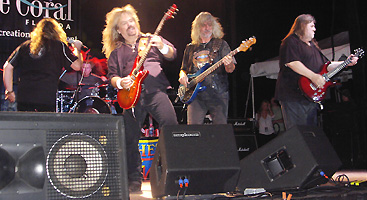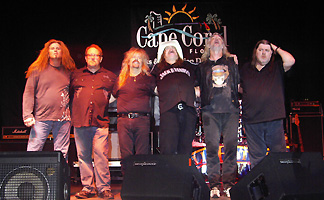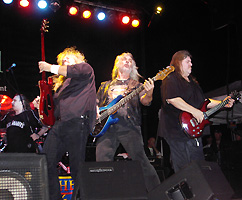 Believe me, everyone who was here was well and truly impressed by Molly Hatchet's magnifient Dixie Ditties. In fact, they are such a crowd pleasing, gracious, loving band that they took the best part of an hour out to sign anything for their fans in a tent on our right of the stage, their stage left and a few lucky ones even had photos with them. I can definately say that tonight that the South certainly rose in their own state of Florida.
10/10
By Glenn Milligan

Machine Head - Sheffield Arena, Saturday, 28th February 2009
The last time the band played this venue, guitarist Phil Demmel collapsed without warning on stage during Machine Head's second-to-last song Friday night (December 12). It's something front man Robb Flynn mentioned, thanking the crowd for their support of the situation that night, and dedicating 'Descend The Shade's Of Night' to Mr Demmel's father.
Demmel and Flynn seem fully compatible onstage - its bassist Adam Duce seems separated from the rest of the group, spending his time across the other side of the stage with his head down. One wonders if recent problems in the MH camp have any bearing on this.
It was strange, as Machine Head were not connected as one. When supporting Slipknot, they all faced the same way like with 99.9% of their gigs. Was it the shape and style of the stage that Metallica put forward made it difficult for them to jell? Who Knows, all I can say is that it wasn't right for them.
With Machine Head you know you are in for a pounding and a full on assault of the ear drums, which wasn't a disappointment as they ripped through 'Dividend', 'Ten Ton Hammer' and 'Blood, Sweat and Tears' to name a few.
If it wasn't for the isolation of Adam, I do believe this gig would have been great like it was in December. But you can't always get great gig and people do have there off days.
Due to this I am sorry to give Machine Head a pitiful:
5/10
By Tony Watson

METALLICA - Sheffield Arena, Saturday, 28th February 2009
Is it really 12 and a half years….no it's actually about 12 years and four months but still too bloody long for Steel city's Metallica fan contingent to live without seeing their favourite Bay area 'bangers take to a stage in town.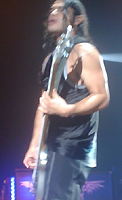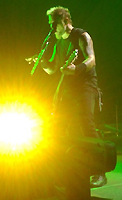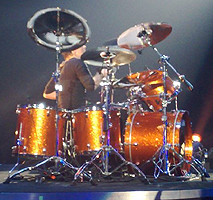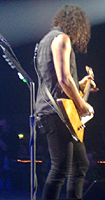 Since their last appearance on the Broughton l,ane boards in October 96, a night with Lars and the lads meant having to trek all the way to Donington, Reading, Leeds or London, and during the decade-plus hiatus, we've seen three further albums emerge from the works plus a personnel change with Rob Trujillo now where one Mr. Newsted once stood.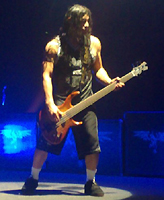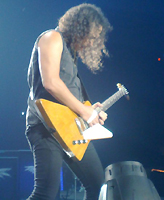 Obviously having maintained an equally leviathan-sized following on the might of awesome new disc Death Magnetic, they've still had the brass to finance a lavish stage set, which tonight takes the form of a massive oblong-shaped platform placed centrally in the middle of the Arena floor, a la Def Lep.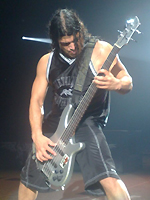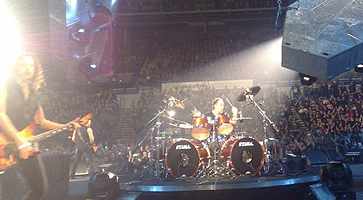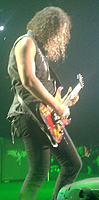 Treating us to a five-minute laser show spectacular (oooh!) after 'Ecstasy Of Gold' fades out to its last notes, the guys kick off with a couple of 'D.M' numbers that obviously have found a home in the hearts of most of the 12,000 though with it's long –winded start, 'That Was Just Your Life' is certainly not a track I'd recommend as opener, decent tack as it actually happens to be.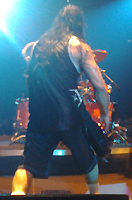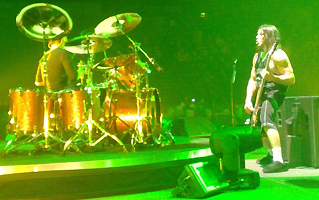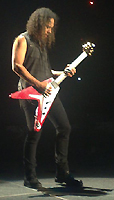 The oldies are not far behind, as 'Memory Remains' and 'Unforgiven' follow behind – Kirk's solo on the latter still powerful today as it was in 1991. 'Ride The Lightning' is a welcome surprise in the set, now in its entirety rather than just a single verse snippet forming part of a medley though sadly it is to be the only entry from said album, as neither 'Creeping Death', 'Fade To Black' or 'For Whom The Bell Tolls', 25-year mainstays of a Metallica live set, are to be heard tonight.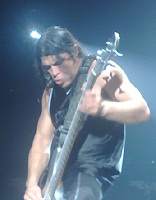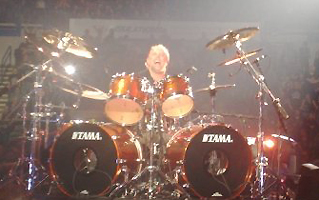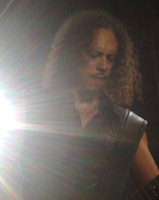 Still with plenty of new material to ensue, 'Broken beat and Bruised, 'Cyanide' and 'Day That Never Comes' amongst my faves' the classics are scattered in balanced clusters. 'Sad But True ' is introduced by Hetfield with '"You want heavy....I have to warn you....this might be too heavy." and the headbanging and pogoing down on the stalls tells it like it is.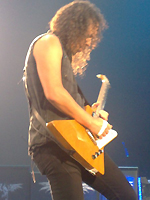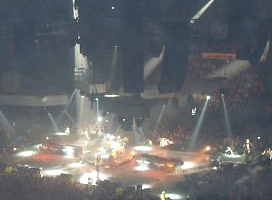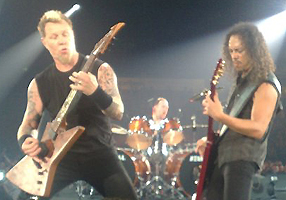 'One' still fanfared by a barrage of war effects now adds giant flame bursts in lieu of fireworks and is five times more spectacular than we remember it last. 'Nothing Else Matters' and' Master Of Puppets' are still tunes we remember Metallica shows for and will this time, in particular, as the first I've heard 'M.O.P.' performed in its full eight-minute duration.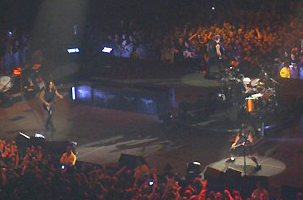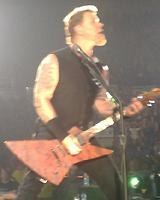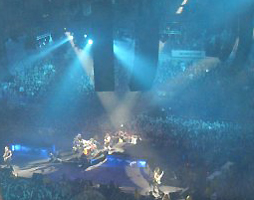 Kirk surprises us at one stage by also appearing with an Explorer - will James not like THAT – and also by not doing one of his famous ten minute solo stints. 'Battery' rips up the rafters as always and when James Hetfield asks you 'How does it feel to be alive!!!!" you know had a sizable hint of the answer you're going to give him..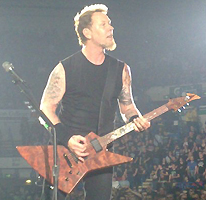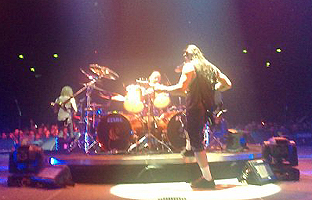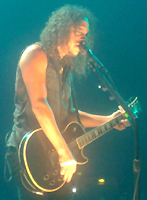 The song that sold them to the masses, 'Enter Sandman' is of course inevitable – as is the moshpit that moves along in time and the Het' gives us our first sing-a-long exercises of the night. Returning for an alarmingly short encore session (three songs) by Metallica standards', it's good to have 'Am I Evil' back in the equation once again though an anticipated follow-up by 'Last Caress' or 'So What' falls by the ways side in favour of Killing Joke's 'The Wait' , another unexpected treat today.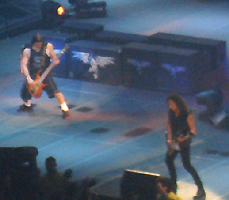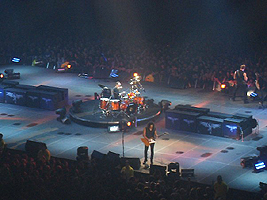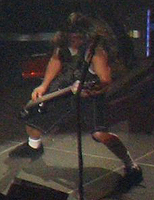 One tune remaining to deal with, 'Seek and Destroy' is kept down to its basic structure nowadays but the requirement for crowd participation remains inescapable as James backs away from the mike at every chorus.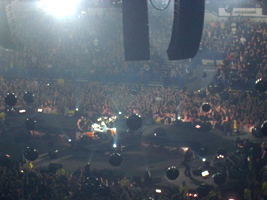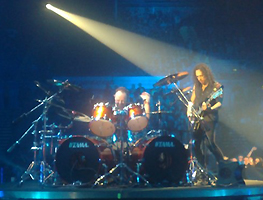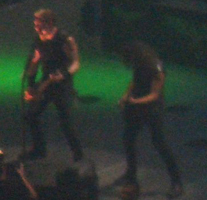 Some of those who sing it particularly well find themselves rewarded by one of the giant black beach balls that descends on them at the end though most end up landing on the stage, with James, Kirk and Rob dodging them as they churn out the closing notes.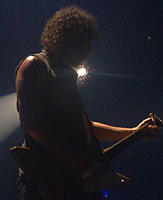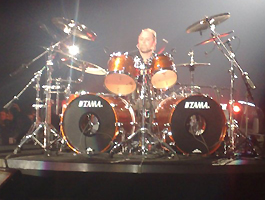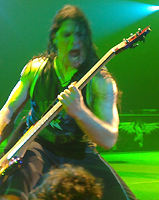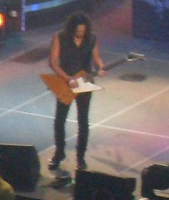 As they join to say their goodbyes, James bellows "Thanks for giving us a reason to come here more often than every 13 years." You did it yourself to start with, mate - it's called 'Death Magnetic' and its shown how a long way they've gone in redeeming themselves since the hideous 'St Anger' saw light of day.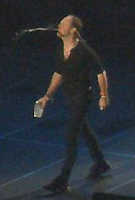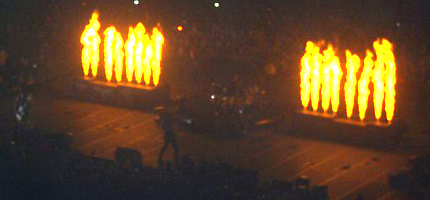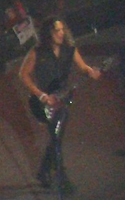 Their '03 disc may have damaged their appeal but their latest big fat slice of brutal metal, of the sort we've not heard from the Tallica in over 17 years, has mended it fully to working order.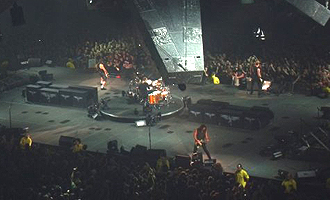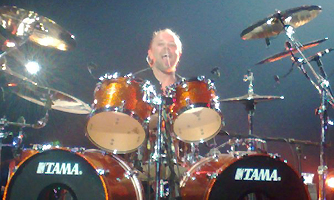 They may be in their mid forties now but the further generations of fans young as I was when I first encountered them just keep growing. Obviously not sad but definitely true- San Fran's favourite sons are back for keeps.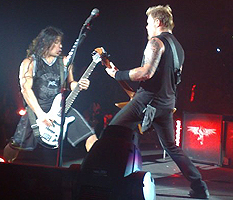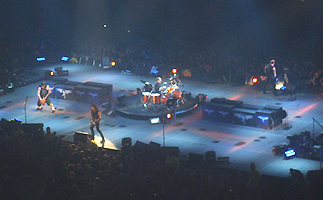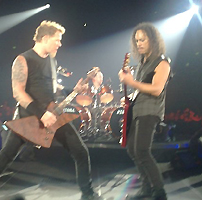 A mighty comeback from the guv'nors - Saturday night's certainly alright for metal this week.
9/10
Review By Dave Attrill
Close-Up Pix By Bev Alderton-Sandbrook
Full Stage Pix by Dave Attrill

MAEVEN / IN THE NAME OF / THE CHILD / SOCRATES JOHNSON -
Dove & Rainbow, Sheffield, Wednesday 26th November, 2008
Local mini-fests taking place in a respectable rock boozer in the centre of your home city are way of getting the talent of tomorrow into the ears of the adoring public, that cannot be undervalued. As much so as being a school night cannot deter some 50 of them from packing out the Dove & Rainbow, which only takes the names of In The Name Of and Maeven, two of the town's most rated local gems, to ensure.
First of though are another pair of homegrown hot shots. Socrates Johnson are a dual - guitar acoustic indie/blues rock act who turn many heads even if their style is felt a little out of place with the rest of bill. Still with an electric bass and impressive female drummer, their sound is one to talk about as are their songs - they have plenty of these on board here - and a copy of their ep that gets dished out amongst the crowds finds its way into my hands.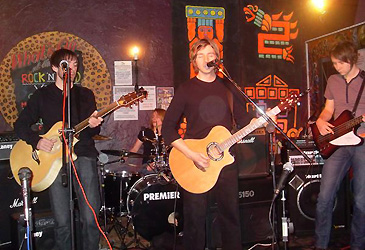 The Child are a four-piece sleaze rock act that borrow almost right from the book marked Poison, Areosmith, Enuff Z'nuff and countless many on the shelf but boy do they pull it off with aplomb. One member being a workmate of one of the Socrates lads, it leaves little clue as to how else they may have earned themselves a slot tonight, unless you count their energetic eighties attack which uses all weapons on board , fired relentlessly by their singer's Marc Bolan-meets-Vince Neil throatery. Im-press-ive!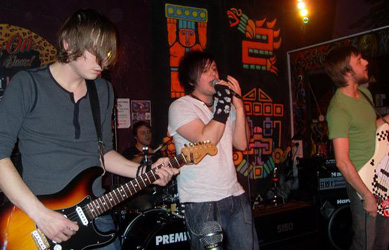 Baranovich and the boys storm the stage only 10 minutes after and though left with only half an hour like everyone else to fit things into, they're not wimps in the slightest. I've not got to see In The Name Of Nearly as often as I wanted to in the last year so I've got quite a few new songs to learn tonight, though established faves 'Win Win Situation ' and 'Point Of View' were thankfully too good to chuck out from even the shortest of slots.
'Devil's Pact' is sadly considered expendable tonight, making way for a number from Steve's old act Jury's Out and many of those in attendance make it obvious by their volume of reaction that they've also followed him that long but with a smile failing to leave his face throughout, the lad himself looks just as proud to take the trip down memory lane himself. Hopefully we will one day be looking back on In The Name Of just the same too.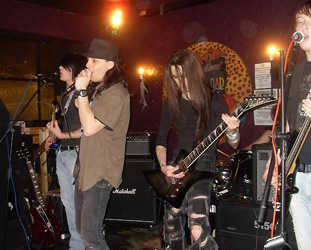 All-girl metallers Maeven have been a busy lot indeed since I last had the luck to see them two and a half years back. Now signed with their debut cd out in 09, not to mention an appearance on a recent Powerplay mag sampler, there's a lot to see from them that i didn't before though one member less to - they've shed one guitarist over the aforementioned hiatus (now based in the good ol' US of A).
Still with the energy of two six-stringers they make their presence felt amongst the small fraction who have seemingly opted to stay .. ITNO exited stage left- come on people this wont do - but their fierce punk metal delivery keeps the remaining fifteen of us firmly rooted.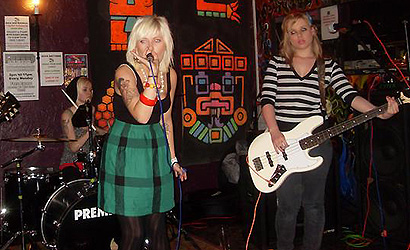 Inevitably lost for titles with having not seen them for so long, I pick it up again by ear and a good three are instantly familiar from the past but their newer material sustains the gusto. Bringing to mind another Brit female foursome, McQueen with their fast, gritty musical edge, Maeven snarl and spit sheer attitude and as a few more folk who accompanied Steve and the lads down tonight come back in through the door, its seems for more than just to catch last orders.
A brilliant re-introduction to this potentially huge outfit, the Sheffield scene has never looked so loaded as the four bands tonight have made it do. Let's hope that this isn't the only time these particular outfits share a bill together.
9/10
By Dave Attrill
Meshuggah/Trigger The Bloodshed –
Birmingham Academy 2, 11th September, 2008
The last time I saw Meshuggah I was in a field in Bologna, suffering from alcohol poisoning, heatstroke, and anxious for Carcass to come on. That notwithstanding, from what I hazily remember they were damned good at Gods of Metal and even better tonight in the sauna that is a sold out Academy 2.
First up were Bristol death metal newcomers Trigger the Bloodshed (at 8:10, sell some more beer eh, Mr. Academy!) and Johnny Burgan and his pals were a good deal more fun than the forum reviews would have us believe. Highlights of their 35 minute set were 'Retribution' and 'Laceration'. It's good to see a British death metal band, a bit more experience and these guys will be very good.
Tonight's Swedish joke was the interval music – Rod Stewart's 'Do Ya Think I'm Sexy' on a tape loop, for 30 minutes. Oh those wacky Swedes, let's hope nobody tells Mikael Akerfeldt about that one!
9:15 – 10:15
Perpetual Black Second/Bleed/The Mouth Licking what you've Bled/Stengah/Electric Red/Suffer In Truth/Rational Gaze/Pravus/Straws Pulled at Random 0/Future Breed Machine.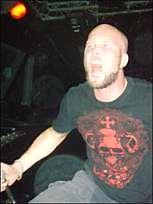 Umeå's finest hit the stage at 9:15 and a vicious pit erupted from the opening chords of 'Perpetual Black Second'. There were polyrhythms a-plenty as the brutality continued through an intelligently selected set of career highlights. Nothing from 'Catch 33', this was probably wise as that material can be challenging to even the most catholic fan.
Singer, Jens Kidman was astonishing as he whipped the crowd up to an ever higher intensity.
Among the numerous highlights were a stellar version of 'Stengah', a positively funky 'Suffer in Truth' and a set closing 'Future Breed Machine' that pummeled the assembled throng into submission. No encore - none needed.
By Roy Evans

Ian McLagan & The Bump Band -
Boardwalk, Sheffield, Tuesday 22nd July 2008
Well I happened to be at my buddies place in Orlando in '04 when Ian and the guys were here the 1st time around at this classic Sheffield venue but wasn't missing the opportunity this time around. It was a big pity that the turn-out wasn't too good though but this is happening all over the cities venues at this point in time.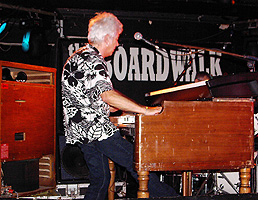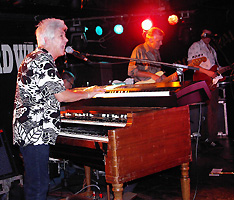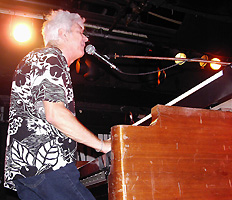 Coming onstage with The Bump Band, Mac gets a big applause from those who made the spot on decision on coming out to venture out to see the Small Faces/Face ebony and ivory playing rock legend. Plenty of songs from the newly released album 'Never Say Never' including the title track itself, 'I'm hot, you're cool'; the bluesy 'I will follow' and the reggaeness of 'A little black number'.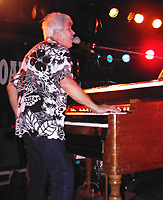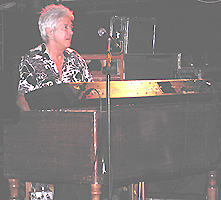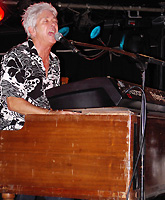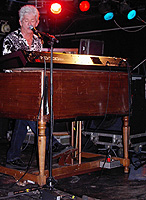 Ian proves his passion for performing fresh material is as heartfelt for him as hammering out well known tunes such as 'Cindy Incidentally' that he explained to us was basically 'Memphis' played backwards.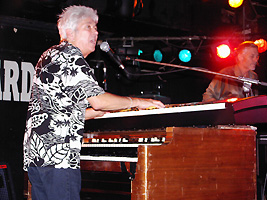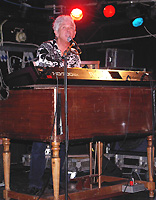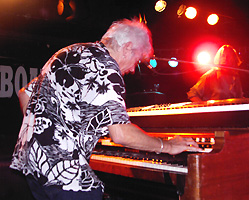 He's insistent on using his old organ, synth and leslie speaker and it was rather irritating for Mac at times when the horns kept slowing down although he did joke about the fact.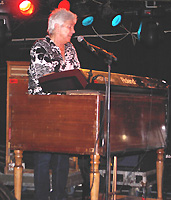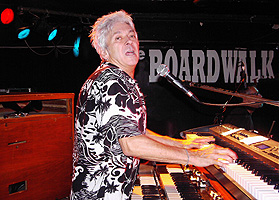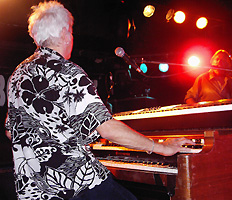 Tonight the main man had a throat infection which hoarsed his voice more and drank hot water, honey and lemon throughout to keep him going, joking he would be hitting the whiskey later.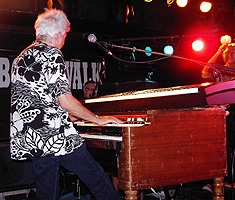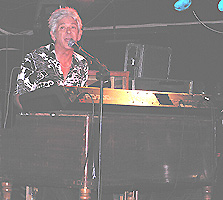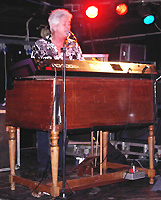 Mac said that Noel Gallagher told him that many people can only dream of playing in a classic band but this jammy f*cker played in two, well actually he played in three - the 3rd one being The Bump band.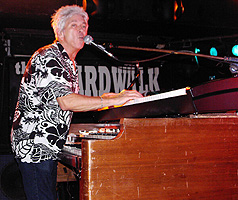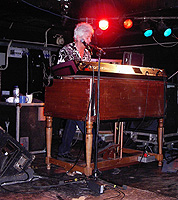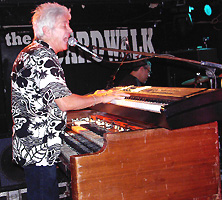 It was good that The Bump Band members were introduced early on in the night and from the shortest to the tallest who are Don Harvey (Drums), a dude who Ronnie Lane introduced Mac to in 1990 who also played with or recorded with Joe Ely, Billy Bragg and Charlie Sexton and many more.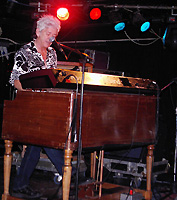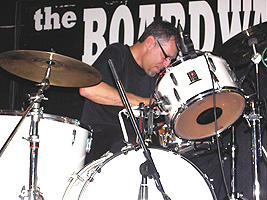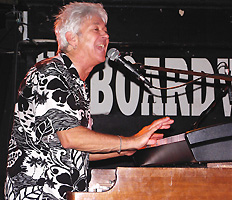 Then there's Mark Andes (Bass) who was a founding member of Canned Heat, Spirit and Jo Jo Gunne, not to mention having a 10 year stint with Heart then Scrappy Jud Newcomb (of The Resentments) who releases albums in his own right with a new one out right now entitled 'Ride The High Country'.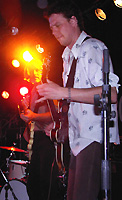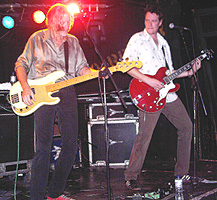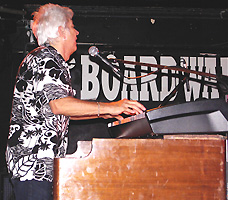 Homage and tribute was paid to the late, great Ronnie Lane and the Faces days. It really was emotional when the 'Ooh La La' album track that Plonk sung on - this being the fine 'Glad & Sorry' with its gorgious, adorable organ riff. Then later on, 'Spiritual Man' - a song that was left unused that was going to be recorded to commemorate Ronnie's 60th Birthday but sadly died of MS before he reached his 60th decade.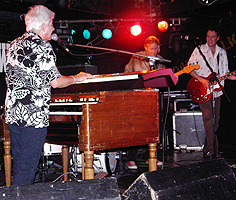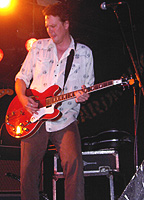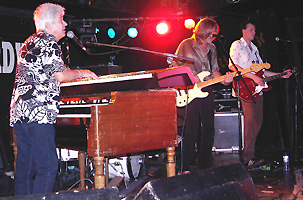 They were warmly received - well apart from some drunk fan not being quiet through 'Spiritual Man' which p*ss*d Mac off and many others to say the least - and it's hardly surprising either - since Ronnie was one of his best friends. Ian is full of great stories and can talk for England and Austin, Texas where he has lived since 1994.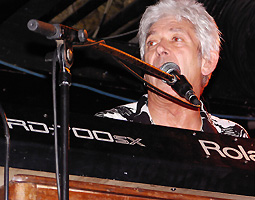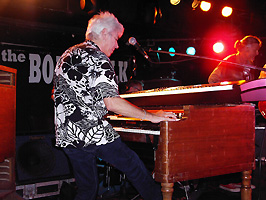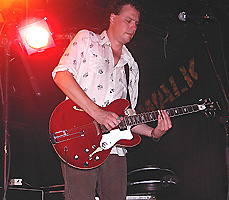 He's not a great fan of record companies and major labels these days as he says they are a bunch of greedy accountants who don't care about artists or their music - only the money they can make out of them, laughing that he went to see the one he was signed he found out they had moved office but had failed to tell him. F*ck 'em, he says.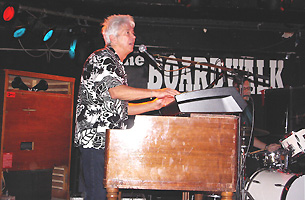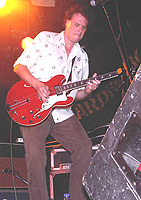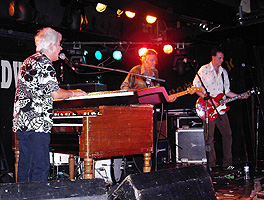 Mac ain't a big fan of certain pop acts doing the rounds to say the least because he considers they have no real talent and simply go into the studio sing a few lines and do a silly little dance routine. Reality Music shows aren't at the top of his tv watching list either saying that the industry loves them because they are cheap to make.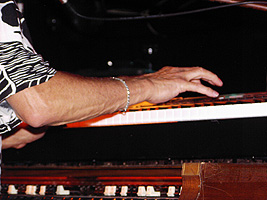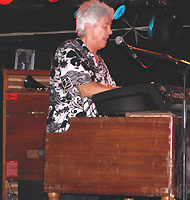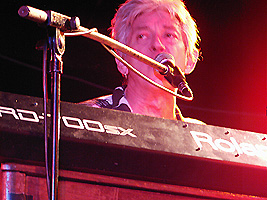 It would be a crime not to mention Steve Marriott who Mac said had the most powerful voice, especially when he was about 15 or 16 and told us that Paul Weller said to him that 'Get Yourself Together' was his favourite Small Faces number. Fact is, is that Ian coudn't even remember the song at that particular moment in time and went on to explain that it was a B-side of one of their hits and was simply forgotten by them.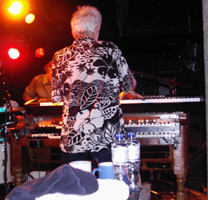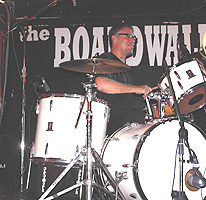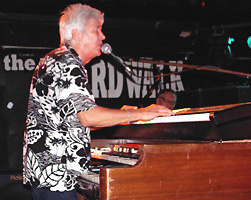 Then he and the Bumb Band played it for us much to our absolute joy. He said instrumentals were made up on the spot in those days to keep their infamous Manager, Don Arden happy abit like what they did tonight when strings needed adjusting on Scrappy and Mark's Axes.
Many highlights were played that included the humourous caught in the act nearly number that Ronnie Lane wrote in the Faces days - yep the outstanding 'You're So Rude' - wet your socks and pretend we got caught in the rain! - Brilliant! Or what about the awesome 'Little Girl - co-wrote with Ronnie Wood or 'Judy Judy Judy' - both from his 'Bump In The Night' album.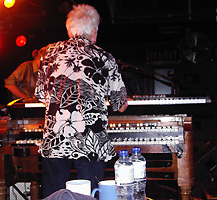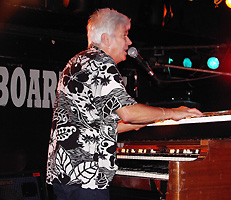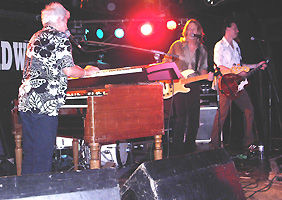 The night ended with one of Ronnie Lane's last ever songs, 'Kushty Rhye' (from Lane's 'See Me' album) with the encore song being 'Little Troublemaker' where Mr. Mac explaining he couldn't see the point in going off-stage and coming back on again and would sooner stop where they were and pleasure us with the 'Troublemaker' song.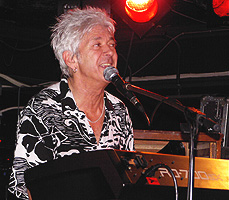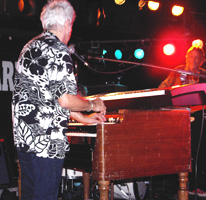 An excellent gig which saw the band come out and meet the fans after with Mac having his picture with us and signing albums that had been specially brought in or bought on the night. A special happening that will be forever treasured in memory - I can't wait to see Ian and the Bump Band again - in Austin, Texas maybe?
9/10

By Glenn Milligan

Yngwie J. Malmsteen's Rising Force –
Carling Academy, Sheffield, Sunday 13th July, 2008
Set List – Rising Force/Crown Of Thorns/Bandiniere/Rise Up/Pag/Adagio/Far Beyond The Sun/I Am A Viking/Dreaming/Gates Of Babylon/Baroque & Roll/Demon Driver/Trilogy-Guitar Solo/Cherokee Warrior/The Fugue/You Don't Remember (I'll Never Forget).
Encore – Black Star/I See The Light Tonight.
He's back – the Swedish Guitar God and he ain't played Sheffield for a numerous amount of years. It sure is a spot-on spectacle to witness the Neo-Classical Maestro with his Rising Force back in Steel City again.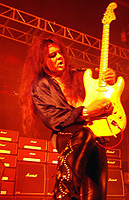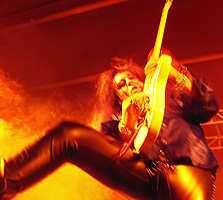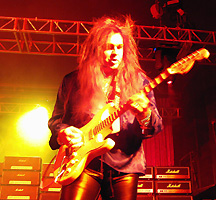 I last saw him 5 years ago at Mean Fiddler, London and it's great to see him in a larger venue that once housed a legendary rock disco on a Monday night – a fitting place indeed.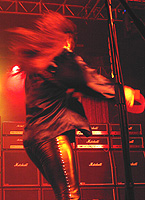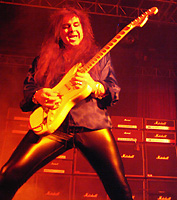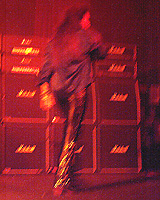 It was as loud as hell in here and it ain't no surprise with a wall of Marshalls filling the back of the stage – giving just enough room for Patrick and his double bass drum kit.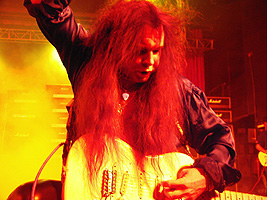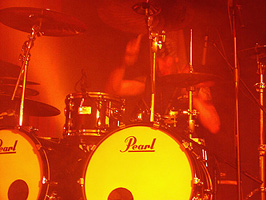 In Rising Force with Mr. Malmsteen are mainstay Patrick Johnsson (Drums) and 3 new guys who complete the line-up comprising of Michael Troy (Keyboards); Tim 'Ripper' Owens (Vocals) and Bjorn Englen (Bass).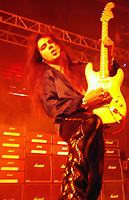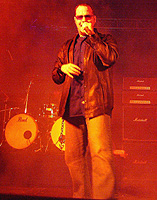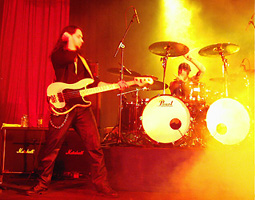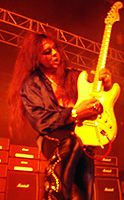 It's one hell of a powerful set-up, not that it wasn't last time – in fact this is the 3rd band I have seen Ripper in – the other two being Iced Earth & Beyond Fear.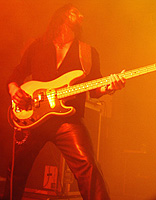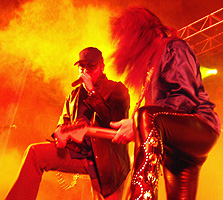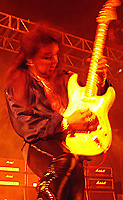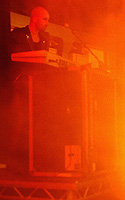 Believe me, Tim's made the right choice joing Yngwie as the two of them totally complement each other without an ego-clash in site and there are beaming smiles throughout a lot of the gig from Malmsteen and Owens throughout a lot of the gig and seem in awe of each others talent.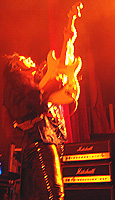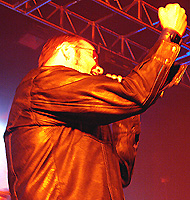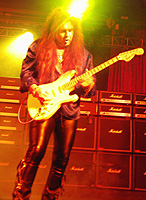 He's a really great singer as well as many were no doubt afraid that it would be a lot of Screaming from the ex-Priest fronter – but no, Ripper proved us wrong which became totally apparent in highlights such as 'Rising Force'; 'I See The Light Tonight' and 'You Don't Remember (I'll Never Forget) where his voice was soaring high in full power, filling the room with pure vocal glory. He has a great sense of humour too – taunting us with a follow Ripper routine and working out which sides of the hall have the best voices.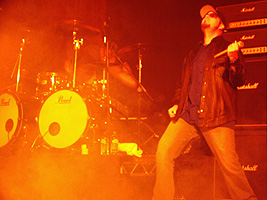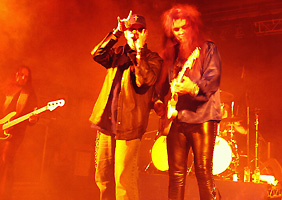 As ever Yngwie was a complete showman, sweetpicking, soloing a waling away, posing in a variety of postions, ginning away, tossing and throwing us plectrums after around 20 seconds of plucking with each one – I caught a few myself – cool white ones with his signature in black – in fact one of them bounced off my head while I was taking photos – nice one.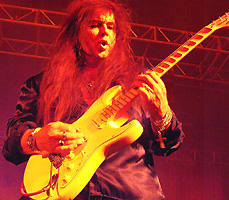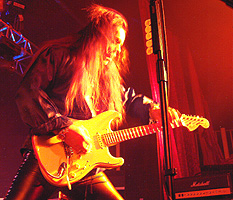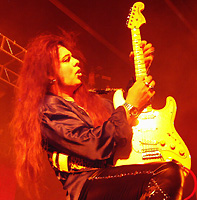 I think YJH made a great choice with the set list as it featured plenty of older songs such as 'Demon Driver' & 'Far Beyond The Sun' newer material like 'Rise Up'; a brilliant cover of Yngwie's favourite Rainbow number, 'Gates of Babylon' and some absolutely stand-out classical playing in the form of some Paginini – total virtuoso brilliance and excellence for the full 90 minute set.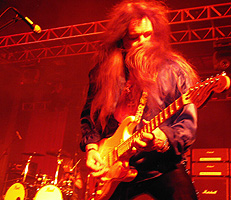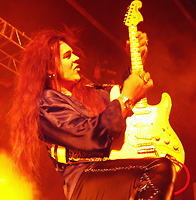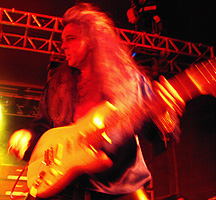 Love the acoustic solo's that Yngwie was playing with 'Black Star' being on of the major highlights that was featured in the encore. Tell you what, he kept his tech busy as he was forever getting sets of pleccies ready for him and catching his signature strats guitars after some of the songs.Patrick & Michael got the chance to perform some exceeding great solos too – giving the rest of the band a well deserved chill for a moment.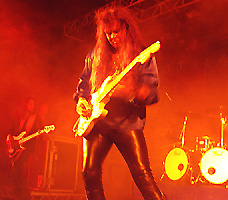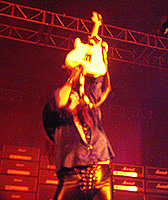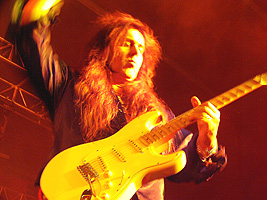 Yngwie absolutely mesmerized everyone and he makes it look so easy – his guitar playing is as intricate as hell – well let's be completely honest – he is most definitely the worlds best guitarist.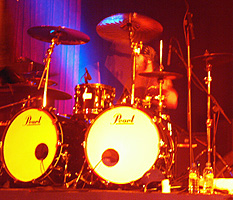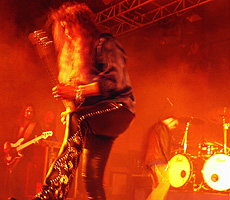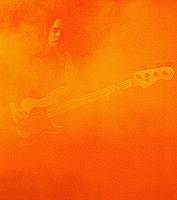 His fingers simply go anywhere on the fretboard in split-seconds and everything musical interlude is absolutely note-perfect and even plays the six string on the back of his shoulders not to mention runbbing the body with his ass – much to the amusement of everyone including the Supreme Swede himself.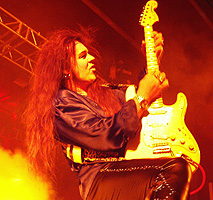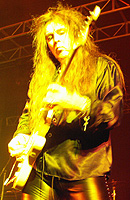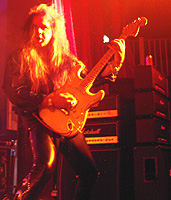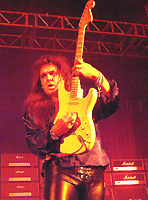 How he manages to put on such an out-of-this world performance defies anything and even sings 'Cherokee Warrior' for us as well – he always sticks a number in to wrap his bellowing baritone vocals around and it's cool to see which one he's gonna pick for the show.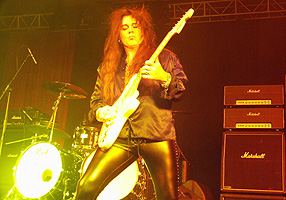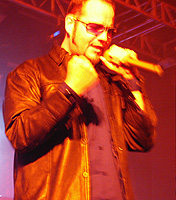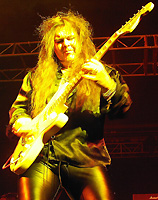 It was nice to see Michael and Yngwie solo together on some classical foray, showing that it don't have to be heavy rock or metal to be visually and audibly impressive.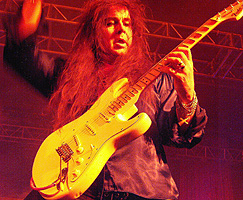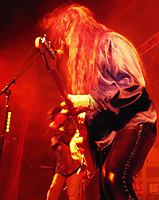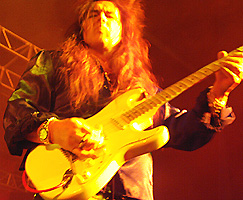 It was immense to hear all the screams for both Ripper and Yngwie and the two artists relished in the sheer warmth from the fans throughout the gig. The only way of really getting it was simply by being there as it really was a concert that no-one should have missed. Most definately an outstanding show that all artists should aim to match.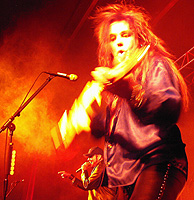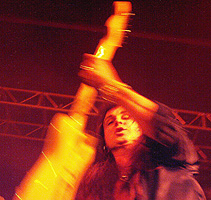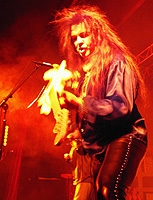 I can't wait to hear what the new 'Rising Force' album is going to be like if this powerful performance is anything to go by. A concert that easily deserves full marks.
10/10
By Glenn Milligan

MAGNUM/Awake -
Carling Academy, Sheffield, Monday, 14th May
Is it really over ten years since I last walked into the doorway of this decrepit looking white square building on the a**e end of Arundel Gate one fine Monday evening? Doesn't seem it, though ironically my first visit to the then newly opened Corporation down the road was on the pretence of seeing Hard Rain, an act formed by the two key members of tonight's headlining act during their five-year sabbatical.
Bob Catley hasn't exactly been a stranger to Sheffield floors since, with five solo visits but this is the first time in about fifteen years that he has brought Tony Clarkin and the other other three fifths of the ten legged melodic rock monster that is Magnum with him. Getting us excited for the night's proceedings are prog metal newcomers Awake, whose Dream Theater-meets-Enchant inspired sound wins us over from the off. Their debut CD sees a few copies sold before the Cambridge quintet's slot has even finished, me being one of such kind people, and when you who missed out tonight, find chance to listen to their material elsewhere , you might also be likely to have your first available tenner out ready.
The clock strikes nine and the headliners arrive. 'Back To Earth' is a coincidentally appropriate opening number for this tour as it was very same cut they kicked off with the last time they toured in promotion of the 'Wings Of Heaven' album, celebrating its 20 anniversary at present. No songs from 'W.O.H.' itself coming just yet tonight, we're next into 'When We Were Younger' from last year's blinding 'Princess Alice....' LP and then an unlikely inclusion in the shape of 'We All Need To Be Loved', though it was the 'Rock Art Tour' that had last brought the boys to Steel City.
Old gems can't be left in the chest all night obviously so the double assault of 'Midnight' and 'Vigilante' makes up for the wait the older followers have had to endure. Having taken the liberty of playing another newie, the excellent 'Dragons Are Real', the balancing is returned with 'The Spirit' and the obligatory sing-a-long. Amusingly, as usual when the tune stops for dead air for about five seconds following the second chorus, everyone claps only for the rest of the lads to return centre stage and kick into the electric bit that most thought they had now dispensed with for good.
A choice fave or two later and then one of the tunes I have been waiting to hear all night, 'Days Of No Trust' finally kicks in'. The slightly restyled favourite which now goes quiet from the break halfway along the second verse to align with the guitarless part of the chorus pays dividends in allowing the crowd their part and this tune is set to become Magnum's answer to 'Seek And Destroy' in the live arena. Waiting with bated breath to see if 'Wild Swan' will follow, it surely does, the other live mainstay from 'Wings' an ever powerful epic number and one of mr Clarkin's most ingenious compositions, bar few. The question of wether the entire of their legendary 88 long player will feature again tonight becomes closer to being answered as 'Start Talking Love' follows and then hearing 'One Step Away' straight seals the answer.
'Must have Been Love', another one-time chart entry for the boys hasn't been heard live for sometime prior to this tour and is welcomed as loudly as the preceding four tunes. 'Different World' is one song from the album I am tonight to have heard live for the first time, apart from the recent live CD of course and the immense wave of lipsynching amongst the gatherings forecast that it won't be a one-off for this tour only. 'Pray-For The Day' is that other good ol' sing-a-long-Catley chestnut even if the public's main vocal part comes before the song itself starts, remember. A song we've all been praying for the day they'd finally pick up the muscle to perform onstage again is the masterwork that is album closer 'Don't Wake The Lion'. The ten-and-a-half minute monstrosity is obviously seen as a challenge for Al Barrow and particularly for Thunder man Harry James who has suddenly reappeared on the stool in place of Jimmy Copley (on the tour that is, not mid set) but with the firm guidance of the three mainstays every note of the way, this more than more-than welcome inclusion to the set list is kept as every one wishes to hear it.
That chilling keys/bass build up to the cunningly incorporated 'sub-song' 'Too Old To Die Young' still succeeds in doing its effective thing and indeed the impression that a large toothsome feline is about to be aroused from slumber doesn't go unfelt by everyone. Excusing the pun.if you can but the roar from across the room as the closing notes fade out to Harry's thundering drum ripple (two of them in one line, Dave, you're spoiling us here - Ed) says less than it all if the smile plastered over the face of Mr Catley is anything to go by. Obviously convinced we've got the strength for a couple more, they return to strain it out of us with a closing double assault of 'Kingdom of Madness' and 'All Englands Eyes' but not out of themselves.
For once the crowd can rightly forgive their non-inclusion of 'Storyteller's Night', 'How Far Jerusalem' and 'Just Like An Arrow' tonight as the wear might have just about shown coming straight after what's just gone this evening. And we can all furtherly so forgive Bob Catley and Tony Clarkin for carrying on plying their illustrious trade past the age of 60 - more than we would have forgiven them for calling it a day - and with kiddy pleasing rags like Kerrang putting their ageist attitudes aside as recent four and five-K reviews testify who knows what these guys will be doing in ten years.
For now, grab yourselves a copy of that phenomenal live CD* and commemorate this evening as when Magnum have finally gone, sadly never to return, this is how they would like to have been best known.
A special rating for this one - 11/10
By Dave Attrill
*RECOMMENDED ALBUM
MAGNUM Live - On The Wings Of Heaven 2007 (SPV)
MAGNUM/AWAKE –
Carling Academy, Oxford, Saturday 10th May, 2008
SET LIST - Out of the Shadows, When we were younger, We All Need to be Loved, You'll Never Sleep, Soldier of the Line, Midnight, Vigilante, The Spirit, Days of No Trust, Wild Swan, Start Talking Love, One Step Away, It Must Have Been Love, Different Worlds, Pray for the Day, Don't Wake The Lion, Encore - All England's Eyes, Kingdom of Madness.
There was a Fixed Penalty notice on the Magnum tour bus in front of the Carling Academy, testimony to the notorious parking situation in Oxford. Fortunately a somewhat warmer response waited within the building. Although the crowd inside the Academy wasn't huge it was enough to give the small venue a good atmosphere, and the audience were obviously hardcore fans. Most were wearing Magnum t-shirts and many I spoke to had come a long way to see them.
Opening act Awake had a point to prove with their explosive sound of prog metal – they are a band ready for the next step. In front man Simon Shedwell they have a charismatic and powerful vocalist ably backed by guitarist Richard Hall, keyboard player Craig Burkett, bassist Christ le Mottee and Alex Townsend on Drums.
The Oxford crowd were a little subdued at first, Awake being a little heavier than they may have expected, but soon warmed up. Awake's songs have a tremendous atmosphere influenced but not shaped by the Swedish Prog Metal scene and their latest album 'Illumination' should be on your shopping list.
8/10
There was only a short wait after Awake left the stage before Magnum entered to ecstatic applause. Their drummer today was Harry James of Thunder prompting the crowd to chant his name at regular intervals. The biggest cheers were of course reserved for Bob Catley in his trademark white shirt and jeans.
Kicking off with live favourites 'Out of the Shadows' and 'When we Were Younger' (from the latest album Princess Alice and the Broken Arrow) the band were firing on all cylinders from the go. Magnum's work is of such a consistently high quality that mixing old and new songs together is no difficulty for the band or audience, newer songs like 'You'll Never Sleep' being received as rapturously as classics such as 'Vigilante'.
The main event of the night however was the full run through of classic album 'Wings of Heaven', this being part of its 20th Anniversary tour. Opener 'Days of No Trust' is a stunner and a classic rock track, one of Magnum's best and the crowd loved it. On through 'Wild Swan' and 'Start Talking Love' (their biggest hit but not regularly played live) and 'One Step Away', then the emotional 'It Must Have Been Love', Mr. Catley admitting that he is often moved to tears by the song, his favourite on the album. This night was no exception, with Bob clearly drained by his performance.
The second half of the album features slightly longer tracks with more of Magnum's progressive influence visible. Keyboardist Mark Stanway came into his own in this section with the nuances on Pray for the Day and Different Worlds adding depth to those songs.
Closing track 'Don't Wake the Lion' is a ten minute epic brooding on the futility of war and was performed with sterling work from bassist Al Barrow and Mark.
Playing a full album is a trick only the best band can pull off. The normal structure for a set puts the biggest crowd pleasers towards the end, but if you are playing through an album you will by definition be ending with relatively obscure album tracks, not the best concert atmos!
Nevertheless Magnum are one of the best bands and they did pull it off, keeping their enthusiastic fans happy and proving their place in their hearts. As they left the stage chants of "Harry" and "Bob" competed for attention!
An encore of rocker 'All England's Eyes' (from Storyteller's Night) and 'Kingdom of Madness' (from their first album) brought the evening to a stomping close proving Magnum still one of the greatest rock acts to see live.
9/10
By John Robinson
Mother Tongue/Subrosa Falcon Association –
The Backstage Club, Neuhausen, Wednesday 11th July, '07
Neuhausen is a very odd place to open a rock club, as it is mostly residential and impossible to find your way round. I managed to find the Backstage club in time for support band Subrosa Falcon Association's 30 minute set of pretty good Clash-style punk rock.
Los Angele's finest Mother Tongue came on at 9:30, and rocked the huge crowd with a 90 minute set that was even better when I saw them in Amsterdam 3 years ago.
Highlights included an excellent 'Casper', a brutal 'Storm Rages On', 'Trouble', and a fine version of 'Burn Baby Burn'. I'd forgotten that Sasha Popovic is an incredible drummer, and his interplay with singer/bassist David Gould was inspiring. It beggars belief that Red Hot Chilli Peppers play stadiums, while this band still have to plug their own guitars in. But if the Chillies had continued their punk/funk/metal thing they wouldn't have attracted the chick vote I suppose.
Just for a change it was raining when I came out the unfortunate recurring theme of an otherwise terrific trip.
By Roy Evans

Motorhead/Clutch/Crucified Barbara –
City Hall, Sheffield, Wednesday 8th November, 2006
The weather gets rather shitty and cold in November so thank god for this night to liven it up a lot – well to furnace melting point actually. The City Hall is again shaken for a night of pure rock n roll and metal – well you gotta do a structural test at least once a year haven't you – so why not do it properly with the 'head and add a couple of other loud bands on the bill as well.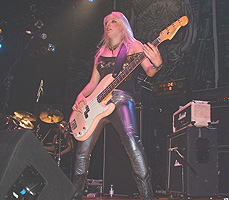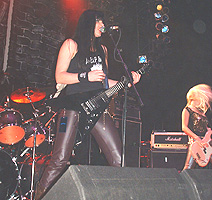 When I first saw the tour dates advertised I was real chuffed to see that the Swedish Metal Goddesses 'Crucified Barbara' were playing on the UK leg – who are kinda like an up-to-date European equivalent of Girlschool. I saw them @ Download @ Donington Park in 2005 and was mightily impressed there and was on this occasion too.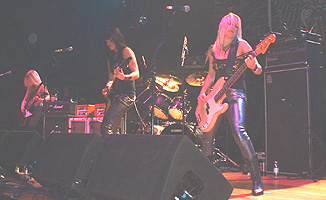 They whipped us up with cuts from their 'In Distortion We Trust' debut album and I tell ya man, these women turned a few hundred hard-rockin' Lemmy listeners into definite fans of theirs too. I reckon they will sell quite a few units after this very performance tonight– not to mention permanently having their images held in many a mans mind also and it isnot hard to think why either.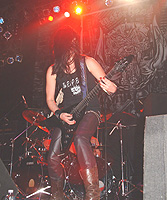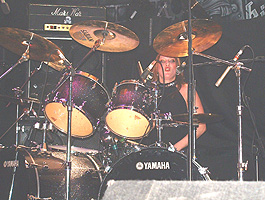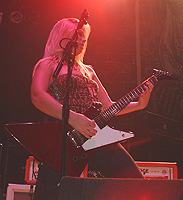 This hot quartet covered Motorhead's 'Killed By Death' on their 'Losing the Game' debut single and then got to be invited as the openers for the tour – I mean – how can you better that? I can see them coming back over to see us with a headline tour of their own sometime next year.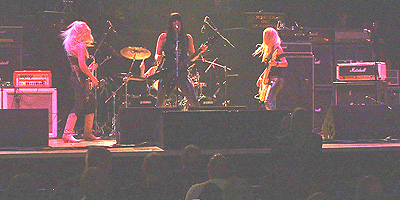 Up next were Clutch, who I have to say didn't do a lot for me personally with their fuzzy stoner sounds that I've heard done by other bands but they did throw in some rap-like chants & almost jazzy influences. They had a cracking drummer who for the most part was the most interesting of the band for me personally with his powerfully played syncopated time-changing beats.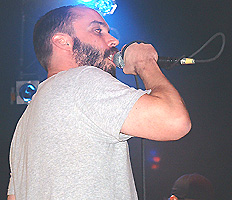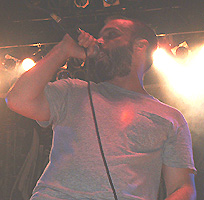 Clutch went down extremely well and the vocalist every three songs or so reminded who was up next by asking us if we were ready for Motorhead ? The response of the crowd got louder and louder each time - lol.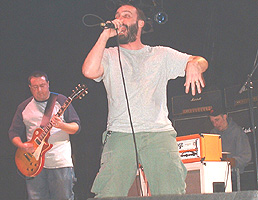 This also appeared to work as a ploy to vibe up the crowd for their own songs - the last of which sounded like an old Cream number – I think it was 'Politician' if my 32 year old grey organ serves me right.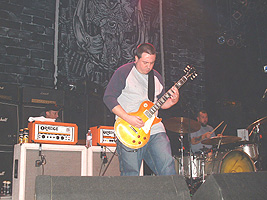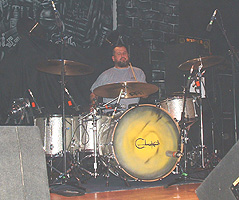 What was the extra guitarist towards the end all about - was he late for the gig? – been cool if he was present throughout the entire set to add to the material.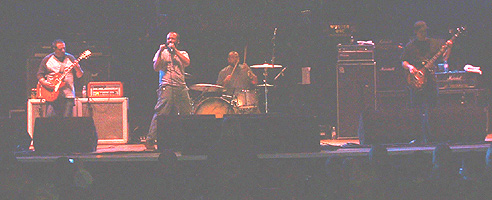 No matter who you have on a band bill, no-one can ever seem to top Motorhead and tonight is no exception – the 'Kiss of Death' Tour proves to be one of their best outings yet and it's a killer album too – even after Lemmy and Phil's count-up of who bought it, they both agreed more people had purchased it than the last one 'Inferno' – '60' – that's than last year Phil joked and still wanted those who hadn't bought it to buy 2 copies that following day – can't fault ya mate.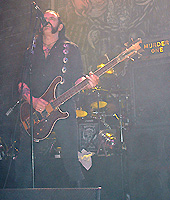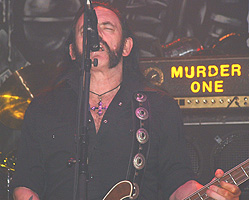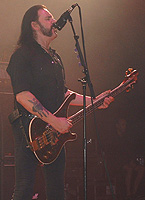 Lemmy starts it off with his classic introduction of "Good Evening, we are Motorhead and we play 'Rock 'n' f*ck*n' Roll" before they launch into 'Dr. Rock' (that is now the main opening song, replacing 'We are Motorhead' that they played for a few years running). The set list was supreme as well and had a cookin' array of numbers in it that please everybody – playing around 3 numbers from 'Kiss of Death' that included 'Be My Baby' that comes early in the set and we are greeted later with the ferocious 'Sword of Glory' and 'One Night Stand'.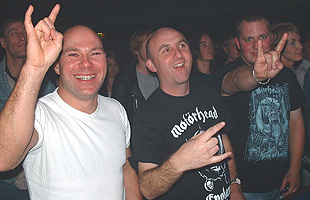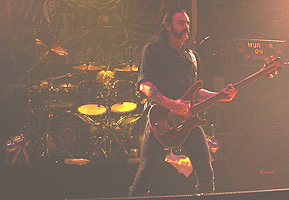 A good buddy of mine, Alan Shooter said the set was "F*ck*ng Awesome and the best tune of the night was 'Rock 'n' Roll' " from the album of the same name. They'd not played it live for years if at all with Lemmy referring to it as an old newie that they might screw up on – they didn't much to his amazement – lol.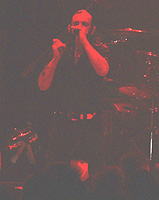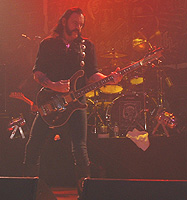 Many notable highlights in the set include the golden riffage of 'Killed By Death' from 'No Remorse'; 'In the name of tragedy' and 'Killers' from the previous album 'Inferno'; 'I got mine' from the hated when it came out 'Another Perfect Day'; and the one that if we knew the words, we should sing along – ladies and gentlemen 'Iron Fist' from the album of the same name.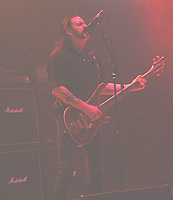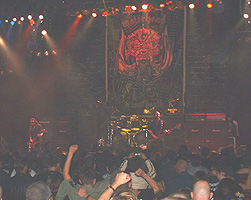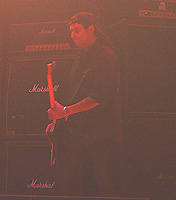 A classic quote of the night from Lemmy "You ain't at a Catholic Church on a Sunday, this is a Motorhead concert, so get up and I wanna see you dancing to some rock 'n' roll – you like Rock 'n' Roll", where he gets a strong 'Yeah' from the crowd and announces 'Going to Brazil' with the hall erupting into a mad frenzy of joy during the song.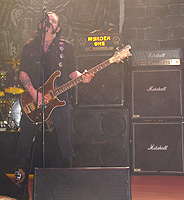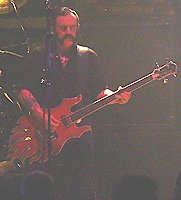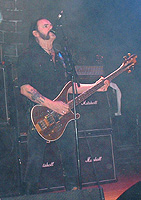 It was funny when Lemmy said that we go quiet in-between songs expecting him to say something intellectual, 'It ain't gonna f*ck*n' happen' he joked – nice one Lem. What's cool about this band is that although they are long-standing perfectionists they don't take themselves too serious on stage and are often ridiculing each other and having a good ole lark.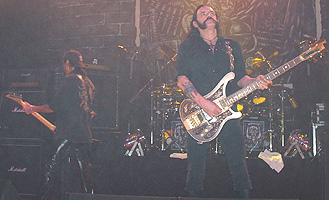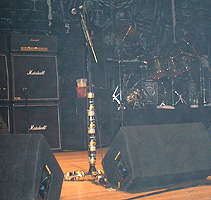 It's like witnessing a rock n roll equivalent of the old geezers from 'The Last of the Summer Wine' at times without Nora Batty or a hillside in sight – now which one is the equivalent of Foggy I wonder? - no, I don't mean the motorcyclist before you ask!!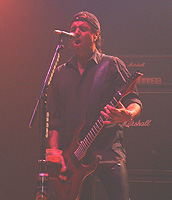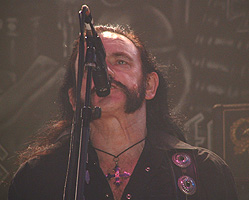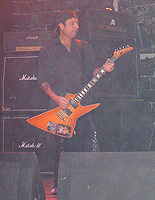 Phil Lynott is played tribute to with a killer version of 'Rosalee' which is refreshing change to hearing 'RAMONES' – not that I would ever knock that as I love that short ditty – but yeah, this Thin Lizzy classic was a warm welcome to the set. Nice quote for an epic from Lemmy who said "And since we are close to the 11th - 'Sacrifice' with that tremendous solo of Mikkeys blaring out around the hall, not to mention covering stage left with tossed up in the air drum sticks as well. Mikkey f*ck*d up on one of the songs at the beginning which was highly amusing for all to see – even the band were laughing.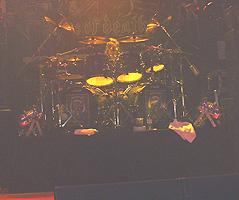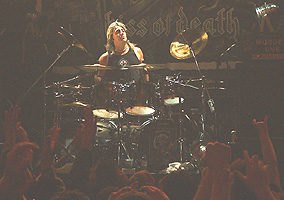 For this tour, Lemmy has a new bass that matches Phil's 6-stringer too that which is ironic because he weren't a big fan of the guitarist's previously – times change I guess and it's played during 'Just because you got the power doesn't mean you got the right' and looks and sounds f*ck*ng awesome.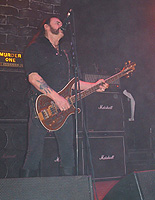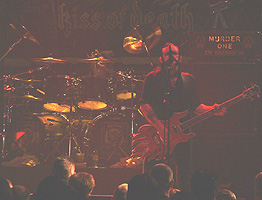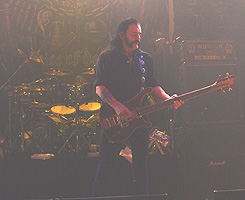 The encore still included the brilliant acoustic 'Whorehouse Blues'; their signature tune 'Ace of Spades' and the last but by no means leastly marathonic, balls-out, blistering and brutal 'Overkill' where the strobe lights were kept on virtually throughout – ouch my eyes – don't think any fits took place in the audience as there were warnings before we went into the hall to take into account.

Lemmy, Phil & Mikkey were bang on form and my mate Tred Melbourne said it was the best he had ever seen them and that's sayin' something as he's been blasted by 'em on numerous nights over the years. I gotta agree as well – this gig was second to none. So good that I even bought a 'Kiss of Death' tour t-shirt and that's a rare occurrence for me to buy merch these days.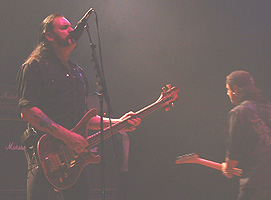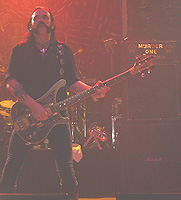 Lemmy told us that we had been an excellent audience, not to forget them and that they would be back next year and after a wave from the 'head, several plectrums being flung into the crowd, they were gone amid the legendary feedback that fills the room after a solid 90 odd minutes of sincere, honest hard rock 'n' roll pleasure.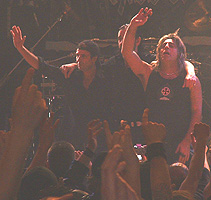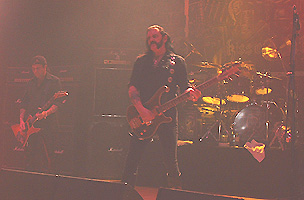 See ya next year for definite.
10/10
By Glenn Milligan

Bernie Marsden/Super Sexy Animals –
The Boardwalk, Sheffield, 15th November, 2005
Now this was a weird night since the band that opened up the night 'Super Sexy Animals' were nothing more than a jumped-up Rock/Metal covers band that should be playing the local pubs in their area of Norwich, not the Prestigious Boardwalk in Sheffield. It was overblown to say the least and extremely laughable – seems that the venue had been booked for them to have a DVD recorded (as it was their drummer's birthday) and Bernie Marsden to headline. They even had their own Limo and Tour bus – bizarre really as most covers bands have an old van that's been around the clock twice – it must have cost a fortune for all this – beats me what it was in aid of.
Musically they weren't that tight, with the singer thinking he was some kind of Rock God – looking like Billy Idol but behaving like a pretentious tw*t and even saying they were better than AC/DC because they had a female drummer – what ? and calling the Australian legends 'C*nts' – hmm, personally I think you're the c*nt mate. They had a go at 'Comfortably Numb' which was played too fast, with the drumme noticeably speeding up now and again. Best bit of their set was when the top fell off of one of his maracas – now that was P*ss funny.
I can't see these primadonnas being back anytime soon to support anybody – headline ? – you must be f*ck*ng joking.
4/10
Bernie Marsden, who you older rockers out there will remember from the UK Whitesnake days and if you don't then here's a short rock 'n' roll history lesson - Bernie was one of two guitarists in the Coverdale led band – the other one being Micky Moody (who coincidentally enough was here the other week)was a different kettle of fish altogether – now this was friendly professionalism and showmanship.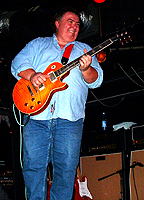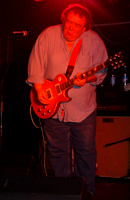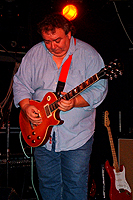 Greeting us with an 'Alright, how you all doing' he won over our hearts immediately with a smeltering pot of blues, mainly from his new album 'Stacks' that included new material that he was impressed we took a liking too as well as covers by Freddie King, BB King and Jimi Hendrix (Purple Haze and Spanish Castle Magic).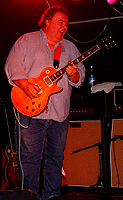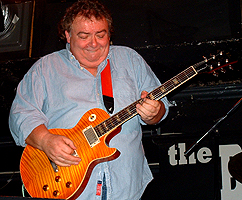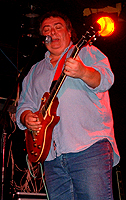 His trio was completed with Jimmy Copley on drums who has beat the cymbals and skins in the past with Go West, Tears For Fears, Tony Iommi, The Pretenders and Jeff Beck (in fact he still does) – who tonight also gave us a killer solo as well as keeping the beat.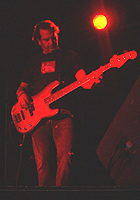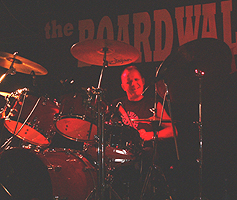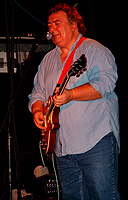 The other guy, who took care of bass guitar duties was David Levy (who played with the late, legendary Irish Guitar God, Rory Gallagher from 1991 to June 1995) was a deep noted powerhouse and a fully complimentary stage-left to Mr. Marsden.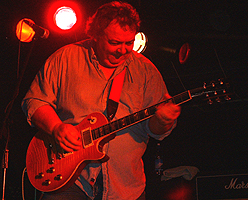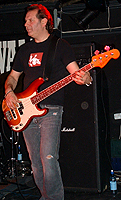 From these guys, we enjoyed around 90 mins of the blues, topped off with a 'Here I go again' after yours truly shouting for some Whitesnake. Ya can't beat that can you.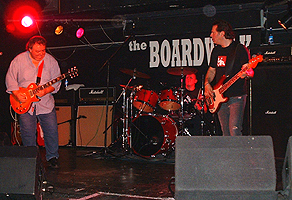 Nice to see Bernie's Boys back at the Boardwalk soon.
9/10
By Glenn Milligan
Money For Nothing -
The Boardwalk, Sheffield, 10th November 2005
So did the title of the band give it away to who they are a tribute to - its none other than Knopfler's old flames 'Dire Straits' - but I guess you worked that one out. Coming all the way from Cardiff, these guys were dedicated to giving those in attentendance a good time, delivering a splendid foray of music from Newcastle's finest outfit.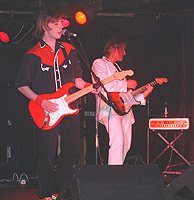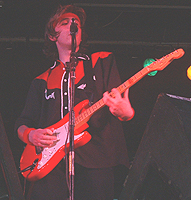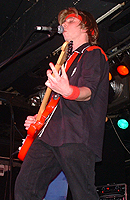 They got the sound to a D (as opposed to a T in this case), even that deep croaky throatiness of Mark is present and he even wears that classic trademark shirt as well. A plectrum is used but I'll let him off for that as the songs as the guitar playing is a perfect mirror that you'd hear from that old Geordie residing red Fender Stratocaster.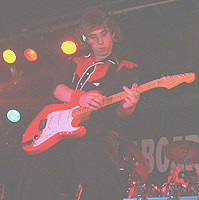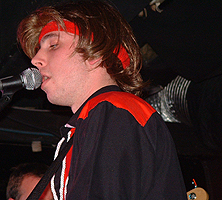 Two 45 minute sets is what we received that featured many of the hits like 'Walk Of Life'; 'The Bug'; 'Bothers In Arms'; 'Heavy Fuel'; 'Sultans of Swing' and 'Private Investigations' (the shortest version I've even seen as the real thing used to drag it out for at least 15 mins and then some).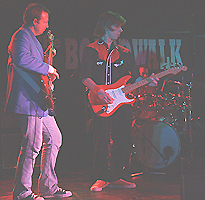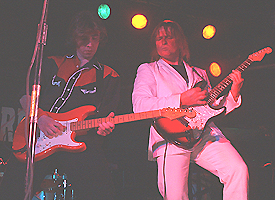 The number that really got my attention though was the very underplayed 'Lady Writer' - it made the gig worth going to just for that one track'.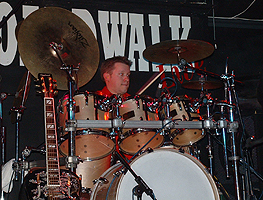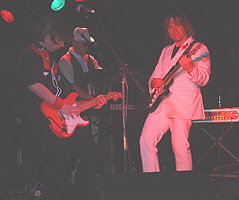 Of course, what gig would be complete without the famous 'Money For Nothing' that got the people up dancing (the keyboard player of the tribute band wants his MTV too!!), not to mention the cooking little non-album 12-bar ditty going by the name of 'Twisting By The Pool'. Lastly but by no means leastly we were serenaded by the theme of 'The Local Hero' called 'Going Home' before the crowd did precisely that – the only way to end the show.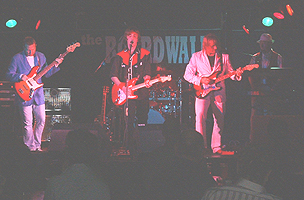 They'll be back - unlike the 'Dire Straits' themselves who aint' been around since that Nelson Mandela charity gig a good few years since. Be great to hear 'Solid Rock' next time too.
9/10

By Glenn Milligan

Motorhead / In Flames / Girlschool –
Sheffield City Hall, Friday, 4th November
Now I ain't been here for a while to see a band – so what better way to have your new induction to the re-opened venue than a night in the presence of Motorhead. Many of us were rather p*ss*d off at the fact that no seats had been taken out – seats for rock 'n' roll – f*ck that !! and we weren't allowed to throw a gallon of beer down our throats in here either – we had to got the bar downstairs – them's the breaks watching bands at City Halls.
Sh*t, I missed 'Girlschool' as it turned out they were on first (sounds like many did due to the early start – was looking forward to 'em too). On the brightside of things our other main Metalliville scribe, Dave Attrill didn't who had this to report:
Thankfully I got to see them, though only just so. Not, even in the slightest hint, til the moment I set foot in the doors of the spankingly new done-up City Hall, did I know that they were playing, having until that minute only read them as 'plus special guests' on the billing. Even though I started to recognise the all-female foursome from sixty-feet up on the balcony, after about a half a minute, it was only when they belted into one of their classic cuts that I manage to establish that it was them.
Quite ironically, they toured the UK themselves only fourteen months earlier with the Motorhead tribute act 'Motorheadache' – www.motorheadache.co.uk in tow so it's a nice bonus to see them here tonight, fanfaring the real thing. McCauliffe and co make the most of their half-hour-plus clock space, leaning almost exclusively towards cuts from their prime and raising a fair old ripple from the so far half full venue, and a new number also finds favour, a rare happening for a veteran outfit these days. A welcome and fitting opening to an evening of vintage metal from a band who have been around for about as long as the 'Head themselves and still going no less strong
Back to Glenn: Many of us got to witness the gargantuous Gothenburg Metalheads going by the name of 'In Flames' who warmed us up with a ten strong set that began with 'Quiet Place' and ended with 'My Sweet Shadow'. In between we were rocked out with cuts like 'Clayman'; 'Colony' and 'Episode 666'.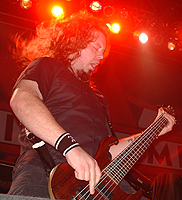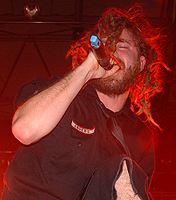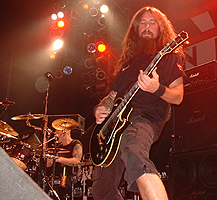 Full-on and up for it they were too, even laughing at the fact that some people looked miserable on a Friday night and handing one dude in the front row a t-shirt to cheer him up – next time I'll look miserable when I'm taking the photos – lol.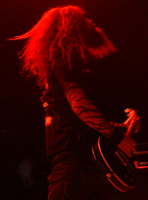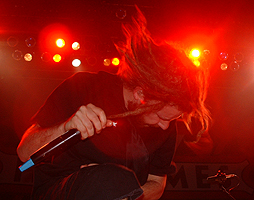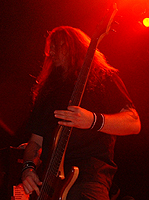 After a short break which entailed a quick half a shandy – the joys of bl**d*n' drivin' and some well needed bladder relief – too much info, I hear you say - what the hell – who said rock 'n' roll was about clean words and clean living, well I know Lemmy didn't anyway – nice one – it's time for the highs and moles (not warts !!) of Motorhead.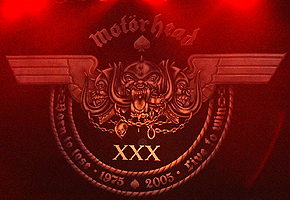 It's a similar set to the one from 2004 – but no-one has a reason to complain – opening up with 'Dr. Rock' because they are Motorhead and they play Rock 'n' Roll – so it's a rather fitting number to begin the set – don't you think? Nice to see that Guitarist of 21 years and counting Cambell is still asking us that question that always ends up with us saying, 'No' – lol – that cooking to the ears question, 'Is it loud enough ?' – lmao with a Lemmy asking Dave to turn it up !! It never is for the Motorheadangers who ain't happy if they can't hear for 3 or 4 days after – hardcore or what ?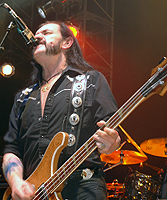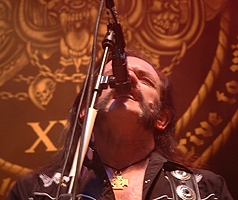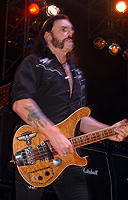 The classics are still there in the set like 'Stay Clean'; 'Metropolis' and 'No Class' as well as one I can't remember them playing last time – an album track from 'Ace Of Spades' entitled 'Fast and Loose', not too mention the gallant 'Love me like a reptile' and of course the lizard squeezing 'Killed by Death'. We are still trying to break our legs to 'Sacrifice'that features a new all-improved drum solo from Mikkey Dee – the best drummer in the world who catches his sticks every time after a hurtling lob in the air.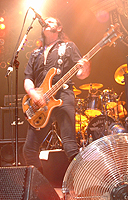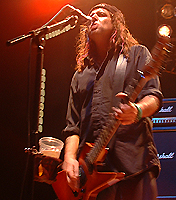 The currently played 'Inferno' numbers 'Killers' and 'All in the name of Tragedy' go down really well as do 'I got mine' and 'Dancing on your Grave' from 1983's 'Another Perfect Day' though those of you alive then f*ck*ng hated it – pity they didn't shelve it and release it now. Lemmy dedicated a song to us and himself - 'Over the Top' and they also played 'RAMONES' – Joey said 'Thankyou' from wherever he happened to be – twice at that – good old Joey !! Rock In Peace Mate !!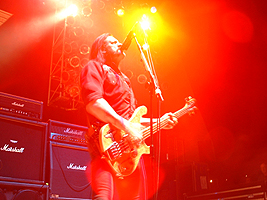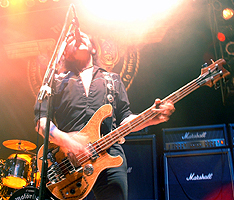 As per usual they wanted to know who the loudest audience was on the European and after the second attempt from us, Lemmy reckoned that we were No. 1 – let's hope we don't get beaten. The sound was as dearful and graceful as ever with the volume of a DC-10 at the speed of a blackbird – but not as loud as Donnington – can't be having structural damage and a ban this time around can we – funnily enough I couldn't help checking the glass roof now and again to see if it was still intact – looks like they spent the £10 million well, if only to ensure Motorhead can play there once a year – money well spent in this case if you ask me.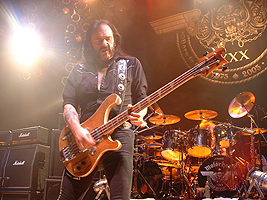 Easily one of the highlights of the night was the acoustic 'Whorehouse Blues' where Lemmy wants to open a little whorehouse and have some beauty on the side. Well it's only a stones throw from the red light area – so it'd be perfect to have around here. Nice bit of harmonica playing Lem – quality pickings on the guitar from Phil and Mikkey too.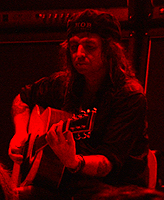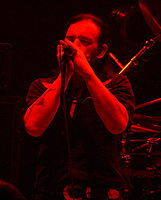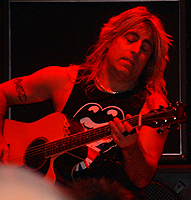 There's only one way to finish a Motorhead and that's of course with 'Ace Of Spades' and the Mighty 'Overkill' coming complete with fit-foaming strobe lighting where Mikkey performs his arm and leg acrobatics throughout – it's impressive – just don't let the epileptics watch it tho!!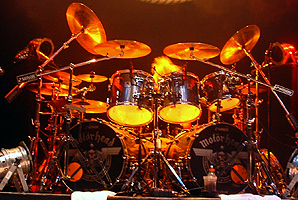 After a couple of false endings the song is done and we are left to endure the wailings of Lemmy's bass feeding back into the amp that seems quieter than usual – well we can't have the roof shattering can we?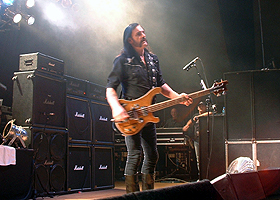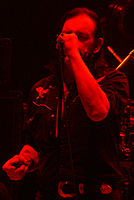 After a sold-out gig, they are bound to be bouncing back into Sheffield next year.
9/10
By Glenn Milligan
The Micky Moody Band / Silverjet –
The Boardwalk, Sheffield, Thursday 27th October, 2005
When I got in I thought, where is everybody as I expected plenty to turn out to see the ex-Whitesnake guitarist with his own band – since it was pretty packed for Company of Snakes about 3 years since that featured Micky Moody, Bernie Marsden & Don Airey (ex-Rainbow, now of Deep Purple). I thought the hoards would turn up when it hit headline time sadly but it wasn't to be. Surely there couldn't have been something better on television?
Anyway, enough of my moaning, Silverjet hit the boards and played out their usual great rock n roll (you know the style by now so I ain't repeating myself again, that right, Mr. Hardcastle). Well lets put it like this, if you like the sounds of The Glimmer Twins or The Robinson Brothers, then you'll like Silverjet.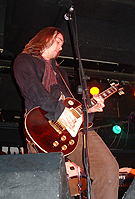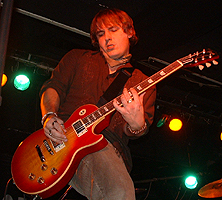 A similar set to their Dogs D'Amour at the other main Sheffield Rock venue was had with songs from the album 'Honour Among Thieves' and 'Amalgram' Sessions EP – consult the review of those in the 'S' section of CD reviewsThey appear to go down well in here and gain a few new fans – even selling a few CD's too – good on 'em..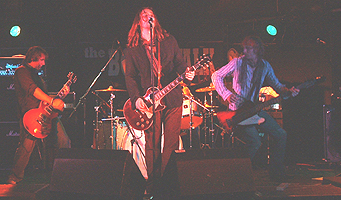 After a short break The Micky Moody Band hit the stage with a load of blues styled songs - many of which were his own compositions as well as the odd cover that included the John Cale number, 'They call me the breeze' made famous by Lynyrd Skynryd. Things stepped up even more when Mr Moody started sliding on that guitar, not to mention playing some thing from that popular beat combo he used to be part of with David Coverdale as he put it – LOL !! Admitting that he can't sing like Coverdale, but Coverdale can't play a guitar like him. 'Give me all your love' was the number in question that got everybody singing and later he played that amazing countrified blues solo that he's famous for on the 'Live in the Heart of the City' album and at Donnington in 81 when we were all a damn sight younger (I was 7 at time).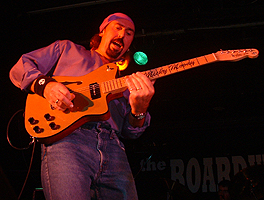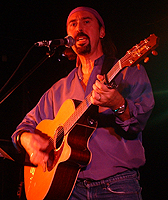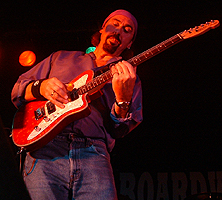 Micky's band was a blues dream and apart from the man himself, the other greatest attribute to the band was none other than the maestro Jawharp and Harmonica extraordinaire Peter Hope-Evans (from 70's band 'Medicine Head and sometime member of Pete Townshend's live band as well) who wailed and squawked away, totally complimenting Mick's Guit' at every available moment. It was absolutely mesmerizing with metallic shrill notes filling the room.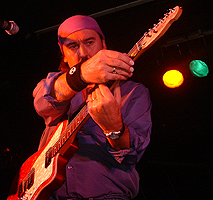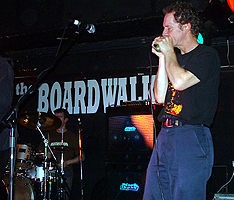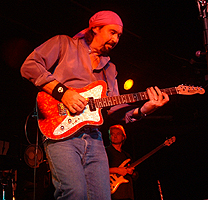 We were treated to different sounds from the six string as three different guitars were used in the performance, depending on the tone and atmosphere of the ditty that was in store for us – loved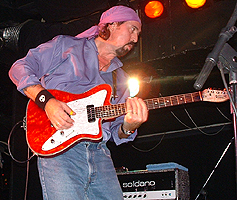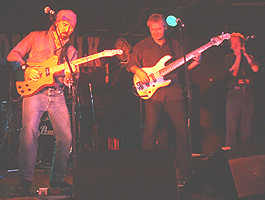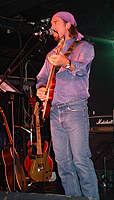 the one that had the 'lie on the track' line in it – it reminded me of an old Aerosmith song – they may have stole it from him – ya never know do ya.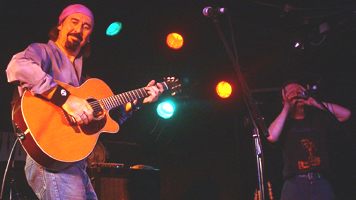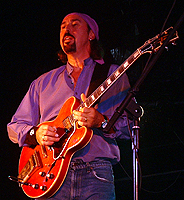 Anyway, a good night was had by many in attendance – next time bring Bernie Marsden and the rest of the lads … hey come to think how's about a proper Whitesnake reunion with Whitesnake members !! Now that'd be something – in the meantime we can enjoy the members of yesteryear in solo stint still proving that their hearts still in it, despite not playing large arenas anymore – Come on Coverdale give 'em all a call and let's see the real 'Snake back in action.
7/10
By Glenn Milligan
Motorhead/Sepultura/Class of Zero -
Rock City, Nottingham, November 15th, 2004
After being elsewhere when this tour rolled into Sheffield, I knew from what I'd heard from friends that it could not be missed - so 40 miles down the road I find myself in the neighbouring venue, Rock City, Nottingham on a well, not so quiet Monday night. After being told that the show was a complete sell-out, I was anticipating a jam-packed solid big live room and I wasn't too far wrong. 'Head t-shirts were amass as well as a few Sepultura scattered around.
Saw the last few songs of opening act, 'Class Of Zero' (who are incidentally managed by Ace Trump, the webmaster of Motorhead's Officical website - wonder if that's how they got on the bill?). 'Zero came across like a rowdy, heavy nu-metal kind of crew - sort of like the harder side of that music channel being with the letter K and ending in G. They scorched through a bag of numbers from their debut album, 'Nothing will survive' that'll be reviewed elsewhere on the site shortly.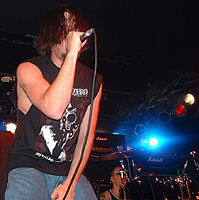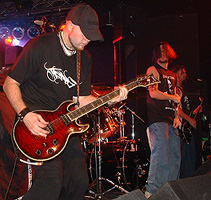 Class Of Zero
Left -Ryan Dainty (Vocals) & Metal Bob (Drums) Right - Billy Peele (Guitar), Ryan and Ian Salvas (Guitar/Vocals)
Sepultura then came on and completely obliterated the place by churning up the bowl-splitting, throat-ripping, ear-shooting sounds of what can only be described as a garganic attack that had been served up from somewhere close to the depths of hell. They look as evil as f*ck, especially vocalist Derrick, who's like a cross between a Manawar Jellyfish and possessed blood-thirsty athelete.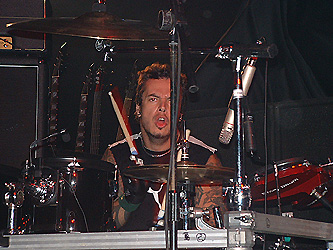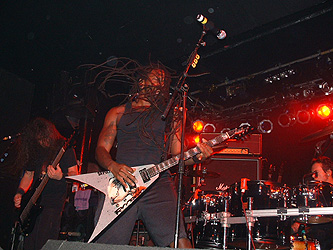 With a set filled with purely gruesome old-school heavy, deep, down-tuned numbers, Sepultura proved to be a major hit in Nottingham and was at times like listening to the bombing of a well known four letter area in the east all over again.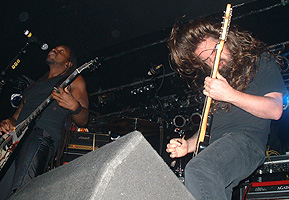 Opening with 'Apes of God', their set list mainly comprised of well-known pleasers that included'Attitude'; Slave New World'; 'Arise' plus newer songs such as 'Mindwar' and 'Choke' then engulfed it with a mind-squashing version of 'Roots'.They could do no wrong for the noise-bearing, bruise-wearing battered chaps who dared to fill up the large frontal mosh pit and get f*cking crazy.

After a good old changaround of instruments, the clock hit 9.30, the houselights went out amid a roar because all new what was up next - a 90-minute deafening session from Lemmy and his boys who are famously or is that infamously known as Motorhead. Taking us by surprise, they had dropped the usual opener 'We are Motorhead' which had been used for the last few World Tours and opted for the boogie of 'Dr. Rock' instead.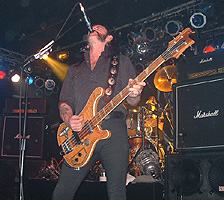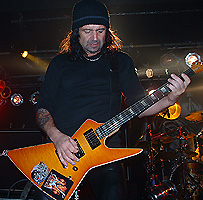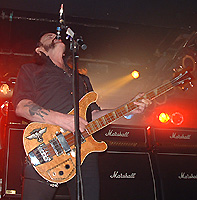 This was very much a brand new set list of songs that saw Motorhead taking the odd risk by performing a couple of songs from as Lemmy put it, 'The most hated album in the history of the band - the one with Brian'. That's one way of referring to 'Another Perfect Day' and Brian Robertson (ex-Thin Lizzy). The Motorheadbangers forgave him though as they were treated to note-perfect versions of 'I got mine' and later 'Dancing on your Grave' that were pretty cool since Phil Campbell was getting a chance to stamp his mark onto them.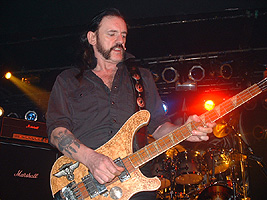 Of course it would have been a crime not to include a batch of oldies but goodies (as Mr. Kilmister calls 'em) such as 'Going to Brazil'; 'Stay Clean'; 'Killed By Death' and 'Over the Top' which always go down well at their gigs. 'Sacrifice' was still part of the set too where Mikkey Dee's syncopated drumming continues to remain an outstanding highlight with his precisionesque drum solo stamped in the middle of the number.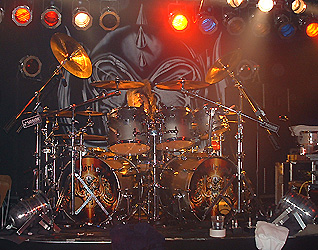 Lemmy told us that they still had to keep 'RAMONES' in the proceedings too 'because three of them had f*ck*ng died and there's only one of them left making the song very special' - so let's hear it for Joey, Dee Dee and Johnny Ramone' with the close to two minute track following.
A few newbies from the back to the raw-edged style of the 2004 album release 'Inferno' such as 'In the Name of Tragedy'; 'Killers' (which Lemmy wasn't sure if the fans liked or not) and as part of the encore 'Whorehouse Blues' - that saw Motorhead get acoustic on us - you f*cking what!! - yep, you read that right siree - Phil Campbell and Mikkey Dee switched to pale wooden unplugged guitars with Lemmy perched in the middle on vocals and harmonica to present a good ole bit of Texas walin' to us and here's the picture below to prove it.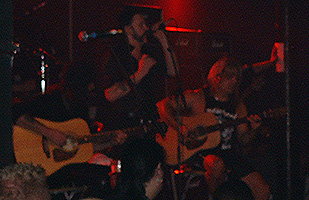 Finishing off with 2 of the only ways possible, their trademarks 'Ace of Spades' and the very hard to play on the drums dittie known as 'Overkill'. A few might moan that 'Bomber' wasn't part of the set but they did spoil us on the 2003 tour with the rig itself. So there you have it, an hour and an half of 'head-strong music that was played tighter than a Convent of Nun's V*g*na*. Lemmy even congratulated us as well by being the loudest audience on the Tour so far - even louder than Belfast !!
9/10
By Glenn Milligan
Motorhead/Sepultura/Class of Zero -
The Octagon, Sheffield 11th November, 2005
Class of Zero
Class of Zero are a five-piece hard rock band from Simi Valley, California. We could see why they were playing at this level as they were individually talented musicians and very tight as a band. They did however do nothing artistically for us - we've heard it all before. If this noisy nu-metal is your thing then check out their album 'Nothing will survive' that came out on November 8th. 7/10
Sepultura
I think that I was looking forward to this band more than Motorhead. However, Sepultura seemed to find it difficult to deliver on stage. While Derrick Greene is a more than competent frontman, he is no replacement for Max Cavalera. Also they seem to lack the drive and raw energy of the old Sepultuara because of the latin beats were notably missing. While they did do tracks like 'Arise'; 'Mindwar' and 'Attitude' we missed out on other notable tracks like 'Roots' and 'Refuse Resist' that were included in the set at Nottingham a few days later. The crowd did get behind them so they still retain some of their old magic. 7/10
Motorhead
Well here is the part of the show where I have to eat my words. Motorhead were better than superb. Thirty years on and they rock harder than the other bands on the bill tonight. This was a master class in how to perform metal.
Mikkey Dee showed his drumming prowess to the full and then rubbed salt into the wounds with drum stick juggling - you guessed it - yes, while playing. Phil Campbell's guitar playing was tight, gutsy and always added to the overall sound. He is our kind of guitarist - never flashy for flashyness' sake and complimenting the band to perfection. As for Lemmy, well what can you say about this metal legend - no nonsense, stripped down to the bare bones metal. He just does it. The audience were in the palm of his bands from the opening song to the final encore.
And yes, they also showed that they can play on acoustic with 'Whorehouse Blues' that would blow most other bands off the stage. We are so pleased to see that Lemmyhas recovered from his recent foot injury as the metal scene would not be the same without him.
10/10
By Bona (of Steel City Metal, Sheffield) & help from Martin Bellamy

MITCH MALLOY + Teenage Casket Company -
The Boardwalk, Sheffield, Sunday 12/09/04
It was only three years ago that Mitch Malloy last took stage at the Boardwalk to play his ultra-pleasant brand of happy-go-lucky melodic rock to a couple hundred adoring fans who sung their heart out to almost every word of his timeless AOR classics. Tonight though, in this room at the top of Snig Hill, the man enters alone, with an acoustic guitar and plonks himself down on a stool in front of fifty-or-so sat round the tables. Taking what he's got, in his stride however, the chap lays straight into 'You Lift Me' and 'Cowboy And The Ballerina', two of his greatest numbers that get the crowd reasonably noisy straight away.
For the following 75 minutes, M.M. rules the room with his incredible voice and inter-tune banter alike, in particular joking back at a few gathered hecklers shouting out for particular hits to get an earlier airing on the set. 'Middle Of Nowhere', 'Over The Water', ' Nobody Wins.', 'Forever', 'Problem Child', 'Ceilings And Walls' and a decent helping from last album 'Shine' as well as a couple of newies keep the minute gathering roaring though of course everyone is mainly here to catch material from his legendary debut . Saving the best for last, 'Anything At All' ends the platter - any other place on the set fro this belter would be a travesty - and though Mitch had originally planned to play 'Mission Of Love' too, time isn't that much on his side tonight, Sunday night licensing shenanigans requiring a 10.30 finish, being one of the main reasons. People aplenty are still singing his songs at full volume as they step out into the cold Sheffield air once again, serving to show how dedicated even the smallest turnout can be. With no Gods fest this year, though he still wangled his way into a slot at the z2004 the following weekend, Mitch Malloy tonight provided a worthy compensation package, along with Tyketto's imminent reunion bash.
Sheffield's Teenage Casket Company, sorry for not mentioning them at the start, were impressive too with their quite AOR-led pop rock material, similar to Mitch's itself and like the headliner, performed unplugged tonight. Garnering quite a good reaction, they beckon for further listens in the near future. An absolute quality night of hard rock, played with a difference.
9/10
By Dave Attrill
Miller Strat Pack (Various Artists) -
Wembley Arena, London 24th September, 2004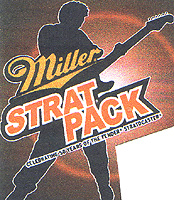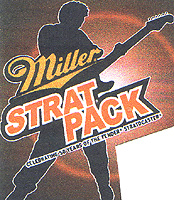 A concert extravagazna that celebrated 50 years of the fender Stratocaster, in support of 'Nordoff Robbins Music Therapy' with a lot of high profile artists taking part with a house band that included Wix Wickens (of The Paul McCartney Group) among others. Placing the concert in such a large capacity venue could have been an atmosphere killer straight away, but they had the sense to put up video screens so we could see what was happening from the back of the venue as opposed to trying to focus on matchsticks holding guitars.
The concert was a really strange affair and come across like you were instead watching a DVD documentary because in between the acts were Vox-Pops of late Fender players and snippets of the next artist talking about the guitar before the lights went up on the stage for their short set. Having a grey-suited David 'Kid' Jenson compering the event made it more like an awards ceremony than a rock 'n' roll gig.
The first act to grace the large stage were the late Buddy Holly's backing band 'The Crickets' who'd come all the way from Texas (with 'Brian May' and Albert Lee on guitar) who cranked up with 'Oh Boy' and other faves like 'Peggy Sue' (feat. Ronnie Wood) and 'That'll Be The Day' with the BM1 player on lead vocals - that's Mr. May to those of you not in the know of all things 'Queen'.
The Shadow's Hank Marvin then played us some of their echoey, tremolo bending old hits that included 'Wonderful Land' 'The Rise and Fall of Flingle Bunt' but most notably their No. 1 'Apache' that received a standing ovation. Although it's quite a spectacle to witness this man, you can't help but feel embarrassed by his niceyness, cheesey smiles and naff dated posing - at least he introduced the band. In all honesty it was tacky and corny making you just how much British music has moved on since the early 60's.
Albert Lee warmed up the atmosphere somewhat with some exceptionally fast and mind-blowing country rock along side a rather gorgeous Swedish fiddle player - they traded licks majestically. It's a pity that her own composition was your typical ten-a-penny Alanis Morrisette number - there's too many of them already.
Paul Carrack (along with ex-Genesis/Mechanics Guitarist, Mike Rutherford plus Andy Fairweather Lowe and Phil Manzanera) who also livened up the crowd with the old Ace hit 'How Long'. He should never have attempted 'I can't dance' as the choral falsetto section was diabolically weak - it was a bit like 'Tonight Matthew, I'm gonna be Phil Collins' - he really should have performed 'The Living Years' and it still puzzles me why he didn't. Gary Moore then fulfilled our obligations to hear the blues with a long version of 'Red House' by Jimi Hendrix that was absolutely faultless despite talk that he would not be attending the gig that night - he proved us wrong, nice one Gary - he'd lost quite a bit of weight since supporting Whitesnake last year too.
It was really annoying that a ten minute interval (what's this - the f*ck*ng theatre) took place that wound up being the best part of half an hour, still a pure comedy moment took place regarding the mistaking of Hot Chilli Sauce for Tomato Sauce took place which was one hell of highlight, especially for the mouth and throat!!
The first two acts of the second half were newbies - a guy on a piano who sounded like Paul Rodgers and then an irritating load of jazzy stuff from a girl called Amy Whitehouse who duetting with a black guitarist (whose name I'll include when I find it out). It was rather special to witness Paul Rodgers for the 1st time and boy was I impressed, who paid homage the Chicago legend, McKinley Morganfield in 'Muddy Waters Blues' complete with guitar - he took the roof off, so why did he have to use the gig as a cheap marketing ploy to feature his son and daughter with a newly recorded song called 'Drinkin' that was out of place and completely sub-standard to what came next - 'All Right Now' that had Brian May taking the role of long-departed Free legend axe-player 'Paul Kossoff' - absolute brilliance with Rodger leaving the audience to sing the title line throughout. How could that be bettered, well pretty easy actually as the last song become 'Can't get enough of your love'. Many of us would have liked to heard 'Wishing Well' but it wasn't to be, much to our disappointment.
Joe Walsh as good as a guitarist and songwriter, just could not sing, despite having a high, shrill, powerful voice as you could hardly tell a word he was uttering throughout his set that included 'Cold Mountain'; 'Rocky Mountain Way' and The Eagles 'Life in the fast lane'. A shame really as the playing was incredible.
Due to the joys of the London Transport system we missed out on seeing 'David Glimour' - the genious from Pink Floyd as we didn't fancy a squash in the Underground or fear paying the best of £70 for a taxi for our journey back - no doubt we missed an end of night rock 'n' roll jam too - still we'll find out what happened by watching the DVD when it comes out - as tonight was being filmed.
On a summary of the event though we considered that the line-up would have been a lot better if they had had a lot more electricity to it, had there been artists like Pete Townshend, Mark Knopfler, Yngwie J. Malmsteen, Ritchie Sambora & Blackmore being part of the line-up. The audience was for the best also like witnessing a bunch of bank managers watching ITN news or women waiting for goods at Argos or Index which is hardly what rock 'n' roll dreams are made of.
Best of the acts were most definitely Brian May, Albert Lee and Paul Rogders
So who will be around for the 75th Anniversary is anyones guess.
6/10
By Glenn Milligan (with the greatly appreciated contributions of Alexandros Kotziamanis)
MOTORHEADACHE -
Classic Rock Bar, Sheffield, Saturday, 7th Feb. 2004
Tribute acts are and always have been a revered commodity in the classic rock scene. As the genuine acts these bands follow only come to town so often these days anyway -well those that still exist anyway - and they cost quite an astronomical quantity to see when they do, one can at least satisfy himself with as near to the real thing in the meantime.
I had actually wanted to see Motorheadache for some time now and failed on every past opportunity. Fronted by Scotland-born multi-instrumentalist Rob Campbell who not only sings almost exactly like lemmy but also sports the 'tache and wields a Rickenbacker bass and the same angle, 'Motorbreadcake' as repeatedly nicknamed by a mutual friend of ours, have built up a surprisingly weighty following, having actually gone on tour to entertain longing metalheads gathered around bar tables across the country.
Britain's only band (at the moment) paying homage to the metal legends kick up a storm in the Eccelsall Road pub for all of 70 minutes with hit after hit, including 'We Are Motorhead, 'Orgasmatron', 'Iron Fist', 'We Are The Roadcrew' and obvious encore 'Ace Of Spades' and immediately, it was easy to see why we had to print one or two of the punters reactions on the Metalliville site's homepage.
If you can't wait till the real act's Sheffield Uni gig in December, let Motorheadache make this Christmas come early. Lemmy will be proud Rob, keep it up.
8/10
By Dave Attrill

Monster Magnet/Gluecifer/The Quill -
Rock City, Nottingham, Saturday February 28th, 2004
Sadly I missed 'The Quill' who musta come on bang on 7pm - no doubt they were pretty good thrashing out some good stoner.
Thank god I got to see 'Gluecifer' a bunch of Swedes who have an album reviewed by one of us a couple of years ago. Come at ya like a possessed Iggy Pop and The Stooges mixed in with a slight glammy punk sound akin to Love/Hate and enterntain with some strong material in their set even though they might not have the best looking frontman in the world or be the best dressers in rock 'n' roll. Excellent band and I'd like to see 'em again.
Monster Magnet, the headliners tonight are stoner rock of the highest order whose frontman, the oriental looking Dave Wyndorf has a presence that can be likened to that of Iggy Pop or maybe Mick Jagger with lead guitarist, Ed Mundell needing no introductions either. Wasting out all the Rock City audience (or was that just the exceedingly strong joints in the crowd being smoked) our ears were filled with a healthy selection of Space Rock that even included the new single 'Unbroken (Hotel Baby)'; heavy grooves of back-catalogue and even a highly appreciated version of Hawkwind's 'Brainstorm'. Sonic Approval all-round.
8/10
By Glenn Milligan
Motorheadache - The Office, South Shields,
Friday Dec. 12th, 2003
Motorheadache are a Motorhead tribute band (bet the name gave it away), and had come all the way from Sheffield to play this gig. No ticket fees for this event. The band were willing to play for normal pub money and I'm pleased that the group were thinking with their heads and not with their pockets. The group turned out to be really nice lads and genuinely in to what they were doing. I got to the venue good and early, and gave them a hand with their soundcheck. Together we ended up with a monstrous sound that befitted a band that are renowned for rattling fillings and shaking your earwax loose. A band like this aren't meant to be quiet.
Motorheadache took to the stage and then began their aural assault on the audience with the current 'real' Motorhead opening live song, 'We Are Motorhead'. The sound was excellent and incredibly authentic. Their lead guitarist was probably better than Fast Eddie ever was, and easily as good as the current Motorhead guitarist, Phil Campbell. The drummer did a solid job too, although technically he was closer to Philthy Animal than present sticksman, Mickey Dee. But without doubt this was the 'Lemmy' show! Not only did he look like him (mutton chop sideburns and beard), play like him, move like him, and sing like him, … but also he even 'talked' just like him between the songs. The homework this guy had put in to his performance was unbelievable. Rob the main-man simply has to be 'THE' most authentic frontman that I've ever seen in a tribute band (including Wayne from Limehouse Lizzy). For this night he was Lemmy through and through, and he did a superb job. The set was far superior than the real Motorhead's own live set, as the majority of it included all the classic tracks from the first few albums.
A really excellent set that even included 'Breaking The Law', 'Highway To Hell' and 'RocknRoll', as Motorhead have covered these numbers for various tribute albums. Motorheadache are a brilliant band, and I will have them back here to play again. Only please let there be a decent sized audience to appreciate them next time.
By Colin Smoult
(Courtesy of Riffs Webzine)
Motorhead -
Nottingham Rock City, 8th October, 2003 and Newcastle 9th October, 2003
Out infull force as ever, both band and fans alike were on the ball on the two consecutive nights. Performing a similar set as that seen at Sherwood Forest but taking 'Bomber' away and sticking 'Love like a Reptile'. Motorhead are bang on form.
Opening with 'We are Motorhead' and closing with the heavy as hell 'Overkill' they pack in a set that delivers quality cuts like 'Killed By Death', 'Civil War', 'Brave New World' and many more. Lemmy pokes fun at the speed of 'Sacrifice' by saying, "Don't try and dance to this because you'll break both legs" and no doubt you most probably would. It beats the sh*t out of me how Mikky Dee manages to keep in time because it's so incredibly syncopated, not to mention the incredible tempo of it.
The Geordies and the Notties (if there is such a term) were very impressed and after being jeered up by Phil and Lemmy to make as much noise as possible it seemed fact that Newcastle proved to be the loudest crowd. Blue mats marked the stage spots for Mr. Kilmister and Mr. Campbell but do you think they kept still? - not likely!! Phil was running around continuous like a rabbit on heat and the Lem was also back 'n' forth quite a bit, returning to his left for the vocals.
The ear rung for a bit but these gigs weren't as loud as Sherwood Forest - I lost my full hearing for two days on that occasion. Next stop Hammersmith Apollo, London.
10/10
By Glenn Milligan, BA Hons CS
Motorhead - Hammersmith Apollo, 18th October, 2003
After a long drive to London from Sheffield then booking into a hotel in the Docklands area of the City, not to mention getting on the wrong tube train, we finally managed to get to the Hammersmith Apollo in time for Motorhead.
Sadly I didn't get to take any photos due to the venue being so packed - ambling down to the front with my expensive canon through a bunch of cockney Motorheadbangers did not seem very appealing.
As ever, the set was the same that we'd witnessed in Nottingham and Newcastle - but were we complaining - not a bit. If you were there then you know the set, if you weren't then you should have been - songs that included 'Shoot you in the back'; 'Ace of Spades'; 'Going to Brazil'; 'God save the Queen'; instrumental solos from all three members and a cover of The Ramones 'Ramones' - a number that Lemmy dedicates to Joey and Dee Dee and gots a halfway decent applause the second time around from these guys from down south. Lemmy announced that Newcastle had been the best audience on the entire tour and being there made it all that bit more special.
Ginger Wildheart joined them on stage for the last number 'Overkill' (The Wildhearts had been there main support band, no less) - it would have been nice to have seen Fast Eddie Clarke or members of Girlschool on stage who we met at the aftershow but for some strange reason it wasn't to be. Nevertheless it was again a brilliant end to an equally brilliant string of gigs - if you wanna witness more Motorhead up and down the country though then never fear because the tribute fever is nigh with Motorheadache - A Tribute to Motorheadache - www.motorheadache.co.uk
10/10
By Glenn Milligan, BA Hons CS
Mountain -
The Boardwalk, Sheffield, Sunday, 21st September, 2003
There's been some legendary rock trios over the last 30 years or so and Mountain are one of them. The front-man and mainstay being the larger than life, frightening looking presence that is New Yorker 'Leslie West'. It's the bands second time at the Boardwalk and as Leslie puts it, the set contains some old songs and some new songs (from the current album 'High') - if he can remember them that is.
Long-term Drummer 'Corky Laing' (ex-Rory Gallagher) and Sebastian Bach's now ex-Bassist, 'Ritchie Scarlet' complete the line-up. When Leslie ambled up the steps to his two band members, he starts up and gives us all a scary possessed look - it's all for show though as he breaks into a smile shortly after. Saying that though, I'd hate to get on the wrong end of this Guitar God as that stare to his band mates gives the impression that he's thinking, 'If you guys f*ck up, you'll be fined or even fired' - well Corky got a towel thrown at him for coming in too quick on the kit!!
The almighty presence of Mountain as a whole is well…. Breathtaking - it's only bands like Led Zeppelin or The Who that can have this effect on an audience - stars-truck is an appropriate term, I guess. It's pure hypnotism between artists and audience which is a rare happening these days. Those wailing vocal cries of Leslie West mixed in with his gutsy distortive raw guitar and Power-Rock Jazz drums of Corky plus Ritchie's driving bass runs give Mountain their unique sound.
The fans are taken aback with new songs such as 'Immortal'; 'Mystic Fire' and 'Better off with the blues' alongside classics like 'Why Don'tcha'; the epic lengthly 'Theme from an Imaginary Western' and the mind-blowing 'Nantucket Sleighride' (that if you didn't know was the theme from the UK Political Programme 'Weekend World' in the 70's and early 80's.
Leslie even took a break in the set - giving him the chance to rest his legs and saw Ritchie take the mike and treat us to Jeff Beck's 'I'm Going Down' but Leslie just couldn't joining in on vocals and taking over, making it his own. Encoring with 'Mississippi Queen' it's quite easy to say that the oldies are most definitely the goldies.
One of the best gigs I've ever seen at this amazing venue.
10/10
By Glenn Milligan, BA Hons CS
Motorheadache (A Tribute to Lemmy) -
Cobden View, Crookes, Saturday 19th July, 2003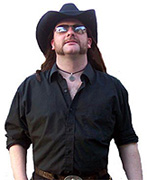 (A nice shot of Rob Campbell as Lemmy)
A gig that should have taken place at The Classic Rock Bar on Ecclesall Road, Sheffield but due to various complications was switched to this remote, out of the way venue in Crookes. It's a pub that has a live room that's only just big enough to put bands on and even though it's a drinking den well off the beaten track of Sheffield City Centre Motorheadache make that extra bit of petol consumption thoroghly worthwhile.
Motorheadache consists of Rob 'Flying Scotsman' Campbell as Lemmy, Toastie Nick Diabolo as Phil Campbell (Guitar) and Drummer, Steve Strong saluting Mikky D. From the opening bashings and bass rumbles it was pretty impressive and it seems obvious that they've been practising together quite a bit (but was later informed by Steve that they only had a quick rehearal before the gig!!). Rob is just so like Lemmy in both sound and sight - ok he's a wee few inches shorter but by god - the performance is rather good - Mr. Kilminster would definately approve and exclaim, 'Hey, maybe I would look better without the warts'. Nick appears to have got his head and fingers around those solos and Steve must've lost a stone in sweat as that kit was attacked like a bloater hitting the butcher because they've been told that the shop's just sold out of meat pies!!
After the fittng opener, 'We are Motorhead' many of the classics were played like the epic 'Orgasmatron' and my personal favourite 'Killed By Death' (with it's 'You can squeeze my lizard' opening line) - My those deep throated gravel 'growl like a dog with flu' vocals were exceptional and Rob has it perfect much to the delight of certain members of the crowd. Motorhead don't just stick to Motorhead songs - they also play other songs that Lemmy has recorded such as covers like AC/DC's 'Highway to Hell' and Metallica's 'Enter Sandman' which were kicked out tonight to the Metal fans delights - they even plan to play Lemmy-era Hawkwind songs such as 'Brainstorm' and 'The Watcher' for you Space Ritualists out there.
"I'm 58, you know", exclaims Rob (- well you look good for your age matey, that's all I've got to say) before the band launched into deafening room shakers like 'Stay Clean'; 'The Hammer' and 'Shoot you in the back' plus the obligatory anthems 'Ace of Spades' and 'Bomber'. Throughout the thunderous ear-shattering hour Motorheadache conquered the venue and got a fair number of beer monsters to their feet - to be perfectly honest they completely upstaged the headliners who played a bunch of old rock covers.
Motorheadache are most definately a mighty tributing trio that who will soon be as highly renowned as Limehouse Lizzy, Whole Lotta Led and ReGenesis in a very short space of time - an act that Sheffield can be proud of.
Phil Cambell's son 'Todd Campbell' wanted to come but had a gig on that same night but wished Motorheadache good look from him and his band 'Psycho Squad - maybe next time - bring your old man as well mate and the rest of the 'head.
7/10
By Glenn Milligan, BA Hons CS
Motorhead/Psycho Squad -
Sherwood Pines Forest Park, Edwinstowe, Notts, UK - Sunday 6th July, 2003
For the first time ever the mighty Motorhead rattled the pines at Sherwood 'f*ck*ng' forest - Robin Hood's got nothing on the brutal powers of these guys.
Ha - front row seats guaranteed since this place took so long to get people in - at the most there must have been about 300 of us there - mind you - when they charge £23 a throw it just ain't very surprising - ouch!! - now that's bl**din' steep.
There were rumours that Hawkwind were gonna be the support but it turned out to be Todd Campbell's band 'Psycho Squad' - yes that is Phil Campbell's son if you happen to be wondering out there in surf-land.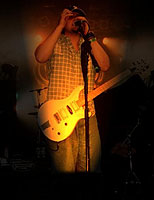 Todd Campbell
The last time I saw these guys was at Nottingham Rock City in 2001 and by jesus - they've improved ten-fold.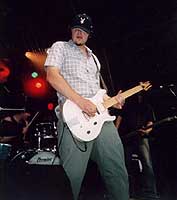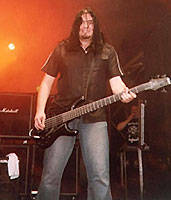 Todd and Mike
Campbell Junior holds the dry sense of humour of his dad and they even play a song of theirs which they say is about one of their hero's 'Harold Bishop' (they can only mean that fa,t old, glasses wearing dude on 'Neighbours'). Todd got us to boo at Nu-metal because as he said himself - 'it's sh*t' and they all wear clothes like what he's got on this afternoon!!; ask us who prefers food to sex or vice-versa - which appeared to be a tie!!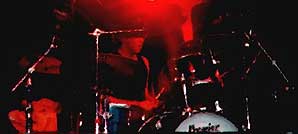 Rhys on drums
Musically they are kind of like modern stoner turned kinda metally punk band with highlights in the set being 'Dressed like you'; 'Stop messing with me' and a cover of The Sex Pistols ' Pretty Vacant' which saw Lemmy take to the back of the stage behind the Marshall speaker stack for a quick glance.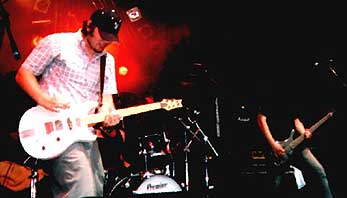 Great set lads - pity it was only about 45 mins but you can't take the limelight from Lemmy can you?
8/10
By Glenn Milligan, BA Hons CS
Before the 'headliners came on (scuse the pun) we must have listened to the enitre 'Back in Black ' album nearly - well worse things happen - but did meet Phil C up at the sound tent who had been filming the 'Squad - cool guy as well I may add!!
When Kilmister's killer trio hit the stage in their usual attire - Lemmy in his white boots, black open shirt and cowboy hat etc they immediately blast the f*ck out of us with their well-suited opener - 'We are Motorhead' - can you get any louder than these guys - the answer, 'NO' although of course everyone wanted it louder - mad f*ckers us 'ead fans are - even Oliver/Dawson's 'Saxon' man 'Graham Oliver' wanted it louder - then again, he's probably as deaf as Lemmy.
Set-wise it was very similar if not the same as witnessesd on the 2002 UK Tour as our ears were appropriately bled to death with classics like 'Shoot you in the back' ; the nearly a ballad 'Metropolis'; the brutalality of 'Cival War' 'Sacrifice' and the single 'Brave New World' (as featured on the current studio album 'Hammered' ( which was preceded with Campbell Senior asking us if we had the album - which did make a change to Lemmy asking the question).
Now it's always good to hear my fave 'Killed by death'; 'Damage Case' and the second Sex Pistol's song of the night - this time of course 'God Save the Queen' plus their tribute to Joey and Dee Dee Ramone 'Ramones' not to mention the can't get out of playing overheard in rock-clubs anthem 'Ace of Spades' which I'm sure they've must been completely f*ckin' sick of performing yonks ago!! but it goes down well of course everytime - tonight being no exception.
The band's blonde bomber (notice I didn't say bombshell) Mikkey D bashed out an immensely impressive bombastic drum solo - he just never appeared to run out of energy throughout he entire set - how the hell does he do it? - the guy must have done a deal with Old Nick to have limbs as durable as this.
The encore was 'Overkill' of course and who can follow that - if you were there and enjoyed it the gig then 'Tell your friends' as Phil puts it or if you didn't 'Tell your enemies', says Lemmy.
Here's to the 5 CD Boxed set 'Stone Deaf Forever' that has been given the full band approval and of course the 2003 October UK Tour.
9/10
By Glenn Milligan, BA Hons CS
Yngwie Malmsteen's Rising Force -
Mean Fiddler, London, Thursday, 3rd April, 2003
A fully packed Mean Fiddler waited in awe. When the lights dipped amid a roar from the Cockney crowd with shouts of Yngwie! Yngwie (plus a couple of pillocks shouting Angus - who were either stupid or at the wrong gig), the area filled with smoke and there he was in all his glory - Ladies and Gentlemen, Mr. Yngwie Malmsteen and Rising Force.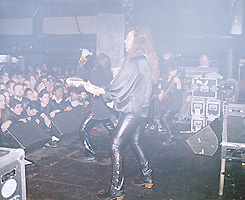 Marching through a large amount of the latest album, 'Attack!' which was at the top of the set-list agenda, the opener 'Rise Up' saw the ensemble command from the start of the gig with ex-Rainbow vocalist, Dougie White in flying form throughout who hit those high notes as easily as his throatal predecessors like Mark Boals, Jeff Scott Soto and Michael Viscera.
The second song in, 'Razor Eater' (ironically enough) sees the big guy cuts his thumb but Yngwie doesn't let it affect his musical performance at all. While stood on stage right he quickly leaps over to me and exclaims, "I bust my f*ckin' finger" and proceeds to dip it on a towel, in his water and even in his beer.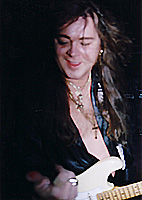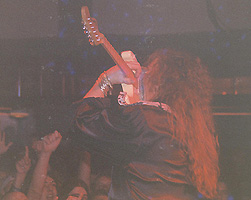 Dougie in the meantime chats away to the fans until Yngwie is ready to take revenge on the guilty Fender.
Other material from 'Attack' is performed such as the hail to all ancient Vikings that is the epic 'Valhalla' and the brightly spirited 'In the name of God'. In true old-school rock style each member of the band is given a fitting solo spot - Yngwie doesn't believe in taking all the credit and considers everybody in 'Rising Force' to be equally important as one another - Nice One!! Of course Yngwie performs the longest solos and quite rightly so - Cracking as well.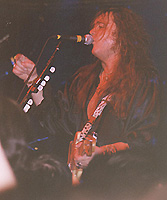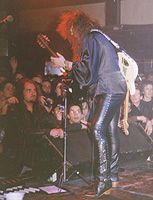 It would have been nice to see more of the classic material like 'The Seventh Sign'; 'I see the light tonight' and 'Heaven Tonight' but we are brought to climatic orgasm when those familiar keyboard chords of 'You don't remember, I'll never forget' ring out in the 'Fiddler, sending the audience completely wild. Other highlights also included Deep Purple's Blues-Rock Monster 'Mistreated'; the acoustic ballad 'Dreaming'; 'Red House' (featuring Yngwie on prized vocals) and of course the pen-ultimate closer 'Rising Force'.
8/10
By Glenn Milligan, BA Hons CS
MAGNUM -
Rock City, Nottingham, Saturday, December 14th 2002
I had waited 11 long years for the privilege of seeing this band on the stage and tonight, it seems, nothing, but nothing can spoil it - well apart from learning that I've just missed personal faves Kick, the support act for tonight (now that was clever, wasn't it) but taking my place amongst the gathering, one of my life's greatest ambitions is about to meet its fulfilment.
Catley, Clarkin and co kick off as many predict, with 'Vigilante' followed by a barnstorming romp through 'Wild Swan'. 'Everyday' is sadly the sole cut from the 'Breath Of Life' disc, involved in tonight's slot - I would have appreciated 'Cry having been on the set list too, boys. All can be forgiven as Magnum play my all-time two faves 'Days Of No Trust'and 'Rockin' Chair' and sandwiched in between classics like 'Storyteller's Night', 'The Spirit' and 'Just Like An Arrow', the night is a Magnum gig made in heaven.
We are graced with a couple of surprises throughout the evening - 'Lights Burned Out' and 'Back Street Kid' aren't tunes I'd have expected to have stood the test of time right to the Magnum live show of 2002 but I welcome as warmly on the bill as 'How Far Jerusalem', 'Kingdom Of Madness' and 'Sacred Hour', any day of the week.
Bob Catley and Tony Clarkin, I don't honestly think have had it as good as this in a very long time indeed, and their performance along with that of remaining original face Mark Stanway, giving his ivories their usual amount of grief, couldn't have been a better celebration of the last twenty-five years if it tried. Also in the celebration process tonight is drummer Harry James's birthday - the former Thunder man, ever the comic takes to the stage at the encores, waving a balloon with his famous features scribbled all over it.
Bass boy Al Barrow, Catley's touring band colleague for the past few years is also obviously rather jolly to be part of the Magnum family even if he just prefers to get on with the job. And as the evening comes gracefully to an end, Tony toasts it all with a glass of wine (really) before the quintet reluctantly remove themselves from the stage and we even more reluctantly leave the room, myself pausing long enough to pinch one of the set lists first.
I've had some Christmas presents in my time but this night takes some beating. I only hope that they mean it when they say they're back for good, because in my opinion, the spirit of Magnum never went away. Very well worth the wait.
10/10
By Dave Attrill
Motorhead/Anthrax/Skew Siskin -
Manchester Apollo 13th October, 2002
After being to a glam gig (Tuff/Shamless) the previous night, this was a big contrast - with more blokes at this one funnily enough. We had no idea who was gonna be the support act but it turned out to be Skew Siskin - a fave of mine i have to say who raged their way through a lot of their 'What the hell' CD.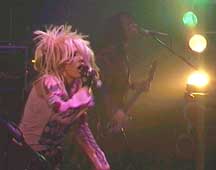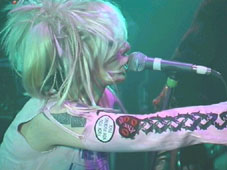 It was a shame that there were bad sound problems in the microphone department which spoilt their otherwise enjoyable slutty AC/DC styled set - what I'd do for a girl like that !!! Squawky voiced and orgasmic moves centre -stage from Nina C. Alice and more importantly great rock 'n' roll!!
Next up came the Thrash veterans, Anthrax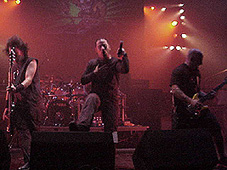 who gave us a good hour of classics like 'Indians', 'Madhouse', 'Caught in a Mosh, the brilliant cover 'Got the time' (still can't remember who originally did that one (e-mail me and let me know).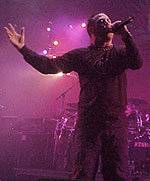 As tight as f*ck these US boys were too with ex-Armoured Saint vocalist, John Bushon Vocals - ok, it's been a good ten years or so he's been in the band, but time has flown. Although Anthrax were excellent, I just can't help feeling that I missed out on something special - it would be good if Joey Belladonna was there but sh*t happens and you can't have everything (there was talk about a US Tour with him but that went t*ts up)- I always wanted to see that guy wail like an air siren which is something that John Bush cannot do. That said, we were treated to a brilliant 'Bring the Noise' and to top it off, Charlie Benante was manning the drums.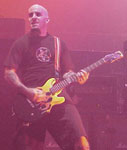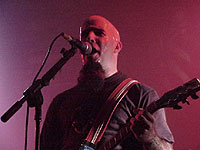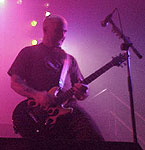 Headliners, Motorhead were very 'going through the motions' and they hardly played anything from the new album 'Hammered' albeit that terrible 'Brave New World' song - which was the single - god knows why when 'Walk a crooked mile' beats the sh*t out of it. The sound quality was a bit mushy , high ended and Lemmy was a bit too inaudible for my liking.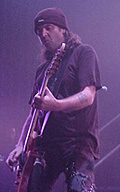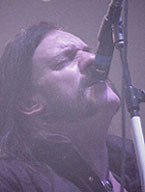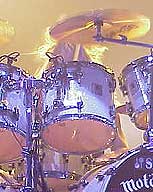 The set was boring about halfway in (with the awful 'Sacrifice' killing it off further, so thank god classics like 'Killed By Death', 'Motorhead' and the cover of 'God Save the Queen' were featured. The all important show-stopper 'Bomber' was there of course which was the focal point of the entire gig due to it including the new bomber rig (the original one got nicked!!).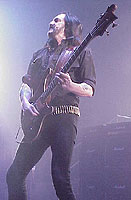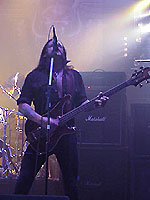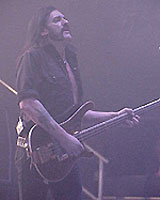 This must have been lighter unless they were only playing venues that could house it - unlike the first time around (Sheffield City Hall anyone) - this must have best piece of welding my eyes have ever seen.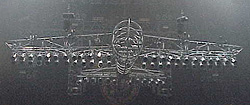 A pity that the majority of their set didn't reflect it's craftsmenship of the Bomber.
An Overall 7/10
By Glenn Milligan, BA Hons CS
METALLICA - Sheffield Arena,
Sunday November 1st 1992
(10th Anninversary of the Gig)
One of the miles stones in my life as a metal fan was my first encounter with James Hetfield and co. At the time, they were just over halfway though a two-year global trek on the back of the now legendary 'black' self titled fifth album.
Hetfield, poor geezer, had just recovered from his fiery Montreal mishap and had only just returned to his guitar duties a week or so before they hit Blighty. Missing from the tour was a support act, though Pantera had been originally rumored to be filling the slot but eventually hit the road with rival metal giants Megadeth instead.
The fact that Metallica were to play for three hours was some compensation but prior to the show, the band kept the punters amused with a 20-minute film running through the band's history plus a few words, live from their dressing room, most of which began with 'F'. "We've got about five minutes before we're comin' out to kick your ass. In the meantime, F**k You-u-u-u-u-u!" snarled James towards the camera.
Metallica's onstage arrival was heralded by the theme tune from western classic 'The Good The Bad And The Ugly' before they exploded onto the incredible rhomboid-shaped stage, with their all-time anthem 'Enter Sandman' and the folk lapped it up from the off. 'Creeping Death', one of the finest metal tunes ever penned, followed in tow with the then standard audience-aided chant of 'Die! Die! Die! Die!' before further 'black' album faves 'The Unforgiven', 'Sad But True', 'Through The Never' and 'Wherever I May Roam' raised more smiles, and almost the roof as well.
Established classics like 'Harvester Of Sorrow', 'Sanitarium', 'Whiplash', and 'For Whom The Bell Tolls' were, are and always will be strict staples of a proper Metallica show, as were Kirk Hammett and Jason Newsted's scorching hot solo spots. Lars Ulrich, drummer and stud member of the band was his usual manic self, the dynamic Dane diving to and fro between the two drumkits on the stage -which actually moved up and down along the boards and disappeared underneath when not in use.
'One' is a song you have to witness live as the pyro-generated 'war' effects that open the performance of this song really make it hit you hard in its harrowing meaning. I bet it made the people in the Snakepit (the spectator enclosure Metallica used to have in the middle of their stage during the nineties) jump, too. 'Fade To Black' with its routine wall of flame erupting across the stage, everyone who remembered this as the cause of Hetfield's accident in Canada, holding their breath a second, I should think.
The lads quietened things down with the hit ballad 'Nothing Else Matters' during which James enjoyed sitting down to do the job. 'Master Of Puppets' was one of those songs everyone got into from the off, even if they reduced it to half its length and roared abruptly into 'Seek And Destroy', which ended with a ten-minute-long sing-a-long session - Hetfield offering the mike to individuals in the audience for their few seconds of fame. Newsted regularly took the mike for this one now, and despite it being a Cliff-Burton -era composition, his efforts were as always warmly welcomed. A selection of covers climaxed the night's proceedings, including Anti-Nowhere League's expletive-laden lout anthem 'So What' and Queen chestnut 'Stone Cold Crazy' arousing the last applause of the night.
Ulrich, as always had the last word with the appreciative - and rather exhausted by then - crowd after bombarding them with a few sets of his personal drumsticks. One of the most characteristic men in metal, Lars always likes to let us in on how much his fans mean to him and the band as much as their music does to them. And to one particular fifteen-year-old teenager sitting up their in the seats that night.

10/10
By Dave Attrill
MAC SABBATH - TWA TAMS, Perth, Scotland, Saturday 9th March, 2002
I was at the TWA TAMS in Perth Saturday 9th March to see this Black Sabbath tribute show from Mac Sabbath. The TWA TAMS is a small, but well respected music venue up here in Perth. The place was absolutely mobbed, they turned people away at the door it was so busy

The band have a large light show and the stage was simply packed to bursting with guitar/bass stacks, drum kit and all the stuff you'd expect to see at a major rock concert. In fact this lot wouldn't seem out of place at the SECC really. The show begins with mood music, all creepy and then thunder and lighting the bell tolls and then the band appear through the mist and crack into the classic Black Sabbath track.
The sound was just awesome and seriously bone shakingly loud, but very smooth on the ears. Real quality stuff here. After the opening number they launched into Children of the Grave and the place erupted, heavy metal head bangers doing their thing and enjoying the chance to do it with a 150 like minded individuals. The whole night, everyone sang along, played air guitar, clapped, sang when instructed during Heaven and Hell and basically had a hugely indulgent evening of heavy metal.
The singer, Ozzy, looks like the man and interacts with the audience to keep everyone involved from start to finish. The crowd shouted for more, an ardent fan grabbed a mic and they chanted for more, more, more, the band obliged and played encores of War Pigs and the wild Crazy Train. Close your eyes and you're at a Black Sabbath concert, open your eyes and you're still at a Sabbath concert, the band look and sound the part, the light show is superb and the whole evening was like a major concert on a smaller scale. This band are well worth seeing, there back here in August at the TWA TAMS. This is NOT four guys playing Sabbath songs like a lot of so called tribute bands, this is a really serious effort and probably in my humble opinion the closest you'll get to seeing Sabbath live in your local!!
By Mike Strange (Guest-writer from Perth, Scotland)
(An ex-dedicated Black Sabbath fan..... now a dedicated Mac Sabbath Fan!!)
Yngwie Malmsteen - Sheffield City Hall, 22nd November, 1988
Set List: Rising Force, Liar, Queen in Love, Deja Vu, Far Beyond the Sun, Heaven Tonight, Don't Let It End, Dreaming (Tell Me), Keyboard Solo, Bass Solo, Drum Solo, You Don't Remember, I'll Never Forget (+ few bars of Street of Dreams), Guitar Solo (Trilogy Suite + extras), Crystal Ball, I Surrender, Black Star, I See The Light Tonight.
The hall was packed - this was Yngwie's biggest ever tour, and this time his vocalist was none other than Joe Lynn Turner of Rainbow fame.
The evening kicked off with Sabbath from Bradford. Generic thrash metal, lousy mix, and I'm afraid I was glad when they finished.
Then the room darkened, the smoke thickened, and those menacing chords floated into the air. We knew what was coming. Then BANG! There was the band, and Rising Force was the song. And there was Yngwie, posing, grinning, throwing plectrums, waving to the crowd, and playing like no-one else can.
The gig was fantastic. Liar was better than the album version. The room jumped up and down to Queen In Love. On ran a Roadie to insert a Wah pedal for Deja Vu. We all clapped along to Heaven Tonight. Out came the lighters for Dreaming....Lynn Turner was in good form, and sang his heart out. Even not quite having the range for Don't Let It End, or having to drop the key of You Don't Remember, I'll Never Forget from Ab to F didn't matter. And live, the song became a showcase for Yngwie's love of classical tunes, and Joe managed to sneak a few bars of Street of Dreams into the laid back post-solo section. Superb stuff.
And to finish off, a cover of I Surrender which made Blackmore seem staid by comparison.
Then the obligatory encore: Black Star and I See The Light Tonight.
Never caught a duff note from any of the band, they all seemed to be enjoying themselves. And I got to catch a plectrum too!
By Nicolas Samaniego
Megadeth - Rock City 11/07/01

Megadeth were awesome - coming on to Thin Lizzy's - The Boys are are back in Town and playing class songs like In my darkest hour, Train of Consequences, Tout Le Monde and Devil's Island- You get the picture.

The crowd were nuts - a nice mosh ensued which of course we joined in on. Dave Mustaine does not age - and neither do the rest of the band - pure class playing guaranteed.

Slamming out two encore spots which included 'Symphony of Destruction' and 'Peace Sells (But who's buying)'. Man this is Heaven!!!!!!

Only one quarm though - Dave Mustaine's vocals were a bit too low for my liking.

8.5/10
by Glenn Milligan, BA Hons CS
Melodica - Nottingham Rock City Saturday, 4th August 2001

It had been about 8 months since Ted Poley and Gerhard Pichler's band 'Melodica' had graced Great Britain's soil. But the wait was over for the crowd present that night in the small live room at Rock City.

The band treated the fans to loud 'n' blistering performances which included the gorgeous 'Summer Nights' (featured on the 'Acoustica' USAcoustica' albums) which sounded all the more radiant in electric form (that can now be found on the new 'Lovemetal' album). Talkin' of 'Lovemetal' (which was on sale at the gig), you ought to have been there to witness the title-track - it was a second-to-none blast of this guaranteed classic melodic rocker.
The track 'Never Let You Go' from Melodica's debut album 'Long Way from Home' was cranked out beautifully - much to the delight of audience!! Not to mention awesome renditions of legendary Danger Danger numbers like the up-lifting 'Bang Bang' and the delicious 'Under the Gun'.

Musically the band are an incredibly tight and gifted unit. Gerhard 'Super G' Pichler really is a fantastic six-string playin' talent and the rest of the live band which comprised of Joe Slattery(Bass); Marty Brassington - (Drums) both formerly of 'Norway' and Rick Cartey (Keyboards) of 'Brave New World' (who played an exuberant support set) are real top muso talent.

It's worth noting that Ted even threw out gifts to his loyal fans in the form of toileteries and various other bits and pieces that he had acquired from various hotels the band had stopped in - Now who says that an artist doesn't give anything back - Mr. P does anyway - Top Man!!

All in All, this was one of the best gigs at Nottingham Rock City this year.
Next Time - the Big Room - or possibly a nice tour support to a big-name
band - Hey, what about both?
10/10

By Glenn Milligan, BA Hons CS
MITCH MALLOY - Sheffield Boardwalk, 20th October 2001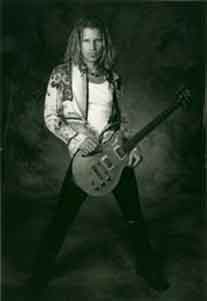 Saturday nights only get better don't they. Melodica, Vaughn, LA Guns, and now this guy turns up too. With a planet on the brink of war, 'we've been looking for somebody, to put our minds at ease' as a certain song of Mr Malloy's goes, to help keep the general atmosphere cheerful, difficult as it has been in recent months. Let's get down to brass tacks for a minute, here. This was supposed to have been a Nelson concert, with Mitch being the support act, but it later transpired the Brothers couldn't make it. The Double-M on the other hand was conveniently on the continent already, so to save us the misery of another great evening for AOR fans from the proverbial pan-hole. Mitch Malloy, the Nashville boy first visited ol' Blighty in September '99 for the Phoenix Rising stint at Manchester (where a certain Tikaboo Peak made their live debut). Having not already got any, but heard a reasonable amount of his stuff, I was looking very much forward to this show on his first ever full UK trek. Rotherham rockers, Deadline already renowned for their terrific shows at the 'First Contact' and 'Primed' mini-fests in our region, opened proceedings, with a set packed with material mostly new they also threw in a couple old faves 'Love's A Battle' and 'Losing Myself'. Another truly great South Yorkshire act destined for and deserving better following.
Enter Malloy, and 70 minutes of the very, very best modern-day American AOR followed. The selections came primarily from his sadly deleted debut and recent third offering Shine. A new song, previewed on the recent 'Union 4' Frontiers comp', rocked out to the unbelievably enthusiastic punters present here tonight. The show was actually very well sold with nearly 75 percent of the tickets snapped up, so congrats all round for that, folks. Apart from most of my usual close associates on the scene, I even bumped into the group of fans who were giving it plenty with the pogoing during the Two Fires show, at last year's Gods. Mitch, who plays at the latest Maximes megabash, actually had one of the most manic crowds I'd ever seen for an underground melodic rock show. The wooden floorboards definitely did feel on the verge as Malloy rounded up the (great) night's work with, what else …. 'Anything At All'. Of course, as long as it's you, mate.
10/10
By Dave Attrill
Motorhead - Nottingham Rock City, May 19th 2001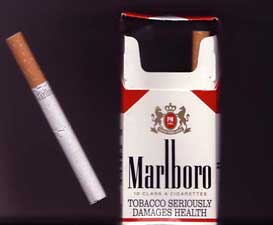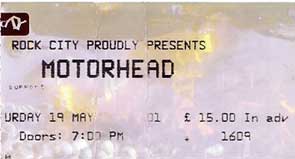 Well, we had waited for this gig with much anticipation - the mighty Motorhead were at Rock City - a band who have a loyal, die-hard following known as the English Army.

Lemmy's first words to greet us were, "We are Motorhead - and we're gonna kick your ass!" and guess what - they did. A whole host of 'head classics were witnessed on this noisy night that included 'Orgasmatron', 'Killed By Death' and 'Ace of Spades' plus new numbers like their ferocious cover of The Sex Pistols 'God Save The Queen' and the title track to their current studio album 'We are Motorhead' - they even played a Ramones number which Lemmy dedicated to his absent friend 'The late but great punk rocker, Joey Ramone'.

To say how long these boys have been around - they still seriously kick up some sh*t and hurl it out to the audience in large measures. Drummer, Micky Dee is just a powerhouse - his playing actually got more ferocious as the gig went on. Phil Campbell (who's now serving the 17th year of his Heavy Metal Sentence) was awesome and handled the job of six-string axe playing with electrifying stature. Of course, we can't forget Lemmy who's still a very strong contender for Prime Minister because he's such a grand spokesman!!! Mr. Ian Kilminster, M.P. wouldn't keep anything back - he's got about as much tact as Prince Phillip - 'F*ck 'em!!!' could well be his Parliamentary Campaign slogan - and I wouldn't put it past him either !!! We'd vote for him any day of the week!!

When it boils down to sheer professionalism, Motorhead delivered it by the truckload. Everyone left with their ears nearly bleeding and their hearts racing. Long may this band reign - this is British talent at its very best.

This is Real Rock 'n' Roll !!!

10/10

By Edward Melbourne and Glenn Milligan, BA Hons CS