Overkill - Corporation, Sheffield, Monday 8th October, 2012
Main Set: Come And Get It/Bring Me The Night/Rotten To The Core/It Lives/Electric Rattlesnake/Hello From The Gutter/Ironbound/Save Yourself/Old School/Who Tends The Fire/In Union We Stand/Elimination.
Encore: Coma/F*ck You/Powersurge.
Now this is a blast from the past. I remember seeing videos of these guys on Beavis & Butthead and the two of them freaking out when the bat came on the screen - hahaha - good times. Oh and they sometimes appeared on MTV's 'Headbangers Ball' back in the day too - mainly on the 'Into The Pit' ending section of the show.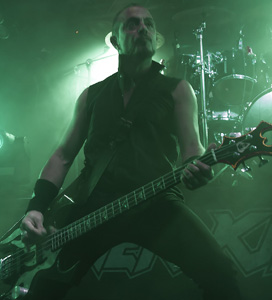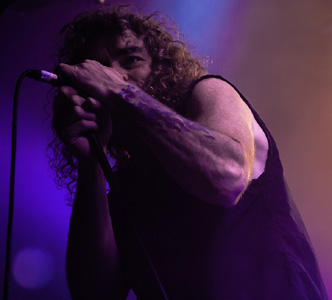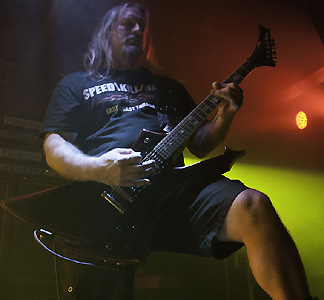 Now all those years on it's time for them to hit Sheffield as part of a four band line-up that's going by the name of Killfest. What blows me away in here immediately is the amount of people that the band have pulled to the Sheffield venue - I didn't expect it to be in the big room but was brilliantly proved wrong. It was healthily packed with loads of hair 'n' beards, classic concert t-shirts, leather and blackness all over with plenty sporting brand new Overkill garments too. Plenty of women in here as well (well more than I expected anyway) as bands of this nature usually pull hairy ass blokes only but I was again blown out the water on this factor too - all good.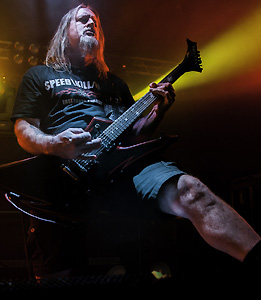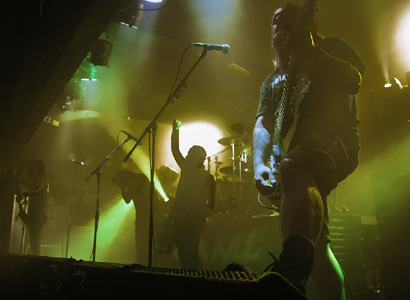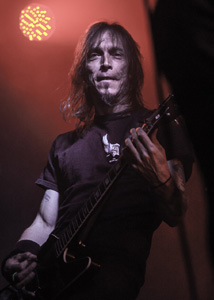 I've never seen so much gear on stage - this was wall to f*ck*n' wall backline just about with outstanding lights about and either side too. Overkill are a band who you can tell have put a great deal of money back into improving what fans see when looking at the stage, not to mention the sheer pristine power of their 80's Old School Thrash Metal that they have a go at deafening us with in here tonight for a good 90 minutes. I was totally amazed that their drummer, Ron Lipnicki was real high up on a riser and about a foot below the roof lighting!! That dude must have been literally frying like a body in a crematorium after the 1st five minutes of the show - it beats the hell outta me and many more people how he did it and not even miss a single beat.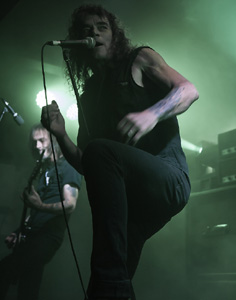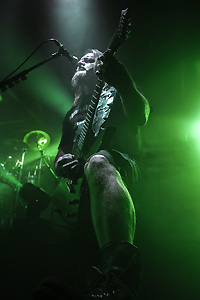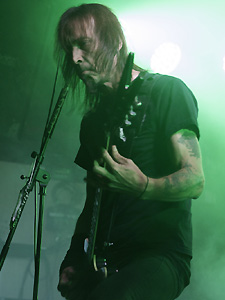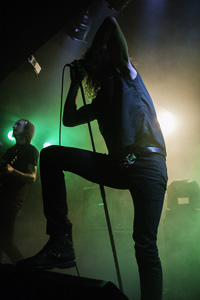 The clarity of the songs was pretty good but I did find that Bobby 'Blitz' Ellsworth's vocals were lost in the mix a lot, making it hard to hear what he was singing, wailing, roaring, screaming and shouting at us which for me dinted the overall show from a sound point of view. At times he was gripping on and balancing from the front of the stage but didn't slip - what a guy and worked up the crowd continuously throughout the show. Dunno how he keeps that voice going as it's full on all the time without one ballad - not that you'd expect one - hahaha. The guitarwork from Dave Linsk & Derek Taylor cut through excellent with a multitude of high ended notes and shredding virtuosity mesmerising the peeps in here tonight, with the odd plectrum being hurled into the crowd too for the hunger pleasure of the pick collectors. Bassist D. D. Verni laid down a top notch groove too with all the members proving an array of backing vocals throughout the show.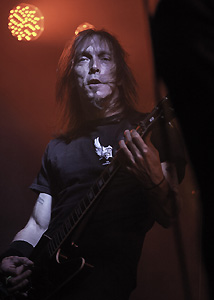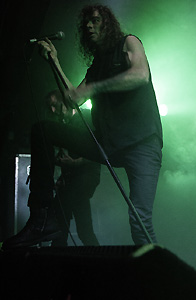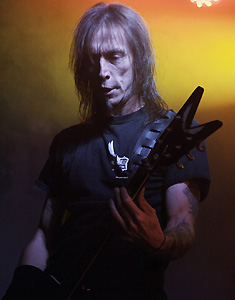 Highlights of the show included the brand new number 'Come And Get it' that kicked off the show and fan loved classics like 'Rotten To The Core'; 'Hello From The Gutter'; Ironbound'; 'In Union We Stand' and 'Elemination' with many of them introduced with beastly ferocious passion from Mr. Ellsworth. He let the fans bawl out the titles too before the 'kill blasted into them thus creating a tremendous build-up of excitement in the room. The encore was a real partyville to say the least with the guaranteed singalong 'F*ck You' creating quite a stir with a mass of middle fingers hitting the air - hahaha and 'Powersurge' which was like Macc Lads gone thrash - crazy cool stuff indeed. In fact some of the gig felt like several encores towards the of the show as it often went to blackout with the band nipping towards and into the dressing room for a quick breather and well needed water no doubt.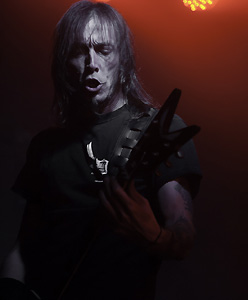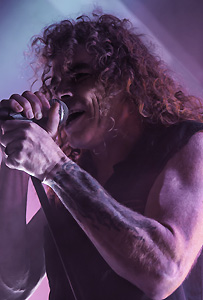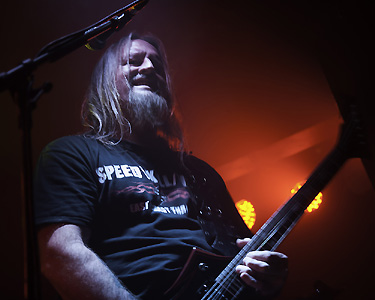 It was killer to see that they are playing the new single 'Electric Rattlesnake' (from new album 'The Electric Age') the video for which I was watching the night before on the venues website, not to mention Bobby saying how much he liked his friends here in Sheffield and would be telling other bands he knew to come over and play for us. It looks like it's a done deal to be honest with you after these crazy mentalists (aka hardcore fans) were raving like sh*t at the front as well as a few doing a bit of crowd surfing too. I bet there were countless bruises and pain the next day when the beer wore off.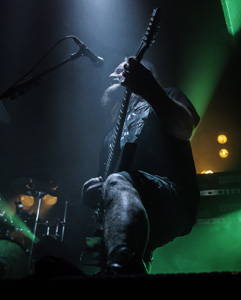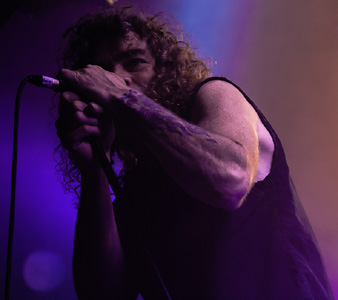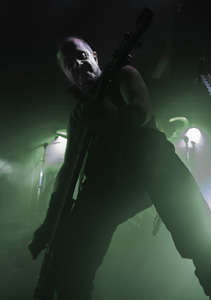 A perfect gig for the hardcore thrashhead. Can't see it being too long before Overkill return to the Corp'.
8/10
Review By Glenn Milligan
Pictures By Nigel James
OPINICUS/Ziyos/And Abide/8 Deadly Words -
Corporation, Sheffield, Saturday 28th January 2012
All these years down the line, Sheffield's premier metal club delights in bringing us a night of the mightiest in local talent in between all the bigger name acts brought in monthly. Eight Deadly Words are fresh from a recent line-up change which has seen Jerome Perks - former shredsman for sadly defunct AOR hotshots Tikaboo Peak join the fold. As with the lion's load of female fronted formations, this quintet proceed to pester every corner of the metal spectrum within a six-tune set. We get goth, grunge, hard rock, punk and classic rock in beautifully-voiced collisions, their stunning front woman in possession of some like-describable pipes. Impressive first hear of another diverse local troupe taking off the runway, I may be trapped for titles so far yet but some of the best should roll off my mouth within another set.
And Abide turn out to be a five-piece scream core outift, peddling largely student-pandering fare but not without some fine progression moments that keep me away from the bar and engaged. At least two old-school metal rhythms make it into each number, biding plausibly for potential crossover. Getting somewhere, for once this genre, while being one that as you might know I approach often cautiously, does however throw up its few exceptions. Stay this way, boys.
Ziyos are old-school metal to the very letter. Their Alice Cooper lookalike - and indeed soundalike frontman is a real showman himself. Treating us to not only a clutch of their wonderfully penned trad metal numbers but also doing a cover of the Coop's 'Feed My Frankenstein' above justice, their twin guitarists build a lusciously thick wall of chords behind the singer's cackling range. Even most of the kids in attendance for and Abide stay around to enjoy a band almost at the opposite side of the metal genre compass. Closing off with another of their gritty originals, tacking the intro to Kansas' 'Carry on Wayward Son' onto the front testifies these boys are serious as much as set on having fun at the same time. Safe to say I very much did too.
Opinicus are a much talked-about act prior to tonight and probably because of line-up change in recent years that has seen new vocalist Carl Scott take to the helm. Complaining to me - quite understandably so - recently about how their 40-mnute slot space would severely minimise the number of tunes they hoped to include, Carl doesn't look the least bit ungrateful ontstage as he throws his shaven headed menace of a growl to the front with every cut of their bludgeoning melodic death sound.
Extreme metal, though often notorious for its lyrical indecipherability gets a commercially favourable layering from this five piece, as the vocal lines bounce out as rhythmically as the twin guitarists' Testament-meets-Nile grindiness. Solos are as fast as to be expected but the rhythms meanwhile treated to plentiful variations, seeking the outbreaks of head banging from the rows closest to the stage. Carl and the guitarists take their turns at mounting the stacks and later on, the floor amongst their public, the moshing kept surprisingly to a minimum unlike what And Abide's set witnessed. We witness in Opinicus, an outfit doing what promising young metal acts do importantly best.- stirring up a crowd and keeping them loud.
Here's to hoping another show is simmering closely in the pipeline.
9/10
By Dave Attrill
John Otway and Wild Willy Barrett -
The Backroom @The Greystones, Sheffield, Friday 3rd June, 2011
Well sadly the legendary Boardwalk shut so i t was up to The Greystones to witness one of my favourite live duos - the epic twosome that is Otway and Barrett. The Backroom where the gig as it's called was jam pack solid for the evening and steaming hot which creates an atmosphere in itself. I don't think that many of the peeps in the audience here had witnessed the madcap musical carry-on from these incredible performers so I reckon some would be shocked at some of the wackiness up there on stage.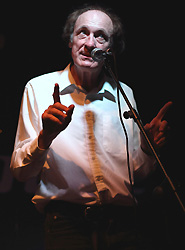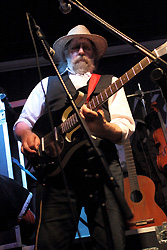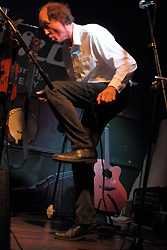 John & Willy proved to be as hilarious as ever with instruments galore, not to mention their straight dry and sarcy wittyness of Mr. Barrett versus the off-the-wall, misfitting, zaniness of Mr. Otway. As my buddy Bernard Froggatt says, "If you don't find them funny, then you simply don't have a sense of humour", and how true that is - luckily everyone did - hahaha. In such a momentous show thre was an absolute mountain of highlights which makes it seriously impossible to remember them all but I'll give it a go in no order whatsoever. There was the top of the pops classic that was 'Really Free' that gave Willy a buzz for about a week and John for the reat of his life from there onwards and 'Body Talk' that featured Otway on his out-there body drum machine and scooby doo sounder - sorry I mean Theramin, where he larked around creating low bass fart noises getting Greystones in histerics and then some...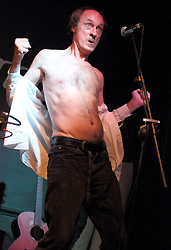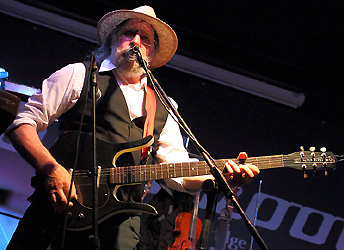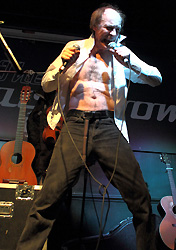 Or what about their worst song ever as Willy puts it that John said was a kind of his version of Elton John's Nikita about some chick who worked in Russia - the title escapes me properly but was hilarious featuring Willy on the balalaika that was actually came from bristol; the tremendous 'Beward Of The Flowers ('Cause I'm Sure They're Going to get You, Yeh)' that got to number 7 in the Top songs of the millenneum, while The Beatles Yesterday was number 6! The tribute to one of John's mates 1st car that was a Volkswagen Beetle entitled 'Racing Cars (Jet Spotter On The Track)' that featured Willy on what looked like a mini steel guitar where he imitated the sounds of a racing car perfectly. Of course, I've left one of the best things to talk about til last wivh was their in-house magic wheelie bin that created all the different sounds for Willy and his array of stringed instruments - by flipping the flid of that bin open he could have a wild full-on distortive metallic guitar wail blasting out and when shut a bassier ambience - total genius!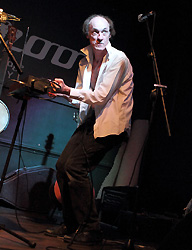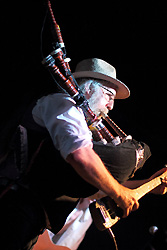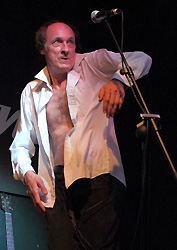 Hey the night was even finished off with some playing on the bagpipes coupled in with electric guitar and acoustic from Mr. Otway as well. And how can I forget the popping of Johns shirt with buttons flying everywhere a few songs into the gig or his gag about now being a musician like what Willy is - not that Willy appeared convinced of course - classic. Oh they don't do encores by the way, though Mr. Otway likes to get offstage and jump back on at the end while Willy stops up there and waits for him - hilarious.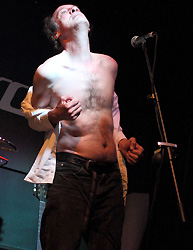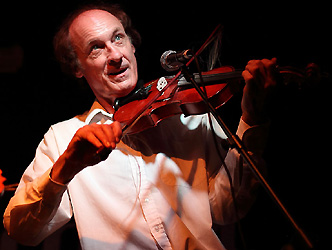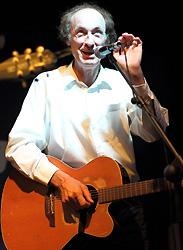 And don't forget that Willy is an enigma, that he kept reminding us of during the set - which os why his website ain't up to date - lol. Overall this was a concert with so much packed into it and worth every single penny for certain. Surely sawing up a guitar on stage is a crime not to mention brutalising it with a hammer too - oh well, Oor Wullie got away with it tonight and said you could buy the guitar after for £37, so they get a new one for the next gig - a perfect birthday gift if ever I saw one.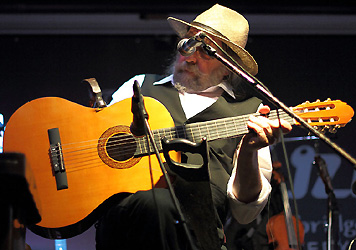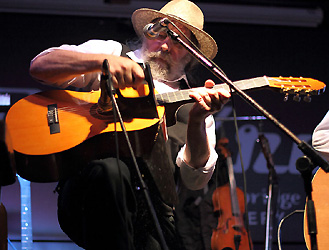 Be sure to catch 'Wild Willy Barrett and The Sleeping Dogz' on Monday 20th October 2011 and 'John Otway and The Big Band' on Sunday 26th November 2011 as these shows are equally as good. I know we'll be there. Outstandingly Exceptional Night and a brilliant introduction to The Backroom at Greystones.
10/10
Review By Glenn Milligan
Photographs by Bernard Froggatt
OZZBEST/Gods Of Hellfire - Dove & Rainbow, Sheffield, Friday 13th November, 2010
My first experience of live music at the Dove in almost 2 years picks up where I last left… being introduced to two excellent new bands…though one of which pays tribute to the music of another excellent…old band.
The other thing in common being they have the same drummer, newlywed Robb Philpotts behind the skin for both sets, some lucky Sheffielders- and one big chap from Bradford - are going to be in for one bleeder of a noisy evening. Gods of Hellfire, the outfit peddling original material tonight play heavy metal as classic as the headliners later proceed to treat us to . Their Trouble-meets-Monster-Magnet-meets-Metallica (circa black album) assault fails to relent for a minute, sending up more booms than you get in one of Baldrick's war poems. Speed is set aside for substance, staged with a brutal twin guitar grind plus pleasant 70's flavoured solos while there's also an impressively rare instrument in Rich's burgundy Rhoads V with reverse headstock.
Only getting five songs in tonight, it still seems to sound like seven or eight owing to the complexity of one or two with a midway stop-start arrangement. Nevertheless, these are instant belters that should be played to those who appreciate the roots of the genre, and not slaughtered by stripy-socked student wannabes with less better to do at college lunch hour. True metal to be respected by true metal lovers, the respect these guys earn tonight will doubtlessly bring them back before you can think about asking them. I'm missing them already the second they finish.
The 'r' word itself applies without saying as Ozzbest stake to the boards for nearly two hours of the most iconic metal tunes ever to rise from the earth's steaming hot crackling surface. As the old saying 'clue is in the title' prevails, it is both Sabs and solo material on the menu tonight and in matching doses too. Opening with two Ozz tracks instead of an Iommi -penned number would have still batted eyelids but the air guitars are already beginning to set in. Phil Blackwell is everything you want to see / hear in the Ozz himself wings, shades and most importantly throat - this chap has a pristine resemblance to the Prince of darkness in his prime. Performances of cornerstones such as 'Flyin high Again', 'I Don't Know', 'Sabbath Bloody Sabbath', 'Iron Man', 'Black Sabbath', 'War Pigs', 'Bark At The Moon', 'Mr Crowley', 'Crazy Train', 'Shot In The Dark' and of course… that one beginning with 'P' …anyone remember what its called…. (fnarr, fnarr…) put it to a test also passed with flying A's by their talented axeman Paul Evans here.
Randy and Tony's solos are reproduced for our pleasure mostly not for note with individual swagger, 'Para-you-know-what' also for once not being murdered at the middle eight the way some many other outfits in decades since, paying their so-called homage, have tended to do. Whether the manic air guitar match in abundance for the final encore stage is in celebration of this authenticity or the consequence of a shot too many accepted from the pretty Jagermeister ladies in house tonight matters les than the fact that this lot were out to create an atmosphere and succeed hands to floor. The real Ozzman may play to several thousand every night but Ozzbest are evidently content with forty punters in a pub given the audience noise levels seem this matched. Let both these outfits make your weekend one day soon .
Awesome.
9.5/10
By Dave Attrill
John Otway & The Big Band - The Boardwalk, Sheffield, Saturday 9th October, 2010
Not seen John since he was here with Wild Willy Barrett last year and sadly missed his solo show earlier this year - but lo and behold, he's here with the big band. Opening up with 'Really Really Free', the hit he had with Mr. B in the late 70's he immediately makes his mark literally all over the stage floor with all of his body by doing madcap roly polys complete with the Red Gibson SG in tow. I am surprised he didn't impale himself with said guitar in the style of Angus Young on 'DC's 'If You Want Blood' Live album (but later told me he's been doing it years and keeps on with it so he can simply be able to do it 'If I stopped to too long I wouldnt be able to do it anymore", he tells me after the show - he also got us singing on acapela with him on it because it was a big hit and needed to last it out - hahaha.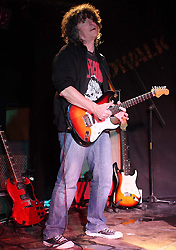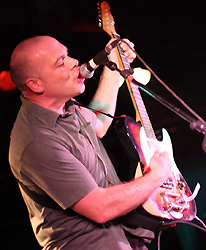 'Beware the flowers, cos you know their gonna get you yeah!' soon follows in all it's glory - a song that got higher than the The Beatle's 'Yesterday' in top 100 songs of all time poll - no feat indeed that we all sang along too in good old Otway form. And who performed the Tom Jones classic for the famous Weetabix addvert, why it was John and the big band of course because he was a star at that point, since having 2 hit songs already with 'Delilah' giving them a Number 186 chart position - well at least it got in - hahaha - and lo and behold we endured and love it tonight too - nice one John.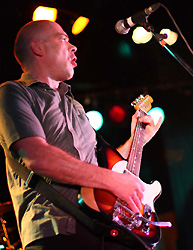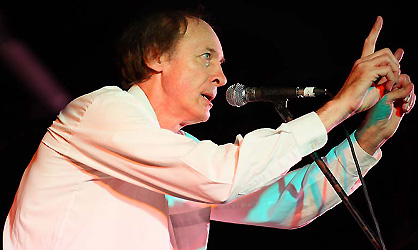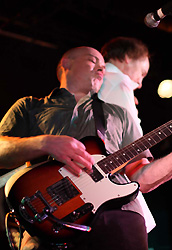 I could not help but laugh at his madcap coathanger with black tape effigy that was pure 'Blue Peter' style with mike fitted in the middle to save him having to hold it - miles more entertaining than those used by the likes of Def Leppard etc in the late 80's - especially when it moved to one side and he chased the microphone like a dog trying to catch his tail chase as wel as looking like a cyberman when put the contraption on his head - quite silly but brilliant and only John could get away with the daft goings on - you can't beat a self send-up

.
Later he became Sir John Otway (as knighted by Hot Rod Axe Slinger Richard) and claimed 'We Rock' with the epic song of the same name that he got the title of by taking out the 'Will' and 'You' from that famous Queen ditty to make epic rock number off his own, telling us how easy it was to create one. For more rockness cred he his rips shirt open firing buttons all over the fans and boy did it rock! 'Bunsen Burner' blew the disco doors off with members of the band dancing away in time to the tune of 'Burn Baby Burn' with plenty of theramin 2/3 way in. What a bitch to be ignored by Christina Aquilera on top of the pops but she must be - well at least the band got to hang with shaggy when they performed said song on there. Anyways, you ever heard 'House Of The Rising Sun' done with a question and answer style with those present in the venue - well that's what happened tonight in the Boardwalk and no doubt at every Otway gig and it works perfectly as everyone knows the right lines.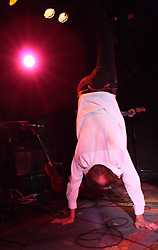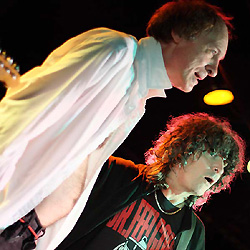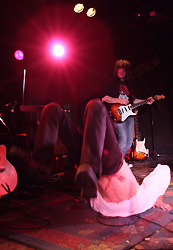 These guys have so much personality and camaraderie on stage with John pulling the lead pulled out of Rich's guitar, "End of solo" he exclaims much to our amusement - lol - to make way for one of his theramin solos. For us sickos both on and off the stage we are treated to the twisted punky sounds of 'Rumplestiltskin' - "Give us the baby, Give us the baby, Rumplestiltskin, Rumplestiltskin" yeah - it's just downwardly wrong and f*ck*n' great - espeically when Mr. O sings, 'drop the baby, drop the baby' followed by Michael Jackson, then just does that - it just aint right and neither are we - pmsl!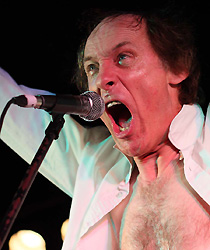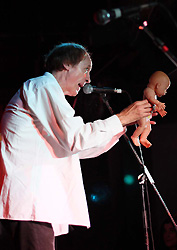 The atmosphere then totally changes with the acoustic serious sounding ballad 'Josephine' before stepping up a few gears with Eddie and The Hot Rods 'Do anything you wanna do?' and as John said, "Richard left to join the Hot Rods, came back, had the cheek to teach it us and we play it better!" so I guess I need to see that bunch to see if he is right. There's a song with the leaping off of stepladders to the roof from John - which was so funny that I can't remember which number it featured in with Rich later climbing the same ladders performing a guitar solo in the gods and taking a lead out of John's guitar - revenge is sweet. It was back to the theramin for John's favourite Osmonds tune 'Crazy Horses' - you mean they did other good songs - I assumed this was the only decent one out of a pile of doodoo. You just cannot beat those insane poses and expressions he makes because they completely match the sound of the machine in motion.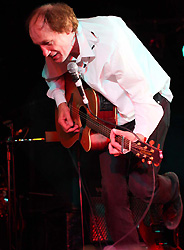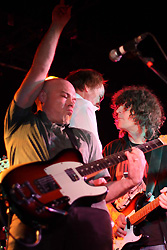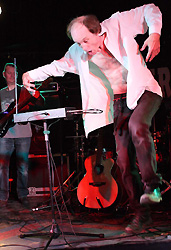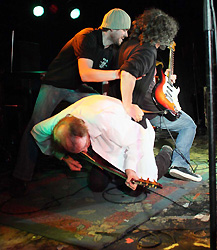 For an encore the instruments are ditched for a painless accapella number (well for the big band anyway) as they do the hard hitting (or that hitting hard) 'Headbutt' by Wild Willy Barrett and from where I am sat I can see the bump throbbing on John's forehead as he nuts the mike everytime he says the song title - the best bit though is when he freakily turns the baby's head to look the audience and then throws it at the mike and knocking it (with stand) to the ground. Now that's what I call a grandoise ending to a concert like no other ending I've ever seen.
10/10
By Glenn Milligan
Pix By Bernard Froggatt
John Otway & Wild Willy Barrett – Boardwalk, Sheffield, Friday October 2nd, 2009
Well here are 2 UK Legends that I gotta say I couldnt wait to get accustoned to the sights and sounds of after hearing how god they were from my buddy Bernard Froggatt and Co-Promoter of the Boardwalk, Chris Wison. Believe me I wasn't dissappointed.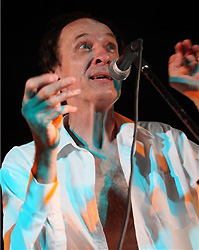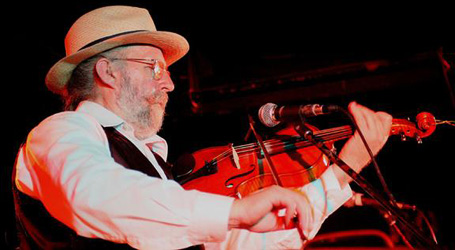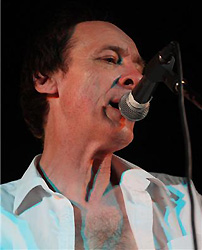 Many bands hide in the back in their dressing room but not these guys who are out in the venue having a beer and talking away to fans and friends – that impresses me immediately. I have never seen so many instruments on stage before that included various guitars, some bagpipes, a violin and to top it off a wheelybin – a wheelybin – I hear you exclaim – yes a wheelybin which was used as a wacky echo chamber and volumeand the lid flipped when the electric guitar sound was required!!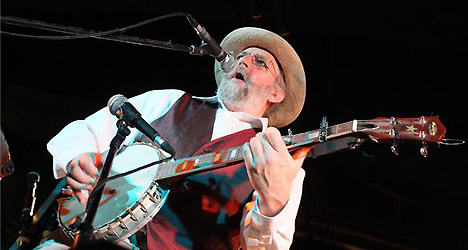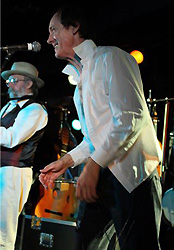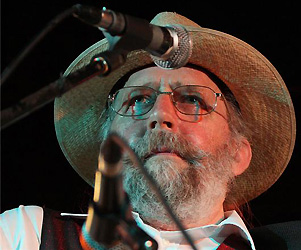 From the moment they hit the stage it was a musical comedy that was a cross between watching Morecambe and Wise and Bob Kerr and the Whoopee band who were here in this very venue in July. Willy is the straight man who is the brilliant musician and John is the wacky comedian with an out-there zany humour that bounces off the remarks and puzzlement from Willy – seeing and hearing is believing and can't really be written dowen in words to be fully appreciated.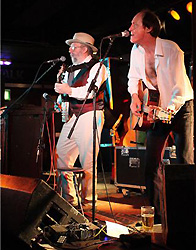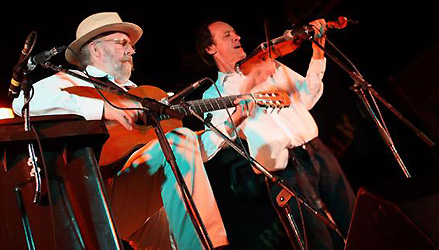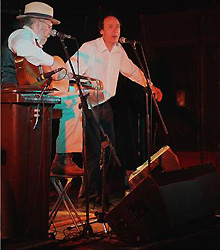 There's plenty of banter throughout the evening that is split into 2 parts – wahoo – an Interval of pleasurable drinking so we can talk about the show so far – nice one lads !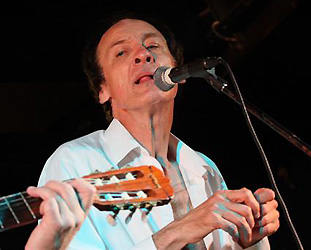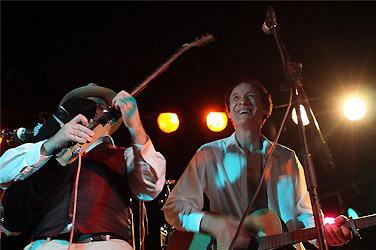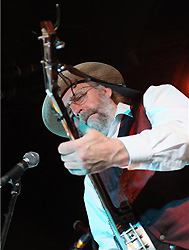 Highlights of the night songwise include classics such as 'We Rock'; their only hit 'Really Free'; 'Headbutt'; 'Beware Of the Flowers' and 'Bodytalk' that featured John on theramin and on this human drumbox machine that was around various parts of his body.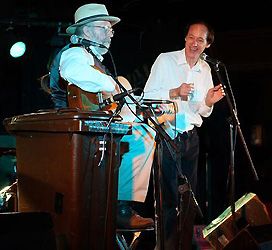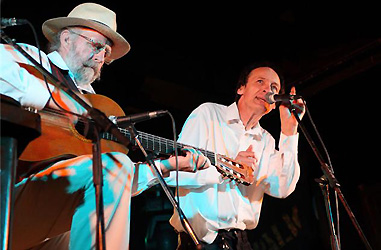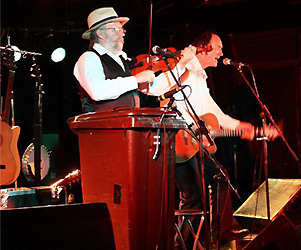 John joked about the fact that he was such a guitarist now, much to Willy's amusement and about the fact that peeps thought he was a punk when he wasn't. Love the movements of his and his Pete Townshend like impressions which he did purposely, as well as his mad dancing and jumping around as much as possible to put Willy off – it didn't work though. He even bust all his shirt buttons for us to reveal his chest – wonder if anyone got hit in the eye by one – hahaha.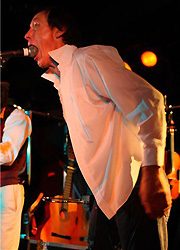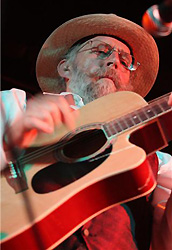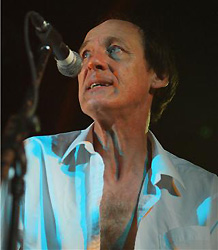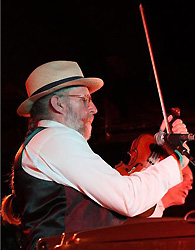 Overall this was a pure joy of a show that featured a good variety of rock, folk and country music – oh and a bit of good ole punk too. Tonwards the end of the night Willy started sawing into his guitar in perfect note and key to the song they were performing - pure insanity bordering on genius - or is that other way round.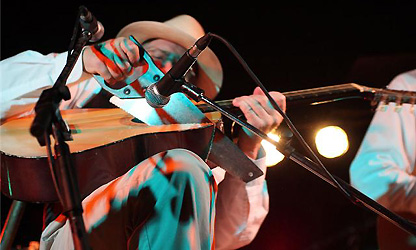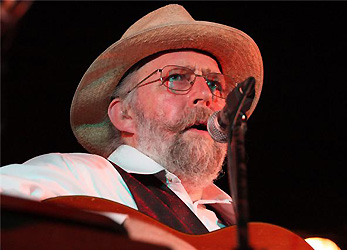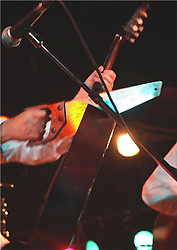 Nights like this don't come around very often – another good reason to bless this venue and those who support and keep it going.
10/10
Review By Glenn Milligan
Pictures by Bernard Froggatt

Oliver/Dawson's Saxon – Sheaf Square, Sheffield, Wednesday 30th June, 2009
Well on the way to work I sat there on the Supertram turning over the pages of the free paper called 'Metro' when I saw a gig preview that stopped me in my tracks – luckily it didn't stop the tram from moving though – hahaha.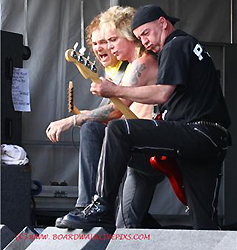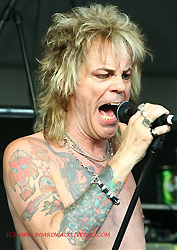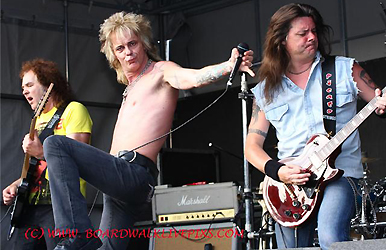 It said that Saxon were playing a free gig in Sheffield at 5pm as a celebration to 30 years of the band and a Celebration of umpteen years of the film 'This Is Spinal Tap' – cool as! Of course I let a few mates know as well to get a good posse down for the gig via the old text-appeal and found out wher the hell 'Sheaf Square' was – a work collegue though it was where the old market place was but it turned out to be in front of the Railway Station. Come 5pm I go down to the area now known as Sheaf Square where a good few peeps had gathered – not to mention a buddy or three or more like French Fred, Bernard & Sarah Froggatt, Rich from Shrine/Seventh and tons of others. There was a support band booked who were there ready to play but something weird was going down – or should I say – not hapnin!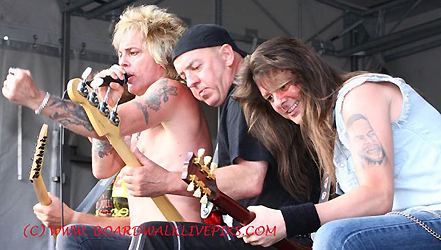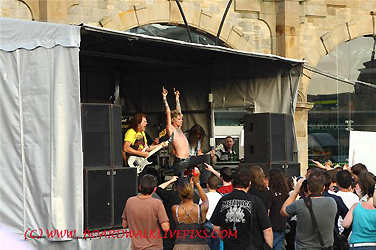 It seems that the City Council had not made sure that the power was going through to the stage and mixing desk etc. 2 council guys were seen to be fiddling with the electric box but couldnt get it working and the main guy had gone home for the day – no doubt all that needed doing was about 4 swiches clicking to get the action heard – but of course no one was around and qualified enought to do that – or insured to do that more to the point.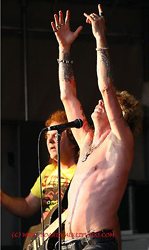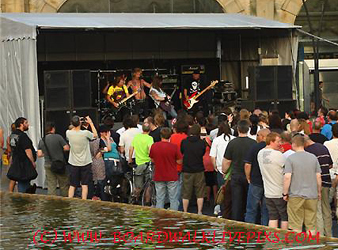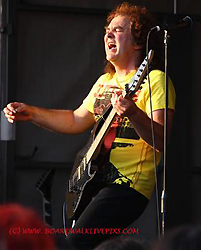 The support bands time slot sadly came and went and even Graham Oliver himself was having doubts if the gig would happen. Then at about 6.45 we get power much to everyones relief – we all thought they had jinxed it mentioning Spinal Tap (who Saxon are based on – sorry – it's the other way around – hahaha) as this was a purely Spinal Tap occasion to be had right here.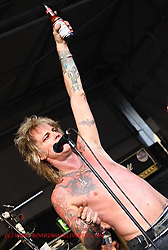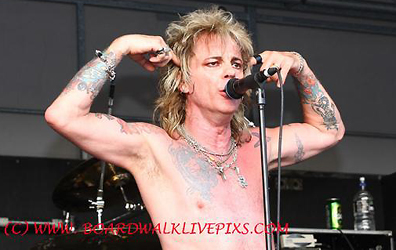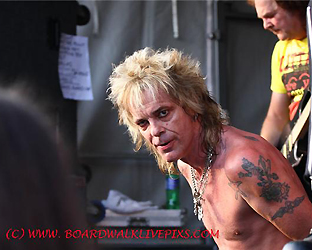 So after a long intro of war sounding muso stuff O/D Saxon climb up onto the truck-stage and launch into 'Redline' that Biff's band don't play very much. Qualitywise it didn't sound too bad at all, especially considering that they did even do a soundcheck. John 'Wardy' Ward said what a great day it had been in Sheffield since the sun had shined throughout and during the gig too and went onto to inform us that he had been told he wasn't allowed to swear during the performance and then after asking if there were any Bon Jovi fans in the audience, told them to f*ck off – haha!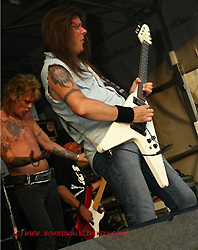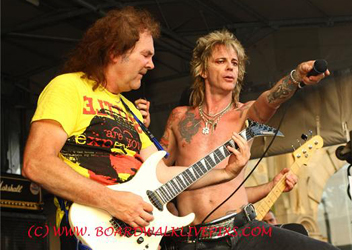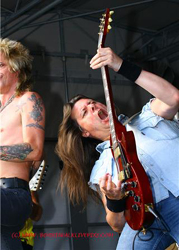 Second song in and its one of their own numbers – well I mean an Oliver/Dawson's Saxon number if you get my drift called something like 'Crossed The Point Again' and asked us to come closer to the front hereafter – which of course many did to get a god ear bashing. 'Strong Arm Of The Law' was up next much to everyones delight and thoroughly enjoyed.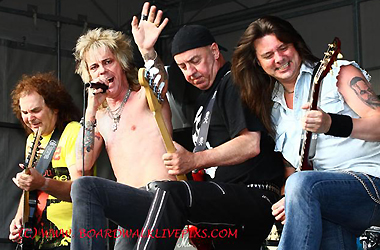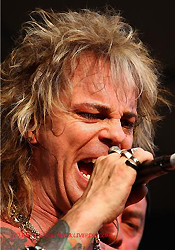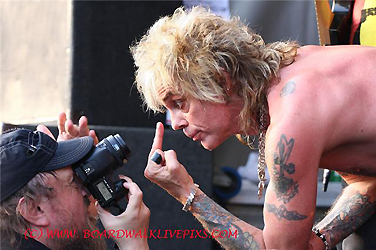 Ironoically enough Wardy spotted some cops walking around so he asked them if he could swear during the next number 'Whipping Boy' who laughed and gave him the OK. There's was plenty of usage of the word 'F*ck*n ' during this number as well so good job he asked – dontt want thim to get arrested do you? It went don't well but of course it was cuts like the next number 'Dallas 1pm' about the shooting of John F. Kennedy that went down the best. Mr. Durham sounded magnificient through this and pounded out a solid loud beat throughout – not that he didn't in every single song of course.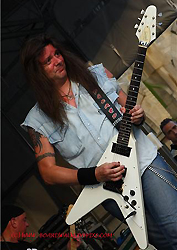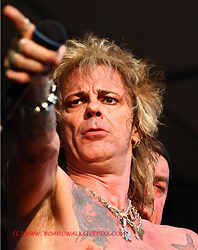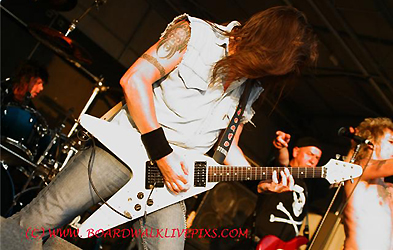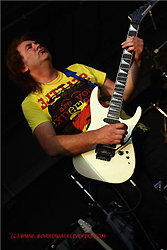 Wardy joked that he was waiting for everyone to get in the pool and that it'd be funny for the whole to get in – then again they'd get electricuted. A hardcore fan or member of the entourage shouts up the next number 'Victim U' which was a real piledriver of a ditty' and went down great. It got real loud when Dobby 'D-Cup' Dawson started up 'The Eagle Has Landed' (though Biff owns the Eagle of course)' that the crowd totally f*ck*n' loved'.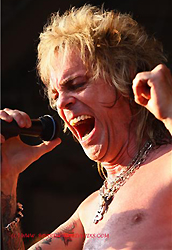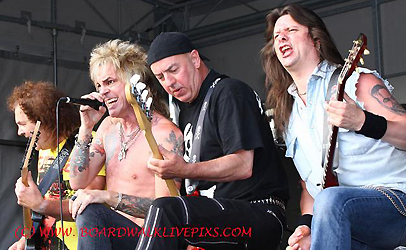 Haydn Conway's solo was up next and he gave his own interpretation of Van Halen's 'Eruption' before they ploughed into the classics 'Princess of The Night' and the number that no Saxon is complete without – I'm talking 'Wheels Of Steel' of course that we all joined in on of course – good job. The guys went off for a very short breather hereafter but came on for 1 more number, ironically enough, 'And The Bands Played On'. One gig you would never have expected happening in a million years, especially free for the taking – well it very nearly didn't – glad I was there to witness it as it was the 1st time I'd seen the other version of Saxon.
10/10
Review By Glenn Milligan
Pictures by Bernard Froggatt

OPETH/Cynic/The Ocean – SHEPHERDS BUSH EMPIRE, London, 20th November 2008
Stan Bowles and Gerry Francis were in the QPR team the last time I set foot in Shepherds Bush. The Uxbridge Road Panini House came heavily recommended, and the chicken ciabatta did not disappoint. The Empire Theatre was designed by Frank Matcham ten years before he built the London Palladium, and still retains much of its Edwardian charm. These days it is flanked by an O'Neills and a Walkabout (sigh).
I plumped for a £3.30 Stella Artois in the latter; I was struck by the thought that if all bars contained as many Opeth fans as that one did, the world would be a much better place. Initial reports from the tour had suggested that fans were disappointed with the length of the sets – Birmingham only got to hear eight songs from Opeth the previous night, with 'Bleak' being omitted to adhere to the curfew. Mikael Akerfeldt actually posted to the forum a couple of nights ago, defending the Setlist.
Hoping it wasn't going to be a repeat of the lackluster Brixton show in April, I managed to snag a seat in the front row of the balcony. The view and sound were incredible, as I had been told, the Empire proved to be an even better venue than Brixton.
The Ocean ~ 7.30-8.00
First up were Berlin prog/death metallers The Ocean who demonstrated some strong material – two singers were featured; for me the growling from Nico Webers was a good deal more interesting than Michael Pilat's straighter stylings.
6/10
Cynic ~ 8.15-8.50
Set List: Nunc Fluens/The Space For This/Evolutionary Sleeper/Veil of Maya/Uroboric Forms/Textures/Integral Birth.
What can I say about second band Cynic's stunning 35 minute set? This was probably the best supporting set I have ever seen – they were that good. The Miami 4 piece were quite superb as they took us through some selections from the new CD 'Traced in Air', plus a couple of favourites from the classic 'Focus' album.
10/10
Opeth
OK, so how the hell were Opeth supposed to follow that? By doing the best set I have ever seen them do, that's how! Kicking off with 'Heir Apparent', it was clear that the enthusiasm missing in April was back with a vengeance.
Demonstrating how the band now have a few bob to spend, a large video screen at the back of the stage was used to illustrate the songs – for Heir Apparent we were taken on a headlong charge through a forest. We then moved to 'Ghost Reveries' images for a version of 'The Grand Conjuration' that was an absolute revelation – infinitely better than the studio version, and featuring a funky jam near the end!
The stage was then bathed in red light for a pure version of Still Life's 'Godhead's Lament'. The Lotus Eater' followed, and then into a fine 'Bleak' without pausing for breath. Akerfeldt was on form, his usual observations included a promise to perform 'Hope Leaves' as sincerely as Jon Bon Jovi would.
Although Mikael claimed to have stolen the tune from ABBA, the 'Deliverance' that followed proved that this is the finest song ever written (probably). The set closed with 'Demon of the Fall' which was an opportunity for a particulary frenetic pit (It doesn't half look fun when you watch it from above!)
The encore featured a terrific reading of 'The Drapery Falls', and then we were out into the night. Ok, so at 90 minutes the set was shorter than the 2006 tour marathons, but I didn't feel short changed – it was magnificent.
Note for my Brazilan readers – Opeth are playing Brazil in March – go along!
10/10
By Roy Evans

OPETH, KATATONIA & NOVEMBRE -
BRADFORD RIO, 5th December 2001
As we arrived at Bradford Rio's nightclub all excited to the thought of it's Opeth, we were greeted by that eerie feeling of, have we got the correct day? Ok there are two coaches and a campervan, where are the fans? The lights are on and no ones at home, then it dawned on us its Bradford, they don't let the fans in until the first band are half way through their set.
Novembre hit the stage as Glenn, Paul and I walked in with a bouncer and the receptionist shouting 'they are ok to go straight in, they're press'. As we entered the hall Novembre were half way through their fist track and playing to a hand full of Fans! So called press! Bar staff that was it they were playing to the bar staff.
As Novembre ripped through their thirty-minute set the so-called fans were just arriving into the hall to clap and cheer to the last track. How pathetic, everywhere else in the world, people arrive at a gig before the bands start to play - not at Bradford - they turn up when they finish. Novembre did a good set of powerful thrash metal and grindcore to the pitiful crowd, people don't realise, that backing bands like Novembre are tomorrows headlining bands, but if you don't hear them - then they disappear.
As the crew packed their instrument away, we managed to grab an interview with Novembre, and with doing this we only got to see Katatonia play their last two songs, but the amazing thing was that Bradford Rio's was full and nearly busting at the seems as the crowd were enjoying the delights that Katatonia were handing out through their music, what I saw of Katatonia wasn't bad, but again it would have been nice if I had had the pleasure of listening to them on CD so I would have been familiar with their style.
As we relaxed to the deafening shouting of a now over excited crowd, Opeth hit the stage to an almighty cheer, the unbelievable new CD 'Blackwater Park' was going to be more than an experience if they could play it live as they ripped into 'The Leper Affinity' and yes they can, the complexity of their music was going to be hard to do live and Opeth stood proud as if they had been playing their instruments before they could even crawl.
It's not often you can say that a band play better live than they do on CD, the sound was spot on, every note lingered in the air as the excitement of the crowd kept it there as they played through 'Bleak', 'Benighted', Face of Melinda', 'Dirge For November', 'April Ethereal', 'The Funeral Portrait', 'Madrigal', 'Patterns In The Ivy' and 'Karma' to name but a few.
I was more than overwhelmed with the professionalism and talent of Opeth, If you have never heard or seen Opeth before, I would recommend them highly, If Paul can turn round and say 'F*cking hell they were brilliant, even I can't fault them', then you know what enjoyment and excitement you have missed.
10/10
For Opeth

By Tony Watson