Public Image Ltd. – O2 Academy, Sheffield, Tuesday 7th July, 2016
Set List: Albatross/Double Trouble/Know Now/Love Song/Bettie Page/Deeper Water/Corporate/Death Disco/The One/Order Of Death/Tie Me To The Length/The Body/Warrior/Religion/Rise.
Encore: Not Satisfied/Open Up/ Shoom.
Well it's sticky and hot as hell in the Sheffield's O2 tonight since we've had a high end temp the last couple of days – more Florida than Frecheville to be honest with you when it comes to Celcius!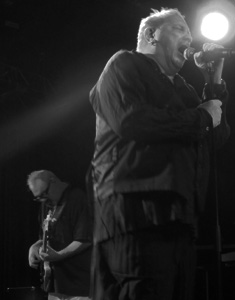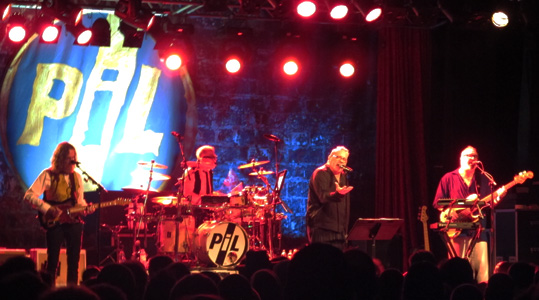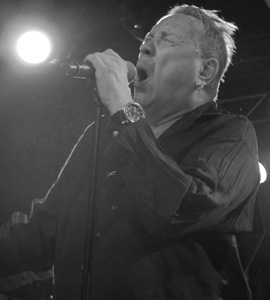 With their own music hitting the PA on and off before they even came on for around 30 mins they got the crowd excitable – now not many bands do that but this ain't the average act I am talking about here – 'This is PiL', fronted by many peoples favourite mouthpiece, John Lydon and has been for the best part of 40 years – like it or not! With the now well established outfit completed with Lu Edmonds (Guitar); Bruce Smith (Drums) and Scott Firth (Bass), I dare you to find a finer set of musos who never lose track on this abstract material.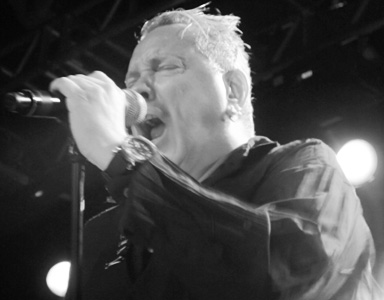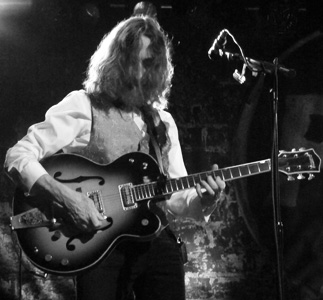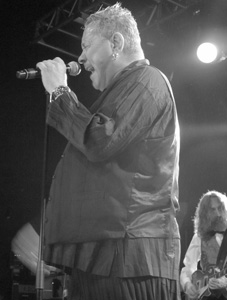 Flying straight into 'Albatross' they please the fans in here right away, not to mention kicking into the excellent 'This Is Not A Love Song' not too long after. The sneers are still here from John now and again when the need arises plus plenty of hand signals and waving of the arms too that add an extra element to the night. Spit bin in tow in front of the drum kit get used loads since he no doubt needs it on such it in such an airless room after downing a ton of eucalyptus oil with a chaser of water.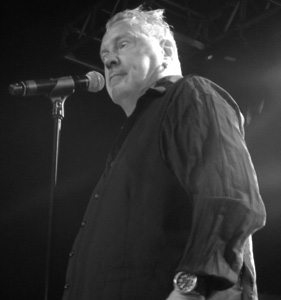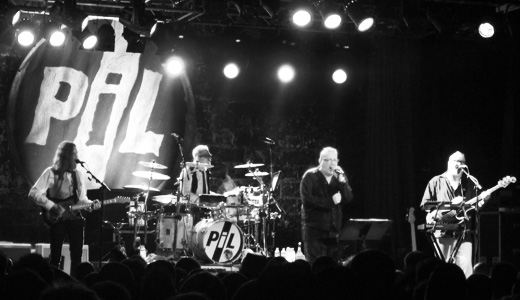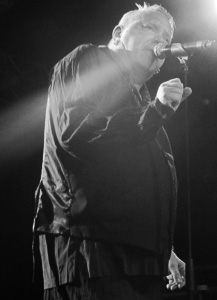 Musically perfect as ever with styles that go against the status quo and leave many wondering what the hell must be going on in John's head – don't try and work it out – just go with where he is taking you. Cranking out a set that featured five tracks from current album 'What The World Needs Now' like 'Know Now' & 'Double Trouble' and others from various points of the bands career appear to be just what the packed, steamy Pil-heads wanted to enter their ears.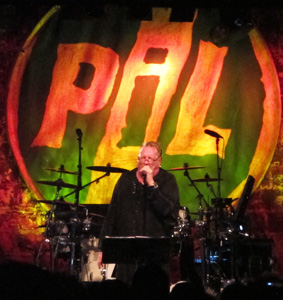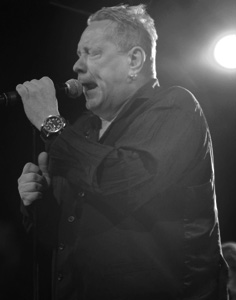 I couldn't help feeling disappointed (no pun intended) though with some of the set as it was way more avant guarde PiL than the rockier commercial side of the band that attracted me to them many moons ago during the 'Album' period. Like many, I would loved to have heard the song 'Public Image' itself played tonight which as fellow photographer buddy, Kevin Wells said, "kicked it all off in the first place". Mr. L is still no fan of the Tory Party or Boris Johnson either, despite being a US resident for a few years now and makes it known so on stage as well!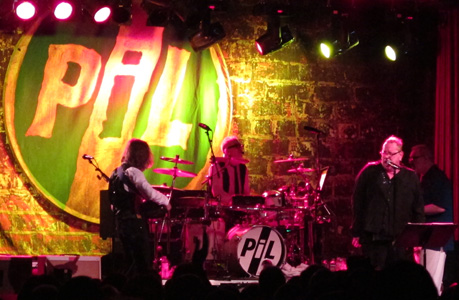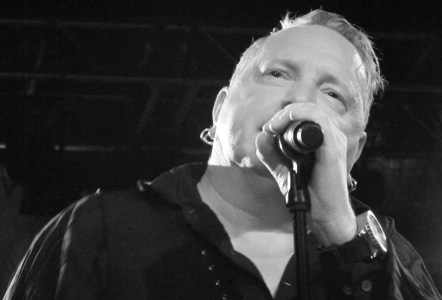 John appeared a bit subdued as opposed to when I saw the band last time in Sheffield and heard it was a happier affair when they performed at Holmfirth not too long after. I am guessing that heat of that venue maybe have something to answer for because his voice sounded dry and blown as a result which wouldn't have put anyone in a good mood trying to put on a show. One's larynx can only take so much! He did thank us very f*ck*ng much though towards the end of the 2 hours on stage.
7/10
By Glenn Milligan
Philm/Owl – The Whiskey A Go-Go, West Hollywood, California, USA, Tuesday 21st July, 2015
Set List: The Right Thing/Send/Alive/Pusher/Things You Can't See/Who's Gonna Save You/Violent Center.
Well it's a good six months since I had been in California so what better way of kicking it off that a seriously good night at the Whisky A Go-Go to witness not one but two immensely gifted rock and metal trios – both from Los Angeles I may add.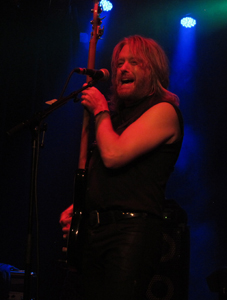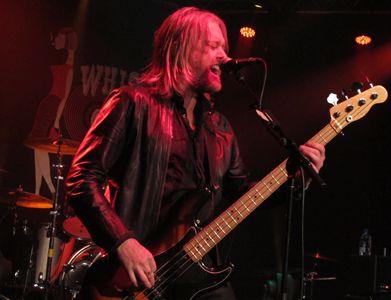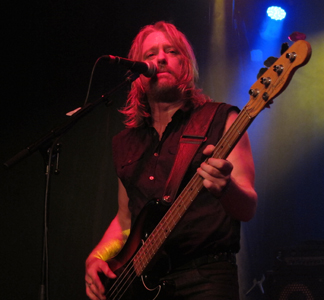 It was pretty cool to think that I had only interviewed Chris Wyse over the phone a few weeks prior to this gig and here he was on stage performing some of those very songs that we were talking about on both the standard bass and his rather spectacular custom-made upright one.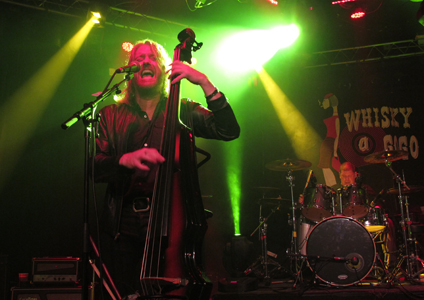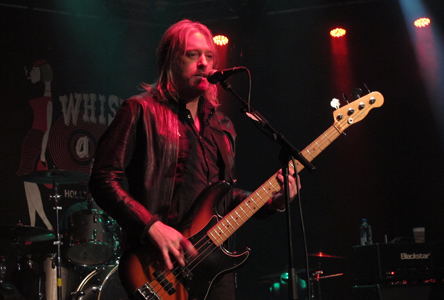 There was so much passion in the performance of every song with the lighting adding even more atmosphere to the whole vibe of the music being played and the guys and girls in here lapped up every moment of it. Owl (who are completed by Guitarist, Jason Achilles & Drummer, Dan Dinsmore) freaked up the style as soon as they started up with 'The Right Thing' that has this wild abrasive Faith No More feel about it in more ways than one.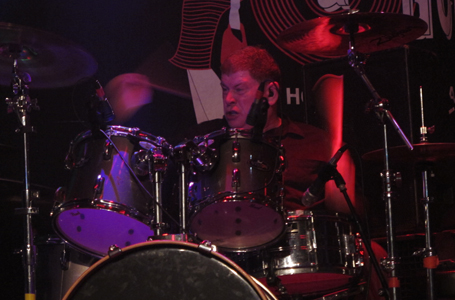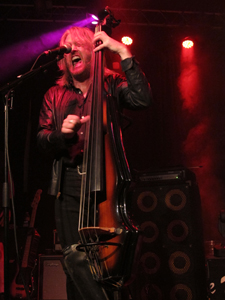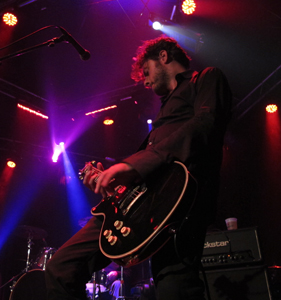 Later there's the sinister 'Pusher' with its fantastic singalong chorus and screaming whacked out double bass sounds; the brand new brilliance of 'Things You Can't See' with its cooking bass-line before blowing the set up with 'Violent Centre'.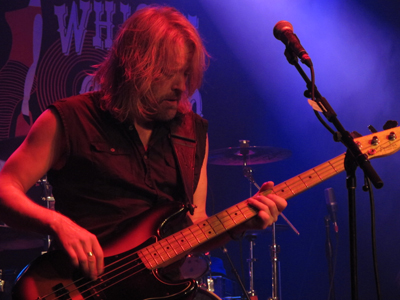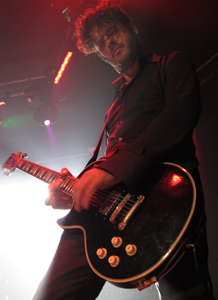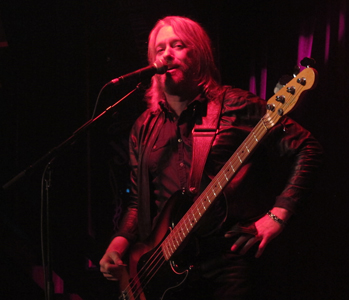 Easily one of the best trios I have ever witnessed who truly deserve mass-media attention.
Set List: Fire From The Evening Sun/Vitriolize/Fanboy/Blue Dragon/Lady Of The Lake/Lion's Pit/Omniscience/Train/We Sail At Dawn/Mitch/Sex Amp/Dome/Mild.
Well it's been a few years since I last caught Dave Lombardo live, in fact that was at Download while drumming with the rather famous band who begin with an 'S'. Anyway, this was way more spasmodic and quirky but at the same time rabid, dark and demonic.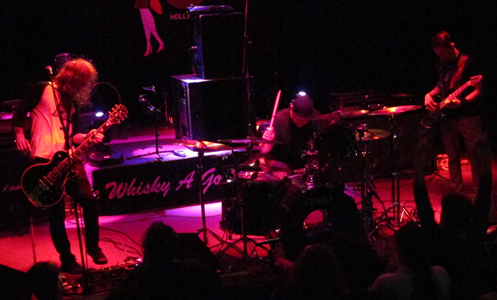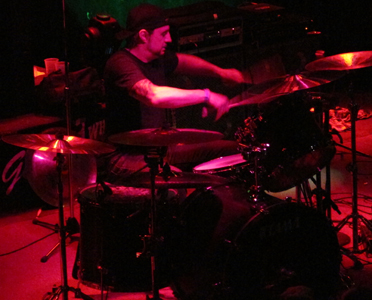 This gelling of Dave, Pancho and Gerry is one not to be taken lightly and definitely not the type of trio you can relax too – unless you are completely stone deaf. Their sound un-nerves you and you are just not sure what is coming next…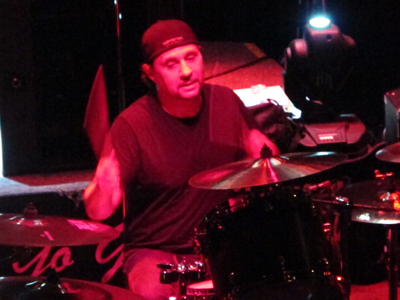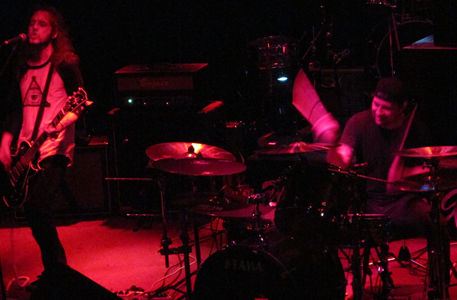 The people in here were absolutely riveted to the intense heavy as hell groove of this unit who used a minimum amount of lighting for their set that made it nastier and doomier still vibewise. Mr. L funnily enough blew everyone away with his mighty precision fast as percussion gymnastics – little wonder he is Bill Ward's fave drummer – he defies the energy of an olympic athelete on that kit!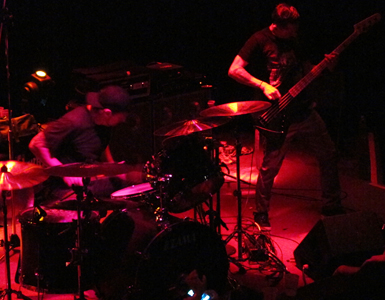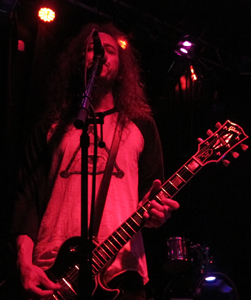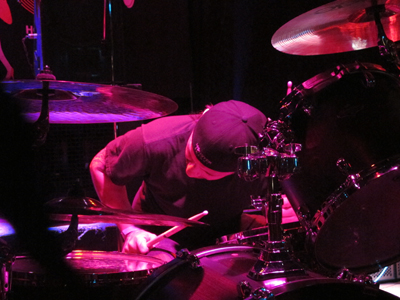 Highlights of the set included the off it's rocker opener 'Fire From The Evening Sun' that has wild rock moments, outright craziness and full-on thrash in there; the growling fast sludgefest that is 'Fanboy'; the brutal 'We Sail At Dawn' or the full-on slamming of 'Sex Amp'. The vocals are booming and ferocious, not mention top-rung drum-work and bass throbbing to die for!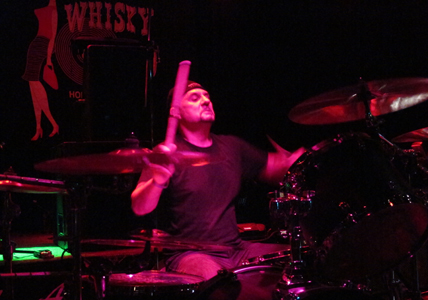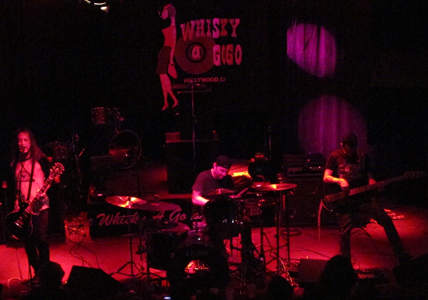 I wonder how much energy these guys have after a show – they use the energy needed for a marathon up there with the musical intensity that flows off that stage. Won't be long before both bands hit the UK – how about both together as trio touring package plus a local support – just a thought.
10/10
By Glenn Milligan
Powerman5000 - The Whisky A Go-Go, West Hollywood, Ca. USA, Sunday January 18th, 2015
Set List: Super Villain/Invade, Destroy, Repeat/Nobody's Real/Hey That's Right!/How to Be A Human/You're Gonna Love It, If You Like It Or Not/Horror Show/I Can't F*ck*ng Hear You/Bombshell/We Want It All/Supernova Goes Pop/When Worlds Collide.
Holy hell, the intensity in here has the energy of an electric force-field turned up to the max, not to mention more supernatural happenings during the shoot on stage.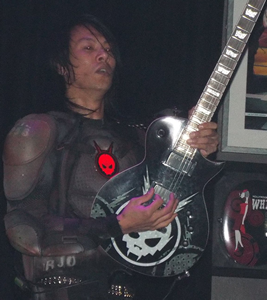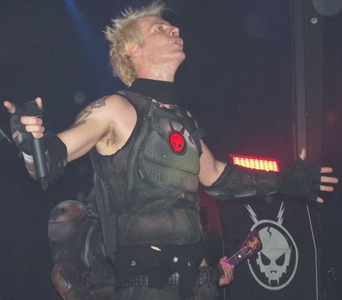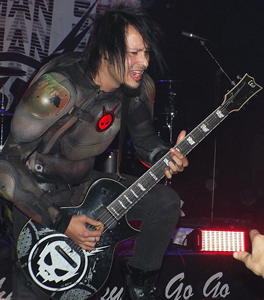 Poweman5000 have a heavy, industrious style to them and have elements of Fear Factory, Ministry and White Zombie all rolled into one that they combine with a rythmic power of gabba goth, a sprinkle of techno and some retro disco vibe that is mashed in the mix too. It's distortive, crunchy with mid-octave raw 'n' rugged baritone vocals coming from Frontman, Spider 1 who addresses the audience with perfect interactivity throughout the show with the audience.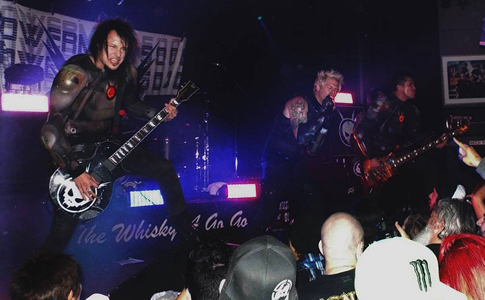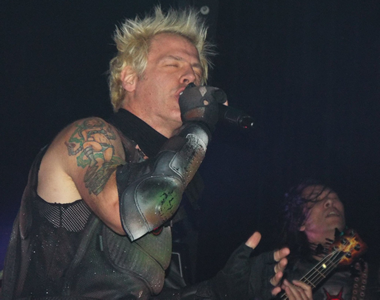 The lighting in here was as impressive as the band themselves were since it completely complimented the songs; as the spiritual orbs danced around Spider's head mainly. These made the hair on our arms stand on end when we discovered them while reviewing the photos. In fact, we even showed them to Guitarist, Brandon Mendenhall and Lead Vocalist, Mario Valadez who were in the audience who happen to be supporting Fear Factory at this very venue on Jan. 22 - in fact, Dino Cazares himself was also present in the crowd.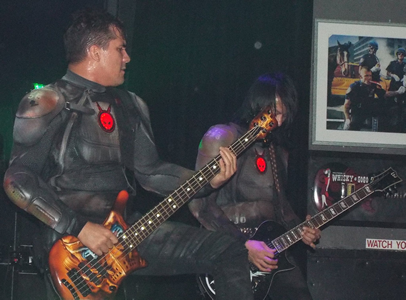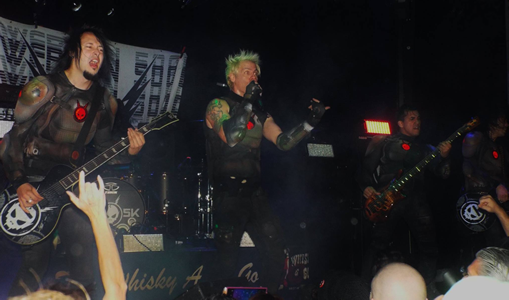 This show was very much of a multi-sensory kind of experience since it lit everything up in your human perception and was way more than a bunch of dudes performing for us on the Whisky's stage. One track even put me in mind of the late 70's band, Boney M - hearing was believing with even elements of a famous All Saints number thrown in too. Powerman5000 though have the visual and musical ability to make each song a hard and heavy obliteration of brilliance despite where the influence for each individual jewel comes from.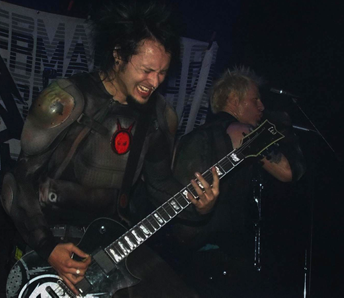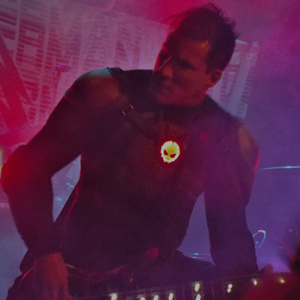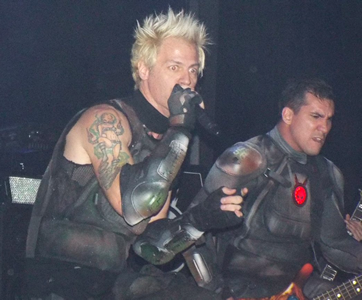 Love the fact how they individually make themselves part of the colour show since part of their clothing lights up creating extra glow especially when we are stage stimulated by back light only. Great to see Metalliville Interviewee, Richard Jazmin on guitar too who fits right in to the '5000 - those road miles have paid off brother. Spider exclaimed that someone said their new album was the greatest metal album to date - yes someone said that - okay he said that but someone said it - right and also gave Rolling Stone a good slagging off for giving them a low review - "Who reads that sh*t anyway?" he quips - Right? Though many have been awarding them a good 3.5/5.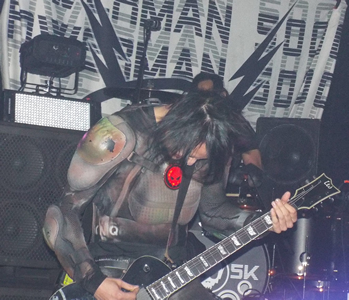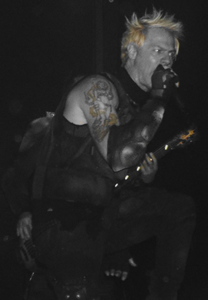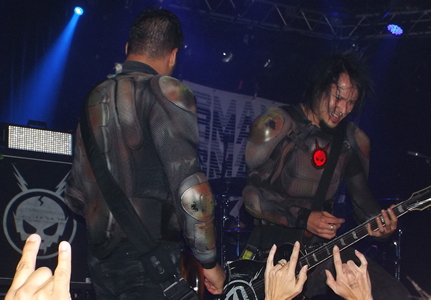 The only gripe of the show is the fact that Spider' incited a riot during the song 'Bombshell' because some audience members became too aggressively vibrant during a surging mosh causing one fan (Guitarist, Brandon Mendenhall) to be smashed to the ground - this guy could have been seriously injured, taking out the opening act of Fear Factory's show) just because of the ring-leading wrong turns of Spider - he really should no better and have more care about his concert congregation in such a small venue. We nearly had the camera smashed up as a result and we left at this point for our own safety.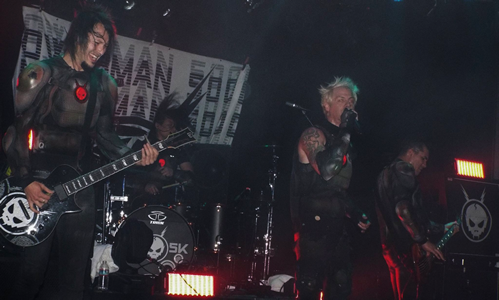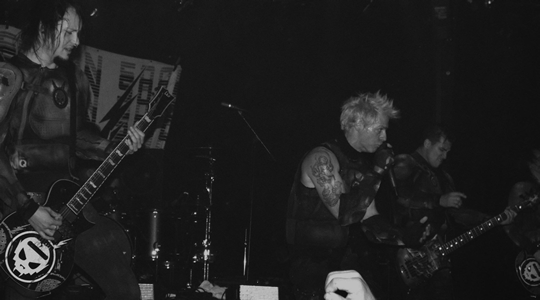 A good show and an extremely energetic one both on and off the stage.
8.5/10
Review By Glenn Milligan
Photographs By OZZFestAmy
The Peckham Cowboys - The Dove & Rainbow, Sheffield, Saturday 8th December 2012
Now it's not every night of the week that you see a six peice band in one of your local bars but tonight is the night where we see this take place here in the Dove on a warmer than expected Saturday eveing.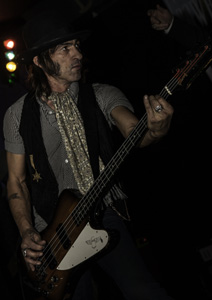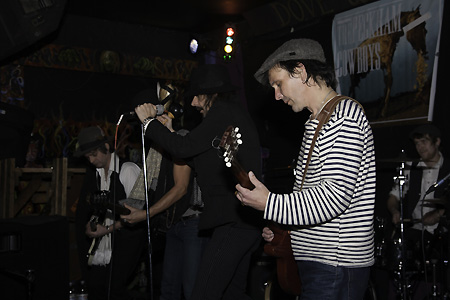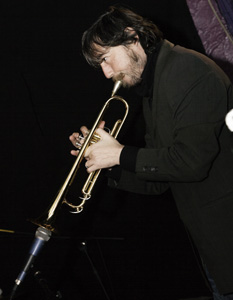 The Peckham Cowboys can truly be described as Pedigree artists with members of the band being from a variety of well known outfits such as Quireboys (Nigel Mogg - Bass), Dogs D'Amour, CryBabys & The Ian Hunter Band (Darrell Bath on Guitar); Primal Scream (Duncan Mackay on keyboards & trumpet) alongside, Dale Hodgkinson- Guitar Marc Eden (Lead Vocals) & Ryan McCormick (Drums).From the 1st second you are completely hooked by their rootsy emotional deep and earthy sounds that have plenty of delta, voodoo vibe and a mix of sleaze 'n' dirt and overloaded with amples of bluesy rock 'n' roll that'll do the business in any hot, smokey, southern backstreet bar of the USA.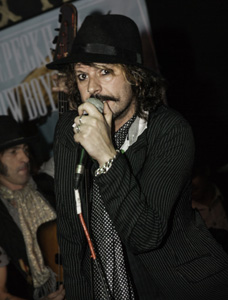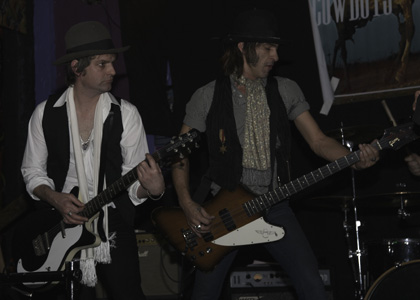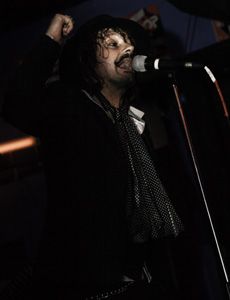 They play with so much passion that it simply oozes out into the crowd and turn the place into a melting pot of musical magnificience where you don't wanna move any from the stage area as you are afraid of missing out on a priceless moment and their gargantuan melodic groove of pure platinum exhumberance in all things musically magical and inspiring. Every member gets introduced to us all and each one gets a riveting response from all rockers in the 'Rainbow without exception.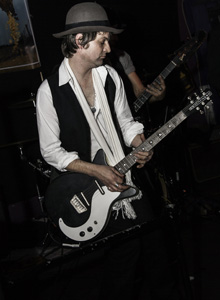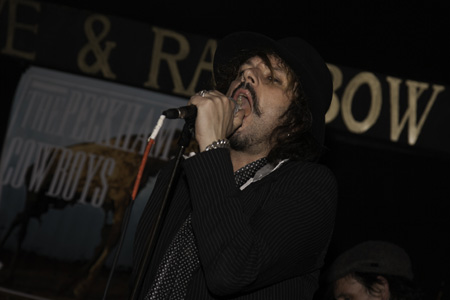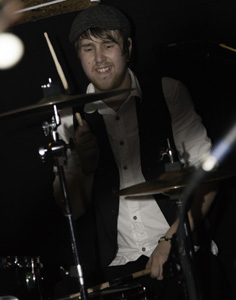 As Nigel said, "That's Johnny Depp up there!", referring to Marc on vocals who sounds like a cross betwee Tyla, Spike and something from Downtown Dixieville indeed with plenty of swagger, suaveness and sheer confidence on that stage. There's some intense slide guitar work during the set that'd put a smile on any real-deal black bluesman in 'Ain't That Somethin' and talk about knock-out trumpet blowing too that hits the ears early on in the proceedings, courtesy of Duncan.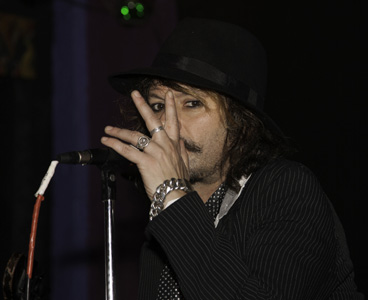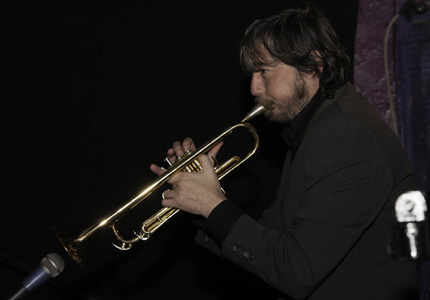 Other highlights of the set include many songs from their 'Flog It' album such as the earthy 'South London Thing'; the borrowed, pawned 'n' downwardness of 'Crackhouse Blues' and the funky repeatedly riffed on the keys 'Painkiller' and for an encore an electric and riveting take of The Stooges 'I Wanna Be Your Dog' that saw some hot young chicks invited up on stage to dance alongside the sextet and sing with with Mr. Eden too. It's a hands-down, no brainer to state right now that The Peckham Cowboys are the best band that have ever played in this boozer - as Keith, Co-Manager of The Dove himself said, "We are going up in the World" and Alice (Band Booker) is doing as she said she was going to do which is "Put the Dove on the map".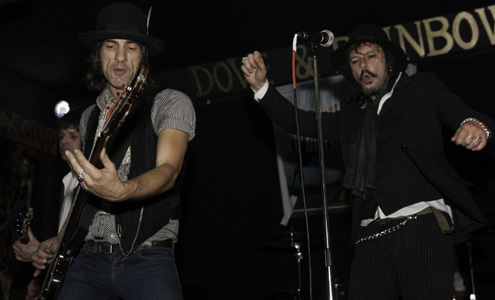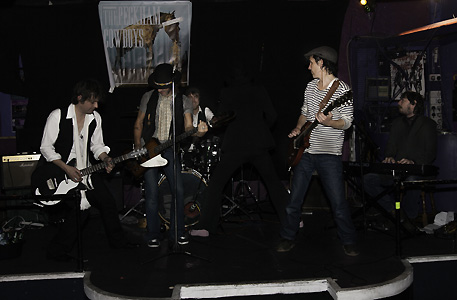 Some of London's finest will be back about March time and I know many a folk will be looking forward to seeing these cap wearing cockneys for sure!
10/10
Review By Glenn Milligan
Pictures By Nigel James
Prophets Of Addiction - Bar Sinister, West Hollywood, California, USA, 10th November, 2012
Set List: Babylon/Rejection/Altar/Self Portrait/Kick It In/Trigger/Still Alive/Where R U Now?/Hang Me Up.
It's always good to go on vacation and go see your buddies who just happen to be on tour and drop into Hollywood at the same time you are there. This was a new venue for all of us that is tucked away a block or two off of Hollywood & Vine. An alternative place that specialises in S&M, 80's Pop and Ubergoth sounds.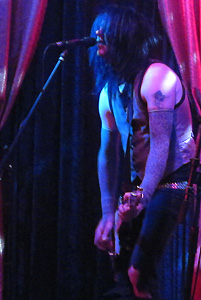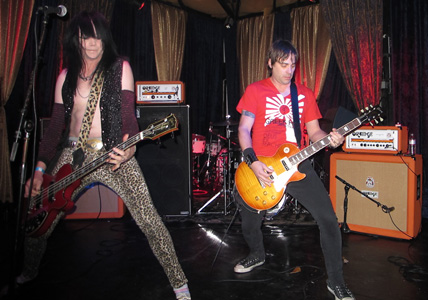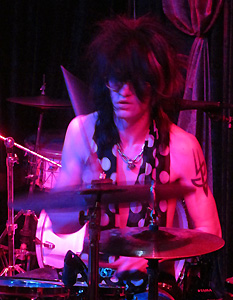 The P.O.A. are here to deliver the sounds of their 'Babylon Boulevard' album to the weird, strange and wonderful masses dressed in leather, spandex, rubber and all types of darkest dungeon imagery who are congregated in the band room that is sorta alfresco with a tarpaulin roof that has a beatiful fountain at the front of it not too far away from the bar area.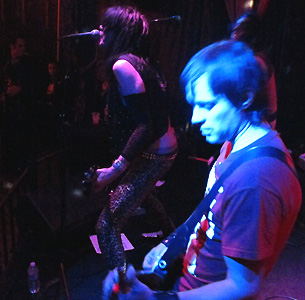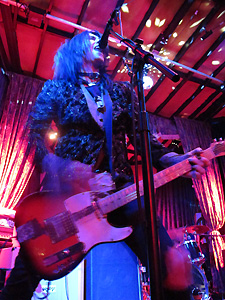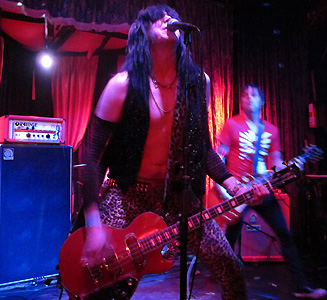 None of us know what sort of reception or vibe towards the band to expect here at all but it appears that the people here are quite taken aback by The Prophets Of Addiction who take to a stage that doesn't have much lighting around it but has a relaxed red ambience glow all the same, setting the scene for an impressive ballsy, fast 'n' furious set from Lesli Sanders and the boys.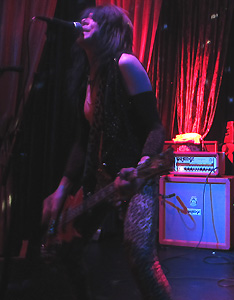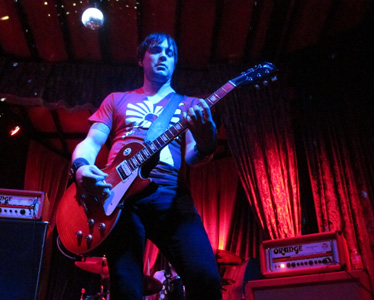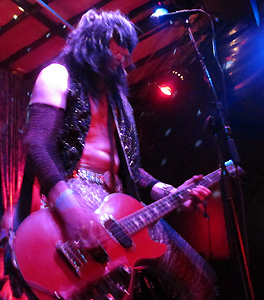 The band are tight and on form and you'd never realise they were were having trouble hearing what was going on while playing those hectic, sleazified numbers that included highlights in the 'Babylon' that started the gig off crunchy, crashing moderate tempo rocker 'Self Portrait' and the nasty-fueled feeling of 'Hang Me Up' that closed the bands performance. It was cool to note that the amount of people watching the band grew and grew as the minutes ticked on from song to song.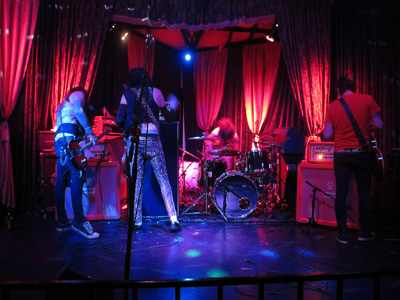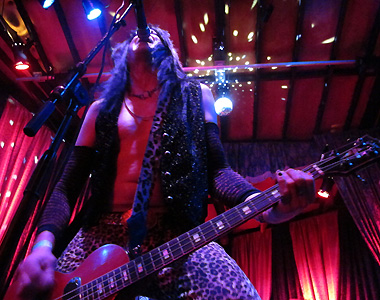 New boy on 2nd guitar, Ty Mcdonald fits in like he's been there from the get-go while Tchad Drats whips up that six string fury with poses from glam heaven indeed and then there's the glitzy slammer of Jimmy Mess on that kit to take in too. These three compliment Mr. Sanders who takes care of bass duties, not to mention fronting the quartet.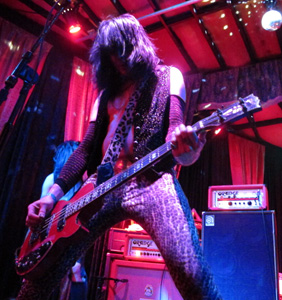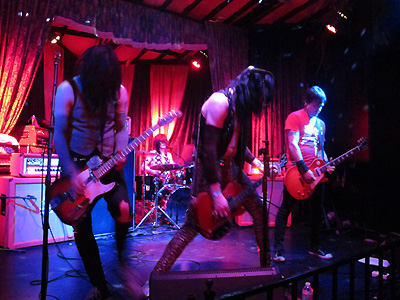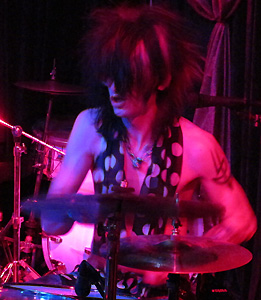 I even got a couple of friends from Finland to come down to check the band out who were really impressed with what they heard and saw immediately. After a supreme show in the oddest of venues for a rock band I feel that they've got the strength to go forward and conquer every fetish club the world over and beyond...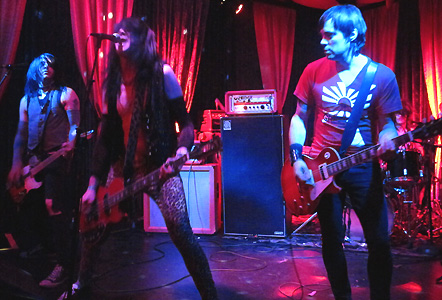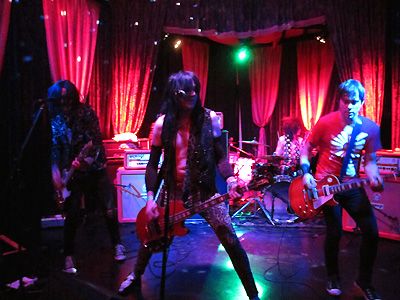 No doubt they've just hooked a few more fans after this cool *ss show and sold a sh*tload of merch too.
10/10
By Glenn Milligan
Picture Me Broken - The Whisky A Go-Go, Tuesday November 6th 2012
Set List: Corrupt Me/Torture/Holy Drug/Crazy on You/Mannequins/Dearest I'm So Sorry.
Now here's a band who come from Redwood City, California - just up the road ain't it and tonight just happens to be the last night of their US & Canadian Tour. Ok, they only had around 25 minutes or so to prove themselves but they did just that and performed songs from their debut album 'Wide Awake' as well as newer numbers from their new release 'Mannequins' such as the title track itself.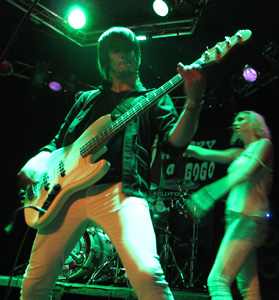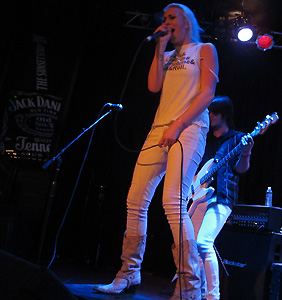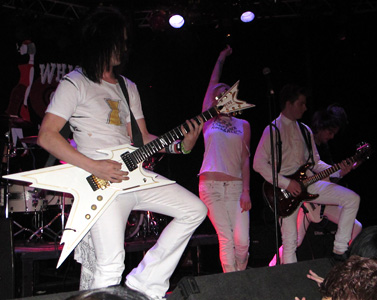 It's hard to imagine that every member of this band is only about 19 years of age since they are extremely professional on that stage They have an alternate rock edge that borders on emo at times. Man, Brooklyn can really sing, not to mention scream like Angela Gossow from Arch Enemy pure dynamite indeed.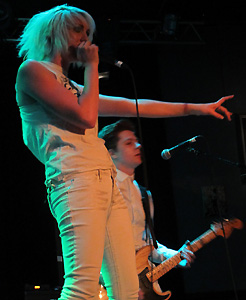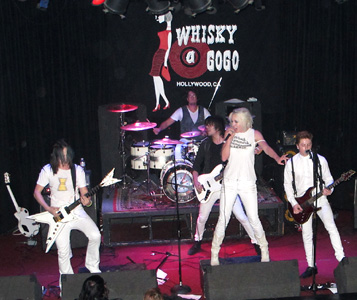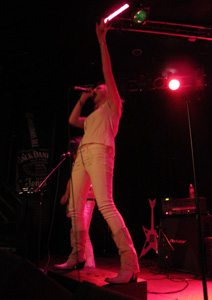 This blonde princess made the venue her own making and the rest of the band really credit her output too. It's fresh 'n' powerful and seems that they have made an impact to the handful of people to witness them in here tonight. Highlights of the six song strong set included an excellent cover of Heart's 'Crazy On You' and originals of their own like the opening powerful 'n' crashing 'Corrupt Me' and the rifferama of the closer, 'Dearest I'm So Sorry'.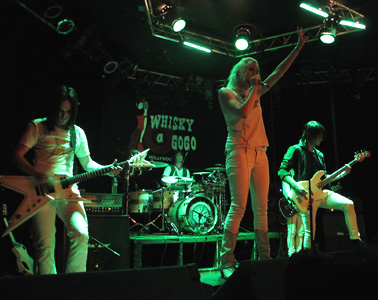 After the show the 'Broken do a meet and greet and sell and sign cds and other merch, no doubt creating some more fans. See them soon if you get a chance.
8/10
By Glenn Milligan
Prophets of Addiction - The Dove & Rainbow, Sheffield, Friday 14th October, 2011
Set List: Babylon Boulevard/Rejection/Alter of Altercation/Self Portrait/Kick It In/Trigger/Still Alive/Where R U Now/Hang Me Up.
I had been looking forward to this gig for a few months after Keith told me it was gonna be happening and you can't beat a gig ojn a Friday night to start the weekend off properly. The Prophets' are a sleazy, dressed like stolen cars and to the nines hard, agressive punky glam band with plenty of make-up and colours galore, topped off with a mass of energy from the dual combination of Washington and LA.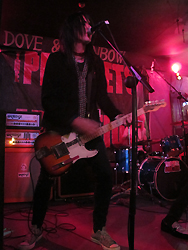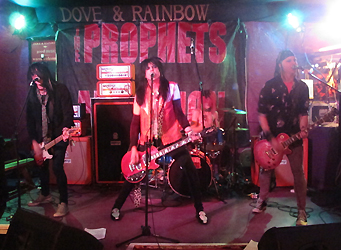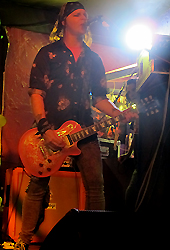 Two of these dudes, Frontman/Bassist, Lesli Sanders have been in some cool bands in their time that include City Girls Boys, Viscious Spit and Pretty Boy Floyd, the latter of which also included Tchad Drats on guitar who can be found in a particular guise of PBF on the 'Size really Does Matter' album that came out a few years since - 2004 to be exact. The line-up is completed by drummer, Jimmy Mess and guitarist, Rex(x) and also gotta mention, Cortley James Everett, a seriously good soundman, who I'd not seen since last November at Fort Myers Beach, Florida, when he was at that time working with 'Where Angels Suffer'.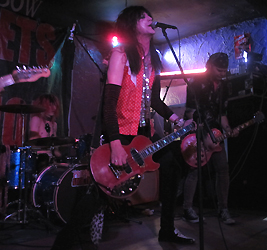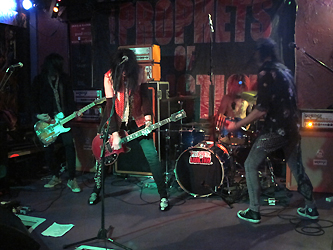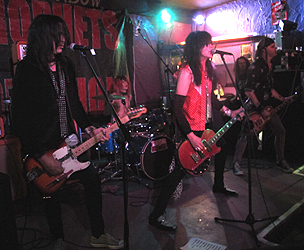 Audience-wise, it's a good mix of both male and female, some are really into it and sadly some not - their loss as these guys kick as with their 9 song strong set of numbers that are nailed from their self debut release. Highlights of the show included the cool as sh*t the excellent opener that is 'Babylon Boulevard' that kicks it right into 5th gear from the opening note; the Hanoi Rocks'ish 'Hang Me Up'; the great melodic arrangement of a number that is ' Self Portrait' or the excellent singalongness of 'Still Alive'. They play and pose like it's 80's decadence all over again and come across real professional at all times in this Sheffield boozer, getting one or two of the crowd rocking out and doing some freaky dancing at the front of the stage.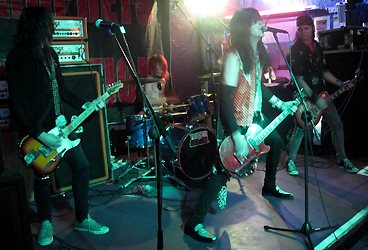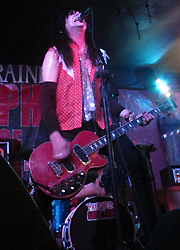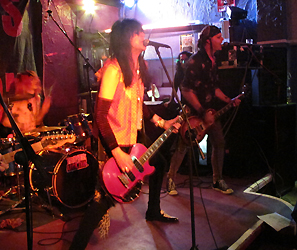 This was a throughly enjoyable set even though they cut it slightly short but fear not there are plans for the Prophets Of Addiction to destroy our ears again in this very venue next May - I look forward to it muchly.
8/10
By Glenn Milligan
Public Image Limited - Corporation, Sheffield, Monday 6th June, 2011
Set List - Public Image/Home/Albatross/This Is Not A Love Song/Pop Tones/Death Disco/Acid Drops/Flowers Of Romance/USLS 1/Dissapointed/Warrior/Bags/Chant/Religion II.
Encore - Memories/Rise/Open Up (Leftfield Cover).
"Well this is what I would call initimate", John says when he and the band come on stage and then apologises for the DJ. The title song 'Public Image' opens the proceedings and gets massive applause and by the 3rd song , 'Albatross' - no it's not the Fleetwood Mac track but a number where guitarist Lou switches to electric mandolin and sees John singing about the bird being on the crest of a wave - it's a long weird one but we didn't come down to expect typical rock and pop songs from the spikey haired legend and his PIL colleagues.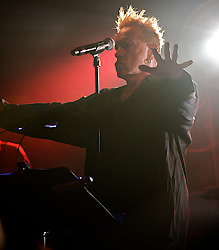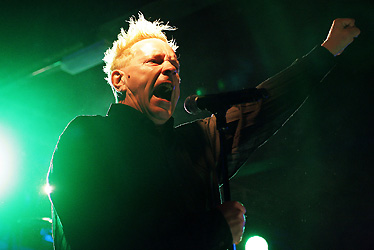 He likes his brandy he does, Mr. Lydon and tells us that it gets his voice the way it is - so that's the trick in order to warble like an ex-Pistol. The single, hit or not, 'This is a love song' sees Lou change from mandolin to gretch - it's another long as hell ditty whereby Johnny boy blows snot out of his nose onto the stage floor - hahaha - well he is an icon and icons can more or less do what the hell they want - even here in Sheffield. When they go into the next song 'Pop Tones' I get to thinking - what the hell is the style? after thinking, well what's it matter it's all music when all is said and done and very avante guarde it is too that wails away for over seven minutes with the odd mentioning of japanses cars and sounds like BBC testcard music on trippy drugs but played on a turntable that has a speed problem - it really works together though and is total genious.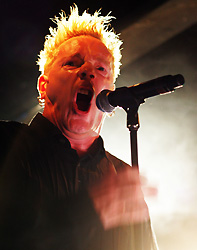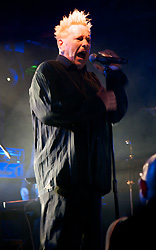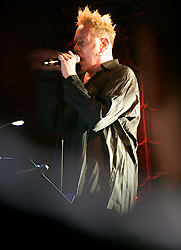 I love the fact that John has the kind of presense that makes you sit up and listen to everything he says as most of it is very true and heartwarming such as telling us that he don't wanna see no one die ever apart from politicians - I'll drink to that and gets a big warming appreciation from all in the paced big room and they then funk and phase us out with 'Death Disco' - love those bass notes and then theirs the wailing of John over the top of it all to contend with as well - lol - wild and mental efore flowing into 'Acid Drops' that's early to mid 80's Hawkwind and has the Sex Pistols line 'No Future For You' in their for good measures as well. Now if you thught you'd seen and heard it all, then think again as 'Flowers Of Romance' has Lou on bango and he is wacking it with a stick and sampling certain sounds that create a rhythm behind the rest of what is being played and sounds incredibly effective and then switching back to the mandolin during the song. Talk about being very aboriginee and tribal in general! What's this? - it's back to banjo again where he samples some more sounds, making it sound just like a guitar using various effects.

There's more brandy to be drunk and snot clearing to be done and John tells us that all these songs mean something to me and to you too - what a coincidence! USLS 1 has a U2 sound and is slow and slow and atmospheric. 'I think I'm doing alrite, don't you? before exclaiming, 'The exits over there' - hahaha classic! I especially liked the next number 'Dissapointed' with it's 'what friends are for' part in the chorus of it with great vocal harmonies - it's truly an epic song - one of the best I've heard in a damn long time. "You are making this a really good show for us - a good groove - Thank you" and he certainly wasn't lying either as the vibe was tremendous here tonight. So, "Sheffield are there any warriors in Sheffield?", which gave way to plenty of cheers and shouts of 'Yeah' from the audience all round and go intot he song of the rocky and poppy ditty of the same name and gowes down great with us all singing along to the Warrior bit in there!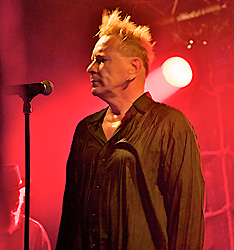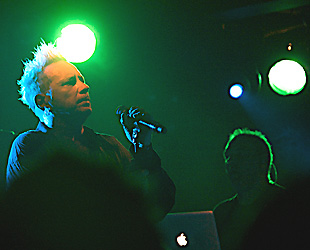 "We are not the cannon fodder of f*ck off politicians!!" - now that's a proper statement if ever I heard one and says it all - f*ck those in power!! before 'Bags' gets us going with its rockin' playing and out-there as usual singing from Mr. L . "God Blessed ya - I know that - that's why I'm here", we are told and we all agree to be honest with you with Lou playing his Cherry Pink Gibson Les Paul in 'Religion II' and gets a spinning fan thing on the guitar making plenty of wild and loopy sounds for us all to enjoy. They then produce a deep bass sound to the point of ear cover level. 'Haemmoriod pillows are available at the back" John exclaims - now that gave my tabs and body a right roasted vibration - ouch. We need a minute or so to recover from that but what the hell - it's all rock 'n' roll.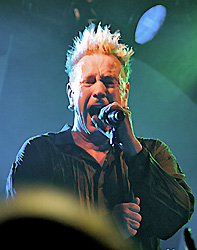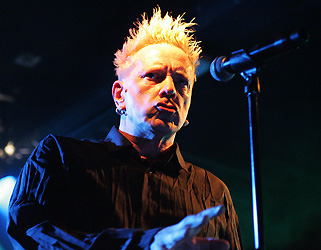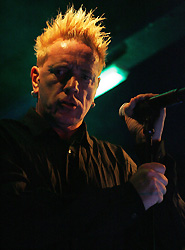 They encore with 'Memories' that is followed up by the classic I could be wrong, I could be right 'Rise' that I fondly remember being featured on 'Beavis & Butthead' - "You're definately wrong dude!", Beavis says in that episode - funnily enough that was my 1st insight to the band - hahaha and then a NIN like dancey number called 'Open Up' finishes the gig off perfectly. 'F*ck The Record Companies' he tells us before the band leaves the stage - there's anarchy for ya and why not!! Faultless perfection!
10/10
Review By Glenn Milligan
Photographs by Nigel Hughes & Glenn Ashley
PORCUPINE TREE/NORTH ATLANTIC OSCILLATION -
WOLVERHAMPTON CIVIC HALL, 6th December, 2009
The show was moved from the initimate Wulfrun Hall to the rather large Civic, an indication of the growing stature of the band – sadly they didn't open the Circle, so it was standing up with the lager swilling tatter oiks for 4 hours.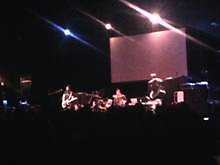 First up was Scottish Prog trio North Atlantic Oscillation. They gave us 35 minutes of fair commercial prog, that after a few songs became utterly unengaging and the audience continued their beer fueled chatting.
5/10
Set Times - 2030 – 2130, 2140 – 2245
Occam's Razor/The Blind House/Great Expectations/Kneel and Disconnect/Drawing the Line/The Incident/Your Unpleasant Family/The Yellow Windows of the Evening Train/Time Flies/Degree Zero of Liberty/Octane Twisted/The Séance/Circle of Manias/I Drive the Hearse/The Start of Something Beautiful/Russia On Ice (intro)/The Pills I'm Taking/Lazarus/Way Out Of Here/Normal/ Bonnie the Cat/Sound of Muzak/Trains
Porcupine Tree chose to commence their lengthy set with the whole of their new CD 'The Incident'. While this is an impressive piece of music, this rather arrogant move proved to be as badly thought out as Iron Maiden doing all of 'Matter of Life and Death' a few years ago.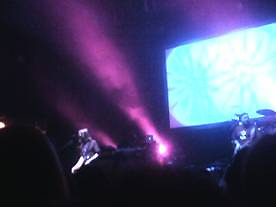 It is ok in your car or living room, but standing next to 1000 drunken Dingle dwellers it was not fun at all. Lighting and back projections were stunning as the band took us through this rather disjointed tale. After an hour the band took a break, and returned with another hour of more familiar material, but few real 'hits' apart from 'Way Out Of Here' and 'Trains'.
Overall a good show, but I left feeling that I had missed the band at their peak.
7/10
By Roy Evans

PRETTY BOY FLOYD/Silverjet/Black Stars - Corporation, Sheffield, Friday, 4th December, 2009
One of the hair metal bands whose popularity still exists largely enough to warrant a yearly trek of the UK, Pretty Boy Floyd as always find Sheffield amongst the towns awaiting their return. Last time round they brought Britney Fox and Bulletboys along with them but two of Sheffield's proudest names of late share the bill on this occasion.
Black Stars get their third slot in barely two months and sounding almost exactly like their headlining heroes is obviously a major dividend factor with the crowd. Using the hilarious intro tape as standard practice, they take off with the same energy we've witnessed previously and again win the people over in good time, as cheers and clasp grow louder with each tune.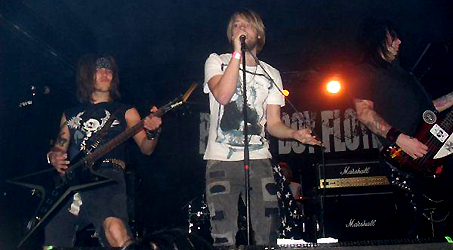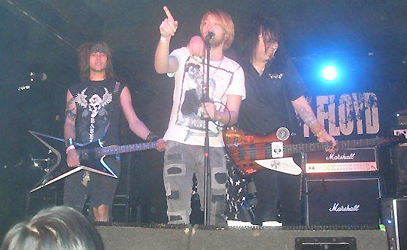 One can't help but think that everyone here tonight has heard these guys before on judging the fully atmosphere and the tunes generating some strongly visible lip-synching down the front. Poison-esque belter, and my personal fave 'All Fall Down' ends the set as no further tune ensues, due to wayward PA riggings cutting the show short but at least they at least end no a high note in one respect.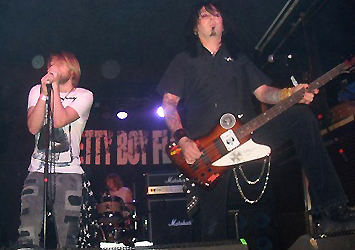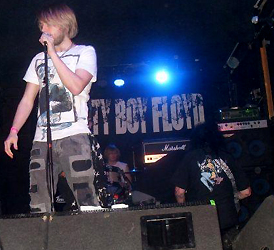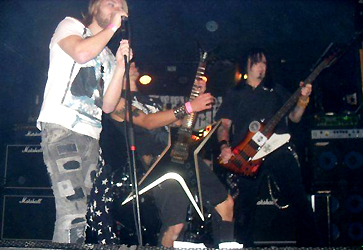 Decent stuff from these chaps once again whichever way and 2010 can be safely said to look busy with demand for them on the rise at present.
8/10
By Dave Attrill
Silverjet Set List – Mardi Gras/Lay Your Wings Down/Hell Yeah/Cold Love/End Of The Day (New Song)/Machine (New Song)/By The Way/Crazy/Face To Face.
Silverjet set the stage on fire next with their well known set of songs - well they were for the Sheffield crowd anyway. Many have seen the band on numerous occasions but I guess there were a few fans from further afield who lapped up what has been happening in Steel City over the last few years. You just can't beat that 70's Stonesy like groove coupled with blends of the South and beyond.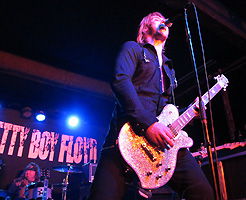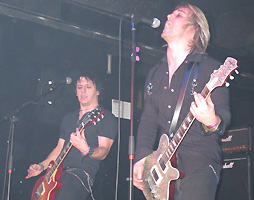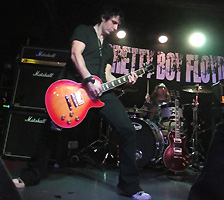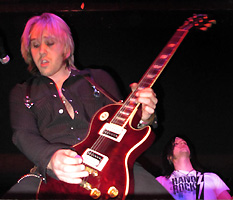 Familiar favourites filled the set such as 'Hell Yeah'; 'Mardi Gras' as well as 2 new numbers 'End Of The Day' & 'Machine' that were being aired tonight for probably the first time from a forthcoming album. It was loud, brash and confident with Silverjet commanding the crowd and stage nearly as much as what the headliners, Pretty Boy Floyd would do in about an hours time.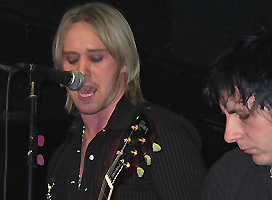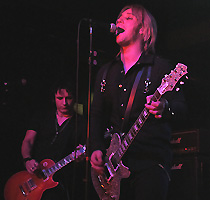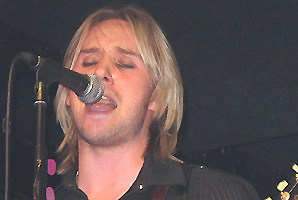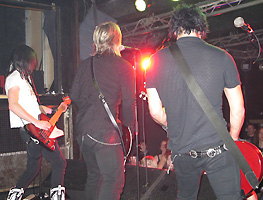 Sound-wise it was towards perfect to be honest with you and it was like the band was built to fill this room full of classic licks - or was the room built perfect for the band - I'll you decide on that. A few days later, I asked Frontman/Guitarist, Dave Kerr how the tour overall had gone who informed that it 'was good man' and that 'Corp was definitely the best night and the best crowd' and that it was 'great to be on home ground and the crowd blew me away'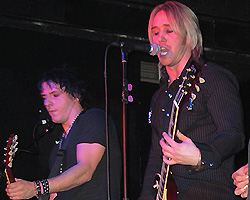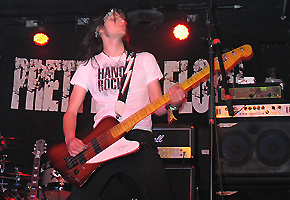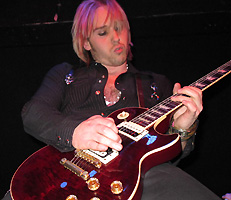 He went on to say, It was a 'f*ck*n' awesome response from them for both us and Pretty Boy Floyd'- so those of you present, give yourselves a round of applause because everyone did themselves proud. You are no doubt all itching to see the guys again on another headline gig in the future in this very room.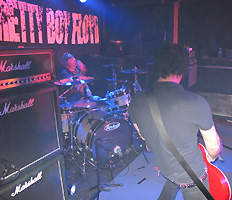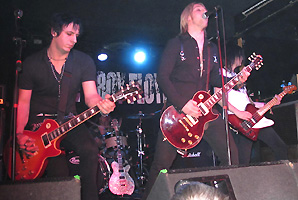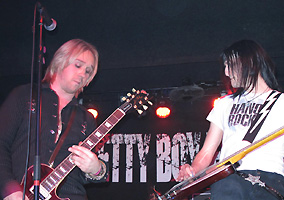 In the meantime, we all await the forthcoming 3rd album which'll be a good 'un as these guys are on fire when it comes to performance skills.
10/10
By Glenn Milligan
Pretty Boy Floyd Set-List: Leather Boyz/Last Kiss/Rock 'n' Roll Outlaws/Your Mama Won't Know/Only The Young/Saturday Nite/Wild Angels/Toast Of The Town/Junkie Girl/48 Hours/Dept Of Youth/I Wanna Be With You/ Set The Nite On Fire/Let Me Go (cover by Kiss).
With the room of fans already on a high from the 'jet – the headliners had little to worry about since they always pull off an exceptional show and tonight in Sheffield it was no exception. Great sound ensued like what we got with Big Jon's Bunch with the members going on 1 by one with Mr. Summers being the last one treading the boards in true rock 'n' roll outlaw style.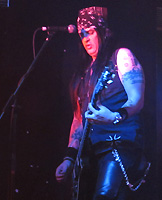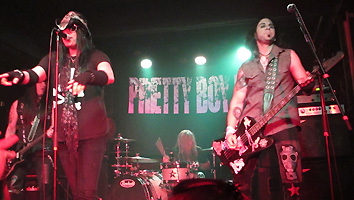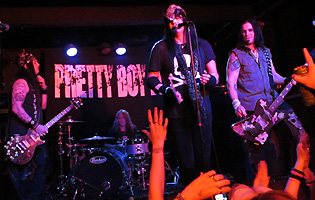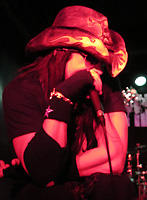 Everytime I have seen Pretty Boy Floyd, they've had a slightly different line-up, with the current one being mainstay Steve 'Sex' Summers on vocals, Leather Boyz member and original well-known guitarist, Kristy 'Crash' Majors together with Troy Farrell (also of White Lion) on Drums and Criss6 on Bass (also of Motley Crue Tribute band, True to Crue), who easily match any top-notch line-up I have seen in past years.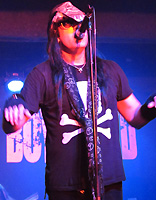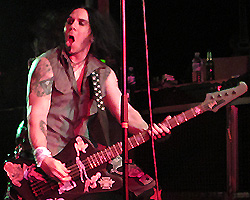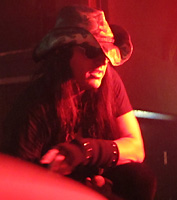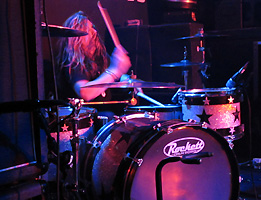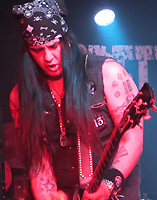 Now this gig was a complete highlight from start to finish and they included around 80% of the 'Leather Boyz With Electric Toys' album – well it was the 20th Anniversary Tour of it when all was said and done – even celebrating the fact by throwing 4 of them into the crowd. In fact on one occasion, he got a chick or two to get their tits out with the best owner being awarded a cd - which I think is fair trade. Being generous they are too – as 2 copies of 'Tonight Belongs To The Young' are given out as well – now there ain't many that would do something as cool as this.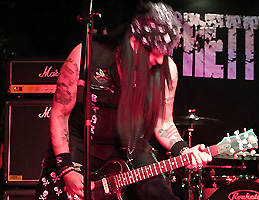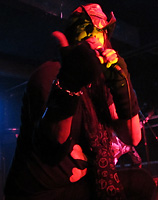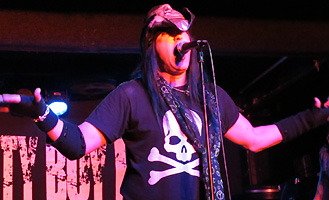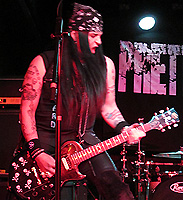 The banter with the fans from 'Sex' himself was really great and you could just tell that he and all the rest of the band were having a party up there on that small stage – even holding girls hands in the crowd as well as kissing one or two. One guy (who shall remain nameless!!) asked Steve why the frontman of a certain band from Hollywood had become so fat. It was rather funny but rather tastless as well. We were all taken aback by the question – especially Steve as he is one of his good friends and it don't seem right to say who the individual was referring to – but if you were there you know !!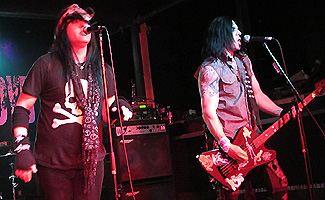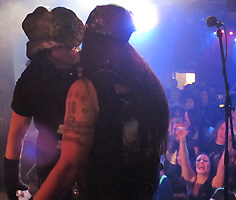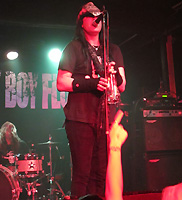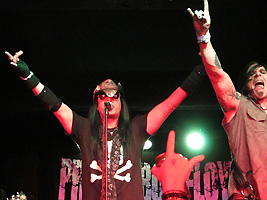 Steve enjoyed making full use of the stage area and even climbed up on the side speakers – even banging his head once – I done that myself a few times when takin' photos – so I know how sore that can be – big f*ck*n' ouch there!! He accidentally kicked a pretty young blonde girl at the front and asked her if she was ok – it was so nice of him to get her up on stage and make a big fuss of her, saying he liked girls who had tooth braces. It must have really made her night.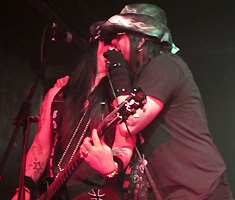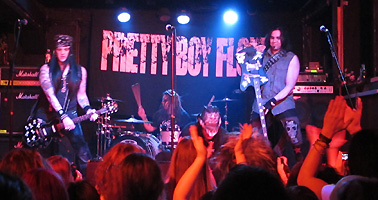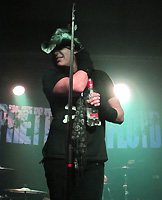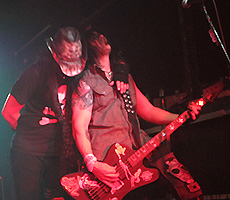 Song highlights included classics like 'I wanna be with you'; 'Leather Boyz' itself, 'Junkie Girl'; '48 Hours' that they got us singing real well for quite a good while – we loved every second of it too. Then there was Alice Cooper's 'Department Of Youth' that Steve said was recorded for an Alice Cooper tribute album put never got used – pity as they do a killer version of it as well as them taking on 'Toast Of The Town' by the Crue that was definitely a fitting salute for sure!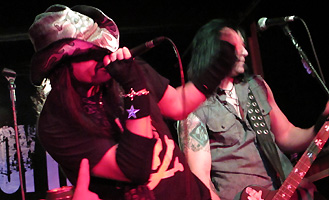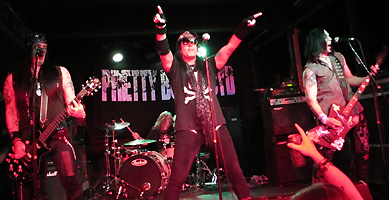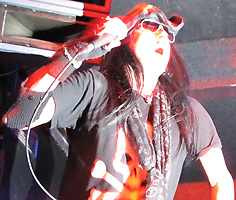 After the outstanding 72 minute set – the longest we have ever seen them do, they came straight off stage and ambled to the merch table to meet and greet fans, signing whatever they wanted and had a fair few photos with many of them too. Such adorable guys for sure – we simply can wait to see them again at Sheffield.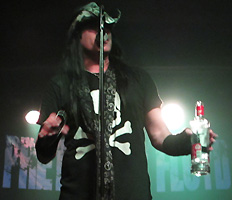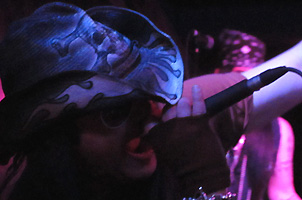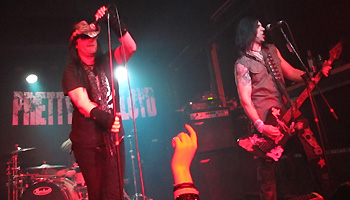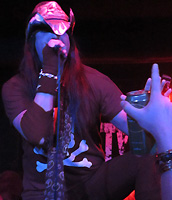 Sleaze at it's absolute finest.
10/10
By Glenn Milligan

Pleasure Addiction feat. Terry Ilous -
The Viper Room, Hollywood, LA Sunday 8th November, 2009
Set List: Melody/Couldn't/No More/My Superstar/Shot Of Poison
Well it my 1st time ever in LA so what better way to celebrate it that go up to one of the most famous live venues in town and witness a great band in concert. What I found incredible immediately was just how small The Viper Room was, something I was informed about before I came to LA but seeing is believing I guess.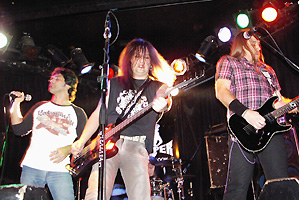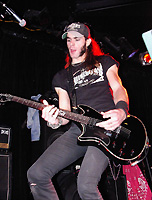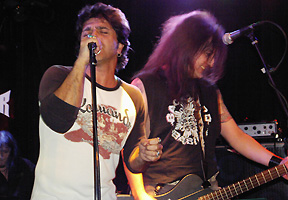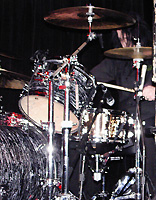 Anyways, back to the point of it all, lol, The bands singer couldn't make the USA Tour due to schedule problems so as a major bonus to the minus, French Boys, Pleasure Addiction managed to get XYZ frontman, Terry Ilous to take care of the vocal section. Their style was really good ole glammy style kinda style but without tons of make-up - these guys want to let the music and songs do the talking as opposed to the mascara, that some are at times guilty of.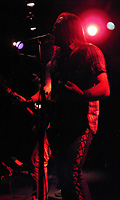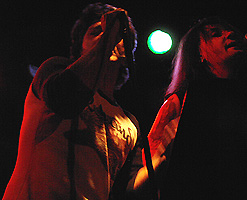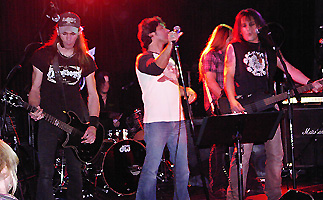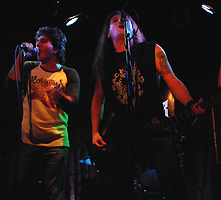 I was impressed immediately by their top standard musicianship and vocal quality pure 80's rockin stuff with plenty of spot on posing with the axes, killer hooks and guitar filled riffery- Terry did an amazing job, ok, at times he used lyric sheets, but he hadn't beeen working with the band very long and it was really good of him to help the guys out. Mr. Ilous joked that the audience at times was quiet, who had come in bit by bit to take in this wonderful set of songs with highlights including 'Could't' and the cracking closer 'Shot Of Poison'.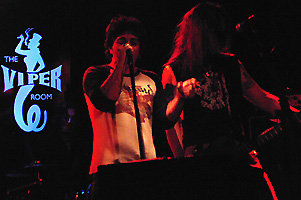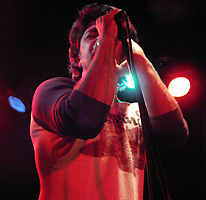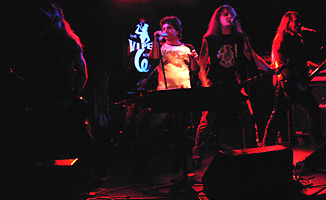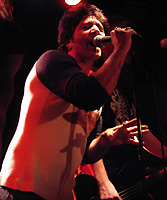 A damn fine enjoyable set with decent enough sound out-front (put Terry a bit louder next time though) but apart from that, it was a splendid set that was over way too soon. Time flys when you are having fun though doesn't it. Be nice to see them do a UK Tour soon.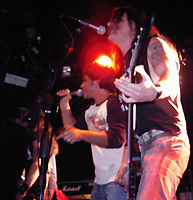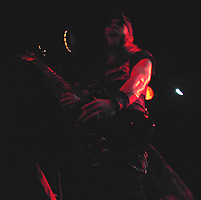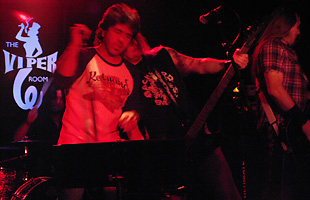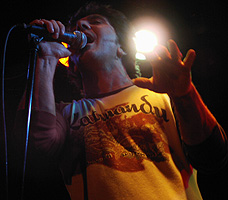 Cool down to earth guys and believe me, we partied afterwards at The Cat Club & The Rainbow and had a f*ck*n' fine time.
9/10

By Glenn Milligan
Papa Roach/Madina Lake/Heaven's Basement –
O2 Academy, Sheffield, Wednesday 14th October, 2009
What can I say, whoever decided to put the show on so early must have been mad as we missed quite a bit of Heaven's Basement, who came on even earlier still than was stated – about 20 mins in fact which was criminal!! Therefore I ain't got no photos to show you. They played excellently as ever though but the mix was way too loud and bassy for comfort – not a fault of the band though at all – sack the guy on the mixing desk!!
They got the crowd going really well though from what I heard and gave them a good helping of theirt best songs that included ' Reign on my parade' and 'Executioner's Day' – wish I could tell you more but I was sorting out some official crap regarding my photopass for the night and by the time we knew what was happening they'd finished. Thank god they are playing at the Corporation with Dear Superstar and New Device on 16th December – don't miss it.
Madina Lake are Kerrang darlings and have been for most of the year. They are from Chicago which they kept numerously reminding us of throughout their set in case we forgot – lol. Although very good at their emo-ish wanna be Papa Roach styled music they personally bored me and Tony to death and we enjoyed exchanging each others jokes on our mobile phones that we'd got over the last few weeks than we did listening to these guys. I found Madina Lake very un-uplifting and were pleased to see the back of their set that all the kiddies aged between 12 and 18 were lapping up.
Again the sound was crap and sounded like we were listening to bad medium wave radio as it was very monoraul and very boxy – again a fault of whoever was mixing it. In my humble opinion, they should have been on 1st and Heaven's Basement on 2nd as they were a far better band and from our country as well!
It was about 40 minutes before Papa Roach hit the stage which to me and Tony seemed rather stupid starting the night off early if we had to wait this long for the headliner. Hey, surprise surprise, their sound was absolutely perfect – so how come that didn't happen for the support bands? Anyway, Papa Roach gave us a full-on really good set that Tony exclaimed was better than he expected it to be and far exceeded when he last saw them. Frontman, Jacoby was able to give everyone a damn good view of him since he was up on a mini-platform – wish other bands did this as we could see really well from at the back of the venue.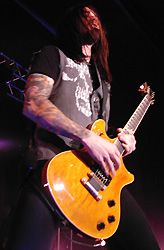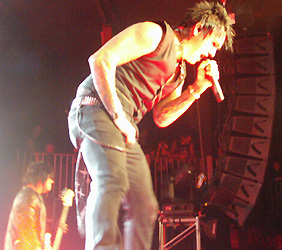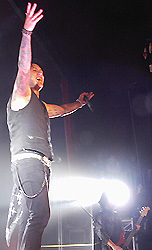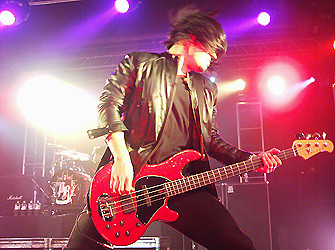 We were complimented about how good the Sheffield crowd was but did he say that at every single show – you never can tell at times – since other artists are extremely guilty of such activities – though I have to admit this crowd was very excitable and extremely up for it.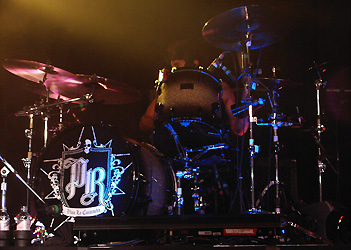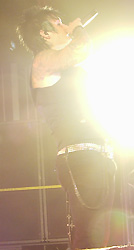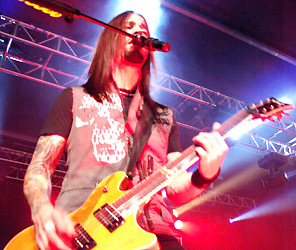 We got well over what we expected in time duration with a wide array of their material taken care of that of course included 'The Last Resort' as the last song of the night in the encore which I personally expected. You had to be a real fan of Papa Roach though to fully enjoy them as we could personally have done with about 45 minutes in total. Credit where it's due though – they were well loved and their fans went home happy. They said they would be back in Feb/March of next year so it'll be interesting to see who else is on that bill.
8/10
By Glenn Milligan

Papa Roach/Madina Lake/Heaven's Basement - O2 Academy Sheffield, October 14th 2009
The strangest thing was that the doors opened at 6pm, we had no idea why! There have been plenty of other gigs with three bands on the bill, but then we realised, the queue was full of school kids.
First on was Heaven's Basement who did a 30-minute set starting at 6.15pm, which was a damm shame. These guys know how to rock and really get a crowd going as they ploughed through 'Tear Out Your Heart', 'Fear Of Getting Off 'and 'Reign On My Parade'. These guys getter better every time I see them. (They are back on tour in December. Get off your arse and see them).
Madina Lake were as exciting as watching paint dry, in fact Glenn and I were transferring jokes via our phones as the excitement was too much to cope with. One Joke was 'Matt lucas's boyfriend, then Steven Gately, they say things come in three's, you must be sh*tt*ng yourself? But seriously the brothers look like Jimmy Saville's cast offs and the bass player I think was on speed or something, he just couldn't keep still, wising around like he had got ants in his pants. Madina Lake to me were very poor, like a lot of Americans they love the sound of their own voices.
Papa Roach had us waiting for 40 minutes to come on, what the f*ck was that about? We get their early, bands like Heaven's only get 30 minutes and then we are left waiting. Although the crowd were there to see Papa Roach, I presumed they would only be there to hear 'Last Resort' and the clever b*st*rds left it for the last song.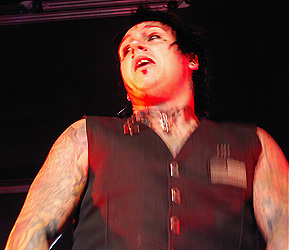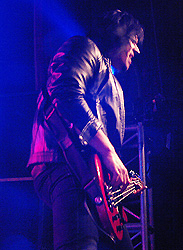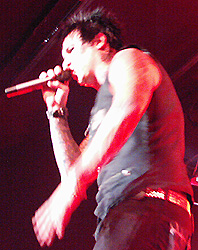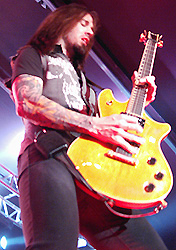 On a serious note Papa Roach played a good set lasting around 1hr 50 mins, they were tight, they were professional and they got the crowd on their side as they went through 'Dead Cell', 'Change Or die', 'Hollywood Whore' and 'State Of Emergency' to name a few.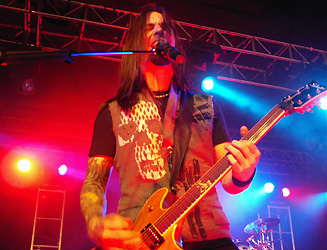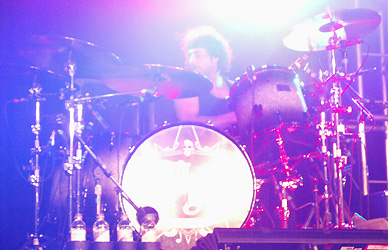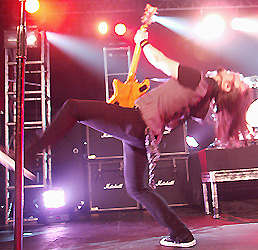 Overall the gig wasn't too bad, remove Madina Lake from the equation and I may have pushed it to an 8/10.
6/10
By Tony Watson

Pink Fraud –
The Boardwalk, Sheffield, Monday October 3rd, 2005
Found out these guys were playing in our local city, so it was a must to go check 'em out – and man, were they good or what? It wasn't long since I'd seen another Floyd tribute so tonight's quintet had something to live up to -and believe it or not, they did just that!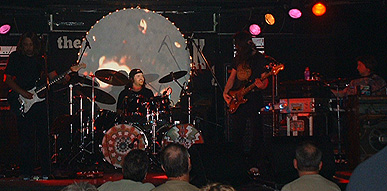 It was like going back in time about 25 years and the rest. I was incredibly impressed at the fact that their backline was the real deal – WEM amps that were no doubt older than me – no wonder they had the exact sound of classic early 70's Floyd to a P.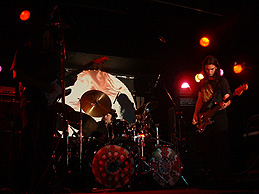 Songwise, we were treated to lavish selections from groundbreaking albums like 'Animals'; 'Wish You Were Here'; 'The Wall' and of course the epicentre of album-craft 'Dark Side of the Moon' which were performed faultlessly backed by the extremely addictive backdrop.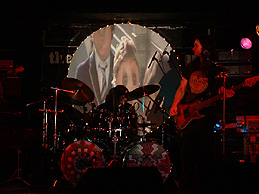 In fact, we could have watched that circular projection screen all night – the images were so more-ish, what with all their psychedelic happenings and album orientated visionary – pity we were stone cold sober - DOH, We'll leave the cars at home next time !!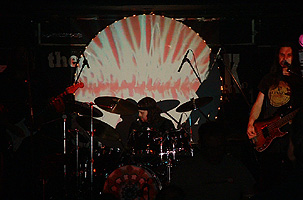 Turns out we missed the lunar eclipse that took place the same day, but we got to see the best one at the Boardwalk with the ultimate soundtrack – 'I'll see you on the dark side of the moon' – you betcha.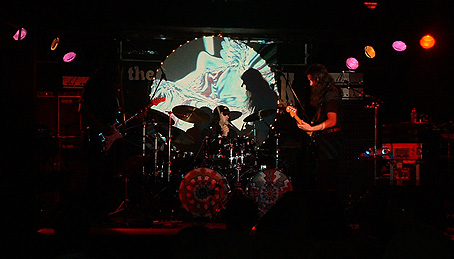 Even if the real thing never gets together again (like at Live8 – man, I should have been there), then at least we can be sure that bands like 'Pink Fraud' will keep the magical, spacerock juices flowing for many a year to come.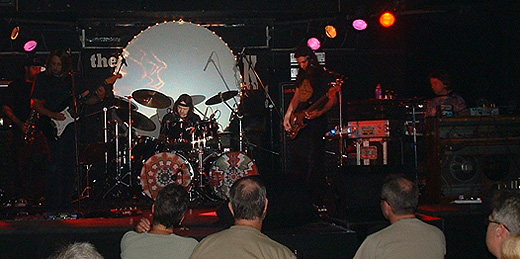 Gilmour, Wright, Mason and Waters would have had smiles on there faces if they'd seen this performance.
10/10
By Glenn Milligan

The Plastix/Teenage Casket Co. -
The Classic Rock Bar, Sheffield, Tuesday 8th June, 2004
After a few well deserved beers at a local after a hard days work (I mean t*ss it off for 7 hours) at a dingy, poxy office - which'll remain nameless right now due to legality reasons, I amble down with mi mate Andrea, grab a Maccy D - well I was starvin' and dyed brown rubber that's never been near a cow tastes good on a beer-filled, foodless stomach and get down to my fave rock 'n' roll boozer - The Classic Rock Bar, after a personal invite from Rob Lane of the Teenage Casket Co.
The venue's virtually empty - where is everybody? Both bands are taking it all in their stride though, getting the gear ready and supping a few beers - and why not indeed taking in all the good ole glam that comes out of the in-house PA.
First up it's Derbyshire's Glamfest known as 'Teenage Casket Company' who strut their stuff and fire up some fine riffery with an 8 strong song set of mighty originals like opener, 'One thing you don't'; 'Bad Girl'; 'Beautiful' and closer 'Ain't got nothin'. Think punky Love/Hate meets Motley Crue and Robin Black and the Intergalactic Rock Stars - they are summat like that I guess. CRB Onwner Sass put it brilliantly, "they've got the attitude, they've got the songs and on top of that, impressive dual vocals". They go down very well indeedy and also sell a few limited edition of 50 self-producedsampler CD's - soon to be reviewed by yours truly for these here pages
Next up is the headliners - The Plastix from Nottingham (signed to TB Records), who've been here in the last two weeks or so and are becoming as regular to Sheffield as Robin Black's IRS. Three punk looking creatures (only jokin' lads) with a frontman who wears a stick on rubber Mohican, lights his pubic hair and glows off a dildo covered in something flammable (well second go anyway - the first attempt fails to give a spark). The music is way loud, it's raw and it's extremely brash and harsh to the ears to say the least. Pure bang, bang with gruff throaty vocals.
They top it all off by smashing one of the in-house 'used on Monday's Jam night' guitars in good old Townshend style - what a thump - I felt the vibration in the depth of my soul. Nice One lads - that'll be a grand total of £50 that you've earned, I mean owe the venue to replace the sorry article!! In fact, they actually take it with them to repair, ready for next time when hopefully there will be far more than a mere handful of locals.
An overall 7/10
By Glenn Milligan

PRETTY BOY FLOYD/Robin Black & The Intergalactic Rockstars/The Plastics -
Corporation, Sheffield - Tuesday, February 11, 2003
Just when you thought Sheffield no longer gave a damn about glam... someone was so kind enough to organise this one hell of a treat for party metallers of the Steel City population. And to top it all, two decent support acts account for the Floyd's fanfare.
The plastics are a combination of pop-punk and glam metal - two genres often thought to be at loggerheads but one hopes this impressive young trio's material will help towards forging further unity between styles. Robin Black & The Intergalactic Rockstars come about as close as one can get to blowing the pretty boys offstage with their brand of 88/89 sculpted sleaze rock which I can say any new band have got some goolies to get together and simply churn out like this, these fifteen years on.
PBF may have only pulled about seventy of them onto this minuscule dancefloor tonight but they waste no time in serving the faithful. Latterday material sits there, absolutely superglued in amongst the 'Leather Boyz' material like all of tonight's tunes were written at the same time. Steve Summers is the sole remaining member from the line-up responsible for that classic 1989 debut and clad tonight in t-shirt, woolly hat and goth foundation, only linked to the illustrious past by his unmistakable voice. Still ever the stud of the act, has never forgotten how to keep songs like '48 Hours', 'Rock n' Roll Outlaws' and 'Toast Of The Town' in perfectly unforgettable trim and the current day members flanking him on the floorboards have definitely been well educated in their parts.
9/10
By Dave Attrill
Doro Pesch/Messiah's Kiss -
Bradford Rio, Friday, 15th November 2002
Don't you just love tragic jams - I caught the last two songs of Messiah's Kiss because it took around an hour to travel from Aston Roundabout to the other side of Meadowhall - Damn It !! These songs were 'Night comes down' and 'Black and White' which like the headlined herself is just pure old-school German Metal. The 'Kiss played to a virtually empty dance-floor because as usual the large majority were far more interested in getting the beer in - maybe the band ought to have had draught beer available from the stage in order to get noticed somewhat.
It filled up to a good half full for the German Metal Goddess that is Doro Pesch who after being spotted at the site of the stage (those long flowing blonde locks are unmistakable) raced up to the front with rapturous applause and ripped into 'Burning of the Witches' and the odd newie from the recently released 'Fight' album. It was like 1985 all over again and it appeared like those in attendance were here the first time around as well.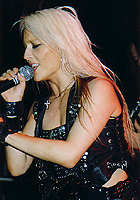 Doro's band includes drummer Johnny Dee from awesome big-hair band 'Britney Fox', who incidentally toured last year with Doro in the United States - he no doubt impressed her with his sticks.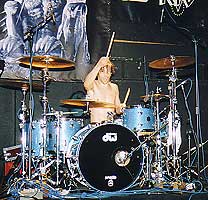 The lead vocals were rather tough to follow for those not used to strong German accent but these guys and girls on the Rio dance-floor lapped it up no problem and could sing along to every word - total hardcore fans I guess. Fist punching to the air was constant from all, (the obligatory thrust of the night) alongside a ferocity cry of 'Oy' which Doro got the fans to cooperate at every available moment - you had to be there taking part in the ritual for it to be fully appreciated - without sounding cheesy - it totally rocked.
A major highlight of the night was the emotional 'Legends Never Die' dedicated to those who no longer Rock on Planet Earth but will never be forgotten or her heavier, darker version of Billy Idol's 'White Wedding' as well as classic Warlock anthems such as 'All we are' which lasted forever (much to the delight of us all) and the bulldozing 'Earthshaker'.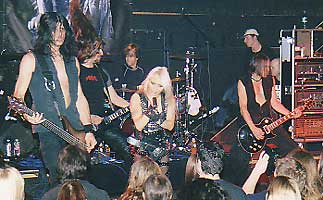 If you weren't there you missed a mesmerizing Metal deliverance that reigned with tight black leather and chains that relived the good old days of the mid 80's - it's like being pre-teenage again !!!
7.5/10
By Glenn Milligan, BA Hons CS
2002
Pretty Boy Floyd - Nottingham Rock City, 9th February 2002


This is the first time that these guys have ever graced U.K. soil and bi-jesus they conquered it - and they were only here a week. Their presence in front of a hot packed Rock City was f*cking awesome. Made up of mainman,
| | |
| --- | --- |
| | |
| Steve Summer's on lead vocals | Keri Kelli taking care of lead guitar |
(as Kristy Majors was playing with Faster Pussycat) alongside
| | |
| --- | --- |
| | |
| Drummer, Dish and | Lesli Sanders on bass |
- the 'Floyd guys rocked up the crowd into a mad frenzy.

Musically, they were as tight as a Nuns Crotch - and that's tight!!! Firing out up-tempo sleazy rock 'n' roll party songs is what these guys did with 100% flawless perfection - there were Leather Boys with Electric Toys songs a plenty like 'Rock 'n' Roll Outlaws' (which was screamed for) - as Steve said, "This a free for all - we'll play whatever you want !!!". The number was thrown in with classics like the secret 'n' sleazy 'Your Mama won't know' (that came complete with dodgy backing vocals from Lesli and Keri !!!
- so they weren't always on key - but who gives a f*ck !!! - we definitely didn't). Early on in the set came the title track itself which was greeted by a wild reception from the Girlz and Boyz prezent there that night.

Newer songs from the E.P. 'A Tale of Sex' were warmly received and I noticed just how many of the fans knew the words to the magical melodic '(Oh, oh - oh, oh, oh) Shut Up', the bed-banging 'Junkie Girl' and 'Good Girl Gone bad' (with its piercing guitar riff- courtesy of Keri Kelli) as opposed to just numbers from the legendary debut 'Leather Boys...'
The band had a huge blast throughout their set and even pulled an old obscure fave out of the closet - a quiet ballad called that Nottingham's Glam gang especially wanted to hear - in fact only Steve and Keri stopped on stage for this one - I guess the other two guyz either didn't know it or needed a quick breather (or whatever else goes on back stage !!!!). Anyway Mr. Summers and Mr. Kelli - put on a beautiful performance which was followed up with the heart rendering 'I wanna be with you' (the Leather Boyz closer), which saw the missing members re-join the stage. Steve thought it was the right time to do that one for the already mellowed out crowd - and how right he was !!!


Keri Kelli followed the tradition set by Tracii Guns (of LA Guns) who teased the crowd by playing the main riff of a song and asking the crowd to name it - this was definitely a lot more fun than that sh*t 80's U.K. television show 'Name that Tune' with Lionel Blaire - I reckon he's onto something here. The well spotted riffs included Thin Lizzy's 'Cowboy Song', Def Leppard's 'Wasted' and just for fun, G 'n' R's 'Mr. Brownstone' - musical impresario camaraderie at its finest. We dug it - and so did Keri - much to the amusement of the other band members.

'48 Hours (to Rock)' saw Steve get the crowd joyously singing for him (as you can see from our exclusive footage) and 'Rock 'n' Roll (is gonna set the night on fire)' turned Rock City into a full-on inferno of climatic excitement.


I wanna see 'Pretty Boy Floyd' come back very soon - and next time they must headline !!!! The Pretty Boyz show was 'Absolutely F*cking Killer' - I'd hate to be the band that follows 'em.


10/10

By Glenn Milligan, BA Hons CS