The Rock & Roll Wrestling Bash -
Regent Theatre, Los Angeles, California, USA Sunday, March 27th, 2016
And it's downtown Los Angeles for a show with a difference – yes, you read that right, 'Rock & Roll Wrestling' a mix of rock, heavy metal and wrestlers all in the same package for a full-on extravaganza. I must say now that the sound was killer (a bit like the wrestlers) and the bands stage was brightly lit too!
First up are the Mexican-American seven album strong band, Rusty Eye who sing in their own native tongue but go down like they are cranking it out in English-American lingo – a fitting warm-up for what's to come. 45 minutes of metal hits you hard! When El Brujo, the Rock 'n' Roll Ringmaster takes to the stage you get a feeling you are in for something that you've never experienced in your life before. On paper you look at it and think, 'err- combining the two just seems like a repel of opposite magnets' but trust me, when you have the right showmanship, flamboyance, musicians and wrestlers happening it goes moulds together perfectly.
We get a softy, camp like referee which makes the situation even funnier with each wrestler brought in looking like he could throw this guy out the ring with one finger – okay maybe I'm exaggerating a bit there but you know what I mean, right? There are a serious of fights where this mad muscle-packed bunch throw each other around the ring and appear to slam and beat each other senseless.
The band on stage 'Gorechestra' includes Bill Hudson of Jon Oliva's Pain and as a special guest, none other than Gary Holt, Guitarist of Exodus and also now Slayer who delivers some good ole Exodus with Gorechestra that just happen to be 'A Lesson In Violence' anyone – quite fitting for tonight actually and 'A Metal Command'. Those here love it tremendously!
We would have got topless girls if it had been booked elsewhere at the world but due to licensing issues, the boobs were under wraps. At least these chicks were hotties all the same if that's any consolation, posing and dancing on the stage, on the ring rope and later having us drink Coldcock Whisky – one of the sponsors of tonights event.
One stupid ass in the audience even took it upon himself that it was great idea to enter the ring and was thrown out the venue not too long after – the ring's for the folks in the show! Some people – there's always one! Songs are performed in between the wrestling and during too, many which were written by El' and his musical partner, Dave, with one in particular coming to mind called 'Like A M*thrf*ck*r' that El Brujo gets rather excited about, piping us all up with fantastically heated enthusiasm – hang on – he was like that the whole way through – no slowing down for this guy at all! Hey, it's always good hear teasing moments of AC/DC classics like 'TNT' as well which we still can't get
It's a spectacle you have to see first hand to experience the crazy excitement and bounding energy from both the wrestling ring and the band stage since this event proved to be sheer fun and pumping adrenalin from beginning to end. No words can really express how good this is to see and has to be witnessed first hand in order to feel that energy and ecstatic appreciation from the crowd, the stage and the ring. All three together make the night a truly majestic event.
Wrestling highlights included the male and female combo who were like a Nazi send-up or Boris the Butcher who defeated both of them in the end and one point early on where one produced blood and may have lost a tooth or two in the process. Ouch! The last big fight featured many all at the same time which was like a cartoonic grand knockout – too funny! Wanna see characters chucked in the air? Well The Regent was most definitely the place to be!
Looking forward to seeing this again. El Brujo said, "See you all again in September" and proceeded to give us the last song of the night by one of his favourite bands, Iron Maiden with his cut of choice being 'The Trooper' which never fails to get a rock and metal fan going.
10/10
Review by Glenn Milligan
Photographs By Glenn Milligan & Amy Rae Yard
Reverend Horton Heat feat. Unknown Hinson –
Whisky A Go-Go, West Hollywood, California, USA, Tuesday, March 22nd 2016
Set List: Big Sky/Baddest Of The Bad/Psychobilly Freakout/The School Of Rock 'N Roll/The Bales Of Cocaine/I Can't Surf/Girl In Blue/Zombie Dumb/The Devil's Chasing Me/Jimbo Song/Little Queenie/It's A Dark Day/Silver Platter*/Fish Camp Woman*/I Ain't Afraid Of Your Husband*/Your Man Is Gay*/Venus Bound*/Let Me Teach You How To Eat/400 Bucks/Galaxy 500/Victory Lap/Smell Of Gasoline/Folsom Prison Blues/Smell Of Gasoline (Reprise).
Encore: King Of Country Western Troubadours*
*With Unknown Hinson
Now tonight the Whisky was completely sold out and packed to the buffers. Little wonder when you have The Reverend Horton Heat who are Pychobilly/Rockabilly Icons. A tight trio made up of Jim 'Reverend Horton' Heath (Guitar/Lead Vocals); Jimbo Wallace (Upright Bass) & Scott Churilla (Drums).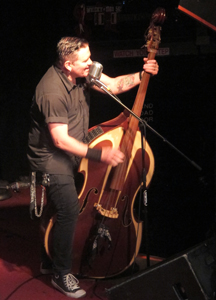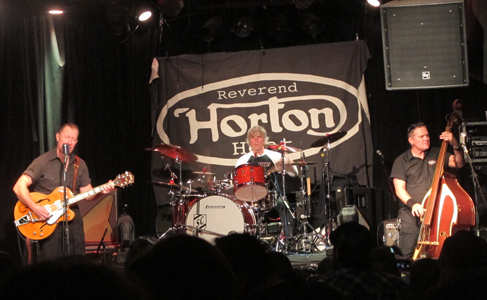 Their sound is spooky and pure retro rock 'n' roll with elements of surf and country music and can stab out some mighty songs to the needy crowd in the 'Go Go on a Tuesday evening. A humorous highlight was when Jim announced they were going to play a love song but it wasn't a happy love song and charmed us with 'It's A Dark Day'.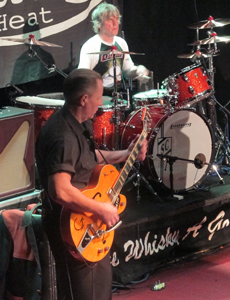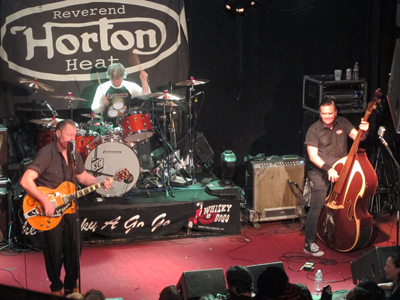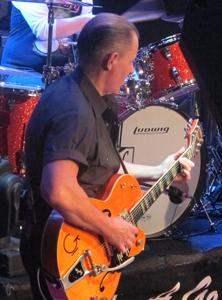 Jimbo can play the hell out of that upright bass on that stage and the sound of it is so, so clear. It makes a really pleasant change to hear a band of this nature than loads of rock and metal acts that we usually cover in here. Jim is such a gifted guitarist and he moves so swiftly on that neck, gliding over those strings and making it look so damn easy with such a delicate style. As Scotty said, "They got the original drummer back!" who pounds away, keeping the time up there like he's never been away.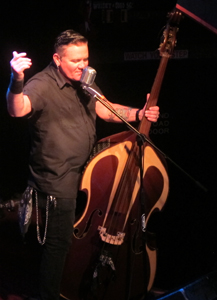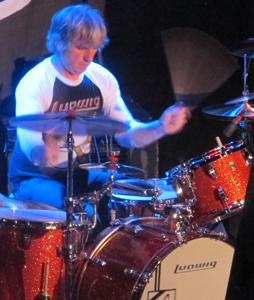 RHH take a break for a few minutes too in order to have things ready to bring on a special guest. It turned out to be none other than Unknown Hinson, the voice of Early Kuyler from the Adult Swim Network Cartoon, 'Squidbillies'. That swept back Elvis hairdo and vampiric image he portrays gives a really strong presence on stage and then there's the deep southern deep southern drawl that is very much incomprehensible at times which totally added to the authenticity of it all.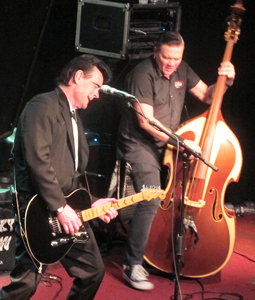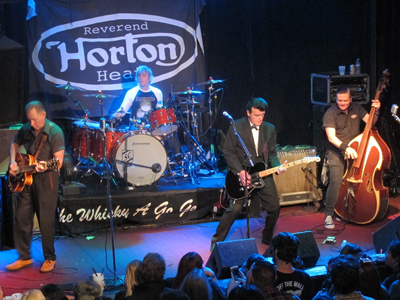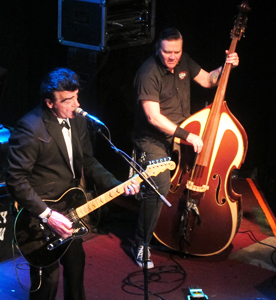 The song titled 'Your Man Is Gay' is so damn funny and he has everyone singing the chorus title line which was such joyous thing to hear and see. Such a cool ass southern boy and one hell of a guitar slinger too. His presence is so strong while he is performing that Reverend Horton Heat come across like his full-time backing band – I kid you not. They all know each other such a long time that the musical chemistry is perfect.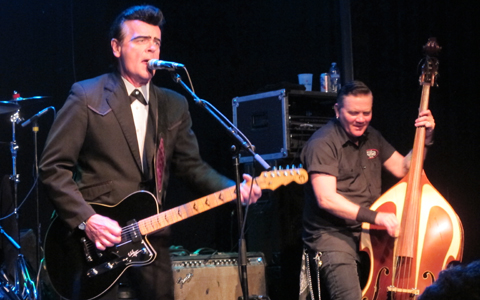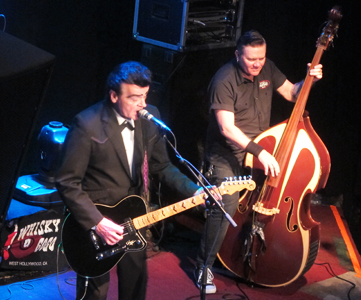 It was fantastic when the RHH introduced some Johnny Cash in the form of 'Folsom Prison Blues' – a song that I was rocked to as a baby in a pram – oh how time flies! Nice drum from Scott too! The crowd went f*ck*n' wild to one of their numbers and the floor became a swirling crazy 'n' violent mosh circle which I wisely didn't go near and opted to view this madness from the balcony above – bruises galore were inflicted to those who took part no doubt! Unknown Hinson joined Reverend Horton Heat for the last number of the night 'King Of Country Western Troubadours' which was a cracking encore.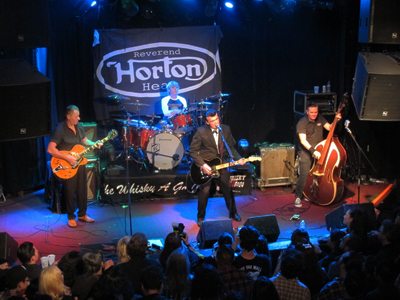 A splendid rollicking rockabilly night not to mention countrified fun thrown in too.
9/10
By Glenn Milligan

Rock For Recovery Willie Basse Cancer Benefit Jam –
Paladinos, Tarzana, California, USA Friday, February 26th, 2016
When it came to going to Paladino's on the 26th of February 2016 I really knew this was going to be a well put together event when Rob Sherriff got involved from the start. Willie seems to have a lot of friends who came out in full force to support him in playing at this benefit. Slash, took time from his busy schedule to sit in and play for a moment with Willie Basse, Mitch Perry, Vinny Appice, and many more in an attempt to raise money to support helping Willie Basse seek out the cancer treatments that he needed to receive. It was very fortunate that Willie took the stage and said several words. He had talked about being emotionally touched by the outpouring of support from the fans and friends that had come out.
The energy was through the roof as 10 to Midnite took the stage to start things off. They enjoyed the room on that stage and you could see that they had a lot of fun simply jumping about as most stages never have that sort of leg-room. The lead singer made it a point to come over to the press pit and introduce himself before they even began. I found this to be the way that most bands should act.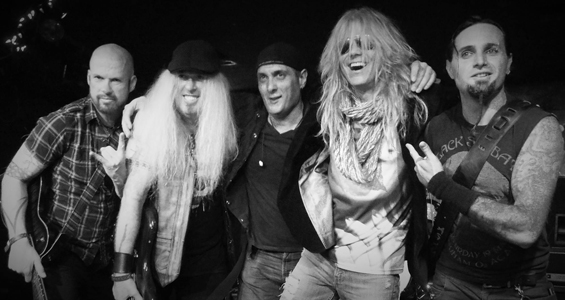 The next band was Stonebreed. Carlos also came over to say hello and introduce himself to the photo pit. The only thing I noticed that was new to their set was the addition of Brandon Paul. I had not seen Stonebreed in a while. Brandon plays like a guy that is all about the entertaining the audience. In my time I have saw guitarists make some silly faces while playing, but not this guy. He jumped around quite a bit and added to the energy of the experience. He makes a nice addition to the band. Marq from the Bulletboys took the stage with Stonebreed for a song.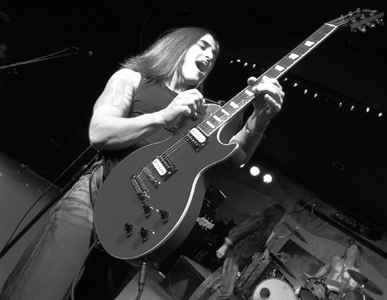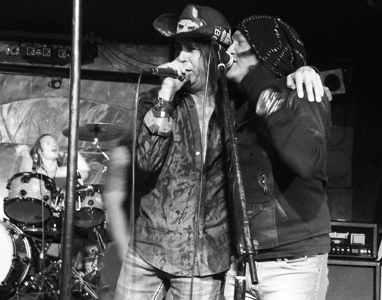 The third band to perform was RhinoBucket. They said this was their only US date at the time scheduled. They had this sound that is in comparison to AC/DC in a sense. I could see the style was there. They interacted with the crowd as well. This was a serious event with good entertainment.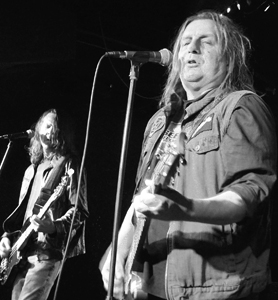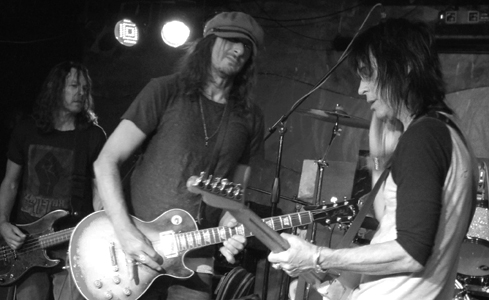 Even the raffles were interesting as there were CD's, t-shirts, and an official Slash leather jacket. There was an official ESP guitar that was autographed by artists that had performed. The leather coat was something that I would have enjoyed as the smell of leather filled the air. It had Slash insignias and the Gibson logo inside. It was a nice jacket all the same. (The winner did not allow a photo to be taken when asked for one.)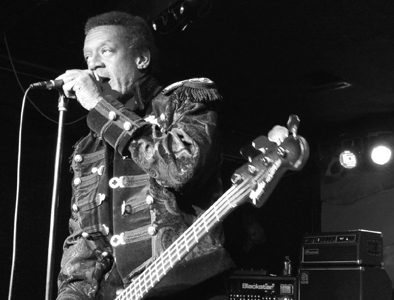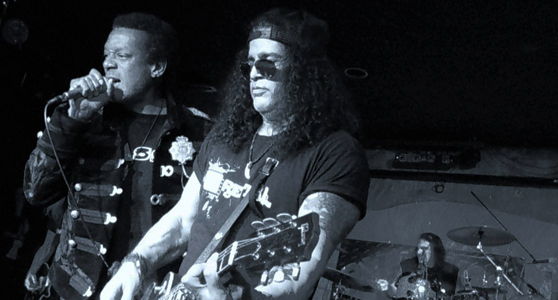 After the All-Star Jam ended we left the building. It was a great success. The party continued and more artists were taking the stage into closing hours.
Please support your local cancer charity, http://rockforrecovery.com/ Thank you for having us at the event.
By Amy R Yard (F.K.A. OZZFestAmy)
Rhino's Revenge/State Of Quo – The Local Authority, Sheffield, Saturday, March 21st, 2015
Set List: Caroline/Roll Over Lay Down/Mystery Song (full album version)/Slow Train/Softer Ride/Don't Waste My Time/Down Down.
Now this marks the first show I have seen in Sheffield whilst back from Sunny California. Wow, what a way to start when it features members of or a tip of a hat to one of my all-time favourite bands, Status Quo. It all takes place in a new venue called The Local Authority, situated next to Corporation.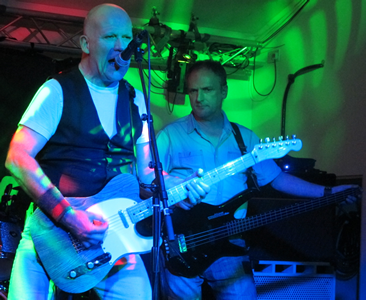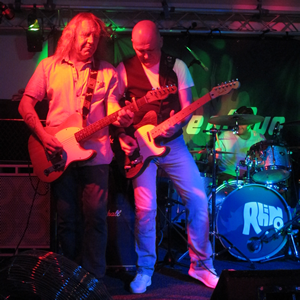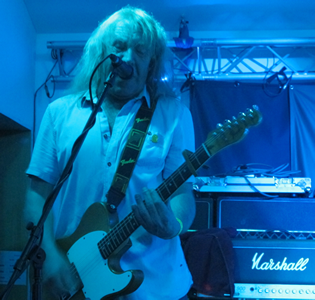 State Of Quo took to the stage asking us if there was anybody who wants to rock and anybody that wanted to roll – you know, the good old spiel from the 'Live!' album before crashing into the classic opening 'Caroline'. Albeit the drums were mighty loud in the mix for this number but the problem was soon rectified for the rest of the set.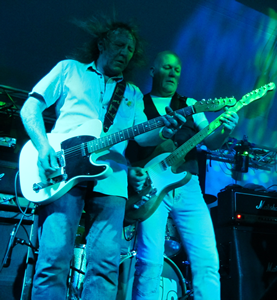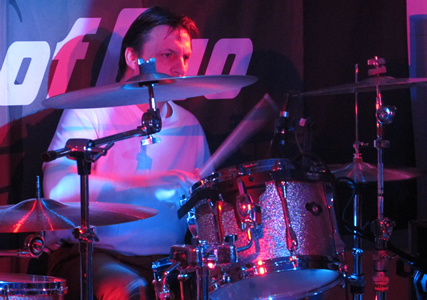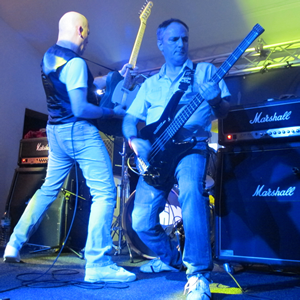 The folk in here were rather quiet to for a while which Ian who plays the Francis Rossi role commented on but they got really into it after a while. It really was quite something special to experience the full album version of 'Mystery Song' performed live which even the real thing never do. 'I see that look on your face, I see that look on your face…' – nice – that mysterious intro that goes into the well-known blaster!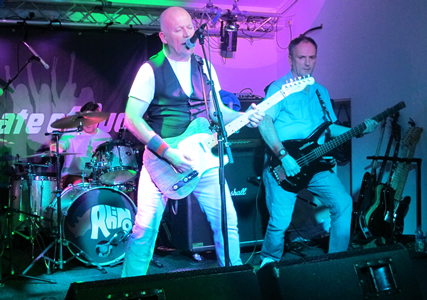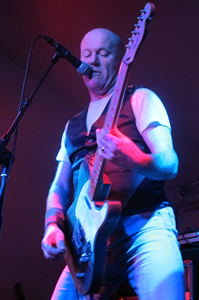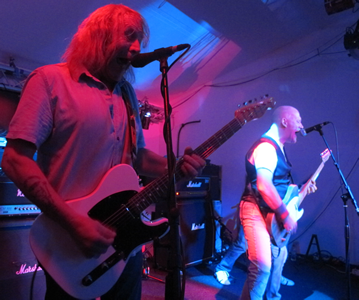 I was surprised they rolled into 'Slow Train' because it's such a long song to perform in a short time-frame they were give, but do it they did and it was a marvellous inclusion to the well-selected set of Quo ditties indeed and went down extremely well. The State' are top of the tree it seems when it comes to churning out these rockin' boogie brilliances and are as tight as those worn blue jeans they happen to be wearing.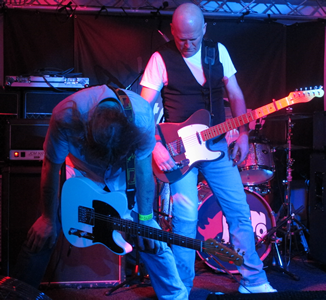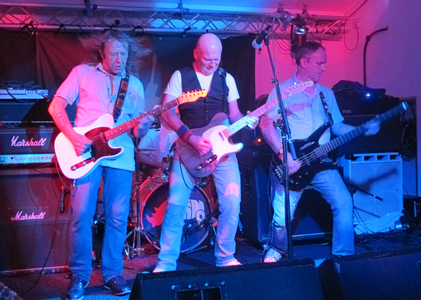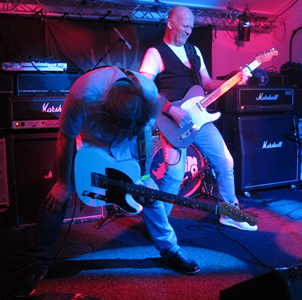 You could not argue with the showmanship of these guys and the amount of enthusiasm they have for the material since it seems fairly obvious that they live and breath the music of the 'Frantic Four'.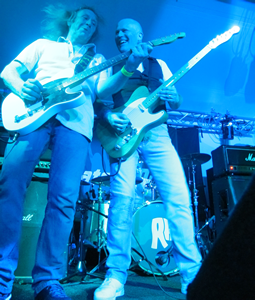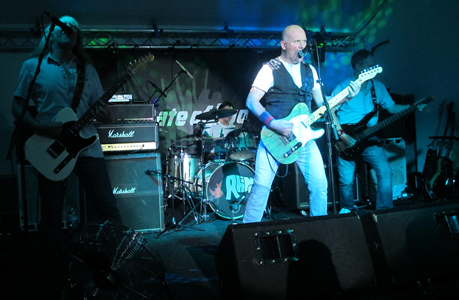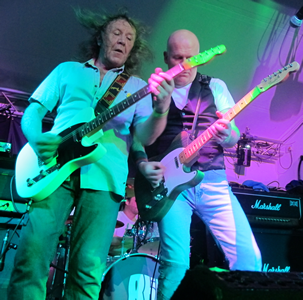 Definitely a fitting main support for what was to come.
Set List: One Note Blues/Secretary/Cougar/Busy Doing Nothing/Jungle Love/Gravy Train/Don't Come Around Here No More/Obstruction Day/Stan/Bellavista Man/Republican/Bad News.
Ecore: Jam Side Down/Paper Plane.
We didn't wait long for John Rhino Edwards and his boys to take to the stage. In fact, two of the members are actually his Son's, Freddie Edwards (Lead Guitar) & Max Edwards (Drums) with the line-up completed by Matthew Starritt on Rhythm Guitar/Harmonica who are introduced pretty early on.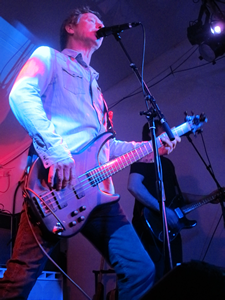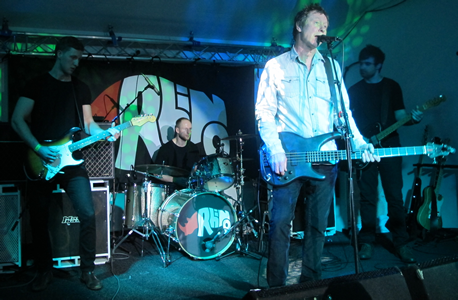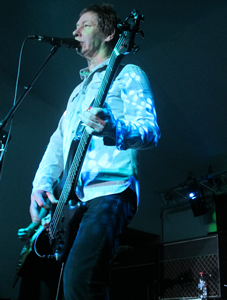 After kicking in with the energetic 'One Note Blues' they who proceeded to delight us with an uplifting set that clocked in at around 75 minutes and included material from both Rhino's Revenge albums and a few choice Status Quo numbers (written by him he tells us and gives us the thumbs down as a result with that 'Family Fortunes' game show sound when they score a zero from the survey – lol. The fans in here greet the band extremely enthusiastically for the entire duration of the gig. Okay, some of the material came across very like what you'd expect from the main mans day job with good examples being 'Bad News'; 'Republican' & 'Jungle Love'.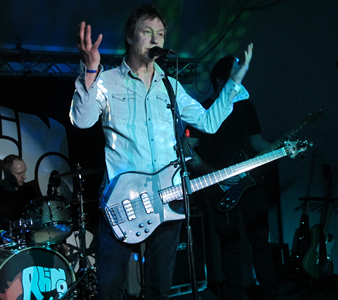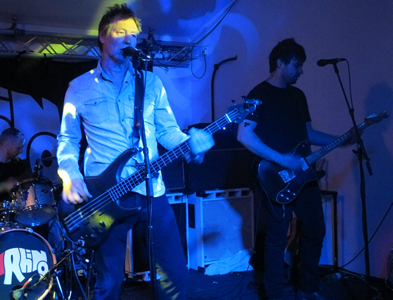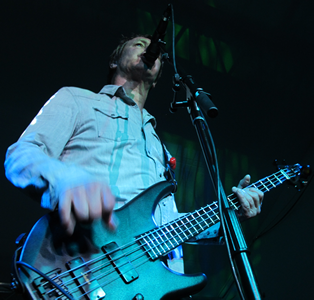 Highlights from the show included the personal tribute to the recently deceased, Andy Fraser (Bassist of Free) before going into the funky rock of 'Don't Come Around Here No More' that was influenced by that said band with 'Secretary' putting us in mind of a particular Led Zeppelin song. What a trip to hear the well-loved Quo album numbers 'Bellavista Man' (from 'The Party Ain't Over Yet) that I he performed a few years ago with a Northern based tribute Quo at the very-missed Nelson Pub up the road. It was also excellent to get 'Gravy Train' too from the '..Fourth Chord' album. In fact, Rhino never got a chance to vocally shine on those albums since Rick Parfitt took the microphone duties for them.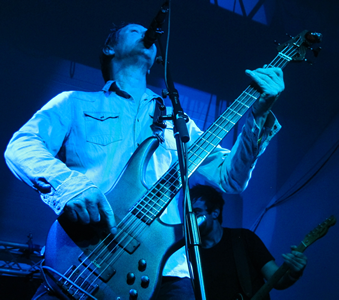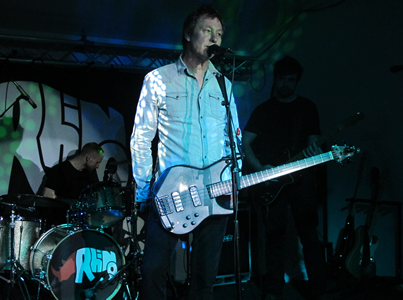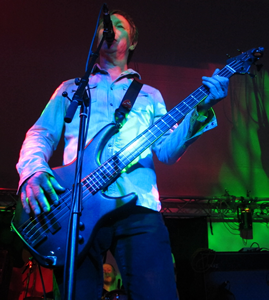 Then there's the hilarious yet true to life song called 'Stan' about Rhino's family dog of the same name that loved the rest of the household but hated him. In fact there was even a young dude in the audience with the same name who Mr. Edwards singled out before. The dog did something because he could and laughed about the chances of this particular fan being able to so the same. "The very real image of a fully grown lad licking his balls is now engraved in my mind", said Nic Rudd, my Sheffield based Drummer buddy who was present tonight too.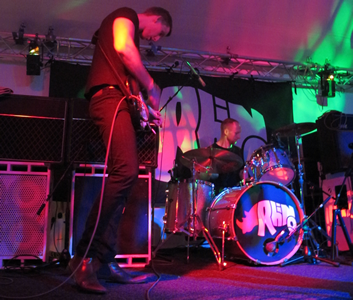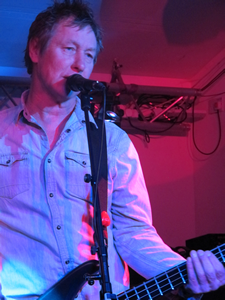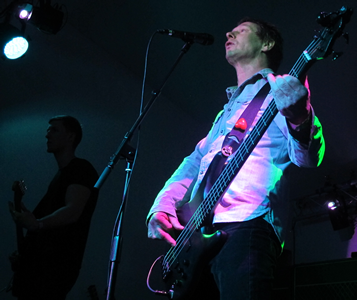 At one point Rhino's mouth got dried up so he asked if any of the crowd here had a bottle of water for him, which promptly came from a member of the audience down the front - how generous they are in here tonight. Man, it must be said what an incredibly gifted Guitarist Freddie happens to be and astounds everyone with his blues and rock soloing while his Dad laughs and tells him to top showing off afterwards.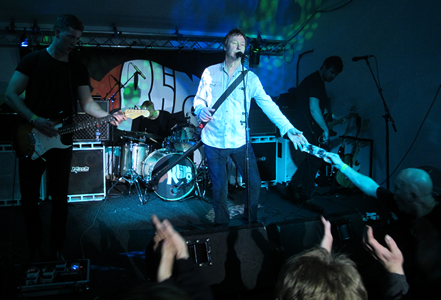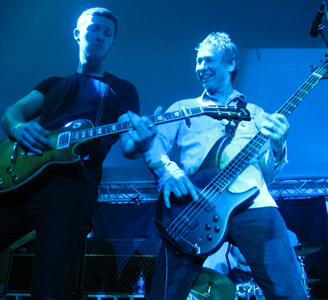 Okay, I have got to say the main highlight of the show, well I am guessing the entire UK Tour was when former Status Quo Drummer, Jeff Rich joined the band for an awesome rendition of 'Paper Plane' that also featured members of State Of Quo. This was an extremely special moment since John & Jeff had not played together in 15 years. The happening was nothing but magical and the sort of thing that dreams are made of.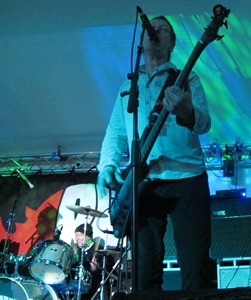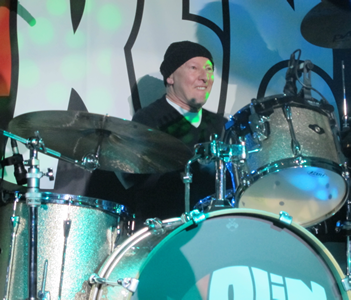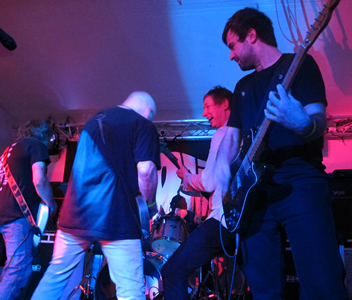 A complete surprise for us all which mind-blew all that were present and little doubt that folk are kicking themselves for not coming down this splendid Sheffield show. In fact Rhino himself went on record to say that it was the best gig of the UK Tour. Truly a fantastic show that I am so glad I was there to see.
10/10
By Glenn Milligan
Rival Sons – The Leadmill, Sheffield, Saturday December 13th, 2014
Set List: You Want To/Pressure And Time/Good Luck/Electric Man/Secret/Good Things/Manifest Destiny, Part 1/Torture/Memphis Sun/Rich And The Poor/Where I've Been/Tell Me Something/Get What's Coming.
Encore: Sacred Tongue/Face Of Light/Open My Eyes.
The Long Beach California based boys hit the stage about 9pm and they were a lot more polished than the last time they played Sheffield and that took some beating.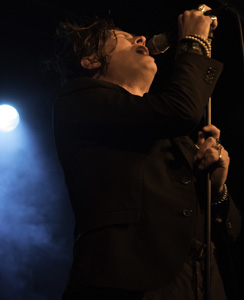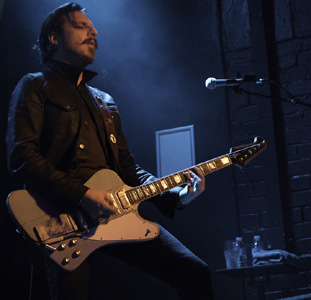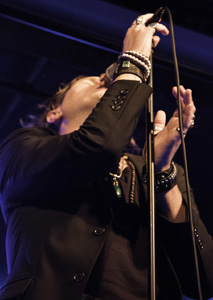 To top this, Jay Buchanan's voice was held up all the way through the show and no doubt a professionally trained singer because of the way he handled all the songs. The tone of it was the same all the way through and did not get weaker as the night went on. He doesn't waver at all and he just seems to blitz through the songs and comes across like a natural.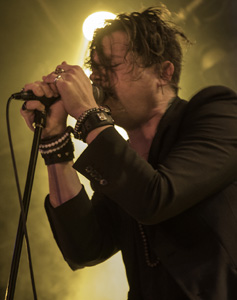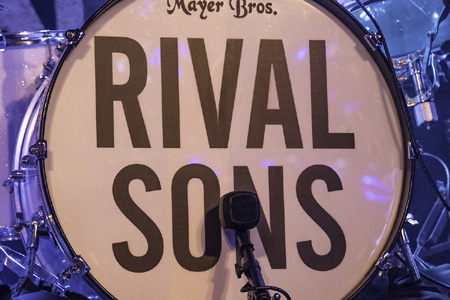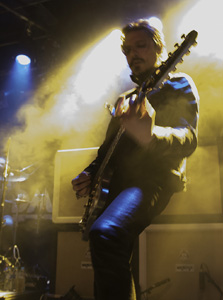 Rival Sons have had a bit of a make-over as well and have a completely different image now as can be seen from the photos which amazed us. The image doesn't match what they are doing musically but it's a great image and it really works. Jay has changed his hairstyle pretty drastically since he used to have long bushy hair but has gone for more of 'The Peaky Blinders kinda look (Birmingham, UK Gangsters) and now has it shaved at the sides and long on top.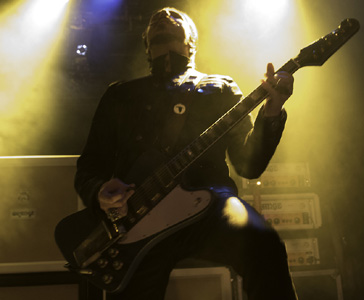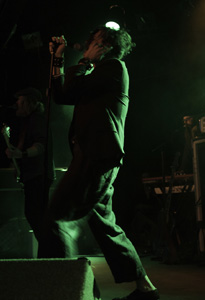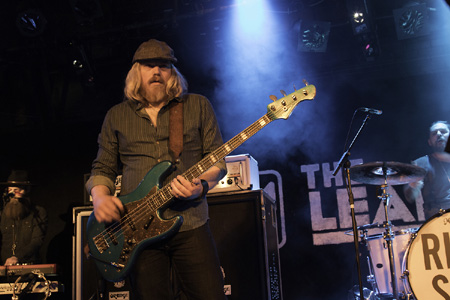 Mr. Buchanan even has a Charlie Chaplin image going down at the same time too because he was wearing oversized trousers which are too short for him that were half-mast with turn-up as well, not to mention loafers, a vest, waist-coat with braces and suit jacket. The lead guitarist, Scott Holiday looked like Dartanian since he had a handlebar moustache and goatee – they looked pretty cool. Rival Sons also have a new bassist in their line-up with Dave Beste replacing Robin Everhart only in the last year or so.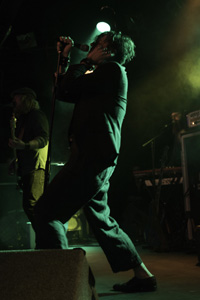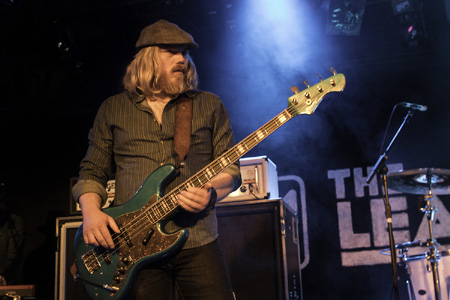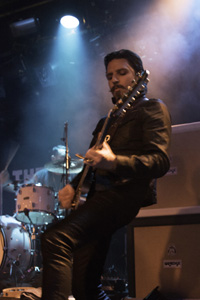 Each member did their own thing doing the songs but there were no big solos. Their drummer Michael Miley is amazing for every song – he keeps everything together – in fact in Nigel's opinon the drummer was the main man – he is a drummer though! LOL. But they are all good musicians in their own right.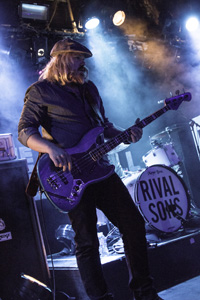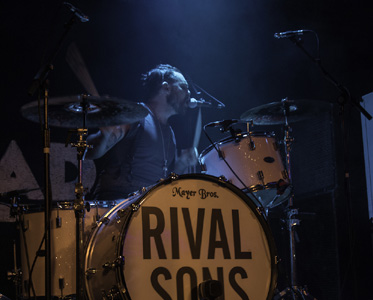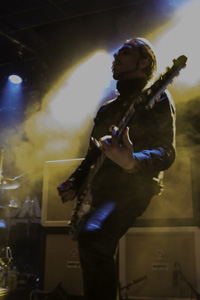 The band appear to have spent a lot of time putting a set together that flows well and they do have three studio albums to pick from now – solid ones at that. They did a good mixture, the majority of which was from the new album but they interspersed that with some tracks from the first two. Highlights included the always excellent 'Pressure & Time'; the blues-rock of 'Good Things' which has a very moody mid tempo to it. They also interspersed another number into, something that they have become very notable for during 'Manifest Destiny, Part 1'.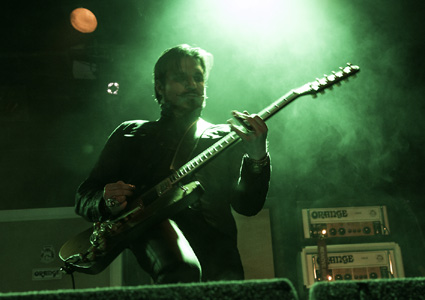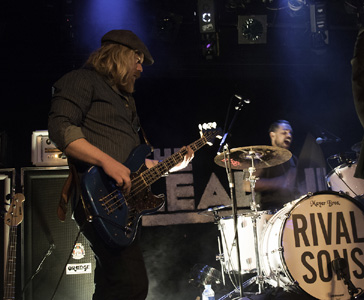 Temperature-wise it was quite cool in the venue because they had the doors open and it was absolutely packed in there – well it was a sell-out! The crowd were totally buzzing off the band and were very tense. Everybody knew the songs which adds to the atmosphere, making it an even more brilliant night than it already was – if that makes any sense.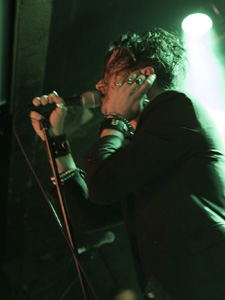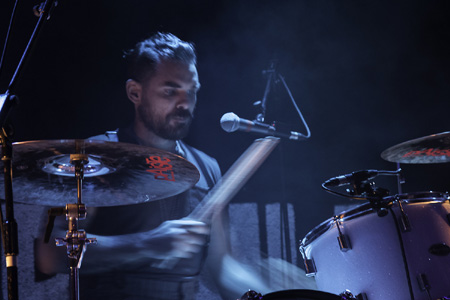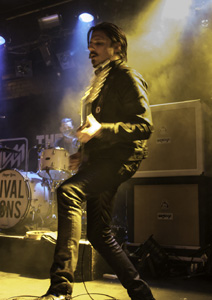 Jay uses a voicebox or echobox he keeps near his face and has a hell of a voice on him. He can handle very high pitch and very low tone. About halfway through he went, "Are we okay at the front, are we okay at the back, are we okay in the middle' and then he went, "I didn't hear the people at the back' and then everybody shouted 'Yeah' which is classic concert custom. He got everybody wound up – he was really good. A very professional frontman and everybody seemed to warm to that. All in all, a pretty good night.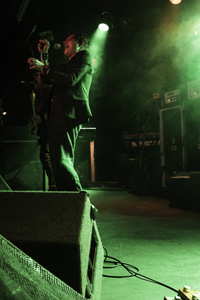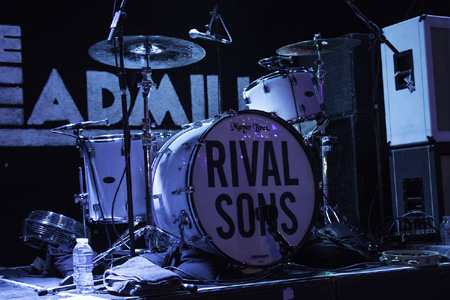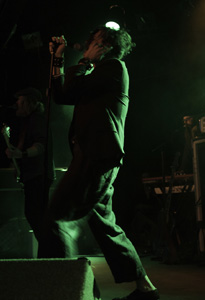 There was plenty of merch available to buy tonight that included a variety of different shirts for sale – around 6 or 7 in total. They've got that end of the market down to a T – scuse the pun. Overall, The 'Sons show last 1 hr 45 mins altogether at the 'mill – now that's a value for money set indeed. The only real gripe was that the lighting was not great and more back-lighting than front-lighting for the gig. That aside, they are a band that a worth seeing again many times over.
9/10
Review By Glenn Milligan & Nigel Hughes
Photographs by Nigel Hughes

Royal Hunt – Corporation, Sheffield, Thursday 6th March, 2014
Set List: Double Conversion/One Minute Left To Live/The Mission/Tearing Down The World/Hard Rains Coming/Running Wild/A Life To Die For/Old City Lights/Time/Half Past Loneliness/Last Goodbye/Message To God.
Encore: Hell Comes Down From Heaven/Instrumental Mix/Epilogue.
Ahh… a nice slick bit of Melodic Hard Rock live in the City Of Sheffield since tonight Royal Hunt are in town on the big stage too. There's a good enough handful to make the large room worthwhile as there were way too many for the little one – proving that the band can pull an audience over here in the UK in their own right outside of London which is where the other show happened to be the previous night.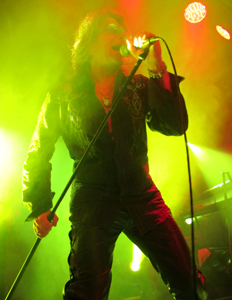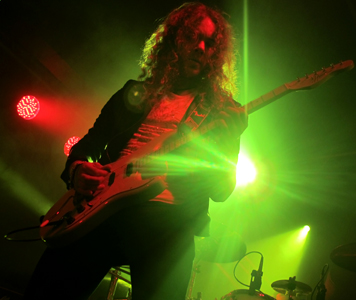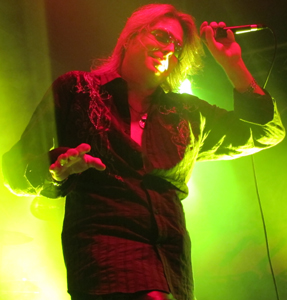 The members take the stage one by one to an atmospheric intro and assume positions, checking their instruments before frontman DC Cooper ambles on who immediately puts me in mind of Jon Bon Jovi meets Chas West in the looks and image dept with his shades and general regalia. When these guys crank up it's like the last 16 years never happened. As my buddy Steve Froggatt said, "It was just 1988 all over again".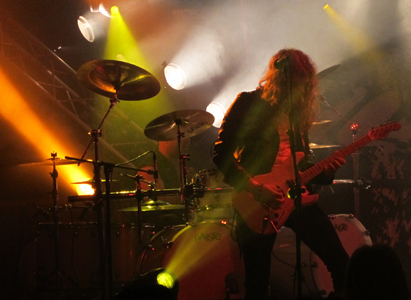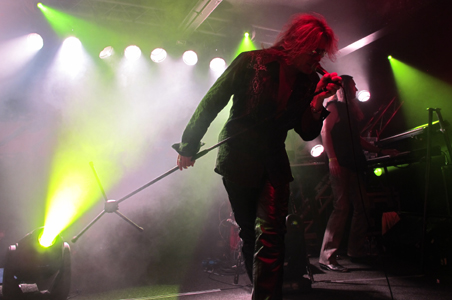 I remember them from the first few years of Metalliville as these Swedes (okay the frontman lives Philly, USA) are signed to the Italian label, Frontiers which we used to get promos from before all that digital download thing took over. They have a real prowess about them live as well – apart from a few flown in backing vocals now and again – but many bands are guilty of that these days – even the big boys.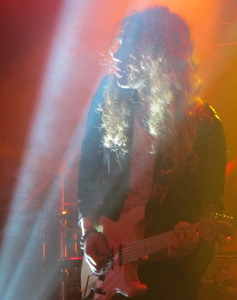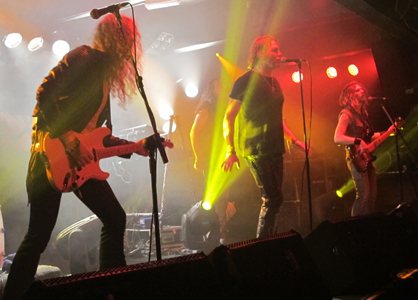 Soundwise this simply could not be any better with everything being audible and crystal clear as hell because it needs to be with music and songs of this kind of stature since it's all about the arena-like sound a perfect clarity – not a clashy wall of sound that some heavier bands suffer from. Andre Andersen, the backbone of the band is like a Rick Wakeman or Jon Lord up there with go-go gadget arms doing his ebony and ivory gymnastics and those keys produced a layered foundation that the other members build from.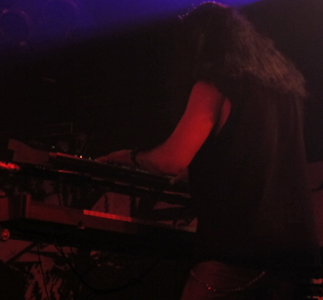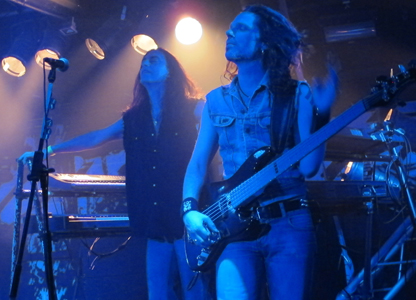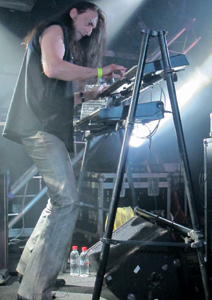 Highlights include numbers like 'The Mission'; the outstanding 'Message To God'; Hard Rain's Coming' with those cool strings sounds from the keyboardand high vocal lines; the anthemic and slamming 'Running Wild'; the wailing 'Half Past Loneliness' or the immense epic closer of the night that is 'Epilogue'.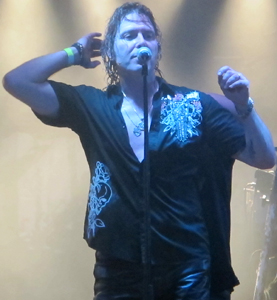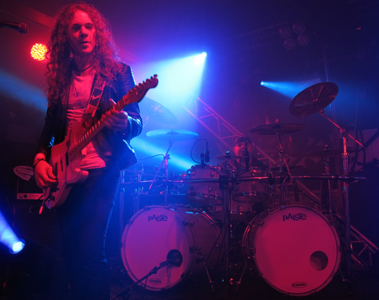 For the European Tour, ex-Bassist, Per Schelander has taken up the deeper note duties since Andreas Passmark has some family related issues to take care of. Per does a damn fine job though and I bet it's cool for him to be up there with his old band mates again – he sure nailed them numbers anyway. The riffs from the guitar of Jonas Larsen are off the planet and it's like watching Yngwie J, Malmsteen having a day off from the day job at times meets Ritchie Blackmore and a few other elements thrown in.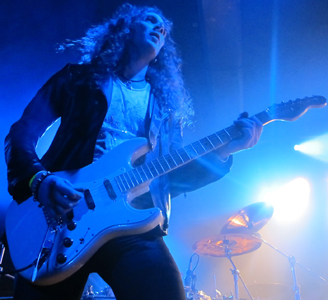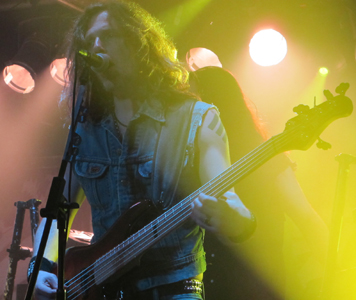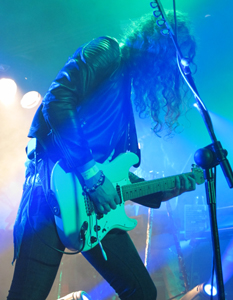 Drummer, Allan Sorensen is a tantalising powerhouse up their with keeping beat with the best of them with arms all over the place making every single crash, bang and smash count – with a favourable mass of accenting at the appropriate points in the songs which totally makes up for his lack of hair – only kiddin' mate – he's bigger than me, so I best not p*ss him off – lol.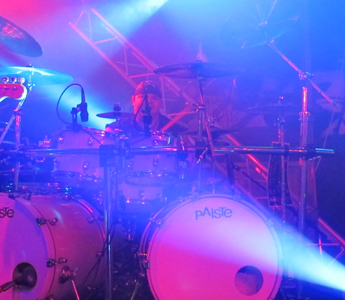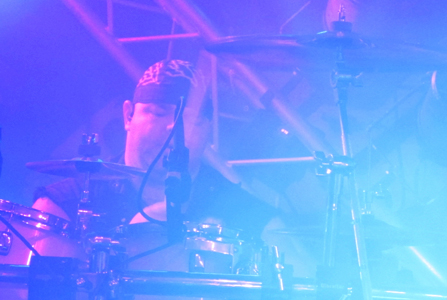 DC Cooper is a great frontman who has a really strong voice which is adaptable as there's plenty of range there since he's able to get lowish notes and others that are a stones throw from Planet Pluto – I think even dolphins can connect with some of them actually. Okay, maybe I'm pushing it a bit far on that but you get the idea all the same.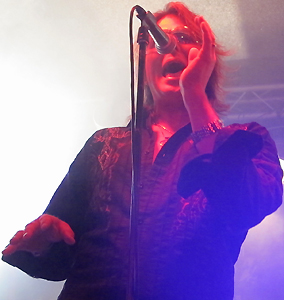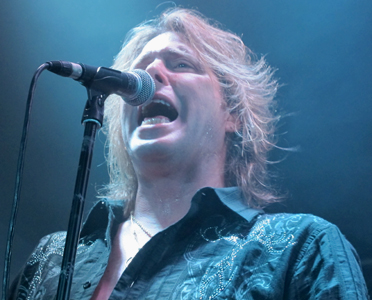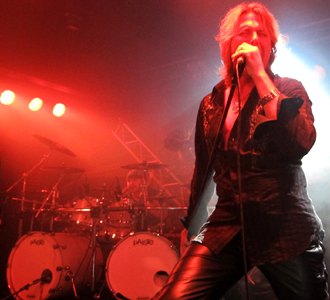 Mr. Cooper connects with the crowd and gets them singing a bit too although they do need a bit of prompting – wake up people this is rock 'n' roll! They get there in the end though after a jibe from DC – "You'll have to do better than that", he says to them - well this lot in here are getting on a bit I guess but come on people – hahaha.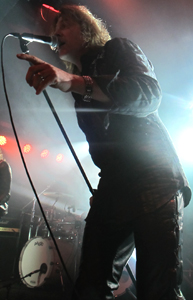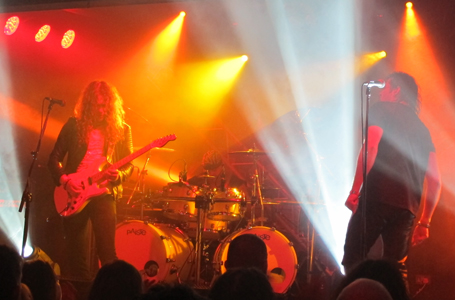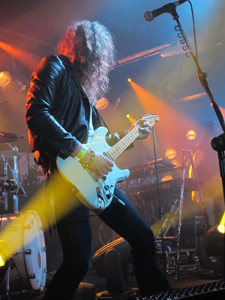 Some will argue that their sound and style is old hat, very generic and dated but that's the European melodic rock style for you – it never really changed a lot and it never will too much – a bit like Status Quo and Motorhead. It's a case of if it's natural and comfortable for a band to have a style and they are progressing on it both musically and financially then don't stray from a winning formula or you're done – right kids?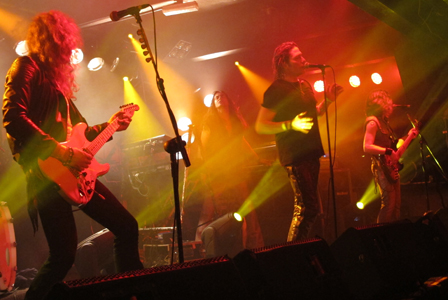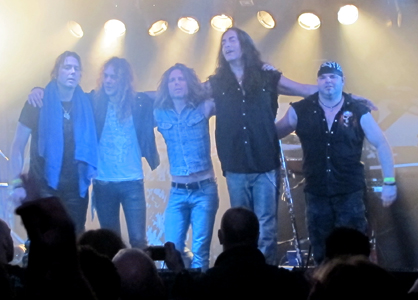 A decent gig from a band who are pretty big in Europe and Japan.
8/10
By Glenn Milligan

Jack Russell's Great White –
The Whisky A Go-Go, West Hollywood, USA, 24th January, 2014
Set List: On Your Knees (feat. Achilles Last Stand)/All Over Now/Desert Moon/Mister Bone/Save Your Love/Face The Day/Can Of Wupas/Lady Red Light/House Of Broken Love/Call It Rock 'N' Roll/Can't Shake It/Rock Me.
Encore: Immigrant Song/Once Bitten Twice Shy.
It's great to see Jack back on the stage again as it's been a while since I saw him at a venue a few miles up the road from here. He is looking healthier as well from last time since he's put more weight on.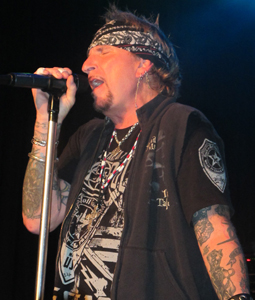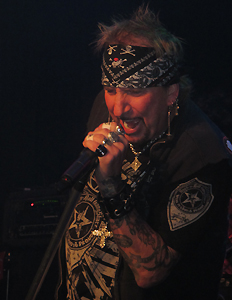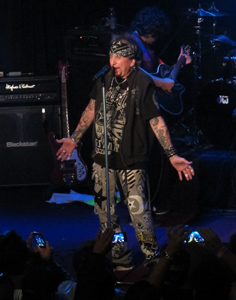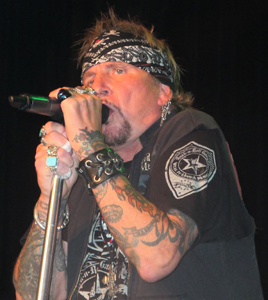 His voice is on exquisite fine form throughout the entire show and does not miss one note – even on those extremely high Led Zep notes – old Percy takes some matching indeed but Jack was right on track with 'Achilles Last Stand' during the opener 'On Your Knees' and in the encore with 'Immigrant Song'. He has two new band members up there with him too in Chris Tristram on bass/keyboards and drummer Dicki Fliszar, formely of the UK band, Skin who I had a chat with afterwards. Completing the line-up of course were mainstays, Robby Lochner and Tony Montana both on guitar.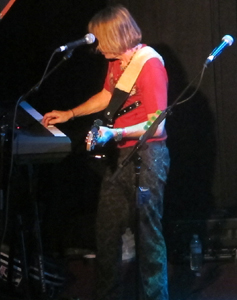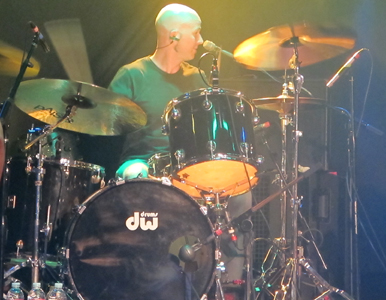 Okay so it was the same set I had seen him do before and he told us that they were gonna learn some more songs for next time but credit where it's due – the unit hadn't been together too long and he did promise us a brand new album that was gonna be the best thing ever. The banter with the fans was so honest and he forever thanked us for being there over the years, saying the 80's was the best time for rock and boy were we glad he was still here with us. Jack even joked that the Whisky was nearly as old as him too.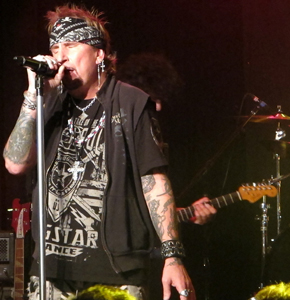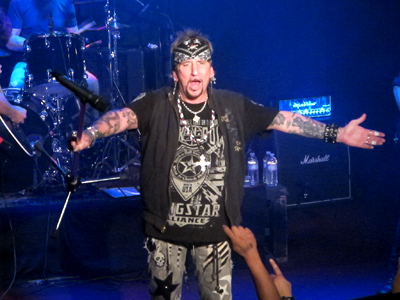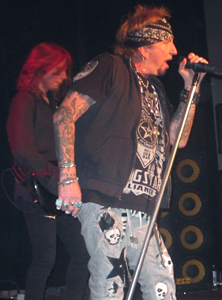 The energy up on that stage was so warm and electric and everybody was having a great time and even tells the microphone stand off for falling over – such a character – gives it the pointy finger – lol. Wow so many highlights throughout this set that included classics like 'Lady Red Light'; 'All Over Now';'Face The Day'; 'Rock Me' and much more – basically a non-stop party though Jack did do a song for his wife that was ill that saw him wipe away a tear.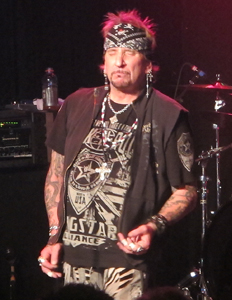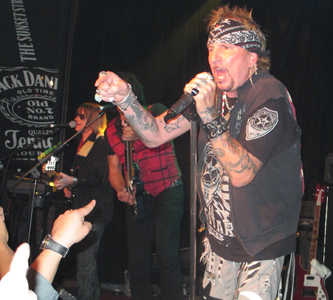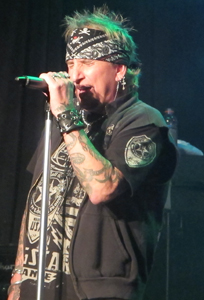 Now there was only one way to close the show and yes – that bloody cover song by Mott The Hoople that we all love so much and sang along to throughout with Jack – not that this wasn't the case with many other numbers of course. Anyways, back to the point, 'Once Bitten Twice Shy' was the song in question f course and was delivered with so much love from both sides of the stage.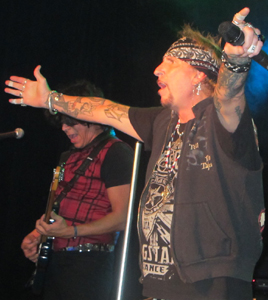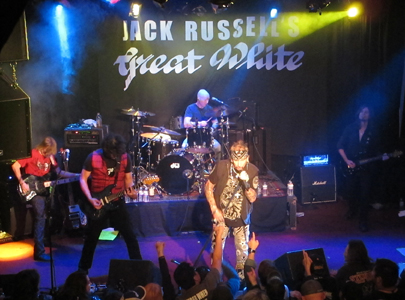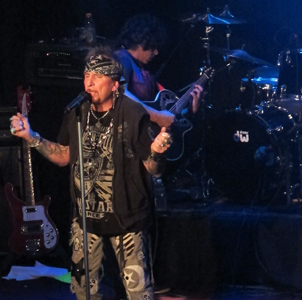 A great show that proved there is way more life in Captain Jack than many folk probably imagined. Keep it coming my hearties!
10/10
By Glenn Milligan
Uli Jon Roth/Bumblefoot –
The Whisky A Go-Go, West Hollywood, California, USA, 23rd January, 2014
Well now, this is really one hell of treat in less than a week since that'll make the third member of Guns 'N' Roses past or present that I've seen in less than a week with Bumblefoot being the hat-trick as we say in the UK.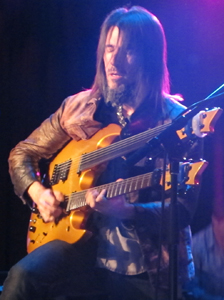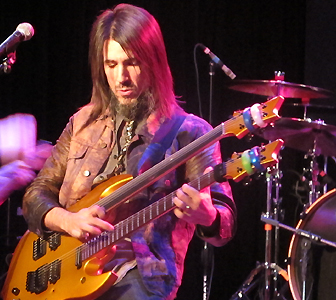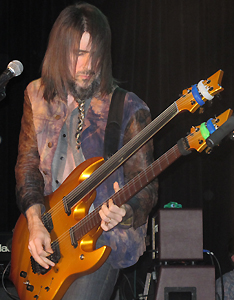 Now what a quirky cool guy he is too and has a slick as f*ck on the edge and spur of the moment style to his playing that comes across like a kind of Satch meets the zaniness of Frank Zappa and Mike Patten all rolled into one. Okay I ain't very familiar with his work at all but I will remember parts of the set forever more as he is such an intimate showman and makes the audience a part of the band just about.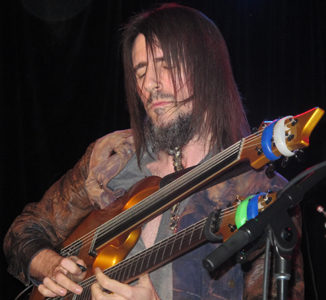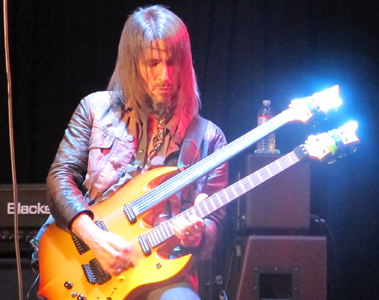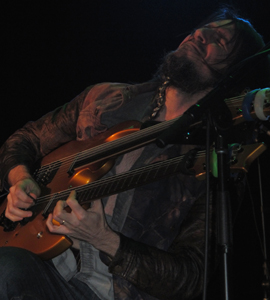 Ron Thal the man himself is truly an inspirator and innovator of the present and no doubt future and keeps every single eye in the crowd glued on his every move and note that he plays on that customized double kneck guitar of his. He ain't half bad a singer too – in fact he is bloody good. His band are also purely exceptional and clutch onto every single second of every note he plays, anticipating where he is going to go next and don't fall flat once.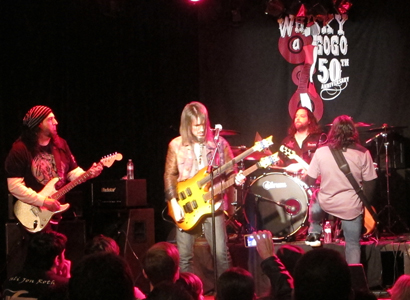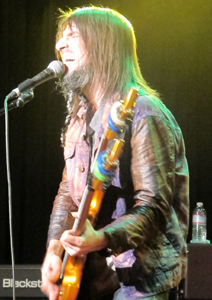 To be honest, it's little wonder that his day job boss, Axl Rose wanted him in his band for killer axe slinging and immaculately clear backing vocals who no doubt is a perfect match for his highness in the larynx dept – especially of he is having a bad night. It's no understatement to say that he is definite virtuoso.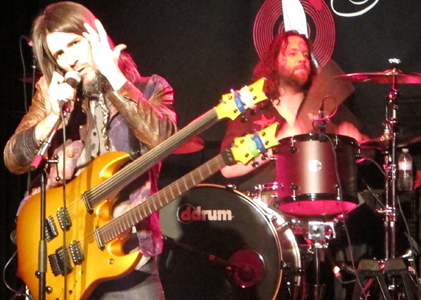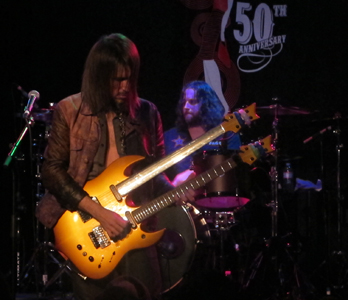 Mr. B has us doing vocal exercises and compliments us on our singing power not to mention coming out into the crowd, going up around the balcony area up stairs and never misses a single note on that guitar at all during the epic 13 minute+ 'Dash'.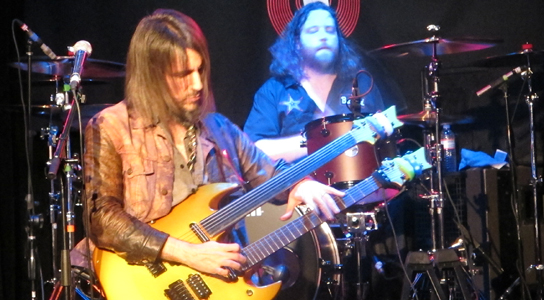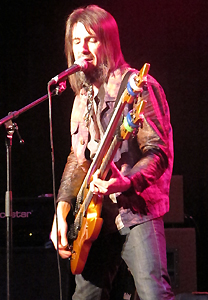 There are so many highlights in his set that culls in so many different styles that include Rock, Metal, Blues, Jazz, Fusion, Classical and much more. I dearly loved that power ballad he did called and what about that great rendition of 'Theme From The Pink Panther' or the incredible 'Guitars Suck' – but not in this case because it's like Yngwie J. Malmsteen on acid and then some...
Set List: All Night Long/Longing For Fire/Crying Days/The Sails Of Charon/Sun In My Hand/We'll Burn The Sky/In Trance/Fly To The Rainbow/I've Got To Be Free/Hell Cat/Polar Nights/Dark Lady/Pictured Nights/Catch Your Train/All Along The Watchtower/Little Wing/Smoke On The Water.
Now it's time for the headliner of the night to take over, ex-Scorpions guitarist, Uli Jon Roth to take to the stage who wanders down those stairs in a grandiose manner like a king from Egypt and really needs no introduction at all with the rest of the band made up of Niklas Turmann (Vocals and Guitar), Elliot Dean Rubinson (Bass) and Richie Onori (Drums).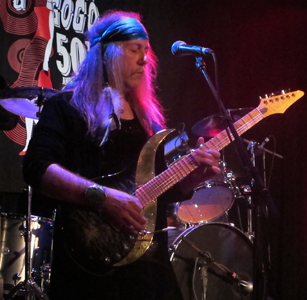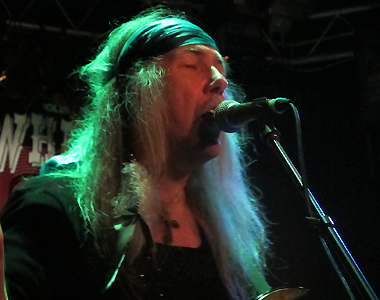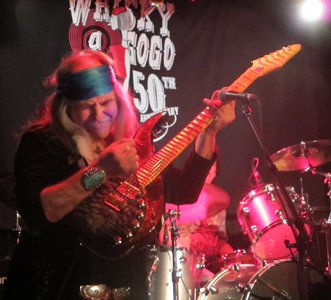 Niklas was a new one on me and had an out of this world voice but I saw Elliot – a supreme bassist with Michael Schenker who of course played in the Scorpions in the early days. Richie Onori I've known a while who plays in Steve Priest's version of The Sweet, who took to the stool at last minute because Uli's European drummer couldn't make the show. You would have thought Richie was the permanent drummer as his percussive moves and beats were absolutely perfect.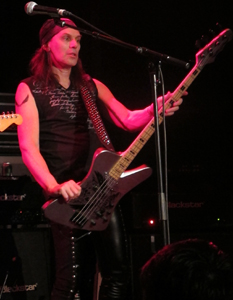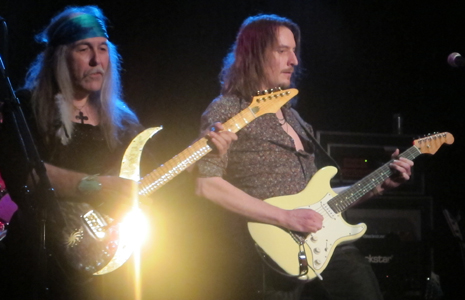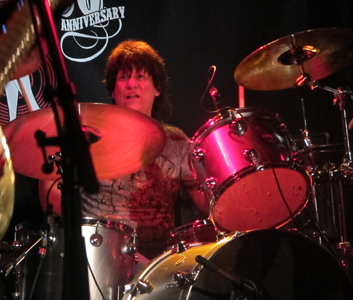 Mr. Roth himself is majestic in every way and softly spoken when it comes to the microphone and instead let's the flow and presence of his beautifully crafted custom made guitar and overall stance take over leaving you open-jawed at how precise he is at such intricate vintage material that is in the set tonight.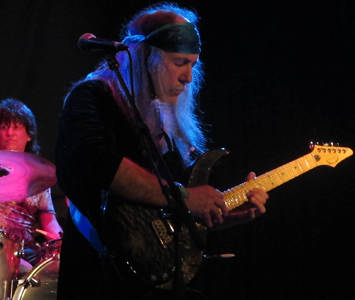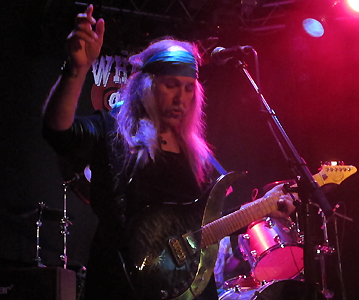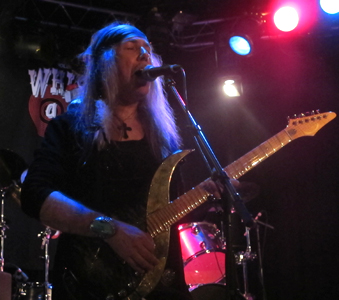 These songs are culled from the 1st five Scorpions albums that he played on that are kinda prog rock, old school 70's hard rock and even rather far out psychedelic – who knows what these guys were on when they wrote some of this stuff. Mark Boals comes down for a guest appearance too as he sings on a new version of 'The Sails Of Charon' so it's only fitting for him to nail it tonight. Wow – what a voice! – such a joy as I saw him the previous night at the NAMM Jamm in this very venue.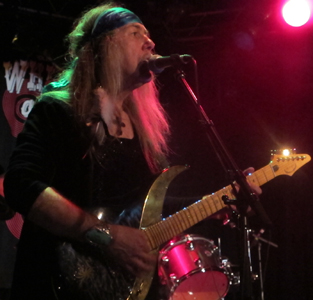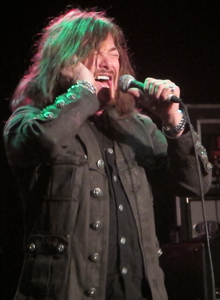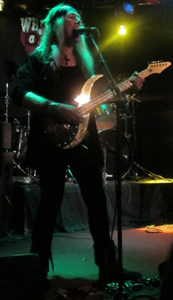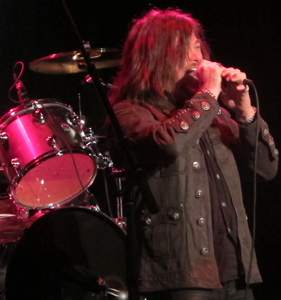 Other highlights included the opening 'All Night Long' that rocked the place alight immediately beautiful ballad 'Fly Me To The Rainbow' with it's fantastically extensive guitar solo ending; the outstanding and pulverising 'We'll Burn The Sky'; the the manic Hendrix like 'Hell Cat' or the epic 'Dark Lady'.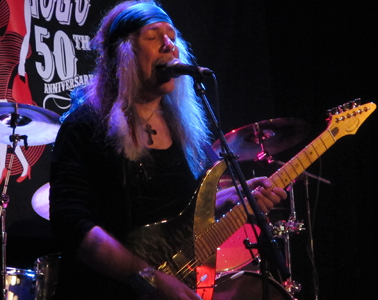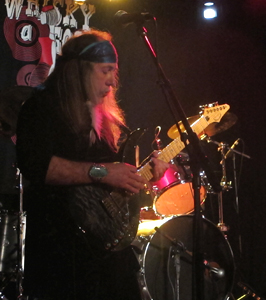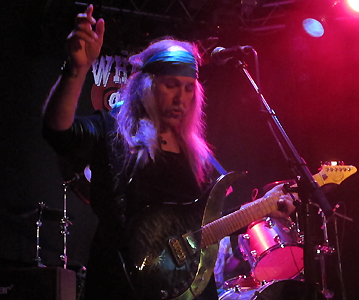 It's great that he goes for a few covers to end the night nicely on too – I remember him doing his Jimi Hendrix tribute with his Sky Orchestra a few years ago that was filmed by Rockpalast in Germany so to see some of this going down was a real treat. As an added bonus, a Deep Purple fave is thrown in – the air guitar classic that is 'Smoke On The Water' that sees Bumblefoot crank up on much to all and sundries delight – history was definitely made tonight – well this is the Whisky after all.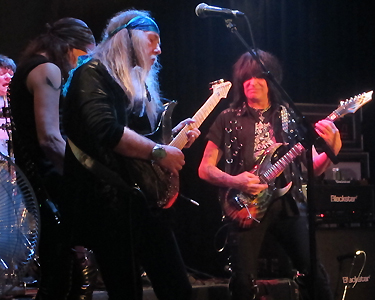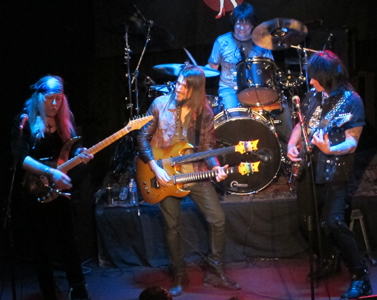 Faultless and flawless.
10/10
By Glenn Milligan
REO Speedwagon/Styx/Ted Nugent -
Germain Arena, Estero, Fort Myers, Fl. USA, Wednesday 1st May, 2013
Set List: Wango Tango/Somebody Get Me A Doctor/Wang Dang Sweet Poontang/Turn It Up/Medley/Hey Baby/Live It Up/Cat Scratch Fever/Stranglehold/Great White Buffalo.
Well what an incredible way to say 'Welcome To North America' a few days into my vacation with a major show at Germain Arena in Fort Myers. Funny how all arenas inside look virtually the same - in fact I could have been in the one in Sheffield or Nottingham but was remined otherwise by all the cool Americans in this virtually sold out show tonight.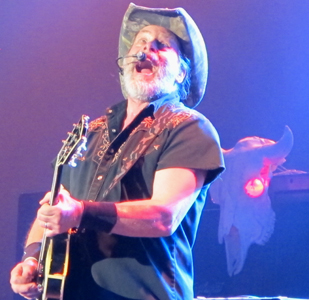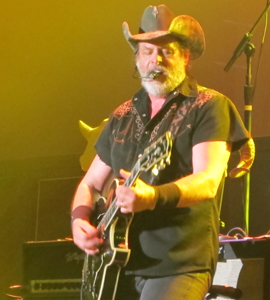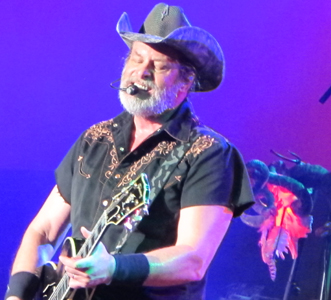 Although I sadly missed the 1st three songs of Ted's set - a trio of faves as well dammit due to us journalists having to sort out our photopasses. So when we got in I shot from my seat and got good photos all the same with a cool zoom as they were very close to the front indeed. Now it was awesome to see Mr. Nugent up there gunning out his greatness and damn cool to see 'Wild' Mick Brown up there on the kit as opposed to driving around in a golf cart - only kiddin' - what an exceptional drummer!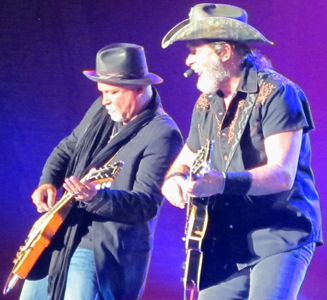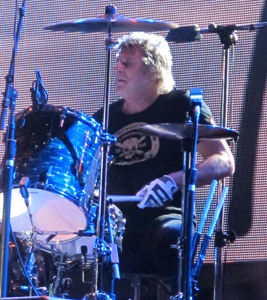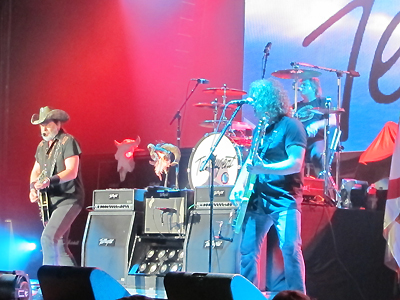 The sound in this arena is nothing short of outstanding and it came across that although it's used a lot of ice hockey and such like sports they really went to town on ensuring that the acoustics in this 'ere shed were perfect - the clarity was prisitine up front and usually it ain't the case at all - so well done Germain on this front with 'Wang Dang Sweet Poontang' putting a big smile on my face also.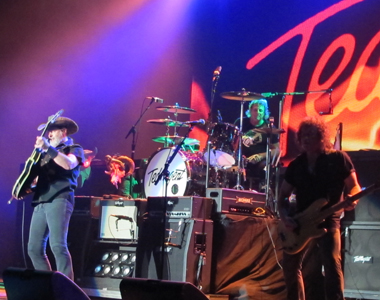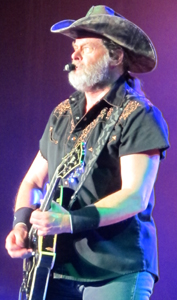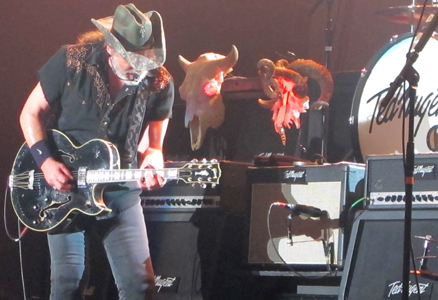 Mr. Nugent and his crew were bang on form which I totally expected since this Damn Yankee only plays with the best - carousing around the stage with his big fat Gibson he is famous for cranking, not to mention sporting a chunky whitey grey beard which I personally wasn't expecting at all but he does kinda suit it and looks a bit like Willie Nelson meets Grizzly Adams.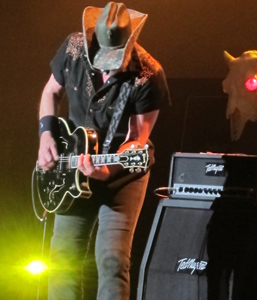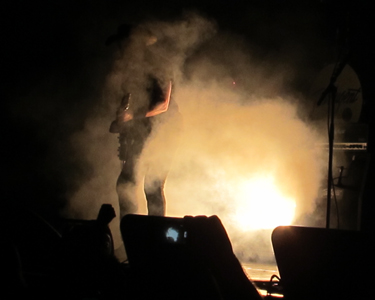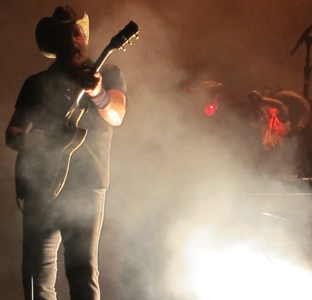 His old-school frontman, Derek St. Holmes has not lost it one bit and hits up those hight notes with no trouble at all and it's so good to hearing them firing out on the epically long 'Stranglehold' that needs no introduction at all. We even got to enjoy a special local guest too - our buddy, Rickey Medlocke, Guitarist of Lynyrd Skynyrd and the former main man of Blackfoot who stonked up the soundz on 'Cat Scratch Fever' - a song I've long to hear live for well over 20 years by the Nuge!!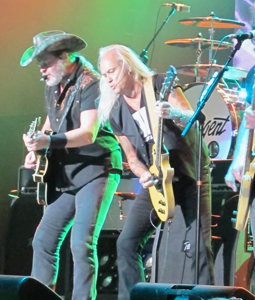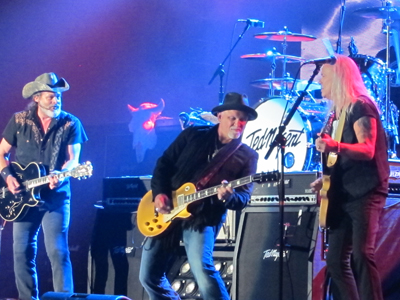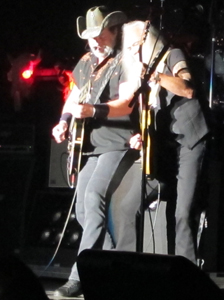 The set finished with the slipper stomping 'Great White Buffalo'. Ted is gloriously patriotic paid tribute to the people of America especially the US Army, Marine Corps and especially the casualties of the Boston Bombers - an awesome guy indeed. Let's hope he comes to the UK for a big tour one day as oppsed to the odd date if we can afford him, as he says.
Set List: Blue Collar Man/Grand Illusion/Fooling Yourself/Lady/Light Up/Man In The Wilderness/Miss America/Too Much Time On My Hands/Come Sail Away.
Encore: Rockin' The Paradise/Renegade.
Now next up are a band that I first got to grips with over 20 years ago via those Time-Life CD's that had that song that is also the name of a famous film about a pig - yes I mean Babe - hahaha which strangely enough is omitted from the set tonight for one reason or another. My buddy, Mike Grossi informed me that they don't play it anymore - oh well - there are many more great songs in the set to keep everyone entertained. I am simply amazed to see how well these guys look and the legendary, frontman/guitarist, Tommy Shaw could pass for an easy mid-30 - the man must be breathing the same air as me - lol.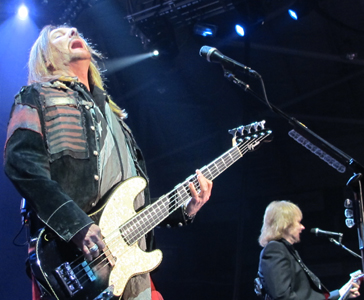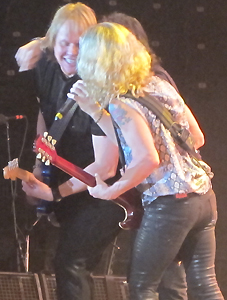 Those melodies and vocal harmonies that Styx have gone down in history for are still perfectly in place after all these years and I am completely blown away by them to say the least, being a bit of a singer myself at times. These guys obviously keep they larynx well liquidated and more than likely keep away from the grow your own, roll your own variety of cigarette though 'Light Up' is firmly placed in the set and a joke a jibe at the Florida State Governers as well with regard to their vote against the states non legalisaton of mary jane down here and tells us all to keep on smokin' in his own cool way of talkin' - 'Light Up' - oh yeah baby!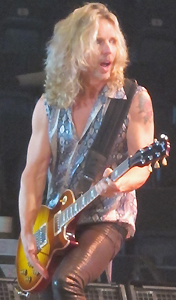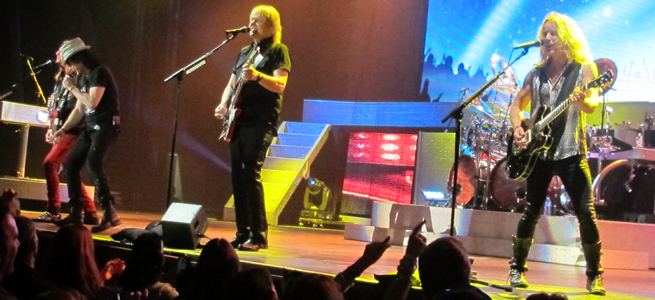 We got a special guest in orginal bassist, Chuck Panazzo who had come in from the east coast of Florida especially for tonights show so big kudos to him for being there just for us. 2 bassists - how cool is that? I like the effect of the keyboardist spinning around with his keyboard which is something I have never ever witnessed before in my life and worked so well with the AOR pomp of this incredible band.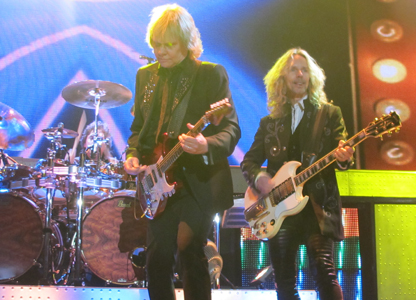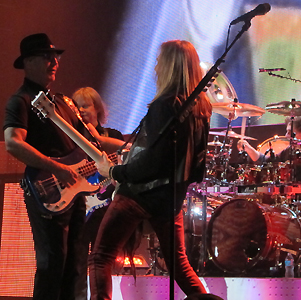 Their keyboardist played us a bit of the opening of Eric Clapton's Layla and had a Classic Rock Competition with us, whereby we had to sing the next line of a famous song that included 'Black Dog' and 'Another Brick In The Wall' and awarded us with our prize of the band performing 'Sail Away' - a song that will forever remind me of the great Barking Shark Bar when The Lucky Dogs performed the song incredible well with our late buddy, Tag Graves - always brings a tear to your eye.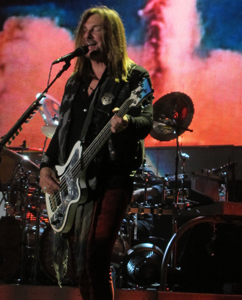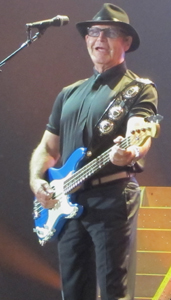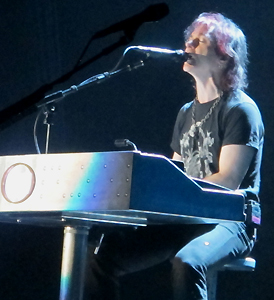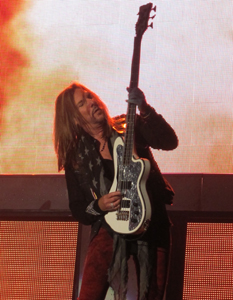 'Too Much Time On My Hands' - a major fave of mine was second to none and the backdrop of clocks really hit the spot so well and that melody just put you straight in heaven as well - I remember getting into this number many years ago and always bigs me up when the day drags on occasions. The Paradise Theatre song aptly titled 'Rocking The Paradise' has an amazing backdrop of the said album too - oh how technology has come on in the last 10 years or so much to our advantage.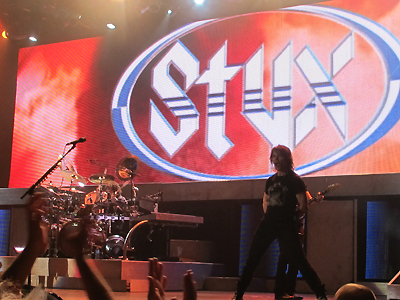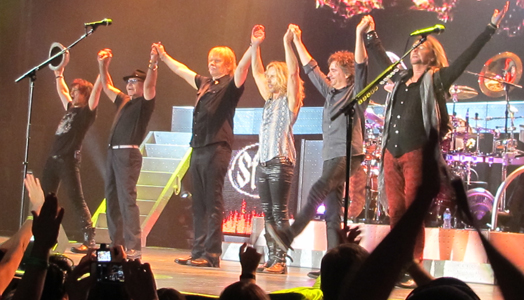 Man, this is one of the best sets I have ever seen in South West Florida after sadly missing them perform that free show for a car lot company last year in town. Styx leave us fully satisfied with a romping 'Renegade' and prove that the well-established older guys do it best. This indeed was well worth the wait to see such an incredible band.
Set List: Don't Let Him Go/Take It On The Run/Keep Pushin'/Golden Country/Can't Fight This Feeling/This Ain't Love/Like You Do/Poor Man/Back On The Road/Roll With The Changes.
Encore: Keep On Lovin' You/Ridin' The Storm Out.
Now what can you say about REO Speedwagon that hasn't already been said before who kinda became a newer early 80's equivalent of Styx meets Journy and have totally earned their place on such a stage. I've not seen these guys hit the boards since 2008 and this was at Rock City, Nottingham with no support band in sight - tonight is a different spectacle altogether though with an enormous stage and digital backdrops to die for.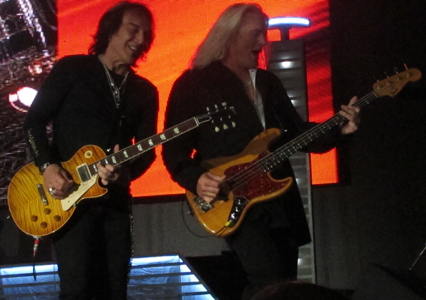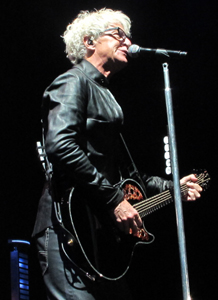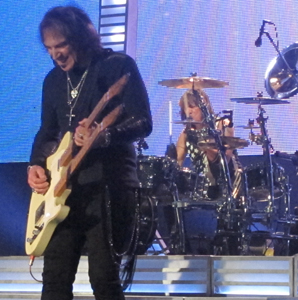 Kevin Cronin looks a bit older but the guy has still got it and reaches those high harmonies with no trouble at all and their ain't a strained moment in site - proving that at his grand age, his balls still ain't dropped - lol. It's a set that is packed full of numbers of endearing love and kind-hearted passion with cupid cruising melodies and hard rocking pleasure in between too.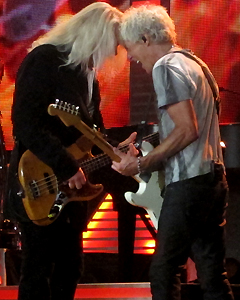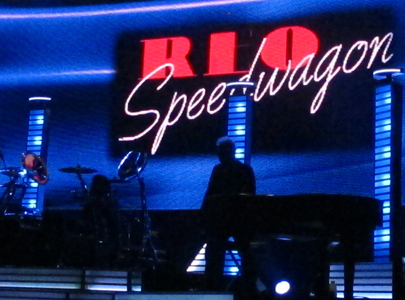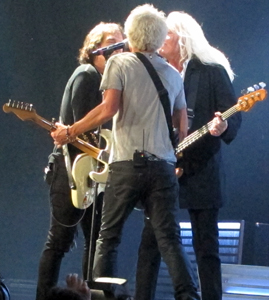 Remember just because 'Speedwagon are solid slush balladeers doesn't mean they can't kill with meserising dynamite brutal riffs and licks like the best of them out there as this performance certainly proves with songs like 'Back On the Road' being mixed with female pleasing cuts such as 'Can't Fight This Feeling' and 'This Ain't Love'.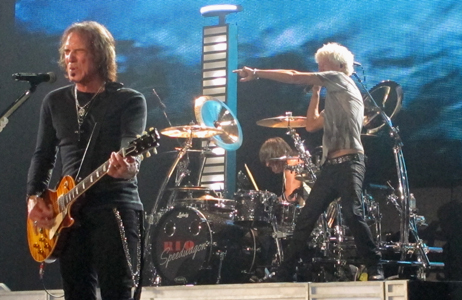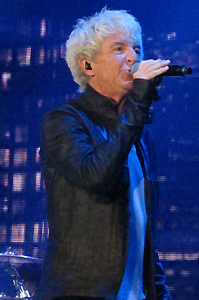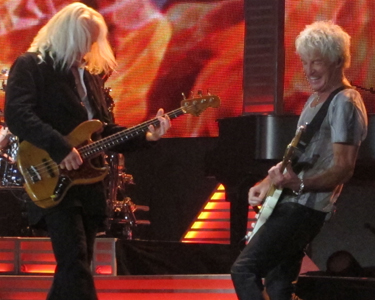 I gotta say that REO Speedwagon had a hard road ahead after following the mighty Styx but they well and truly rode the storm out from beginning to end and magnificiently proved they had the songs and exquisite performance quality to match such a mind-blowing band. I though it was great that Kevin Cronin lit the place up on a couple of occasions by taking to the black grand piano and delivered a most incredible performance of 'Keep On Lovin' You'.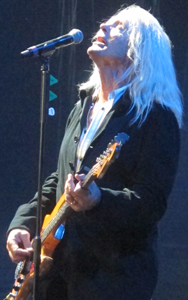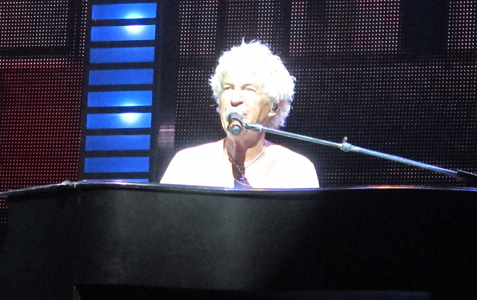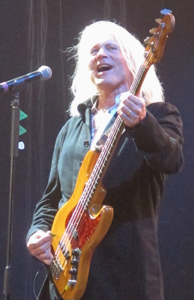 It really added dynamics throughout the set and was one of those deals where the band is so damn good that you don't wanna dissapear for a quick toilet break for being in fear of missing something.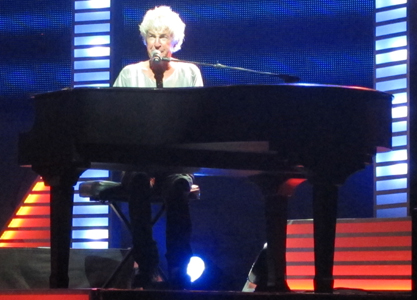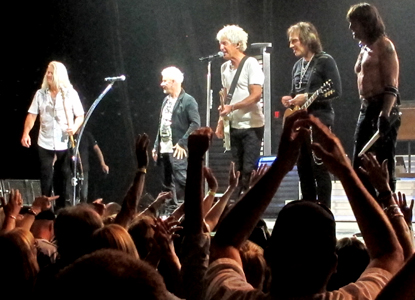 One hell of an exceptionally great night that I can do nothing but totally praise - a show that is gonna go down as one of the finest in Metalliville's existence so far.
10/10
By Glenn Milligan
Reckless Love - Corporation, Sheffield, Friday 5th October, 2012
Main Set: Animal Attraction/Speedin'/Badass/Born To Break Your Heart/Beautiful Bomb/Dance/Back To Paradise/Push/On The Radio/Wild Touch.
Encore: Hysteria/Hot/One More Time.
Man they aren't half getting some bands in here lately and it ain't a week since I was in this very big room. Tonight it's the turn of Finland's finest, Reckless Love who transport me back about 20 years so I feel like the age of some of the hotties in the audience.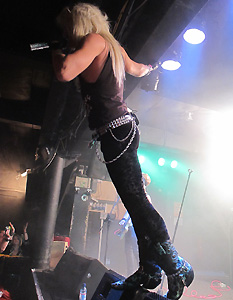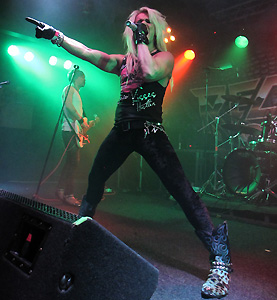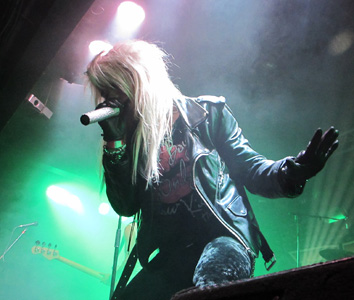 They comprise of Olli Herman Kosunen (Vocals) - formerly of Crash Diet, Pepe (Guitar), Jalle Verne (Bass) and Hessu Maxx (Drums) and they are so tune up both musically and vocally that it seems untrue you think are waiting for the CD to jump - but I tell ya, there's no memorex here boy, just an amazing band who can nail it perfect. Little wonder why the audience number is nice and healthy and they've created such a buzz and stir around the world.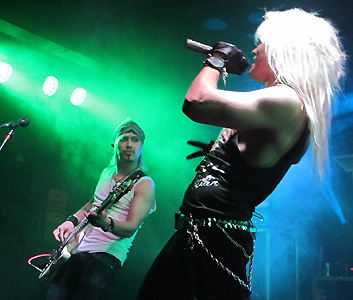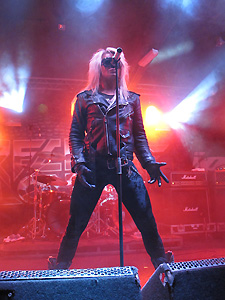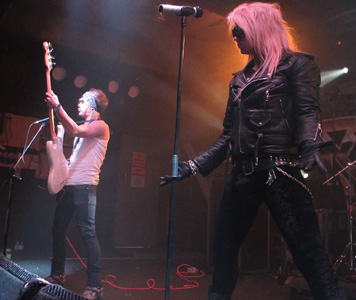 As my mate Sue says, Olli is like the love child of Seb Bach and David Lee Roth and I can see elements of 3 Michaels in there too - Bret, Monroe and Star (Poison, Hanoi Rocks and Steel Panther) - now that's some combination and one hell of a solid winning formula. He also has a killer 2 or 3 octave vocal range too with strong backup coming from the rest of the guys in throatal dept too.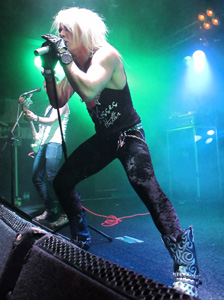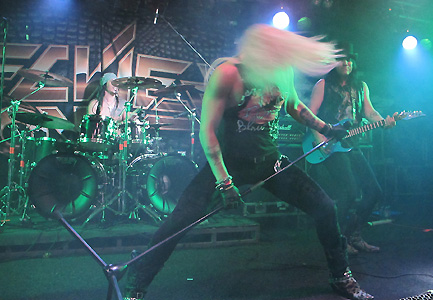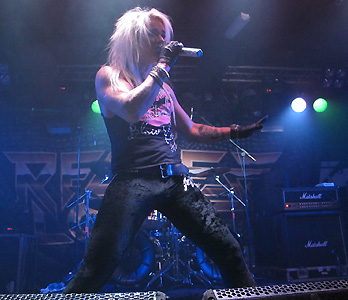 The 'Love created so much excitement in here from all the joyous fans who were in true Rock 'n' Roll Friday night party mood indeed and it was so much like rolling back into 1987 all over again - sh*t I was still at school then - hahaha - takes ya back baby! Oli can high kick like David Lee Roth back in the day and swings about like Michael Monroe when the opportunity arose or simply when he felt like it.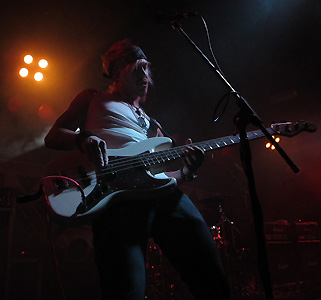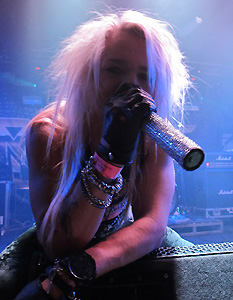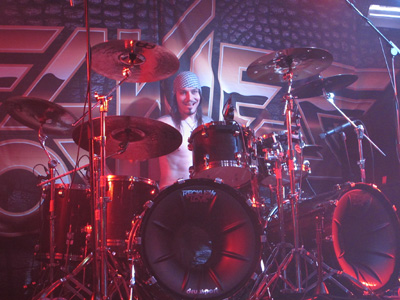 Their songs reminded us of a cross between Motley Crue, Ratt (especially 'Speedin' - thanks to Mr. Steve Froggatt for that, that he states sounds like 'Fatal Attraction'), Steel Panther (without the extensive sexual explicity) and other bands of that era like Tuff, Trixter with the odd Kiss element thrown in there too. The sound mix was purely exeptional with everything cutting through in its own right and nothing being lost in a wall of sound at all.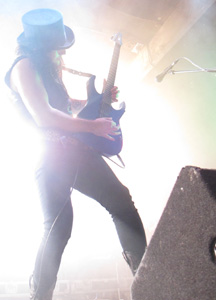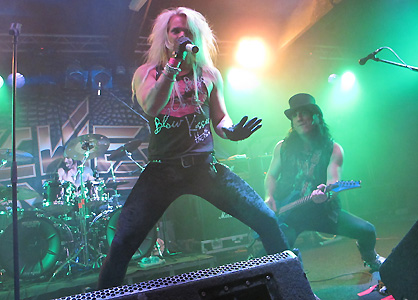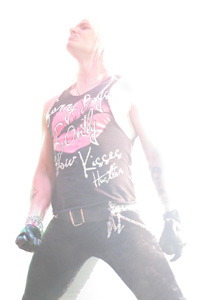 Highlights of the set apart from the f*ck*n' lot included the opening 'Animal Attraction' that set up the already hotted up from the get-go, the new one played for the second time so far that is 'Push' about wanting a woman to push their body closer to you; the crackin' 'Dance' or the 'I Was Made For Lovin' You' like number which name escapes me.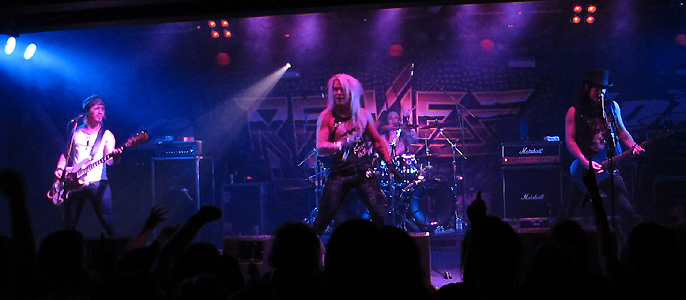 Oh how can I forget 'Hot' with it's grabbing from the get-go catchy melody that would be an instant hit if it hit the Radio Stations over here. We all joined in on the magnificient chorus 'Hot, Hot, Hotter Than Hell' - Oh f*ck*n' yes - we were all groovin' on down to this mammoth epic of a number indeedy.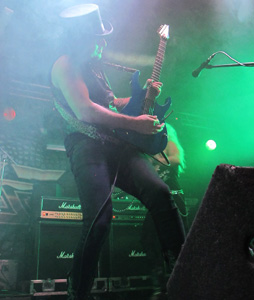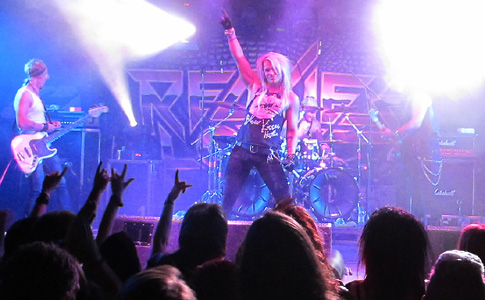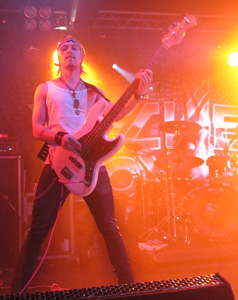 One front row fremale fan even threw her thong at Olli to his overall happiness and put it on the kit as a tour momento - good to see that the classic underwear slinging days are not over yet and it don't just happen at Tom Jones concerts. Sheffield girls are something else at times - more tea vicar.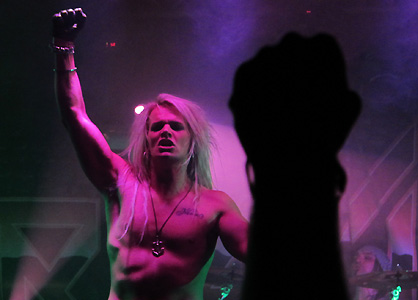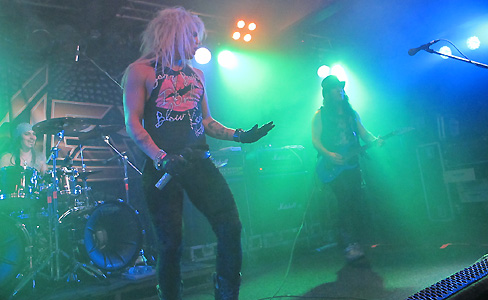 Talking of Steel City, we are even blessed with a song from Pepe's favourite band, none other than Def Leppard with Reckless Love doing a splendid cover of 'Hysteria' that came with the high notes too.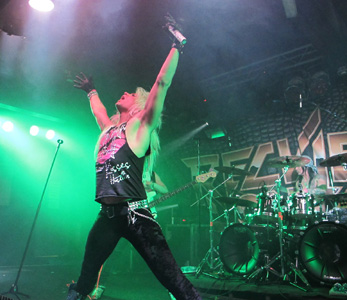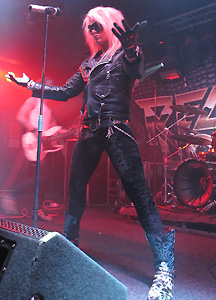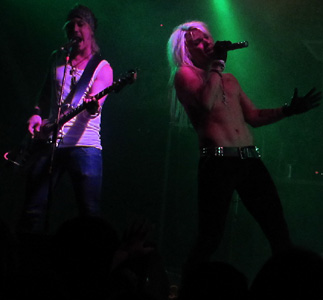 I bet that took some serious learning as well. They did it proud let me tell ya! Overall it was one of the most enjoyable shows I have ever seen in this room without a boring moment in site. Reckless Love tick many rock 'n' roll cliches going and that's what made them so damn good.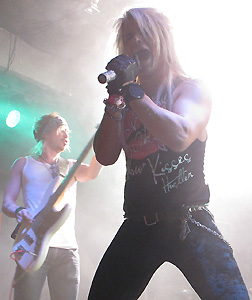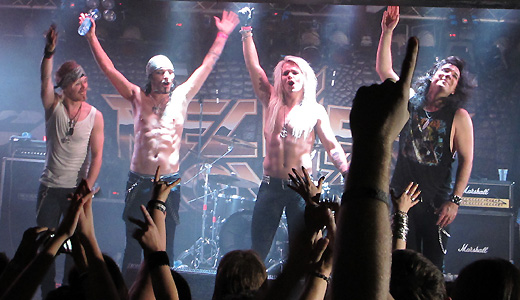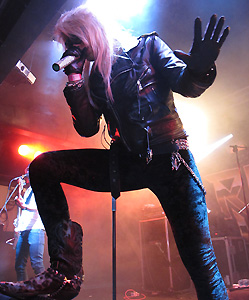 The only way is up for these guys - they can do no wrong in our eyes.

10/10
By Glenn Milligan
Rival Sons - Corporation, Sheffield, Monday 24th September, 2012
Main Set: Pressure And Time/Wild Animal/You Want To/Until The Sun Comes/Memphis Sun/Burn Down Los Angeles/Keep On Swinging/Jordan/All The Way/Gypsy Heart/Run From Revelation/Torture/Face The Light.
Encore: Manifest Destiny, Part 1/Manifest Destiny, Part 2/Soul.
Well the last time I saw these Californians was back in Feb supporting some dudes from Kentucky at another Sheffield venue but this sees them headlining in the UK for the 1st time and they've certainly pulled quite an audience in Sheffield tonight - the big room was close to full.
From the start Rival Sons cranked with the title track theat made them that is "Pressure And Time" and we are livin it up before bravely early entering new territory from the just released 'Head Down' album. It goes down so well that you don't notice the join from one to another at all. "Good evening Sheffield", says Frontman Jay Buchanan after the 1st two songs and recieves rapturous applause from all in the room. Talking of which, it's a big stage for the four piece to fill but they've had their practice supporting the likes of Judas Priest and Black Stone Cherry in the last year or so. They master the task without a problem in sight with their musical precision the coincides with the atmospheric lighting that produces plenty of shadowesque silloietedness using an array of well chosen colours with green light working a total treat with the darkness.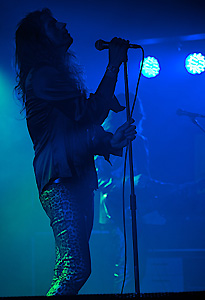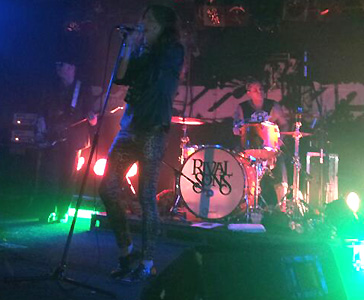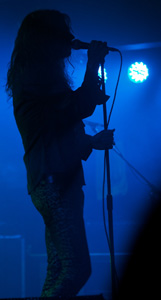 Rival Sons are real confident to win over the crowd with songs from the latest release, rocking us out with 'You Want To' that features Jay on part-time tambourine. Great stuff indeed and even goes out of his way by saying to all and sundry, "Alright a round of applause for openers 'Pint Sized Heros, thanks guys", that doesn't always happen on a regular basis from the headliners. From experience I know them to be very humble and down to earth people and know what it's like working your way up the gig ladder.. and they've done it just recent.
The piping bluesy new track next (Until The Sun Comes) has Jay wailing like David Coverdale in league with Robert Plant showing how his voice has come on over the last few months - a number has a very atmospheric slide ending from Mr. Holiday's guitar work to top it off. Good to see that 'Pressure and Time's' 'Burn Down Los Angeles' is still a milestone in their set list that has definately become a major highlight of the Rival's repetoire - especially in the live context of things as it's one hell of a sped up rocker.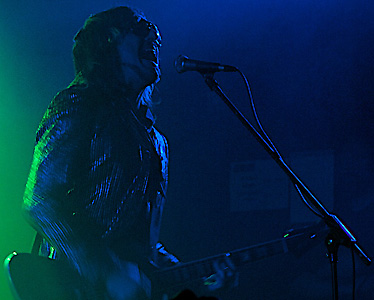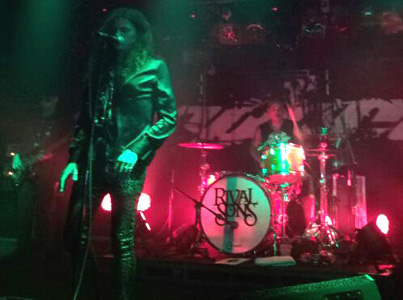 Robin Everhart has to swap his bass and there's little wonder as those strings are hammered like it's the last gig they are ever gonna play. "Wonderful weather you are having here tonight", he jokes and pump into new number 'Keep On Swinging' that's like Zeppelin's 'Black Dog' gone funk with some swanky, flashy, crunchy and pristine guitar soloing from the scarf and shade wearing warrior. I got the impression that these Bristish Icons have had a big influence on the band as even the brand new ballad 'Jordan' is very Led-like with a Black Crowes style coming through as well in the guitar sound due to it's deep-rooted southern feel.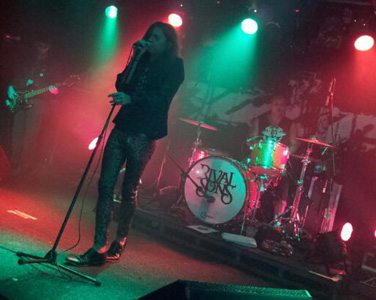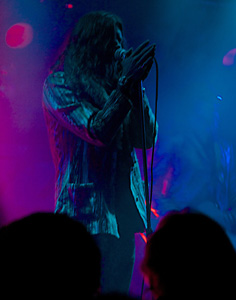 The award for 'Line of the Night' (and no I ain't talking cocaine before you ask) has to go to Scott who exclaims, "We are gonna fire it back up and you can do your mosh pitting and what nots" - whatever what nots happens to be in your eyes fella is fine by us - lol. Drummer, Michael Miley messes up purposely before going into a groove on the next new kid on the block - "This time I'm going all the way", Jay sings and sounds like Paul Rodgers on numerous occassions. The song goes by the name of 'All The Way' that has a big build up and turns into an epic longy of a live song with Scott following in Mr. M's footsteps and messes up purposely at the end with a total abortion of wrong notes - there's no flown in memorex with this band - hahaha - unlike others that we won't mention.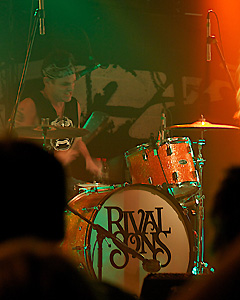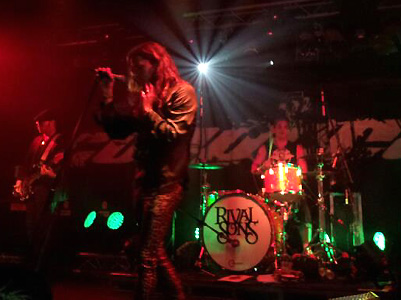 "Does anybody own a record called pressure and time?", we are asked. Nope! Only kidding - most of the audience I am guessing judging by the response. Anyways he tells us this is one of his favourite songs (Gypsy Heart) that has plenty of throbbing, bluesy zepness with the man himself wailing away for dear life, not to mention cutting, sliding guitar work that moulds so well with the vocals, followed by similar bluesy stuff (Run From The Revelation) that hits well with solid quick stabs of effective musical mojo energy from beyond a major bluesmans grave. All in all, dirty Mississippi Delta energy is limitless with a real raw authentic feel that mixes the aura of old black legends with the newness from these pedigree caliboys soon to be classics. Slipper stomping booming brilliance I tell ya with the main set concluding with a song that goes out Mr. Buchanan's brother (Face The Light) - a moving ballad with Jay he telling us that he misses him and they then leave the stage to a warm cheer.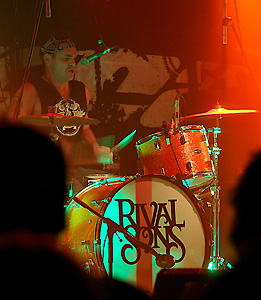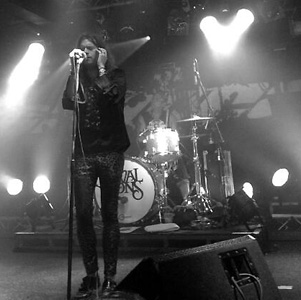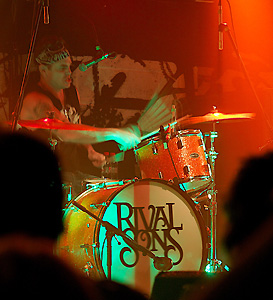 In between the main set and the encore it gets a bit too quiet for comfort until we get wolf whistles that are coming from the back off the room, setting many more off like a hoard of randy builders which gets the band back on stage. This in turn gives way to an elongated epic blues rock prog fusion thang that races up and down in pace (Manifest Destiny, Part 1). It's very jam-like and comes across totally improvised and reminded me of the good ole days with The Black Crowes. Herein worth noting is a long solo from Scott and plenty of hammered notes from both bass and drums. It's also extremely voodoo night tripper like at times too - a salute to early Dr. John I'd say for certain.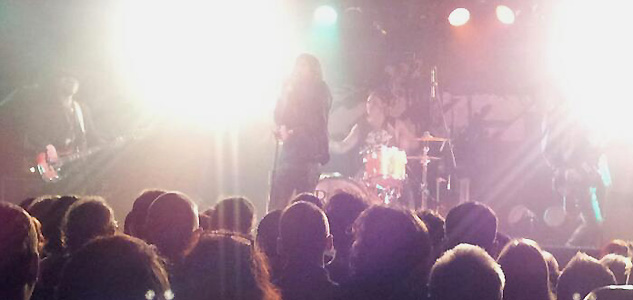 There's a swap of the guitar for more epic riffery of a song (Manifest Destiny, Part 2)that has wirly radio distirtion sound in it with Jay informing us about the t-shirts and other stuff at the back of the room for sale then says it's the last song and asks, "What you wanna hear?", and a mass of song titled are hurtled towards the front of the stage at throat-wrenching volume. Scott Holiday is then introduced for the final fling and they go into a bluesy slowy of a cut called 'Soul' which is dragged out a lot but goes down real well all the same. After thanking the audiece they leave the stage and a fully satisfied crowd here in Sheffield on a rained out Monday night. Next time bring us some good weather guys alongside your outstanding contributions.
Now 'Head Down' to your local store and get the new release bought - it even comes on vinyl too for all you thirty three and a third freaks out there too!
9/10
Review By Glenn Milligan
Pictures by Nigel James & Janet Barker
Jack Russell's Great White - Canyon Club, Agoura Hills, Ca. USA, 3rd May 2012
On this US Trip, I was fortunate enough to catch both versions of Great White - a first for Metalliville, this gig taking place on the West Coast of California.After seeing the other Great White at Legends Of Rock in Cape Coral just under 2 weeks previous who have Terry Illous fronting, it was gonna be a real eye and ear opener to see how original frontman, Jack Russell and his own version of the band was gonna match in comparison. There's been so much written both good and bad about both camps - but I don't wanna take sides on any of that - let's simply concentrate on what we are here for - the magic of the music and presense of a spectacular performer.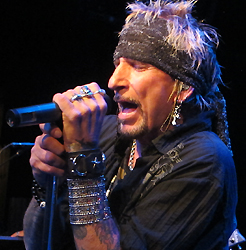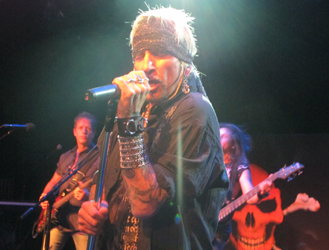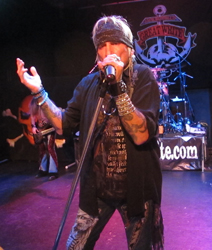 I saw the main man around 2001 in the original band at Rock City, Nottingham and although the rock 'n' roll lifestyle has come close to sucking him up, shredding him and spitting him out, J.R. really is rebuilding himself and getting back to his former glory - looking in a lot better shape than he did a good few months ago and I think he'll sometime be his full physical former glory that we remember from the heyday of the original band.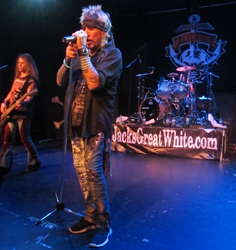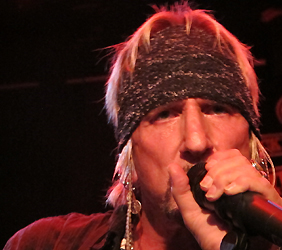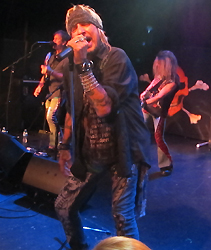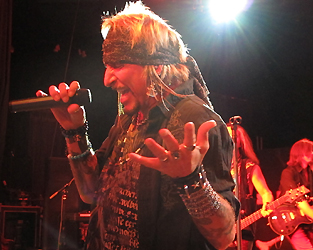 I got the impression Jack was really happy to be there and was overjoyed with the fans who had gone out of their way to see him tonight - it was written all over Mr. Russell's face throughout the entire performance - a mirror image which was indeed reflected by everyone here for the 90 minute set of both classic and obscure Great White songs.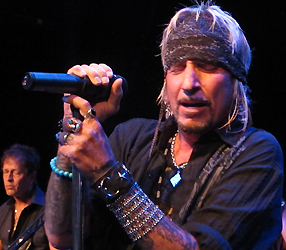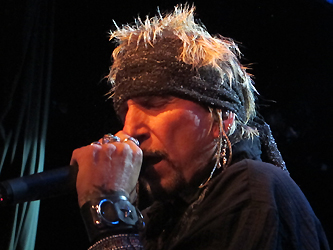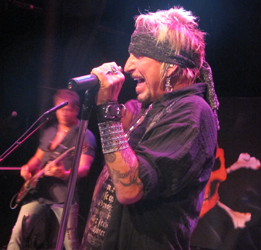 From the words of my very good friend, Megan Potts, "You could shut your eyes and it was 1987 all over again as Jack was awesome, hitting every single note perfectly", completely dispelling any words or rumours that stated that he wasn't up for the job as his voice was as strong as I remembered it 11 years ago- if not better because he really had something to prove to us all that he could still hold the mojo and work it with truly magical powers that zapped everyone in their footsteps, making it such a joyous, memorable occasion and no doubt relief to Mr. Russell himself as well.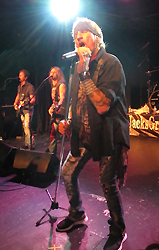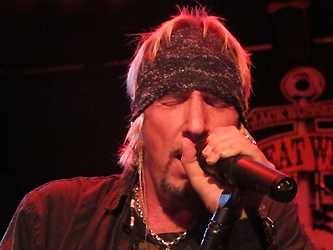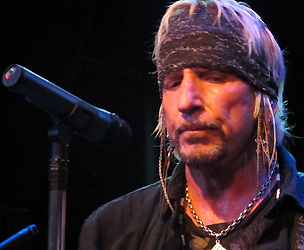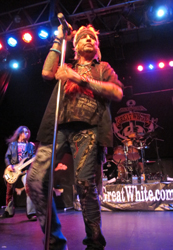 There wasn't too much musical difference at all between Jack's version and the other one as these guys really knew their sh*t and nailed every single song in the set without a problem at all - not that I personally expected there to be anyway.There were a couple of occasions where Jack needed to have a back or side-stage break in between the set, so we were treated to a kick ass guitar solo from ex-Fight axemiester, Robbie Lochner as well as an old school sounding blues number performed by Mr. Johnson.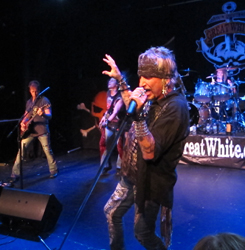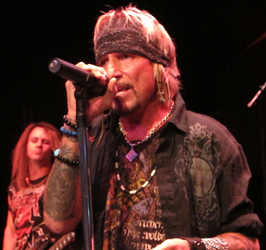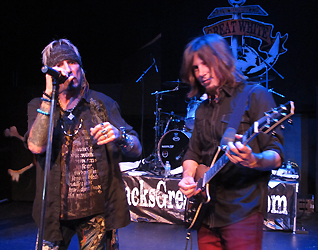 The band onstage had a lot of presense, proving themselves at every given opportunity and featured an ex-member of Great White - Drummer Derrick Pontier (who was there from 2001-2005) as well as a guitarist who had worked with him in solo mode going by the name of Matthew Johnson, not to mention having the most recent bassist of Firehouse and Stephen Pearcy, Dario Seixas in the line-up.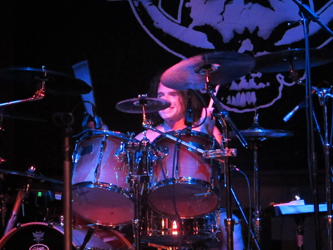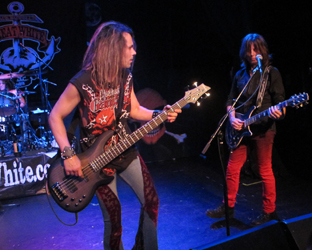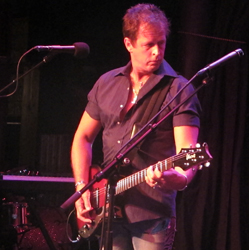 It was really cool that the Dario brought up a young guy from the crowd who couldn't have been anymore than about 10 years old, letting him have the experience playing the bass, placing his hands in the right place at times - quite a task it must have been too. The future muso was having the time of his life - giving him something cool to tell his buddies about at school.Highlights of the night included famous numbers like 'Face The Day'; 'Save All Your Love'; a lovely ballad he dedicated to his partner who was also a nurse who has brought him back to better health as well as favourable classics like 'Rock Me'; Shake It'; 'Rolling Stoned'; 'Call It Rock 'N' Roll' and 'On Your Knees'.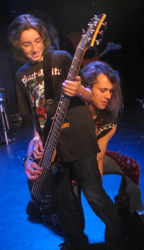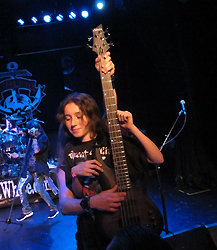 The fans were also a major highlight too as they were so on their feet with endless energy, dancing, rocking out, cheering, singing so damn well throughout and ever so especially on Jack's command - a fact of which causing him to compliment us all with the genuine happiness and appreciation written all over his face. He had plenty of energy and was running around on the stage at times, not to mention twirling the mike and pointing it outward to the crowd to get best sound and effect from all and sundry witnessing a rock 'n' roll spectacle of brilliance.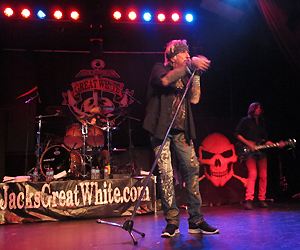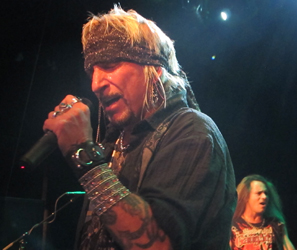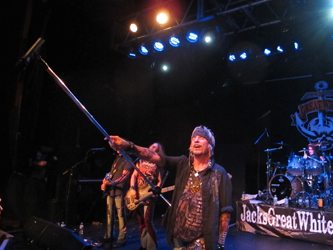 Of course, we were treated to the penultimate encore that was the bands biggest hit - their cover of Mott The Hoople's 'Once Bitten Twice Shy' that was a perfect finisher. After this, many of us waited a few minutes for Jack and the rest of the band to come out after the show and we were privileged to a nice meet and greet where fans got to chat with the band, have photos with them and get autographs too.
10/10
By Glenn Milligan with help from Megan Potts
Rammstein/Deathstars -
Manchester Evening News Arena, 1st March, 2012
Deathstars rolled on the stage in their gothic outfits and sadistic mellow tones as they tried to encourage the fans into a frenzied state for the arrival of Rammstein.
Deathstars aren't anything new in their Industrial Gothic style and performance, but was enough for me to explore them more on the internet.
My main disappointment was that when ordered the seats we were on the side near the stage which on the plan looked like a cracking view, but as we arrived, these views became restricted viewing due to lighting rigs and speaker racks in the way.
During the Deathstars set we had to complain and were relocated to wonderful seats but missed most of the middle of their set.
Set List: Intro/Sonne/Wollt Ihr Das Bett In Flammen Sehen/Keine Lust/Sehnsucht/Asche/Feuer Frei/Mutter/Mein Teil/Du Riechst So Gut/Du Hast/Haifiesch/Buck Dich/Mann Gegen Mann/Ohne Dich.
1st Encore - Mwin Herz/Amerika/Ich Will.
2nd Encore - Engle/Pussy.
Rammstein entered halfway down the arena as they walked past fans in the seating area to a central stage that waited for them. This central area was adjoined by an industrial walkway to the main stage as each of them walked slowly across as flames lights and spoke filled the arena into an anticipation of what was to come.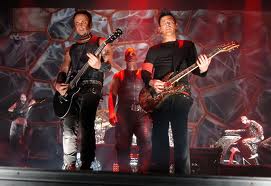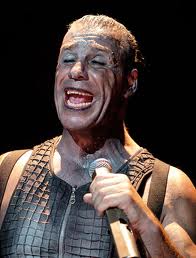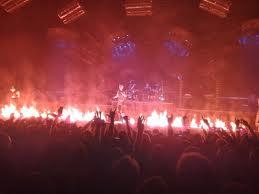 As Rammstein readjusted on the main stage to huge cheers and more fire and lights, Sonne filled the air quickly followed by Wollt Ihr Das Bett In Flammen Sehen. If you have ever been to a Rammstein gig before you know there is going to be enough pyrotechnics to blow a hole in the sky, and we weren't disappointed by that.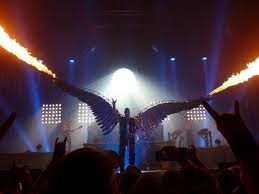 Rammstein halfway through the set went back across the walkway to play on the small stage, which was great for the people at the back. With Rammstein you know that Pussy was going to be an encore as the phallic symbol exploded white foam over the crowd.
Although the entrance, central stage and walkway were new, there were very little change to bring the excitement back of the 2009 tour, but nevermind, who gives a damn, it's RAMMSTEIN.
9/10
By Tony Watson
Rush - Time Machine Tour - Motorpoint Arena Sheffield 16th May 2011
1st Set: Video Intro/The Spirit Of Radio/Time Stand Still/Presto/Stick It Out/Workin' Then Angels/Leave That Thing Alone/Faithless/BU2B/Freewill/Marathon/Subdivision.
Second set: Video Intro/Tom Sawyer/Red Barchetta/YYZ/Lime Light/The Camera Eye/Witch Hunt/Vital Signs/Caravan/Drum Solo/Closer To The Heart/2112 Part 1: Overture/2112 Part 2: The Temples Of Syrinx/Far Cry.
Encore: La Villa Strangiato/Working Man.
It had been a long time since I last saw Rush at the Arena back in April 1992 with Primus and what a gig that was, so all my expectations were based on this remarkable gig back then. I had read that this tour was going to be a mixture of old and new material with a full set of 'Moving Pictures' from 1981.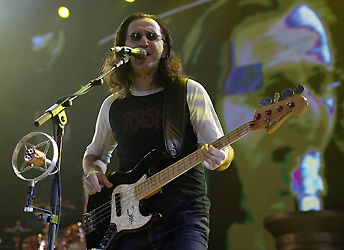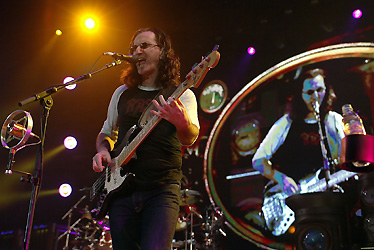 As we sat in anticipation, the intro video started, which was so funny and very enjoyable to watch as 'The Spirit of Radio' blasted its way into the arena to a packed out audience. The first set was a good mixture of old and new material as Rush went through 'Time Stand Still', 'Presto' and 'Stick It Out' to forward the crowd onto a new track 'BU2B' which will appear on the new album.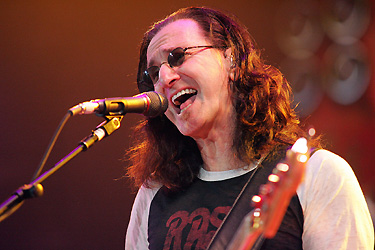 It contained 11 tracks of pure Rush before retiring for 15-20 minutes to another video with a time clock counting up to 1980 when Rush exploded onto the stage with 'Tom Sawyer' to start their full rendition of 'Moving Pictures' from start to finish.After this magnificent set, Rush reverted back to new and old stuff, starting with another new song 'Caravan' followed by the infamous drum solo, to finish the set with 'Far Cry'.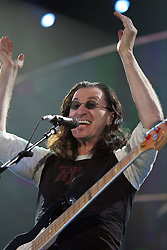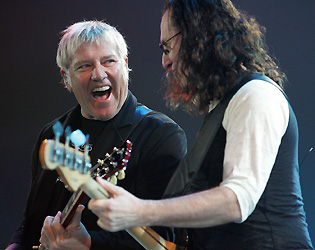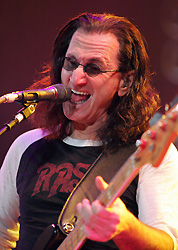 The encores were 'La Villa Strangiato' and 'Working Man' that fulfilled a full 3 hours of Rush. The Time Machine Tour is going to be up for the best gig of 2011 due to the professionalism, stage show and lighting. Should Rush call it a day soon, they will be greatly missed.
What a show!
10/10
Review By Tony Watson
Photos By Glenn Ashley
Rhinobucket - The Viper Room, Hollywood, CA., USA, 8th November, 2010
Set List:
One Night Stand/Hardest Town/Beat To Death/Scremer/Welcome To Hell/Who's Got Mine/Hammer & Nail/Ride The Rhino.
Having found out about these from my buddy Rick Wilson a few years ago, Interviewed Georg and reviewed the 1st 3 albums I couldn't believe my luck when I checked out the Viper's website and found out they were playing there when I was due to go - it was only confirmed about 2 weeks previous as well. It turned out to be a free gig as a thankyou to all the fans who had been there for them throughout their career - me being one of them without blowing my on trumpet.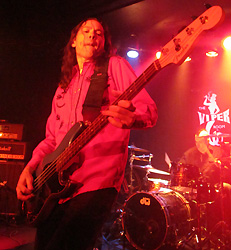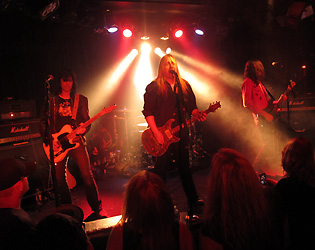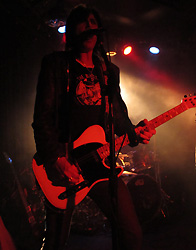 There were plenty in the upstairs room of the Viper and little wonder either as they are such a great band indeed. I even got chatting to a fan who was from Austin, Texas as well who had met and seen the Rhino' boys many times and told me I was in for one hell of a show - how right he was too.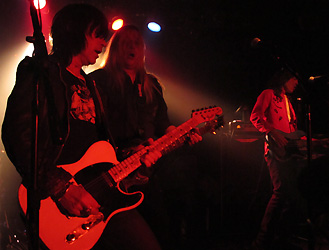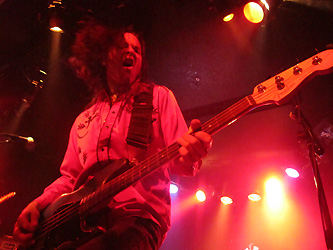 They walked onto the stage and cranked up with about an hours worth of pure hot 'n' steam hard rockin' boogie in good ole AC/DC style that included material from all of their major releases that included faves like the opener 'One Night Stand' all the way throught to the closer 'Ride The Rhino'.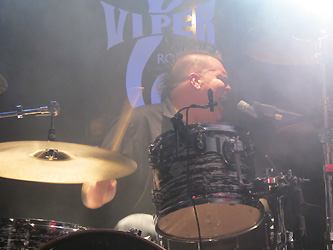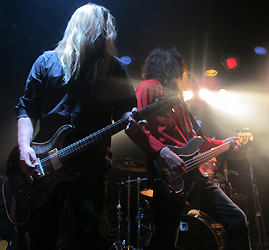 Georg and the gang were raw and raucus and had a killer vibe going with the 'bucket hardcore in here tonight. Highlights included the already mentioned start and finishers as well as wailing and beefy rockers like 'Screamer'; Who's Got Mine' and 'Hardest Town'. The musicianship was mountainous and everyone got so into it with Georg sounding as alarmingly squawkingly powerful as he does on the albums in the vocal dept.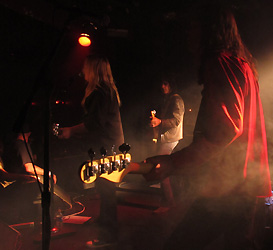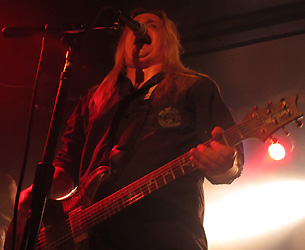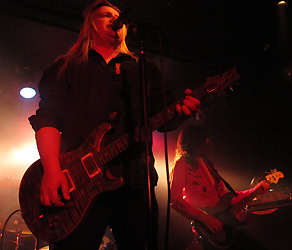 As tight as a rabbi and a sewn-up nun, Rhinobucket show that you don't have to have complex songs to completely impress an intimate crowd. All that are need is honest rock 'n' roll from a band that totally mean every note and second of the songs and overall set.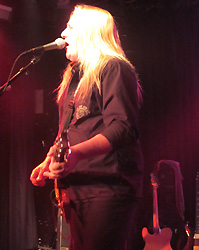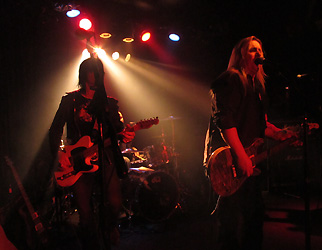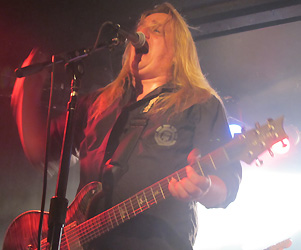 Fully enjoyable gig and great to get back in the Viper again.
10/10
By Glenn Milligan

Dan Reed/Rob Daiker/The Kamen - Corporation, Sheffield, Friday 4th June 2010
The Kamen were the first band on and played to just a few people, nothing much missed by the people who didn't get here earlier enough for the opening act. The band themselves were of a reasonable quality, even if the vocals were not particularly strong, I found it very difficult to make out anything the vocalist either sang or said to the audience between songs.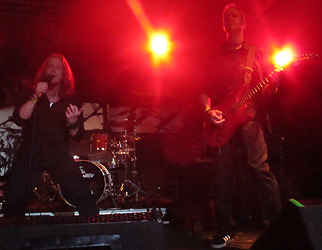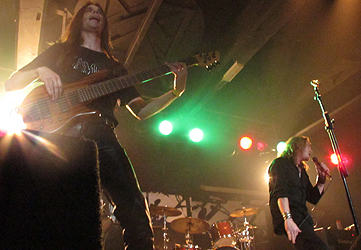 To me they were a mediocre band who had nothing new to show, however their biggest downfall was the appearance on stage of a guest female. She appeared very uncomfortable on the stage and added nothing to the song, singing harmonies to the main vocalist occasionally throughout the song.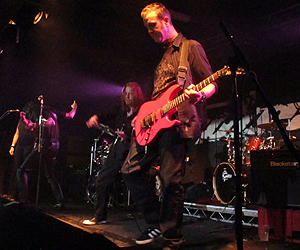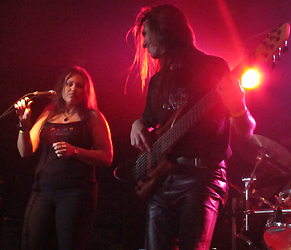 Think her strongest part of the night was when she returned to selling merchandise. (I actually rather enjoyed them and thought they did a damn good job as an opening act who got the place warmed up- Glenn)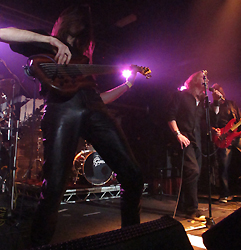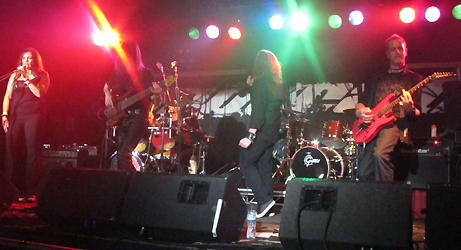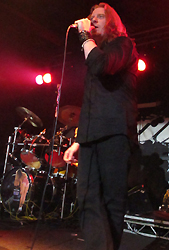 The next act on stage was introduced by Dan Reed as the man who had co-written and produced his latest album, 'Coming Up For Air'. Rob Daiker appeared on stage with just his guitar and spectacular voice for company.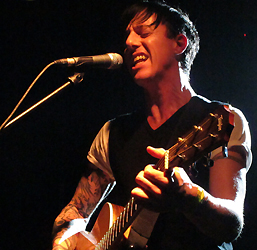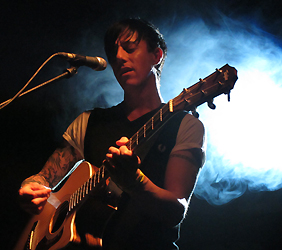 From the moment he started playing and singing it was clear that here was a man of great talent, if unassuming looking. His set was sorrowfully short but the growing audience were treated to a talent that if heard and promoted by the right people could certainly go far.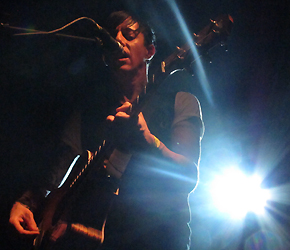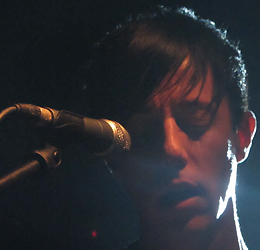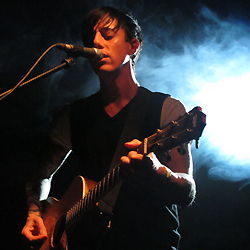 The audience waited in anticipation, many of them looked like they were Dan Reed tributes, with a lack of hair, however think that this was more to do with the age of the audience, including me, than imitation being the best form of flattery. Dan Reed came onto stage alongside his band, thankfully bringing Rob Daiker back onto the stage to play alongside him.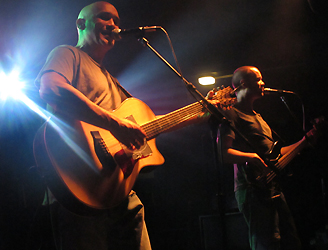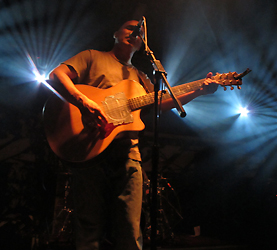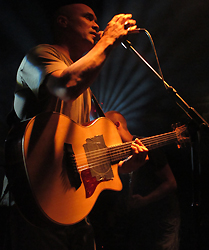 From the opening notes of 'Cruise Together', he had the loyal audience eating out of his hand, playing a mixture of old Dan Reed Network songs, and tracks from his new album. The new tracks offer a different side to Dan Reed that any of the audience who had been asleep and hadn't seen or heard anything since the early 1990s may have been surprised at.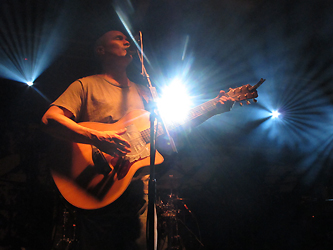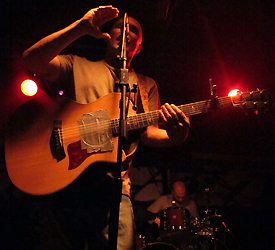 His sound is now mellower and appears to have a spiritual feel about it which reflects the man himself. Dan plays the guitar, sings and walks around the stage totally immersed in his own music, even if he does look like he is walking on the moon!! The support from his band was also evident as they appeared to have a connection that produced the great music and atmosphere.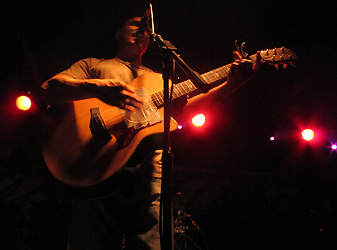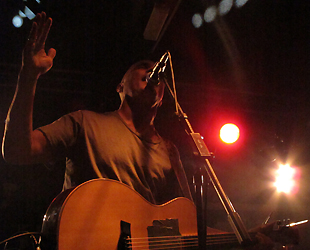 'Rainbow Child', another track from the deep past, produced a singalong with the audience carrying on the singing when Dan had stopped for an instrumental break, he appreciated this and continued to sing along with the audience.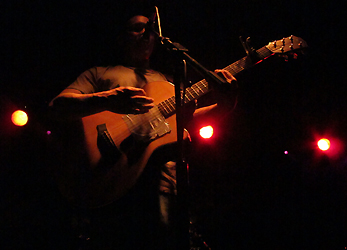 I feel that the synchronisation between the old and the new works perfectly. New tracks such as the title track from the new album, 'Coming Up For Air' blending perfectly with the older tracks. Dan paid tribute to the late great Ronnie James Dio with a version of 'Holy Diver'. It was noted that this was perhaps the most laid back version of the track ever heard!!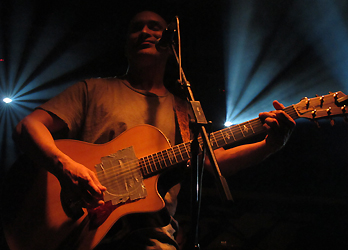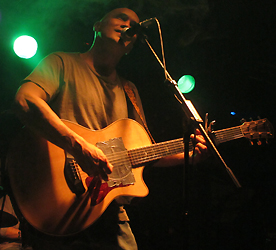 An hour and half passed in the blink of an eye but the band took their bow, before returning to the stage for a short encore ending with Dan alone on the stage behind the keyboard singing the ballad, 'Stronger Than Steel'. A fitting song for the loyal fans whose admiration for Dan is stronger than steel. The promise of a return to touring in the winter with Quireboys was enough to keep the audience happy until his return.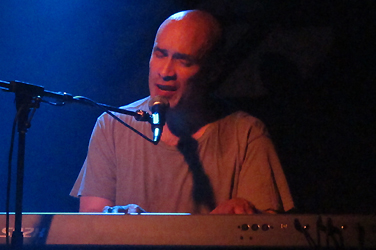 Coming out into the audience after the gig to sign CDs, tickets etc showed the personality of the man who is happy to chat to his fans and listen to what they have to say. Overall, a good night out with a feel of both nostalgia and hope for the future.
9/10
By Rachael Watson

Francic Rossi/The North – City Hall Ballroom, Sheffield, Monday 17th May, 2010
Well originally the gig was gonna be up in the Memorial Hall on 19th May but switched to 2 days earlier and held in the bigger venue under the ground instead. The gig starts up with Francis Rossi's Daughter's band, The North – formerly called Bernadette & The North (as I saw them a few years ago supporting Status Quo at the Arena up the road).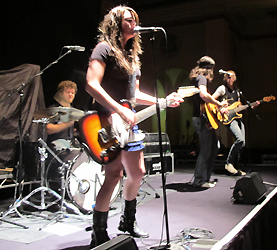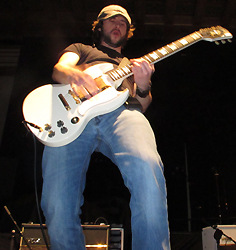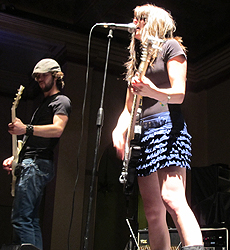 The lovely Canadian lady has changed her hair colour since then – it was blonde last time she was over here too. Highlights included numbers like They play a decent length set of rockin' numbers and are full of confidence who warmed up the crowd ready for what was to come.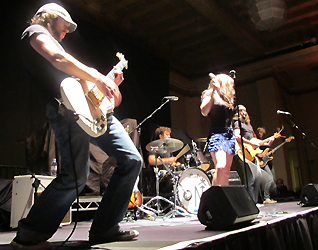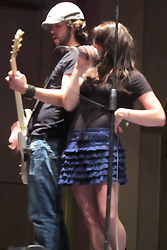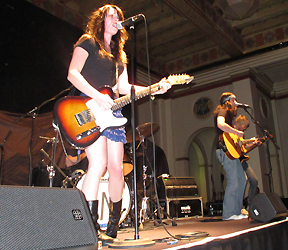 I don't normally mention songs on the PA between acts, but on this occasion I will. The day before we lost the great Ronnie James Dio and as a tribute 'Holy Diver' was played after The North finished their set which was incredible for us to hear and would like to thank Francis Rossi for making sure it was included – Ronnie James Dio RIP 1942 -2010.
Main Set-List:
Caroline (Shuffle Version)/Claudie/All We Really Wanna Do/You'll Come Around/Crazy For You/Old Time Rock 'N' Roll/Strike Like Lightning/Tallulah's Waiting/Here I Go/Tongue Tied/Blessed Are The Meek/My Little Heartbreaker/Electric Arena/One Step/Marguerite Time/Rolling Down The Road/Diggin Burt Bacharach/Sleeping On The Job/Twenty Wild Horses/Can't Give You More.
Encore:
Don't Waste My Time.
As soon as the lights went down, Francis Rossi and his 8 piece band hit the stage. It really was like having Status Quo up there without the other 4 members of Status Quo. He's got 2 incredible female backing singers there too which was a major bonus that we never get as part of his day job – or is that the other night job? – well depends on what time they go on I guess. His son, Nicholas is also there on 2nd guitar doing a splendid job, backing up his Dad like a mini Rick Parfitt at times.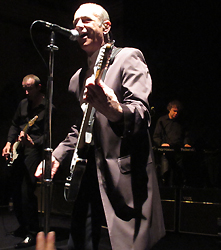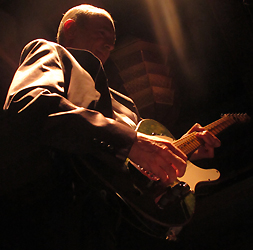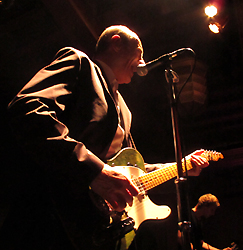 The opener is the opener that opens up all of Quo's gigs – this being the fast riff-crunching 'Caroline'. Instead of sticking to the version that we all know, Francis has opted a shuffle version which as the way it was originally inspired and recorded for the demo. The fans go nuts for it as can be expected and who would have foreseen the next number that the band fire straight into – never in a million years would I have expected to hear the Quo's 'Hello!' album track 'Claudie' from 1972 that's of course aimed at the real hardcore followers of the band not to mention a more recent number in 'All We Really Wanna Do'.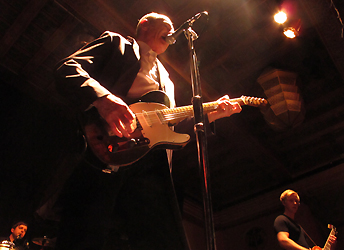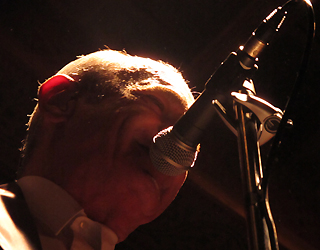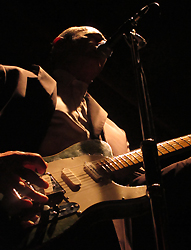 I was really impressed at the fact that Bob Seeger's 'Old Time Rock 'N' Roll' was included in the set which appeared to put that famous Green Telecaster out of tune or was it the heat in there tonight from the bodies close up to the stage. The lights are put on for him though so he can get the guitar sounding as it should again – it's woth it as well as 'Strike It Lightning' from the new album 'One Day At A Time' and comes across like classic Quo at its best – well he is the 12-bar Riffmaster when all is said and done so we needn't expect any less.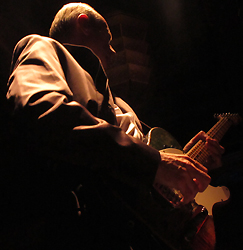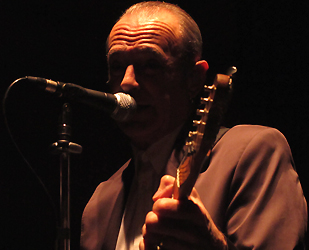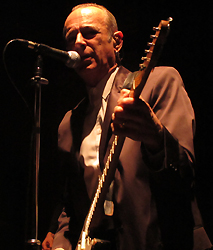 The room that it's being held in is just not designed for concerts at all and is extremely echoey with a lot of the gig sound sadly getting lost in it. Francis jokingly makes his voice boom in the microphone and exclaims, "Nice Room" and even takes the p*ss out of a woman in the front row for whatever reason – old frame never loses his sense of humour despite having a few less follicles these days. Anyway, back to the music again – the song 'Tongue Tied' that Mr. Rossi announces turns out to be an exquisite ballad and reminds me of 'Rock 'n Roll' from 1980's 'Just Supposin' Album.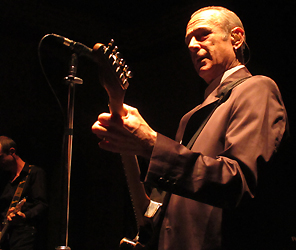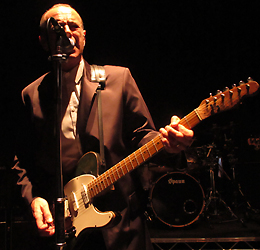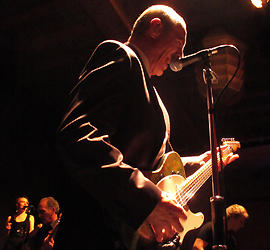 A just as good moderate ditty follows entitled 'Blessed Are The Meek' and the main man moans about getting the words wrong – as if many of us actually noticed – he's such a perfectionist at times. "Am on my own girl", he says to one of the backing girlie who in agrees with him and laughs – it's all in fun and the band and fans are loving every second of it all. What a really grooving, awesome tight unit these peeps are on stage in 'ere tonight. It's like having Quo play your village hall – a cool thing to happen and about as intimate as it gets.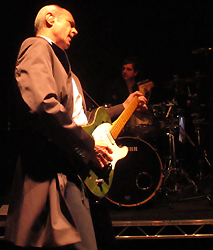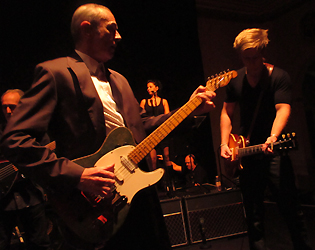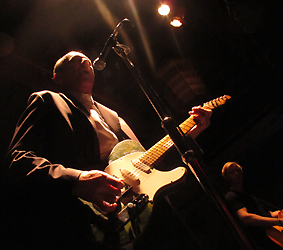 "This is one of them when all night time was goin' on - this song is called 'Electric Arena' and it's a slow melodic bluesy number with the spotlight on Rossi mostly with others in dark which works a treat for the quality soloing in it – especially the ending one. 'Faded Memory' is a beautiful heartfelt ballad that is the 1st single from the album with great female backing vocals. Wow - can't believe it - they are playing 'Marguerita Time' that I don't think The Quo have played in years. Now that's just made my night!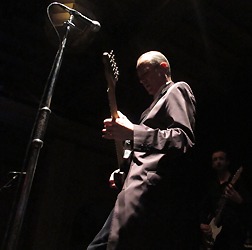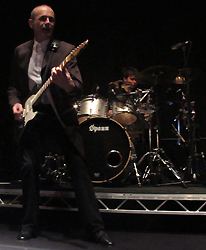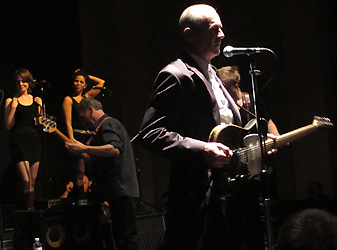 As I said earlier there's plenty of classic quoey like stuff here – well some of the songs were originally meant for Quo when all was said and done (but they were considered not right for the band or didn't have the edge I guess). A good example being 'Rolling Down The Road' and when I heard the opening riff I thought 'Down Down' was gonna pipe up for a second. It sounds really fresh and cool and I love the way that the backing vocalists take care of the chorus. Nice instrumental section Frame, towards the end of it too!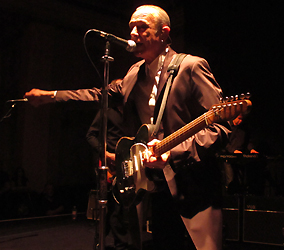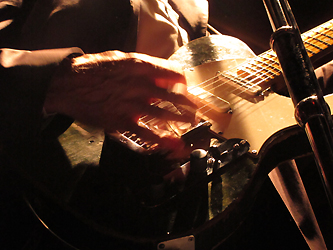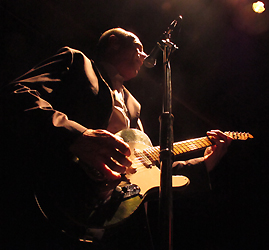 Rossi attaches the capole onto the 'caster. "What's this called? – How's it go?, he says – wonder if he says that regular or he really ain't sure – it is new material so you never can tell I guess. Anyways it's gripping quo like stuff with a 'Burning Bridges style guitar riff in it and all and sundry appear to love it just as much. 'Can't Give You More' is ironically the last song of the set and sounds awesome with a different ending to album. Now that'd what I call a pretty clever finish to say the least.

There's loads of screaming, cheering, stomping and clapping and of course Francis & the guys 'n' girls are gonna come back on - it's short but sweet but you can't complain at the Piledriver brilliance of 'Don't Waste My Time' that's often used towards the end of a Quo encore.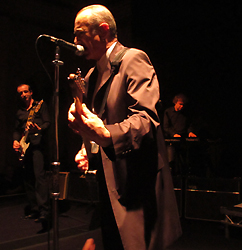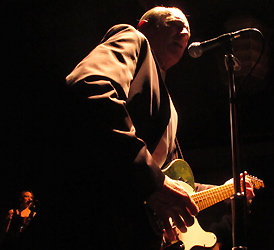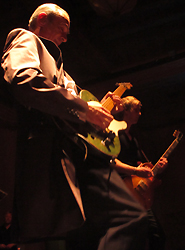 A brilliant gig – wonder if Rick Parfitt will treat us to this kinda thing next year – it's be nice!
10/10
By Glenn Milligan

Rammstein/Combichrist - Birmingham NEC, Wednesday, 3rd February, 2010
Es ist funf jahre seit dem letzen Rammstein ausflug gewesen und (Hang on a second, this is taking this German thing a bit far) !!
The Arena was in full configuration layout tonight as 12500 crammed in to pay £25 for t-shirts and listen to the best in German industrial metal.
Combichrist - 2000-2030
First up were Norwegian industrialists Combichrist who played a smashing thirty minute set to a barely interested and surprisingly mainstream crowd. Highlights of their set included a fine opening 'Today I woke up to the Rain of Blood', 'Blut Royale' and a great 'What the F## is Wrong With You People' to finish.
7/10
Rammstein - 2100-2245
Main Set: Rammlied/B*******/Waidmanns Heil/Keine Lust/Feuer frei!/Weisses fleisch/Wiener Blut/Frühling in Paris/Ich tu dir weh/Liebe ist für alle da/Links 2-3-4/Benzin/Haifisch/Du hast/ Pussy.
Encore– Sonne/Rosenrot/Ich will/Seemann/Engel.
It is difficult to review a Rammstein show without making multiple references to fire so I won't even try.
Visually fantastic, musically awesome – you know roughly what you are going to get but they still pull out a surprise. Tonight's set was based on the recent CD and although in places the songs were not as strong as on the 2005 tour, the show was simply breath-taking.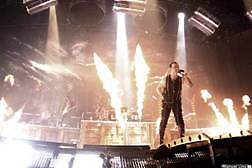 'Feuer Frei' saw the welcome return of the flame-throwers; Lindemann threw the guitarist in a flaming fire during 'Ich Tu Dir Weh'; 'Benzin' featured a flame-throwing petrol pump which was trained on a roadie who ran around the stage on fire; the flaming arrow during 'Du Hast' this time shot across the arena and then bounced back to explode on stage; 'Pussy' saw Lindemann on a giant ejaculating phallus, and 'Sonne' featured the crowd dinghy ride. Best song was 'Frühling in Paris'.
Business as usual then, but it is such fun.
10/10
By Roy Evans

Dan Reed – Corporation Nightclub, Sheffield 17th May 2009
As we wait in anticipation for the gig to start, a guy kept walking past my wife and I with a woolly hat on. My wife kept saying it's Dan Reed, so a quick shout to get his attention clarified our suspicions. Dan Reed did not ignore us at all and had the time to have a little chat shake hands and a photo before the gig. I must admit this made my wife's day; Dan Reed was not only a musician but also a true gentleman.
Dan Reed had been missing from the industry for around 15-16 years, which made me a little apprehensive about the whole thing. I had been wondering how many people would be there? Was it going to be a sell out? Do people know who Dan Reed is nowadays? Was he going to do all the Network stuff? Was he going to play some new material?As the support band cleared their instruments from the stage, I said to my wife this is going to be an acoustic session. There was no one rushing around to put a drum kit up or do a sound check. What were we going to expect? I had never been to an acoustic gig before. How was the crowed going to react? How was it going to go down? Will the crowd join in with the songs? I didn't know the answers to these questions.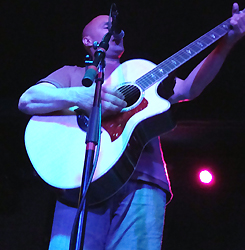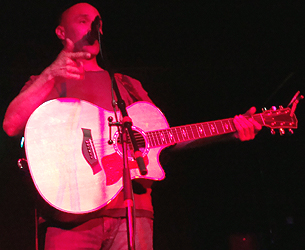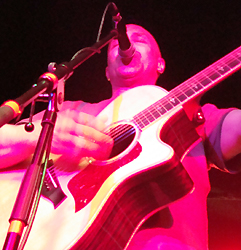 As he came on stage, a nice warm welcomed greeting was swept across the crowed as he started to play. The gig at first was like a new pair of jeans, a little wearing makes them very comfortable. I was getting totally enthralled with the acoustic ambiance that wrapped the crowed with soft melodic tunes and a live vocal that was spot on which came across with a calm relaxing pleasure.Several new tracks were played such as 'Promised Land', 'Salt of Joy', 'Losing my Fear' and 'Brave new World', but also played the classics such as 'Rainbow Child', 'Lover', Stronger Than Steel', 'Ritual' and 'Long Way to Go', which came across better than the original.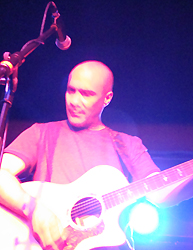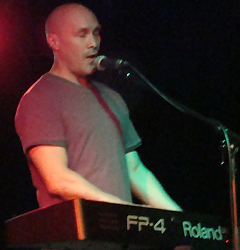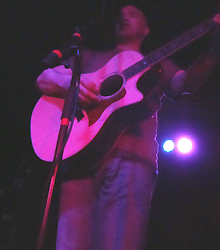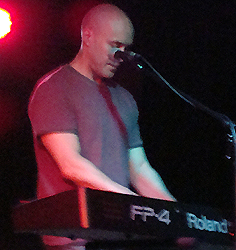 Dan Reed played a full hour and a half with such passion and enthusiasm that clearly establishes Dan Reed in a truly professional league with his talents and warm ambiance he portrays. There isn't many bands or individuals that you can turn round and say they were spot on with everything they do.Dan Reed made this gig a very memorable moment in my life as I thoroughly enjoyed every moment and I look forward to seeing him again towards the end of the year with a full band.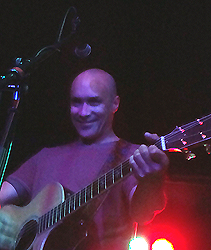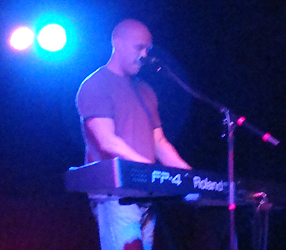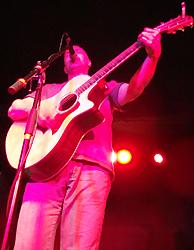 It has been said that a new CD will be out in November.
10/10
By Tony Watson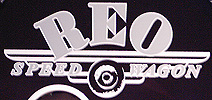 - Rock City, Nottingham, Monday, 9th June, 2008
Set List - Don't Let Him Go/Take It On The Run/Keep Pushin'/Find/That Ain't Love/Tough Guys/Can't Fight This Feeling/Dangerous/Poor Man/Smilin'/(Time For Me To) Fly/Back On The Road/Keep On Lovin' You/Roll With The Changes.
Encore - Ridin' The Storm Out/157.
Well it's been a good wee while since I saw a gig at this here venue but this was definitely worth the effort as one of the top US AOR Kings make a return to the UK soil for a 2 or 3 gigs and this just happens to be one of them. Man, we are lucky people ain't we!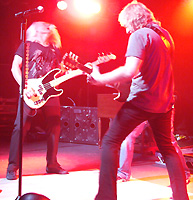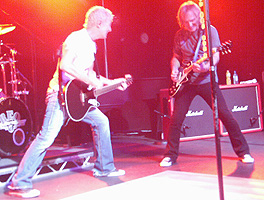 After getting there at around 8pm we realised straight away there was no support band, so we had a beer and chatted away while some pre-recorded soft-rock was being fed through the speakers to us all – not too loud of course – that was left for the reason while we were all here – the legendary REO Speedwagon who ambled on-stage a few minutes after 9.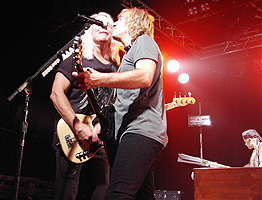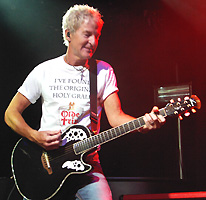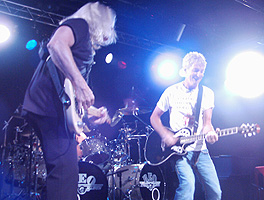 Starting up with 'Don't Let Him Go' it became totally obvious that although these guys were getting on a bit, they could still kick out a good bit of rock between them all. Frontman, Kevin Cronin sounded as good as he did when the band first started in way back when so he has really looked after the voice to say the least – the backing harmonies from Neal, Dave and Bruce were spot on too and then there was Bryan Hitt kicking *rs* on the kit!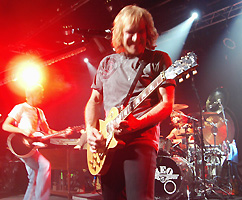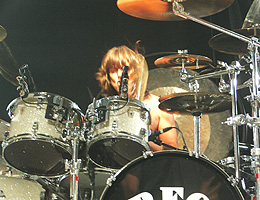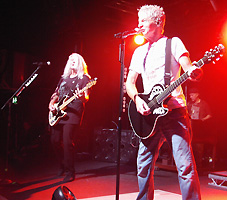 Kevin told us that they used to play clubs like this back in the day or words to that effect and that we wanted us to pretend it was a Saturday night as opposed to a monday – a pity many of us no doubt had work the next morning – but we made the most of it all the same. The sound was spot on as well – it sounded just like the records darlin' – and the stage lighting was great too, lighting the place up as glowing as a Christmas tree but without the tinsel and bells of course.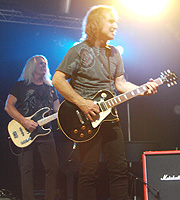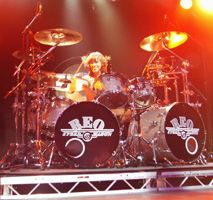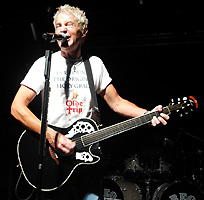 After the 'wagon performed a killer version of 'Tough Guys' Mr. C said he couldn't remember if Pete Townshend wrote 'Rough Boys' before it or after but decided that he would call it a tie – haha – maybe some of you die-hards out there may know the answer to that one – answers on an e-mail to the usual address.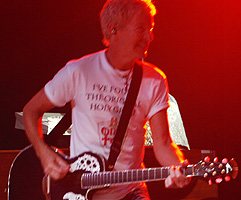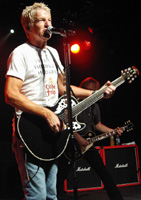 "Is there beer and shit in here?", he asked us, "As you appear rather sober to me' which gets a good laugh from the crowd and tells us about the fact that on one occasion he was doing too much drinking and too much thinking which for him is 'Dangerous' – a perfect cue fort a perfect song indeedy.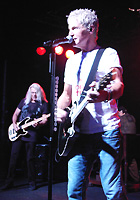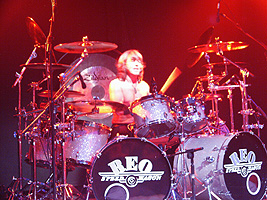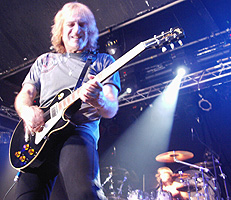 Other notable highlights in the set included the major hit single 'Can't fight this feeling' 'Smilin' that saw Kevin alone on the stage armed only with his acoustic guitar (well the rest of the guys needed a crafty cigarette outside the backdoors – only kiddin lads) but return back to the stage for 'Time For Me To Fly' that we were all invited to sing on the chorus to – magical !!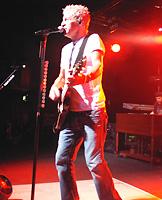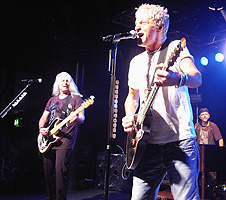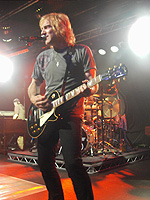 'Back On The Run' saw Bassist, Bruce Hall take centre-stage attention on lead vocals. He has a a softer rounded but still high voice compared to the sharper shrill sounds of Mr. C's. Love the screamy solo section from the guita-work of Dave Amoto and the synth sounds from Neal Doughty were cool as – not to mention the sweet vocal harmonies towards the end of the song.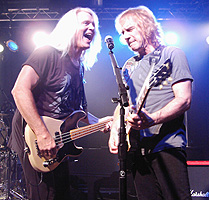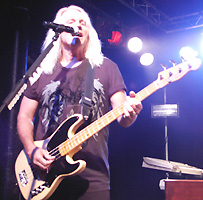 I don't think the set-up of the piano was to the approval of Kevin as he bashed out a few notes in the style of the late, great UK comedian Les Dawson and said, "I'd sooner f*ck*n' stand up", but did indeed return to tinkle the ebony and ivories for an outstanding rendition of 'Keep On Lovin' You' that no REO Speedwagon set would be complete without – absolutely outstanding it was too that rolled straight into 'Roll With The Changes' that saw the entire audience sing along too – brilliant !!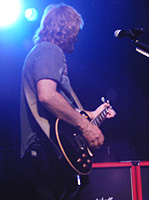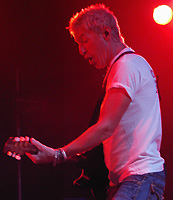 After leaving the stage they returned to play 'Ridin' The Storm Out/157' and then gave a real nice bow to us all – what a great set.
8/10
By Glenn Milligan
Ratt/Zodiac Mindwarp & The Love Reaction + Support -
Corporation, Sheffield, Friday 30th May, 2008
Well I was totally blown away when I found out the headliner was coming to town - sees that the Pied Piper was not needed in order to thing these rodents to our side of the pond. I was also chuffed to see that Zodiac were the main support as well.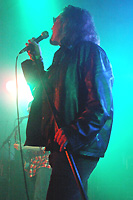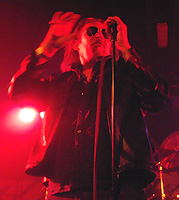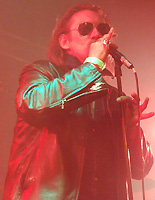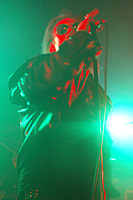 Some poppy goth outfit opened up the night with overloud backing sounds coming from a keyboard and a drum machine - anyway, we gave that a wide birth and opted for a chat with some mates and the downing with a pint or too was done until Mark Manning's Men hit the stage - oh yeah !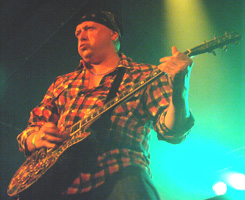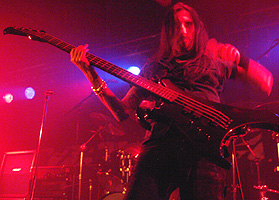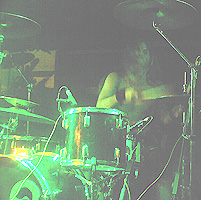 Not seen Zodiac Mindwarp and The Love Reaction for about 3 or 4 years - last time was at this very venue when Steevi Jaimz's version of Tigertailz support with Robin Black & The Intergalactic Rock Starz. Anyways, it was great to see 'em back on the same stage again giving us a dirty deliverence of songs such as the opener for the set 'F*ck*d By Rock' - well let's face who hasn't been - haha or f*ck*d to rock - more tear vicar.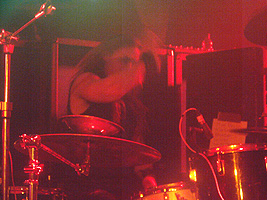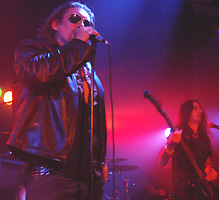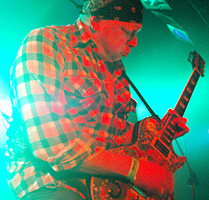 2 members in worn out, wear in the garden, street clothes - these being original members, Mark Manning AKA Zodiac Mindwarp and Guitarist Cobalt Stargazer and the other two, Jack Sh*t and The Apocalypse in rock 'n' roll stagewear - what a comparison. Who cares though as they got us going with some thunderous greasy old classics like 'Prime Mover' & 'Back Street Education' to name but a few.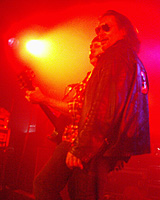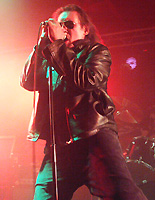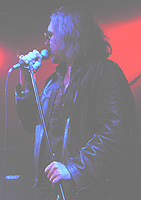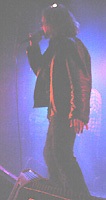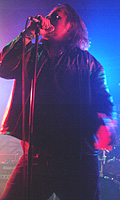 They went across well - no doubt that many Ratt fans (the world Roland not needed - sorry guys) were into the Love Reaction band of brothers as well here with their riffy AC/DC like ditties and sleazy songs with full-on lusty lyrics - it made, good, good sense. A pity we didn't have time for an encore after 'Prime Mover' because I reckon that Sheffield was well up for it.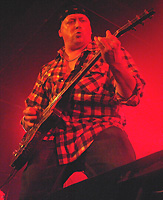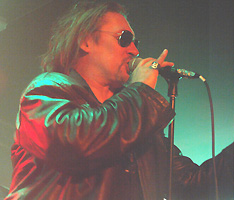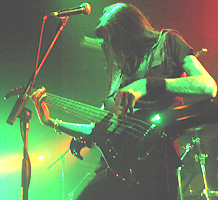 Soon it was about 9:15 which meant only 1 thing - time for Ratt - who many of us have been waiting years (some around 25) to see them as their UK Tour a year or 2 ago got cacelled for whatever reason - but let me tell ya - thwy totally made up for it tonight and gave us a real good smattering of hits. Nice 'n' loud they were too from the front to the back of the room - man, how that sound carried. Stephen informed us that it was the 1st gig of their UK tour so he was taking notes on us.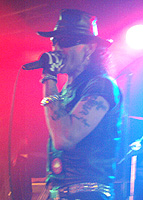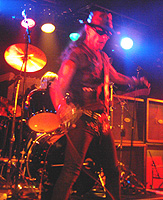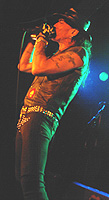 Ratt were really tight and together without a mistake in sight from beginning to end - Pearcy was in top form vocally - note perfect and very strong all the way through every single song - he was also very audience related too and made a big fuss of us, complimenting all the crowd all night. Highlights of the set were those well loved rockers like 'Lay It Down'; 'Lack Of Communication'; 'Walkin' The Dog' which was either the 2nd or 3rd song in the set and of course, 'You're in love'.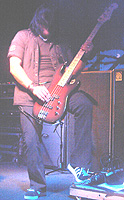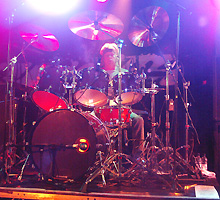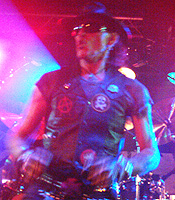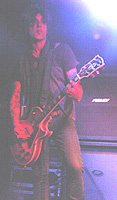 The backing vocals for each number for bang one as well that were provided by Robbie Crane (Bass); John Carobi & Warren Demartini (both on guitar) -Bobby Blotzer stuck to playing his rather massive drum kit though and didnt do a Don Henley, Phil Collin's or Stet Howland on us by having an overhead mike set up!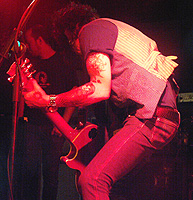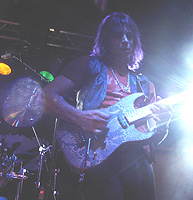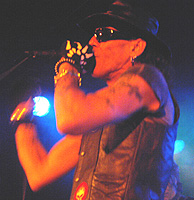 "You guys familiar with 'Giving Yourself Away', we'll find out?", said Stephen teasily to the crowd - of course they were - there were some hardcore fans in tonight by the looks of it who sang along to the song. No doubt my mate Rach was chuffed to f*ck when they played her fave 'Nobody Rides For Free'.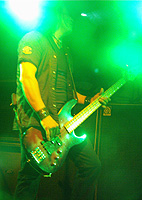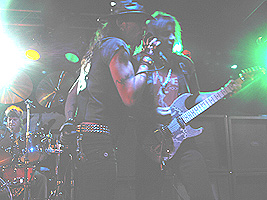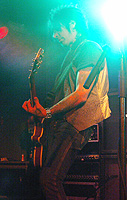 The rest of us were well pleased too when Mr. P said that we were way f*ck*n' cool before they launched into 'Way Cool Jnr' stoppin in the middle and getting the crowd to sing a bit - 'It's right here right now, you got that' he tells us. Of course we have mate.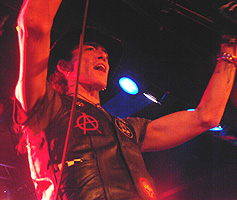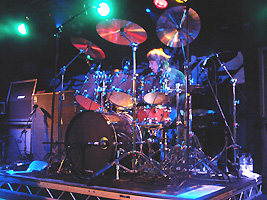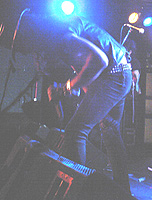 Other great numbers bashed out in full glory tonight were 'Lovin' you is a dirty job' which went down joyously well, not to mention the fast pummeling 'Body Talk'. "It's a pleasure being here" the Ratt fronter told us, "So shout to have us back".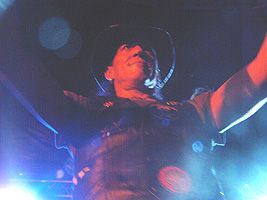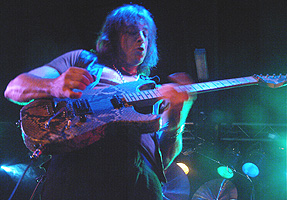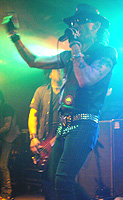 As if we wouldn't want them back - especially went they climax the show with the timeless and riveting 'Round & Round' that everyone knows and sings the chorus to - it's often a Rock club dancefloor classic - and goes down brilliant. Thank You, see you next time Stephen tells us - no doubt they will be back again in the next year or so.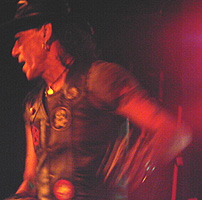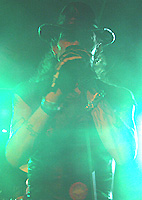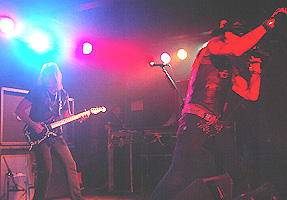 Can't wait!
10/10

By Glenn Milligan
Riders on The Storm / Ricky Warwick -
Corporation, Wednesday 20th June, 2007
Well when I saw that the new version of 'Riders on The Storm' had been booked to play here in this very city of Sheffield I nearly jumped out of my skin - a gig in Sothampton had been cancelled that was meant to take place the night, so instead of having an extra free day before their gig in Dublin, Eire, this 'ere date was brilliantly slotted in . Less than a month aint a long time to promote such a spectacle but it appeared to have been an extremelely worthwhile venture as the large room was a good half full. There was even enough time time book in a pretty big name support too.
The Almighty Man, Ricky Warwick hit the stage to a small handfull of peeps - well it was mid-week and the stage time was about 7.30 - a wee bit early but there was a club night tonight, so what the hell. It was the 1st time I had ever seen Ricky Warwicke in solo mode - only ever witnessed him with his band, The Almighty in 1992 at Sheffield Arena when they were the support slot for Iron Maiden - what a packed noisy night that was. It turns out that there's quite a connection between Ricky and the headliners tonight. He was briefly in a band called 'Circus Diabolo' that features the frontman of 'Riders of The Storm' Brett Scallion and guitarist, Billy Duffy from 'The Cult', whose frontman Ian Astbury fronted The 21st Century Doors' - so there you go - coincidence or what !! Anyway, back to the plot - he was lone up there equipped with just an acoustic guitar and harmonica - delivering some real gutsy folky stuff - that had a kinda southern like Bob Dylan edge to them with a partly Irish tinge but with more balls.
All taken from his solo CD that was produced by famouse Sheffielder, Joe Elliott, not that he's around our neck of the woods these days. I really was impressed by his songs one of which was about a guy in jail that he dedicated to Paris Hilton and another about an Irishman - I remember him saying the typical Irishman was one with red hair, long beard and a pint of guinness - sh*t, he was on about me - lol - well I am a quarter Irish, love the black stuff and have an Irish surname. He also joked that he and Bob Dylan had one thing in common - both of them were crap harmonica players - oh well! Actually he has another thing in common with Mr. Zimmerman - he is also sharing a bill with the Doors (or at least members of). Since he was armed with an autographed wooden six stringer, it was rather a bit - 'let's compete with people talking at the same time as he was performing' but that didnt seem to bother him too much as he got a warm loud enough reception each time which he seemed pleased about - I would definately see Ricky again in his own right and check out his CD as well. Great Set !
Riders On The Storm Set list - Love Me Two Times/Break On Through/Peace Frog/Blue Sunday/Strange Days/When the music's over/Moonlight Drive/Wild Child/Spanish Caravan/Alabama Song/Back Door Man/5 to 1/Texas Radio/Band Introductions (.. is a Sex Machine)/Touch Me/LA Woman. Encores - Riders On The Storm/Light My Fire
How can you match an act who were to come up next 'Riders On The Storm' who feature the 2 most famous legendary rock icons to ever enter and play at Corporation - I'm talking about a couple of founder members of The Doors, ladies and gentlemen, Ray Manzarek & Robby Krieger on piano and guitar respectively (and backing vocals) alongside drummer Ty Dennis (a long-term muso friend of Robby's), bassist Phil Chen and Fuel Vocalist, Brett Scallion who start up the set with 'Love Me Two Times' and then encourage us to Break on through' to the other side - we did exactly that. It had come 'Full Circle' (scuse the pun) that Ray & Robby started in the clubs and gone back to the clubs 40 years later - it's like playing 'The Whisky A Go Go for them again', my good friend Saul Bennett said to me and was indeed correct as tonight as was an extremely intimate performance that the band really enjoyed giving to us.
There were numerous highlights of the show that included 'Spanish Caravan' in which Robby Krieger played a real interesting looking acoustic guitar that he plucked all alone on stage while the rest of the band had a breather, before joining him for the full-on electric section of the song. Throughout the set everyone was up for plenty singalongs that included among many the impressive bluesy 'Back Door Man'; the extravagant sinister 'When the music's over'; and the quirkyly mesmerizing 'Peace Frog'. I must admit I have never seen an audience in here so with it and excited as I had tonight in this soon to become well talked about UK venue. Seems that Ray had took an interest in British sporting events too, informing us that he wanted to wear a posh hat like they were wearing for the horse-racing at Ascot - even Robby placed a bet on a horse that was racing that day but sadly he couldn't remember the name of it and made us all wonder if it won or made it all the way around the track - I think it was 'good to firm' on wednesday or at least good - since we have been getting a bit of rain of recent. Hey Robby, loved the guitar solo on one of the Gibson SG's - especially the tapping section. Was really cool to see Ray play the keyboards with his foot in good old Jerry Lee Lewis style which caused an entire room to be a visual of bl**dy camera phones which is why there are two or three on my photo !!
'All these years on and we are at war again' or words to that effect quips Ray Manzarek - what goes around comes around it seems - did they ever learn the 1st time - it seems not. The band huddled into a group meeting in the centre of the stage and we hear Doors numbers being shouted for in the crowd - Saul get's his wish by screaming for '5 to 1' - a nasty voilent lyric of a number that Ray dedicates to George Bush and Dick Chaney as well as other members of the US cabinet who he says we will probably of not heard of - amid a roar of appreciation from all and sundry in the room - seems Bush and his army of warmongers ain't liked anywhere - can't think why - NOT ! Instead of doing the usual boring introduction of the guys on stage, Ray instead worked everyone up into a funky improvised jam where he called every member a sex machine and went on to dedicate the next song 'Touch Me' to the late, great funkster, James Brown.
To say that this outfit were the most incredible unit to ever play in this club would be something of an understatement - I would go as far as saying Sheffield or even the whole of Yorkshire for that matter - Ray told us that he really liked Sheffield with its canals and waterways and that he really liked the audience - likewise matey, likewise. Brett came across as an exceptional frontman and it takes something special to perform Doors songs with 2 of its founder members. He perfectly pulled off the extremely difficult task, sounding very like Jim but not trying to look or be Jim - let's be honest there was only one Lizard King and he sadly passed away in 1971 - this is a true celebration of the man and the repertoir that 'The Doors' performed in thier original form. Something that made the set even more special was the fact that some songs never had the opportunity to heard live on stage way back in the day - yes I'm talkin' LA WOMAN here and the band's name title song 'RIDERS ON THE STORM' since Jim left for Paris and as well all know, sadly never returned to US shores or to the stage for that matter again but left an incredible legacy and some unbeatable performances.
The atmosphere throughout this concert was full-on frenzid crazy atmospheric excitement all the way from 'Love Me Two Times' to the closer 'Light My Fire' which the guys told us was celebrating its 40th Anniversary as being their No.1 single that was released during the summer of love '1967' - it sounded just as good as it did then especially that instantsly recocognisable organ played riff and that uplifiting guitar line that goes with it. I reckon it's a safe bet to say that 'Riders On The Storm' will be returning the this club the next time they play some UK dates - judging by the reception of the crowd not to mention the positive vibe of happiness and pleasurable words that oozed from the stage that night.
10/10
By Glenn Milligan & Saul Bennett
Rise To Addiction –
Corporation, Sheffield, Monday 21st May, 2007
Well it's been a wee while since I last saw these guys in Sheffield, last time it was above a small pub on Trippet Lane – Sept. 8th 2005 to be exact about it, so it's been a good wait – they made it totally worthwhile tonight though. After the self titled E.P. comes their debut album, 'A New Shade of Black For The Soul' on Mausoleum Records (based in Belgium of all places) – this gig is a crackin' way to launch an album before they hit the road properly with Doomsters 'Trouble' from late May to 1st week of June and then some…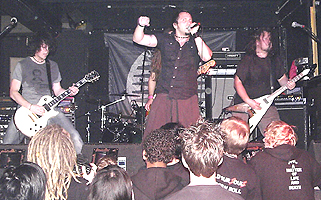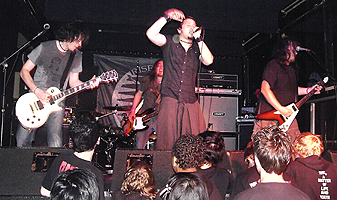 So how was the gig? – well, the band sounded f*ck*n' great in the little live room, so I guess they must have done a decent amount of sound-checking before hand – everything came out pretty damn clear – it was as tight as hell and Leigh's voice could be heard perfect – every word was crystal clear in clarity above the near-deafening molten metal of RTA ! The whole band was really pleased to be in Sheffield again and made it known so both vocally and musically.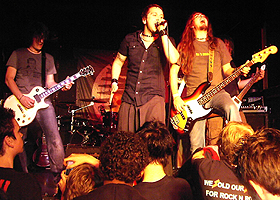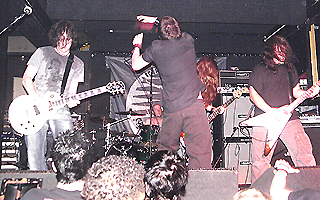 What I was impressed with was the fact that they have touched the ears, hearts and souls of the younger listeners of the local metal institution as well as the older members of the audience as well – pure proof that 'Rise To Addiction' are right on the boil of the button with their bright but deep, heavy 'n' energetic in-your-face, loud 'n' proud innovative, near-unique sound 'n' style of Heavy Metal.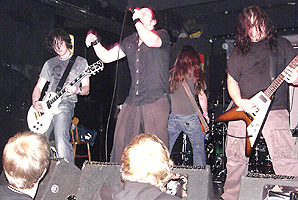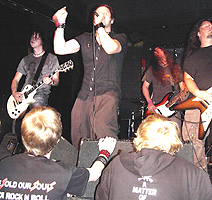 The set was amass with numbers from the new aforementioned new album & EP (as some of the numbers were re-recorded for the long-player. Blasters included 'Falling As One' where frontman, Leigh Oates, allowed one of the young members of the crowd sing a line of the chorus much to the little guys delight; Black Sabbath's 'Children Of The Grave' (that has become the only cover in the set – yes the originators would be very impressed); the aggressive but very melodic 'Cold Season'; the fresh as ever 'Everlasting Wave'; not to mention a slower number called 'The Hive' with as much emotion as its predecessors that was inevitably the last tune of the night.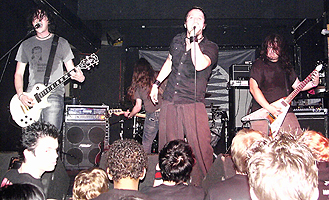 'What we'd like to do next is….' 'A ballad', I shouted. They laugh 'n' guffaw at the fact of doing a ballad in their set 'A ballad – this is the Corp', Leigh jokes and has a vote on who wants to hear one or not – and guess what? That was my 'Moth To A Flame' – coincidentally enough the title of another great number played tonight as well.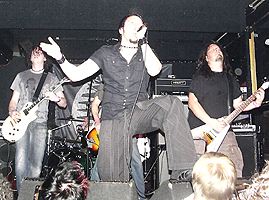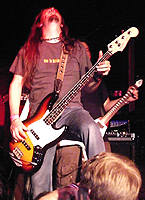 Gotta say that they know how to work a crowd who are thanked a good few times for coming down and giving them support – 'Better than Wakefield' we are told. These guys are in their element and while guitarists, John Slater & Steve Wray's old Muso-Boss resurrects Wolfsbane, these guys are out makin' thier mark alongside frontman, Leigh Oates (formerly of NineDeNine), Bassist Joel Graham and Drummer, Aynsley Dickinson with what can undoubtedly be one of the finest Metal Quintets in the UK by far !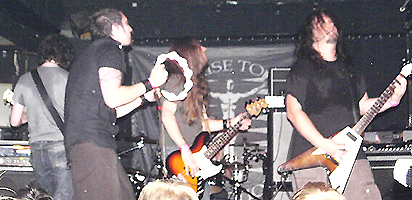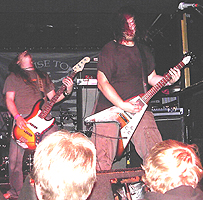 Next stop at this venue I reckon will be the big live room of the Corporation – oh and parts of Europe with 'Trouble' – err did I mention that already. I just knew this band had got the 'X' factor or should that be the 'M' factor – think I should have a job in A&R.
10/10
By Glenn Milligan

PAUL RODGERS + Deborah Bonham -
City Hall, Sheffield, Sunday October 1st, 2006
Gutted at not being in time to get a ticket for Bad Company's 2002 visit here, I was left pondering the prospect of ever hearing the legend that is Paul Rodgers in performance. And then the ultimate godsend occurs as he suddenly returns at only about two months notice, four year or so later and I am able to correct the big mistake I made last time.
Deborah Bonham opens tonight with a supposedly acoustic set, though the first song is electric. Minus her drummer due to a bereavement, they go down well but I'll have to listen to her blues rock fodder over a few times more to get into what it's about in proper..
Doing the old rock legend thing, Paul Rodgers is the last man to walk on, his band already drilling away at the opening licks of 'Creepin'' and the volume of the greeting he receives from the crowd all but adds an extra instrument to the mix as is to continue to be the case for the ensuing 100 minutes. Free, Bad Company and PR solo classics fire in equal barrel loads from the start and there's not one person not seen to be lip-synching in sight amongst the 2,200.
After six established faves, its time to squeeze in a new one, 'War Boys' a classy tune in the typical vein of Paul's previous material apparently receiving its official live debut this very evening. Being in front of the audience he is he still receives his due applause and reciprocates with a raunchy double helping of B.C faves, 'Feel Like Making Love' and 'Bad Company' itself.
Already half way into the set and the punters look like they can't take much more, the only thing keeping them going is the wait for a couple of certain Free classics I might mention. Paul seems to insist on introducing 'Wishing Well' like he thinks it's some album track hardly anyone's heard of but he knows energy has probably got to be saved for set closer, 'All Right Now', the only song so far in which standing up in front of one's seat fails to incur the wrath of the City Hall security staff. Obviously the guy's not going to get away with disappearing just like that (although Ozzy only played 80 minutes when he was last here) and those still gathered by the stage make ample noise to beckon the bearded one back on again. Following 'I'm A Mover', guitarist Howard Leese (yes, the ex-Heart man in case you were wondering) treats us to a beautifully performed rendition of Hendrix gemstone 'Little Wing', Rodgers' vocal range even doing its best to ape Jimmy's.
You wouldn't think to expect an acoustic tune to end the set, but 'Far Distant Shore' with Paul on acoustic guitar and Leese wielding a mandonlin holds the full attention of all listening. And to correct you it doesn't end the set, second encore 'Hunger' not actually being on the set list but this doesn't put Paul Rodgers off paying another quick visit to the people that have made his first night of the tour one to remember. I think he means us. One to remember indeed, Mr Rodgers first visit to the City hall in over four years, and my first visit to the City Hall to watch him in performance ever was ruined by only two things. No 'Can't Get Enough' or 'Rock n' Roll Fantasy' tonight surely makes people talk, me amongst them, but as I'm a forgiving man only half a point goes off for each.
A crème de la crème classic rock gig that I hope to attend more of in the future. Next year Paul.
9/10
By Dave Attrill

The Rolling Stones –
Don Valley Stadium, Sheffield, August 27th, 2006
Well this was a last minute chance thanks to my good friend Jane who managed to get Metalliville a pair of tickets to see The Rolling Stones at this 33,000 capacity sold out venue in the Attercliffe area of Sheffield – as I only found out the day before – Wahoo – as if I could turn that offer down – ya must be jokin' as I ain't seen the old boys since 1995 on the Voodoo Lounge tour at this very venue.
I decided against driving into the area as it would be snided and instead left the car in Sheffield Centre and trammed it in with my fellow work colleague David Blomfield who was real excited about seeing the Stoo-ans – rightly so as well. We had a trek to the seats all around the stadium but it was worth it since managed Block 1, lower tier tickets giving us a real good view from Stage Right.
At around 8.30 the lights went down with an amass of cheer from the crowd and we could see them entering from the side underneath our block of the stage area with Mick in a red sparkly jacket, the fireworks went up and Keith walks on and cranks into the opening riff of 'Jumping Jack Flash', followed by 'Start Me Up' and 'She was Hot' (and I'm sure the guitar was out of tune – not that anyone seemed to care). Seconds later the rest of the band are there on that giant stage that looks like a mini car-park at the front of two space age blocks of flats – with two tiers of people on their – obviously the competition winners who were given a birds eye view of the gig (and it was funny to see them up and down the stairs with security when they wanted the toilet or a beer).
It was by all accounts going out live on BBC Radio 2 which is cool, not that I can find any info regarding that in the guides – DOH – not to worry. Mick was real happy to be back in Sheffield asking us how we were doing, congratulating us that one of teams was back in the premier league (not that have any idea which one I may add ) mentioning that it's the home of Def Leppard so they were do their version of 'Pour Some Sugar On Me' or maybe it should be 'The Greasy Chip Butty Song' – which caused a big round of laughter, before they kicked into 'Let's Spend the Night Together'.
Then what happens not too much later, the heaven's open and it p*ss*s it down, just like it did in 1999 (well it is the UK at the end of August, so I guess you are askin' for miracles if you expect it to keep dry for every concert on the UK leg – sods law that Sheffield is the place for loadza raindrops. Taking no chances their crew carpet the front of the stage so no-one slips over and Mick commends them by a big thankyou and that they are doing a great job, "Charlie's gonna keep dry though, he's alright", he laughs (as Mr. Watts has a large canope over him and the kit). They don't let it bother them too much and get on with the show as normal – well what else can they do.
That new single called 'Streets of Love' (a ballad) was performed as well in the set and Keith got to step up to the microphone and apologises for the rain and goes into a couple of numbers as well – 'Before they make me run' and 'Slipping away' – personally I wish he had sang 'Happy' – maybe next time eh ? – it'll put a smile on my face at least. Ronnie Wood remains away from the microphone for lead purposes and concentrates on guitar duties – he don't look too impressed with the showers either and dons a purple hat through a lot of the gig.
When the old disco hit 'Miss You' comes into play they move centre stage which comes out to the middle of the stadium and looks like a boat type craft with Charlie in the cabin – lol. The bangin' 'Rough Justice' rocked like a mothereffer, as did 'Get off My Cloud' and 'Honky Tonk Women' that were all on the mini stage as well. When it went back to the main area again you just knew that the proceedings were starting to come to an end when 'Sympathy For The Devil' starts up with a blast of fire from the side-stage towers with Woo-hoo's in aplenty from everyone in the entire stadium, followed by 'Brown Sugar' where the video screens showed a giant topless black girl strolling around major landmarks of the world – gets my vote darlin'!
The encore was excellent – 'You can't always get what you want' and 'Satisfaction' that both included a ton of singalong section and then it was all over till next time – let's hope there is a next time – hmm- maybe I'll go and see them if they play somewhere in Florida in 2007 !!
9/10
By Glenn Milligan

The Rolling Stones / Feeder -
Twickenham Stadium, Twickenham, London, 20th August, 2006
The Rolling Stones set list - Jumping Jack Flash, Start Me Up, Oh No Not You Again, Sway, Ruby Tuesday, Streets Of Love, Tumbling Dice, Midnight Rambler, Night Time Is The Right Time, Slipping Away, Before They Make Me Run, Miss You, Rough Justice, Get Off My Cloud, Honky Tonk Woman, Sympathy For The Devil, It's Only Rock And Roll, Brown Sugar, Encore - Satisfaction
Stage Times - 8:25 - 10:20
The heavens opened as I arrived in Richmond after a lengthy journey across London, so I took shelter in a delightful pub called the Orange Tree, from whence I discovered that those nice London Transport people had provided free buses to the stadium. After several lagers I arrived at 'Twickers'. I managed to avoid any souvenirs; the rugby-ball style tongue shirt I had coveted looked look a baguette being eaten so I passed. Nothing as good as my Detroit shirt was on offer anyway.
Feeder provided the support slot, bounding on stage at 7:10 to face a virtually empty stadium; as it was pouring with rain the bars were more inviting. The sound was appalling for most of Feeder's rather lifeless
thirty-five minute set, but improved a touch for 'Pushing The Senses', 'Just The Way I'm Feelin' and 'Buck Rogers'.
5/10
The road crew battled valiantly to keep water from the uncovered stage, and at 8:25 the opening crescendo intro was followed by 'Jumping Jack Flash'. he stage set was dominated by an enormous video screen, flanked by two tower blocks, which also served as VIP seating. Jagger showed no signs of his recent throat problems, and sang well throughout, notably on 'Ruby Tuesday' and 'Streets of Love', both of which were incredible. It was a treat to hear 'Sway', which hasn't been played in England before I believe.
The set was two songs shorter than they were playing in Europe, partly to save his master's voice, and partly due to a curfew at Twickenham. This meant that they only played one encore unfortunately. 'Midnight Rambler' was a mid-set highlight, and featured a terrific jam between Ronnie and Keith. Richards' solo sings were great, a lot better than in Europe last month where his voice wasn't so good.
The mid-set move to the centre of the arena was even better than 2003 – this time an entire section of the stage carried the band along, while they played 'Miss You'. If there is a better way to close a show than with 'Honky Tonk>Sympathy>Rock N Roll>Brown Sugar, I don't know what it is. An absolutely tremendous gig.
As Jagger cracked, 'Wembley will be open for the Arctic Monkeys farewell tour', but I have a feeling the Stones will open the stadium next year.
9/10
By Roy Evans

Rainbow Rising –
The Boardwalk, Sheffield, Sunday 30th October 2005
I never got the chance to see Deep Purple with Blackmore or see Rainbow in any shape or form so this is the next best thing - 5 neat cream of the crop musicians with a passion for some of the best classic rock bands around.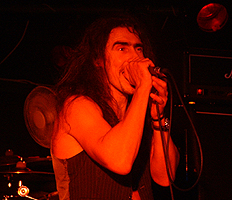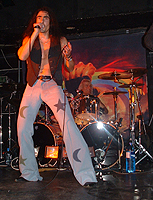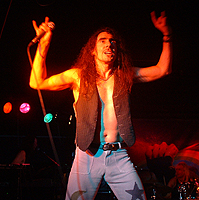 Around 90 people attended this gig and they thoroughly dug every second of it. What made the set special was the fact that it wasn't your usual greatest hits by numbers set – thank god, as I can't be doing them – saying that tho – since when have Rainbow been a band that Tracey & her dance around their handbags to.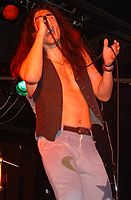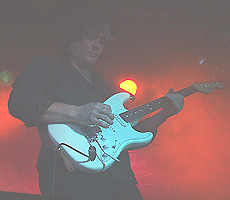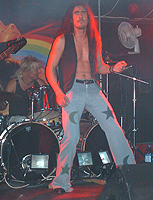 Raggie has got that Dio like high octave well rounded voice (he's a few foot taller tho) but I have to admit that their bass player has Ronnie's facial looks and if you think you've seen his face before it's because he was the one fronting the band on the OXO adverts. Kicking off from the 'Over the Rainbow' introduction (From 'The Wizard of Oz' film) we were transported right to the pot of gold with the galloping 'Kill the King' and it just got better and better.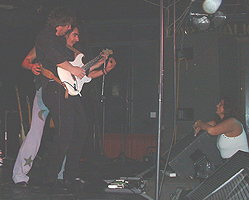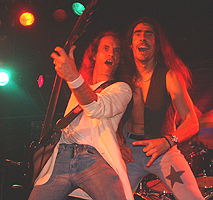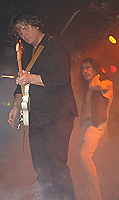 A cross section was performed that included material from the debut self titled album right through to Joe Lynn Turner material.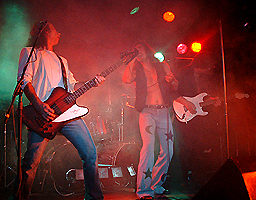 As for highlights for this show, there were so many to choose from that ranged from the hits like 'I Surrender'; 'All Night Long'; 'Long Live Rock 'n' Roll' and 'Since you been gone' where our vocals were tested out to the upper limits (we passed of course) to the more obscure numbers such as 'Eyes to the World'; 'Tarot Woman' or 'Do you close your eyes' to epics including 'Catch the Rainbow' and 'Stargazer' with its whips and chains in the heat of the rain.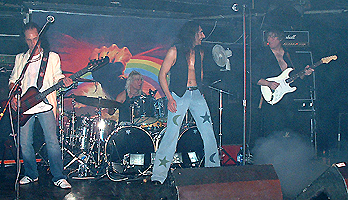 Would have like to have heard some Dougie White stuff like the cover of 'Hall of the Mountain King' or the brilliant 'Man on the Silver Mountain' from the debut with Dio but ya can't have everything can you.
9/10
By Glenn Milligan

Rise To Addiction –
The Grapes, Sheffield, Thursday Sept. 8th, 2005
Now here's a band that guarantee a hot and sweaty night of Metal !!

Filling the small room with their gracious heaviness, the Rise' treated us to cookin' versions of ferocious songs like 'Low' 'Everlasting Wave' and 'Falling' and a few other gems as well such as a blasting cover of Black Sabbaths 'Children of the Grave' . 'Get those hands in the air' bawls Leigh - and how can you refuse as these guys know how to bring a topping overflow of emotion from the crowd here on a wet thursday night.
They are one of those acts who know how to excite from the stage with their constant up-tempo presence and blinding arrangements both musically and vocally. They pose and gyrate like they are playing to umpteen thousand in a shed – as opposed to a handful in an upstairs room of a backstreet city boozer.

Can't wait to hear the new album. Steve, Rob Leigh, Ainsley and John prove that Metal in the UK is alive and well for a long time to come !! Long Live RTA and all that follow - you know it makes perfect sense.
Fusing together so tight I can't see it being too long before Rise to Addiction are supporting someone pretty big - at the moment this god is unknown, maybe it'll be the Metal God himself - Rob Halford and his Merry Brummie Men next time they hit the UK !!

10/10
By Glenn Milligan

Rich Robinson -
The Rescue Rooms, Nottingham, December 17th, 2004
First time I've ever been to The Rescue Rooms - the sister or brother venue to Rock City and it's just around the corner. It also marks as the premier occasion that this Crowe Bro has been here too - a solo outing for the Guitarist and now frontman - Rich Robinson with his band. After a CD playedon the PA of a bunch of songs that he's probably compiled himself that included Hendrix live with band of Gypsies, early Paul McCartney ('Too Many People' from the 'RAM' album - not heard that for a while), Led Zeppelin and an obscure Rolling Stones number, Mr. Robinson and the band assembles the stage on a simple low-key basis, amid claps and applause from the hardcore Black Crowes fans here tonight.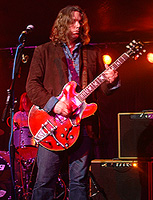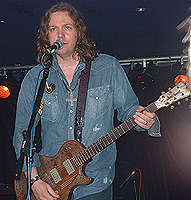 Beginning with an extensive instrumental jam that none of them appeared to know when to end, he thanked us for coming down and was greeted by a comment from a crowd member which went something like 'Out solo tonight Rich' which he found amusing. They then powered into material from the newly released debut 'Paper' such as the very Black Crowesy 'Yesterday I saw you' and then a classic old 70's Stones song 'Hand of Fate' from the 'Black 'n' Blue' album which went down really well.
Plenty of six-stringer swapping took place, keeping his tech busy - seems that each guitar gave a different sound and atmosphere to the song and despite the rusted one looking a bit worse for wear it sounded raw, crunchy and incredible. Bandwise, they are a tight unit, where Bassist Jeff also provided some perfectly harmonised back-up vocals. Rich ain't got a bad voice either and is kinda lower 'n' softer not to mention, less wailey than brother 'Chris's'. Set-wise it was a mix of Rich's own tracks from the 'Paper' album like 'Know Me' and 'Veil' that were mixed in with some of his favourite covers that included numbers by Bob Dylan, Crosby, Stills, Nash and Young and last in the set a song by The Grease Band (well it was in the encore actually).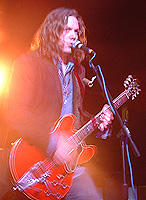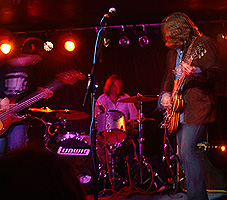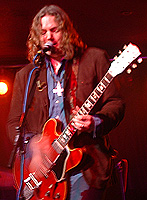 What spoilt the night somewhat is the fact that he expected the audience to go crazy to this new material (which many had probably not heard before) and said that one guy in the front was making it worthwhile for him as many were simply watching and listening to what was going down. In defence of the audience though, he does not exactly put on much of a show (unlike brother, Chris) and spends a lot of the time being very self-indulgent on the guitar playing, dragging two or three songs out for over 15 mins, especially a Hendrix 'Band of Gypsies' number !! - an offence that The Black Crowes were often guilty of in the early 90's, which I think bored many people in the audience tonight. I was also rather taken aback that there were no Black Crowes songs in the set either - he could have given us a couple that he could vocally manage but it wasn't to be.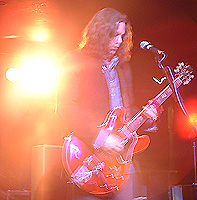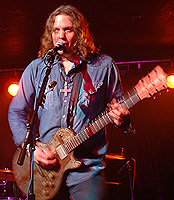 On a good note however, the unused for the 'Paper' album song which he said was called 'Walk by Myself' (if I got that right) was excellent - coming across like a classy, bouncy BC number and he did make a joke about the fact that Chris and other 'Crowes members were gonna come out on-stage for an-all star jam - now that would have something quite spectacular!! I guess we had to be content with what we got but overall it was missing something and in all honesty it was that magical spark to take this gig to the 1st division - this being the energetic on-stage charisma and forever liveliness that I remember of Black Crowes gigs at Sheffield City Hall from over a decade or so ago. Maybe in a few years or so Rich will prove he has just that - in the meantime though, you can experience him in solo format until the ultimate takes place 'The Black Crowes' Reunion.
7/10
By Glenn Milligan
Raw Gallagher - Classic Rock Bar, Sheffield 18th September, 2004
Sometimes you get caught up in other things and end up missing a bands first set - big mistake. Not to worry though as after ordering a pint of the good old Guinness, the 2nd set mightily starts up.
Founder and frontman, Steve has a new bassist and drummer as the old guys have Ron and John Maloney have since left - bassist Ron has since jumped out of retirement and is a Status Quo tribute called 'Fakers Quo'. Anyway, the new boys Steve Norton (Bass) and Phil Vincent (Drums) are electrifyingly dynamic and incredibly tight - not that the other guys weren't of course.
The set delivers some of Rory's finest moments like 'In Your Town'; 'Bullfrog Blues'; Continental Op'; 'Shadow Play'; 'Follow Me' and 'Out on the Western Plain' much to my absolute pleasure - yes I am a fan of the late Mr. Gallagher. The material was accepted very well which in one way was surprising as this an audience were expecting a rock covers band who mysteriously failed to turn up, therefore Raw Gallagher were promoted to the main room and rightly so. The band found it hard to get away from the performance area (the CRB is at audience level if I haven't stated in previous reviews) as it was a case of more, more, more which they got. They even sold a few cd's afterwards.
Raw Gallagher prove that the music of the late Irish Blues 'n' Slide Guitar legend is still in great need - as this performance in Sheffield showed.
8/10
By Glenn Milligan
Rob Rock and the Rage of Creation/Luna Dementia/Overlord -
The Full Moon Saloon, Daytona Beach, Fl USA 7th May, 2004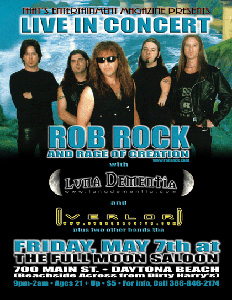 It was a hot day in Daytona, FL and what better way to end it but with a night of metal and I'm talking old school at that, at The Full Moon Saloon, a big bar that had been specially opened for tonight's feast of music.
I found out about the gig after meeting Anthony of That's Entertainment Magazine when we were in the House of Blues photo pit shootin' pix of Iced Earth. In fact, he presented me with a flyer for the gig so how could I resis - it turned out he was the lead vocalist of Luna Dementia.
After a spiled high stack of metal coming from the PA, it was time for band number 1 of the night - a heavy as f*ck thrash piece going by the name of Overlord. Thus was pure old-school, I think they even came from Tampa, Fl. so nuff said on that score. It was loud, it was heavy and it was fast and just like listening to a healthy helping of Megadeth, old school Metallica and Slayer in there. There was hair spinning big style and I wouldn't have fancied untangling that lot, let me tell ya!! They entertained us with some some blistering cuts from the self-tited 'Overlord' debut and latest release 'War Songs' find out more about them via their website Overlordsite.com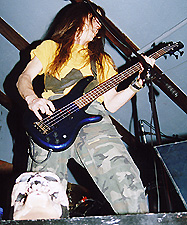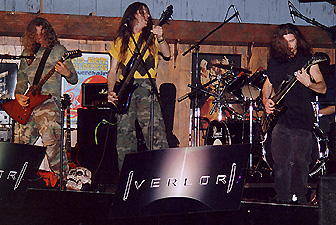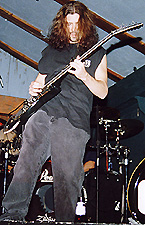 After a rather long wait, Anthony's band 'Luna Dementia' from Daytona, Fl who are a dark gothic progressive, power metal outfit who took the stage for a short set since once of their dual lead guitarista, Jeff Rankin had recently been involved in a head-on collision car accident and was fresh out of hospital, hence hardly any time for rehearsing at all. From the music on offer, you would have been none the wiser as they were superb, especially the song, 'Blackened Mind' (with it's mind-blowing guitar solo and dark echoey keyboards) which incidentally is available to download on their website LunaDementia.com I was extremely impressed with them as their arrangements were so incredibly complex and would have liked to have witnessed more.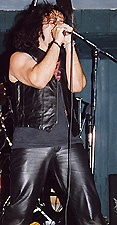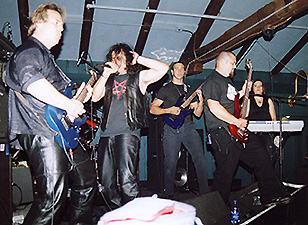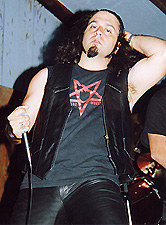 After a lot of stage shifting headliner Rob Rock and his band 'Rage of Creation' hit the stage and f*ckin' hell this was like watching a performance by Yngwie J. Malmsteen's Rising Force crossed with the fierceness of Dio- jesus - it was that good - A full on symphonic power metal with interstellar vocals from Rob. Just wish the vocal sound was a bit clearer on the mix because some of it was hard to make out what he was singing when he hit those high notes.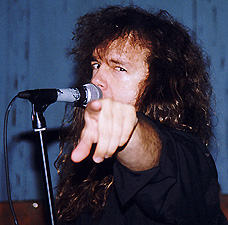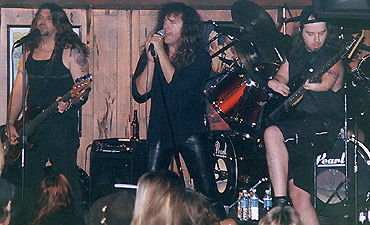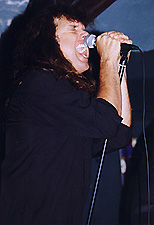 Musically, it was serious stuff and pristine perfection at that - the band have been doing a lot of support slots at Orlando's House of Blues of recent so it was good to see 'em on the hold pivotal spot. They mesmerized all of us with selections from the latest album 'Eyes of Eternity'; their debut 'Rage of Creation' plus material that Rob recorded when he was the lead vocalist with with Impelliteri and beyond.
8/10
By Glenn Milligan