Saxon/Fastway/Girlschool – O2 Academy, Sheffield, Tuesday November 8th, 2016
Set List: Demolition Boys/Hit And Run/Come The Revolution/Take It Like A Band/Future Flash/Watch You Step/Race With The Devil (Gun Cover)/Emergency..
To be honest, this was the most fitting band to open up the night due to their connection to the great man, Lemmy Kilmister we lost late December who warmed up the large audience here in Sheffield with some old school NWOBHM and hard rock overall. The Girls still have it with, albeit a older and an extra wrinkle or two but we live it natural over here and age more gracefully or is that disgracefully? – Hahaha!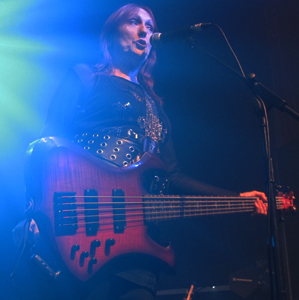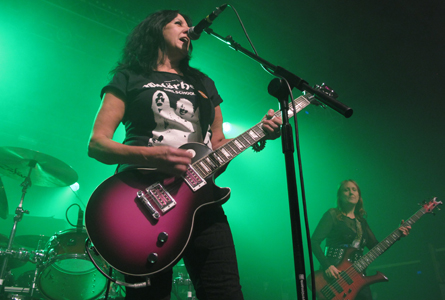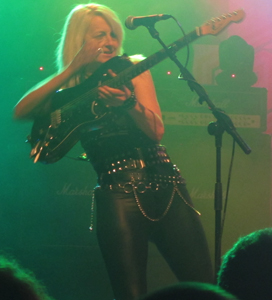 Enid Williams on bass took care of most of the lead vocal duties tonight with Jackie Chambers and Kim McCauley cranking out killer backing vocals and six string axe action too while Drummer, Denise Dufort bang out the beats on that nifty little kit of hers, with my buddy, Alan Shooter exclaiming she reminded him of Mikkey Dee in the image dept. – how apt! I think she got there first actually Al!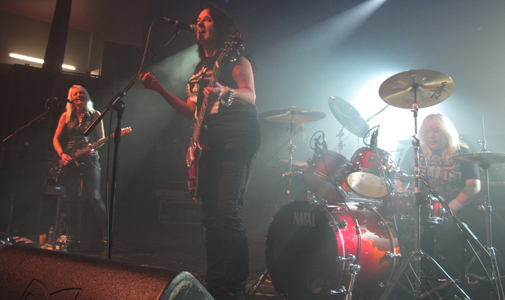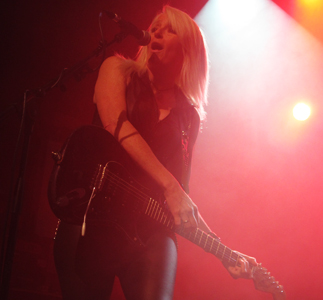 The set is shortish and to the point with highlights including 'Hit & Run' and of course their more famous 'Emergency' too. We even got treat to material from the new album, 'Guilty As Sin' too proving that they still had plenty of punch to deliver after all these years in the biz.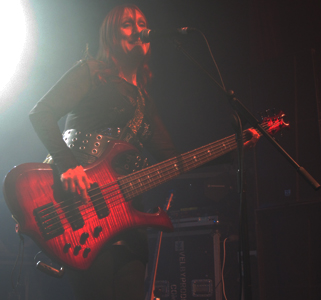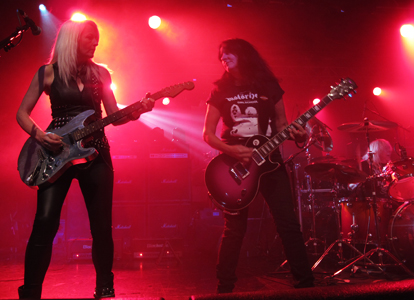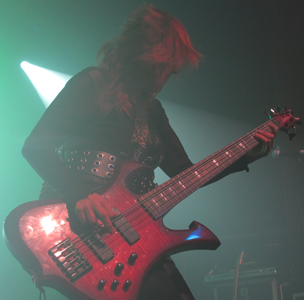 Always good to hear their rendition of Gun's 'Race To The Devil'! Not a bad show Girls!
7.5/10
Set List: Misunderstood/All Fired Up/Another Day/Deliver Me/Telephone/Heft!/Feel Me, Touch Me (Do Anything You Want)/Easy Livin'.
Well I've not seen these guys for a few years – it was Download when I first copped them with this new line-up that features the legendary Fast Eddie Clarke on Guitar, Toby Jepson on vocals; Steven Strange on drums and John McManus on Bass.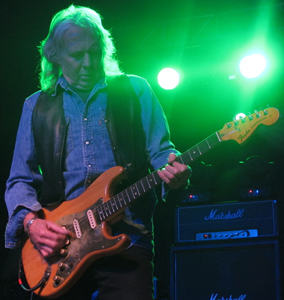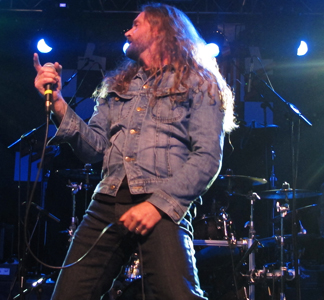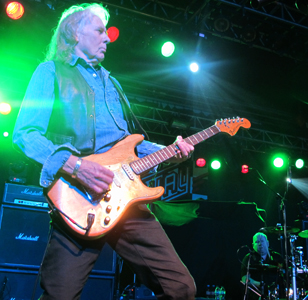 Now this was a turn up for the books seeing the usual fresh faced Toby with a full beard which I was personally not expecting at all, taking him away from his usual look to more of a stoner meets biker image. It must have been pretty hot up there too since he discarded his denim jacket after two or three songs.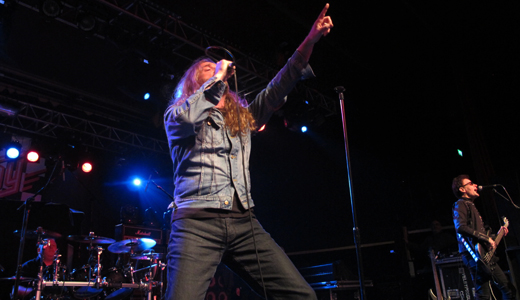 The founder and only original member of the band, Fast Eddie Clarke let his guitar do the talking and hardly took his eyes away from it, looking up briefly to acknowledge us and poke maybe once – leaving the banter to Toby which he is more than renowned for anyway.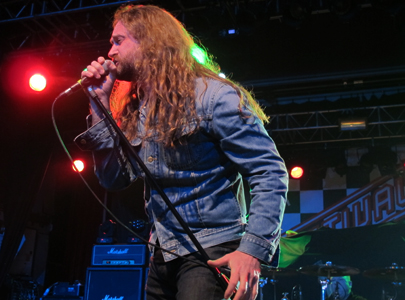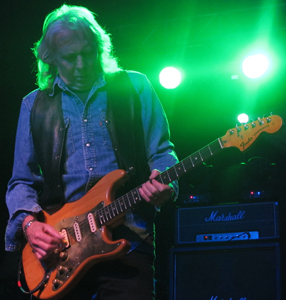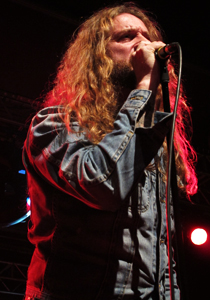 Steven & John proved to be a solidly perfect rhythm section getting the job done greatly like I remembered a few years ago – true professionalism all round with some outstanding backing vocals from the Ex-Mamas Boy too!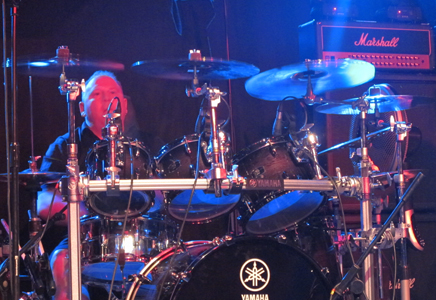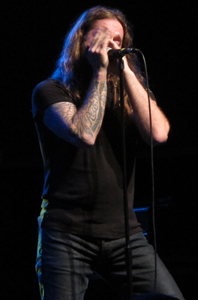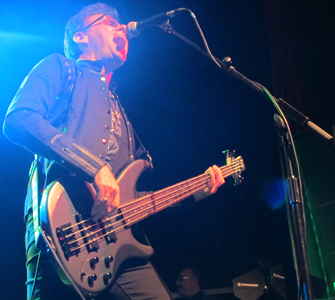 Highlights of the set included the slow and ballsy blues-vibed 'Misunderstood' the blues-rock of 'Feel Me, Touch Me (Do Anything You Want)' with some real raunchy wailing lead vocals and raw 'n' dirty guitar slinging that saw Mr. Jepson crank out a couple of killer harp lines too. Then there was of course the classic oldie but goldie 'All Fired Up'; 'Heft' that puts me in mind of Ted Nugent's 'Stranglehold' at times and stomping closing rocker 'Easy Living'.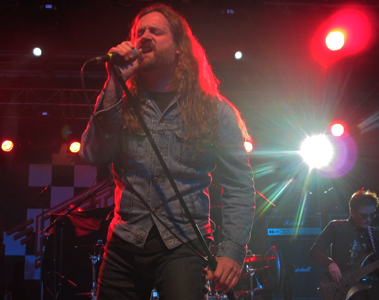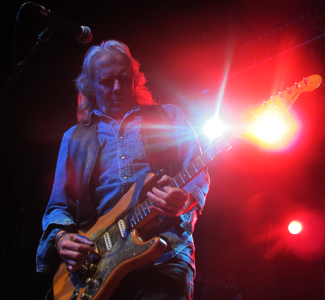 I expect these guys will be doing a headline tour at some point next year with a nice spreading of UK dates
8/10
Set List: Battering Ram/Heavy Metal Thunder/Sacrifice/Solid Ball Of Rock/Never Surrender/Terminal Velocity/Stand Up And Be Counted/The Devil's Footprint/Strong Arm Of The Law/Let Me Feel Your Power/Killing Ground/The Eagle Has Landed/Queen Of Hearts/And The Bands Played On/Dallas 1PM/Frozen Rainbow/Wheels Of Steel.
Encore: Ace Of Spades/747 (Strangers In The Night)/Princess Of The Night.
Well it's been a good few years since I have seen the sensational local boys who go by the name of Saxon and Biff Byford's Boys tonight give no reason for anyone to complain about a well-stuffed packed to the gills set featuring old classics, newer brasher rockers and one or two surprises too.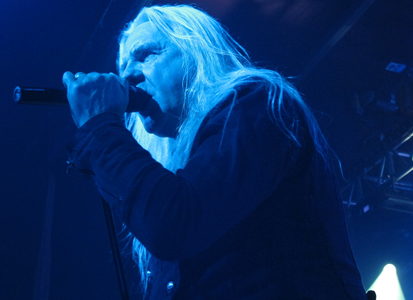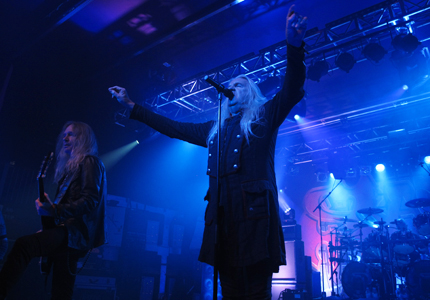 Saxon seem to be more popular than ever here in Sheffield so it seems that the show they did with Harvey Goldsmith was a great idea in the long run, much to their chagrin. A band that don't bother with each member having a long drawn out f*ck*n' solo and instead deliver 20 nuggets of Metal Glory! Messrs Glockler, Scarratt, Carter & Quinn are as tight as ever and you'd think it was a pre-recorded backing track they are that damn good!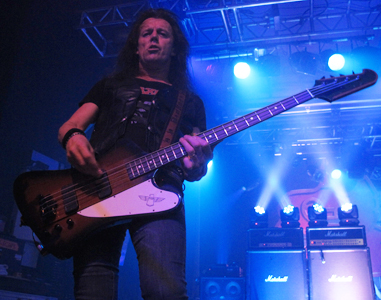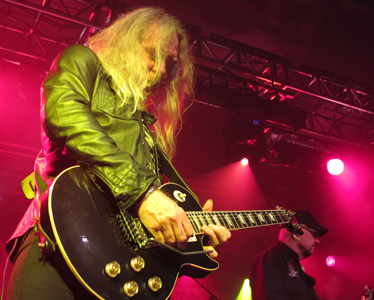 The songs tonight are so well picked with newbie 'Battering Ram' from the album of the same name starting off the show and followed by plenty of crowd and no doubt band faves such as 'Heavy Metal Thunder'; 'Solid Ball Of Rock'; my personal later cut fave 'Terminal Velocity'; 'And The Bands Played On' and of course their live anthem 'Wheels Of Steel'.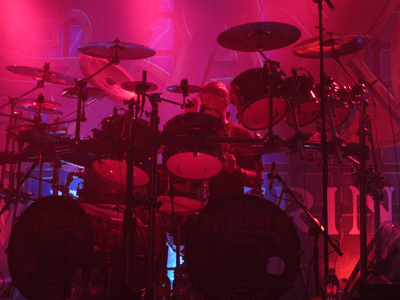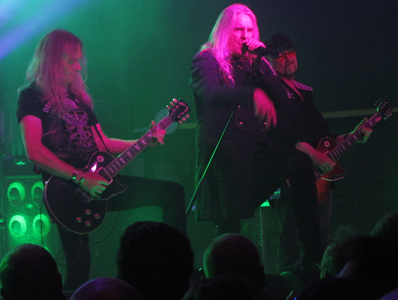 We got even get lucky tonight because we had them doing a real rarity in 'Frozen Rainbow' due to the song being bawled out by the fans throughout the night, so the guys gave in – a real gem from the self-titled album from 1979! Biff had us clapping and getting in the vibe of it since it had been requested.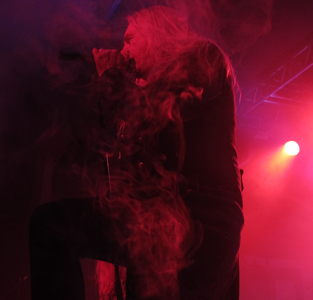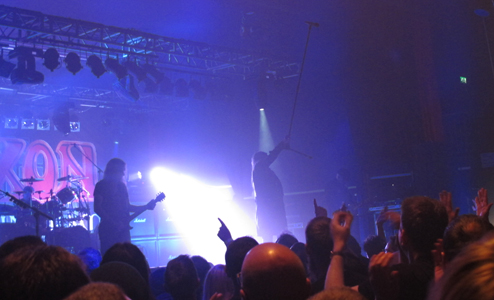 They seriously hadn't played it in years either and not at all listed on their set list! The crowd were even bawling for another number but Biff refused to do it because it was about his Dad and he was on home turf. We don't want to see Mr. Byford upset at the show do we because it's R'n'R Party in here!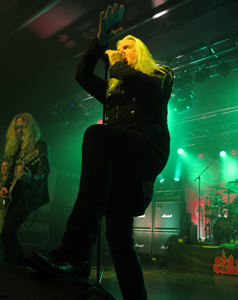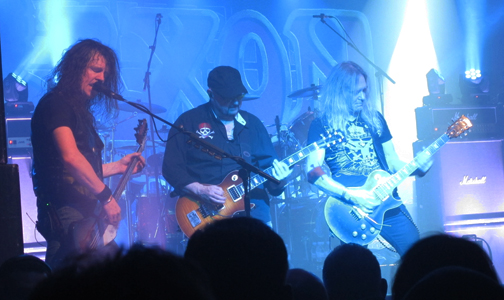 What blows my mind is how Biff manages to keep that long coat on for the full night since he must have been hot up there with all the gear, crowd head and lighting too? His voice seemed very much on form though which is incredible when you consider he is now the grand age of 65 and he definitely the most Metal pensioner you could ever witness on a stage in the UK! He had the audience in the palm of his hand asnd accepting nothing but complete attention and plenty of participation vocally in the songs.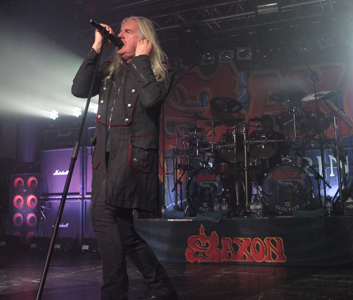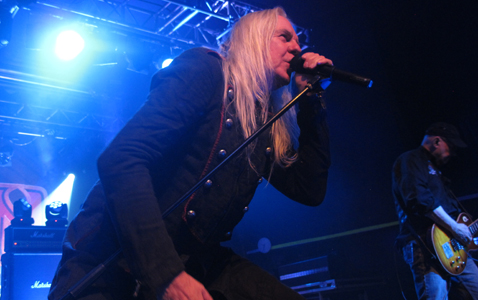 Then again, he moaned a lot about the fact that it was the coldest venue in the world – joking they could have built snowmen in the back of the hall. Saying that next time he wanted them to play the City Hall because it has way more history to it as well as telling us that they never got invited to play The White Swan (Mucky Duck as he calls it that became the Boardwalk!) but some of their mate's band did!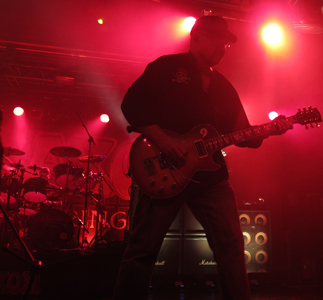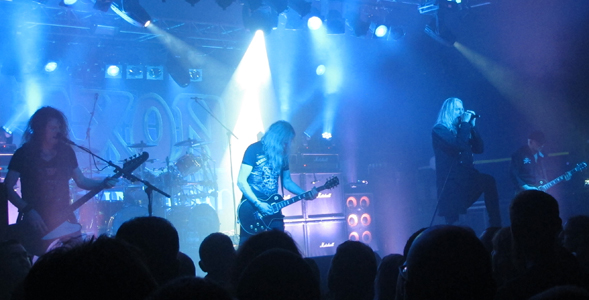 Flashback to earlier, I heard from my buddy, Alan Shooter who came down to the show as well (a die-hard fan, I may add) that 'Ace Of Spades' was going to be performed by them with special guest, Fast Eddie Clarke as a tribute to the late great Lemmy Kilmister (former bandmate to Eddie in Motorhead & Touring mate of Saxon's over the last few years).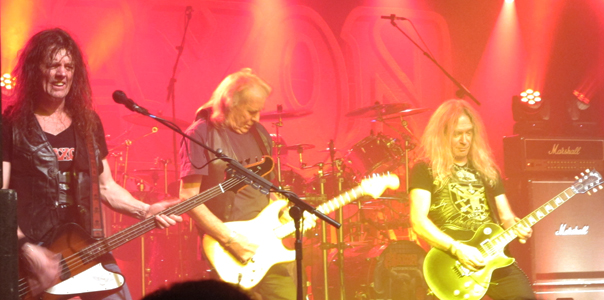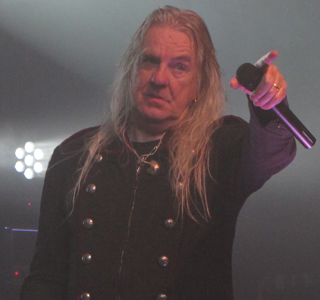 This was performed as the first song of the encore, got through it pretty quick due to time restraints but it went down great all the same pleasing many a fan in here tonight! It was cracking to see them ham it up and trade licks with him as a salute to our lost legend!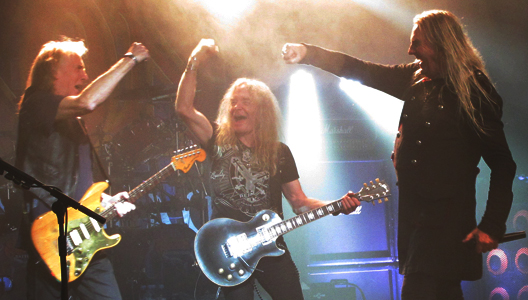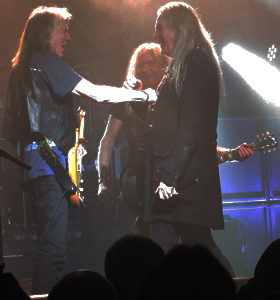 The concert was drawn to a close by two great songs that had the word night in them – one about a plane and the other about a train with Biff joking that that were running late and expected the power to be pulled on them – it wasn't though – Hahaha – not a man to upset is our Biff!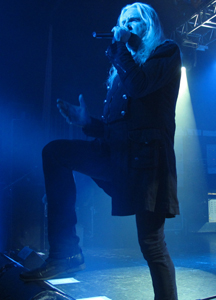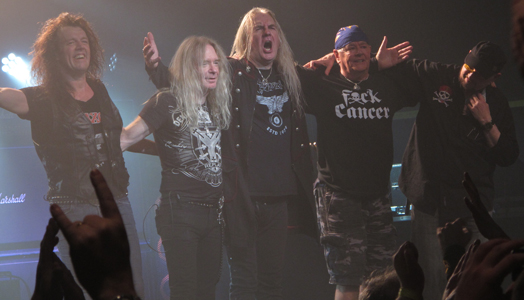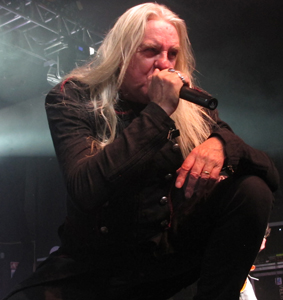 What can I say apart from a marvellous set from Saxon in Steel City!
10/10
By Glenn Milligan
Spike 'N' Tyla's Hot Knives – Corporation, Sheffield, Saturday February 6th, 2016
The names sound familiar? They should do since this is a band put together by Spike of The Quireboys and Tyla of Dogs D'Amour who have popped a musical outfit together for a small handful of shows!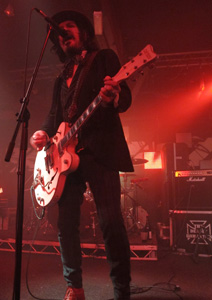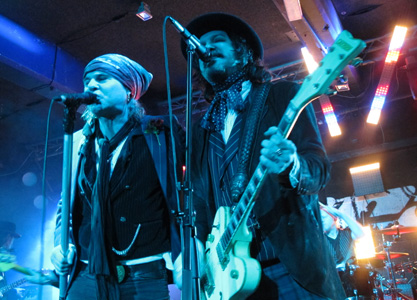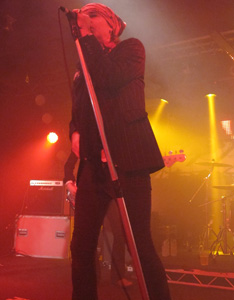 I was amazed to see they were going to be onstage at 8.30 since it was 9.15 at the Cluny in Newcastle but in good unpunctual Rock 'N' Roll Style they didn't walk on until after quarter to nine. A cool amass of cheers erupted though when they materialised with Spike, half-drunk pint in the air shouting, "Good Evening, We're The Quireboys… oh sorry.. This is the Hot Knives" and laughs with us all. Least he didn't get the City wrong this time – hahaha!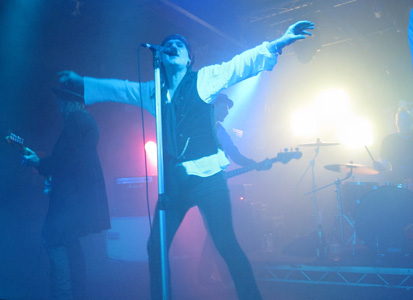 What takes place now is a ramshackled, shambolic show of boundless fun and pure enjoyment with Spike taking the piss out of the guys on stage like saying "We went round to Guys place and dug him up", concurring to Tyla that he was still in bed. Set-wise we get songs from the album that Spike can never remember or pronounce the title of 'Flagrantly Yours' – one of Tyla's ideas no doubt as well as a few numbers from Dogs D'Amour and a slowed down, key-dropped version of '7 O'Clock' by The Quireboys which was baffling but cool to see Tyla sing this classic along with Spike.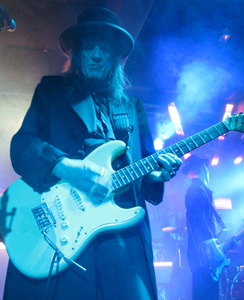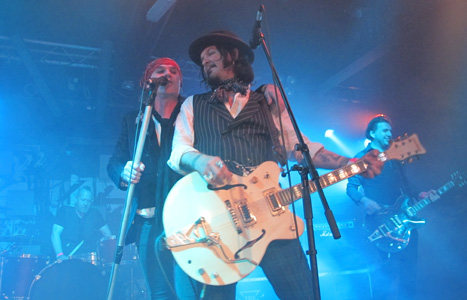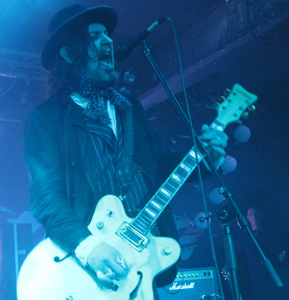 It turned out it was Drummer, Simon Hanson's birthday tonight too – so champagne was on the menu for band and front-row fans alike not to mention a couple of 'Happy Birthday' singalongs in the night too. Simon from Squeeze that is, that Spike berated him with throughout the night, saying he was a terrible drummer but it was all that was available at the time. Even rubbing him up by mentioning his two ex-wives – lol. Also completing the line-up was Guitarist, Gary Pennick who loves this venue and Nick Mailing on Bass too.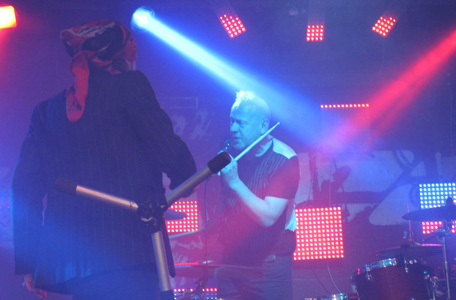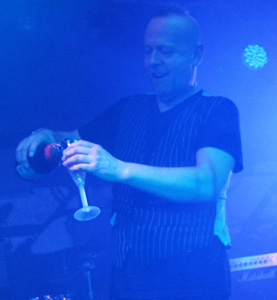 The real reason that they put the band together was because they had recently lost the original Quireboys Drummer to cancer who had also drummed for the Dogs D'Amour too which broke their hearts – a dude called Paul Hornby. His wife had given both Spike and Tyla matching rings to commemorate his life (which they were wearing tonight) so Paul was always in the room with them at every gig. He also name-checked Lemmy, David Bowie and Jimmy Bain too who we had sadly lost recently and we all raised our glasses to them.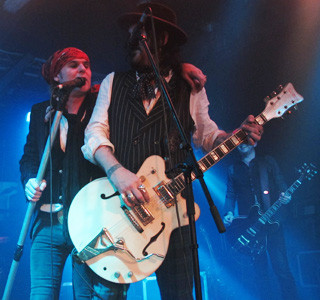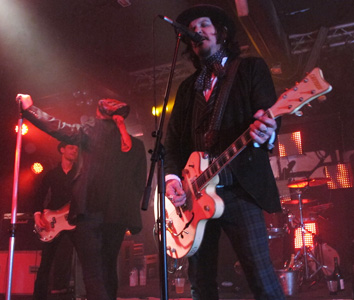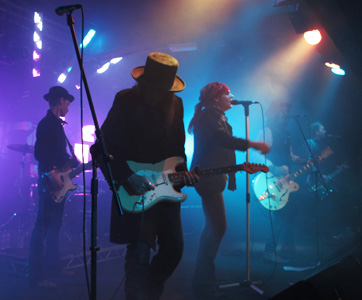 At one point, original Quireboy Guitarist, Guy Bailey was strumming away a bit and singing along to a Hot Knives number he didn't even know the words to which Spike found hilarious – we did too actually! Even Tyla seemed too as well, smiling away throughout the show and had the p*ss taken out of him a few times by Spike concerning the flat sharing days where Tyla was prone to sit in the bath with no bubbles writing songs – in fact that's how he first met him but there was no water in it. Going on to say they had shared baths in the past with Spikes mum saying to give Tyla a good scrub down because he was filthy! Hilarious!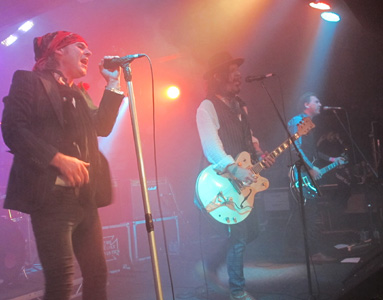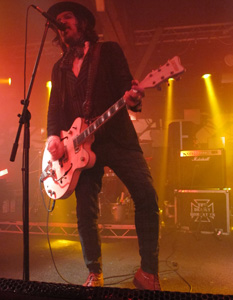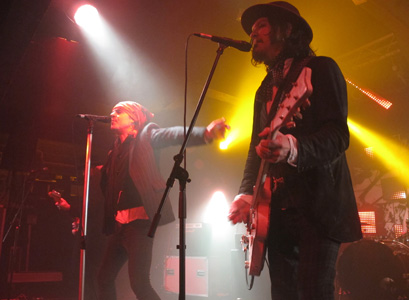 A major highlight for Spike particularly was getting to sing a number by Tyla which he considered to be one of the best songs ever written – 'How Come It Never Rains (It Only Pours)' which to be honest is quite fitting because it's hardly f*ck*ng stopped all bleeding weekend! Cool to see the band play the song 'Heroin' too from The Dogs D'Amour days which went down a storm – not a thunderstorm thank god!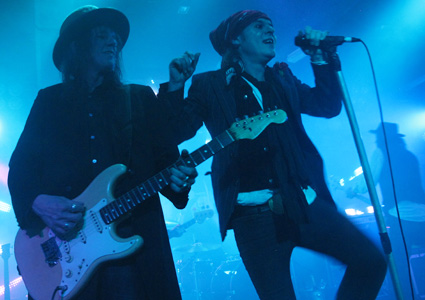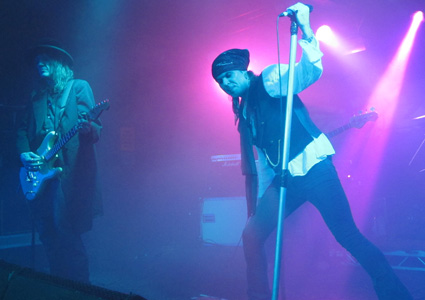 The duration was a good 90 mins and came to a close at 10.15 with an impromptu rendition of The Rolling Stones 'Honky Tonk Woman' with Spike saying the drummer could not even hold a drumstick properly to play the cowbell! Too funny!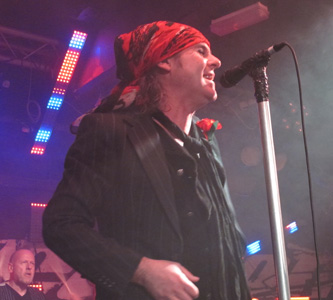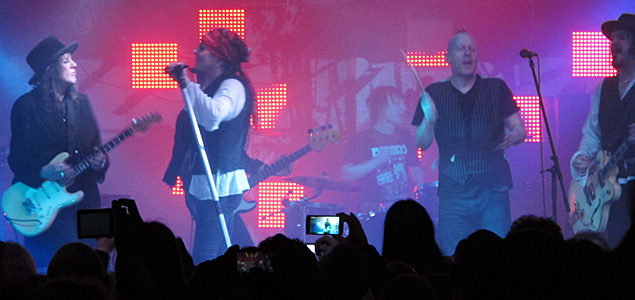 Not every night that is it like a Circus with a stage of court jesters but that's just how it was up there!
8/10
By Glenn Milligan
The Schecter Party 2016 Feat. Zakk Sabbath & Arch Enemy
– The Grove, Anaheim, California, USA, Saturday, January 23rd, 2016
When it comes to knowing a thing or two about the OZZman, Zakk never seems to disappoint in his rendition of Black Sabbath tunes. He plays before a packed crowd of people that might be hearing him for the first time, to the die-hard fans. The line outside to get into this show had wrapped around the building and all the way to Angel Stadium. Being at the show last year meant that I knew to arrive early because Zakk alone could fill a venue by himself with very little issue. He opened for Arch Enemy.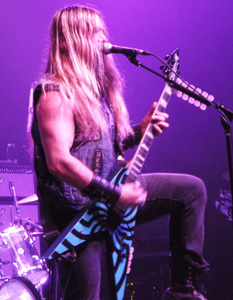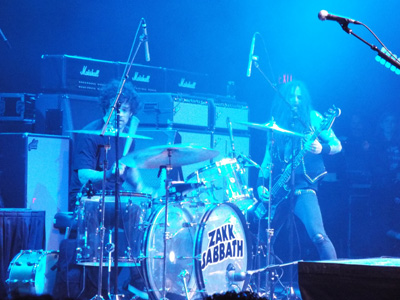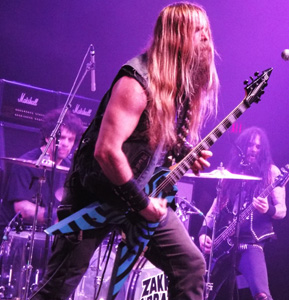 The lead singer of Arch Enemy is a very pretty woman, but there is nothing dainty or fragile about her at all. Her vocals are very fierce in their presentation of who she is, and her costume was quite impressive. The Schecter Party is known as being the go-to party of the NAMM. Its host Skum Love knows how to put together a really great party but he is no amateur at what it takes to be a success. He can be found on a Wednesday night in North Hollywood at Skinny's with a live-band karaoke with many of the artists from Schecter playing while people sing from a list of songs.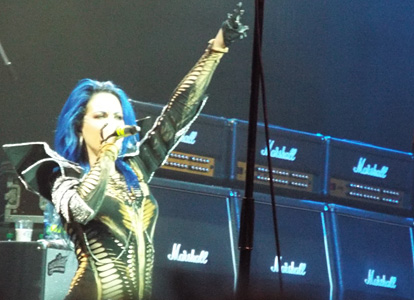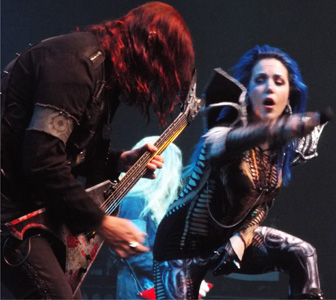 Please consider supporting all things Schecter, and realize that if you missed this party you missed many opportunities. You missed the opportunity to taste Coldcock Whisky. You missed getting to hear DJ Will spin tunes out front even as the bands played inside. The money that was donated for the tickets to the party went to http://www.takemehome.tv/adoption.html. That is their website, and even though the show is over people can still donate to this amazing charity.
Thank you to everyone that did attend and if we missed each other there is always next year.
By OZZFestAmy
Status Quo/The Wilko Johnson Band – Sheffield Arena, Sheffield, Monday 8th December, 2015
Set List: Alright/If You Want Me, You've Got Me/Dr. Dupree/Roxette/Back In The Night/She Does It Right.
Wilko's back and of course he's got Norman Watt-Roy (Bassist) & Dylan Howe (Drummer) with him too – now cancer free, it's so damn good to see him up there on the stage in Sheffield's now biggest official venue (since they pulled down Don Valley Stadium).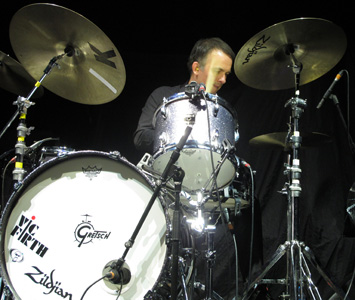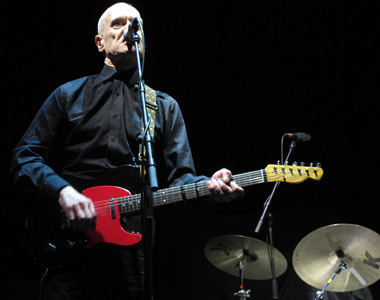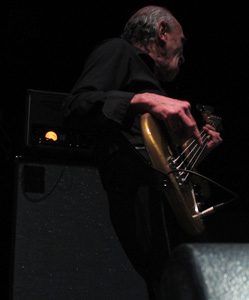 Only two weeks ago, I was watching that splendid Julian Temple film all about too on BBC 1 a couple of weeks previous, so it was kinda surreal in a way to see him up there on stage in front of me – all good though. I do think it's so great of the Quo to have him supporting again, a cool thing they did on the last years Frantic Four Reunion Tour.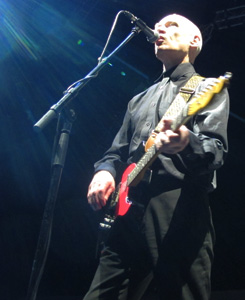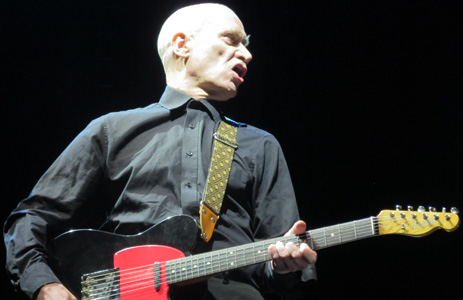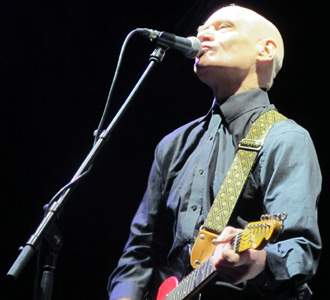 For those who had never witnessed Wilko before, they definitely got a treat to behold – classic R N B in the style that old these guys can do it in. All the musical and rythmical chops are in place with Norman Watt-Roy pulling off some solid bass grooves – not to mention, facial expressions to die for. That cat's totally in his own zone right there or on another planet perhaps when he's got that 4-stringer strapped to him. My buddy Alan Shooter was mesmerised by him and exclaimed, 'Imagine if he was your Granddad and you went round and he was play that bass? How cool would that be? He's Ace Man!" To be honest, I couldn't agree more with him.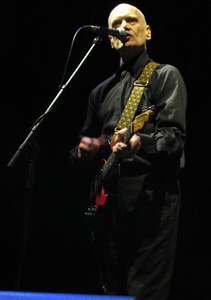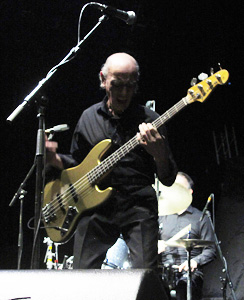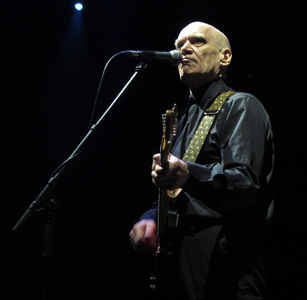 Wilko Johnson himself can only travel so far in the guitar in control look that he is so famous for as he has such a short lead. But he totally makes the most of it in a set that even though short packs plenty of punches with a classic or two like Roxette (that is never off BBC 4 – the Dr. Feelgood clip) and 'Back In The Night'.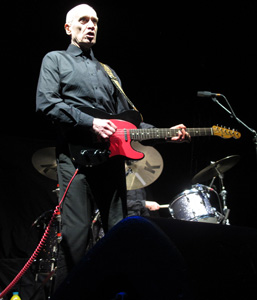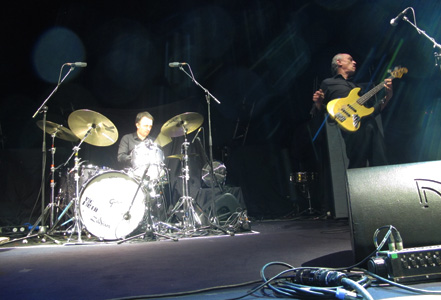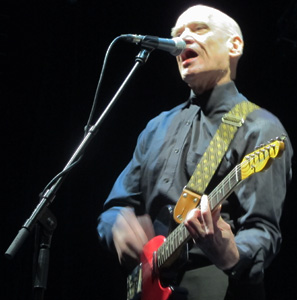 There's a healthy amount of soloing in the set, especially from Norman throughout and during his official moment with Dylan shining too with some impressive jazz moves on that kit. I just wish that more of the audience would have been receptive to it instead of being sat there like unresponsive cardboard cut-out since this trio were cranking out a real buzzing vibe through their 12-bar filled support slot.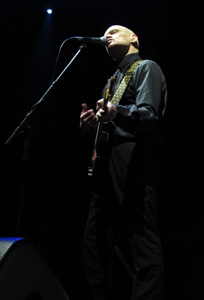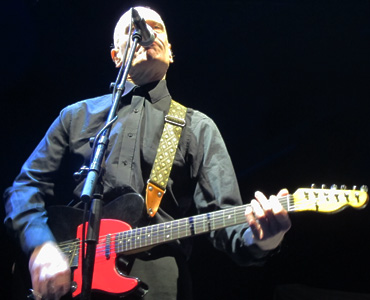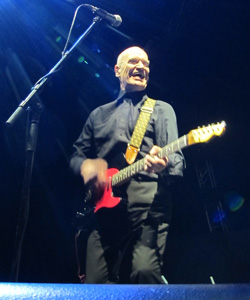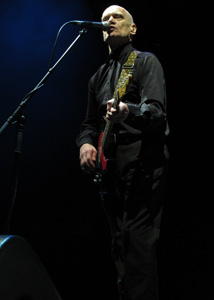 In mine and Alan Shooters opinion, this was awesome and we got into the thrill of it all, bopping away to Wilko and his expert threesome. It was a fantastic way to get the night going and yes my man, we were all looking forward to seeing Status Quo up next. Wilko, Norman and Dylan did themselves proud and I dearly hope they gained a few more fans from this momentous barrage of songs.
Set List: Caroline/The Wanderer/Something 'Bout You Baby I Like/Rain/Little Lady/Burning Bridges/Beginning Of The End/What You're Proposing/Down The Dustpipe/Wild Side Of Life/Railroad/Again And Again/Big Fat Mama/The Oriental/Creeping Up On You/Gerdundula/In The Army Now/Drum Solo (The Caveman)/Roll Over Lay Down/Down Down/Whatever You Want/Rocking All Over The World.
Encore: Junior's Wailing/Paper Plane/Rock & Roll Music/Bye Bye Johnny.
I know this may sound clichéd but this must be the best Status Quo gig I have seen so far. There was so much fun being had up on that age since they were having a game of tag throughout the show that Francis even told us about early in the set.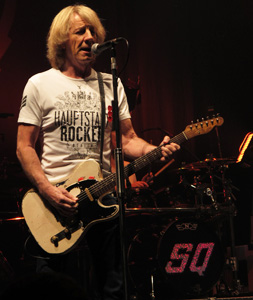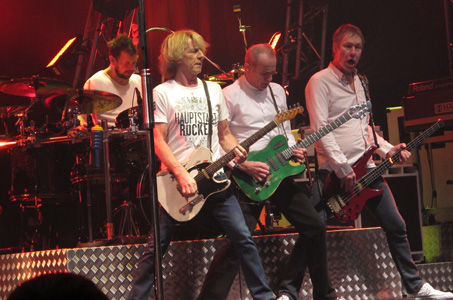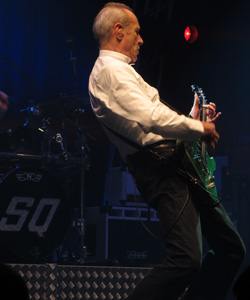 There were highlights to the max at this show and that's not even with regard to the songs. I am talking either verbally or visually. It did seem odd to see different guitars being played at the start of the gig – a green number played by Francis on the obligatory opener 'Caroline' that was a shocker but sounded absolutely great regardless.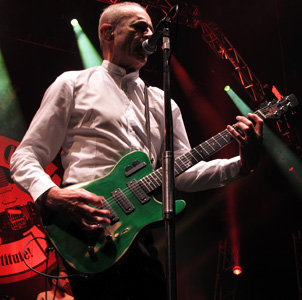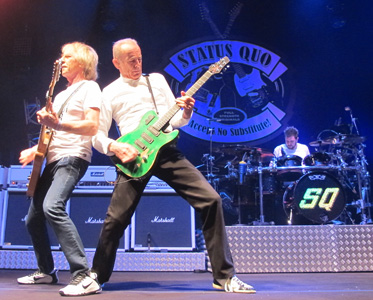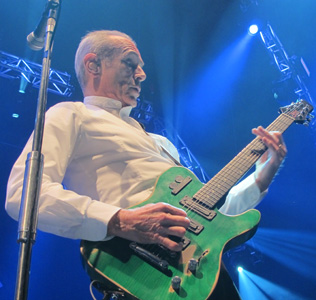 What a funny quip from Frame about the crowd always blanking Johnny the stage man when he came on stage to fix the microphones up with a fan even shouting 'Bye Bye Johnny' when he left the stage. Then there was Francis telling us that his Granny used to call him a little sack of shit when he was a kid– I'm sure she was joking – then again – hahaha!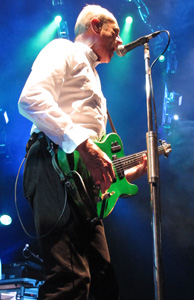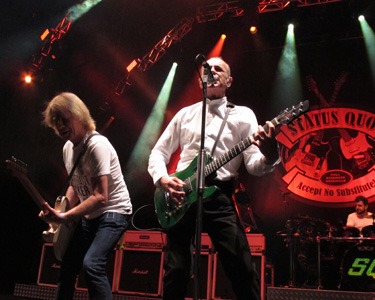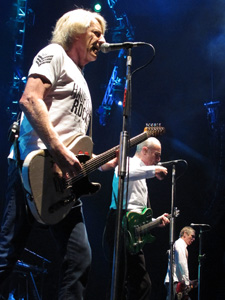 Rick is looking amazing and lost some serious weight and in fact appears to have toned up a bit. He looks around 20 years younger and credit to him as it really has paid off since he is a picture of health up there and now and again in between songs throwing a plectrum or two to the appreciative fans, not to mention posing for everyone plenty so we can get some great shots of him with that legendary Telecaster of his!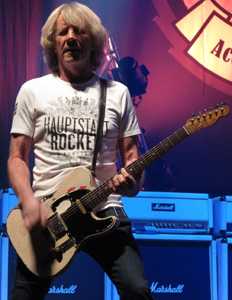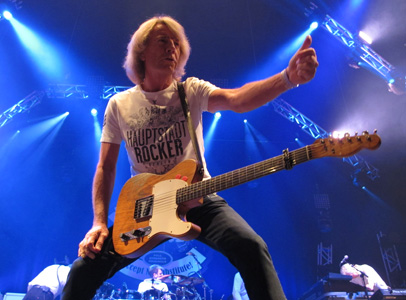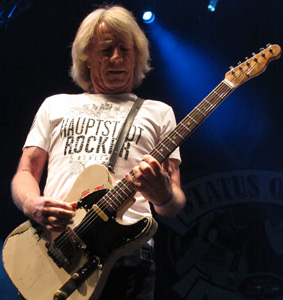 Now there's nothing like bringing old-school playground games to the stage and tonight the lads in Quo had a game of tag which went all the way through the show. The most side –splitting moments were when Rhino had his back to Andy and got tagged on the shoulder or when Rick was concentrating hard on the vocals and was put off by a tag from Francis. You had to be there to fully appreciate the immature, crazy humour of all this to be honest.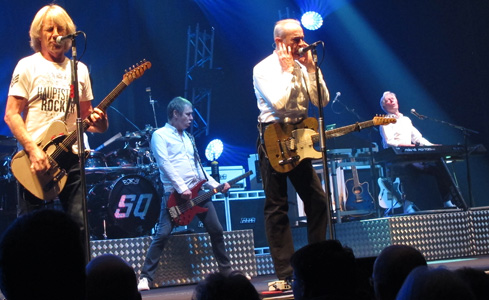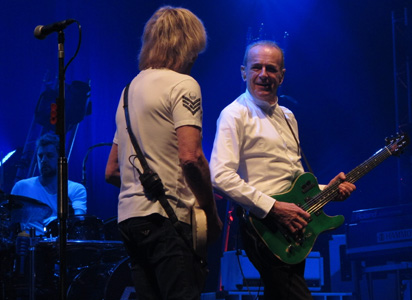 Unfortunately or should I say, luckily, Leon missed out on that due to being on the back on the drums – not like he could get off the kit and pass it on is it? Lol. Talking of Leon, he is settling in really well and comes across less new boy than he was previously, sounding way more confident and in the pocket than he did last year at Doncaster Racecourse and he was decent enough then. Also, it was good to see that they bring him out to the front of the stage for 'Gerdundula' and really place him in the limelight more than being sat up there on the kit all the time.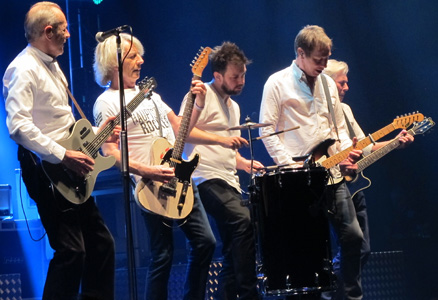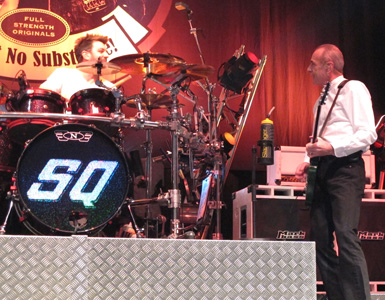 Rossi took the piss out of Rhino saying that he always sets off to the show 5 minutes before they are due to hit the stage but the problem is, is that he is 25 minutes away journey-wise so he is always late. He'll have a shave in the morning so doesn't need one for later and showers once a week he jokes, shouting to him that his shirt stinks, with Rhino sniffing it and smiling proudly – hahaha.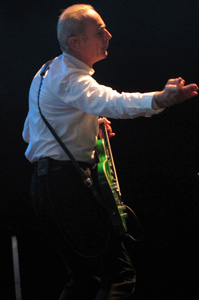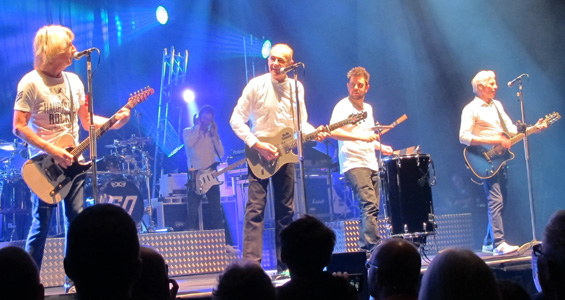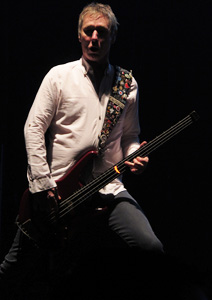 All in the name of tongue in cheek humour and rock and roll. Rhino got the crowd going no end on his side of the stage and was having his own party with them – Rhino Rules! Such a great guy too. In fact, I urge you to see his own band, Rhino's Revenge when they come close to you – like Status Quo, they do not disappoint one iota!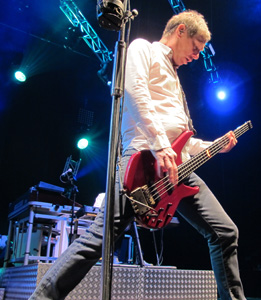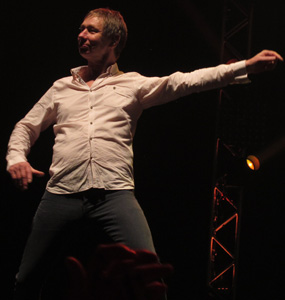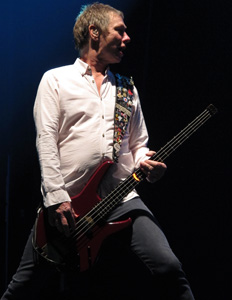 On one occasion, Francis threw in an F bomb while talking off microphone to Rick that was picked up by the crowd in here – now stick 20p in the swear box for that Mr. Rossi! Anyway, what the hell, if you can't throw a few expletives in a rock show then what can you do. It was a night when the usual no camera rule was thrown to the wind since we were personally invited to take pictures in the show. Something I did personally when we got the thumbs up from Francis.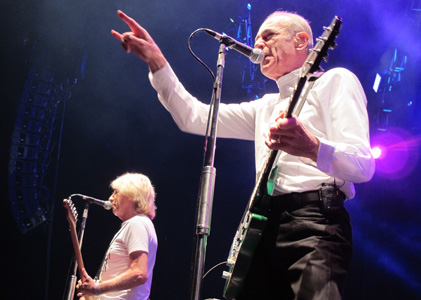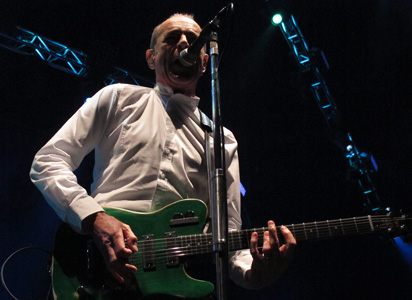 I am sure that the lights tonight were brighter than usually because the guys were squinting a lot as can be seen in the photos. The guys forgot words or the odd line now and again – but credit to them as they never use autocue which they always find amusing – giving us fans a chance to sing them for the band instead. There was also plenty of audience participation with a lot of hand-clapping and singalongs in generous abundance like any good Quo show. A nice touch too to witness Rhino on the six string which never used to happen in previous years!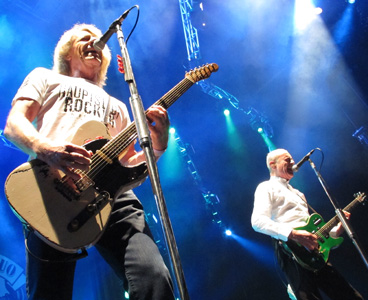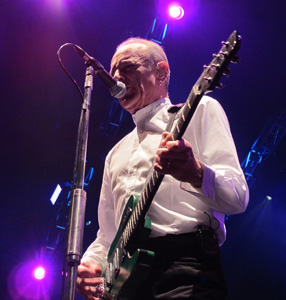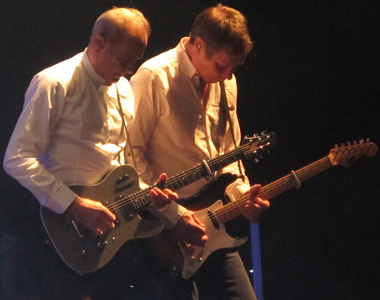 Tonight it seem apparent that there was way more guitar action from Andy Bown than in previous years – since many songs sound way more authentic this way than sticking keyboards on a lot. It thickened up the repertoire as well and to be honest I much prefer it, I don't know about you. Also, it was nice to see that the set had been changed up a bit even though there was no 'Mystery Song' or 'Living On An Island' or a few notable others tonight.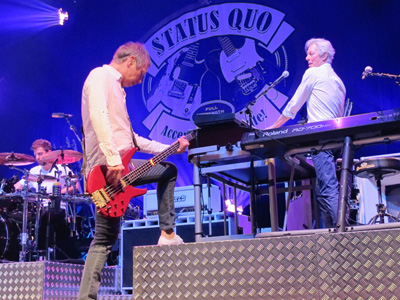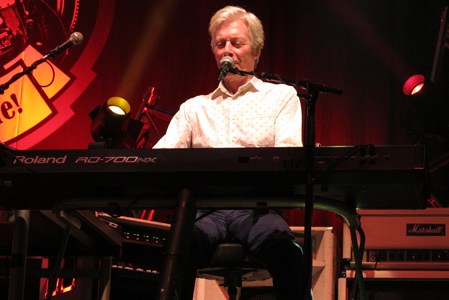 Highlights in the set included the already mentioned 'Gerdundula'; 'In The Army Now' that featured Leon's pretty impressive drum solo at the end of it and of course and of course classics as ever like 'Whatever You Want'; 'Big Fat Mama' and 'Paper Plane' – the last three of course being Frantic Four Favourites.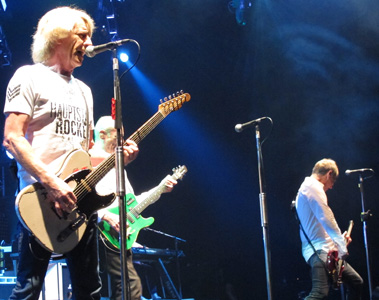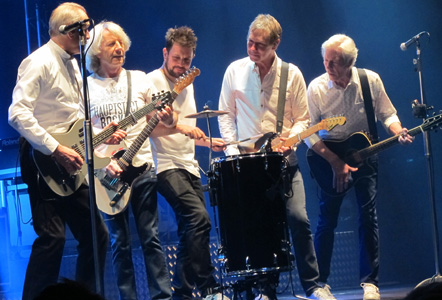 See ya next year in Sheffield now doubt!
10/10
By Glenn Milligan
Status Quo – City Hall, Sheffield, Tuesday April 21st, 2015
Set List: And It's Better Now/Break The Rules/Again And Again/Paper Plane/Mystery Song/Little Lady/Rock 'N' Roll/Caroline/What You're Proposing/Softer Ride/Down Down/Pictures Of Matchstick Men/All The Resons/Reason For Living/Rollin' Home/Don't Drive My Car/Claudie/Rain/Marguerita Time/Nanana/Whatever You Want/Rocking All Over The World.
Encore: Rock 'Til You Drop/Burning Bridges.
After watching the BBC televised show that the lads performed at the Roundhouse late last year it's little wonder that the acoustic, sorry I mean aquostic show in Sheffield was completely sold out. The mix wasn't balanced for the first couple of songs which is quite often the case in most gigs until the sonund guys have balanced everyone out. Within a few minutes, the engineers were producing a real top notch mix - almost like playing a live CD.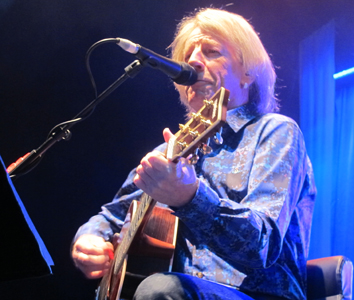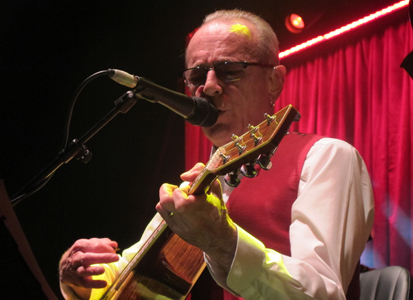 Okay, we knew the set list but seeing this spectacle live was another thing entirely. There was so much happening up there that I personally felt afraid I was missing something by focussing for too long on any given part of the stage. We were totally spoilt with the band plus Rhino's Son Freddie also on guitar as well as female backing vocalist, percussion, accordionist and a cracking string section too. Not one bit of the boards were spared and the sound mix being utterly magnificent even with so many folk performing.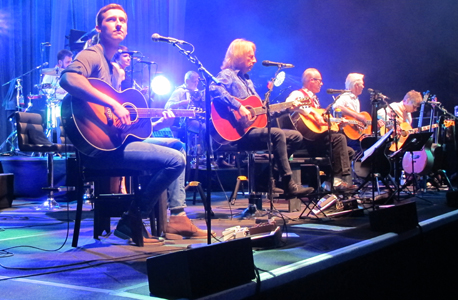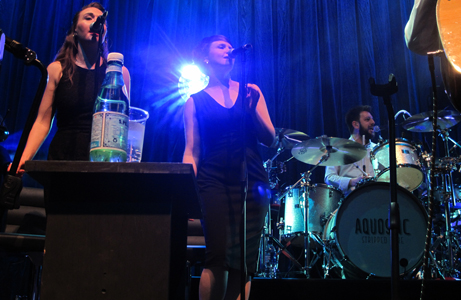 Rossi had fun with his limp mike joking away with us not to mention a few in the right hand side of the front row acting like it was your typical electric Status Quo concert since they rocked, headbanged and bopped a lot of the way through. Francis said they couldn't stand up since it was an acoustic gig or they'd be bopping to it all too. Leon did a damn fine job on that drum kit and fits in solidly with the band. I am looking forward to seeing him again when they are electric again as he has way more confidence up there now. All the band members were having such fun and smiling a lot of the night. I got the impression that Rhino was dying to get up and rock out because the man hardly stopped still, not to mention laughing away with Andy Bown especially. It always intrigues me what they talk about up there? What about you?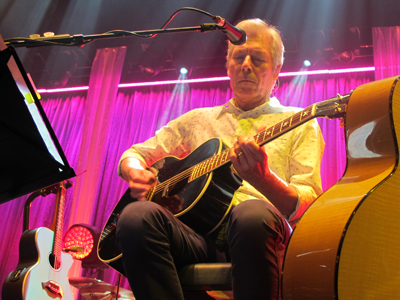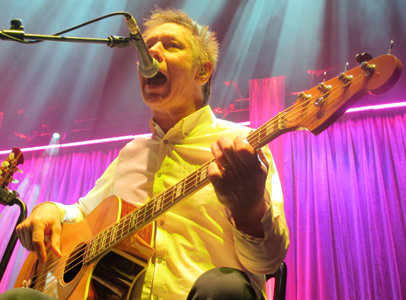 The band intro from Frame was so funny where he tells us he's forgot their names (cue crowd laughter) only for him to name every member who are playing alongside the Quo which was rather impressive and sees him chortle away at the though of getting the Eeyore player's name wrong (I mean the Accordianist) – Geraint Watkins he's called. He even has a joky rant at Rhino too for making an bass noise out the blue – "You always do that every time – it's always you" which sees Mr. Edwards laughing in response. Talking of the Edwards family, Freddie seems to be a definite hit with the ladies and appears to get more of a reaction than the main members of the Quo!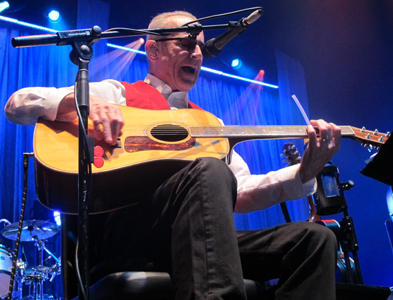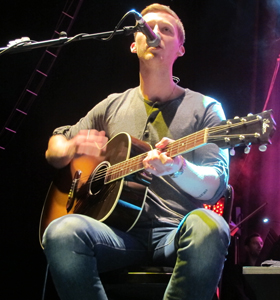 There were many stand-out songs from the show that included 'Pictures Of Matchstick Men'; 'Whatever You Want' and 'Mystery Song' which sounded so warm with the beautifully, powerful string section. One of my favourites, brought back especially for the occasion is 'Rock 'N' Roll' from 1980 which you'd think was completely designed for this kind of reworking. Those violins and cello cut through way better than the keyboard samples used on the original. I do hope they pop the song in their electric set in the future. 'Rollin' Home' was a pleasurable experience too and they had everyone in the hall clapping away to it – not to mention happily singing along at highish levels.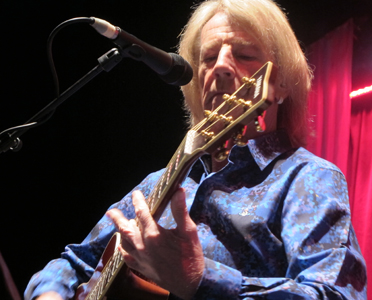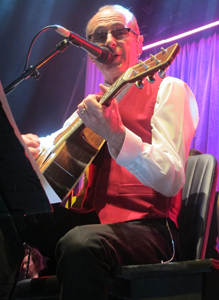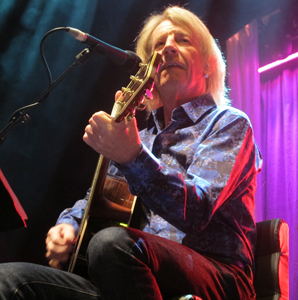 Francis had us singing the chorus during that 'Dog Of Two Head' classic 'Nanana'; purposesly fluffed words during 'Down The Dustpipe' and going 'lalalala' instead of singing the words 'New Orleans' the first time around which I have to admit was unexpected but funny. You can never tell what Frame is going to do next to keep you on your toes when it comes to singing those lyrics. The band are laid back and interactive with the fans when they shout something out and there are quite a few waves given during the night - most notably Rhino waving to someone he recognises up in the balcony seats.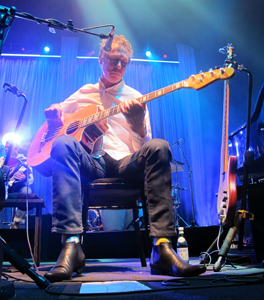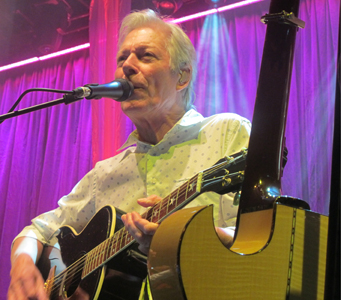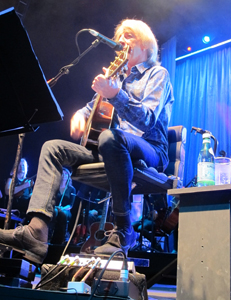 Rick Parfitt's voice was miles better than on the 'Aquostic' album and Roundhouse show I am really happy to say since he sounded like he was finding it tough on those during 'Reason For Living' and 'All The Reasons. What was truly impressive was the lighting in the City Hall tonight Status Quo had really gone town to make it magnificent without taking it away from the bands performance value – the blueness in here was simply adorable..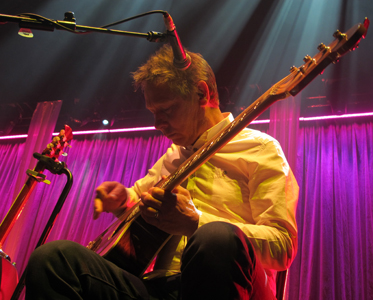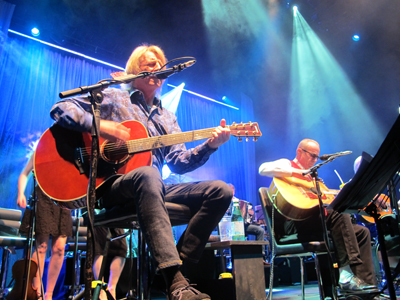 I must say that It always annoys me when folks only got up as a majority to 'Rocking All Over The World'. As my buddy Alan Shooter put it, "It's like at a Motorhead show when a lot go mad for 'Ace Of Spades' and not as much for other songs". Personally I couldn't agree more myself since. I know it's a major hit of theirs but I do wish that they'd get up for for a number like 'Whatever You Want' since that one was penned by them and in my opinion a far better song.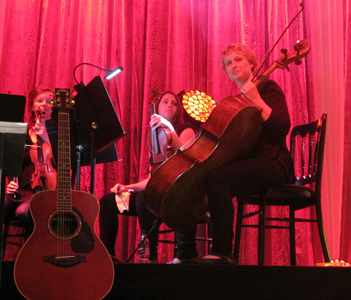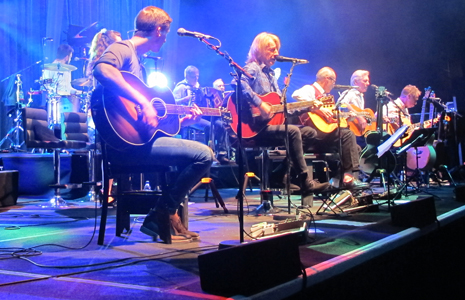 That said, what a fantastic show we were given in Sheffield. Believe me, I am looking forward to another tour like this when Aquostic album number 2 is released. Next year maybe? I wonder what numbers will be placed in the set for it as well.
10/10
By Glenn Milligan
Sleep/Mammoth Mammoth/Hotel Wrecking City Traders –
The Corner Hotel, Richmond, Australia, December 7th, 2014
I arrived at the venue just in time to catch the tail and of the first support band's set. ' Hotel Wrecking City Traders' are a instrumental metal duo. With only a guitar and drum they manage to create some trippy psychedelic sounds. Their music was loud, but kind of slow and methodical.
In contrast the second support 'Mammoth Mammoth' gave a fast loud and very vocal performance. Their gigs have been few and far between this year. Apart from their September tour with 'Kyuss' front man 'John Garcia', little has been seen from them. They started the set playing songs from the 'Hell's Likely' album. The venue was filling up fast and before long front man Mikey was off the stage and into the crowd.
For the duration of the gig Mikey jumped back and forward from the stage, to the pit, into the crowd and back. Much to the chagrin of the poor security guy who wasn't sure whether to allow if or not and in the end just gave in. The rest of the band took it in their stride. Base player Pete continued playing with cool calm as 'Bones' kept up the rhythm on the drums. Guitarist, Cuz is reminiscent of a glam rock star, striking poses as he shredded the guitar.
After a very full half hour of energetic full on rock, the boys left the stage in preparation for the main act.
9/10
Set List: Dopesmoker (Approx. 1 st Twenty Minutes)/The Clairty/Dragonaut/Aquarian/The Druid/Antarcticans Thawed/From Beyond/Dopesmoker (Cultivator/Improved Morris).
In the blink of an eye the venue had filled to near capacity. The lights dimmed to a murky green and the background music was replace by a recording of dialogue between 2 astronauts. The room soon filled with the over whelming smell of weed as the crowd prepared for the experience ahead. The curtains were drawn and 'Sleep' launched into the first 20 minute of their clasic 'Dopesmoker'. They played some of their new songs early on then launched into classics from their ' Holy Mountain' album such as 'Dragonaut', Aquarian and ' Holy Mountain'.
For those who don't know; 'Sleep' are the most influential band in the 'stoner rock' scene. Pioneers of 'Doom metal' the slowest, heaviest music around at the time. With a massive base lead sound, they took the stoner rock genre to a whole new level. On this night they held an almost god like presence, with the crowd completely entranced from the moment the band hit the stage. I think I could honestly say I had never seen such a bizarre cult following for a band. This is the kind of band who give no care to appearances. Guitarist, Matt Pike and Bass/Vocalist, Al Cisnerous had their tops off early exposing all their guts and glory to the adoring crowd.
There was no need for showmanship, the band members remained cemented to the spot working their magic with the fans fully engrossed in the experience. 'Sleep's' original drummer, Chris Hakius has been replaced by 'Neurosis' percussionist, Jason Roeder. He blended well with the other 2 original members and the band is nothing but professional. The music is very instrument based and there is not allot of vocals going on. What vocals there are are throaty, growling sounds much in keeping with the term 'Doom' metal.
They finished off the set the way they started, playing exerts from the 1 hour epic 'Dopesmoker'. Al Ciserous thanked the crowd then lent his base against the amp to create a feed back sound for his exit. This was a huge turn out for a Sunday night especially considering this was a second show and the first show was a sell out. This just goes to show the incredible following this band has. The Corner Hotel is not a big venue and it seemed a strange place to be hosting a band like this. It turned out to be the perfect place, the sound was good and the setting intimate.
Although this is not my kind of music it was definitely an experience and to some degree an education of the world of Doom metal.
8/10
By Liza-Lee Campbell
Sevendust/A.Z. - Dixie Roadhouse, Cape Coral, Florida, November 16th, 2014
If you were anywhere near the Gulf Coast of SW Florida on November 16th, 2014, you should have been in downtown Cape Coral at the Dixie Roadhouse, located at 1023 SE 47th Terrace, Cape Coral, FL 33904 . This is the night that Dixie Roadhouse two stepped out of their norm of being the "country themed party bar" into "the most fun you can have tonight" venue featuring A.Z and Sevendust live on stage! Brent's Music & Sound who opened their doors 35 years ago in SWFL obviously know their business and brought the acoustic sounds of both bands into your ears and through your entire body, making the evening an incredible night out!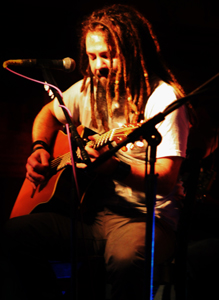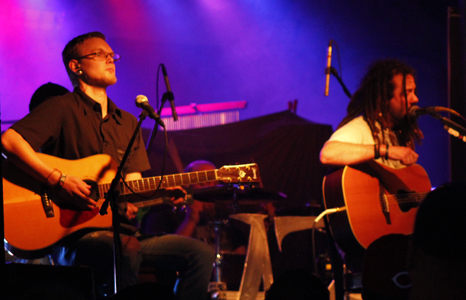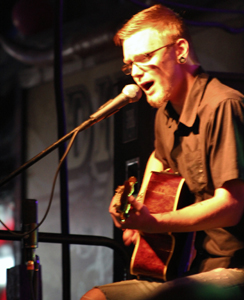 A. Z., also known by the name "Absolute Zero", the "redneck boys form Alabama" as they themselves put it, opened the evening with a phenomenal acoustic show of their own. If their acoustic talent is any indication of the potential of this group of musicians, they are most definitely a band worth looking into in more depth. I can only imagine how great they must be live when they allow themselves to "let loose" and rock the house, as I am certain that they can! Sevendust could not have chosen a better "opener" for this leg of their 'Time Travelers & Bonfires' acoustic tour than A.Z.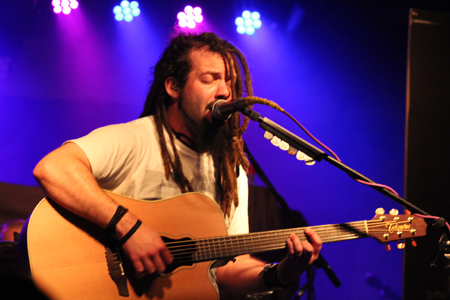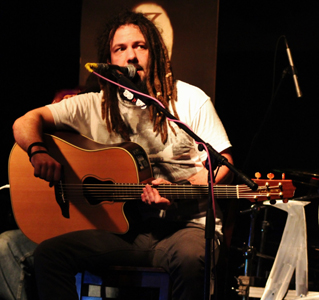 After extreme anticipation, Sevendust took the stage and rocked the Dixie Roadhouse like it was nobody's business. Even though this was an "acoustic" show, you would not have known it from the energy that emanated off the stage. Frontman, Lajon Witherspoon was overcome by the energy himself and could not sit still on the stool that was provided for him. Except for a brief occasional hiatus, he interacted with the entire crowd incessantly and made this intimate setting a "hang out jam session" with each individual person in the venue.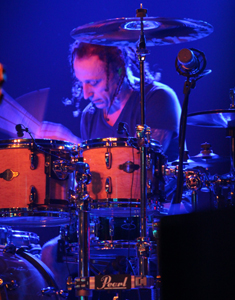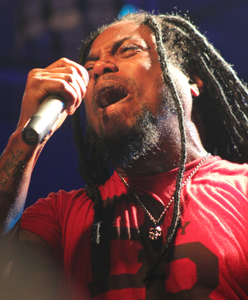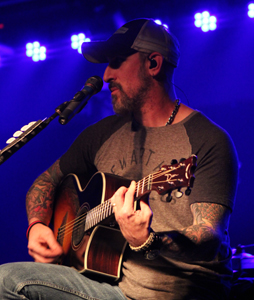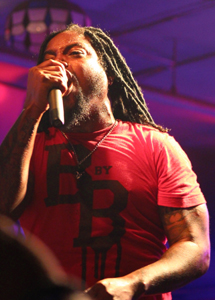 Clint Lowery and John Connolly maintained their "phoenix perches" on their own stools, on either side of the stage, but both guitarists played an amazing show for all to see! The magic that was cast from their fingers is inconceivable! Vince Hornsby took a "back seat stool", and sort of tamed his "wild child" antics as much as he possibly could, thumping the bass and keeping the pace with drummer Morgan Rose pushing the envelope quite a few times as if he was overtaken by the moment and "forgot" that this was an acoustic performance. The amazing musical talents of these five individuals that comes together as SEVENDUST is beyond belief.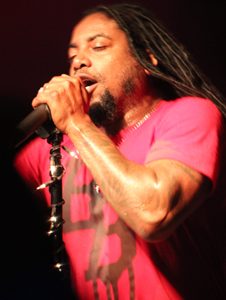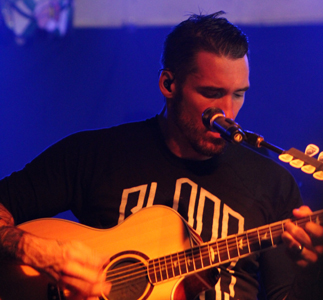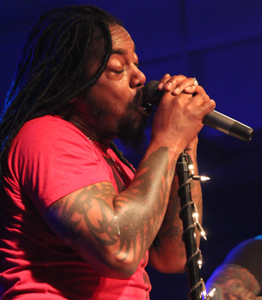 The melodic music and powerhouse vocals is most definitely an impressive experience. With all of the back stories behind each song that was performed, the intimacy of Sevendust was brought into the forefront, giving even the newest of fans an in depth look at who Sevendust really is, and what they are all about. Performing 6 re-recorded songs including 'Crucified', 'Black', 'Trust' and 'Denial', to name a few, mixed in with six newly recorded songs including 'One Life', 'Under it All', 'Bonfire' and 'The Wait', which is a song that was composed by John Connolly on the loss experienced by the death of his father, made the show the most emotional outpouring of Sevendust ever!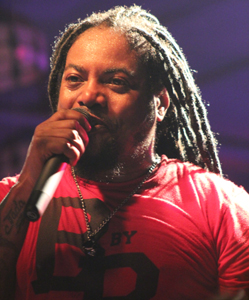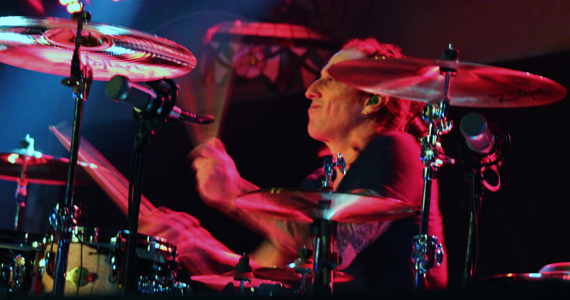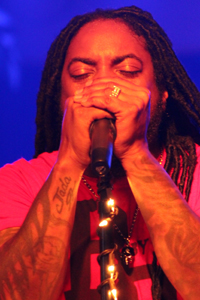 'Travelers & Bonfires' is sure to be one of the top sellers for Sevendust as it brings out the "realness" of the band and continues to validate their greatness for the past 20 years in the music industry. John Connolly once said when asked what the bands music genre was..."some kind of heavy some kind of rock and some kind of metal" there is no question that he needs to also add..."some kind of acoustic"...without a doubt!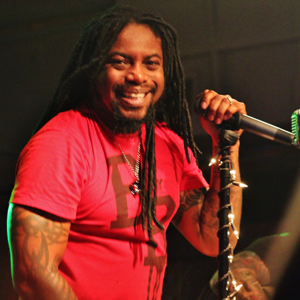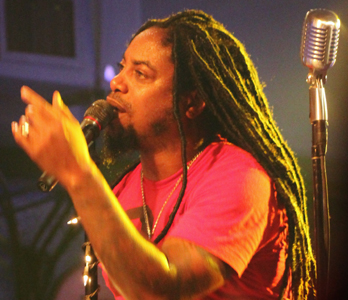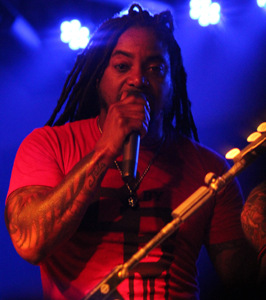 It was an experience that I, for one, will never forget! Rock on my friends...
10/10
By Juliana Kenyon-Anderson
Six Days 'Til Sunday –
The Whisky A Go-Go, West Hollywood, California, USA Saturday, June 21st, 2014
Set list: Intro/Disease/Predetermined/My World Would Change/All We Are/Afraid to Win/Before Tomorrow Comes/A Bullet For Your Thoughts.
Wow, there has been quite a build up to this show on the social media - Facebook especially for a gig from a band that are surely starting to turn heads.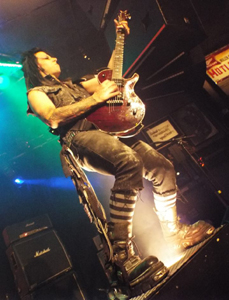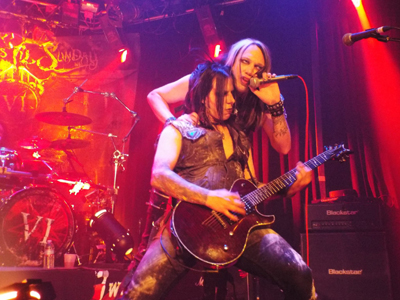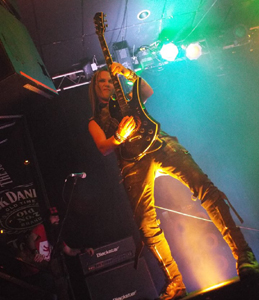 Starlin Cross & the rest of the 'Six are here in the heart of Hollywood playing their second ever show at the Whisky A Go-Go to a well receiving crowd who are so up for a good time and this is exactly what they got. The place was packed out with press, so Metalliville made sure to be there too to capture the energy for you all to enjoy right here.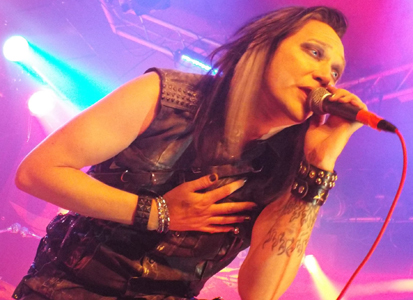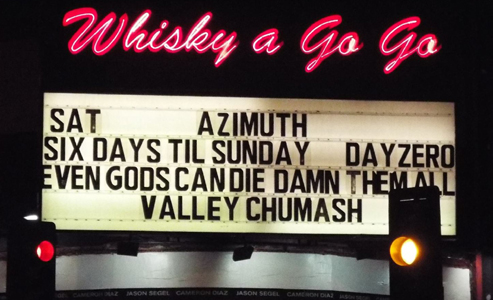 With a line-up that features ex-Murderdoll and current Genitorturer Guitarist, Eric Griffin – fresh back from a US Tour, it was quite obvious that the venue was going to be very vibrant from the word go and we weren't left disappointed. The quartet are completed with the power-driven Drummer, Malice Dpriest and killer Bassist, Devlin 9 completing the immense rhythm section.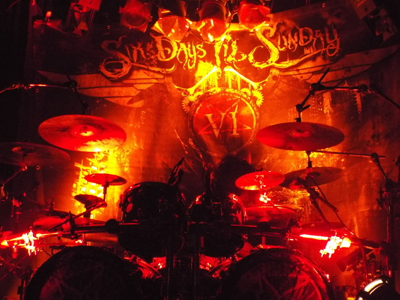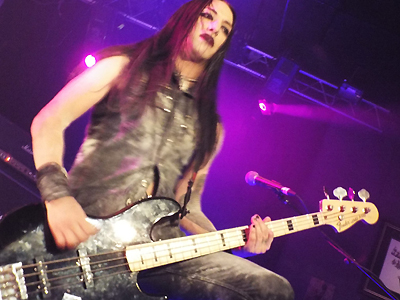 The sound and lighting was perfect and the band were quite simply phenomenal and opened the hour long set with 'Disease'. The show continued with many other incredible songs from their debut album, 'Predetermined' with standouts being 'All We Are' and the closing 'A Bullet For Your Thoughts', not to mention the rather excellent 'Before Tomorrow Comes'.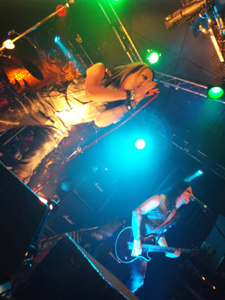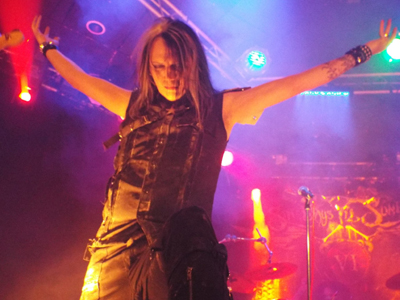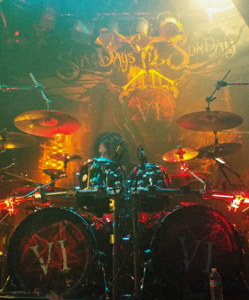 Believe me, Six Days 'Til Sunday should headline any gig when they deliver a performance of perfection at these standards. A band who are definitely going places and soon to be seen on a World scale - mark my words!
10/10
By Amy Rae Yard

Status Quo – Doncaster Racecourse, Doncaster, Saturday 17th May, 2014
Set List: Caroline/Paper Plane/Hold You Back/Rain/Rock 'N' Roll 'N' You/Beginning Of The End/What You're Proposing/Down The Dustpipe/Wild Side Of Life/Railroad/Again And Again/Big Fat Mama/The Oriental/Creepin' Up On You/In The Army Now/Roll Over Lay Down/Down Down/Whatever You Want/Rockin' All Over The World.
Encore: Juniors Wailing/Rock And Roll Music/Bye Bye Johnny.
This was only the second time I've been to a show at Doncaster – the other was not too far up the road and an inside one but this was a venue in the great outdoors – ahhhh – always a worry. We had concerns that it was gonna be a wash-out earlier in the week but instead it went completely in or favour and it was a beautiful Summers day and night.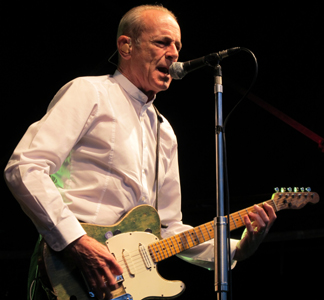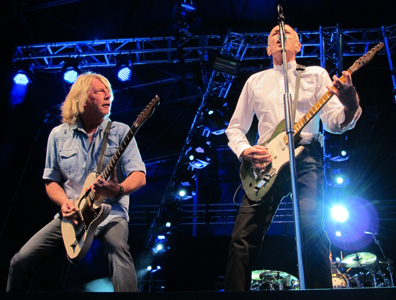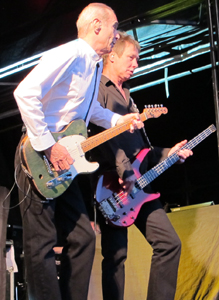 The racecourse's county enclosure was completely packed with the punters rammed in like sardines encased in a tin – the body heat must have been tremendous and I wasn't envious of them – these folk at the front were pretty hardcore I guess – well it is the 'Quo they were about to witness.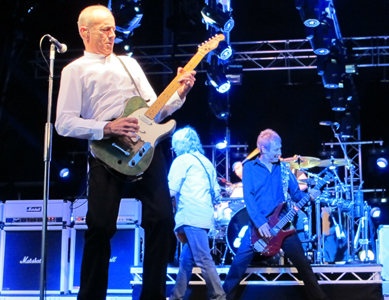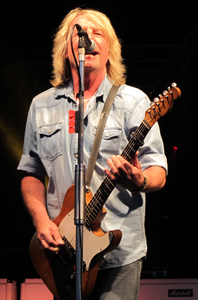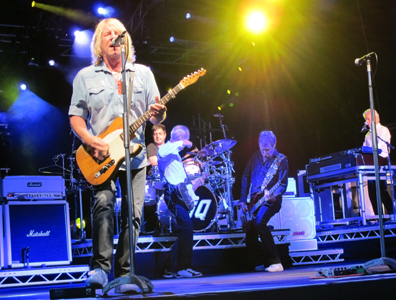 I was amazed how far their stage was away from the crowd but that's the thing when you are working around metal track railings that make the pathway to the race track for the horses, so they have to work round it – though the stage is a perfect height and viewing is perfect as well and even through in a warm and to the point drum solo too.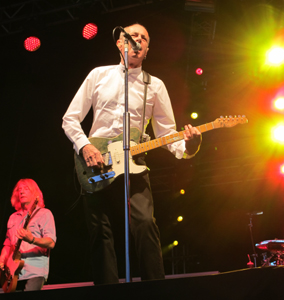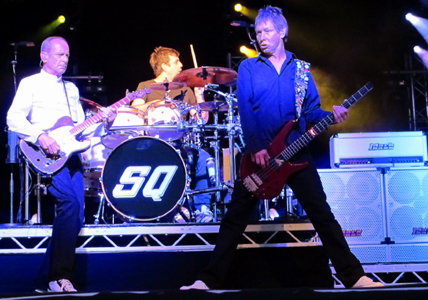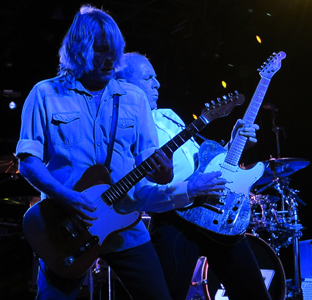 One of the main reasons that I was personally looking forward to this show apart from the fact I've been a big fan since 1977 was to check out new drummer, Leon Cave who is also the drummer in Francis Rossi's solo band – therefore he knew the material backwards and hit everything spot on perfect when the need be.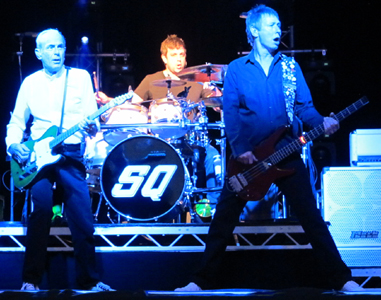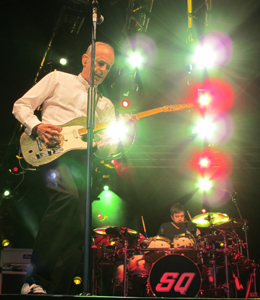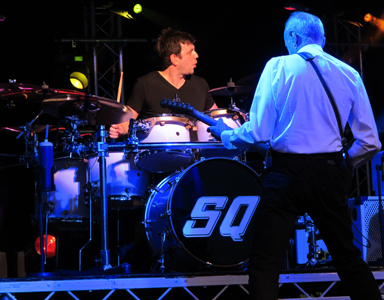 Set-wise it was very much the familiar songs we've grown used to and love and I was a bit disappointed that they included no material from the last studio album 'Bula Quo' though it was great to hear the old school number 'Down The Dustpipe' that's aways been a firm fave with that cracking harmonica playing coming from Andy Bown and some forever-excellent bass-work throughout from John 'Rhino' Edwards.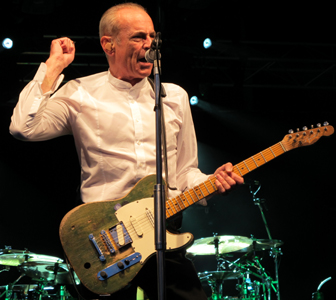 You can never fault joyous renditions of classic like the opening 'Caroline'; 'Hold You Back'; 'Big Fat Mama' or 'Down Down' or the more recent numbers like 'Beginning Of The End' or even the inclusion of the Frantic Four opener 'Junior's Wailing' with Rick Parfitt taking care of the lead vocals in absence of original bassist, Alan Lancaster who I saw perform it last month that seemed to have a teaser riff of 'Is There A Better Way?' when the song began or was that just my ears playing tricks on me?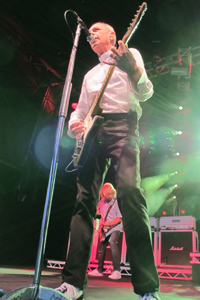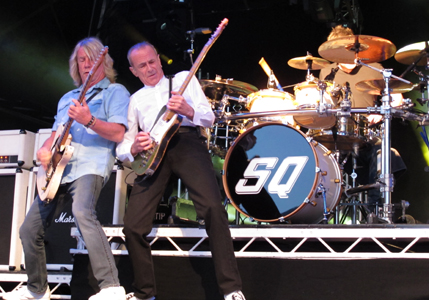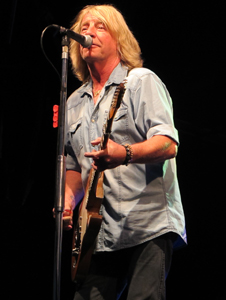 Francis got the crowd going and did most of the talking like only Mr. Rossi can asking if people had lost money or won mony. If they'd won money they ould celebrate with Status Quo and if they had lost money the band was there to cheer them up so it was a total win-win deal they had going – haha classic! He also got everyone going at the end for 'Bye Bye Johnny' with some accapella singing and clapping along with the song which of course closed the show.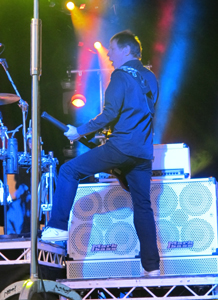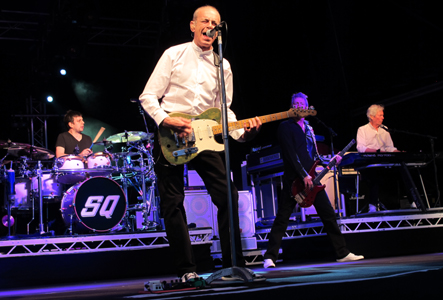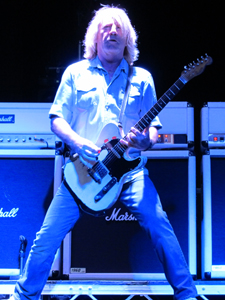 Another cookin' show from those Telecaster Masters!
9/10
By Glenn Milligan

Status Quo/The Wilko Johnson Band – O2 Apollo, Manchester, Sunday 6th April, 2014
Well it's been over 10 years since I last ventured out to this venue in Manchester to see a show but tonights gig was one of those history making moments that I was not gonna let go as I would have definitely regretted missing this – 2 legendary British iconic acts under the same roof.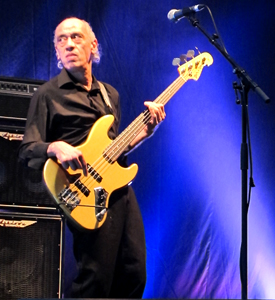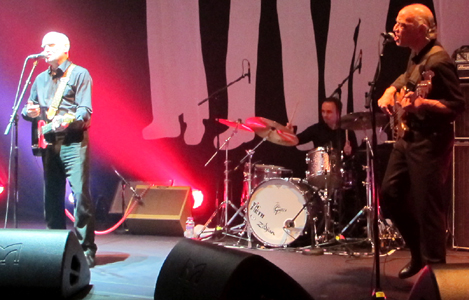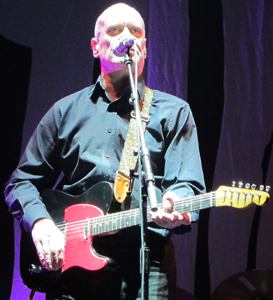 Me and the brother in law couldn't resist checking out Wilko Johnson's high riding in the charts album called 'Going Back Home' that he's just done with Roger Daltrey and am pleased to say that The Wilko Johnson band played quite a few numbers from it such as 'All Through The City' & the title track itself. And of course we got classics like 'Roxette'; 'If You Want Me' & 'Back In The Night' that all prove to be winners with the Manchester crowd.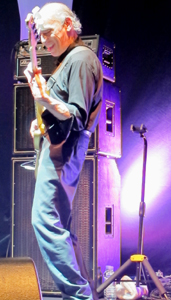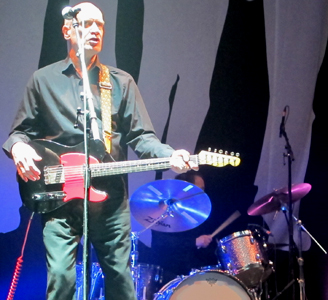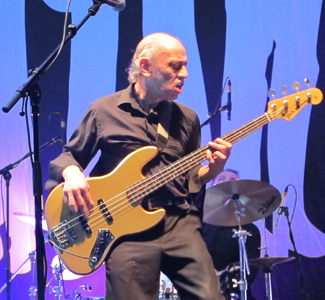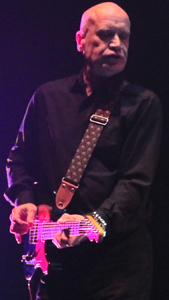 You would never think that Wilko himself is terminally ill with pancreatic cancer and said he was given until around October last year to live so it's all bonus months for him and he's making the absolute most of what he has while he's alive. The man is a one of the most positive souls you could ever wish to imagine seieing up there on stage he gets the love and respect of everybody he performs for with tonight being no exception.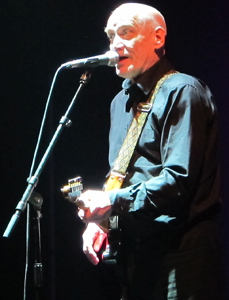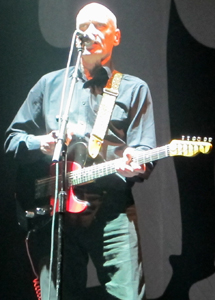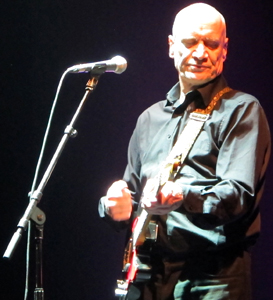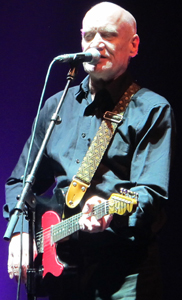 The set was a sure-fine glory-filled assault of hardcore Rhythm & Blues of auto-destructive proportions with Mr. Johnson still doing his quirky jerky sideways moves like a crab with a guitar who is possessed by his long red lead on numerous occasions during the time on stage.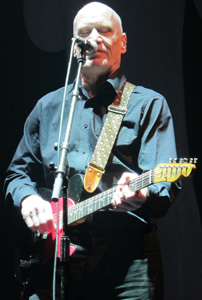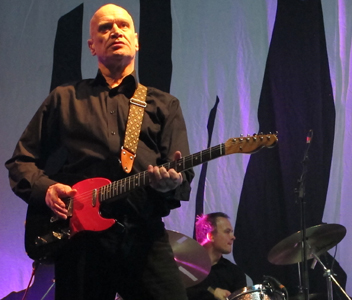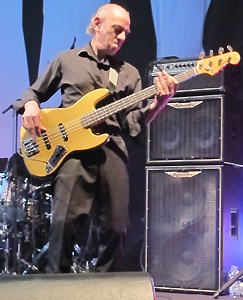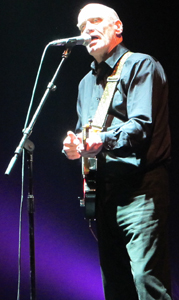 Bassist, Norman Watt-Roy & Drummer, Dylan Howe (both of The Blockhead – the late, great Ian Dury's band) are as tight as tight and both get a solo moment to shine, not to mention some superb facial expressions coming from Norman throughout the songs. Man these guys are so frikkin' cool to watch and so incredibly photogenic too. Wilko never ceases to amaze because although his songs are very much 12-bar based he has this out-there avant-guard way of playing his axe. You can never tell when he is striking the strings and when he isn't and has this almost out of sync style at times.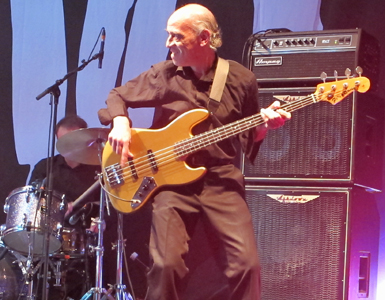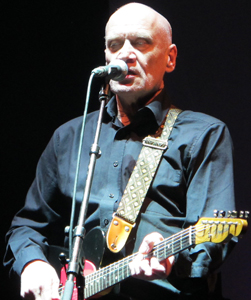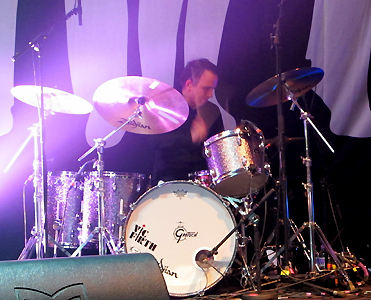 His way of mastering that Fender Telecaster works perfectly with the groove of the numbers being cranked out and never becomes stale at any point. You won't find him playing the most obvious notes and runs like a lot of other R'n' B artists and is still able to blow people away with his pioneering strumming and plucking technique that can do at exactly the same time.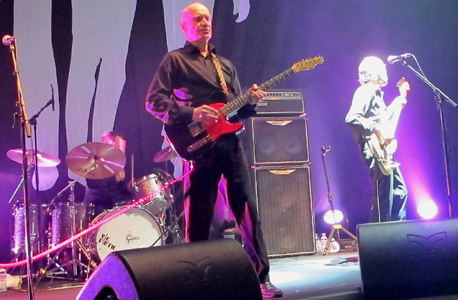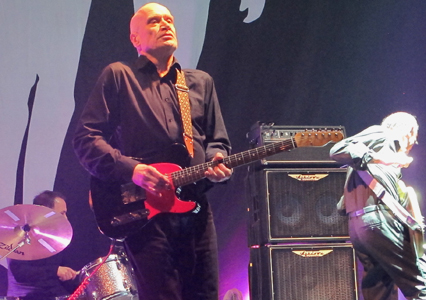 Seeing and hearing is believing with a guy of this stature and standard – Wilko makes it look easy.
Setlist: Junior's Wailing/Backwater/Just Take Me/Is There A Better Way/In My Chair/Blue Eyed Lady/Little Lady/Most Of The Time/Rain/(April), Spring, Summer And Wednesdays/Railroad/Oh Baby/Forty Five Hundred Times/Gotta Go Home/Big Fat Mama/Down Down/Roadhouse Blues.
Encore: Caroline/Bye Bye Johnny.
Well when it comes to the 70's line-up of Status Quo, I gotta say that I've been wanting to see the 'Frantic 4' line-up of the band ever since my dad bought the 'Rockin' All Over The World' album back in 1977. I used to look at that cover and inside sleeve for hours so it was a dream come true (which I don't say very often) to see them at last all these years later.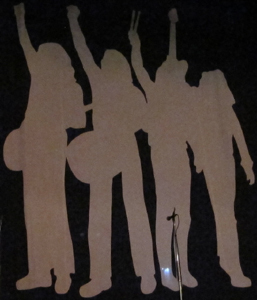 It was pretty overwhelming to be stood there in the dark with the large 'Hello!' album photo in front of you when you knew that any second it was going to drop and there was the original bassist, Alan Lancaster & drummer, John Coghlan alongside mainstays, Francis Ross and Rick Parfitt – and after an exciting build-up from the crowd, there they were – wow!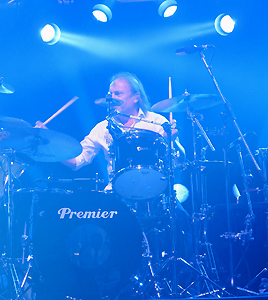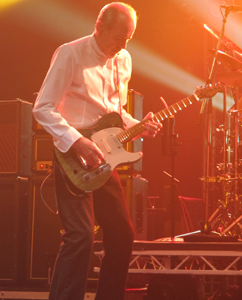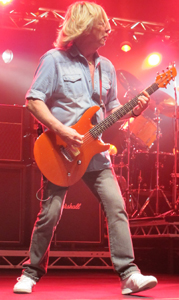 The set was based very much around the famous 'Live' album that was recorded at Glasgow Apollo in 1976 with a few other less heard classics thrown in like 'Oh Baby'; '(April) Spring Summer And Wednesdays' & 'Gotta Go Home' which were a total joy to see and hear live in person after the CD and DVD's came out last year from the 2013 Tour – okay it was the same set but I'm not complaining one bit.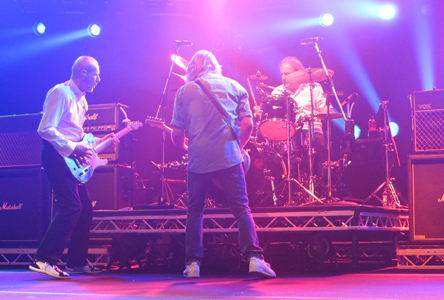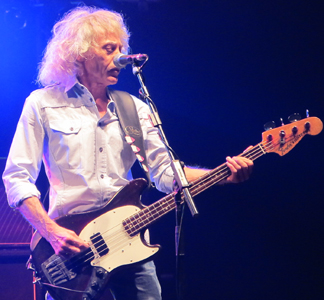 It was a sold out show just like the night before was and as hot as hell in that packed room but it did not stop every single person having the time of their lives who were dancing, rocking out and singing along to the most hardcore of songs that were unleashed onto the fans in this Manchester venue.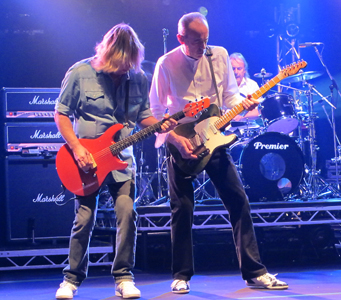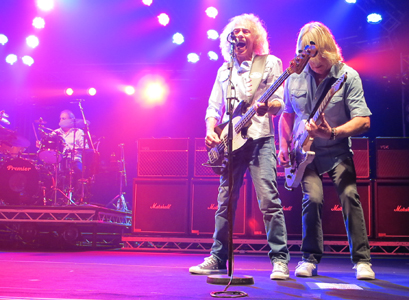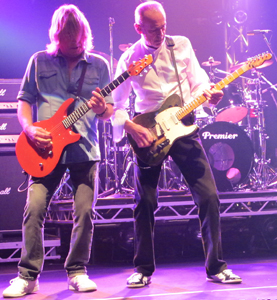 Soudwise it was absolutely perfect with every single note being clearly audible in here not to mention Rick Parfit's voice never sounding so powerful in years especially when it came to the demanding high parts in numbers like 'Big Fat Mama' & 'Little Lady' – the man was quite simply faultless with Francis being as on form as ever.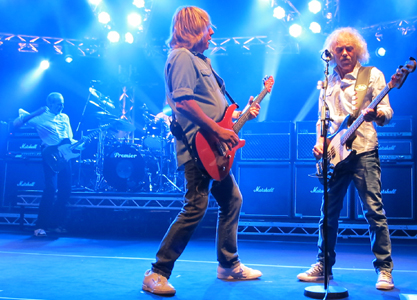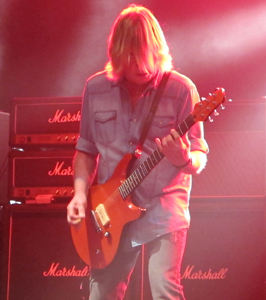 Standouts from the show – well apart from all the of it was the excellent coupling that that song or that that tune that as Francis said we all like called 'Forty Five Hundered Times' that perfectly incorporates the boogie brilliance of 'Gotta Go Home' towards the end of it; the mainstay classic in every Quo concert for donkeys years that is the ever needed 'Down Down' and of course 'Caroline' which of course opens the set the rest of the time.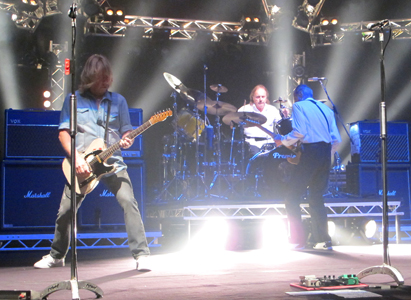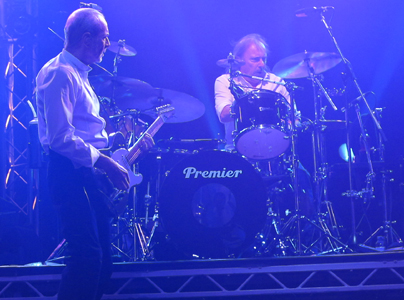 When it came to the axes, the guitar-work of Rick & Francis was also second to none and they really are an under-rated pair when it comes to precisionand technique overall with Rick changing his guitar now again due to different tunings needed or the heating playing havoc as well – well you know what those lights are like at venues.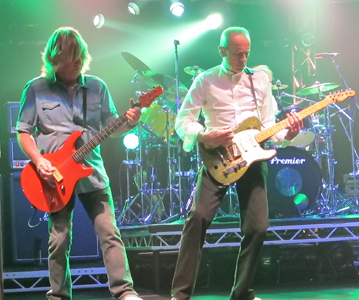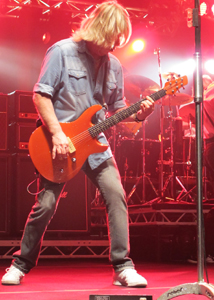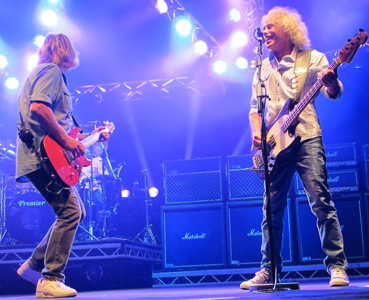 The drumming style of John is so different to watch than that of say Matt Letley or Pete Kirchner (I haven't seen the Quo with Leon yet) because he has this pounding jazz kinda thing going on than the others and he creates more with less if that makes any sense and places in the booms and crashes when needed without going over the top and basically lets the songs and music do the talking – someone to learn by.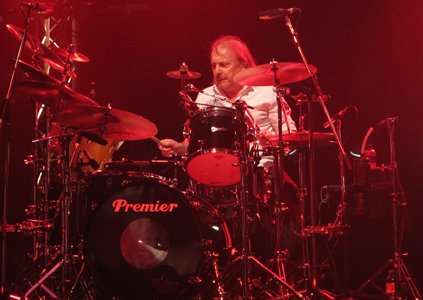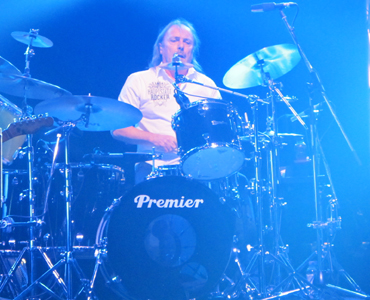 I was more than happy with Alan Lancaster's bass playing and vocals and you could see the concentration in his face for both and really got down to the nitty gritty of these marvellous old numbers, managing a smile now and again through the gig – man this guy has been missed big style by us Quo fans and it was awesome that he got the chance to shine a lot on lead vocals just like on the 'Live' album all those decades ago.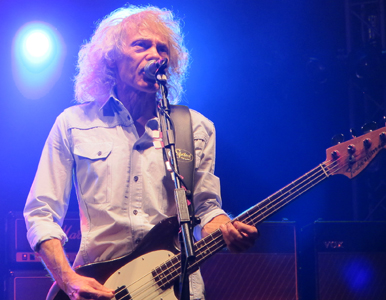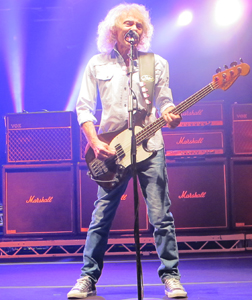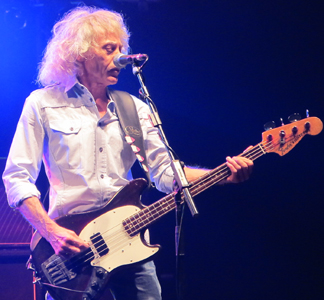 It was so good to see Rick and Francis close up alongside Alan as well sharing the mike on occasions like old times – sweet. Then to really put the icing on the cake, orginal harmonica player, Bob Young (also their sound man) powered up on a couple of numbers in the of 'Most Of The Time' & 'Roadhouse Blues' that worked a treat for both the band and fans of equal right.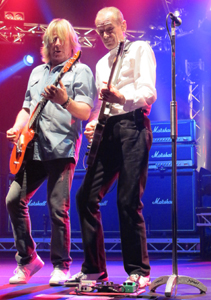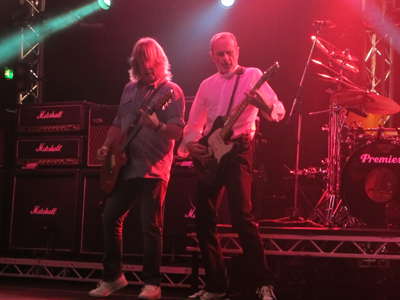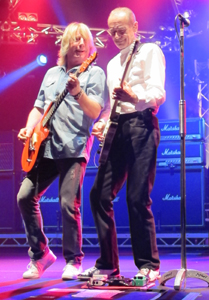 How cool was it to see Mr. Lancaster close the night singing 'Bye Bye Johnny', giving Rick a rest for a change with a bow from all the band before they left the stage as well – Francis even nipped back to get some plectrums to throw to the crowd as well which was nice of him.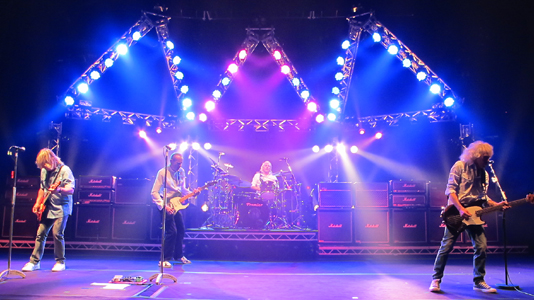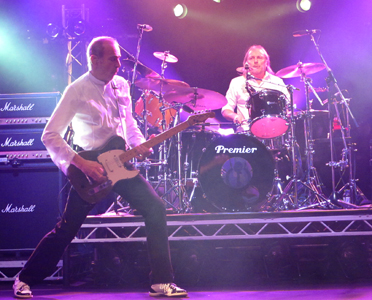 Yes this was most definitely an amazing night all-round. Hope the lads will do it again and maybe release a new studio album in the 'Frantic Four' guise too – we can but hope since everyone here would lap it up – that's a complete certainty.
10/10
By Glenn Milligan

Steel Panther – O2 Academy, Sheffield, Thursday 20th March, 2014
Set List: Eyes Of A Panther/Tomorrow Night/Asian Hooker/Just Like Tiger Woods/ Party Like Tomorrow Is The End Of The World/Let Me Cum In/Satchel Solo/Turn Out The Lights/Lexxi Hair Solo/Gloryhole/The Burden Of Being Wonderful/Gold Digging Whore/It Won't Suck Itself/Death To All But Metal.
Encore: Community Property/17 Girls In A Row/Party All Day (F*ck All Night).
Yes the Panther boys are down for Spreading their disease in Sheffield tonight to a complete red hot packed hall that was a complete tuna-fest (as opposed to sardines) down on the floor – holy f*ck – I've never known it so full ever!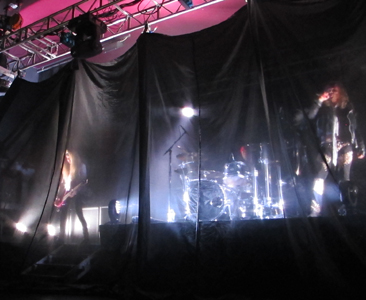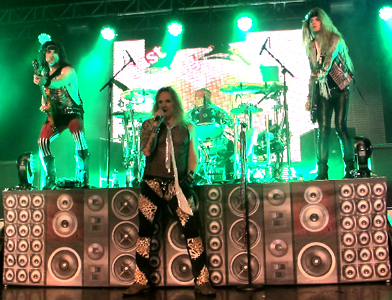 The house lights went down to the intro of Iron Maiden's 'The Number Of The Beast' and the fanthers went frikkin' mental cheering and singing along to the song while the band got in place behind the large curtain that was hiding all the stage-set. What made this cool is when the stage lights went on, you could see the Hollywood Heroes posed there behind with the peeps going ballistic and even more so when the curtain was yanked out the way.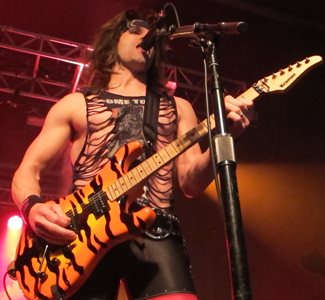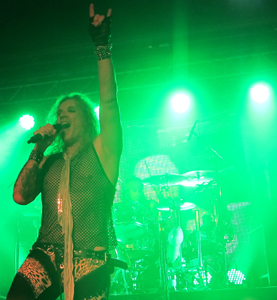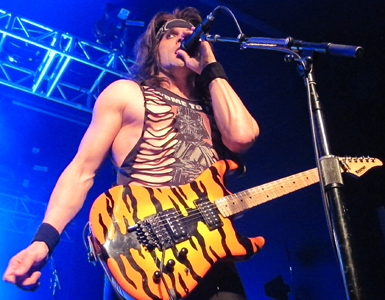 From the get go the lights and sound-quality are sheerly beyond comprehension and it's not every night of the week does a band pull out all the stops and create a show that is flamboyant, colourful, atmospheric and ticks all the boxes for sheer professionalism in the way of dynamics, image and joyful entertainment in both song and banter.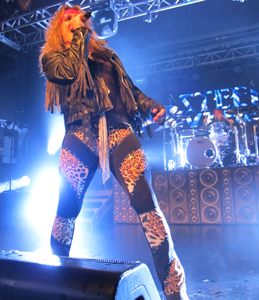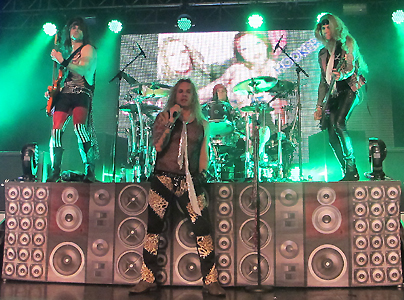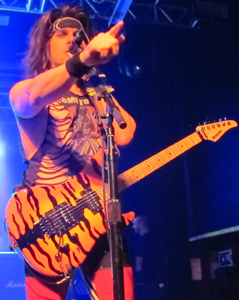 Now the Sunset Strip Strutters were here in the grandoise larger than life presence, bringing the entire room to screaming pleasure while they cranked out 'Eyes Of A Panther' with blow-up condoms flying all over the Academy and up on the stage too much to the bands delight especially Satchel and Michael Starr who threw them back into the crowd for more enlarged UFC action. When the band are introduced their name comes up in diamond clusters on the video screen behind which looked bloody awesome.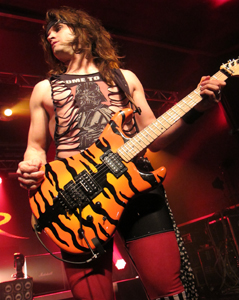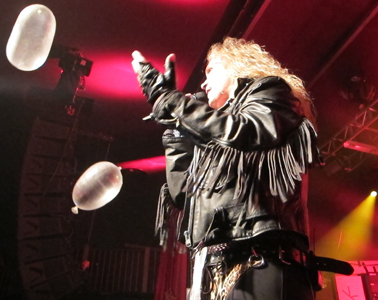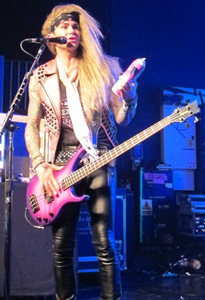 There was plenty of the usual comedy and p*ss taking between many of the numbers such as Lexxi Foxx talking about doing chicks in the *ss and quipped in a line about broadback mountain in between looking at himself in the mirror and touching up his hair with the help of hairspray and his very own mirror at the side of him – nothing changes with the blonde-haired bombshell who is clarted up to high hell with more make-up than you'll find on a major catwalk in New York – oh and he plays great bass too – hahaha.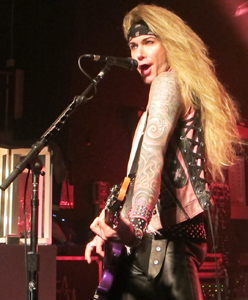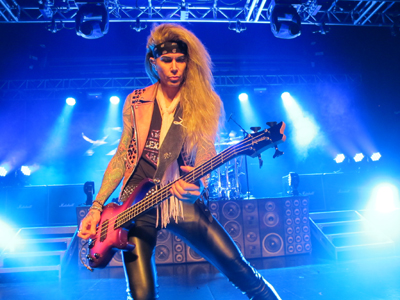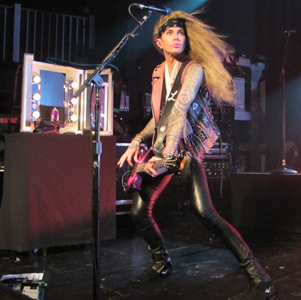 So Michael Starr is so Rock 'N' Roll that he had his first threesome at nine according to Guitarist, Satchel – really? God help his Ma and Pa when they took him on a plane for long flights – mile high club anyone? – bet he was first to put his hand up – lol. The night is a relentless panto of pure filth and songs to double you over in pain and in tears of laughter with some precision playing of all instruments and knock-out, note-perfect vocal performances from Mr. Starr who is like a cross between David Lee Roth, Vince Neil and Bret Michaels in their 80's heyday which is matched image-wise too. Nice giant blow-up manhood holding too Sir.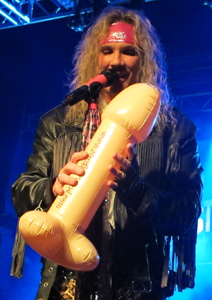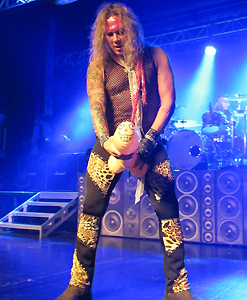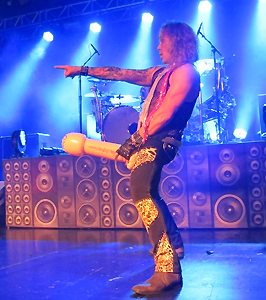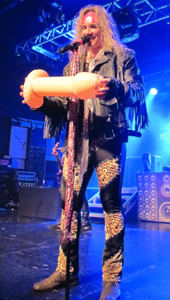 That must be one of the biggest and most outlandish drum-risers I have ever seen – well okay apart from something that the likes of Kiss or Motley Crue would conjure up but they headline stadiums and arenas so fair play. Stixx Zadinia looks so damn cool up there and he's a mean, never missing a beat drummer who even manages to keep it together at the most hilarious of moments such as when the giant blow-up p*n*s is fixed in place in the middle of his drum-kit.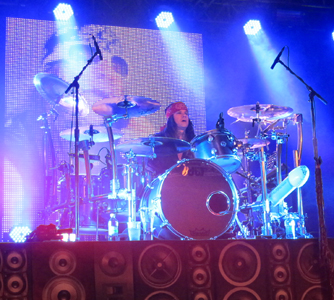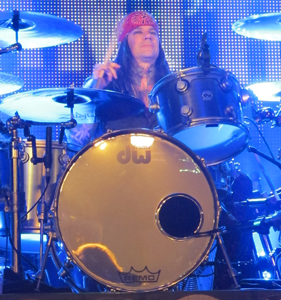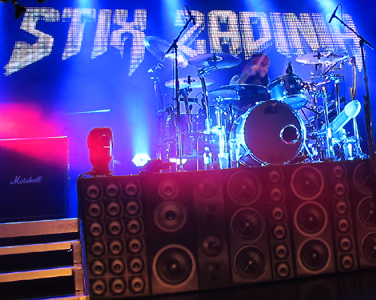 So, so many highlights from this band and it was simply a bonanza of numbers concerend with all the good stuff in life liked sex, drugs, rock 'n' roll and constant partying 24/7. Nice to see at least one chick (a blonde from Germany) who got into the swing of it and flashed her silicon looking boobs for the lads and lasses. With Michael asking for more too – the only way of course from this frontman.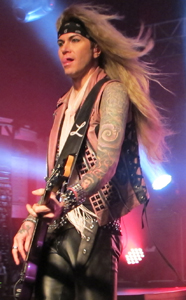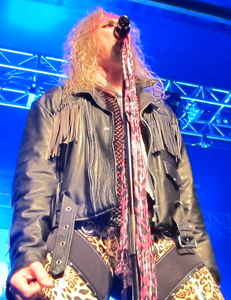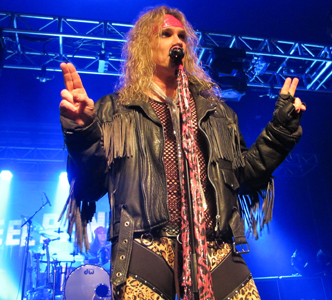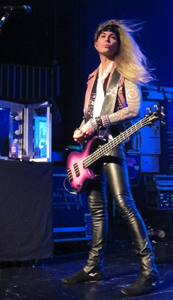 There's little wonder that they have an age restriction to their shows with all the explicit lyrics and too – not that anyone is complaining in fact we are having an entertaining riotous time with the Steel Geezers in Steel City with Michael getting us to form a circle with our hands and saying "That's a Gloryhole and all the girls in Sheffield will be doing that tomorrow!" – so wrong but that's what we expected with the new song following that becomes an instant success with everyone singing along to the chorus – it ain't even been released yet either.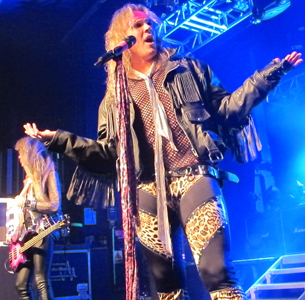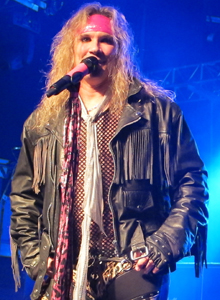 Sadly though they don't cut the mustard like chicks in California since they do nothing but dance around and take selfies of themselves on stage each or with the band members or text their friends to say where they are - boring – if you don't reveal up there then you should be on the floor watching – talk about frigid and much to do about nothing on the female front in this city.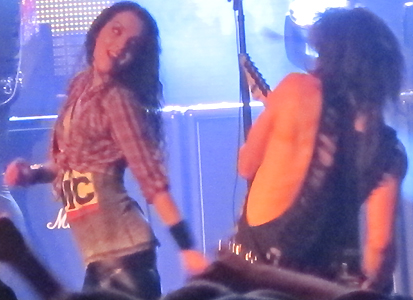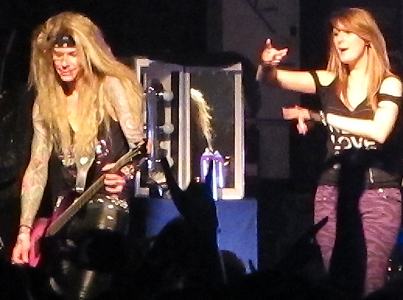 Hey who wants to snort cocaine from a v*g*n*? – all the hands go up – as if they wouldn't – hah! Who wants to see some p*ssy? More hands go up again – lol - more tea vicar. There are a ton of girls allowed up on stage for 'Gold Digging Whore' so good looking and one or two not so much – but it's all good. A wrongful line about only doing chicks in the *ss so as not to get them pregnant but some you gotta watch because they could take some of the load from their *ss and stick it in their v*g*n* and end up pregnant all the same – wrong on so many levels – guffaw, guffaw, guffaw. There was also a line about girls from New Jersey that was just as filthy – oh yes!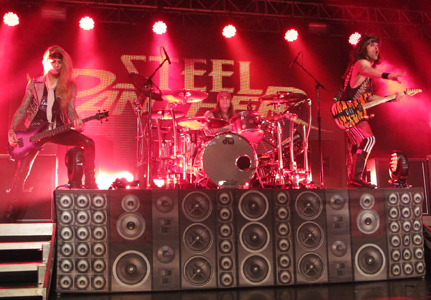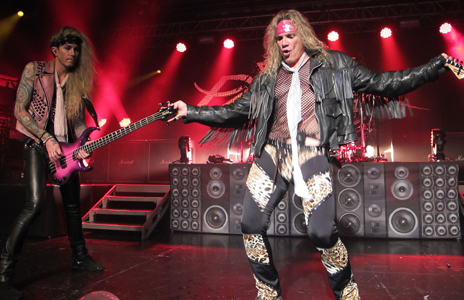 What about the crazy-mouthed fronter spotting Jack Sparrow in the audience or a black guy he says looks like Will Smith and asks them to show their p*n*s though exclaims that the black guys will be bigger and was only joking about them revealing their precious parts all the same – talk about risky tongue in cheek lines – only to be found at a Steel Panther concert and definitely nowhere else.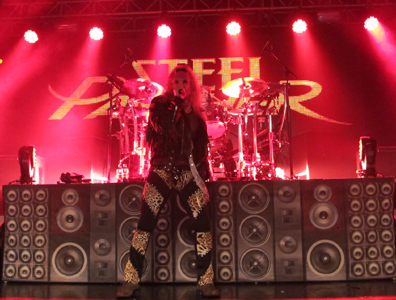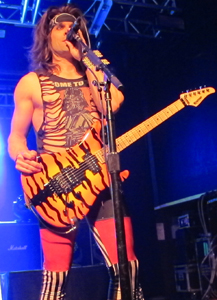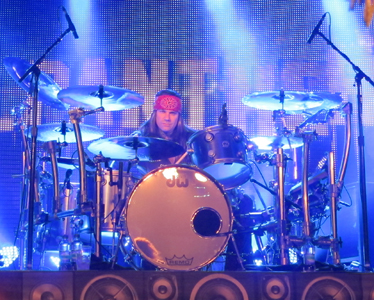 There are a couple of solos throw in too much as the mouth-watering and jaw-dropping one from Guitarist, Satchel and the do your hair solo from Lexxi without a bass note in sight. Many songs totally hit the G-spot as they are marvellous penned ditties like 'Let Me Cum In'; 'Asian Hooker'; 'Just Like Tiger Woods'; the sing-along ballad 'Community Property' which was the start of the bands encore with the fans giving it to Michael acapella before the band kick in and 'It Won't Suck Itself' among many others that are completely past the watershed – so coming onstage after 9pm makes it complete acceptable me thinks.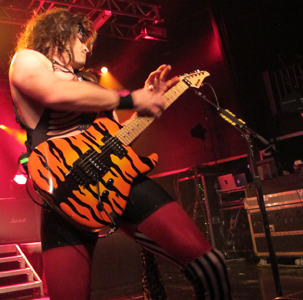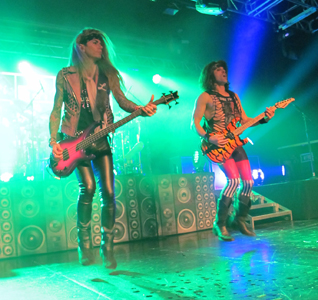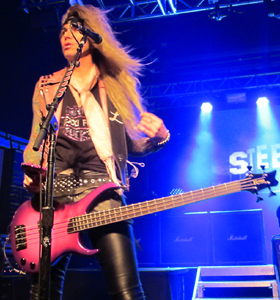 A young guy who is on 10 years old called Chris is brought up on stage who they joke is from New Jersey with the guys telling him he can choose any girl in the audience for a playdate and asked him if he likes to party as well and having him sit with them for a song – now that's so nice of them and too damn cute as well. No doubt he'll remember that moment for the rest of his life – definitely something to tell his classmates about the next day at school.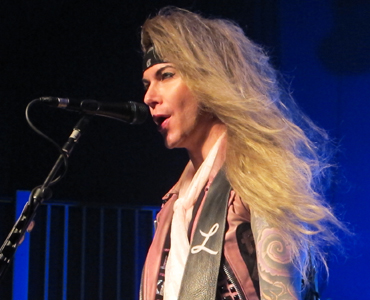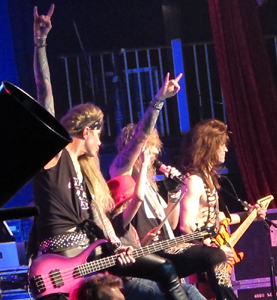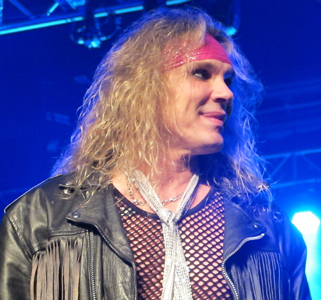 It was definitely one of those shows that you get a buzz on before hand, during and after because Steel Panther are one of the finest bands out there treading the boards. Some say they are taking the p*ss out the 80's and others think they are saluting it this golden decade – personally, I couldn't care less either way as these boys pack a well-honed punch of glamour, pomp.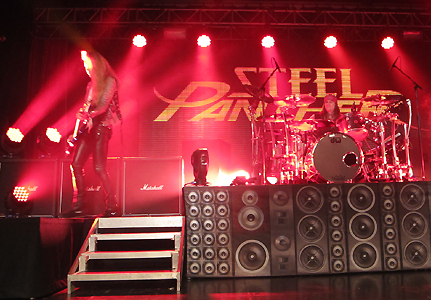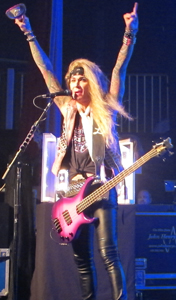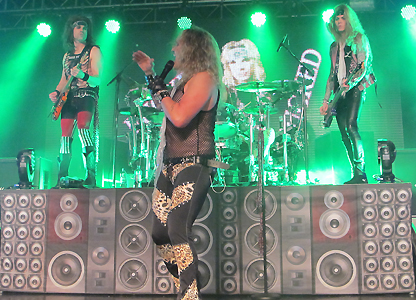 They don't take themselves serious for one minute up there, delivering a spandex and sparkle driven night with songs packed full with notions of fantastic sexy festivities which ends on the orgasmic screams of 'Party All Night (F*ck All Day)' with it's parody arrangement of a famous band of that decade.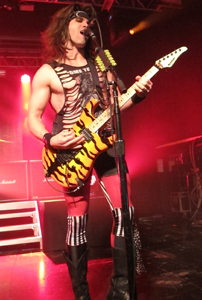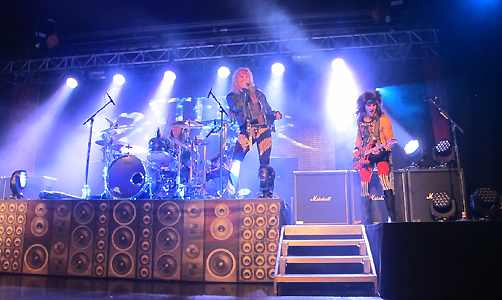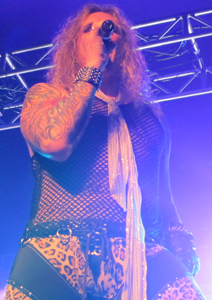 I can't wait to get back to Hollywood, California and rock out in my fave USA City with them. Hey hang June is next as Steel Panther will be thrilling the Download crowd for certain – it's a safe bet for sure.
10/10
By Glenn Milligan

Shadowqueen/Forever -
The Bendigo Hotel, Collingwood, Victoria, Australia, Thursday 3rd October 2013
There was confusion over the location and date of this gig. Initially it was advertised at the Espy Hotel Gershwin room for the Friday night. A week prior to this I found it advertised at the Bendigo Hotel for the Thursday night. The Espy gig guide had a different band advertised for the Friday night. On the Thursday night the band's web site had them listed as playing at the Espy, however their facebook page had them down at the Bendigo.
Rather than take the risk of missing them I turned up at the Bendigo on the Thursday night. On arrival there was still some confusion, Shadow Queen were defiantly playing however the girl at the door wasn't sure which support band we had missed and who was on stage. She said I had just missed the band with the girl with the purple hair. She wasn't sure who was on but she thought it was the first support band which was now playing third. I was now really confused but I paid the cover charge and went into the band room.
The band on stage was 'Forever' which meant I had just missed 'Pretty Villain' and 'One Kingdom' had already played. (Note to self - midweek gigs start allot earlier than weekend shows.) 'Forever' had a hard, heavy sound, they were young and presented like a group of guys jamming in the garage. They didn't really catch my attention until the bass player all of a sudden started backing up the vocals with a throaty death metal voice. This unexpected twist made the band much more interesting and although this back up voice didn't come out too often, they now had us enthralled for the duration of the set. The band room was near empty with less than 20 people in attendance. I wasn't sure if this was because the gig wasn't promoted well enough or because it was a work night.
Set list: Another Day/Don't Tell/Silent Movie/Sacred Ground/Stars/Deepest Hole/Best of Me/Tragedy/Someday/Silence
When 'Shadow Queen' took to the stage there was only a hand full more punters than had been there for the support bands. 'Shadowqueen' is a rock trio with 'Robbi Zana' on vocals and base, 'Si Hopman' on guitar and backing vocals and 'Alex Deegan' on drums. The first thing that struck me when they started playing was how amazing Robbi's voice was. I had been told that she had a sound like 'Pink' meets 'Alanis Morissette'. I found her vocals similar in terms of strength and power however her sound is much sweeter. I think her voice best compares to 'Suze DeMarchi' of the Australian band 'Baby Animals'; gutsy but feminine. The lack of punters made for a bit of an awkward experience with everyone standing way back from the stage, leaning against the walls in the shadows. Robbi took this in her stride smiling and making eye contact with the audience and giving the occasional chat between songs.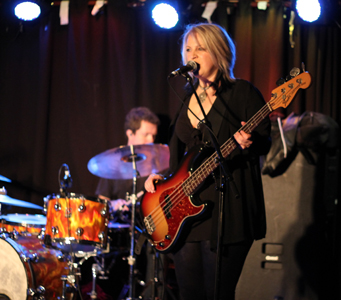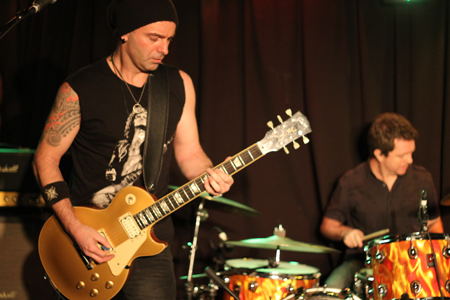 At one stage she mentioned how good the sound was on the stage and said she hoped it sounded as good for us. It did, the acoustics in the Bendigo band room are awesome and although it is a small venue the sound always carries well and is never too much. Mid way through the show 'Robbi' apologized telling us that she was going to try out new songs rather than play better know ones. There was no need for an apology; the songs were great with strong lyrics backed by powerful guitar riffs reminiscent of early 90's rock. There wasn't much movement on the stage and as the show went on the band remained stagnant.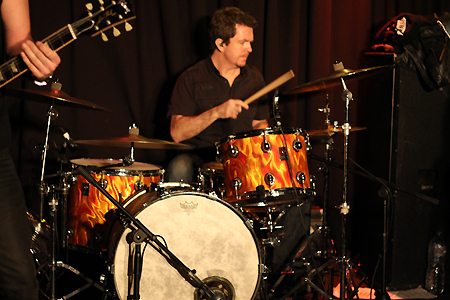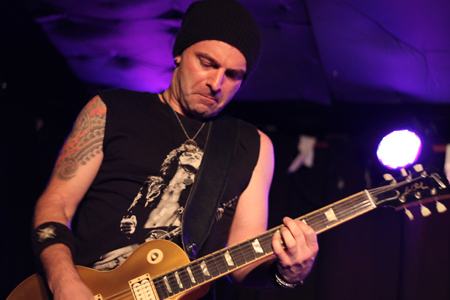 If we all weren't so captivated by Robbi's incredible singing the lack of movement up there could have become a bit dull. There seemed to be a good rapport between the band members, when Robbi started with a bit too much banter Alex prompted her on by knocking his sticks together. Robbi informed us that he didn't like her talking too much and preferred to just get on with the job of rock'n'roll. While the band played, a girl carrying a tray of merchandise made her way around the room enticing us to buy a t-shirt or CD.
The band had a definite 90's hard rock influence and the lyrics have the emotion and attitude seen in many great female led bands of the past. After the show I enjoyed some drinks with a friend of the band 'Perry' who told me that the band members had played for years as a cover band in local hotels in the Altona area. It is great to see that they have branched out with their own thing as they are a band worthy in their own right.

They have a pure, honest approach and obviously take their music very seriously. I think this a band worth keeping an eye out for.
8/10
Review by Liza-Lee Campbell
Photos by Darryl Danger of Melbrockpix

Spill Sixteen – Corporation, Sheffield, Friday 20th September, 2013
Set List: Doing It Tonight/On My Way/Damned/One Way To Go/By You/All The Same/ Hammer To Fall/Come With Me.
Well this is my first show at the Corporation this year believe it or not and although it's rather late in the calendar, it's good to come out and see my fave band in Sheffield, Spill Sixteen
.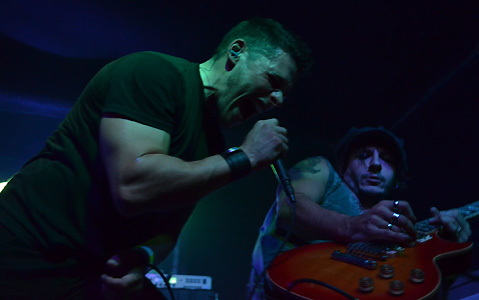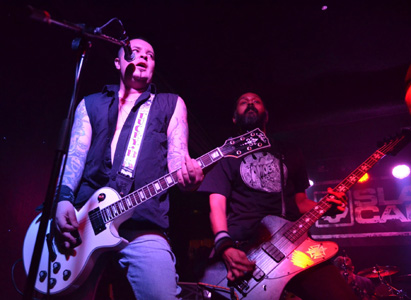 They've been through a tumbly episode but all seems well up there on stage with the original line-up of Spill Sixteen still intact. It's all smiles and laughs up there tonight between them all with front-man, Steve Church getting the crowd going loads by asking them to shout 'F*ck Yeah' on various occasions throughout the set which no one could really say no to – hahaha.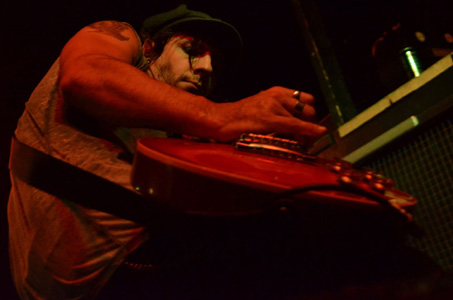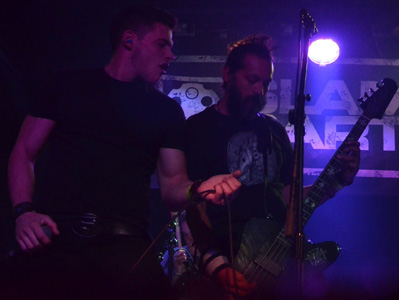 The sound is exceptional too with perfect clarity from every member of the band – the marks of a top notch sound engineer and bands who get there ingood time to sound-check too. Songwise there are plenty of numbers from their debut album 'Let it All Hang Out' with the opener 'Doing It Tonight' & 'One Way To Go' being major highlights from it as well as a cracking cover of Queen's 'Hammer To Fall' thrown in which works wonders with the rest of the material this band play.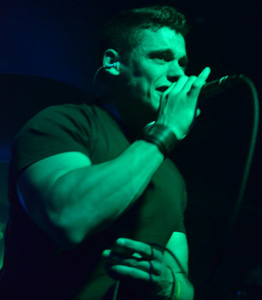 Indy is up there towards the back with powerhouse drummer, Crazy Dave while JJ and Andy are front left and right of the boards respectively nailing down them killer rock riffs while Steve is centre positioned and in incredible vocal form, not to mention those Mr. Motivator aerobics moves that has become his trademark at a Spill Sixteen show.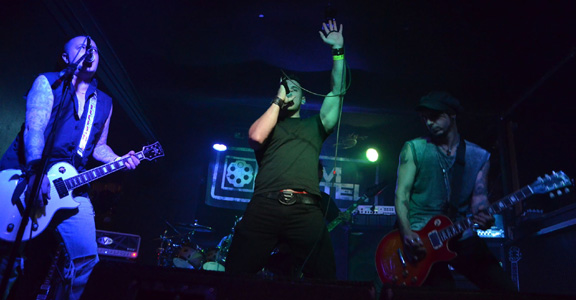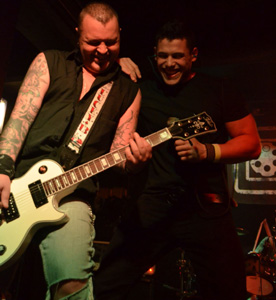 Absolutely outstanding lads.
10/10
Review By Glenn Milligan
Photographs by Malcolm White
Michael Schenker's Temple Of Rock - The Plug, Sheffield, Saturday 27th July 2013
Main Set List: Lovedrive/Another Piece Of Meat/Assault Attack/Armed & Ready/Into The Arena/Rock My Nights Away/Attack Of The Mad Axeman/Horizons/Before The Devil Knows You're Dead/Coast To Coast/Shoot Shoot/Only You Can Rock Me/Let It Roll/Too Hot To Handle/Lights Out/Holiday/Rock You Like A Hurricane/Rock Bottom.
Encore: Blackout/Doctor Doctor.
Well it's the 3rd time that I've witnessed 3 of these guys on stage (being Doogie White, Michael Schenker & Wayne Findlay) and it marks a delight to see two ex-Scorpions guys complete the line up of the band in Francis Buchholz and Herman Rarebell).
Now 'The Plug' I am pleased to say was very well attended for this show and it just proves that if you've got good promoters behind it then you will get exceptional attendance as was the case tonight. The fans of the man who plays the Flying V were ecstatic and energetic from the moment the gig started and this continued right the way through the performance - well apart from the announcement of a new song called 'Horizons' from the forthcoming MSG album 'Bridge The Gap' that Doogie joked saying something like, 'Well thanks for the enthusiasm' that brought a smile to many faces including Schenker himself.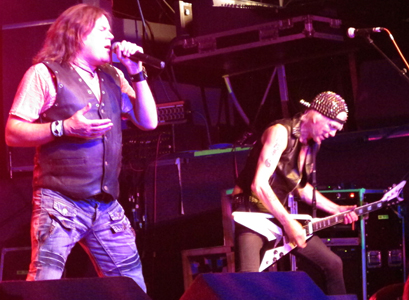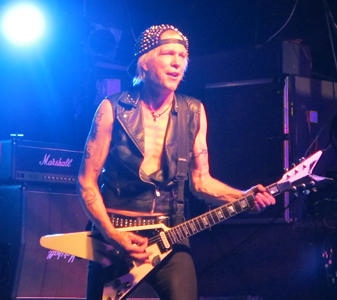 Each and every member of this band was in supreme fine form - well these guys are hand-picked cream of the crop by Michael when all is said and done and this man will only pick the best of the calibre on offer. What makes this show so good is the well chosen set list that is quite simply some of the best cuts that were ever written by MSG, UFO & Scorpions which becomes apparent from the start when it kicks in with the Scorps classic 'Lovedrive' before soon changing tune into some of Schenker's early solo stuff with the likes of 'Assault Attack' and the pumping instrumental 'Into the Arena'.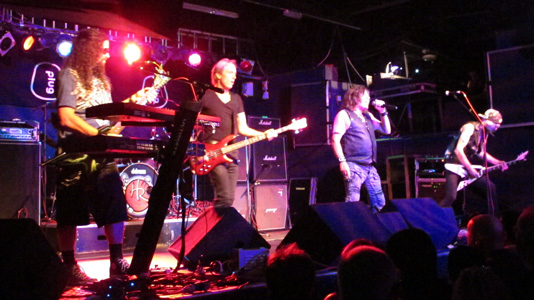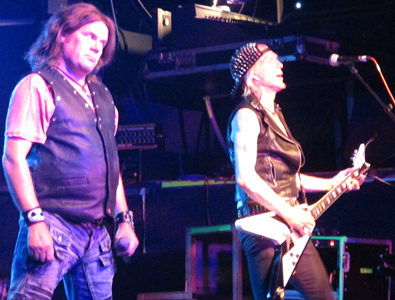 A major highlight of the night was a tribute written especially for Ronnie James Dio, entitled 'Before The Devil Knows You're Dead' that guarantees horns in the air and even sounds like a Dio number too which no doubt was the idea. Then how can you fault a stomping rest of set that's plentiful with everyone's favourite UFO riffs and singalongs like 'Only You Can Rock Me'; 'Too Hot To Handle' and 'Lights Out'. Francis Buccholz rocked out on bass and dressed very much like a member of Status Quo (as my buddy Alan Shooter pointed out), looking a like a cross between Matt Letley (Quo's previous drummer) & John 'Rhino' Edwards on his throbbing four stringer.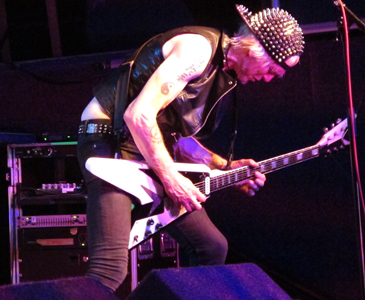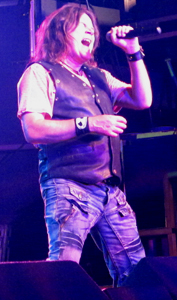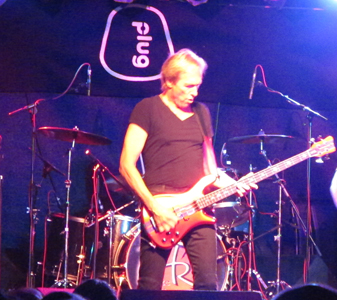 Wayne Findlay was vibing it up on those keyboards too with a ton of smiles, nods& points to the fans in numerous songs as well as joining the centre of the stage on his killer Carvin designer axe that he has become famous for playing in the MSG circle. Michael Schenker was totally on form switching between four guitars during the set, like I saw him do last November in California and for the majority of the show concentrated on his guitarwork but acknowleged the crowd through facial expressions, nods and arm guestures while hammering out those electrifyingly loud well-known riffs.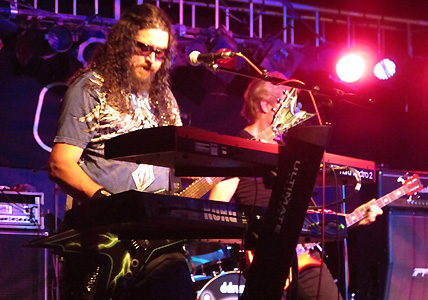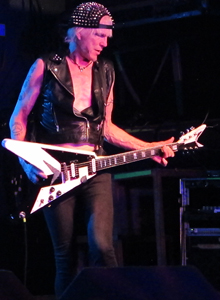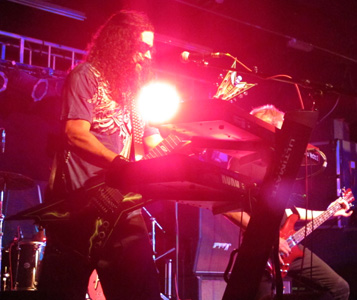 It was a set packed with classic after classic - a pure home run of home runs which was equalled by some good ole audience participation especially during 'Holiday' in which Doogie warmed us up with some vocal excercises before having us sing along to the song itself and on our own too - a magical moment. Man this guy knows how to work a crowd and has them in the palm of his hands. Herman Rarebell even got lead frontals part way through 'Rock You Like A Hurricane' from up there from at the back of the stage and had us singing that main chorus line back to him has well which was a very retro and joyous occasion.
This was one of those great nights that you'll remember for the rest of your life - definitely a band that enjoyed every single second of the show.
10/10
By Glenn Milligan
Status Quo - City Hall, Sheffield, Friday 7th December, 2012
Set List: Caroline/Paper Plane/Hold You Back/Rain/Mystery Song/Rock 'N' Roll & You/Beginning Of The End/Proposing Medley (What You're Proposing/Down The Dustpipe/Wild Side Of Life/Railroad/Again And Again)/Big Fat Mama/The Oriental/Creeping Up On You/Marquerita Time/Living On An Island/In The Army Now/Drum Solo/The Killer/Roll Over Lay Down/Down Down/Whatever You Want/Rocking All Over The World.
Encore: Winter Wonderland/Jingle Bell Rock/It's Christmas Time/Burning Bridges.
Well it's been many years since the Quo cranked up in this prestigious venue and Francis Rossi himself earlier in the week said how much he was looking forward to it.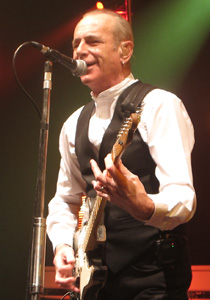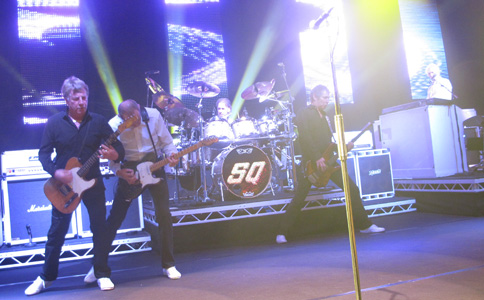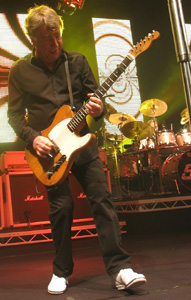 The gig as you can no doubt imagine is completely sold out as Sheffield loves Status Quo and as a result the boys never fail to come see us every year. It's a classic extravaganza just as you'd expect from the British legends and of course kick off with the obligatory 'Caroline' that whips the place into a frenzy straight away with a set of pure rockin' partyville and glory all the way down the line.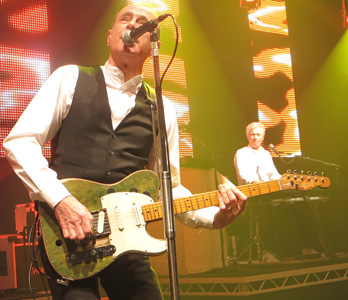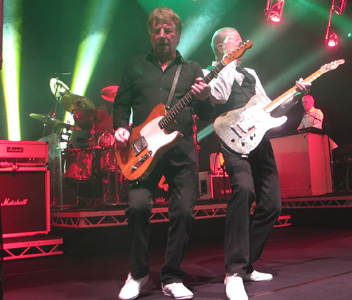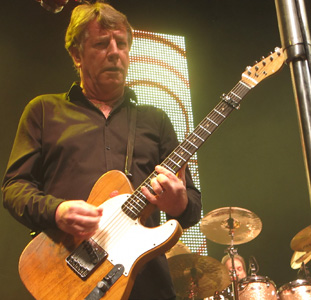 Francis asked, "Are there any Germans in tonight?" and went on to tell us about the marvellous piece of kit he had for his guitar - his Capole gizzmo and then sticks it in the wrong place - not sure if he did that on purpose or not but was funny all the same. There was the odd line in a couple of songs missed by Rick and Francis and not sure if they forgot the lines or preferred to let the fans sing them - who knows? But credit to them as you won't find no autocue at a Quo show.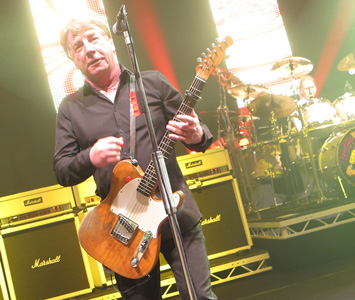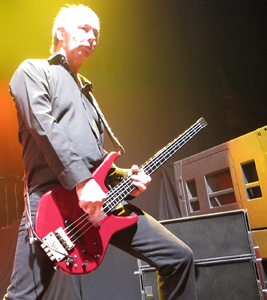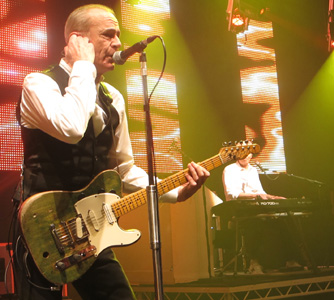 The atmosphere in here is incredible and a much better concert in a smaller venue for these guys where the intimacy works wonder and the lights being way more in your face and dramatic which goes for the backscreen animation and lighting too.I was impressed with the band vocally too as I reckon it's the best they've sounded in a long, long time. I don't know how they do it because their were no bottles of water near them on stage at all.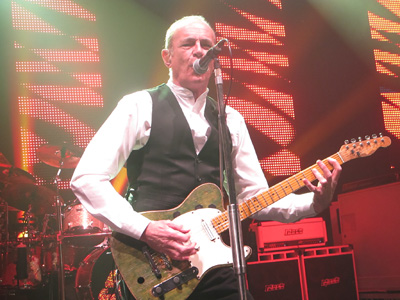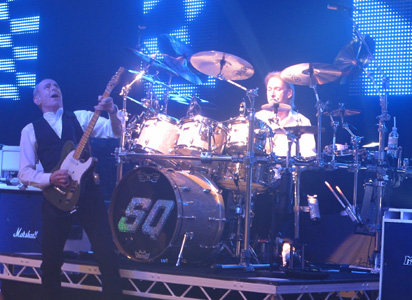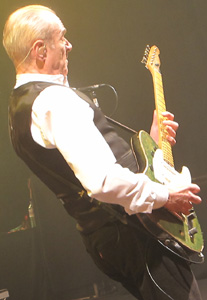 Of course, I can't not mention the fact of how strange it was to witness Rick Parfitt with shorter hair which hasn't happened since about 1988 when they released the 'Ain't Complaining' album. Wonder if he'll be growing it back or he will leave it in that style for a while. Now it's always a pleasure to hear 'Hold You Back' every single time they play it.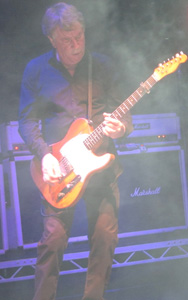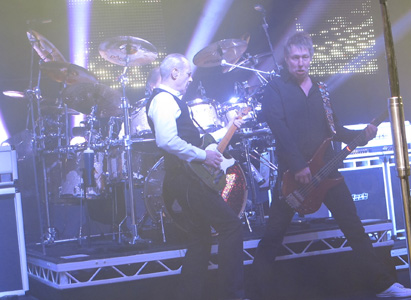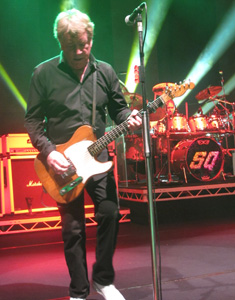 The same that can be said for mainstays in the list like 'Again & Again'; 'In The Army Now' and 'Roll Over Lay Down' or the always amazing 'Whatever You Want' that started with a deep 'n' loud sub-bass build up before cranking into that excitable echo around the room riff that preceeds the main part of the song.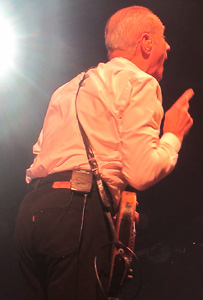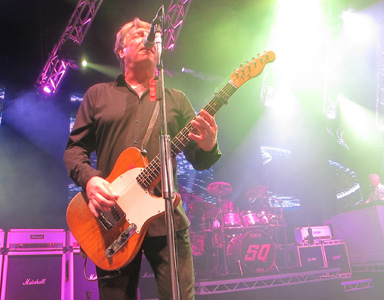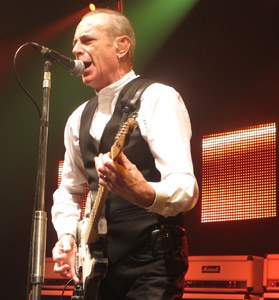 Other highlights of the set included the famous numbers like 'Living On An Island' that is cut down a bit to fit more songs in the gig - my fave track of the night as well as 'Beginning Of The End' one of the later classics of the catalogue. Then there was the newer number that was forever on BBC Radio 2 when it was released that is 'Rock 'N' Roll & You' from the 'Quid Pro Quo' album', "That is a good name for an album if you are called Status Quo", Frame tells us. And let's not forget the classic 'Down The Dustpipe' with some classic harp and plenty of killer ivory work from Andy Bown, not to mention the flambouyant drum solo from Matt Letley.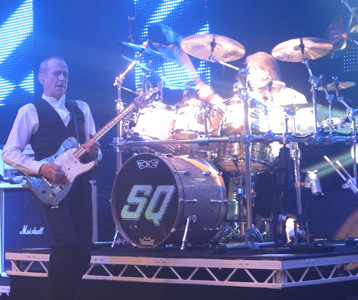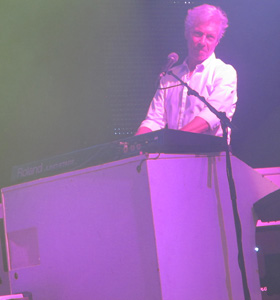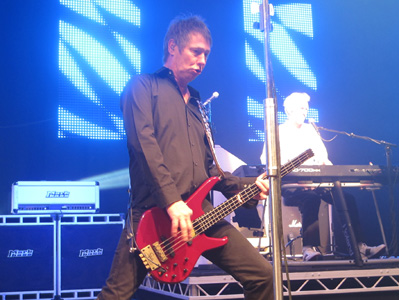 There was a nice inclusion of some festive numbers in the encore which I personally wasn't expecting. Even Rhino got to sing one of them - the second time tonight where he does lead vocal, since he popped down to the Nelson earlier and sang a number which a Quo tribute band from Scotland. They go down really well and a played in that good ole Status' style - damn cheesey but fun fun fun - I couldn't imagine them doing this back in the day with Alan Lancaster and John Coghlan though. What was really cool was the fact that the band got to shake hands with audience members at the front and with even a pick or two thrown out into the crowd by Parfitt, not to mention a drumstick given a fan too by Francis.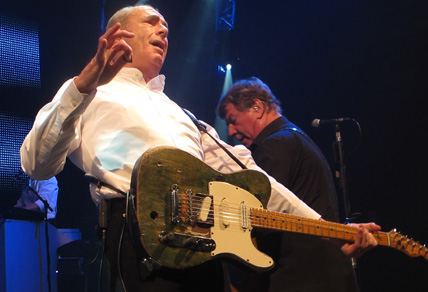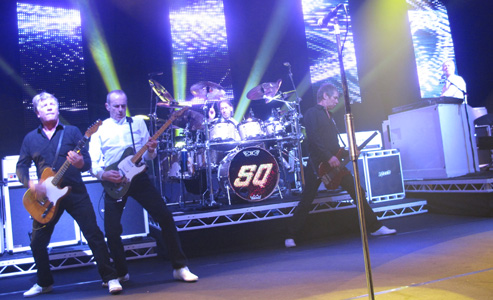 Brilliant show indeed with the odd Spinal Tap moment which simply adds to the humble realness of it all!
10/10
By Glenn Milligan
Michael Schenker Group -
The Canyon Club, Augoura Hills, CA, USA, Thursday 8th November 2012
Set list: LoveDrive/Another Piece Of Meat/Save Yourself/Into The Arena/Before The Devil Knows You're Dead/Rock My Nights Away/Shoot Shoot/Only You Can Rock Me/Let It Roll/Love To Love/Natural Thing/Lights Out/Armed & Ready/Rock Bottom/Doctor Doctor.
And it's back to the Canyon Club about 6 months on but this time not to see someone from the USA, but one of our own legends - none other than UK 6 string rock hero, Michael Schenker, the Deanmeister himself and his US MSG band tearing up the house with a hell of a load of songs that we remember from the UFO days and his own solo outings as well.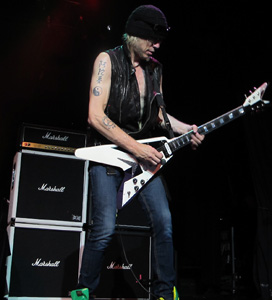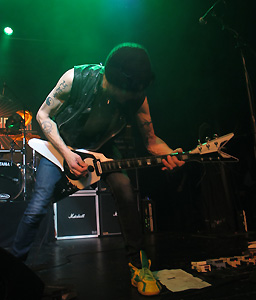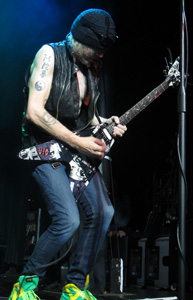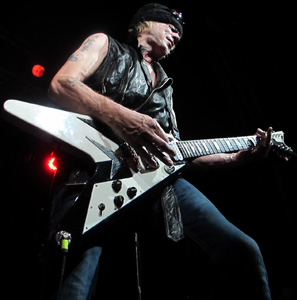 On vocals is the man who put the voice onto the 'Temple Of Rock' album, Dennis Van Landing who has an outstanding set of pipes on him and great hair too, since Robin McCauley isn't well enough to do the tour right now but this guy is more than capable of the gig. Michael Schenker himself astounds everyone in here tonight and hardly stops still. He looks a real picture of health too and credit to him as well for this and is so happy to see everyone with smiles galore throughout the show and even shaking and slapping hands with my of us at the front.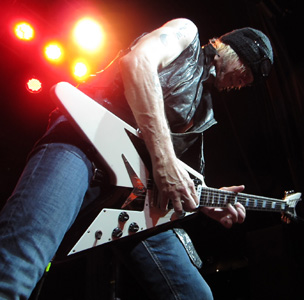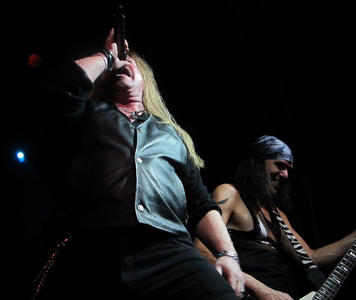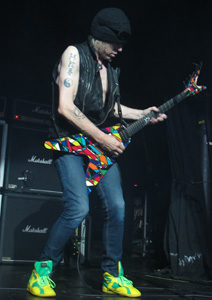 The band line-up for this American leg of the tour is completed by mainstay keyboards man/guitarist Wayne Findlay, Elliot Rubison of Dead Guitars on Bass and from Black 'N' Blue, Drummer Pete Holmes that compliment the German maestro throughout the show coming into their own light at various points in the evening at the delight of the healthily packed Californian crowd in this beautiful venue.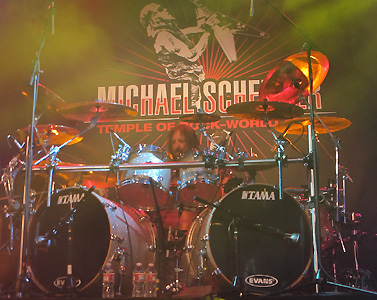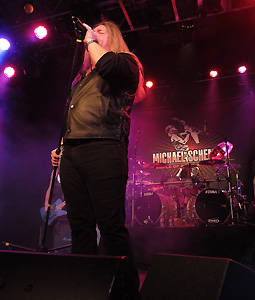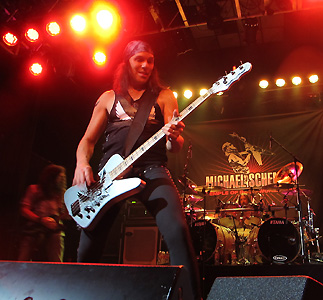 What makes this such an enjoyable concert is the fact that it is very much packed with plenty of our favourite songs that Michael is either famous for writing and co-writing over the last three decades and then some... You simply can't argue with a set that includes singalong classics like 'Lights Out'; 'Armed & Ready' or 'Natural Thing' can you? To open a set with a couple of Scorpions numbers was a turn up for the books too, not to mention throw in a McAuley Schenker ditty in there in the form of 'Save Yourself'.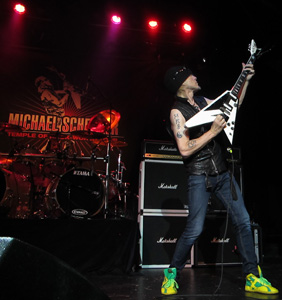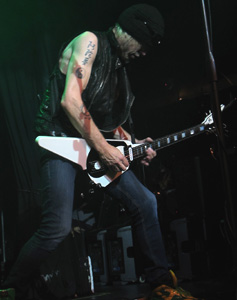 The solos were utterly mesmerising with allsorts of guitar tricks on show - the man was on fire all night long. He played four different Deans guitars throughout the gig as well - these guys sponsored the entire tour - good on them too!. The man still does that back and forth walk around the stage as well in good ole Schenker style and never missed a note all night.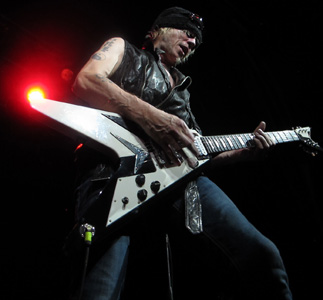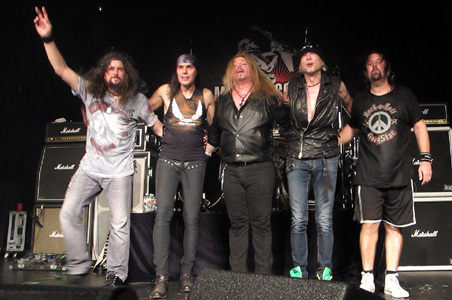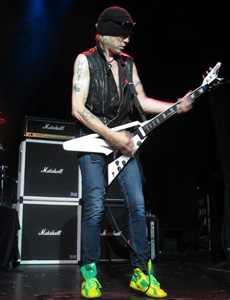 What can you say apart from simply, sheer quality!!
10/10
By Glenn Milligan
Shotgun Revolution -
The Whisky A Go-Go, West Hollywood, CA, USA, Sunday 4th November, 2012
Set List: I Don't Care/Hustled 'N' Played/Constantly/Blessed Be My Child/Too Much Reality/Just Gettin'High/Bleeding/The Last Goodbye.
Well before I flew out here I spent a few weeks checking all the schedules of who was gonna be playing where and came across these guys on the whisky website and they sounded the business to me indeed.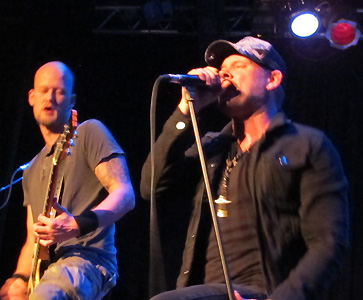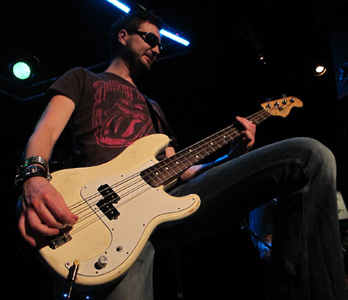 Coming all the way from Denmark, their 1st time here, they got up on the decently sized Whiskey stage with a ton of confidence. Ok, it wasn't too full but they rocked out solidly like they were playing to a packed house. Shotgun Revolution have a hard rock n roll sound that moulds in the abrasiveness of Buckcherry with hints of a tincy wincy bit of post-grunginess at times - think Foo Fighters and a bit of Nickelback but they also have an equally strong southern rock influence too that really struck me about them.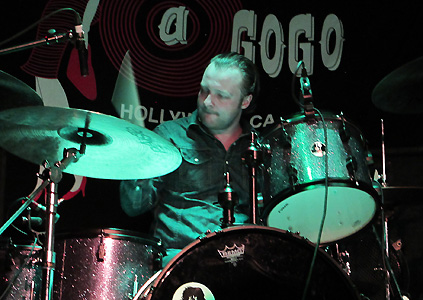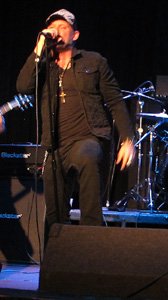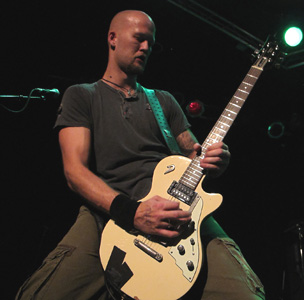 They grab you immediately with their pzzazz and chemistry up there with each member equally owning that stage during their 9 song strong set. Plenty of cool posing on that the front monitor from guitarist, Henrik and overall exuberance from an extremely tight band. Everyone here loved what they did up there with highlights including 'Blessed Be My Child' and the southern sounding 'Just Gettin' High' & the 80's Hard Rock of the moderatley paced 'Bleeding' - think ballsy Firehouse with powerful vocals, especially in the chorus from the rest of the band.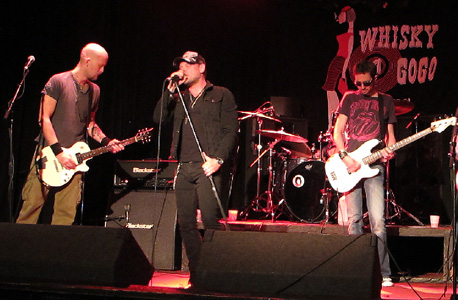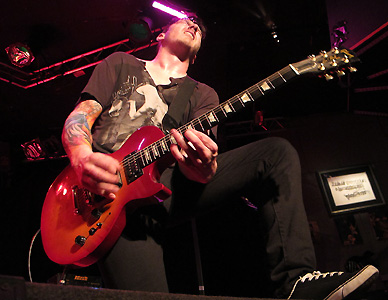 Their frontman, Ditler thanked everyone for coming and they left us quite aptly with 'The Last Goodbye'. These guys deserve to go far and I personally think that with a couple of strong support tours in the UK and USA, they will be bulleting those hard to get through walls, making an impact that will leave a mark on you forever.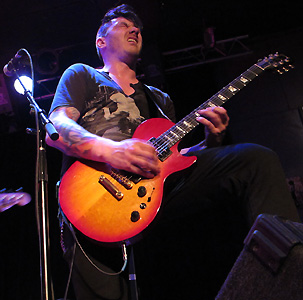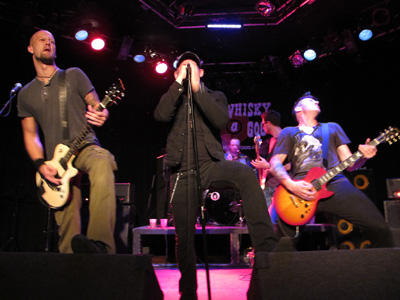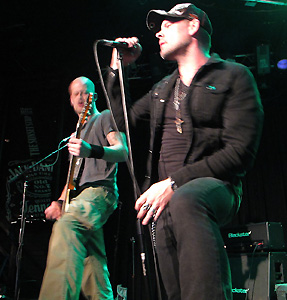 Outstanding find and so pleased I checked them out.
10/10
By Glenn Milligan
Skin & Bone - The Plug, Sheffield, Saturday, 2nd June, 2012
Set List: Let it Rain/Revenge Mile/Better Days/Walking Shoes/Burn the Blue Sky.
I remember seeing some of these guys when they used to be called Tara's Secret but they've heavied up lot since then to appeal to a bigger range of audience - rightly so too I may add.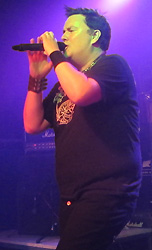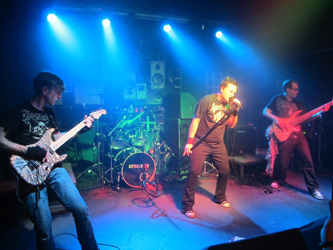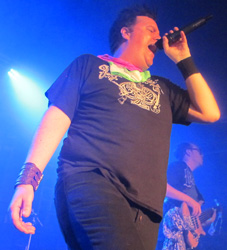 Anyways, it was the first gig I have seen since returning from the USA and the band were in the line-up tonight as part. Skin & Bone played who us a five strong song set that everyone in attendence took an instant liking to and no doubt had never heard any of the material before in their lives. It was incredible to think that this was indeed the bands first ever show - it was as though they'd been together a real long time since they were so tight and together.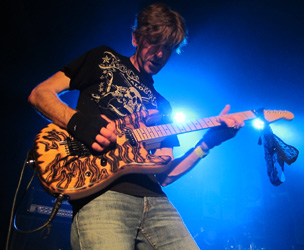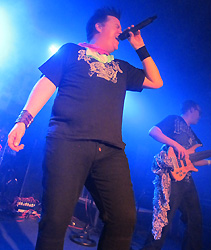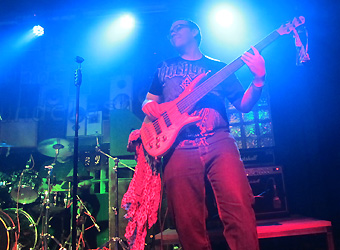 As Frontman, Johnny Trowbridge puts it himself, "The set was cut short due to Richie's amp blowing at the start! We were gonna finish with a Chickenfoot song. But hey, we still had a great time". They even had fans throwing girls panties at them which I am convinced the band actually bought especially for the night but hey ho - hahaha. It was a great spectacle to see all the same and maybe they may be from groupies in the crowd one day for real.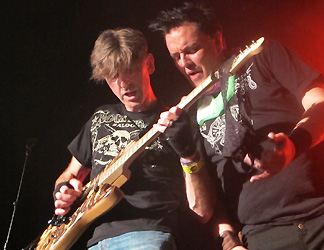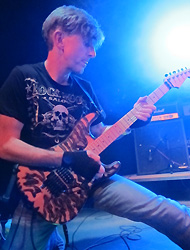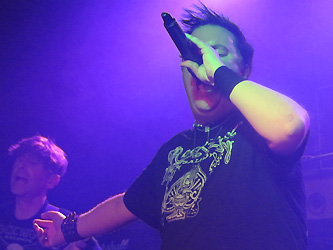 It really was an ejoyable show and the sound was exceptional coming from and around that smallish stage with laughs and smiles coming from each member of the group. I am looking forward to seeing a full length set from the band in their own right with no unwanted explosions. Highlights of the set included the powerful chorused 'Revenge Mile' and the ballsy as hell brilliantly riffed 'Walking Shoes'.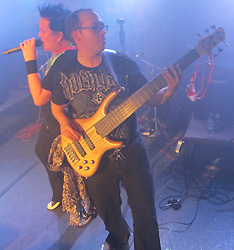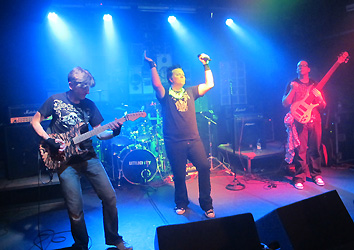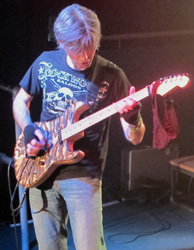 As Lead Guitarist Richie said, "It was the first time in a very long time that we were a band! Here's to the future!!". And what a fine start it was too.
8/10
By Glenn Milligan
Keith St. John's 'Hard Rock Saints' - Whiskey A Go-Go, West Hollywood, CA., USA 4th May 2012
It's a hop over to The Whiskey A Go Go after witnessing a good handful of songs by another band at The Viper who are playing at the same time - I hate being split between 2 great bands but what the hell can you do??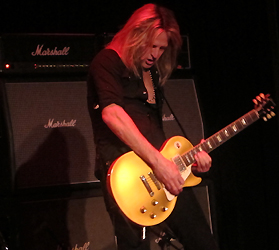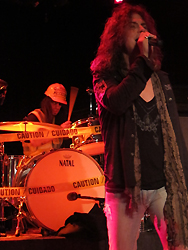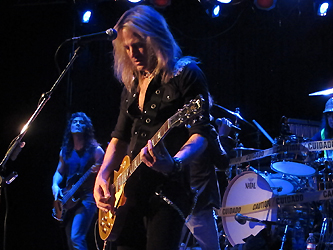 Anyways, I literally found out about this show while bumping into a long-term pro-muso - friend in the 'bow- and before you ask, no I ain't name dropping but check out his drum work on the brand new Tuff album - there ya go bro - a little plug right there to a T!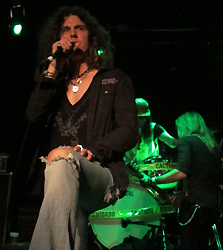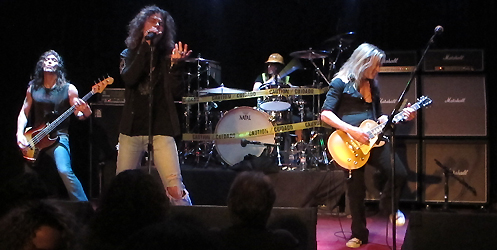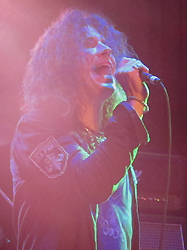 Now, Keith St. John, holy sh*t - now ya talking - I last saw him when he was fronting Burning Rain at a Now & Then or Z Rock Show many moons ago who since then became the frontman for the sadly just left us, Ronnie Montrose.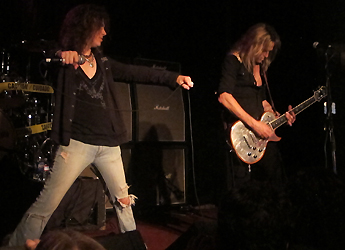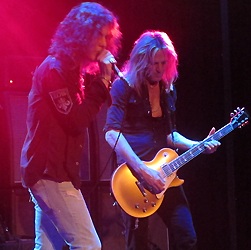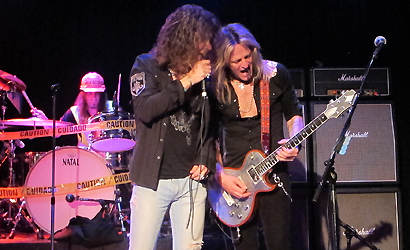 And who is backing him or should I say making up this supersonic unit - it's none other than the current members of Whitesnake comprising of Doug Aldrich (Guitar), Michael Devin (Bass) and stick-genious, Brian Tichy on drums who is a man at work up there in his hard hat!!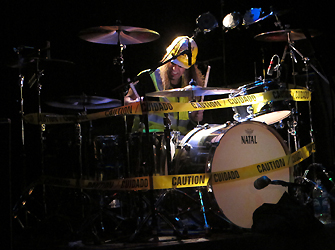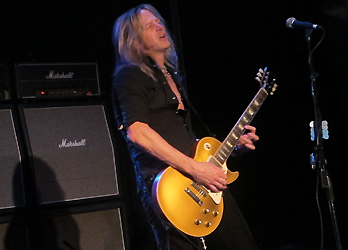 Okay these named, dare I say it, future rock icons are playing for us a massive slection of songs by bands that they have been been part of in the past and also now in. They delight us with songs from Foreigner, Whitesnake, Led Zeppelin, Montrose and much more with Mr. St. John introducing each member and their association with the band and song that are to perform next making it very cool as you had no idea what song was gonna be brought up to the stage next. Highlights in the very long set included 'Candy'; 'Jukebox Heroes'; Space Station No. 5'; 'Crying In The Rain' & 'Immigrant Song'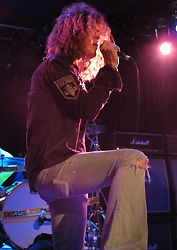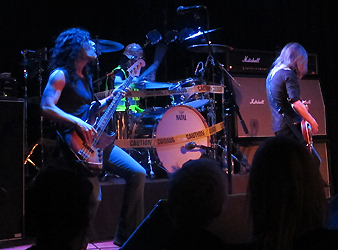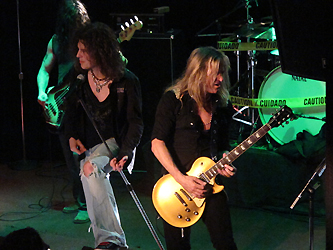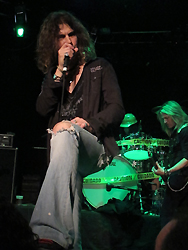 Keith is a vocal chameleon and has no problem wrapping tonsils around stuff that was set in stone by the likes of David Coverdale and Robert Plant. Other highlghts included a funked-up Moby Dick that Devin started delivering to us first before we were entertained by a 15 minute or so drum solo from Mr. Tichy. And how can I forget that tear jerking slide guitar playing of Mr. Aldrich (who by the way, was in Burning Rain with Keith).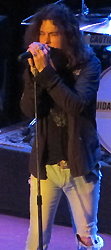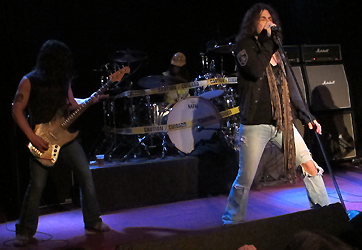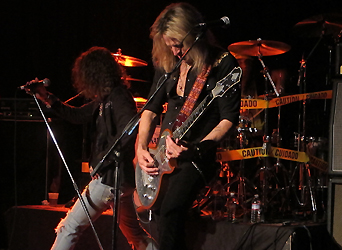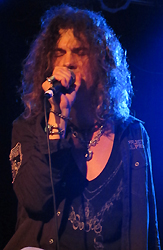 What can I say, a throroughly phenomenal show by 4 guys who are the cream of the crop in all things Hard Rock!
10/10
By Glenn Milligan
STONE RUN/Gotteri/Cruel Acrobat - Corporation, Sheffield, Friday 20th April 2012
Last year three of Sheffield's most hardworking metal machines shared a triple bill to beat them all. Here on in 2012, two of the aforementioned get landed slots on back to back evenings, so two of the three isn't bad… the third compensated with the fact that they are headlining on their respective nights at the Corp.
Tonight's leaders Stonerun have comes a long way in only a year with a full album written and ready although their two support entries are immediately acts to follow, themselves. Cruel Acrobat, featuring singer / guitarist and bassist Gareth and Joe Jones - brothers of 'Run roarer Tommy - take off hard with a tasty brand of keyboard laced Britpop/grunge noise that instantly sounds nice. Sadly only twenty-eight minutes to play with, they play it brilliantly and infectiously.
Good guitar consistency and vocal melodies at slow to medium pace instead of sped along in student-pleasing wannabe fashion make them a fan in me and many other people on the floor, fifty-plus already taking up the Corp's little room. Rippling solos and unexpected pace changes set this lot in perspective for the spotlight, armed with material that even fails to bore the fans of the following two acts, Smiths cover at the end specifically included. Do it again soon lads.
Some tears were close to being shed when In The Name Of abruptly fragmented two years ago. Or did they in fact . Three fifths of ITNO's final incarnation soon magically reappeared together under the tag of Gotteri, (bassist Dave's surname for the uninformed) . Torturously hard as I have to say this for what were such a promising great band, they do well from one prospective not to look back beyond this point. Gotteri give it more welly than you'll find in a gardening shop, right from the off.
The acquainting of new rhythm guitarist Adam has shifted them an entire span along the plank, though this is not to ignore the creations of illustrious predecessor James Cutts - who would have given his house to have got involved in the penning of these belters. Steve Baranovich meanwhile still remains the ultimate British showman, strutting, screaming… and stripping… in his unmistakable oh so hard rock manner, taking to the top of the amp stack to afford a view of those still hiding at the bar. Long time mucker Russ Parker meanwhile continues to serve up the solos to the new grittier and absolutely one hundred percent in your face approach take on rock n' roll attitude.
Think Van Halen being intoxicatedly clobbered by Buckcherry in a bar room khazi and you come rapidly close to what you will expect - they don't need even half a minute, let half an hour to show you what 'Do Without', 'Don't You Call This Love' and 'Long Time Coming' will do to hurt if you dare turn away. An inevitable ode to those reluctant to move on, the guys end the night on an audience pandering high via 'Remember My Name' which I am assured is a Gotteri original though it houses a frighteningly over-familiar harmony form somewhere... and I think many will remember Gotteri's after tonight. Blinding!
StoneRun are back… as if they ever went away. Back - to translate as once again headlining on the Corp's consecrated boards - and bigger and bloody heavier than ever before, that's not to mean they gone for a Sepultura approach. With a new full-length record on its way…sometime this year hopefully … the Run revitalised their already vitalised visceral grunge metal delivery. Still, opening with 'Second Skin' the very tune I've waited two years to hear them play live is to apply the crucial fluid that fires up the StoneRun engine this evening. One of only two numbers surviving on the set, from their brace of blistering eps released in 2010, the eight numbers that land either side of them proceed to make these sound like mere demos.
Their newer material is mightily deepened in driving grunge guitar, especially 'Battle for Status', 'Black Box', 'Slow down' 'Head Cage' and new single 'Silver' sounding like they've been sat on the set list hidden under false names all their career by their clattering reception. Not that it stops bassist Tom George from jumping back and forth like a certified loon-case behind the rest of the boys - spring-heeled boot manufacturers would do wise to sponsor this outfit on future tours.
Senior shredsman John Gilmartin still towers over everyone in both performance and presence, say bar Tommy Jones who draws level in his own distinctive way, delivering the angst and anger in his own not entirely grunge, not entirely hard rock kind of way yet the inevitable Baranovich-isms are still there. So are StoneRun, even after leaving, and without an encore their rhythms are ringing in your ears for the night, almost over their chorus hooks. Still lat only 45 minutes a time fro these lads, they tear the room up and leave only the toilets safe to hide in…until they catch you still there. I personally advise you stay facing the stage and taste the Stone in future. Tonight, they not only proceed to take off your second skin but lacerate the first one to considerable shreds into the bargain.
Awe-some!
10/10
By Dave Attrill
Steel Panther - House Of Blues, Sunset Strip, Hollywood, Ca. USA, 5th April, 2011
Well it's been a while since I last saw the flambouyant hardest working band on the strip - or is that World as they say themselves? Good to see that they've dried off and re-applied the make-up again as them and us got drowned at the Download Festival in Donington, UK last year - good old unpredictable British Weather.
Now the tables are reversed and it's a Brit taking it all in again in LA! - this time though it's a change of venue as I previously saw them take the stage at The Key Club about a mile up the Blvd. It's back to the classic cover tunes for these shows with a few of their own thrown in for the hardcore Pantherites. After a triumphant intro as ever they metal right into their album title track gem that is 'Death To All But Metal' that appears to be a live staple of every gig that they do. The horns are in order as ever, not to mention plenty of laughs and singalongs to the eventful lyrics - you'd do what to Britney's Butt? - classic!
It's the longest outtro at the end of any song I have even seen done by any band with a sh*tload of bouncing off the drum riser and chatting endlessly about the attributes of each member and their members as well as often as humanly inhumanly possible. When they eventually get around to the next song its down the cover route of hits by bands like Bon Jovi, Guns 'n' Roses, Poison, Motley Crue and Van Halen. But it's not like watching your average 10-a-penny bar band as the Panther put on one hell of a note perfect and humourous entertaining show that not many are able to match.
They have been around for a couple of decades though and play up to the crowd constantly. Michael Starr's sick and slick cheekiness and charm combined with Satchel's quick-firing verbal bullets and bravado are a winning formula that's been tuned to a priceless cut diamond standard and get away with utterly murderous accusations, sexually explicit remarks to just about every woman in the house and they and us love it. The fans and crowd overall make the show as much as what the band do with lesbian chicks makin' out onstage, much to everyones approval - the band support gayness in this form - that's for sure - in fact two of the chicks are getting married as well and no doubt Steel Panther would like to be invited to their wedding night complete with video camera and various other useful objects.
Then there's the big chubby black girl with the hugest pair of....... more tea vicar.... and just doesn't want to keep them hidden from anyones view. If fact the band were so impressed they kept her up there for a long long while - well no one complained. It was boobs galore but one lady refused to get them out - much to everyones dismay in here tonight - Satchels especially. As always happens at one of their shows, there is always a special guest - this time in the form of a dude with a kick-ass tight mullet who is a dab-hand at playing one of them keyboard things where they can pose like they are playing guitar - some you will remember those things played by the likes of Michael Anthony in Van Halen - funnily enough they give us a red-hot rendition of 'Jump' - a kind of no-brainer song really for an occurence like this with Satchel and him duelling solo's to one another and shredding like m*th*rf*ck*r s as though their life depended on it - in fact they even got this dude to do a leap off the drum riser too.
Lexxxi is as dozy but brilliant as ever with the crazy retarded stuff he comes out yet and still hasn't fully grasped the aspects of life and its continuation fully - a true blonde if ever I saw one - fact that it is universal in both sexes and not just exclusive to women (I am kidding by the way - as it's the hair colour of all women - not just blonde) - ok, so I am kidding on that too - what the hell! - you leave all that political correctness b*llsh*t at the door when you come to a Steel Panther show. If easily offended then please stay away - then again come on down as it's more fun for us all to watch you get appalled and humiliated and even better so on stage.
Stixx is still a real powerhouse of the band and gets to do some killer backing vocals at times but being the guy at the back means he don't get chance the same as the other guys to rile up the crowd like the other 3 guys and is more of the thuderous timekeeper for the court jesters and comedians up front. Satchel gives the guy a break though and plays a long guitar solo medley whereby he plays the double bass drum to the precise tempo to the song without missing a note or beat - something I have never seen done before and I'm extremely impressed with such an incredible feat. At other points in this marvellous musical moment he even managed to play with one hand hammering on the fretboard while the other was terrorising those toms and speeding around that snare and cymbals.
Oh yeah, let is not forget their own songs as well before I get carried away as we are treated to 'Turn Out The Lights'; 'Party All Day' and 'Community Property' although I would have liked to have heard a few more like 'Fat Girl' and 'Asian Hooker' than banter and cover songs - but that's just my personal preference.
All in all, another excellent show from these American Hair Metal Pedallers. Next step - the aftershow upstairs bar for a well needed beer! Now when's that second album coming out.

9/10
By Glenn Milligan
Status Quo/Joe Brown - Motorpoint Arena, Sheffield, Wednesday,15th December, 2010
Well they've changed the name of the venue yet again and it's now called 'Motorpoint Arena' - it's all business.. whatever - same venue all the same lol and will always simply be Sheffield Arena to me no matter what they stick on the side of it. Tonight you don't get 1 Rock icons, you get two as Joe Brown is supporting with his own band. An artist who I 1st got acquainted with via an old 45prm from 1963 of 'That's what love will do', back in the day when he had his Bruvvers with him. Anyways we got a nice helping of numbers on a set that was a friendly and intimate 40 mins+ set where Joe paid homage to some of his past records starting off with 'Picture Of You' and when onto include covers of songs by the likes of Bob Dylan and U2's 'I Still Haven't Found What I'm Looking For' that he'd made his own arrangement of; a cracking version of The Godfather theme on madolin if my mind serves me right and a brillaint 'Hava Nagila' too.
His son Pete gave us a song too and it was great to hear the old humourous classic 'I'm Henry the 8th I Am', not to mention a song from George Harrison's 'Gone Troppo' album 'That's The Way It Goes' that Joe performed at the tribute concert and then later finished the set off with a song that was one of Mr. H's faves - 'I'll See You In My Dreams'. Overall this was a lovely old-time set where Joe changedwhat instrument what he was play a lot, adding plenty of variety to the songs and sound. He also put a smile on everyones face in here, with Joe thanking us for giving him and the band such a great response as he wasn't sure how it was gonna go down since he was used to playing shows in theatres - you could tell how happy he was and we were too. He even came down to watch a lot of the headliner's set too - this guy is the deal and one hell of a down to earth one he is as well.
Main Set: Caroline/Something 'bout You Baby I Like/Break The Rules/Mean Girl/Softer Ride/4500 Times(Shortened Version)/Hold You Back/Beginning Of The End/Mystery Song/Railroad/Spinning Wheel Blues/Wild Side Of Life/Rollin' Home/Again And Again/Slow Train/The Oriental/Creepin' Up On You/For You/In The Army Now/Drum Solo/Paper Plane/Roll Over Lay Down/Down Down/Whatever You Want/Rockin' All Over The World.
Encore: Don't Waste My Time/Rock 'n' Roll Music/Bye Bye Johnny.
The Quo gave us a classic set as ever opening with the ever-present 'Caroline' - well let's face it - it's the only way to go forward ain't it and followed it up with 'Something 'Bout You Baby I Like' that I only just learnt is actually a cover song - I never realised that Tom Jones had a hit with it previously and then one of their own in 'Break The Rules'. As a Status Quo gig goes there were plenty of highlights and not just with regard to the songs either - love the red mother of pearl telecaster that Andy Bown was playing on 'Beeginning Of The End' or the famous 'Mystery Song' where Rick Parfitt was on that gorgious Union Jack Fender Telecaster.
To make the songs more interesting Francis Rossi had a mess around with the lyrics like in 'Railroad' where he changed the odd word here and there but not the tracks. The medley includes faves such as 'Spinning Wheel Blues'; 'The Wild Side Of Life' where Frame says, "I like this one", even now - whether he does really or has got so used to say it, I guess we'll never know. 1986's 'Rollin' Home'; 'The Heat's 'Again And Again' and Quo's 'Slow Train' are still there too for good measures - 12 bar measures at that. During a more recent number 'The Oriental', summat fall from gods which was a bit of plastic or a leaf that added a extra spectable to the Asian babe song which many of us couldn't help watching - lol.
Rick gets to sing some lead next with the firm rockin' 'Creepin' Up On You' but what really made the night was the excellent inclusion of a song that I don;t think has ever been featured on a Quo ever - this being 'For You' - a lovely quiet ballad that comes from 1977's 'Rocking All Over The World' album - it brought it all back fro me as that was the 1st Quo I had in my collection way back when I was only 3. This was incredible to hear and I personally couldn't help singing along with many of the words. I have always the sweet 'n' shortish instrumental section in it - - I am guess this number is a replacement to 'Livin' On An Island' that they've been playing for donkeys. 'In The Army Now' is as good as ever with Letley playing a killer drum solo towards the end of it, while the others get off the stage and releive their bladders I imagine.They are all back on with lighter bladders for 'Paper Plane' with Francis altering a line to, 'What the F*ck will make it clearer' to my amusement and his no doubt.
Those Down songs were in there of course, 'Down, Down & Roll Over Lay Down with a little Rossi solo that brought in the former song - I ain;t ever seen that befiore either - another 1st. Ok they fluffed the odd word in some of the songs but they are getting on a bit and credit to them for not using autocue that many artists of a similar age or younger have been guilty of for a while. During D2, Frame plays with his volume control on the famous green telecaster which scuse the pun, goes down well with the audience. We all know what's gonna happen next when the lights go down a bit and that echoey 1st note of Mr. P's Tele' kick in - man I just love the intro of 'Whatever You Want' - on of them that is even better than the song itself (I'll probably get into trouble for that - oh well, sh*t happens). I usually find 'Rocking All Over The World' the most tedious song of their set but on this tour it's far more interesting as the back-image shows a giant cover the earth with the blue electric current going through it like on the album. Someone appears to be so impressed they throw a christmas pressy on stage - it got us wondering what it was as well.
They encored with the usual threesome and 'Bye Bye Johnny' gets edited down on this occasion though we do get our hands in the air for it and are clapping away. In the past it has usually been played in full with 'Rock N Roll Music inserted into the middle of it but i am guessing it's down to running out of time tonight.. The peeps at the front left hand side of the venue with wigs make day get thumbs up and waves and nods from the band members and I reckon they may have made Status Quo's night as there's loads of dancing and rocking out going on there - cool as! Good things sadly always have to come to an end and the guys bow and wave to us and leave the stage while their christmas song comes on for our listening pleasure.
Another knockout night with the Quo - can't wait to do it all again in 2011!
10/10
By Glenn Milligan
Joanne Shaw Taylor - The Plug, Sheffield, Wednesday, 24th November, 2010
Birmingham born, bluesed & rocked out, 'Joanne Shaw Taylor' piled onto the plug stage with her trio and opened with a strong instrumental that was very dynamic, not to mention agressive with her giving the impression that she was doing the job of two or more guitarists, playing rhythm and lead at the same time with really smooth intricate soloing throughout - something that was apparent for the rest of the show.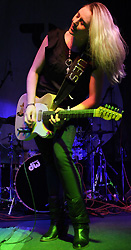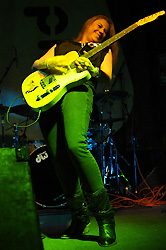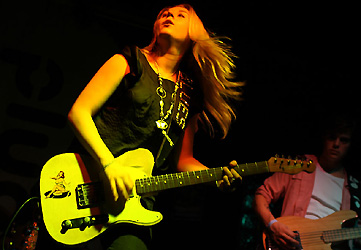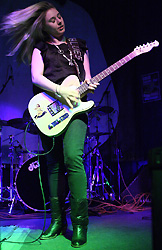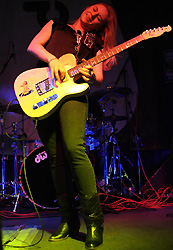 Loved the Southern-like wailer 'Going Home' that was a mighty number and that came around 3rd in the set - it really set the standard and sounded like it had just been dragged out of the Mississippi. "How's everyone doing tonight at The Plug?," she asks early on in the set and gets a loud warm response and tells us she is, "Gonna play the title track from the debut, it's called 'White Sugar' that turns out to be a long instrumental. Later we got the slow blueser 'Time Has Come' also from the said debut that lasted well over 7 minutes but had a superb ending finish to it - they always do don't they those types of numbers! She informed us that Jimi Hendrix was big influence on her and does extended 'Manic Depression' which got my thumbs up immediately as its my fave song of his.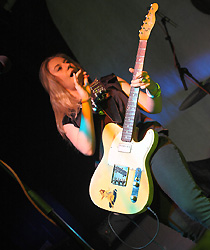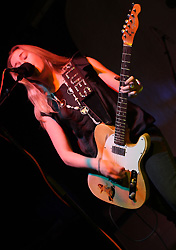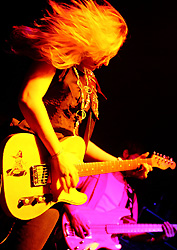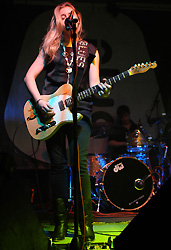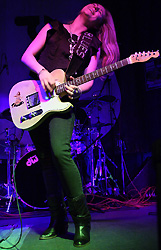 Joanne had a nice touch of flinging her hair over and posing with her head to 1 side that looks really effective and very photogenic as well and like all true blues and rock players she had plenty of emotion while she was playing with a cute little smile when the beauty of the groove met to her approval as well as mixing in plenty of gurns of the face when soloing - another classic touch. There was more rock than blues at times - as Bernard remarked on and I gotta agree somewhat with him due to alot of her flambouyance and intricate riffery throughtout the sold 90 minite set that they did.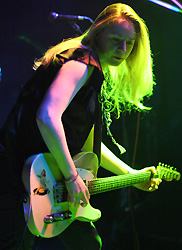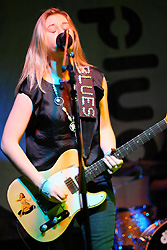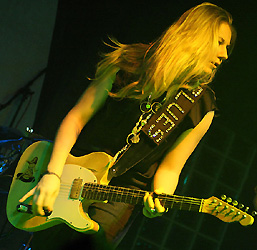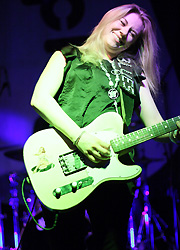 There was 'Thank You Very Much' aplenty from Miss Shaw Taylor after many of the songs showing that she was real appreciative of the guys 'n' girls who had gone out of their way to see her on such a cold night - especially since the concert had switched venues from The Boardwalk to The Plug at short notice. Cool to hear 'I'm Goin' Down' - a Jeff Beck cover - my fave number of his too after Joanne introduced that included a drum solo in the middle of it. She encored with a tune that riff-wise reminded me of 'Purple Haze' by that influence of hers and the fans here dug it. She even went out of her way to do some CD signing after the show. She will no doubt be back to the city soon.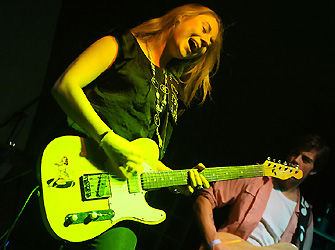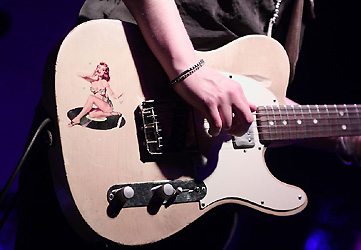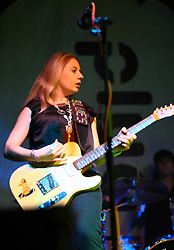 Decent gig of the Rocky Blues nature.
8.5/10
Review By Glenn Milligan
Photographs By Bernard Froggatt
Stonebreed/Aces 'n' Eights/The Thrashers/BJ Robeson/Gramilla -
Whiskey A Go-Go, Hollywood, CA., USA, Saturday, 6th Dec. 2010
Well at last I make it to the world famous Whiskey A Go-Go where anyone who is anyone has graced its stage. Tonight it's the turn of a few local bands who all show how it must be done in order to get noticed on Sunset Strip.
The first one I see go by the name of Gramilla from Anaheim, CA. Their vocalist is a big dude with a mohawk who I am informed is the son of John Carobi (ex-Motley Crue & Ratt), not that he looks anything like him.They thrashed to f*ck in the style of Pantera meets Slayer with real crystal clear vocals. This was a killer 30 minutes from a solid band and great singer.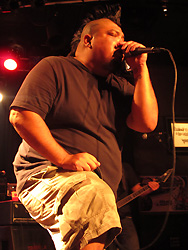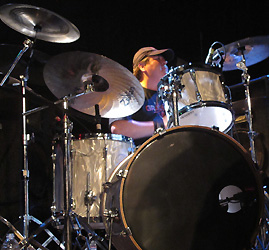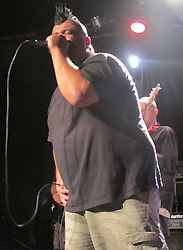 With plenty of strong twistss in the musical arrangements of the slamming at you songs, screaming solos a la Kerry King they are gonna get noticed by the European & UK Music Press very soon.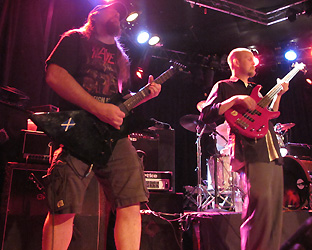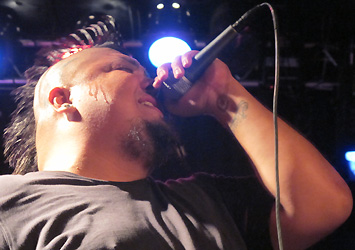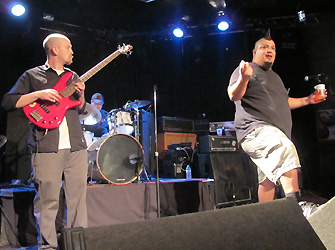 Highlights included a song concerning a window and an awesome number going by the name of 'I'm Down'. Dimebag would well and truly approve of these guys for sure with this making it their 3rd time at the Whiskey.
9/10
I didn't see much of the next act apart from the last number or so because I fancied a chill out at the Rainbow but I can say that MT Robison And The Messengers were a killer rock band with sleazey bluesly like licks with the Whiskey Girls even getting on stage with them which added to the show. I'll definately be checking these guys out as it felt criminal to have missed their set.
8/10
Now here's a band with a difference as the next band, The Thrashers from Pacifica, CA are kids at only 9 and 10 years old and made up of Nick, Bass/Lead Vocals, Chris, Drums, Geddy, Lead Guitar/Background Vocals, Charles, Rhythm Guitar & Brandon, Keyboard/Background Vocals. They come across very Girlschool in their sound and sometimes lyrical content and are totally bad-ass. They had a cool opener about rockin' at the Whiskey and Raibow that got the attention of the peeps here in the 1st few seconds.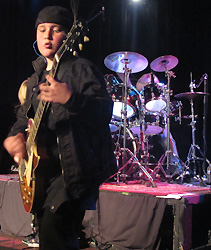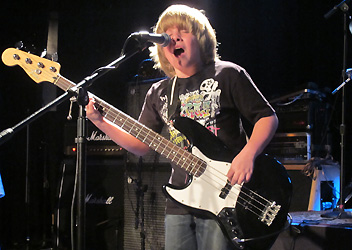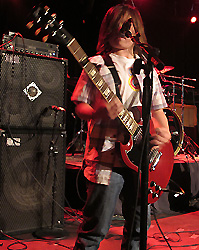 Their presense here is f*ck*n' incredible and they an immense amount of confidence at such a young age. I can see these little men giving major bands serious competition even at this point in their musical career with every single person in the audience warming to their cuteness and full on rock 'n' roll playing and vocal ability.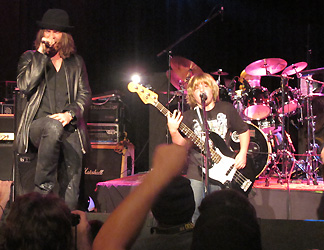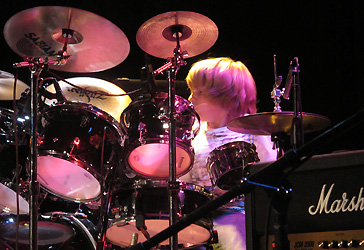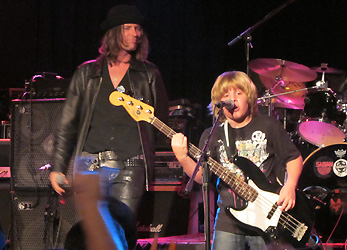 Who knows how good these guys will be in the next 10 years as i was completely blown away by them. The vocalist of the next artists up, Aces 'N' Eights was so bowled over by them that he joined them on stage for a kick-ass cover of The Monkees number 'Stepping Stone' that was ace indeed. Their lead guitarist, Geddy did a marvellous solo of 'Voodoo Chile (Slight Return)' just to add even more to the spectacle, not to mention a drum solo by their stick holder, Chris, that I would have loved my Where Angels Suffer buddy, Stet Howland seeing.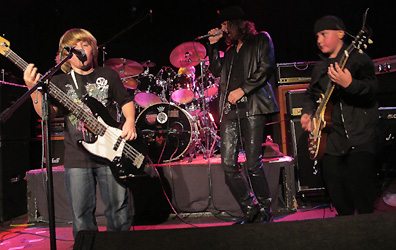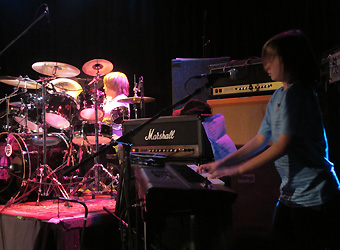 As part of the set and for our amusement too they kicked out a load of giant footballs that are flung, booted and thrown all over the room - and I thought only Rod Stewart did this - hahaha. Utterly excellent band who are bound for big things.
10/10
If you like great 80's sounding rock that the strip is famous for then LA Based, Aces 'N' Eights can do no wrong who remind me of a cross of Buckcherry & Skid Row - not LA based bands but I am hoping you get the deal of what I mean. They go down brilliantly as well with the crowd and some peeps were even lucky enough to catch free copies of their new cd that their frontman was throwing out to them.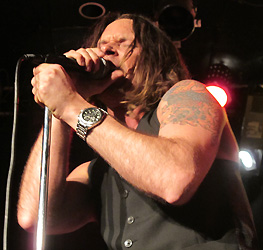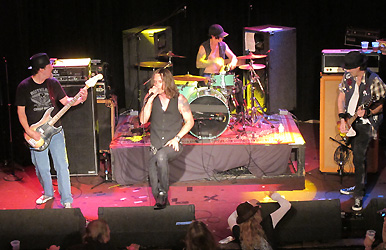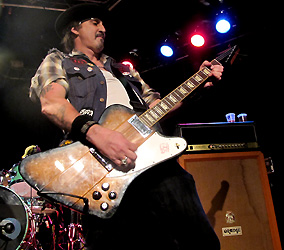 They had a really cool song that the singer dedicated to his sister and went by the title of something like 'Everybody's Shouting' that started off as a ballad and turned into a full-on rocker. A promising band for certain if they can latch onto the UK & European market.
8/10
Headliners, the Hollywood locals, Stonebreed are a full on rock 'n' roll band who combine sleaziness with southerness and pull it off magnificiently.Frontman, Carlos really knows how to work the crowd and thanks them for stopping for their set (as sadly a lot of peeps had left the venue - probably becaude they'd seen the band numerous times or they wanted to catch the last bus home and save forking out for a taxi). Anyways, back to the 'breed.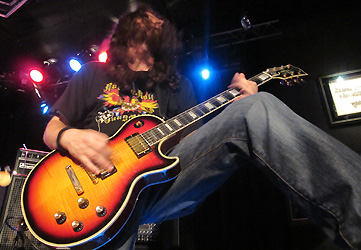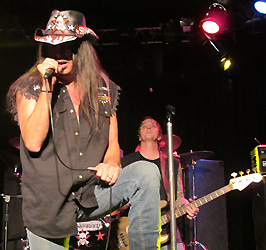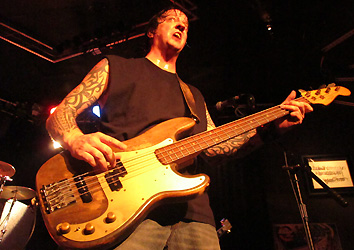 "We are an hour late, but we will still play a 45 minute show no matter what time it is" their fronter says, "Only joking", he shouts up to the mixing engineer in the gods. He is full of character and charisma with Stonebreed performing cool songs about the south like 'Drinkin' Whiskey'; 'Whiskey Creek' and a funny number called 'Buy Me A Dollar' where his buddy, Jay Bacher in the crowd hands him a one which adds a knockout effect to an already moutainous performance.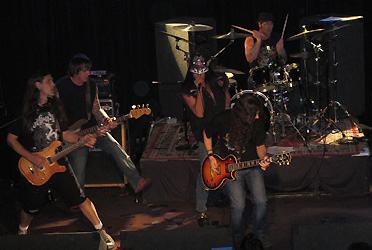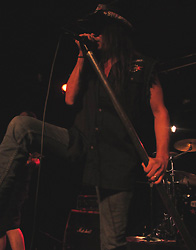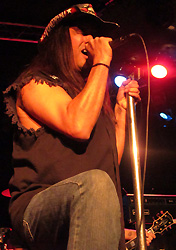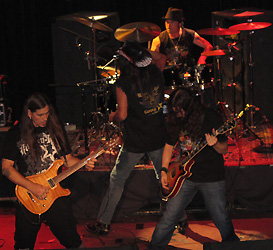 They even do a tribute to Molly Hatchet by playing a Southern song - 'Saturday Night Special' because they don't know an M.H. song as a band unit. "Anything but Freebird", he jokes to us which would have needed a couple of other guitarists in the band to nail properly anyway - it don't work with 1 guitar - hahaha. This version of 'S.N.S' is really ballsy and heavier and to be honest the best I have ever heard it.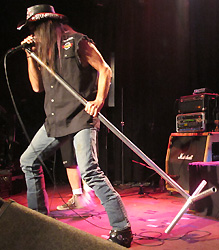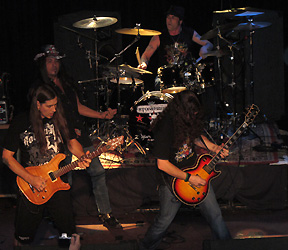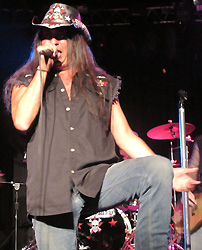 The last number of the night was one which the original band never play these days - this being Def Leppard and the number is 'High 'n' Dry's 'Let It Go' which was a f*ck*n' perfect rendition which the Leps themselves would give a 'Thumbs' up to for defo. So did they have any clue that I am from the Sheffield are or was it just pure coincidence. Love this band and looking forward to seeing them again over here or in the said UK City - next up Joe and the lads cover a Stonebreed song - lol.
Man, this suberb night at the Whiskey leaves me with a great taste in my mouth for future visits to come.
9/10
By Glenn Milligan
Spinal Pap - The Boardwalk, Sheffield, Friday 15th October, 2010
I originally heard about this band from a buddy earlier this year, since they played a venue further up town and being a fan of Spinal Tap it was a no-brainer that I had check out this local premier UK tribute. What got my attention immediately was that this wasn't your typical tribute show where all they do is come on in wigs and costumes and play the original bands songs - these guys were fully choreographed with actions, mirror-image personalities of the 'Tap members themselves plus some cool stage probs to make it even that more authentic.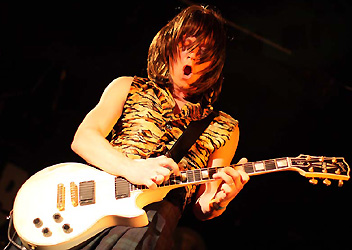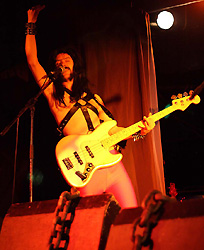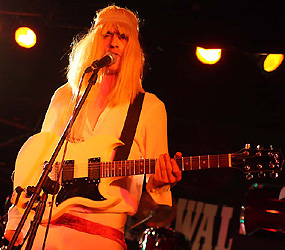 They open with a really pro-sounding introdction thats even got that cheesey well known circus theme and then burst onto the stage - seconds later though we get dudes dress as cops giving the bassist, Derek Smalls a hard time and in good old Spinal style recover a large metal member from down in his tight bright pair of trousers using a tuning fork - classic. They begin with 'Tonight I'm Gonna Rock You Tonight' that's complete with over the top posing, bad guitar solos withe dodgy notes - just as you'd expect purposely from the genuine band.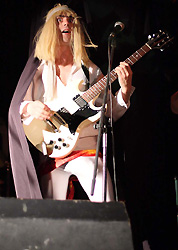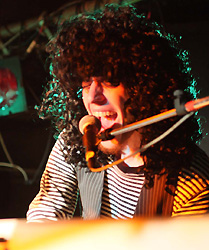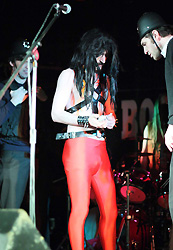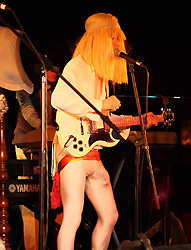 Hello Mansfield is our greeting - well at least it's closer than Cleveland. Good to see that the Pap are including some songs from the 'Break Like The Wind' album with 'Bitch School' being one of them - 'I'm gonna send you back to bitch school' (and you believe every word as well) which a lot of us just can't help singing along to -as we can't to many of the numbers performed or is that murdered (as Spinal Tap did) back in the day.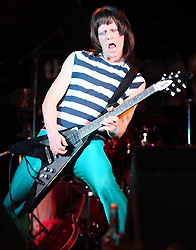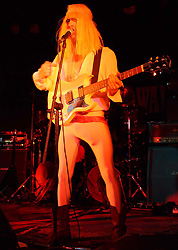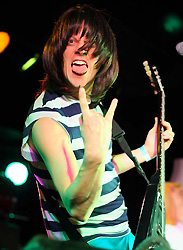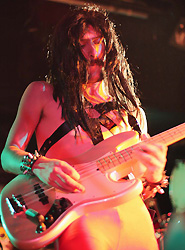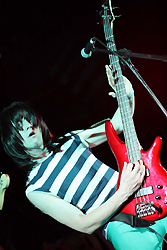 It's back to the glory days with 'Big Bottom' that has two basses played onstage to add extra bottomness and authenticity to the booming (or is that bumming) number - yep she's still got em after all these years. There's plenty of solos as well with each member getting a chance to shine or is that tarnish (in the true Tap way) - their drummer plays a good 10 minute solo and proves that he's one hell of a stick merchant.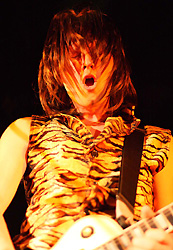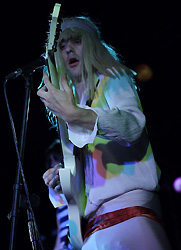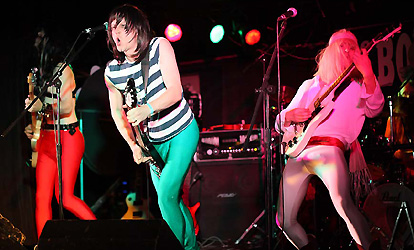 He shows that he can incorporate a lot of syncopated jazz playing into tradition rock rhythms and adds in comedy by simply hitting the cymbals and silencing them with pure anti-climax humour. He even gets so fast and tchnical that he falls off his drum stoll and crashes to the floor without the need of a horse or elephant tranquiliser. Now that's funny - with the rest of the band looking round as though its just the normal way that he finishes his solos all the time.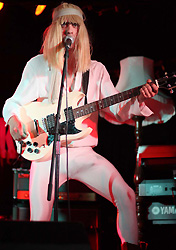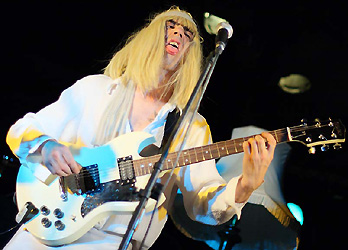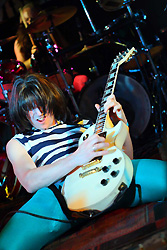 Nigel's solo came as a comedious venture via a big wheel with an arrow that pointed to various rock guitar gurus whereby we got Van Halen's Eruption when it was pointed at Steve Vai, a bit of Jimmy Page and a rendition of God Save The Queen when it pointed to Brian May - talk about cop-out - hahaha - classic. The keyboard players purposely wasn't a really a proper solo but simply snippets of well known numbers that were associated with the piano and keyboard - most notably the intro of Queen's Bohemian Rhapsody and The Final Countdown by Europe etc - completely cheesey but fitted the outfit perfectly.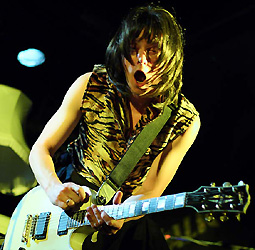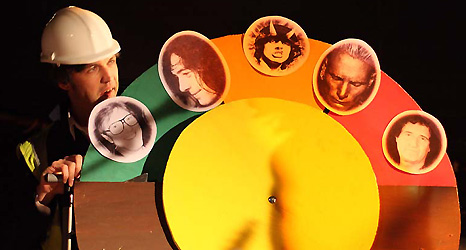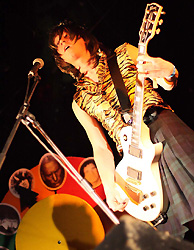 We get an adaption of the Cocoon sequence during 'Rock 'N' Roll Creation' as well and instead of Derek being stuck in, like he is in the film, he doesn't appear while the band are onstage and instead an array of people come out of it that reminds me of the old school tv show Mr. Ben. Finally though he appears at the end of the song when the rest of the guys have gone off stage and gives us a bit of a bass solo if I remember right. Good to see that Spinal don't ignore the Ferrymen numbers that come complete with a dancing girl at either side of the stage, with the guys looking all psychedelic for us on of 'Listen To) The Flower People' & 'Gimme Some Money'.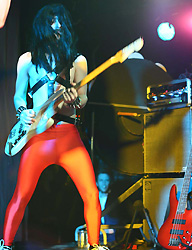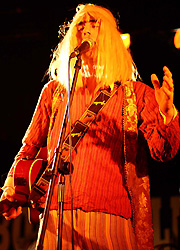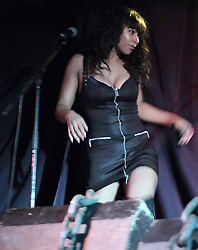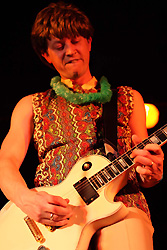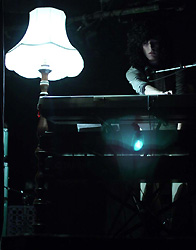 Other songs outstanding songs in the set also included Cups & Cakes, 'Sex Farm'; the acoustic epic 'All The Way Home' and of course the ultimate of the ultimate 'Stonehenge' (complete with mandolin section) where the guys dressed as druids and the keyboard player and drummer wore viking helmets just like in the film itself. There was even a guy kinda dressed as Stonehenge with a notice of him reading 'Stonehenge' - what's this - a long trip wire appears going down from stage right and lo and behold we get an 18" Stonehenge piece - that's the f*ck*n' coolest prop ever!! They finish off the main set with one of my faves 'The Majesty Of Rock' from 'Taps 'Break Like The Wind' album before encoring with the opening number 'Tonight I'm Gonna Rock You Tonight' - man I could watch this whole show again.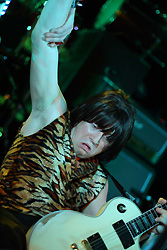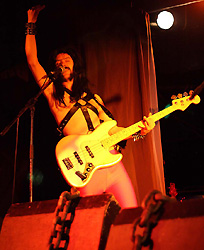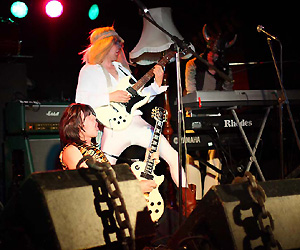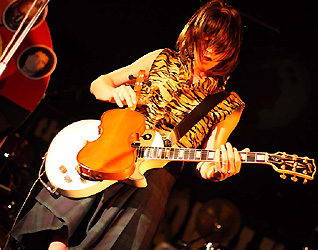 You'd have never guessed that this was only their 3rd ever gig as it was simply incredible due to them having so much going on throughout the entire show - this band could seriously go far on the tribute scene and be just as big as Limehouse Lizzy or Live Wire and being part of major festivals on both a National and International Basis.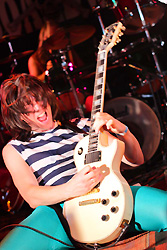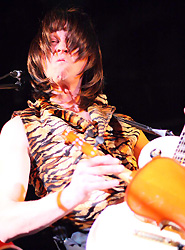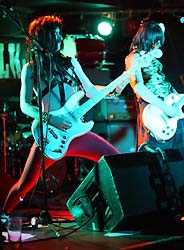 This review goes up to 11.
11/10
Review By Glenn Milligan
Pix By Bernard Froggatt
STONERUN/G . U. Medicine/Awooga - Corporation, Sheffield, Friday, 1st October, 2010
Last time I saw these chaps, it was one autumn night in 2008 at the Casbah. The artists formerly known as Flatline have changed name, half a band and most o f their sound in the intervening two years up to my final re encounter.
With a massive local reputation and national popularity well in flower already, bands appear to be queuing to support these chaps, hence they get three bands to warm up proceedings this time. And I go and miss one of them. - clever, Dave, but at least I manage to catch the other two. Awooga , already a much mentioned name on Sheffield venue bills grate for the first half of their half hour. Prog-meets-stoner-meets grunge noise with much substance lurking within, it takes time for me to savour any of it, no thanks to a poor sound output, especially where the mike stacks are concerned but by the end I'm a bit .. when I realise they've finished.
6/10
One is then finally introduced to the excellent GU Medicine for the first time and these guys are no struggle at all to get my teeth into. A four-piece HC/punk metal act, with acceptable scream core edge peppered over, they really hog my attention from the off, unlike quite a lot of bands of the type nowadays. A powerful twin guitar and dual lead vocal sound comes out instantly well and whacks us round the mush and they have hooks too, a first for ages in this department, I'd think. A great stage presence by the bassist who emulates practically every classic 80's rock pose about 200 times over throughout the set the lads aren't exactly starved of charisma either. Medicine that goes down without spoonful of sugar required, I must try to catch these guys headlining very soon -half an hour was simply not enough.
9/10
Headliners of tonight in focus, StoneRun advertise their apparent change to a more metal -oriented accent very well, with a manic burst of synchronised headbanging, as 'Cradle Me' kicks off . Promoting the release of their third 4-track eP in the space of just over a year and a bit, everything from it , aforementioned rocker included features on the set and the crowd, both general public and band families alike love it from go.
Treating it as a crime to draw breath, 'Broken Promises' keeps everyone on their toes straight behind. Tom George, who has acquired a spankingly decent new red Explorer bass since last time never appears anything less than smiling either while fellow Flatties mainstay John Gilmartin synchronises his grimaces with the grooves as ever he used to. Tommy Jones shows stage presence to be every photographer's nightmare as he throws himself incessantly left right and centre - their current frontman has 'star ' branded right across his forehead just as much by this as his powerful young voice and as a bonus a very similar persona to Mark Wahlberg's alter ego from a certain 2001 hit metal movie . 'Open Air' and 'Don't Blame Yourself' are very much the clarified crowd pleasers, lipsynching abundant in all the front seven rows. Breaking the momentum for a chat about t the availability of their 3 Eps at the merch stall, amongst other stuff, 'Tainted' is another excellent newie and sees Tommy display his true stage dementia as the 'What I needed most, what I needed most…' hookline attacks.
There's something in the water, as the title of the following tune literally reads, and all five of these chaps have drank it sometime lately , this ballad being one of their most angst-propelled cuts to date. Whilst the final brace of numbers gets only more intense so too does the heat, Tommy gradually de-layering himself song by song by song - rock n' roll does tend to do that to you mate- but 'This Is Real ' and 'Into The Ground' seem worth it. John's dreads seem dripping with the old 'S' liquid by this stage but the punching rhythms direct it across the barriers at the punters. Asked if we want another, the crowd's answer of 'yes' brings us 'Disease' the fourth and last track from their newest spinner but sadly it turns out to be the ninth and last track of their short set tonight. Sadly no reappearance to belt out personal fave 'Second Skin' , I've heard enough to know that the second coming of an already strong Sheffield rock n' roll machine has justified the interest Stonerun have earned over the past twelve months. Flatline may have been far as it got from flat themselves, but Stone Run are more of a stone-thrower … anyone who intends still to ignore them from now may end up having one land on their head from beyond.
An excellent, if short show - I look forward to hearing these chaps again soon …preferably without another two years wait in the way this time.
9/10
By Dave Attrill
Acey Slade & The Dark Party/Obsessive Compulsive/Choker - Corporation, Sheffield, Monday 27th September, 2010
The nights are drawing in and it's wet, dark and cold and we all got Monday blues -well I couldn't do nothing about the weather, but livening up the night was a real possibility. I have been meaning to check out Choker way back when their name was longer, but sadly never got around it it. Time to make amends, especially since the last review from a departed reviewer wasn't too complimentary to say the least.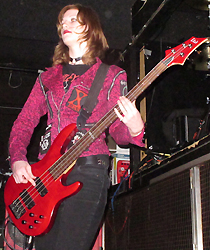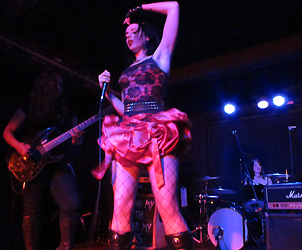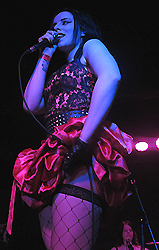 Choker fronted by the cute and wonderfully charismatic Ivy Midsomer who has a killer shrill voice on her and then there's the red chunky tutu that she's donning too. Their material is kinda like a mixed bag of punk, sleaze and newer sounding metal being straight to the point, abrasive at times and taking no prisoners. I loved their cover of theirs - a fave of Ivy's that she apologized for - a kick ass 'I Wanna Be Your Dog by Iggy Pop & The Stooges that pleased all in the room - wonder how many would wanna put her on a lead... ...more tea vicar!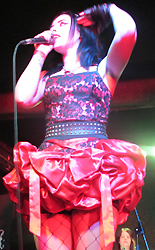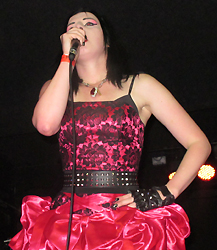 Their set lasting about 30 or so mins was an enjoyable affair, with plenty of Smirnoff Vodka swigging from Miss. Midsomer. They played material from their 1st album and forthcoming new cd as well including their forthcoming single about drinking and sex - 2 of her favourite things. There's little wonder why so many people cram the small live room as these girls have definitely got a strong local following and rightly so too.

Up next was a Manchester based band who are actually guilty of sending us Cd's to review - so now it's the chance to check 'em out live to see what all the fuss is about - Obsessive Compulsive is the outfit I am talking about who are pretty damn brutal, who again, like Choker have a female fronter. Real tight they are too and play songs from their last few E.P releases and go down extremely well with the Acey Slade fanatics. They remind of artists like Tairri B and Evanescence but miles heavier.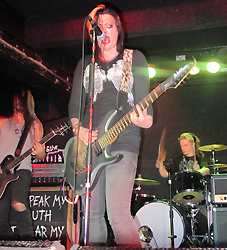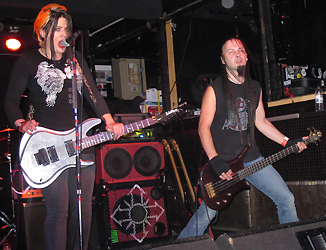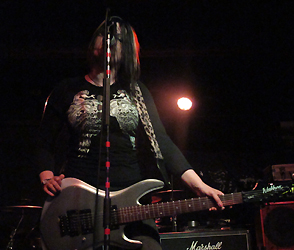 The atmosphere was excited for tonight's headline act, a dude I last saw a few years ago fronting his 'Trashlight Vision' who was now back with The Dark Party - Acey Slade - a man whose treaded the UK club stages for a good while and created a steady following of fans that date back to his Murderdoll days in the early part of the millennium.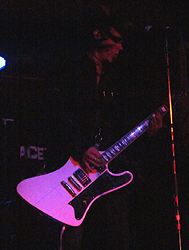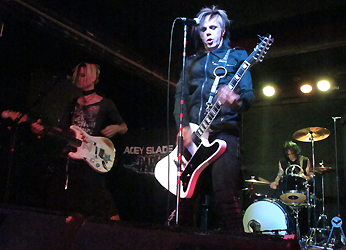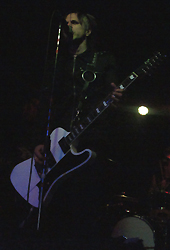 The new outfit comes across with plenty of flamboutant glitz and a supreme standard of songs from the recently released self-titled album on Trashpit Records that was actually available to buy on the merch stand - hope they sold a fair few as well since the songs have strong hooks and well-crafted arrangements. Live, these songs transfer well with a small keyboard thrown into the mix to add that extra spark needed at times to match up to the mark of the album.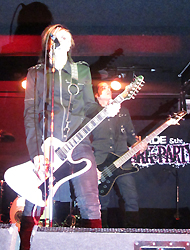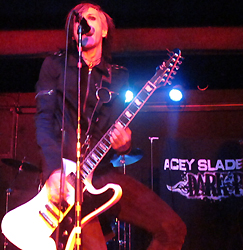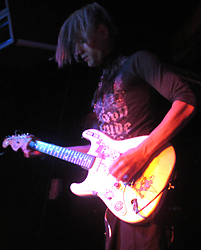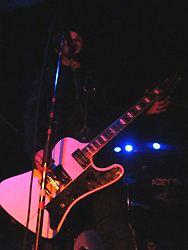 Acey's audience love the new material and they even get the cover of The Cult's 'She Sells Sanctuary' much to their joy. The band members are all decent vocalists as well and back up Mr. Slade perfectly throughout the set - even taking on lead throat as well. There's boundless leaping around on the stage with the main man getting onto the speakers either side as well as getting down with the crowd at the end of the proceedings. Other highlights of the set included 'Sugarcum'; 'Plastic Lego Queen'; 'Bad Apples'; 'Coming Down' and 'Reptile House'.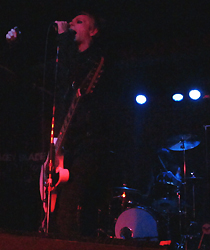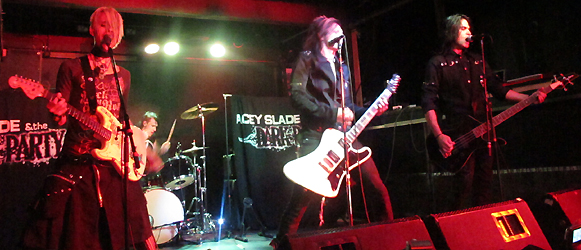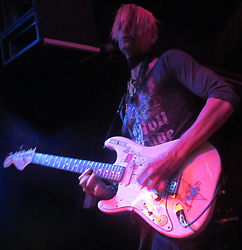 Excellent is not the word - this was exquisite - Acey's come on brilliantly in the last few years - credit to him - wish he could get to play the big room some time. That's up to you people out there to do your duty and buy the tickets!
10/10
By Glenn Milligan
Rod Stewart – Sheffield Arena, Sheffield, Tuesday, 20th July, 2010
Set 1 - Love Train/Tonight's The Night/Forever Young/Some Guys Have All The Luck/You Wear It Well/Having A Party/This Ole Heart Of Mine/Downtown Train/Rhythm Of My Heart/Have I Told You Lately/Handbags & Gladrags/Proud Mary (backing vocalist)/It's A Heartache/Sweet Little Rock N Roller/ I Was Only Joking.
Set 2 –
Same Old Song/Rainy Night In Georgia/Twistin' The Night Away/D 'Ya Think I'm Sexy?/Soul Finger (Instrumental)/First Cut Is The Deepest/I Don't Wanna Talk About It/Your In My Heart/Hot Legs/Maggie May/Sailing.
Encore – Baby Jane.
This was a completely sold out night in Sheffield for the legendary Rock Icon, Rod Stewart – something that doesn't happen too often in these here parts of the UK.
The music got us in the mood before the great man hit the large stage with a recorded intro of the 'Stripper Theme' (that he's been using for many decade or 3) with his giant soul-rock outfit of a band firing it up with a medley of the instrumental 'Time Is Tight' that sequed into 'Sweet Soul Music'. Then here he comes strolling on, the man we've all been waiting for, Rod Stewart, whose dressed in a plush white shirt and jacket coupled with a top quality pair of black trousers. It's straight into 'Love Train' from his latest album of Soul classics entitled 'Soulbook' before we get the 1st of his own penned masterpieces 'Tonight's The Night' from 1976's 'A Night On The Town' where lets the audience sing some of the main lines of chorus which is a good way of saving the voice as there's some hard 'n' high notes in this number. He tells us that, "We're here for 2 hours and we've got an interval – let's have some fun".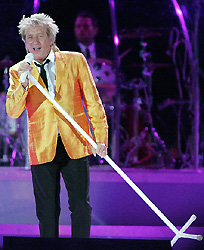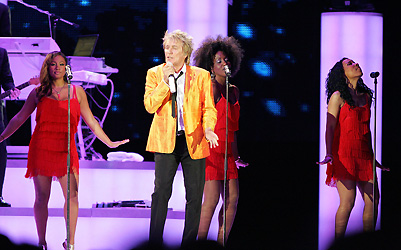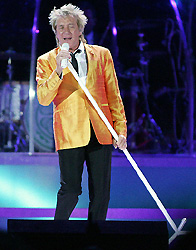 The Poppified 'Some Guys Have All The Luck' guarantees getting everyone clapping and singing along. His Backing vocalists help him out on the higher sections but are sometimes a bit loud in the mix that sadly drows Rod out – much to my dismay. 'You Wear It Well' sees him take it easy so not to wear out early as there's many more songs to go yet. It's back to the Soul Sounds and we are 'Havin' A Party' and onto the Isley's Brothers 'This Ole Heart Of Mine' with real nice backdrop filled with hearts – man they surely know how to impress.
Now Tom Waites is an ugly bugger but a great songwriter Rod tells and continues 'You can't say that' – you just did Rod – hahaha.. The song in question is 'Downtown Train' – one of Waites finest compositions (though you couldn't imagine him singing it personaly) that comes complete with a drum solo in the middle with 2 drummers while the rest of band change their costumes and have a breather. The bouncing ballad 'Rhythm Of My Heart' gets people clapping again and I notice that his voice sounds stronger after through having a few mins away from the stage – a pity that the backing vocals are still placed placed a bit too loud in the mix at times. The female backing vocalists also get their own little spot and show what their voices can do individually much to the delight of the fans here tonight. 'Have I Told You Lately' features guitar and violin solos – it's good that Rod lets his band shine in their own right as well though no doubt some will say that they are gonna be top notch or they wouldn't be playing with Rod in the 1st place.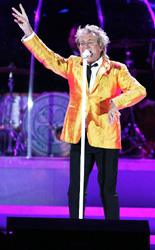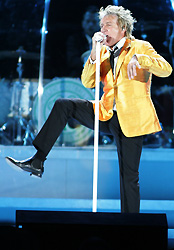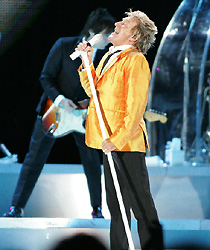 "This is a song I wrote in 1969 and its 'Handbags & Gladrags' time with a backdrop of streets and houses and young kids in vintage brown sepia. Rod is bang on and doesn't go too high on it. He jokes that it p*sses him off that he hears the song regular on the radio but it's never his version but always The Stereophonics cover – though says they are a great young band. Hang on a minute, he's vanished off stage again – he must need to empty his bladder – I know that feeling – hahaha and gets one of the girls to sing CCR's 'Proud Mary' – the Tina Turner version of course and rejoins the band for a cover of Bonnie Tyler's 'It's A Heartache'. Easily the best part of the 2nd half is when they perform his Dad's favourite song 'I Was Only Joking' hence his late, great Father being even mentioned in the 'Footloose & Fancy Free' closing number from 1977. The backdrop shows assorted pictures of his Dad who is sometimes there with Rodders – it's really touching stuff to say the least. To involve us even more he changes the closing line of it to 'I know my friends here in Sheffield understand' – we surely do mate.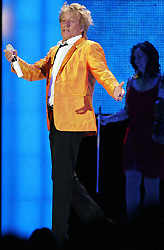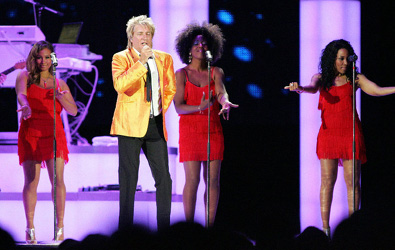 After the Interval with the queue for the women's toilets that was about a mile long hahaha the second half starts with the 'Same Old Song' from the Soulbook album which does wonders with the crowd – especially since it's served time on radio – well Radio 2 at least as I don't listen to any of the others to be honest ith you. It's quickly followed up 'Rainy Night In Georgia'. Oh yeah for the clothes conscious peeps out there reading, Rod was wearing a purple suit and gold shoes which looked great while he was 'Twistin' The Night Away' – there's 'Never A Dull Moment' when Rod's in town.
'D'Ya think I'm Sexy' rocks out as ever it did and many would say he still does and he's older than my mum and dad by a year too and looks amazing for his age – you'd never guess his next decade is his 7th! It features some awesome sax playing not to mention a killer bass solo. Wonder if Rod needs a breather after this as 'Soul Finger' is performed with Rod not on stage. He makes it up to us though with a fantastic verion of Cat Steven's 'First Cut Is The Deepest' that he had a hit with in 1977 and sounds decent on it. Mr. Stewart gets crowd to sing many of the 'Baby I know' bits of the song as he loves to get his fans involved and become part of the event as much as he can. Is it me or does the guitarist look a wee bit like Ian Dury?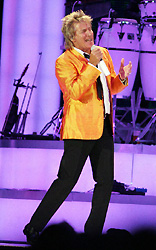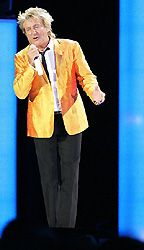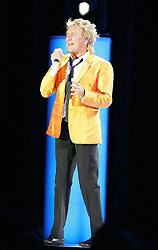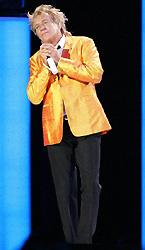 The backdrop for 'I Don't Wanna Talk About It' is very effective that shows a cartooned Rod face with plaster on it thats placed in front of moving manuscript of the Atlantic Crossing' hit with the audience not being able to stop themselves singing a long to the song so Rod lets them take over quite a bit as they sound so good and comes back in for the verses – that's a performer who works best – one who is totally in touch with his fans and giving them credit where it's completely due. 'Your In My Heart' sounds good too while Rod gets to put those 'Hot Legs' into full action and kicks footballs out to the crowd that I presume have all been autographed – in fact, let me know if you have got one as I'd like to feature a photo of one right here !! He's got so much enery too and this is pure rock 'n' roll with everyone getting into the sporting spirit of things.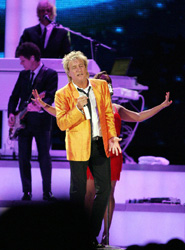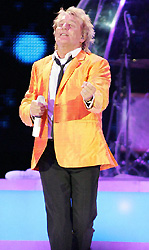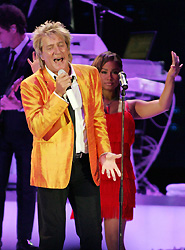 'Maggie May' with the mandolin playing sounds killer and I am really impressed with the backdrop with album sleeves and singles – in fact the 'Footloose & Fancy Free' album shown on here is a signed copy! The last ballad of the night is of course 'Sailing' that has archive black & white footage above the band of various ships & ocean liners as well as the guys working on them. And lastly for those who wanna know what Rod for it he is in white jacket and yellow shirt, black trousers & shoes to match – totally giving the likes of David Bowie & Bryan Ferry a run for their money when it comes to classy clothes.
Rod thanked after he came on after the main set and said to us, "Some of you have travelled a great distance paid a lot of money and we want to thank you coming - we'll leave you with this one" and out comes the familiar intro and there we have it - 'Baby Jane' with everyone going wild for the last time and the night sadly comes to an end but not before Rod and the whole band bow to us a few times and finally leave the stage and the curtain comes down.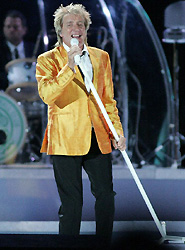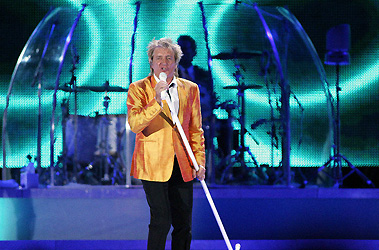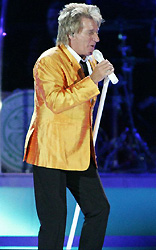 A great show was had by Sheffield although the sound in the arena leaves something to be desired with the steel in the building causing too much reflection and deadening some of the richness of the mix. It was a night of fine music even though there were far more ballads and soul numbers than full-on rockers. Hope to see him front The Faces some time soon when he eventually gets a break in his schedule as that to many of us will be the holy grail of a gig!
7/10
Review By Glenn Milligan
Pictures by Glenn Ashley - http://www.glennashley.org/

Steel Panther/Sirens – O2 Academy, Sheffield, Saturday, 20th March, 2010
Not been to the Academy since December and around November since I was in the big room downstairs there so it was great to see a gig in here.The opener I couldn't get my head around at all because all they were, were a bunch of strippers going by the name of 'Sirens' who danced to some rock songs for about 15 minutes with one of them getting their t*ts out – big deal – well they were actually – hahaha.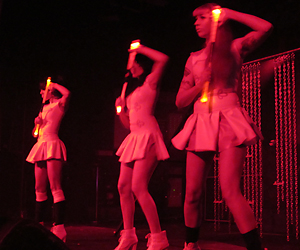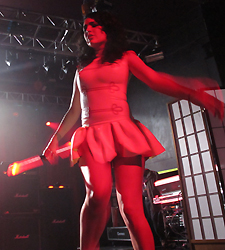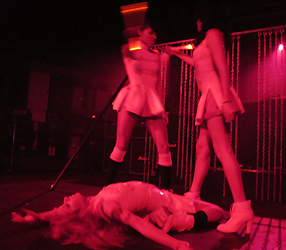 Decent enough routines involving chains, illuminous batons etc but not many could work out why they were there. They were pretty hot all the same but I was expecting an all-girl rock band and not a load of girls parading the stage with nothing musical at all – be nice to see someone supporting like Crufied Barbara or McQeen instead.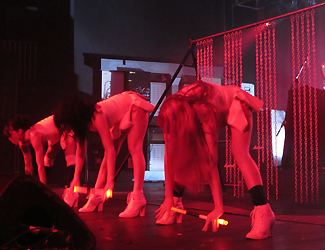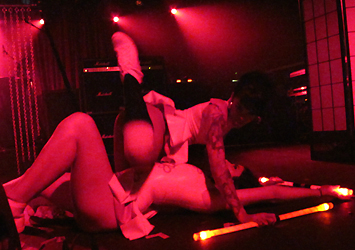 Last time I saw Steel Panther was on Sunset Blvd at the Key Club and my 1st time in LA as well, so it was kinda weird but at the same time really cool to see them on home turf – something I ain't experienced before so it was new one for me to say the least. It was their 1st time in Sheffield and boy did they get one hell of a seriously massive reception from Steel City or as Michael Starr & Satchel put it – the home of Def Leppard. They were as proud to be here as we were to have them and they made it known as well.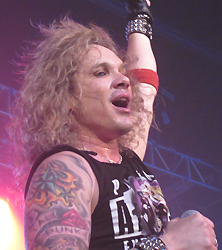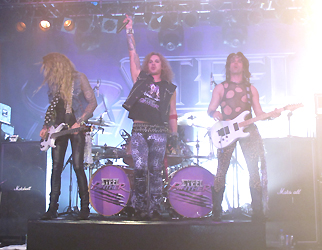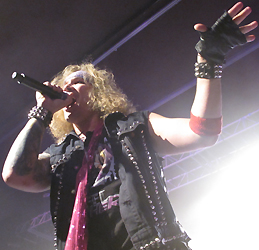 What made it totally different to the show I witnessed in LA is that it was all the original songs from their 'Feel The Steel' as opposed to loads of covers for the USA guys and girls. There was mocking of band members a plenty – especially taking the p*ss out of Guitarist, Satchel & Bassist, Lexxxi. Michael mocked Satchel on and off through the set calling him Snatchel and Snapple much to his disgust – lol. Lexxxi was slagged off by the rest of the band for showing himself up for saying he gets laid by using rape drugs and mocked for continually posing with his hairbrush & mirror – hahaha – and looking and posing really gay!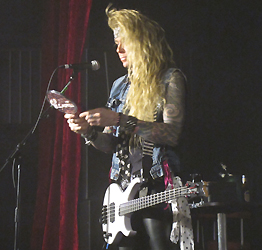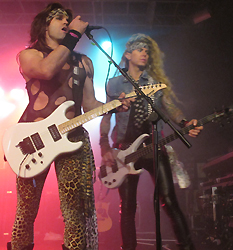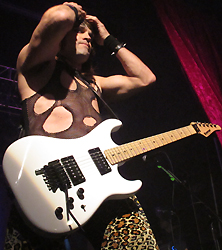 There were just tons of highlights throughout the Panther Panto and I was so impressed to see that all the members of Steel City singing a long really loud to evey single song from 'Eyes of The Panther' right throught to their closing original 'Death To All But Metal'. 'Fat Girl (Thar she blows)' was quite a spectacle as some dude and dudesses has made a nice banner with a reworking of some of the lyrics that Michael got them to pass him and positions it nicely on the from of Stix's drumkit.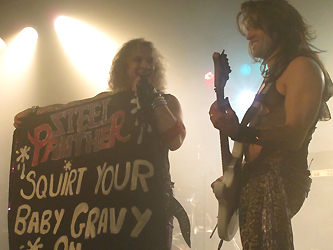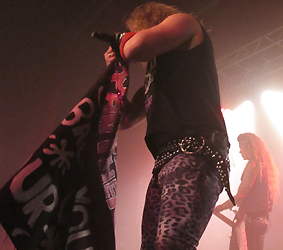 Soundwise it was f*ck*n' amazing in here no matter where you were positioned - I am talking standing, not sexual before you ask – though this is the band for that as well with lyrics like theirs. Loved Satchel's guitar solo that was like KK Downing meets Yngwie Malmsteen and Eddie Van Halen and then some all rolled into one.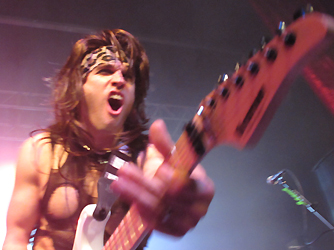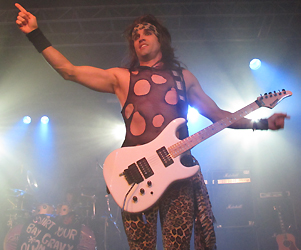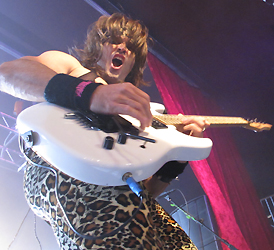 Killer costumes were work especially the red sparkly long jacket and top hat that Mr. Starr was wearing for 'Turn Out The Lights' – they even brought the girls of 'Sirens' out for 'Asian Hooker' joking that they were from that neck of the woods (my phrasing – not his – don't think they use that saying over in the US of A). This is where the ladies looked best – getting hot and bothered around the band – oh yes – looking good.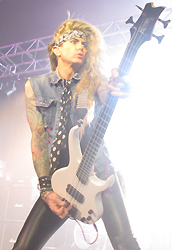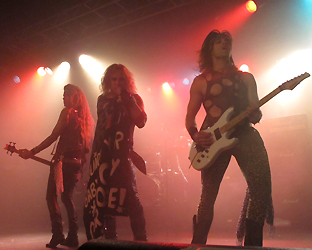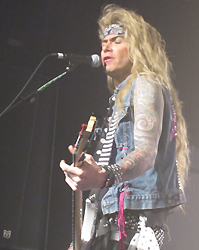 And talking of ladies, Michael even spotted four lovelies in the audience and had them get up on stage and get their titties out for us all – hiding them behind a white 1st until they were fully out – nice! They ranged from brand new baby titties to big bazongas !! It's all good!! And they got them bouncing 'em for us with the Panther singing boing, boing, boing – quality – it's what every concert needs – oh as well as some comedy and great music too – hahaha. To tie in with all this they later sang a made up song that was called something like 'I like pussy'. These guys are mad but you can't help liking them.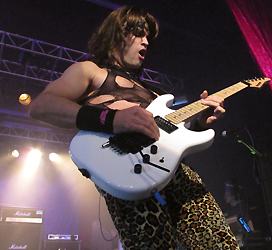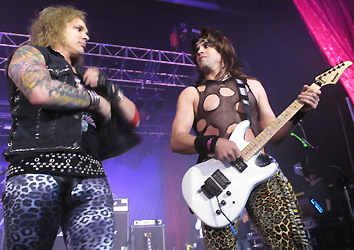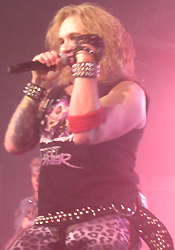 After plenty of fun on the stage they ran out of their own songs and went into their covers bit – 1st of which was a killer take of Def Leppard's 'Pour Some Sugar On Me' not to mention Iron Maiden's 'Run To The Hills' that saw a young kid get up from the audience and blow the the place away with his vocals. They didn't catch his name so they christened him 'Baby Snapple' – good call!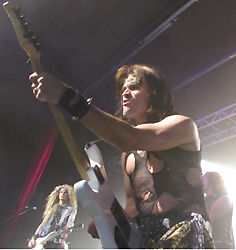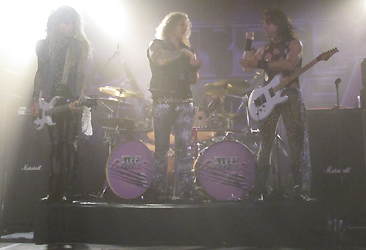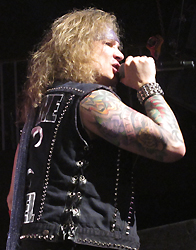 They called it a night with a splendid 'Paradise City' which is what LA is baby !! Next stop is Download at Donnington in June. Be there or get your ass to Las Vegas or West Hollywood – oh f*ck it – do all 3 !!
10/10
By Glenn Milligan

Skinny Molly/Larry Miller – The Boardwalk, Sheffield, Saturday, January 30th, 2010
Well I am glad that all the snow has gone because I missed the 1st planned gig of the year I was gonna go to over in Nottingham, not to worry though as this was a mighty night to start the gig calendar off with.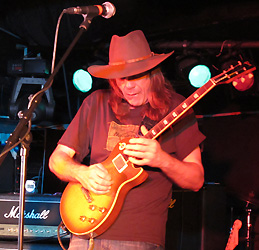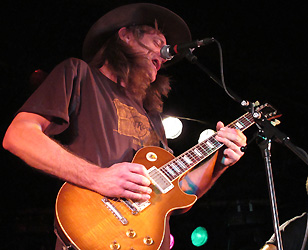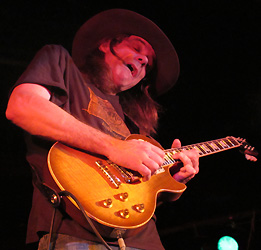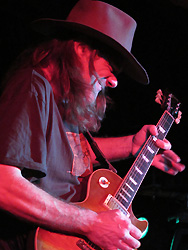 Opener Larry Miller and his blues rockin' trio start off with ya typical bluesy sound and get better and better. Larry's a full on agressive blues guitarist and lets it rip throughout – you'd think he was from a southern state of the usa but actually comes from the southern part of Britain which you realise as soon as he starts chatting to us. He has the power of a guy like Rory Gallagher and even performs 'Messin' With The Kid' very impressively.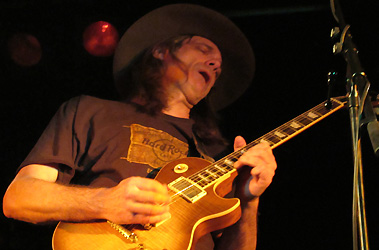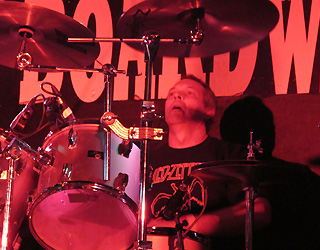 Seems he has some of his fan club in tonight as a dude near the bar is shouting for songs like 'Mr. President' and 'Shame On You' – "Shame on you",; Larry shouts but of course he's joking as its one of his songs. He says he can't play them due to his new bass player not knowing them who he had only just joined the band that afternoon and he didn't wanna plod through songs and hope for the best. He was so thrilled to be supporting Skinny Molly and did a great impression of Mike talking as well.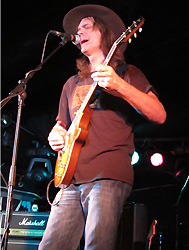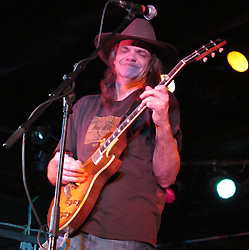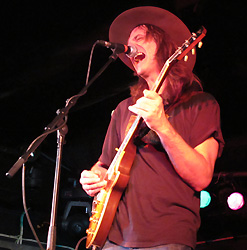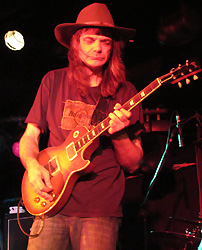 A brilliant selection of songs was played including a real crowd pleaser that went by the name of 'Backstabber Blues' & Larry humorously said to treat the songs as though we knew them, even though we'd never heard them before in our lives. Though we did know the last couple or so - outstanding renditions of Jimi Hendrix's 'Voodoo Chile (Slight Return)' followed by 'Star Spangled Banner'.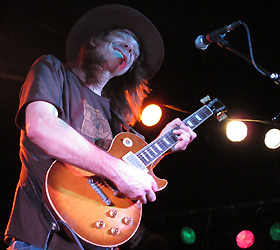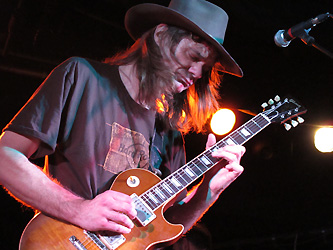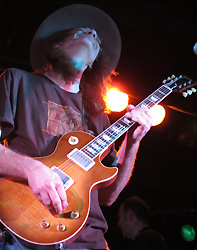 He is definately one guy that guarantees a future of the blues and we can't wait to see the man himself with his band back at the Boardwalk very soon – next time headlining. There was even a dude in the crowd who totally by chance was wearing the same shirt as Larry - how cool is that !!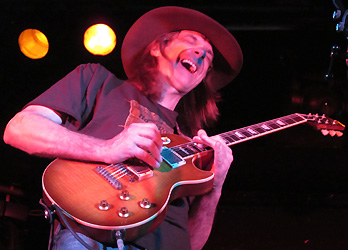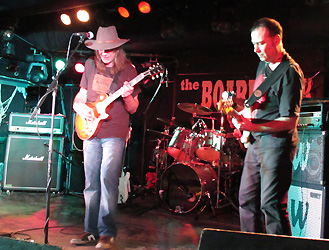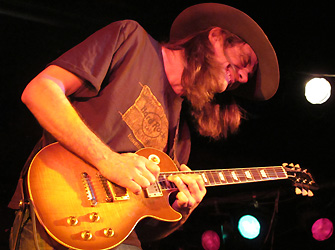 Next up is a set jam-packed full of southern promise presence – the 2nd time that Skinny Molly have been at The Boardwalk, now with a new guitarist gracing the stage who is none other than an ex-member of Blackfoot and Lynyrd Skynyrd who goes by ther name of Jay Johnson, son of Johnny Johnson, the owner of Muscle Shoals Studios in Muscle Shoals, Alabama, USA where Lynyrd Skynyrd recorded many of their albums – we really do have royalty in the house tonight.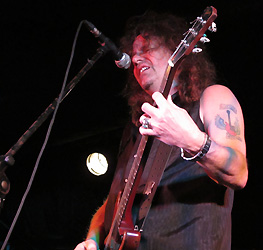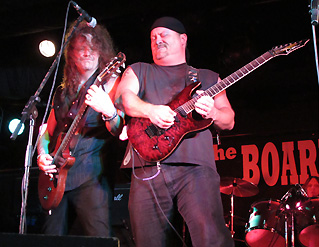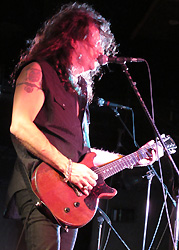 We get an hour plus set of songs which simply can't be beaten as far as I am concerned and many fans here tonight. With so much on hand, picking highlights from the show is a tough job – well I could lazily say all of it – well it was actually. Starting off with 'High Price of Low Livin' they set the standard from the 1st note – one hell of a killer number that's followed up with 'Skynyrd's classic 'Saturday Night Special' and later on the brilliant haunting 'Cry For The Bad Man' that you don't hear Gary & the boys play much these days.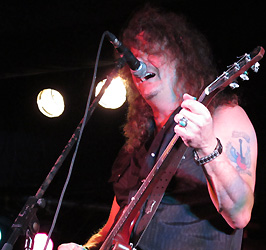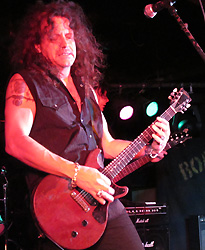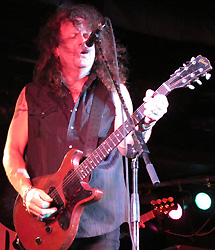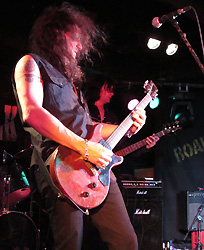 Just when you thought it couldn't get any better, Jay steps up to his microphone and they give us an awesome rendition of one of my fave Blackfoot songs 'Fly Away', not to mention the old Free classic that Blackfoot had a hit with just over a decade later – the song that no rock covers band is complete without – yep – the brilliant 'Wishing Well' and we couldn't have wished for anything better – apart from some more great tunes of a similar standard that was guaranteed with a repetoir that these guys have between them that include 'On The Hunt'; 'Devil In The Bottle'and then some...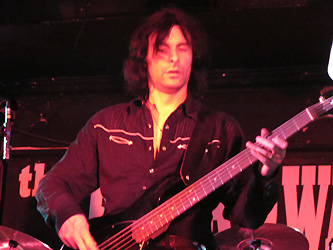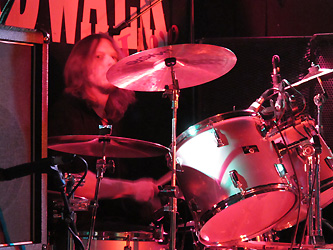 The excellent thing about this band is that their own material stands up as good the bands they were like the humourous 'Left Turn On A Red Light' with Mike telling us about the fact that they got a roundabout in Georgia and there were a few accidents as a result ) – but no casualties thankfully. Mr. Estes is used to them in as he's driven on many in the UK (his second home just about as he's toured here a good few times in the last few years).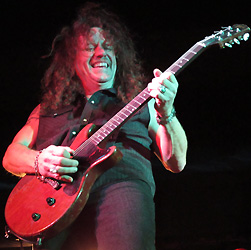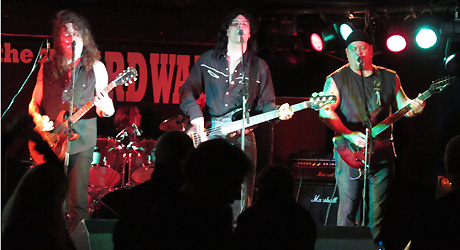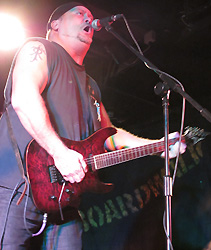 Well worth mentioning that you must here if you werent there (shame on you for that) include 'Whiskey, Cocaine And Blues'; the outstanding almost balladeering epic 'Better Than I Should'; 'Too Much' & 'Two Good Wheels' that he joked was about being divorced for the 9th time, saying after so many times, he was beginning to think it was something to do with him – lol.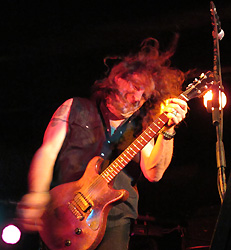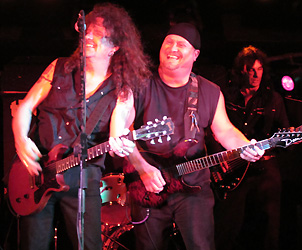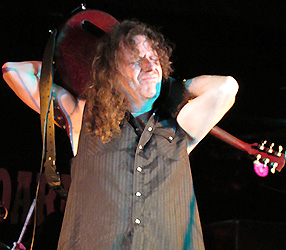 Taking us way back to the beginning but to the end if that makes any sense we got spoilt stupidly with some of the finest well known Southern Rock songs known to man and womankind –the amazing ballad 'Simple Man'; a Blackfoot milestone in 'Train Train' with the set closed with 'Sweet Home Alabama'.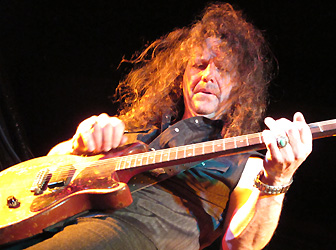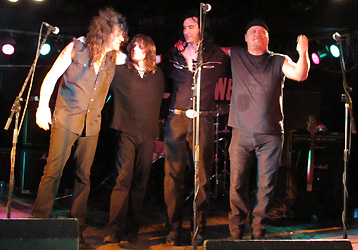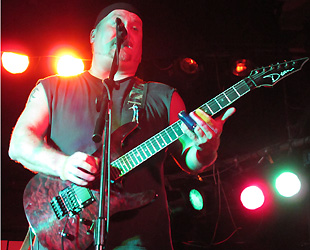 Of course there'd have been a riot in here if we didn't get that biggest well known Southern Rock standard of them all – yes, that's the one 'Freebird' and of course no song can ever follow that one – a perfect end to a perfect Southern Rock & Blues filled night.
10/10
By Glenn Milligan

Michael Schenker/Fury UK/Powerquest -
O2 Academy 2, Sheffield, Thursday 17th December, 2009
Well it was a touch and go dat and night in Sheffield as the snow decided to rear it's ugly cold & wetness, but thankfully, me and Al made it to the Academy, watching every step as we climbed up those salted but slippery steps into the entrance of the Academy.

Anyways, when in we were greeted by the blastings of the British Power Metal Band, Power Quest, who I initially thought were Swedish or Germany on first hear because they nearly always are who cover this musical genre. Sound-wise they are very much like the leading bands of style - a la Helloween & Gamma Ray. For one song their frontman, Pete Morten gets a female Finnish friend up do a duet with him. They go down well and I can imagine them coming back to Steel City Soon.

Next up are another British Rockers and Metallers who go by the name of FuryUK - suppose the clue is in the name really. A balls to the wall 3-piece who have got it down who have various elements in their sound. They warm up bit by bit with the better material about 3 or 4 songs in - love the drum work of Martin McNee on one of the numbers with the sounds of the cybals having the Bonham sound to it big style.
Killer vocals throughout from Chris Appleton not to mention that epic closer where he amazed us with his fancy guitarwork and positioning of the hand on the guitar that was part Maiden, Malmsteen and more. The peeps in here loved 'em and even had a number dedicated to them.
MSG Set-list:
Ride On My Way/Cry For The Nations/Let Sleeping Dogs Lie/Armed & Ready/Are You Ready To Rock/I Want You/A Night To Remember/Into The Arena/Solo/Lost Horizon/Rock My Nights Away/On & On/Attack Of The Mad Axeman.
Encore: Dance Lady Gypsy/Rock Bottom.

We had to bind the time a bit for the main man and his band - yes we are talking Michael Schenker and his band or for short, MSG, who are running a a little, late tonight for whatever reason. They hit the stage at 9.40, as opposed to the advertised 9 but it just excites the crowd who are in full anticipation to witness the German Metal Legend. The more so, when they see the customised guitars of sat at the side of stage right - with many of photo being took by the fans of them.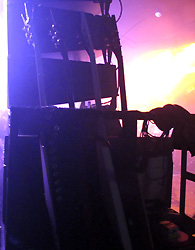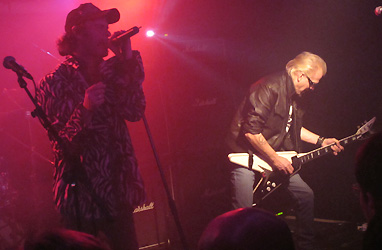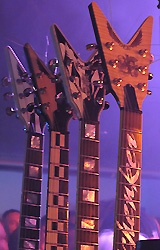 How good is this, an ex-AC/DC drummer on stage too - the dude who played on 'The Razor's Edge' and was witnessed on 'Live At Donington' from 1991. Well Michael only marks his shows with the best in the business and little wonder that Gary Barden is back on the vocals.A brilliant Frontman and what a rhythm section in Wayne Findlay - guitar/keyboards & Bassist, Chris Glen (also of 'Sensational Alex Harvey Band').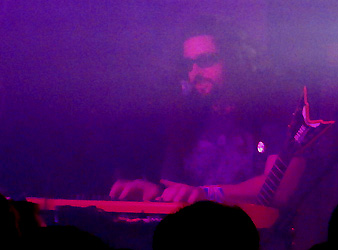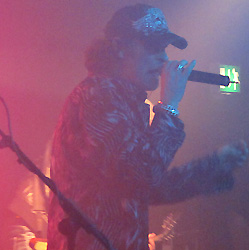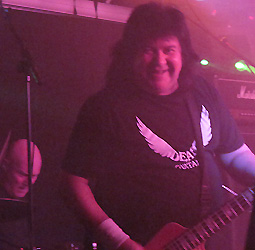 It's obvious that Mr. Schenker was in a good mood as he was smiling and grooving it out with the guitar- playing killer licks and really getting into it – even letting fans strum one of his custom made Explorers which must have been one hell of a kick for them. Michael had detuned the guitar and made it sound more like the bells of 'Big Ben' during his 'Solo'.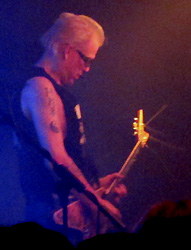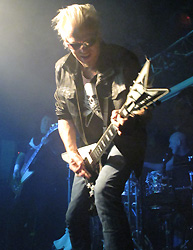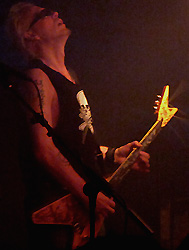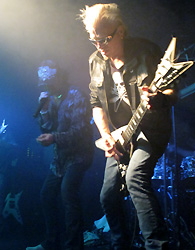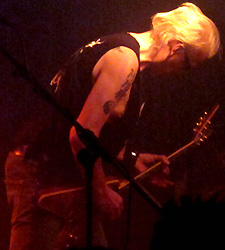 Highlights of the night included well-known MSG numbers like 'Armed & Ready'; 'Are You Ready To Rock'; the instrumental 'Into The Arena' & 'Rock My Nights Away'. Of course singalongs were inevitable which took place during 'On & On' – though the crowd seemed rather reluctant to join in with Gary on 'We Wish You A Merry Christmas' – miserable bahhumbuggers – lol.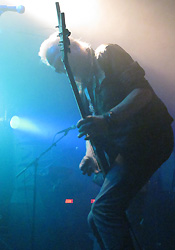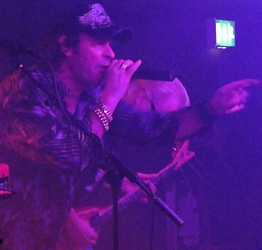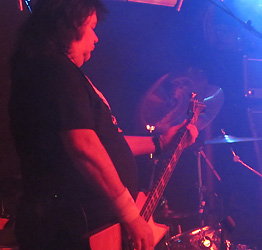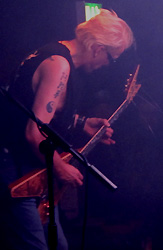 Funnily enough when UFO's 'Rock Bottom' chirps up during the encore, you can't shut them up – a great way to finish the night off – just a pity there wasn't enough time to play 'Doctor Doctor' because of the curfew – in fact the house lights went on before the band had all left the stage.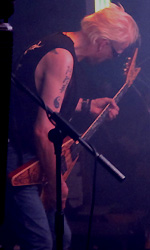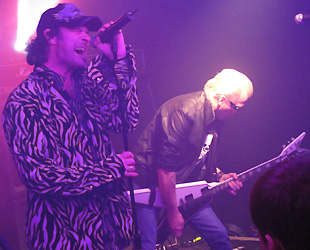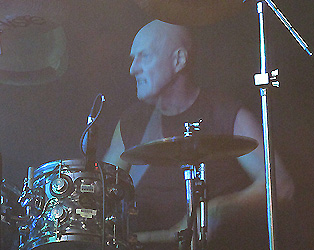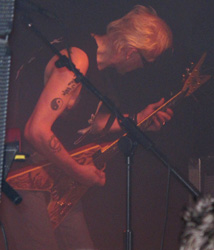 Solid set, great sound but unless you were right near the front the visibility was poor in the venue. Looking forward to seeing MSG return soon – Download Festival 2010 on the main stage – now there's a great idea!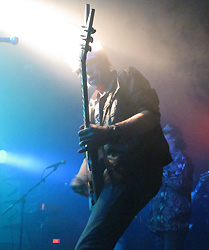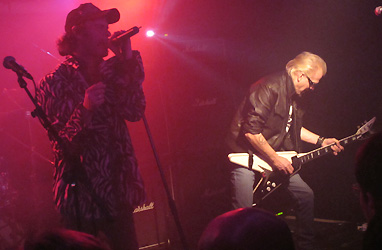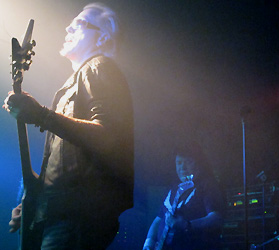 Overall it was well & truly 'A Night To Remember'!
8.5/10
By Glenn Milligan

Status Quo/Roy Wood Rock 'N' Roll Band - Sheffield Arena, Sunday, 6th December, 2009
Well I was a bit unsure if the gig was gonna take place but thankfully it was on especially when you've got a rock icon like Roy Wood opening up a glorious noisy night in half of the arena. With a full-on brass section, female backing singer, drummer, bassist & pianist the ex-Move/Wizzard/ ELO man and his band electrified the place, lighting and sparkling up the room with his retro sounds of cool old 60's psychedelia & 70's glammin' sounds. He started up with the rockin 'California Man'.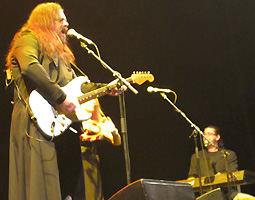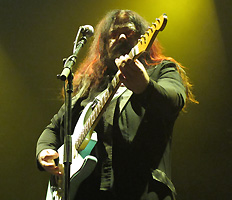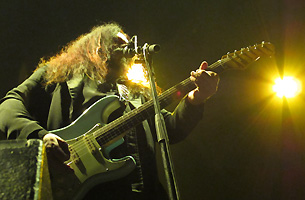 There's plenty of old hits as you can imagine such as 'Angel Fingers' that he invites us to sing if we know the words; 'The Move's 'Flowers In The Rain' that he messes up at the start of which he exclaims, "Let's do it properly", giving us a perfect rendition of the number. A funny part of the set was when he took a swag of beer, of course for medicinal purposes, analyzed the taste and said, "Mmm, takes like sh*t!' - Lol - which got us all laughing.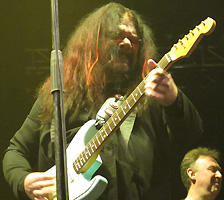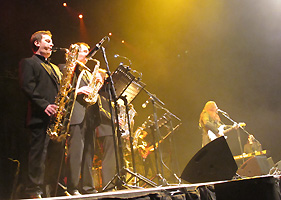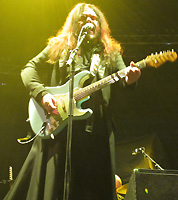 A new number was also played called 'New York City' that he said was done in the old style of Wizzard - it was a shortish rockin 12-bar boogie number with a chorus that went 'Are you ready to rock, are you ready to roll' that he entice some to sing to. It was awesome to see him get the bag pipes for the end part of one of the numbers - it may have been this one actually.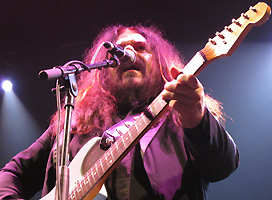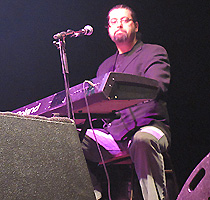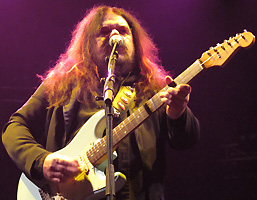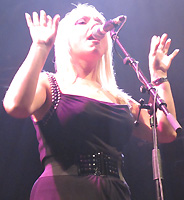 Another number 1 Wizzard song comes in the form of, 'See My Baby Jive' that guaranteed a sing-along for sure then a slight reworking of a number that he said we'd recognize when they got into it - 'Blackberry Way' it was that was coolly proceeded by the James Bond theme for some reason - it worked though.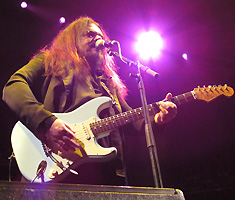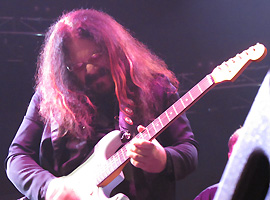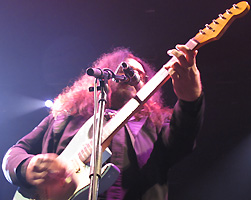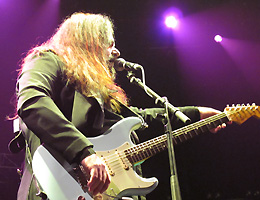 Of course the last song of the 45 minute set was the epic Christmas Anthem, 'I wish it could be Christmas everyday' that got most of the peeps on their feet dancing away. Would have been cool to see him dress up in the classic Santa Suit for it - but you can't have everything. This was a thoroughly enjoyable set that got us all in the mood for what was to come.
10/10
30 minutes or so later and it's headliner time and none of us can wait – the lights go down and we hear that familiar 'Pictures of Matchstick Men' intro that signifies that the Quo are revved up and ready for action. Not to mention the odd cranks from those Fender Telecasters as a teaser that the boys are right behind the curtain.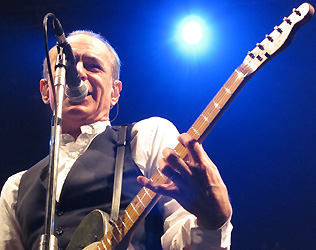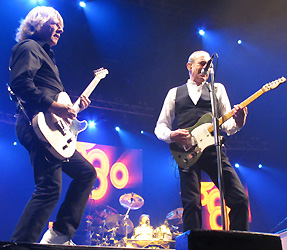 We hear that fave familiar opening (with a long intro) that is the live staple 'Caroline' spark up into action and that's it, they wander onto the stage in their jeans, shirt and sneaker glory (sorry I mean Trainers – because we are British – lol). After a bout of Bronchitis, Francis Rossi is sounding really well because he took his doctors advice and rested, sadly postponing a few other gigs – but not to worry as these guys never let any of their fans down – no matter where it happens to be.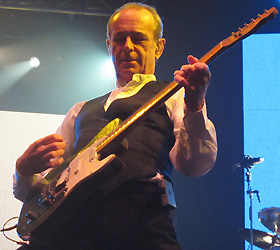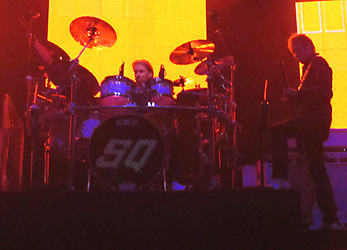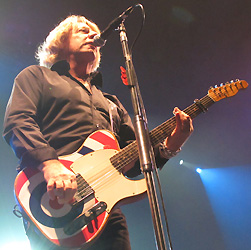 It's bloody loud – just the way we like it and they giving it all they got – incredible really to say the main guys are in their 60's – since it doesn't tell too much on their vocals and the playing is just as good as it was when they were at their peak in the early to mid 70's. There was no stopping them from thereon as it was straight into 'Something 'Bout You Baby Like' with a guitar-chick from Parfitt and then the 'Blue For You' brilliance of 'Rain' before they stopped for a quick breather to say a big hello to everyone, in the true Rossi style that we have all become accustomed to.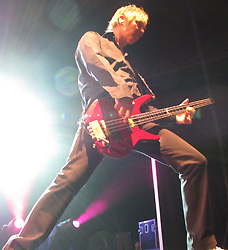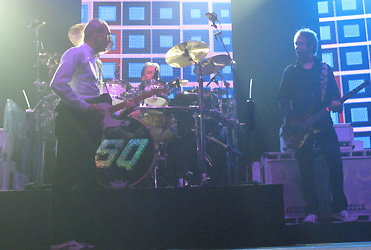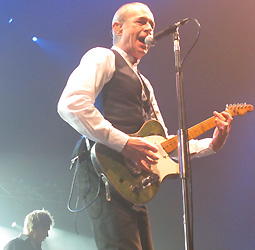 This was the first ponytailess concert I had seen Frame do in person - though it wasn't a shock so much since I did see their set from Glastonbury this year on TV. Plenty of old and new highlights alike continued and it was spot on to see they had still kept the early 70's 'Mean Girl' and Hello's 'Softer Ride' in the set - a real standout for the Quo Army indeedy.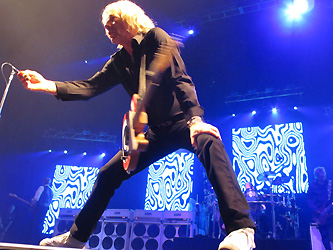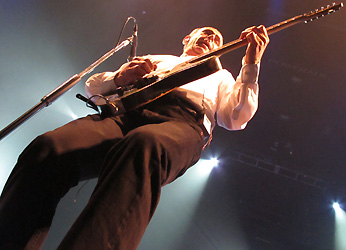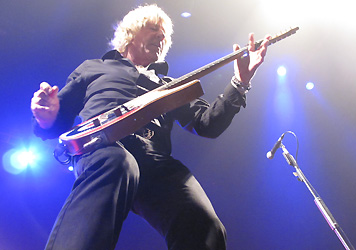 Who was to know that they had some really special surprises in store, 2 songs that they surely can't have sung and strummed since those monochrome days of 60's Top Of The Pops' - having heard the intro taster at the start of the show. I had to pinch myself to see if this 'is this a dream or reality' - yep it was really happening - a magical high-ended played pair of Telecasters couple with the organ sounds of Andy Bown reaped out 'Pictures of Matchstick Men'.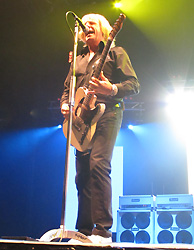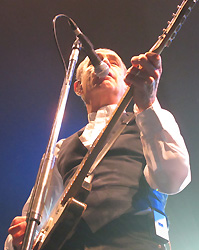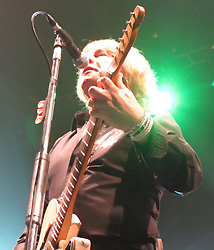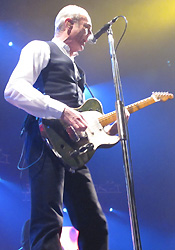 Just when you thought it couldn't get any better than this, they seque it into 'Ice In the Sun' with vocals sounding as good as they did from way back when it hit the hit parade all those many decades ago with Rossi getting us to sing the chorus and the odd line in the song with no strong beckoning needed at all.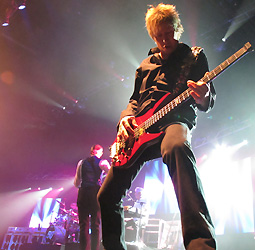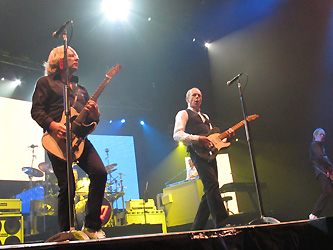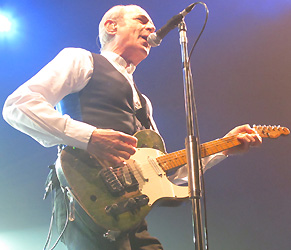 Younger highlights included 'Beginning of the End' from their last studio release, 'The Search For The Fourth Chord'; 'The Oriental' & 'Creeping Up On You' but were easily bettered by as full version of 'Livin' On An Island' that was written by Rick when he was waiting around doing something he shouldn't and the person never showed up, according to Francis - it beat it being part of a medley coupled in with other numbers like it had been in the past - especially when the lighting backdrops set the scene with the georgious lit island sunsets.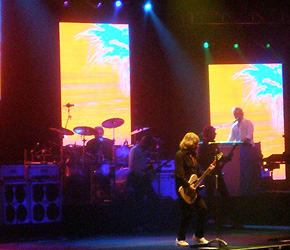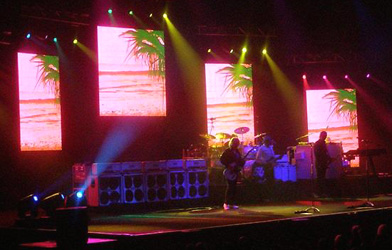 Not too long after we are into the homerun of live-staple numbers like 'In the Army Now'; the 2 numbers with Down in the title that revs everyone up again and wanting the night to go on forever - pity about the 10.30 curfew then aint it! The nice thing about some Quo songs is that you only have to hear a chord coupled with a certain guitar tone and you have a good what is coming and 'Whatever You Want' is a particular number that examples the statement beautifully and that's just how it sounds - or should that be boistorous, brightening or bombastic? - you choose.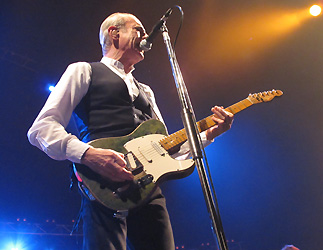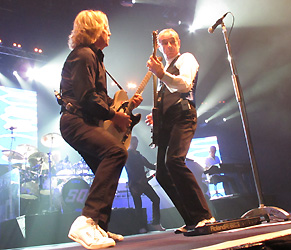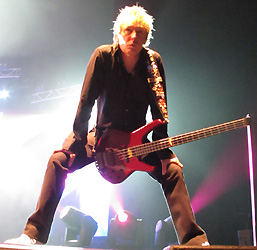 Anyways, the lads rocked in sequence and leapt in the air in good old blue jeans Quo fashion with only one song left for the set ender - yep the one with the words 'Rockin' and World' in it - another of their epic anthems that never gets tiresome when played live - no matter how many times you have heard the studio version all over tv and radio, then they disappear from the stage leaving is leaping and yelping for more and the eternal 'Quo wow-o-wow-o' (or summat like) that the hardcore have been screaming at the top of their lungs for about 30+ years.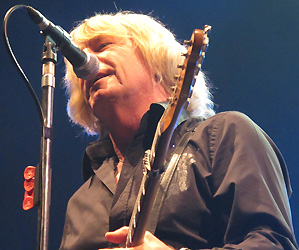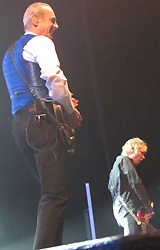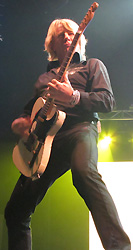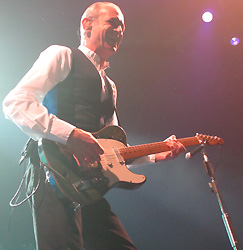 This makes us all wonder what we are gonna get for the encore but we are chuffed to pieces when they crank into Piledrivers' 'Paper Plane', finishing the night of with some good ole chuck berry standards - all good things must come to an end, but we had a damn good one.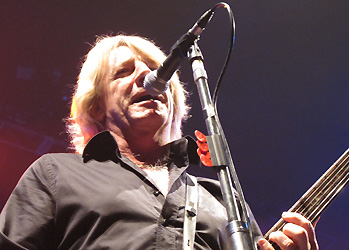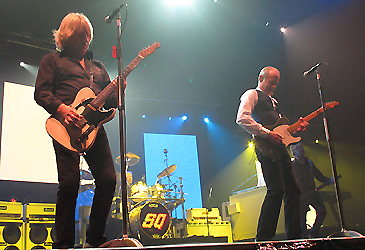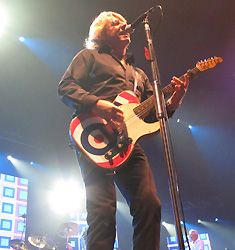 See ya next year no doubt.
10/10
By Glenn Milligan

Steel Panther/Juke Kartel/Shotgun Alley/? -
The Key Club, Sunset Strip, Los Angeles, USA, 9th November, 2009
Now here's a place that I have wanted to go in years, ever since I saw the venue featured on 'The Decline of Western Civilisation Part II: The Metal Years' when owned by the sadly missed, late and legendary Bill Gazarri. Now called The Key Club where many a fine LA Rock band and beyond have played.
Anyways, back to the point before I get carried away with myself ('she got a zero!') - consult the above mentioned Penelope Spheeris film for that line and many more). Shit I am getting away from the plot. Wizz through to 2009 and we are here to check out one of the biggest rock band out there (for some wrong and right reasons according to what various peeps will tell you).

Up first were some bratty wanna-be indie punky band whose best highlight was getting the hell off the stage as their songs were simply irritating with bad vocals and disgustingly bad riffs that shouldn't have happened. Seems only the young kids appeared to like them somewhat - why they were on this bill I do not know.

Things soon changed for the up when Melbourne based, Shotgun Alley took to the stage with their well vocalled real rock 'n' roll with a frontman who had a really powerful voice with the personal of Seb Bach and the throatal qualities of said man mixed in with Mike Tramp (at his absolute brightest and best). Highlights were in their full galore - the whole f*ck*n' set to be honest with you.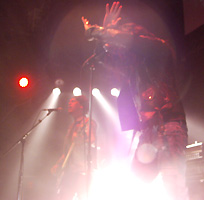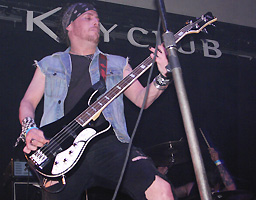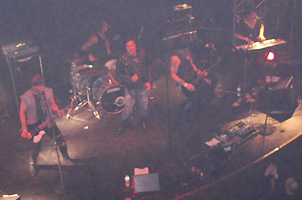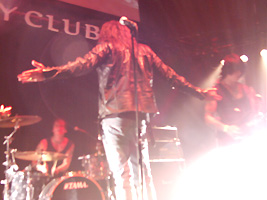 I would go as far as saying that Shotgun Alley were born for the strip and it was like going back to the glory days when the likes of Guns 'n' Roses conquered most of the stages in the area well over 2 decades ago. Plenty of hair throwing, magnificient riffs and supreme confidence all round from these guys.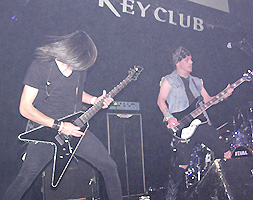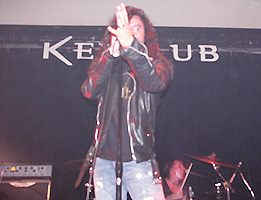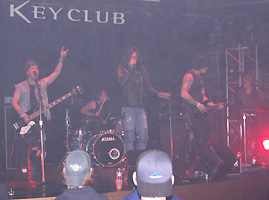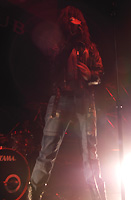 Juke Kartel came onstage and from their looks, image and confidence, I expected them to be like Buckcherry but they had a totally different style altogether (as there is nothing worse than copycats on a regular basis). They were more of pop-rockin band with elements of bands like Simple Minds and U2 with well thought out arrangements - a decent act all round.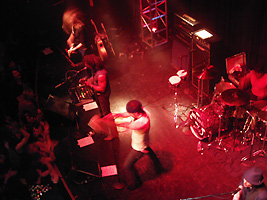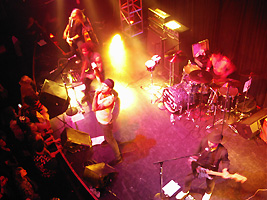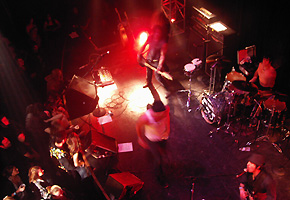 Steel Panther were preceeded with a dude who mimed to various songs that were coming out of the PA but when they hit the stage, the whole place was totally packed and the fans were simply going wild for them. They started up with one of their own numbers, 'Death To All But Metal ' and later, 'Eyes Of A Panther' and their tongue-in-cheek 'Community Property'. These guys had completely honed their craft to pure excellence and I have not seen a band look so completely image conscious and photogenic since witnessing bands like Skin, Danger Danger and King Of The Hill back in the days of the early 90's.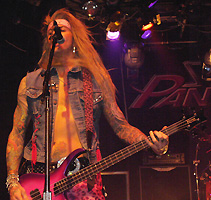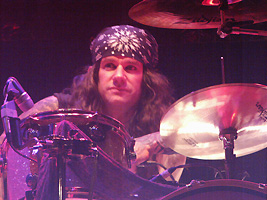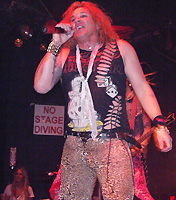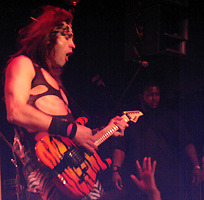 It seemed that it did not matter what songs they performed - even though a lot of the material was in fact covers of numbers by the likes of Def Leppard (Photograph), Motley Crue (Kickstart My Heart), ZZ Top (La Grange), Kiss (Rock And Roll All Night), Bon Jovi (Livin' On A Prayer) and many more. This was definitely a full-on heavy metal and hard rock revival if ever there was one.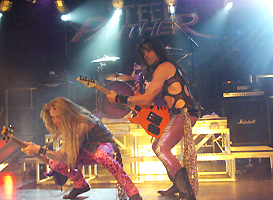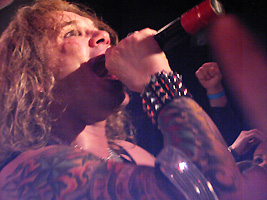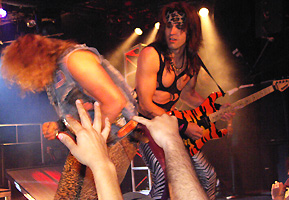 The cameraderie between each band member was amazing and came across completely natural - 4 mates on stage enjoying each others company, not to mention the unbelievable exceptional performance abilities with regard to the high powerful vocal somersaults of Michael Starr, the supreme drum work from Stix Zadinia and the second to none riffery from Bassist, Lexxi Foxxx and Guitarist, Satchel.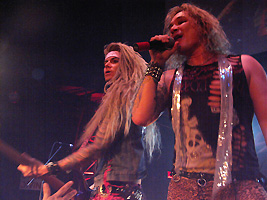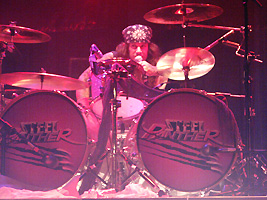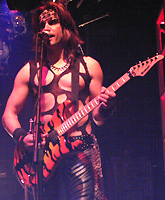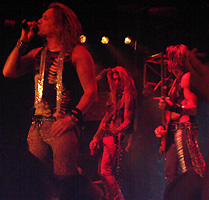 It was like a comedy show up there on stage with Lexxi checking his hair in the mirror every chance he could - even getting his hairspray out on accasions - lmfao!! Not to mention, satchel saying something to the big, black security guy that p*ss*d him off a big - lol - man it was funny though. Steel Panther even got the hottest f*ck*n' chicks up there on stage with them, getting them to dance as horny as they could as well as asking them to make out with each other and get out their t*ts and p*ssys for the band and audience - although it didn't happen for the down below section - hahaha.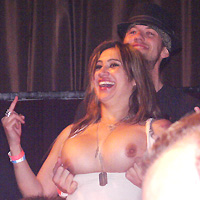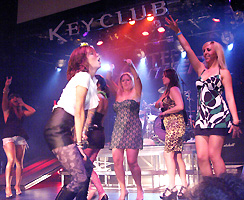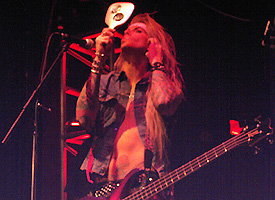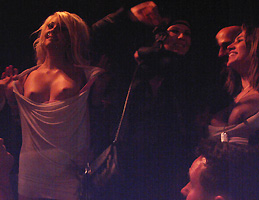 One of their buddies was in that night - a dude called 'Sparky' - who had at one point been in a band who were big in south east asia, according to Mr. Starr so he got him up on stage with them to peform an old Alice In Chains 'In A Box' - the one with the deep 'Yeah, Yeah, Yeah' in it - never been a big fan of that kinda stuff to be honest, but seeing these guys do it totally rocked!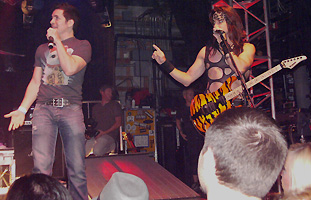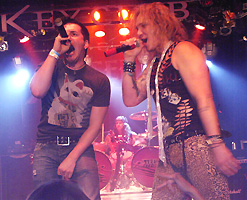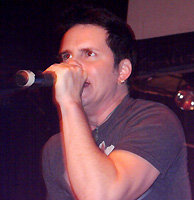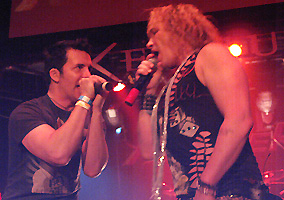 Tonight they even filmed their new video - a cover of an old Journey ballad that they had already filmed in front of a few thousand peeps in London's Wembley Arena when supporting ZZ Top. Michael said they just had to film some in LA too on the strip with their fans there - the song was played twice, since Michael jokily shouted, "Thank You San Diego!" It worked a treat and it's gonna be a killer promo.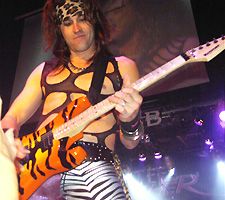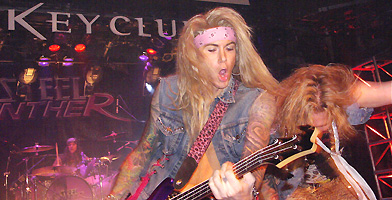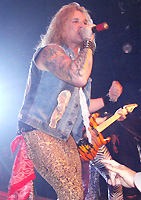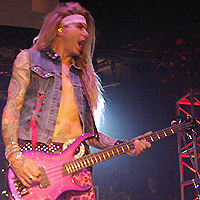 Blow-up condoms were thrown all over the place and the band members joked about safe sex, girls t*ts they could see in the crowd and beckoned may to get them out and after a bit of persuasion managed just that. Hotties were again invited onto the stage for the last song, a cover of Guns 'N' Roses 'Paradise City' where loads of long stripped confetti fell onto the crowd to signify the end of a tremendously enjoyable show of full-on excitable rock 'n' roll to the extreme of 100% pure greatness.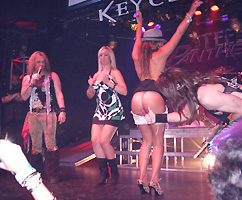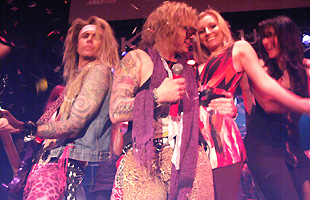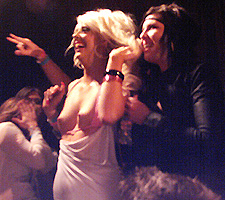 Can't wait to see the 'Panther again when they visit us again in the UK soon.
10/10
By Glenn Milligan

Static X – Corporation, Sheffield, Thursday 18th June, 2009
Static X have been doing the circuit for 10 years now and it's the first time I have seen them in Sheffield. Like most bands that play the Corporation they are restricted to what they can do on stage, which to me only gives the audience a little insight into what they do and this is probably why I have to give them an average score.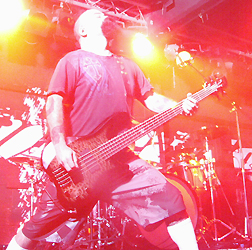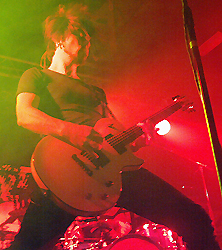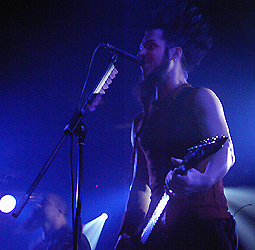 Static X live do sound like the CD's but the trouble with that is that I have become bored with their material. Static X have not really changed over the years and have started to be a Status Quo with a rhythm that works for them, which was clearly shown throughout the show, as they ripped through ' Cannibal', 'Destroyer', 'Get to the gone', 'Destroy all' and 'Enemy' to name a few.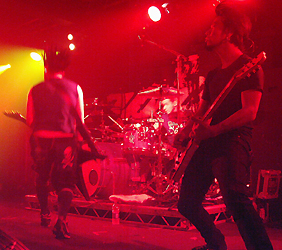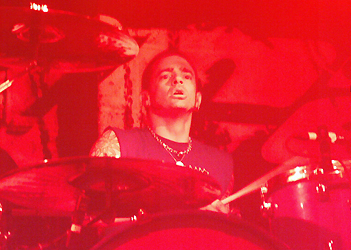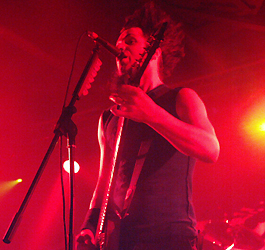 Static X I felt struggled to get me enthralled with their show or even entice me into their world of metal. Static X only got the crowd going with their biggest songs that are played constantly within the clubs.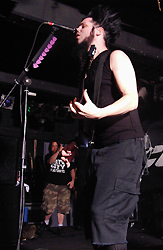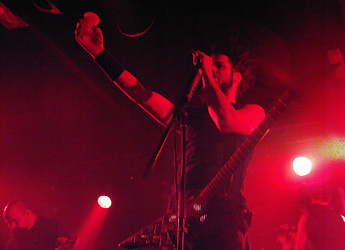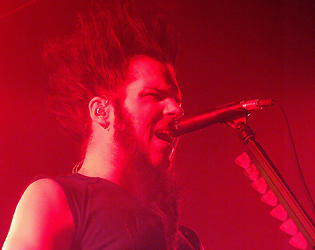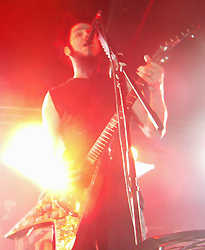 Maybe it's me or is it the club or a mixture of both that struggle to get me excited but whatever it is or was let's hope next time is better.
5/10
By Tony Watson

Stratovarius/Firewind/Eden's Curse – Wulfrun Hall Wolverhampton 15th May, 2009
What better preparation for Eurovision than a night of Finnish and Greek power metal in Wolverhampton?
EDEN'S CURSE -
19:30-20:00 -
Judgement Day/Eyes of the World/Fly Away/Don't Bring Me Down/Still Love/Angels and Demons.
A crowd of about 300 greeted openers Eden's Curse, whose six members seem to be from all over Europe, with an American singer.
Their half-hour set was enjoyable as they eased in some numbers from new CD 'The Second Coming', finishing off with the fine new single 'Angels and Demons'.
6/10
FIREWIND -
20:20 – 21:05 -
Firewind/Into The Fire/Head up High/Angels Forgive Me/The Fire and the Fury/Days Of No Trust/Allegiance/Maniac/Falling to Pieces.
Greeks Firewind have built up quite a following with some well-received support slots, and as they haven't finished writing their new CD we got some classics in their set. Guitarist Gus G threw some ridiculous shapes our way as they raced through 'Angels Forgive Me' and a mighty 'Falling to Pieces'. The cheese-ometer went off the scale with the cover of 'Maniac' from 'Flashdance', but the crowd loved it (as they weren't born when that movie came out!
7/10
STRATOVARIUS -
21:45 - 22:55 -
Maniac Dance/Speed of Light/The Kiss of Judas/Higher We Go/Paradise/A Million Light Years Away/Forever Free/Winter Skies/Father Time/Forever/Eagleheart/Deep Unknown/Black Diamond.
Crazy Finns Stratovarius kept us waiting a good while after Firewind; their position as the primary influence on dozens of bands from Nightwish to (complete plagiarists) Dragonforce entitles them to some measure of respect I guess.
When they finally did appear the audience went crackers as they took us through the best songs from the new 'Polaris' CD (their twelfth!!) and choice songs from their entire career. This was the first ever show for guitar player Matias Kupiaine, but he rocked like an old master on the rifftastic 'Speed of Light'. Highlights of the excellent set included a brilliant 'Million Light Years Away' and a mighty fine new ballad, 'Winter Skies'.
'Eagleheart' closed the main set after an hour, and we got one new one and one old one for the encores.
8/10
By Roy Evans
SILVERJET/Dear Superstar -
Corporation, Sheffield, Saturday April 4th, 2009
I don't often get the chance to catch Silverjet as much as I did in their early post-inauguration days but six years on they still have it loaded in their favour with two albums and a deal to their laurels. So it's to their favourite little room in Sheffield again, but now a growing crowd awaits their headlining sets with a few recognisable from House Of Lords last year for very good measure.
Also impressive tonight are Dear Superstar whose sound is something describable as a cross between Poison and Sound garden (wtf?) and their seven energetic tunes bring some noise from the watchers as well.
A band with 'hits' their set list is split proportionately across their discography tonight, with plenty of the anthems they have built their popularity around from 2004 onwards brought out to stand alongside the stuff from their newest disc. 'Lay your Wings' 'Deuce' and 'Won't See Me Bleeding' are all personal faves themselves while 'By The Way' and 'Mardi Gras' have been around for a good long stretch and are tunes no Silverjet show could possibly exist without. That said though, 'Crazy', 'Hell Yeah', 'Rock Show' and 'Get Me Up' are creeping up on the ladder as well - this being only about the second time I've heard these tracks on stage but the incessant levels of sass and swagger with which they are delivered, leave no time to differentiate between old and new at all - you just enjoy them whatever.
Stage presence is something that also has taken a revitalisation for these lads too with new bass chap Pais Hill covering his half of the floor very well, and mounting the stacks at selected points during the night, Dave Kerr also doing likewise for closer 'Face To Face'.
A hour gone and they are gone with it, sadly leaving an encoreless show to disappear into the murk of the Corporation smoke. Still, they came, and until they went, we loved them as always and plenty more seem to by the second. Hoping there's a third album likely before too long, these guys never run out of rock n' roll for those who love it.
Not another several month's wait please, lads. (well it won't be Dave as they support Heaven's Basement on 28th April on this very stage).
10/10
By Dave Attrill
* We apologise for not being able to cover the sets by Society Crisis and The Sweethearts in the review - we missed them due to unforeseen circumstances.

Stone Gods/Black Spiders/Hate Gallery –
O2 Academy 2, Thursday 26th March, 2009
Just over a year since I last saw tonights headliners, who are in a bigger room than I when saw them headline in Sheffield. Plenty of peeps here in the Academy 2 room with the Swedish Metallers, Hate Gallery up 1st. I got the impression that the audience didn't know what to make of them to be honest as they were a brutal band with a rather different musical direction to the headliners and more like a Punky, Quirky, European Therapy.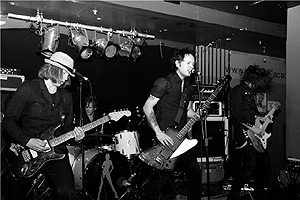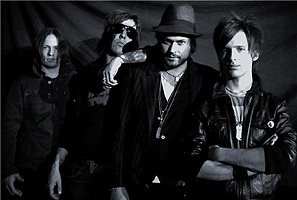 Was interesting to hear their shouty heavier in-ya-face version of 'Getcha Rocks Off'. They band worked theirs off but the crowd seemed lukewarm and quiet towards them. I do remember a number called 'ES Quire' about a close friend who had just died. We were told to Download or steal their album as their frontman didn't give a f*ck before their last song – a so-so impression on the punters overall for their set.
6/10
Local lads, 'Black Spiders' took the stage next and I guess they got the middle slot as there were so many of their friends and fans in the room tonight. Funnily enough they go downh and win over before they even play a single note. They play Stoner Metal that I have personally have heard many times before but its done really well with wailing vocals and guitar riffs and grinds to match.
Their drummer stands up and greets the crowd as often as he can with his sticks in the air and 'Sheffield' is said as often as possible in the set to keep the crowd happy. They inform us about 3 times at the end of their set that they've been 'Black Spiders' and finish off with a number entitled 'The Full 7 inches'. They could do no wrong on home turf.
9/10
Now here's the band we've come to see – Stone Gods, There's plenty of stage smoke present to set the atmosphere from the start, with frontman Richie Edwards greeting us with 'You are Steel City' and wins the entire room over straight away with his powerful presence.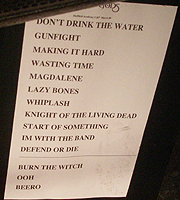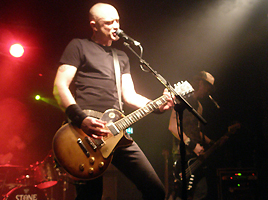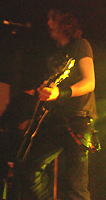 The beautiful 'Magdelena St' comes about a thrd way into the set and this splendid acoustic works so well in mellowing out the crowd and even get them to sing along with him and unattended to an appropriate Sheffield band number, 'Love Bites'.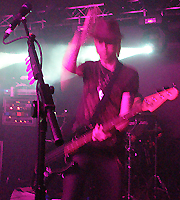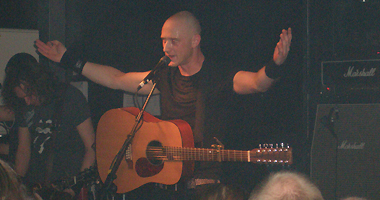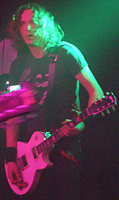 The reaction to the band is simply incredible and they sing along to every single song much to the delight of the 'Gods when prompted or not as the case may be. 'Start of Something' is a number that the crowd love – well they love them all to be honest with ya!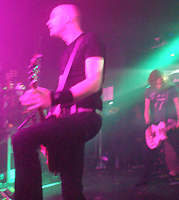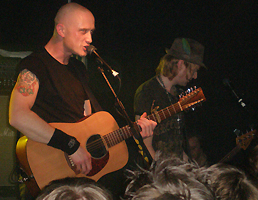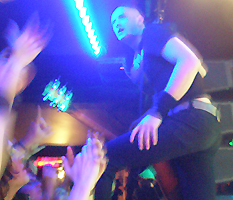 It's totally rock 'n' roll to see the guitars being posed to the ceiling and Dan Hawkins is immensely active, headbanging as much as he can and killer riffage coming from his guitar – excellent stuff. Richie got us to get those hands in their air and he wasn't dissapointed with the reaction either.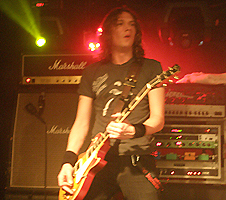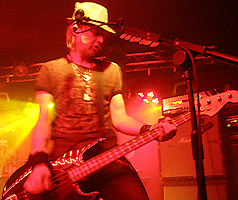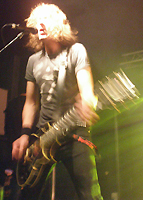 This was as easy for him as using the remote control to turn up the volume as it works so well. Guitar swapping takes place a lot – well it saves retuning guitars doesn't it. Even the snare drum needs replacing which is something you don't see too often.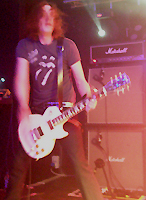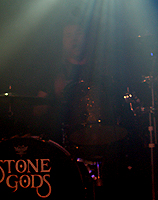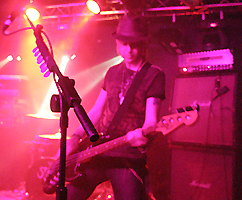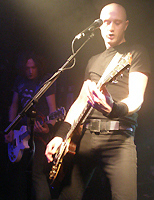 Stone Gods are a band that like to throw a cover or two in and tonight is no exception and they thrash the place up with an imcredible version of Metallica's 'Whiplash' that was lapped up for all it was worth and later a Girls Aloud tune – WTF – no really you read that right – if only the girl band sounded as good as this – 'Something Kinda Ooh' is the number too and sounds f*ck*n' ace - rocked up like hell!! There was some really great highlights of course from their own songs too such as the excellent holiday tune 'Don't Drink the Water'; the rock 'n' roll lifestyled 'I'm with the Band & 'Wasted Time'.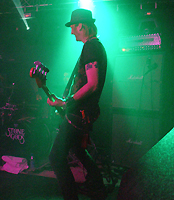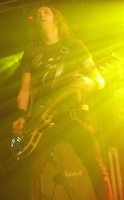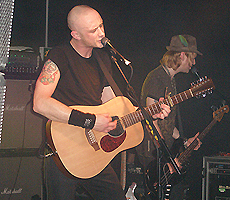 A wander out into the room came from Mr. Edwards while still thumping out some corker 6-six sounds with Toby laying down the bass and Robin being the time-keeper on the kit and Dan well he was still kickin'out awesome riffs as ever. Nice to see all the Jager freebies thrown out to the fans as well - can't beat Jager!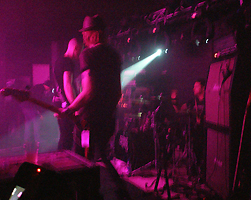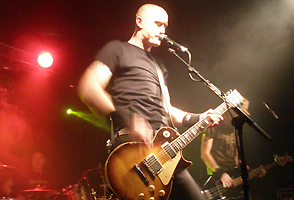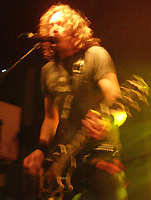 The encore featured 2 of the best songs on the 'Silver Spoons & Broken Bones' that were the heavy enjoyable riffed and killer chorused 'Burn The Witch' (influenced from where Toby comes from) that we rocked out to big style and a number that should become part of English Folk Legend – the outstanding acoustic closer for the night, 'Oh Where 'O My Beero' that also closes the album too.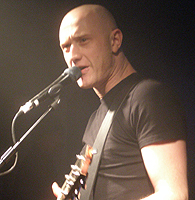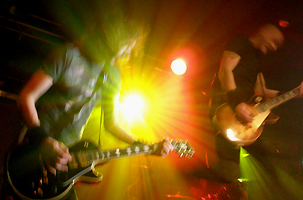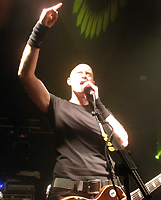 See you guys at Download 2009 – I personally can't wait.
10/10
By Glenn Milligan

SILVERJET/DIRTY CHERUBS/IN THE NAME OF/THE VENKMAN HEIST -
Corporation, Sheffield, Saturday, 9th August, 2008
IN THE NAME OF
A long-awaited re-appearance by Steve and the lads and they have had time to write further goodies for us over the past year. Still I don't know if that is a satisfactory excuse to use up their three top tunes, namely 'Point Of View', 'Devil's Pact' and 'Win Win Situation', - come on guys what am I supposed to do for the rest of the set?
Enjoy the many other Danger Danger-influenced delights this already three-year-active outfit proceed to serve up, that's what I'll do, and while these young men have listened to the works of Poley and co a bit more often than is advisable, I can think of many worse ways to spend Saturday by the woofers.
Questionable as it seems to have two songs with the word 'Devil' in their title, 'Devil's Eyes', Just For You' and rock n' rolling closer 'Flash To Flesh' tot up where I.T.N.O's heart lies - kick ass hard rock of the sort LA was once famed for and despite a few diverse turns along the route, they don't try anything they shouldn't.
Mr Woolhouse is his typically stage present self, stepping onto the amp to get closer to his admirers and sharing a joke about an anonymous former bandmate in the crowd apparently celebrating his 46th birthday - we of course know he's nowhere near that old, - and their PA is on particularly commendable form tonight, given the clarity of those solo breaks.
Again, sweet but short, so hoping there's a headlining set imminent, its time to thank these guys for giving it us all once more and showing what putting on a true rock show requires by the rule book. And now, giving ol' Glenny-boy back the mic......
SILVERJET
One was pleased as pig in s*** when these guys also rolled back into town - even though they from Sheffield of course – as support for House Of Lords and treated us to a fair serving from their new album.
It's bit unfortunate that tonight's headlining stint seems to be only a fraction longer than that previous appearance in May, but they still stick with the best and give us it. Kicking off with 'Mardi Gras', finally available on CD at last (cheers guys) it's old and new all the way as usual and that the 60-strong en masse mostly embodies friends, family and associates of the various acts does help for noise.
The new man on bass is happily settled in and hogs the mike fro the occasional chat with the crowd between numbers - well, when Dave leaves it unattended anyway. My Kerr's throat itself has lost not a shred of form and the new material gives him more ground to grace with his ever more and more Jagger-like range but it has never been too difficult for him to attack the higher notes with his level of testosterone units as it was.
'Hell Yeah', 'Cold Love', 'Deuce', 'Won't See Me Bleeding' and 'Broken' all seem to form into one when you absorb this particular aspect of them but what they boast in common is that every punter's singing n' dancing – doing something – along to each n' every one of them.
Allergic to covers they often seem, SJ break their own rule tonight for the first time by way of a noisy rendition of Kiss's 'Rock n' Roll All Nite' which would have been best left til encore but closing numbers 'Face' and 'Crazy' are songs their fans still appreciate hearing at any stage of the evening.
And sadly that evening once again finishes too soon for many. Silverjet may be advised to come with one or two support acts less in future, or instead co-headline with anther great name on the City's local scene, e.g. Flatline, as we could do with 70-90 minutes of these lads rather than 45-50.
They have so many great numbers, they don't give themselves enough time up there though at least they're gigging regularly again now. Don't let this put you off though, this is still comes as no excuse not to catch these guys if you are still yet to.
Rock n' roll all nite, Silverjet certainly do and you are best to let them show you how.
9/10
By Dave Attrill
Saxon –
Gibson Stage, Download Festival, Donington, Saturday 14th June 2008
After the band not playing last year for whatever reason, it was really special to see them return to this landmark more than 2 decades on – proving that the old oldies are most surely the goldies.
'Get out of the way', we heard the security staff shout as a van was driving through – we looked and turned out to be none other than Saxon themselves – with those of us in the know giving them a cheer and a scream of the band name which resulted in them giving us nods, smiles and devil signs – think they must have spotted out Sheffield Saxon Shirts as well that me and Al were wearing.
The van pulls in at the side of the Gibson Tent and we see the band bail out who are no doubt ready for a well-needed rock out. It seems a good while before they hit the stage amid a very enthusiastic crowd that had an extensive age range from young kids at around 15 yeas old to guys and girls who saw them at Donington all them many moons ago.
Their 1st two numbers were heavier tunes from recent releases which received an incredible reception from the completely packed tent of followers old and new. "I though this was supposed to be a small gig?", jokes Biff Byford, and then questions us with, "So what do you want to hear a new song or an old song?". "An old song" we all reply – right answer, "This is called 'Motorcycle Man'", Biff shouts to us – oh yes – the classics are being unleashed !! Great sound, great mood and atmosphere on and off stage ensues throughout the song.
Here's one I wrote about Festivals – it's from 'The Inner Sanctum' album and it's called, 'Let Me Feel Your Power' before launching into the power recent tune – the whole place lapping it up from start to finish. "It's good to be playing back in Britain again", Biff says cheerfully with the band saluting us with the staple Saxon classics '747 Strangers In The Night' where we were taunted to sing on the chorus – we obliged funnily enough and the mighty 'Heavy Metal Thunder' much to our delight.
"I can't say anything about this – it's f*ck*ng fantastic" Biff tells us, who isdeeply moved and flabbergasted with the amazing reception and love the band are receiving from the crowd. He goes on to say that they were out playing with Metallica last week but this was much better than that – mass applause ensues that saw Mr. B introduce his fellow friend and mainstay guitarist, Paul Quinn who launch the band into the steamtrain singalong 'Princess Of The Night' – you see the writing on the wall!
To us, the writing on the wall is plain to see - Saxon should have headlined in here or in our opinion been the guys topping the bill on the mainstage since they've treaded the boards and are more deservedly of it – I wonder what the guys in the band thought about that fact?
Anyways, no set from these boys would be complete with the showstopper that we hold fondly to our hearts – 'Wheels Of Steel' (rather fitting really with it being Donington don't you think?) that is raced through as opposed to its usual 10 minute+ duration due to time restrictions – we still get the crowd participation part though – the song wouldn't be complete without it – magnificient – 'She's got - Wheels, wheels of steel, talking 'bout my Wheels Of Steel' – we all love that thunderous riff!
Off the stage they go with deafening applause but they ain't gone for long as they return with Biff telling us that people have been asking them all day long, "Are you gonna play it? Are you gonna play it" before the band finally thought 'F*ck It' and made it the encore number – Ladies and Gentlemen, 'And The Band Played On' – Sh*t hot – never seen them play it ever – what a momentous occasion it turned out to be – they must have done it here in 1981 and its been a song everyone wanted to hear since that day on this 'ere land.
Bows took place here after the song and you can guarantee that no-one wanted Saxon to leave the stage. See you on the Tour this November with Motorhead & Danko Jones – by which time a new Saxon album will be released – it'll be a good un.
10/10
By Glenn Milligan
Joe Satriani -
Royal Centre, Nottingham, Wednesday 21st May, 2008
This venue was a new one for me and it's only a stones throw away from a certain rock club that we have occasionally reviewed other concerts at. It was the 1st time on seeing a guitarist playing solely instrumentals in their own right as well.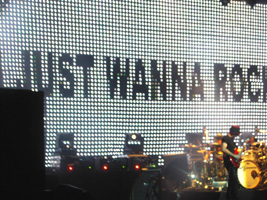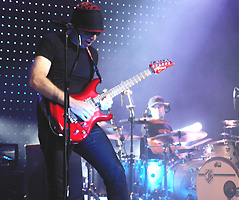 Joe Satriani came with his band comprising of drummer Jeff Campitelli, Bassist, Stu Hamm and 2nd guitarist, Galen Hanson with 'I wanna rock' which saw him sing the title for its chorus (the only vocals for the night) and went into some classic surfin stuff - no I ain't talking Beach Boys or Jan and Dean, I am talking 'Surfing with the Alien' material.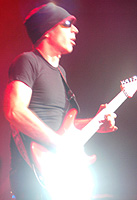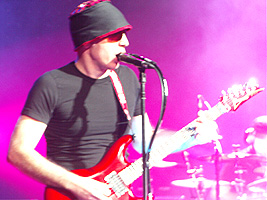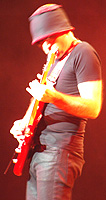 Visually this concert had an awesome digitised backscreeen that showed footage of the band playing (Joe mainly) to the songs performed at that precise moment on stage. Very impressive indeed.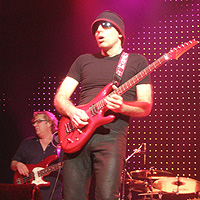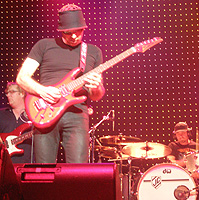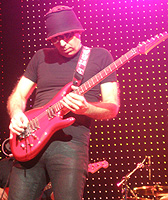 Then there was the equally impressive lighting that really made the instruments shine such as the silver drumkit, Stu Hamm's sparkly Gold Fender bass & Joes bright metallic axes.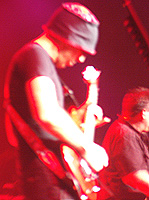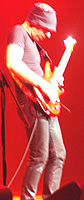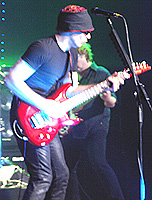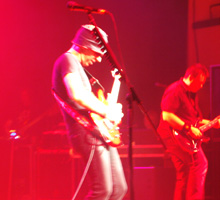 There was a bit of distortion from the drums during 'Flying In A Blue Dream' but it was sorted about halfway through. 'Ghosts' was a cool number that Joe said he had never seen a ghost before but if he did he wanted it to be a really good guitarist - wonder who he was referring to by that - it wa a tune that featured some nice tapping runs as well towards then end.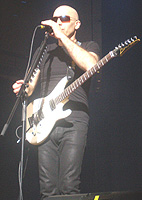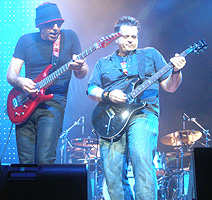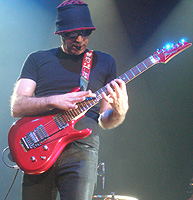 Hey, by the way Joe - nice red trainer boots dude. He played a wrong note during a number and grinned, quickly covering it up - just proves no pre-recordings are ever used at one of his gigs.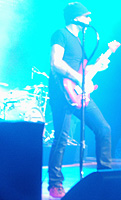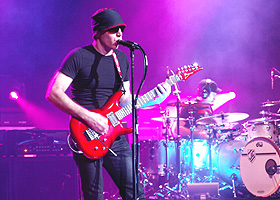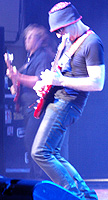 Satch told us about a song he did for a soundtrack when it was the 1st time he got to play to visuals on a film and that it turned out to be a song called 'One Big Rush' - now what film did that come from I wonder? It featured some nice whammy bar action on his red metallic beast - his Ibanez JS1200 to be exact as well as another track that had a reggae section called 'Diddle-Y-Doo-Dat' with the other guitarist in the forefront.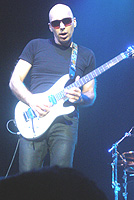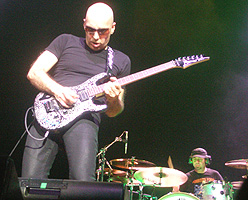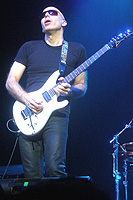 There was plenty of guitar swapping throughout the concert and we get a healthy helping of jazz rock fusion with a pile of impressive fret widdling plus a moment of Mr. S playing guitar with his teeth where each member got a chance to shine under the spotlight.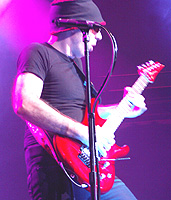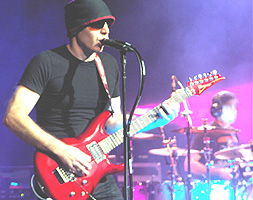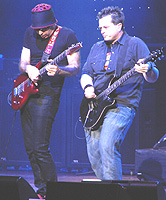 Some spanish flamenco comes up next in the form of a new number called 'Andalusia' with Galen being on an acoustic guitar and great castonet like action on the drums from Jeff. Joe is cool and concentrative throughout, extremely studious and rocks like a mothereffer, finding time to talk to the crowd between some of the numbers.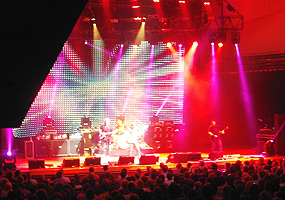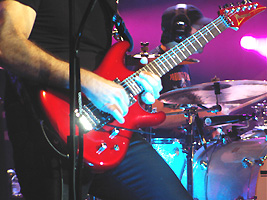 Three of the guys (inclusive of Joe) leave the stage letting Stu Hamm entertain us with some class basswork for a good 10 minutes that introduced the quiet Led Zeppelin classic of a ballad in 'Going To California' and even a wacky irish jig that gets him bounding around the stage and a lot of the audience clapping along and shouting 'hey' at the appropriate time too. An old number called 'Crying' saw synth sounds being midi'd from the other guitarist that was very interesting.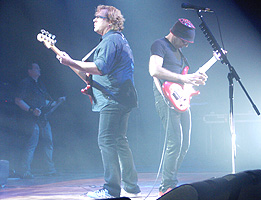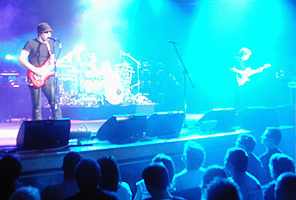 It was cracking to hear the old fave 'Always with me, always with you' - wonderful ballad if ever there was one that went on to incorporate 'With a little help from my friends' (the Joe Cocker version that is), followed by his trademark 'Surfin' with the Alien'. Standing ovation was a guarantee with this one aired.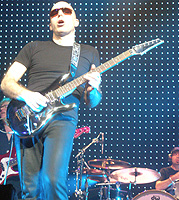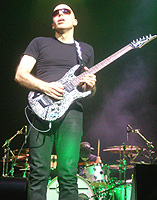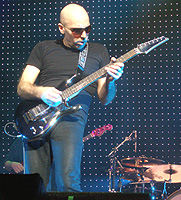 Then of course they left the stage amid a mass of applause befire returing 2 or 3 minutes later to play the wild, wailing 'Crowd Chant' where Satch played licks and the whole crowd sang it back to him. 'Summer Song' became the last one of the night which my buddy Alan Shooter stated was the track that he always finished on. After this came to an end eventually, the whole band got together and bowed, thanked us for coming and left the stage with a mass of applause.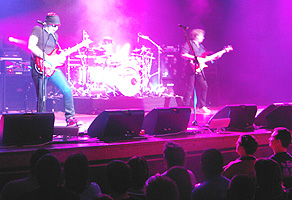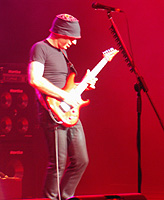 This was a spectacle of supreme professional showmanship and everyone left the venue fully entertained. Hey, I am sure we can even include the whole band on that one too.
9/10
By Glenn Milligan & Alan Shooter
JEFF SCOTT SOTO + Tempestt + Crimes Of Passion -
Corporation, Sheffield, Tuesday, 4th March, 2008
History was made, within Metalliville circles at least, in November 2007 as we found ourselves reviewing the live action across three consecutive Saturday evenings at the same venue. Equally the unlikeliest of happenings is the artist accounting for the latter-most of said dates suddenly returning to Steel City's beloved Corporation for his second UK jaunt within four months.
That individual is no other than the almighty Jeff Scott Soto himself and to ink the books a little further, he picks local kings Crimes Of Passion to open proceedings for him once again. Rotherham's finest are allocated 45 minutes tonight so there's more space fro their Scarem/Dokken tinted onslaught to gel and it seems quite clearly able to do so as the forty-odd gathered punters applaud quite loudly. Yes, so there is a cover of Dio's 'Holy Diver' amongst the numbers but 'Exit Wound' and 'Pretty in Blood', while established favourites for those who have their 3-track demo in their collection already, are still weighty examples of how tight a unit stand opposite them playing tonight. It is upsetting to hear that bass-man Chris is due to depart the ranks in the coming months so I'm hoping to catch a headliner or two from these guys before then.
Brazilian quartet Tempestt, who Mr Soto is actually sharing a joint two-hour headlining set with on this stint are set to be metal's discovery of the year gone by if witnesses to tonights first taste are any judge. Their throw together combo catches the lines thrown at them by the hands of hard rock, AOR, melodic metal and power-pop and attaches a huge fish to the end but there is nothing fishy going on about the incredible sound these lads adopt. All nine numbers keep everyone's interest with an immense variety of styles and rhythms and the applause every time means something special's on the way with this young act.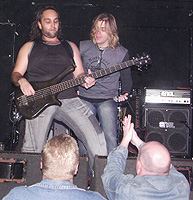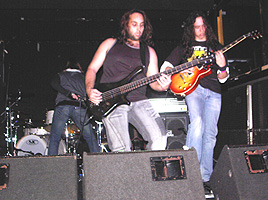 Then someone very special himself takes centre stage, the vocal phenomenon that is of course Mr Jeff Scott Soto his-very-self kicking off with another of their cuts as they now become his backing act,.and we're away. 'Eyes Of Love' a solo belter from 02's 'Prism' album is sadly one track I've not heard onstage in nearly six years and you know they've been yearning for its reinstatement as well and it waters the taste buds fro the rest of the night.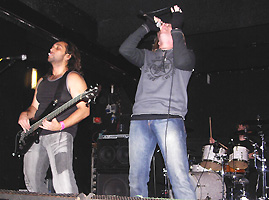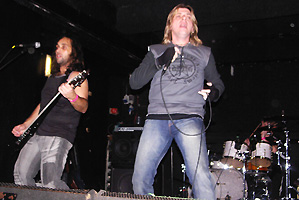 'Colour My XTC' and 'Crazy' - this geezer sounds more and more like Seal every time he sings it are a pleasing double-bill for gathered Talisman-ites and indication of the surprise-laden direction the show seems to be taking.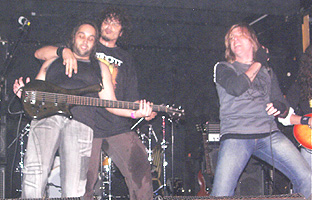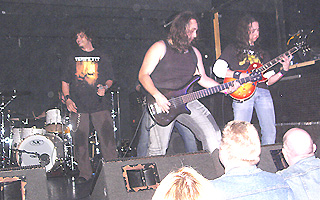 Then it comes, the unexpected of all, as 'Rock Star ' cuts 'Stand Up' and 'Livin' The Life ' are belted out, back-to-back and the crowd's own added acking vocals make the obligatory sing-along within 'I'll Be Waitin' seem redundant. Oh, but he still does it.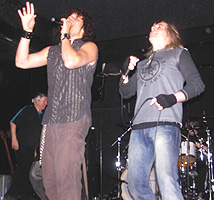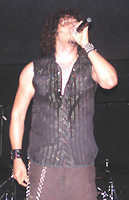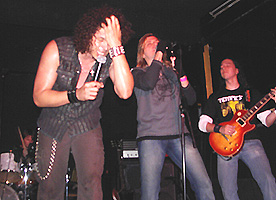 Having amusingly translated various British expressions - mostly featuring the word 'piss'- to his new bandmates, he lets them kick in the vocal intro and this time we also get the full electrical version from the start, unlike the last (thanks Jeff). This man thinks he can get away with leaving after being on only fifty minutes but we all know he can't,- don't we, kids.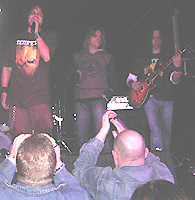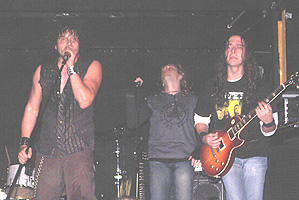 Ergo back to the boards he jolly well goes and rounds off with his newest addition to the Soto live set – an incendiuary rendition of Purple's 'Burn' and there's not a person who isn't either jumping up and down, punching the sky or lip-synching, or a combination for all the five minutes this one lasts.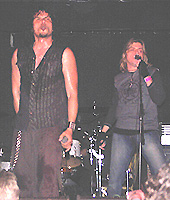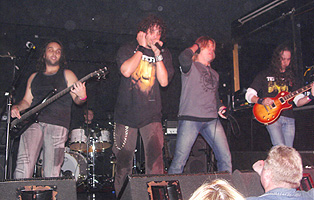 And then he leaves the stage again and sadly does get away with it... until next time, which we all hope won't be too long. While not only a bonus having him visit these shores twice in less than half a year, Jeff's show tonight digested a lot easier than last year's largely due to the larger ratio of classic material in comparison plus his ever-expanding stage banter.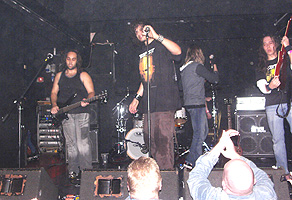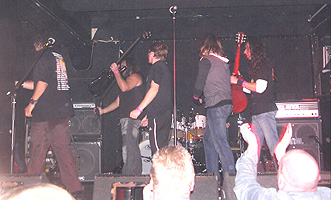 Whatever he decides to play, it's still always the voice that counts but I still can't help but afford this set a higher merit than last November's one.

9.5/10 - For all three bands
By Dave Attrill
MICHAEL SCHENKER -
Boardwalk, Sheffield, Sunday 10th February 2008
A good few hundred Yorkshire folk were inevitably unimpressed to find the Schenk's intended gig at the Corporation - along with the rest of that UK jaunt cancelled just over a year back. Given he had a lot to live up to following his drunken foul-up with UFO that time at the Mancy Apollo, this was the last thing we could have done with.
But no, something must have climbed into his coffee and been inadvertently swallowed for the Schenk's name suddenly appears at the top of the Boardwalk's 08 gig listings, and the words 'I should think so' and 'too' come to mind. Absence of a support act results in a two-hour wait which is of course the worst thing that can happen in a stand-up venue before the lights go down and a large flying-V weilding figure clad in shades and sleeveless black collar shirt arrives on the boards.
Currently fronted by Swedish vocal heavyweight Leif Sundin, despite the ad mentioning it would be Gary Barden plus ex-Whitesnake men Don Airey and Neil Murray, not one of those legends appears in attendance but those who do, don't disappoint with the legend that is Michael Schenker himself standing next to them. Unlike Yngwie, this geezer doesn't bore the throngs solid with solos that last about half an album side's worth of time space, and just sticks a couple of extended bits into the odd favourite here and there, his only instrumental tonight being signature nugget 'Into The Arena'.
A man who likes to confine himself to one end of the stage, he is quite Germany's answer to Tony Iommi, but either way, his fast fingered wizardry on that ol' fretboard is as immortal as always and the fact he is now teetotal may be related. 'Are You Ready To Rock', 'Armed And Ready', 'Lights Out', 'Attack Of The Mad Axeman', and 'Only You Can Rock Me' ensure a fair blend for fans of both of his two most significantly renowned outfits and Sundin himself joins in the fun, also strapping on a guitar for the latter.
A belting double encore of 'Doctor Doctor' and 'Rock Bottom' ensue with the latter extended for Mr S's final shredding of the day to be carried out with style. Schenk seems to be forever bent forwards over his immortal black/white axe, as if the thing has got heavier with age and the fact that he doesn't quite have enough time to cause himself a rather serious foul up in the spinal regions is about the one solitary upside to this set lasting ONLY 75 MINUTES.
Come on Michael, some of us did pay 17 squid for the priviledge - does this remind anyone of Slash's Snakepit's gig at the old Corp across the road, in November 2000?. On the tenth anniversary of Steel City's last visit from who still remains one of the greatest pairs of hands ever to wield a guitar (UFO City Hall, 98, 'Walk On Water' tour) you think we'd be in with more of a chance of getting two and a quarter hours out of him but it was still great while it lasted.
More again next time Schenky boy, but please more of it.
8/10
By Dave Attrill
Stone Gods/In The Name Of /The Venkman Heist – Corporation, Sheffield, Tuesday 22nd January, 2007
First gig that Metalliville have seen at the Corp this year – 1st of many no doubt for sure. Anyways, it's into the small room for this – would have been nice to have been in the massive one but there ya go – rather cramped but plenty of atmosphere and heat guaranteed. 2 supports from Sheffield and a headliner from the South who have 2 members from The Darkness in their unit.
A band who are new to me and must be one of the best trios I have seen since Strongheart and the mighty late-great rock cover band CRF. They go by the name of 'The Venkman Heist' who have very strong songs held together with a tight structured performance from each member of the group being rather gifted at their chosen instrument.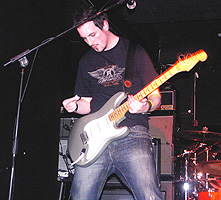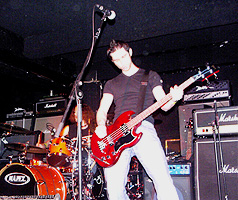 They have a unique fresh balance of rock, metal and even funk in their music, gripping vocals, grooving bass-playing and solid and extremely enjoyable drumwork goin down here. Highlights included the funky 'Time Change' & the very rhythmic 'Taste'. Easily the best band on the bill by far and the most interesting musically. Expect big things!
9/10
The other local boys the melodic rockin' 'In The Name Of' have a strong crowd of friends 'n' fans here but are weak but I find them to be weak with regard to the strength of their songs in comparison to the previous Sheffield band.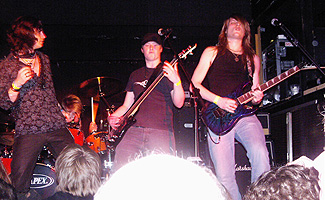 They are good enough players with an adequate frontman but they need way more in the way of hooks and fresh originality to stand them a chance of making it further afield.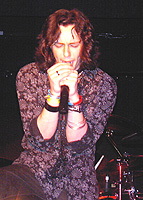 The frontman, Steve was good with the crowd though – like the funny line about pointing out some granddads out there watching. They have the potential to be a really polished outfit – what they need are stronger, sticking in your mind songs with more melody and lyrical hooks. I look forward to seeing future material from them as I know they can do it.
6/10
Onto the headliners, who seemed to be rather late getting to the stage, 2 of them of which were in a rather famous rock act a couple of years ago going by the name of The Dark-you-know-who. Well Dan Hawkins is here on Guitar and the replacement to that bands original bassist.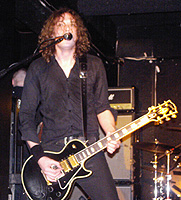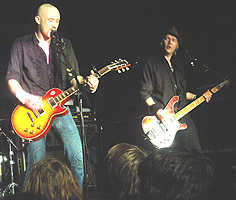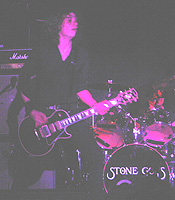 Hardly any of their material has been heard before apart from maybe a couple of tunes on their myspace page – the audience are wild for them as well with their frontman thanking everyone for coming out and being there for them.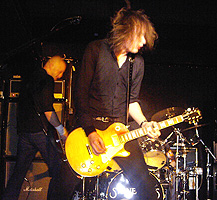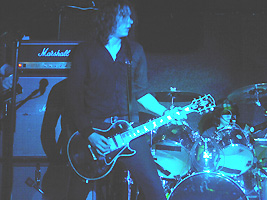 The Stone Gods have a variety of different rock and metal influences with genres including Classic Hard Rock, 80's Arena Rock, LA Sleaze, Thrash Metal and even a bit of folk and country on a couple of acoustic numbers.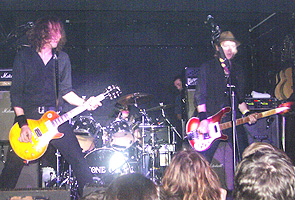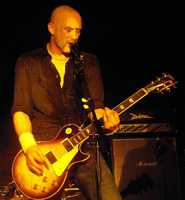 Tons of stage presence is guaranteed and comes in bucketloads. Confidence here is second to none and their bald-headed frontman oozes personality, zest and a real honest friendliness about him too that instantly makes him and the band a hit with the people of Sheffield.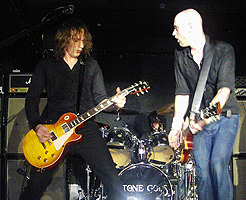 I have a sneaky suspicion that this band may make a trip back to Sheffield sometime later in the year – hopefully with enough people to fill the large room – that's unless that other band that are a polar opposite to light don't make a comeback.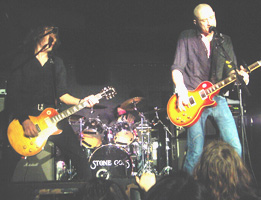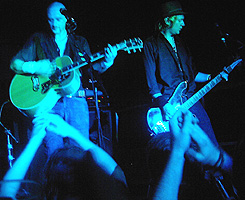 Looking forward to hearing the studio album if this hour long set is anything to go by.
8/10
By Glenn Milligan

Status Quo/B & The North –
Sheffield Arena, Thursday, 20th December, 2007
Well I was only here last month for 2 nights running, but I'm back again to see a band who I have been a fan of for 30 years – it's nice to see the venue has gone back to its former name as well – like in the good ole days when Rock gigs were plenty on this patch.
Frontwoman, Bernadette of 'B & the North' is none other than Francis Rossi's daughter but you'd never guess that from her looks, vocal style and choice of music – this outfit is more Country, Canadian Folk and Commercial Pop than her fathers band. The get a chance to play Rick & Francis' Fender Telecasters as well which is pretty cool.
The audience are very warm towards them and Bernadette comes across very humble apologising for technical difficulties up there, laughs about her guitarist breaking a string causing her to give up the guitar she has been using as well as informing us that in 3 days time she will be shovelling sh*t and even nearly forgetting to tell us who the band are. They are a tight unit who have both electric and acoustic elements where the guys are a supreme spring-vault for Bernadette's high and shrill voice that fills the arena tonight.
Not too long after, well about 30 mins to be exact the house lights go down again, we hear the familiar intro to that 1st major hit, 'Pictures of Matchstick Men' then the curtain drops revealing those British 12-bar boogie legends 'Status Quo'.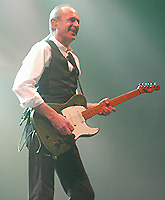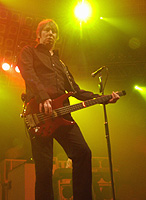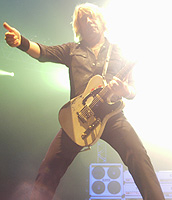 The boys power straight into 'Caroline' with mass excitement and applause from the crowd followed up by fave live cuts of both fans and band alike such as 'What you're Proposing' 'Forty Five Hundred Times' and 'Rain'.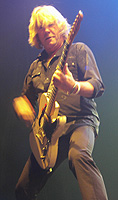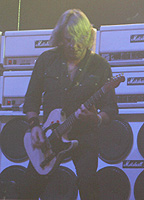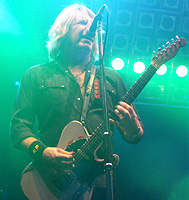 Francis forgets the odd word now again but adlibs with his own creative lyrics on the spot it seems – unless it's a well rehearsed ploy – one can never tell with a well toured act of this status (scuse the pun).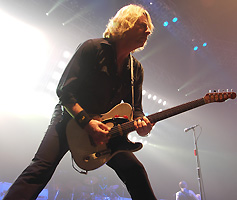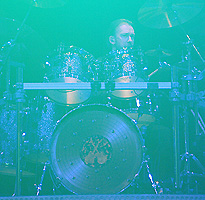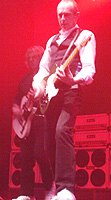 One thing you can totally rely on with Quo is that they let the songs do the talking and don't rely on flashy effects one bit – they have a similar lighting set up that they've been sung for a couple of decades, probably longer – it's really bright, which is a godsend from a photographers point view, hence the extremely great shots with no need for a flash.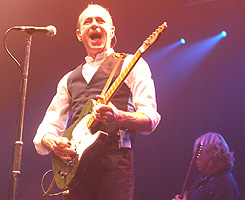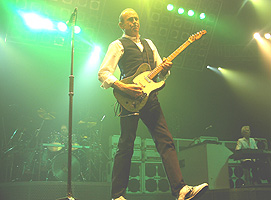 They are full of humour as well and never seem to take themselves one bit seriously, having a laugh with people in the front rows and beyond not to mention cocking up the ending of 'The Oriental' and blaming each other for it much to the amusement of everybody in the building.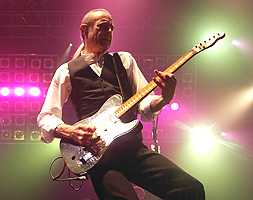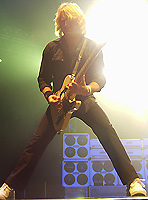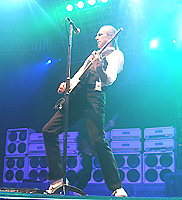 Francis joked with us saying that he was told they had to come to Sheffield to play at the Arena as well as visit the fly that lived there – lol – the one that's always buzzing around the bands, 'Not any more it isn't', with a smile on his face he quips and remarks that he's put an end to that right there – dude that winged creature is a local landmark!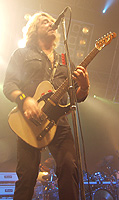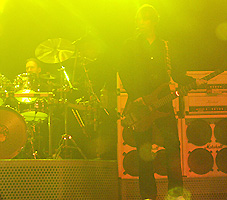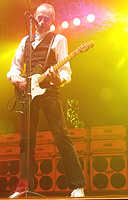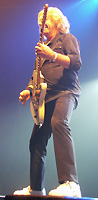 Having enjoyed their current album 'The Search Of The Fourth Chord' I was really pleased when the Quo performed a couple of the best songs from the album, the Rossi lead-throated 'The End Of The Beginning' and the Rick rollertongin' 'Gravy Train' as well as my brother-in-laws fave 'All Stand Up (Never Say Never) from the 'Heavy Traffic' album – excellent stuff!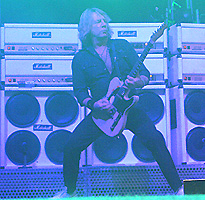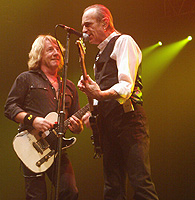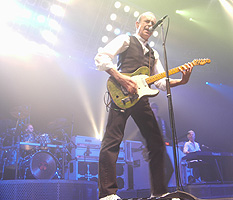 The band get all Christmassy on us as well and play an instrumental version of 'Jingle Bells' for us that is followed by the old number 'Gerdundula' – a staple part of the set these days and always prove they are still one of the tightest bands around on the UK soil today where Andy Bown joins them on an extra Telecaster, giving him a break from the keyboards.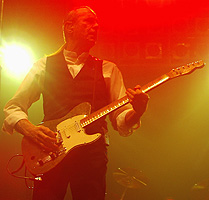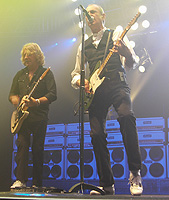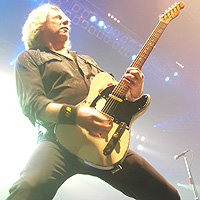 Nearly 2 hours of pleasure is what was received from Status Quo tonight which was a real surprise as the Arena's website stated that they would be playing for 90 mins – the lads must have had a great time and as a result pulled out the stops for us, finishing on 'Rocking All Over The World' and Chuck Berry's, 'Bye Bye Johnny' – then it was bye bye fans, bye bye Quo.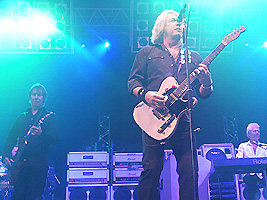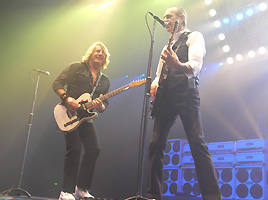 Let's do it all over again in their 41st year.
10/10
By Glenn Milligan
Jeff Scott Soto/Crimes Of Passion –
Corporation, Sheffield 24th November, 2007
When Talisman announced they would be passing through a SHEFFIELD venue on their UK jaunt earlier this year, it seemed too good to be true and then some, and sadly turned out to be as the inevitable cancellation put paid to a dream. Fast forward a few months and Jeff Scott Soto, having recently - and scandalously – been shown the door by Journey, appears on the Corp's live listings.
And.... in additional compensation, Crimes of Passion return a week after having trod the boards opening up an almost sold-out gig for Gotthard. Providing the punters with a near identical set to that we heard seven nights before, Dale and the lads do air a couple of further newies, soon to be heard on their debut album. The full EP in the meantime gets its usual full airing - personal favourite, 'Exit Wound' included – as does their stomping 'Holy Diver' cover with a crafty adjustment to tempo during the second verse which peppers it up pleasantly even if what Ronnie's got to say, I'm not too sure.
A slightly stronger set than last week's already above decent effort, the two tracks added this time show us their teeth for diversity well bared, especially the progressive-sounding latter, and how long a way these chaps have come since Steve Lunn departed the ranks over two years back. Probably the last time I'll catch them this side of the '07-08 threshold, next year promises fireworks both from and for the Passion lads.
9/10
By Dave Attrill
Jeff Scott Soto Set List –
Mysterious/Soul Divine/21st Century/Drowning/Drum Solo/Stand Up and Shout/New Position/Colour My XTC/Broken Man/Long Train/Hey/Crazy.
Acoustic: If This Is The End/Nobody Said It Was Easy/Cheyenne/Shed A Tear Goodbye/Send Her My Love/Gin & Tonic Sky.
I'll Be Waiting/I Wanna take You Higher/Separate Ways
Encore: Play That Funky Music (with Disco Medley).
Some concerts you just know will be outstandingly good and this is one of them. This is the 3rd time I have seen Jeff live – the 1st time was at The Gods in Bradford in 2003, with Talisman who are sadly no more (but never say never) and 2nd time fronting Soul Sircus.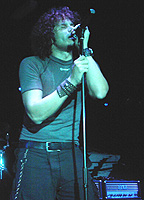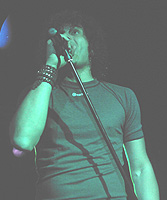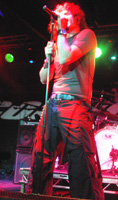 He's been awake 26 hours straight after flying from LA the day before and even asked what the time was – jet-lagged, I'd say so but you'd never have guessed it from the exceptional performance at my fave club.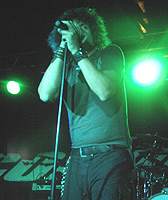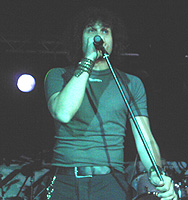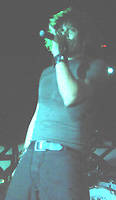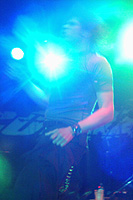 He's so full of life, dancing around like he's won the pools, throwin 'n' catchin' the mike on a regular basis and not dropping it once – he's like on a spring – there's no wonder that he perspires so much on stage, dripping in sweat throughout much of the performance tonight.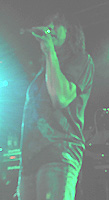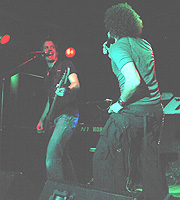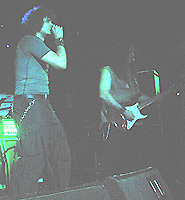 A nice healthy audience gladly took it all in who needed some charging up at one point by the man himself, 'Sh*t, it's like 'Gods 2002 all over again", he quipped – but soon got the people into the act with some fun vocal warm-ups.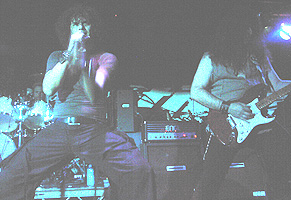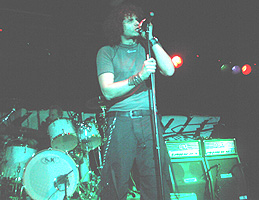 Oh yeah, the whole gig was recorded – not sure if that will be available in its entirety or it will be segments from a variety of gigs – I guess we will find out in due course. Howie Simon is still there on guitar I am chuffed to say, what a voice he has as well, as does bass guitarist, Gary Schutt – high tenors or what !!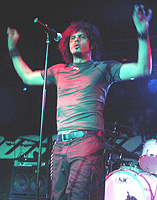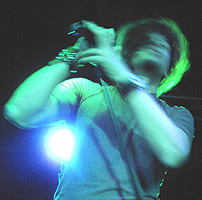 They easily match their musical abilities. The drummer is a damn fine hitter of the skins and goes by the name of Dave Dzialak and like all the other guys, capable of playing some real nice rhythms.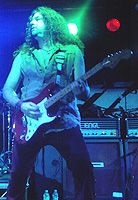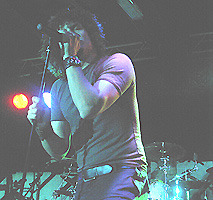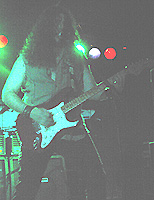 The set is broken up nicely, getting the crowd rocked up and into it with songs like the brand new '21st Century'; the epic from the soundtrack of the film 'Rockstar' that we all love called 'Stand Up & Shout'.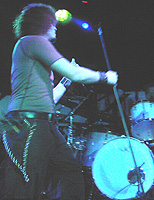 A new number was aired - a great bouncy pop-rocker 'Hey' that he especially wants to capture on film tonight, closely followed up by Crazy – the amazing song that was originally by 'Seal', 'No we're never gonna survive, unless, we get little crazy!' – works a treat tonight.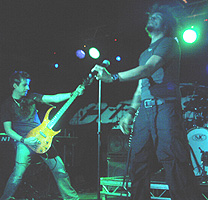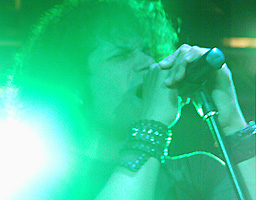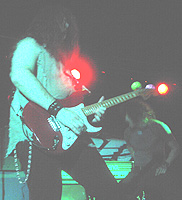 The acoustic section featured Jeff sat at the piano that really brought his passionate, loving, heartfelt voice to the forefront on beautiful songs like 'If this is the end' & 'Send her my love' – even Howie Simon got in on the act as well, by changing to a warm, wooden six stringer.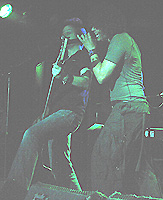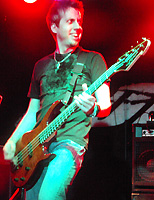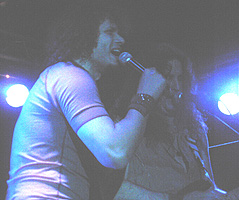 I remember Jeff doing this when he played in Soul Sirkus – and just like it did then it worked perfectly in a way that only professional like this can easily pull off.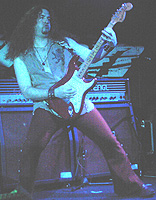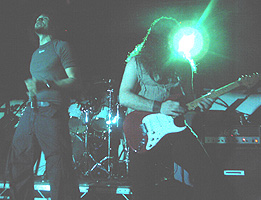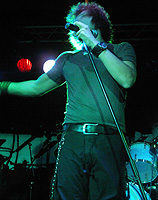 When Jeff came back from the piano he immediately pleased the fans again as they gave us the Talisman stormer 'I'll be Waiting'; the funkiness of Sly & The Family Stones 'I wanna take you higher' followed up by the Journey smoothey 'Separate Ways' that always guarantee everyone singing along.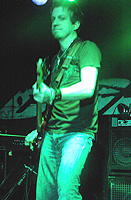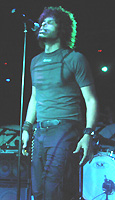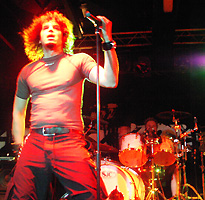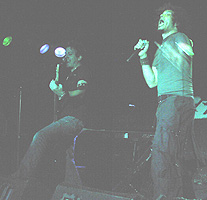 Then he funked us off our feet with a pile of disco that was built around 'Play that funky music' that was real out-there but worked a treat. Only a rocker like Jeff could pull this off and get thoroughly praised for it.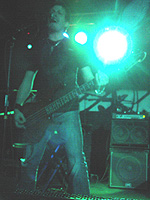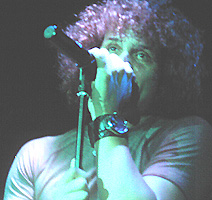 After the gig the whole band came out to spend time to sign autographs and have pictures and chats with the fans. All round great people. Brilliance is an understatement.
10/10
By Glenn Milligan
Skid Row/Sign/GU Medicine –
Corporation, Sheffield Friday 23rd November, 2007
Now this was one of those gigs that you just didn't know what to expect since I ain't seen the headliners for 16 years– more on that later.
Young Sheffield band, GU Medicine took to the stage first who I was informed by my buddy Steve had played the venue many times but this was my 1st dose of them (scuse the pun). An aggressive hard-edged stoner outfit who don't take no prisoners or suffer fools gladly when it comes putting their material across to the crowd – think heavy as sh*t Monster Magnet and then some. Was funny to see their little tech dude nearly lose his jeans as he raced onto the stage to put a mike stand upright again.
7/10
Main support band by Sign are big Skid Row fans so rumour has it they got the tour – don't know how true that is – you know what the rumour mill is like in rock 'n' roll! Anyway, these Icelandic Geezers come across like Marilyn Manson meets White Zombie – they are ok I guess but hardly much to write home about to be honest – all songs virtually blur into one and I can't understand why they need 3 guitars up there especially since they got the keyboards banging out as well. Would have sooner seen a good sleaze or cock rock band up there – but there ya go.
5/10
The last time I saw Skid Row was when they supported Guns N Roses with Nine Inch Nails at Wembley Stadium in 1991 – I remember that being a rather haphazard gig, kinda sloppy & crap sound and one of the guys getting his male member out much to the delight of the girls there. Well none of that happened tonight, the sound was clinically perfect, the band as tight as humanly possible and said organ kept firmly (scuse the pun) in pants.
Only 2 original members in the band now – Dave 'Snake' Sabo and Rachel Bolan, so some would argue how authentic the band are – well fear not – without wanting to rub salt into ex-members wounds – the replacement members are just as good as as Scotti, Rob and Seb – yeah, I was surprised as well!!
Vocalist of the last 9 years or so grabbed the audience straight away – well he had to because Seb Bach played here with his solo band a couple of years ago, not to mention supporting the Gunners up the road as well last year and appearing at Download with 'em. OK, he may not be able to get those top couple of notes and drops an octave during an acoustic 'I Remember You' at the appropriate moment, but this Texan Redneck Dude going by the name of Johnny Solinger is damn good and matches song by song to his predecessor. Was awesome when we got to sing some of Lynyrd Skynyrd's 'Sweet Home Alabama' with him.
Set-wise it was mainly a retro look-back at at the 1st two albums since they wanted to keep the crowd happy so of course we got the classics like the opener 'Big Guns'; 'Makin' A Mess'; 'Get The F*ck Out'; '18 & Life'; 'Slave to the Grind'; 'Sweet Little Sister' and of course that definitive closing number 'Youth Gone Wild'. A ton of singalongs of course took place and some nice guitar solos. A couple of Solinger era Skid Row numbers were thrown in as this was the 'New Generation' of the band which were greeted with as much enthusiasm as the big age-old rock night staples.
To say I was extremely impressed is an understatement.
10/10
By Glenn Milligan
Strongheart/Hellhound/Van –
Boardwalk, Sheffield 1st September, 2007
Strongheart Sets (Give and take a bit of swapping about)
1: Thunderbird/Freight Train/Whiskey River/Peace Love Dope/Immortal With A Kiss/The Kids Are Wired/Rising Of The Phoenix/Mr. Lonely Eyes/Better Get Up/La Grange
2: Immigrant Song/Hot Jersey Nights/Moby Dick/Whiskey Man/Cocaine/Psychotic Episode/Smooth As Silk/Whole Lotta Rosie
How good it is to be back at the Boardwalk again – and making it even more special is the return of Wilbur Hess and the incredible Hard Rock Sheffield Come American Trio 'Strongheart'.
Anyways, 1st up were a great young band called Van who warmed the room up with their sleazey come modern rock sounds. They were as tight as tight and even Strongheart Drummer, Bobby Arachega was mightily impressed – out front to lap up the majority of their set. It seems that looks are deceiving as I thought that they were gonna be an Oasis like band due to how they looked – thank god I was proved wrong. Be interesting to see them do another support slot somewhere as I can see them making quite a stir around the city (that's if they haven't done already) – so where does the name come from, I wonder?
Now I had seen the name Hellhound around recently – that's it, they are one of my myspace friends and believe me they sound awesome on that. Like the headliners they are a hard-rockin three piece that featured seasoned musicians Janson Ward (Drums); Mick Shedd (Bass/Lead Vocals); Alex Oliver (Guitar/Vocals) who deliver a set that mixes classic rock; Southern Rock with elements of bands like Mountain, Molly Hatchet and even Van Halen.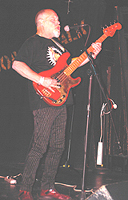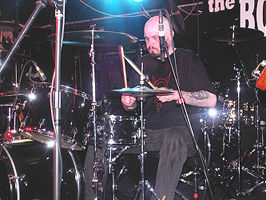 They are in your face with their full-on style and have a crackin set that features original material of numbers like the instrumental 'Gypsy Dance Single…' that gives them a vocal breather; 'Sons of the night' that reminds me of Hawkwind (Chronicle of The Black Sword era with Huw Lloyd Langton on vocals) – nice solo Alex! or the controversial 'Like Politicians' that are mixed in with splattering of covers that include 'Sunshine of your love' amongst a few others. They go down great and are a perfect direct support to Strongheart – no wonder they are supporting at Grimsby.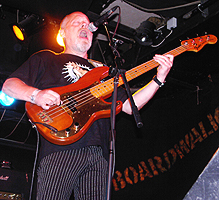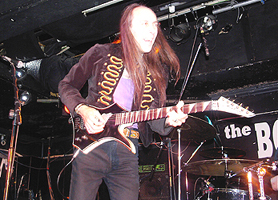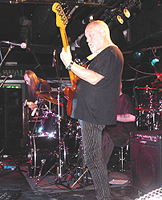 Soon it's that point of the night that everyone in the house has been waiting for – the splendid 'Strongheart' who start up with rapturous applause the ZZ Top's 'Thunderbird' – I was only saying to my workmate Matt last week, that I hope they open with it and 'Hey Presto' they did – nice one!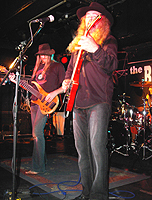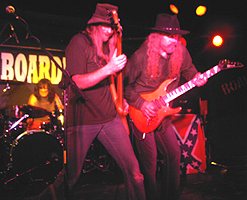 They deliver many of the best songs from the legendary 'Hard Wired' album that everyone in the venue more than likely owns in one format of another such as crowd favourites such as 'The Kids Are Wired' and believe me, The Boardwalk was wired tonight; 'Whiskey River' that Wilbur says was all about floods over in the USA somewhere – the place escapes my memory – but the song is indeed fitting for Sheffield (especially after the excess flood water around the City in June).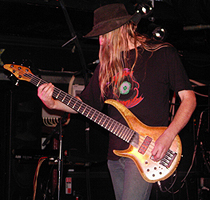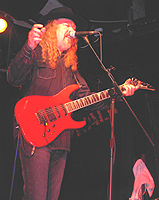 Much to my delight are inclusions from their second album 'The Ritual' which are 'Peace Love ope' and 'Immortal With a Kiss' – nice one dudes. Wilbur, Bobby and Chris sound as good as ever – no need to tell you who does that as most you will already know that.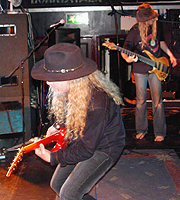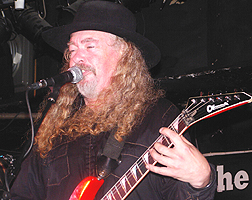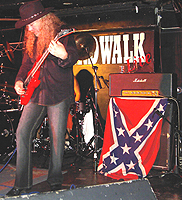 These guys can do no wrong no matter what they play, Wilbur can solo over a nursery rhyme and it'll sound incredible. 'Mr. Lonely Eyes' was a turn-up for the books – a country ballad that is pre-Strongheart (actually from a previous band that I was told were called 'Sex On Vinyl) – lovely stuff – I must get hold of some of that bands material.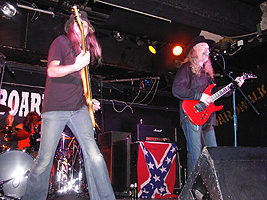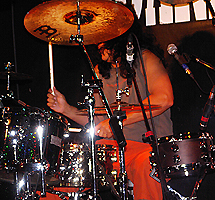 Set 2 opened up with the Led Zeppelin classic 'Immigrant Song' – as Strongheart are so good at aggressive 70's based stuff – southern or otherwise. The girls are loving it down the front dancing throughout the entire gig – eye candy, grrr, eye candy – it seems that blondes definitely have more fun on this occasion and not one of them would argue here.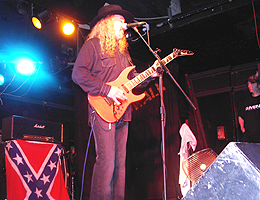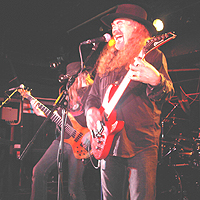 Talking of Led Zep again, Bobby blows everyone away with his exceptional drum solo in Moby Dick hitting everything in sight with absolute precision every smack and bash of the way while Wilbur and Chris have a chill at either side of the stage with a huge grin on their faces.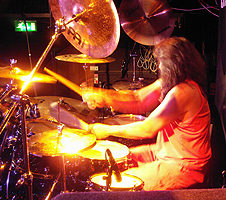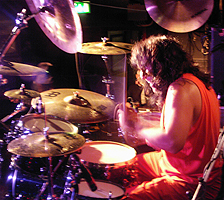 I dare anyone to follow a drummer like Bobby apart from maybe Stet Howland – in fact I'd love to see those two solo together and get French Fred in on the act as well. Anyone fancy some more 'Whiskey', I know Wilbur does after asking us to fetch him a bottle before launching into the bluesy 'Whiskey Man'. Chis also gets a chance to highlight his vocals on Eric Clapton's bumping white liner known as 'Cocaine' before going into the instrumental 'Psychotic Episode' and the fantastic 'Smooth as silk' (wonder what that one is about – more tea vicar).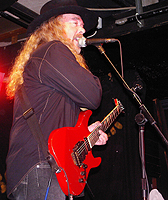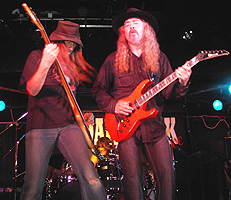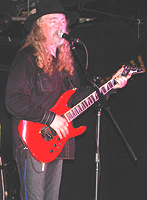 No one ever wants a Strongheart gig to stop but as the old-age saying goes – all good things must come to an end and when it finishes on a song about a well-endowed big girl, being 'Whole Lotta Rosie' everybody is left with a smile on their face – I bet she had one too! A killer night with aruguably one of the best bands from our Area – come back soon.
10/10
By Glenn Milligan
Shrine of the Monkey –
Corporation, Sheffield 31st March, 2007
Now these guys are Sheffield's answer to the stoner equivalent of vintage Black Sabbath – a three piece made of Rich (Bass/Vocals); Kev (Drums) & Brian (Guitar/Vocals). I have been meaning to see them again for some time now but due to bad weather, crappy cold it's took me a while to get round to it.
They happened to be on a bill with two other bands but I had purposely come to see these guys. It was a funny sort of setting in this here little room – since most of the kids here appeared to either still be at high school or still not old enough to drink – pop and crisps all round then. Ok, there was a handful of us older more mature rockers as well and I am pleased to say that many of the kids enjoyed the band as much as what we did.
Shrine showed how it should be done with Brian & Rich both taking role of lead vocals which is a rare commodity these days in rock and metal as it's usually average to good frontman with bad backups – not the case with these guys who can both sing damn well – just a pity the vocals were a bit quiet in the mix. As Rich put it later, 'That's the joy of being the support band and only being allowed a short sound-check'. Anyways, that didn't put them off as we could probably hear them better than they could themselves.
Brian is one hell of a guy to watch – crazy facial expressions along with the stage-poses you get from guys like Ted Nugent & Paul Stanley and then some…. Not to mention the mindblowing guitar-word – fingers all over the place and sounding incredible and swapping between his two swanky red axes– a real joy to watch, while Rich rocks out on the bass pumping out those deep, aggressive tones bopping the head throughout. Kev is a cracking drummer too who bashes away like it's his last ever chance to play the kit and makes the most out of every possible second.
Songwise we got a 30 minute set that included songs from the ep like the song 'Shrine of The Monkey' itself and 'Anthem' that seemed to be the main crowd pleasure and a few newies from the forthcoming album that I am really looking forward to sticking in the CD player. Each number was a strong as the previous as well – not a filler in sight – which is what you want ain't it.
I am real glad I came out to see this power-driven trio play tonight – make sure you get to see 'em soon too.
9/10
By Glenn Milligan
Skinny Molly / Manilishi –
The Boardwalk, Sheffield, Monday 5th February, 2006
It's February in Sheffield and what a surprise it's damn near freezing outside but here in this very venue the music is hot, despite the lack of peeps here tonight – opening up the preceeding were a local band called 'Manilishi' – but not a bit of Green sight (only kiddin lads) but plenty of blues-like rock which a lot appears to be very Hendrix. They include a cover of a Johnny Lang song (a funky-bluesy ditty) as well as 'Cold Shot' by Stevie Ray Vaughn. The star of the night is joins Manalishi on stage for a jam as well, a pity that Mike's Gibson SG was out of tune to the song – oh what the hell – who wouldn't be happy having Mr. Estes playing with them.
When Skinny Molly take the stage we are greeted straight away with some crackin' Lynyrd 'Workin' for MCA' which appears to be the order of the night – pure Southern Sounds - that's how I like it, that's how I like it. Man I was amazed at just how tall Mike Estes was and he had to duck his head to see us at times when he came right to the front of the stage due to a low ceiling curtain. Such a marvel to watch as well, with guitar poses a plenty throughout the performance.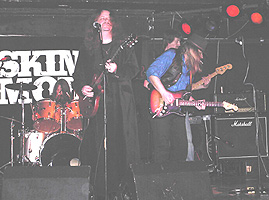 I missed out on seeing 'Skinny Molly' a couple of years ago at The Rock & Blues in Pentrych because most of the band got holed up in customs due to not having the right work permits – 'we got 'em this time tho' Mike assured us. The Gibson SG of his was mindblowing – proper original from way back – like as though Angus Young had used it since he was like 14 or something – well worn and well played.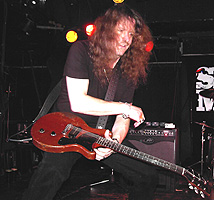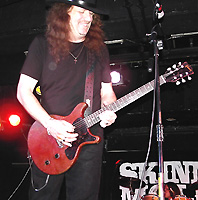 Believe me if you are into Skynyrd then this was the ultimate place in the UK to be that night – you just couldn't go wrong with songs like 'Down South Jukin' 'What's your name' or 'Gimme Three Steps' – it's completely impossible. Everything was done so tight as well and Mike has got such a great voice – and then there's that Tennessee accent of his as well – 'Not many people talk like me around here do they?' he jokes to us as well as congratulating Sheffield on having the best beer he has ever had – this being 'Pale Rider' – one of my favourites as well – good taste dude, good taste.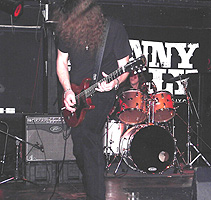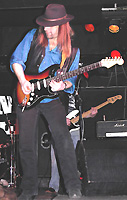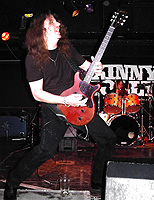 He joked about the fact that they had a fun gig in Glasgow the night before but was p*ss*d off because he wasn't allowed to smoke – which he likes to do on stage – even asking us to vote on what we thought to the idea of the ban – he ain't looking forward to June (or is it July) let me tell ya – lol.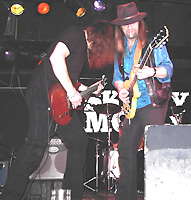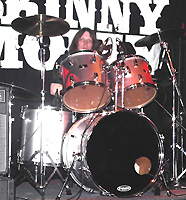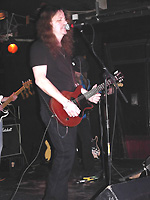 When Kurt (the bands drummer) decided he needed to go to the bar we were treated to a real rarity – the not very often played 'Four Walls of Redfearn' that featured just Mike and fellow guitarist Chris who gave us some beautiful slide sounds – now that was something else!! Mike joked that it took him a long time to learn the f*ck*ng thing as well – lol. A song of Mikes was also performed - a southern rock ballad which was class – pity I don't know the name of it.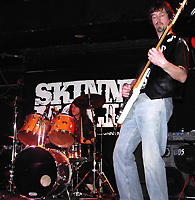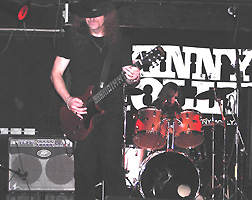 Nice covers of Keep Your Hands To Yourself (The Georgia Satellites); Stevie Ray Vaughn's 'Pride & Joy' & 'When the going gets tough the tough go fishing' – awesome song that before spoiling us with some more from the L.S. Boys that included an outstanding 'I know a little';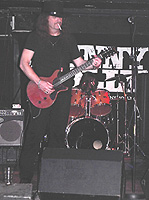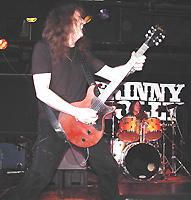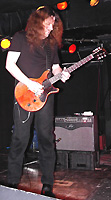 'Tuesdays Gone' (best number of the night) before closing the night off with the only 2 possible 'Sweet Home Alabama' (featuring 'Dixie' that he informed us was a termed coined by a yankee) and the epic 'Freebird' which Skinny Molly mesmerised us with – Mr. Estes even invited us to sing some of the words as well that I went down to the front of the stage for.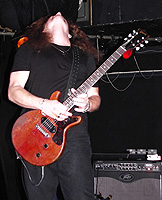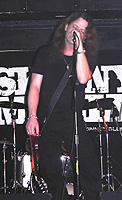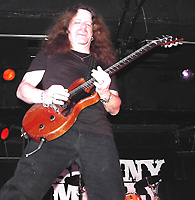 I have to admit that this was the best time I have ever had at the venue despite the lack of people there and my buddy Martin Bellamy had to agree with me that they were best band ever to grace that stage – if they come back on a Friday or Saturday make sure not to miss them.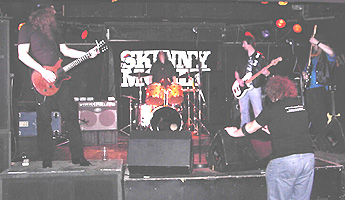 10/10
By Glenn Milligan

Saxon / Existend - City Hall, Sheffield 26th January, 2007
This was the big one, the return of Saxon to Sheffield after a number of years away – booked by renowned Promoter, Harvey Goldsmith who had the gig filmed as well for a one-hour special entitled 'Harvey Goldsmith Presents …'. This is be aired on Channel 4 (in the UK) in April - so if you happened to be at the gig you just might find yourself on TV for a second or two or maybe more.
The band were also in the City on 20th January at Hillsbrough to try and break the 'Air Guitar World Record' as well during half-time where they aired the new single 'If I Was You' to Sheffield Wednesday & Sunderland Football fans – some of which entered the fun while others didn't know what to make of it by all accounts. Not being a football myself, I missed out on this episode, but opted to attend gig at the City Hall.
Support act were local young rockers, Exitend who had the chance to promote their Metallica meets Megadeth Metal to the old school of Rock & Metal fans who I had previously seen at the Boardwalk last year.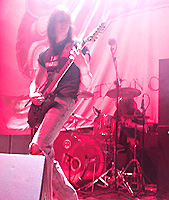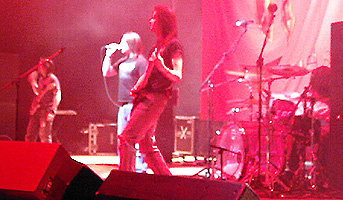 No doubt they turned a few heads their way. They played in front of a red backdrop of 'The Saxon Chronicles' and you could see the mighty right wing of the 'Eagle' shining through as well.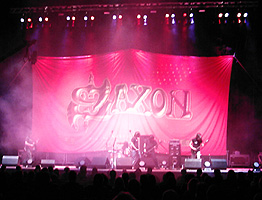 When it came to Biff and the boys to striding the stage the City Hall got rather full and the lesson of how to command an audience began – Mr. Byford is a Ringmaster Supreme at this game and from the start the set proved to be an absolute winner from the 1st note onwards.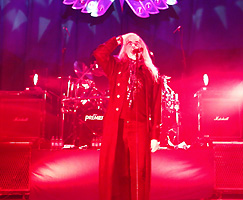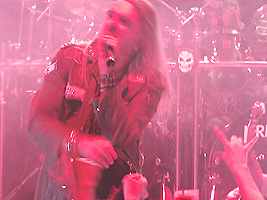 There was a splattering of classic cuts tonight that included 'Never Surrender'; '747 Strangers in the Night'; 'Princess of the Night'; 'Heavy Metal Thunder'; 'Strong Arm Of The Law' & 'Solid Ball of Rock' that my mate Al joked he'd come especially to hear them play – well worth the money if you ask me.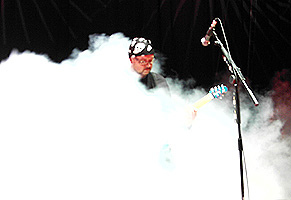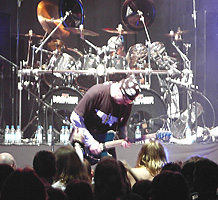 The new single 'If I was you' was played to well appreciating audience that Biff got us all screaming our lungs off during the chorus and told us that it was available to purchase on download and that it was the 1st single they had released in about 17 years – let's get the single high in the charts – read my review on it and get it blasting out of your speakers !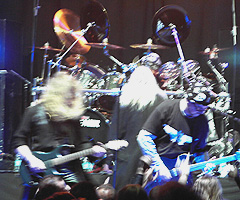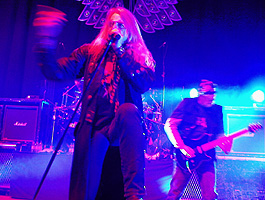 Awesome to hear 'Lionheart'; the title track from their last album and 'Metalhead' from 'Metalhead' – their best selling album of all time. These songs were loved like the older numbers as well like 'To hell and back again' and 'Denim & Leather' – a song that he got us all singing to as well & he joked about the fact that some of crowd needed to stop smoking (correct me if I'm wrong on that).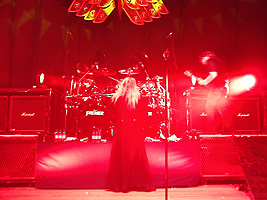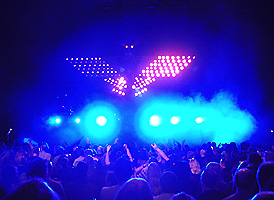 The whole band were f*ck*n' mindlowingly brilliant – the dual guitar soloing of Paul Quinn and Doug Scarratt were totally complimentary to each other and the rhythm section of Nigel Glockler (Drums) and Nibbs Carter (Bass) was immense as well.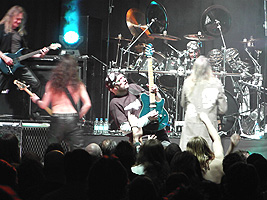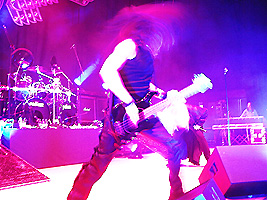 Boy that Eagle looked amazing – as bright as 10 trucks on full beam, especially on 'The Eagle has landed' – it dazzled you to hell and was probably the brightest lighting rig I have ever seen at the City Hall – god knows what that big bird of prey must weigh – I wouldn't have fancied being the roof holding that up all night – ouch !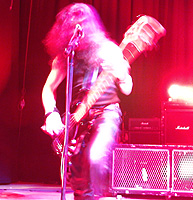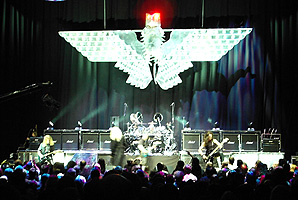 Since the fans were having such a good time, Saxon played another new song to be included on the forthcoming album 'The Inner Sanctum' that is gonna be the next single that will features Biff's good friend Lemmy on vocals that was about being able survive because they've got rock roll keeping them alive or summat like that – belter of a number too – so look out for that when it comes out. Biff then joked about them playing the entire album as well – lol.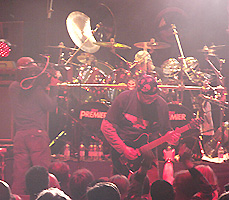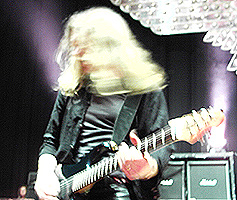 After a good 80 minutes or so onstage they went off, amid deafening appreciative applause and shortly came back on again encoring with 3 songs – the first of which was the awesome 'And the bands played On' then one that Biff said gets them into trouble with various countries – the patriotic 'Crusader' – not that anyone was at all upset to hear it here tonight.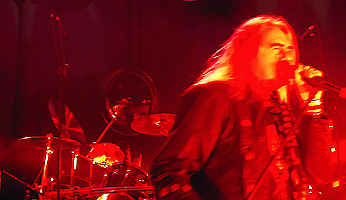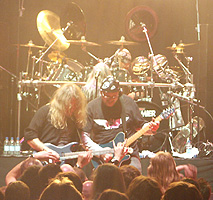 'So what do you want to hear next?, the Mexborough man shouts and his greeted with a unanimous 'Wheels of Steel' – as if it would be any other.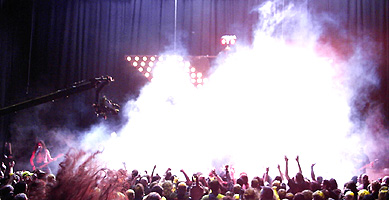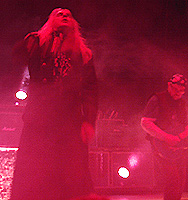 The ultimate Saxon song was extended to 10 minutes where we were given 3 chances of singing the title chorus on our own – Biff was pleased with our vocals as well – top man !!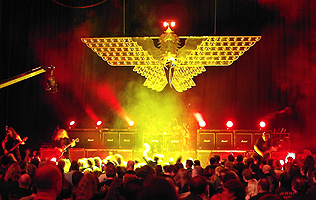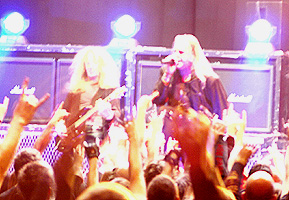 As soon as the band finished the number, Harvey Goldsmith was invited onstage and he announced that Saxon would be playing at Donington – best news so far this year. Can't wait to see them in the middle of that famous race track in Leicestershire – until then we will all reminisce at how good these guys were in Sheffield.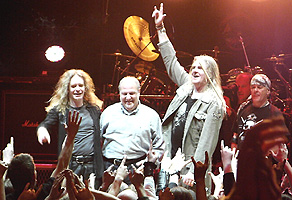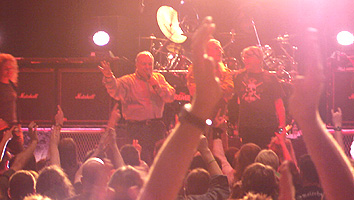 My mate Tred said that it was mega and it was the best he had seen them (The two of us last saw Saxon at 'Rock 'n' Blues' at Pentrich, Derbyshire in 1995). Looking forward to seeing them again in Sheffield soon as this was a consistent show of pure pleasure.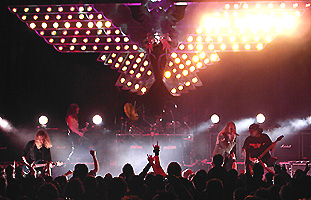 Good to see young kids enjoy the concert too.
10/10
By Glenn Milligan (with added help from Stephen Goodison)

Status Quo / Casbah Club –
Hallam FM Arena, Thursday 1st December, 2005
I was really looking forward to this gig and for good reasons too – firstly I hadn't seen The Quo for around ten years and secondly, I find out that the support band is a new supergroup that aint been together too long.
That just said band in question are 'Casbah Club' – a fantastic collective trio that brings together Simon Townshend of The Who on Lead Vocals and Fender Telecaster – and before you ask, yes is he is the brother of Pete; Bruce Foxton of The Jam on Drums/Backing Vocals and Mark Brzezicki of Big Country on Bass/Backing Vocals.
Soundwise although it sounds like I am copping out on this, they sound like a mix of the bands they come from which creates a unique sound indeed – a kind of contemporary up to date Who gone Weller with a dare I say it almost poppy groove – a brilliant amalgamation of the mod 60's brought up to date without selling out to the current trends of student like Indie or anything of that ilk.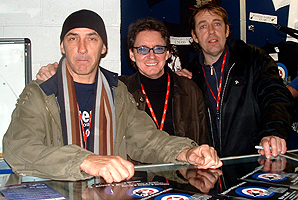 They get to play a good 40 minutes or so before 'Quo' and they appear to go down very well to a crowd who are getting ready for a big bag of 12-bar boogie with highlights being 'Sex Change' about wanting to be a girlfriend as opposed to your boyfriend; 'When She Sleeps' about a woman who loves her man; 'Save Me from Me' that reminds me of a rather famous Simon and Garfunkel song' plus a rather exquisite number that I can't remember the name of that's very 'Pavardigar' – now if you're a fan of Simon's big bro – you'll know what I'm on with here – if not, go check out PT's 'Who Came First' album for a spiritual enlightening. Excuse my blabbering but I to say I was real impressed by Casbah Club and if you weren't there to witness them at Sheffield or one of the other gigs then I urge you to get hold of their self-titled 5 track e,p that will hopefully be available via www.casbahclub.co.uk very soon.
Hey Ho, next up are Status Quo –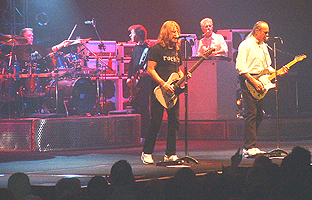 Yes, hose on-going matchstick men of rock 'n' roll are this year celebrating 40 years of doing the rounds on the world's stages – it really was 4 decades ago when Francis Rossi first started playing in a band with Rick Parfitt. No doubt a good few guitar stings have snapped and been replaced along the way as well.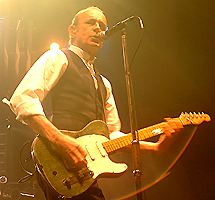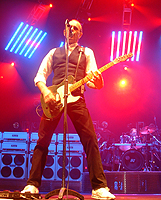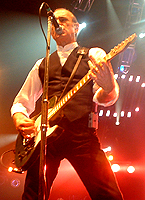 They've got a new album out that backdrops all of the stage area which disappears when the usual concert intro of 'Pictures of Matchstick Men' has faded out amid a mass of applause with Status Quo immediately sending everyone wild with the Hello hit single known as 'Caroline' and a bunch of other good old 70's numbers like 'Roll Over Lay Down' and 'Forty Five Hundred Times'.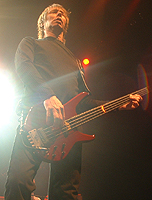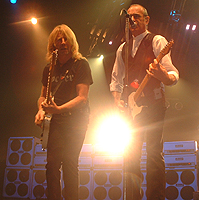 Musically they are bang on form as always but we discover later that Rick could have a cancer tumour on his throat and he struggles with a lot of the high notes - let's hope he's well again soon - our thoughts are with you mate. Only only one song is aired from the new album 'The Party Aint Over Yet' (as if it ever will be) that Rick and Rhino wrote called 'Belavista Man' that those here take a shine too.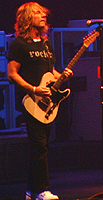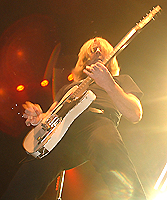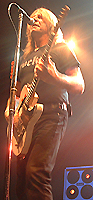 I personally would have liked to have heard a few more from the 'Party' album boys as opposed to three from the 'Heavy Traffic' of which gave us a laugh when Mr. Rossi forgot some of the lyrics to 'All Stand Up' – credit to them though – as these guys don't use no autocue screens like many other similar aged artists seem to rely on these days !!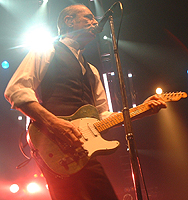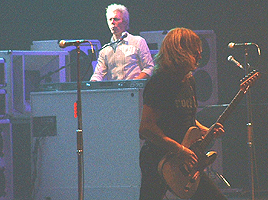 How ironic it is when the best part of the night happens to be the appearance of one of their oldest songs in the set – the 1971 number 'Gerdundula' or 'Gerdun Dula' as Francis pronounces like it's a womans name or something. Keyboardist Andy Bown leaves his stationed area picks up an acoustic to the other axemen for this folky 'n' quirky epic from 1971's 'Dog of Two Head' album that even featured a drum solo in the middle from new stickman 'Matt Letley' who makes a really big impact on us all.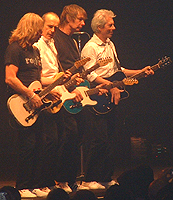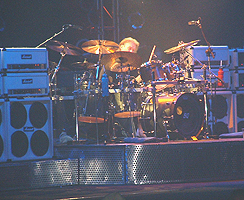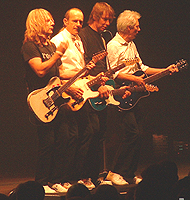 Because Status Quo have such a large repertoire it's simply impossible to play every song in its entirety, therefore a medley or 2 is completely unavoidable. But when you get some surprises thrown in they really aim to please.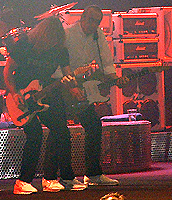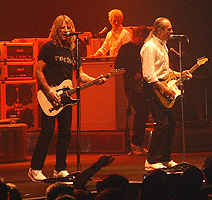 I was blown away when segments of the rarely played 'Dear John' and 'Red Sky' were cranked out, not to mention 'Down The Dustpipe' – nice one lads – one of my faves is that. 'What you're Proposing' in its entirety is a turn up for the books as well – a song I thought had well and truly bit the dust and I'm right they dusted it down and presented it us – talk about getting your moneys worth.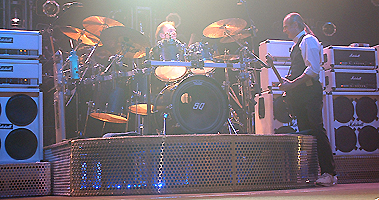 Of course they rocked out the masses of Greatest Hits Fans in the audience too with classics like 'Whatever You Want'; 'Down Down' and the obligatory 'Rockin' All Over The World'.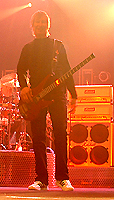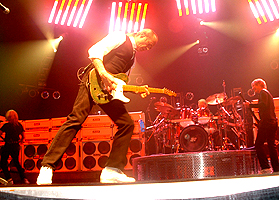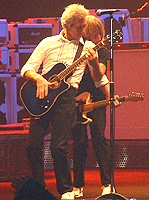 They closed the night with an extended 'Bye Bye Johnny' with Ricky P on vocals of course – a song making anybody who was anybody stand up and party their a*s* off to – we were even invited to sing the chorus as well – which many obliged to.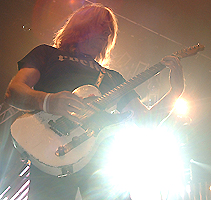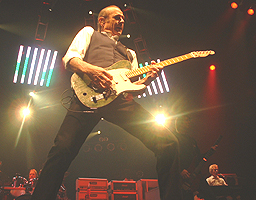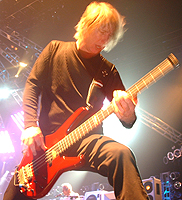 This gig has to be one of the finest I have seen Status Quo – just a pity that some of the audience were a miserable set of so and so's who moaned at others enjoying themselves to their fullest – this is a Rock N Roll Concert not a F*ck*ng Funeral – what happened to rest of the denim and leather clad Quo Army – are they really to be replaced by boring bankers who sit there emotionless like they are having a bad day at the office!! Bar that qualm, it was a faultless night.

Here's to another 40 years of Status Quo !!
9/10
By Glenn Milligan
The Sensational Alex Harvey Band –
The Boardwalk, Sheffield, 24th November, 2005
Holy Moses, or should it be 'Midnight Moses' in this case, I've never seen the Boardwalk so packed and it's little wonder why as some of Scotland's finest are in town. A band who I first learnt about in a Top of The Pops Annual from about 1977 – I was intrigued by this band because one of them had clown make –up on – well I was only about 4 at the time. Years later I got my hands on the essential 'Next' album, then I get the chance to witness them live in my own City at nearly 32 years of age – man, where has time gone?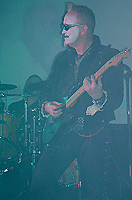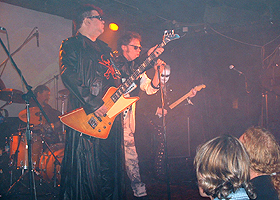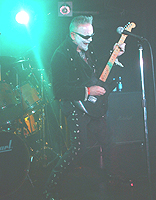 Anyway, cut to the chase, main-man, 'Alex Harvey' is no longer with us, he sadly passed away in 1982 but The Sensational Alex Harvey Band reformed in 2004 with madcap vocalist/performer, Max Maxwell who some of you may wish to recollect from The Shamen - he played the onstage part of Ebeneezer Goode.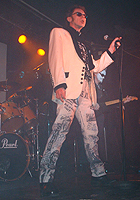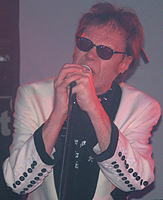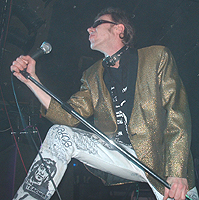 Tonight he jumped around on the stage like a kitten on speed kinda reminding me of the late, great Ian Dury (of The Blockheads) crossed with Dave Vanian of The Damned. Alongside Max were the original SAHB members, Zal 'Harlequin' Cleminson (Guitar); Chris Glen (Bass) and of course the two brother Hugh and Ted McKenna on Keyboards and Drums respectively. A few years older but still as brilliant who show us who can do it best – I'm talking about performing on stage of course, what else do you think I meant – lol.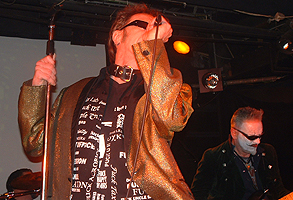 A pure greatest hits set with plenty of numbers coming from the already mentioned 'Next' album which included 'Swampsnake' which was second in the set if my memory serves me right – that'll be the day; the milestone title track that Max apologised for c*ck*ng up twice – not to worry matey – I'm sure Alex was looking down and laughing away, sensationally at that and later on, the super-sexy fat woman song that is 'Gang Bang' – she took 27 guys ya know !!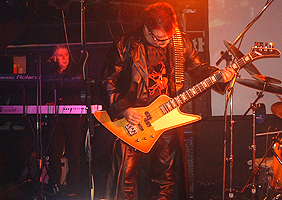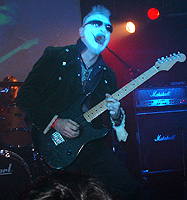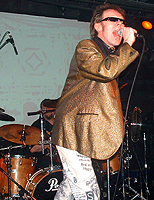 And how can I forget the wondrous 'Faith Healer (can I put my hands on you?)' and the rockin' 'Vambo Marble Eye' who's coming to the rescue.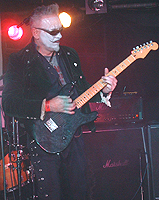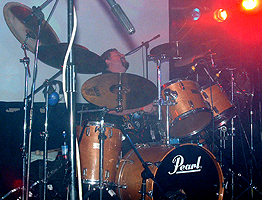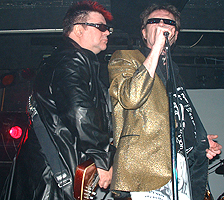 We were overjoyed to be treated to a song about a Witch this being 'Isobel Goudie' or a nice slab of blues - 'Framed' that gave Ted the chance to perform a tasty drum solo. And what Sensational Alex Harvey Band gig would be complete without going to the 'Boston Tea Party' with 'Delilah' in which Max joked that the band hated playing The old Tom Jones classic that they had a big hit with featured Mr. Maxwell falling about the stage as well as Chris and Zal doing a funky walk as well much to our amusement.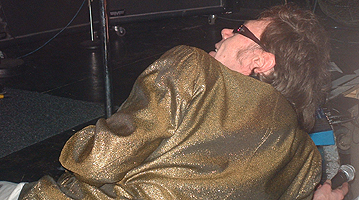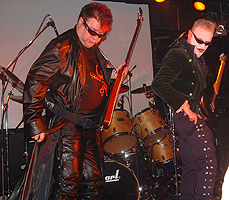 The craziness was non-stop which included plenty of posing, gurning and general larking around on that stage that was all done in the best possible Scottish taste of course. The rock 'n' roll professionalism was neverending and one of the best concerts that's ever taken place at The Boardwalk – I'd even go as far to say that this was one of the best concerts I have ever witnessed. Twas splendid to see archive 70's footage of them on The Old Grey Whistle Test as well with the man himself, Alex Harvey, God bless him.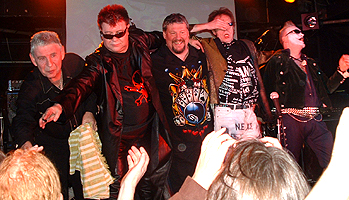 Tonight, these guys did their late frontman proud and no doubt they do every night. Let's raise a glass to Alexander Harvey and long may his band continue.
10/10
By Glenn Milligan

The Sabbath -
The Boardwalk, Sheffield, Thursday, 3rd November 2005
I have heard good things about this tribute to Ozzy's old band – they've changed singers and the new guy looks very like the double O and sound very similar as well. He appears to have a Brummie accent believe it or not and it appears to be real unless he's putting it on.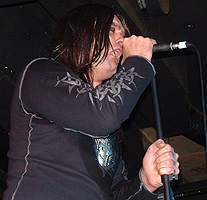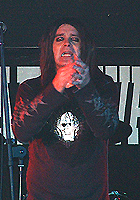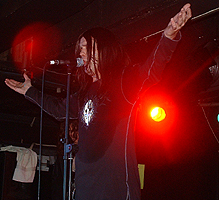 Was a while before they came onto the stage – about 9.30 if the time on me old mobile was right but what the hell – you can't complain when the first number is that gorgeous old ballad called 'War Pigs' that gets it going as a good start. With all the Ozzy like actions (OTT humour, camaraderie handclapping, headbanging etc) and supremo band it really was a Sabbath fans dream – a down-tuned desire from the depths of the earth.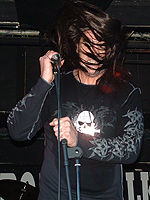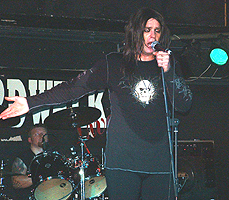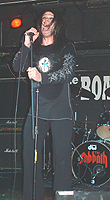 Just wish that there was more atmosphere from some of the audience as in all honesty it looked many of them were waiting for a bus to turn up as opposed to lapping up a classy tribute band – weird if you ask me.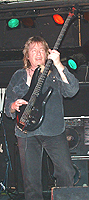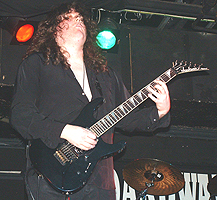 So who fancied some NIB? – well we all did and some 'Dirty Women' too before we all got 'Snowblind' on drugs and went 'Into the Void' and became 'Paronoid' (only jokin' – it was a drug –free zone). Enough of my silly song-it-all-together ramblings, I gotta tell those of you couldn't be *rs*d to prised themselves out of the house that the sound was exceptional – in fact even better than seeing the real thing at Download this year at Donnington. 'Sabbath Bloody Sabbath' was sung lower than what I was used to but the bands title track was bang-on perfect.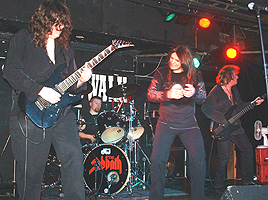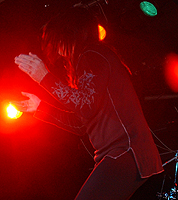 Looking forward to seeing 'The Sabbath' back at the Boardwalk, be sure to bring your friends as well – they even promised that they play 'Spiral Architect' on their return too - can't wait.
8/10
By Glenn Milligan

STATETROOPER/Deadline/Double Cross –
The Boardwalk, Sheffield, Sunday 29th May, 2005
How nice of a Sheffield Venue to organise another of these little mini-fests, showcasing the very best in upcoming British hard rock talent. How sad it is to get there on the day and find that only three of an intended six acts are now playing. Still, better take what's there, and given the remaining content of the bill that shouldn't be too hard.

Double Cross might or might not be here to make up for not playing that support slot with Danger Danger at the Coporation in April and quite a good job as with style like theirs, they might have very well blown them off stage. Blending the melodies of D.D's first album in with classic Hagar-era Van Halen feel, resultant applause is enough to indicate another winning formula has been discovered in the melodic rock lab.
Their next band on, we've already reviewed enough gigs by recently for this site to be accused of bias about three times over but a new-line up for Deadlnie tonight provide mitigating cause for a further assessment. Dale Radcliffe may have only been with the Rotherham AOR kings for two months at time of writing but the ex-Tikaboo Peak singer's gravely range still puts him on par with predecessor Steve Lunn. Playing a clutch of classics from 'Mind The Step', a new number however previews their change to a heavier sound in the Dokken direction and a closing cover of Skin's 'Look But Don't Touch' is another welcome addition to the Deadline set list. With happy faces on both stage and floor, Deadline's recent turn of events hasn't affected t6heri fortunes too badly. Thanks fro another nice set, lads.
Statetrooper, Gray Barden's reformed 80's act played here four months earlier, also with Deadline supporting and having since picked up a copy of their classic debut record, I am ready to enjoy this show even more than their last excellent one. And they only play about five songs from the effin' thing. Never mind, 'Shape Of Things to Come', 'Vena Vidi Vinci' and the cover of MSG's 'Armed And Ready' are belters throughout and through and are matched up to by most of the umpteen new numbers we hear tonight.
I'm wondering if these lads had been secretly working together in their two-decade absence, as the style of their latest material, which sounds very good and in most places catchy, attaches quite strongly tro their 1987 produce. Again too short at only an hour long - try not to get a slot on a Sunday next time lads – Statetrooper do well in maintaining four of their six original personna - Barden, Jeff Summers, Steve Glover and Bruce Bisland alongside a new guitarist and bassist and the form they displayed tonight, Barden and Summers in particular is incendiary.
It's just a pity the turn out was a bit too sparse, but hopefully they'll be back later this year, as they've taken the bull by the horns with this reunion.
Another sweet night for lovers of sweet music.
9.5/10
By Dave Attrill

Soul Sirkus + Deadline -
Corporation, Sheffield Tues. 10th May 2005
We've waited a good 13 years for a member of Journey to set back on English ground again and first on our Island is guitarist, Neal Schon in his other band, Soul Sirkus - more on the headliners later.
Hitting the Corporation stage with new vocalist in tow is Deadline and I have to say that Dale Radcliffe had some big boots to fill as original vocalist Steve Lunn has one hell of a set of pipes but the ex-Tikaboo Peak man did really well. OK the first few songs were a bit shakey because he wasn't 100% familiar, but give the guy credit, he's only been with the band two weeks and they've written a number already which ain't bad goin is it - what a corker it is too, harder edged than the bands other offerings.
Dale leapt around the stage in the kind of way that I can describe as a Ted Poley meets come Seb Bach in Bruce Dickinson kinda way. Nice to hear a bit of Skin in the set as a closer too - was weird not to hear 'Losing Myself' tho but no doubt that'll be part of the set at future gigs. The rest of the band were as exceptional as ever with drummer, Kev Tonge being at the right hand side of the stage pounding the kit as ever - I guess sharing skins wasn't an option tonight. Tonight as ever, Sheffield loved 'em. Be good to see them a few gigs in when Dale's fully found his feet with the material - crackin' start tho.
Around 30 or so mins later, it was time for the double SS that is Soul Sirkus, made up of Neal Schon, Guitar, Marco Mendoza (Bass/backing and some lead vocals); Virgil Donati (Drums) and Jeff Scott Soto (Lead Vocals, Great Dance Moves and Keyboards). Romping it up with some of their own stompin tunes from the 'World Play' album such as the bluesy funk of 'Highest Ground' and 'Alive'; the full-on rock of 'New Position' they had no fear of anyone dissapearing to the bar or to the toilet due to a boring song becuase there weren't any at all !! It didn't matter if you didn't know the Soul Sirkus material as it was all firmly riveting.
The bands presense was overtly immeasurable and when it came to creating a musically gripping, passionate atmosphere these guys are extremely hard to match up to. It was very heart-warming to see Jeff Scott Soto solo at the keyboards teasing the crowd with segments of Journey hits like 'Who's Crying Now' and 'Don't Stop Believin' amid shouts of 'Neal, Neal' when it was time for the guitar solo section of the song - he even wandered on-stage and played us a bit - Sheff went crazy for it too!! I must say, that I've never heard a Sheffield audience sing so well - seriously !! Full of sweet, sweet joy their voices were to those Journey faves!!
Jeff also played Prince's ''Purple Rain' (sounding just like him) and a snippet of the intro of Queen's 'Bohemian Rhapsody' which Paul Rodgers did not sing at Birmingham - well neither did Jeff at Sheffield - LOL. It was also nice to hear the Talisman covered tune 'Crazy' by Seal - Jeff's a chameleon Neal Schon told me and I couldn't agree with him more.
In fact, each member performed their own solo spot - an unbelievable Rock come Jazz drum solo from Virgil, a mad jazz-fusion bass solo with soundy words - a la Cleo Laine entitled 'Abalair To Mundo' from Marco Mendoza and salute to Cream with 'Sunshine of your love' - good voice Marco has too - not to mention being DJ Mutley's Doppelganger - I heard that I wasn't the first one to say that either. Neal presented us with a ton of soloing too as well as a slab of Jimi Hendrix in the form of 'Voodoo Chile' and '3rd Stone from the Sun'. Now this is how the classics should be played - putting your own stamp on them as opposed to same as the recorded version - tribute bands take note !!
Other songs from their album included some gorgious ballads such as the atmospheric 'Periled Divide' and 'Soul goes on' that has lyrics that Jeff said mean a lot to the band. We were also bowled over by the gospel like' My love, my friend' that shows they can sing like angels; the racing Deep Purple-like 'My Sanctuary' and the rather brilliant 'Praise (your body)' with it's Glenn Hughes like feelin' that got everyone goin' (hence the great dance moves inclusion). Another highlight was the classy worded into another great track by saying that for the first few days of the tour you are good until the day off and that's 'When friends become lovers' - hey it just might a true story - one can never tell.
Other great parts of the show were when Jeff and Neal were trading musical phrases or the audience partication - getting us to sing the high notes and how could I forget my favourite song from the film 'Rockstar' - this being 'Stand Up and Shout' - man I love singing along to that - made my night!! God knows where Jeff Scott Soto gets all his energy from - no wonder he took a break while the other three did their solo spots in the middle of the show - he never stops still when on-stage and he couldn't believe that his top was so dry around chest area of his body. It was extremely funny when a girl in crowd wanted him to take off his top too - his remark went something like 'I will if you take off a garment too - it took place - so it was Jeff's naked top half for the women and a classic tits oot for the lads from the female fan - plus Marco Mendoza wearing her bra on his head - what a larf in the best possible taste !!
Soul Sirkus and everyone in the building had an absolute blast - every second cherished - we even got a tribute to 'James Brown', called after the man himself - a mean vibin', groovin funky affair that Soto loves to dearly - can't blame him either. Jeff told us that he'd been checking the internet and noticed that people had moaned that the band had not played any Journey - well, tonight it happened - much to the Sheffield crowd's delight - well it was the last date in the UK after all, so why not - a bit of solid rock 'n' roll with 'Dead Or Alive# from the Escape' album !! No-one wanted to leave the auditorium, especially Mr. Soto who Marco Mendoza had to nearly carry off the stage - he just didn't wanna budge - he was having such a good time and he would have performed forever - well they all would and we'd have let them too.
We (and I can't put the we strong enough) can't wait to see Soul Sirkus playing Sheffield again in the not too distant future - Jeff Scott Soto is back over in July - wahey - I'll be there for defo. Rumour has it that Journey are playing the UK in 2006 - until then dig Soul Sirkus and anything else the bands members are involved with.
Be sure to invest in the band's album 'World Play' - available via www.SoulSirkus.com
10/10
By Glenn Milligan
Silverjet (supporting Spike & Friends) -
The Boardwalk, Sheffield, Friday 22nd April, 2005
Set-list: Won't see me me bleedin'/Like a fool/Hangin' on/South of Soul/Get me up/Over the will/Face to face/Honour amongst thieves.
Seems that Silverjet don't need no warming up at all as they bound onto that boardwalk stage cookin' in confidence as though they've been on there for a while. Tonights set comprises of full-on dirty southern fried rock 'n' roll from the opening note of 'Won't see me bleeding' (from the E.P. 'The Amalgram Sessions') - a song that's become a firm favourite with their highly enthusiastic fanbase - in fact, every number made an immense amount of impact tonight.
Frontman, Dave Kerr has come on leaps and bounds in the larynx deptartment and he appears completely at ease while talking to the fans and friends - hey Dave, what was that, you have a new album on sale available for sale to tonight - good lad - self promotion - and why not indeed!! Time to introduce the rest of the band in no particular order - Lead Guitarist, Andy Mewse works that mojo brilliant, while, Big Jon the Kitmaster looks as cool as ever sporting the cowboy and thundering away behind the boys on the drums with Bassist, Paul Oates complementing at every given moment (well every single second actually).
If you wanna stick a stamp on the offerings of The 'jet, it can be said that they are the up 'n' coming millenium version of 'The Quireboys' (or alternatively, the British answer to the Atlanta Georgia legends, 'The Black Crowes' since there are comparisons to one or two of the ditties in the set). Man, this band are so tight and they really impress me with their new material like the title track of the just released debut album 'Honour amongst thieves'; 'Hangin' On' (that's comes across like a salute to Chris 'n Rich Robinson) and 'Like a fool' (a real CroweQuiring number indeed).
Silverjet really enjoyed their support stint tonight and it shows with smiles amass and it appears that Quireboys frontman, Spike loves them too. Take it from me, it's impossible to give this band a sh*t review since they are the real deal - a practise what you preach rock 'n' roll band, delivering a driving sermon filled with a genuine love for the music and fans - the way things should be!!
Can't wait to hear the new album 'Honour Amongst Thieves' - available via the website www.silver-jet.co.uk
9/10
By Glenn Milligan
SILVERJET/CRUEL DEVICE -
Classic Rock Bar, Sheffield, Friday 7th January 2005
The first time I've been able to review a headlining gig by Sheffield's own southern rock n' roll starlets Silverjet is a double honour for me as we also finally have the privilege of watching the much anticipated Cruel Device in action.
Singer Steve and bassist Dave were, as some might recally, two parts of Jury's act, another well-talked about act from out of town, before they disbanded two years ago. With a (brilliant) new guitarist and new drummer in tow, this latest formation seem set not to disappoint. Nor do they as most of their tunes drill in almost immediately as the variation of musical backgrounds these four lads each spring from takes its full effect on their style, mostly Purple-meets-Priest-meets-Alice Cooper classic hard rock but with occasional distinctive nods towards Therapy and The Wildhearts to boot.
Two of the ten numbers were apparently from Steve's erstwhile band so some compensation for those who didn't catch them last time around. That plus an instrumental break consisting of an up-gear blast through the Ghostbusters theme -that was a cool idea by the way, boys- and a belting rendition of the Cult's 'L'il Devil' and we ain't done badly for forty minutes. Equipped with some promising tunes in the shape of 'Clean Up', 'Call Me Frankenstein', 'Don't You Call This Love', 'This Time' and 'Somebody Saw You', plus a strong set of pipes in Steve's voice, this impressive selection showed me what I'd been missing all these years. Definitely worth the wait - I just hope they have a release sometime this year.
Silverjet take to the blue carpet only ten minutes or so later and kick in without a second though, ripping through a seventy minute set that packs in just about all their existing material or at least that with which they're most proud to select for their slot. The foursome seem to have identified their crowd-pleasers by this stage, the three numbers from the EP seeing another healthy boxful of copies go before the show's over.
Dave, Andy, Paul and Jon have, in case you don't know, only been on the live circuit for three months at time of writing and by their mounting reception, already deserve by now to be snapped up by larger venues, even if the CRB eventually is packed almost beyond breath point this evening - well it's Friday, innit.
As if I wasn't thoroughly savouring most of their own anthems, 'Lay Your Wings Down',' 'Ode To Spike', 'Won't see Me Bleedin', 'South Of Soul', 'Hard Time Lovin' and 'Keep 'Em Knockin' amongst them, as indicated by my air guitar antics down the front all evening, they make a surprise encore with Dogs D'amour's 'I Don't Want You To Go' that kicks the ol' Khyber Pass like no-one predicts. Hopefully a Quireboys number will also make it onto their set one of these days too, but with a support slot with Spike and the lads imminent, I think that's (more than) enough for most to keep us content for the moment.
Two of the most promising young bands on the Sheffield hard rock scene, Silverjet and Cruel Device may only be in their early days but with substantial support look set for success, and good luck to both.
A fine evening down the pub for lovers of live hard rock.
9/10
By Dave Attrill
Nike Turner's Space Ritual -
The Boardwalk, Sheffield, 7th November, 2004
A year on and the ex-Hawkwind members wereback at the Boardwalk doing their spaced out, OTT 70's trippy thang a band fronted by one of the original frontmen, Nik Turner (who's axed the rubber suits tht he was wearing last year and gone for a more jazzy classy looking black suit and white shirt number - no doubt he was a wee bit cooler as a result on this famous small Shefffield stage. Gathered around him were his old cosmic chums Dave Anderson , Thomas Crimble, Terry and Sam Ollis and Michael Slattery, John Greves on keyboards/synths and dancer extraordinaire Miss. Debbie who's put on a few pounds since the last visit.
Set wise it was very much the same as last year - old classic like 'Born to Go'; 'Brainstorm'; 'Silver Machine'; 'Watching the Grass Grow' (by Inner City Unit); Sonic Attack and a load more ancient 'Windy numbers that came complete with gallons of dry ice (much to the annoyance of my camera) plus newer bits and pieces such a stack of wacky avante-guarde poetry from Mr. T off sheets of paper and the odd current Space Ritual track like 'Chant' and 'Sonic Savages' that are soon to become available on a studio album.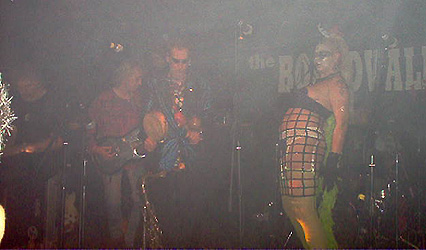 What was very striking was the fact that it was absolutely packed in here as there were hardly a half full in 2003 - therefore word must have gone round just how good it was so nobody in their right mind wanted to miss out this time around - credit to the crowd for turning up too as no-one went home dissapointed, especially the dude from Bristol who after presenting Nik with some artwork was handed a new just released live Space Ritual CD. Performance-wise they had become a lot tighter to what I remember from 12 months previous and seemed to be enjoying themselves more as well. Miss. Debbie was as splendid as ever with her insane dance moves and even crazier costumes not to mention getting totally starkers towards the end of the night's set - but remember it was all in the name of art before you starting calling it pornographic out there in surf-land.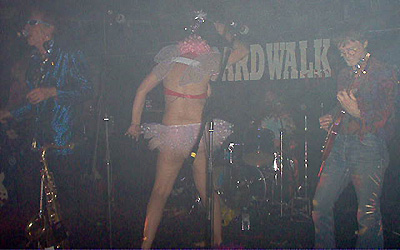 When the band was done Nik enterntained us with a bit of solo sax playing - piping out splended renditions of '(The Theme from) The Pink Panther' and Glenn Miller's 'In the Mood' and believe me, those in attendence tonight definately were - clapping away to the beat of the tunes and giving an appreciative oy at every relevant moment. Top Entertainment by Top Entertainers.
10/10
By Glenn Milligan
Acey Slade's Trashlight Vision/Torsohorse -
The Corporation, Sheffield, 4th July, 2004
What a weekend!! - I was here last night for Motorheadache and Girlschool and now tonight it's another dose of rock 'n' roll in the small room. I thought it may have happened in the big room next door where his Murderdoll side kick Wednesday 13 played a few months previous - but alas the small room it is. It's a similar audience though - young kids aged between 15 and 18 mostly all dressed in Murderdoll attire who live and breath rock star idolism.
The support act had by all accounts been around a few years and came from Bridlington, UK, who went by the name of 'Torsohorse'. They had a negative noisy outlook and played a bunch of dingy numbers that slobbered away like a poor mans Black Sabbath that contained a downbeat nu-metal influence. The frontman had a deep throaty growling voice - I guess you'd say a more audible cookie monster rasp and the material on offer was very samey and didn't have a lot goin' for it whatsoever. They received an average to not too bad response from crowd who were to go absolutely mental for what was up next.
In between the changeover we were entertained with some great glam like Kiss and Motley Crue to keep many of those mums and dads happy who'd brought the kids. Guitars went back and forth before the 'Vision took to the stage amid teenybooper screams for the devil below. Sh*t, when Acey hit the stage the decibel meter would've gone straight into the red. For the next hour or so his name was screamed at psychotic soprano pitch. His 'Trashlight Vision' didn't resemble his other band at all - they instead resembled glimmers for the new millennium as opposed to the dark corpse like Murderdolls. Musically it was full-on hardcore, rough edged punk-sleaze (think GNR meets The Misfits). Man this band was wild, not keeping still for too long as well as there not being much in the way of light - talk about being hard to get decent photos!! This made no difference to the fans though who were equally as mad on every possible occasion - well to be perfectly honest about it, these kids were mad for it from the second the set started.
Acey Slade spraying water around appeared to be a customary part of the proceedings (it was bottled mineral though and not tacky tap water). Acey even teased with what appeared to be a full bottle of red wine which he tipped over his head. We were all fooled as it was sparkling red glitter that he threw on the front section of the crowd that stuck to 'em, thanks to the specialised H2O from earlier. What made this gig amazing was the fact that only one song had been heard by the audience - 'Heros and Halos' that's been available for download on www.trashlightvision.com. It really was as though the fresh unheard material had been devoured by this bunch of fans for quite a few months as one guy climbed onto the right PA stack and appeared to be able to sing or is that shout along to many of the songs - surely Napster (or something similar) hadn't grabbed hold of the songs already - unless this fan had been to a few of the other shows and learnt them in the meantime.
"Can you say just two words for me?", Acey enquires, as if he'd get a negative response, where he beckons them to give him a 'F*ck You' with the fingers up high. The gesture is well received. I personally remember seeing Frankie, the long, blonde haired frontman from 'King of the Hill' do exactly the same thing all those many moons ago at Sheffield City Hall in October, 1991 - god am I that old - 'fraid so and it seems like yesterday. Anyway, back to 2004, it's fair to say that 'Trash Light Vision' know how to pose and by watching them it seems they learnt the craft from legends like Kiss and Hanoi Rocks as Acey on many an occasion looked damn cool sticking his guitar out into the crowd - in fact at the end of the set, Acey tricked the crowd by making out that he was about to throw the guitar at them - it was on elastic - we were fooled yet again!!
The only weird thing about tonight was that there were no encore numbers - in fact the kids didn't even shout for more - probably since Acey said they'd meet them straight after, therefore the kids were more interested in crowding around the tables at the left had side of the stage in order to receive autographs and pix with their heros. When TLV came for the good ole meet and greet they spent the best part of an hour pleasing their newly found friends, who all lined up in perfect order as though it was a school assembly or fire drill. All went home happy - even the club staff when they eventually managed to get out of the building.
There seems little doubt that Trash Light Vision will return to these parts (of course depending on what Slipknot and The Murderdolls have in mind for next year. Watch out for the bands debut album out hopefully soon.
9/10
By Glenn Milligan
JEFF SCOTT SOTO + Ravenscar + Tikaboo Peak -
The Boardwalk, Sheffield, Tuesday 8th May 2004
The venue that brought us two of the best AOR shows Sheffield could wish for, with the Mitch Malloy and Bob Catley gigs, over the past years, now plays host to further royalty. Jeff Scott Soto, for many wiped the floor with virtually every other act at the Gods 2002, bar Harem Scarem. The mere announcement of his first visit to Steel City knocked many fro six but not as much as tonight's performance.
Hometown giants Tikaboo Peak open up with an impressive collection of new and old numbers - their latest stuff growing on me more by the minute. Ravenscar's brand of classic rock-oriented fodder impresses me less but they still find a few new friends in the swelling crowd.
Then da man appears and for all of eighty-five minutes we are reminded as to why the mere mention of Jeff Scott Soto's name makes any melodic rock fan worth his stripes go weak at the knees. The opening selection for tonight is a powerful double barrelled attack of 'Livin' The Life', the opening credit theme tune from 'Rock Star', and 'Mysterious', an undiminised stage fave since day of creation.. The faves come thick and fast tonight alright and his solo material from latest album 'Prism' seems to have gelled quite quickly with a lot of tonight's gathering too, with 'How long', 'Eyes Of Love' and 'holding On' capturing applause of matching volume to to that incited by 'Dragon Attack', 'Stand Up', 'Colour My XTC' and of course the cover of Seal's 'Crazy'. The acoustic medley that ended the main body of the Penningtons set is still an integral part of a JSS live show, this time tailed by Talisman anthem 'I'll Be Waiting'.
With three quarters of the last line-up still around, messrs Simon and Schutt now joined by new drummer Dave, Soto is seemingly indestructible. Gary Schutt demonstrates his further talent on second guitar on a couple of numbers, Jeff borrowing the bass in the meantime, and Howie Simon, Jeff's deputy in the charisma department tonight steals quite a portion of the show's appeal himself with his performances, including taking the mike for 'Listen To The Music' and especially his solo stint after 'Holding On'. There's also a jam that the foursome have for a few minutes during the set which is also quite amusing with every renowned hard rock/metal number on the plantet -including certain selections form Metallica, Deep Purple and The Darkness - getting a quick abusing.
The encore is another medley, this time of classic seventies boogie/pop numbers… yes including a certain Bee Gees tune we might mention, but surprisingly, despite containing no Soto-related material, there are all cheers and singalongers and not a single boo audible, Jeff's raunchy stage posing during the ten minute amalgam keeping the entertainment intact. One of the most hard-working men in the world's melodic rock scene, Jeff Scott Soto has today merely let us taste the produce of a master craftsman, an opportunity which here in the UK should be taken with both hands and a couple of hundred people tonight just happened to walk in on this particular craftsman at work.
It would have been nice to have brought Bob Catley along for us too, Jeff - not that Tikaboo Peak's set was poor or anything - but when we've got you there…. well we can't be greedy, now can we.
10/10
By Dave Attrill
Nik Turner's Space Ritual -
The Boardwalk, Sheffield, November 6th, 2003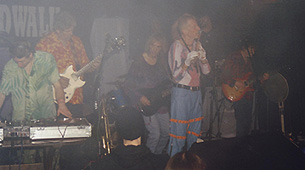 Sound psychedelic, it sure was - a band comprising of ex-Hawkwind members who had named themselves after 'winds famous live album 'Space Ritual Alive' with a line-up featuring Nik Turner (Vocals/Saxophone), Thomas Crimble (Guitar), Terry and son Sam Ollis (Drums/DJ Strike Lightning), Michael Slattery (Guitar), and Dave Anderson on Bass.
Baffling and titillating the place with set opener 'Indian Chant' where Nik Turner played way-out sounding jazz on the Sax while walking out onto the crowd with a thick spiky red mask on his head following up with early Hawkwind classics such as the rarely heard 'Born to Go'; the tongue-in-cheek or should that be reefer in cheek splendidity of Inner City Unit's 'Watching the Grass Grow' and the Space Ritual's own ditty called 'Sonic Savages'.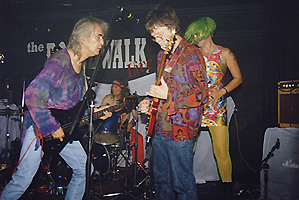 We were all engrossed with the madly dressed, wig wearing and exotic dancing of Miss. Debbie' who at one point completely naked and swirled to the thunderous repetitively brilliant music that these guys are legendary for. She's the updated equivalent of 70's beauty Miss. Stacia who regularly paraded the stage with Hawkwind - tell me, do Dave Brock's crew still have this on a regular basis (by all accounts they do actually !!).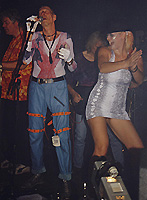 This was a night that dreams are made of and made new fans for the band, in fact my mate Alex Kotziamanis was completely engrossed by it all and he's a hardcore Yngwie Malmsteen/Def Leppard fan - "I gotta hear some more of these guys", he kept saying to me.
How could you go wrong with a mighty pack of songs that included Nik Turner wrote and co-wrote in his Hawkwind heyday like the bizarre 'Sonic Attack'; 'Shouldn't do that'; the bluesy 'Orgone Accumulator' and pen-ultimate milestones such as 'Masters of the Universe' and the huge well-known hit that is 'Silver Machine' for the encore.
Did we want to go home when the song list had come to an end - not likely and neither did Nik Turner who furtherly entertained us alone on saxophone by with renditions of 'Theme from the Pink Panther'; 'In the Mood' and 'Tequila' which were sang to. He had the time of his life and so did we - now there ain't many performers who'd do that.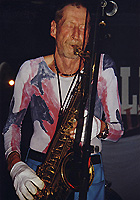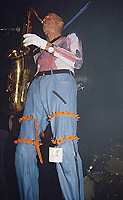 A spectacular night provided by one of the most original bands out of the UK. It makes you proud to be a Brit - judging by the reception they'll be back at Boardwalk very soon.
10/10
By Glenn Milligan, BA Hons CS
Strongheart - Sheffield Boardwalk, 13th November, 2002
At 5.00pm I check the mobile phone - I have received texts from Chris McMahon (CRF/Strongheart) and Fred (CRF) to say that Oliver/Dawson's Saxon have pulled out of their headline spot - dammit!! - 'Bummer days dude' (as Chris said on his text) which makes Strongheart tonight's headliners - at least that's something - giving them the chance to play a lot longer.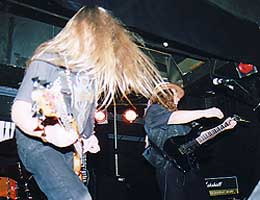 I kill an hour and cross over to the Boardwalk at about 6.00 to meet up with Fred, Chris and Nick (of Toast Plant Project). We hear the news that Wilbur Hess is still in York but will be driving down shortly - ahhhhh - Rock 'n' Roll Nightmare. Bobby Erechiga soon arrives though with his full of life LA accent and big chunky brown overcoat and not long after Rick (from CRF) who's driven straight from work to get down here tonight.
Next step - get the gear in - don't you just love that job - not!!! Ow, that's heavy man - the classic moaning of 'What you got in that drum box?' and 'Is that a block of lead in that cabinet'?' are the order of words at the moment - not to mention shifting the cumbersome wooden drum riser - since Bobby's kit is way too big to fit on it.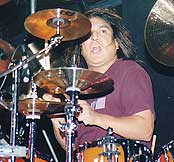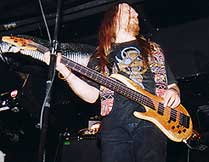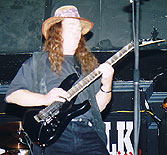 The next couple of hours are then spent getting the gear ready and sound-checking - first the drums and then the bass - plus a quick trip to Maccy D's to fill a gap in the gut. Then as if by magic, Wilbur arrives when all the lugging about has been done immediately plugs in and does a quick sound check with the rest of the band - a corkin' 'Thunderbird' by ZZ Top (from the 'Fandango' album - released in '75). Sorted, now it's time to chill in the dressing room while the audience arrive - well apart from Nick who's drawn the short straw and is doing the door - poor b*st*rd - to reap the good news that Saxon aren't playing and grab in the cash.
We joke around in the dressing room and I interview the band as well - check that out - it's a scream!!! The odd friend or two come round to say 'Hi' to the band and before we know it it's gone 9 which means show-time. 'YOWSER' (used with kind permission from Bobby).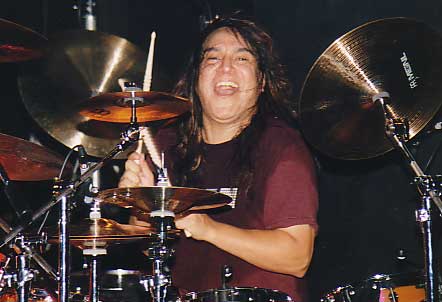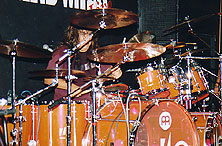 Jesus, it's pretty packed out there and it appears that the non-turn-up of O/D Saxon has made no difference at all - which must mean that Saxon fans are also Strongheart fans or something like that.
Bursting into the opener - the cocky rocking 'Immortal with a Kiss' from their second album 'Ritual' which sees the crowd cheer their asses off. Wilbur jokes, 'So you are who I owe money to' - which guarantees a laugh - even from hardcore Saxon fan before moving into familiar territory - cuts from the 'Hard Wired' album like the steamin' guitar riffing of 'Hot Jersey Nights', the cheesy almost Saxon styled 'Better get up' and the AC/DC orientated 'Smooth as Silk' with it's 'If you want blood (you got it)' riff.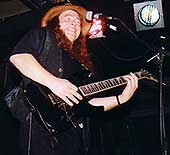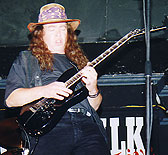 All you hear from this venue are roars of 'Wilbur, Wilbur, Wilbur' like they are trying to wear it out - Mr. Hess is completely overjoyed with the response and overall the band are absolutely buzzing on-stage and grin like Cheshire cats a lot of the time. The co-ordination on stage is phenomenal and nobody would guess they haven't played some these songs in well over a year - now that's what I call 'Sheer Professionalism'.
2 sets are performed tonight with the second one beginning with the aforementioned ZZ Top classic and I noticed that the drum volume has been heightened quite a bit. Many great numbers are performed in this set including 'Whiskey Man' and 'Big Mountain'. It's reckoned that Graham Oliver himself will show up for a jam but there's no sign of him at all - never mind. Everything is so well received especially Bobby's mind-blowin' drum solo that lasts about 15 mins or so with out getting at all bland not to mention his giant smiles - so that's where CRF Fred learnt all his tricks from.
The set closes with Covers of AC/DC'S 'Whole Lotta Rosie', which Bobby dedicated to me and last but by no means least, Black Sabbath's 'War Pigs'.
8.5/10
By Glenn Milligan, BA Hons CS
Shameless (support to Tuff) - Nottingham Rock City, 12/10/02
Originally put together by Alexx 'Skunk' Michael in the taxi 80's - they now feature Pretty Boy Floyd front-man Steve Summers on lead vocals, make-up and groovy hat. So it's the Rig - the first time I've seen someone play in here - it's small but it work is Vocally brilliant the man is with outstanding clammily muses backing him up. We were delivered a healthy helping of a good hours worth of tracks from the 3 available albums - 'Queen for a day', 'Backstreet Anthems' and the newly released 'Splashed' as well as Pretty Boy Floyd classics like 'Shock the world' and 'Rock and Roll (is gonna set the night on fire)'.
Good to hear the Shameless track 'Backstreet Action' - there was quite a lot from the new album though that dampened it a while and I would've like to have heard more from the album it comes from 'Backstreet Anthems' - that said, the set was thoroughly enjoyable with hands being shook throughout by the band members. Nice to see the mike handed to the crowd on occasions making us pad of the show - not to mention a Kiss track.
Glamtastic !!
7.5/10
By Glenn Milligan, BA Hons CS
Staind
Manchester Apollo Theatre
27th January 2002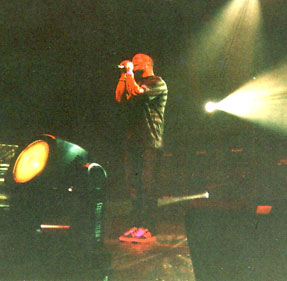 As I was going into the building, where Staind premier their world tour, I asked a few people " What they thought the live performance would be like compared to their recorded album?" Dave Forshaw, a new fan to staind said " Their music is superb and he was really looking forward to the performance tonight".
Going into the theatre, I fealt a great warmth from the crowd upon entering. Everyone was there to see a great performance, and I had a fealing that they were going to get it. As soon as Aeron Lewis ( Lead Singer) stood out on stage to perform, there was a huge cheer from the audience. This was going to be one of Stainds greatest live performances yet.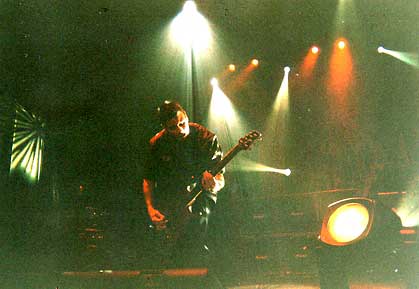 From old albums to new, the songs flowed fluently between eachother. "Fade" bringing the crowd to its limit, then later to "Its been a while", just to cool the crowd down enough, not to lose thats energy that was created previousely. Also the very much popular "Outside" won the audience over, with 97% of the theatre singing along.
As I was taking photos, the photographer from Kerrang said to me that light was goin to be a big problem. B****CKS!!!! Everything was set up perfectly to create the effect of escapism. Which, from my opion is what Staind is all about. But anyway, I'll let you be the judge of what the light was like........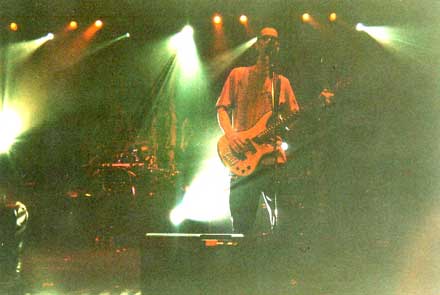 When the concert was drawing to a finish, I waited out side and got some feedback from the crowd. This is what they had to say:

Jason Clark and Friends from Cheshire: "Staind were beter then ever, 98%".
Chris Sewards: "85%, excellent".
Some goaty guy: "100%, excellent, couldn't ask for better".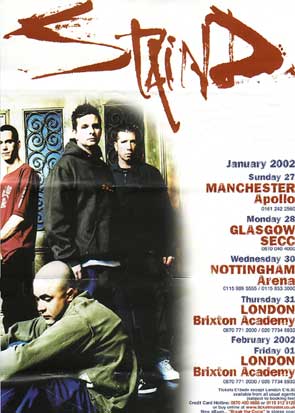 Overall, I think the audience were happy with the performance. Personally, I think that 2002 is going to be Stainds year.
10/10
By Simon Moorhouse
System of a Down - Nottingham Ice Rink, March 2002
System Of A Down's World Tour would come to its climax at the Nottingham Ice rink, and what an ending it was.
The loud thunder of the opening track "Prison Song" would be the song that would set the standard for the nights performance and from there on, the night would be hard to forget. The lighting and special effects would compliment the music quite fluently. Fire from each platform that they were standing on would be the sign for them to enter and as the night went on, people were jumping from all sides of the arena, just to get a close up of the worlds most famous new comer into the heavy metal scene.
The style of System of a Down is very abstract compared to what your used to hearing lately. Their songs have a particular meaning behind them and when System are live and in front of you their songs become a lot more meanigful when they're performing them to you!I know thats how I felt.
I first saw System at the Leeds Carling festival 2001 and their performance was average, which would be expected because they were playing in front of a huge crowd, but one year later or so, their energy on stage and how they present themselves is a lot more exciting and powerful.
An excellent night out.
Well done lads.
9/10
By Simon Moorhouse