Lynyrd Skynyrd/Rambler/Tribal Tongue/Train -
Sunfest 2006 @ West Palm Beach, Florida, USA, May 7th, 2006
From Fort Myers it was a 3 hour drive to the other side of the coast. After parking & getting my media pass, Rick and Crystal Wilson and myself walked over to the main stage and immediately spotted our friends and partners of Tribal Tongue – one of the finest unsigned bands in Florida, USA and beyond. After hugs, handshakes and the getting of a beer or three we settled down to check out those 'Drops of Jupiter' guys that are 'Train'.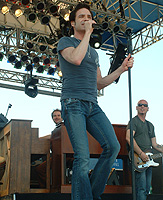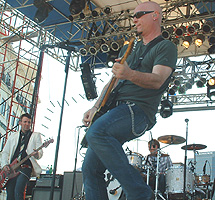 Train have had a few hits with their pop-rock thang goin' down and I must say that there's a bit more to 'em than that. I contest that I only knew that certain song that everybody and their grandma knows but they've got other material that's equally as good and hold up to the quality of 'Drops of Jupiter'. I was led to believe that their other songs were downtrodden, negative meanderings – so that just proves to always judge an artist for yourself and take others opinions with a pinch of salt.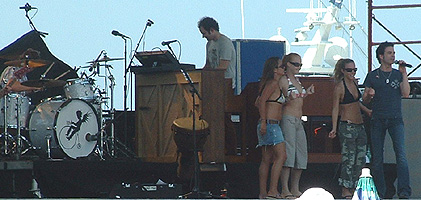 The voice of Pat Monahan is high shrill and lovingly beautiful unlike the Trainettes (as they were entitled) basically 3 chicks that who were pulled out the crowd that although were beautiful could not sing in tune or in time too well. Anyway, back to the point, Train charm and warm up the crowd amazingly.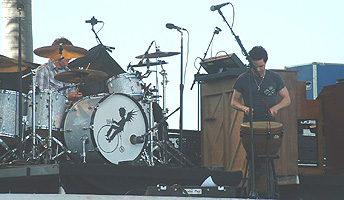 What blew my mind was that their bass player is none other than 'Johnny Colt' (original bassist of The Black Crowes) – I didn't even realise it was him until Pat introduced him since his image has changed somewhat – I rember him with thick long hair down his back – in fact I met him at The City Hall, Sheffield in 1992 – he signed The B.C's first 2 albums for me – oh to go back in time again.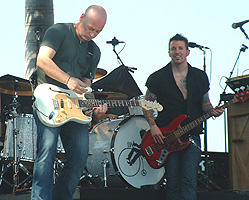 Like the version of Aerosmith's classic 'Dream On' and 'Rock 'n' Roll' by Led Zeppelin. Like to see 'em again sometime a bit closer to home – lol – then again, sooner sooner see them in my favourite state.
Now what can I say about 'Tribal Tongue', a four piece based in Fort Myers Beach, Florida whose material is Southern styled, melodically based and filled to the brim with delicious full vocal harmonies. They mesmerize you with their Gospel like arrangements on occasions, not to mention the surprising twists to their songs.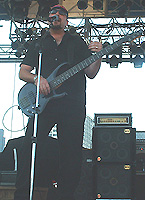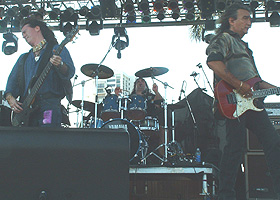 I can't believe that a lot of the audience disappeared after Train – they dropped a right clanger not checkin' out the TT Boys. They missed out on some magical musical moments and solid lashing voicings.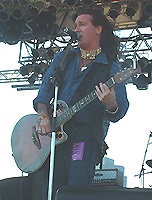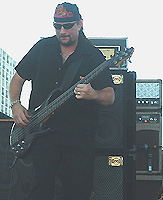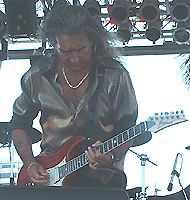 For those who were there to appreciate it, they were truly rewarded. Next time the radio stations and promoters ought to give Tribal Tongue the credit and advertising they fully deserve. After all of my moaning it was an enjoyable set.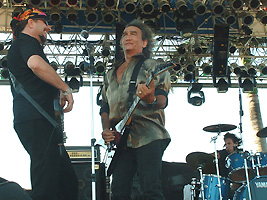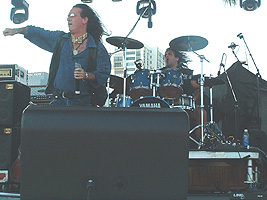 Main vocalist, Joe Monroe leaped and filled as much of the stage as humanly possible not to mention his volumptuous personality in the 45 mins or so they had there. Sweet 'n' soulful voices filled the air backed up ny the bass and guitar work of Bryce Barnes and Tag Graves and Gary C. Renshaw on the drums.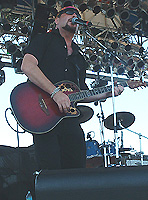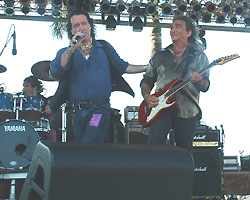 With what can only be described as the Tribal Tongue sound, the band presented us with live renditions of numbers from their 'One More Shot' CD such as the powerful harmonised 'If You Don't Believe Me' which comes complete with Mr. Grave's vocoder effects on the 'no more' chorus section of the song' and the wonderful gospel acoustics on 'I Feel'.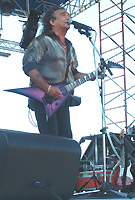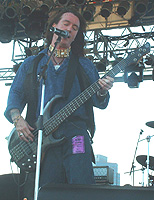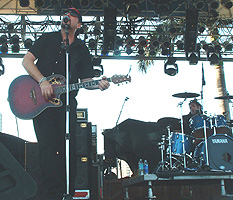 We were also treated to a slice of Mountain's 'Mississippi Queen' and a touch of Led Zeppelin's 'Whole Lotta Love' as well as two more of their own uplifting songs like 'I Got Love' and 'Until I Get To Heaven'. You should have been there – for those at Sunfest that weren't – shame on you – be sure to catch 'em next time as you should have been there.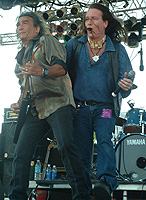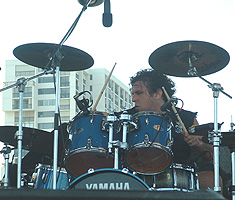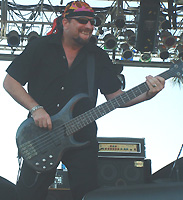 Rambler were a good band as well with their blast of drawling southern rock. The only problem was the fact that they appeared to simple take riffs of other well known songs like 'Simple Man' by 'Skynyrd, an old Outlaw's number (the name of which escapes me) and Poison's 'Every Rose Has Its Thorn' and tried to make 'em their own.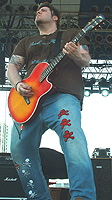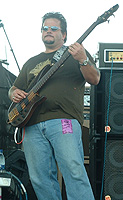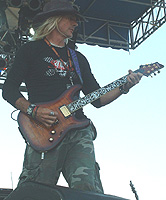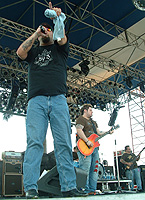 They appeared to get away with it though as many in the audience probably didn't realise but a few of us found it highly amusing.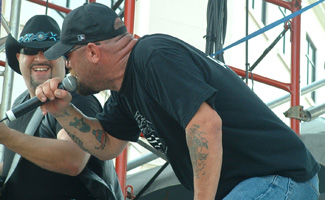 One of the highlights in the set was a song about the vocalist's brother serving 12 years in prison for manslaughter. Overall a decent band but hardly original – then again – originality is rather hard to produce these days.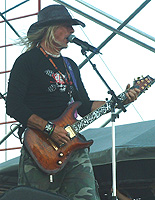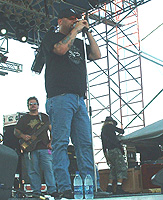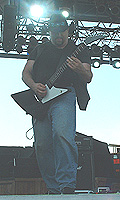 And what's to follow afterward, well apart from Captain Morgan with his hot chicks throwing out some freebie rum samples, well of course, it's the ultimate in Southern Rock finesse – 'Lynyrd Skynyrd' who I've waiting a good few years to witness.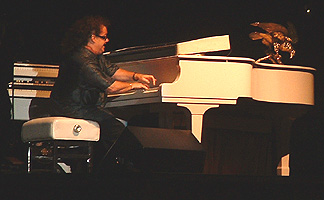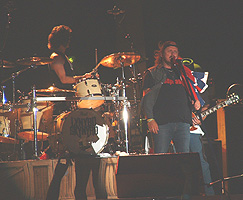 What really annoyed me though was the arrogance of their Manager/Tour Manager or whoever the hell he was, who said he wouldn't let journalists into the photo-pit unless he knew the publication and included yours truly – what a f*ck*r ! – needless to say I wasn't one bit impressed by this at all after coming all the way from Sheffield, UK for it – in fact, I worked my vacation around this day. I got a good zoom on my camera so all was not lost.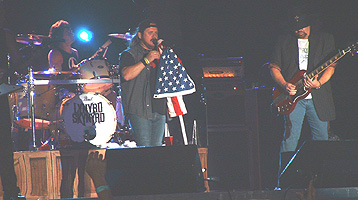 I guess I knew what was in store for the next 2 hours or so – a full-on greatest hits set from the Jacksonville Giants and funnily enough I was not a bit disappointed by what came either.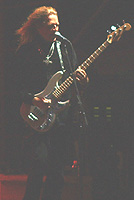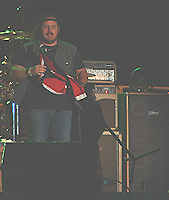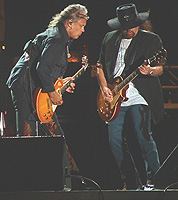 Anyways, Lynyrd Skynyrd were just as I expected – Dixie Tootin' Brilliance right here live who played out for us all some smashin' southern numbers for all us to revel in or should that be rebel?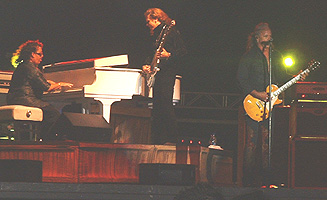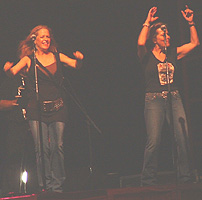 All the hits were here that included the honkin' 12-bar boogie of 'Gimme Three Steps'; the beautiful materal ballad 'Simple Man'; echoey Gunning straight shooting 'Saturday Night Special'; the firing on all cylinders 'Gimme Back My Bullets' that has previously been re-worked with Kid Rock – we got the original version tonight though plus other highlights from the current studio album 'Vicious Cycle'.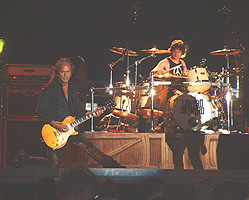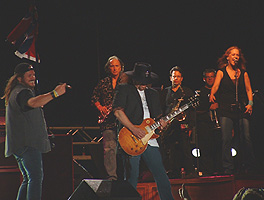 Awesome to see them do the autobiographical 'Red, White & Blue' – one of my fave songs of theirs actually that Johnny Van Zant said had been played for many US organisations that included their Troops defending the country.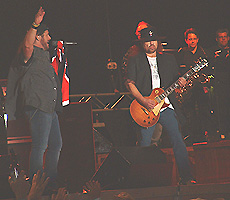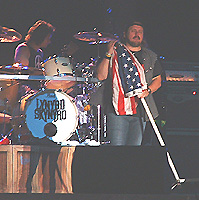 A packed crowd ensured that each song was treated like an epic with plenty of musical interplay onstage with a ton of guitar slinging and ebony and ivory tickling in abundance. It was great to witness Johnny Van Zant waving the flags – just shows they are proud where they come from – I would be too.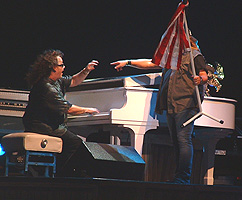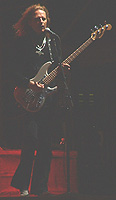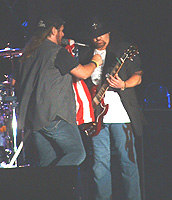 Of course there's only way to finish off a Lynyrd Skynyrd concert and that's with those 'various artist' rock compilation air guitar classics 'Sweet Home Alabama' and the ultimate number left for the encore 'Freebird' although they made us wait a while before returning to the stage though, whipping up the audience into a crazy excitable frenzy before immersing the whole of West Palm Beach with it.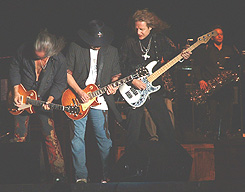 It was a fine moment to be had I tell ya and I was real glad I was present to witness it. I can now say I witness them in their own state which makes it all worthwhile.
9/10 Overall
By Glenn Milligan