SWEDEN ROCK FESTIVAL 2008
Glastonbury may be more eclectic, Reading may be more progressive and Roskilde may be longer, but if it's full on ROCK you want, the SwedenRock Festival is the greatest, loudest and the best available in Europe (which means the best in the world, of course).
SwedenRock has been going since 1992 and since 1998 has found a home in a tiny place called Norje in Southern Sweden, the population of which must at least triple for two weeks each summer. Seeing the line up for this year pretty much decided my wife and I where we wanted to holiday and we set about arranging it.
We ended up not just going to SwedenRock but spending two weeks in Scandinavia in a pretty mental touring schedule – starting in Oslo, we stayed in Gothenburg for one night and Malmo for one night before getting to the festival. After that we wanted to go to Stockholm and then visit the Aland Islands by ferry.
The insane ferry schedule meant we only had one night in Stockholm, then two days in Aland and an overnight ferry to Helsinki. So for most of the holiday we were pretty knackered, but it was well worth it for the festival and for the places we saw, which were all gorgeous.
Of course, Scandinavia is pretty expensive, but not quite as bad as people make out and rail travel and accommodation aren't any more expensive than in England. It's mainly food/drink and living expenses that are extortionate, so you shop around for stuff and self-cater if you can. Before I went everyone banged on about beer being £8 a pint and such nonsense – it does cost around £4 to £5 for a drink but that's not much worse than a club in England.
The normal thing for a festival would of course be to buy a large crate of beer – there's couple of problems there. First, in Sweden you can only buy strong (more than 3.5%) beer from a Government controlled shop called a Systembolaget. This is to discourage drinking. These shops are hidden away and close at early o'clock. And as far as I could make out, Norje has one petrol station to its name, no shops.
Second, the weather was boiling hot during the festival, with in-tent conditions pretty humid. Unless you carry a generator and a fridge around with you bringing the crate in would be pretty pointless. Third, you can't take your own beer into the festival area, that's pretty normal of course.
In fact the weather was a steady 30 degrees or so, except when the sun finally went down, when it immediately became freezing cold. And when the sun came up, it immediately became boiling hot again. This makes sleeping in the tent / oven /fridge pretty difficult. Just don't bother trying, is the best advice.

DAY ONE
We got to Solvesborg on the Wednesday morning by train and straight away found a bus to the campsite. Not the official bus of course, it seemed to be a school bus for the local kids who looked very bemused by the enormous number of backpackers who had taken their seats.
This bus meandered for forty minutes or so, frequently dropping off at people's houses, until it dropped us "near" the campsite. You can guess that we then spent forty minutes walking into the campsite and working out where you get camping wristbands.
There were loads of Camping areas, all costing about the same, forty quid each, we went to the official one just for the hell of it, and before we knew that some of the other ones had SHOWERS. These things we take for granted outside become so important. It took two days to find the washbasins.
The campsites though were pretty clean and being there on the first day we got a decent spot nearish the exits. Then we made the mistake of taking our tickets to the gate and getting wristbands, which we shouldn't have done because we were supposed to go to the press accreditation area and swap the tickets for different wristbands. The festival staff were very helpful anytime we asked anything and they managed to sort that out no problem.
We were also privileged enough to be given a photo vest, allowing us into the photo pit at the start of each band's slot. There were only 80 or so vests available and over 400 press at the event. The only band we couldn't photograph from the pit was Judas Priest, who requested a further registration.
We got a free cd with the tickets, featuring 14 bands from the festival who had all been asked to write a song named after the festival's motto "Fill your head with Rock", a cool idea and the best efforts being by Bonafide, Astral Doors and Five Fifteen imho.
Once in the festival itself you see how big it is – there are five stages – a multitude of rock stalls and festival run bars. The official beer sold was SwedenRock Beer! This is a refreshing ale with a light taste and 5%, and cost about £4.50.
We checked out where the Press Tent and Backstage Bar were and got into the first bands. Only three of the stages ran on the first day of the concert, with a number of smaller Swedish bands playing. The festival also featured winners of the Nordic Rock Challenge, a collaboration between MySpace and SwedenRock to find the best four bands out of 2,500 entrants, each winner getting an opening slot on one of the days.
Astral Doors - 8/10
The first band we caught though were Astral Doors, who played their take on Fill your head with rock as a driving pumping anthem. Singer Nils Johansson has a great image – I recorded at the time that he looked a bit like Wayne Hussey but I think the sun had caught me – with a terrific deep metal voice.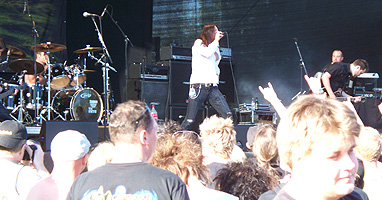 Their other stand out track was 'New Revelation' from their album of the same name, well worth checking out. Their keyboard player, Joakim Roberg, really breathed life into their songs, really fleshing out the rhythm section with a performance that was virtuoso but not distracting.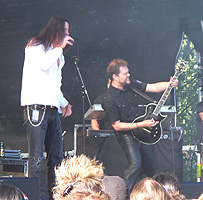 Then we checked out the Gibson Stage, which was covered and had stands with guitars and drumkits to try out, as well as a Guitar Heroes and Wii arcade. While we were in there saw local act Dampungarna from Karlshamm, a Ramones tribute act who have caught the sound pretty well, although the accent of the singer throws you off a bit. Really enjoyed their takes on 'Sheena' and 'The KKK took my Baby Away' though.
Airbourne - 8/10
After checking out that tent went to the largest stage open at the time, the Zeppelin stage, for Airbourne, a fantastic AC-DC influenced Aussie rock band, led by Joel O'Keefe, who obviously has rock'n'roll in his blood, happy to nearly spill it by climbing up the rigging to stick his guitar in the speakers and jump off while playing 'Runnin' Wild' from their debut album.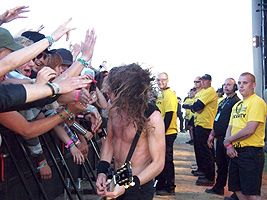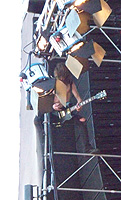 Saluting the crowd Joel shouted this was the band's first gig in Sweden, and the best f***ing gig they had ever done. The crowd were certainly ecstatic to hear this and he may well have been right – they couldn't have had a warmer welcome considering many of the crowd might not have heard them before.
Playing on, 'Too Much Too Young Too Fast' featured an impressive solo from David Roads guitar and 'Stand Up For Rock'n'Roll' managed to get the early festival-goers jumping. Joel's voice, with the fierce rasp of Bon Scott resurrected there, is perfect for this music.
Bonafide - 7/10
Next went to get food and alcohol, but caught some of Swedish band Bonafide's set on the way. Their own version of 'Fill Your Head with Rock' is a party anthem, singalong rock even released as a download single! Their set was tight, with 'Hard Case to Break' a highlight, and available to view on YouTube.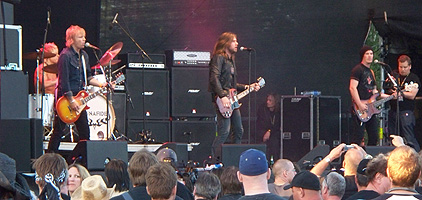 When Sebastian Bach cancelled the next day, Bonafide stepped in last minute to fill the gap, happy to repeat their gig to a larger crowd! We met guitarist Mikael Fassberg later on in the bar he was pretty excited about the band's success given they've just released their first single.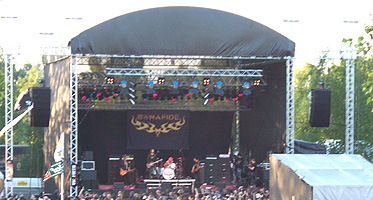 Five Fifteen
After a break went back and caught Five Fifteen, a Finnish rock / blues act who've been around since the early 90's. They've got a unique sixties influenced sound with two singers, a man (Mika Jarvinen) and a woman (Mikko Maatta) both gifted with strong soulful voices.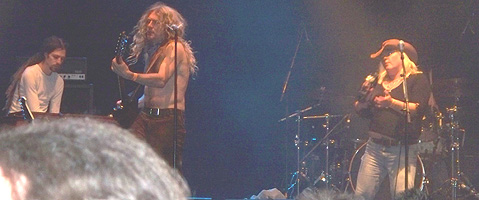 I don't know much about this band but would love to hear more and probably will. Their set ended with an impressive bluesy jam that caught the twilight summer evening perfectly.
Satyricon - 6/10
As it got darker went to the Sweden stage to see Satyricon, Norwegian Black Metal legends. This just isn't music that interests me very much and I was dead on my feet by this point, having travelled from Malmo in the morning.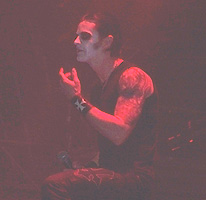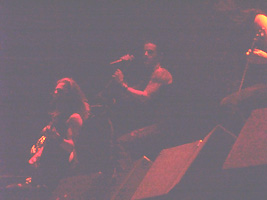 I enjoyed the more symphonic aspects of the music, the dark chthonic keyboards and the theatrical mood, but the relentlessness of this kind of metal isn't made for exhausted people.
The festival crowd loved it though and the band were clearly having the time of their lives. Or afterlives, possibly.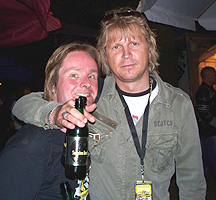 After that and a quick stop at the bar, which was when we met Bonafide's guitarist, I went back to the tent to try to sleep for a bit.
DAY TWO
Of course, the tent was scorching hot by morning time with the sun straight overhead so was driven out around midday to have a scout through the myriad of stalls around the camping and festival areas. There's always some bargains in the cd and record stalls at these places, and managed to get a couple of cds you couldn't get in England except on import.
The festival site was packed now, this being the first full day of the festival, with the full site and two main stages now open, giving a clearer idea of just how big the festival is.
The SwedenRock festival crowd has to be one of the friendliest you could possibly imagine despite the heat, lack of showers, the toilets, (exactly as you imagine) and the midges. Everyone really is there for rock music and a shared love of it, more so than any other festival I've encountered. It's also really cool, and a little surreal, to see young teenagers strutting around dressed up like the Hanoi Rocks or Poison, looking like they've raided the back of their parents' closet. It proves the longevity of this music and its intergenerational appeal.
Set off for Sweden Stage where Primal Fear were setting up. The engineer's main complaint during this was that the bass guitar sounded too "bassy" which probably marks him out as a perfectionist, or insane.
Primal Fear - 8/10
I haven't seen this band before : an awesome band, melodic metal, tight riffs and great performances. Front man Ralf Scheepers is gifted with a powerful voice and looked pretty cool in black. He go the crowd singing football chants and won them over by wearing a Swedish flag around himself.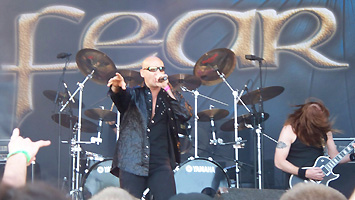 A guitar duel between Magnus Karlsson and Henny Wolter went down a storm, even quoting Duelling Banjos and ending with Wolter playing into the amp and Magnus just outdoing him with a distortion pedal. Randy Black on drums and bassist/songwriter Mat Sinner kept things tight and most importantly loud.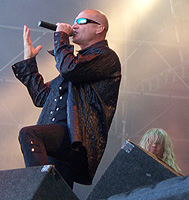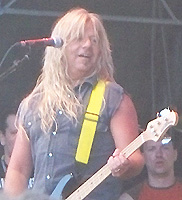 'Fighting The Darkness' from latest album New Religion was a highlight along with anthem 'Metal is Forever' with a word perfect crowd and apocalyptic epic sound of 'Seven Seals' from the Metal is Forever album.
Left after that to source food – you could pretty much get anything you wanted around the festival site. Although my wife is vegetarian and this was always a slight issue in Sweden (mainly because of not knowing what anything on the menu was if in Swedish) there were a fair number of options and plenty of pasta / pizza type dishes. But I had a minced Elk kebab, because it was there.
In fact in general the menus in Sweden and Finland had a tendency to catch you out, they would start off fairly normal but then throw in a curveball, for example one menu outside a restaurant had Grilled Chicken, Spaghetti Carbonara, Meatballs, Grilled Wolf, Poached Plaice, … hang on a minute, Grilled Wolf? Surely that's an endangered species, well, especially in Sweden obviously.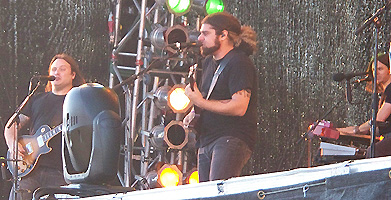 While eating saw Coheed and Cambria, great jam at the end of their set, very much in progressive mode, superb complex drumming from Chris Pennie and lengthy soloing from guitarist Travis Stever.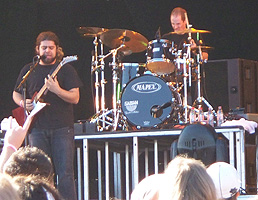 After this set we went backstage and then to the Judas Priest press conference. It was good to see the full line up there, keen to promote their ambitious double album Nostradamus, almost two years in the making.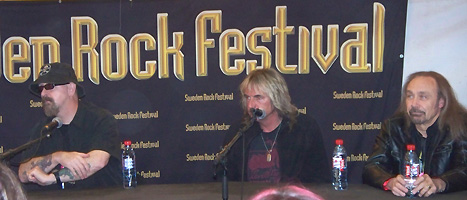 The first question, from an Oslo fanzine, asked about the origins of the Nostradamus concept, which Rob explained came from their manager Bill Curbishley, as they had been looking for an idea for a concept album for some time he mentioned the name to them during a tour. The concept album has allowed them to push the boundaries of their heavy metal even further than usual, and use different arrangements than normal.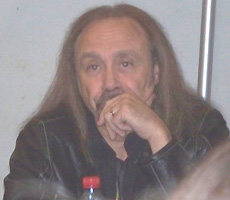 Rob talked about the compositional process, saying that writing the music and lyrics was not so difficult but knitting the ideas into an album was extremely time consuming: and they found a singer for the Italian operatic sections in a Birmingham Italian Restaurant!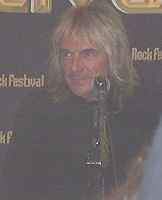 He talked about the special place that Sweden and Swedish fans had for Judas Priest, and the good memories from forty years of touring as Judas Priest. He singled out SwedenRock for its large variety of metal and rock bands. Asked about the religious significance of their band name the band laughed, saying that the name was not about eligion but their fans were almost religious in their support of Judas Priest. He also talked about the difficulty of choosing a set list from the vast repertoire of Priest songs.
A more difficult question asked why on a boxset, the drummer Dave Holland (imprisoned for attempted rape) had been removed from images. Rob compared the band to Spinal Tap in their experience with drummers and said that their current drummer had to be identified as the only drummer with Judas Priest, but added that there was enormous espect for the work Dave had done with the band. Asked about unofficial books of the band, the band agreed they would not bother to read unofficial versions of their story, and others should not believe what was in them. When they are ready, they said, they will release an official history. They noted the importance of reaching a status where books are being written about you!

A speaker pointed out that Nostradamus had been covered as a topic for rock concept albums before e.g. Nikolo Kotzev, and what would Priest add that was new? Rob said when you do something for yourself, it is your own exclusive property, and this version of the Nostradamus story was Priest's version, and that made it unique. Glenn Tipton added that Nostradamus, while it was a risk, was another chapter in the book of Judas Priest, and the commercial risk did not worry them, it needed to be listened to a few times, and stepped into.
They discussed the advantages and disadvantages of the internet, how they could so quickly get thousands of hits when releasing live clips, but Rob was fully against piracy and illegal downloading, saying that the experience offered by a double gatefold copy of an album with an extensive booklet and sleeve notes was something that couldn't be downloaded, just like a live experience.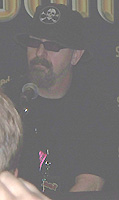 Asked for their favourite Judas Priest track, Rob immediately answered Painkiller, but was slightly embarrassed as every other member said they couldn't possibly choose a favourite.Their own Nostradamus prophecy, Rob said, was that Judas Priest would release the greatest metal album in the world and sell more copies than anyone else.
The press conference broke up after half an hour, with everyone pretty entertained by the extremely intelligent and loquacious Mr. Halford. Of course, during the half hour they talked about other band members, and some of their tracks and other things.
ELO
While the press conference was on ELO were playing, I did just catch them finishing as we left the press conference, with 'Mr Blue Sky' and 'Xanadu'.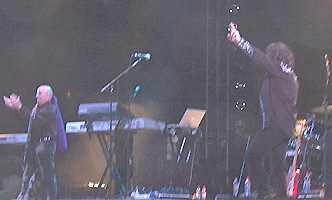 Sounded good, with three members from the seventies, but with no Jeff Lynne I couldn't really be tempted away from the Judas Priest conference.
The next band up for us was Testament, at the second largest stage.
Testament - 7/10
Testament are a legendary thrash metal band formed in 1983, contemporaries of Metallica but never given the same level of success. Led by Chuck Billy they took the stage in Sweden with confidence and swagger. Their music lived up to that, churning swirling masses of guitar, feedback and powerful lyrics sung with conviction by Chuck.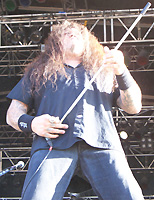 Kicking off with 'Practice What You Preach', the title track from their biggest album yet. Their new album, 'Formation of Damnation' was introduced with 'More than Meets the Eye', their last single. Soon followed a powerful bass solo from Greg Christian, wrestling melody and power from the guitar, bursting into 'The Preacher', a song from their second album New Order and oddly enough another song about Nostradamus.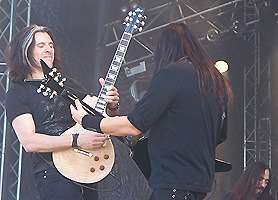 Chuck introduced the band, clearly hugely proud of what they have achieved over the two decades. A survivor himself, of cancer, he sang from the heart for native Americans in 'Trail of Tears', a ballad uncharacteristic of the band.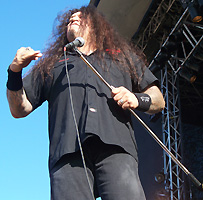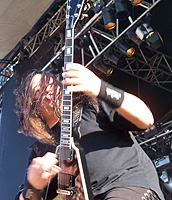 Pounding through 'Face in the Sky', the band finished with 'Alone in the Dark', from their first album 'The Legacy', a masterclass in thrash metal that manages to be lyrically sound and melodically engaging.
Leaving Testament to their thunderous and deserved applause, we went to the bar and waited for the Priest concert on the largest stage, the Festival stage.
There was a second registration required to get into the photo pit for the Judas Priest gig so we couldn't into that, but it was a pretty intense show.
Judas Priest - 8/10
Opening with intense symphonic sounds - Priest know how to set the scene - then the stage exploded into colour for the theme song from Nostradamus – Rob Halford cloaked and creeping, looking like the hermit guy from the Led Zeppelin IV cover, and rasping very sinisterly as the 'French Soothsayer'.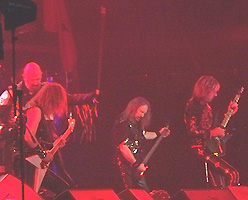 Throwing off his cloak the band blasted into 'Eat Me Alive' from the 80s album 'Defender of the Faith' then 'Between the Hammer and the Anvil' from masterpiece 'Painkiller'. Despite some worries about Rob's voice following earlier reviews, he was in fine form and the whole band were seriously enjoying themselves in Sweden.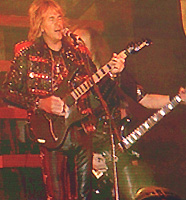 A run though of 'Devil's Child' then live must-have 'Breaking the Law' with the crowd carrying the song in a bewildering variety of accents. Rob was back into his Nostradamus cape for a second song from the new album, which sounds like pretty heavy symphonic metal bordering on prog metal, this song was called 'Messenger of Death'.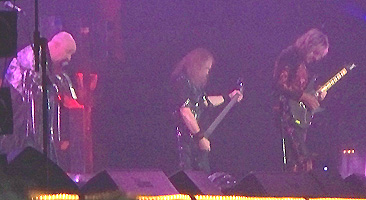 The tempo came down a notch for ballad Angel and rocketed back up again for Electric Eye' which was just storming. Rob reminisced then about the founding of Judas Priest, which has reached its fortieth anniversary, then blasted into a celebratory song for rock and roll – 'Rock Hard', another track from 'Defenders' and 'Sinner' before a full on rendition of 'Hell Bent for Leather', with Rob making his customary triumphant stage entrance on a Harley.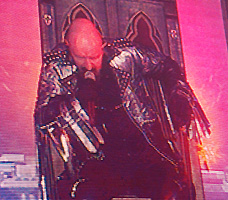 To huge cheers Rob saluted the crowd and announced the 'Green Manalishi', performing the song caped this time in a Swedish Flag. This came to a thunderous conclusion but there was no getting off stage without playing one more – 'You've Got Another Thing Coming'.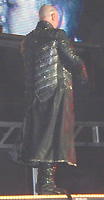 Priest have survived those forty years for being exceptional, unpredictable and forever entertaining, and they didn't disappoint here. Whether the overblown symphonic music of Nostradamus can sustain the story remains to be seen, but in their new songs and their classics they are one of the quintessential metal bands, literally a rock.
After a scoot round the festival site and bar I went to try to sleep again – doubtful, improbable and impossible though I knew it would be.
DAY THREE
..followed seconds later. The sun was scorchio again so went off and found – finally – sinks to wash in. Feeling more human I got some juice sorted out and looked around some more stalls.
This was a pretty packed day once the bands got started, swapping between the two main stages with only a break for food that meant we didn't have time to watch Hanoi Rocks properly.
The other problem was that for some reason Def Leppard's Press Conference was planned for the same time as Whitesnake were playing, so we had to miss some of Whitesnake as well.
Anyway, the first band I caught were Birth Control, a long established German band with progressive tendencies. They maintain original drummer Hugo Balder, who takes lead vocals on most songs.
Birth Control - 7/10
They spent a lot of their time jamming and improvising around a few songs, with highlights being the organ solo on 'Like Nothing Ever Changed' and a very long version of 'Gamma Ray'.
This featured a drum solo played standing on the drums, and a pretty chilled out section where all the band members played percussion of one kind or another.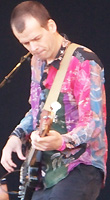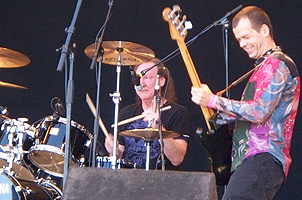 This was another good example of how many different kinds of rock the festival attracts and welcomes. I left only to get to the photo pit for the next big players, Tesla.

Tesla - 8/10
Hard rocking and bluesy, Tesla have been going strong since the mid eighties and the band playing tonight was the original line up with the exception of guitarist Tommy Skeoch, who departed two years ago and was replaced by Dave Rude. On the evidence of this gig, he's slotted in well and the band are playing live as well as they ever did.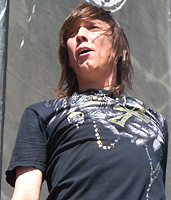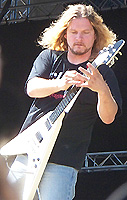 Kicking off with 'Comin' Atcha Live' they followed with the title track from their reunion album 'Into the Now', as well received as their classic material by the fans here, and then two tracks from their breakthrough album 'The Great Radio Controversy': 'Hang Tough' and 'Heaven's Trail'. A stripped down version of 'Signs' followed then 'Miles Away'.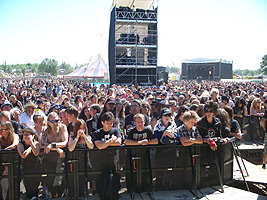 Jeff Keith calmed things down after this, telling the crowd about his last gig in Sweden in 1991 and the joy of being back as Tesla again. The production of an acoustic guitar at this point brought cheers as it meant their greatest hit 'Love Song', the intro played sensitively by Dan and sung with passion by Jeff. Another big hit, 'What You Give' brought the tempo right up again.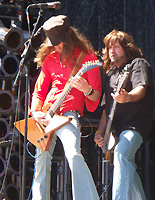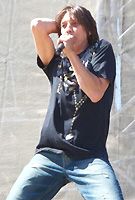 Jeff announced a cover version, and they delivered a perfect rendition of 'Rock Bottom', "You can't go wrong with a UFO song", Jeff told the crowd, some of whom probably weren't born when that first came out. This included a jam and guitar solos from Dave and Frank Hannon, showing how well the new guitarist now gels with his bandmates.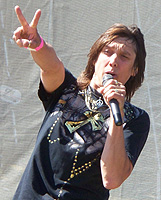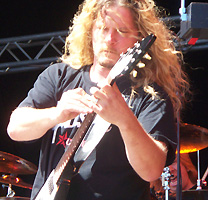 "We're going back in time now", Jeff shouted to introduce 'Little Suzi',, "are there any Little Suzi's in here?", well 'Little Suzi' is a bit of a minx so probably yes Jeff. Staying back in time he introduced a hit from the band's time on Headbanger's Ball, 'Modern Day Cowboy', the song which broke them to the world.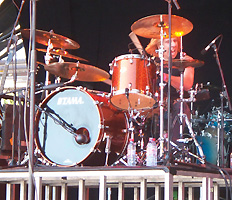 Tesla are a great live band and clearly masters of the cover version (apparently Jim Diamond wrote 'Little Suzi'!) and the crowd would have loved anything they ended with. Their last song – 'Edison's Medicine (Man out of Time)' - was their tribute to their namesake, Nikola Tesla. In all it's a triumphant return for Tesla, and their rebirth over the last few years has not seen their talent or passion for rock diminished a bit.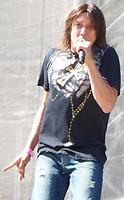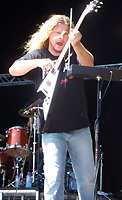 Another legend of rock was starting up across the fields, Joe Satriani and his band looked cool in their shades and as usual made the incredible complexity of their music look deceptively simple.
Joe Satriani - 7/10
The set kicked off with a jam around a song called 'One Two Rock' with some really fast tapping work from both Joe and his lead guitarist. The drummer Jeff Campitelli threw himself all over his custom DW kit to outdo them but frankly against Joe Satriani you might as well give up.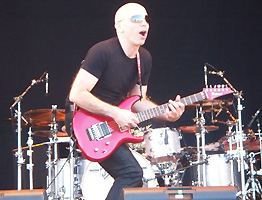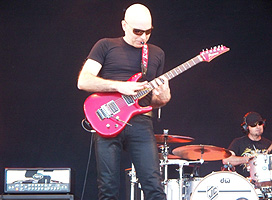 Over the hour he played 'Ice Nine' and 'Always With Me', instrumentals with extraordinary pyrotechnics on the guitar and moments of beauty. For Time Machine Joe announced that they usually played the next song at night as you had to imagine floating down a river at night before starting the hypnotic intro to the song.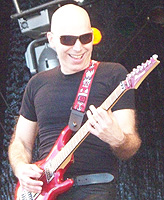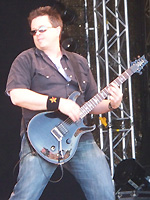 I'm not a huge fan of enormously talented guitar soloists which is the only reason I've marked him down a point or two, except of course that I'm jealous which is the other reason.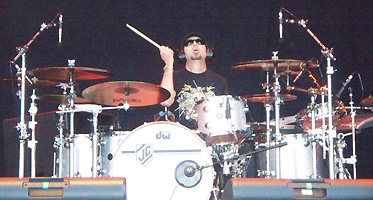 Back at the Festival Stage a Choir was setting up. You may remember a particularly stupid reality show called Battle of the Choirs – Sweden had their own version, with celebrities training Choirs to batter each other to death with hymn books, I mean, take part in a singing competition. The winning celebrity and surprise star of this programme was Joacim Cans, the lead singer of power metal band HammerFall.
Team Cans
This being Sweden's National Day, Cans had been invited to bring his choir to sing the national anthem. The choir burst into Queen first, 'We Will Rock You', and then 'Pour Some Sugar On Me'.

The National Anthem itself was followed by tumultuous applause across the festival field and the choir finished their segment with the famous Omen bit from the Carmina Burana.
Ace Frehley - 8/10
The choir left to be quickly replaced by Ace Frehley and his band, a rocket blast signalling the start of 'Rip it Out' and a tour through Frehley's hectic career. Snowblind was a highlight, tight unflashy guitar work and a solid rhythm section. The more anthemic 'Rock Soldiers' got the crowd in the right mood for 'Breakout', a song written in memory of Kiss drummer Eric Carr.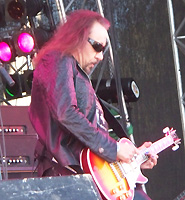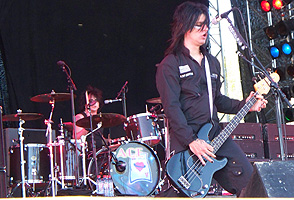 'Into The Void' followed, a Kiss song from Psycho Circus, and the crowd-pleasing 'Shout it Out Loud', which they did. Ace returned to his solo career and 'New York Groove', singing Sweden Groove instead along with the crowd. '2000 Man' and 'Shock Me' wrapped up this section of his gig, and a long guitar solo from Ace followed from a classical theme building into an explosive tapping sequence with the full band joining in.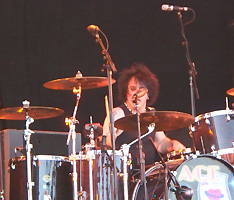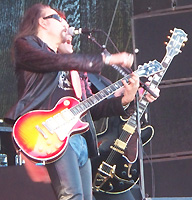 This finally turned into 'Rocket Ride' and a firework burst to end the gig. For his encore he turned back to his first Kiss composition, 'Cold Gin', nostalgic ending for both the crowd and Ace.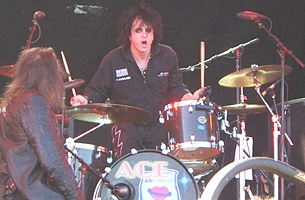 Throughout the concert Ace was excellent, his band tight and the whole sound more polished than it had any right to be. I'd thoroughly recommend seeing him.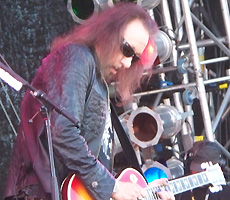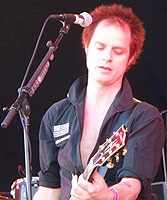 We went for a break in the bar where we met Jeff Scott Soto. He'd just got back from a tour with Tempestt in Brazil and was at the festival to relax.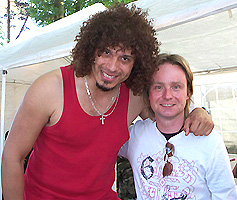 Asking him if he was watching Def Leppard reminded him he wanted to call and meet Joe Elliott before the concert and he got his phone out. The temptation to distract him and steal the phone passed eventually.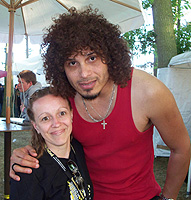 We also met Ronny, the lead singer of Steel Attack who have previously played at the festival and who is good friends with Joacim Cans, who was also there.
Now the festival essentially turned into a celebration of all things Yorkshire. First up was Whitesnake, David Coverdale being from Saltburn, then Saxon, Biff Byford from Barnsley, then Def Leppard, Sheffield obviously.
Whitesnake - 8/10
Whitesnake like many of the bands at the festival are riding on the resurgence of interest in heavy metal in Europe. They have a new album out and David has even been on Loose Women (and survived) so in their gigs they need to be – and are – at the top of their game.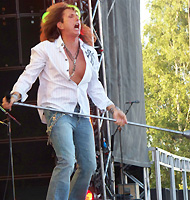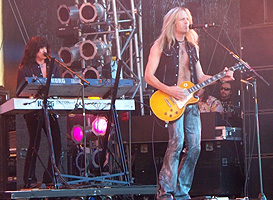 Kicking off with 'Into the Light' the current Whitesnake lineup is full of energy and races round the stage like mad, making them tricky to photograph.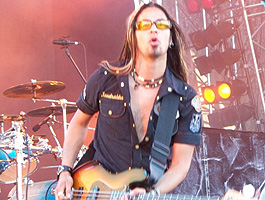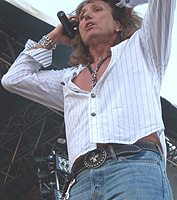 'Fool for your loving' was pounding and emotional. David apologised for playing new tracks then blasted into 'Can you hear the wind blow' from 'Good to be Bad'.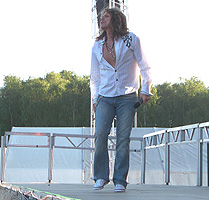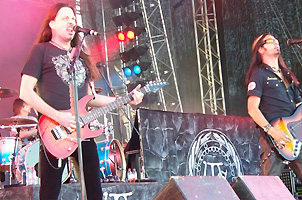 He then released the news that this year's festival crowd was the biggest yet. (Which I think everyone had guessed!). At this point we had to leave to attend the Def Leppard Press Conference.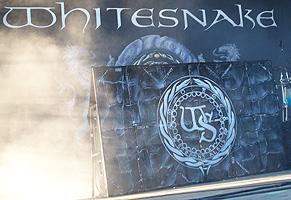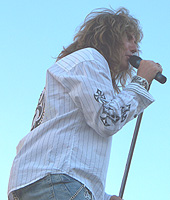 From where we heard them blasting out 'Here I Go Again' and 'Still of the Night', both sounding great. Coverdale's voice has lost none of its power and depth, while the new material mixes the blues and rock of Whitesnake's golden era with a modern feel.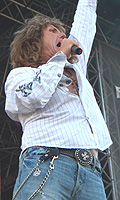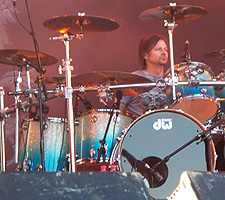 Def Leppard Press Conf.
The questions asked revolved around their touring schedule and the new album, with a couple of questions about the bands association with glam rock, their love of Mick Ronson and their history.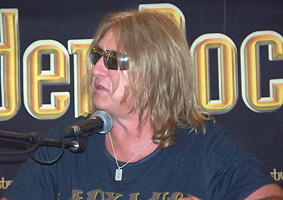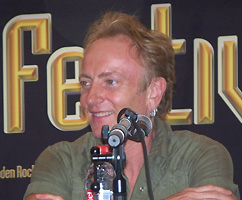 They revealed their hatred of the term New Wave of British Heavy Metal and the glam metal tag, with the only band of that nature which they could stand being the Hanoi Rocks.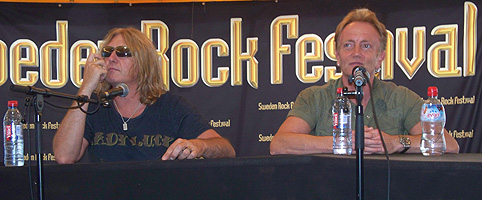 One question asked why the Slang album had been so depressing. They explained that this was a deliberate move away from the pop rock sound of the 80s to give them a break from it.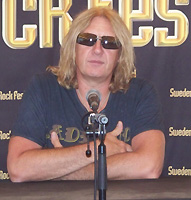 The latest album was a deliberate attempt to return to their established 80s sound after moving away from that sound for several years.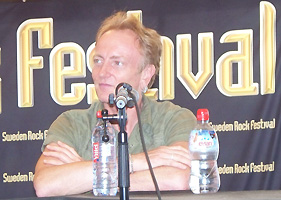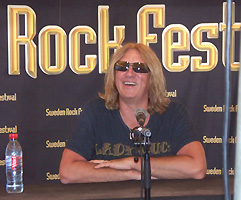 They also mentioned that the new album, in being more like their earlier material, had got them more support from the record label, hopefully leading to bigger live audiences than had been the case.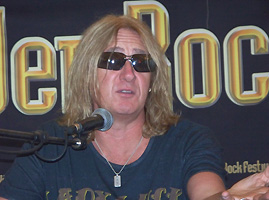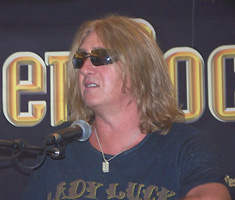 Having seen the first of the Yorkshire Trinity, it was time to see Biff.
Saxon - 8/10
Saxon were introduced by a girl band coming on stage and a comedian who joked that Saxon had cancelled and they were the replacement. Not being Swedish and without knowing who the girl band or the comedian are I can't tell you if this was funny or not.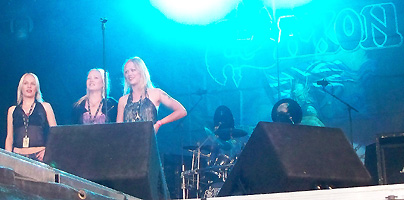 The band burst out on stage now and got straight into 'Motorcycle Man' – a powerful opening and a triumphant return to the Sweden stage.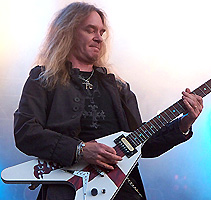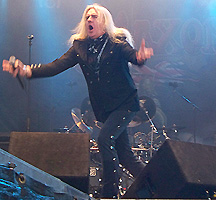 Biff remarked on the girl band for fairly obvious reasons – they are much better looking than the Sugababes. He looks pretty good himself (in a very different way) considering how long Saxon have been going and the very public ups and downs they have been through. They are a band who have reinvented themselves and their image and generated legions of new fans.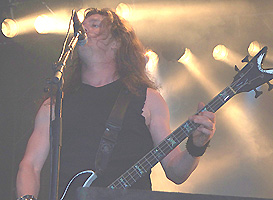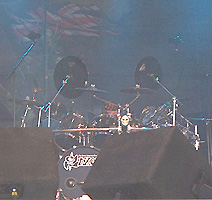 Commenting on this, Biff said that at a signing earlier he had asked all the younger fans whether they wanted new songs or old songs – the resounding answer being the old ones of course. Like David Coverdale, he remarked on the size of the crowd, being over 35,000 this year and a record.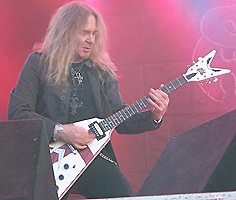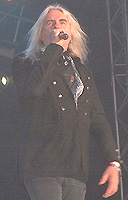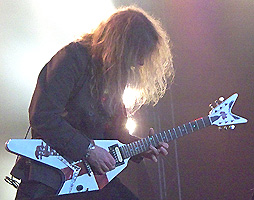 'Let Me Feel Your Power' certainly let us feel Saxon's power, and they followed it straight away with '747 (Strangers in the Night)', a classic and a singalong for everyone. Biff talked about the beer backstage, hugely impressed by the name of a local brew, Saxon, and also mentioned the way Yorkshire had taken over the nights proceedings.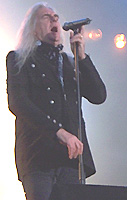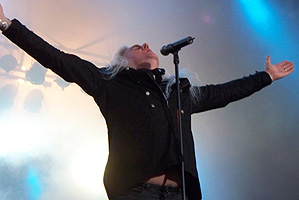 'Man and Machine' followed then Biff announced that he and the band would be the 'Strong Arm of the Law'. Biff was by far the chattiest singer yet that night, really communicating with the crowd and giving them what they wanted to hear.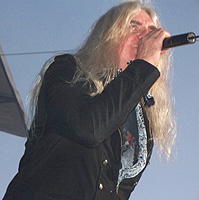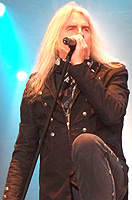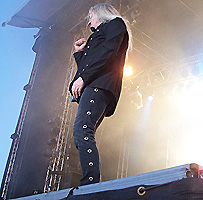 A story about witches in the middle ages led into 'Witchfinder General' followed by 'Crusader'. This history lesson was blown away by 'Heavy Metal Thunder' and another crowd singalong.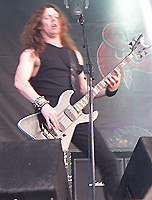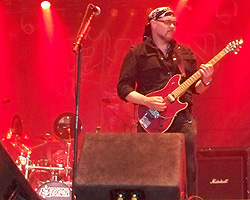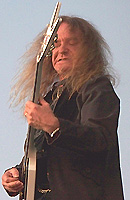 Biff asked if the crowd really wanted to do "that 80s call and response shit" then led the right and left sides of the crowd in a singing contest for 'Wheels of Steel'. He took a Swedish flag from the crowd and draped it over the drums for the remainder of the gig.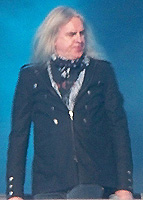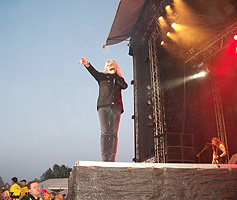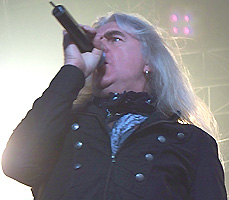 'Denim and Leather' finished the main gig on a real high note, the band spot on and full of energy, the crowd eager for every note. These were real fans welcoming heroes home. There was one encore song which everyone was waiting for – 'Princess of the Night' – and they weren't disappointed. Biff thanked the crowd for being the best and left us in a great mood for Def Leppard.
Def Leppard - 8/10
The main stage was draped in red in a recreation of the cover for their latest album, 'Songs from the Sparkle Lounge', but it was the classic songs everyone was waiting for.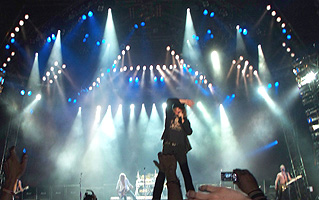 Coming on stage in a blaze of red lights the band kicked off with 'Rocket' and 'Animal', the crowd knowing every word. I had heard concerns that Joe's voice was not in good form on this tour, but there was no sign of this yet.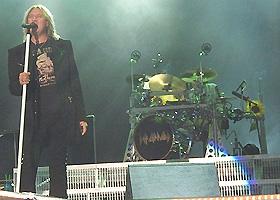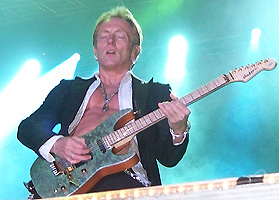 'C'mon C'mon' from the 'Sparkle Lounge' was received well with the audience already knowing the words. Joe announced a song from the High and Dry album, 'Mirror Mirror' which was the oldest song they played during the night.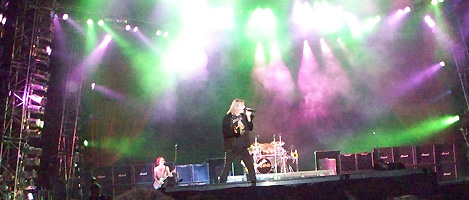 'Make Love Like a Man' was followed by 'Nine Lives', the lead single from 'Sparkle Lounge' and the song which saved Tim McGraw from one hit wonder status in the UK.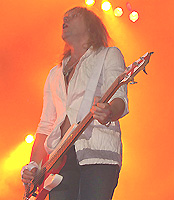 Another new song, 'Bad Actress', was proof that the new album has rockers just as stadium friendly as any of their 80's hits. One of my favourites, 'Love Bites', was followed by a bass solo from Rick Savage leading into easily the best track from 'Yeah! – 'Rock On'.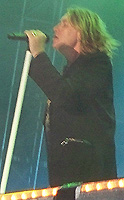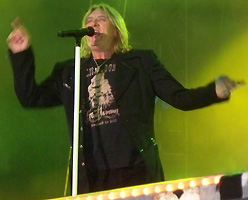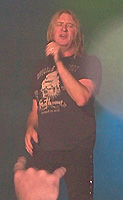 The title track from 'Hysteria' was the start of a run of greatest hits, 'Armageddon It', 'Photograph', 'Pour Some Sugar on Me', played perfectly, but Joe's voice showing some strain at this point. He has had an infection of course, so it is lucky that he can sing at all. Some Canadian gigs have been cancelled.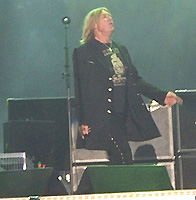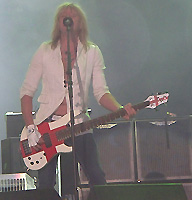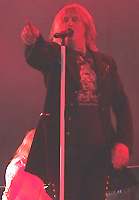 Joe announced "The last song is introduced by four magic words", which only means 'Rock of Ages'. A great light show through this song ended the main gig, with the band fairly quietly walking off stage.The chanting crowd soon brought them back on, with Joe asking the obvious estion "Do you wanna get rocked"? to bring on 'Let's Get Rocked' as the encore.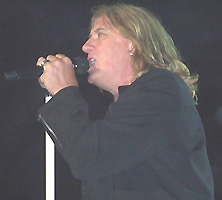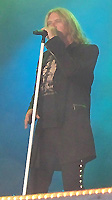 It's always good to hear Def Leppard, one of Britain's most successful exports and yet fiercely proud of their roots. Joe's voice is not in the best of condition due to an infection but the musical ability and fire are still there.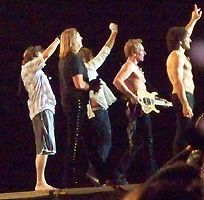 Their tour dates with Whitesnake, Black Stone Cherry and Thunder in the UK will be well worth attending.
DAY FOUR
By the fourth day of a festival you kind of get used to feeling like shite when you wake up and the crawl to a sink of some kind is pretty much a blur. What you don't need is to go to one of the portaloos and find that someone (probably a german) as drawn a large heart on the inside of the door in their own produce. That puts a kink on your day.
Managed to keep breakfast, (well, beer then) down and went off to see what was going on. One of the competition winners, 45 Degree Woman were on the Sweden stage.
45 Degree Woman - 7/10
They were deserving winners, their singer and each member having a good stage presence and their melodic dark metal hugely enhanced by superb keyboard work on 'The Wait is Everlasting' and 'Secret Jesus'.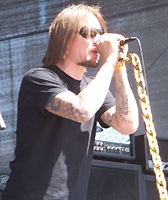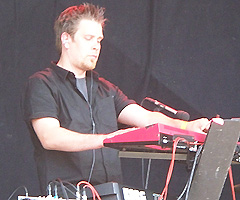 After that went to wait for Gotthard, a Swiss band while not well known in the UK, with a huge following in Europe and Scandinavia especially.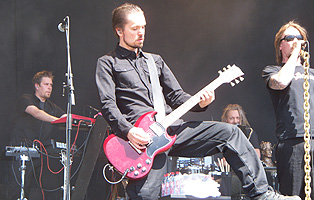 Caught a quick sight of Lizzy Borden, enough to make me hide anyway.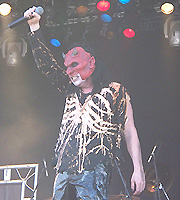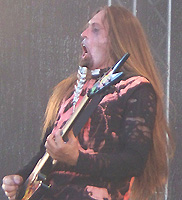 The crowd for Gotthard was large and enthusiastic Photo(100_0535).
Gotthard - 8/10
Kicking off with 'Master of Illusion' from their latest album 'The Domino Effect' they soon showed that 1 million Swiss can't be wrong. Steve Lee's vocals, influenced by Whitesnake but distinctive, lifted what could have been a fairly generic rock song to be involving and uplifting.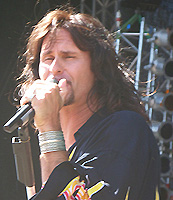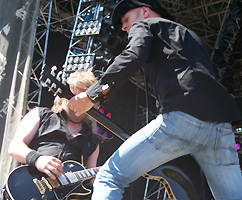 This was followed by a live fave 'Top of the World', then another newbie 'The Call' with a great guitar solo from Leo Leoni enhanced by an organ backing from Freddy Scherer.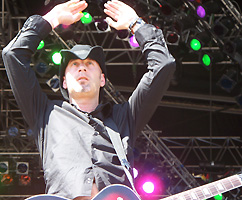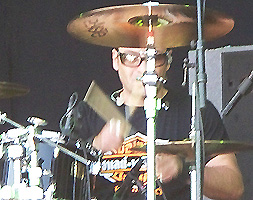 A cover of 'Hush' followed, a cover which was one of their first singles and a must-play live. Gotthard do it justice and I preferred it frankly to the other covers I've heard i.e. Kulashaker.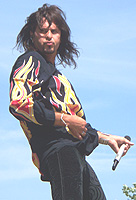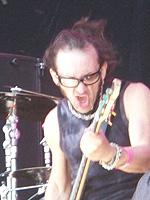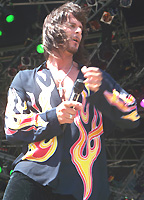 The ballad / lovesong, 'I Wonder' would have had lighters waving if it was dark (and if Health and Safety allowed it), precision song writing which could easily be a hit ver here if it was promoted.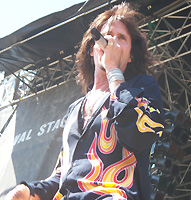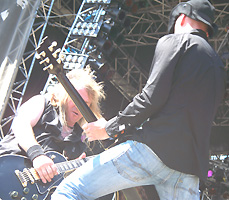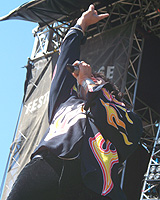 Steve Lee's vocal duet / battle with his guitarist followed, Steve giving up and playing the harmonica instead to segue into 'Sister Moon' an insistent rock song brilliantly backed by drummer Hena Habegger as on the huge hit 'Anytime Anywhere' which followed.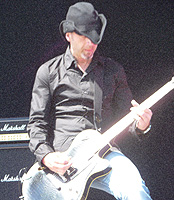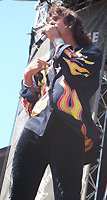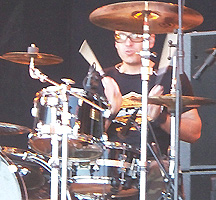 The bravely named 'Let It Be' was played acoustically with the audience singing along word perfect to another melodic ballad. Gotthard know how to balance their gigs and keep alternating from ballad to rocker. I suspect they know the ballads will get them airplay but they want to rock!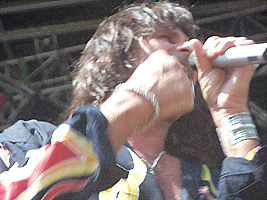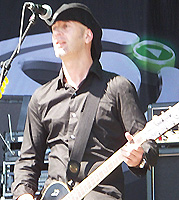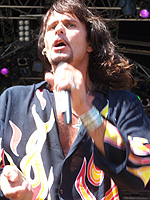 'Mountain Mama' got pulses racing again and showed how tight the rhythm section are and the main set finished with 'The Oscar Falls to You'.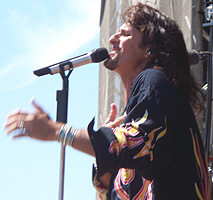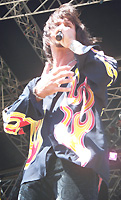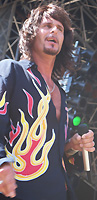 For their encore they played two of their biggest hits, 'Lift U Up' and 'All We Are', the audience singing most of the lyrics for the last one and leaving us in no doubt that Switzerland may be a more exciting country than we thought it was, having produced such a fine classic rock band.
Apocalyptica - 8/10
Apocalyptica were in storming form rushing on stage and straight into Sepultura's 'Refuse/Resist'. With occasional member Antero Manninen performing to make up numbers, this was a classic line-up for the band. Every member of the band showed tremendous energy and drummer Mikko was in great form.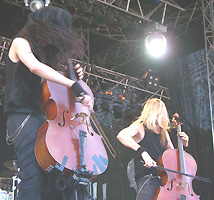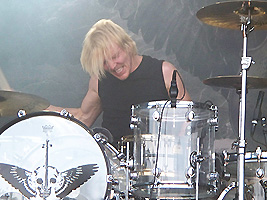 Keen to showcase their original and new material they then performed 'Grace' a powerful track even without the electric guitar of Tomoyasu Hotei. (Who plays on the studio version and co-wrote the piece with Mikko.) 'Somewhere Around Nothing' followed with an extended drum solo from Mikko who showed off but only as much as the cellists.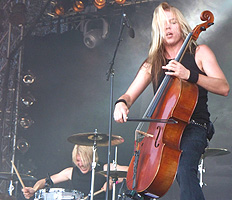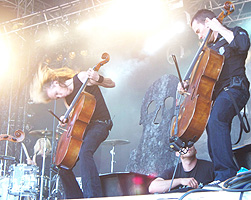 Paavo then introduced their cover version of 'Heroes' – Helden, originally sung in German and recorded with Till Lindemann of Rammstein. Here performed as an instrumental, the cellos worked well on the song and made the melody perhaps even more affecting than in Bowie's original.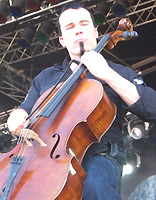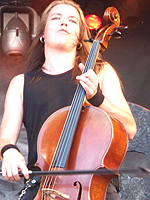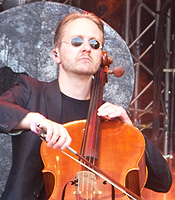 'Creeping Death' their second Metallica cover of the set was as astounding as when we first heard Apocalyptica (over ten years ago now). 'Betrayal / Forgiveness' was superb with ikko covering admirably for Dave Lombardo, the original drummer on the track.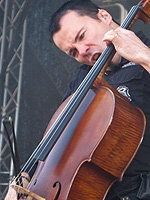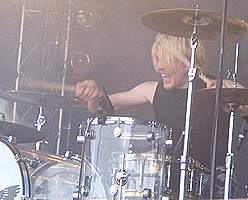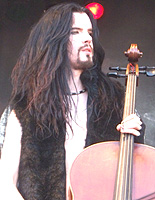 The quieter 'Bittersweet' followed, this track not really working without the vocals of Ville Valo and Lauri Ylonen on the original, but prompting me to search it out later. 'Nothing Else Matters' was performed with the perfection we have come to expect rom the group, now almost as much their signature tune as Metallica's in my mind.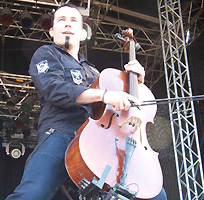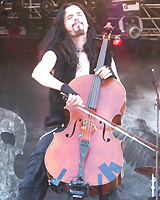 At this point we moved on to ensure we had food and lots of beer before the big bands of the evening. Apocalyptica are unarguably fantastic musicians and, as we have discovered, great songwriters too.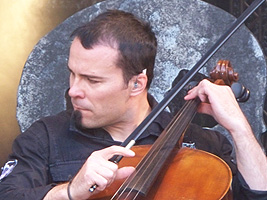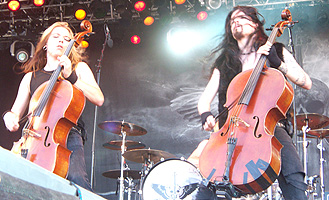 If you haven't tried them, check out their album Apocalyptica or see them live, they are quite stunning, visually as well there is nothing like watching cellists headbanging and smashing cellos around.
Triumph - 8/10
This was an emotional moment for the Triumph fans who gathered now – Triumph's first gig together for twenty years. Rik Emmett walked out of the band in 1988, but their recent induction into Canada's Hall of Fame seems to have provided the opportunity for making up and being friendly.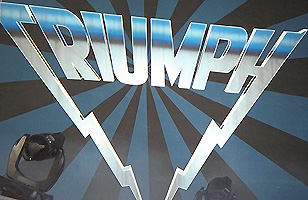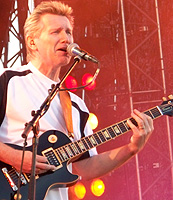 The band may have had some sound problems at first, the songs didn't seem as balanced as they could be, and occasionally early on the singing sounded a little nervous, but nevertheless it was a successful return for the band with the crowd backing them and singing along.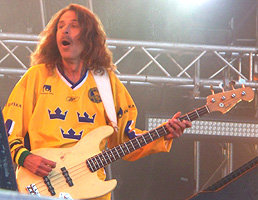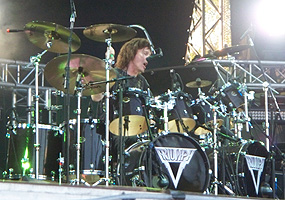 'When the Lights Go Down', their traditional opening live song, had drummer Gil taking lead vocals and sounding pretty spot on, and Mike Levine coming on in a Swedish Hockey shirt to win over the crowd, telling them how thrilled they all were o be here after such a long gap. They haven't played in Sweden before, perhaps they picked a fairly neutral location for their first gig together after such a long time.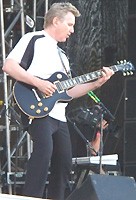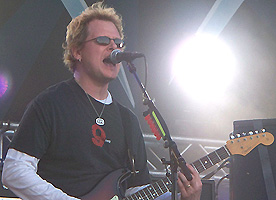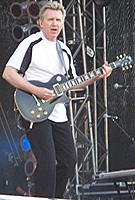 Lay it on the line had an extended intro from Rik – belying their prog roots and influences. This leads into a solid rocker with the crowd pumping fists in the air, leading into another rocker 'Allied Forces' featuring another extended solo from Rik. The vocals and sound were not clear for all of this song, but most of those problems seemed ironed out by the end of it. Certainly his vocals on 'Never Surrender' were extremely strong, the high notes not a problem.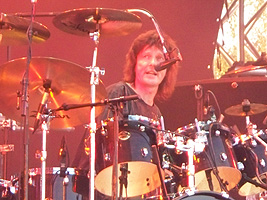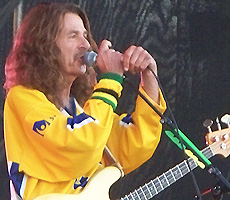 Similarly on I live for the weekend, Gil's vocals showed more confidence and his singing freed Rik and newbie Dave Dunlop up for a guitar duel. 'Blinding Light Show' was a more obscure choice for a live piece, with an extended guitar solo on 12 string from Rik and strong evidence for the naysayers who compare them unfavourably to Rush. This song was a bit long and lost some of the audience, including me, but did feature a Gong at the end. All songs are automatically improved by the inclusion of a Gong. (c.f. movies and ninjas). This was followed by a blues jam around 'Rocky Mountain Way', a Joe Walsh cover from early in their career, which worked best with Rik and Dave jamming head to head.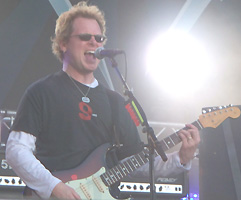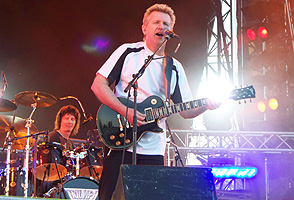 'Magic Power' was a hit in Canada and very popular with their fans – at this point Rik gave up singing and let the crowd do the first verse. An anthemic song about the power of music, it went down better with the crowd than the previous extended nstrumentals.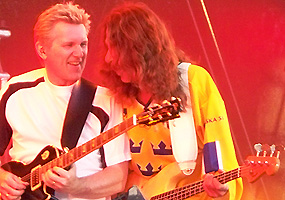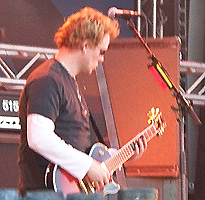 'Rock and Roll Machine' is a live must play and classic Triumph, complete with another Rik Emmett extended guitar solo but closed off in a more modern heavy metal form to let the band let loose with something a bit unusual.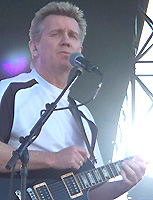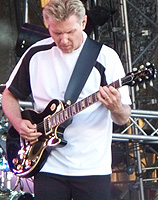 The set finished off with 'Fight the Good Fight', with all the band truly emotional and performing soulfully. The group took a bow at the end with them all smiling, looking glad to be back together and live again. The crowd chanted for more but that was it. This was an impressive return, with just a few problems to be ironed out erhaps, but looking good for the future of Triumph.
Next up on the main stage was Tobias Sammett and Avantasia.
Avantasia - 9/10
The stage was dominated by a backdrop of the creepy scarecrow from the cover of the latest epic from Tobias Sammett and friends, kind of Wurzel Gummidge meets Eddie. Tobias and his amazing band took the stage in a blaze of light and played 'Twisted Mind', Tobias full of energy on stage has he sent his fantastic vision out into the night.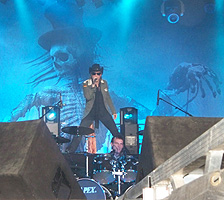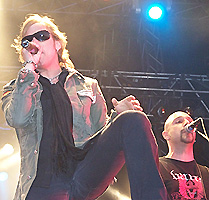 Jorn Lande joined him for 'The Scarecrow' and 'Another Angel Down', triumphs of ajestic metal and played note perfect. As the metal opera unfolded each of the musicians had their moment in the spotlight and all wowed the audience with their musicianship and obvious devotion to the cause.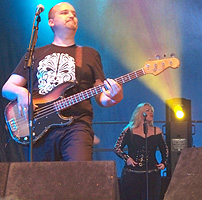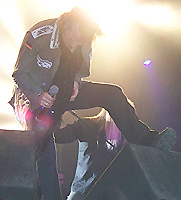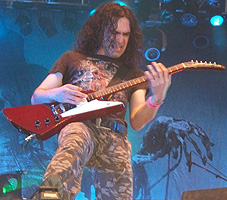 Particularly great was Bob Catley's appearance for 'The Story Ain't Ove'r and 'Shelter from the Rain', Bob looking happy enough to be just one player among many tonight, and in fine voice. You would never think that symphonic metal could be so much fun, but no-one onstage could really be accused of taking it too seriously.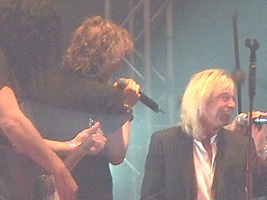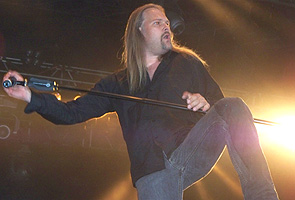 'The Avantasia' theme itself, the first single, was greeted with joy by the crowd as was 'Promised Land' again sung by the tremendous Jorn Lande. The guitars of ascha Paeth and Eric Singer were dazzling throughout.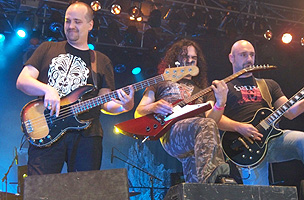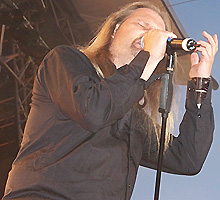 Tobias announced that the next song would be for Estonia – signalling 'Farewell' a beautiful celtic tinged ballad sung with Tobias twirling a huge Swedish flag around himself.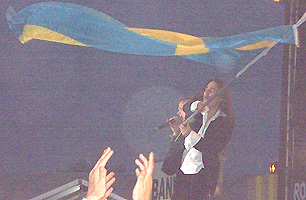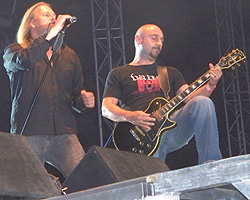 The set concluded with 'Sign of the Cross', an out and out rocker sung by Tobias, Jorn and Oliver Hartmann. This ended with all the musical pyrotechnics you would expect and a great light show, the audience all fans by the end if they weren't at the start.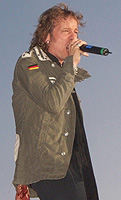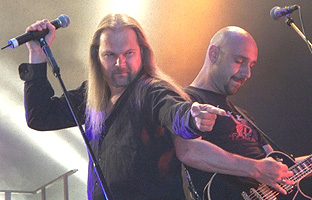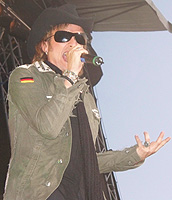 For sheer performance and energy this may well be the best set of the festival and Avantasia really should be charting here as well as in Scandinavia and Germany, yet another well kept secret of the continent!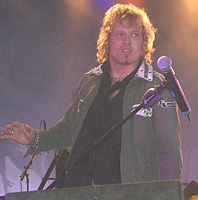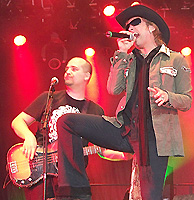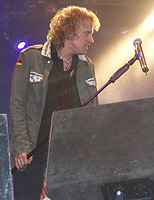 The last and headlining act of the night was Poison. I went to cover them while my wife went backstage and managed to meet Bob Catley and Jorn Lande.

Poison - 8/10
Brett and Rikki came on stage like they owned it with fireworks to greet them and welcomed the audience before setting into 'Look What the Cat Dragged In' and 'I Want Action' early classics and played with boyish glee belying their obvious weathering. 'Ride the Wind' got the crowd singing pretty early on in the set, which was played in front of clips of 50s tv and soft porn.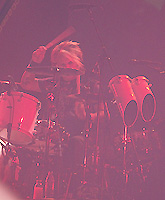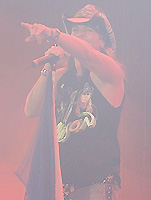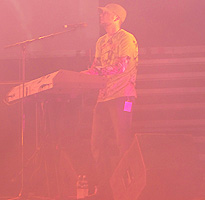 'I won't forget you' was great and they followed it with 'What I Like About You', a Romantics cover from their last album of covers Poison'd. CC's guitar solo on this showed him to be in great shape really, and 'Cry Tough' was another definite crowd pleaser with cool backing from Rikki.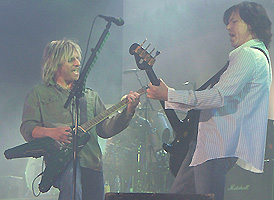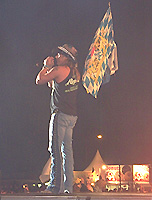 'Something to Believe In' gave Bobby Dall a chance to shine with the piano intro and solo and took the set down a notch before rocking it out again with 'Your Mama Don't Dance' and 'I Need to Know' (a Tom Petty cover) with a long and frantic drum solo leading into the pogoing classic 'Unskinny Bop'.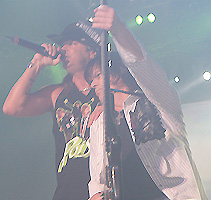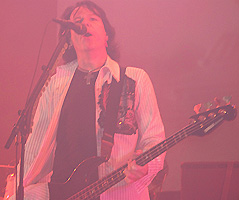 Then it was lighters in the air for 'Every Rose..' Brett and CC laughing their heads off through most of the instrumental enjoying it maybe more than the crowd if possible. 'Fallen Angel' would have had the roof off if it wasn't an open air festival and they closed with 'Talk Dirty to Me' an absolute cracker.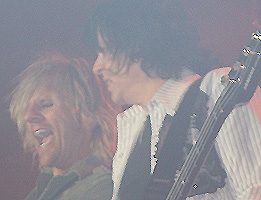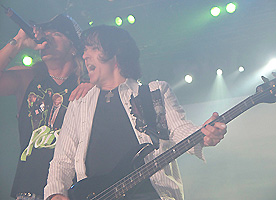 The encore then could only be 'Nothing But a Good Time' ending with a blast of confetti into the crowd and Brett shouting his love for the Swedish crowd and a vow to be back. It don't get better than this.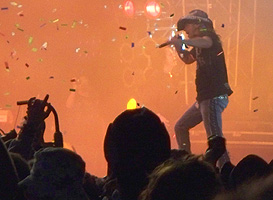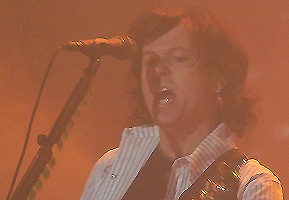 After the confetti settled down it was stumbling back to tent time. It was understandably even louder than usual that night as everyone partied for the last time, but there was no real problem as we needed to be up at stupid o'clock anyway.After packing the tent away, or most of it, hopefully, we had to be had the bus stand for 7:30 to get the official bus back to Solvesborg.
We managed to be among the first on and off again at the Solvesborg station, which turned out to be unmanned on a Sunday and with a ticket machine in Swedish. We intended to be in Stockholm for the evening because we needed a ferry to Mariehamm in the morning, another part of the over hectic schedule we had wrought.
So without tickets we just got on the first Stockholm bound train and soon found out that every seat in the country going to Stockholm seems to be reserved forever. lso you have to book those trains in advance, the first time we had encountered this problem. So we had to buy tickets on the train. This cost quite a lot, but it was a four hour journey and it probably didn't cost as much as say Sheffield to London.
So our last sight of the festival was really by bus, a sad caravan of campers with backpacks weighing them down and sighing as they left what had been a great our-day party. It had been the best rock festival I'd ever been to, the sheer variety and volume of the bands unsurpassed. And no Jay-Z headlining weirdness, this Rock festival does what it says on the Cans. The only question is how the organisers can top it next year, the only certainty being that somehow they will..
By John Robinson