Ultimate Jam Night –
Whisky A Go-Go, West Hollywood, California, USA, Tuesday 29th March, 2016
Set 1: You Could Be Mine/Lit Up/Double Vision/The Keepin' Kind/I Want You To Be My Baby/Renegade/Stranglehold/Honky Tonk Women/Crazy On You/Snortin Whisky/Shakey Ground.
Set 2: Light Up The Sky/Dance The Night Away/Shy Boy/Acid Queen/Losin' You/ Master Of Puppets/F*ck*ng Hostile/Come On, Come On/Dream Police/Little Wing/Ramble On/1985/We Are The Champions.
Now I remember seeing 'Ultimate Jam Night' last year when it was previously held at Lucky Strike on Hollywood Blvd – since then it's upped the capacity and way more folk can be fit in for the weekly event by holding it at the Whisky A Go-Go – and by the way ladies and gentlemen, it's still free to get in which is always a bonus. Especially with the star-studded guests that take the stage during the night.
Metalliville was lucky enough to attend the premier night at this prestigious venue which featured a supporting act before it all kicked off in the form of a rockabilly like band who go by the name of 'Bash' who warmed folk up with their own style of 50's pastiche and beyond who rocked it up and put on a well balance set with a bit of time off the ground too – well the double bass player at least.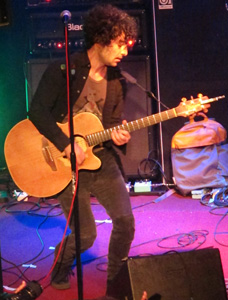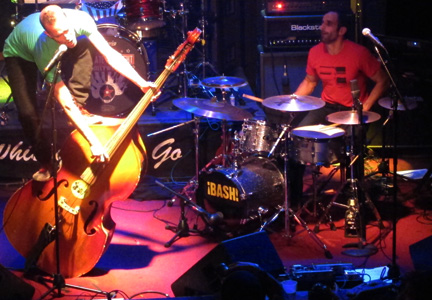 As expected, before Ultimate Jam started up, we were given a frightful kick up the ass by Trippy the Clown who was sat up in the Gods looking down on everyone, while Paulie Z gave it the way more friendlier approach to all and sundry before cranking it up on 'You Could Be Mine'.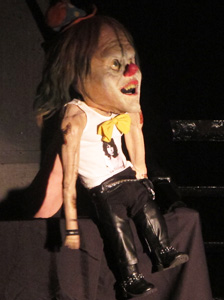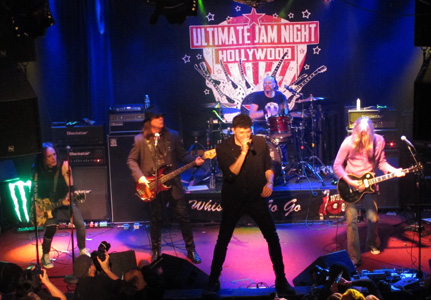 He nailed it as well as 'Lit Up' too with the fantastic house band that features Chuck Wright (Quiet Riot), Matt Star (Ace Frehley/Mr. Big), Mitch Perry (ex-Lita Ford), Walter Ino (Keyboards) and Alex Kane (Anti-Product/Life, Sex & Death) who get a fantastic applause. Now how's about a bit of Foreigner as sung by Kevin Parker Robinson with Johnny Martin (from Adler) on Bass to keep the place rocking before another 50's like act going by the name of 'Maureen and the Mercury 5' take to the stage for a number or two like the classic 'I Want You To Be My Baby' that went down well in here.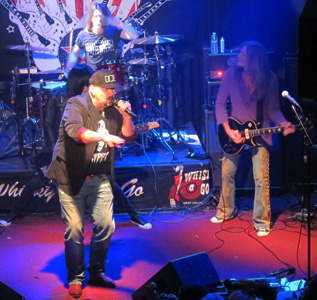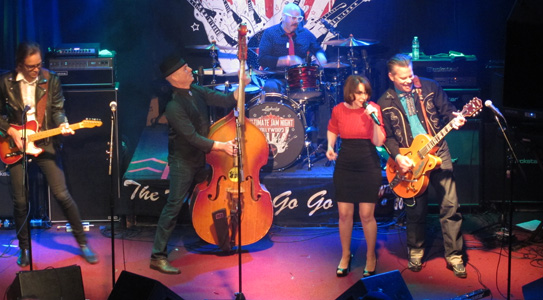 The first major guest of the night in none other than the guitarist of REO Speedwagon, Dave Amoto who unlike you'd expect does not sing us a medley of songs from the day job but instead opts for some Ted Nugent & Styx in the form of 'Stranglehold' and 'Renegade' respectively with the latter featuring the guitarist/lead & backing vocalist of Dennis De Young's band, August Zadra on lead vocals – I guess they didn't have time to rehearse any of those Kevin Cronin sung epics right?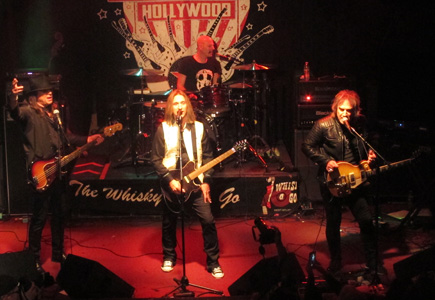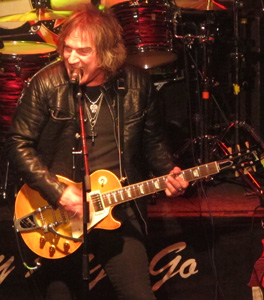 Anyone remember Leif Garrett, well up he pops onstage for The Rolling Stones 'Honky Tonk Women' complete with bandana and sounding great and then there's Layla Brooklyn Allman looking great and sounding even the more fantastic with the well-loved Heart track 'Crazy On You' – she did them proud too. Quality bit of drumming from Brendan Buckley too!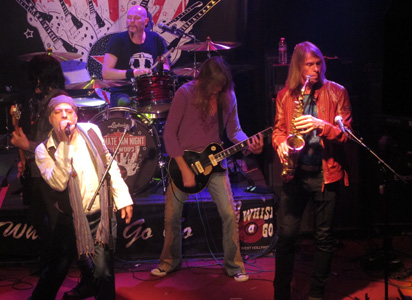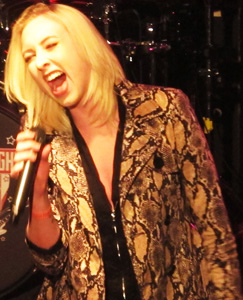 Now if you want a powerhouse of a performer and mover up there, then you need to turn to no-one else when Oni Logan, the Frontman of Lynch Mob is in the house, giving it some funky Stevie Wonder typed stuff in 'Shaky Ground' and another killer track too in 'Snortin' Whisky'. He really showed us how it's done with even Bassist, Sean McNabb (of Lynch Mob & also Resurrection Kings) sharing the stage too plus Scotti Hill of Skid Row – talk about being spoilt beyond belief tonight!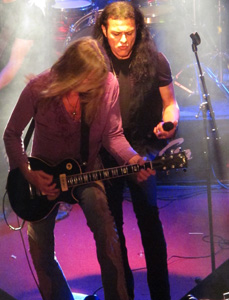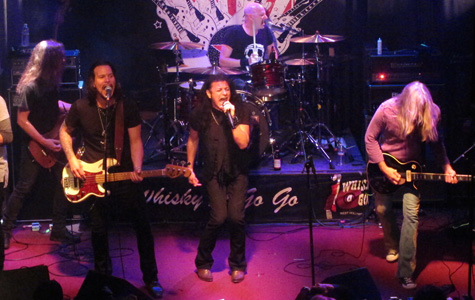 Another incredible female vocalist struts her stuff next! Hey, I recognise her now, it's the former Tracii's Gun's 'LA Guns' vocalist, Dilana Smith with those big heavy thick dreads flowing long and large. It's nice to hear a totally original song being sung too with the current members of Puddle Of Mudd (minus Wes Scantlin of course) backing her up too. Sounding fantastic they and am looking forward to hearing her new album if these three ditties are anything to go by.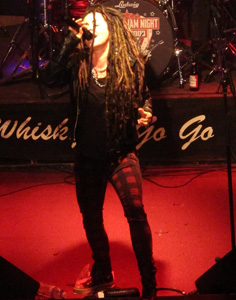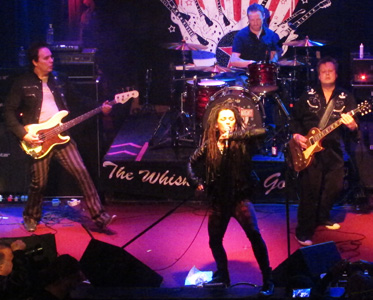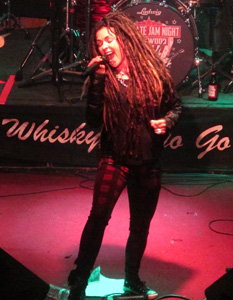 After an interval (oh that sounds a bit theatre-like doesn't it) Paulie introduced a well endowed blonde called 'Suzie Malone' who turns out to be a dancing, sword-swallowing burlesque dancer with grandiose assets plus an assistant who she plans a quirky disappearing act around. With the dark lit setting this was such a snazzy spectacle to see in here and they really could put a night together in here of this nature.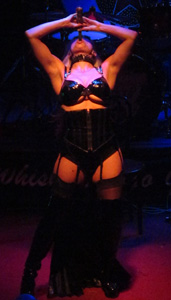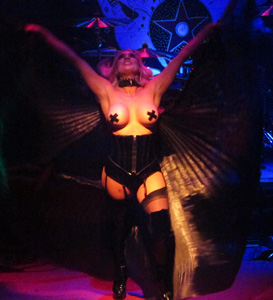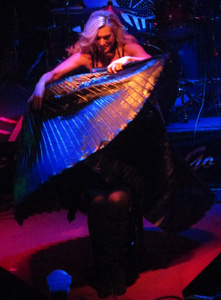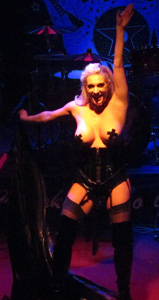 Now for me the main highlight of Set 2 is most definitely when Billy Sheehan, Greg Bissonette and Eric Dover took to the stage together and delivered some delicious Van Halen and David Lee Roth for us. Boy, that Eric Dover dude sure can move and comes across like the long lost love child of Steven Tyler.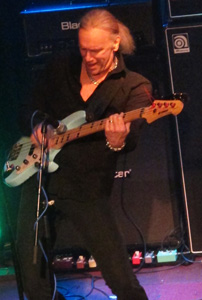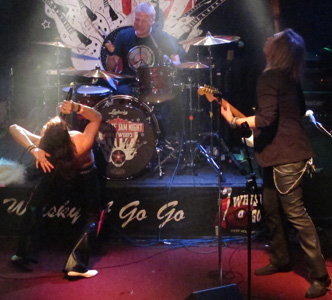 When you throw in the GrandMasters on Bass & Drums forming one of the most famous rhythm sections in 80's Rock! How can we argue when our ears are greeted with the sounds of 'Light Up The Sky'; 'Dance The Night Away' or the bonus inclusion of David Lee Roth's 'Shy Boy' as well as a drum solo from Greg and some fancy deep noted licks from Billy too in the middle. Taking care of those fabulous guitar parts is Stephen Chesney who originally comes from the South East Coast of the UK!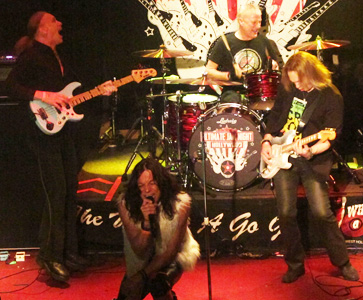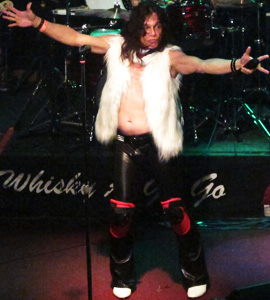 The former Rod Stewart backing vocalist, Debby Holiday gave us her version of 'Losin' You' by her former boss as well as an outstanding bit of The Who in their Tommy era in the form of 'The Acid Queen' that also featured some intro snippets from Lifehouse (Who's Next) as well. This lady really should be a leader of the female pack in her own right! I can just imagine her and Dilana putting a neat package together indeed. So much hair and so much talent between the two of them.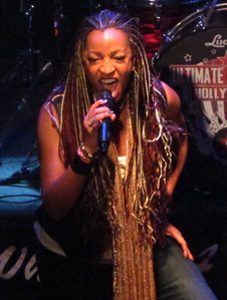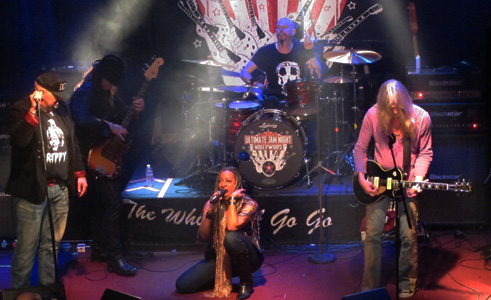 For the full-on Metalheads in the audience, there's a two track tasting of 'Master Of Puppets' with Tommy Vext of Westfield Massacare on vocals backed up by Ira Black (Westfield Massacre/Attika7), Jerry Montano (Death Division) and Monte Pittman (Ministry/Madonna) that blows the roof off, only to be topped off with Heidi Shepherd of Butcher Babies joining them for what turns into a fired-up duet of Pantera's 'F*ck*ng Hostile'.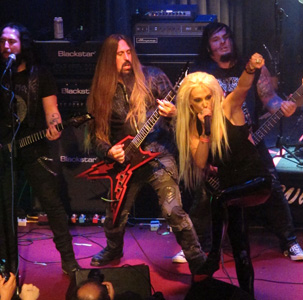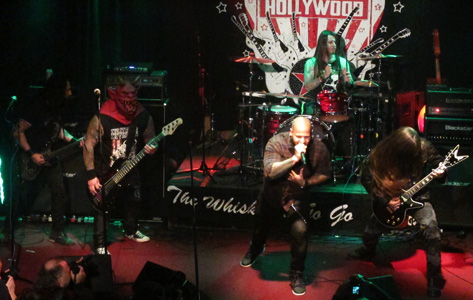 A dousing of Cheap Trick cools it down a bit hereafter with Matt Starr giving up his drum duties for their drummer, Daxx Nielson and take to the microphone for 'Dream Police' and 'Come On, Come On' with the vibe keeping all late 60's and early 70's when former opera singer and Elton John backing vocalist, Kudisan Kai belts out unbelievable renditions of Jimi Hendrix's 'Little Wing' and Led Zeppelin's 'Ramble On' that also feature Skid Row's Scotti Hill on Guitar & Chuck Wright on Bass.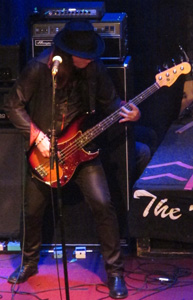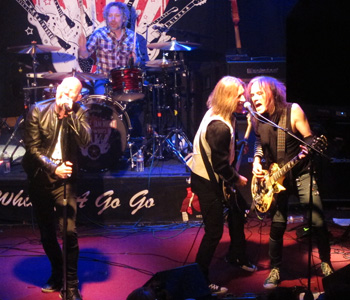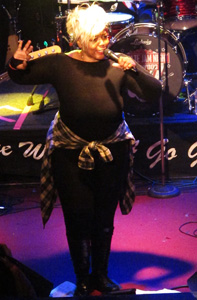 With one of my favour all-time albums being Paul McCartney & Wings 'Band On the Run' I got a real surprise when the closing track of it was performed tonight this being the amazing piano led '1985' that I never thought I would hear anyone ever do. These guys nailed it perfect both musically and vocally. I'm convinced Macca himself would be impressed at this live rendition too – I know I certainly was. Michael Klooster is such a supreme singing talent and can't half play those keyboards!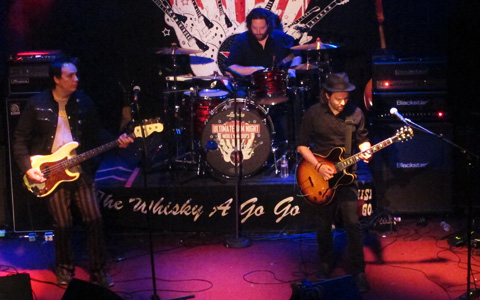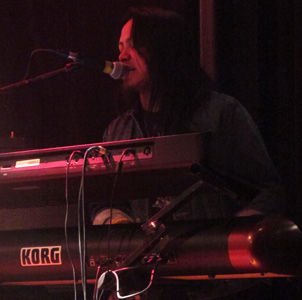 Finishing the night off was Paulie Z with the fitting song 'We Are The Champions' exclaiming that everyone if there was a champion and especially due to the fact that through all the hard work done by everyone involved, the night was still going. He sounded fabulous and with plenty of backing vocals at hand, this song really celebrated this night and what has become famously, 'Ultimate Jam Night '.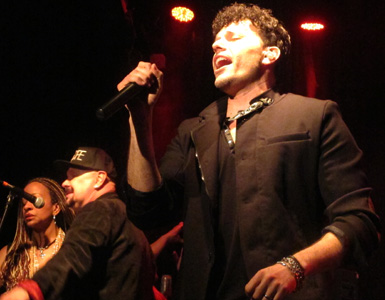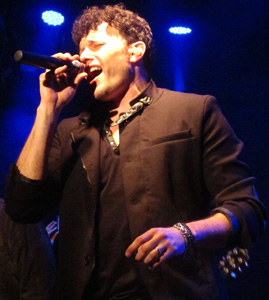 I can see this night going on in here for a real long time and firmly places artists of yesteryear and those of the current status on the map away from their day jobs, so to speak, giving many a chance to play on a legendary stage at the same time performing songs that are there's or otherwise to a large appreciative audience who may not usually go to one of their own shows. Keep up the good work!
10/10
By Glenn Milligan