Ricky Warwick & Damon Johnson/Simon Kaviani/Dave Kerr –
The Local Authority, Sheffield, Saturday, September 13th, 2015
Well for Metalliville, this is the hat trick – the third gig that we have attended at this fabulous Sheffield venue. Another piece of acoustic splendar that featured two local guys in Dave Kerr of Silverjet and also Simon Kaviani that support Eric Martin in this very place only a few weeks previously.Since it was a Saturday night, plenty of people from the area were pleasant and gave both the guys a loud and loving warm reception that's always a great thing. Sheffield audiences can be tough but they've proved to be local heroes in this neck of the woods. I only caught the last couple of numbers from Dave but I distinctively remember one where he sang about be 10 and growing up on Motley Crue and bands like that, whereas I caught all of Simon's set with a major highlight being a real grabbing song titeld 'Fools' that has a really grabbing riff and delectable vocals.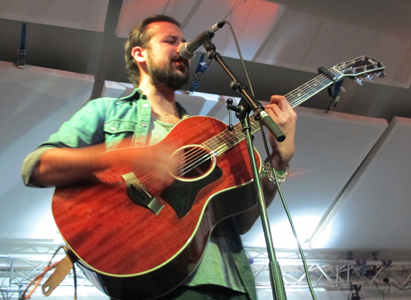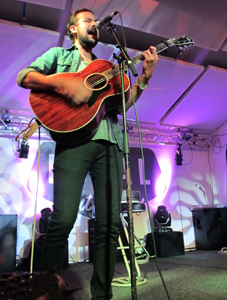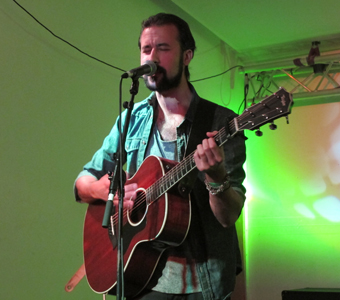 Two hours for the headliners, wow that some show for your money – so how was it? Well as soon as they walked on stage the fans in here let rip with a ton of applause before they had even struck a single note. Set list? What set list? It simply didn't exist as these Black Star Riding Rockin' Brothers had just jotted down a bunch of songs they both knew between them and proceeded to play whatever they felt like playing and would work with the audience at any given point during those 120 minutes up there on the boards! Ricky Warwick proves to be the king of deadpan humour with his American co-hand taking it in his stride. 'There's a reason for the Atlantic Ocean' Ricky quips, with Damon lapping it up and saying something to the words of 'Sarcasm, this early in the night' – you just knew this was gonna be a good one where the gig goes real quick and seems like 30 minutes.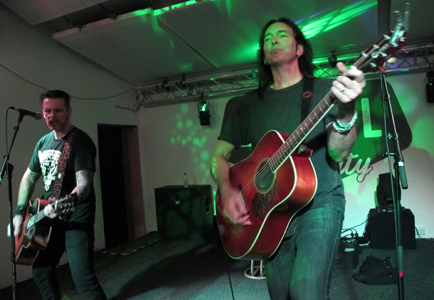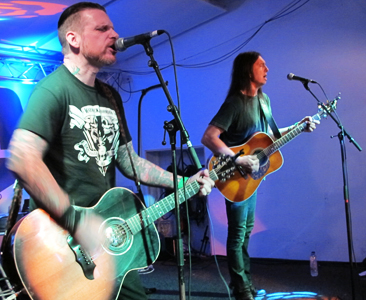 We've never witnessed such a cool as hell eclectic mis-match batch songs played together in one single sitting. I mean, where could you go and hear the likes of 'Summertime Blues' and Somethin' Else by Eddie Cochran, Alice Cooper's 'No More Mr. Nice Guy' or 'Little Red Corvette' By Prince. These were thrown together with equally fabulous acoustic renditions of songs by The Almighty ('Wild and Wonderful & Free 'N' Easy'); Thin Lizzy classics like 'Jailbreak' and 'The Boys Are Back In Town'?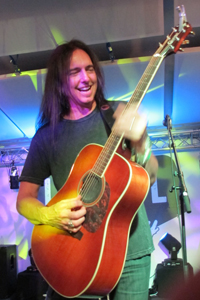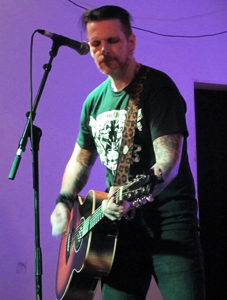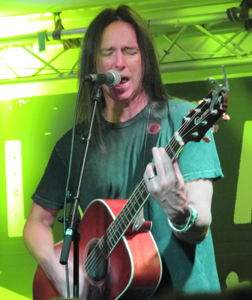 Not to mention a number by Brother Cane (a band Damon was in for seven years and released 3 albums he tells us) and a cracking song of his going by the name of 'Pontiac' that was played right after a fan shouting for it! These guys definitely relied on pure spontaneity and it shows, making it so, so real. Okay, we get some Black Star Rider songs too from both of their albums which I must say, I must familiarise myself with – slapped hands there on my part!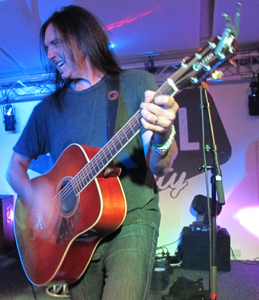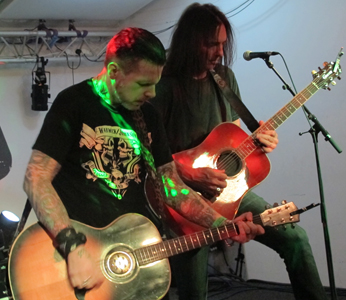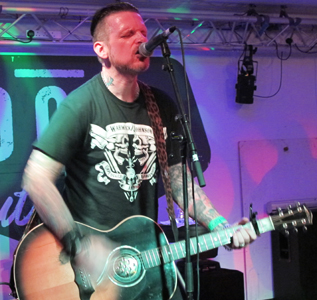 The sheer warmth, exuberance between this duo and the healthily packed crowd is simply electric with much vocalising off stage as on stage – every single soul had the night of their lives – it was written all over there faces and little wonder as the sincerity came over major from the stage with Ricky than thanking everybody for their help, enthusiasm, buy the records and being there as if it wasn't for the fans, they wouldn't be there. It was so honest as well and totally from the heart.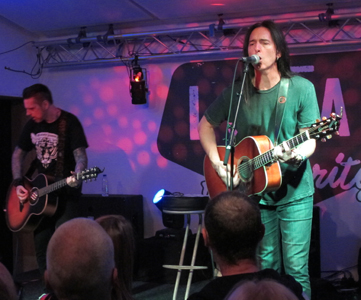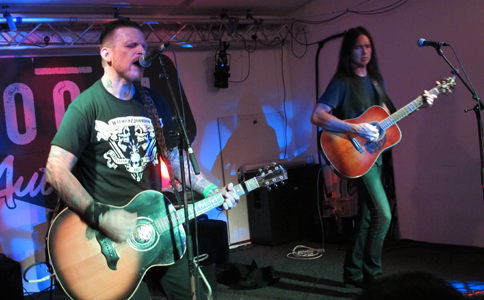 The two of them proved how well they gelled both guitar-wise and vocally, with Ricky having the big booming rough edged voice while Damon harmonised high over the top of it – no mean feat as some of them numbers aren't exactly low in the first place. The guitars sounded so warm too and cut through brilliantly in a venue that has been built for such an even – this is second to none and big kudos goes to the man on the mixing desk too.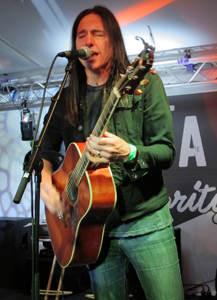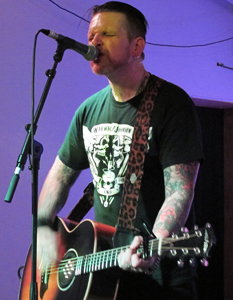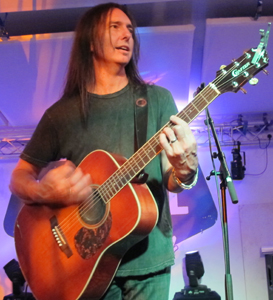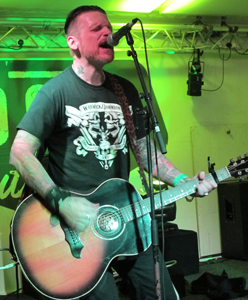 I was really impressed when Ricky that he refers to the 'homeless' in L.A. as 'home-worthy' which I can totally identify with as I see so many of them around there who jump on and off the buses there in order to sleep and get off the streets – it really is sad and influenced him to write a song about it which was performed tonight. 'Whisky In The Jar' finished off the night for us in Sheffield with everyone singing along to it and the fans let loose accapella in the chorus who I must admit sounded great. Ricky mentioned the fact that Black Star Riders were playing Sheffield Arena in December and apologised about the expensive price (since they are supporting Whitesnake & Def Leppard there) but at least they will get 40 mins.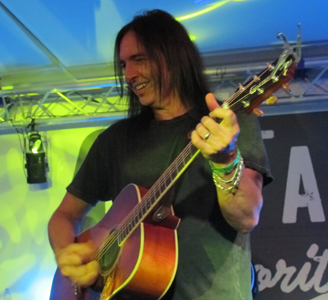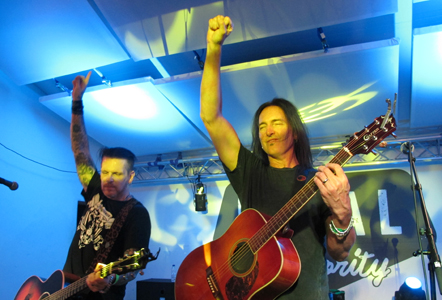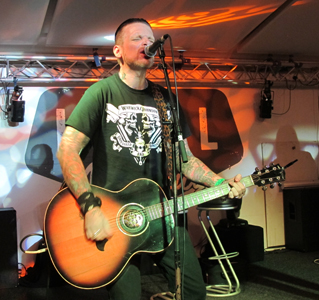 Anyways, I reckon we got the best deal in here tonight with the two of them coming out to meet everyone afterwards – a mark of true professionalism right there! Definitely another outstanding show at The Local Authority.
10/10
By Glenn Milligan

Westfield Massacre/Attika7 -
The Whisky A Go-Go, West Hollywood, California, USA, Thursday, January 29th, 2015
Set List: Climate Of Fear/Army Of The Night/In Pain/Darkest Day/Die With Me/Break/Embers.
The Whisky is utterly packed tonight with bikers, rock and metal fans and then some for a gig that was preceded by a bike run down to the venue thanks to the band Attika7 whose bassist is none other than Rusty Coones of the Sons Of Anarchy TV Series and also owns bike shop in Westminster called Illusion Motorcycles.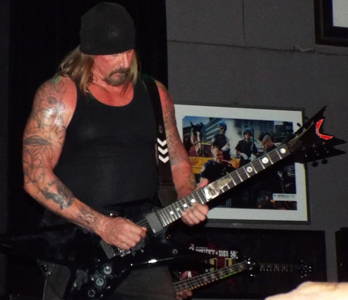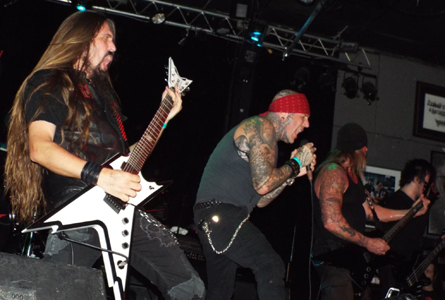 Attika7 also feature Guitarist Ira Black of Lizzy Borden and formerly of Metal Church & Heathen and also on lead vocal, Even Seinfeld, former fronter of Biohazard who I last saw in 1996 at Donington Park. They are heavy and brutal as a band and come across like Biohazard but way more melodic and with real singing. Highlights included the new number 'Darkest Day' with its deep gothic kind of tinge; the grinding grooving 'Devils Daughter'.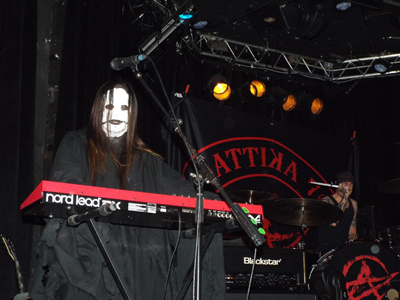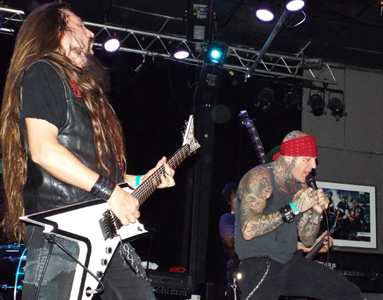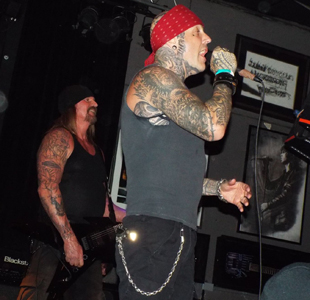 There's a lot of down-tuned aggresive sounding notes in the set which work well for the style of the songs overall. They go down really great and the crowd gives them a loud appreciative response. These guys will no doubt go far in the metal field - read my Interview with Ira Black that holds more information about the band.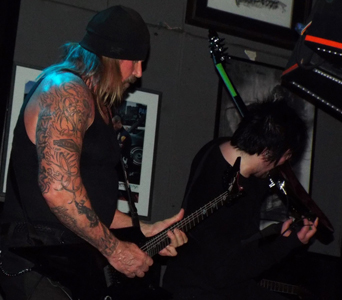 Check 'em out if you get a chance.
8/10
Set List: Respect Resistance/Release The Cure/ Bleed The Fifth/Time To Rise/Build Your Thrones/Technical Difficulties (RacerX)/Darkness Divides/Failed Creation.
The headliners of the night, Westfield Massacre are as tight as tight, heavy as hell and have elements of Divine Heresy, Death Division and Fear Factory which is little wonder because these guys are former members of those bands or have played alongside members of.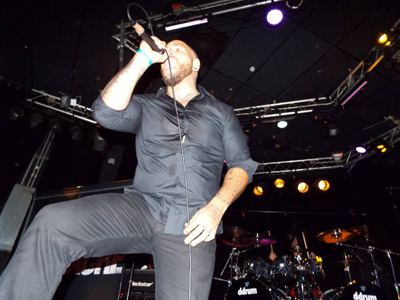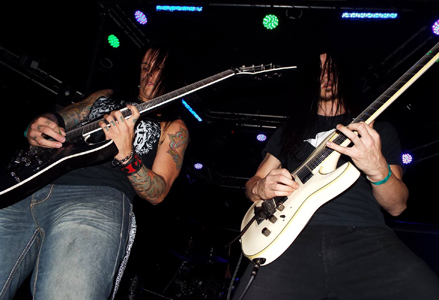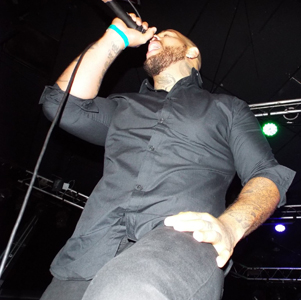 Tommy Vext can lay down those high ended, echoey vocals and those deathly raw throaty ones too. Drummer, Tim Yeung (also of Morbid Angel) is one of the most technical speed metal stickmen I have ever seen and defies sanity at the pace that this young guy can play at. Guitarists, Rick Di Marco & Bill Hudson set the 6-string standard too with some deep beefy bass throbbing coming courtesy of Max Georgiev.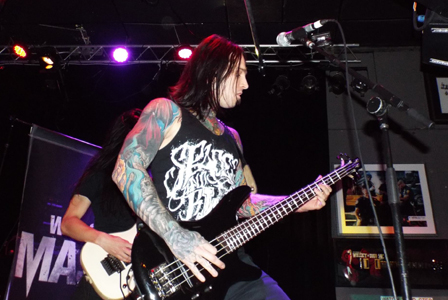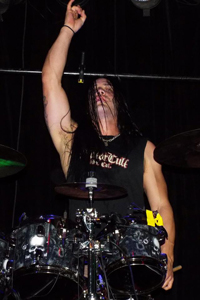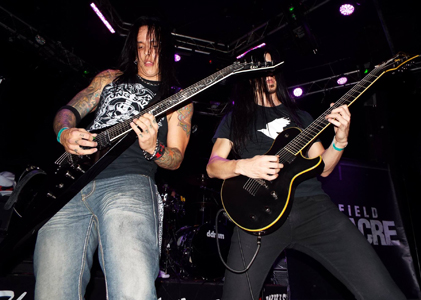 The opening number 'Respect Resistance' is a cracking example of what is to come and completely astounds me with it's melody, heaviness and beautiful harmony all to be found in one song alone. There are some killer highlights in their set such as the perfectly synchronized guitar and bass work on the cover of Racer X's 'Technical Difficulties' while Tim slams down the ferocious heavy backbeat on the kit. Or what about the 'Massacre renditions of those Divine Heresy ditties like the brutal blaster that is 'Bleed The Fifth' or the nights closer 'Failed Creation'.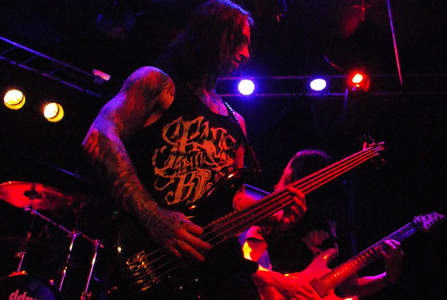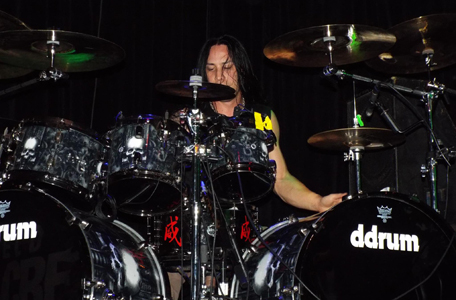 They are a band who really knows how to grab an audience and control a show, keeping all eyes towards the stage since no-one wants to miss the slightest moment of what is going down musically, vocally and visually up there. There is so much dynamic presence and cranked to the max endless, energy pouring off them and flowing into the crowd – a real river of mind-blowing metal!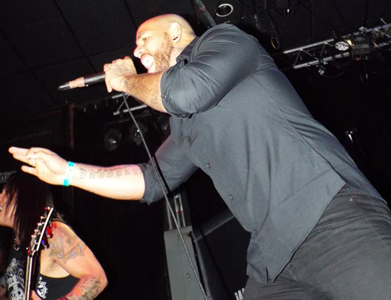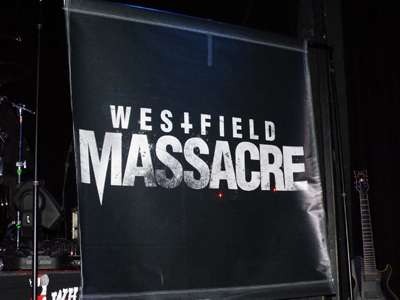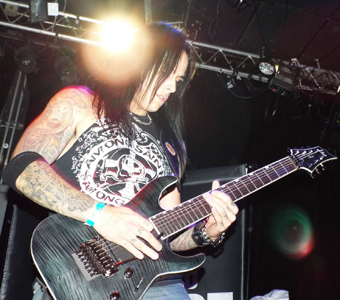 I'd hate to be in a band that has to follow these guys since they'd have a serious job on their hands if this performance is anything to go by. Expect big things in the future from Tommy and the boys because I think it's only a matter of time when they will be playing big festival shows all around the world.
9/10
Review By Glenn Milligan
Photographs by OZZFestAmy
The Winery Dogs - Saban Theatre, Beverly Hills, California, USA, Friday, June 27th, 2014
Main Set: Elevate/Criminal/We Are One/One More Time/Time Machine/Damaged/Six Feet Deeper/Hey Joe (The Leaves Cover)/The Other Side/Bass Solo/You Saved Me/Not Hopeless/Doin' What The Devils Says To Do (Ritchie Kotsen Song)/Love Is Alive (Gary Wright Cover)/I'm No Angel/The Dying/Desire.
Encore: Oblivion/Regret/Shy Boy (Talas Cover).
When it comes to a three piece band; Mike Portnoy stood up and declared that the Winery Dogs are not some side project that is going to fizzle out and fade away any time soon. He declared them to be a serious project that will be with us, the fans through the years.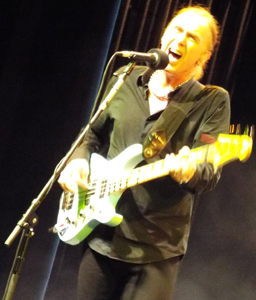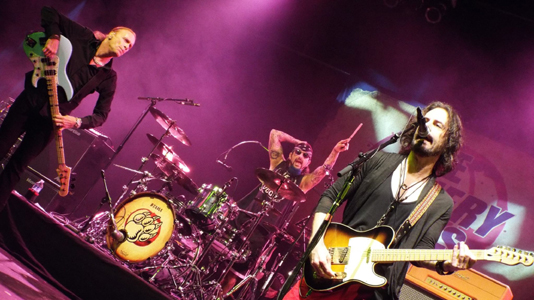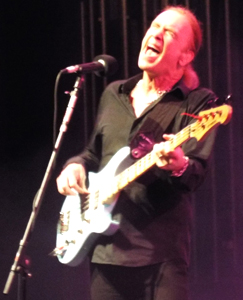 They were excited by the turnout at the theatre and are hopeful to return to this location in the future. When I personally think about the Winery Dogs I must admit that I am a fan. Billy Sheehan supplied me with a copy of the CD in November of 2013. I went home and put it on right away. When it comes to motivational music for everything from your workout, or to inspire you that today will be a good day; every single song is filled with motivation.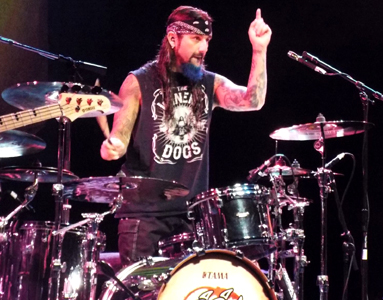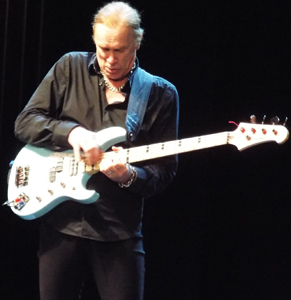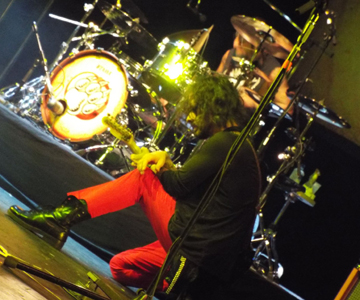 When the CD starts out with the song Elevate; it is the first thing that I wake up to with a morning cup of coffee. It is simply motivational to even me! (I do not do mornings very well.) I listen to the music and I think about the things that society struggle with as a whole. This music creates harmony and unity. It is soulful and comes from the heart. You can tell that this band enjoys performing.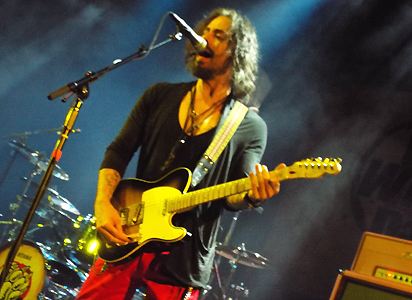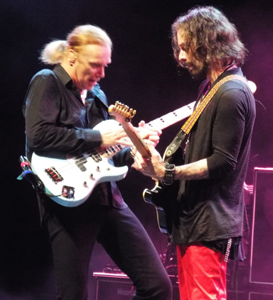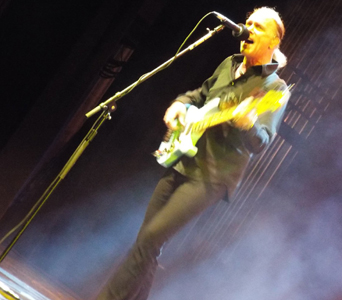 They even played a new song call Oblivion which featured the skills of every single member. Billy Sheehan is a man that appreciates being a well seasoned artist. This CD can be put into your player and listened to from beginning to end. I love every single song on this masterpiece. I even listened to it before I left the house while I got ready. I cannot cover something that is not worthy and these gentlemen never disappointed me with a stellar performance.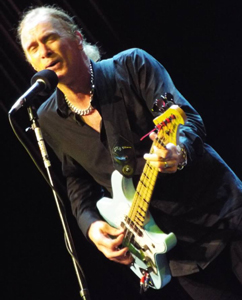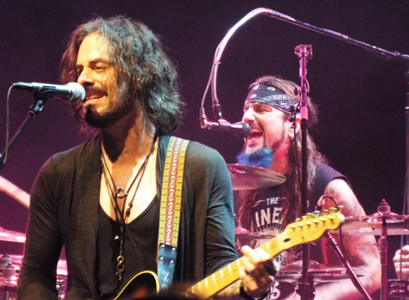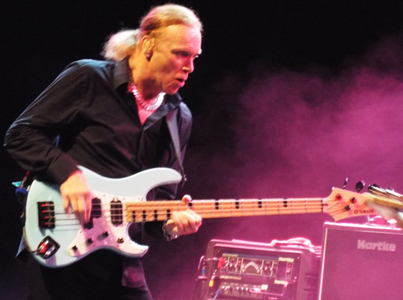 I think a sit down interview with this band is long overdue. Since they are working on new material I am excited to see what they have to offer us. Get out and buy their music today. They will be performing at the Canyon Club tonight 6/28. If you missed them last night get out and see them.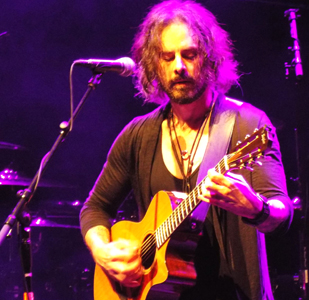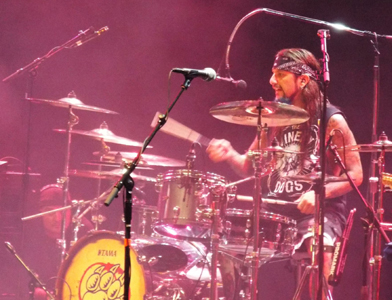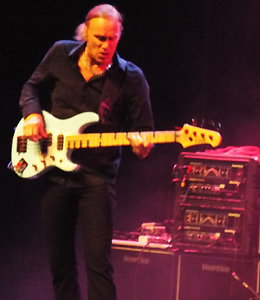 Even if you attended the Saban you should see them again as you will not regret that you did.
10/10
By Amy Rae Yard

The Winery Dogs - The Canyon Club, Agoura Hills, California, 3rd October, 2013
Main Set: Elevate/Criminal/We Are One/One More Time/Time Machine/Damaged/Six Feet Deeper/Drum Solo/The Other Side/Bass Solo/You Saved Me/Not Hopeless/Guitar Solo/You Can't Save Me/Shine/I'm No Angel/The Dying/Regret
Encore: Fooled Around And Fell In Love/Desire.
The crowd was lined up out front for this show at 7:30 pm. Most often at the Canyon Club in Agoura Hills, the floor is vacant until some time in the eight o'clock hour, regardless of who performs – but not tonight! The gathering of talents for the Winery Dogs does make this a super-group by standards. The line-up features bass guitar legend Billy Sheehan (Mr. Big, David Lee Roth, Talas) on bass guitar and backing vocals, Mike Portnoy (Dream Theater, Adrenaline Mob) on drums, percussion and backing vocals and virtuoso-esque six-stringer Richie Kotzen (also Mr. Big, Poison) on guitars and lead vocals.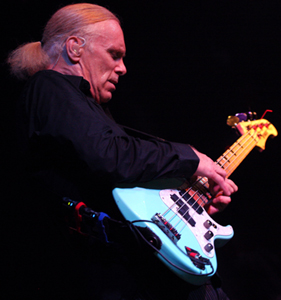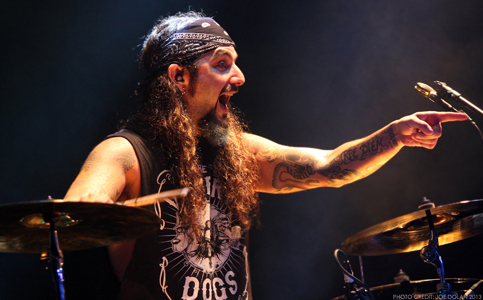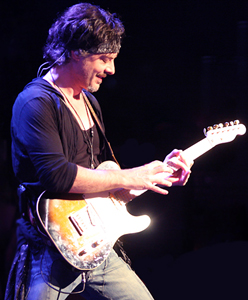 Combined, these three artists alone have delivered work on more than 120 studio albums, not to mention their influential instructional CDs and DVDs, live performances and worldwide touring. Putting it all together, one would say that this band, in their first year alone, is representative of being a cornerstone in the current rock music industry. It's true, they are that badass!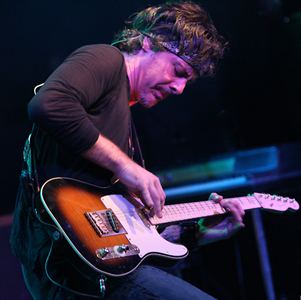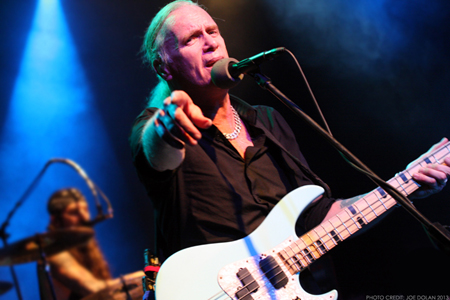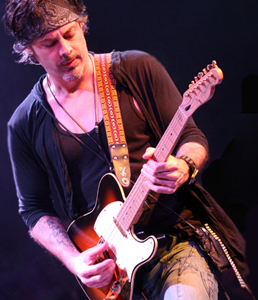 Taking the stage just minutes before 9:00, a literal eruption of tones blasted out the speakers like a night at the forum. The Canyon Club's got some of the best indoor sound in Southern California, and this moment is exactly what that amazing room's sound was designed for. Billy's crisp stereo-bass tones combined with Portnoy's on the mark drumming welcomed a packed house to a killer original set-list. Extremely well rehearsed, the songs the band has written, and recorded, are filled with elaborate rhythms and picture perfect notation – all of which the band performed, to the letter on stage.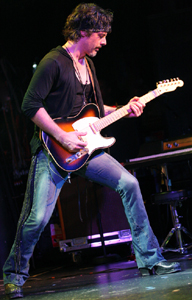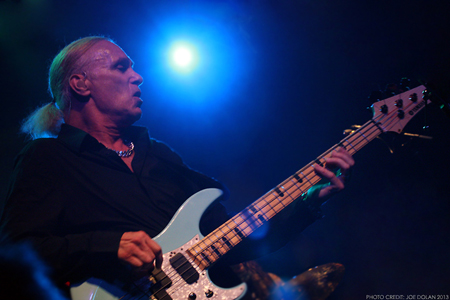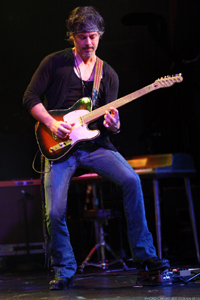 The night's set held 15 songs, complete with individual solos by the each of the instrumentalists, then an encore where they took the song "Fooled Around And Fell In Love" and made it absolutely their own. After the band had cleared the stage and some of the guests departed, Richie Kotzen came out front and took time to snap pictures and sign autographs with a big group of attendees. Backstage, Billy Sheehan was cordial with fans as he and his wife took the time to meet with friends and talk about the latest news regarding the band. Mike Portnoy was equally as kind, taking time to thank and meet everyone in the backstage area.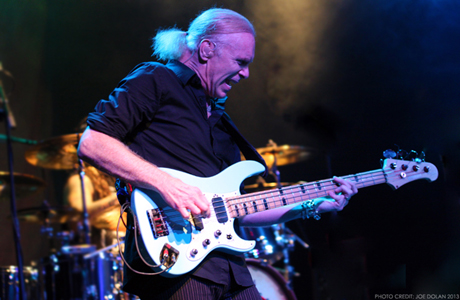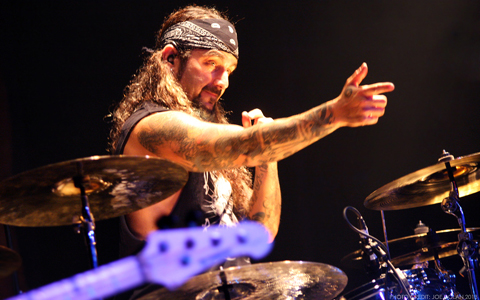 In attendance backstage were other musicians including August Zadra (Dennis DeYoung Band) and Phil Soussan (Ozzy, Steve Lukather), and in the crowd were friends and members of bands that have been onstage with each of the Winery Dogs players over the years. It was a big event, packed to capacity and it couldn't have been more perfect.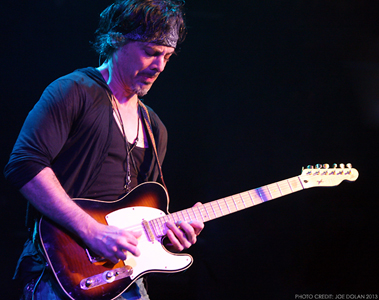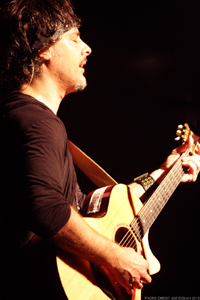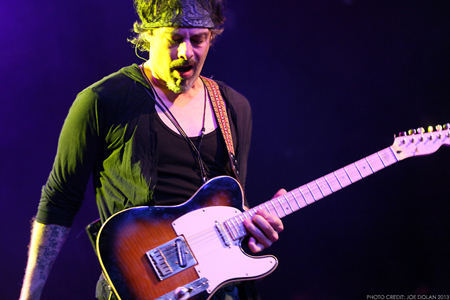 If you want to see and hear some of the music you'll experience when the Winery Dogs come to your town, click over to www.thewinerydogs.com. From their website you can find 5 new videos on YouTube, hear songs and buy the album direct through iTunes. The band also has a tour schedule on the front page to let you know when and where you'll be seeing them in the next few months.
10/10
By Joe Dolan

Where Angels Suffer/Knock Out Kaine/Tret Yer Sen –
The Diamond, Sutton In Ashfield, Notts. UK, 31st August 2011
Been a long time since I rock 'n' rolled into this venue – the best part of 8 years so it was a pleasure to see Zoe, Gary and Dan there – a cool reunion! It was also gonna be great to see a band who I had booked in as well as I'd personally not seen them either.
It was a late starting gig with covers trio Tret Yer Sen kicking off the night with some kicking covers from bands like AC/DC and Velvet Revolvers that warmed the strong Sutton-In-Ashfield crowd up for what was to come tonight.
Set List: Intro/We Will Rock You/Set The Night On Fire/Goin' Down/Paris/Coming Home/Little Crystal/Time/Save Me.
Lincoln's 4-piece rockers, Knock Out Kaine really show how to take it to the next level - great songs orginal songs that are at the same standard as their well chosen covers in the opening fast version of Queen's We Will Rock You' and . I've not seen Dean Foxx live on stage since 1998 which was at The Lloyds Arms in Grimsby while fronting the second to none rock/metal covers band, Fair Warning - let me tell now - he's just as good now as he was then. What an immense unit they are too who present us with some excellent songs from their current E.P.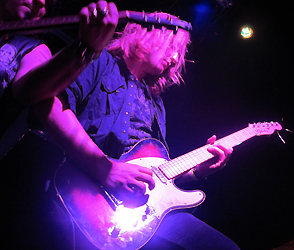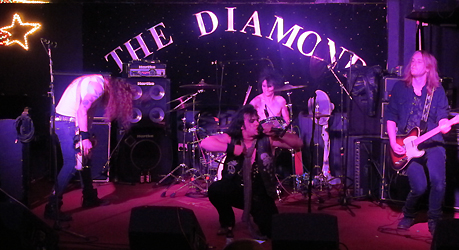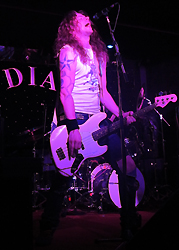 'Set The Night On Fire' that said blistering epic, a nimce number about getting a bl*wj*b from a stripper in 'Goin' Down' the incredible acoustic ciggy lighters in the air number 'Coming Home' that even brings out the headliners because it's so damn good, with Stet Howland joking that they gotta stop playing songs as good as that because they are trying to get ready - hahaha - good old Stet - he's always got the humourous 1 liners ready. Talking of humour Dean has a rant about a certain Miss Hilton and goes on a tangent about making himself blind or something - hmmm more tea vicar?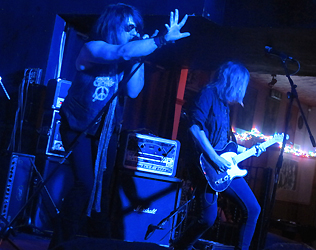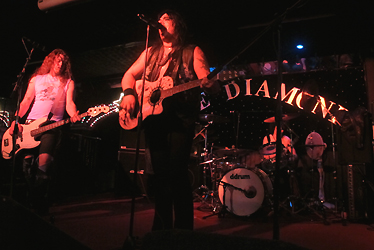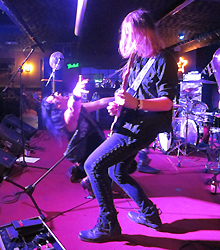 It was incredible actually to have 'Where Angels Suffer' in front of us on a UK stage blasting out the fast-beating original cut 'Cadiac Arrest' as the 1st number followed by the exceptional 'Crying Eagle' after previously only seeing them onstage via various photos taken by buddies in the USA or by watching footage on youtube. Stet Howland was bang on form as ever on the drums and even pulled out a couple of bottles for his solo which utterly astounded the fans here tonight - it's always Budweisers with our Stet!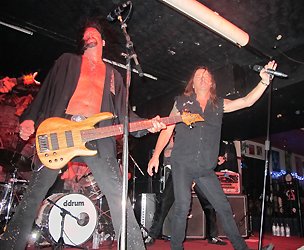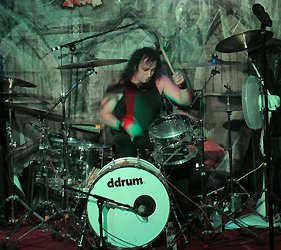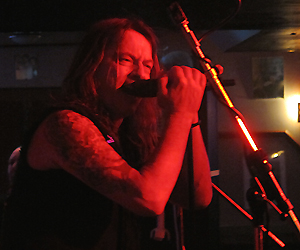 The place was going literally mental, especially since best part of 7 foot, Chris Holmes (ex-Orig. WASP member) was bounding up and down the stage and giving that guitar pure hell like he did way back when in the WASP days - the man fires out full-on monstrous presense in every way possible and fully enjoys capturing the awe of the crowd in split seconds of the 1st footstep and opening note. Ira is so impressive with that kick-ass beard fixture goin' down - literally. His riffing on the vibrantly coloured, shaped axe completely complements that of Chris's string-slayering - these guys were created to be on the same page and stage together as their creative chemistry and output shows.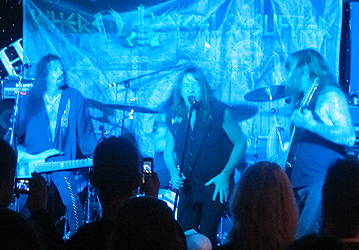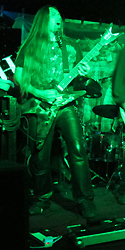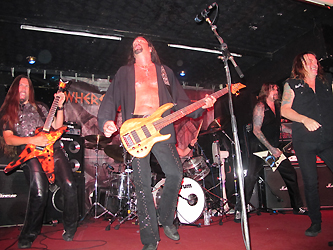 Steve Unger (ex-Metal Church Bassist) has a bass cab either side of the stage and booms out that rhythm and killer backing vocals whilst Rich Lewis belts out those lead vocals pitch-perfect, like his life everyone elses depends on it. I thought it was amazing was how people forgot that Blackie existed as Rich vexed him and matched Lawless's orginal vocals identically, even though he don't look nothing like him at all. Songwise it was an excellent selection of 'Suffer songs and ferocious oldies from Chris and Stet's golden past in that other band.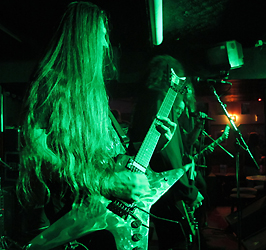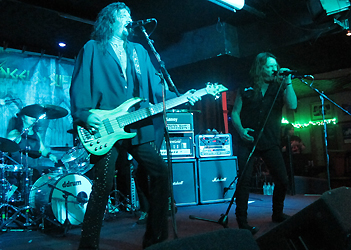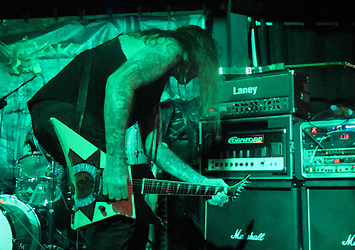 To say that they were overjoyed with what they recieved in the set would be something of an understatement - there were grown men transported back to being teenagers for the night with smiles filling their entire faces - especially when they were rewarded with classics like 'Wild Child' and 'I Wanna Be Somebody'; 'Hellion' or 'Love Machine' with loads of singalong in each live staple that needed no encouragement from Rich or any other band member at all. I am definitely correct in stating that the 'Where Angels Suffer' material went down as well as the big 80's hits we all know and love like 'Lust' and 'Morning After'.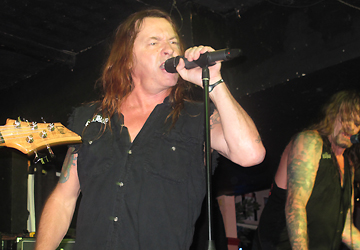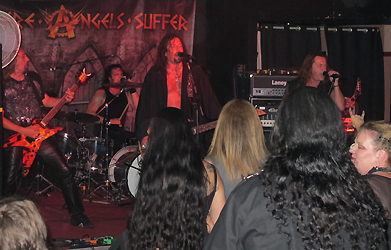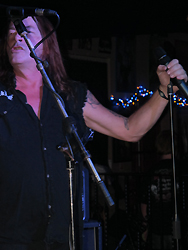 So can you resist a scream along to 'Blind In Texas'? Thought not - and neither could the Diamond Girls and Geezers either that's complete with the accapella audiece section as well - even support band 'Knock Out Kaine' are in ecstasy - bopping out on stage right. So Blackie refuses to do 'Animal (F*ck Like A Beast)' because he's gone all religious again - well 'Where Angels Suffer' deliver and deliver with guts and cheek all round. This is the song that many have been waiting to hear for years - so it's kept right to the very end.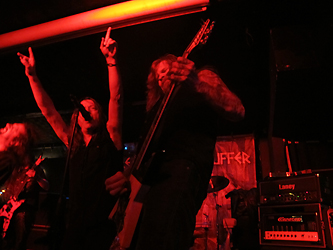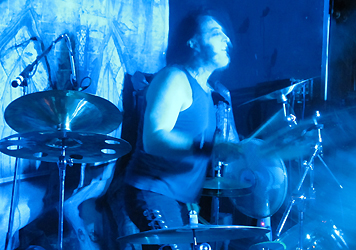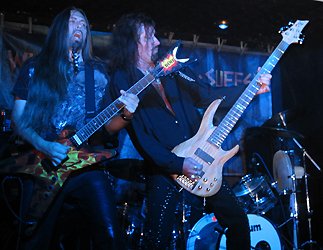 Everyone is loving it and going apesh*t- the retro-joy fills the room and even Dan the resident bartender is rocking the f*ck out while he's working away back there. No one wants it to end but there's no cause for alarm as within about 2 to 4 minutes all the members are out for a 'Meet & Greet' Session that lasts for about an hour or so. Now that's what you call pure dedication to your fans - you can't beat a band who gives something back - unlike some that I won't mention. Owner of the club, Gary C. Melvin, said it was the loudest gig he'd had at The Diamond in 8 years with numerous people saying it was the best gig they had seen in years!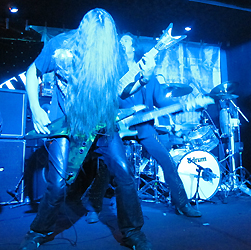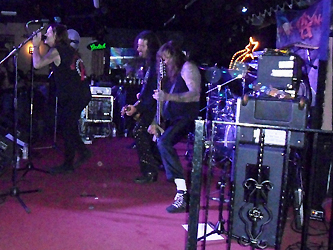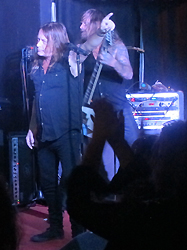 It must have took me over 5 days to come down from a high after this gig and no doubt many more will say the same - in fact, fans on facebook or going mental over this essential metal unit and it's little wonder why.This is definately a band that every Rock & Metal fan needs to see if they roll into their town or city. Believe me, this is a suffering worth enduring time and time again!
10/10
By Glenn Milligan
Where Angels Suffer/Knock Out Kaine/Silent Divide
– The Underworld, Camden, London August 30th, 2011
For anyone not familiar with The Underworld, it is a basement venue situated beneath The World's end pub on Camden Road. It is quite an intimate venue, which holds around 500 at maximum capacity. It benefits from a reasonable size stage with a height of about 2foot from the ground, there is no security barrier & the atmosphere is relaxed & friendly, making a gig there seem more of a personal experience, with the excitement of being right up close to the band (if You can handle the decibels!!). After 2 short support slots by Silent Divide & Knock out Kaine, Stet Howland appeared on stage to adjust the drum kit, a rather small set up compared to what I've seen Him play during His W.A.S.P. days. There are approximately 80 people milling around the stage area & a few more occupying the bar, a very small turnout for a band of Metal legends assembled in this cosy little venue. I was fixated on Mr Howland, I felt quite star struck to be within 10 feet of my favourite drummer!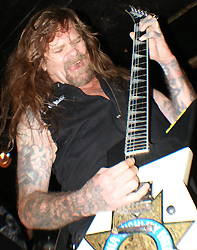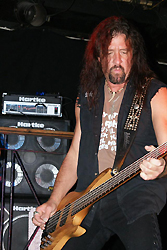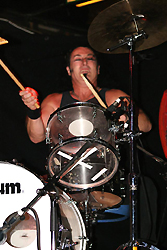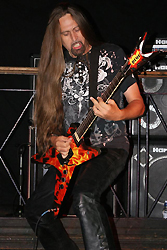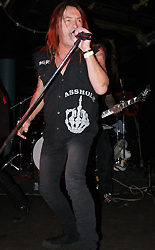 Then from the side of the stage a rather tall, hulk of a man appears wearing a cap, with a huge hair do clearly hidden within it…could this be the great Chris Holmes?? Upon closer inspection (the tattooed knuckles gave it away!) I realised it was and I was even more star struck!! I have been a fan of W.A.S.P. for over 18 years & Chris, to me is like an Idol! A few tweaks of the amps & He disappeared into the back once again! The excitement I was feeling was immense, I still couldn't believe I was going to be so close to two of my musical heroes! About 10 minutes later, the lights went down & the compare announced, Please put Your hands together for 'Where Angels Suffer…' The applause was absorbed by a raucous crunching of guitars as Ira Black burst onto the stage! I immediately thought, the sound was way too loud & very distorted. Stet, made Himself known & as Steve Unger joined them, His bass thundering I saw quite a few audience members take several steps back, this was gonna be hard on the ears!!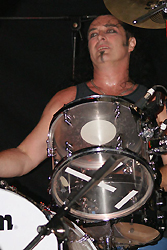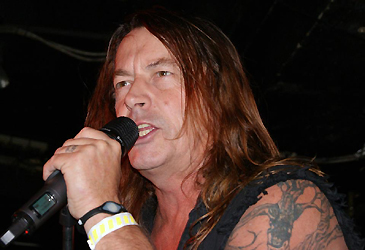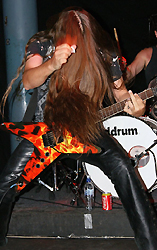 Next Chris flew onto stage, His hair flowing behind Him like a huge cape & the front row (obviously die hard W.A.S.P. fans went wild! I was in awe, with all that hair & with Him standing less than 2 feet from me, He looked like some Huge beast that had just be unleashed onto the unsuspecting London rockers!! His effortless guitar playing draws your attention like a moth to a flame, that tiny guitar in His huge hands looks weak & terrified having endured years of abuse at the hands of The tattooed mad man! Finally Rich Lewis takes to the stage & Belts out, 'Eye of the storm'.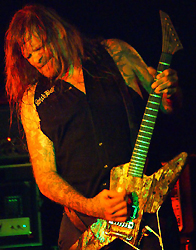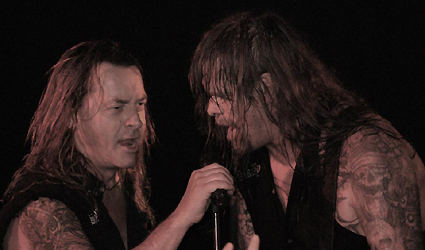 I've never seen or heard Rich before and He reminded me a lot of Deep Purple's Ian Gillan. The sound here right out the front is terrible, I have some photos to shoot so I'm braving it for now, but to fully enjoy this gig it was apparent I would need to move to the rear!! The Underworld is a nasty venue for Photography, The primitive lighting, dingy low ceilings & pillars make it very difficult to achieve stunning photos, that said I like a challenge!! As the band storm thru their set, which includes no less than 6 W.A.S.P. classics, the small but enthusiastic crowd are loving every minute, the band are exciting, energetic & tight as duck's bottom.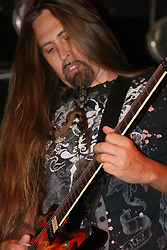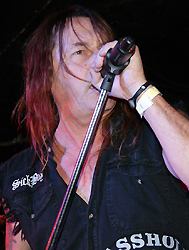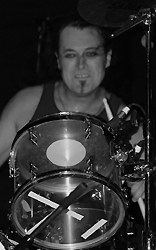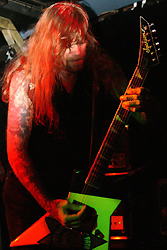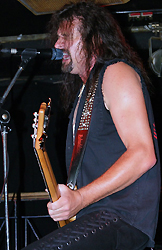 The highlights for me were, Stet Howland chucking His sticks away in favour of playing with His bare hands, A cow bell & a Budweiser bottle! And of course seeing Chris Holmes tearing London a new butt hole, Thrashing that poor beaten up old Jackson & screaming "I'm an Animal" He didn't even stop for a breath, He's almost like one of those wind up toys that's gone on overdrive!! My rating for this gig was a definite nine out of ten, I would've awarded full points if not for the poor sound. I was fortunate enough to get to meet the band after the show & they kindly signed a few items for me. They were all very patient & friendly, even when a W.A.S.P. fan produced at least 20 items for Chris to sign! It was a memory I will treasure forever, to have met two of my biggest heroes & to also get to know the other guys too, Ira was really friendly & I was fascinated as He explained the beard attachment He was wearing was made from a cat's spine ( I won't be asking Him over to cat sit!!).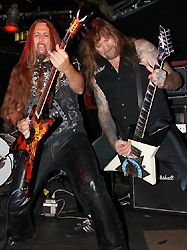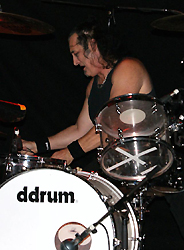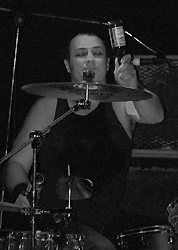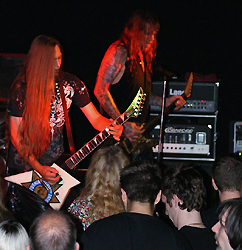 Steve Has a calm approachable manner & helped me out of the mass throng of awaiting fans so I could jump the queue for the signing!! Rich is surprisingly quiet despite His huge voice on stage, but again a very friendly & patient man and Chris & Stet were lovely, they had no Superstar arrogance & were so down to earth, I got bear hugged by the big man & He made me feel tiny compared to His gargantuan frame, Stet was dripping with sweat & I came away almost as wet after He put His arm round me for a photo, I could still smell that manly aroma when I got home!!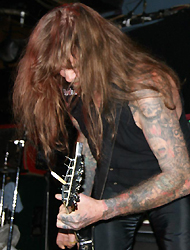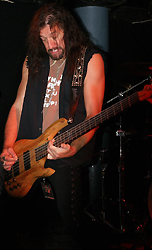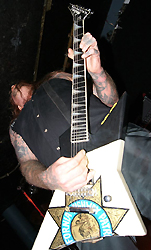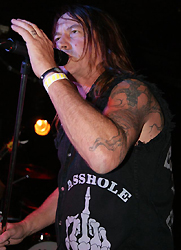 If 'Where Angles Suffer' visit Your town, do Yourselves a favour & get a ticket, They are a great combo with some rocking songs & visually captivating!!
9/10
By Rebecca Xibalba

Where Angels Suffer/10,000 Views/Steve Lutke -
Ale Mary's, Fort Myers, Florida, USA, Thursday, November 18th, 2010
The show started out with Steve Lutke playing an acoustic set with a guitar synth run through his guitar it actually was really cool, I talked to him and he said it's the first time he ever used it with his acoustic guitar it worked out very well.
6/10
After Steve was '10,000 Views' - they were pretty good straight forward radio metal in the vein of Disturbed with pretty good catchy songs that you would expect to here on your everyday modern rock station. They were a little out of tune - that is, the two guitarists from each other but were still a good band and show.
8/10
But all excitement was for the main event W.A.S. they came out and blew everyone away plus they were freaking loud for the size of the venue the opened with crying eagle from their new cd, 'Purgatory', sounding like a much better almost power metalish version of what was WASP. They went directly into next song also off the new cd entitled 'Eye Of The Storm' and they were kicking ass from the very beginning but it was only going to get better because Randy Piper went into the intro notes of 'Wild Child'.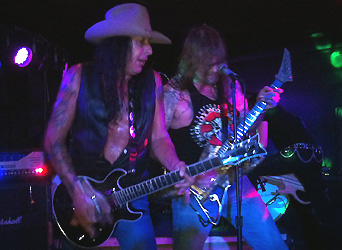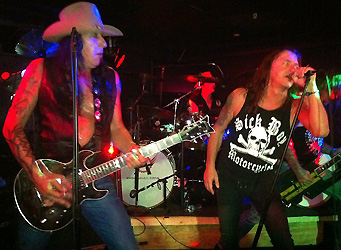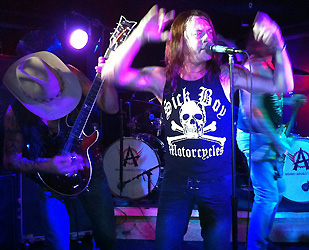 The crowd went crazy as did Chris Holmes jumping around like a madman. You could tell they weren't going to show no mercy tonight after a short but extended lead guitar trade off in the interlude of the song showing how well they play together doing the songs the way they should be done.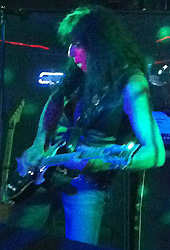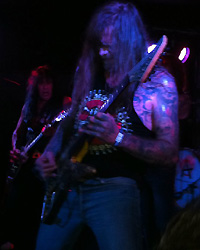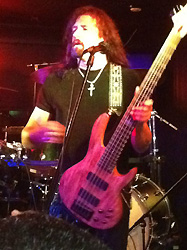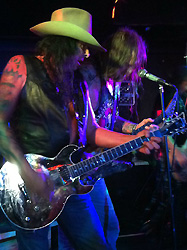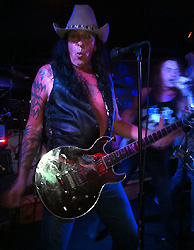 They went into two more new songs, 'Morning After' with the catchy lines that make me think of the song of the same name by Ratt even though nothing like the former and Cardiac Arrest' which is a great song. From there they went into at everyone's surprise 'The Hellion' doing it better than I have heard, definitely thinking that the missing link has been found in Singer, Rich Lewis who sounds better than the original you know who?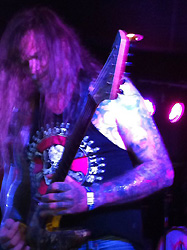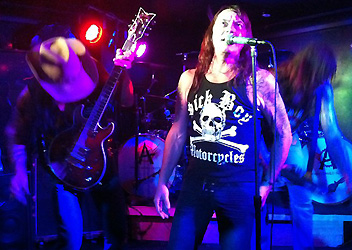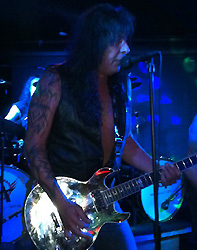 In the middle of 'The Hellion' they stopped for Stet Howland's always entertaining drum solo complete with beer bottles and bare hands he attacks the drum like a technical madman. Back into 'The Hellion' and then into 'Love Machine' where once again Rich's vocal shined along with Randy and Steve's back-up, by doing these songs the way should be done by the original guitarists.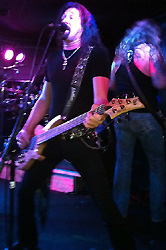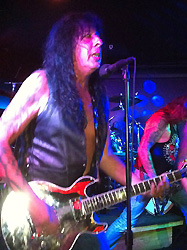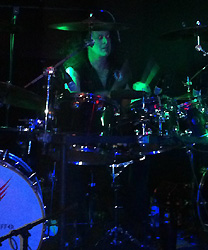 These 2 axeman,who were having as much fun as the audience was, especially Chris, who didn't stop moving the entire time. From that they went into the song that could easily be the first single, 'Don't Wanna Die' - a very catchy memorable song with great harmonies and riffs. But the next was the mighty 'Blind In Texas' which was absolutely awesome complete with an extended guitar section and Chris catching everyone of guard and being silly with a Quick 'Goodnight' at his part in the song where on the original recording he'd have gone "Dude let's party". The band stopped and Chris said 'Goodnight' not knowing what he was going to say at that part was quite funny along with the way he said it.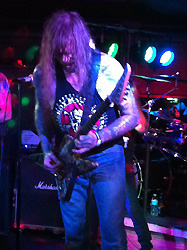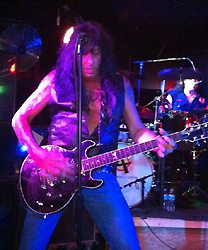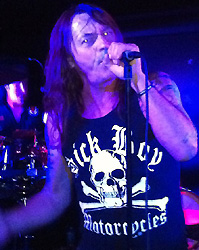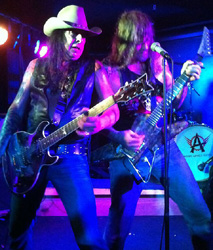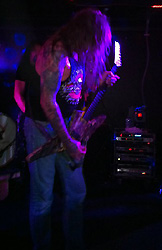 They went directly back into the song with a extended guitar part in which Chris and Randy traded off and then harmonized for a bit. From 'Blind In Texas' they went straight into 'I Wanna Be Somebody' and then into the song the other band won't play - 'Animal (F*ck Like A Beast) which was just great version of the song. Rich Lewis nails the W.A.S.P. stuff better than Mr. Lawless himself. The final song of the night was the new song 'Lust' with its hard driving up tempo keeping everyone going until the end which no one wanted to happen.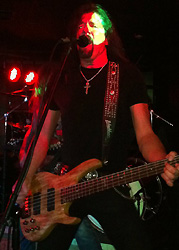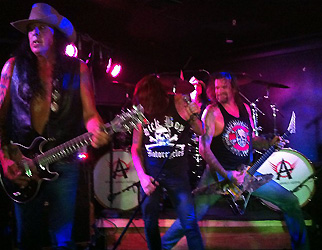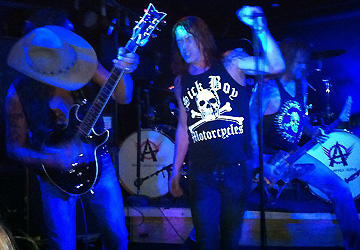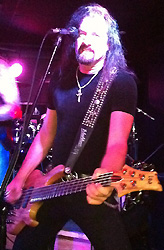 All around great show that just keep everyone begging for more even after the ear ringing stopped . W.A.S. is a new force to be reckoned with as well as being all around great guys it was a pleasure to see to the show and hang out and have CD and W.A.S.P memorabilia singed they are a definite class act and a metal force to be reckoned with.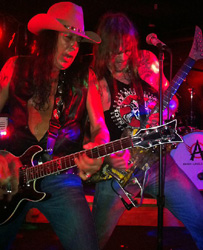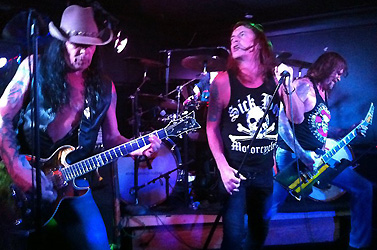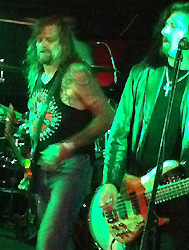 It was a great all around adrenaline pumping show.
11/10
By Michael Grossi
We Are The Ocean/Chickenhawk/Proceed - Corporation, Sheffield, Tuesday 12th October, 2010
The gig took place in the big room of Corporation Sheffield and at 8.15pm the crowd was getting riled up for Proceed who are from Hertford. The songs they were singing and playing were quite catchy, with loads of teenagers starting Mosh-pits. There style of music is basically Rock/Metal. The band was active on stage.
7/10
Chickenhawk entered the stage from Leeds. Their style of genre is Metal. Chickenhawk were very responsive to the crowd always looking for cheers. There were lots of pits in the middle of the crowd with people wind milling and so on. The songs were not that catchy with lots of guitar and drums just playing all the time. The singer also jumped in the crowd which surprised them.
9/10
Last but not least entered the band everyone was waiting for: We Are The Ocean. They originated from Essex. The introduction played and the crowd was screaming their heads off. They had really good interaction with the crowd. They played many songs from their new album which included different genres and styles of music. The room was completely packed by the time they even came out so W.A.T.O were very surprised indeed. The Mosh-pits fired up which took up the whole dance floor.
Straight after the main set the crowd erupted with cheers of "Encore". W.A.T.O came out and finished with two more songs which left me think that it was an enjoyable night indeed.
8/10
By Chantelle Furniss
The Wildcats – The Boardwalk, Sheffield, Saturday, 3rd April, 2010
Well this is a crazy one on me, two headline bands in a row both starting with the letter W, one night after another as the previous night I was covering Winger down the road. For some crazy reason I missed them last time around – I think I was at a Venue in Nottingham covering WASP – man this W association is getting very spooky.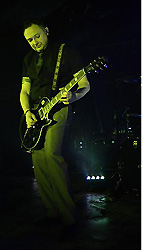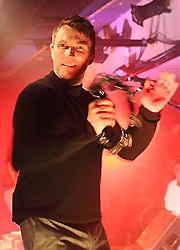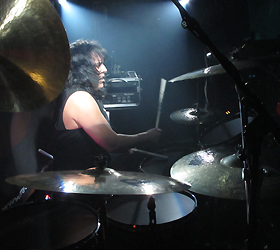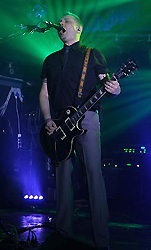 Anyways enough of my garble, The Wildcats are a band that feature a legendary drummer Bobby Arechiga of Strongheart – the best rock band that's ever been associated with Sheffield apart from Def Leppard. So I couldn't miss the chance to see Bobby on stage at one of my fave venues, The Boardwalk.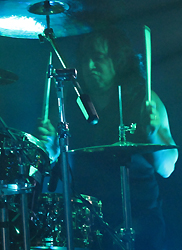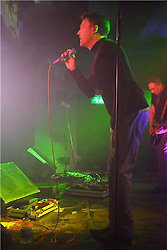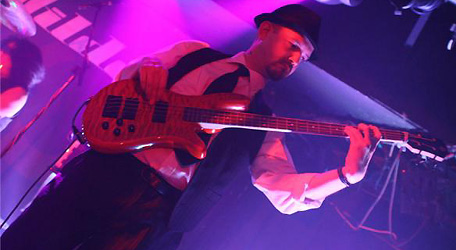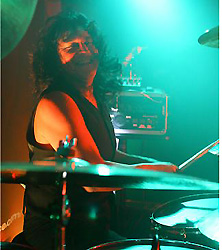 The Wildcats are a band that play decent enough rocky blues that have a massive appeal to the packed house of locals in here tonight. They've got their own material that is loved as much as the odd cover that they throw in – the best cover of which by far is most definately a brilliantly vocalled Blind Faith number, 'Can't Find My Way Home'. They kinda remind me of a covers band called 'Sour Mash' with regard to their frontman in sound and looks who performs rather similar with solidly decent bass and rhythm/lead guitar back-up.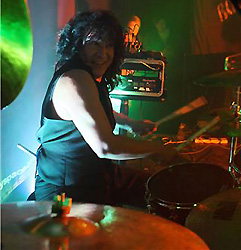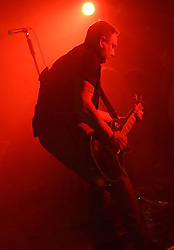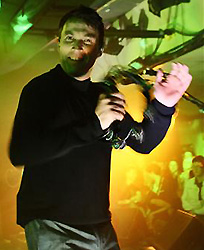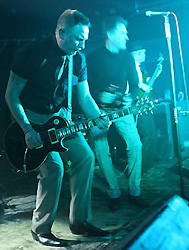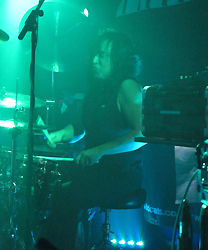 And then there's Mr. Arechiga – a solid power house of pure brilliance behind the kit who fired out one hell of a brilliant drum solo that later involved their bassist, trading licks with Bobby. Highlights include 'Three Time Loser' that wasn't a cover of the Rod Stewart song but one of their own that reminded me 'Hey Big Spender' and a Shirley Bassey like number called 'I'd Rather Die' with its big chorus and big-band like arrangement.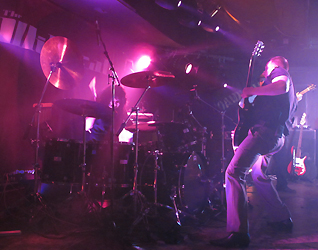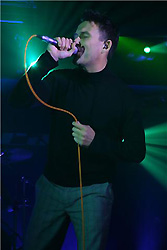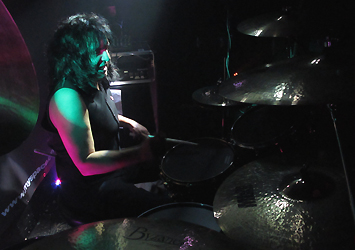 The audience loved them and I can see them playing here again before the year is out.
7/10
By Glenn Milligan

Winger/Airrace/Furyon/In The Name Of - Corporation, Sheffield, Friday, 2nd April, 2010
The most awaited hard rock gig in Sheffield of the last year, its actually understandable to see people already queuing outside the door of a UK venue for a Winger gig in 2010 if not a considerable godsend too. When Kip and co last played Sheffield, one chap who hadn't even heard of them included one D. Attrill.
Having savoured many of his acoustic solo visits over the past decade, its finally time for the real thing to happen, and as the occasion appears deemed that special, the powers that be, have seen fit to have not one or two, but THREE bands to warm up the proceedings this evening.
IN THE NAME OF
If such rule as 'Short don't mean sh*te' officially exist, then Sheffield's In the Name Of are strongly worthy candidates for its usage. Allocated only enough time for five songs, the main body of tonights' as-yet-unheard (by me) material is pow-er-ful as they return with a raw Van Halen-feel that does not go ignored. As much a loyal lover of their Danger Danger-meets-Nelson wonders over the past five years as I have been, the punchier edge - and centre - of their newest written offerings is a tool sharpened to make them cut and leave the marks.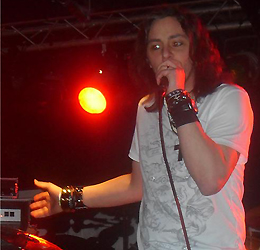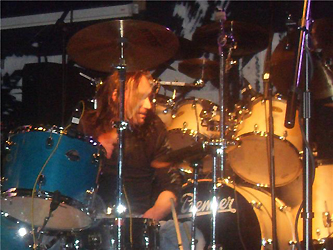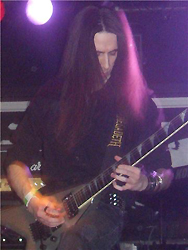 It's hard to believe that they'd been apparently about to split up only a day earlier as Steve Baranovich introduces each tune with his commonly cheerful mannerism. The twin axe team of James and Russ work well with the latest riffs even though their stage mannerisms are pretty contrastable - JC 's face fixed endlessly right ahead as if some pretty lady at the back were constantly removing her top, while Mr. Parker meanwhile looks typically possessed by his fretting (like we aren't as well , mate).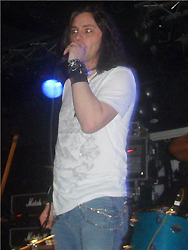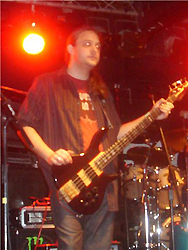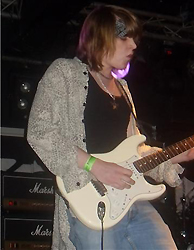 With solitary oldie 'Learn To Fly' rounding off a great 25 minute fanfare for what's too come later, the applause is deservedly substantial for In The Name Of Tonight.
9/10
FURYON
Brighton newcomers Furyon may find living up to the previous act quite daunting but they do it, despite being tooled with a significantly heavier sound. That said, their trad metal onslaught fails to offend anyone gathered in the hope of hearing an all-AOR bill and gradual head banging arrives throughout the 27 minute set to a classy Maiden meets Cathedral style groove.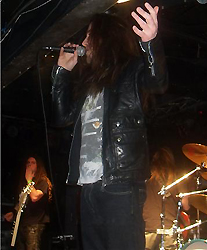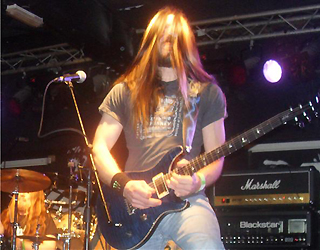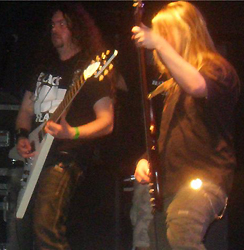 Even the band get in on it themselves with guitarist Pat and bassist Alex synchronizing their head banging rhythms throughout top and tail of every song. The five piece again only get as many tunes in on their set space but out of 'Voodoo Me', 'Souvenir', 'Our Peace Someday', 'Stood like Stone' and 'Disappear Again' , there's not one shoddy tune in sight.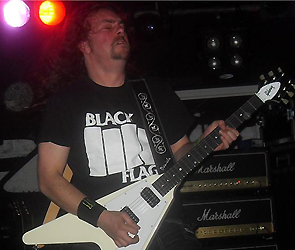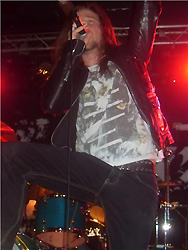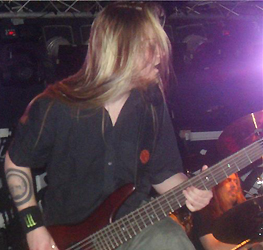 (I am later a mite miffed to find only one of them is included on their 3-track EP) Finding out later, on meeting them post-show, that their singer is in fact Matt Mitchell formerly of Brit AOR risers Pride is one potential clue as to how they stole a slot for this tour but boy I'm grateful they did so. Excellent, even if I do miss his old outfit.
9/10
AIRRACE
Nine months ago , these London lads opened up for departing Brit legends Thunder and all but blew them offstage. That they've been going longer than Danny and the boys possibly supports this though it makes me feel a bit of a proverbial threepenny bit as well given that I'd originally mistook them to be a relatively new outfit.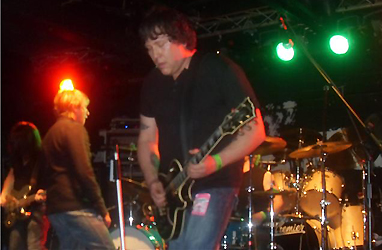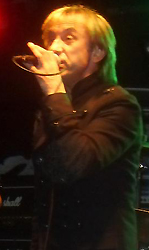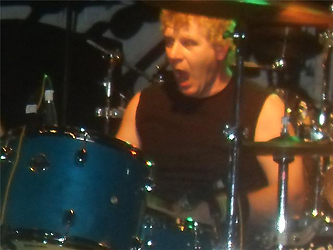 Remembering a lot about how great they were last time round still gets one in the mood again this year. These six chaps are loved form the moment they step on to the second they strike their last chords and there has to be said a likely few in the front rows have come to seem them rather than the headliners.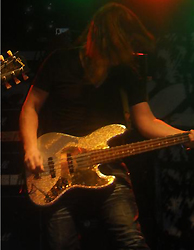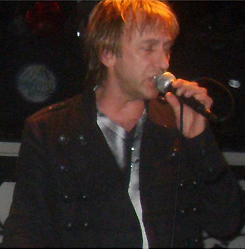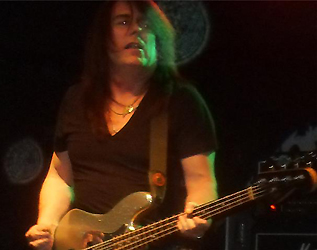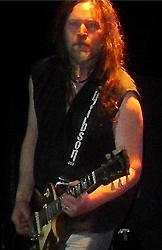 Assuming they've squeezed many of their favourites into the seven they serve up, their Survivor-like driving rock does indeed appear strong lip-synch fodder, frontman Keith Murrell even getting a sing a long out of them later in the set. Larry Mainsworth - a Gary Moore lookalike if ever there was one - apes both the standards and the stage presence of the Irish legend, often looking up at the ceiling as he strums in true classic rock strummer style.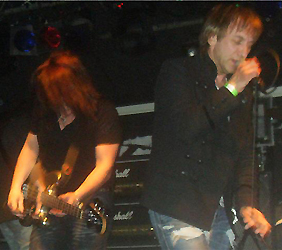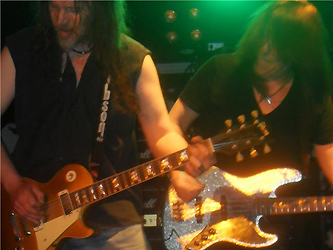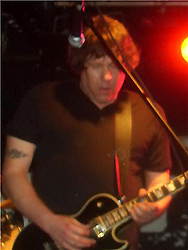 Bad on titles, I may still be regarding AR's material but it would take a lot stronger obstacle to prevent me appreciating a set of pure classic British melodic rock like this. Making many a new fan out of the rest of the room, Air Race leave the stage with the hope of returning as headiners sometime preferably very soon.
9/10
By Dave Attrill
Now, as fate sometimes has it in Metalliville, two men want to review the headliner and quarrel like spoilt little kids over it - the consquence here being Dave and Glenn both decided to have their say on the evening's Kip-ular proceedings.
Main Set List – Pull Me Under/Blind Revolution Mad/Easy Come Easy Go/Stone Cold Killer/Rainbow In The Rose/Down Incognito/Your Great Escape/Deal With The Devil/Guitar Solo/You Are The Saint, I Am The Sinner/Drum Solo/Headed For A Heartbreak/Can't Get Enuff/Seventeen.
Encore
Miles Away.
Look like a badly shaved Barry Gibb lookalike hem ay do but after 20 years without a gig from Kip Winger's day job act, does anyone really mind? Obviously, and quite thankfully not so. Secondly to their credit, they return with three quarters of the classic formation unlike many other 80s machines boasting one original part plus random newcomers. Not that messrs Beach and Morgenstein have been lying on their backs over the years of course.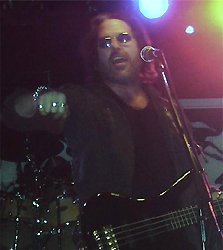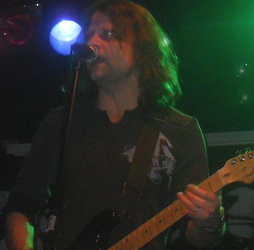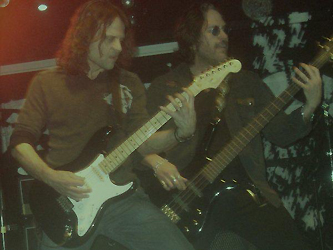 With Platypus, Dokken and Whitesnake amongst the top of their collective laurels - it also probably serves as a likely ingredient for the impressive quality of their two comeback album, recent newie 'Karma' proving an instant hitter. Justifiably two tracks from it open the set, 'Pull Me Under' being fairly similar in melody to some of the stuff on his solo album and plenty are singing already. Ten minutes in though and the classics come easy, though 'Easy Come Easy Go' being the anthem it I s should have been held aside for the encores.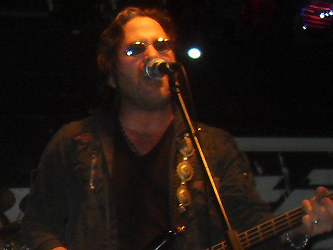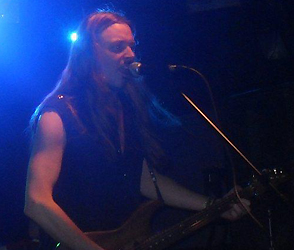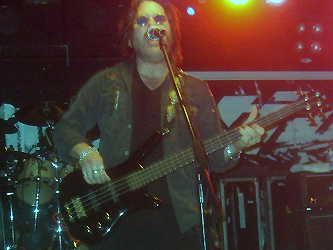 Introducing an additional fella on bass, Kip takes to the keyboard, for 'Headed For a Heartbreak' hiding himself almost totally out of view of some people behind the mixer stack. 'Deal With The Devil' and 'Stone Cold Killer' are two of my personal faves off 'Karma' and raise as massive a storm live as 'Can't Get Enuff', 'Down Incognito' and 'Rainbow In The Rose' - nothing like a true return to form, eh ,boys. Album track surprises aren't left out, although 'You Are the Saint I Am The Sinner' has been a live show staple for the whole tour.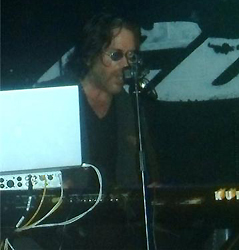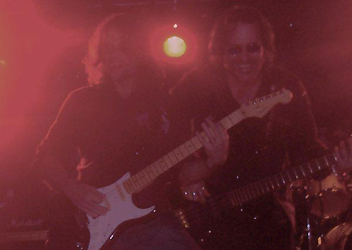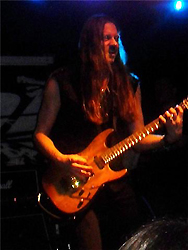 New chap John Roth who has been filling Paul Taylor's long vacated boots since the band's reformed looks well integrated within the Winger family. Often with a very serious look on his chops, he looks nonetheless laid back enough to tolerate the way his boss frequently rubs shoulders with him and Reb Beach in a huddled row at the front of the stage during those timeless solos and sharing the mike for chorus vocals - god he's missed some things throughout his acoustic days. Having solo spots from Reb and Rod is forgivable for their time away but some are here to hear one song - add sixteen to one and you get the title.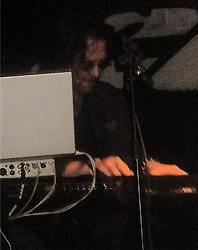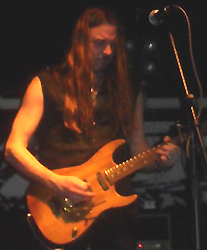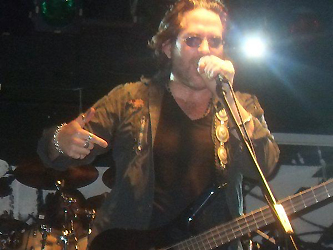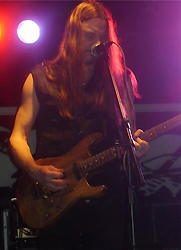 Scandalously again not saved for their closing section, the two remaining classics count as,, well satisfactory at least. 'Miles Away' brings out enough ciggie lighters to set the venue ablaze and sufficient crowd vocals to make Kip think his PA may have just clapped out on him . Inevitable teary faces of middle aged ladies behind the barrier follow and thankfully its not because its their final song….. which it isn't either. (like old Kip would come only come back for one more).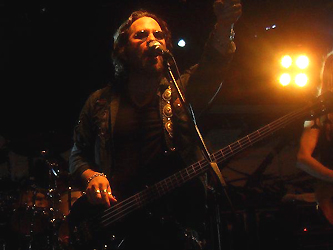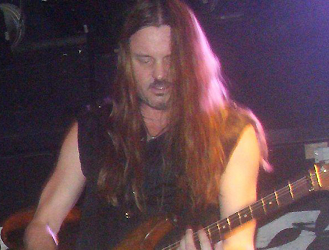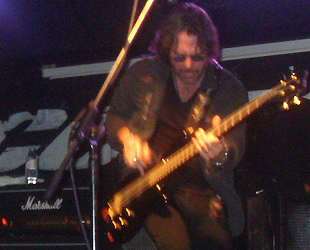 'Madeleine' boots the room in to submission for the last four minutes of the evening, and the pogoing has been obviously saved for the final fling. We don't manage to shout the boys back a second time - hence no 'Hungry' or 'Purple Haze' today but 90 minutes of celebration is well spent as lost years are recaptured for one of AOR's true institutions and the loyal fans who stayed with them all this time in the hope it would happen.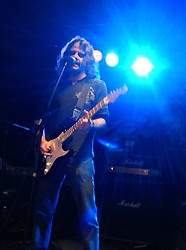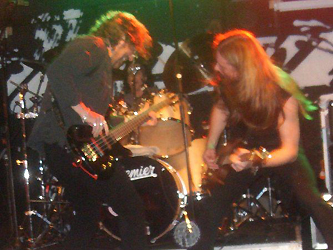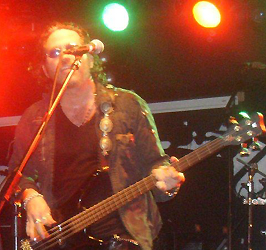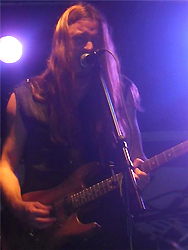 Kip may no longer sport his perm but Winger are once again a permanent force in the hard rock genre. Outstanding.
10/10
By Dave Attrill
Well I have seen Kip Winger a couple of times in solo mode armed with just an acoustic guitar – in fact the last time was in this very venue in the small room supporting Toby Jepson. But this time around he's brought the whole band with him and we are in the big room for some full-on rockin' excellence.So on came Kip Winger and Reb Beach (now of Whitesnake) and 2 other dudes as well – was that their original drummer – I must find out. Kip is armed with bass and shades since those lights are so bright up there – so that's why rock stars wear 'em! Anyways, these guys are absolutely faultless in performance – well we'd expect no less.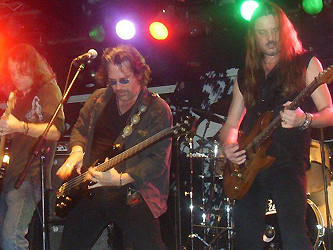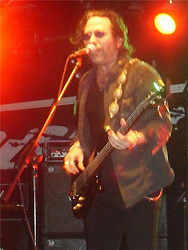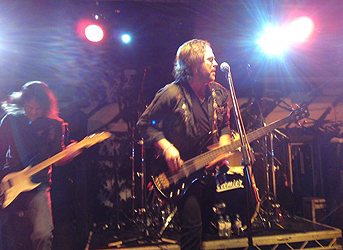 Kip warmed up his voice bit by bit and by around the 4th song he was firing up those high notes – the way only a pro can do that was topped of with magnificient backing vocals from the other boys. The sound was a bit box first off but after the 1st few songs they appeared to have it sorted out. Oh yeah, they got a new album out too called 'Karma' that Kip reminded us about – so did you go and buy it then? Setwise it was a perfect combination of old and new and it was sure guarantee for all the fans to have a joyous time in here – would have been nice to see more of you in though but credit to those of you who came down as the room was around half full. Great solos all round from the other 3 guys, with Reb Beach beating the other two guys hands down and easily. Not seen a drum solo played along to a backing track since I witnessed Cozy Powell play with Brian May back in 1992 at a big venue up the road.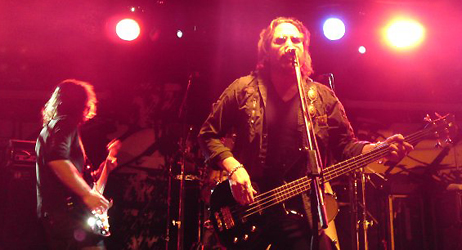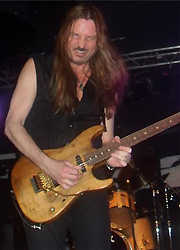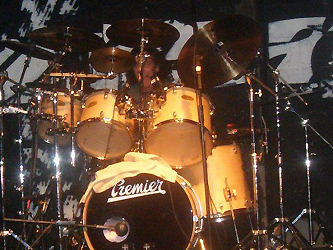 Highlights were the classics like 'Easy Come Easy Go' that Kip had the fans singing the high parts at times to save his voice for later in the gig and a number or two on the piano such as 'Down Incognito' which featured a buddy of theirs taking up the bass duties who returned everytime Kip went to tinkle the ivories at the side of the stage. And I can't forget to mention amazing versions of 'Headed For A Heartbreak' and the gorgious 'Miles Away' that became the encore.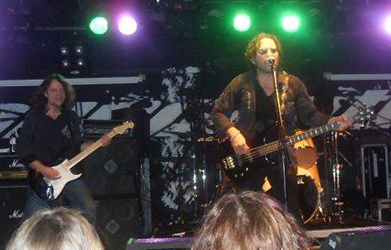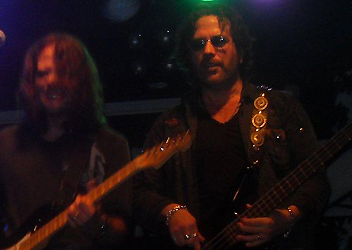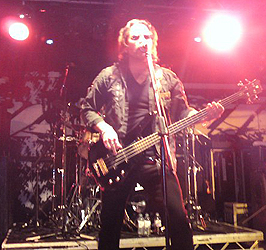 One of those nights that'll be remembered for a long time to come. Winger please Wing it back to Sheffield soon as this was a second to none full-on splendid show.
10/10
By Glenn Milligan

Martin Turner's Wishbone Ash - The Boardwalk, Saturday, 20th February, 2010

Well here's a band name where there's 2 outfits floating around - and to make it even more complicated, they are even touring at virtually the same time.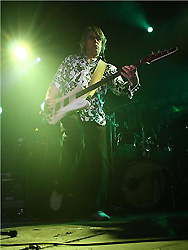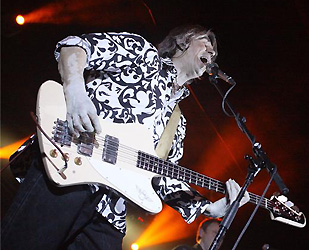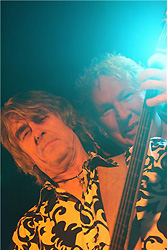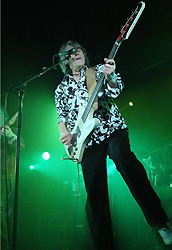 Well this is Martin's version (with him being the only original member of Wishbone Ash in the outfit) whereas the other version (with more original members who are called Wishbone Ash feature Martin's Brother, Ted Turner). Well I'm glad we got that one cleared up.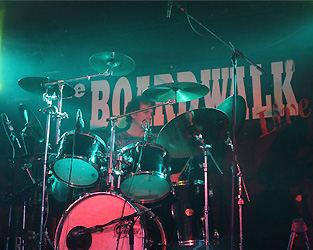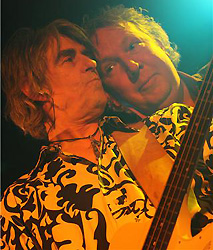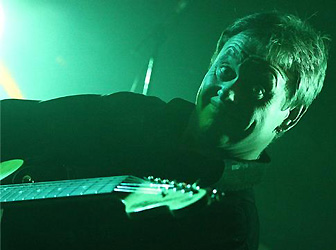 The gig at the Boardwalk was split into 2 halves – the 1st half was rather so-so and you really had to be a hardcore Wishbone Ash fan to get the full benefit of it all with songs that featured strangely sounding solos with odd-like jazz notes and many moody vocal harmonies with obscurities from albums like 'Wishbone Ash 4'.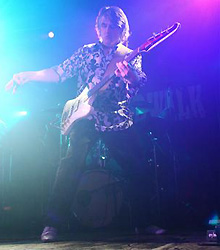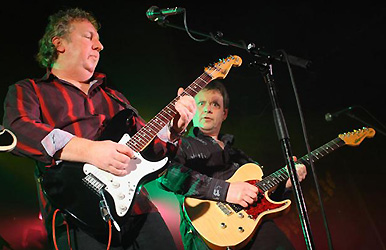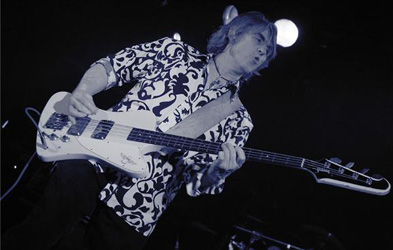 The second half of it was like a different band had taken the stage because they seemed far more alive and up for it – maybe a few beers had been downed in the 30 minute or so interval to get Martin in the mood of it all. Anyways, it was as though someone had flicked a switch because as soon as they announced they were to be playing some 'Argus' material we were transformed to somewhere really magical – especially when they performed an amazing epic version of their main hit, 'Blowing Free' and other numbers from the album.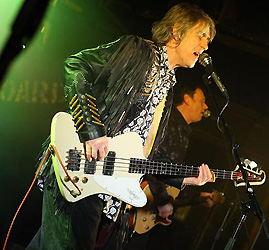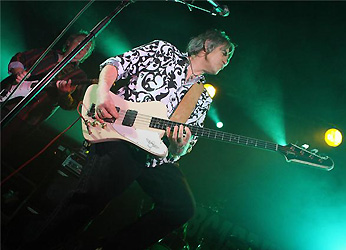 After getting this into our ears the band could do no wrong whatsoever and it was a pure joyous occasion to be a part of – they even played some cool Argus like stuff in the encore too.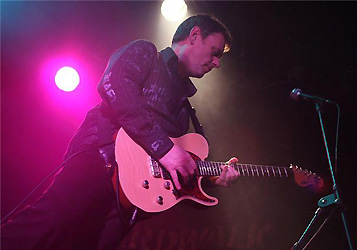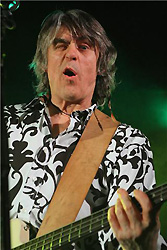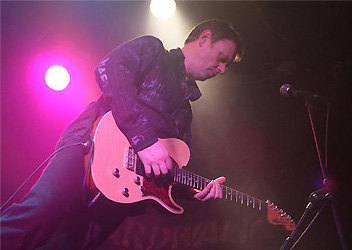 Pity that the venue was near half full only – credit to those of you who turned up. The guys came out to meet the fans virtually straight after, signing tickets and posters as well as posing for pictures – the 70's were back – well for tonight at least.
7/10
By Glenn Milligan
Photos by Bernard Froggatt

WASP/Glitterati – Rock City, Nottingham, Saturday 28th November, 2009
Not been here since 9th June last year where it was REO Speedwagon. Tonight was a different kind of affair altogether – a full on rock and metal one this time around. The place was nearly packed as well for openers, The Glitterati which I was surprised about. I sadly missed the 1st 3 numbers as they were on at the early time of 7.15. What I did see though was OK – a young quintet who looked they were fresh out of college and had enough time to get a few tattoos. Their songs were brash & kinda commercial sounding with elements of more up to date metal melted into sleaze and punk. They came across as a kind of UK baby Buckcherry.
The fans were so wound up and ready for WASP that they cheered after every single pre-recorded song coming out the before the children finally went wild at 8.15 when Lawless & the lads took the stage. While talking about the stage, I gotta say it seems smaller than I remember it last and they've even done Rock City up – yes, you read that right!!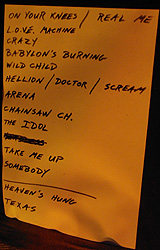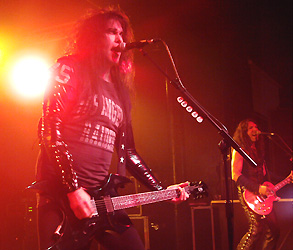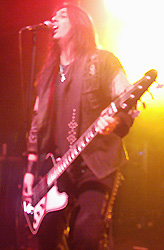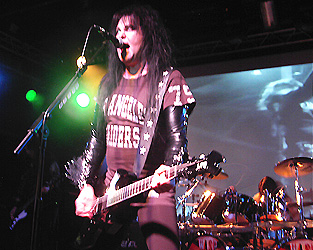 The furious 4 had chosen to keep to their usual 90 minute or so length set but medleyed a few songs up so we wouldn't be dissapointed. The harmonies were absolutely perfect from the vocals so it's up in the air if they were all live and Blackie was note perfect as well all the way through – I ain't saying yes and I ain't saying no but the verdict is out there. Either way though, I was thoroughly impressed with the sound in there tonight.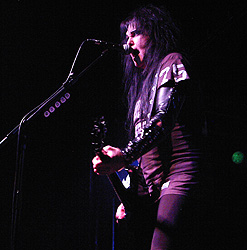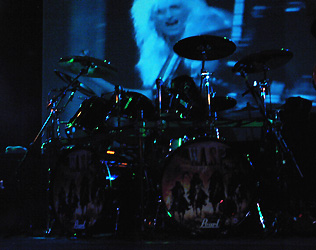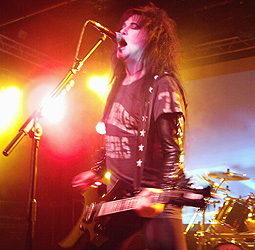 They opened up with 'On Your Knees' coupled with 'The Real Me' and then performed some of your fave songs such as 'LOVE Machine' & 'Wild Child' in full and a perfectly positioned medley of Hellion/ I don't need no doctor/Scream until you like it' as well as complete renditions of 'Chainsaw Charlie'; 'The Idol' and 'I Wanna Be Somebody' to name a few.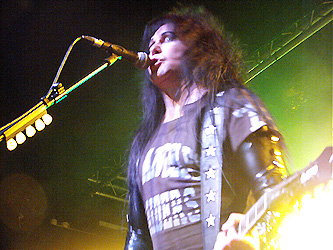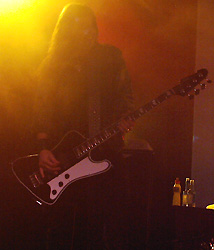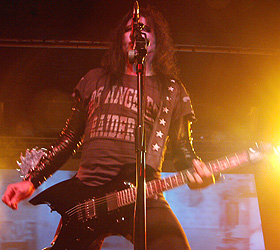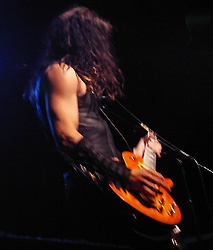 Nice to hear a couple of numbers from the fresh out the factory 'Babylon' album – these being the album opener 'Crazy' and the title number 'Babylon's Burning', mixed in with the familiarities that goes to show the band are proud of all points of their Metal journey but where the f*ck was 'Animal (F*ck like a beast)' tonight? - has Blackie dropped the shock-rock classic altogether or what. And there was no 'Headless Children' either that had been scrubbed from the set list for tonight.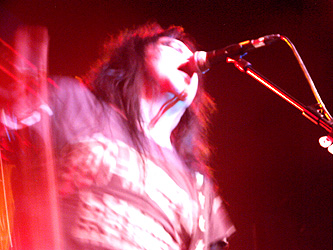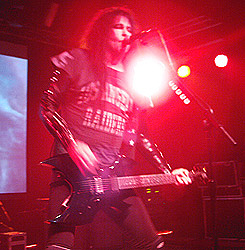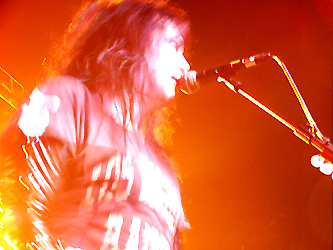 Blackie appeared to recite a prayer to himself after 'Heaven's Hung' about Gettysburg and he did the sign of the cross on his body. It seems that he's got religious on us in his old age (unless he always was and didn't want to reveal the fact – it's those white boots he's wearing!!). We got 'Blind In Texas' as the traditional last song in the encore that he co-ordially invited us to sing and we gladly took him up on his offer too. All the band are looking really well and a few pounds have been shed by a couple of the members to say the least.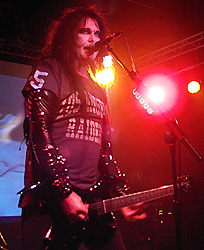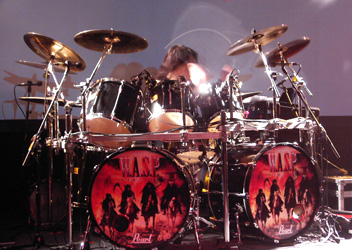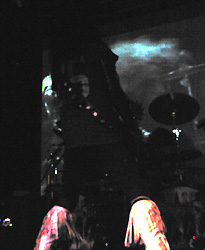 Overall a decent show despite there was no blood and guts and naked chicks being degraded like in the good ole days. Looking forward to another night next year hopefully from Blackie and the boys.
8.5/10
By Glenn Milligan

WITCHCRAFT/GRAVEYARD/ALUVAH – BIRMINGHAM RAINBOW, 17th May, 2009
The Rainbow is a nice old-fashioned bar situated at the St Andrews end of Digbeth High Street.
Maybe 70 or so doom metal fans turned out on a chilly Sunday night to hear three fine bands for nine quid. By its nature doom tends to show disdain to publicity, and it's more fun watching a band in a bar than in an arena anyway! I am not normally the world's biggest doom fan, as many exponents seem rather too much in awe of the Aston fab four.
Note the number of Gibson SGs in the photos (!)
First off we had local band Aluvah, who played 30 minutes of competent doom, with the necessary nods to 'Black Sabbath Volume Four' and 'In Search of Space'. Of the 6 songs we heard, 'Circle of Stone' impressed most.
6/10
Gothenburg's Graveyard is the first band I've ever heard from that city who do not sound like the very wonderful At the Gates! Their 40 minute set comprised largely of bluesy metal in a Groundhogs vein.
Highlights included 'Boogie Blues' and an impressive closing 'Evil Ways'.
7/10
Witchcraft -
2145 – 2250
Queen of Bees/No Angel or Demon/Wooden Cross/What I Am/Walk Between the Lines/Hey Doctor/Schyssta Longer/Witchcraft/The Alchemist/Lady Winter/If Crimson Was Your Colour/Chylde of Fire.
Several eyebrows were raised when I picked Witchcraft's 'The Alchemist' as 2007 CD of the year over the marvellous 'Blackening' by Machine Head. I maintain that the record is that good, and this was my first opportunity to hear it played live.
The opening salvo of 'Queen of Bees'>'No Angel or Demon'> 'Wooden Cross' were taken at breakneck speed that convinced the small assembly that we were watching something very special.
The 65 minute set continued through old favourites and 'Alchemist' selections, with 'Walk Between The Lines' and the Swedish song 'Schyssta Logner' received like holy tablets by the head-bangers at the front.
Although in 2009 I have undertaken to only mention a certain band from Stockholm if they are actually playing, the spirit of Opeth floated over the second and third passages of 'The Alchemist' which was absolutely breath-taking.
All too soon the curfew kicked in, but we did get two encores and a promise from Magnus Pelander to return with a new album. I think they'll be playing a bigger venue when word gets out.
9/10
By Roy Evans

Wednesday 13/Glamour of the Kill/Chelsea Smiles –
Corporation, Sheffield, 29th March, 2009
OK, so ya regular Metalliville freeloader that is Mr Milligan texts me at 6 o' clock of the night of the gig and says "I can't make it cos……**insert your own lame excuse here ** … can you review it for me". So here I am, giving it a shot.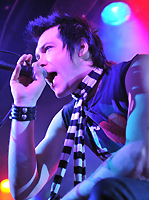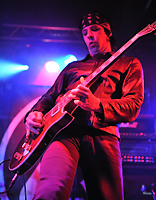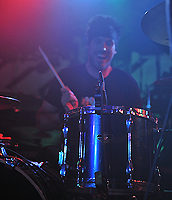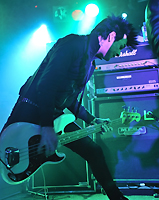 Recent signings to D2 (Demolition Records), The Chealsea Smiles hit the stage first tonight. Donned in tight leather jackets, 'Izzy Stradlin' hats, scarves and bandana's a-plenty and with a two pronged Les Paul attack, ya kinda know what ya gonna get. Straight up rock n roll, played well and all five members confidently filling the Corps big stage.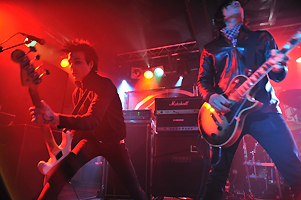 The stand out track was the up-tempo 'Little Misfit' – it's the kind of song that's so infectiously catchy that you know the song by the end of the first chorus and find yourself singing along from here-in.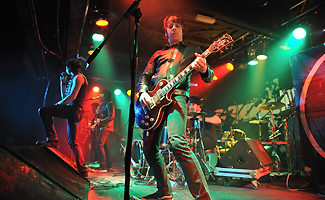 The set closer also sounded familiar – but that's cos it was (well at least to me anyway), playing out on a blinding cover of Michael Monroe's 'Dead, Jail or Rock N Roll'.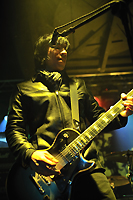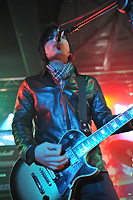 Top stuff all round.
8/10
Next up are The Glamour of the Kill, a band who until tonight I'd not heard of. It seems they didn't get a soundcheck tonight, their soundguy doing it on the hoof during a 15 minute set change – which included bringing on their own drum kit.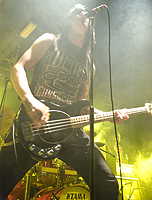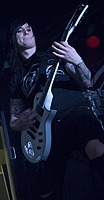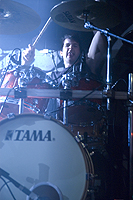 I have to say, he did a cracking job, from the off he had their off sound to a tee and man was it loud. Straight out of BFMV bootcamp, twin guitarist harmonies – both guitarists covering the screamo backing vocals, the 'nice' main vocal provided by their front man on bass duties and even the drummer backed up on some vocals.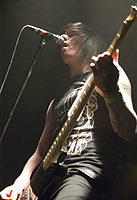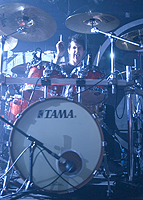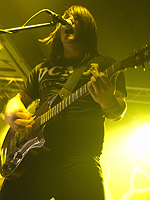 Their genre of music is without question very popular at the moment and GOTK clearly wear their influences on their sleeve (or maybe their T shirts!). Whilst they were damn good at what they do, I'd say that Avenged Sevenfold, Atreyu, Saosin and the aforementioned Bullet for my Valentine probably have the post-hardcore market all sown up.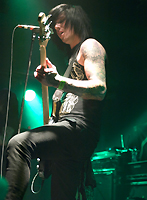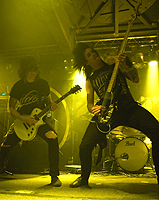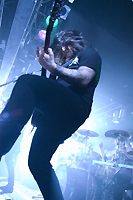 I hope I'm wrong though and if one of the major players falls out of the market then these guys can surely fill any void left with remarkable ease.
7/10
The W13 roadie, complete in his corporate boiler suit, flashes his torch to front of house – the lights dim, intro music starts and their loyal Sunday congregation are as excitable as kids at Christmas.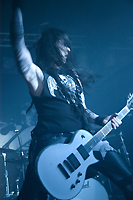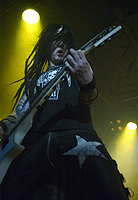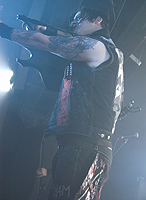 As a virgin to a Wednesday 13 gig, I was surprised at the age appeal, it's rare you see teenagers with guys clearly 50+ at the same gig with all of them singing along to every word. We get the staple songs of what I would imagine are regulars on any live set for W13, 'Home Sweet Homocide', 'Happily Ever Cadava', 'Bad Things', 'I Like To Say Fuck'.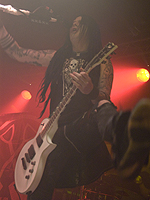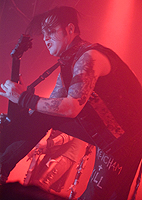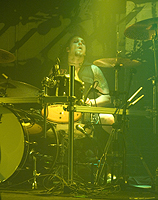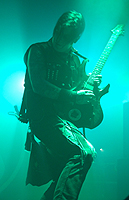 Ok, cut to the chase - I own 'Transylvania 90210' and 'Skeletons' – both of them decent albums that get chucked on once in a while.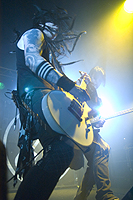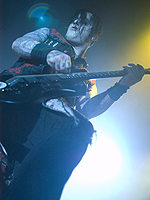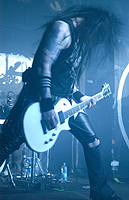 Though W13 didn't put a foot wrong tonight, the most memorable parts of the evening for me were the 2 supports who I'd definitely go see again – W13 on the other hand, na, I'll just stick the CD's on.
7/10
Review By Jon Hardcastle
Photos of 'The Chelsea Smiles' by Michael Riley
Photos of 'Glamour of The Kill' & 'Wednesday 13' by Stephen Oxley
RICKY WARWICK + Leon o'Doherty + Jay Leigh -
Casbah, Sheffield, Wednesday, 22nd 0ctober 2008
Playing acoustic sets always helps in getting a hard rock vocalist's solo material to get that vital element of recognition it needs, in differentiating it from the produce of their day job act. I learned this many years back with Danny Vaughn and Kip Winger and like them, ex Almighty man Ricky Warwick like to be seen as going it alone as a totally different thing.
Two impressive local lads provide the support bill beforehand, tonight. Jay Leigh is renowned fro his work in several up coming Sheffield acts over the past near-decade, the sadly defunct Jezebel being the most recent. Fitting the highlights of his CV into half an hour, his various materials merit interest and it is hoped that he gets another act formed before too long for his writing talents need strong vehicle to rely on if they are to be more frequently enjoyed Still we enjoy him tonight at least.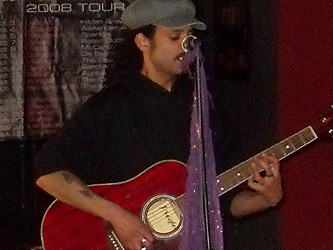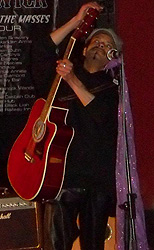 Fellow Yorkshireman, Leon o'Doherty does an equally good job of warming up the measly 35-strong proletariat resident tonight - a more indie -oriented sound he may had but on an acoustic, it is pummelled out with the same energy and no complaints come here either. Mostly punky and occasionally with the hard edge of the headlining act's style, Leon attacks his strings with passion and I can feel the attitude ringing through.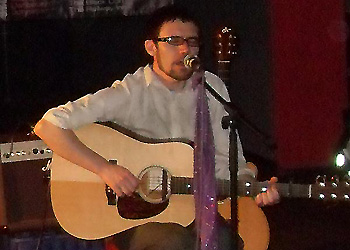 The Rick-ster is not long in following and as always is one geezer guaranteed to make everyone sit up and listen. Each and every one of Mr. Warwick's numbers has a story behind it, most being related to his Ulsterian upbringing and few people show more pride in their own country than he. Being the basis of the material from his forthcoming solo disc 'Belfast Confetti', of which the title track is one of the standout numbers tonight, resorting to unplugged mode allows his lyrical genius to be captured on top of the chords. His husky, soulful range is the selling point of Rick Warwick's music - strictly not to be translated as less so of a guitarist by the way - and even when he thrusts his more angst -propelled half out on a cover of 'Jesus Loves You' , you know not to turn away.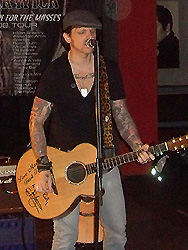 A few numbers, though titles elude me, sound very familiar from his set supporting Def Leppard in 2003 and like back then, his melodies become fairly diverse at times with a pretty AOR ish feel to some., and the resemblance bore to his many fine working with the likes of Monroe, McCafferty, Friesen and London, are not matter how long hell try to deny it, strongly evident.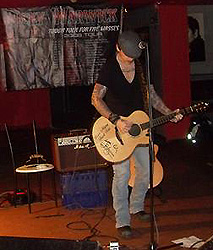 No-one leaves at all during the show and Ricky is his usual thankful self to those who did make the effort. An almighty seventy minutes that still feels like a hundred and that, later and everyone's learned another lesson or two once more about the spirit of true rock n' roll, and life as one of Hard Rock's most enigmatic individuals pictures it. Whether its talking about what ever the dreaded Gord's doing to f**k the UK up further in this day and age, or proudly looking back to a hilarious childhood prank he once played on his uncle, one thing you can be sure of with Ricky Warwick is that no night spent alone with him is to warned of as dull.
Everything may not be Free but it's definitely still Easy with this man.
9.5/10
By Dave Attrill

WHITE LION + Crimes of Passion -
Corporation, Sheffield, Saturday 14th June, 2008
Originally scheduled to happen in Dec 06, the announcement of a re-attempt at said ill-fated UK jaunt to once again include a call at the Corp took many by surprise to the many who deemed it gone for good.
The 18 month-plus hiatus has given Crimes Of Passion, their intended support act from first time round time to record their debut album, about two weeks away from official release as I write plus shed a member too, with a new guy having filled bassist Kris Hudson's shoes recently.
Their as now standard cover of 'Holy Diver' brings the most noise amongst the 300-odd in attendance but the loyal following of them know 'Exit Wound' and 'Pretty In Blood' back to front by now. Dale delights in the old support act cliché by enquiring as to whether we are all suitably warmed up for the headliners and by the response, it's clear at at least some are.
Possibly it is because the rest are not looking forward to seeing Mike Tramp accompained by his new band mates rather than messrs Bratta, d'Angelo and Lomenzo - or what the story is with the Dane's voice of late. The result on my first hearing is one of not that bad actually even though he would have done better to start off with 'Lights And Thunder' or 'Hungry' rather than 'Going Home Tonight' - the cheerful pop-rocker from 'Big Game' just doesn't seem to have a 'live-show' opening thang about it even though everyone makes noise for it from the first chord.
With following few numbers including 'Little Fighter' and dancefloor fave 'Love Don't Come Easy' keeping the atmos' on higher plains, I begin to wonder if there is actually any Pride material tonight or are they just heating us up for the best from their greatest disc itself. Surely enuogh, twenty-five minutes into the set, we get 'Wait' and its go and then some for the rest of the ride.
Up and down from the oldest to the newest and back, the guys throw in one or two impressive newies from comeback offering 'Return Of The Pride' amongst the rollercoaster that is embodied by their setlist tonight. Going down as well as 'Wait', 'Glory Days', 'Tell Me', 'El Salvador', 'Hungry', '....Broken Heart' and 'Living On The Edge' the only songs that brings up a louder cheer is actually my personal Whites fave 'Lady Of The Valley' and of course their classic cover of 'Radar Love'.
Disappearing pre-encore, they are only offstage left for literally about ten seconds before returning for immortal ballad 'When The Children Cry' and then proceed to commit one of live rock's no.1 no-no's by finishing with a new song but at least White Lion's audiences have the manners to accept. A further return with the hope of hearing 'L.A.T.' is swiftly dashed as the club's PA fades back in once more, drowned out by countless punters moaning about Mike's vocal talents this evening.
Shame on those who can't see past this to the gig's higher-runged aspect - and I reiterate that his pipes are far from fully rusted yet - as the selection was flawless aside from aforementioned omissions. A show worth waiting an extra year-and-half to witness, whether the Lion are back to roar for good is yet to see but it's fun while it lasts.
With fellow scene legends Tesla only five days from mounting this same stage, the seemingly fully revived hair metal scene appears unstoppable in its return.
8.5/10
By Dave Attrill

Wednesday 13/Sign/Exoterik -
Corporation, Sheffield, Sunday 18th May, 2008
A nice three some of a lineup indeed we get greeted with on a sunday night at this well known Sheffield Rock Venue. Never seen the band before that are first up who go by the name of 'Exoterik'. They a five piece with a hot long blonde haired vocalist (kinda Lauren Harris like in the throatal dept.) who gets the attention of the audience straight away -the lads especially like her. These boys cheered, gave her thumbs up, devil signs and even wolf-whistles at times.

She could put it over well with that voice of hers - well as soon as they sorted the sound about halfway through the 1st number as it was screaming back at bit. Some of the set musically was pretty brutal in parts reminding me of Sepultura in moments like 'Roots' and 'Choas AD' and elsewhere a bit of nu-metal, melodic sections and more. As tight as hell they were too and even added the odd keyboard ripples and sound effects that added to the already good songs such as 'Are You Alive?' Spot on sound although the drums were a tad loud at times. Looking forward to seeing these again.
8/10
Seen these next guys Sign before when they supported Skid Row a few mnths ago at this very venue. A real loud bunch they are too, not to mention in ya face and sabbathy sounding. Their shoulder length blonde haired singer has got a real strong and dare I say it kinda trill, sweet voice who can really hold his own over the wanted electric bedlam that ensued throughout their set. There was even some good vocal harmonising from other members of the band too.

Highlights in the set included 'Break Out The Silence' - well I think it was called that as I didnt manage to get a set list. They played another cool song about being put down and nopt being accepted in society too called 'Not Failure'. There were some strong strobes during the set - in fact I even stuck my shades on as it got a bit much for my poor 34 year old eyes - haha.


A very together set indeed and the vocalist even got so into it that he exclaimed that he 'Lost himself for a minute there'. Due to them supporting Skid Row previous time around they played their own version of 'Youth Gone Wild' that came across like a boom, boom dance tune - it was rather weird hearing it like this but each to their own. Enjoyed the last song that went by the name of 'When Demons Rid'. No doubt they'll be at this venue again very soon if this was anything to go on.
8/10
So are you ready for some raunchy Horror shock-rock that dreams are made of - well I mean nightmares actually - of course you are so let the crazy, zany, sick madness begin because we all deserv an hour from our favourite noisy ghoulfester and his band - yes I mean it's tonights headliner, Wednesday 13. Amid the screams of the young girls in the audience they come on stage that has a backdrop of shovels and cobwebs - well it won't be happy pretty flowers will it!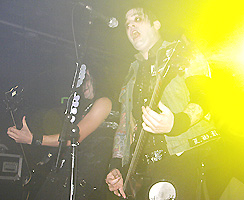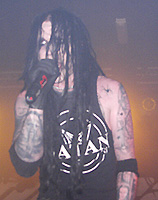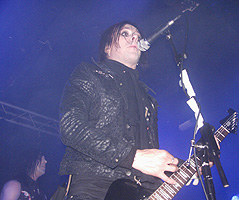 Mr. 13 has some good props that he is using tonight such as a Devil Fork and a graveyard shovel with a head through it (a la Alice Coooper) that are used for songs like 'Graverobbing USA' and 'Faith In The Devil'; sports a camouflaged toy machine gun during 'Rambo' and went onto do a 'singing on the rain' on us - no I am taking the p*ss - it was actually a song with plenty of crowd participation during the chorus 'I love to say f*ck' that the kids lapped up big style.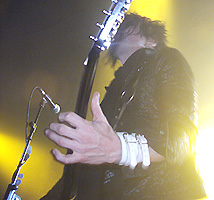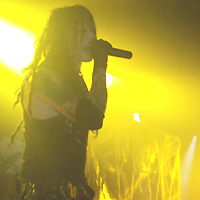 "You'll never believe what I did last night", Wednesday said to us 'I walked with a zombie' and they flew straight into it - We actually get one onstage too - well a member of he stage crew actually with a cheesy mask on - but it did look f*ck*n' cool though.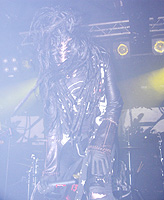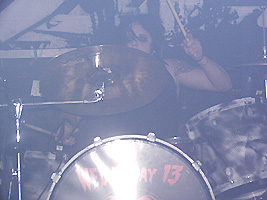 Another excuse for a singalong although not many of the young breed knew or could sing along with his version of Tom Petty's 'Runnin' Down A Dream' although us oldies recognised it straight away - killer version too - wonder what old Tommy would say to it.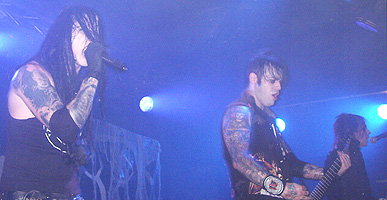 I was really impressed how much the crowd took to learning the new songs aired tonight with highlights being the title track 'Skeletons'; 'No Another Teenage Anthem' and 'Gimme Gimme Bloodshed' and if my memory serves me right as I am getting on a bit, 'My Demise' - well pull off my egs like wings of a fly if I'm not!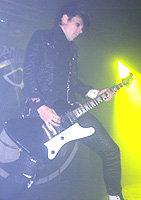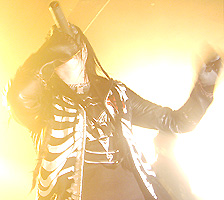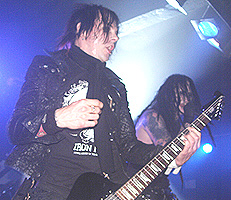 Absolute brilliance throughout - these guy make it look so easy as they are true pros -as in professionals not prostitutes - haha. Good to see ex-Murderdoll there in the band too - Acey Slade - who is like the sinister version of Keri Kelli up there.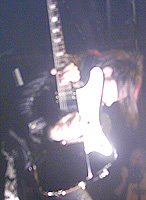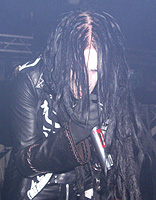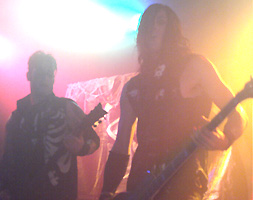 There's no doubt that everyone was moved to death (well not as much as that although it would have Wednesday's Night - he did want bad things to happen to us he told us amd that's the worst that can. One of the best hours pleasure you will ever have in your entire life.
10/10

By Glenn Milligan
WITHIN TEMPTATION/The 69 Eyes –
BIRMINGHAM ACADEMY Wednesday 28th November, 2007
2110 -2245
Jillian/The Howling/Stand My Ground/The Cross/What Have You Done/Hand of Sorrow/The Heart of Everything/Forgiven/Restless/Our Solemn Hour/The Other Half/Angels/Mother Earth/Frozen/Jane Doe/The Truth Beneath The Rose/Deceiver of Fools/All I Need/Ice Queen.
'Buxom' is an adjective that appears all too rarely in my concert reviews. 'Ample-breasted' is similarly under-employed. Happily the splendidly proportioned Sharon del Adel enabled me to put all of that right tonight.
The evening began with an enjoyable set from Helsinki's The 69 Eyes. Although I only caught the final 20 minutes, singer Jyrki's sleazy take on the Type O Negative back catalogue got the toes a-tapping, and the impressively large crowd gave them a good reception.
Highlights included 'Perfect Skin', 'Feel Berlin' and the impressive new single 'Angels'.
At Friday's Machine Head show, 69 Eyes were described in a conversation I had as 'Slayer with Elvis Presley singing'. That is as fine an attempt at describing Type O Negative as I have ever heard! 7/10
Isn't the beer over-priced at Birmingham Academy? £3.30 for a plastic cup with Carling Black Label in it could be classed as excessive in some circles.
The lights soon dimmed and Within Temptation launched into a superb set. The ample-breasted Ms. Del Adel was in extraordinary voice as she led us through much of the latest CD and some choice old material.
The buxom Sharon was clad tonight in a very appealing pink basque number, much to the delight of the large gathering of pervy over 40s such as myself in the crowd.
Unlike Nightwish, the male members of the band left virtually no impression at all. In strange Dutch style, the drum kit was placed stage right with the keyboard in the centre, backed with a rather cheap looking gryphon statue. But no matter, Sharon performed superbly.
Highlights of the quite long set were the opening 'Jillian', a raucous 'What Have You Done', a beautiful 'Forgiven' and an outstanding 'The Truth Behind The Rose' to close the main set.
9/10
By Roy Evans

Brian Wilson -
Edinburgh Festival Theatre, 22nd September, 2007
20:00-21:00
Do It Again/The Little Girl I Once Knew/Girl Don't Tell Me/Dance Dance Dance/Salt Lake City/Then I Kissed Her/Surfer Girl/Do You Wanna Dance?/When I Grow Up (To Be A Man)/Don't Worry Baby/I'd Love Just Once To See You/In My Room/Sail On Sailor/California Girls/Wouldn't It Be Nice/Sloop John B/God Only Knows/Heroes And Villains/Good Vibrations.
21:20-22:30
That Lucky Old Son (Suite): Morning Beat/Good Kind of Love/Forever You'll Be My Surfer Girl/Mexican Girl/California Role/Oxygen to the Brain/Midnight's another Day/Going Home/Southern California.
Johnny B Goode/I Get Around/Help Me Rhonda/Barbara Ann/Surfin' USA/Fun Fun Fun/Love & Mercy
When I saw that Brian Wilson was playing Edinburgh during my trip there for the rugby world cup, I raced to grab a ticket – he was superb in Birmingham in 2002, and I was gutted that I couldn't get a ticket for the 'Smile' tour a couple of years back.
The Festival Theatre is an extensively renovated Victorian Hall, and the superb view and excellent sound made up for the non-existent leg room. Everything they say about Scottish concert crowds is true; they were up and dancing from the first notes of 'Do It Again'.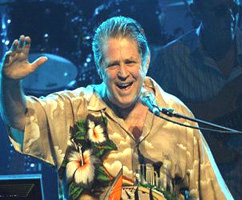 The Wilson band had eleven members this time, augmented by a horn and string section from Sweden on some songs, notably the 'Pet Sounds' material – the extra guys really brought those tunes to life. The first part of the show mixed classics with lesser-known Beach Boy numbers such as 'Girl Don't Tell Me'. Highlights of this first hour included 'Don't Worry Baby', 'God Only Knows' and a stunning version of 'In My Room'.
After a 20 minute break we got all of 'That Lucky Old Sun' - Wilson's new song suite which sounded pretty good. Typically Beach Boys in sound, the piece was accompanied by a cool projection show, and some incredible playing. My mate reckons that these were t he best musicians he had ever seen, and it was hard to argue, although the 96 Steely Dan touring band were pretty damn sharp too.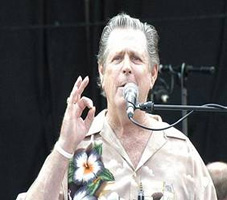 Another batch of BB numbers brought an excellent night to a close; 'Help Me Rhonda' was amazing. There was even a stage invasion, which is not something you would expect to see at a Brian Wilson show!
9/10
By Roy Evans

Roger Waters – NEC, Birmingham, Tuesday, 8th May, 2007
8:00-9:15 9:30-10:45
In The Flesh/Mother/Set The Controls For the Heart Of The Sun/Shine On You Crazy Diamond/Have A Cigar/Wish You Were Here/Southampton Dock/The Fletcher Memorial Home/Perfect Sense/Leaving Beirut/Sheep.
Speak To Me/Breathe/On The Run/Time/Breathe Reprise/The Great Gig In The Sky/Money/Us And Them/Any Colour You Like/Brain Damage/Eclipse
The Happiest Days Of Our Lives/Another Brick In The Wall Part 2/Vera/Bring The Boys Back Home/Comfortably Numb
One of the few things wrong with Roger Waters 2002 In The Flesh tour was that the set lacked a bit of coherence and consistency.
While tonight's show did not always equal the imaginative peaks of the 87 Radio Kaos tour, nor the musical magic of 84's Clapton-assisted trek, Rog's 2007 show was aided by the biggest telly I've ever seen which produced a suitable visual accompaniment throughout the proceedings. The song selections were great throughout, satisfying both casual fans and fanatics.
Kicking off with 'In The Flesh' (I wish he'd play 'In The Flesh?' instead), the first half took us through some fun bits from the last 40 years of Pink Floyd. Being a contrary soul, I have to say that my highlights from this half were 'Fletcher Memorial Home' and 'Sheep'. Surprisingly, where 'Crazy Diamond' plodded, 'Have A Cigar' soared.
Nice to see the whole band stop dead as a disembodied hand turned the radio dial on the monster telly between 'Cigar' and 'Wish'. For 'Perfect Sense' we were joined by a space-walking astronaut floating above the crowd. This went down so well that they repeated the trick for 'Sheep' with a very well-behaved pig who had 'Dick Cheyney' written on his rear, and also 'Habeus Corpus Matters' on his side.
Isn't it interesting that on each solo tour, Rog has played a different song off 'Animals'? 'Dogs' was incredible five years ago, 'but 'Sheep' ruled tonight.
There isn't much you can say about 'Dark Side of the Moon', it seems to have always been there. I remember when my brother bought it in the summer of 73, it failed to make the impression that 'Ooh La La', 'Focus 3' and 'Selling England By the Pound' did, but I was just 13.
Tonight's performance of the entire record was great, I even enjoyed 'Money' which I can't say I've done for a while. 'Us and Them' was magnificent, and the finale was accompanied by a laser prism suspended over the crowd. Very pretty. I am sure he will perform the whole of 'The Final Cut' next time(!)
The encores were a little predictable, but it was nice to hear 'Bring The Boys Back Home' live. I am surprised to report that 'Comfortably Numb' has joined 'Smoke On The Water' as one of the songs which I really don't ever need to hear again, please. Shame 'cos I used to love it.
9/10
By Roy Evans
WASP – Corporation, Sheffield, November 3rd 2006
Missed the 1st band 'House of Cards' and saw some of McQueen – a new metally girl band with elements of Maeven, WASP and Girlschool – not very brilliant but the what the hell as WASP made up for it.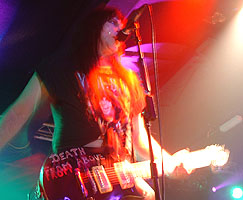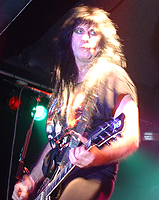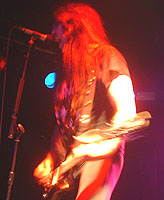 A stripped down set was a surprising encounter, must cut down on the transportation and roadie costs – no demonic microphone like Blackie had a couple of years ago – just the usual stand like anyone else – but this made little difference to the show as it was as heavily rocking as ever with classics like 'I wanna be somebody' (complete with crowd singalong); 'Wild Child; 'Sleeping in the fire' & opener 'On Your Knees' plus surprises like a track from Crimson Idol that's never been played live before – what was it called again – answers on an e-mail please but where the f*ck was 'Animal (f*ck like a beast)' and 'The Real Me' – Mr. Lawless must be sick of them I guess or couldn't be bothered to play them tonight.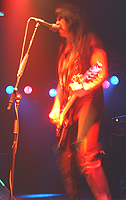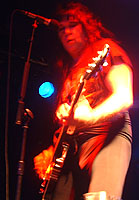 Soundwise it was exceptional (as was the lighting too as I even managed some halfway OK pictures with no flash) – bad luck on Blackie's mike packing up in the 3rd song, but a replacement was soon sorted – sh*t can happen in rock 'n' roll but it didn't seem to flaw the performance at all – the voice was wailing, live 'n' raw and he can still hit those ferocious highs at his young age of 50 as well. It was really weird not to see Stet Howland on the kit and in his place was ex-Hair of the Dog member 'Mike Dupke' which for me spoilt it somewhat as I am used to seeing my buddy up there slamming the drums, twirling the sticks and grinning like a Cheshire cat – Mike was good though but I miss Stet being there.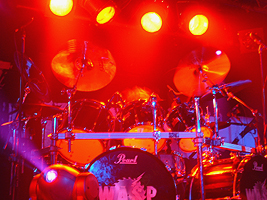 On bass was Mike Duda as ever with a little tongue and pleasant booming note and how can you not praise the return of Doug Blair to the WASP camp who was back on lead guitar and prize-winning posing – what a guy !!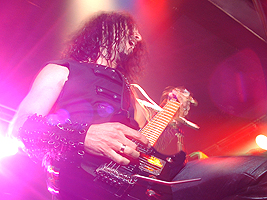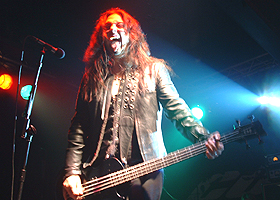 Last song which was the encore was of course 'Blind In Texas' was simply that – blinding with plenty of crowd participation. The only real down to the show though was the lack of the duration – 65 minutes in total !! - as if we really wanted to home yet – are you taking the p*ss Blackie – no actually Mr L another 25 mins would have been nice – but I guess that wasn't to be.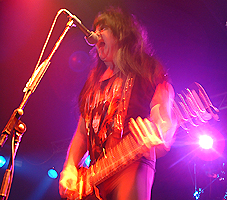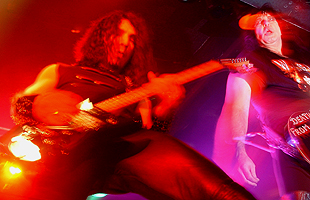 Many fans weren't happy at the just over an hour show and it's little wonder why. Would have been good for him to have gone out his way to meet the fans too but that's another story. Hope Blackie is in a better mood next time WASP buzz 'n' sting their way into Sheffield.
7.5/10
By Glenn Milligan

WASP + McQueen + House Of Games -
Corporation, Sheffield Friday 3/11/06
You've waited folks….fourteen years in fact, and I am now honoured to tell you that WASP have at long last returned to Sheffield. For me, it has actually been twenty-nine years as this is the first time yours truly has witnessed Blackie Lawless and the lads live in the flesh but for the other five or six hundred here tonight it has been like an eternity since the last visit to steel city for these legends.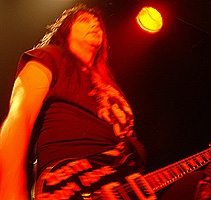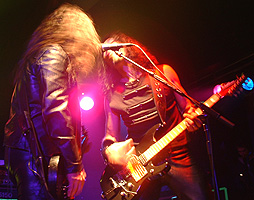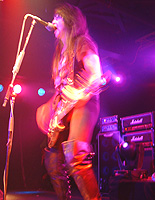 Supports House of Dreams and McQueen keep me entertained enough to stay awake - just - though I am still busy fraternizing amongst fellow attenders to take too much notice. And so the intro tape kicks in, and then so does Blackie. The wait is literally over now and do the punter know it as they pile into the barrier at the first chords of 'On Your Knees', one of three surprise inclusions on tonight's set.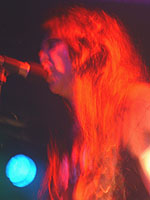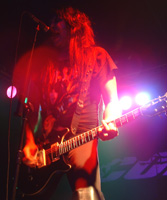 Backed by a trio of unknowns, (in comparison to past luminaries like Chris Holmes and Stet Howland that is), Lawless isn't deterred into digging purely into the history books tonight, leaving newer stuff totally for dead. 'Love Machine', 'Wild Child' and 'I Wanna Be Somebody', live institutions all, are spread widely over the set list instead of being crammed at the end and more classics are scattered amongst them. 'Headless Children', 'The Idol' and 'Sleeping In The Fire', on and off inclusions over the years, keep the mania in full motion but little as much as tonight's least expected number, 'Arena Of Pleasure', a fast paced belter from 'Crimson Idol' - and one that should be kept as a regular set cut from now on.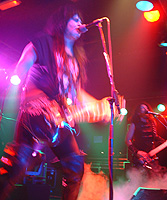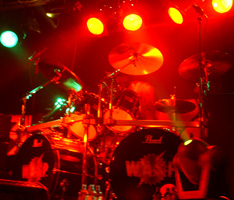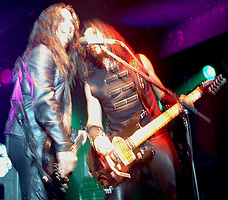 'Widowmaker', heard live for the first time in two decades is received no less warmly even if it and other aforementioned additions come at the expense of 'Chainsaw Charlie', 'The Real Me' and 'Animal' (Blackie how could you?!). An abrupt departure from the stage to deafening chants of 'Blackie, Blackie!' preludes their return for solitary encore 'Blind In Texas' and then after barely little longer than an hour, Mr Lawless says his 'thankyou's, they leave and the lights go up.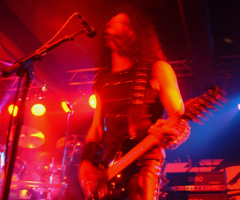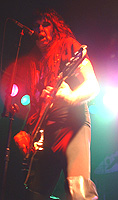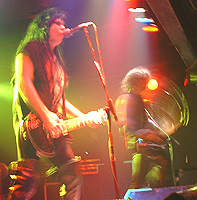 Anti-climax of the century it ain't quite but I'm afraid Blackie old boy, half a point's going to have to go for that measly duration of your set as well as the other half already gone for the omitting of 'A****l' from the evening's proceedings. That aside, nothing else wrong with an absolutely mental set worth every day of the decade and a half I held on in the hope it might happen.

Whether it be for the money or the memories, WASP still continue to launch their own 'sting' operations on the unexpecting. (I almost laughed there, Dave - Ed)

9/10

By Dave Attrill

Whitesnake/The Answer –
The City Hall, Sheffield, Thursday June 29th
It's a sold out show yes indeedy and kicking it all off after plenty of Priest on the PA are Irelands answer to rock – The Answer who fill our ears with plenty of rock, blues and metal in the style of legends like The Black Crowes, Led Zeppelin, Thunder and Skin (the band that featured Myke Gray on guitar – not that black bird who fronted Skunk Anansie with the shaven head). It's screaming full-on whammin' material from their debut album going by the name of 'Rise' that's only been out in the last three days – vocalist , Cormac Neeson said he saw it today in the racks of HMV so you got no excuse not to buy, have you dears.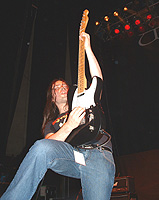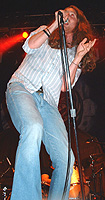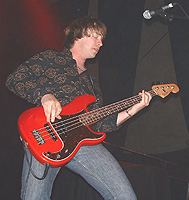 (L to R - Paul Mahon; Cormac Neeson & Mickey Waters)
It's their third time in the Spoonmekkin' City and is the second one I have witnessed – saw 'em previous supporting Alterbridge in Nov '05 at The Octogan. The Sheffielder's and beyond fekkin' luv 'em and there's little wonder why – ya just can't resist that wailing voice of Cormac's and that slide guitar playing of Paul Mahon is put to the max in the quality level. Highlights included the latest single 'Into the gutter' and much more – wish I knew the titles dudes. One number had that 'Whole Lotta Love' thang goin down while others raced through our ears in good old meat and potatoe slipper stompin' style like Clarkson testing a new Porsche.
These guys are onto a good thing and they fully in touch with that retro 70's sound of days gone by – hang on a minute, if The Answer have got anything to do with it, I reckon those days have been brought back for good – it's little wonder they won the category of best new band in Classic Rock Magazine. Dig the hair flailing and the mike posing – hmmm kinda puts me in mind of the antics of the headlining vocalist.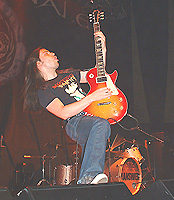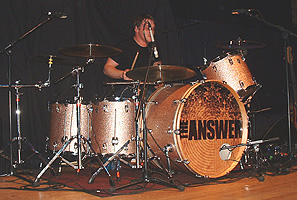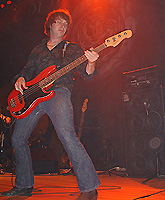 And here he is - the Royal Aristocracy of British Rock himself, Mr. David Coverdale and his new version of Whitesnake – he's got a different bass player going by the name of Uriah Duffy as Mr. Mendoza has jumped ship to Thin Lizzy – it's a f*ck*n' faultless musical performance through out the 100 minute set that opened up with Deep Purple's 'Burn'. Trackwise it's virtually a greatest hits shbang with a couple of new songs chucked in – I reckon one was simply titled 'Let It Rock' (no it was not a re-hash of the Bon Jovi song of the same name).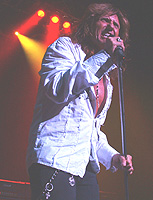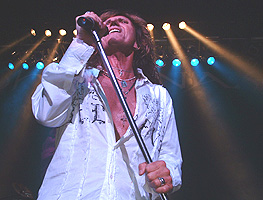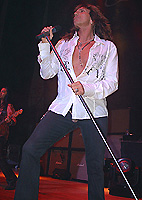 Throughout the night Mr. C. plays with the crowd through out the night doing his panto thing saying 'I can't hear ya' , kissing a few of chicks, shaking hands with some of the blokes at the front and feeding off our northern enlightenment, mentioning Yorkshire as many times as he could – well the old blonde geezer does come from Redcar.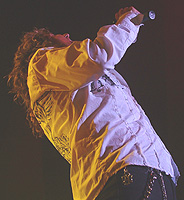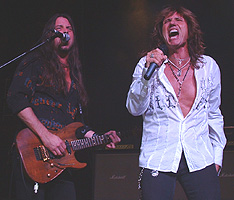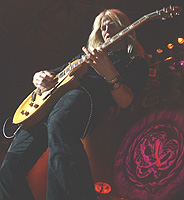 Each band member is given a pinnacle spot with the most interesting being that of drummer Tommy Aldridge whose solo is 'F*ck*ng A1' as my mate Tred put it in text form while it was taking place – the playing of the kit using hands only was very impressive and no doubt his fingers have taken the odd gash now and again – even givin' those cymbals a good ole whack to – with the bass drum going throughout – wow – he just doesn't seem to age at all – I'm sure he's done some deal with the devil and forgot about it sometime in his career.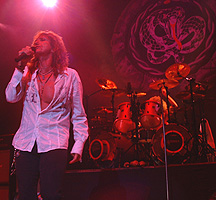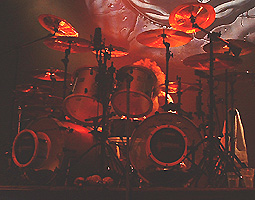 The solo's giving David a chance for a chill, a costume change and an extra nibble or two at the food backstage unless groupies still are present backstage at a Snake gig these days – so are they? Answers on a postcard to… nah only kiddin'.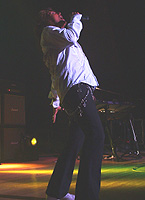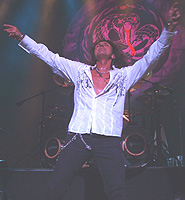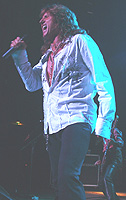 The " 'Ere's a song for ya" live staples included 'Is this Love?'; 'Here I go again'; 'Ain't no love in he heart of the city' (with plenty of accapella singalong as always), 'Love ain't no stranger' 'Give me all your love'; 'Ready an' Willin' and 'In the still of the night' which was of course the encore. But where were 'Bad Boys'; 'The Deeper the Love' and 'Fool for your loving' – oh well, you can't please everyone can you.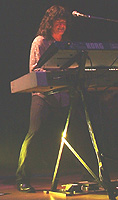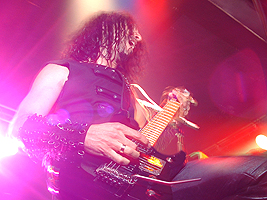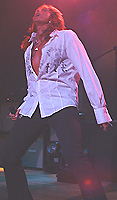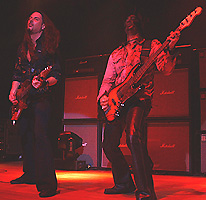 (L to R - Timothy Drury - Keyboards; Doug Aldrich - Guitar; David Coverdale - Lead Vocals and occasional Maracas; Reb Beach - Guitar and Uriah Duffy - Bass)
He let us do a lot of the high parts as well and used some exceptional echo techniques to keep his voice going around the hall on many of the wailing sections at times – the audience loved it. 'Weren't you at Saltburn last night he asks a couple' who then present him with a 'Saltburn' t-shirt "I'll sleep with that tonight" he tells us – David was well chuffed with it and gives it a good sniff.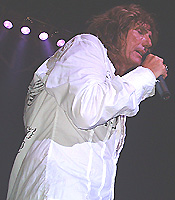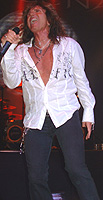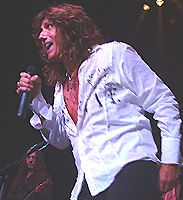 Looking forward to hearing the new album that hopefully will be out after the tour. Overall, a great performance but not as good as the one I saw at Hallam FM arena two or three years ago.
8/10
By Glenn Milligan
The Whooligans -
The Boardwalk, Sheffield, Tuesday 4th April, 2006
Not seen a Who tribute for around 8 years – this was one called Maximum Who at Q-Bix at Grimsby College. This time around it's at Sheffield are these guy, The Whooligans are from the USA, New York to be precise. They'd just played The Who Convention in London alongside The Casbah Club (band featuring Simon Townshend, Pete's bro), and come up north to do a few gigs.
I am a massive Who fan to say the least and let me tell you that you must have been crazy not to have been there as it was rather sparce to say the least- about 40 people - if you weren't there you played a deaf, dumb and blinder by not going – this was like traveling back to 1969/70 in the space of about 90 minutes.
The likeness in both looks and sound was uncanny – this was Roger Daltrey's complete double – I'm sure that he was from the London are as well – he had the voice, moves, swagger and everything.
Blowing my mind immediately by opening up with 'Heaven and Hell' – the Entwistle penned number, followed up by 'I Can't Explain' – it was just like 'Live at Leeds' edited down a bit. 'Young Man Blues' – f*ck yeah ! – a good ole bit of Mose Allison can do you no wrong, when the young man these days has got true f*ck all – nothing changed does it?
Highlights of Tommy then ensued like Amazing Journey, Sparks, Listening to You/See Me, Feel Me and that dittie about scoring thousands of points on a machine. The drummer played the tuneful sticks on Magic Bus. Onto some of Who's Next with 'Bargain' and 'Love ain't for keeping' and even 'My Wife' as well – it would have been cool to hear the entire album but you can't have everything can you.
Impressive to hear 'The Punk and The Godfather' with interplay between Roger and Pete, then onto the CSI TV Theme 'Who Are You' for the non Who types, followed up by a couple of requests from the crowd – 'Substitute' and 'Boris the Spider' (that my bro wanted to hear) – in fact it was the 1st time they'd done it live (so the bassist told me after) and it sounded great.
The scream in 'Won't Get Fooled Again' scored a 10 as well – something I like to do when get Who concerts on CD or DVD or whatever. As for the last medley – it was like being at the Pontiac Stadium (as featured on 'The Kids Are Alright') with Powhoful renditions of Shakin' All Over/Roadrunner (complete with Duckwalk)/My Generation Blues' before cranking it up and finishing off with the rest of 'Shakin' all over'.
It was pure Who right throo. Next time be sure to bring your friends.
10/10
By Glenn Milligan

WASP + Phobia -
Rock City, Nottingham, Saturday 6th November, 2004
Set-list: HELLDORADO/INSIDE THE ELECTRIC CIRCUS/HATE TO LOVE ME/LOVE MACHINE/WILD CHILD/ANIMAL/COME BACK TO BLACK/THE HEADLESS CHILDREN/THE IDOL/NEVER SAY DIE/KILL YOUR PRETTY FACE/THE REAL ME/I WANNA BE SOMEBODY/BLIND IN TEXAS.
Been wanting to see WASP since being about 13 years old where I saw 'em on this late night music show in the mid '80s - this band blew my mind - it was a BBC sorted gig from a music night called 'Rock Aound the Dock' where they played a set at the Town and Country Club. Skip a few years and I get to witness them live in the flesh. Funny thing is, is that I saw Stet Howland (WASP's drummer) by pure chance on Fort Myers Beach, Fl. USA, Feb 2002 at a venue called 'The Reef' in a top class covers band' so seeing him with the other big boys was really special. Sadly it was ripped up by one of this years hurricanes that swept around Florida.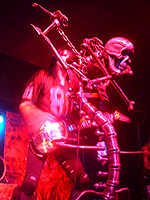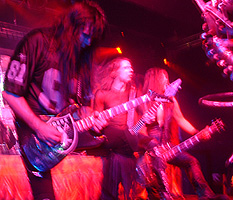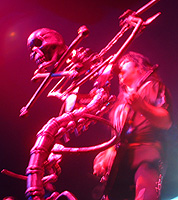 (Rather blurred due to flash not being permitted!!)
Anyway, back to the present - it's 9pm, I'm perched in the photo-pit - it's pitch black with the bands intro going on, amid roars of eager anticipation from the filled to capacity hardcore following and then all of a sudden WASP are on-stage. The crowd goes crazy to a non-stop three song medley of 'Helldorado'; 'Inside the Electric Circus' and 'Hate to love me'. Now you can't argue with that can you?
When not perched up on his 7ft high Devilish Mike Stand, Blackie is sauntering round the stage with bassist Mike Duda and lead guitarist Darrell Roberts doing likewise - back and forth they go without missing a note, while Stet's up there keeping the beat going like Animal from the Muppets, not to mention twirling and spinning his sticks at every available moment as well as acknowledging me with a big grin, a nod and stick-point - Top lad!!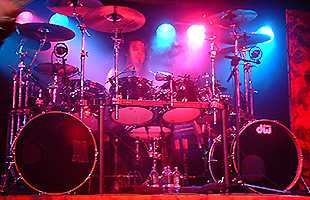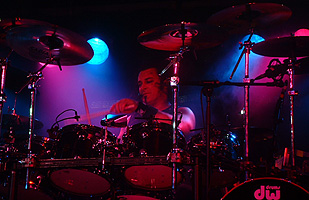 2 Pix of Stet Howland
WASP may have release two new albums recently this year (The Neon God - Parts 1 and 2) but their set features plenty of well-received faves such as 'Wild Child'; 'The Headless Children'; 'The Real Me' and of course the obligatory 'Animal (f*ck like a beast)' so nobody has reason to say they ain't got their moneys worth tonight. Blackie's vocal pipes are exceptional and he has the ability to rawp like a rabid hyena on new numbers 'Come back to black' and 'Never Say Die' from their latest album release 'The Neon God - Part 2' as well as singing choir-like 'n' graceful on 'The Idol' one of the main highlights from 'The Crimson Idol'.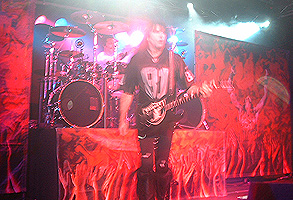 There's no pyro being used tonight or any major stage props (apart from the backdrops) but with songs as electrifying as say, 'I wanna be somebody' or the encore 'Blind in Texas' (which both guaranteed commanded singalongs on the chorus's), you simply don't need 'em. Blackie's Boys gave us a 90 minute killer set that many bands can only dream about doing.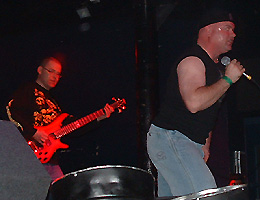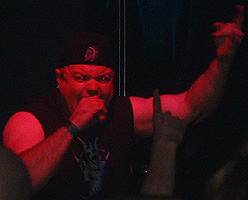 Local support band 'Phobia' warmed us up to with their Pantera come Queensryche like numbers who appeared to have a few friends in the audience. For a little chubby bloke - he's got one hell of a powerful voice.
10/10
By Glenn Milligan
Wednesday 13's 'Graveyard A Go-Go's' -
The Corporation, Sheffield, Friday March 19th, 2003
Well this night was all girls 'n' boys in black eyeliner, white facepaint, the number 13 drawn on their foreheads and new-age ghoulish gothic wear all-round with the odd old Reservoir Rocks regular (myself included here!!) taking it all in as well. No it ain't Halloween tonight but it might as well be as this band look like they were extras from 'Dawn of the Dead' or Michael Jackson's Thriller - it's actually that guy from Slipknot and The Murderdolls - Mr. Wednesday 13 (dressed in a skeletal costume) and his Graveyard a Go-Go band (no relation to the star-studded early 80's band The Go-go's before you ask - this bunch would still have been in nappies then!!).
To me it sounds just like 'The Murderdolls' (imagine a young Alice Cooper-like Zombie on Speed coupled with ghoulish punk rock). Some of this material is older - culling from Wednesday's pre-Slipknot band 'Frankinstein's Drag Queens with some 'doll stuff lashed in as well for the newer fans to go mental to. Come to think of it, the kids are goin' mental throughout the entire set - thrashing about with loadsa devil signs in the air for every single song. Easily the best number tonight was an aggressive take of Alice Cooper's 'The Ballad of Dwight fry' as well as 'The Witch is dead' and one about being compelled by Chris'.
In all honesty, it wasn't entirely my sort of stuff but I can't knock it one bit as these guys are leapin' headbanging nutcases who look f*ck*n' great (in a sick kinda way) and make it a full-on rock 'n' roll spectacle for well over an hour.
8/10
By Glenn Milligan
For pictures of the gig check out the live gallery section of The Corporation

Whitesnake/Gary Moore/Y+T -
Hallam FM Arena 21st May, 2003
Y+T
Amongst the startling infiltration of eighties hard rock acts suddenly bothering to stop off in South Yorkshire territory on their global travels, the act that openened up tonight's three-band bill is amongst the year's biggest surprises. I'd only known of US veterans Y&T up to now by name and their immortal rock disco anthem 'Rescue Me' but I was about to be almost fully educated in the space of only 40 minutes.
'Mean Streak', 'Summertime Girl' and the aforementioned classic had me converted almost on the spot. Singer/Guitarist Dave Meniketti is a one-man stage presence in himself and although having put on a bit of weight since their last Monsters Of Rock appearance at Donington nineteen years back, he and his three colleagues still throw it around, musically speaking. Eight songs from fifteen-or-so albums takes quite some picking but their fans saw little to be disappointed at, including any new ones they've made (like me) from the 4-5000 in attendance for their set on this evening.
9/10
By Dave Attrill

Gary Moore
Gary Moore whose new project 'Scars' is well, very bluesy orientated to say the least played a variety of material, opening up with The Yardbirds 'Shapes of Things' that kinda incorporated the style of the Jeff Beck version as well - kinda fast 'n' poppy but 'dirty' with - adding a new edge to an old late 60's standard.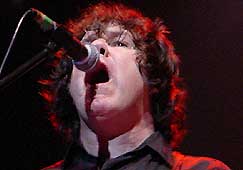 Moore used his Custom Cherry Pink Les Paul Gibson as well as a White Gibson Explorer and impressed Sheffield with his unique six-string screaming sounds, not to mention gurning throughout most solos in true old-school blues style.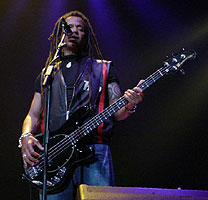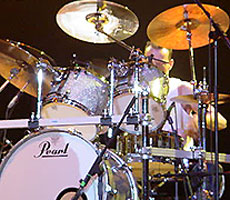 He pulled it all off with musical majesticness with his tight 3-piece unit who cooked up the congregation with the Thin Lizzy gem 'Don't believe a word' and later an encore of 'Parisienne Walkways' that included the longest held on note ever heard in the venue in the songs timeless solo section.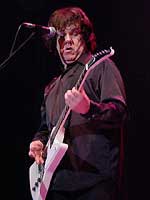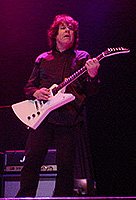 The set was fairly strong but could have been better by having a keyboard player to thicken the new 'Scars' stuff and the overall sound in general. A gallon of metal masters wouldn't have gone amiss either from Gary's 80's milestone albums like 'Run For Cover' and 'Victims of the future' but then again you can't please everybody can you - but hey, who can argue when 'Still got the blues' is served up - a number that's easily on the list as being a contender for 'dish of the day' any night of the week.
6.5/10
By Glenn Milligan, BA Hons CS
Whitesnake
The headliners, the mighty Whitesnake, this timearound featuring Bassist, Marco Mendoza; Guitarist, Reb Beach (of Winger/Dokken fame); long-term drummer, Tommy Aldridge; a definite master of the axe who's come straight from Dio - the wondrous Doug Aldrich (a man who's cv includes cult band Lion and Burning Rain) and now - Ladies and Gentlemen, put your hands together for the ultimate - the Rock and Roll Ringmaster himself, Mr. David Coverdale - the blonde bombshell from Redcar, UK that gave stages a reason to be built in the first place.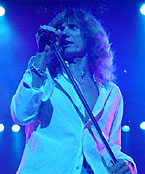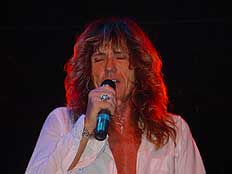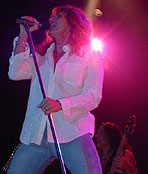 David Coverdale
Charging up immediately with 1987's 'Bad Boy' this was a 90 minute+ set with impeccable sound that no other band would ever want to follow. "You're celebrating 25 years of Whitesnake with me"; the lion maned legend informs us and proceeds with classics like 'Love ain't no stranger'; 'Is this Love?'; the singalong epic 'Ain't no love in the heart of the city' that caught the entire arena in fine voice; the dirty 'n' slutty 'Slide it in'; 'Crying in the Rain; the momentous 'Fool for your loving'.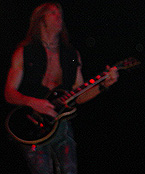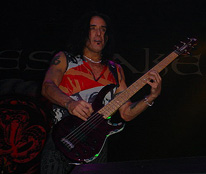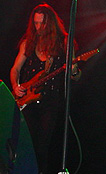 L to R - Doug Aldrich, Marc Mendoza and Reb Beach
How kind of somebody to throw David a box of Yorkshire Tea which appeared to have made his night - 'Thank you, I'll be hanging onto this' the old Yorkie said with pure glee on his face - you can take a man out of Yorkshire, but you can't take Yorkshire out of the man - and there's the proof in the pudding - a Yorkshire one at that.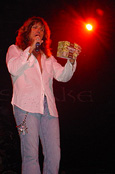 Some locals were even celebrating their wedding by spending their night at the gig instead - now that's what I call 'Pure Class' - who needs to book the sh*t wedding DJ when you can have Whitesnake playing for you instead.
Interaction between Coverdale and crowd was bang at the top of the agenda and on quite a few occasions David ask many a lady, 'How are you Darling?' and even joked that the women were better than when he was here last time.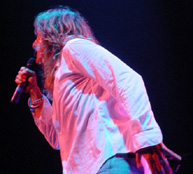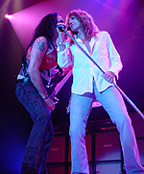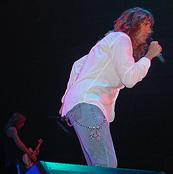 Being called 'Short Arse' by a fan was taken all in fun as well. Now how many performers would place themselves on the spot and ask what songs the fans wanted to hear? - the answer - Not very many - but not everybody has the balls of this crooner who sang acappella bites of Whitesnake nuggets that included 'Soldier of Fortune' and 'The deeper the love' and even laughed when he forgot the words - now there's a man who doesn't take himself too serious and why should he? He's the Rock answer to Neil Diamond - a duet between those two, now that'd be something quite spectacular.
Like in the good old 70's and 80's, every member is given a solo spot, the most outstanding being drummer 'Tommy Aldridge', especially when he tossed his sticks to one side and played the kit with his bare hands (that even included the cymbals) - jesus that guy can go for it, rolling out fast tempo tom-tom aerobics that were f*ck*ing incredible.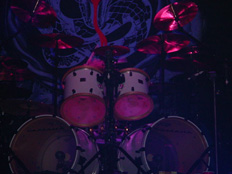 There's only one way to bring the concert to a close and this is of course by playing Whitesnake's penultimate vital items, the timeless 'Here I Go Again' and the corking 'Still of the Night'.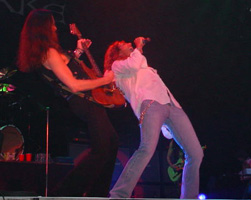 What can be said - this performance is simply can't be beaten and can only be matched by another Whitesnake concert. We look forward to next time when the Metal Serpents again slither into town.
10/10
By Glenn Milligan, BA Hons CS