Z-2002 - Manchester Ritz Sunday 5th May, 2002
YOUR BANDS: SONS OF ANGELS, ARABIA, BRIGHTON ROCK, SILENT RAGE, VON GROOVE, HUMANIMAL, BONFIRE, WESTWORLD.
YOUR COMMENTATOR: DAVE ATTRILL
It's flown, hasn't it. The 364 days since we were last down this street below a railway arch in rural Manchester town. And so the doors fly wide open once again, in we go, past various heavies collecting ticket stubs, as well as thrusting flyers of all shapes and sizes. Then, half an hour to get used to the place again before the lights go down for our first act of the afternoon.
SONS OF ANGELS
Two familiar faces front the ranks amongst these Scandinavian retournees. Street Legal main-man, Bjorn Boge is a hired hand on bass here, at the moment, and being relieved of his lead vocal duties today means that he's got more time to perfect his stage presence classes further (remember Gods 2000?). Frontman Solli, has been seen in more than one place of late with also being the current vocalist in 21 Guns but sadly, no covers of 'Knee Deep', 'Little Sister' or 'Jungleland' look to be on the bill tonight.
They actually start off with 'No Sorrow' as it happens, Solli taking to the boards in full biker attire, leather jacket, shades, n' all. A particular bizzare opening track for a live set this song is, given its slow deep grinding arrangement, but it is followed by a song bang at the other end of the tempo spectrum. 'Burning Up My Childhood' is probably one of the new album's golden cuts, along with 'Love You Too Much' and 'Fire', both of which get the go-over today. One, which to all acts of scandal, doesn't is stunning power ballad 'Gimme Lovin'.
We do of course expect, and get, a selection from their first record including old nuggets 'Fight' and 'Cowgirl', but which time Solli's donning a Stetson. I'd think however, the best dressed man on the boards has to be their guitarist who comes on in suit, tie, short hair n' shades looking like some wealthy business tycoon. Great comeback set from the Norwegians, and I think a higher slot on the bill would have been nice considering this and other things, but the day at least starts on a high note - that's what counts.
8/10
ARABIA

These US newcomers were supposed to have been at last years's Z2001-Part 2 in Wigan, but when the said event almost bit the dust, they were one of the acts who failed to make the truncated final bill. My sadness at being unable to attend last August was shortened substantially by my second, this time successful, attempt to witness one of Z's hottest new properties.
A year since their debut disc '1001 Nights' hit the streets, they've built up quite a following, and their similiarity to scene legends House Of Lords is to their credit. Where this comparison comes from is crystal clear, whether it's on Cd or stage that you've first lent them your lobes, - it's all due to frontman John Blaze's roof-ripping roaring vocal talents. Dubbed the vocal find of 2001 by several magazines, I understand, this chap's performance makes the band, the band it is.
The guy on guitar knows how to churn out some top chords too, though I can't help but wonder what all his constant grimacing through the 50-minute set's all about, did you forget the toilet before you started, mate? Good to set the East Coast still reeling out acts like these on its production line. A worthy return for next year's do.
8/10
BRIGHTON ROCK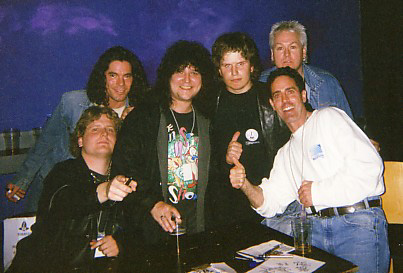 One of Canada's top four melodic rock acts, all of whom will be playing over here this year, Toronto's Brighton Rock are one of quite a large batch of old faves signed to the label in the last year. Yes, so they've aged a bit, since last seen about a decade back and only one of them still retains a poodle perm. It's the music that matters though, as always and the quintet's blues fuelled bombast has stood the test of time flawlessly.
Apart from their new live album on Z, a future studio release is said to be on the way, and I think we get one or two apparently 'new' numbers tonight. Quite a lot of their most avid followers are in attendance today, as the volume of applause demonstrates, and I'd think there's still enough cement to add some more bricks to their wall of support. Their set tonight is a perfect example of putting paid to that detestable cynicism about old bands losing form on a later life return.
8/10
SILENT RAGE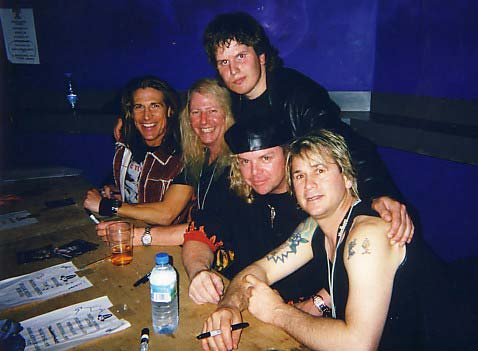 Some more old friends from the eighties follow soon after and rarely have I become a fan of a band so quickly as I have of LA's Silent Rage. Still with the same line-up they left off with on '89's 'Don't Touch Me There', they explode on to the same rippling response that Brighton Rock have just garnered. Their set is a heavy blend of material from all three albums including new corker 'Still Alive' with recent Z sampler CD fave 'Unchained' being my finest four minutes of the hour.
'Rebel With A Cause' and 'Running On Love' are still the anthems they've been from conception - stadium rock meltdown of the first degree, and raise the same smiles and studded fists as before, on being heard once again. The primary characteristic you notice with this band is their triple lead vocal rota which continuously alternates from song to song, between guitarists Jesse and Mark and bassist EJ - usually you'd expect this to be one damn good way of making a band's members fall out.
You also notice the growing trend in the wearing of Hawaiian tops by melodic rock musicians onstage, these days which actually does credit in that it reduces the ridicule pinned on hard rock by the small-minded majority of mickey-takers for being all 'leather n' denim'. Silent Rage come on, play and go, leaving us feeling just like they themselves claim to be - rebels with a cause.
10/10
VON GROOVE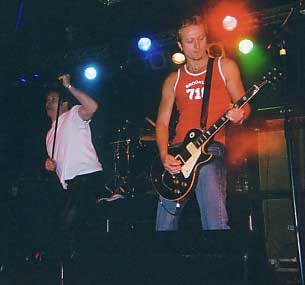 A slight reshuffling of the schedules means that Von Groove get on a set earlier - the cause being Humanimal's drummer Thomas Broman flying in late, so the two bands have traded slots. Von Groove decide to be their own technicians in tuning up the equipment prior to starting but everything is to adequate adjustments in only a matter of minutes.
Starting rather unexpectedly with 'Can't Find My Groove', they then tear into 'Oxygen' from the 'Seventh Day' album from hereon in, Toronto's finest are in business. They quite predictably stir up the same deafening response as their UK/European debut here a year earlier did, albeit only being allocated an hour on the stage this time round by those devastated by the cancellation of the autumn 2001 UK tour now have their compensation on a plate. There are one or two standout moments through the set - one being the amusing aborted attempt at 'Lily' after one or two of the members miss their count-in, thus postponing the tune to a later place in the set, the other is the emotional acoustic run of 'Heaven Knows Your Name' which Mike Shotton dedicates to the victims of the September 11th bombing, still fresh in everyone's minds, eight months on.
Other old faves are not forgotten today either and 'Chameleon', 'Drivin Off The Edge' and countless others get a regular roasting, not least from that human riff-machine himself, Mladen, as usual on no less than absolutely top of top form tonight. 'Lily' gets another try, this time without mishap before it's time for the song that everyone comes to a Von Groove show for, 'Once Is Not Enough', still the belter it's been since it was first heard over a decade ago. With the stunning quality provided courtesy of both their PA and their powerful musicianship, once certainly is NOT enough, and I have my doubts to whether twice is, either.
10/10
HUMANIMAL
With all four men safely in the house, it's time to see what this much-hyped Swedish/US Supergroup can offer us. Having enjoyed their debut CD, high, or higher things are anticipated. And delivered. This who's who of the Swedish melodic rock scene, having been together for a year at the time of writing, have already visited us once with last year's Z2001-Pt 2 package. Pontus Norgren, Marcel Jacob and Thomas Broman have already climbed their way to the top of Sweden's hard rock roster over the last decade plus, with bands like Great King Rat, Talisman, Amaze Me, Electric Boys and Human Clay whilst Jeff Scott Soto can also add singing with US faves Takara and guitar god Yngwie Malmsteen to his accolades.
Tonight though, it's stuff off the 'Humanimal' platter that matters and an impressive majority are already acquainted with the disc. This band's material comes under no real category within melodic rock circles apart from its similarity to Talisman. Anything involving Mr. Soto stays in quite a self-contained area, but it still stands out about a decade from most of the sort of hard rock you'd mostly be familiar with. Quite deep, brooding and soulful, it only bears very vague resemblances at moments to the product of the other acts apart from Talisman, that the four lads have been a part of in the past.
They suffer a Von Groove-esque mishap when kicking into the song 'Turn Away', (which I think one or two of them did, rather red-faced) but eventually get it off the ground and going. The party piece comes at the end of their set with a STUNNING rendition of Journey's 'Edge Of The Blade' - well, if we're not likely to see Neal Schon and co on these shores in the too distant future, this will more than do in the meantime. The ultimate melodic rock hybrid of the season are out in full bloom. Fab stuff lads.
9/10
BONFIRE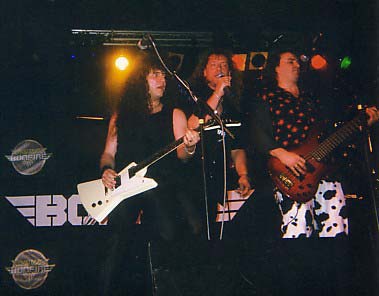 A late, but very welcome addition to the Z-2002 listings comes in the shape of these Teutonic titans who've not withered one second in the fifteen years or so they've spent as a working unit. An eleventh hour replacement for Burning Rain (who've had to give it the heave-ho due to a busy recording schedule).
Last year's rather striking 'Strike Ten' has been re-issued on Z, landing it a proper release in the UK. Stuff from this, and classic early albums 'Fireworks' and 'Point Blank' is what they're mostly about tonight, with plenty from their intermediate releases scattered amongst the pack. Quite an alarming little amount of pogoing at the front there indicates the enthusiasm of the fans and believe me, opportunities to see bands like these are not exactly on your doorstep on a daily basis, so everyone is advisedly making the most of proceedings.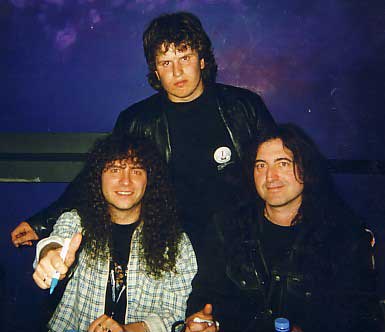 Whilst the drum solo is on, vocalist Klaus Leismann does a lap of honour round the room, shaking hands and thanking their followers for making the effort to attend, That's not to say the band don't make one themselves because they deserve us more than we deserve them with splendid work from all five lads today, Leismann's Holder-esque shrieking still providing this bonfire with it's fuel by the gallon. One of hard rock's greatest survival stories, still as strong as ever.
10/10
WESTWORLD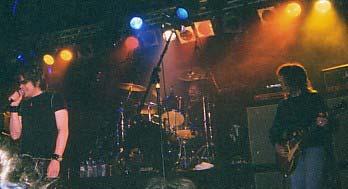 Probably one of the larger appeals of tonight's headlining act is having a member of Danger Danger (namely Mr Bruno Ravel, esqire) aboard the ship, the other being their highly cheerful brand of new-age melodic rock. They've only been together for four years and only have two albums worth of their own material to go at, but New Jersey Supergroup Westworld give it their all, all the same.
Having heard both of these sizzlin' spinners, I anticipate their set tonight in a high light. Opener 'I Belong' is probably my favourite song of theirs so far, and others such as 'Uneasy', 'Get A Life' and 'Ivory Towers' make the albums all the more tempting to the uneducated. I have to confess to not being too familiar with TNT's material but I'm guessing I've heard one or two tracks from Tony's legendary Norwegian act - also now on Z - tonight. The odd Danger Danger song would have also been nice - BRUNO - but there isn't room for everything.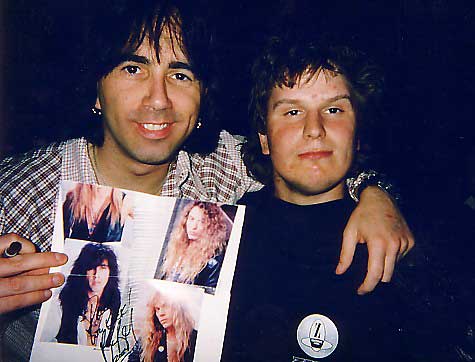 I have a further and much more bitter pill to swallow in having to leave the venue, a few minutes from the end of the show due to fitting with the infuriatingly insufficient late night train services from Manchester back to Sheffield -well it's a long walk home otherwise. I'm trusting that the band will have played their other essential cut 'Illusions' in my absence, and next time I see these guys, I will make sure I'm able to stop for the full set. As for what I've caught of you tonight though lads, I can hardly fault one bit. Smashin'.
9/10
That was Z-2002 then. It Flew just as fast as last year's . For those of you who didn't catch it, the show moves down the road to Nottingham Rock City for next year. I'll be there, and so I hope will be most of you.
I'd just like to go on record to thank the venue for food I ruthlessly consumed through the day, the bands for taking the time come over, playing their arses off, talking to their fans and signing various bits 'n' bobs.
A big thank-you to the Bassist from Brighton Rock for letting me know I'd left one of my sets of autographs at their signing stall earlier.
And finally to Mark Alger for making today possible - you are God, mate.
Peace and Keep The Faith - DAVE