January 2017
Al Atkins – Reloaded
(Gonzo Multimedia – 2016)
Good ole Heavy Metal that's totally mid 80'd from beginning to end from the throaty predecessor to Rob Halford in Judas Priest.
Jump anywhere on here and you'll get a similar kind of thing happening with highlights being the opening 'Winter (feat. Ian Hill on Bass); 'Money Talks' or 'Love At War' (that's total Priest feat. Chris Johnson on guitar). Talking of said band, Al does a killer version of 'Victim Of Changes' with Roy Z on Guitar plus Ralph Scheepers duetting on vocals) and what follows is a rare bit of unreleased demo in the form of 'Mind Conception'.
Fists in the air! You know the rest!
7/10
By Glenn Milligan
December
ALICE SWEET ALICE - Viola Organista....and Other Impossible Dreams
(Cauldron Soundwerk - 2016)
With another Kansas act having recently managed to lift us here at Metalliville off our perches, its time to hope Alice Sweet Alice can keep up the good work.
Catchy, uptempo heavy rock with all -familiar American sass sort that for us, at least as far as opening track 'Daredevil' is concerned. Strange Things' stutters around in a very Deep Purple way, while 'Viola Organista...' sends up the dirt with a silky symphonic vocal layer on top. Singer Ali Cat sounds in her comfort zone with both main styles, switching between sharp, punkish rock and progressive smoothness as mentioned, which shines to prominence in 'Osseus' and the Dream Theater-esque 'Floodwaters' and the searing 'The Hostage'.
Just having twigged that this band are on their FIFTH album brings to light how much of a fanbase they've deservedly developed in their ten years together. Avoiding the need to please the record industry, as they admit to on their promo, and making music for the sake of making music as they very much do in 'V.O.A.O.I.D.' is what keeps a band like Alice Sweet lasting...and new listeners like myself scratching around for their back catalogue.
Great!
9/10
By Dave Attrill
NET: www. alicesweetalice.com
July
The Answer – Rise (10th Anniversary Edition)
(TAP Music Ltd – 2016)
The heavy pelting swagger filled Irish Rockers debut that's been re-mastered with a bonus disc featuring a mass of demos from 2004!
It sounds as vibrant as it did a decade ago and I can see it going down as a classic album if it isn't classed as one already to be honest with you. Brilliant throughout – just pick any song and you won't feel let down.
With several highlights being the rollicking 'Come Follow Me'; the fantastic ballad 'Be What You Want'; the almost funk-zepped blues-laden 'No Questions Asked'; the ballsy cock-rockin' 'Sometimes You Love' and Preachin' that still puts me in mind of the Faces 'Around The Plynth' with it's killer slide guitar work!
Love the second CD too with so much on offer with highlights like 'Under The Sky' ((2016 Mix); 'Too Far Gone'; 'Always'; 'So Cold' (All 2004 Demos and none actually appear on the album); 'Take It Easy' (Acoustic slide blues from 2006) and 'Not Listening' (Exclusive Mix) with its gospel glory and tip-top guitar!
Worth having for the second disc alone!
10/10
By Glenn Milligan
A PROTEST AGAINST FUTILITY - The Colour Of Autumn
(S/R - 2015)
LA. based one-piece, 'A Protest Of Futility' are the seed of a decade of general live playing, jamming and, as the promo puts it, 'just having plain ole fun'.
Nicely obviously put, although the part that says this infuriatingly unnamed one member handles all instruments so isn't very good at just one is a little harsh. Surely there are a lot of less than enticing entries on this ten-tracker but an acceptable portion of prog, industrial and alternative fusion fights for its place, shared with some tasty blues-flavoured lines.
Screamcore tinged trips like opener 'Shadows Play' ill-advertise the album as a potentially tuneless racket to come so the song order could have been arranged somewhat better, but there is a fair little bit to chew at in places on this platter.
6/10
By Dave Attrill
NET: www. aprotestagainstfutility.com
ARCANE SYMPHONY - A New Day Begins
(S/R – 2016)
Russia have a ready hand to ram down on the European symphonic metal table.
Arcane Fire might even burn a big f**k-off hole in the middle, through which all the silver collapses. At least the sweet metallic noise that this female-led fivesome serve up should still drown that out. Divine numbers such as opener 'Ocean', 'A New Day Begins', 'It's A War', 'Nostalgia', 'What is Life For You' and the enjoyably thrash-like 'You Are Free' yelp form the speakers in a surprisingly vast assortment of speeds and tempos, showcasing the stunning cleanliness of frontwoman Anna Volodina's projection.
Her smooth, fluttery octaves let loose the greatest on the lush balladry of 'Loneliness' and 'Something To Die For' although the work is well and truly done by one number along. Gritty work by founding members Cyril Romaniuk (guitar) and Anton Andryushin (keyboards) beneath her combines tightly to carry the songs where they need to go with a small tip of the finger. Rich production and polished arrangements, of the sort you can savour on 'A New Day Begins' are the exact reason Eastern Europe pride themselves on symphonic metal quality every time.
Magnificent stuff.
9/10
By Dave Attrill
RECOMMENDED IF YOU LIKE: Nightwish, Dream Theater & Megadeth.
NET: arcanesymphony.com
January/February 2016
Aeraco – All Or Nothing
(S/R – 2015)
Hard Rock band from Chicago that are real ballsy and remind me of The Almighty at times with the ferocious vocals and slamming at ya drum and guitar-work and in other songs Metallica.
There's some fantastic and powerful well arranged songs on here like the opening 'Into The Night' that starts with the starting of a car; the Judas Priest melodied meets James Hetfield like vocalled 'Grimm' while 'Destruction' is of a similar style with pounding double-bass drum action.
Then there's the power ballad that reminds me of 'Ride The Wind' by Poison called 'She's A Lot To Lose' or the very acoustic 'Feel The Wind' that's a real standout moment on here, proving ballsy bands can produce real heartfelt numbers indeed or the dramatic 'This Life' with its cracking riffery and striking chorus work.
Great band and deserve to do well!
8.5/10
By Glenn Milligan
Arch Stanton – The Stanton Files
(S/R - 2015)
A four piece from Newcastle, UK that features a dude called Clive Jackson who has been reviewed in his own right elsewhere for his solo release who shares vocals with Edward Box (and guitars too) with Mick Robson on drums and Gary Foalle on bass.
It's very late 60's in sounds and has strong elements of bands like The Beatles, The Byrds, The Small Faces and loads more in there that have a modern element at times running though them without turning me off and going indie all of a sudden. It'd almost what the likes of Suede or Cast would have sounded like if they had come out of the psychedelic era.
Literally two dozen great experiences on here from the late Small Faces like 'Strange Time'; the Thunderclap Newman'sh 'On The Seventh Day'; the Hendrixy 'Where Are You'; the full-on rocking 'Concrete Eden' or The Cure'esque 'When Alison Smiles' right through to the closing 'Still It Makes No Sense'.
Brilliant Retro Rock!
10/10
By Glenn Milligan
Atkins May Project – Empire OF Destruction
(Gonzo Multimedia – 2014)
Brought to you by the original Judas Priest vocalist, Al Atkins and the now late Guitarist, Paul May.
Basically it sounds like Judas Priest with the sound not being as good since it comes across a bit too muffled and treble to the left. It's very Painkiller meets Ram It Down style meets Saxon as well. Al sounds like a Heavy Metal Louis Armstrong with songs like 'The Midas Touch' 'Whisper On The Wind' is an amazing ballad.
There's a cracking cover of Thin Lizzy's 'Are You Ready?' – no wonder it sounded familiar to me and then there's the bonus track with the female vocal that is rather nice too entitled 'End Of The Earth'.
Also included is a limited edition DVD.
Great but very Spinal Tap.
7.5/10
By Glenn Milligan
AURA BLAZE - S/T
(S/R - 2015)
Prog act Aura Blaze may not have have the longest album by genre standards but are definitely rooting for a recorded with the title of opener 'White Lotus Chakra Blossoms in Pranotthanic Euphoria'.
Accessing the album through a remarkably Deep Purple like display as performed by prime innovator Rhode Rachel, a lush variety of lengths and styles swoop out and bite you from the near-concealed nest behind. Tantalising seventies rock and psychedelic elements amalgamate in this part vocal-part-instrumental platter.
Utilising keyboard and guitar sounds solely from the age of flared trousers, some might past this bloke off as an imitator but Mr Rachel puts,a lot of passion into the stuff he has penned here as tracks like 'Life Is A Lucid Dream', 'It's A Ride', 'A Glass Of Tears Half Empty' and the epic-sized 'Sub-Earthen Patchwork Torus' will duly speak.
Catchier as it travels along, Aura Blaze's self titled debut is the indicating light of another multi-instrumental magician in surfacing. Rhode might not have pulled an unfamiliar rabbit from the hat but as they all say, old tricks still work the best.
Tremendozo.
8.5/10
By Dave Attrill
NET: www.aurablaze.bandcamp.com
December
AKARUSA YAMI – Heavyclimb
(S/R - 2015)
At long last, Akarusa Yami unleash a full length assault of their industrial melodic metal fare onto the fearless massess.
Since their coming-to-be five years ago, they've seen through two eps and two successfully-aired singles so the anticipation is somewhat frothing. Gripping you straight by the bit between the legs, 'The Old Man By The Fjord' is angry hardcore waltzing into a harmonious chorus vocal. Leader Tom Brumpton's trademark approach still proves to be in fantastic fettle as they fire onwards through 'At Last Sunlight' and the almost noticeably prog-esque title track. Going for an instrumental interval with 'Long Nights In The City', they ascend to diverse levels with the more keyboard friendly 'Monument to Carnal Desire' which with its aggressive bounce has to be my fave one of the album.
There comes nonetheless tight competition via 'And The Night Will Take Us All', an out-and-out Pantera-style rager which should likely rule each and every live show as from now. 'I Work in Formaldehyde' is another progressive and also while no stinker is a bit of a sticker at the start but seems eventually to peter out. After putting the mic down again for the hauntingly tribal 'Loving Parents', its up to the ending coupling of Les Mere Terribles and 'The Natasha Trade' to bring things to the boil. The near overwrought rage core of the former froths over a bit despite some occasional melodious refrains but they sound to take hold a bit too late.
Joy Shannon, singer of fellow upcoming Brit outfit Beauty Marks joins Brumpton behind the mic for the closer, culminating the disc with an unexpectedly different finish. Spoken word narration and a deadly flowing wall of guitar go often hand in hand, despite this being a little-ill placed right at the end giving the impression more of a bonus cut. Terrifyingly precise and overtly multi-influenced, Akarusa Yami's debut album release suffers the odd minor slow-up but overall, 'Heavyclimb' is a hugely respectable trek into the experimental metal woodland.
Twin guitars and keyboards get to shine individually against - as opposed to drown out - one another although Mr Brumpton is again the mean sturdy nail making it all stay firmly together.
8/10
By Dave Attrill
RECOMMENDED IF YOU LIKE: Fear Factory, Killswitch Engage, Limp Bizkit, Korn & Deftones.
NET: facebook.com/Akarusa Yami
ARMED CLOUD - Obsidian Desert
(Maxxive Records -2015)
Dutch Symphonic metallers Armed Cloud have enjoyed an active start so far. A three track, EP inclusion on the Dutch Exposure band compilation and their first full length album, all in the space of two years .
Entering their stream at the stage of their debut lp , their waters are a wild and enjoyable ride. Tidy guitar work and frontman, Daan Dekker's well -tutored Bruce-esque vocals may seem the as standard requirement in the genre but the balance of prog and no-peeing-about metal you listen to here would appeal across either side of the wire. Running a tight long race between lead guitarist Wouter van der Veen and his brother Remco on keyboards, both solos and synth symphonies suck you in small few-second intervals allowing the vocals to smooth off the work.
Catching material with consistency and atmosphere, and also the ability to turn out a tasty ballad or two with unexpected British seventies feel - the fourth track is a very pleasant surprise by the way. Armed Cloud draw out their weapons, set to rain their musical hail down on the appreciative...and maybe something harder and painful on the not-so.
Winning stuff.
9/10
By Dave Attrill
RECOMMENDED IF YOU LIKE: Kamelot, Rhapsody Of Fire, Iron Maiden & Judas Priest.
NET: armedcloud.net
November
ADASTRA - Deadlock
(S/R - 2015)
The burning question is, as much as I've never object to bands sounding suspiciously like Iron Maiden, how far is it one can actually go without truly overstepping the mark?
Finland's Adastra seem to have no fear of sailing this close to the wind. Despite a more distinctively Megadeth opening, the less vocals of frontman on thrash lead off 'Only Live At Night' sound like Bruce Dickinson freshly out of bed and on doing his pre- breakfast workout. Did I say that was a bad thing though ? Absolutely not is the answer and on top of so, this is an old-school metal fans perfect Friday and Saturday night tied together.
Riffs and solos so familiar yet so fastly executed don't come too ten-to-the-penny these days and though a few little progressive excursions arise, such as in 'The Day I Die' it's not necessarily intended to follow in the path of the Irons post-Bruce offerings. Symphonic speed metal treats like 'Amnesia' and 'Forgotten Heroes' come, grab you by the ear and go, whilst softer entries such as groover 'Bring Me Back On Track' and dual vocalled ballad 'As I Close My Eyes' give you chance to dance without feeling the rattle of your ribs.
Superbly borrowed as Adastra's fourth album is, Scandinavia remains the continents capital for such classy, erm classic metal talent and this one claims its rightful, leather-studded slot.
8.5/10
By Dave Attrill
RECOMMENDED IF YOU LIKE: Primal Fear, Judas Priest, Overkill, Anthrax, Helloween & Kamelot.
NET: adastracave.net
AVAILABLE ONLINE VIA: iTunes, Amazon, Spotify, CDbaby & Bandcamp.
May
Carmine & Vinny Appice – Drum Wars Live
(Deadline Music – 2014)
2 Brothers battle it out with a pair of sticks and a kit each and play with some of the best cuts from each other's repetoir.
There's bangs, rolls, crashes, taps and booms a plenty on here for all the 12 numbers.You have Vinny on the left speaker and Carmine on the right – something which has never been attempted before with supersonic, interstellar lead vocalist Jim Crean taking care of singing duties.
There's an absolute ton of Ronnie James Dio related associated songs on here including 'The Mob Rules' 'We Rock' and 'Stand Up and Shout'. It's cool to hear Carmine sing Rod Stewart's 'Do Ya Think I'm Sexy?' and there's the utterly mind-blowing experiences that are 'Drum Wars' and 'Drum Wars Part 2' with swishing effects coming from Vinny and traditional drumming from Carmine. It's killer to hear a bit of Ozzy in 'Bark At The Moon' and Crazy Train' too. So who wins? Buy it and find out for yourself.
It's available on DVD too. Now that's a must see!
9/10
By Glenn Milligan
ARCHANGEL - S/T
(S/R - 2015)
Whatever overrated act of garbage are grabbing the front page of metal mags, weekly, you can still rely on a few (hundred) other bands to still specialise in metal dredged up from the core of the earth and extreme talent.
Tampa, one of the top metal capitals across the pond dealt in some serious names in their name and if Archangel may find it difficult to try sounding distinctively original, an amalgam of such great eighties influences shall do. Welding the operatic vocal soar of Savatage, against an Anthrax-Meets-Megadeth inspired twin guitar concrete wall, little will stop Archangel's musical cement from hardening up. Played more power metal than thrash, there is still plenty of speed stuff thrown about the 55 minutes of it to delight.
Divine Descent, Eternal Sleep, Wings of Death, To Hell and Back, Caught Between Worlds and Second Corruption can be seen as randomly named favourites as scarcely little lets up at all on Archangel's debut. Widdlesome twin guitars plus gargantuan old-school pipes from Frontman, Michael Brady yank you by the hair should you dare to turn from the speakers, and suck you right against their wall until it's over. Ruthlessly borrowed stuff but the combination could stand out, if only under 'Someone-has-actually-got-the-knackers-to-play-decent-old-school-metal'. Let's not mess about now - this album is essential to any true metal collection.
Effing get it!
9.5/10
By Dave Attrill
VERY, VERY RECOMMENDED IF YOU LIKE: Judas Priest, Overkill, Metallica, Exodus, Anthrax, Rhapsody of Fire, Iron Saviour & Kamelot
NET: www.facebook.com/ArchangelMusic www.Bandcamp.com/album/Archangel-2

April
AREA 51 - Judge The Joker
(The Devil's Own Music - 2014)
Area 51 are a Japanese-singing, Japanese/US melodic metal band, fronted by an American singer.
Confused? I almost was, still at the end of the day,when you've got pipes to the calibre of Kate Cain, it matters dramatically less as to what lingo she opts to perform in. Kate obviously has the right teacher, in lead guitarist Yoichiro Ishino whose enchanting solos make every one of these songs only more the incredible. Large in classical schooling himself, this chap cuts and shapes every corner of the numbers in the best Kamelot fashion you could imagine.
With a fiery layer of keyboard (Labrie's Matt Guillory) and only a rare few fudgy moments sticking on your musical teeth, 'Judge The Joker' unites these two uprising discoveries, alongside a pedigree of players including Mike Le Pond (Symphony X) on bass while Soilwork man Dirk Verbeuren donates his duties on skins.
Superb playing - give this Joker a chance before Batman blows him away.
9/10
By Dave Attrill
RECOMMENDED IF YOU LIKE: Epica & Stratovaroius.
NET: www.area51-web.com
ASTRALION - S/T
(Limb Music - 2014)
No they're not Australian, they actually happen to come from Finland, although you could be fooled by the English lingo names they've adopted on the sleeve.
Fast, melodic, sonorous operatic vocals, should speak volumes about what you've got coming and I duly advise to keep yours adjusted in the region of 10. Not as keen on endless epic tunes, most of Astralion's eleven span between four and six minutes apiece, save for thirteen minute ender 'Last Man On Deck'. Catchy, crunchy lines and luscious leadwork are what Scandinavia's latest proud symphonic metal export are all about, and in hooks they hardly disappoint.
Every track has its chorus and every chorus stops with you until the next screws itself into your woodwork. Cool-headed persistence and killer live potential are what seperates bands like Astralion from the pack marked 'along for the ride' and in prime cuts like 'Mysterious & Victorious', 'At The Edge Of The World', 'We All Made Metal' and 'To Isolde', they unabashedly deliver.
Ripping work, lads!
9/10
By Dave Attrill
RECOMMENDED IF YOU LIKE: Kamelot, Rhapsody, Hammerfall, Epica & Edguy.
NET: www.soundcloud.com/limb-music
February/March 2015
ANTHOLOGY - The Prophecy
(S/R - 2014)
This young East-European combo have been on the go as of 2008, yet by their tender young faces still look like they only threw it together last week.
Where it was seven years or seven days , the Slovak sextet still tear it up, top notch with their enchanting symphonic metal on their second album. Led with leather reins by female vocal discovery Raylyn Shayde and the equally sonourous shred-meistery of Mathias Gonda.
Grandiose compositions including 'The Prophecy', 'Lost Dreams', 'Scream Into The Darkness', 'Open Your Eyes', 'Inside My Rage' and 'Fate In Your Hands' are hardly the stuff of originality but substance scarcley leaks a drip elsewhere. Rich in both delivery and output, Anthology promise fireworks, live, with this latest barrel of melodic metal gunpowder.
Get!
9/10
By Dave Attrill
RECOMMENDED IF YOU LIKE: Kamelot, Rhapsody Of Fire & Sonata Artica.
NET: www.anthology.sk
ARKHAVEN - Aether (EP)
(S/R - 2014)
Maryland fivesome Arkhaven hit you on the head with huge driving three-guitar walls and wavy choruses that weld all five tracks together but not without leaving the joints in between to see.
Angled heavily at Nickleback and Alter Bridge, their approach is meaty melodic grunge rock with summery tension and titanium choruses, set to the top by singer Nick Grayson's efforts. Spin 'No Darker Days', Before I Was Me' and 'Bucky Quakes The Thread', to take in a gust of the way these guys' musical winds will blow you over.
Highly promising.
9/10 By Dave Attrill
NET: arkhaven.bandcamp.com
ARS MAGNA - Dehumanize The Nation
(S/R - 2014)
Guatemala finally gains a flag on the metal globe with Ars Magna's sizeable gorilla of a disc.
The female-fronted five-piece shred through 12 tightly fisted metal assaults that take you back to a time when the Bay Area believed it was acceptable to roll out such sinisterly fast outfits. Speed-oriented, aggressive twin guitar metal with balls (well the rest of the band are blokes) and an added element of Latin strummery on 'Dystopia' weld together to make a mighty iron, brought down on your unsuspecting moosh by yet more talented South American hands.
Superb and shamelessly archaic, the coupling of a female voice and ferocious soloing was scarcely seen back in that time and day yet everybody now seems up for giving it a try... very wisely so.
8/10
By Dave Attrill
RECOMMENDED IF YOU LIKE: Anthrax, Judas Priest, Forbidden & Megadeth.
NET: www.arsmagnamusic.com
AUBURN RUST - S/T
(Stormin Productions - 2014)
Auburn Rust are a three-piece prog-alternative act from Colonie, NY, carry out the work of about six between them. Merging prog, grunge, pop and metal together makes seven slabs of ground churning, guitar- oriented force.
Stacatto-driven rhythms and stop-start structures sometimes irritate like no one's business but a bold assault via the guitars builds up as these tracks bound forward. 'Dream Junkie', 'Incipio', 'Spaced', 'Radiation' and 'Ruse' smack of seventies flavour except with a fully wave washing over and with the help of singer Brain Louck's sometime strongly Cobain range will prove popular outside of its main genre.
Worth it.
7.5/10
By Dave Attrill
RECOMMENDED IF YOU LIKE: Flower Kings, Porcupine Tree & Bush.
NET: www.auburnrust.com
AUTUMN ELECTRIC - Flowers For Ambrosia
(S/R - 2014)
Originated from.a particular city can often fuel.stigmatisation in the shallow industry of rock 'n' roll.
Seattle's Autumn Electric are, just to make it clear, a prog rock band and a very good one with a weighty seventies take. Saying this there is a slight grunge feel in frontman Michael Trew's voice but it won't be allowed to get in the way of this good old-fashioned slab of psychedelic rock fun. Nippy guitars from Max Steiner, since departed from the ranks (awww!!!) and everlasting keyboard waves save generous space for flutes, banjo and tambourines amongst umpteen various instruments that all work as a team to weld these strong tracks together.
With few if any outstaying their welcome, Motorcycle Hill, Return To Detroit, Riding The Rogo, Hermit Of North Pond, The Ballad of Magnum PI and Joe The Lion Sleeps Tonight are sturdy works and sell this outfit extremely well in the genre.
Recommended trying.
8.5/10
By Dave Attrill
RECOMMENDED IF YOU LIKE: Pink Floyd, Flower Kings & Jethro Tull.
October
ANONYMOUS ICONOCLASTS - Downstairs for Dancing
(S/R - 2013)
If you've read the likenesses with other artists amidst Anonymous Iconclasts' promo hype you probably might have seen David Bowie's name pop up.
Please do not be put off probing the produce of these four sprightly young Welshmen further. Whilst Frontman, Steve surely does reminisce the Thin White Duke's range most of the way, the wild diversity does also parallel albeit in their own footprint. The sixteen tracks seem mostly tilted at the textured seventies side of the bank, giving guitars a good ride both on clean electric-acoustic and blues mode.
Denied a track-list to take favourites from (naughty, boys) some ten - at least - of these numbers steal away my ear space on the spot. Deep and sometimes dirty harmonies settle together over the sort of guitar line Neil Young would have given his two veg to venture back with. Thinking of some cheerful topics along the way ie alcohol, marriage, divorce, debt, its probably down to the relaxing, near ambient noise that is this band's debut album to divert your woes into song.
Great step back in time, brought back to ours.
8/10
By Dave Attrill
NET: www.facebook.com/Anonymousiconclasts
A SECRET RIVER - Colours of Solitude
(S/R - 2014)
More undiscovered (by us) Swedish genius, A Secret River's start-out long player yields swish, ambient prog, from head to ....that thing on the end of your leg.
Opener 'Blinding Light' is only two and a half minutes old and already we're onto an massively atmospheric keyboard line from in-house maestro Bjorn Sandberg that collates every supporting element of the song around it. Singer/bassist Andreas Alov is obviously not to be outdone, venturing his way and his velvety voice straight across the eight numbers before anything else can intervene.
Nasal on occasion, Andreas's range would not unlikely see him approached by the odd alt-rock act currently after a new throat, just assuming though that technically modest cuts such as 'No Way To Say Goodbye', 'Starbomb', 'Are You Coming With Me', 'A Place To Start' and 'On The Line' are seeing them succeed enough to keep his talent where he belongs. That of course being in A Secret River...another corner to Scandinavia's super-immense plethora of talent.
Titanium stuff throughout.
9/10
By Dave Attrill
RECOMMENDED IF YOU LIKE: Pink Floyd, Procul Harum & Yes.
NET: asecretriver.com
* Just to clarify for misunderstanding readers, neither Andreas Alov - or any other member of this band - have been, or are reported as intending to leave the group at time of writing.
Susan Aquila – Broken Angel
(Original Kitchen Records – 2014)
This ladies resume is incredible since she has worked with people such as Paul McCartney, Deep Purple, Trans-Siberian Orchestra, Tommy Lee, Steven Tyler, Robert Plant and many, many more.
She is a Grammy-nominated vocalist and electrical violinist and this is her debut album. It's like Charlie Daniels meets ELO but with a metal sound there too and then some…
There are some really grabbing songs like the opening classical Led Zep gone Egyptian 'Sah Tah'; the Southern-Rock like 'Intervention' and 'India (Jungalbandi)' that puts you in mind of the country itself. Then there's the excellent 'Johnny Got Lost' which has a wicked rhymed intro to it or the closing 'Don't Be So Nice'
Violins at the forefront baby!
9/10
By Glenn Milligan
AUDIO NATION - Wait It Out
(S/R - 2014)
What do you call a band whose influences are cited as Pearl Jam, Rush and Ozzy Osbourne? Out of this world probably for one.
Then as Iceland is scarcely seen popping up on the planet rock atlas something manages to make up the justification. Reykjavik's Audio Nation know how to use the wisdom without neglect. Driving progressive and alternative feel, and flying harmonies spread across the full ten track platter like a lethally uncontrolled fever.
Rough echoes of early Sabbath, notably the 'Planet Caravan' like intro to 'My Grave' serve up the unintended Ozzy vibes, though the aforementioned legend's latterday take can be traced in several of Gisli Brynjar's melodies. Sticking in some bluesy hard rock grit with 'How Thoughts Change' theirs start to at a very alarming pace although mine on this album barely budge.
Scorching stuff from another Scandinavian name to be noted for the future.
9/10
By Dave Attrill
NET: www.audionation.is www.soundcloud.com/audionation
July
ABINAYA - Beaute Paienn
(Symbol Musik - 2014)
If there's one particular country that deals commendably in metal circles these days its France.
Scarcely as acts often come to profile, loving what we do get to hear - Abinaya included - shows that metal is still strong all corners of the continent. Tooling up with thrash's usual accessories, these four lads set their benches for a slightly different craft. Tight, fast metal rhythms and riffs sledgehammer along eight old fashioned pieces of growling grind and bump anger, all in their native tongue but fantastic fun.
No back to back servings of frenetic speed metal by numbers as you'd expect - in their place sit solid progressive-edged metal with distinctive riffs and separable guitar lines that serve more than just a worked-up wall of noise.
Sticking in a snippet of Anglais across the choruses of 'Nord/Sud' and 'Le Noir Soleil', the larger number of Abinaya's tunes stick around in the mind for quite a while from listening, for greater reasons besides. Slick, durable music made by creative continental minds is nothing new to us but Abinaya assure you it stays welcome.
Merci, guys - c'est magnifique.
8.5/10
By Dave Attrill
RECOMMENDED IF YOU LIKE: Gojira, Metallica, Machine Head, Sepultura & Pantera.
NET: www.brennus-music.com
American Dog – Neanderthal
(Bad Reputation – 2014)
They're back – that fabulous bunch of canine crazies who have gone all prehistoric on us with the new album – only kiddin' this is good ole raucous, bitchin' dirty bar room gutsiness from one of the USA's finest peddlers of the genre!
It starts up with a tongue-in-cheek number called 'Carnovore' about eating meat with other great cuts including the beefy killer blues of 'Sun Won't Shine'; the ZZ Top meets Ted Nugent like title-track 'Neanderthal' or the slamming punkified redneck rocker 'Stuck in The Mud'.
Then there's the outstanding cover of Nuge's 'Dog Eat Dog' or the raging 'Start to Bleed'. Anyways this album is frikkin' outstanding and went straight to the front of the review pile. These dogs never let you down.
Now where's my
10/10
By Glenn Milligan
Angelspit – The Product
(S/R – 2014)
Now this is good - pure industrial craziness - think Marilyn Manson meets Ministry and then some gothic 'n' gabba madness too.... from Sydney, Australia.
It's fresh, on-edge, in-your-face and you don't know what is coming next at all – totally unpredictable baby! This is one massive highlight from the opening 'Hot Mess' right through to the closing 'Weapon Of Choice' with wild sounds in the middle like 'Pretty Dead Boys'; 'Baal Arise' 'Cut Sick' and loads more.
Cyberpunkestorous Indeed!
10/10
By Glenn Milligan
March/April 2014
Atom Strange – The Lost Cosmonauts
(S/R – 2013)
A New York trio with a singer in Rick Dunn who sounds not unlike Jon Bon Jovi with a Layne Staley & Geoff Tate sound at times too with the rest of the band made up Alex Rude (Guitars) and Vinnie LaRocca (Drums).

One of those bands that cannot easily be categorised at all since there are a variety of styles that are captured in this one album such as the full on hard bombastic rock of 'Space Man'; the post grunginess of 'Tragedy'; the prog-metal/rock of 'Believe In Nothing'; the very Queensryche meets Tool instrumental 'Synestheziac' and the ballsy 80's rocking closer (the bonus number actually) entitled 'Reach Out',
Very serious sounding and can be rather depressing if you aren't in the mood for that but do have a couple of great rock cuts to get excited about. Something tells me they are trying hard to suit the current market but I may be wrong on that.
Interesting.
7/10
By Glenn Milligan
A200 – I'm Not Perfect (.E.P.)
(S/R – 2013)
Crunchy sounding melodic up-to-date sounding metal band that I've known personally since 2006 from Fort Myers, Florida.
It's very a-typical & generic of what I've heard from the current crop but it's done well all the same with 4-tracks that are recorded really well with the best number being the closer 'I'm Not Perfect'. Anyway, who wants to be perfect?
Okay CD for the younger kids.
7/10
By Glenn Milligan
A GOOD ROGERING – Lifeblood
(S/R - 2013)
Hold right there a second, i just need to check over this cd sleeve once more... no, I'm right - a band have indeed chosen to name themselves the unthinkable.
Austin foursome, A Good Rogering's sound however scarcely relates to sex or sordid erotic orientations in any sense. Starting off with a sharp resemblence to thrash giants Testament, the unlikely style for their name moves you into deeper confusion whether you got the correct disc inside.
Dissing would be definetely harsh though - 'Care For A Rat In The Face', 'Under The Gun', 'Lifeblood'' 'Changing Tides' and 'Caveman Angry ' are neat metal numbers that take in all the favoured elements and leave one thinking you might have just sat through a blistering new Bay Area release instead.
Jumping in with occasional funk, jazz and blues rhythms, some of their parts play larger on the head but it's all honestly done and deserves a full blast on ten. Not the most ordinary of metal releases, with its strangely aor solo moments, AGR's album - their second - does warrrant three quarters of an hour of your time all the same.
7.5/10
By Dave Attrill
RECOMMENDED IF YOU LIKE: Metallica, White Zombie & Cathedral.
NET: www.agoodrogering.com
Don Airey – Keyed Up
(Mascot Music Productions – 2014)
Wow – this is a superb album from the former Rainbow and current Deep Purple key tinkler – his fourth too.
It's very inspirational and completely hands on with no flown in fileshare in sight and recorded with everyone in the studio – the way it should be done – proper old-school method.
Stand-outs – holy hell there are several with the opener '3 In The Morning' setting the standards high immediately with it's Rainbow meets Deep Puple blastings and lead vocalist putting me in mind of Joe Lynn Turner, Ian Gillan and Oni Logan straight away. There are gems like 'Soloman's Song' that has a southern rock kinda feel to it; 'Flight Of Inspiration' that has an avant-guard Gillan feel to it with elements of the proggers, Yes both musically and vocally with multi-voiced sounds during the chorus section.
'Difficult To Cure 2013' is just that – a revamping of the outstanding Rainbow instrumental a la Beethoven – majestic brilliance indeed which the same can be said for the 'Mini Suite' too and comes in three parts that has plenty of classical excellence, off the scale vocals and elementary sounds from Brother Don and his exceptional band and even features the late great guitarist, Gary Moore. The album closes with the powerful 'Grace' with a blues feel and some high quality piano work indeed.
Don ought to tour this if the guys in the band are available!
10/10
By Glenn Milligan
ARMORY - Empyrean Realms
(Metavania Music - 2013)
Famed as it might be for Aerosmith and Extreme, Massasuchetts has many other metal machines stored in its garage.
Armory have given it way too long - six years in fact - since their shattering debut 'Dawn of Enlightenment' turned up my volume by itself. Since then, their whereabouts almost became open to question, but no, here they they still live and rock on strong with the rest of them. Maybe we'll correct that to stronger than, as this titanium-forged follow-up patches over the agonising gap.
'Beyond The Horizon' bounces up and down with Dickinson-like metal dynamism and Dio educated class, speeding up for the keyboards then letting the solos steal the place. 'Horologium' is the only time I've ever complained of an intrumental cut being too short - the duels of guitarists Joe Kurland and Chad Fisher, occasionally intervened by the ivories of Peter Rutcho frankly just don't last long enough at an abrupt four minute cut -off.
Fast playing gives way for more proggy moments within 'Elements of Creation' - a clue in the title if ever there was one - nicely placed tempo changes taking you right across the span with thrashy interludes in the Megadeth/Annihilator vein. Knocked into place by Joe's super-talented brother Adam adding his authentic Bruce meets Geoff Tate tonsils to the top layer, reasons why we've missed these guys seem to heap. Power metal at its prime classy greatest.
Take a pen and put this one on your shopping list, as Armory have pushed it beyond the realms a second time running.
10/10
By Dave Attrill
HUGELY RECOMMENDED IF YOU LIKE: Royal Hunt, Kamelot, Stratovarius, Gamma Ray, Iron Savior, Queensryche & Saga.
NET: www.armorymetal.com
November
ANOTHER LOST YEAR - Better Days
(Megaforce Records - 2013)
Another lost band by the end of next year, as the name probably reads longer to listen to their style though rarely for once I might hope that that isn't the case.
As bandwagon-jumpingly familiar as this Charlotte power pop combo's sound is on first entry they've got a notable bit going for themselves. Strongly progressive fixations and soulful catchy hooks strap themselves to more than many of ALY's numbers above ompetently structured twin guitars.
The singer's pissed-off Eddie Vedder vocal attack is an upfront tour de force, on top of some old school rock chord twinges, showing that some such bands of their associated department don't tailor their music to under 20's only listening. Giving 'Better Days' 'War On The Inside', Broken', 'Angels', 'Runaway', 'Your Last Goodbye' and 'Writing On The Wall' more than one playback provides me the knack to reinstate my faith in a genre I first warmed to a decade ago before it grew stale.
Large songs and long reaching choruses show there's new blood pumping strong. Getting ready for better days certainly seems the case.
8.5/10
By Dave Attrill
RECOMMENDED IF YOU LIKE: Nickelback, Alterbridge, Audioslave & BoySetsFire.
NET: www.whoisaly.com
AS ANGELS BLEED - S/T
(S/R - 2013)
Hailing from Australia, As Angels Bleed are a two/five piece, studio and live respectively centrered round guitarist and innovator Von Lehmann and awesomely velvet chanteuse Avelina de Moray. Using the as standard goth metal template favoured by girl-fronted outfits, scarce few can both sweeten and toughen it up at the same time as this Sydney combo seem to have mastered doing.
Geared up on the European symphonic metal idea of soaring keyboard fills along with a single guitar, 'Sinfully Yours', 'Desire', 'I Drown', 'Lumiere', 'A Love Worth Dying For' and 'Bloody Kisses' still work to straight ahead principles with thrash, prog and alternative sprinkles added on for a tastier dish. Strong-held harmonies delivered by vampiric frontlady Avelna leave bite as well as beauty while the instrumentation takes forever to fade at the end of each cut, and even more with the mind.
Delicious stuff from another promising talent down-under, let's hope they can get round to Europe for a few dates.
9/10
By Dave Attrill
RECOMMENDED IF YOU LIKE: My Dying Bride, Candlemass & Evanescence.
NET: www.asangelsbleed.com
September
The Anthem Life – Sins Of Salvation
(S/R – 2013)
Heavier sounding stuff from Kirkkonummi, a small municipality in Southern Finland that is kinda half growl and throaty sung songs at times making it an interesting listen.
The Anthem Life give us pelting, aggressive rifferey that is addictive from the opening almost splintering gothic 'Sevn'; the 80's thrash metal of 'Salvation' that is very old-school and reminds me of Judas Priest in their Painkiller era and Testament's 'Into The Pit'.
Whereas 'Stnd Ur Grnd' has almost a folky element and it back that brutal grind meets gothicness on official closer 'You're Not Me'. Hang on there's a secret song on here too tacked onto the end that ain't even titled that is a piano ballad.
A very interesting band indeed and you simply don't know what is coming next from a band that should go far although lazy journalist will have job pigeonholing these guys –right?
9/10
By Glenn Milligan
ASHES OF CHAOS – Eye
(Logic(il)logic records - 2013)
Italian proggies Ashes of Chaos seem to have got it right most of the way.
Huge choruses and commerical-oriented rhythms set their sound merrily apart for a conceptual record with only the title to give it away. Giving everything from goth, thrash straight through to traditional metal a try, something would have to crumble and one or two numbers amidst the ten do collapse under the effort. Nothing deadly to dread in AOCs sound, the keyboards start to sting with their pitch but the purity of pace is slick and keeps one from resorting to the lyric sleeve for amusement instead.
Decent solo work connects the parts smoothly courtesy of mechanic Mike Crinella's masterly guitarring, giving 'Falling', 'Doom', 'Mechanical Rage', 'Atmosfear Parts 1 and 2' and 'Awake' the nice over- top-polish to send them on the way to your speakers. Singer Alexios Ciancio comes over, a near clone of Theater's James laBrie in almost every big way but its still hugely appetising to hear him switch his modes, as to suit the darker side of their music.
Good work Italy, yet again.
8/10
By Dave Attrill
RECOMMENDED IF YOU LIKE: Fates Warning, Candlemass, Kamelot & Threshold.
NET: www.ashesofchaos.com
ARUNA AZURA - A Story of a World's Betrayal
(Metal Scrap Records - 2013)
A story of a sleeve's betrayal more to the point as a promisingly interesting cover conceals simply snarling death metal instead. Don't judge a book by the outside, you all say and boy I can just about try not to here. Aruna Azura aim high at the progressive target, taking away a lit of the extreme metal tedium as they move the gears round.
Dark, sludgy yet strangely mellow rhythm guitars seem to make you forget about the vocal form until front-man Paul Wicker returns to the mic each final time, and the moving acoustic start to 'Disaster Lullaby' is an incredibly pleasant surprise. The solos don't hog the lane as long as expected, Wicker deputising with a subtle side to his voice - yes he actually sings too and rather well.
An album that grows, these seven tracks don't bore the death - doubtful as much as you worry it will, even if their epic length keeps them from being even more accessible.
7/10
By Dave Attrill
NET: facebook.com/arunaband
July
Arctic Winter - Uch Alder
(S/R - 2013)
Hard Old School Heavy Metal band from Germany who incorporate plenty of fast riffing, double bass drums.
Imagine Cradle Of Filth meets Iron Maidens and Judas Priest - kinda cheesey to say the least. There are a few cool bits in the album such as the opening 'Defcon 5' & the riff to be found in 'War Of Wrath' or the light ballad that is 'Avalanche (2013)'.
Okay but gets tedious quickly.
7/10
By Glenn Milligan
May
APOLOKIA - Kathaarian Vortex
(My Kingdom Music - 2013)
When are people going to learn that putting a fancily tailored genre on your promo does not put away the fact there is a frightfully godawful din down in the depths behind it?
Pure Karharian Black Metal is simply pure torture that even few of the most ardent of extreme metal purists will struggle to seek appeal through. What sounds like a radio left on a lecherously bad signal for thirty-plus minutes is made worse by the almost inaudible vocals drowned away behind.
Does one honestly care that its based round a 1992 sound, (I remember many acts on the scene being at the top of the listenability ladder by comparison.) as that only serves to show you this lot have been torturing our ears for two decades.
Stay away unless desperate.
2.5/10
By Dave Attrill
AXECUTER - Metal Is Invincible
(Inferno Records - 2013)
An execrably cheesy but as equally enticing title, Axecuters debut album is destructively honest, ad much lyrically as musically.
Not German as the metal-obsessed conceptual theme might throw you into believing, but in fact Brazilian this thrash-happy three piece leave your skull in some pieces after they've been and gone. Nostalgic as hell heavy metal guitars slam you left and right through 'Too Heavy To Load', 'Feed The Beast', 'No God No Devil', 'Bangers Prevail', 'Keep On Sinning' and 'The Fires Of Krakatoa' until you remain barely conscious whilst the over Manowar-esque title track keeps the word 'metal' so heavily molten in your mind even the hottest acetylene will have a job breaking it apart.
Turbo-propelled solos and rhythms set to a brutally fast drum engine across all none tunes, Axecuter are an epitome of old fashioned metal - yes, even with all three members sporting short hair - that is hugely unwise to go ignored in 2013, along with the rest of Brazil's supersizing metal scene. Nice stuff indeed, lads.
Kindly visit Britain sometime.
8.5/10
By Dave Attrill
RECOMMENDED IF YOU LIKE: Forbidden, Venom, Whiplash, Destruction, Slayer, Evile, VioLence, Metallica & Judas Priest.
NET: www.myspace.com/axecutormetal
April
Aventyr - Driven
(Mighty Music/Target Distribution - 2013)
A nice refreshing change to get back to some great unabridged gutsy rock as opposed to trying to create something different and being less entertaining than what you could be.
This is the sh*t - ten tracks of full on partydom filled sounds from Sognefjord, Norway that clocks in at just over 31 minutes but what a great journey all the same. Highlights include the opening title track 'Driven' that's like Billy Idol on speed; the ballsy and great rhythm of 'Betrayed'; the rollicking 'Crazy Roads' and the Motorhead-like 'Empty Bottles'.
Fire this one up loud!
8/10
By Glenn Milligan
January 2013
Accept – Stalingrad
(Nuclear Blast - 2010)
STALINGRAD (subtitled 'Brothers In Death) is the bands 13th album and really nothing has changed and that is a good thing. It's significantly shorter than the previous at 52 minutes, although many territories have different bonus tracks.
The cover art was upgraded after a bit of outcry about the plain cover that was initially proposed by the band. Derbyshire's Andy Sneap (of Megadeth, BLAZE, Exodus, Testament, Arch Enemy and Onslaught fame) does another immaculate production job. Lyrically the band stays on course with tried and true topics of death and war although there are a few variations on the theme.One cut that caught my ear, in terms of lyrics was the final song, 'The Galley' which is roughly based on a Rudyard Kipling piece and details the life of slave condemned to row in the galley of a ship. It's nice to see the band stretch out a bit in terms of lyrical imagery.
Speaking of lyrics, on BLOOD OF THE NATIONS, Accept (unintentionally) borrowed lyrics from Lizzy Borden with the song, 'Teutonic Terror' with it's chorus of 'Give 'Em The Axe', the name of a Lizzy Borden song. Well, it happened again on STALINGRAD! Accept wrote a song called 'Against The World' which of course is very close to the Lizzy Borden song on VISUAL LIES, called Me Against The World' and both are excellent anthems of rebellion.
Musically STALINGRAD delivers everything an Accept could want. Huge guitars, lots of solos, the gruff and battle-tested vocals of Mark Tornillo, thunderous rhythms, crunchy riffs all wrapped up in that timeless tradition of Accepts' anthemic Metal. If I had one criticism it might be that maybe, just maybe some of the fire that was heard on BLOOD OF THE NATIONS, is not quite as pronounced. Perhaps that is natural.
That previous album was make or break, do or die and they poured a lot of blood sweat and tears into that monster. Did they repeat? STALINGRAD is pretty damn close even if they didn't go for the jugular on every song, like they did prior. It's getting pretty hard to choose a favourite Accept album with the consistency and quality of this band. Sure, maybe EAT THE HEAT ('89) and PREDATOR ('96) didn't quite meet expectations but that leaves at least 10 Accept albums all competing for top billing.
If Accept had called it quits after BLOOD OF THE NATIONS I would have been happy. They would have gone out on a high note and all would be well. The band held their cards close to their chest stating that they would see how the reception of the 'comeback' album was (and how Mark Tornillo ex-T.T. Quick worked out) before making any big long-term plans.
10/10
By Andy Turner
Angel Witch – As Above So Below
(Metal Blade - 2012)
Nobody argues over the impact Angel Witch's self-titled album has had on the metal world and its influences on bands today, but that was in 1980, over 30 years ago.
The band never came close to really making it big and never came close to equalling their debut album with the few mediocre releases in the 1980's. They quietly disbanded in the mid 80's. Along with bands like Saxon, Iron Maiden, Saracen, Girlschool, Tank, Samson, Raven and the Tygers Of Pan Tang they were the main contenders in the NWOBHM (New Wave Of British Heavy Metal).
Predictably, once a NWOBHM revival started then it was time for Angel Witch to reform and try and recapture some of their former glory. On the other hand, you really can't argue with them reforming and trying get back to their former glory as a true heavy metal band.
'As Above So Below' is a very respectable album, well worth of the name 'Angel Witch'. It contains four tracks from the original 'Angel Witch' archives and four new tracks aswell. You may find it hard telling the difference from the old and the new tracks. The album opens up with an old track 'Dead Sea Scroll' and immediately sounds like it Angel Witch haven't left off from the 80's.
The production of this CD sounds just like it was back in the 80's. Angel Witch still provide mid paced songs with fast paced rhythms, excellent riffs all the way through the album. Kevin Heybourne's vocals sound very good and his guitar solos are well above average.
Of the four new tracks, one that stands out on its own is 'The Horla', which is a very dark ballad style track. The track 'Witching Hour' leads the old tracks on the album, is a true NWOBHM type of anthem.
On the album there are plenty of very respectable and worthy tracks, but they aren't delivered with the fire or sense of excitement that the band once did and had. There seems to be nothing new or unexpected on this album, it seems that time has stood still for Angel Witch. There is nothing unusual about this album; all the songs are over 5 minutes long in true NWOBHM style.
There is denying that this was an important era of metal history and this classic era has spawned so many bands that are still going today (Saxon, Iron Maiden, Tygers Of Pan Tang) and have inspired many thrash bands (Metallica, Slayer). 'As Above So Below' serves as a nice trip down memory lane for the older metal fan and will help to give a brief history of British metal to the younger metal fans.
More recent metal fans that are unfamiliar with the NWOBHM will find that the new album sounds rather elderly and will say that it was something their parents would listen to.
8/10
By Andy Turner
Net: www.facebook.com/angelwitchofficial www.last.fm/music/Angel+Witch
www.myspace.com/youranangelwitch http://www.youtube.com/watch?v=OVXv97cBNzY
October
ALPHA ATTAKK - First Strike (E.P.)
(S/R - 2012)
Alpha attack face first from that favourite of all metal nations, Sweden, albeit with a strangely alternative sound you'd seldom come to associate with their country's commonest produce.
Unless you know them for bands like Hellacopters and Backyard Babies, in which caser this five-track shebang of sheer no-nonsense punk n'roll raucousness is less set to alienate. On a strictly out-and-back- in-again-when-done approach, song arrangements make space for tasty fast solos and some choice blues intrusions, including harmonicas but it's the blue-collar rock style set in motion by singer Martin Blom and guitarist Robert Majd that eclipses all else within, hereabouts.
Short but rather sweet, I'd say, guys.
8/10
By Dave Attrill
NET: www.soundcloud/alphattakk
ASHENTIDE - S/T (E.P.)
(S/R - 2011)
Symphonic metal bands from LA seem rarely heard of over here. Symphonic metal bands releasing 3-track eps.. read even more the same so.
Ashentide, a female-vocalled six piece peddle strong beautiful melodic metal with awesome atmosphere and grace gifted to us mostly by Dream Theater, Mostly Autumn and Kamelot. To say frontwoman Lenore's voice is incredible would be understatement of the year at least -few can even merely match the octavial astronomies she climbs to through 'Homelands', 'Ondine's Curse' and 'Purgatory'.
Placed around sometimes strangely grungy chord line rhythms from shredders, messrs Rivers and Faust, there is promise of a full length album in the pipeline. Not too much of a wait please, guys because this taster's astounding enough as is.
Seek out, people, please.
9.5/10
By Dave Attrill
RECOMMENDED IF YOU LIKE: Epica, Nightwish & Evanescence.
NET: www.ashentide.com
ATRIUM - Places (Single)
(S/R - 2012)
Ongoing testimony that the prog rejuvenation of late is not a cash-in on the halcyon days, as Kerrang or Metal Hammer might have you believe.
Atrium however still perhaps believe that sending us a full album might yet test Metalliville's patience since we have only been afforded a two-track taster of their talents with which to acquaint. There is nothing testing or offensive at all about this Portugese foursome's Transatlantic-meets-Pink Floyd-tinged plushness - other than that I can't play even a tenth as well as these lads. #
Swish guitats, vocals and keyboards and surprisingly standard- duration tune structures keep both 'Zintra' and 'ZigZag Of The Great Wall' repeating in my machine most of the morning. Hugely tantalising, I might admittedly over-word things for just a two-track sampler but these guys have got something pleasantly big up and already running with this one.
Can't wait for the album.
9/10
By Dave Attrill
September
RENATO ABELLA - Miss You (Single)
(XL Records - 2011)
Before you congratulate Mr Abella over his wonderfully fine-tuned yet familiar vocal deliveries, startled you will be to learn that it is not that that of the aforementioned - in fact it is ex-Survivor man Dave Bickler himself, fighting his way out from the musical wilderness, showcasing a talent that has stood the test of time faultlessly.
Yet, saying this, guitar discovery Renato, here along with also-guesting Night Ranger legend Brad Gillis certainly knows his way round his strings, to pen a strong emotive American AOR number like this in a day and age that sadly outlaws the genre. Incredible melody lines and chorus to soak in the bath to as per usual, pretty text book stuff on the menu but still to this night a dish best served hot.
Excellent.
9/10
By Dave Attrill
AGENTS OF CHAOS - Volume One
(S/R - 2012)
US grungers Agents Of Chaos have seen a stupendously large share of activity in their three year existence – surprising then that it has yet to yield a full length cd.
This new five-tracker is still set to please not one bit less, setting plenty aside for both metal and alternative aficionados to sink their teeth into. With Jacob McCoy's Scott Weiland drive behind the mike moving guitarist/mainman Brain DeChristophers's drilling rhythms right through the ground to you.
'Face Down', Cold War', 'Window Pain' and 'Damage' form the foundations, cement and bricks into one solid musical building. Massive chord lines and strong emotive vocal dynamics, similar to Pist.on (remember them?) in most places stoke up the energy for you to absorb straight away from this outfit.
Recommended.
8.5/10
By Dave Attrill
RECOMMENDED IF YOU LIKE: Stone Temple Pilots, Alice In Chains & Metallica.
NET: www.ChaosAngels.com
June
AKINESIS - The PassAge
(S/R - 2012)
Another eagerly vibrating Italian music machine switches on with the aim to impress on first test.
Akinesis pas though on a precarious margin - the early part of this 14-tracker are pretty close to being labelled under chart pop category but at least on the listenable side. Delicious melodies and electric/acoustic combinations still prevail over the day and messrs Caspani and Ambretti's first langue isnt English, hence the serious lack of rhyming lyrical content, they know how to wham those hooks hard into their mountings.
'Alien', 'Taken', 'Morning Comes', 'Pain U W8', 'Blind', 'Prayerz', 'Song of Simplicity' and 'Second Life' collectively come together with swagger, serving up healthy teaspoonfuls of Toto, Led Zep, Journey, Marz Volta, Mitch Malloy and even Metallica in their brand of hot steaming pop rock brew.
If you like your harmonies sweet and summer infested, this one should become compulsory for you!
8/10
By Dave Attrill
RECOMMENDED IF YOU LIKE: *Bands as described in review.
NET: www.akinesis.com
American Aquarium - Dances For The Lonely
(Freeworld/Floating World - 2012)
I liked their last album so much that I was looking forward to checking this one out too and was not disappointed with what I heard either.
Pure brilliant Americana like sounds - think Drive By Truckers and hints of Bruce Springsteen, Bob Dylan honesty and downright bluecollar stories meets Counting Crows gone totally retro - excellent stuff indeed.
There are some harsh, sad 'n' painful songs on here such as 'City Lights'; 'Downtown Girls'; 'Mary Mary', 'Ain't Goin To The Bar Tonight' that aren't exactly advisable listening if you are going through some bad times - unless it's theraputic to you. I guess there's a clue in the title of the album itslef that the topics of the songs aren't gonna be positive and uplifting.
Excellent all the same and I guarantee the tracks here will touch you one way or another.
10/10
By Glenn Milligan
April
ABANDONED STARS - Opening Act
(S/R - 2011)
Last time we had a Scottish band with only two Scottish members no board, it was the still excellent Almighty.
Like them only Abandoned Star's rhythm section hails from Highland-wards, the Hodge brothers flanked by a French vocalist and Italian shredder.. And they also sound bloody damn good just as expected. Dealing only four tracks seems a bit of a metaphorical dropper but at least its four of the right examples of their silky prog metal.
Speed comes in doses rather than as a direct rule of play with some pleasant uptempo hard rock through the earlier three numbers 'Beyond Reason', 'Follow Your Heart' and 'Sealing My Fate' before an epic end with eleven -plus minute tour-de-force 'Against The Tide', delivered in technical panache. Astounding keyboards, shared by drummer Tony and guitarist Peppe are still every iota what these releases are about today and Abandoned Stars are destined to be rename Rock Stars if this material catches the right earlobes off-guard.
Excellent listening, lads. - here's to hoping this opening act preludes the massive production to follow.
9/10
By Dave Attrill
RECOMMENDED IF YOU LIKE: Dream Theater, Savatage & Kamelot.
NET: www.myspace.com/abandonedstars
ACID EMPIRE - S/T
(Darkplace Records - 2011)
Upholding the UK's somewhat latterly dormant epic metal front, Acid Empire are an interesting breed to kick the scene moving on these shores.
Stemming from the common mainland style of fast fingered widdling and flowery keyboard layering, applied too are further additional strands of notability. The double headed lead vocal, one male one female is fantastically synchronised with both Jack Lipinski and Hannah Bridge delivering a soaring dynamic air that pumps this power metal dinghy up til it flies away into the water.
Classic lead soloing is in prominence throughout this album as well with speed metal soloing placed aside to allow more seventies rootsy string technique from the Blackmore/Page department to become coolly utilised. Traces of lethally Zep alike acoustic work from Mike Bridge would definitely set the listener at odds if he were to wake up in the middle of the album at one of these points, but still all the best to boast widely of their surprisingly more widespread influence.
Succulent licks and strong chorus harmonies hit above the surface unexpectedly and while only six songs of the eleven are vocal-fronted, the entire engine is one long needed building for this desperate vehicle.
Wonderful.
9.5/10
By Dave Attrill
RECOMMENDED IF YOU LIKE: My Dying Bride, Candlemass, Epica, Anathema & Dream Theater.
NET: www.acid-empire.com
ALL BUT IMPOSSIBLE -Windfall
(S/R - 2011)
All but impossible to conceive, the grunge verse prog animosity in the musical creative field seems to have become progressive quelled of late.
We've had Detroit rockers Morrow's Memory pull the mix off to magnificent panache just lately - will these four spirited young people from Port Washington make the hurdle? Taking no steroids for the sprint, they still come in thick and fast through not literally so in tempo. 'Freedom Ahead' is a sweet mid-tempo modern hard rocker with singer Justin Volpe's gritty vocals setting he lines for what lies throughout. Driving guitar lines leave us looking forward to 'Picture of your Mind' which ladels more of the same out in a Black-Sabbath- like initial helping. Getting more aggressive on the vocal front plugs their contemporary prowess to its maximum.
The beat progressions don't flounder, delivering 'Open Ends' with guitar-friendly fire and a switch to something of a Pearl Jam side on the vocal gearstick. Not put off a ballad or two, the swish seventies roll through 'Freedom Ahead' compliments itself with cuts of swish American string twiddling amidst the vocal lines up to a mid -way metal departure underneath its epic chorus. Entering behind, also from the unplugged door, 'The Shine' is fine progressive metal of the modern day equilibrium with the rhythm guitars showing thrash temptations come within their sights. Spanish- guitar-led instrumental 'The Expedition' is still the clearly stronger departure, and preludes the soulfully melodic intro section to 'Unchanged'.
Despite sounding notably ballad-oriented, the album's seventh track is my personal favourite with a fantastically laid out refrain that I am already humming before the acoustic bonus rehash comes along at the end . A final chorus just claps back in from the mid-way instrumental relapse to stop anybody thinking of falling asleep. Keeping you awake through another two songs pretty alike most from the other fistfull you've sat through is often a tall order on some albums. 'On my Own' however with its high-pitched hookline works as a splendid extra alarm, even if some uncalled-for screamcore snippets do intervene at one point.
After another acoustic visit from 'Washed Away' which as the last catchiest cut almost does end up that way, 'Still Constricted' struggles to find its placer to start but then suddenly strikes very hard at the right moment, in a similar way to 'On My..' and many of the discs earlier numbers. The female vocals are a treat at the end through the guest's identity is untraceable for the promo details. Swish modern hard rock nonetheless, with meaty musicianship by shredder Cody Ryan, and massively wholesome crossover feel A.B.I do not let up anywhere enough to tell them off for it and take you through every song with everything they have. Smart lyrics also contribute with a self-discovery theme in place of the standard suicide/depression dirge.
These boys have already been discovered for the record and become an bigger discovery on top of this one.
9.5/10
By Dave Attrill
RECOMMENDED IF YOU LIKE:
Coheed and Cambria, Nirvana, Alter Bridge & Nickelback.
NET: www.AllButImpossible.Bandcamp.com
Already Gone - One Good Reason
(S/R - 2011)
Cracking young 4-piece rock band from the Midlands part of the UK whose sound harks back to that of the late 80's much to our liking.
They have the x-factor indeed and that's f*ck all to do with anything that the likes of Mr. Cowell is involved with although fromtman Luke Maskery did appear on a similar show called 'Stars In Their Eyes' back when he was 18.
Already Gone have already gone and played all over the UK who no doubt enjoyed their songs that are on this here CD. Highlights of this album include the opening rocker 'Cry Baby' who he can still smell on his fingertips; the 'Billion Dollar Babies' like 'Make My Day' and the ciggy lighter hard hitting ballad 'Wash Away My Tears'.
Then there's countryesque 'Sweet Dreams Baby'; the Aerosmith meets Status Quo-like 'Sweet Lady Jane' and the Southern Rock closer 'So Long Gone'. Not one song is like the other and they manage to nail down numerous styles of hard rock artists over the last 30 years or so.
A band that deserves big things on all sides of the pond.
10/10
By Glenn Milligan
AUTHORITY OF HATE - Crackdown
(Metal Scrap Records - 2011)
The sort of name telling you to expect a street-hard metal core monster instead somehow yields anther equally heavy beast of the devil-horn inducing variety instead.
Russian duo Authority Of Hate attack the senses with a short sharp but thankfully not quite shocking delivery of death metal crafted as you just expect to hear it. Expectations for a little novelty wear off with two tracks but the constant intrusions of old-school thrash soloing keep things about half appetising, Authority, Phantom Of a Doll, Zombie City, At the Bottom Of The Universe and Death By Hanging guaranteed to hurt like a bullet to the head.
Not bad but the live environment will be far better welcoming for this kind of sound.
6/10
By Dave Attrill
RECOMMENDED IF YOU LIKE: Morbid Angel, Sepultura & Emperor.
NET: www.metalscrap.org.ua
December
Aesthesia - Shattered Idols
(Shotgun Generation Records 0 2010)
Swedish trashy 5-piece sleazers who have a real polished album here soundwise and they ain't too bad as a band either.
They've got some great songs and have elements of Guns 'N' Roses, Backyard Babies and even Muse believe it or not. Highlights on here include 'Under 16' about female jailbait - true story lads?; 'Gone' that must be about someone they have sadly lost.
Then there's the fast 'n' burnin' 'Rattlesnake Preacher' or the opening 'Greed Machine' or what about 'Tales Of Underground' where frontman, Nico Marlyn seems to think he is W. Axl Rose.
Decent.
7.5/10
By Glenn Milligan
Amebix - Sonic Mass
(Easy Action - 2011)
A band who have been out of the scene for about 20 years who came out well before the likes of Tool, Ministry and Type O Negative - boy you can tell where the said bands took their influences from.
It's dark, it's heavy, it'a sinister, it's mysterious and so incredibly engulfing and draws you in making you so addicted to the vibe and the sound of the album and band in general. It comes across like a deep conceptual piece as the songs flow to each other or link by some kind of ambience that include tribal calls and moody instrumentation that guide you through the scary journey.
An album that is one big highlight from the get go off 'Days' right through to the single 'Knights Of The Black Sun' with killer songs in between including the voice-overed at times 'Visitation'; the beautiful acoustic 'Sonic Mass Part 1' and the heavier Sonic Mass Part 2'. You need to heat this to get full effect - no amount of word can really make an impact to what is gonna hit your eardrums and mind.
Just what the Doomlord ordered.
10/10
By Glenn Milligan
Anthrax - Worship Music
(Nuclear Blast - 2011)
Well when the 'thrax comes out with a new album and has Joey back on the mike we all all edgy about whether it is gonna sink or swim but believe me this album literally flies out the water as it's the best thing they've brought out in absolutely years - this album is smokin'.
There's everything from good old New York hardcore and thrash that they are famous for with a great example being 'Earth On Hell' the 1st song on the album after the 'Worship' intro or 'The Devil You Know'. There are those slamming guitar crunches and heavy slamming machine gun drum beatings but you'll also find a lot more than that such as powerful, strong melodic arrangements that aren't even thrash and excellent solos such as found in 'Fight 'Em Till You Can't'. Vocally Joey sounds good although you don't hear him trying to imitate dolphins every few seconds like back in the old days because he simply don't need to - he's moved on from that.
Love the opening of 'Judas Priest' that's a killer military drum beat that turns into a storning epic of a number with trademark styles of Anthrax and then some - before you ask it ain't about that famous band from Birmingham, UK either. Other standouts include 'The Constant' with an excellent strong chorus and very latchable hooks throughout the number and 'In The End' with excellent vocal harmonies and a magnificently beautiful song arrangement.
This is the 'Holy Grail' of all things Metal so worship 'Worship Music'!!
10/10
By Glenn Milligan
October
Asking Alexandria – Reckless and Relentless
(Sumerian Records - 2011)
Immediately, from the start, Reckless and Relentless grabs you with its heavy screams following an almost tension building introduction with the first track, 'Welcome'. This leads straight into the second song, 'Dear Insanity', which starts with a gasp of air before unleashing the throat slicing vocals of Danny Worsnop.
After a mad, hardcore verse, Danny sings a quite melodic chorus, with Ben Bruce backing him up vocally. 'Closure' starts off with a breakdown of techno mixed in with the heavy drums and guitar that Asking Alexandria are known for. The vocals are a mix of screaming and singing, which fit in nicely with each other. After a couple of minutes, we get another techno breakdown, with drums entering to liven things up. As Danny sings the verse, the guitars join in and make this an amazing song overall.
Although the boys seem to have grown up a lot since the release of their first album, Stand Up and Scream, there is still the same element of youth within the Reckless and Relentless album. You still get the sense that they love to party as hard as they play, but if that's what they need to do to create the albums, then I say let them do it! Ben Bruce has a little twist in store for us with 'Dedication'. This 'song' is something we've never heard from the boys, as it helps us remember our loved ones that have passed. Quite a soothing song, it's quite a nice interlude to add into the album. 'Someone, Somewhere' also appears to be a song commemorating somebody important. Clean vocals are backed up by the guitar riffs of Ben Bruce and Cameron Liddell, creating an elegant mix of music.
The clean vocals are short lived as 'Breathless' once again incorporates all the attributes of a hardcore band, hitting you like a well timed punch in the face. "Reckless and Relentless", the song that the album is named after, starts with a rant about music being ruined before starting the screams again. Probably the heaviest song on the album, 'Morte Et Dabo', starts off with a ghostly choir singing the song title, before Danny releases an extreme overdose of violent screams that sound like they could rip his lungs apart. All of the songs have a techno element in them, which works well with the music and vocals.
Overall, the album offers an extreme mix of music, that all hardcore fans will most likely love.
10/10
By Sam Hutchinson
September
AKARUSA YAMI - Ouroborous
(S/R - 2011)
These lads may sound like they're from somewhere in the upper reaches of Africa if that moniker is anything to go by, but actually they hail from Lincolnshire and happen to be fronted by an ex-member of the Metalliville elite.
Tom Brumpton doing successfully elsewhere I the music media trade of late fronts these noisy newcomers, here introducing themselves to all and Britain's sundry with their devastating debut mini-album. 'The Fallout' is a straight ahead metal core treat with a guitar harmony line and shrill virtuoso solos that wouldn't sound out of place on a Kamelot or Rhapsody cd. Good thrash breaks throughout the piece whet the appetite aptly for the rest. 'Comfort in amputation' shows Tom in diverse form as he adds melodic chorus interludes in an emotionally horsedrawn approach that give a 'Saw' movie feel to his increasingly distinctive style.
'Change Reflects', a three minute acoustic instrumental with tasty salsa flavour comes in for a very welcome intermission and introduces you to a side of these type of act, we hear way short of enough about. 'Millennium Is my salvation' carries on as previously with its distinctively larger Fear Factory vibe turning it into my personal fave. Not to say the remaining pair of numbers are rendered poor, 'Third Eye Wide Open' offers the best thrash riff, fed along a stomping rhythm while 'day One' though a struggler with its all over the place rhythms is a decent enough inclusion and clear verse-chorus approach by Mr Brumpton. Great first time out by these homegrown bruisers, with brutal tendency and classy metal solos you don't expect from their genre plus some impressive twists of versatility you don't expect coming.
Live shows should be therefore above promising… more like devastating.
9/10
By Dave Attrill
RECOMMENDED IF YOU LIKE: Killswitch Engage, Sepultura, Fear Factory, Machine Head & Slayer.
ATANAB - Black Magic
(Mighty Hordes Productions - 2011)
Black Magic… that's it. The limit of trite metal album name-age has been heightened above that ol' raised bar itself.
Credit slightly due to these Colombians for as descriptive as it can any longer come, legally speaking… which means sadly however finding yourself poised to sit through forty-odd minutes of horrendously banal black metal racket by numbers. Horrendous may be a harsh word itself as the redeeming factors act sufficiently in time to stop it being a put off for the purist while otherwise one may be pacified by a welcome progressive edge.
That the music doesn't get shoved in the direction of that precipiece often enough, itself is the bog that hugs the wheels of outside eagerness here and the dominant scream-and-speed-til-the-end-approach just makes such parts, including a couple of blissfully Maiden-inspired solo twiddles sound even more monumental.
There are some fantastic products falling out from this genre's line over the last year but sadly this one has ended up dropping down the completists chute.
5/10
By Dave Attrill
RECOMMENDED IF YOU LIKE: Emperor, Bal-Sagoth, Nile & Cradle Of Filth.
AYGAN - Plastic City
(S/R - 2011)
That other blistering hotbed of Latin metal talent, Brazil takes turn with their latest winning chip on the rock n' roll roulette wheel.
Sao Paulo foursome Aygan brighten the stakes with ten pleasantly spins of melodic prog rock. Influenced by the usual fair old roster of household names, there are a lot of match-worthy moments to spot amongst 'To Turn Around', 'Shadows', 'Days', 'Bloody Meanings', 'Back At Moon Street' and 'Hollywoodian Roses' but with frontman ***'s unique range conveying them to the band's clear own distinction in style.
Grand guitar lines with both solos and rhythms having their space to fight fro , these boys are a promise of plenty as good if even better to emanate from South America's nowaday-hyperactive shores.
Same, Aygan sir? You bloody bet!
8.5/10
By Dave Attrill
RECOMMENDED IF YOU LIKE: Porcupine Tree, Magellan, Dream Theater, Fates Warning & Saga.
NET: www.myspace.com/aygan
August
Jamie Allen – Storyteller
(S/R – 2011)
Poison tribute frontmans debut that was produced by a man who is no stranger to Metalliville, Johnny Lima who also does background vocals.
A completely excellent album throughout and every bit of it is highlights. You hear pure top grade 80's rock mixed in with some glory of country music as well on this ere platter. Stand-outs include the opening 'Smoke & Mirrors'; the retro thinkin' 'Back In The Day'; 'The Way I Roll' & 'She gets Around' and the closing 'Same Old Feeling'.
This album is brilliant and an essential buy.
10/10
By Glenn Milligan
June
Amebix - Knights Of The Black Sun (Single)
(S/R - 2011)
These dudes remind me of a cross of Simple Minds, a throwback Goth Act (well they've released nothing for 24 years) with a throaty Shane McGowan and Feargal Sharkey of The Undertones fame like frontman who goes by the name of Rob The Baron. There's also a bit of doom metal as well for good measures.
It's catchy, uneasy and extremely sinister and very brilliant. There's a spooky long ghostly ending in there too. A song where you are curious what the hell will happen next. Hey, they even feature Roy Mayorga from Stone Sour in the band too - an attractive way of grabbing new fans right there if ever I saw one.
Interesting stuff.
8/10
By Glenn Milligan
ANA KEFR - The Burial Tree (II)
(Muse Sick - 2011)
An interesting and not wholly un -Zeppelin-like cover design greets us, as at the same time the enclosed promo sheet promises 14 finely crafted compositions of philosophical metal.
However, not one minute into the first and we get that all too familiar growl over the mike. That said, this US fivesome's scram core/hardcore/death vocal revolving door is well rested on its supports and will hurt most who try to walk through it the wrong way. Settling not for some modern two -chorded Kerrang-ball-licking racket, Ana Kefr make use of very evident eighties/early nineties inpsirations, Scandinavian names aplenty coming to surface alongside Testament, Sepultura and Slayer amongst others.
Knotted together by a very thick progressive ribbon, 'Ashahid', 'Eago', 'In The house Of Distorted Mirrors', 'Thaumatrope', 'Zephirus Circus', 'Apoptosis', 'Parasites' and 'Fragment' are guarantee able moshpit fun but on CD still show a massive second dimension. Apparently with commendable praise over their previous disc from two years ago, these boys are set to lecture their philosophy to an ever larger class. Good riffs and good ideas spread far across the platter, some of their numbers could have seen a little extra substance pumped in but there is still plenty to be heard.
8/10
By Dave Attrill
NET: www.anakefr.com www.facebook.com/anakefr
Ashton, Gardner & Dyke - The Best Of
(Repetoire Records - 2009)
Cult British late 60's, early 70's faves from Liverpool get their 'Best Of' released again - it plays what it says on the title.
Highlights from the 20 track offering include the opening brass filled wacky 'Resurrection Shuffle'; the bluesy 'Billy And His Piano With'; the funky and wacky titled 'I'm You Spiritual Breadman'; the county honked blues of 'Oh Mathilda'; the lyrics of it's time 'Paper Head, Paper Mind' & the epic Dylanesque & The Band like 'Hymn To Everyone' and the live 12-bar 'Momma's Getting Married' - Garden - who the hells that lol - now that's funny - the announcer is corrected at the end of the song though.
It's an excellent collection dedicated to a band who should have been as huge as the likes of Deep Purple but got pigeonholed by their hit sonh 'Resurrection Shuffle that opens the album funnily enough. Or what about the question and answering 'Can You Get It' or the retroness of 'Ballad Of The Remo Four' about 2 of the members previous band. There are excellent liner notes in the CD Inlay that gives you a full history on the band - Ashton and Gardner may have passed away but we still got their great music. Brilliant trio if ever there was one.
A real nice introduction to a band I 1st heard via Beat Club - that German Music Show!
10/10
By Glenn Millgan
May
ACUTE MIND - S/T
(Electrum Productions - 2010)
Disturbing the trend of girl-fronted outfits in Eastern European territories, Acute Mind are for once a male-fronted one though another potentially large Polish scoop out of the bucket.
Yet again an outfit poised to differentiate themselves in every thing other than line-up format, these guys serve it up with another blissfully distinct sound. Assembling a vaguely bluesy prog /metal fusion based round sometime semi-acoustic oriented arrangements, the darkly atmospheric intent still functions although the melodies are more often than not a little summery sounding as well.
Frontman Marek ah one of those voices you could place in any genre and it would still sound powerful, even though with his LaBrie like smoothness on numbers like 'Grief And Pain', 'Garden', 'Misery', 'Sweet Smell Of Success' and 'Bad Incitments', he'd be probably wasted elsewhere. Brilliant velvety work on guitars and keyboards behind him, this debut album is sadly just too short at only eight tracks - let's hope there's plenty of additional stuff lying in wait on the live set as Acute Mind can't create too much of it.
9/10
By Dave Attrill
RECOMMENDED IF YOU LIKE: Stratavarius, Dream Theater & Fates Warning.
NET: www.myspace.com/acutemind
A DEEPER DREED - Masquerade (E.P.)
(Self Released - 2011)
Some people combine the most risqué of styles together, as much as crossing over is all the rage on the rock n'roll promenade nowadays.
Power metal and alternative is one of the most dangerous feats with little or everyone suddenly likely to want to know, Deeper Dreed took the gamble. The all-eighties twin-guitar marathon fires off from the start after teasing me with a black metal sounding run-in and though capped with a vocal sound just as appropriate for decorating the average Blink 182 or Drowning Pool album these guys are defiantly prosperous with it.
This cd is an already incredible taste of audacity and natural ingenuity you hear and without leaving hooks behind, at that. Throughout 'Masquerade', 'The Cell', 'Glass To Sand' and 'Of Me' you get just about everything (else) thrown at you small or large pieces, from thrash to grunge, hard rock to punk, but this Suffolk fivesome's pot is seriously simmering and set to boil over brutally on stage.
Buy this!
9.5/10
By Dave Attrill
ALEXIS - Birds Of Prey
(Pitch Black Records - 2010)
No they didn't recently remove the words 'On Fire' from their name - this lot are an entirely different machine, thanking f**k merrily as I do, this Chilean show their superiority instantly in presenting me with a meaty old school metal sound that teases me with its intro before rocking out and hard both in one hurl of the stone.
Hooks lie in the riffs as they do with this style advertising that the choruses have to be something when they come and they are at least good. The twin guitar , very much school by a few listens to Judas Priest and Megadeth over the years wins over the album with a very broad lead sound that clarifies main shredder Gabriel Hidalgo's performance.
Although, frontman Freddy Alexis, the vocal talent from whom the band take their tag, often supplies a great impression of what Ozzy would have been like if he still had a voice today. 'Shadows', 'Golden Path', 'Birds Of Prey', 'Metalliser II' and 'Witchblade' are amongst great slices of steamy molten melodic metal you'll either love or hate, but their pure musical consistency makes the latter very hard.
Excellent work from another South American team, playing right up to and above their pride in the genre.
9/10
By Dave Attrill
RECOMMMENDED IF YOU LIKE: Gamma Ray, Tad Morose, Apocrypha, Iron Saviour, Savatage & Megadeth.
NET: myspace.com/birdsofpreychile www.FreddyAlexis.cl
Julian Angel's Beautiful Beast - Adult Orientated Candy
(G.T.O. Entertainment - 2011)
3 Piece Sleazey Cock Rock and even Hard Melodic Rock at times Act fronted by a dude called Julian Angel who plays some killer metal solos as well - think Dokken meets Danger Danger or something to that effect.
Highlights include the gorgious ballads 'Tokyo Nights' and 'Save My Heart' the opening 'Showdown' that comes complete with cop sirens; the awesome beast that is all beautiful entitled 'Rock All Arenas (Born To Rock)' or the excellent cowbell slamming an female wailing 'Singer And Guitarist In A Hair Band'
Something else for Germany to be proud of for sure alongside the Scorpions, Accept and Doro.
8/10
By Glenn Milligan
ARMONIGHT - Suffering and Passion
(Heart Of Steel Records - 2010)
Armonight are a half-female, half-male metal outfit from Italy, who have already paid a visit to the UK this last year to a sweet reception.
Performing a sweetly splendid gothic line in melodic metal its easy to see how they picked up the praise, their sound is an instant catch-on, and that's before you get to the tunes. Frontwoman Sy's range is exquisitely shrill, supplying an anthemic air that changes mere verse lines into lingering hooks by themselves suiting the lush keyboards more than the guitars, without disrespect to the very smoothly sustained solo notes.
'Revenge', 'Past Shadows', 'Emotions', 'Into My World', 'What We Were', 'Heaven's Below' and 'Crystal Tears'' account for seven of the stronger numbers out from ten altogether above substantially composed cuts that stay with you days after one play and make that second listen even more special as opposed to the movie principle of a diminishing sequel.
Excellent showing of both a band's experimental and classic sides with that catchy trad metal solo break on 'Yellow Flowers' a crafty highlight to boot, Armonight aren't exactly a sound one can likely be found suffering anytime soon, but fully load the dice in favour of passion. European metal excellence in its most shining form.
Buy!
9.5/10
By Dave Attrill
RECOMMENDED IF YOU LIKE: Anathema, Epica, Tristania & Evanescence.
NET: www.myspace.com/armonight
February
American Aquarium - Small Town Hymns
(Last Chance Records/Floating World - 2010)
I guess the band name and title gives you an indication of what you're gonna hear here - and if you reckon it's homegrown countrified sounds in a Drive By Truckers kinda way then right you guess y'all.
These guys hail from Raleigh, North Carolina and every song is a southern gem right from the opener 'Hurricane' through to 'Hard To Quit' - I had the problem quit the album too so put it on again and that doesn't happen very often. The acoustic 'Reidsville' is excellent with it's too much in love to give a god-damn' line; the haunting & beautiful 'Meredith'; the sad but true sounding 'Water In The Well' about feeding your family in hard times; the humourous 'Rattlesnake' about a woman actually that quotes many parts of the USA - and then theres the gorgious steel guitar playing or 'Gone Long Gone' about losing your woman.
Life don't work like a fairytale when everyone that's good lives happily ever after as bandl0eader BJ Barham prove in these outstanding songs here.
10/10
By Glenn Milligan
AMERICAN HOLLOW - Whisper Campaign
(S/R - 2010)
Sound like the name of some sh*te horror movie they may do but Kentucky's American Hollow are certainly not hollow… and more British than US nationality in the sound department.
And less of the excrement comparisons if you please, these chaps are fantastically accurate in their professional prog rock output. One gets treated to the complex rhythm gymnastics as standard but the near bluesy guitar twang and an occasional pinch of grunge where it suits takes things a little off the regular path, or at least allows the music to play with the leaves a bit.
Instrumental breaks are not automatically capped out by keyboard harmonies about ten minutes long but a variety of gubbins including leisurely treks across their catalogue of distortion samples that sound like there may be a couple of '2001 A Space Oddity' fans amongst the group. Keeping some soulful vocals from frontman Jameson in check amongst the elements, AH are a strong brick in the prog wall wherever they slide in.
Worth more shouting about than whispering.
8/10
By Dave Attrill
RECOMMENDED IF YOU LIKE: Porcupine Tree, The Police & Nirvana
NET: myspace.com/American hollow www.americanhollowband.com
ANGER MANAGEMET - Beyond the Threshold Of Pain
(Three Piece Recordings - 2010)
This lot sound like they need classes in it themselves.
Comprising ex-Medulla Nocte/Murder One personnel within ranks, you'd expect it to be typically heavy, guttural and aggressive with nought point-nought-nought room for musical subtlety, so at least in that context they don't disappoint.
As brutal and relentless as it gets, its sadly still Metalcore by numbers for all five cuts with awkward rhythm arrangements, the word 'rhythm' being used very loosely, and after three tracks you know all the five are just going to sound melded into one irritatingly overlong mass. There's some brief solo intrusions to seek out and the occasional decent thrash riff but that's about all to stop this from reaching above take-or-leave status alone.
Live however, this band guarantee to become awesome.
5/10
By Dave Attrill
NET: Myspace.com/angermanagementmusic
January 2011
Acid Drinkers - Fishdick Zwei "The Dick Is Rising Again'
(Mystic Production - 2010)
Wild and Crazy covers by an out-there band of nutheads from Poland who either murder or salute or obliterate various well-known numbers.
Some really cool and funny stuff on here such as thrashy fast as hell versions of 'Ring Of Fire' (Johnny Cash) or 'New York New York' (Frank Sinatra); an impressive 'Hot Stuff' (Donna Summer); 'Love Shack' that sounds like the original B52's vocalists (it's the single for the album actually); a wacked out country version of 'Seasons In The Abyss' (Slayer) complete with fiddles!!
Then there's the Hungarianor whatever the hell it is version of Metallica's 'Nothing Else Matters' that fattens up in the chorus to wholehearted metal complete with the guitar solo or a gorgious rendition of Black Sabbath's 'Fluff' that they end the album with.
Now this is what I call very entertaining.
10/10
By Glenn Milligan
December
ADVENT OF BEDLAM - Behold The Chaos
(Environmental Records - 2010)
No matter how fancy the name is , its still death metal inside the sleeve and down right boring some of it can be too.
While I've encountered some decent and innovative extreme metal combos lately, Costa Ricans Advent of Bedlam. are sadly left out from the list. Nine tracks that might as well just be one soar by in not a short enough time - they have the cheek to make these tunes last up to 7 and a half minutes. The solos are about the only redemption form the near unbearable gargling and seldom- slower than -150mph drum speed though a couple of tracks offer an occasional bouncy mid-paced interlude..
Technically the instrumental abilities of these guys goes without saying and most fans will pick this one without a second's hesitation but I cannot see anyone who doesn't already like the genre being swiftly converted by this record.
5.5/10
By Dave Attrill
RECOMMENDED IF YOU LIKE:
Nile, Slayer & Emperor
ARTHEMIS - Heroes
(H&H - 2010)
Arthemis are a four piece from Italy that play one music and one music only… heavy-effin'- metal! Don't believe me? Fine, just listen to 'Scars on Scars' and 'Vortex' then see who's lying.
These Verona chaps come out of nowhere to crack your skull violently open with what turns out is not their debut, nor their second but their SIXTH album ( have we got some catching up to do or what.) and the likely might of their preceding catalogue is pretty well advertised in this disc. Cued on by every crucial machine of the genre, Arthemis just blend the whole lot in the bag and bring their own flavours to the table.
The Pantera influences exhibit themselves, quite literally with the intro to '7 Days' but as its my personal fave of the record, I'll let them have it. The gigantic hook is probably one of the greatest melodic metal choruses I've heard since the dawn of the millennium, leaving me humming it already as the second verse heads in.
'This Is Revolution' is the Megadeth part of the disc, with vocals and guitar lines taking a joyously Mustaine-esque swing, the luscious leads travelling right along the back of the entire number. 'Home' does the same but with more European aplomb, that hauntingly Scandinavian sounding chorus providing a welcome warhead aimed at anyone daring to turn off.
Anyone wanting to do that before giving 'Heroes' and 'Until the End' a chance deserves more than shooting for missing two absolute metal treats here. Assembled on a prog floorspace they are nothing for even the strictest of purists to merely sniff at, riffing, rocking and rolling their way through your systems with hooklines so big there's' no hiding behind the rocks.
'Ressurection' is the tune heabangers have waited all album long for, sending up a shattering duel of Testament and Anthrax anger whilst enriched again by Fabio D's versatile range. With a couple of sweet instrumentals in ''Cross Fire' and closer 'Road To Nowhere', the perfect metal album is complete and this one is more than that it's compulsory.
Till now a scarcely known fish in British waters, Artemis prove to be a shark with no less than perfectly razor- sharp teeth and you hear then being used to unrelenting effect for fifty five minutes right here.
Incredible.
10/10
By Dave Attrill
RECOMMENDED IF YOU LIKE:
Megadeth, Metallica, Black Sabbath, Cathedral, Helloween, Iron Maiden, Candlemass, Paradise Lost, Judas Priest & Alice In Chains
NET: myspace.com/arthemisweb
October
The Action Five – Idaho (Single)
(S/R – 2010)
Great band who fit somewhere between The Manic Street Preachers, Faces and overall Americana but come from Sør-Trøndelag, Norway. It's a long way to Idaho – it sure is from where these guys come from – awesome stuff indeed.
Energetic song too in 'Stuck In My Seat' & then the wonderfully moderate rocker 'Get Your Kicks' that are also included.
8/10
By Glenn Milligan
June
Abadden - Sentenced To Death
(Rising Records – 2010)
Winners of the competition organized by Metal Hammer, Abadden were soon picked up and signed. Abadden understand old school thrash like Kreator, Sabbat and Overkill to produce a solid ground for the debut CD.
'Sentenced to Death' releases an energy that's been missing for a while in the UK's thrash scene. As new comers to the market, Abadden have produced an new world wind style of thrash as they pound, smash and grind their way through the new age punk that's around today.
'Sentenced to Death' is an 8 track CD full of power, enthusiasm and commitment from the self-titled first track through 'My Misery' to 'The Day of Reckoning'. With solid drumming, good riffs and thunderous bass lines what more can you ask for from a thrash band
8/10
By Tony Watson
Abysse - Metal Ambient
(Blue Wave Production – 2010)
Imagine Tool, Opeth and the heaviness of Korn in a little package of French progressive metal and there you have it, Abysse in all their proud and glory.This 4 track promo CD is an instrumental production with 'Deviance' and 'One last breath' eing over 10 minutes long, but the surprising thing is, the melodies roll along with so much passion and intricacy, there is no time to be bored.
I must admit, this EP has been played around 15 times and I still find quirky things popping out and adding a little more excitement to the whole ambient feel.
As things go Abysse have worked hard to produce a classic promo that's going to be hard to follow. Instrumental or not, this CD is a must.
8/10
By Tony Watson
Age Of Evil - Get Dead (EP)
(S/R – 2009)
You know when you are getting on when you revert to bands like Judas Priest, Iron Maiden and Pantera, but Age of Evil are the new kids on the block, relishing in the metal of yesteryear with their take on the metal scene.
Get Dead is a powerful 6 track EP that refreshes the parts other metal bands can't reach. These teenagers know they can be like Priest, Maiden, Megadeth and Slayer but what they do is provide us with a feel of the old school and add a sparkle with new energy.
Get Dead has covers of Skid Row's 'Slave to the Grind' and Judas Priest's 'Electric Eye' as well as two live performances of 'Eye for an Eye' and 'Glimpse of Light'. The two studio tracks 'Get Dead' and 'Cruel Intentions' do get the blood boiling with the power of the 80's.
If these guys carry on with what they are doing, they won't go far wrong.
10/10
By Tony Watson
Aherusia - And The Tide Shall Reveal The Traces
(Emotion Art Music – 2009)
Let's get thrash metal mixed with Goth mixed with folk music and there you have it Aherusia. You may think this is a bit of a weird combination, but it actually works.
'And The Tide Shall Reveal the Traces' enters a new generation of metal music with this collection and collaboration of different genres. Aherusia in a sense have not deliberately headed down this path but with a mish mash of musical talent within the band, Aherusia have released a new energy.
We have a Fields of Nephilim/Bathory/Levellers sort of feel. As you enter the 'Birth of Immortals' and head in to a wall of 'Lux Occulta', 'Methexix' and 'Archangels' Aherusia engulf the airwaves with passion and flare for the sound they produce as the whole production comes to a grinding halt with 'To Our Ancestors'.
Overall different but very enjoyable.
9/10
By Tony Watson
AS MEMORY DIES - Transmutate
(Independent – 2010)
Short albums are a well-reputed speciality in the death metal industry although it most normally happens to apply regarding playing length as opposed to track-list content.
Italy's As Memory Dies fifty-minute long offering just happens to merely span seven cuts but quality seriously give quantity the proverbial 'raspberry' here. What theses guys to in sticking to the rule book, and also ignoring it is pretty darn impressive in both doses. A.M.D.'s debut selection of epic melodic death metal cuts are a treat to listen to, especially 'Fifth Day Leviathan', and 'Season of Failure for some intriguing solo lines, at times even daring to try a blues guitar sound,(yes, in a death metal record) and while the three Acts making up 'The Tragic History Of Doctor Faustus' dissolve into one, their work as a conceptual piece makes it easy to enjoy hem that way.
Including some HC style melodic vocal interludes on opener 'Eyeway to Identity' is guaranteed to instigate a few mutterings of 'hold on…' from the more elitist of followers but it is a rare venture for this genre and mixes in with the mood fittingly enough to pass itself by. Fantastic stuff from a great new European outfit prepared to do things different but with style and class surviving the experimentation process.
Beware for these chaps are going to be transmutating into one dangerous metal creature in 2010.

9/10
By Dave Attrill
NET:
www.asmemorydies.com
Avith - Heir Of Agitation
(Emotion Art Music Ltd – 2009)
Avith from Greece enter the world of rock music through a compromising display of typical European power metal with a slight twist of funk and soprano vocals mixed with atmospheric tones covered with a gothic coat.
Heir of Agitation is a somewhat slightly lost, we have this solid metal sound that's carried through the whole 9 tracks with guitar solos, pounding drums and definitive keyboards that are on the verge of Evanescence. The only downside is the dull monotone vocals of the female vocalist Ira.
As the CD pounds it way through 'Lilith' we then enter a poor track of 'That Distant Light' which then rips into 'Winter' and then melodically ripples onto 'Not Mine Yet' which puts you into a state of confusion.
What are Avith about? Are they metal or are they Ambient rock? Who knows.
Remove the complex confusion and on a half listen background overtones, Heir Of Agitation isn't too bad, but it's a CD that will be left on the shelf for a long time before the brain asks for a replay.
6/10
By Tony Watson
April
ALL GUNS BLAZING – Revelations
(Rising Records - 2010)
The name smelt of something pretty and Priest-like - the sound at first reeks of another group of scream core bores.
However, Bath newcomers 'All Guns Blazing' have been equipped with some musical air fresheners spread generously round the walls of their debut album to challenge the mainly offending odours. 'Revelations' starts to sound good already by about the third track and what we are left with is far from being the insomnia cure I usually expect.
A common Killswitch -meets- Pantera blended vocal style we may be landed with but what about the guitar here then. Things get better further on into the second half of the disc as the progressive edge I'd been told to look out for makes itself steadily more audible.
Proper riffs, decent melodic solos and delicious bay area crunch firmly secure these lads their overall kudos and Im am proud to say I gave tunes like "Vulture Among Men', 'Tear It Down', 'Never Forgotten', 'Distorted Eminence' and 'Hell's Kitchen', with its notably Master Of Puppets like rhythm feel, more than a single listen before I sat down writing.
Great start boys, more of the same please.
8/10
By Dave Attrill

ANOXIA - A Lapdance For The Devil
(Mighty Music - 2010)
Anoxia are a four-piece metal act hailing from Denmark who appear to have been circling the earth's core since 1996 as opposed to 2006, and finally have a full length album they're proudly able to send our way.
Their tasty line in melodic metal seems to be a less forbidden fruit over recent times with a revival of old school sounds but that doesn't prevent it from standing out on its own merits. Symphonic thrashers Lap Dance…' and 'Risky On The Rocks' see it nailed home on a strong note that these guys didn't do this stuff out of an afternoon of bored stupidity on guitars even if we've come by more than a few hundred of their like, mostly by other Scandavian and German scene forefathers.
Knowing clearly where the hooks belong, commercial tunes like 'Lonely Ride' aren't the only to give the listener his humming subjects for the record - they pop up in unexpected places, such as at intervals during speed metal exercises like 'Beyond The Line' , 'Tale Of Jimi and Janis' , 'Flowers On My Grave' and 'The Expected' and cap it over with luscious soloing that at times isn't too far from Iron Maiden territory.
Coming to occasional breaks from the faster stuff, 'My Prison' doesn't totally slow down but stamps along at a progressive pace with some good headbanging crunch. An album I rarely stopped enjoying, 'ALFTD' sustains the momentum and power for practically the whole of its course. These young men have laid low in profile for long years but hopefully this disc will let people hear and taste what a decent power metal act Anorexia are, just as I have.
Super.
9/10
By Dave Attrill
RECOMMENED IF YOU LIKE:
Helloween, Megadeth, Annihilator, Gamma Ray, Edguy.

January 2010
Acoda - Characters
(S/R- 2009)
Acoda are a five piece band from Northamptonshire that are mixing metal, screamcore with indie, you may find this a bit strange but in a sense it works. If I had to put place them I would say they are on the verge of Lost Prophets.
A self produced EP, Acoda have shown they have the talent, flair and chemistry to push their way to the next level.
As a 6 track EP Acoda grasps the listener and keeps them entertained as they progress through 'Sleeping Escapade', ' A Stolen Car Passing', 'A Dark Passenger', 'Just', 'Trains' and 'Distractions' to release a ruthless but at the same time melodic feel.
7/10
By Tony Watson
THE ARGENT DAWN - A Blank Eternity
(Rising Records - 2009)
Blighty certainly ain't missing out on the uprise of productivity in the European extreme metal scene of late and South-westeners Argent Dawn wisely caught the ride as well.
Bizarre as it may sound to see a band from combine harvester country - if Swindon qualifies -churning out brutal crunchy death metal, the consistency of these lads through ten tracks of considerably predictable fare is solid to stay with them for the full playing time.
The barking growls breathed on us by frontman Jamie Harrison let up next to never for twippets of subtlety but tuneful solos are here still an important factor when little else provides melody in bruisers of the 'Carving Our Pain', 'Soul Infection', 'Earth Angel', 'Veil Of Disgust' and 'Monotonous Anguish' calibre.
An impressive arrival, hopefully not to be followed by a sadly abrupt departure too soon in the future, T.A.D.'s debut is pretty angry and colossal in its delivery without any significant flaws and further releases like this will quite swiftly jolt them up metal's ladder to the higher steps. Great start, chaps.
8/10
By Dave Attrill
RECOMMENDED IF YOU LIKE:
Sepultura, Evile, Deicide, Obituary, Morbid Angel
NET
www.myspace.com/theargentdawnuk

A200 – Play
(S/R – 2008)
2nd EP from the Fort Myers Rock band that is very similar to the 1st with highlights being the forceful 'Lies' that must be a true number about unfaithfulness and the closing ballad 'By The Way'.
I am looking forward to their 3rd release where I think the band will manage to really capture themselves on cd like they do in concert when they play in and around South Florida.
I think there's more that these guys have to offer than what is shown on the CD for sure.
6/10
By Glenn Milligan
A200 – Stray From Here (E.P.)
(S/R – 2007)
Fort Myers, Florida based fresh sounding rockers that are kinda part post-grunge, heavy commercial metal at times and other parts in between – think Staind, 3 Doors Down and all that kinda stuff and you are somewhere there.
A four tracker with by far the best song being 'Heavy The World' that has soulful vocals a la Seal and Jeff Scott Soto and a real hot riff that's epical to get excited about – it rocks in a poppy kinda way.
6/10
By Glenn Milligan

December
AVIAN - Ashes And Madness
(Massacre Records – 2009)
Minneapolis prog metallers Avian are the way a band of their genre ought to sound today if they are to gain appeal from all angles across the follower spectrum.
Stripping themselves of one or two of the significantly and much ridiculed elements of pretentiousness, they keep it straight and deep with a revitalised sound that we hear in other present day outfits. Totally melodic as always with vocals tailored for this feel, each song has a hook or harmony that take you along to the next tune.
'Ashes And Madness', 'Lost and Forsaken', 'Esoteric Lies', 'Beyond The Hallow Graves' and 'All The Kings Horses' are well built cuts which use every part in the right place and don't try to defy their own capability in absorbing with the listener. Maintaining the verse-chorus-verse criteria here pays as always even if not a most frequently practised arrangement in prog but as always enables each tune to travel quicker.
The epic length tracks make occasional returns with this disc but with strong and well accommodated guitar rhythms from multi-instrumentalist Yan Leviathan, concentrating largely on scope than on random speed-strumming exercises, one should not be deterred by the 10 minute plus duration of closer 'Time And Space Pt 2'.
A enjoyable piece of melodic metal that slots firmly amongst the better examples we've encountered in 2009. Enjoyable.
8.5/10
By Dave Attrill
RECOMMENDED IF YOU LIKE:
Iron Saviour, Hammerfall, Awake, Dream Theater

AYIN ALEPH - Ayin Ayelph 1
(Invencis Records - 2009)
Having a self -titled disc with '1' on the end of its name is a move of such ridicule-worthy proportions it is next to never attempted but someone has to be brave enough once in a life.
Such individual is Ayin Aleph, a hereto unknown Russian songstress with an extraordinary throat who looks set to give melodic metal a resurgence in its vitality stake in years ahead. Although 100% classically schooled, her range gives the impression of an upper-octaved version of Skunk Anansie's Skin at times with the sharp raises in pitch that come with the end of most verse lines a growing attraction throughout the album.
Dominantly the standard metal instrument formation, piano holds a significant role across all seventeen tracks, and paired with tasty acoustic lines on some numbers, throws the atmospheric feel levels to a strong notch. 'My Bloody Marriage', 'Grey Ashes', 'Valpuris Night', Sebastian's Prayer', army of Love' 'Black Roses', 'Es Muss Sein' and 'I Came' may not totally absorb your senses at first spin but soon find a way into you somehow and stay, Ayin's voice leaving a solid residue that is going ot be tricky to lose, merely lingering to tell you to play them and most of the other unusually captivating numbers on this album again and again.
The hooks don't come in their droves but for a fine piece of vocal work from European metal's finest new lent, its an essential try. Impressive stuff, Miss A.
8/10
By Dave Attrill

June
Abandoned Souls - Some Never Will
(UPC – 2009)
This is the second release from these Canadian rockers. Abandoned Souls energy is a combination of early rock such as Black Sabbath mixed with Alcatrazz with a new collection of rock of Disturbed and Black Stone Cherry.
As I understand this CD has continued where 'Circles of Shadows' has left off. This eleven-track collection is full of arena style rock with an intense intimate feel, filling us with hope and anger, making us ask questions and giving us the answers through a collection of classic tracks.
We have 40 minutes of pure pleasure through 'Some Never Will', 'Fire', and 'Words of Wisdom' through 'Leave Me Alone' to end with the power of 'The Ground Beneath' that leaves you wanting more.
Throughout the CD you do get the new feel of rock that is pushing it way into the system, which is giving the old rockers a run for their money and leaving them for dust. Like 'Black Stone Cherry' and 'Alter Bridge' Abandoned souls will join the elite with a ground-breaking release.
10/10
By Tony Watson

Abinaya - Corps
(Brennus/2 Side Moon – 2009)
Abinaya means 'passing on' in Sanskrit, but this two sided meaning also comes across in the bands attempt to rock the world. We have the guitar riffs of Zakk Wylde with a tribal influence similar to that of Soulfly or Sepultura. Don't let these names lead you into a sense of thrash with epic guitar solos, riffs with a tribal conviction.
Abinaya are French, which is heavily influenced throughout the CD. The musical content of the CD is a good mixture of fast, hard, speedy guitars and pounding drums, that is influenced by a tribal connection. The only thing that spoilt it for me was the fact that there is a wet French vocal content which lets the whole CD down. As soon as the vocals start the tracks turn in to a mush of wet French kissing at the top of the Eiffal Tower that isn't a pleasant site to watch.
The 11 tracks and 50 minutes became slightly hard to listen too and the more I played it the more I wanted to turn it off. I suggest the band start heading down the hard vocal side, which I believe will bring the great musical content to life.
Because of the vocals the CD gets:
4/10
By Tony Watson

Akrea - Lebenslinie
(Drakkar Records – 2009)
Well fuck me, from the quaint interlude of 'Aufbrunch', Akrea rip into 'Imperium' with full on thrash/speed metal that melts the eardrums and leaves your body in so much pain that hell would only be the way forward.
Akrea are from Germany and are prepared start a third world war with this amazing 11 track CD that enthrals you with a full fifty minutes of death, thrash, speed with the harsh German vocal content, but who gives a fuck what language they sing in, no one understands Cradle of Filth, Napalm death, Carcass, Gorgoroth and Ramstein anyway.
The whole CD is brutal with its occasional melodic interludes that gives you chance to breathe before you start to fight off the demons once more. If your tastes are for atomic barrages, with nuclear assaults of the ear canals, then this is a must.
These young energetic lads have a place in the European metal scene, which will give them the credit they deserve, which I don't think they will get through the British media.
9/10
By Tony Watson

Alkemyst - Through Painful Lanes
(Nightmare Records – 2009)
ALKEMYST for almost ten years develop their defined melodic prog/speed metal, trying to improve their song writing and to give their audience both powerful and sophisticated acts.
'Through Painful Lanes' emphasize their musical effort, trying to carry their experience further through three years of labour and dedication to a deep love of music-making, mixed with a flawless flow with a real work of art, 'Through Painful Lanes' offers a sincere, refined, personal work, as well as keeping the respect of major heavy metal influences.
A 9 tracks and 52 minutes of European power metal, like most power metal bands from Europe, Alkemyst are not doing anything different, we still have the Helloween, Gamma Ray influences, which after a while starts to all sound the same.
If this CD had something different than the power metal that comes from Europe then I would be slightly impressed but after you have heard one you have heard them all. Can Europe produce something different than the high pitch vocals, fast cords and tinny drums?
On a positive note, they must be doing something right if they have been going for over ten years.
5/10
By Tony Watson
And You Will Know Us By The Trail Of Dead - Isis Unveiled (Single)
(Superball Music – 2009)
This the second single from the critically acclaimed album 'The Century Of Self'. The single contains two versions of 'Isis Unveiled', the radio edit which lasts 4 minutes 30 seconds and the full length version lasting an extra 2 minutes.
If you are not familiar with 'And you Will Know Us By The Trail Of Dead' they have had in the past a reputation of being put in the category of prog rock, but I would say with this track from their 6th album prog rock has been removed with a sound that will get you hooked from start to finish, that release a hint of 'The Levellers', 'Hawkwind' and 'Dead Can Dance'
A very enjoyable track that doesn't get boring.
9/10
By Tony Watson

Atomic Rooster - Anthology (2CD set)
(Angel Air – 2009)
I'm not being funny but how many times a year can record companies release the same thing? First we have the entire record collection released on CD then we have compilation CD 1,2,3,4 etc then we have anthology 1,2,3 etc then we get the CD with another CD and a cup of tea and a few biscuits.
Like the rest of the CD it's Atomic Rooster and sounds like Atomic Rooster and it looks like Atomic Rooster and allegedly we have an unreleased track from 1980 called 'Broken Window'. If this is the reason for buying a double CD then go a head and buy it, but let me tell you it is still Atomic Rooster.
Due to the endless releases of the same thing the CD get 1 mark for each CD in the set.


2/10
By Tony Watson

March
American Dog – Foamin' At The Mouth Live
(American Dog/Colonial Canine – 2005)
Recorded for a radio broadcast in their hometown – Columbus, Ohio is where it's at. It's filthy, it's beer-filled, it's raw 'n' loud and it's just what you ordered from the barman – ladies and gentleman, American Dog.
13 Hot as Hell Redneck Metal favourites await you for a pleasurable ear-battering that include 'Another Lost Weekend'; my faves 'Barely Half Alive' and 'Drink Too Much' as well as a low octave sung version of Motorhead's 'Bomber'.
This is real and what rock 'n' roll is all about.
10/10
By Glenn Milligan

American Dog – HARD
(American Dog/Colonial Canine – 2007)
I gotta agree with the title, the Columbus, Ohio boys surely have hardened up in style and have more of a Motorhead vibe to 'em on some of the songs more than ever now with the instrumental 'Bock' and the 1st song with vocals that is 'No Pity' and more...
What's this, classical bluesy acoustic guitar from the 'Dog in 'Long Time Comin' – it makes a real nice contrastic change as does 'Beaten, Broken, Etc' that starts off quiet before turning into a good ole 12-bar, bar room rocker about drinkin' and stuff.
Humour is never very far away with this guys which comes in many of the tongue in cheek songs and you can't go far wrong with songs like 'Magnificent B*st*rd' with an amazing ZZ Top Dequello like riff in there in a bluesy Sabbathy kinda way (if that makes any sense – probably not – haha) that has an unbelievable outstanding orchestral 'Day In the Life' orchesatral ending to it that plays along with the riff or 'Sometimes you eat the Pussy' with the answering line 'Sometimes the pussy eats you' – you know it all makes sense every single damn time.
Bands like this win me over everytime I'm unashamedly pleased to say.
10/10
By Glenn Milligan
February
Aisling - Stone Of Light
(Rising Records – 2009)
This is the forth album from the Italian pagan metal band from the Port of Trieste area. Aisling have been together for about ten years producing black metal with a weaving symphonic twist.
'Stone Of Light' is their new creation that comprises of ten tracks, which only last for a pitiful thirty-seven minuets. The melodic introductory track 'Speir' Aisling rush into a death defying leap into the depths of hell, with the power cords screaming vocals, blood beating drums and harmonic keyboards.
The only thing that pisses me of with this CD is that every track has a high-pitched female vocalist (well I think it is a female) who is trying to sing like an opera singer, which in my eyes ruins the tracks. They should have left this out of the tracks and stuck with what they are good at.
If it weren't for the screeching high-pitched vocals this would have been a reasonable CD.
What a shame.
7/10
By Tony Watson

Assignment - Release The Disunion
(GP Productions – 2008)
Assignment are from Gutersloh in Germany, which may give you a little insight into what to expect. There is plenty of Power metal, Thrash metal and Progressive rock from mainland Europe and Assignment have decided to combine all three into their release.
After a few listens I'm sure what the band are trying to achieve, we get the power metal side the thrash is missing slightly and the progressive rock is trying to bully the power metal out of the way.
I feel the music is somewhat lost somewhere in the calibration of the strong vocals that have been placed on the CD, there seems to be too much going off to keep you interested in the tracks, with the keyboards taking president to the guitars.
I think they need to rethink about the direction they are heading and stick with one or the other
5/10
By Tony Watson

December
ALMAH - Fragile Equality
(AFM - 2008)
Almah consist of two fifths of Brazilian melodic metal legends Angra which is a solid selling point alone. With their day job on hold at present, messrs Falaschi and Andreaoli assemble a new team and have a bit of fun but take it no less seriously with their intentions.
Metal action from the start 'Bird Of Prey' and 'Magic Flame' are just as likely to be Helloween or Statovarius as they tear by at top gear and give the listener plenty of reason to leave the skip button alone. The slow stuff isn't slow in coming though and the Iron Maiden like sway of 'All I Am' will concrete the appeal of this disc on top of the three other numbers you have hopefully spun already by this stage.
'Invisible Cage' is another slowie albeit with a Theater-ish feel (as if we weren't waiting for that all night , guys) and by now we know exactly where we stand here. Still surprises await such as 'Fragile Equality', an unexpected old-school thrash turn that decelerates to one of those good ol' fashioned melodic choruses, and likewise but more so 'Meaningless World is speed metal perfection, simple as…., with an intense twin guitar assault all along the route.
A well balanced collection of fast, slow - and whatever hits the line in the middle- 'Fragile Equality' is a side project that deserves as much regard as a main venture and should not be seen as a substandard carbon copy Angra but as a work that stands on its own legs despite its smilarities with the aforementioned and many other fellow pillars of the scene.
You are best advised to put all fragile items away before playing.
9/10
By Dave Attrill

November
A Poetic Yesterday - A Little South of Zero
(Rising Records - 2008)
A scream core 5-piece outfit from the midlands. These sets of lads try to be like Lost Prophets but fail miserable.
We have a collection of 11 tracks that release as much excitement as a dead dog being told to fetch a stick. These guys need to realise this style of metal went out with the ark and the reason it is struggling to stay around is that basically it's shit.
I can't knock the effort these guys are putting into the band ore the passion they have for their music but I can give them a bit of advice to not follow other bands and try to be themselves and develop their own style.
A very poor release
3/10
By Tony Watson
Angher - Hidden Truth
(S/R - 2008)
French metal band Angher just released its first album called Hidden Truth. The album contains contain 11 tracks plus a bonus DVD which shows the band rehearsing and recording.

First thing that comes into my head were the obvious similarities to other more famous American metal bands such as Slayer, Metallica, Black Label as well other such as Exodus and kreator but there was still something missing but Angher manage to put their own mark and unique stile into their music making it rather interesting.

The band adds cello to their music that isn't as unusual in metal music now a days, it gives a whole new atmosphere to the sound giving an interesting feel for the listener.
Still in general this music can best be described as a mixture of thrash, heavy and experimental metal that is a nice refreshing change.
Without a label I think these guys will suffer so will some one give these guys a chance and give them the break they deserve.
8/10
By Tony Watson
August
ALTAR OF OBLIVION - The Shadow Era (Demo)
(S/R - 2008)
More Scandinavian magic conjured up and these lads look like another sprightly rabbit straight fro th hat.
Altar Of Oblivion's sound can easily be matched with another favourable name - M Dying Bride especially where the vocals of the impressive Mik Mentor are concerned.
A single guitar act - as are the Bradford outfit, this young quartet don't have a keyboardsman but their instrumentation fends well itself and you feel yourself sailing along with these five well crafted cuts.
Looking forward to a full album here guys.
8/10
By Dave Attrill
Asian Typhoon/X.Y.Z.A. - Wings
(Nightmare Records - 2008)
Wings comes across as a heavy but melodic mixture of rock, at the first listen I thought this reminds me of the Japanese band Loudness, but on further investigation the vocalist Minoru Niihara was from the legendary band Loudness.
I must admit it's not the best thing I have heard, although the music is on the verge of Guns and Roses, Mother Love Bone, Alice Cooper, Vinnie Vincent's Invasion and Queensryche, there was something missing, it felt like I was on holiday and had entered a cheesy karaoke bar where they had got the local band blasting out a few cheesy song.
The CD start off with a ballad 'Heavy Road', which would have been better off being left off the CD. Other tracks such as 'A man has captured the sun', 'I love rock and roll life', 'Absolutely wonderful night', have some good riffs and licks. The CD also has a couple of ballads 'For whom the bell tolls' and 'wings' that make the CD a little more interesting but still fell flat on it's face.
If you are expecting the solid rock of Loudness, you will be very disappointed.
Sorry guys it didn't do anything for me.
4/10
By Tony Watson
Atomic Rooster - Homework
(Angel Air Records - 2008)
When Atomic Rooster landed on the disc I instantly thought 'are they still going' I presumed they were all 90 something now, but to my surprise it is a Record that never got released. The 23 track CD which is full of added extras (The Polydor singles) was all recorded between 1979 and 1982.
If you are an old heavy rocker still clinging to the 60's and 70's, this is definitely a blast from the past and one for you. The CD is full of that organ grinding progressive rock with a mixture of The Doors, Gary Glitter, Vardis, Jethro Tull and Hawkwind and if this was released during the NWOBHM era, this collection of music would have been right up there with Saxon.
Homework is a good collection of what was good back then and is a must for something different in the collection. John Du Cann wrote some cracking tunes, which weren't appreciated back then but probably would be now.
7/10
By Tony Watson
May
Ancient Grease – Women And Children First
(Angel Air – 2008)
Now where have I heard that album title before – well these guys here had it 1st believe it or not – this is a very early incarnation of what became well known Welsh Rock band, Racing Cars.
Ancient Grease were actually called Strawberry Dust but their name was changed for the album by producer 'Lou Reizner' (not that he had much to do do with the album according the liner notes of the CD).
It's the kinda stuff that leads off after a lot of the psychedelic 60's material with all it's hallucigenically conceived notions – I suppose this album is very West Coast America and you can hear elements of blues, rock as well as some country-tinged Crosby, Stills and Nash and in parts some quirky jazziness.
Songs that really got my attention were the opener 'Freedom Train' (a real hardcore bluesy meltdowner of a number) – you even get an alternate version as well; 'Where the snow lies forever' that's got both Rhodes & Hammond Organ – think these boys were listening to early Faces by the sounds of this ditty – nice one!
'Mother Grease the Cat' is one hell of a great riffer of a track – like Jimi Hendrix's 'Voodoo Chile (Slight Return)' gone jazzy and lighter in parts; the sinister yet beautiful 'Time To Die' and the out-of-this-world 'Mystic Mountain' – think Small Faces meets Buffalo Springfield and The Byrds – unbelievable.
This band should have been big when they came out but all of Mercury Records Promotime and money went into one of their top-drawer releases instead.
10/10
By Glenn Milligan

January 2008
Alpha Galates – A Stimulus For Reason
(S/R – 2008)
Now this is weird stuff indeed – stoner rock, vocal harmonies like Freiheit (remember them), Nu Metal sounds and inward psychedelia and prog – rather busy indeed, I tell thee.
You really have to listen to it well or you could miss something. You could say it's kinda like System of A Down with some Pink Floydness but theres's simply more to it than that.
Very serious material and one where you can't really individually pick out highlights as very much a follow-on conceptual piece of work – well that's the impression I got anyway. Start at 'Conformity' and work your way right through to 'Entrophy and Chaos – see even the song titles are serious.
One for the intellectual and supremely gifted listeners to wrap their head around – this aint party music by a long-shot.
8/10
By Glenn Milligan
ARMORY - Dawn Of Enlightenment
(S/R – 2007)
Power metal acts that do not hail from Germany or Scandinavia seem to need the vocal style to prove so these days - or it could just turn out as being massively coincidental that Amory, who hail from the good ol' US of A opt to be fronted by a geezer who sounds more like Geoff Tate or Bruce Dickinson combined, than the two do seperately themselves.
The Massasuchets sextet have an excellent throat in Adam Kurland, supported by immensely tutored stringery by his brother Adam and fellow widdler Chad Fisher, and the absence of any need to vocally reminisce anyone called Michael, Kai or Ralf I might mention is an open door for them to distinguish their own name and product. Something 'Faith In Steel', 'Riding The Cosmic winds', 'Heart Of Dreams', 'Warrior Forlorn', 'Eyes Of Time' and the quarter-hour long closing title cut definitely do with flying colours and very if not no holes at all.
There's a decent blast of Maiden's 'Flight Of Icarus' for those lucky enough to get a copy with the bonus tracks tacked on, that sounds painstakingly near-identical to the Brit legends version but the main album is a treat enough for true metal fans as this outfit are themselves. Hopefully there's be a live slot or two sorted out in the UK soon, as these lads will swallow 'em up big and bringing a few copies of this excellent disc to the merch stall on that day should shift most.
Oh, by the way, I seem to remember another album closing with a title track 13 minutes-something long.... Er .. let me think..... "Keeper of the Seven K.......' (don't you even think about it, Dave - Ed)
9.5/10
By Dave Attrill
September
At Vance - VII
(AFM – 2007)
As the name implies, this is the seventh studio release for Olaf Lenk's 'At Vance'. Lenk is the talented German guitarist behind 'Zed Yago' and 'Centres', now clearly enjoying letting his creative abilities fly at the heart of At Vance that only released their first album in 1998.
Musically Lenk continues to remain faithful to 80s hard rock adding some power metal riffing and neo-classical solos in a style which has served the band well. In fact the only notable change has been to the lineup and the introduction of Rick Altzi on vocals instead of former Yngwie Malmsteen singer Mats Leven.
On this performance he looks to be a fine addition to the band as Altzi's voice compliments the music well, sounding reminiscent of Coverdale's Whitesnake on two of my favourite cuts from the album, 'Shiver' and 'Friendly Fire'. Lenk is able to come up with some memorable hooks and keep the tracks moving, not
getting too bogged down during the solos which are predictably impressive and offering a variety of tempos across the album from the pacy 'Golden Leaves' and 'Shine' to the slow, emotion-charged 'Answer Me' and 'Lost in Your Love'. Personally I think the bands strength is with the faster material and would prefer them to give some of the heartfelt lyrics a miss in future.
Nil point for originalilty here but Lenk does a good job with the melodies, proving himself as a sound songwriter aswell as an expert guitarist. The production here is also note-worthy making this release well worth a listen - you don't have to wish you were back in 80s to enjoy this.
7.4/10
By Al Hoath

August
Allen/Lande – The Revenge
(Frontiers Records – 2007)
One time live 'Rising Force' vocalist (Jorn Lande) and another Melodic Rock frontman Russell Allen for this exceptional album.
It's of a harder edged Magnum kinda style with highlights including the title track 'The Revenge'; 'Victory'; 'Master Of Sorrow'; 'Wake Up Call' and 'Who can you trust'.
An album that looks at both good and evil in real life, emotional happenings and filled with melodic rockers that fans of the genre will no doubt love.
8/10
By Glenn Milligan

ART OF DYING - Get through This
(Revolver -1-track promo)
Not beating around the bush, Art Of Dying's melodic nu-metal sound is hardly anything original but it still hasn't prevent them throwing up a catchy number here.
A reminder of the genre's more accessible side, I actually played it more than once, and it's still in my spinner as I speak.
Hope the album brings plenty more like this belter.
8/10
By Dave Attrill

Pre-July 2007
ANDENSUM - Lucky Witness
(Crash Records - 2007)
Eastern-sounding metal is usually a speciality of top European label Holy though unlike this Oxford sextet, a lot of acts signed to the French company seem to have accidentally wiped out the metal element itself.
Andensum's mostly melodic hardcore maintains a formulaic structure but from there works into the more exotic overtone and their twin lead vocal - one bloke singing, the other shrieking – allows for both side of the book to be played by, and coupled to crushing rhythms from the two guitarists, allows the mix to set hard – in one's skull, obviously. Faced with too many bands on this scene tediously alike at the best of times, it is relieving to learn that some acts will still break away from the bandwagon when one is watching.
An impressive effort first time out, but just why only 34 minutes?
8/10
By Dave Attrill

Adrenaline Factor – S/T
(Perris Records – 2007)
Sleazin, sexiness that gets it pumpin – the adrenaline of course. This is your classic gutsy Bon Scott AC/DC stuff – Lee Scott is a deadringer in the vocal dept as well – ironically enough his other band is called 'Big Balls'.
This outfit sees Lee him team up with Paul Lidel of Austin, Texas who slung his six string with Dangerous Toys and Broken Teeth. Joining them are Steve Sweat (Bass/Vocals) and Armando Reyes (Drums 'n' Percussion).
Ten strong songs on this 'ere album with highlights including 'Ride'; 'Boozin' Susan'; 'Seven Bear Bitch'; the slower southern like 'No Warning' and the closing 'Goin' Nowhere' (is that a Hammond you are playing there Mr. Lidel? Nice !).
8/10
By Glenn Milligan
THE ALMIGHTY -
Anth-f***in'-ology - The Gospel According To….
(Sanctuary - 2006)
Try getting that title out of your gob in a hurry when someone asks you what this collection, from one of Britain's best loved hard rock outfits of the nineties (and one of my personal favourites), is called.
Recently reformed after a five year gap, Ricky Warwick has rejoined the classic line-up with Pete Friesen, Stump Monroe and Floyd London and played a full UK tour that featured truckloads of classic cuts plus one or two more than welcome surprises and just about all of them are accounted for here, for those of you stupid to miss out on that opportunity.
Featuring material from both the Friesen and Tantrum eras we are bombarded with belters in the form of 'Free an' Easy', 'Full Force Lovin' Machine', 'Addiction', 'Jonestown 'Mind', 'Over The Edge', 'Destroyed' and the immortal crowd sing-a-long classic 'Wild And Wonderful'. The two criminal omissions are 'Crucify' and 'Ressurection Mutha' which knocked many for six with its inclusion on that tour in December. One or two numbers from their short-lived re-incarn' from 2000-02 also make it, and even though only Ricky and Stumpy returned to the fray on that occasion, the song-writing seemed to have suffered minimally.
There still at time of writing remains a question mark on how long this revival is intended to last for, with Pete still on loan to Alice Cooper (who is touring the UK this November in case you forget) but even if we don't see an album of new material from the Glaswegian act for sometime yet, this'll come in handy to remind everyone they are around..
8/10
By Dave Attrill

ANNIHILATOR – Metal
(SPV - 2007)
Understandable as it may clearly be, the urge to make an album title as descriptive as possible of its content, there may be just a chance that Canadian guitar goliath Jeff Waters has pushed the line between adequate and plain daft a little too far by simply naming it 'Metal'. As said though, the content of the thrash outfit's twelfth studio disc doesn't let you down.
Now fronted by Dave Padden, whose range is almost as closely matched with Coburn Parr's as you're gonna get, there is more than one echo of the past as they are joined for the album by old sticksman Mike Magini who also played for Boston rock faves Extreme in their twilight years before they imploded. Add the unmistakable soloing talents of Waters which take a couple of tunes into get going in full but from then on as mighty as you'd expect from a musician of his ability and you have Annihilator the way they should be, bringing you another fine fistful of high speed and hook-plastered heavy metal, as fashion over the last decade or more continues to outlaw.
My only problem with it in fact is that the overuse of guest vocalists overthrows Padden's parts as he has this vicious old-school voice that is already suited to Waters typical produce, so while Luminaries from present day faves Trivium, Arch Enemy and Nevermore plus 'Lips' Kudlow from fellow Canadian old-timers Anvil make a very welcome contribution, there is nearly a sense of fixing what ain't broke here. Far from ruined though, 'Metal' is the proof of Jeff's continued craftsmanship, which after eighteen years through many ups and the occasional down rarely goes out of exhibition.
The best since 'Never Neverland'. METAL!
9/10
By Dave Attrill
The Answer – Be Who You Want (single)
(Albert Productions – 2007)
A lively number from those retro rockers 'The Answer' that harks to The Black Crowes which is fine by me with a slight turrent of an INXS sound creeping in and a title reference to a John Lennon song from his 'Mind Games' album.
Also well worth mentioning is their cover of Aerosmith's 'Sweet Emotion' – man those vocals are sugary dude!! An acoustic rendition where you can go slidin' 'Into the Gutter' or the live radio session version of 'No Questions Asked'
9/10
By Glenn Milligan
"Blast from the Past"
Arch Enemy - Black Earth
(1996)
Debut CD featuring the Amotts (Christopher & Michael) and let me tell you there are some classic tracks on this release.
No intro just the slam of a snare beat then enter the Amotts! In my opinion, this isn't their greatest effort but it's one hell of a debut release though. I'd have to say my favorite tracks on here are plentiful primarily because it's Melodic Death Metal which is my personal favorite genre of Metal.
Johan's vocals are somewhat boring because there really isn't much of a change throughout the CD vocal-wise. The same is true with their "Stigmata" release. I'd say dropping Johan and getting Angela Gassow on lead vocals was a wise move for AE.
There are some great lead guitar work by Christopher Amott just listen to the outro solo on "Fields Of Desolation" and you'll hear what I'm talking about. Christopher's leads are way more technical than his brother Michaels. Michael has more emotion involved in his lead work though plus exclusive use of the Wah-Pedal. Michael was more technical when he was playing for Carcass (Heartwork).
On the import CD of this release there are some bonus Iron Maiden cover songs. Strange to hear them in B-tuning! Tracks to check out are "Bury Me An Angel", "Eureka" and "Fields Of Desolation". If you're a big fan of Melodic Death Metal then you should check this CD out! Good production as well!!!
Credits:
Johan Liiva - Vocals
Michael Amott - Guitar/Bass
Christopher Amott - Guitar
Daniel Erlandsson - Drums
Frederik Nordstrom - Production
Track listing:
1. Bury Me An Angel
2. Dark Insanity
3. Eureka
4. Idolatress
5. Cosmic Retribution
6. Demoniality
7. Transmigration Macabre
8. Time Capsule
9. Fields Of Desolation
10. Losing Faith
11. The Ides Of March (Iron Maiden Cover)
12. Aces High (Iron Maiden Cover)
By Death8699 (MethylinInfo@aol.com)

Angra – Aurora Consurgens
(SPV – 2006)
Named after a 15th Century Alchemist Manuscript, the album that is, Angra's latest – a band that are like a heavier Helloween and becoming as well known. I heard from a buddy who writes for another notable webzine how good this album is and I can't disagree.
You never know what is gonna come Angra, next such as the choir in 'The Voice Commanding You' or a searing ballad in 'Breaking Ties' – what voice Edo Falaschi has!! Like the Egyptian/Indian come marching drums intro on 'So Near, So Far' with the scary orchestration and almost poppy Genesis melody that breaks out into a gorgeous chorus, not to mention a creackin' instrumental section with an tasty solo.
Then there's the bombastic, riff thrumming 'Passing By' with a 'Gimme Shelter' thing going off in the background – sound effect – listen out for it. Just when you thought the album couldn't get any better is rounded off by a mesmerizing acoustic number called 'Abandoned Fate' – nice one lads.
Probably their best album so far. Love to see them live.
9/10
By Glenn Milligan
Carmine Appice Project – Ultimate Guitar Zeus
(Escapi Music – 2006)
14 numbers that all feature Carmine Appice on drums but with different guitarists on each song.
Varied ditties with the highlights featuring the Beatley 'Nobody Knew' with Brain May about secrets in the Whitehouse; the Soundgarden 'Rusty Cage' riff-like bluesy Steve Morse'ified '4 Miles High'; the ballad that is 'Doing Fine' with Vivian Campbell or the re-worked version of Rod Stewart's 'Do ya think I'm Sexy' (remember folks, Carmine played on the original) – this time he gets to do the vocals with Pat Travers.
There are such an array of artists on here that also include Mick Mars, Zakk Wylde, Richie Sambora and Slash but the main problem is, is that in my humble opinion, its very much a pile of grunge band album tracks or other less sparkling selections.
A pity really as this could have been a real stormer of an album. Dissapointing.
5.5/10
By Glenn Milligan

Carmine Appice/Power Rock –
Songs that made Led Zeppelin Famous
(Power Rock Ent. Inc – 2005)
Now this is an interesting one – an idea and project from Carmine Appice - 8 Led Zeppelin songs played without their drums so you can be their drummer for a while – cool idea eh – not 'arf music lovers – even the singer sounds just like Percy Plant. Perfect for any drummers actually as Bonzo was one of the best around – some may go on to say the best.
There's a count in on some of the numbers and click track throughout to keep you in time. 8 songs in all that include 'Rock 'n' Roll'; 'Whole lotta love' & 'The Ocean' and 5 other notable ditties.
Go to www.powerrock.com for more info.
8/10
By Glenn Milligan

Gwyn Ashton – Prohibition
(Dixie Frog Records – 2006)
A blues dude who's been around a wee while – remember hearing about him from the Beat Club re-runs with Ashton, Gardner and Dyke. He's been solo for many a year and this, his current release features Chris Glen and Ted McKenna from 'The Sensational Alex Harvey Band' in the backing department.
There's some cracking songs on this platter with the opening slidin' of the early ZZ Top like 'Ball & Chain' starting off the proceedings nicely – like the harp playin' as well dude. Ya can't beat the slutsy, gritty riffin' of the almost sleazy 'Get Up, Get Over it'; the funky gospel like title track 'Prohibition' with Gwyn putting on a Howlin' Wolf like voice. As a tribute to the great late Irish Legend he covers Rory Gallagher's 'Secret Agent' and vocally sounds very like him as well. Then there's the likeable instrumental 'Come On/Walk Don't Run'; the singalongy ballad 'Castaway' or the instrumental closer 'Rest in Paradise (for Stevie)'.
Get it bought and crank them blues high.
8.5/10
By Glenn Milligan

Jan - April 2006
ALOOP - Global Crisis
(EdgeRunner)
Hardcore's latest arrivals from Scandinavia, Aloop sound so well clued up on what the people seek, they could have just as well had the parts assembled and ready to go any time over the last four years.
Vocals that can growl their guts out and creen to high heavens in chequered proportions and are ferried along by fierce rhythm guitar lines are an all-but sworn by formula today and Aloop do it by the book enough to please but have enough in their sound to print their own brand on it. Hook-seekers should find a fair portion of 'G.C.' satisfactory but the album is in general a solid example of how to come by commercial favour within the confines of this genre.
Not such a loopy lot as one might have first thought.
7.5/10
By Dave Attrill
RECOMMENDED IF YOU LIKE
Boy Sets Fire

American Dog – Scars-N-Bars
(Outlaw Recordings – 2005)
The latest release from one of my favourite American bands who always sound like they come from a dirty southern redneck bar. American Dog are still giving it like you'll wanna get it – ballsy, gutsy, beer soaked rock 'n' roll – the way it should be – honest and totally sincerely.
So press play to hear the opener 'Working Man' kick things off to an excellent and be prepared to be entertained with ten more numbers are (American) Dogs B*ll*cks (scuse the pun). These are number 1 calibre shots guaranteed on this platter - take for instance 'She ain't pretty (but she's all I got) about a chick who's up for it and nows all the words to the …Skynyrd songs – sounds perfect if you ask me. Fancy a bit of ZZ Top like Blues, then you've hit the bullseye with 'Lucky 13' or if you wanna bit o' bar boogie then Got you by a chain' is the oyster with the perfect pearl' – what an awesome slide guitar solo intro. I love the laid back and ballzy 'Sunday Buzz' and the tongue-in-cheek filth of 'Little Girl' who Michael Hannon wants to give his candy to for free …. and then some for free.
You just can't go wrong with these guys who are the Southern equivalent of Motorhead and Status Quo all rolled into one.
F*ck*n' Love 'em.
10/10
By Glenn Milligan

The Answer – Keep Believin'
(Albert Productions – 2005)
These will show the kids what the sounds of Led Zep were like plus what they missed from the 80's Rock Scene because they were still wearing nappies.
This is a good 'n' catchy song – think Thunder meets Great White and Skin (the band that is) for all you older rockers out there. They've had plenty of good press recently and got a headline tour now for March/April '06.
Ones to watch who could knock The Darkness off their perch.
8/10
By Glenn Milligan

Aroarah – Together life means so much more
(January Music – 2005)
A female 4 piece rocking band who come at you with angst filled rage. It's in the same vein of Girlschool, Crucified Barbara and Broadzilla.
Nicely put together and worth checking out. Go to www.aroarah.com for more info on the band.
8/10
By Glenn Milligan

Atomic Rooster - S/T
(Angel Air – 2005)
Their album from 1980 reissued on CD with the bonus tracks 'Throw your life away' and 'Broken Windows'.
The 'Rooster were quirky dudes who fired up that Hammond Organ a lot – a kind of rocking ELP but miles more accessible with an almost post punk feel at times.
Highlights on here include the opening Judas Priest like 'They took control of you'; the Purple come Humble Pie riff like 'Don't lose your mind' – easily the best track and thr moderately paced 'He did it again'
A well missed band.
7/10
By Glenn Milligan

AGANKAST - Scotland's Finest (4-Track EP)
(Self-Released)


Arrows on the fortune-o-meter should narrowly avoid the red bit fro young Scots four-piece Agankast.

Thrash-peppered power metal of course doesn't have too many friends in the fashionable quarter of the rock scene, not that we of course care about fashion anyway, do we?!

Old school 88-92 –gelled guitar elements monopolise this entire quarter of an hour, end-to-end, and the vocals are actually in vogue with Fear Factory on occasions so a smidgen of second guessing from modern metal obsessives seems slightly possible.

A potential offering from a country often too quiet on the metal scene today.

7.5/10

By Dave Attrill
ADMIRION - Burning Souls
(Karmageddon Media - 2005)
You know that slogan on fire and traffic safety ads that reads 'Excuses, we've heard them all before'. Those last five words come in very handy when reading lines like 'The Biggest new Sensation', Italian deathies Admirion are victims of a further hoax - someone has had the gall to say on their promo sheet that they write great and catchy songs.
Perhaps they do but seem not to have quite found the time to record any of such description yet, hence eight more labourings through the same weary old toil offering little to no change in shift patterns.
Their vocalist's high-pitch chunters do manage to reach Devin Townsend-ian levels at fairly frequent intervals which is a little upturn fro their credibility but I can find little else that is apart from a few vague Slayer/Testament moments that are fun if you can find them.
Guaranteed live energy but otherwise, only boffins need apply.
5.5/10
By Dave Attrill

May and Early 2005
AMERICAN HEAD CHARGE - The Feeling
(DRT/Nitrus 2005)
I've just been informed of the sad news of guitarist Bryan Ottoson's death as I begin writing their latest disc up. Not that it makes listening to and reviewing this album altogether that much easier.
I remember seeing A.H.C in Nottingham Rock City three years ago and quite quickly adapted to their style Pantera-esqe aggression. Sadly, I put their CD on to find little much more than run of the mill nu-metal that sounds at best like Anselmo and the lads every now and then but t worst a fourth division My Own Victim.
Being no killjoy, the album is true to form and comes highly recommended to all devotees of contemporary metal, not to mention moshpit mayhem in the making, but after a third listen I'd advise prospective followers to go and enjoy them onstage instead, as the same feel just isn't there on their recorded material.
Disappointing.
5.5/10
By Dave Attrill
9-10/10 By the FANS, no doubt
Am Ganesh'N – Eleftheria
(Holy Records – 2005)
The bio states this is 'Gothic Heavenly Music' and before you ask it ain't rock and roll – but instead it's Indian/Madrigal stuff that's been released on a metal label – why is anyones guess – maybe it's the goth link?
Rather hard to get into and is more like atmospheric film material than a stand-alone album in its own right. It isn't an outfit that'll get booked at rock clubs or anything – but more like something for some sort of choral or world music festival.
A release you need to find the right moment for to play.
5/10
By Glenn Milligan

AMNESIA - Digression Of Mind
Progressive metal is something the Italians are getting pretty damn good at. Amnesia delve into the bucket for some interesting bits n' bobs straight away and particularly succeeding on the vocal front.
It's Nick Holmes to start with, then a brief moment of what sounds like James Hetfield arguing with Rob Zombie, followed by something reminiscent of a frighteningly subdued Blaze Bayley before finally locking into Amerigo's own unique tones which allow the songs to travel along smoothly in their own way. Add this to some rather Petrucci-esque guitar moments to pot and the EP finishes rather too abruptly for my liking when I'm really starting to lap it up.
Threshold and Enchant fans reading - you're in fro quite a treat here from Am… oh what are they called again…. anyone know……
8/10
By Dave Attrill
Anthrax - The Greater of Two Evils
(Sanctuary Records - 2004)
The fans were given a chance to vote for their fave Anthrax songs to be re-recorded live and this is the result. It was done on May 4th, 2004 and mastered to CD in two days flat.
If you've seen 'em live with John Bush then it isn't too much of a surprise for ya - he's done a decent job of the Belladonna stuff - even tho he ca'nt get them wailin' high notes - take 'Indians'; 'Caught in a Mosh' and 'Madhouse'. Good to hear some older classics too like 'Metal Thrashing Mad' from the Nick Turbin era - you don't get better than that, now do ya ?
F*ckin' Metal.
And then Joey Belladonna re-joins Anthrax for a while - funny old world innit/
10/10
By Glenn Milligan
Alligator Stew - S/T
(Hogleg Records - 2000)
Who? Are they a bunch of rednecks who hang out in the swamplands of Florida - well actually no.
They are actually from California but play Southern Rock - their vocalist being 'Gary Jefferies' who was the front-man of 'Asphalt Ballet' who released an album in 1991) which I indeed own and you should too. Going back to 'Alligator Stew', this is rocking country blues coming complete with a dodgy sounding out of tune at times hony tonk piano.
A dirty to die for album that reeks of leather boots, gators and moonshine as well as featuring the sound of a few crickets too. Blues out to the harmonica wailin' 'Shiner'; get serious with the brother killin' 'Blood Money' that's both electric and acoustic); burn to the fun-time boogie biking 'Two Wheels' or hit the factory reality with the Skynyrd like 'Voodoo Spell'.
Excellent.
9/10
By Glenn Milligan
Alligator Stew - Welcome to Monticello Live !!
(Hogleg Records - 2003)

A cooking set from 'Roof Lounge, Monticello, Indiana from Saturday, June 30th, 2003' which sees the 'Stew fire up the live juice to a hot crowd performing numbers from their self-titled debut like the stompin' 'Louisiana Man' (eating black eyed peas and wearin' cowboy boots)'; 'Shiner' where I personally wanna visualise the girl at the club who's dancing on the table as mentioned by frontman, Gary Jefferies. Good to hear a live version of the brilliant 'Blood Money' as well as newer songs from the soon to be released 2nd studio studio album such as the Poisonesque country blues of 'I know you too well'.

Can't help taking a liking to the covers either such as a version of Bob Seger's 'Turn The Page' (that one that Metallica did a couple of years ago) and old 60's classic 'Suzie Q' that The Rolling Stones cut yonks ago. Those studio tracks are steamin too and have deep meanings as well like 'The Heist' about a bank robbery that goes wrong or 'Far Beneath the Rubble that appears to be about 9/11.

Good album and I'm looking forward to that already mentioned studio album out soon.
9/10

By Glenn Milligan
Angra - Temple of Shadows
(SPV - 2004)
An hour of melodic power metal - well what else would you expect from these guys. It's a concept album about the 'Saga of the Shadows Hunter - an 11th Century Crusader who questions the Catholic ideals' that guitarist Rafael Bittencourt came up with.
Produced by Pink Cream 69's 'Dennis Ward' and featuring guests like Kai Hansen (Gamma Ray - ex-Helloween); Hansi Kursh (Blind Guardian) and Sabine Edelsbacker (Edenbridge).
Apart from the full-on tracks like 'Angels and Demons' and 'Temple of Hate' you get to hear the band in am more atmospheric mode such as 'Wishing Well' which is not a cover of the Free classic (which would stand out like a sore thumb) but is more of a string set acoustic ditty that turns electric all of a sudden. 'Sprouts of Time' is a nice touch with its Brazilian feel and 'Late Redemption' especially which is an orchestral, acoustic and electric number all in one that features Brazilian singer and composer 'Milton Nascimento'.
This album is just what the fans were looking and waiting for.
8/10
By Glenn Milligan
ASTARTE - Sirens
(Avante Garde - 2004)
A name I may or have may not have caught beforehand, Astarte's material is to most respects what a front sleeve depicting a scythe-wielding hell-maiden standing waist high in a pit of severed heads would indicate.
Keeping things pleasant in some ways possible, these ten slabs of melodic black metal are quite approachable fro the majority of the 55+ minute running time, and the piano breaks both on top and alongside of the often tuneful guitar lines will please fans of today's British dark metal scene.
Some more info on the sleeve - I thought this was a demo at first - would have been nice but at least they've got the production, as well as the songs.
7.5/10
By Dave Attrill
RECOMMENDED IF YOU LIKE
Paradise Lost, Cradle Of Filth, My Dying Bride.
Atlantida - Painted Reality
(Full Sound Records - 2004)
Proggy like Iron Maiden meets Queensyche (but from Rio De Jeniero). There's plenty of chuggy guitar and adventurous arrangements and a fair few keyboard frills as well.

It's very similar in style to a demo the band sent me a while ago and frontman, Luiz still sounds like a deadringer for Bruce Dickinson. Serious stuff and recommended for fans of the already mention bands. Highlights include the instrumental title track; ' Two Minds' (that features Kiko Loureiro from Angra on guitar and Renato Tribazy of 'Execution) and 'Real Dream'.

7/10

By Glenn Milligan
AURA NOIR - The Merciless
(Peaceville - 2004)
As heavy metal and hard rock goes back to its roots of late, death metal is certainly one genre not to be left out of the movement. Aura Noir score a further point or two in that you can literally hear what they are growl.. er, I mean, saying, along the top of those traditionally relentless guitars.
As a bonus, you can also dance to one or two of these tracks, a fact which may offend the more pedantic metallers out there but throws the gate at the end of the commercial bridge wide open. All just a pity that it only lasts 27 minutes as this is one of the most enjoyable extreme metal releases this year, helped all the more by their frontman's Wyndorf-esque rant.
Recommended without exception for those always up for some good old-school metal fun.
8/10
By Dave Attrill
RECOMMENDED IF YOU LIKE
A combination of Monster Magnet, Hidden Hand, White Zombie, Obituary, Metallica, Usurper
ALTER BRIDGE - Open Your Eyes
(Wind-up 1-track promo 2004)
Another hot property on the thriving Wind-Up label, this delightful little cut from After Bridge promises plenty as well as delivering plenty itself. Obviously contemporary sub-structure supports a well aligned driving melodic vocal layer and the whole song runs on full petrol throughout.
An impressive introduction to this group, I can only hope there's more, as good, behind it.
8/10
By Dave Attrill
ANAND - Joy 4 Ever
(Lion Music - 2004)
Quite why the name of Surinam should crop up on the rock/metal map baffles one and about bl**din' all.Anand - nice to meet you, whoever you are, is the south American principality's first contributor of profile to the genre, so as first impressions go, he's got as much weight on his shoulders as someone trying to give an elephant a backie down the street.
No idiot, Anand gets dfown and grooves with eleven chunks of meaty AOR/prog directed instrumental pyrotechnics.While this material does, as is custom, require some getting to grips with by a notable portion of the rock n' roll fraternity of present day, he's still let his hair down, not that he has a great deal of it to, and tried to go with his own flow, and we can tell. The fellow uses all his techniques without fault and the styles explored in his solos substitute quite well for the absence of vocal parts.
9/10
By Dave Attrill
ATROCIOUS DEVOURED - Live Murders
Interesting name, Interesting country (France) for this type of metal and interestingly graphic hand-drawn gore cartoon pic on the sleeve, though by this time, something was beginning to give the game away. Pity then that the material held on the disc inside the case did in fact turn out to be just another load of practically business-as-usual black metal that despite a few melodic lists from the guitar, did otherwise little to make me play this album a second time.
France has got a fistful of decent acts emerging from its shores but some can be permitted to stay inland unless called to sea by the completists, and I think this lot are just about accounted for by that category, unfortunately.
5/10
By Dave Attrill
April
AHUMAN - S/T (3-track Demo)
(S/P - 2004)
The fist of the three songs that these lads have generously offered here, 'Looking On The Downside' starts in a slow but angry manner that can only be on the way to something else, like another formulaic lump of contemporary metal core, for example. Surprising as you may find it, this is not the case as I find this tune in possession of a damn good melodic chorus line of the sort Boy sets Fire pride themselves on that jumps on you from out of absolutely nowhere.
'Ghosthouse' attacks with similar weapons albeit with the odd warning shot, before '21 Sins' takes them where very few acts of their kind dare treat, with an unarguably prog-accented sound, and still with the hooks loaded.
A strong and varied assortment of material, I hope there's more on the way. Good start, chaps.
8/10
By Dave Attrill
Atlantia - Pre-mix 2003 (Advance)
(Self-Released)

Atlantia are a sextet from Brazil who formed ten years ago and mix a variety of musical genres like Metal, Prog Rock and Jazz with a frontman who sounds very like Bruce Dickinson.

These 5 tracks will more than likely be available on a full album shortly or maybe as an e.p. Whatever it happens to be released on it is expertly crafted. 'Real Dream' has a jazz guitar riff and a plentiful chunk of metal guitar with a healthy bit of sweetpickin' (a la Malmsteen). It appears that they've been listening to a fair bit of Rush's 'Spirit of Radio' then had a night in listening to Dream Theatre 'n' Iron Maiden if 'Burn the Bridge' is any indication to go by with 'I lost you' being dark but uplifting metal.

These are excellent songs that have a lot of complexities without making the melody tedious and monotonous.

I recommend you check out Atlantia if you are a true fan of real interesting metal as these guys prove its possible to mix musical styles despite the major differences of them.
9/10

By Glenn Milligan
March
American Heartbreak - You will not be getting paid
(Perris Records - 2004)
This is very much a slammy, punky Sum 41/Blink 182 type vibe goin' on here. It comprises of a live gig with tracks like 'Rotten Aples' and 'Brain Vacation' but I have to admit that American Heartbreak sound better acoustic - a good example being 'Come on, come on, come on' with its simple happy lyrics and then there's the frightening 'Dead at 17'.
You also get the tracks from the 'What you deserve' E.P. that has been re-mixed but this material is very average to say the least.
5/10
By Glenn Milligan
AM GANESHAN - Somnia
(Holy Records/Wagram Music 2004)
Oddest sounding rock band of all time? I was about t place that award at the feet of this label's other signees Stille Volk, but I hadn't yet listened to this other so-called rock act's offerings first. And what they have to offer?
I actually had trouble deciphering amongst some fourteen pieces of vaguely gothic Middle-Eastern gospel sounds of some sort, which began to absorb for about three tracks or so, then washed out again almost as fast. Interesting in its own little ways but what appeal it'll hold at all to 99 percent of the regularly expected sort of visitors to this site, I can't quite understand.

4/10
By Dave Attrill
Anti-Product - 'Consume and Die…' + 'Made In USA'
(Anti-Product Music - 2000+2003)
Well the 50's had 'Spike Jones and his City Slickers' zanying up the charts and now we have 'Anti-Product' - the cacophonious Rock/Metal equivalent (but it's all their own original material). The 'Product create real hacoc in the studio and on the stage with their crazy chorus's, handfuls of melodic hooks as well as identifiable lyrical topics - you've only got to listen to 'Hey, let's get it on' which backs me up and can be topped by 'Bungee Jumping peole die' (as show on Noel Edmond's 'The Late, Late Breakfast Show' a few years ago - sick but very true) and 'Captain Wrong'.
7/10
You can see where they were heading for from the debut as 'Made In USA' (2003) is a more advance album without the need to get boring and sophisticated. The album boils over at boiling point and the vocals are miles higher in the mix - in fact Alex Kane's singing is completely in-your-face and sounds real confident plus the girls sound well with their 'Pa Pa Pa' backing vocals on 'Thank God I'm right'. In my opinion, no matter where you land on this 5"er you will like what you hear - my faves being the B-52'y 'Goin' where the action is'; the bands last single 'Better than this'; the chantingness of 'Something Good'; the Ramonesy 'The Rules we Rock 'n' Roll by' and the hop-boppin' 'My Favourite One' that's got an ELO vibe that thrown in atmospheric dept.
10/10
By Glenn Milligan
February
Anti-Product - Better Than This (Maxi CD Single)
(Live Wire/Cargo Records)
16 tracks for a CD single - no wonder it's called a maxi-single - the main song 'Better than this' being a bopping, climaxing, bawly rocking effort that merges in Marilyn Manson and the pop band Shampoo (well almost) and screwed up with piles of heavy bursting energy - it comes in album form, live form and video edit form also.
On the journey to and from these various versions of 'Better than this' there's a an alternate version of what can be described as INXS turn into the B-52's on 'Goin' where the action is'; a live version of 'Tell me what you want' (where Alex forgets the words); the light 'n' poppy 'One more last thing' (Demo) that's like McGuinness Flint (those dudes who came up with 'When I'm dead and gone'); the Who'ish, psychedelic 'Hey, let's get it on (Demo) and the madness that has guitarist/backing vocalist ;Clare Pproduct screaming at American Wrestlers in 'Clare Vs The Mullets of WWF' - the joys of alcohol!!!
Next Stop - another single - wonder if it's gonna be as long as this one - let's hope so.
10/10
By Glenn Milligan
APOSTASY - Cell 666
(Black Mark - 2003)
Another unknown disc by an unknown act. Apostasy deliver a pleasant angle on black/death metal with this disc, spreading their tunes over five minutes apiece to allow for more ideas to sit in comfortably distinct positions.
Although voiced by the standard helium-fuelled shrieks, albeit quite like (Chuck Billy at times), the guitar work takes a more symphonic leaning through most of the nine tunes, demonstrating that while these vocals are always best suited to their own confines, most six string styles have more than one pair of legs. Having keyboards works too and this is no exception.
A fine example for bands of this ilk to observe, Apostasy are probably one of the best things that's happened to this scene for a long time.
8.5/10
By Dave Attrill
ASTRAL DOORS - Of The Son And the Father
(Locomotive Music - 2003)
Lack of band detail when dealing with a hitherto unknown act is one major league downer. Hello, Astral Doors, then, whoever you may be, let's see/hear what you've got for us. What they have quite hits me in the hanging bits. Think Tad Morose and legends Black Sabbath combined and you couldn't be far off.
Vaguely German sounding in their use of vocal melodies and backing vox, coupled with voice that sounds like a deeper, gutsier Ronnie James Dio scores a good part of their points the rest picked up by some classy, driving old-school guitar rhythm lines, and some interesting little solos too, I also noticed. The lyrics are little less than the usual cheesiness levels but on account of everything else here, we'll let it pass.
As we always state, this brand of rock 'n' roll will never be brought to its knees, no matter how hard people have tried in the past. Brilliant.
9/10
By Dave Attrill
RECOMMENDED IF YOU LIKE:
Dio, Dio era Sabbath, Tad Morose, Gamma Ray, Rhapsody, Dreamtide
Dec. 2003
ANATHEMA - A Natural Disaster
(Music For Nations - 2003)
Liverpool doom metallers Anathema have ridden the height of the wave from the beginning of their decade-plus existence. This is something like their sixth album and continues to show why they've been set apart from the rest of their pack, most often onto a higher step.
Not relying on the same misery-propelled ventures that brought Paradise Lost et al to the top (and back down in the case of Holmes and co), they take the time to explore the depths of their inspirations and wallow in them for other treasures. This is music I dare you to try and sit down and listen to without being absorbed in such depths yourself.
Mixing passion and integrity as very few extreme metal bands dare to, but leaving in the heavy guitars albeit only using them when they fit the slot, and while we're at it, vocals of both the male and female varieties, 'Natural Disaster' is still a pretty acquired taste but worth taking the time with. An album likely to keep one of MFN's top acts well up on the roster.

7.5/10
By Dave Attrill
ATTILAH CSIHAR - The Be(a)st Of..
(Southern Lord - 2003)
Oh that's a fine start. Only introduced to this chap this very minute and I can't pronounce his name. For the record, he's Hungarian and sports a leather jacket and a punk hairdo on the back of the sleeve. Again, a misleading image, this collection of so-called best-of material turns out to be a variety of industrial deathcore noises from various acts of his involvement that show seldom quantities of inventiveness or interest in my case, though a few numbers should please die-hards.
Sadly only 'Cursed For Eternity' and 'Decay' are of any real interest even if then the production of that guitar solo at the end of the latter makes it a bit off-putting. Nice meeting the guy but I'm going to have to hear something a bit better in order to make any real impression.
4/10
By Dave Attrill
November 2003
Agent Steel - Order of Illuminati
(Scarlet Records - 2003)

Some bands never change and Agent Steel being one of 'em - a bunch who boldly keep up the conquest of old-school thrash metal going - they even played a couple of gigs in October on the Bounded by Metal Tour (sadly I missed 'em due to being at a Motorhead concert).
For those of you who are in the dark to what the head-splitting sounds of Agent Steel, then try crossing Joey Belladonna era Anthrax with Helloween and you'll end up with summat like these guys such as the opener 'Avenger' - which says it all. 'Earth under Lucifer' has that Judas Priest go even harder feel about it and then there's the eastern sounds that are prominent on 'Insurrection'. Just a thought, is the bass solo called 'Dance of St. Vitus' a bit of competition to Anaesthesia (Pulling Teeth) or simply a tribute to the late, great Metallica member, Cliff Burton? - I'll let you decide on that one.
The epical 'Kontrol' is as old-school as it's ever going to get and images of the thrash-head slamming around Rock City as featured on the BBC 'Arena' special on Heavy Metal immediately comes into my head. 'Human Bullet' fools you into thinking that you're in for a f*ck*n' ballad - ha !! no such luck there, dear boy as it suddenly launches into hyperspeed thrash with blasting drums and throaty vocals.
This is the real deal - an album filled with harsh, belting, bleeding ears guaranteed speed sounds that makes you think you've been transported back to 1987 with the Doc in his Delorian.
7.5/10
By Glenn Milligan, BA Hons CS
ACID APE - Flesh Sound
(Lunasound Recordings 2003)
Most three-piece acts throughout rock n' roll history have made some very interesting sounds. So do Acid Ape proceed to do as the like now, only not very
interesting songs, with them.
With a large stack of electrofuzz-voiced alternative offerings, most less than exciting, sitting on my desk at this period, this 'un does marginally more than little to elevate my optimisms here. They could also do with a different (and better) singer then they'll take off up the runway but for the meantime, there is still too much more important traffic already in the air.
Another anti-climax at the end of the hype, this half-hour or so of all noise and not too much substance leaves me little to go Ape about either way.
4.5/10
By Dave Attrill
AMPLIFIER - The Consultancy
(Music For Nations- 2003)
Only a few weeks ago did I have the misfortune to hear the rather uneventful offerings via a four-track sampler, from this so-called 'promising' new outfit. 'Consultancy' was in fact the only particularly impressive number of that bunch, the other three tunes however, just droning off at a tangent.
Here we have two versions of the same tune, plus the vid (which wouldn't play due to copy-protection) and the other tune included isn't particularly bad either. In summary, not as disappointing this time round - that song does get better with each spin, I must admit.
Here's to hoping their next release thrown in my direction climbs the ladder even further.
5.5/10
By Dave Attrill
AMPLIFIER - 4-track sampler
(Music For Nations - 2003)
Amplifier is another relatively new name bandied about of late, the much-mentioned MFN-signed act apparently being described as one or two parties as Pink Floyd-meets- U2. I can only assume on having sat through this… whatever it's supposed to be…, that another act share name as well as label because Roger Waters and Bono have written much better material than this throughout most of their careers.
I'm not calling this stuff stupid because it sounds serious enough in penning and performance, only TOO serious. They've seemingly got their shoes stuck to the floor while trying to move in various intended directions and as a consequence, all four tracks sound like one that's dragged on forever, collecting little or no grit en route.
Bloody good job it's only a promotional sampler because all the public would sample of Amplifier here is a new 25-minute musical insomnia remedy, effective in about 4.
3/10
By Dave Attrill
ARCH ENEMY - Anthems Of Rebellion
(Century Media - 2003)
The present day metal scene in Scandinavia has brought us many wonderful things including Arch Enemy who I've just learned are on their fifth album here (they've been around that long?). Passing the due credit though, I wouldn't have believed this to have been a woman's voice a single bit without having read the band details. The talented Angela Gossow is actually on her sophomore work with the Swedish act now, and looks to make a name for herself as extreme metal's no 1 female vocalist on merit of her efforts herein.

Backed rigidly all the way by brothers Michael and Chris Amott's Slayer/Maiden - oriented riffing, she makes this one of thrash/death metal's deadliest chemical combinations for some years bygone. Fast, relentless and stopping for not one single soul, as is the trademark for its common category, Arch Enemy have nonetheless kept boundaries flattened to the floor and trampled across by diversity's troops, the resulting battle signalling victory on all sides.
An Enemy I'd regard more as friends.
8/10
By Dave Attrill
ATTRACTION 65 - S/T
(Artenzia - 2003)
I heard the name Blue Tears here and there for a while but they split before I could delve in much deeper. Two of the lads have emerged in this new outfit and whilst I don't know what they got up to musically in their past act, this new material will satisfy alone.
Gutsy southern-tinted hard rock led by Greg Fulkerson whose voice conglomerates the tones of Tamplin, Crash Test Dummies, Pearl Jam and perhaps Paul Weller too. There's also a very vague hint of Queensryche and Bon Jovi audible too so the sound turns out to be a tad more multi-dimensional than just good ol' suvvern rawk n 'roll.
A sort of present-day Lynyrd Skynyrd, this album packs power, groove, suss and good feel into the same case before headin' out down the highway. Another proud flag on Artenzia's map.
7.5/10
By Dave Attrill
ASTERIUS - Moment of Singularity
(Cruz Del Sur - 2003)

Trying to carve your own pattern in extreme metal is quite a hard and not exactly frequently considered task but some bands have bothered to have a go at it. German quintet, Asterius have hopped on for several without paying. Getting to the point, this album is like little passed my way before.
The expected guitar styles turn up, topped by two-way lead vocals that sound either almost like some new form of industro-rap technique or the chap fronting their country's latest synth rock hotshots Funkervogt, while at other times like those of someone associated with one of Europe's top power metal acts. Coupled with a selection of wild, wonderful and well-arranged sounds and samples that blend brutality with an overall flow of genteel, here's another welcome new act marking Germany out alongside Sweden as one of the mainland's central hard rock crop plantations, still generously dusted on a daily basis.
Singularity is indeed what Asterius' musical style defines.

9/10

By Dave Attrill
RECOMMENDED IF YOU LIKE:
Something of a cross between Die Krupps, Fear Factory, FunkerVogt and Royal Hunt, Artension, Rhapsody and beyond
ALL SYSTEMS GO - Tell Vicky
(Bad Taste Records - 2003)
From last year's 'Mon Chi Chi' debut album, Canada's 'All Systems Go' kindly decide over a year later to release one of the album's catchier numbers as a single. Not a bad idea in the main, but the three unreleased cuts accompanying it do little to excite, just random romps through threechordsville forest that tarnished my anticipations. Quite a likely clue as to why they didn't make it onto the album.
6/10
By Dave Attrill
Autograph (Version 2.03) - Buzz
(Point Music - 2003)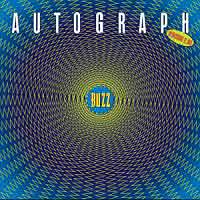 Steve Plunkett's pack are back with ten pieces of 80's Rock that fall into the Hysteria style of Def Leppard and beyond - so expect to hear explosive guitars and big harmonies, not to mention that Van Halen meets Mr. Big influence as well. It's an album that's firmly up Partyville Street - thank god as well.
Favoured highlights include 'Shake the tree'; 'She's the reason'; 'Can't stop Rock'; and 'Party like we did' etc, etc - you get the idea.
In my humble, it's the album that Def Leppard should have made. It's a CD that buzzed me up anyway.
9/10
By Glenn Milligan, BA Hons CS
2002
Animal - 900Ib Steam
(Perris Records - 2002)
Remember the song 'Animal (F*ck like a beast)' by WASP well this bunch who go by the name of Animal feature 3 members of that band ironically enough - those guys being the guitarists Chris Holmes, Randy Piper and also Tony Richards.
This new Ex-WASP outfit have the dark heavy attitude of Blackie's baby but they also wonder into the doominess of Dio. A lot of what's on offer is very formulaic and I have to say done before many times - but saying this there are some good songs such as the title track itself '900lb Steam' which its 'Here I am' roar; and 'Another Victim' about a shooting incident and the reason behind it taking place - Was it a real event? I wonder because there's plenty of US news coverage throughout the song.
Animal are likely to do well due to who is in the band - the ultimate would be to support WASP on their next tour and blow them off stage.
6/10
By Glenn Milligan, BA Hons CS
ALFONZETTI - Machine
(MTM - 2002)
Have I been sent the wrong disc in this case, by accident? I'll just take it out and check… ….no, the title on the disc matches that on the sleeve. I'll play it again. Yep, that's definitely Matti Alfonzetti there. Funny. This sounds like something that's absolutely nothing to do with the stunning 'Ready' album from a couple of years back. Surely it's just another act by the same name that he's also got going, now. I've got little choice but to accept it for what it is, as we at Metalliville make a point of doing.
For my open-mindedness, opener, 'It speaks' is actually a good tune, an aggressive, punky number with a bouncy vocal line through the chorus. 'My Machine' and 'Welcome To My Mind' are more subtle and owe to top Canadian acts Von Groove and 24K in more ways than one. Rowdy pop-punk dominates the ring in 'Barbie Doll', a tune that will offend the alternative-loathing majority of the AOR following, though it's a catchy track.
'Live In Sin' and 'A Happy Guy' are less favourable tunes, though a few baggy trousered youngsters may find them of appeal (that NOT being the reason I dislike the two songs). 'Boss of Me' even sounds like there's some Offspring having been listened to in the Alfonzetti recording rooms of late, but the distortion-laden guitaring of surviving 'Ready' colleague Stefan Bergstrom sits in a comfortable chair. 'Give It All Away' is another so-and-so cut with a Bush/Nirvana/Everclear.
In total contrast, however, 'The Bitter End' is the only link to the glories of the previous album that Mr Alfonzetti is able to offer, plus a live version of 'In The Groove' to cheer up the disillusioned punters a notch. To those yet to buy the album, be warned, it's completely different from 'Ready', apart from 'Bitter End' and the live cover, obviously, and most of you may take a while to absorb the revamp the sound has undergone, here - you think I didn't struggle to?
It's by no means a bad album but how long Matti's new career with rival Swedish melodic rock giants Damned Nation will last once they hear this album, is quite worrying.
7/10
By Dave Attrill
ARTENSION - New Discovery
(Frontiers/Now and Then - 2002)
It seems like this is the bands second album within a year. Then with such talent as that of Russian keyboard maestro Vitalij Kuprij and lest we forget, current Royal Hunt crooner John West lining the decks, they are all but entitled to such a privilege. Still with last year's line-up completed by Messrs Staffelbach, Terrana and Chown, the question lurks - are there any new discoveries to speak of, musically? I think you'll find the music remains pretty much where they last left it, but surprisingly there is an overall feel throughout all ten songs that manages to differentiate it from last year's 'Sacred Pathways' CD.
There is a presence of depth on a couple of numbers 'Hearts Are Broken' and 'Endless Days' that does their job of carving identity into the wall. As usual, Kurprij's scene-stealing instrumentation makes his presence felt through the disc as if it never left, quite obviously on instrumental track 'Symphonic Expedition' - as if you didn't think it to look at that title.
We get the usual fist-in-the-air Euro Metal belters such as 'Remember My Name', 'Storyteller' and 'Last Survivor', all delivered in their trademark high speed onslaught, plus mid-tempo numbers like 'New Discovery' and 'Call Of The Wild' (now there's an original title).
So in the end, business almost as usual, but lads do get up to tricks in the office, the product still meriting its many satisfied customers and that includes me by the way.
8/10
By Dave Attrill

Pre - 2003
ALL SYSTEMS GO - Mon Chi Chi
(Bad Taste Records - 2002)
Reviewing an alternative/punk rock album is quite a big deal for me nowadays with my hard rock/melodic rock preferences, but as I sniff right across the spectrum of rock, bias is not of my persona. Believe it or not, there are some decent bands in this genre, and in fact, some damn fine ones, such as Boy Hits Car and Boy Sets Fire.
Swedish newcomers, All Systems Go join the roster without question and are brass-plated proof of Sweden's diverse rock scene that has provided us with bands like Seven Wishes, Livin' Parazite, Entombed and Psycore across its variety and that's just a minute four of the terrific acts cropped from that country.
Doing this album proudest is the catchy vocal hooks that monopolize the songs alongside some corking guitar/bass lines that just pump along like an engine. There are a few odes to the hardcore punk styles of the New York scene's softer acts like CIV and Shelter and you could get away with feeling that Feeder also sound like an influence on these compositions.
'All These Things', 'Fascination Unknown', 'Running Blind' and 'Robots' are likely to be the most re-playable romps but at 36 minutes, I'm sure there's plenty of time for a few full-length plays before I die.
9/10
By Dave Attrill
American Dog - Last of a Dying Breed
(Outlaw Entertainment International - 2000)
The A Dog Debut that started it all off where you'll find an adorious barrel full of beer-driven, South-sounding ditties like 'Drank too much' and 'Drinkin' about you' or the sicko blues live number 'She had it comin' about killin' a chick for smokin your hash - ha ha - 'she didn't know I had a gun' - pure tongue in cheek - love it !!!
The AC/DC'ish 'TV Disease' is a memorable cut that was recently included on the label's sampler.
The 'Dog also pay homage to their hero's as well like Twisted Sister (Under the Blade -sung slightly lower - well Dee is a bit high ain't he) and Mental nuthouse metal madness in the form of 'Straightjacket' that's inter-cut with later on with snippets of Alice Cooper's 'Dwight Fry'.
A 'Dogs Life' is the life for me - you betcha - and what a f*ckin' cool song as well - a 12 bar about bein' a dog - they eat, shit and lick their balls - that's it .
Why be so serious about life? - enjoy it - these guys certainly do. Best debut since G'N'R's 'Appetite for Destruction' - then again I love Southern Rock and you should too.
God Bless American Dog and God Bless America.
9/10
By Glenn Milligan, BA Hons CS
American Dog - Red, White, Black and Blue
(Outlaw Entertainment - 2002)
Straight ahead Southern based Rock 'n' Roll Redneck trio fronted by Bassist/Vocalist Michael Hannon (ex-Salty Dog/Dangerous Toys) alongside Drummer, Keith Pickens and Guitarist, Steve Theako.
These Ohioans dudes deliver kickin' ass beatin' numbers about drinkin' ('Blame it on the booze' and 'I keep drinkin') and are out to give you a great time guaranteed - especially live if they are playing at your local club.
You can re-live the classic no-bullsh*t sounds of early ZZ Top in an AC/DC kinda way. They tell it like it is - honestly with songs like 'Bullsh*t (Goddammit)' or 'Motor's Down (your voice keeps runnin').
American Dog are quite frankly the Dogs B*ll*cks and they'll bark off any wannabee's -that's a promise.
It won't be long before these guys are huge.
10/10
By Glenn Milligan, BA Hons CS
American Dog - Six Pack
(Outlaw Recordings - 2001)
Now this is a gig I should have been at. American Dog pump out classic bar-room rock to a specially invited audience of friends that salute the almighty legless god - the immortal can of beer.
Real love songs from the heart are presented here, because unlike a woman, beer is something you can always rely on (ok, I'm joking - but you can't beat a beer can you?). Hear Michael Hannon preach the gospel of beer and I'll 'Drink to that'. You just can't beat songs like 'Let's all get drunk (and f*ck tonight)' or 'Just an alcoholic' or 'Drinkin' about you' - especially when your armed with a can of beer.
Hey man, who's up for a beer or six?
10/10
By Glenn Milligan, BA Hons CS

Amor - Even After That
(Manhaton Records)
Fresh sounding commercial Blues-Rock band that have a lot of potential - a group that'll show the kids what they are missing in the old sounds.
It's snazzy, paced arid rocky if substance and recommend numbers like 'Superhero', the funky 'Bring my baby back' and their last single 'Hard Hat'.
They've played the UK and France late this year (2002) and no doubt they went down real well.
Amor shine out ah honest love for the blues and perform it in a modern way that blows the cobwebs off this long-standing musical genre.
8/10
By Glenn Milligan, BA Hons CS
Anthelion - Lines X
(Self-Released Demo)
An Italian prog Power Metal Sextet who combine the musical standard of Iron Maiden with a few aspects of Rick Wakeman keyboard stylings. They've had numerous members in Anthelion who have left due to outside commitments and or musical differences - you know - the usual score - with the main stays being Fabio Garzi (Guitar) and Matteo Borselli (Keyboards).
A wide range of gigs have been played at venues that include schools, squares and clubs and now they've released this promising 4-tracker that greets you with epics like 'Song of a lie' and 'Dirty Right Me'.
Hopefully it won't be long before these guys are signed up to a good label.
7/10
By Glenn Milligan, BA Hons CS
AMERICAN NIGHTMARE - BACKGROUND MUSIC
(EQUAL VISION RECORDS EVR62 - 2002)
American Nightmare are your typical hardcore punk band, these guys are trying so hard to be part of the British punk scene but failing because they're not British, you can tell from the way they play that these guys are just trying to make a quick dollar and in America they my, but I feel they will be wasting their time in hitting the British shores.
Background Music definitely isn't what it says, this 11 track CD abusers and pollutes the air you are in, from the start of '(we are)' to the eleventh track 'Farewell' this CD has been produced very tightly to give you that continuous aggression as you would expect from the rest of your punk collection, but sounding more like Crowbar as the CD goes on, this itself releases the chemical that produces boredom, which this CD finally gave me, it's nothing new and nothing exciting to talk home about.
American Nightmare have definitely made their name in my book as they have stood up to their name, yes these guy's are an American Nightmare.
4/10
By Tony Watson

ANGEL DUST - OF HUMAN BONDAGE
(CENTURY MEDIA RECORDS - 2002)
What can we say about an eighties German thrash power metal band who have been off the scene since 1988. To my delightful surprise 'Of Human Bondage' is like a fresh of breath air, it's not the aggressive speed and thrash metal from the early years of 'Into the Dark Past' or even 'To Dust You Will Decay', which are in themselves are masterpieces of that era.
Angel Dust have released an exhilarating example of modern power metal at it's best, they come across with this new material as a mixture of Helloween, Pantera and surprisingly Queensryche, with wonderful tracks like 'The Human Bondage', 'Disbeliever', 'Forever', 'Unite' and 'The Cultman' to name but a few that will have you stunned with amazement of the musical talent, the concept and production of 'Of Human Bondage'. This CD also has a cover version of Seal's 'Killer' that has to be heard to be believed with its pop power metal.
There aren't many bands that can disappear of the face of the earth and come back to the metal scene with a CD that has so much energy and enthusiasm that will have you talking and playing it for years to come.
10/10
By Tony Watson

ANDRE ANDERSEN - Black On Black
(Frontiers/Now & Then - 2001)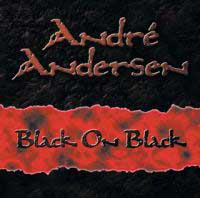 Here it is, the solo release from Royal Hunt's Ivory tickler. I must warn you however that no other Huntsters are involved in the line-up for this new solo album, with the only name that rings any bells being vocalist Ian Parry, who accepts and performs the vocal duties with flying colours. And then there's the Double A himself, pluggin' in an' poundin' those poor defenceless little keys to the floor - but they do make a lovely sound in the process.
Oviously, it's got to sound at least to a reasonable degree Royal Hunt-ular as he's got the loyalty to his fans at stake but Andersen shouldn't have to just stand there and take orders like some sort of music waiter, and doesn't. Thus, it is possible to distinguish this as a different act, although songs such as 'Tell Me Why', 'Arena', and 'Desperate Times', I'd hear anyday, regardless of coming from either source.
I may have found a little bit less meat on its bones than I did on the last R.H. disc but it remains a vital addition to any symphonic metal collection. The Rick Wakeman of Euro Metal is riding high again.

8/10
By Dave Attrill
The Atomic Bitchwax - Spit Blood
(I Used To F*ck People Like You In Prison Records - 2002)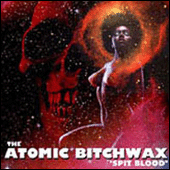 Last heard on CD, on the Meteor City label 'Scene Killer' project album - Atomic Bitchwax are famous through having Monster Magnet's Guitarist, Ed Mundell in their ranks.
Warming the heart immediately is a cover of AC/DC's 'Dirty Deed Done Dirt Cheap' - it's a party from here on. A series of Blue-Rocking Stoner cuts await the ears and I commend the meat and potatoe blues of 'Liquor Queen' and 'Spit Blood' to you with a bet that you'll absolutely dig them. 'Spit Blood' places your head in Blackpool Ballroom every so often due to the Wurlitzer playing that flows in and out every minute or two - it somehow compliments in a weird kind of way.
Wanna hear a bit of ZZ Top Riff - then hit the last track on entitled, 'U want I should' then try telling me that it would be out of places on the mighty three's 'Tres Hobre' album or such like classic LP's.
I'll leave it to you to discover the other 3 momentous offerings that make up the rest of the cd. I reckon you'll like 'em all the same - and don't forget about the CD-Rom section featuring the 'wax in the studio.
8/10
By Glenn Milligan, BA Hons CS

ARCH ENEMY - WAGES OF SIN
(CENTURY MEDIA RECORDS - 2002)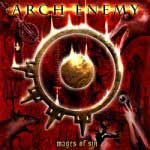 Arch Enemy open up with 'Enemy Within' that rips into your face with what one can only describe as thrash at it's best, with their unique fast upbeat tempo, pounding drums beats that would give any jack hammer a run for it's money, guitar solo's that amaze even the most talented guitarists and a vocal content that Mille Petrozza of Kreator would be proud of, with an intro to a CD like this you know what follows will be just as good, and it is.
'Wages of Sin' is a mixture of Kreator, Dark Angel, Death Angel, Bathory and a bit of Iron Maiden for good measure within its 12 tracks, if you are lucky enough you will also have a bonus video track 'Ravenous' that will delight any avid fan. Arch Enemy have released a 49 minute CD that consists of 'Enemy Within', 'Burning Angel', 'Savage Messiah', 'First Deadly Sin', 'Shadows and Dust' and also a bonus track 'Lament of a Mortal Soul', which finishes off the CD perfectly.

'Wages of Sin' is a CD that you wouldn't want any more and you wouldn't want any less, from one of the fastest, hardest and at the same time exhilarating albums to hit the market this year.
What I can work out, Arch Enemy have released 'Wages of Sin' with a limited edition CD 'A Collection of Rare & Unreleased Songs From the Arch Enemy Vault', which contains 7 tracks such as 'Starbreaker', Iron Maidens 'Aces High', 'Hydra' and another bonus video track 'The Immortal' that show the fans how they have progressed through the years to become one of the most underrated thrash acts in the world.
With both CD's to delight the ear drums, Arch Enemy have shown the world what they are made off and with such power and enthusiasm the world will listen.
10/10
By Tony Watson

ARTENSION - Sacred Pathways
(Frontiers/Now & Then -2002)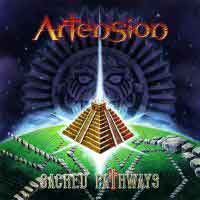 Melodic metal hotshots Artension are amongst the latest batch of new kids on the Frontiers block - even though they're actually grown men - and I notice straight away, one familiar face in this crowd, which is Vitalij Kuprij. The ultra-talented Ukranian keyboardsman is a renowned figure in not just European but probably the symphonic metal scene the world over by now, his most recent other work being with Ring Of Fire, the band featuring former Malmsteen vocalist Mark Boals. Just savour his stunning ivory-bashing acrobatics throughout this otherwise American/German act's debut album.
Tell me they don't nearly put Dream Theater's Jordan Rudess to shame. Let's not leave out the other guitarists, especially guitarist Roger Staffelbach whose well-tutored widdlings intertwine superbly with Kuprij's work and current Royal Hunt frontman John West (in NO WAY related to tinned fish manufacturer of matching name) contributes the performance of a man who knows his way round this scene. All-round superb showmanship and an example of how Frontiers have pushed the boat out like this to bands of such various ranging styles.
9/10
By Dave Attrill

JEFF AUSTIN PROJECT - Go Big Or Stay Home
(Frontiers/Now & Then 2002)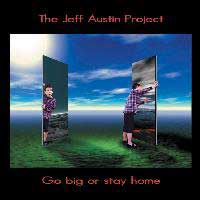 The Project is a title format wearing rather thin nowadays. Unlike the music, though, thank god. Respected US drummer Jeff Austin has brought along a rather nice little package here, me thinks. Shall we open it? Yeah why, not. What have we got here first then. Bloody hell, this first 'un's a bit Brian McDonaldy, ain't it. No bad thing that. 'Lisa' is a truly appropriate rocker fro an opening number before 'Hideaway' and 'Too Late For Love' follow as the like. A storming Survivor cover comes in the form of 'I'm A Fighter', definitely a dance-floor must, be it Jeff's or Jim Peterik & co's version played.
'Caught Up In Ecstasy' is the album's resident Mitch Malloy-esque moment of glory, whilst second cover 'Whilst You Ran' is impressively like its original too. Other tracks, 'Forever', 'Too Many Midnights' and 'Find A Way' are no filler fillers either, although we would have appreciated a couple or so more tracks on the listing, so as to give us paying types a bit more than 37 minutes for our pennies.
Mark Roebuck (vox), Mark Severns (guitar) and Rex Alan (bass) all deliver duties worthy of praise but Mr Austin's band it is and his precise brand of percussion work does not wasted on this disc. If you like Brian McDonald, Mitch Malloy, Prisoner or Survivor, don't even think about not getting this album. Oi, you, I mean it. And I'll tell you something else. Given the choice, I'd recommend an Austin Jeff rather than an Austin Rover anyday.
9/10
By Dave Attrill

Awesome Machine - Under the Influence
(I used to f*ck people like you in Prison Records/Century Media - 2002)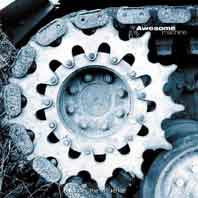 Stoner Rock from Sweden that's been done countless times already by bands like Kyuss. Awesome Machine groove out but the atmosphere is ruined by the poor production and overall sound quality making the album sound like a boxy £50 demo recording - a pity. The guitars bleed out over the vocals way too much - it would've been a mass improvement if the voice was knocked up a few notches.
Awesome Machine use the same old vocal rawping technique - basically just yelping out the lyrics as loud and as full on as possible - not to mention fuzzy guitar riffs that come bellowing out very frequently. A good example of this formula is to be found in 'Tomorrow' and 'Desire' (featuring drum solo reminiscent of Cream's 'Toad' or Led Zeppelin's 'Moby Dick'.
It's real pleasing to hear the bit of difference - the track 'Sonic Hustler' is one to remember - a slick stint of slide guitar playing - it's just a pity it only clocks in at 1 minute 49 as more of this gear would set them apart from the other bands sat in the middle of the stoner circle.
Another memorable number is the flashback psychedelia of 'Still got one share (parts 1 and 2)'. Part 1 sees early Pink Floyd meet the zany
cacophonous cop out vibe of Hawkwind and part 2 comes across like a fly on the wall visit to Tony Iommi's bedroom.
It's a halfway house of an album but if you delve in a bit you'll discover some brief moments of musical brilliance.

6/10
By Glenn Milligan, BA Hons CS

February 2002
Cyril Achard's Morbid Feeling - In Constancia Constans
(Lion Music 2001)
This is a brilliantly up-there mix of Jazzy Rock and Metal - first rate musicians musicianship stuff - basically tip-top prowess that cannot be bettered. Many of the songs are similar in style and it's a rambling musical voyage that never ceases to amaze the ears - you simply don't know what is gonna happen next. A sort of Yes meets Chick Corea in a new Rock/Metal mode.
Ten numbers appear in all which are very up-tempo that keeps you interested - although listeners that are less musically will probably find this material too complex to grasp - as is the case with a lot of progressive fusion music.
There's an epic instrumental called 'The Deep Ones' with a long guitar solo (of the widdly type - loads a notes etc if you get my drift!!!). The opener 'Alone Among Friends' is a warm delightful listen. 'Be my thing' is really good - with its beautiful acoustic beginning.
This CD is one for the more musically advanced and/or refined listener.
7/10
By Glenn Milligan, BA Hons CS

DOUG ALDRITCH - Alter Ego
(Z Records - 2001)
I didn't know Mark Alger now released instrumental CDs on his label. Well, partly instrumental anyway. Five of the thirteen songs have vocals. The first of these, track two 'Face Down' features a young man called Johnny Gioelli at the microphone (I take it the new Hardline album's done now then, John) and for that reason alone quite obviously reaches the top tracks category. What I do notice is how deeper Gioelli's voice turns out on this track, because it's certainly the same old J.G. we know and love on that new song on the 'Union 4' taster. Perhaps he'd been trying a few things out during his recent years with Axel Rudi Pell.
Out of the other four vocal-fitted cuts, two more known throats in the form of Saigon Kick's Matt Kramer and Little Caesar's Ron Young show they've yet to go dry, and a fellow called Kal Swan does the duties on the other couple. But what of the man Mr Aldritch himself, I might add. The album is in his name after all. The Burning Rain/Lion guitarist has not just sat down reading the 'Complete Steve Vai Guide To Killer Fretwangling' or books of similar name and nature, but taken his cues from several sides of the six-string inspiration spectrum, throwing in some hefty rhythm guitar work into the mixture as a bonus. Yes, we do get plenty of soloing, but we will not make Doug a victim of the same scathing criticism that most mainstream metal mags aim at Yngwie et al in today's cruel world. 'Super Fly Sumo', 'Appalacian Sister', 'Torq' and 'Westcoast' -surely some of these titles are wasted on instrumentals but at least for your money you don't just get 62 minutes of endless widdling.
Great stuff Doug, try to include some of it on the set, if Burning Rain do the 'Z' festival again in 2002 - plus a couple of Lion tunes if you've time.
8/10
By Dave Attrill

ANATHEMA - PRESSURE
(MUSIC FOR NATIONS - CDKU189 - 2002)
Their debut single and what a classic, 'Pressure' will with the right publicity make it big as well as band themselves.
This CD contains the edit version, the full-length version, an acoustic version of 'Underworld' as well as an enhanced section: 'Pressure' video.
'Pressure' perfectly captures Anathema's own brand of emotional indie/rock, which is beautifully performed from the opening Radiohead influenced piano chords to the heartfelt chorus.
This will go down as one of the music industries classic songs, the track itself has already been play listed at VH-1, Kerrang! TV and is already picking up plays on Radio One and XFM.

10/10
By Tony Watson
ANGRA - REBIRTH
(STEAMHAMMER SPV 085-72782 CD - 2001)
A Brazilian power metal band named after the mythological goddess of fire with a slight difference. On first impressions you would probably think they were a Helloween side project from Germany, but no, they have their native country throughout their music with traditional rock with pure classical elements of fast paced melodic metal interlaced with South American folk influences.
This is there forth release that has bought them back to their tried and tested strengths of power metal with a new line up including the vocalist Edu Falaschi who was short listed for Iron Maiden front man slot when Bruce Dickinson left. 'Rebirth' is probably what this is, a rebirth of Angra with three new members and a return to their old style, which will reach out to their huge fan base in Europe and Japan.
Throughout the CD you get the taste of Helloween and Gamma Ray, so if power metal is your thing then you will not be disappointed with what you will hear with over fifty two minutes and ten tracks of power and surprise.
8/10
By Tony Watson

January 2002
AUTONOMY - AUTONOMY
EARACHE MOSH243CD - 2001
With Earache being a well known label for it's underground hardcore thrash with releases from Napalm Death, Godflesh and Paradise Lost, the first thing you think of is that it will be a CD that scares the pants of you, how far from the truth this is.
Autonomy are a young band that are on the same level as One Minute Silence mixed with Will Haven but also has a slight hint of Limp Bizkit and Beastie Boys with its hard-hitting hip-hop vocal content and catchy tunes. From the start of 'Shovel Affections' to the last track 'Replaced', the CD contains a massive variations of vocal techniques and rhythmic beats that come across very load and clear, the combination of two vocalists one screaming the chorus and mixing his technique with the pleasurable hip-hop vocals of the other seem to run in harmony with one another.
This twelve track, forty 0ne minute long CD that has a lot to offer to anyone in the public, a new band with new ideas with tracks like 'But I Thought', 'Was It Worth It', 'A Feeling Undescribable', 'Destination' and 'When Things go Wrong' to name but a few won't get the publicity they deserve.
A very entertaining, well engineered and produced CD that has the makings of being big within the rock clubs throughout the UK, whether they get the publicity is another thing. Well worth getting a copy. Marvellous!
9/10
Tony Watson
Pre - 2002
Johnny A - Sometime Tuesday Morning
(Favored Nations Cat No. FN 2080-2 (2001))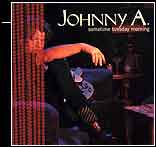 Johnny A is a fine, precise guitar player whose capable of creating a mood of intense mystery and completely capture your interest.
You could say - man, he sounds like Bert Weedon meets Hank Marvin - but there's also a Jazz side to him (which becomes apparent on the track 'Oh Yeah'). To make the sound complete Johnny's joined by Ed Spargo on Bass and Craig MacIntyre on Drums.
Mr A's style and playing technique are well crafted and he makes it sounds so easy to do - which of course, it ain't!! - Johnny is a top-ranking supremo - and nothing less. 'In the wind' and 'Walkin' West Ave,' see him getting all Carlos Santana on us (with both numbers featuring a striking array of percussion), whereas his cover of The Beatles 'Yes it is' see's him return to the Weedon pastures.
Other stand-outs on this tremendous instrumental album include 'You don't love me' (which puts me in mind of 'The Yardbirds'); the cheesy, lightweight 'Tex Critter' (a la Chet Atkins) and his slowed down version of 'Walk Don't Run' (coming complete with castanets).
It's a great listen guaranteed for mature lovers of guitar-orientated music.
8/10
By Ken and Glenn Milligan, BA Hons CS
Aerosmith really have become a band that others try and aim to match themselves against. The Boston boys are forever being quoted as being a major influence - and no wonder when they unleash songs like 'Walk the Way', and 'Mama Kin' which are part of rock 'n' roll history. The artists on Perris have recorded a fitting tribute album to their hero's - which brings out ten of Aerosmith's finest moments in the 70's.
The house band is made up of Drummer, Carmine Appice (Rod Stewart/Vanilla Fudge); Bassist, Jason McMaster (Dangerous Toys), Rhythm Guitarist, Steve Fister (Lita Ford) with guest solo's passionately screaming from Gilby Clarke (ex-G'n'R), Keri Kelli (Slash's Snakepit/Pretty Boy Floyd/Ratt), Marc Ferrari (Keel), Jaime Scott (Vain) and Jimmy Crespo (who co-wrote 'Rock in a hard place' when he was in Aerosmith).
There are many highlights on offer all with cooking vocals, take for instance the double-it-up force of Ron Keel (Keel) and Derek St. Holmes (Ted Nugent) who kick out a powerful version of 'Mama Kin'. Talking of Derek St. Holmes - it's quite scary how he can imitate the voice of Steven Tyler - especially when he gets his teeth into 'Lord of the Thighs'. Other gems include an exceptional take of 'Rock in a hard place', coming from the voice of Rough Cutt, 'Paul Shortino', Davy Vain saluting 'S.O.S
(Too Bad)' and then there's the breath-taking 'Mama Kin' from Derek St Holmes.
The album really is a sharp 'n' tasty set of covers that does Aerosmith proud. Some of these guys could form their own band - and (as crazy as it sounds) call themselves 'Aerosmith' - bring out write some new material and from a musical and vocal point of view, easily fool the listener that they are the real thing!!!
Also included is a great 12-track freebie that features some brilliant numbers from many of the artists that have played on the tribute album. I must check out the new material from Davy Vain, Rough Cutt, Broken Teeth and Cherry Street - in fact all of the artists appearing on here are well worth spending your hard-earned cash on. Perris Records really does house some incredible talent on its roster.
9/10
By Glenn Milligan, BA Hons CS

After the first listen I immediately thought of bands like Quicksand and Helmet (who were around in the early 90's). Align have that same vocal style and also tread on similar guitar riff ground.
With continuous listening the album grew on me with songs like 'Fabled', 'Tabs Taken', 'B.A.M.' and the title-track itself 'Some Breaking News'. It's just a shame about the production.
If they slightly came away from the influence of 'Quicksand', then I think that Align could become known for their own style.
Looking forward to their next release.
7/10
By Tony Watson
Let's hear it for a three-man splattering who kick out wild wide range of rock. Altamont, a San Franciscan outfit (well that's where their P.O. BOX is at anyway), who mesh together what I can only describe as a large pick 'n' mix bag of musical influences that range from the completely sane to the purely insane.
The trio are made up of Dan Southwick who takes care of Bass, Backing Vocals, Wah Tuba, Steel Guitar, Synth and Cough Card, whilst Joey Osbourne is guilty of playing drums, music box and sound card, as well as Backing and Lead Vocals. Right, that makes two, so who's the third man - Dale Crover! who you can blame for Lead Vocals, Baritone, Lead Bass, Organ and Percussion. Anyway, you now know what name each members go by and what their roles are - but what should you expect it hear? Expect to be hit in the face with a group come across as a wacked out Hanoi Rocks meets Hawkwind on a good bag of grass, tossed in with a slight touch of AC/DC and a blinding blast of Black Sabbath.
At a mere glance, I'd say that Altamont really could go a long way (with enough promotion or decent tour support slot - judging by the extensive mass of speaker pulverisation that will spill out and engulf any room that this album is let loose in. Take the stop-start riff-bash of spinner no. 1, 'Saints and Killers' (a future Stoner Rock classic and Lord strike me down if with a massive thunderbolt, if it's not) or the title track, 'Our Darling' (where the band are in a Nik Turner Hawkwind phase for sure). The cop-out spacey echo of 'Stripey Hole' (which again is very Hawkwind - but with more of a Dave Brock/Alan Davey slant to it).
Man, this album is real good sh*t, and it's only bettered by covers of Johnny Thunder's 'Pirate Love' (which is where I sight the influence of Hanoi Rocks) and the big f*ck off version of Mose Allisons 'Young Man Blues' in true Who style. In fact if you heard the opening riff you'd be let off if you thought it was the version from The Who's 'Live at Leeds' album, (until the vocals start up and you realise otherwise).
Altamont are a gargantuan three headed, powerhouse that are blisteringly good and not worth missin' if they play within a hundred miles of your town.
9/10
by Glenn Milligan, BA Hons CS
Hold on, have I received a CD from a British band, I have, what a shock to the system. Anathema is four extremely talented musicians from Liverpool, and no it's not the Beatles in disguise. This is their sixth full-length studio album in twelve years, surprised? So am I.
'A Fine Day To Exit' is a nine track CD full of beautiful and powerful masterpieces that are performed with so much feeling and passion, the intensity of each track is so deep you wonder what was going on in their lives around the time of writing and recording.
As you listen to the CD you will notice 'Radiohead' heavily influences the way they write, which isn't a bad thing. From the opening piano chords of 'Pressure', through to the intensity of 'Panic' and the heartfelt tracks of 'A Fine Day To Exit' and 'Temporary Peace' you will feel and experience so many different emotions as every track mentally releases its own visually image that runs around in your head.
Whether you love or hate bands like 'Radiohead' or even 'Toploader', this CD is one that will end up in your CD collection, there isn't a bad track on it, and the boys from Liverpool should definitely be proud of themselves with this one. Brilliant!
10/10
By
Tony Watson

I first bought this on vinyl at a second hand record stall in Barnsley when I was 19 and quite frankly, I thought it was a bit too average on first listen, hence it not being too long before it disappeared into the depths of my deep LP box, unlikely to re-emerge too much in the near distant future.
However, opinions tend to change with times and this reissue for the Scandinavian 80's metal act prompted me to give it another spin to see if my opinions would budge. Well they did, a little bit, but only so much as to afford one further mark out of ten. The problem is the songs in the earlier half of the album seem to know what they're doing in terms of traditional all-out metal riffing but the overall vocal melodies don't seem to know where they're going, which sounds like nowhere very much, to me.
Don't get me wrong though, the singer is good. Opener 'Church Hill' is a true example. A stomping, chugging beat leads the way but just when you expect a huge fist waving chorus to come your way….. I'm afraid it doesn't, and the dullness detector starts to bleep. The final five songs are a bit more lively in al departments, including those the other tunes weren't, and most are aching to be heard live, if the band are still active today. If so, they should get onto the next support slot with Helloween or a band of such ilk, to keep their name visible in Metalheads' minds a while longer. This album may not be great but it's no stinker.
6/10

By Dave Attrill

Atomic Rooster - The First Ten Explosive Years, Volume 2
(Angel Air - 2001)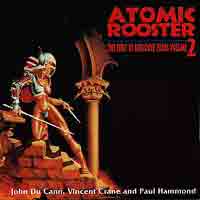 I discovered Atomic Rooster through being an avid viewer of Beat Club (German Music Show) which has had many re-runs on German Satellite channels
throughout the 90's.
They had a style all of their own which has hints of 'Hawkwind'; 'Emerson,
Lake and Palmer'; 'Deep Purple'; 'Uriah Heep' and even 'The Edgar Broughton
Band'. They had a real professional but at the same time wacko musicianship
going on that was full-on 70's Prog, if ever I heard it. Atomic Rooster had
a classic line-up made up of: John Du Cann (Guitar/Vocals), (The late)
Vincent Crane (Hammond Organ) and (The Late) Paul Hammond (Drums).

The cuts on this 18-track CD dates from '72 to '82 and you'll be bawled over
with 77 minutes of awesome numbers like the powerful instrumental 'watch
Out', the Jazz-Rock of 'V.U.G.', the slipper stomping rocker 'Friday the
13th' and then there's the inclusion of the unreleased madness called
'Broken Window' which was the last ever track that Atomic Rooster recorded -
it actually reminds me of the theme tune from kids TV show 'Chucklevision'
!!!
With so much great stuff goin' on, it's just impossible to pick out a
favourite track as they all so equally impressive. This album is an
incredible compilation made up of sensational songs by one of the most
under-rated and forgotten bands of the 70's.
Check out the bans web-site www.atomicrooster.co.uk - for more details of
trios immense talent.
8/10
By Glenn Milligan, BA Hons CS