David Gilmour - Jimmy Kimmel Live!, Hollywood, California, USA, Monday 28th March, 2016
Set List: In Any Tongue/High Hopes (Shortened Version)/High Hopes (Shortened Version – Take 2)/Today/Rattle That Lock/Wish You Were Here/Today (Take 2).
Well after seeing David Gilmour and his band at the Hollywood Bowl a few days previous I was stoked to find out from fellow Metalliville team member, Amy Rae Yard that he was also doing the 'Jimmy Kimmel Show' the following Monday afternoon which she had managed to sort out tickets for us to cover this extra event.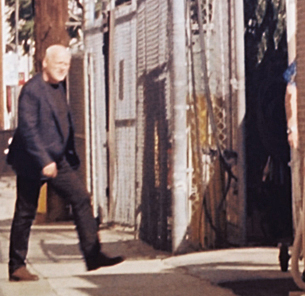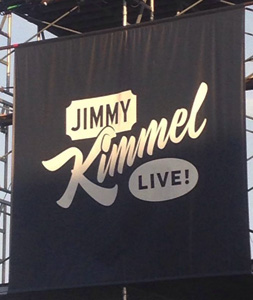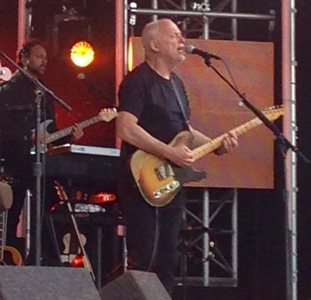 Anyway cut to the Monday, when we arrive that afternoon, David Gilmour is already onstage sound-checking which we can see through cracks in the fence of the outdoor venue (a car park actually for the studio complex itself with a stage at the front for happenings of this nature). From the outset it sounds really good as well so we knew we were going to get something really special once in.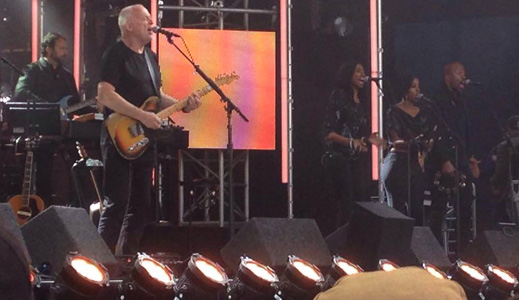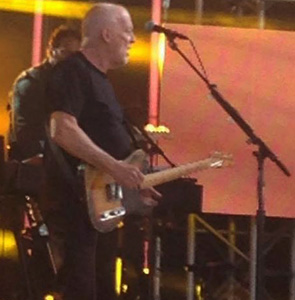 It begins with the compere, a big bald fellow have us get excited about seeing the man, which goes without saying, everybody is anyway and asks everyone to scream as loud as we can numerous times for the recording of the show. Not too long after, Jimmy Kimmel makes a brief appearance on stage announcing David Gilmour with the 'Rattle That Lock' album in his hand and afterwards vanishes from view for the rest of the set. I can only speculate he is watching it from the sound and audio tower or from his studio inside.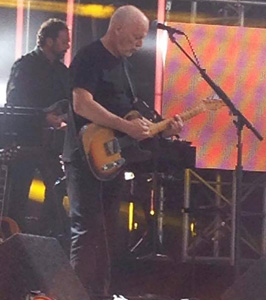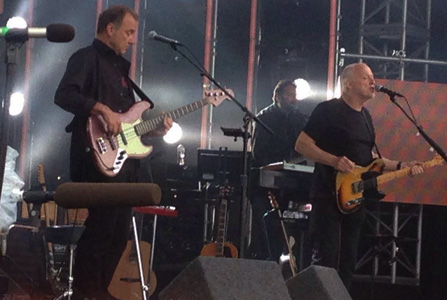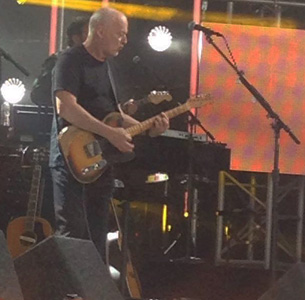 As expected, David and his band sound utterly exceptional on the Kimmel stage with an array of smiles coming from him and all the guys and girls in Gilmour's unit. The clarity is so clear with everything coming out from the stage although the speaker on our side seems to be distorting now and again – you would have thought this would never happen in the grounds of such a prestigious Hollywood show but there you go – it definitely does.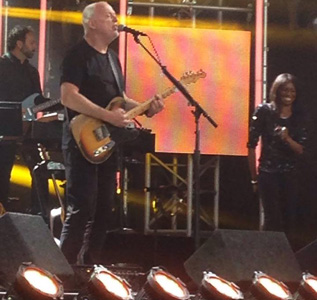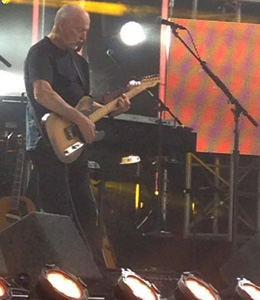 As can be seen much of the material played on that battered, worn old Fender Telecaster, most of it comes from the new album 'Rattle That Lock' which is why David Gilmour is here such as the title track itself or 'Today' with some tracks repeated to get the best sound possible from the stage or from the audience. It's gotta sound its best when it goes out on TV later in the day. The tragic thing is, is that the viewers in TV land only get to hear the title track and that's it with other numbers being used for the Kimmel Youtube Channel.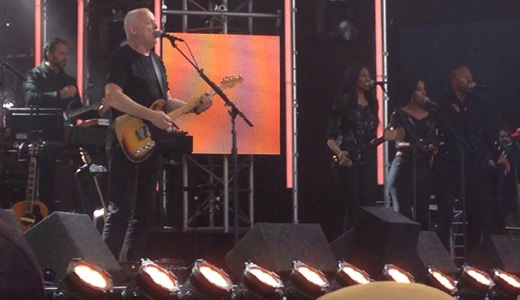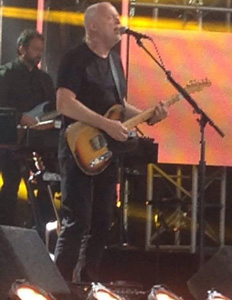 There is way more compere chatting than is actually coming from the stage in between the songs – well it about getting the best results for Kimmel Live itself such as telling folk when they can and can't take photos or when to scream loud etc or what is happening next in the proceedings. It was also kinda surreal know that this was for TV and not a normal gig with Television cameras being in the pit itself on tracks or above the audience mounted on a moving crane. I do think far too much dry ice was used though which doesn't really work as well in daylight in my opinion.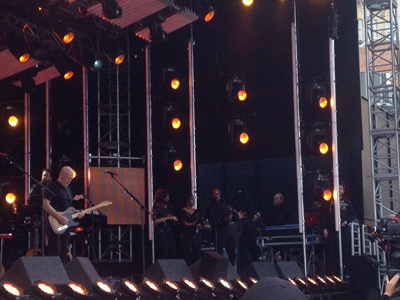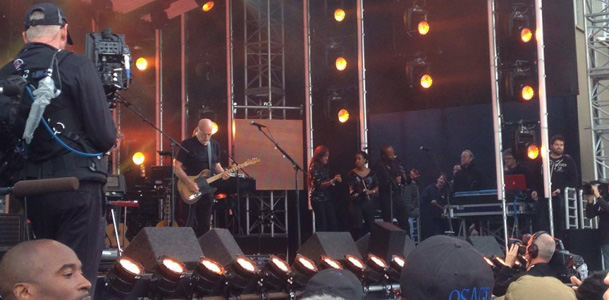 By far the best moment and indeed the golden segment of the entire set was one of the bonus numbers because David wanted to play more for us than he was obviously contracted to do. What an amazingly generous guy with his time! The number in question was 'Wish You Were Here' which was one of the sweetest joys I have personally ever seen and experienced. It's just a real pity they wouldn't let anyone take photographs during this epic song. Being in a more intimate setting with around 250-300 fans proved to be the main highlight of the entire set and I still mind-blown that it never made the cut for the TV show but instead was placed on youtube!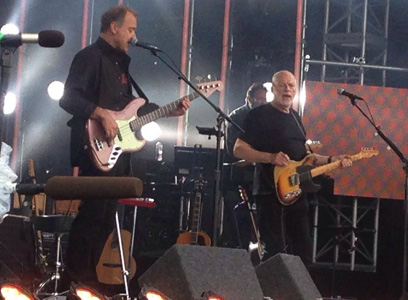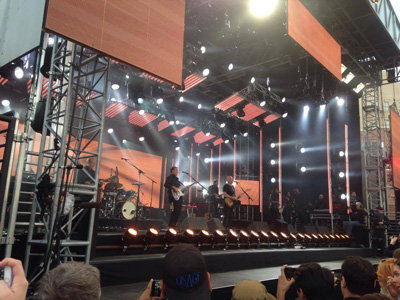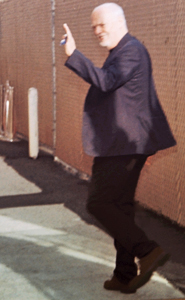 Anyways, for those who were lucky enough to be there that afternoon, I think I can really speak on behalf of everyone and say that the rest of the world really missed out on seeing something incredible that weren't physically present in front or at the side of the stage that day even though it was a little chilly at times. David and his band well and truly warmed us up both musically and spiritually.As David Klein said, "The Easter Bunny came to Kimmel" with some of us even hanging out after to catch the great man leaving the venue. He acknowledged us all with a wave and then he was gone. Next stop, Toronto, Canada!
10/10
Review by Glenn Milligan
On Stage Photographs by Amy Rae Yard
Before & After Photos by David Klein
David Gilmour – Hollywood Bowl, Los Angeles, California, USA Thursday, March 24th, 2016
Set 1: 5AM/Rattle That Lock/Faces Of Stone/Wish You Were Here/A Boat Lies Waiting (with David Crosby)/Blue (with David Crosby)/Money/Us And Them/In Any Tone/High Hopes.
Set 2: Astronomy Domine/Shine On You Crazy Diamond (Parts I-IV)/Fat Old Sun/Coming Back To Life/On An Island (With David Crosby)/The Girl In The Yellow Dress/Today/Sorrow/Run Like Hell.Encore: Time/Breath (Reprise)/Comfortably Numb (with David Crosby).
Now after watching the recent BBC documentary with Alan Yentob over here in the UK and hearing the new album 'Rattle That Lock' it was a no-brainer to go and check out the Vocalist/Guitarist of Pink Floyd who has been a solo artist in his own right for many years. Now what better place than the legendary Hollywood Bowl? A venue yet to tick off my bucketlist!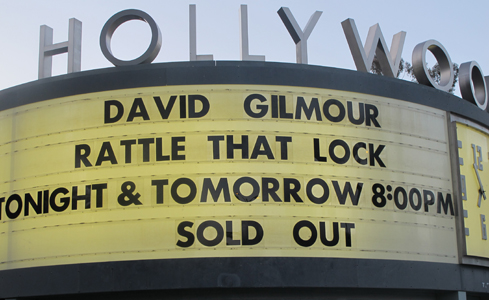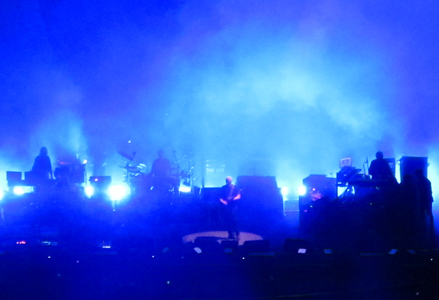 The place is massive but the sound wherever you seem to be is perfect so little wonder the place became so legendary, even though it has had some of the best names in showbiz play there over the years. David pleases the fans with the material that is on offer, giving you the impression he has really studied the repertoire and balances it out with a fantastic cross-section of songs from a wide variety of albums over the last few decades.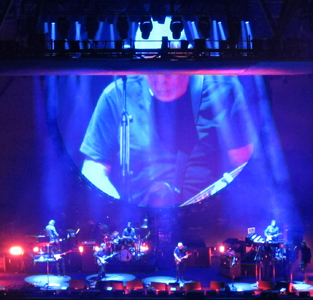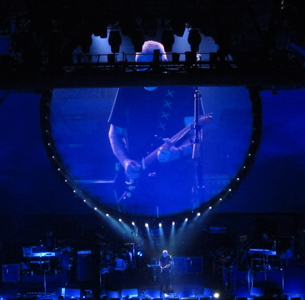 Of course, the brand new album's title track 'Rattle That Lock' gets an early airing and we get more from it later too, proving that he can still excite an audience with new cuts as opposed to relying on the past like way too many do – all those nostalgia tours can get so boring right? Something that Mr. Gilmour doesn't appear to want to get involved with and carries on creating into his 7th decade much to the delight of the folk in here tonight. There's nothing sadder than a legend become a boring old has been!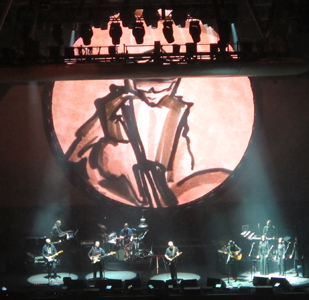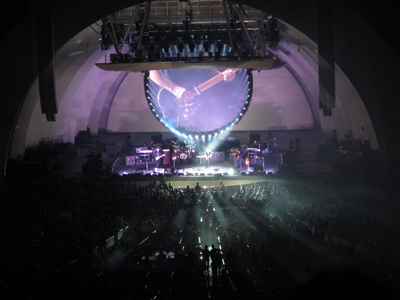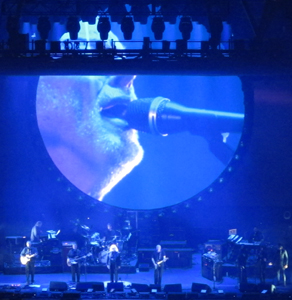 Talking of legends, his band features none other than Phil Manzanera, the bassist of Roxy Music in the line-up and to top another rock icon is part of the show too since, a third of one of the USA's finest vocal trios, David Crosby, who I've personally wanted to see for years. The man is part of the deal since he laid down his voice in the backing dept for the current and previous album 'On An Island' and he no doubt only lives around the corner too.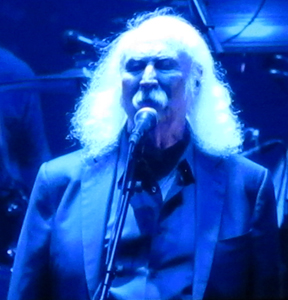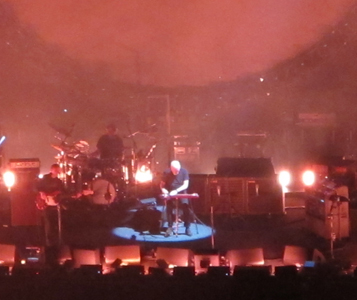 One of the things when you go and see someone of this stature is the anticipation of what Pink Floyd songs we will be treated to. David on these selective dates being bang on the money with 'Wish You Were Here' early on in the set to massive applause 'Money' & 'Us And Them' which come complete with old and new video screen footage and lighting to match and compliment at the appropriate moments too.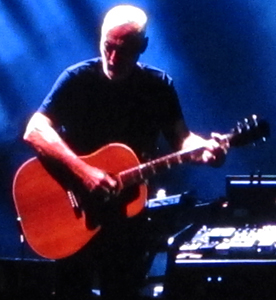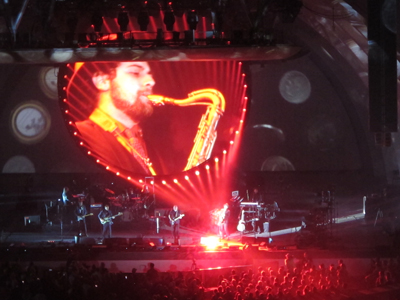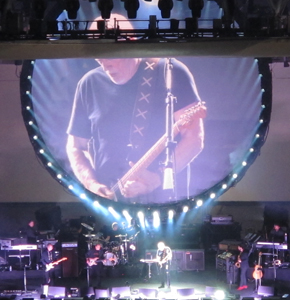 I am actually mighty pleased that there is a 15 minute break between the two sets so I can relieve the bladder – no doubt Gilmour's on the same page as us too since the whole show is 2.5 hours split into two parts. It was utterly mesmerising and completely mind-blowing to witness early 'Floyd masterpiece 'Astronomy Domine' coming complete with psychedelic lighting that really captured the essence and vibe of the song whilst the tribute to Syd Barrett 'Shine On Your Crazy Diamond Part I – IV' had some very deep emotional footage of a young boy attached to it that really caught your heart and soul as well as the heat 'n' atmosphere increasing 'Fat Old Sun'.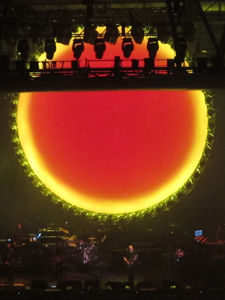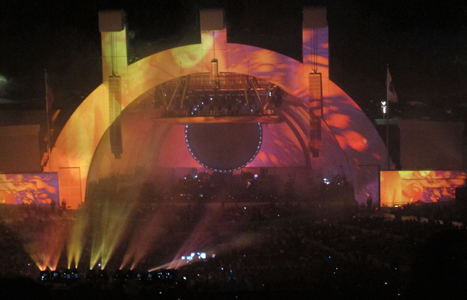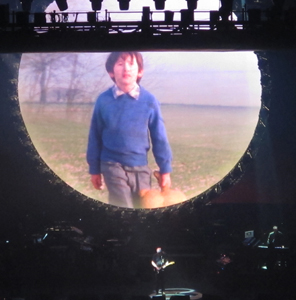 'Girl In A Yellow Dress' had some very impressive animated footage on the screen that illustrated the narrative of it superbly and it was so damn good to get 'Run Like Hell' without having to endure 'Another Brick In The Wall (Part 2)'.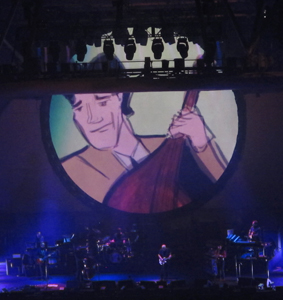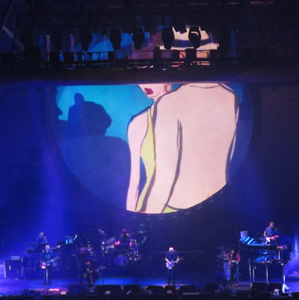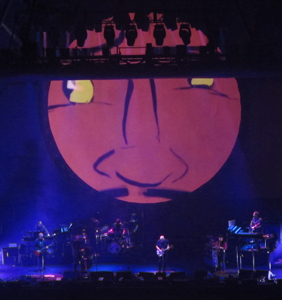 The fireworks that followed were fantastic and lit up the Hollywood sky so damn good with 'Time' really setting us up for what was the start of the encore. I was rather baffled though why Gilmour had Crosby sing parts of 'Comfortably Numb' which messed with your ears a bit with his quirkier high voice that didn't sit well in the song and was more than relieved when the main man took lead on the vocal – now this sat comfortable with these tabs of mine.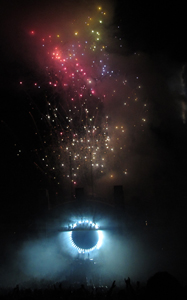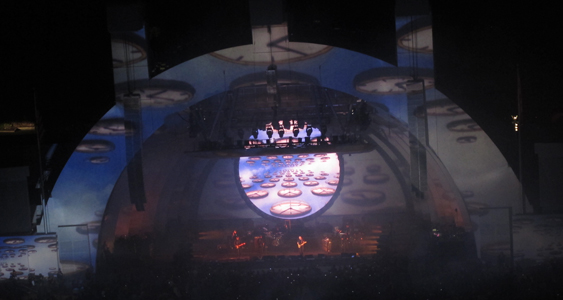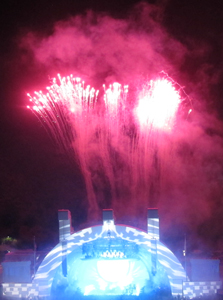 That aside, it turned out to be one of the best shows I have ever covered and easily in my top 5 so far in my entire life! I wonder when David Gilmour will bring his band to play on home-turf since this was one of a handful of selective dates in the USA!
10/10
By Glenn Milligan
Gunzo/Stone Trigger/Dead Reckoning -
South Sea Live, Sheffield, Saturday,12th September, 2015
Arriving at the venue, we are met with a very tired looking pub with our ears greeted by the band, 'Dead Reckoning' who are so heavy and growly that I'm not sure if the promoters have ever listened to the back catalogue of the Headliner since they don't fit at all genre-wise. The next band up 'Stone Trigger' are new to me but I really enjoyed their set. Their cover of 'Rebel Yell' got the crowds attention with the lead guitarist standing on the bar for the final song. The only problem with the performance was nothing to do with the bands abilities but the sound engineer not knowing the difference between loud and TOO loud.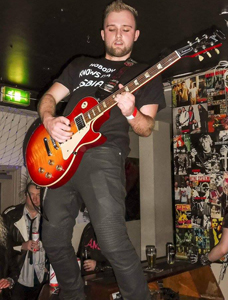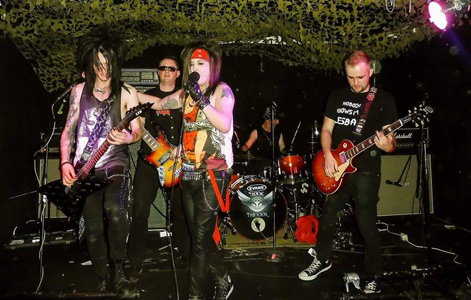 Next up are the headliners. As places to spot genuine Rock 'N' Roll Royalty goes, this venue was definitely a surprise. If you take a look at the CV of the two members that this band is named after you would expect to see them on a huge stadium stage. GUNZO features Tracii Guns (L.A. Guns, Brides of Destruction); Rudy Sarzo (Quiet Riot , Ozzy ,Dio & Whitesnake) alongside Michael O'Mara (GUNZO) & Shane Fitzgibbon ( Jeremiah Mountain) who celebrate the music of LA GUNS, OZZY OSBOURNE, DIO, MONTROSE , WHITESNAKE and QUIET RIOT.
Opening with L.A Guns fave, 'Over The Edge', the crowd appears to double and really get behind the band that's followed by one from Rudy's back catalogue in the shape of the Ozzy Osbourne track, 'I Don't Know'. I confess right here and now that I had forgotten how good a guitarist Tracii Guns actually is! With the crowd now in fine voice they crank into the second LA GUNS song of the night that is slutzy 'Sex Action'. As a singer and frontman, Michael O'Mara's enthusiasm and huge grin are infectious which proves even more so in the Whitesnake classic, 'Fool For Your Loving' with all in attendance are on board now. Drummer, Shane Fitzgibbon does a great job on backing vocals throughout the whole show.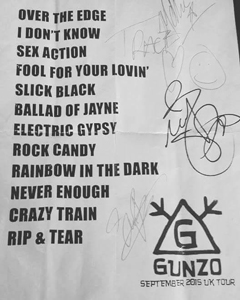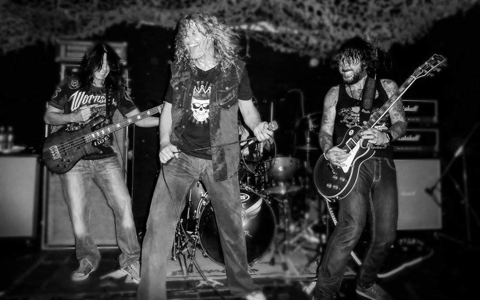 Heading back into Rudy's catalogue with Quiet Riot song, 'Slick Back' whereby his good self and Tracii are locked in so tight that they appear to be loving every second of th number. My personal highlight of the set is about to happen – the point where I got to see Mr. Guns play 'The Ballad Of Jayne'. Okay, those vocals were not exactly like Phil Lewis but if you had never heard him singing it you would have thought it was written for Michaels voice – I kid you not!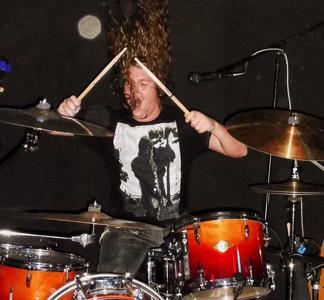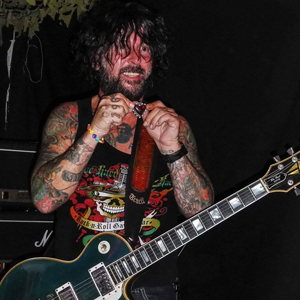 As a group of experienced musicians they were bound to want to play something that had influenced them all. It arrived in the form of 'Rock Candy' by Montrose. Michael definitely channelling his inner Hagar, not to mention an extended solo which gave TG some showboating time, with Rudy and Shane keeping it tight as a ducks arse. As this song plays out there's a scuffle at the back of the room. With people being dragged out of the venue. Michael comments, "Hey guys what the f*ck?", "It's Rock n Roll dudes, s'pose to be fun not kick the sh*t outta each other!?!?"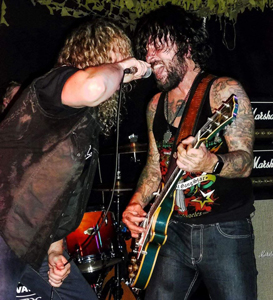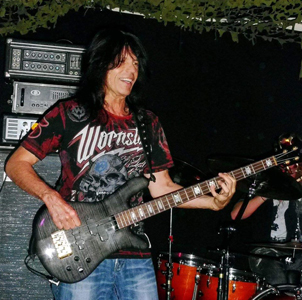 Anyways, on with the show and back to Rudy with the Dio classic, 'Rainbow In The Dark' which well and truly sees them knock it out of the park with those vocals and solos on fire as you'd expect from such seasoned pros! Now you just can't go wrong with 'Never Enough' by LA GUNS. could it get any better? Well that's quickly answered by the next song. Hands in the air and ready to rock to the ultimate rock song, 'CRAZY TRAIN' in my humble opinion. Every word is sung by everyone there and you should hope so too with the chorus taking on an almost spiritual feeling with Tracii stepping up for that solo - holy sh*t - this is a sight to behold. Absolutely spectacular!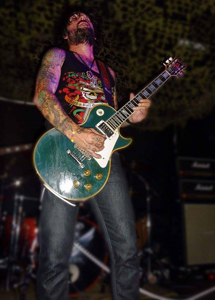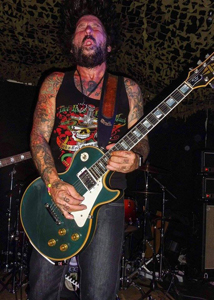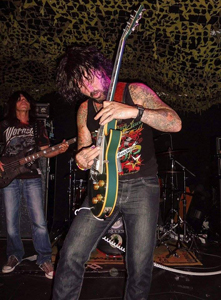 And so to the final song of the evening - not that they had run out of numbers I hasten to add! I think between them they could have played their own back catalogues for about a month non-stop. Gunzo finish with LA GUNS 'Rip and Tear' with Michael still grinning like a kid in a sweet shop and Tracii joining him on the mic for the choruses while Rudy remains as cool as a cucumber. He's a solid bassist who would easily be able to out play the best of guitarists and I'm talking lead, rhythm and bass for that matter! The ending of the song gets faster and faster and the bands grins get bigger and bigger. Cue a big 'Rock 'n' Roll' ending and with that we're done. Despite the venue being not the greatest, the band were the ultimate professionals and played as if they were playing a stadium.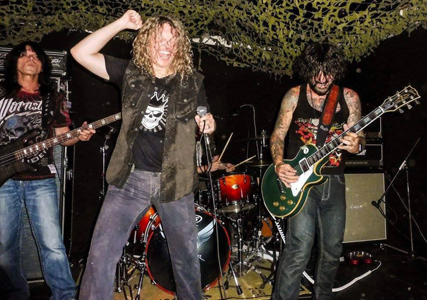 This was well and truly a fantastic set list with classic after classic. How I hope this isn't the last we see of them as I'm still wanting to Rock 'n' Roll some more with these guys.
10 out of 10 and a huge HELL YEAH!!!
Review By Steve Baronovich
Photos By Kim Davies

Gama Bomb/Redmist Destruction/Scutty Neighbours -
Corporation, Sheffield, Monday, 9th May, 2011
Scutty Neighbours
Sheffield based thrashers, Scutty Neighbours had a style onstage that was very strange because they didn't have any set image since their lead singer looked more like he was from a 80's glam band. The other members looked more like a metal band which is what the band they are. Standardwise, Scutty' were pretty good but some vocals in the songs was very low due to loud guitars and drums being too high in the mix. It's well worth mentioning that when they first came on, their stage presence was good with some interaction with the crowd which won them over and made them a favourite. Song highlights were more of their older stuff which they didn't mention anything about unfortunately, so I sadly can't even tell you the names of them - dammit! After their energetic set, they came out into the crowd ask asked folks what they thought of them and, not to mention lapping up the rest of the nights proceedings and a drink or three as well.
8/10
Redmist Destruction
Redmist Destruction are a Barnsley based Thrash Metal band of the Slayer nature who gave off a very well produced sound with excellent standard of vocals and musicianship overall. They gave a short introduction blasting straight into a song which led to the crowd to liking them immediately. An outfit who had a great stage presence with plenty of crowd interaction and loved having a laugh and a joke with the fans. Some of this interaction included asking fans what they thought of Scutty Neighbours and the the main headliners Gama Bomb. A band that went down real well here in Steel City.
8/10
Gama Bomb
Gama Bomb are a Dublin based band. Their genre is 2-step metal with a Thrash metal image with numerous influences and an excellent standard. They were all communicating with the sound engineer telling him whether to up or down the levels of instruments and vocals to get it spot on for everyone in the room. Gama Bomb had a really good stage presence and introduced themselves which guaranteed plenty of fan interaction. During their set, their were several Mosh pits going off and whilst this were happening, the crowd gathered back to normal with several head bangers enjoying themselves. The 'Bomb aimed to please and asked the crowd what songs they wanted to hear with Sheffield getting what they wanted including 'Slam Hammer', 'Slam Anthem', 'Zombie Blood Nightmare' and 'Final Fight' that you can find on their first album. They were a cool set of guys and after came out and hung with the fans.
9/10
By Chantelle Furniss
Peter Green & Friends – O2 Academy 2, Sheffield, Saturday 8th May, 2010
Set-List:
Rattlesnake Shake/Pretty Woman/Help Me Through The Night/Nothing You Can Do/Long Grey Mare/Steal Your Heart/Key To The Highway/Barefootin'/Stumble/Dark End Of The Street/Can't Stop Lovin'/Off The Hook/Blues Get Off My Shoulder/Oh Well/Albatross/You Don't Love Me/Stranger Blues/Train Song.
Encore:
Sitting In The Rain/Black Magic Woman.
He is one of our quintessential Blues-Rock Icons from the late 1960's who was one of the original members of Fleetwood Mac before the women joined the band and he was here in this very building with some of his friends.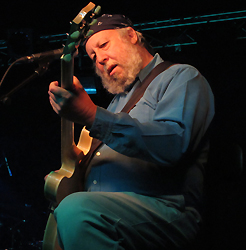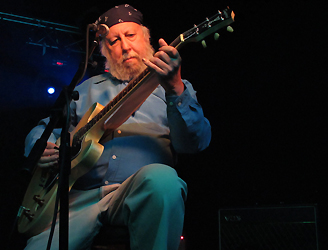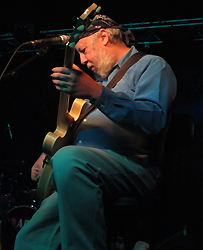 Peter was perched on a chair on the right hand side of the stage and didn't move at all from it until it was the end of the set and wasn't one for talking much either – muttering the odd word here and there. The entire show was steered and presented by one of his buddies, Mike Dodd who was on rhythm guitar and sometimes lead vocals like numbers such as 'Off The Hook' by The Rolling Stones & 'Barefootin' (that Peter sang some backing vocals for).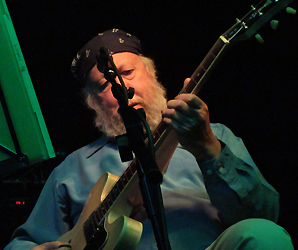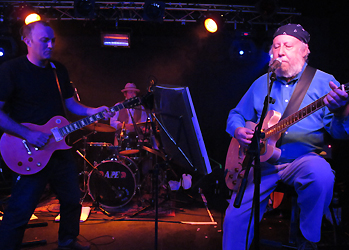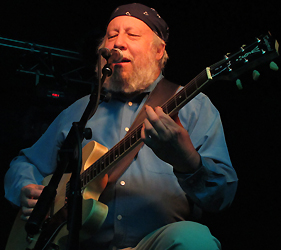 As you'd expect the night was pretty much old school bluesy stuff and like the last 4 decades had never happened at all with a lot of the set being made up of cover songs as opposed to old 'Mac and latter-day Peter Green songs – we did get 2 or 3 numbers from the Bluesbreakers 'Hard Road' album though such as the instrumental 'Stumble' ( a moderate tempo 12-bar) that you may remember & 'You Don't Love Me' .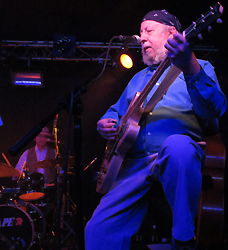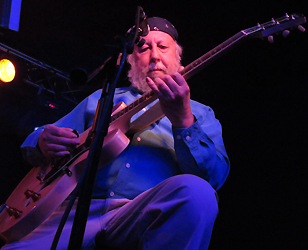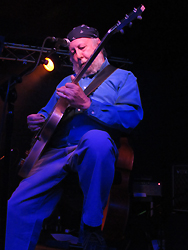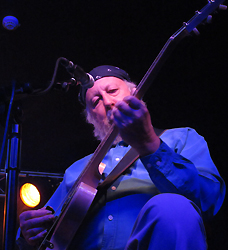 One guy in the crowd kept shouting for 'Green Manilishi' – 'Are you still here' the lead guy shouts and later says that he is wearing large boots. Sadly the 'Green Manilishi was never played to some peoples dissapointment no doubt as it would have been great to hear that as well as 'Shake Your Moneymaker' and 'Man of The World' – he did get the inclusion of this number with 'Train' in the title though that was included towards the end of the main set though so the heckler must have gone home happy after hearing that.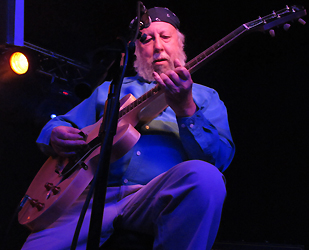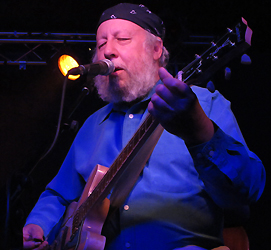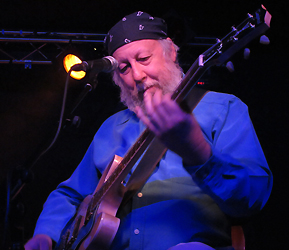 Sometimes the audience were rather noisy for my liking and talking throughout some of the songs which I thought was rather bad mannered to do to an icon like Peter Green. The '& Friends' band were awesome with the Mike getting the crowd revved up and I especially thought that Saxophone Player, Martin Winning kicked ass as well on numbers like 'Barefootin'. They take it down low for 'Dark End of The Street' where Peter comes into his own a lot on this song and seems happy when he can just let rip on the guitar on numbers by the likes of Elmore James and Robert Parker.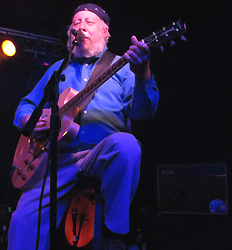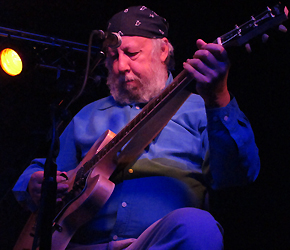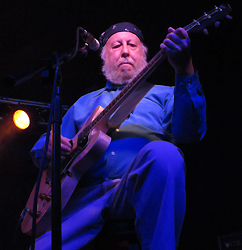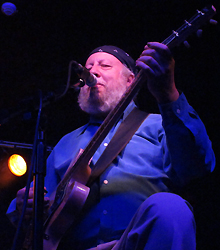 I had to laugh when Mr. Dodd said, 'A little wind, where did that come from?' as you can't beat toilet humour can you – hahaha and then told us that we are going into old bluesworld with a number called 'Get Off My Shoulder' that was real slow and dark. The best was yet to come though as there was a mass applause when the fans recognised 'Oh Well' immediately after that needed no introduction whatsoever so didn't get one – the song introduced itself and Doddy gets the audience clapping to it as well not to mention singing along with Peter while the Saxy man Jenning has switched to a pair of black maracas that are just the job for the occasion.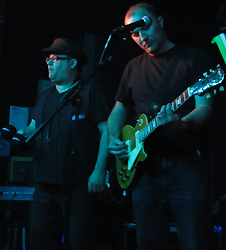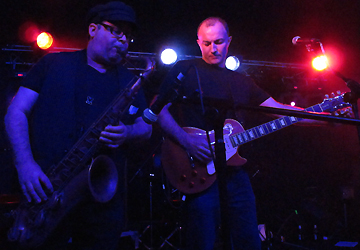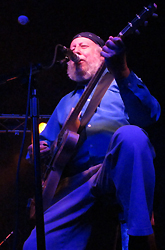 The band are on fire for 'Oh Well (Part 1) and Peter gives us a brief snippet of part 2 before going into the classic instrumental 'Albatross' – cue immediately to more applause. It's a killer sound as well from the guitar. Pianist, Geraint Watkins goes for it big style on 'You Don't Love Me' with plenty of fast 'n' furious ebony and ivory tinkling goin' down with the set officially finishing with 'Strangers Blues' and the train song I mentioned earlier.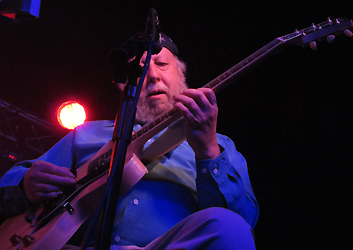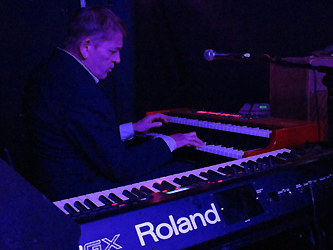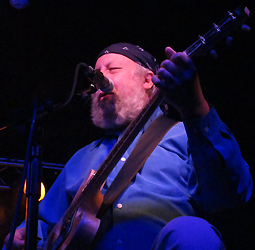 Well I didn't actually expect an encore because it wasn't stated in the set but with such an enthusiastic screaming, clapping and stomping crowd it'd be be wrong not to. Mike and Peter come on 1st with Mr. Dodd exclaiming that they didn't know what they were gonna do and decided they would play a John Maher number called 'Sitting In The Rain' that as a real cool acoustic backwoods kinda track.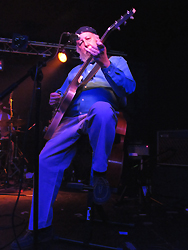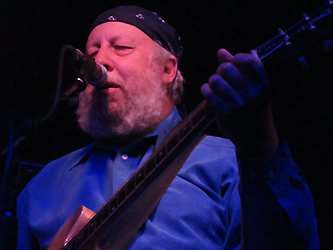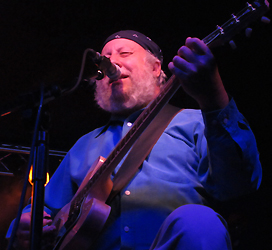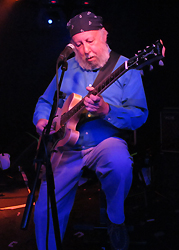 The whole band joined them again for one we could sing along to that turned out to be 'Black Magic Woman' that had a great bit of Hammond piano & Saxophone during the instrumental section of the song. Peter guitar sounds incredible especially when he produces the spine-chilling shimmering sound. You can't grumble on such an encore closer and after which the band leave the stage with plenty of waving from Mr. Green.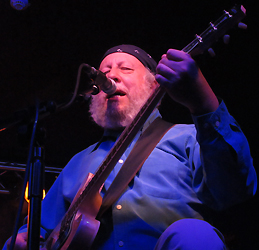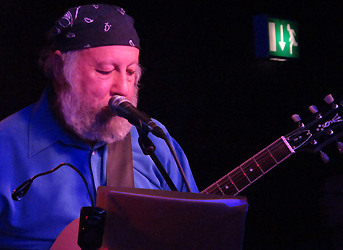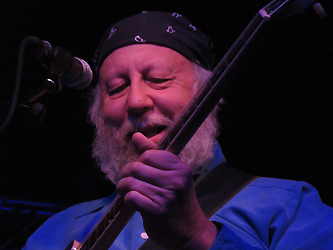 I reckon that Mr. Green & his Buddies will be back in Sheffield in the next year or so and maybe we'll hear the songs that we missed out on this time - who can tell? To be honest with you, it's just great to see the UK Guitar God on stage where he appears to feel comfy and seems to belong.
7/10
By Glenn Milligan

Glamour Of The Kill/Yashin /Hitomi/Ship To Shore – Corporation, Sheffield 16th April, 2010
Corporation doors opened on time, 7pm and quite a large crowd waiting outside where everyone seems really excited as the Glamour Of The Kill gig was taking place in the big room of the Corporation. Everyone seemed eager to get in and was pushing in line outside.

Before the first band came on the doors towards the big room wasn't open so everyone was stood in the bar as 'Ship To Shore' were playing. They came on at quarter past seven and we all managed to wriggle our way to front of crowd. The crowd didn't seem too bothered about them, as there was no movement in sight and the audience stood like statues.
It was good quality sound and with regard to the set list, some songs were boring and kinda that sort of 'what the hell' state. They didn't get the crowd going at all and it was like looking at an empty room from the band's point of view. About fifteen minutes into the set list, there was still no movement from crowd, expect for these girls who came in a group trying to start something but failed. 'Ship To Shore' were too enthusiastic and ended being all over the place, banging into one another. They were very much 'wannabe' fakers and finished half an hour later - everyone seemed to be pleased that they went off stage.
Hitomi came on ten minutes later and sounded like 'Bowling For Soup' wannabe's, who had landed in the punk genre. Their Guitarist ended up being too enthusiastic, ended up nearly falling over from acting cocky. The crowd started loving 'Hitomi' when they performed the cover of Lady Gaga's 'Just Dance', which became a big hit out of the set list they played. This caused the crowd to cheer up after the song and sung along with them. During the next song the guitarist ended up splitting his finger on the guitar string and was bleeding pretty bad but did nothing about it until the set was over. 'Hitomi' played for half an hour with an ok set list.
Yashin was the third and final support band and included a cover by Britney Spears (Everytime). They got the crowd going eventually by head banging and pit fighting. Yashin got the crowd to do the wall of death which turned out not it's best as everyone had no idea what they were doing. Yashin singer's spoke to the crowd more than the other supporters, and made fun of the audience at the back. Davvy (Glamour Of The Kill singer) came on stage and sang a duet with Yashin and the crowd seemed to cheer up when they saw Davvy, everyone leant forward to grab him.

Finally, Glamour Of The Kill came on and got the crowd going eventually, with screaming girls and 'hardcore' boys with the pitting. Glamour Of The Kill played a good set with most of the songs from their new EP, also with 'Who Said Romance Was Dead' And 'Rise From Your Grave.' As the fans got wild, the band seemed to have get more into it by moving and leaning into the crowd, the guitarist also nearly tipping the speaker over by standing on it.
During the set, Harry (Yashin's Vocalist) came on for the final time to get the crowd going more and singing with Davvy. Whilst Davvy was talking to the crowd, everyone seemed to get excited as the guitarist's fiddled by playing the intro of 'Eye Of The Tiger'. At the end of the set Davvy ended up jumping towards the crowd and the entire front row grabbed him with excitement. I ended up with my head squashed against his chest, which was really sweaty.
Overall the gig turned out really good, albeit a few mistakes in some bands by being too enthusiastic but it was still a decent night.
7/10
By Kayleigh Watson

Gunslinger – Rudy's Blues Cafe, Rotherham, Saturday, 30th May, 2009
Well it's been a real long time since I went to gig in Rotherham but how could I resist drving over to seeing Alan Davey's Gunslinger. The Frontman/Bassist has changed his line-up since I saw the band in a Sheffield venue last year supporting a well known tribute act. He now has his nephew Louie Davey on Guitar and Cat Bothwell on Drums.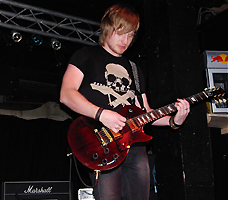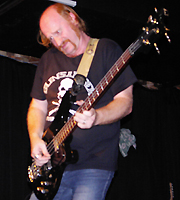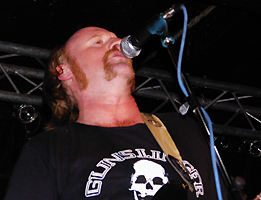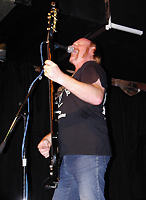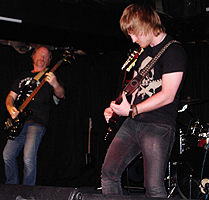 It aint too full to say the least but that doesn't stop the hard 'n' fast trio putting on one hell of a heavy, pulverising, in-your-face set and play songs from the bands album, 'Earthquake In E-Minor' much to the delight of those who decided to make the effort for the tremendous gig in here tonight.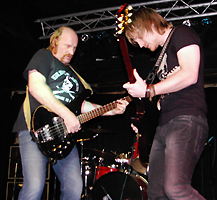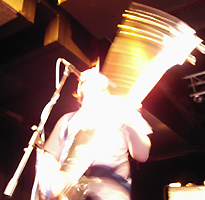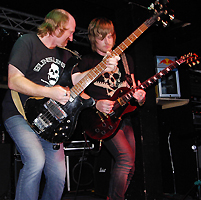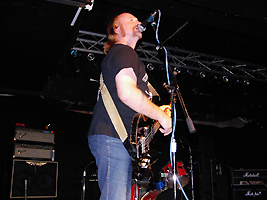 It's high-ended soundwise, bl**dy loud and hugely entertaining, with the line-up being tighter than previous, something that Alan talked about earlier that night – seeing and hearing was believing and he was totally right in this case. Opening with an cowboy themed pre-recorded intro they erupt into killer renditions the great 'n' slammin' numbers 'Night Songs' & 'If The Bombs Don't Get Ya The Bullets Will' that are in true Mighty Motorhead like style followed up by a song that's like Alan's Speakers (his words), 'Shellshocked'.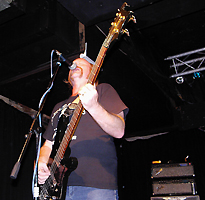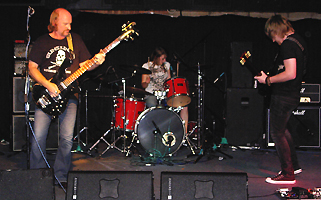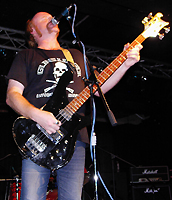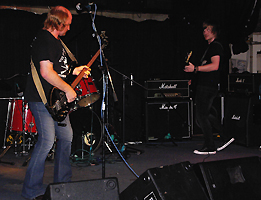 The band dont just stay to album songs either and play a newer Gunslinger song – OK from 1981 in which Alan jokes that he's given his age away now – it's a riotous, suffer no fools number called 'Someone's Got You In The Gunsites'. Alan is as keen and mean as ever on the bass and I dare anyone to try and throb notes out as powerful and fast as this guy can and is backed up with superonic lead work from Louie and some incredible double-bass beastery from Miss. Bothwell. And if anyone likes it dirty, hard 'n' fast they get a bit of 'Savage Love' – well let's face it – who the hell doesn't – 'Savage Love' all round then baby!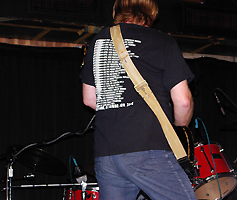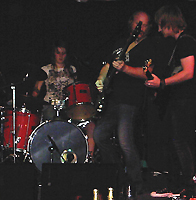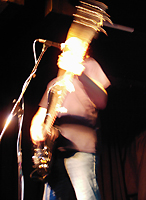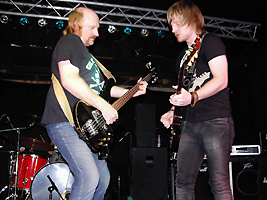 It's amazing when you realise that Cat isn't playing her full kit tonight and is only using her snare and cymbals with the house kit in the club but adapts to it straight away. Due to no fault of hers at all, the bass drum mike wants to go walks from her excessive pounding so it's good to see a fan helps out a couple of times and places it back where it should be. "It's hot up here, well it is for us doing this anyway", Alan tells us – well it has been one of the hottest days in the UK this year so far – so fair point but that doesn't stop them performing the brilliant Hawkwind sounding, 'Cyanide' remarkably well, not to mention 'Going In For The Kill' which the heat in here is doing so for sure.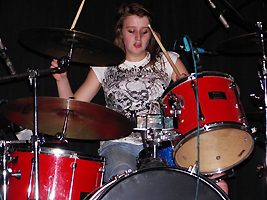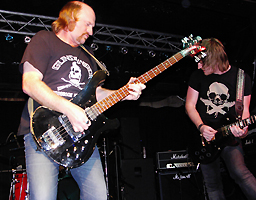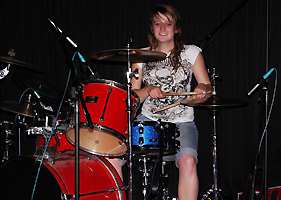 Other highlights included 'Blitzkrieg Baby' - I love the pre-recorded female voicings on it not to mention a really colourful drum solo from Cat which is far more enjoyable than the one I saw the drummer from Nickelback do the night before up at Sheffield Arena. Cool howlings are to be heard in 'Hymn Of The Wild' and the 'slinger even go as far as throwing up another unheard number in the form of 'You Better Watch Out' that I'd like to hear the studio version of some time. They round it off really well with the bands title track, 'Gunslinger' or was it 'Warhorse' – god my memory is bad at times – anyway it goes down great – like a pint of real ale as brewed by Wentworth Arms and served at the bar.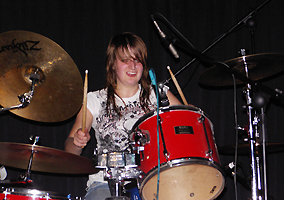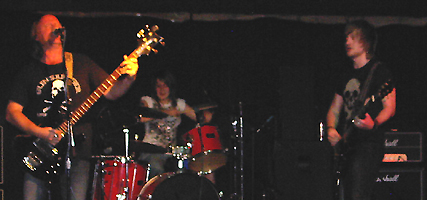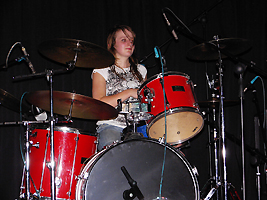 "Thanks very much for comin', see ya next time", Alan tells us and with that the band leave the stage amid applause and cheer from all the peeps in here tonight. Looking forward to another round from the gargantuan 'Gunslinger' at a gig not too far away soon.
10/10
By Glenn Milligan

GUNS 'N' ROSES CONSPIRACY/Pearl Choker - Corporation, Sheffield 2nd May, 2009
Deemed their last ever live set, my first and final chance to see one of Sheffield's top-rated tribute acts is an opportunity I feel wisely prompted to seize after walking out of their set last year due to the piss-poor sound quality, and the fact that tonight's show sold all 200 tickets says something about the treat I'm in for, that I turned down a year back.
While awaiting these lads we are kept entertained for about 25 minutes by local all-girl newcomers Pearl Choker, who feature two or three Corporation regulars amongst their personnel, most notably guitarists Janie Rogers and Jenny Collins. Chucking a loud collision of grunge, sleaze and general rock n roll spit-balling menace at us, their criminally short set is still only their second time on stage - a bike accident having stopped me attending their debut at Ecclesall Rd a fortnight earlier.
Two or three songs ring bells from the material I sampled on their myspace page, though I'm still behind with the titles and most of their general produce is pretty strong and original. It may be a little too soon yet to brand them an immediate threat to Maeven they're still pretty likely to creep up on them by 2010. Nice one girls - More!
Well if we might not see a return by the real Guns n' Roses - Pearl Choker might become massive then long disappeared by that stage – something just about as good as, will do very fine. Knowing how to please fans both young and old, they split the two hour set equally between 'Appetite...' and 'Use Your Illusion' material and adhere to the live protocols of their idols by choosing 'Paradise City' as their launching number.
Storming through the rest of the four song brace that includes 'Its So Easy', 'Mr Brownstone' and 'Night Train' (careful, lads, don't use up all the favourites right away) the reputation this act has gained becomes obvious pretty quickly as they are tight as a Labour MP's budget from the start. A welcome run of 'Bad Apples' precedes their three biggest hits of the nineties as 'Live and Let die', 'You Could be Mine' and 'Don't Cry' plus sole 'Lies' inclusion 'Patience' and by now we seem assured of no disappointments.
Already having established that they're not just restricting themselves to GNR penned material, 'Knocking ON Heavens Door' also makes the list. Martin 'Ken' Colley, the band's Axl performs extremely capably with true authenticity whatever they play and he shows it especially on 'My Michelle'. We would have been a bit ambitious to expect them to tackle the long numbers but nope... 'Civil War' is in there too, and after truly anarchic blastings through 'Rocket Queen ' and 'Sweet Child Of Mine', so too is 'Coma' in its full ten and a half minute entirety. The reaction of surprise when that haunting bass intro kicks in is louder than you get from the entire stadium crowd at a genuine GNR show.
There is an encore to come too and the tune accounting for this position is easily predicted by the fact that 'Paradise City' hasn't appeared in the main body of the set -like any other tune would round ideally off such a night of classic Gunners material. Enduring a two-hour show in a phone-booth sized stand up venue is not something I've been unfortunate enough to have to have done great too many occasions previously but hell it is worth it when I know the entire content of the set back to front and was rarely bored for a second.
As said before, Ken's performance as Axl is as close to the real thing as you're likely to come, including his dress sense with one welcome exception being we don't get a single tantrum from him through the evening - although my mate Colin is tested a bit by water chucked at him from behind while camcording the event. A great start to another Saturday evening at the corporation, we as usual expect to hear the original versions of a few of these musical cornerstones later on through the evening but who wouldn't have placed a bet on Mr. Colley hiding crouched down behind the DJ's turnables with a mike in his hands.
I learn later in evening that they are to stop around for a few more shows before folding - here's to hoping they include a further Sheffield one.
10/10
By Dave Attrill

GOJIRA/Eyes Of A Traitor/Pilgrimz -
Corporation Sheffield, Friday March 13th
A tasty multi-national bill arrives at the Corp tonight with one French, one British and one Danish act making up the three, all three bands new to me, live but coming preceeded by their own reputations.
The Nordic element are first to start and though fronted by Facebook man Rune Walther, Pilgrimz reputation is frankly one that only rubs off on those who are fully aware of what they bring on their horses. Sadly that means half an hour of so-and-so nu metal din which does little to gel throughout let alone make me a big fan of this now thankfully less fashionable scene.
Londoners Eyes of A Traitor turn things round however with a brilliant hardcore assault that holds no relent throughout even if they seem to struggle in getting most warm to them till halfway through but still succeed in taking me back to when I liked all things noisy and from New York. With plenty of decent bands like this about on our side of the pond, we seem these days to becoming its associated nation.
France's finest metal export since Trust, Gojira are metal of 21st century made to frighten. The teen-infested moshpit starts when they do and doesn't always stop when they do. Coming across to me as Machine Head Circa 'Burn My Eyes'/'More Things Change' albeit with the strings tuned down by about two octaves- or at least it sounds that way, their progressive take is no less aggressive and do not require am maintained speed of 200mph as did their great bay area ancestors to stir up the frenzy.
Songs like 'Backbone', 'Art Of Dying', 'Love', 'From The Sky', 'Greatest Matter Of The Universe', 'Flying Whales' and 'Ocean Planet' do the business using many styles and make you think about nothing else as you watch these lads. Decent guitar workouts take hold of you by the throat and make you remember them, their frontman's singing while-tapping-skills particularly hard to ignore.
A great introduction for me to the world of Gojira and to touring UK soil for them too, this being their first trip over the channel.
8/10
By Dave Attrill

GOJIRA/Eyes Of A Traitor/Pilgrimz -
BIRMINGHAM BARFLY 11th September, 2009
After the spectacular performance by Bayonne's Gojira on the In Flames tour last year, it was a delight to have the opportunity to see them headlining the tiny Barfly club for just £10 a ticket. As regular readers will be aware, my affection for all things French is somewhat limited, so for me to champion a French technical death metal band they must be pretty good.
Pilgrimz
The Wednesday night crowd at the Barfly was rather sparse as Danish thrashers Pilgrimz began their 20 minute set at 8:00. They were frankly awful, and I was left pondering whether they were better or worse than a drum solo by the other Dane in rock, diminutive loud mouth Lar$ Ulrich – better, I think.
3/10
Eyes of a Traitor is 17
The average age of second act Eyes of a Traitor is 17, which didn't auger well, but the lads from Luton played an impressive 30 minute set consisting of songs from their 'Clear Perception' CD.
6/10

Gojira (21.30 - 10.45)
Set List-
Oroborus/Toxic Garbage Island/Clone/Space Time/From the Sky/Vacuity/Drum Solo/Ocean Planet/Flying Whales/The Heaviest Matter in the Universe/The Way of All Flesh/Backbone.
Gojira began their show with a bludgeoning version of 'Oroborus' that felt like having Sebastian Chabal hurl you into the stands. The next hour was an unremittingly violent journey through the highlights of the Gojira catalogue, even surprisingly including one from 'Terra Incognita'.
New CD 'The Way of All Flesh' was heavily featured, and the title song provided the evening's brutal highlight. Singer Joe Duplantier was outstanding, and his brother Mario pounded a hole in the stage with his blast beat assault.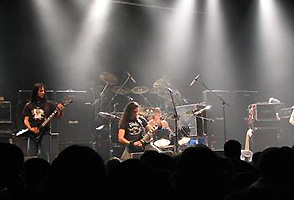 Gojira's show was a triumph, and they will be back to play bigger and bigger stages before too long.
9/10
By Roy Evans

Gunslinger -
Boardwalk, Sheffield, Saturday, 7th June 2008
I haven't been to this prestigious Sheffield venue for a few months and what a surprise I had on the way there - Sheffield f*ck*ng council had f*ck*d up the road system and blocked off my usual way to the venue and I certainly werent going down the Wicker as the b*st*rds fined me for ending up in a bus lane - call it city progress - yeah right!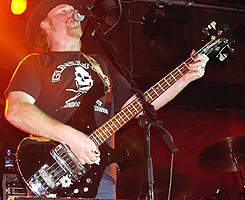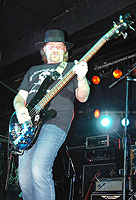 Anyways since the Sheffield road system is a complete dissary I ended up parking the other end of town and walking up - causing me to miss the 1st 5 minutes of the set - dammit! Well I finally rambled up there on foot with Gunslinger blasting out 'If the bombs don't get you, the bullets will' and I'm sure no-one was joking either.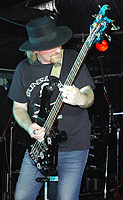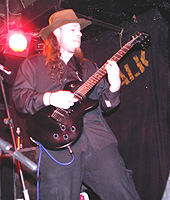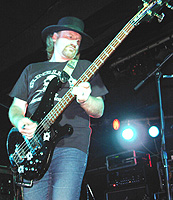 The venue was a good half full as the live 'n' tight threesome comprising of Alan Davey (Lead Vocals/Rickenbacker Bass); James Tait (Guitar/Vocals) & Sunil Jolly (Drums/Percussion) blasted out the Boardwalk with a wholesome handful of songs that sounded like a mix of Heavy Hawkwind & Mighty Motorhead.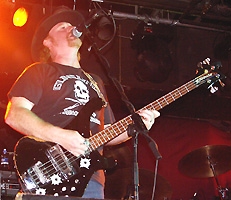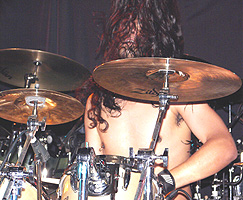 Since Alan Davey was the bassist in Hawkwind, not to mention his main predecessor Lemmy Kilminster it's hardly surprising - with both guys basswork being uncannily similar - they even play the same makes as well! Hey, ironically enough I actually found out about the gig as I was handed a flyer for it outside a venue after one of the said bands gigs of recent - can't thank you enough fella.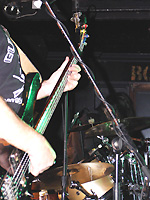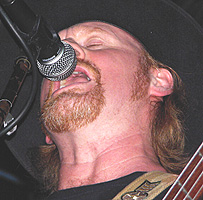 To say that Gunsliger are loud tonight would be a complete understatement - in fact anyone who stands directly in front of those speakers must have a deathwish - there's always a few of those crazy peeps though - oh well, their ears - haha.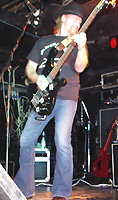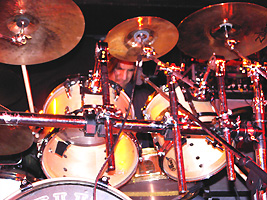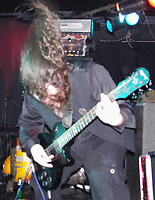 Davey's six armed deal entertained us or should I say deafended us for a good healthy 50+ mins or so with numbers from the current album 'Earthquake In E-Minor' - you're not kidding there are you buddy with highlights being the womans orgasm tune he wrote that he claimed to know a lot about called 'Night Song' because after they have reached it, they sing a little tune.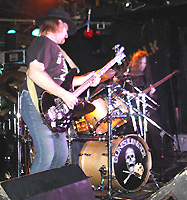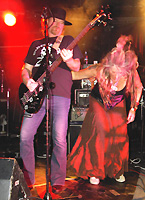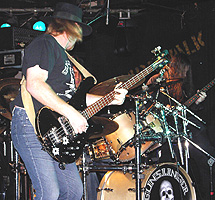 Alan even asked if anyone knew anything about the woman's orgasm - lol - with one old crusty hippy asking him to repeat the question again that was rather funny to say the least. Other highlights in the set included the 6 minute+ epic 'Warhorse' in that saw a dancer get up on stage and strut her stuff around Mr. D then were other notable numbers like 'Cyanide'; 'Savage Love', 'Blitzkrieg Baby' & 'Going For The Kill' that were all very much in true H & M stylings.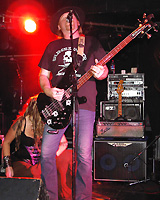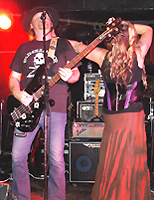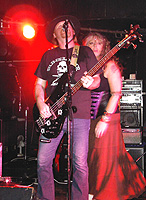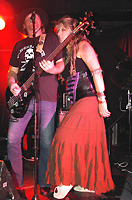 "Thankyou very crutch" or Thankyou very crutchly", Alan says to us after many of the songs had been performed as Gunslinger recieve a well-deserved applause - they totally seem to have won over many of the crowd who were there to see a well known tribute act that these 3 lads were supporting. In fact a couple of my mates actually said they came down specifically to see 'Gunslinger' and preferred them as well - think they got their flyer after the same gig as me as well - haha.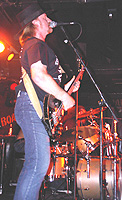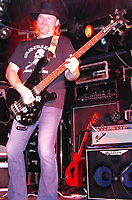 No doubt like many I am really looking forward to seeing this powerful trio return to Sheffield - I reckon they made some new fans and friends too.
9/10
By Glenn Milligan

Gallhammer/The Sontaran Experiment/We Are Colossus –
Birmingham Barfly 15th March, 2008
A very wet Saturday night saw Gallhammer's first Birmingham show – sadly only about 150 could be bothered to turn out to see an absolutely extraordinary performance.
Birmingham's We Are Colossus kicked off with a fine thirty minute set of straightforward death metal. Great to see Viv Slaughter, Mika Penetrator and Risa Reaper watching the set from the middle of the crowd – Gallhammer have thankfully yet to cultivate any kind of star trip.
6/10
Named after a 1975 Dr Who episode, The Sontaran Experiment provided thirty minutes of cacophonous doom interspersed with death blast beats and vicious electronica. Somewhat hard to listen to, but occasionally impressive nonetheless.
6/10
Gallhammer 9:20 -10:15
Endless Nauseous Days/Blind My Eyes/Lost My Self/Aloof and Proud Silence/At the Onset of the Age of Despair/Delirium Daydream/SLOG/Song of Fall/Long Scary Dream.
Joy Division never really escaped from having to set their own instruments up, and it was that band that most readily came to mind when Gallhammer busily re-arranged the stage following the experiment.
Launching into a fifty minute set to the accompaniment of the flashes of four photographers from national rock mags, Gallhammer powered through some of the most brutal songs from new release 'Ill Innocence' as well as treating us to two or three of the particularly malevolent tunes from 'Gloomy Lights'.
The novelty of three apparent extras from a Japanese horror movie playing black doom crust lasts about thirty seconds – then you realise that the band are absolutely outstanding.
Reaching what us Grateful Dead fans like to (incredibly pretentiously) refer to as 'The Zone' (where the music takes on a life of its own) once in a show is memorable. It has been about four years seen I last saw it happen, during 'Ritual' at a Yes show. Suffice to say that Gallhammer entered the zone three times tonight. Probably even more atmospheric than their heroes Celtic Frost, Gallhammer created a brutal vision of a world gone hideously wrong. No encore was performed; any more would have been just too much.
Try to see this amazing band.
10/10
By Roy Evans

GOTTHARD + Crimes Of Passion –
Corporation, Sheffield,17th November 2007
The signs that AOR's appeal is on the uphill slant again are alarmingly clear tonight as the thick end of 500 punters fill out the Corp's 'big' room for Swiss veterans Gotthard. Which of course guarantees local goliaths Crimes Of Passion a great crowd, and this they are too, to a great band whose debut album currently awaits release.
Taste of what's to come is brought to us with three interesting tracks, mostly showing an even harder edge (a la 'Pride' – era White Lion) to the sound established on last year's three-track EP, aired here in its entirety itself, and a blinding cover of Dio's 'Holy Diver' makes up the remainder of their slot-space, though early in the set as supposed to acting as closing number.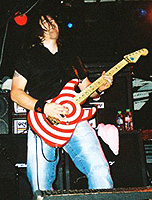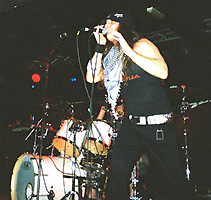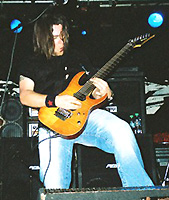 Without wishing to offend any Gotthard-ites reading, I am actually a recent convert to these guys myself although one or two of their numbers did sound familiar when I played their live disc recently. The two opening cuts are not amongst the seventeen on said record but are both belters and the Swiss sextet sound like they are loving it as much as we are.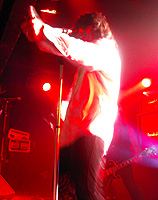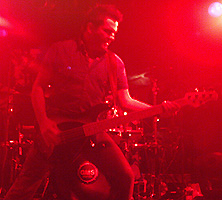 Their first ever visit to Sheffield may be the reason for such a well-sold show this evening if not the reason relating to the promising future for melodic hard rock as mentioned earlier herein and when 'Top Of The World', the first song of the night I happen to recognise from record sets in, one gets the sensation of being in an arena given the volume of cheering.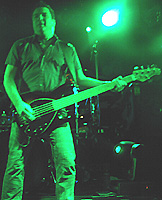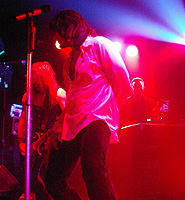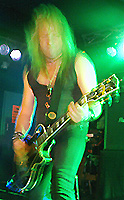 Most of the remainder of the show comprises of classics with which I am thankfully as familiar as the rest, with Harem Scarem - meets –Whitesnake like numbers such as 'I Wonder', 'Let It Be', 'One Life One Soul' and bluesy rockers 'Sister Moon' and 'Mountain Mama', all firm faves of mine from the start.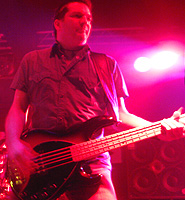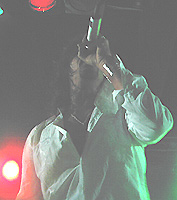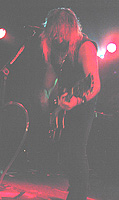 Their stage presence leaves nothing to desire with their frontman the archetypal hair-rocker with some truly Danny Vaughn/Seb Bach body postures throughout and it goes well with nearly all of the mid-tempo tunes.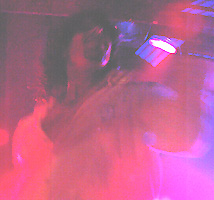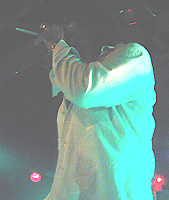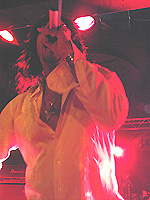 'Heaven' however is one of the most stunning AOR ballads I have encountered, even if its chorus borrows scandalously from Savage Garden's 'Truly Madly Deeply'.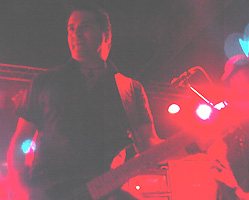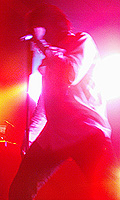 Gotthard are also strong with the handling of covers, which provide, along with their resident self-penned groover 'Lift U up' the central sing-along stints of the night.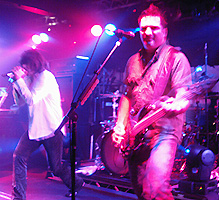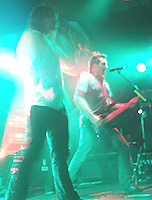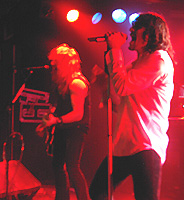 Deep Purple's 'Hush' is good to hear, with our without one but one of the highlights of the evening – and also a SECOND encore - is their run at Manfred Mann classic Mighty Quinn'.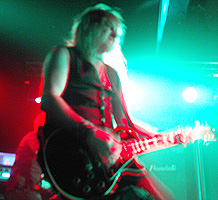 At over an hour and fifty, this is the longest show I have ever seen at this venue, even longer than Tyla's surprisingly record-length gig the previous week but these lads have a lot to owe the folks of South Yorkshire with their live debut on these particular soils, and what a mighty way to start, this has been for them.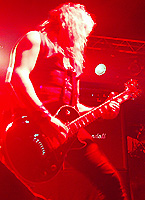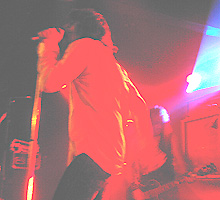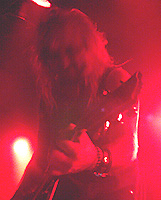 Only a recently turned fan myself, as I said, I still savoured every minute from a great European act who put on just as good a show as most half-decent Brit and Stateside outfits on the graft at the moment, with not a so-so or sub-standard number anywhere on their set. Swiss produce that comes even sweeter than their chocolate.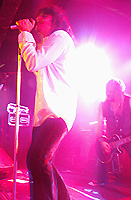 Lovely stuff.
10/10
By Dave Attrill

GMT –
The Boardwalk, Sheffield, 2nd November, 2007
Set List: Wild West/Star/Ball & Chain/Cannonball/Down To Here/Can't Beat Rock 'N' Roll/Rocky Road/Longer Than Tomorrow/Bitter & Twisted/Bass Solo/Summerland/ Drum Solo/New Orleans/Smoke On The Water.
Encore: Fire.
It's Friday night and it just ain't right without a big slab of rock 'n' roll which is exactly what is on the menu in The Boardwalk tonight – a venue that's one of my favourite haunts to say the least.GMT are the band in question tonight – an outfit that you can call a 'supergroup' without a chance of anyone's ego imploding, dissolving or blowing up the band at all.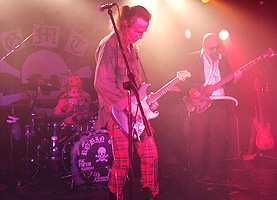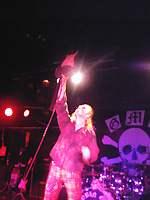 So what do the G, M and T stand for then – well G is the first letter of the surname of the Drummer, Robin Guy who used to play in a wacky whatever music they fancied doing for that few seconds outfit called Sack Trip with Yngwie Malmsteen and ex-Rainbow frontman, Doogie White.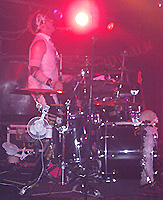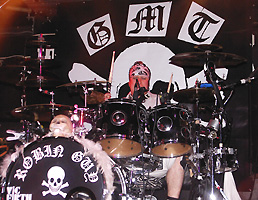 Man, what a drummer – reminds me of Patrick Johansson in looks and style (hey, funnily enough that's Yngwies drummer) and elements of Eric Singer, Booby Arechiga and Stet Howland – especially in during his solo – in which he stopped and gota guy at the front of the stage who was shouting to be quiet – and followed up with a very rock jazz solo – one of the best I have ever seen.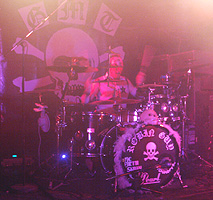 The M part of the band is no other than larger than life Bassist and well-famous beard and shades wearer John McCoy who the proper hardcore Rock & Metal fans will immediately recognise from Gillan, Mammoth, Samson & his own band, McCoy. He's got a wacky laid back dry sense of humour onstage and often takes the p*ss out of the T member of the band – well they've each other for years so why not!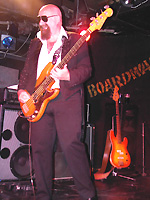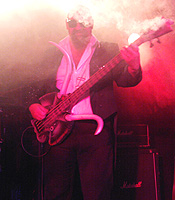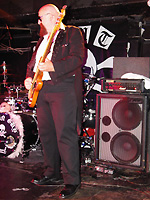 A brilliant player who puts them low notes exactly where they are need – with plenty some distortive Lemmy-like fuzz at times too. He played 2 basses tonight – the most interesting of which was the one that was shaped like a elephant, well Mammath actually that came complete with tusks and a neck shaped like a trunk that breathed smoke. That was f*ck*n' cool – now there ain't many of them knockin' about – on a stage or in the electric jungle.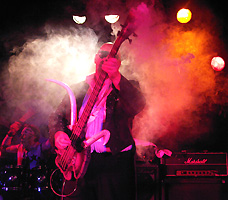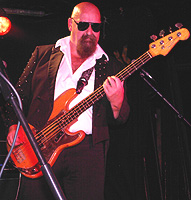 The T man is none other than guitarist and vocalist, Bernie Torme who was a one-time member of Ozzy Osbourne bamd who replaced Randy Rhoads and also played in Gillan with John McCoy, not to mention being a solo artist and part of Desperadoes with Dee Snider a supergroup that never took off due to Record Company hassles.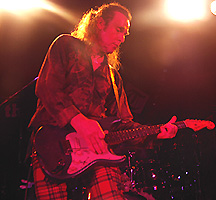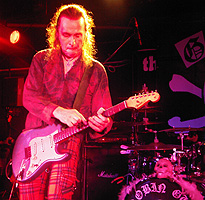 Man, he must have had that light blue Fender guitar since way back when judging by the amount of paint that's come off it and still wearing off bit by bit. Nice job on the vocals as well my friend – that really does take some doing when all the instruments are piped up to 11 or maybe 12!!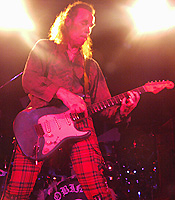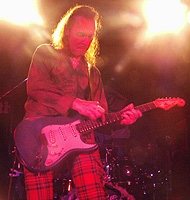 This was a set of ravaging Virtuoso Rock N Roll all the way through with a slight bit of quietness in between the songs – highlights of the set included the highly charged 'Cannonball'; the Celtic riffing 'Rocky Road (from Dublin)'; the foot-stompin', raise your fist in the air 'Can't beat Rock 'n' Roll' and the atmospheric, touching ballad 'Summerland'.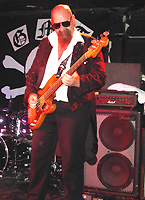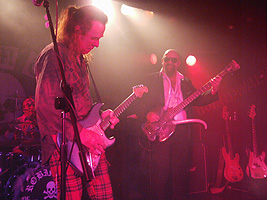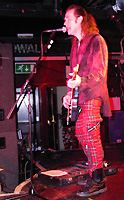 They even 2 covers performed by Gillan in their heyday – these being 'New Orleans' and Deep Purple's 'Smoke On The Water' – someone even shouted for this one – I wonder if they had been reading the set list. Of course, no gig is properly complete without an encore, no they sadly didn't play Mammoth's 'Fatman' but instead opted for a killer rendition of Jimi Hendrix's 'Fire' that really gave Bernie the opportunity to burn it up in front of our very eyes.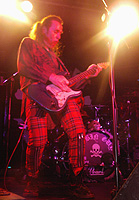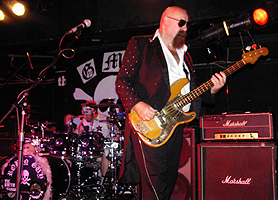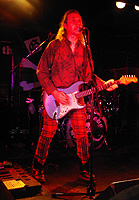 Throughout the gig, each and every one of the members appeared to be having a good time – just wish that there was more excitement and enthusiasm amongst the crowd – it was Friday and your at The Boardwalk – not a f*ck*n' funeral or seeing the Bank Manager about your mortgage repayments – liven up Sheffield and get with it becuse as Bernie rightfully put it – 'You can't beat Rock 'n' Roll'.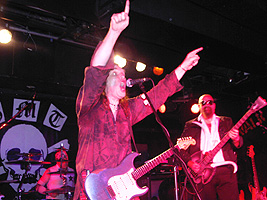 You should have been there! – shame on you for not coming.
8.5/10
By Glenn Milligan

Genesis – Olympic Park, Munchen, Tuesday 10th July, 2007
Set List –
Behind the Lines/Duke's End/Turn It on Again/No Son of Mine/Land of Confusion/In The Cage/The Cinema Show/Duke's Travels/Afterglow/Hold on My Heart/Home by the Sea/Second Home By The Sea/Follow You Follow Me/Firth of Fifth/I Know What I Like/Mama/Ripples/Throwing It All Away/Domino/Drum Duet / Los Endos/Tonight Tonight Tonight/Invisible Touch
Encores - I Can't Dance/Carpet Crawl

Rested up for the show, then headed up to the Olympic Park & got on line at 3:30 as the sun put in an appearance. Gates opened at 5, and everyone got a free Genesis beer glass with their pint, a nice touch.
Windy as hell in the stadium, and it began to pour with serious rain at 7. For an hour. Whoever designed the Olympic Stadium was a fool, as he forgot the roof.
Happily the rain stopped at 8, and Genesis zipped in to the Duke medley at 8:15. The sound and light show were fantastic throughout, with the screens completely visible even in broad daylight.
Collins' first word to the crowd was 'Scheieregen', proving that he still knows how to work them. The highlight of the early set was the keyboard solo from 'The Cinema Show', which was still breath-taking after 30 years. 'Afterglow' was fantastic, and the playing on 'Home by the Sea' was worth the admission price.
Stuermer's solo on 'Firth of Fifth' was brilliant, and 'Mama' and 'Ripples' sat together well. 'Domino' kept us warm and dancing, or at least as warm as you can be when you are soaked to the skin. 'Invisible Touch' closed the main set with several salvoes of fireworks. Encores were 'I Can't Dance' and 'Carpet Crawl', a slightly odd way to end a superb show. It only took 35 minutes to get back to the warmth of the hotel which was something of a relief from the rain.
By Roy Evans

Guns 'N' Roses/Sebastian Bach/Rose Tattoo –
Acer Arena, Sydney, NSW, Australia, June 23rd, 2007
First of all I want to thank Glenn to give me opportunity for writing review on his site.
Saturday June 23. It just like the same old day for many people but not for me because Axl Rose, the frontman of the legendary band 'Guns N' Roses' was going to perform here with his new crew tonight.
The 'GN'R Chinese Democracy World Tour' show have should started at 8:00pm but there was a half an hour delay - It started at 8:30 with opening act, Rose Tattoo. At around 9:45 Sebastian Bach started to sing with his band. Cameras ware not allowed on that concert but Sebastian announced that every one could capture videos for 'You Tube' and almost all the stadium was lighting from camera flash.
Guns N' Roses did delay a bit before their performance, they ware suppose to start around 10:30pm but they started around 12am. There was voice coming from the background- ' 1 2 3 4'.... which make the environment so crazy. All the people ware waiting for Axl and his band. As I noticed majority of audiences were old, I mean they ware of 35-40 year old and that was their second GUNS N' ROSES world tour after 14 years. Just around 12am lights went down and a strong intro of welcome to the jungle began...then AXL ROSE and his performance was mind blowing...
Axl was looking nice, he appeared with black goggles, which was strange at night, but he is different. He performed almost all the old hits. 14,000 tickets ware sold for that night only and all the people ware getting paid for their money. Some of the crazy fans ware thrown out of the hall because they ware really crazy. I think they should be crazy after all that was rock concert from a crazy front man. I was also dressed crazily, I was wearing a GN'R hoodie and over that a white t-shirt on which I wrote all the GN'R song title.
'Knocking on haven's door' has been changed, I mean musically - now it sound like 'Avrill's version'. Axl played piano solo and started 'November Rain' and the suddenly environment became quite. Axl perform this song so nicely, and I noticed he was full of emotion. 'Sweet child o' mine', 'Mr. Brownstone', 'Live And Let Die', 'You could be mine' and 'Patience' were other hits performed that night as well. 'Don't Cry' began with another guitar solo by Ron where Dizzy 'n' Robin also played solos.
After 'Nightrain' Axl said 'good-night' and he was gone. I didn't expect them to play anymore and started to south 'GUNS N' ROSES'. After a while Axl appeared back and continued the train. 'My Mitchell' was then performed with Sebastian Bach. And another song was performed with 'Rose Tattoo'. As I remember, 3 new songs were aired but I can't remember the names off-hand!
The concert was over with a mind-blowing 'Paradise City' performance. There were lots of firework effects and the entire environment was like a paradise. After that song they finished but again Axl came back with a cup of coffee and began to say: 'Aussi aussi aussi...' and the masses were replying: 'Oi.Oi.Oi'... I saw his face clearly that time and I can say he was so happy.
Altogether the night was fabulous for all and he was like a different man since G'N'R broke-up all those many moons ago. The lead guitar solos were a little-bit different on the songs than they were in the Appetite & Illusion days of the band - maybe Axl wanted to make a change on them or maybe the new guitarists can't play like the previous members. As I remember he had 4 costume changes during whole concert... I saw 3 white limos heading out of the arena whicvh I presume was the band.

It was my dream to see GUNS N' ROSES live! I mean old GUNS N' ROSES. Anyways, I think half a dream that has been fulfilled at least.
Live and Let Live
By Pukar Axl Rose (from Nepal, via Australia)

GUNS 'n' ROSES + Bullet For My Valentine + Sebastian Bach -
Hallam FM Arena, Sheffield, Tuesday July 18th 2006


OK, for the last time, yes it is only Axl left, but as the words 'Guns n' Roses' were a darn sight likely to shift a much larger portion of the 12000 available tickets, so effin' well be it. A couple of little things ruined the evening at the start, as I turned up to find that ex-Skid Row shrieker Sebastian Bach had also been added to the bill and this, as I find out from a helpful member for staff has resulted in the Gunners set being now due to start at about ten o'clock. Trying to enjoy the two songs I manage not to miss, 'Monkey Business' and immortal anarchy anthem 'Youth Gone Wild' proves hard whilst worrying about my transport plans home for later, so bumping into a few mates in the concourse helps keep my mind on the reason I've travelled down to Broughton Lane this night.

Present day metal screamers Bullet For My Valentine do a decent job –of driving about half those on the floor towards the bar – but fro those who stay, it's a worthy 40 minutes, their stuff coming over as some sort of trad metal rehash albeit with vocals not unlike those of Swedish metal kings In Flames. And so they finish and the purists pour back in.

And then, yes, boys and girls…. The time has come. The lights drop and after a teaser stop-start with the intro riff, a deafening barrage of fireworks heralds a pounding rendition of 'Welcome To the Jungle', the first of an opening brace off 'Appetite For Destruction' and the whole floor becomes a giant trampoline, the major line-up fluctuations that have troubled Guns 'n Roses over the last 12 years swiftly become of no concern from this moment on. Following with 'It's So Easy' and 'Mr Brownstone', Axl Rose who I'm not alone in thinking now looks like Simply Red's Mick Hucknall gyrates along to the tunes the same way he did over a decade back, obviously a chap in a rare good mood on stage for once.

Finally changing album we get 'Live And Let Die' the first of a very measly quantity of 'Use Your Illusion' material on the menu today then much to everyone's disbelief he walks off for five minutes and the lights on the stage darken. Thankfully, as the booing loudens over the cheers for them to return, the first of (too) many solos by their various new guitarists takes place before the rest of the lads return and rip into 'Sweet Child Of Mine' and of course another tune no GNR set is complete without, 'Knocking On Heaven's Door', something this band have been doing for a fair ol' while now.

A solo from the other surviving mainstay, Dizzy Reed ensues, much more digestible than the solos by the three various unknowns now accounting for their guitarists as does a new song from the mythical 'Chinese Democracy' album which will hopefully see the light of day this year. Terminator 2 credit theme 'You Could Be Mine' follows, giving me little time to hear the overall reactions then another solo drowns the applause to that too but smiles on almost every face in sight sum up things so far. After hitting back hard with 'Outta Get Me', it's time for Axl to man the piano stool for that unforgettable ivory-bashing epic 'November Rain - in its full nine-minute entirety. By this time there seems to me that there is a timetable of two songs- then a solo running throughout the set as another of the new recruits is left to his own devices for a couple of minutes - if I remember rightly, this fella performs a Christine Aguilera song on his strings, which is the only time one of her tunes has been rendered listenable.

A guest appearance by Seb Bach for 'My Michelle' as he had done at Download a month earlier cheers up those who'd missed his unadvertised set tonight and then 'Think About You' keeps everyone on their toes. Then as we are about to expect to endure another solo, we don't…. but a fourth guitarist and a very familiar one - Mr I. Stradlin - arrives and joins them for an emotional trip down the years with 'Patience' before they finish off with 'Night Train' and remaining GNR cornerstone 'Paradise City'.

Seemingly quite less than cream-crackered, the crowd duly roar for more with no hesitation but as all seven men unite stage front and bow out to Axl's immortal sign-off of 'Good f***in' Night!" some get the impression that they will not be coming back out again shortly. And sadly right we are, but let's not be ungrateful, I mean they've given us two hours as it is - I mean he did (right Axl?). I've been a fan of the Gunners for nearly fifteen years, during which time this has been their only visit to Steel City. Let's hope that with Axl's surprisingly cool headed manner tonight, it won't be the last. Everyone misses the original line-up obviously but never fails to appreciate the definitive material, no matter who's standing up there strumming merrily away behind him. If you'd cared to count them, no fewer than nine songs from 'Appetite…' were aired this evening compared with only four off the 'U.Y.I.' platters with demonstrates the effect the devotion from their older fans has on the choice of tunes for the tour.

A magic night many have waited a life time for, the most dangerous band in the world have still proven a fighting force in here 2006 as largely testified by a sell-out Sheffield crowd all having prepared to shell out the astronomical ticket price (about 40 quid) for the privilege. Finishing this late at night as I said earlier wasn't likely to have gone down too well with those who hadn't had the use of a car today but most, including me, thought it well worth this particular one-off.

Hopefully next time they'll bring Velvet Revolver with them too. (Now that would be interesting!!! – Ed.)

9.5/10

By Dave Attrill
GIRLSCHOOL + Motorheadache -
Sheffield Corporation, Saturday 3rd July 2004
Brit metal veterans Girlschool have their surviving followers dusting down the leathers once more. Sporting a newer guitarist called Jackie (who in '04 celebrates 5 years in the band), the girls get on stage and get down to it, shredding out their timeless Motorhead influenced-noise for seventy minutes without flinching.
Diminutive frontwoman Kim McAuliffe looks and sounds healthy and energetic for her age, still delivering her full vocal aggression and the tiny 70-strong gathering keep up the momentum as every classic comes out with a couple or so new tunes also gelling. With a new album imminent, it appears crystal clear that as with a lot of other recently returned heroes, life today is not just confined to appearances on 'Never Mind The Buzzcocks' and a strong display from the ladies of loudness tonight mends any damage time may have done.
Support appropriately comes from Sheffield's Motorheadache, the country's only homage act to Lemmy and boys and their equally relentless set even sees McAuliffe, albeit sans guitar, popping up for a tune ('Please don't touch' done live for the first time ever on-stage by Kim).
A pristine evening for fans of classic British metal and an impressive number of younger fans in attendance too. Obviously some were willing to pay to be educated tonight.
8/10
By Dave Attrill
GODFLESH - NOTTINGHAM ROCK CITY, November 5th, 2001