John 5 & The Creatures – Corporation, Sheffield, Thursday, October 6th, 2016
Set List: Intro/First Victim & Feisty Cadavers/Flight Of The Vulcan Kelly/Villisca/This Is My Rifle/Sin/El Cucuy/Jiffy Jam/Portrait Of Sydney Sloan/Guitar Solo/Six Hundred & Sixty Six Packers In Hell/Behind The Nut Love/Mad Monster Party/Black Grass Plague/Here's To The Crazy Ones/Medley.
Well when I saw this show announced, I knew it was going to be an interesting experience and it totally was. The man himself who previously worked with the famous Shock-Rock Goth Prince, Marilyn Manson and now the lead guitarist for many years of Industrial Metal King, Rob Zombie is definitely an experience.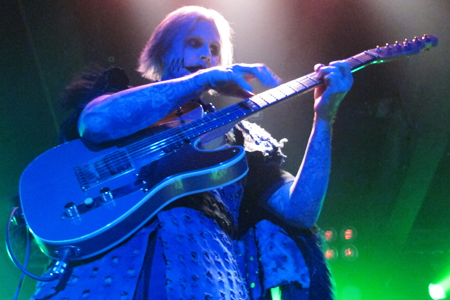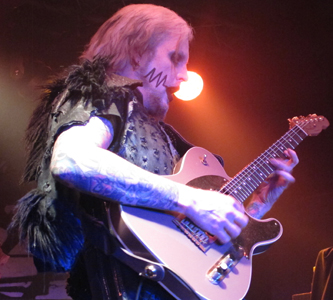 His creatures don't come across to scary in the form of Drummer, Rodger Carter and Bassist, Ian Ross but the man himself looks rather theatrical indeed – kinda Ace Frehley on acid or maybe something stronger like PSP – Hahaha. Now that costume is majorly eye-catching to say the least . I have never seen anyone where anything like that before and it personally out me in mind of a medieval soldier meets a cosmic wizard that had been trapped in Norman times – very trippy indeed.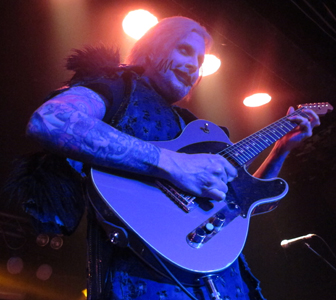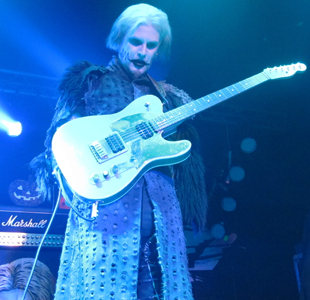 There were no vocal songs to be had at this show, not that we actually expected any but a long hammering of quirky instrumentals that through the night saw him touch into a variety of genres and sub-genres from blues to prog rock to hard rock to neo-classical to jazz to country and other points in between too. John 5 taps into a variety of artists from days gone by that a lot of the younger members of the audience may not realise since I hear the likes of Les Paul, Chet Atkins, Joe Satriani and Eddie Van Halen coming through not to mention the odd jazz maestro like Dave Brubeck etc.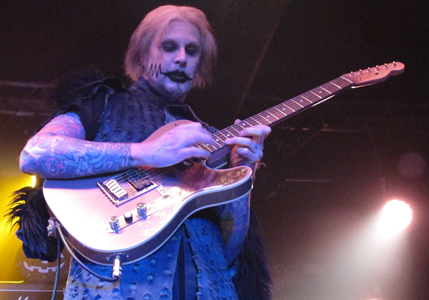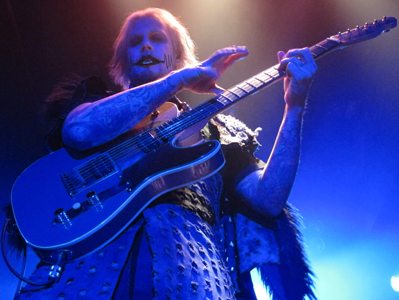 It's mesmerizing, flamboyant and intoxicating as these guys make this look so easy up there on the stage with highlights including the zany 'First Victim & Feisty Cadavers' that opened it up or the sludgy meets Malmsteen & Vai like 'This Is My Rifle'. Then there was 'Six Hundred & Sixty Six Packers In Hell' with its humorous Adams family intro before going into wild thrash meets ott fusionistic sounds and beautiful classic meets Bluegrass sounding moments and more packed into this wild pickle!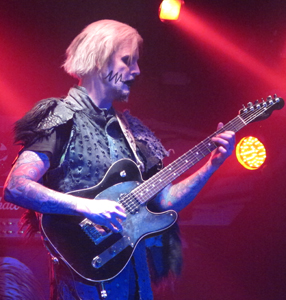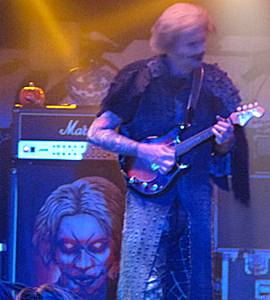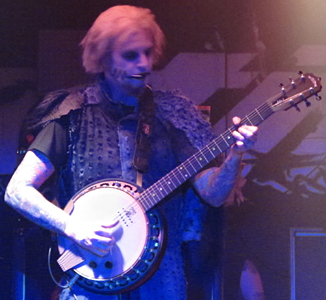 A major part of the night was most definitely 'Black Grass Plague' that saw Mr. 5 play guitar, mandolin and banjo that was an absolute joy to behold complete with mini-solos while John was changing instruments or the Jazz meets Metal of 'Here's To The Crazy Ones' minus the ape masks that feature in the video but great all the same.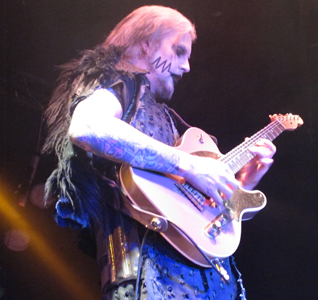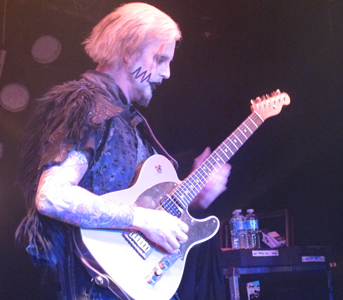 The set finished off with a mass of songs of the rock and metal nature made into the 'Medley' that included moments of The Kinks, Dio, Iron Maiden, Eurythmics via Marilyn Manson, The Who, Rush and many more!! Overall this was a great show and hopefully more will attend next time. Okay, so he ain't a pioneer or anything of that nature but simply melts his influences into this tunes but the fact he does it so well makes it worth checking out as a show!
8.5/10
By Glenn Milligan
JOURNEY/WHITESNAKE/THUNDER - Motorpoint Arena, Sheffield, Monday 20th May, 2013
Some bills are born to us from heaven. Def Leppard/ Motley Crue/ Steel Panther. Deep Purple/ Styx/ Thin Lizzy. Sheffield – in fact the whole of the island - has seen them all until now. Journey have yet to grace the Arenas' stage, but in tandem with two other of hard rock's greater gargantuan machines , Whitesnake and Thunder, you can only wonder if Gods been witnessing great deeds of followers somewhat lately.
Thunder open with 'Dirty Love', the tune that has ended almost every set known to humanity over the last two decades, setting us awonder as to what other surprises they have stuffed up their sleeves on this latest comeback. Customary curtain-lifter, the inescapably stomping 'Backstreet Symphony' storms up straight behind and the already filled-out floor are enjoying every second despite being the stalls being seated tonight - something I last saw happen here at Metallica in 1992.
'Higher Ground' a further personal favourite in turn indicates an all-oldies set might be the plan tonight and as they soar into the lively duo of 'Low Life In High Places' then 'River of Pain' I appear to have won that bet. Danny shows he's still a sucker for stage presence, practising his jogging-on-the-spot routine randomly during solos (best make them longer Lukey boy), whilst the stage lighting seems to stay one colour for full songs at a time. Oh, and whilst we're on it the pink parts might just possibly be a salute to the female population in attendance tonight. Hands set a-clapping for latterday favourite 'Devil Made Me Do It' as Mr Morley wields that famous red/white flying V at last.
'The unmistakably amorous acoustics of 'Love Walked In' erm, walk in to the set way earlier than expected, a song more suited to that bright pink backdrop I could never imagine. Only then am I reminded they're on for just forty-five minutes tonight as 'I Love You More Than Rock n' Roll' is introduced by way of closer, hence the sing-along that sweeps the whole Arena like a tsunami. Easily the best non-headliner I've seen of them, Thunder make no mistake about what their audience like and they certainly like it tonight as an understatement. Best get that next big UK tour arranged, lads.
A swift quarter-hour spent in my seat and the lights are switched out once again, ready for another British institution to bound onstage. To be accurate David Coverdale bounds right across the stage, always a man to admire the audience first before rolling into the first chords of 'Gimme All Your Love Tonight'. Whitesnake certainly vend us all their affections this evening period - musically speaking obviously - David not messing about however with a first-song sing along.
Cutting straight to the cornerstones, Snake are 'Ready and Willing' to rock the place off its seats this evening. Not like ol' Covvy cares he's only got an hour and a quarter to toy with today - or then probably does as strict crowd participation is once again prompted - this is far from another through -the-motions showing. Going headlong into material from their two recent post-comeback corkers, stopping these lads to ask why they're still at it is seriously ill-advised. Doing a much spectacular number than Thunder with the stage colours, the searing amber/blue/purple backdrop to 'Don't Break My Heart Again' swallows up the whole end of the arena, lighting each member by a different colour.
"Ah, Yorkshire, Yorkshire, Yorkshire " is the greeting Coverdale graces us with, going into 'Is This Love' - again like the preceding act they delight in throwing in one of their biggest hits unexpectedly prematurely in the set. It is a poignant moment then after to be reminded of the works of Mel Galley, Cozy Powell and John Lord as a picture of the deceased trio, off the 'Saints And Sinners' sleeve shines from the lights; surely we all do hope that 'Love Will Set Them Free' one day. Guitarist Doug Aldrich enjoys some extreme close ups on the stage-side screens, as if perhaps to verify it still is him stood there after ten years. Shredding alongside is fellow six-string goliath, 'Snake returnee Reb Beach who brings his solo spot to massively un-bored applauders.
Joined by Doug for a too-brief blues duet, Beach's harmonica interlude just slightly gives away that the next tune might have the words 'I Want It All' somewhere within. (No 'Queen' digs now, d'you hear?!) What it does also have is an abrupt drum spot from Tommy Aldridge, in which the second-longest-ever-serving WS mainstay spends almost as much time striking his own hands together than he does the skins. Mr Coverdale surely surprises on his return by actually wearing a band shirt, the first time ever witnessed in Sheffield. You can never say ol' Davey doesn't like to get up close and personal - on having entertained the crowd closest with a dry dig about Shirley Temple amongst things, he goes one further by announcing a marriage proposal passed from one lucky blighter within the crowd.
There are always 'Bad Boys' with this bands shows and its surely a gift to see this belter, the Snakes' greatest album track ever remain a regular on even a reduced-size setlist. Coming with 'Fool For Your Loving' in tandem, it's a case of come- on- you- guys- you're- spoiling- us as 'Here I Go Again' and 'Still Of The Night' shear proceedings off to a fine end. For an extra treat the former gets a sped-up snippet of 'Raised On Radio' from Reb at the end whilst the closer gets the distinguished send-off we expect from a man of 61. Not so much awesome as astounding, Coverdale comes complete with a voice sharp and raw than ever before which concretes the foundations for the Snake house to stay up a decade or so ( many ) longer. The headliners tonight have reason to shudder. Leaving to a burst of 'We Wish You Well' says it all till next year.
Owning only two albums by the utmost revered AOR act of all time sounds a not too auspicious admission at this moment; yet when those two happen to be 'Escape' and 'Frontiers', the two most monumentous settings in Journey's stone, I might likely have evaded certain embarrasssment. Teased by the white light trailing the stage, my first ever live sighting of the San Franciscan legends starts with the song that started it for me and these guys. 'Seperate Ways' has people standing from the off. Being tonight's only band from over the pond, Journey mainstays Neal Schon, Russ Valory and Jonathan Cain have crossed America and back more times in forty years than even the most picky of long running acts should car to think about.
Duly right then to run about the Uk's stages with their solid golden oldies, sticking new material in every orifice seems not to offend as there will a classic concealed behind it. Arnel Pineda, the fourth different man to have stood behind the sacred Journey mic shows of a suave look with his newly shortened hair and silky dark shirt/waistcoat combo, coupled with his incredible young voice, strikingly more Perry than messrs Augeri or Soto on the Arena boards than on record. The performance that graces 'Stone In Love' is exactly why this man stole the job - Pineda slays with a whip of a range such that Neal's scintillating solo can't stop the onslaught.
The band's central motivator himself feels at home in England as he sports the same dark shades seen on his Soul Sirkus visit, looking the world's coolest old dude as he cruises through the most unforgettable melodic rock guitar harmonies known to history. 'Edge Of the Blade' erupts as Pineda returns from a shirt swap,( a white t-shirt does serve better to stand this vocal discovery out from the rest when you're sat 50 feet away from the stage) and the ever-powerful rocker is just twice as punishing on the rafters. Most would say 'When The Lights Go Down On The City' was a song that belonged to Steve Perry but although as a man of only 35 Id have front to argue, any line up proves worthy of this timeless power ballad.
To prove the doubters more than wrong, classic after classic follows, soft and rockin' numbers scattered in and out of one another 'Raised On Radio' ripples its own airwaves, Pineda, Schon and Cain's performances shooting chemicals together into a towering nuclear mushroom of melody effective over a few hundred miles away. As 'The Wheel In The Sky' keeps on turning us round in our seats, the screens fill up the full stage behind, despite the yellow tint obscuring all but the bigger monitors. Sing-a-long sessions don't seem to be necessary from this bands perspective as 11, 000 seated opposite chose to do it whether Neal likes it or not, the band duly welcoming it with open arms (that's just terrible, Dave) in turn.
The most moving ballad of all melodic rock history makes even the most longest-serving Journey-goers steam up under the eyes for all its five minutes, with soaring harmonies made huge by Herr Perry in his time moving the room from start to stop. 'Be Good To Yourself' sees Arnel bouncing across the stage clapping like a school cheerleader then the lush piano lead of 'Faithfully', complete with one of my favourite Schon licks of all time makes him work for his biscuits. Unbelieveable is not the word to sum up 'Don't Stop Believing' tonight - Journey's iconic ballad does not stop at anything beneath mesmerising tonight and those many that might have grown sick would be prompted by this rendition to switch it on first thing tomorrow before breakfast.
As the ending fireworks decieve one into believing home time is indeed nigh, 'Anyway You Want It' wrongfoots the several peeps already on the stairs into stopping slightly longer. And then they are gone, leaving me watching the inevitable words 'was it still worth it then?' possibly about to start surfacing on a few lips in my vicinity. In truth other first time Journey gig goers dare not go to bed thinking they've finally caught up just to find a bunch of balding old hasbeens whilst seriously high percentages of the veteran crowd will also agree they've taken something still hugely special away.
What we do take away is a purely unforgettable experience that is strictly to be treasured. Journey took their time to get to Blighty when they first finally arrived in 2007 - and the big mistake some of us made in squandering our chance six years ago sits corrected in gold by tonight while others should hope the culminated strength of their present line-up provides them reason for another return.
Don't stop believing it will happen.
10/10
By Dave Attrill
Jackyl/Scattered Hamlet/Betawolf -
The Viper Room, West Hollywood, CA, USA, Wednesday 7th November, 2012
You can always guarantee that everytime I come over California, I always catch a show or two at The Viper and this trip is no exception. A real strong three band bill (more about the headliners later) with a night that started out with Betawolf, who are based here in Los Angeles. These guys have an extremely fresh sound to them and fit somewhere between Rock and almost altenative at times.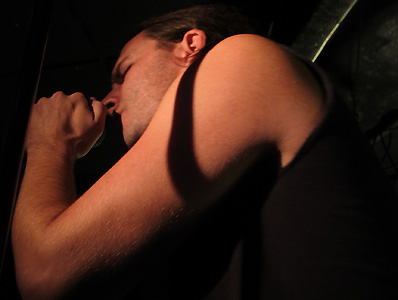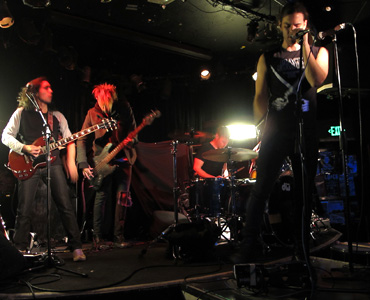 They kinda put me in mind of The Dreaming at times and do have a pop element but not to the point of sounding too over-commericial with strong 'n' high, poignant vocals - take the song 'Domino' as a perfect example that was a highlight of their set. It's loud and atmospheric and there's plenty of excitement up there. They got a lot going for them and that mohawked bassist is a pretty wild crazy dude up there with his taped ip sneakers.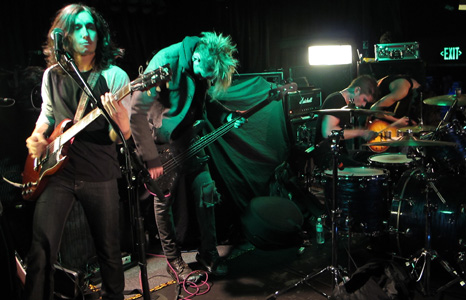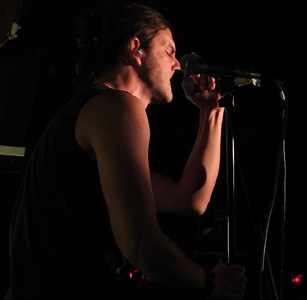 Scattered Hamlet are a band I found out about in April/May this year since a buddy of mine, Erik Kluiber deps with them on bass now and again. Like Black Stone Cherry these guys also kick ass from Kentucky (but relocatd to LA where the industry is I guess)with their take no bullshit blasting, throbbing and sqealing concoction of musical abrasion that meets somewhere between Pantera, Black Label Society, Orange Goblin and Black Stone Cherry - stoner goes it south Y'all.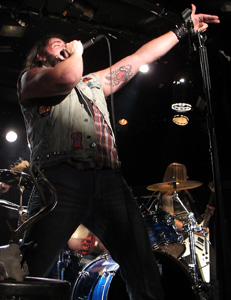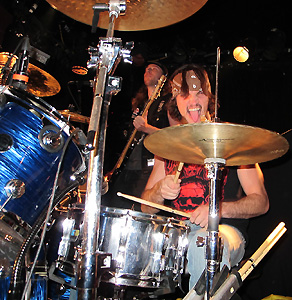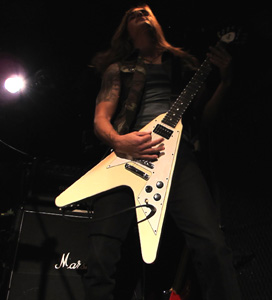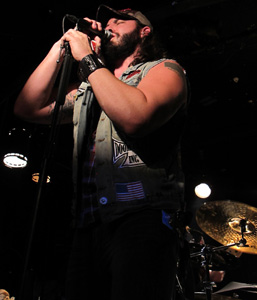 This is full-on confederate rock n roll sounds and these guys are proud to be hillbillies indeed with their Metal Beer Barrell on stage with the deer skull with antlers perched on top. They get a few hell yeahs hapnin up there and rock their b*ll*cks off on that small stage with frontman ? saying he's been hunting since he was 13. They make a big impact and joke that they ain't from Los Angeles - hahaha - no shit Scattered (as opposed to Sherlock).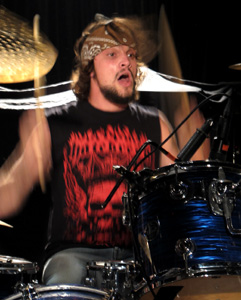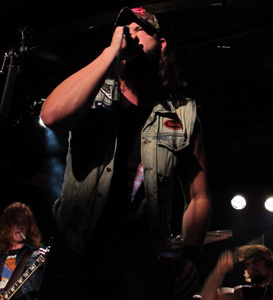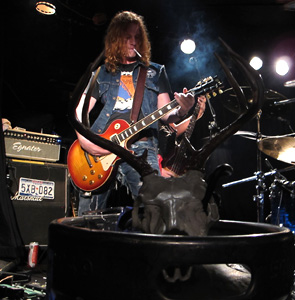 Highlights of the set include the opening 'Outlaw'; 'Hillbilly Harmony' and 'Shotgun'. Nice to see these boys are still standing up there and still heavy as hell undiluted Dixie Dudes at your service. They well and truly make a damn fine band to be preceeded by the main act. Keep it up Y'all!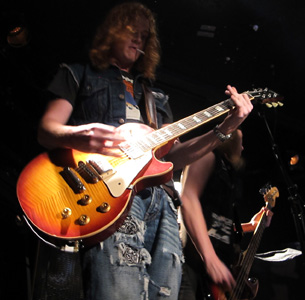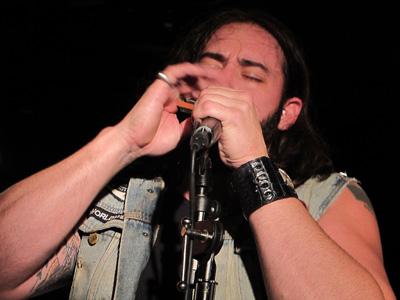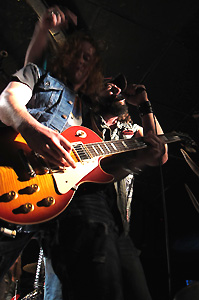 Now I've waited 20 years to see this pack of wild dogs after 1st seeing them on some BBC show in the UK and also on Woodstock in 1994 that I recorded selected parts of including their set during the night. So what better way to experience Jackyl than on their 20th Anniversary as a band right when I happen to be here in Hollywood - perfect timing guys.After the 1st number, the jacket comes of and the mane to the *ss is set free to flow.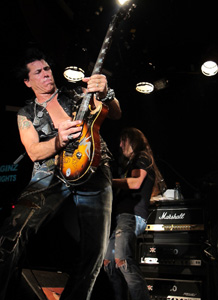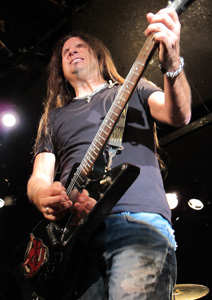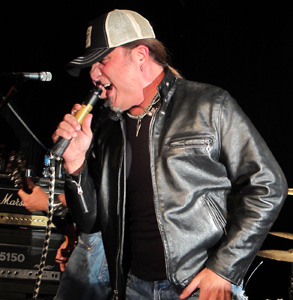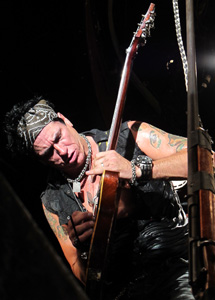 We get some real dixie down ditties from their past like Jesse's favourite, 'I Stand Alone'; the outstanding rapped 'Dirty Little Mind' and new numbers from the newly released album, 'Best In Show like 'Screwdriver'; the pounding 'Better Than Chicken' that's all about poontang or the excellent 'Don't Lay Down On Me'. It all seems very instantious because their merch lady, Kelli informed me that they never have a set list. I guess they just do what they feel at the time for the fans.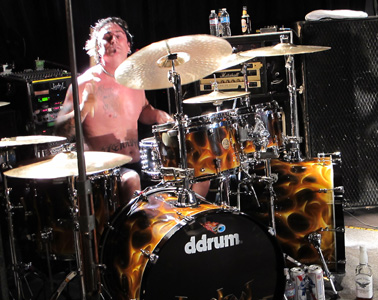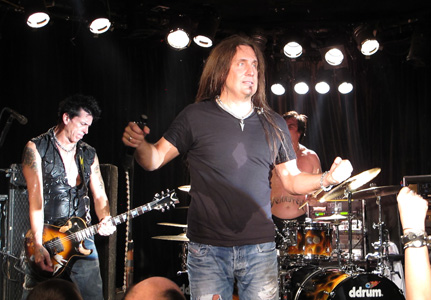 These guys are masters of the hard rockin' southern ceremony that put sheer joy into the room as soon as they crank up with their meaty, mighty 'Hell Yeah' Atlanta Grooves. Jesse James Dupree is nothing less than a Hard Rock Icon, maybe legend in fact who has the drive and passion in his voice and stature that let's you know that this is the jen-yoo-ine deal of Dixieville. The band are such an amazing spectacle to take in and get down 'n' dirty with their AC/DC gone south sounds.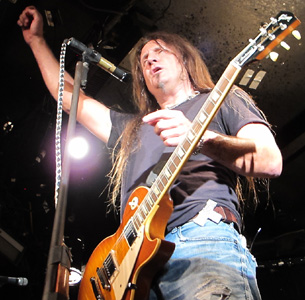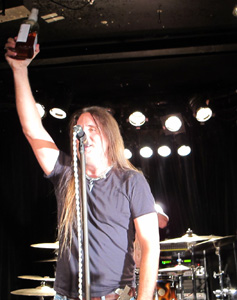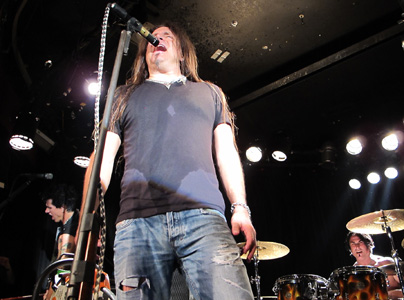 Jessie believes in everything he says and takes no convicing with his pure hammed up, tongue in cheek, jokingly bad to the bone, full of fun boisterous bravado throughout their 90 minute joyous set. Asking us on at least two occasions asking us if we wanted him to wrap up the set or do some more - of course we wanted more and we totally got it. This guy hasn't lost his sense of humour even after two decades of being on the road - the place they like to be best and it shows.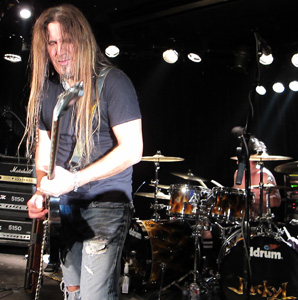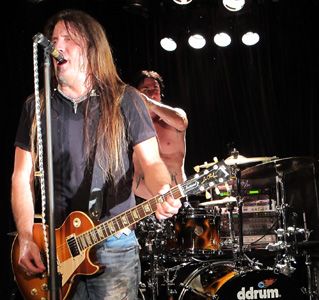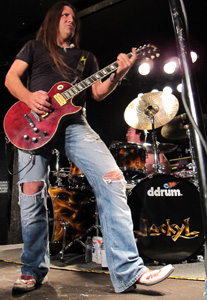 Of course the closer is none other than their trademark 'Lumberjack' that totally incudes the extremely famous chainsaw blues solo and the slicing and smashing up of a poor old stool - but what a way to go - on stage with Jessie doing the deed. By far this is most definately the best show I have ever been to at The Viper and there's no doubt all who witnessed it will be saying the same thing too.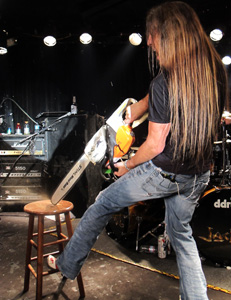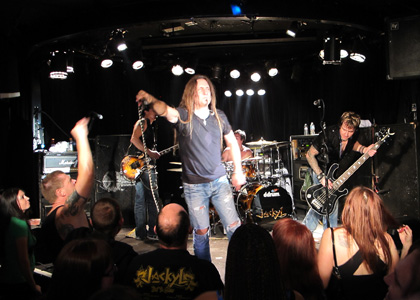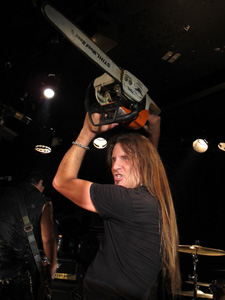 Seeing this show was well worth the flight over and the 20 year wait too.
10/10
By Glenn Milligan
Judas Priest/Queensryche/Rival Sons - The Epitaph Tour!!
Doncaster Dome 17th July, 2011
A venue that I have personally never been to, though we have at least 1 review on the site from here a few years ago. It's deceiving because the live room is actually a gym with coloured game lines on the floor - so it does seem rather bizarre to have gigs in here - especially one like this of the rock and metal nature.
Rival Sons
Setlist: Gypsy Heart/Burn Down Los Angeles/Torture/(Sleepwalking)/Pressure & Time/Guess What's Coming.

It seems that openers the Rival Sons have simply come out of nowhere and burst onto the rock scene and even getting slots at Sonisphere and High Voltage already. They are onstage at the early time of 6.45 since the main band are playing a long long set that'll be value for money for sure. The sad thing is, is that the glory of Rival Sons music is lost in an overpowered distorted mix that sounds more like drills and coal being thrown down a mountain with some hard to hear vocals from where I was stood at the back.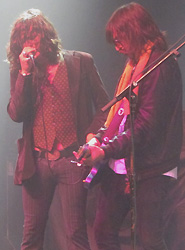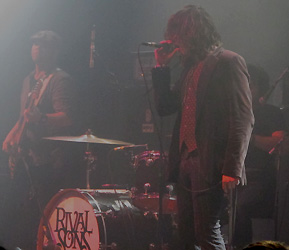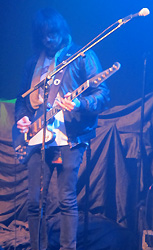 It wasn't until moving closer to the right hand side near the front (stage left) that it started to sound something like good retro rock and hard blues that was somewhere between a young version The Answer and an even rootsier Black Stone Cherry. They went down extremely well and they appeared to be master craftsmen at their chosen style and even had elements of Nazareth,Iron Butterfly, Led Zeppelin and AC/DC thrown in their and much more....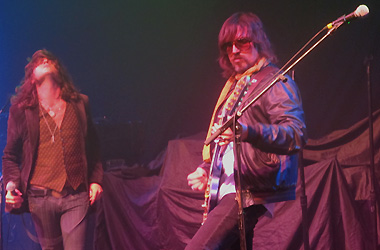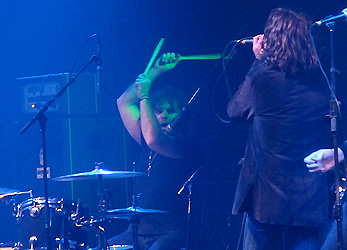 These 'Sons made quite an impression in Doncaster and I am guessing a fair few will be keeping a close eye on them and investing in their debut album 'Pressure And Time' - the title track of which blew people away with it's Zeppelin like riffery. They can't half put it across to the people and it's like going back to the early 70's again. I for definate will be checking these out again as they got the mojo working and take no prisoners.
Queensryche
Setlist: Get Started/Damaged/I Don't Believe In Love/NM 156/Screaming In Digital/Jet City Woman/Empire/Eyes Of A Stranger.
Well I had personally never seen Queensryche before so was looking forward to seeing these Seattle giants at last. They didn't disappoint at all and played a decent set that appealed to the hardcore and the ones looking on in interest while waiting for those famous brummie boys – more on them later.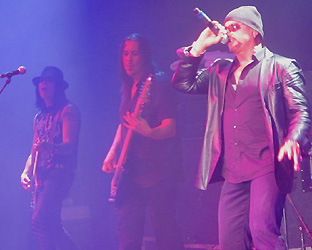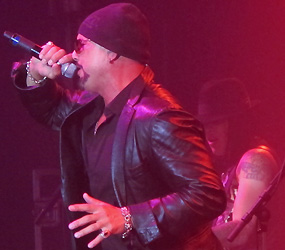 If memory serves me right it was around a 40 minute or so set that had those well known numbers in there that they are famous for – yes I do mean 'Jet City Woman'; 'Empire' and 'Eyes Of A Stranger' though the rest of the set matched up to it in quality.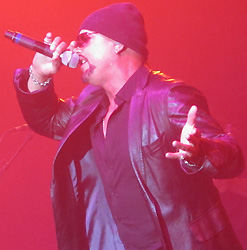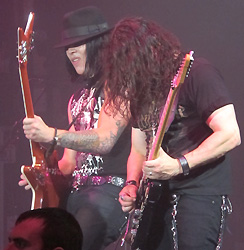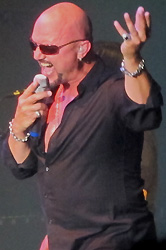 They didn't go for that new album material that Geoff Tate was talking about in an interview in a rather famous rock magazine I subscribe to each month that had hip-hop in it, I am pleased to report but kept it safe and sweet. These guys are just as good live as they are on record I am please to report but the only thing I am baffled on is why the fronter has shaved his barnet off completely that reveals to us a few songs in the set – well seems to be the in thing these days.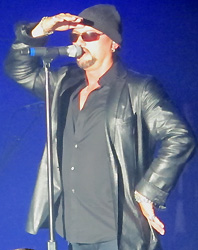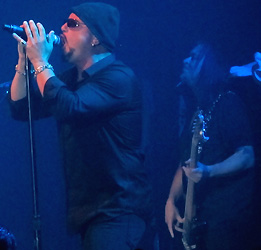 Maybe he wants to look like a young Rob Halford – who knows. The set to me is just the right length before it gets too tiresome as seriously themed and played material like this has the ability to get tedious. Perfect performance guys and impressively done.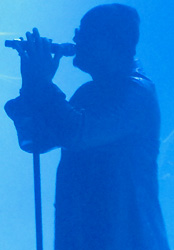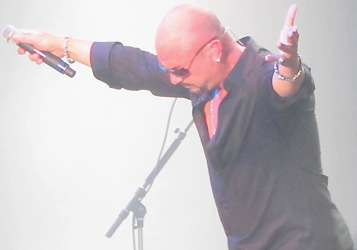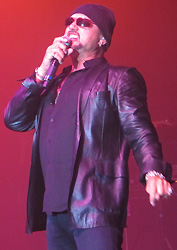 Judas Priest
Main Set: War Pigs (Black Sabbath song) Battle Hymn/Rapid Fire/Metal Gods/Heading Out to the Highway/Judas Rising/Starbreaker/Victim of Changes/Never Satisfied/Diamonds & Rust (Joan Baez cover)/Dawn of Creation/Prophecy/Night Crawler/Turbo Lover/Beyond the Realms of Death/The Sentinel/Blood Red Skies/The Green Manalishi (With the Two Pronged Crown) (Fleetwood Mac cover)/Breaking the Law (Halford sang very little)/Painkiller(with Racer-X - Scarified Intro).
Encore 1 - The Hellion/Electric Eye/ Encore 2 - Hell Bent for Leather (Halford rode a Harley onto the Stage)/ Encore 3 - You've Got Another Thing Comin' (with Richie Faulkner Guitar Solo)/Encore 4 - Living After Midnight
We Are the Champions (Queen song).
Just to get a little grumble out of the way, Doncaster Dome is not the best place for a gig. The volume of Priest was too big for this pitiful venue. Priest usually play the Sheffield Arena, or even if they thought the crowds were going to be low, there is still Sheffield City Hall.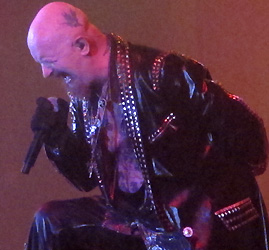 Doncaster Dome does not have the ceiling height to place a full stage show and absorb the rebounds, which let Judas Priest down. To say this was going to be their last world tour, I felt the choice and limited venues restricted a lot of the fans to say their goodbyes.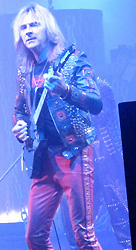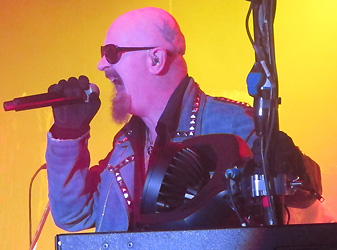 On a brighter note, War Pigs was playing for the intro as the curtain came down to an enormous cheer as they ripped into 'Rapid Fire' - not the song I expected, but I can understand this due to British Steel having its 30th anniversary.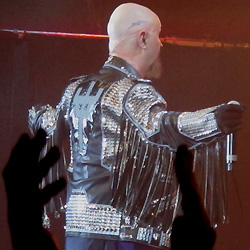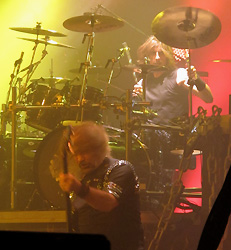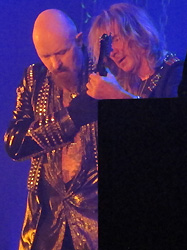 As the gig pounded its way through 'Metal Gods', 'Heading Out To The Highway' and 'Judas Rising', I sensed a slight restriction to the performance due the size of the stage. Fortunately this didn't reflect on the professionalism of the band as they entertained the fans who dragged themselves out in the pouring rain to watch the gods of metal.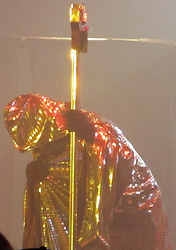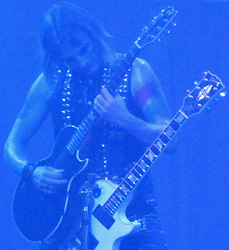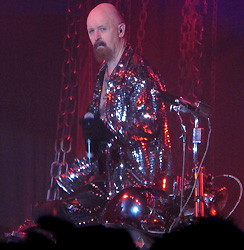 There were plenty of back drop videos, smoke and fire to illustrate each song and album as the 2 ½ hour set went through old tracks such as 'Victim of Changes' and 'Never Satisfied' to thrash its way through 'Painkiller', 'Judas Rising' and 'Prophecy' with four tracks from 'British Steel'.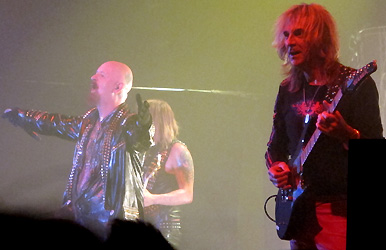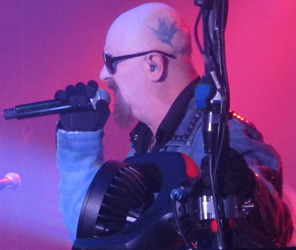 It was amazing to hear the crowd singing 'Breaking The Law' to Rob Halford, which I felt brought a tear to his eyes as he stood back and absorbed the vocal assault. Halford did have several costume changers throughout the show, with of cause the Hell Bent for Leather outfit and Harley Davidson.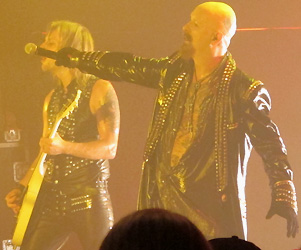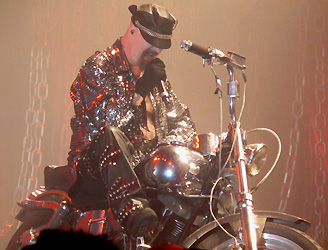 Overall you can't knock the Priest as they are true performers, but I would stay clear from Doncaster Dome as a gig venue.
Rival Sons & Queensryche - 8/10 By Glenn Milligan
Judas Priest - 9/10 By Tony Watson
All Pix By Glenn Milligan

Wilko Johnson -
The Boardwalk, Sheffield, Saturday 11th September, 2010
Well having seen the Crazy-like Canvey Island Axeman interviewed on BBC1's 'I'm In A Rock 'N' Roll Band' as well as some cool footage of him too from back in the 'Dr. Feelgood' heyday and more recent footage, this give was a complete must to attend.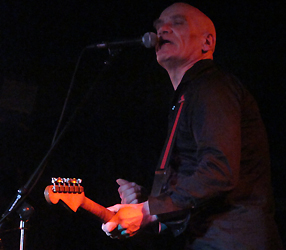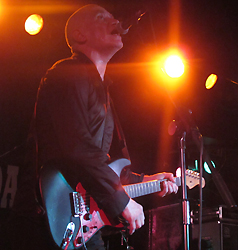 The Boardwalk tonight was around 3/4 packed which made for brilliant loud and hot atmosphere throughout the entire energetic set. All were in awe of Wilko and the two fellow muso's who make up the band - Norman Watt-Roy on Bass & Dylan Howe (Drums) who are both members The Blockheads – the late Ian Dury's band.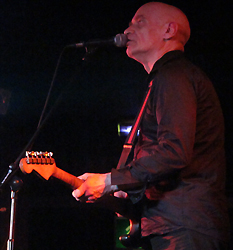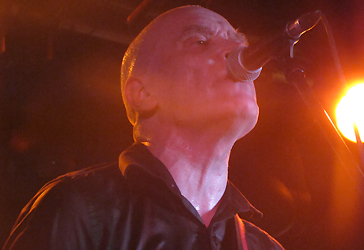 Between all three of them prove to be a constant powerhouse firing off a 90 minute+ set of strong ecstatic old school Rhythm 'N' Blues. It was crammed with 12-bar variations throughout with styles including funk, reggae and straight-up Rock 'n' Roll.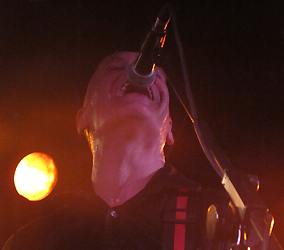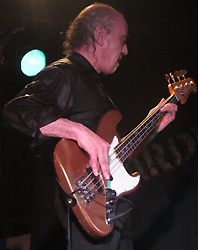 They play like they are purely possessed by their instruments which guide them through each knockout song that included Mr. Johnson's hit numbers 'Back In The Night' and 'Roxette' that appears halfway through the set.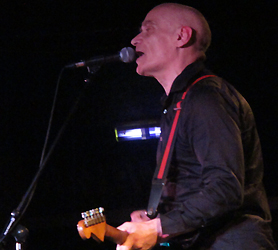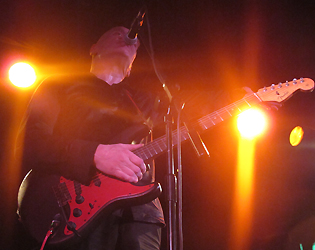 Wilko's guitar still drags him out across the small stage as though being pulled by a giant electro magnet hidden from view on a regular basis - no wonder the lead is so thick - an average one would last long at all. Each member shines as an individual with their own solo that guarantees big applause from the fans.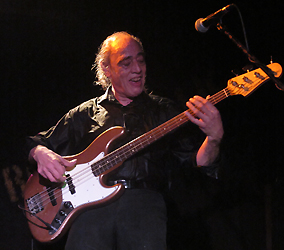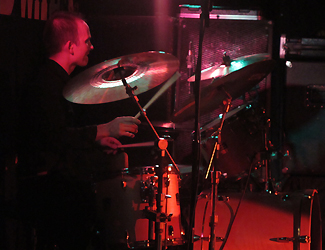 For the encore Wilko says to us, 'I can see we got some jazz fans in the front so I think I'll do something experimental' and they blast into Chuck Berry's 'Bye Bye Johnny' and gets the crowd singing along to the song, 'Oh you sound so sweet' he exclaims. They play it out long for all it's worth and afterwards let the crowd come in and meet the band.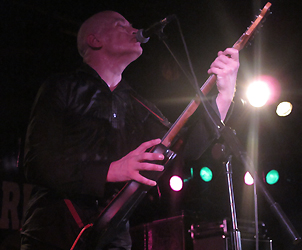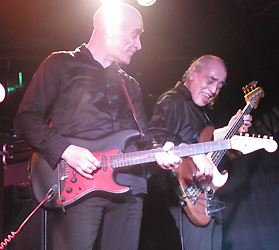 One hell of a top-notch retro night – legends in the house yet again.
8/10
By Glenn Milligan
Jaded Heart/Crimes Of Passion/7Dayz -
Corporation, Sheffield 15th May 2010
On the way in I got talking to two women who told me they went all the way to Sweden just to see Jaded Heart – now that's cool.7dayz came on at half seven, whose set list was good but the singer can't scream, or as some people call it death growl, which I thought didn't help the band win the crowds hearts.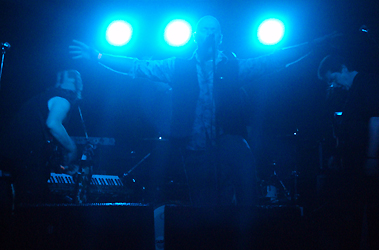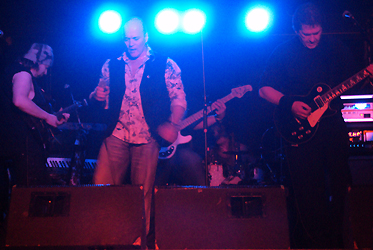 The last song that they played was boring half way through it due to the long guitar solos, which went on and on. The crowd seemed pleased at the end as they finished a set of thirty five minutes.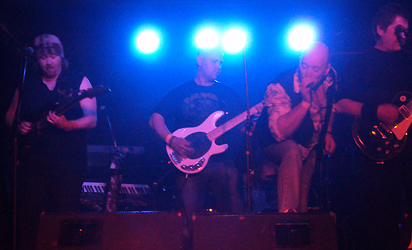 Second support band were local Metallers, Crimes Of Passion who came on at quarter past eight. The crowd became more enthusiastic and loved Crimes Of Passion. The vocal microphone was clearer than past gigs at Corporation but Kev's drumming seemed louder than anything else.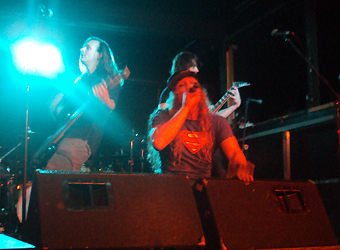 Singer, Dale Radcliffe spoke to the crowd more & made fun of some but he thanked them for a good night. They played for an hour with a great set list.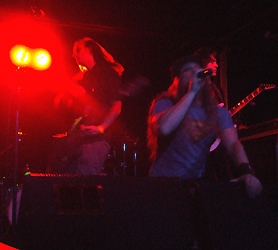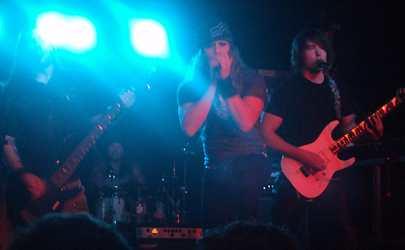 Swedish Rockers, Jaded Heart came on at twenty five past nine & the crowd was filling the whole room. It was beginning to become cramped, the atmosphere was fulfilled with loads of cheers. The drumming again was louder than other instruments such as keyboard and guitar's.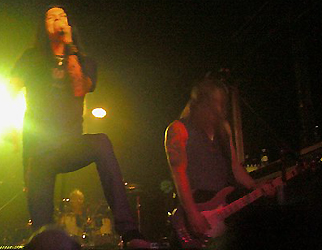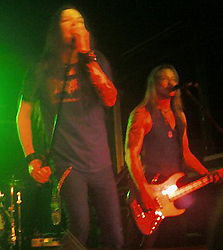 Not so far into the set list that band members asked to turn guitar's and keyboard up. They managed to get the crowd going, spoke to them a lot and talked about drinks after gig. After an hour and ten minutes of playing crowd wanted more but left Corporation with big smiles.Overall it was a good night.
8/10
By Kayleigh Watson

JUDAS PRIEST/MEGADETH/TESTAMENT -
Sheffield Arena, Friday 13th, February 2009
It's only four years since the might Priest last rolled into steel city, and to celebrate their first full length trek with Rob Halford back behind the mike, added fellow metal veterans the Scorpions to the package. Scroll on to 2009, and boy is this particular Friday 13th unlucky for metal loathers across town or what, as two other great names, also tonight play their first Sheffield shows for about 20 years.
Testament could have done with been given longer than 35 minutes for their troubles even if they are grateful alone for having a venue this big to finally ply their wares. That said, Chuck Billy and the boys don't let their seven–song time span go to waste, with three entries from 'New Order' falling amongst the cuts, but of course, 'Over the Wall' still remains the song to start the evening.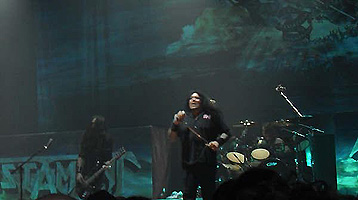 Two numbers from brutal comeback CD 'Formation of Damnation' go down a treat with the adequately vibrant mosh-pit and speaking of 'Into The ...you know –what' itself, to see kids not even born when Testament's No. 1 anthem was written giving them this much appreciation shows that these old guards are fully required on duty. Still retaining his classic party piece, Mr. Billy fills out every non-vocal moment playing air guitar with the detached upper half of his mic stand - is this geezer actually a closet six-stringer - and enjoys hiding amongst messrs Skolnick and Peterson to make it look convincing.
My first live testament experience may have been short-lived but not so in enjoyment - an awesome start to the evening left many talking and trebles the likelihood of headlining visit. Just glad they didn't Chuck it all away to soon.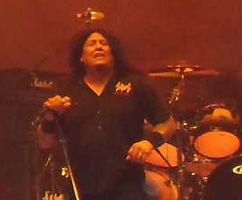 Testament may have brought their original line-up back with them but Dave Mustaine is content on finding and other three chaps content to play under the Megadeth banner if it helps them pay the bills. One other reputable name in the ranks, ex-White Lion/Pride Of Glory/Slash bass boy James Lomenzo is a very welcome sight but the Deth are so, full stop, as another band who last saw a Sheffield stage 20 years back.
Getting over an hour to play with, they know as well as Testament do not to abuse it, with only two inclusions from latest disc 'United Abominations' but for the rest of the duration, its purely party time. That said, while we have 'Take No Prisoners' and 'Wake Up Dead' sending just about the biggest mosh-pit of the day, an inclusion form the criminally mauled 'Cryptic Writings' CD is thankfully is also seen as acceptable amongst purists and casual punters combined.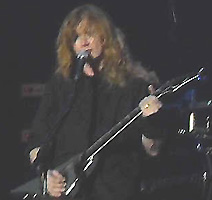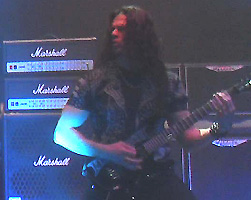 'A Tout Le Monde' fails to offend anyone either and in fact succeeds as the shows sing a long moment. Everyone given a few minutes to loosen up again, its back to the bruisers and prisoners are certainly not taken tonight, as Dave hammers them out by the fist load. 'Hanger 18', 'Mechanix' 'Peace Sells', 'In My Darkest Hour' and unmistakable chart anthem 'Symphony Of Destruction' all go to a good ear and sound more immense than ever Keeping 'Holy Wars' aside for an encore, the grand finale of another all too short set is welcome in length at all of 7 minutes but it's been seventy to remember tonight as Dave Mustaine provides us with the mightiest set of the program. Awesome stuff from this legendary outfit who should also be back in a year or two to come, now they've established that Sheffield still boasts a market for their timelessly infallible metal.
10/10
Twenty five minutes later, a big blue bearded fella looks down on us from behind the stage to herald the headliner's emergence from the stalls. Then a big bald bearded fella appears at the top of the stage looking down as the other four fifths of the unstoppable metal machine known otherwise as Judas Priest commence firing their share of the evening's metal ammo. Slow number as it is, the title cut form new disc 'Nostrodamus' is still pounding and immense in only the way these lads can pound….and immense-ize and is not too different to 'Judas Is Rising' when you listen to it go.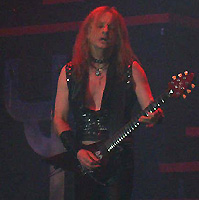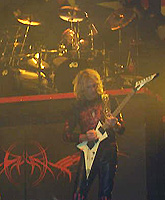 One or two more from the impressive little catalogue, already cooked up since Rob's return, will appear on the list as the night goes on but great as they sound, are inevitably trounced by the likes of 'Metal Gods,', 'Between The Hammer and The Anvil' and 'Breaking The Law' , appearing unusually early on in the set. R H himself cuts a dominant figure as he marches up and down the stage, resplendent in his big silver jacket and nearly distracts us from enjoying such primal priest favourites as 'Victim of Changes', 'Metallian' and' Electric Eye'.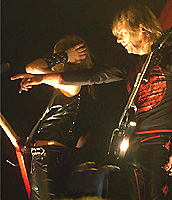 Glenn Tipton, the band's resident Rick Parfitt look-alike takes time to mount the stage-end stacks to get a more up close view of the punters in the seats, - whenever Rob's out of the way, while Ian Hill stays comfortable at the back standing in the same spot nearly all the time as if a circle has been drawn round him. KK shows off every exhibit of his prized flying V collection on a fast rota- changing axe almost after very number. We get a few surprises with the song list too- while the classics 'Victim Of Changes', 'PainKiller' and ' Green Manalishi ' come at us from all corners, 'Rock Hard Ride Free' makes the night for me, a strong personal fave of their album tracks and deserving of live staple status.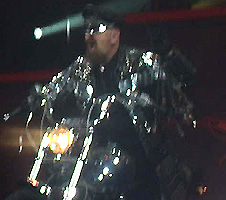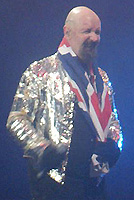 With the main set ending already only 95 minutes inwards, Rob returns onstage ahead of the other four and inflicts a prolonged sing along of 'Yeah-yeah-yeah-yeah-yeah-yeah-yeah-yeah………' for about four minutes before the whole gang come on in time to shut him up and round off things with an electrifying rendition of 'You've Got Another Thing Coming'. Proud to be British, as the union jack scarf he dons for the set's closing stint indicates, there may have not been enough material from the classic album with the word 'British' in its title for some people's likings this evening - (no 'Living After Midnight') but still with what they do keep on the set, the metal is pure and molten as ever, pouring down every crack and crevice to set as hard as the last. Together with the other two mighty acts who shared tonight's proceedings, there is the already obvious proof that the come back this band, if not genre as a whole, has made in recent years is not a final fluke for those who yearn for its keep.
The pleas have been rewarded richly in 2009 and with the mighty Tallica two weeks away from hitting the same stage….- though they actually bring their own - metal looks frighteningly likely to stay a little longer.
9/10
By Dave Attill
Journey/John Parr –
Trent FM Arena, Nottingham, Friday 27th June, 2008
A venue in Nottingham that was a 1st for me personally – kinda like a smaller version of Sheffield Arena. Of decent size although fellow scribe Tony said ther seats were a bit hard for his liking. Talking of seats, around half of them were empty and I'm sure that the Glastonbury festival had nothing to do with it.
I missed seeing John Parr at The Boardwalk, Sheffield a year ago due to bad weather but here was the chance to see him tonight – that I gladly took him up on – just a pity that I couldn't take pix for some strange reason or another. Anyway, John came onstage wailing away on his customised USA flag Les Paul Gibson totally impressing everyone as well. On walks a guy with sticks twiddling around him – hang on that's my buddy Bobby Arachega (from Sheffield – famed drummer from Strongheart – what a surprise that is – some that means the legendary French Fred must be around somewhere – Bobby's Drum Tech). Seconds later the rest of the band join him.
A rocker called 'Naughty Naughty' is the 1st song of the night followed by the fast ballad 'Time Keeps Tickin' and then something really cool – as for those of you that don't know, Mr. Parr has done his fair share of songs for adverts. He said we'd recognise this one for sure – this is the long version - it's just him and an acoustic guitar but like the great man said we immediately recognised it as the theme from the Gillete Razor advert when he gets to the chorus – 'The Best A Man Can Get' that he taunts us to sing on – haha – all good fun it was, "Gotta put the kids through school some how' he jokes. He's a real down to earth, friendly approachable kinda of guy who genuinely loves playing to an appreciative audience.
I was personally in my element when the band came back on and a song that was written for Roger Daltrey about Keith Moon was played next – the epically brilliant rocker 'Under A Raging Moon' complete with all the synthesizer sounds that appear on Roger's album – hearing this song alone made coming to Nottingham for me completely worthwhile as it's one of my favourite songs that Roger performed and in this case that the writer performed as well.
A brand new song is aired that John said he had written about censorship with the USA in mind in particular, saying that they can't have any swearing before 9pm in any way but it's OK to have a female soldiers coffin in covered in a British Flag at any time of the day – saying also this song would have probably have got censorsed a few years ago – it's one on acoustic again called 'A Natural Thing' that goes down really well and little wonder.
"I'm surprised I haven't anyone say, 'Play Summat We Know' being as we are more up north so let's hear ya", 'Play summat we know", many shout back to him where we get a cover of Fleetwood Mac's 'Oh Well (Part 1)' – it was funny to see John get the lines of the first verse the wrong way round but I'll let him off as the guitarwork was spot on! They also incorporated the riffs of 'Whole Lotta Love' & Walk This Way' into it too – cool as! This really showed Bobby at his full potential as well on the big black kit of his.
Last song from John but by no means least was his main number that shot him to fame – yes I am taking 'St. Elmos Fire' sung brilliantly that he preceded with how he came to get the idea behind the song – a film about a guy called Rick influenced him tragically lost the use of legs after his spine was broke in a crash. Rick went all round the world in his wheelchair and managed to raise $26 million – hence 'Man In Motion' – John told us when we next hear the song to think of Rick – we sure will bro!
This was an excellent all round show and I look forward to seeing John Parr and his band headline a show in their own right – hopefully in the not too distant future.
After around 25 mins that gives us time to have a chat, a quick nip to the lav and a beer we settle down to see what the latest line-up of Journey are like (as they have got a new vocalist called Arnel – a Phillipino dude).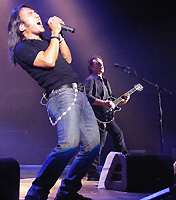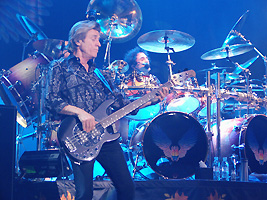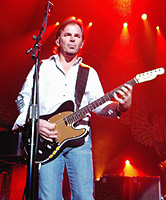 It seems that the band have chosen well as he sounds not too different to the original vocalist Steve Perry and grabs the audience attention immediately with 'Never Walk Away' & the momentous classic 'Separate Ways' being played 1st.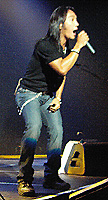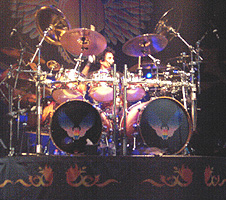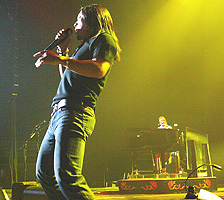 He's a great singer and just don't stop moving on that stage at all, jumping around as though he's in the circus ring as well as throwing and spinning his wireless mike around – catching it everytime.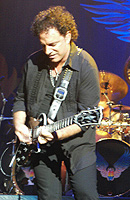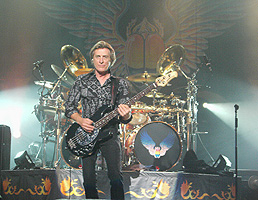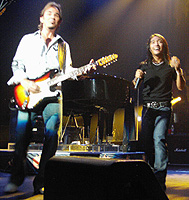 The vocal hamonies throughout are as you'd expect – totally amazing – the AOR eqivalent of The Beach Boys still. It's good to see that Dean Castronovo and Johnathan Caine also take on lead vocal duties still, with Johnathan doing the lead on 'Keep On Runnin'. Love the instrumental that features Neal Schon solo all the way through it.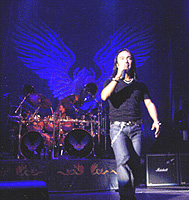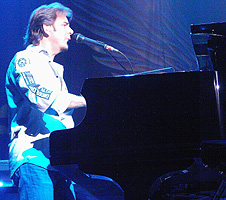 'Who's Crying Now' sounds as good as it ever did with plenty of crowd members singing along. I gotta say that the new material from 'Revelations' stands up next to the classics with the next number 'Change For The Better' being a perfect example.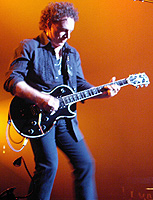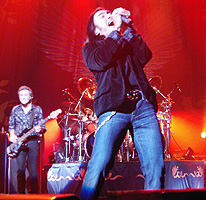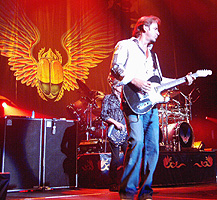 'This will take you back to my new hometown, San Francisco', seeing the fave 'Lights' starting up and lovingly getting the fans going. Next Johnathan says to us, 'You've been following us for decades, here's one for you, it's called 'After All These Years' that has Caine on lead vocals and piano – a nice touching ballad – get the ciggy lighters out darlings!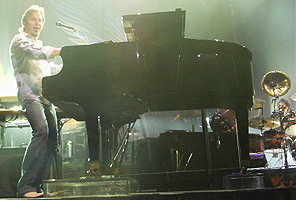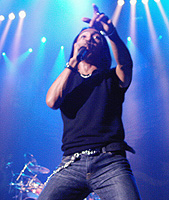 I waa really impressed with the 12 string & Harmonica Southern styled blues thang that Caine and Schon put together, giving the other members a breather then shortly it's time for another of their classics 'Wheels In The Sky' – yep they are still turnin' baby – even at Nottingham.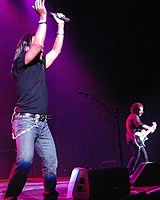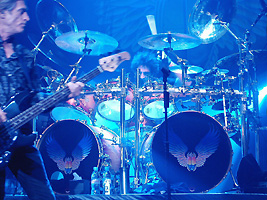 The last song of the set is one of their songs about pure positivity – that's right y'all, 'Don't Stop Believin' – as if we wouldn't boys – damn fine stuff indeedy – a perfect way of finishing off the set.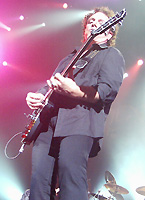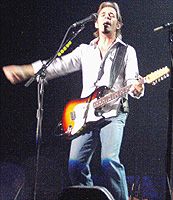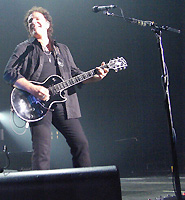 They aren't gone for long though as they come back on to encore with a couple of spot-on ditties. "This is a Rocker", Arnel tells us and the band go into 'Escape' followed by the definitive 'Anyway you want it' – well if you deliver a show as good as this – that's the way we do want it. Oh yeah! The crowd cheer and cheer and cheer after such a fabulous concert.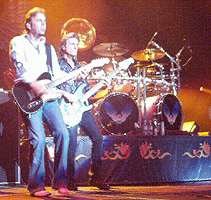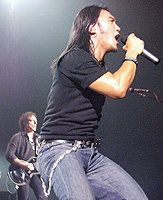 "You want some more?", Arnel taunts us with, the reply being 'Yes' of course, 'Next year' he tells us – 'Lovely', he exclaims at the crowds resounding response, 'Next Year' and they all leave the stage leaving Nottingham in happy joyous mood.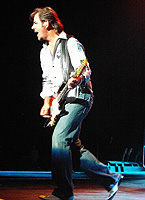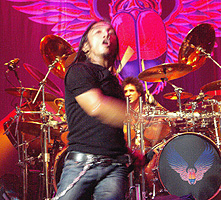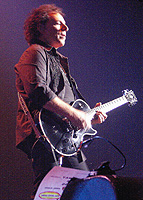 Maybe Rock City next year, unless more fans attend in 2009.
10/10
By Glenn Milligan
TOBY JEPSON + KIP WINGER + The Venus Guns –
Corporation, Sheffield,21st September 2007
The odds of a tour hitting the same venue an exact 365 days apart by coincidence are quite obviously trouser-foulingly remote but Toby Jepson, bless him, almost made it happen, losing out by only 48 hours. (damn!) It was September 23rd that the former Little Angels screamer only last year entertained those packed into the little room at the Corp. But look who he's brought with him this time. I walk in as Cockney newcomers The Venus Guns are kicking off and their 40 minute slot entertains all along.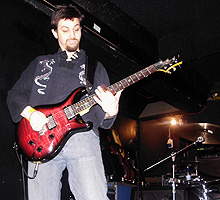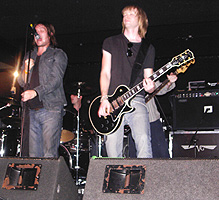 The young fivesome's speciality appears to be a sleaze/blues/rock and at times southern sounding (as in the deep south of the USA) hybrid with also a fair old Jellyfish leaning here and there, and a more than fair Bad Company turn of things towards the end.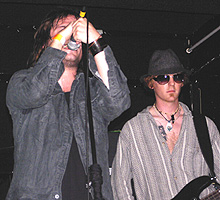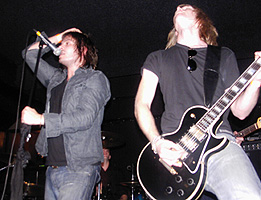 An impressively noisy reception from the 30 or so already in mean indicates I'm not the only one who may be talking about these lads after tonight, (although I find myself talking with one of them for a fair old while later). I must add that Metalliville Editor, Glenn was really, really impressed with the band this time around as to him they were a lot tighter and confident than when he last saw them at this 'ere venue supporting Buckcherry with Silverjet. Nice One Lads.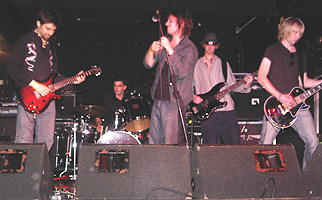 The lone figure who follows them on after a lightning fast changeover gets an inevitably louder heralding and then when you consider Kip Winger's show here tonight is his first in Sheffield for nearly seven years you think it would be deafening (well it was when he struck a chord on the guitar). Something the poor geezer nearly becomes himself at one point in the show - yes it is still an acoustic set, by the way - as one of his solo tunes features one regular chord strummed so hard he has to stand his distance due to feed back from the amp.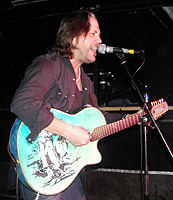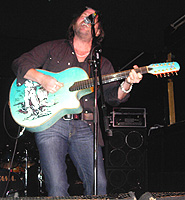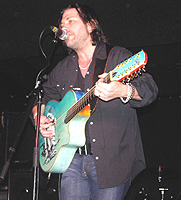 There's also entertainment from an annoying photographer who he suggests move to another side of the stage to try and vary his shots, but ends up snapping from the back of the boards instead, to which Kip replies 'I asked him to move and now he's takin' pictures of my butt instead. I'm 46 years old man." And so what if he is, the Wing still knows how to lay on the entertainment and cram fifteen tunes into fifty minutes - not having to do lead solos helps. Predictably enough the early half of the set strongly favours his solo fare, with 'Cross' still my personal fave of the catalogue these years on.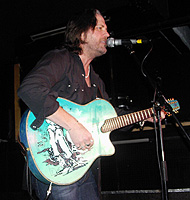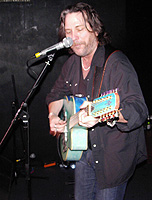 The Winger material is sparse fro the half itself but for the latter chunk virtually solid. Sadly, 'Can't Get Enuff' isn't on the menu tonight but when blinding renditions of 'Miles Away', 'Headed For A Heartbreak', 'Madeleine', 'Blind Revolution Mad', 'Easy Come, Easy Go', 'Seventeen', and 'Down Icognito' plus a new number from the band's imminent comeback album 'Winger 4', one can't be greedy.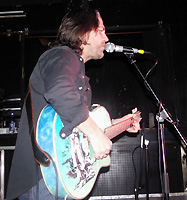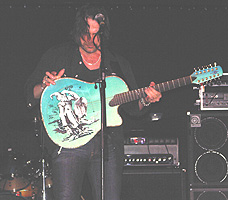 A brief disappearance later, the paying public successfully coax him back to stage front and on loud request for 'Rainbow In Rose' from a chap standing a couple of years behind me, duly obliges. Awe-struck as I am to hear this number again after all these years, my wait to see if he will stay on for 'C.G.E..' is sadly a vain one but my mouth has watered enough over the last three-quarter hour already.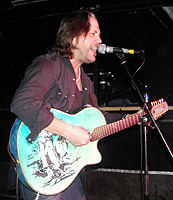 To say Kip Winger gave us a treat again tonight just about classes as an understatement and why the Corp charged eleven quid a head for the evening defies belief - surely the unbelievable sets this guy puts on are worth another tenner on top Thanks again Kip, just please no more seven year gaps.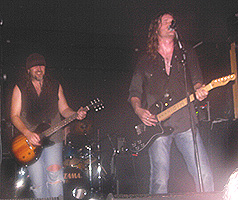 Off walks the man from New York, and on walks the man from Scarborough - funny way round, I know – and even with less than an entire year elapsed since he last visited, Mr. Jepson has a tougher act to follow but the faithful of course will remain served. Having to be used to expect an eighty-percent solo material set makes it easier for me to enjoy the ensuing seventy minute, especially thanks to my boosted familiarity with his post-Angels offerings.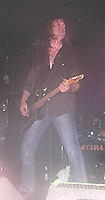 Modern pop metal anthems 'Breakdown', 'Unwind', 'Somebody Else', 'All Roads Lead To You' and 'Forgivenness' sound like they've been around as long as 'Kickin' Up Dust' and 'Young Gods' with the sing-along factor generated matching that of the two aforementioned classics. Newie 'Tallulah' (not the hideous tune from Bugsy Malone, thank f***) is a potential one in its own right, boasting an astronomical hook that alone could revive Tobe's career enough to see him playing the big room here next time, and I hope to grab a copy of the upcoming EP that houses it, before long.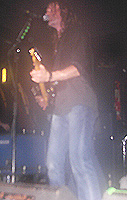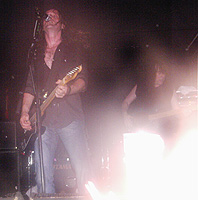 Despite the immense shortage of his old band's material on the set list tonight - even less than last year's - he unusually enough has revived his full image from the glory days with his mane having returned, in place of that afro he sported beforehand and with the torn blue jeans and low slung Telecaster, seems to pleasure in growing old disgracefully (go on mate, we don't mind). With the subject of the halcyon period in discussion, Jeppo's closer tonight is none other than 'Too Much Young', the Angels cruncher that was criminally omitted from last September's set - all is forgiven Mr J, just listen to the roar as he gives us that intro.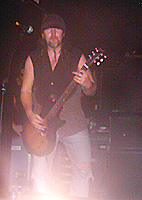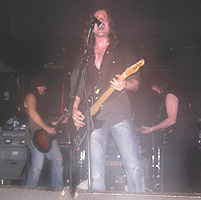 'Closer' sadly applies literally as unlike Kip Winger, Toby Jepson is not seen again after exiting stage right except to sign a few autographs at the merch stall later. While many of his loyal followers flocked in tonight, the room was invevitably packed with as many Winger-ites who had travelled from all over the isle to witness an apparently one-off appearance but both acts as well as Venus Guns left us smiling. Wonder what had happened if the bill had been reversed between Kip and Tobe.
9.5/10
By Dave Attrill

Elton John –
Hallam FM Arena, Sheffield, Thursday, 24th May, 2007
Set List –
Funeral For a Friend/Love Lies Bleeding/The Bitch is Back/Hercules/Madman Across the Water/Tiny Dancer/Daniel/Rocket Man/Honky Cat/Sacrifice/I Guess That's Why They Call it the Blues/Burn Down the Mission/The Bridge/Sorry Seems to be the Hardest Word/Bennie and the Jets/All the Young Girls Love Alice/Philadelphia Freedom/Are You Ready For Love/Something About the Way You Look Tonight/Sad Songs Say So Much/I'm Still Standing/Crocodile Rock/Saturday Night's Alright For Fighting
Encore - Don't Let The Sun Go Down on Me/Your Song
I've been a fan of Elton John for 30 years – yep, since I was 3 believe it or not. I remember the 1st encounter hearing him on the 17/11/70 live album that my folks had bought me. I found his style and voice to be like no-one else and I was just blown away.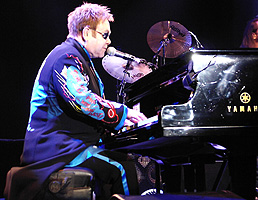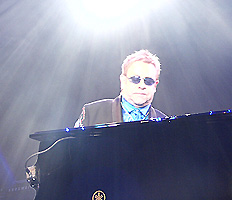 I remember being mesmerized by his incredible stage costume and overall presence and the fact that he's still as popular now if not more than when my ears 1st heard him back in '77 is by far an incredible accolade to a tremendously brilliant artist, together with lyricist Bernie Taupin and his band members past and present.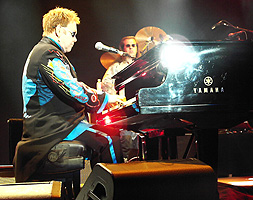 To put it bluntly, I was extremely looking forward to witnessing what would easily turn out to be one of the best concerts (sold out at that) that I have ever attended so far in my existence on Planet Earth. I had an inclination that he may open with 'Funeral For A Friend/Love Lies Bleeding' and it turned out to be just that – as Richard Booth of Eltonjohnrocks.com said Elton had been opening up with '60 Years On' – so it was a surprise for Richard too (be sure to check out Eltonjohnrocks.com which by the way is excellent after reading this review).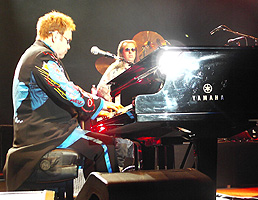 The atmosphere from the audience was extremely warm and wild with joy – Elton had not played in Sheffield for several years which also made the concert even more special to our city. Playing a wide array of songs from various points in his career ensured that everyone was happy, even the hardcore fans like myself were over the moon when the hurtling 'Hercules'; the atmospheric and altogether sinister 'Madman Across The Water'; the humour-filled 'All The Young Girls Love Alice' and the excitable 'Burn Down The Mission' from the heydays of the early 70's were included in the mammoth 2 ½ hour set.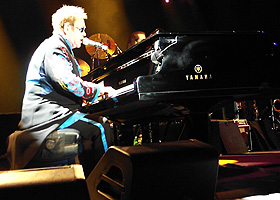 The set list was extremely well structured, paced out with plenty of slowies 'n' fasties, rockers and ballads - giving plenty of colour and tempo throughout (giving everyone the chance for a breather) - you just can't argue when you are greeted with live staples such as the smoochy and bright 'I Guess That's Why They Call It The Blues'; the gorgious ballad 'Tiny Dancer'; the dancefloor classic 'Crocodile Rock' and the beautiful, heartfelt 'Someone Saved My Life Tonight'.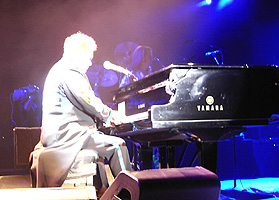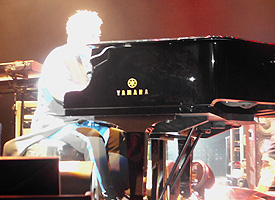 Hey, just check the set list above and see if your favourite was included tonight. I have only one qualm to raise of the gig - the keyboards were a bit loud during the 1st few songs which took the presence away from Elton at times but this was sorted out after the 1st 20 mins or so - after which the sound was exceptional.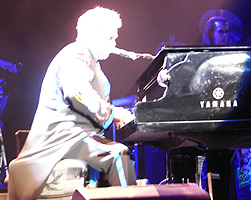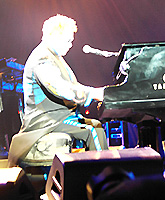 To make sure all in the arena could see what was going on, we were treated to giant video screens either side of the stage that had plenty of close up shots of the main man at the piano as well as many views 'n' angles of all members of the band that would have otherwise be left unseen by the fans such as overheads Nigel Olsson at the kit and John doing all sorts of stuff with his percussion.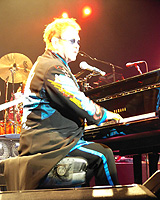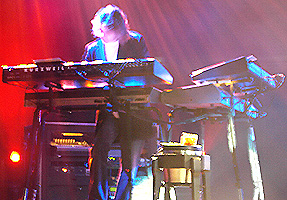 The entire backdrop featured a constant display of pictures and coloured images that worked with the songs and represented Elton's career, especially the imagery for 'Rocket Man' (that had a musical arrangement that was supreme as well – with extra lyrics included in the song). Hey, how could I forget the brilliant presentation that fit to the soundtrack of 'The Bitch Is Back' with synchronized giant graphic displays of lips flying around with the word 'bitch' being mouthed by them. Early on in the song, they went out of syncopation, so drummer Nigel Olsson slowed down to get the band to the right speed as the display.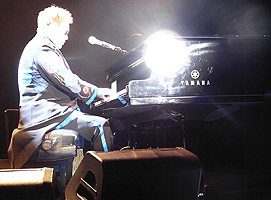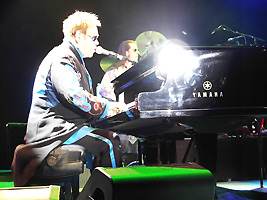 Now that's a gorgeous Grand piano you've got there Elton – who is by far still one of the best to ever tickle the ebony's and the ivories this side of the Atlantic and beyond. His voice sounded really on form, with classy backups provided by members of the band who are well…. What can be said, probably the finest backing band I have seen in a very long time.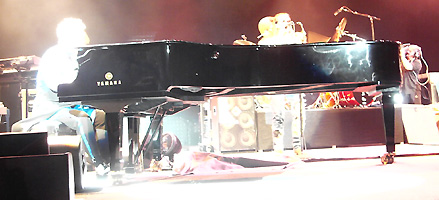 The out-of-this-world original drummer, Nigel Olsson is still there behind the kit as well as the legendary blonde haired Davey Johnstone on guitar (or should I say guitars as he played several that included a custom made Les Paul Gibson that had the cover of 'Captain Fantastic & The Brown Dirt Cowboy' on it (pictured below on left) and a red and white effort that was like a Bo Diddley Guitar in a parallelogram kinda shape – wow !!).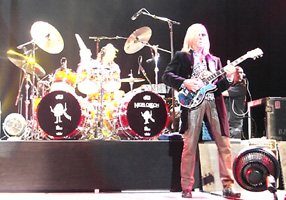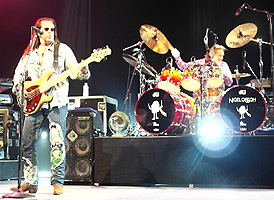 Davey, if you didn't happen to know is also the Musical Director who also privides some fine backing vocals. The other members of Elton's band are Bob Birch (Bass Guitar/Vocals); Guy Babylon (Keyboards)& John Mahon (Percussion/Vocals) all of which absolutely sensational tonight throughout.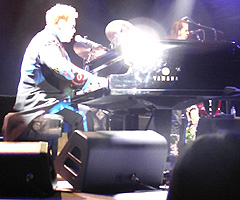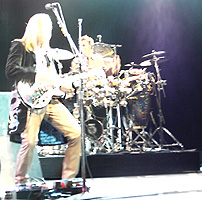 Various hightlights in the set included the excellent number 'The Bridge' from his current studio album 'The Captain & The Kid'; the classic 'Honky Cat' from '72's 'Honky Chateax' album & 'Philadelphia Freedom' especially halfway through when many of us went to the front of the stage to party on down with our favourite member of the royal knighthood to bop to songs like 'Are You Ready For Love' & 'Sad Songs (Say So Much)'. There was genuine crowd participation with 'Bennie & The Jets' being a major example of this, where around 12,500 sang the word 'Bennie' to Elton.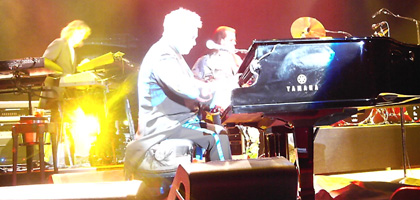 After each song Elton got up from his stool, bowed and waved to us all – each time a large smile and grin was all over his face. The artist formerly known as 'Reginald Kenneth Dwight' is 'Still Standing' (scuse the pun) while others have faded away into the distance and seen the sun go down on them - but Elton and his boys still have everyone bopping about in the sold-out packed houses (with tonight being no exception). In fact he indeed was rubbing shoulders with the new kids on the block, like those local lads 'The Artic Monkeys' who he told earlier that day at The Ivor Novello Awards in London that he would give them a lift back to Sheffield with him in the helicopter if they wanted one - lol.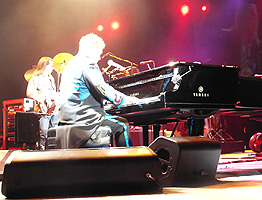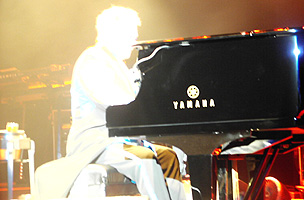 Anyways, back to the gig - I must say that there really was an overwhelming gratitude from Elton and genuine pure sense of party mode, not to mention being very appreciative of the audience, telling us he was really touched and said how brilliant we were to play for (he totally meant it as well). It made me feel extremely proud to be there tonight – it was as though I was being thanked for being a loyal fan for 3 whole decades.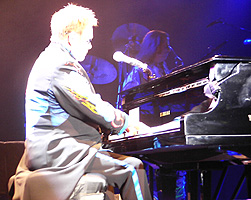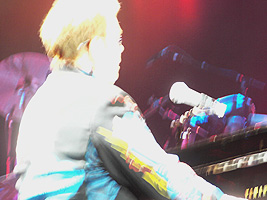 Well if you can possibly top that, after performing the main set which concluded with 'Saturday Nights (Alright for Fighting)', something really cool took place before the encore - Elton armed with a black marker pen signed items held up by fans for around ten minutes (that included a Rocket Man 7" Picture Sleeve, Various Tour Programmes & CD Inlays) and didn't to go back to the piano until everybody's items been autographed. To get my ticket signed by the man himself was an unbelievable moment – I thanked Sir Elton and he nodded to me.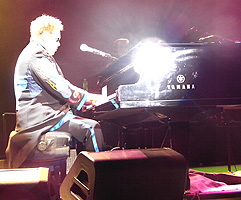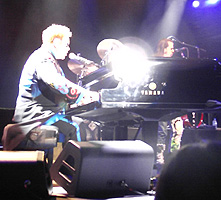 There was simply no animosity from fans who weren't close enough to the great man, in order to get an autograph. It was a full-on feeling of genuine love and amazement to witness Elton signing for his excitable, passionate fans. After which 'Don't let the sun go down on me' was performed before dedicating the last song of the night to us, which was of course 'Your Song'.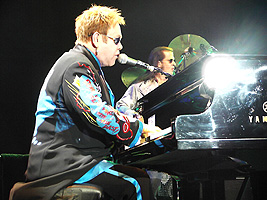 Overall, this was the best concert I have seen at the Arena, putting Def Leppard and Bon Jovi (both gigs in 1992) in 2nd and 3rd place. There's plenty more life in Elton John yet with tonight being complete proof of the fact. I would like to dedicate this review to Dee Murray (Elton's late, great Bassist, who I never got the chance to see live).
10/10
By Glenn Milligan
Jethro Tull –
Birmingham Symphony Hall, Birmingham, UK, March 2nd, 2006
Set List - Life Is A Long Song; Skating Away On The Thin Ice Of A New Day; Living In The Past; Slipstream; Up To Me; Griminelli's Lament; Aurora; Wond'ring Aloud; Mozart Medley; Cheap Day Return; Mother Goose; She Is Like The Swallow; Boure; Nocturne/Bohemian Rhapsody; Kashmir; Cross-Eyed Mary; Hymn 43; Morris Minus; My God; Budapest; Aqualung; Wind-Up; Locomotive Breath; Cheerio.
A sold out Symphony Hall Birmingham saw a wonderful show from Jethro Tull on Wednesday. The third stop on the 'Aqualung' tour, the two hour-plus performance featured violinist Lucia Micarelli on a lot of songs and she added a novel dimension to the classics.
Ian Anderson (59 this year) began 'Life Is A Long Song' unaccompanied, and was joined by the other band members in turn as the song progressed. As usual the Symphony Hall sound was incredible. 'Living In The Past' featured the first of several 'Playing the flute on one-leg' bits, and it's still an inspiring sight!
Lucia Micarelli added some hot violin to the rest of the first set, the highlight of which was a storming version of 'Mother Goose'.
The second set began with another Micarelli party piece, a violin take on Queen and Led Zeppelin which worked well. Stunning versions of 'Cross-Eyed Mary' and 'My God' followed, and after a good version of the dull-on-record 'Budapest', the tramp put in an appearance for the inevitable closer.
'Locomotive Breath' was great, giant balloons were flung into the audience. Job done!

Jack Johnson –
Birmingham NEC, Bimingham, UK, Wednesday, March 1st, 2006
The setlist went something like this: Who Knows; Taylor; Gone; Posters; Do You Remember; Sitting Waiting Wishing; Flake; Symbol in my Driveway; Staple It Together; Constellations; Breakdown; Rodeo Clowns; Tomorrow Morning Comes; Bubble Toes; Wasting Time; Belle; Mud Football; Banana Pancakes; The Horizon Has Been Defeated; Badfish; Boss DJ; Inaudible Melodies; My Doorbell; Good People; Plastic Jesus; Fall Line; Spring Wind; Times Like These; Pirate Looks at 40; Better Together.
This was a sold out debut show at the venue now sadly famous for a shooting incident at a hip hop show the previous night. No danger of pistol-wielding nutters at a Jack gig, though, everybody's way too mellow in every sense!

Both support acts were from Jack's Brushfire label - Animal Liberation Orchestra came on at the ungodly hour of 7 o'clock and did a smooth half-hour of jam-lite. Jack joined them for one song which was cool.
Matt Costa was next up and did some fine numbers accompanied by just an electric guitar player.
Jack Johnson came on at 8:50 and played just under two hours. Unlike many recent NEC gigs, the sound was quite impeccable and the band rocked out (in a mellow way, naturally) on most of the songs from his last couple of albums.
He seems so well-practiced in playing to such huge crowds that it was like watching a veteran performer, not a rising star as the Brit awards would have it. A thoroughly nice guy and very good song-writer.

JUDAS PRIEST + Scorpions -
Hallam FM Arena, Sheffield, Mon 28th March 2005
For any true metal fan worldwide, Judas Priest's reunion with legendary screamer Rob Halford has to be the biggest story this side of the millenium. And apart from an new studio album, the first other obvious requirement had to be of course, a tour of their native Blighty to make-up for the 12-year absence of this classic line-up.
If that isn't apology enough, another act who have been making as much impact on the scene fro the same three decades also join the bill. It seems like Aeons since The Scorpions last played our great island so their one-hour slot seems as prestigious to many as a full headlining stint in itself for followers of the veteran German quintet. Opening with the vibrant and energetic 'Bad Boys (of Rock 'n' Roll)' that featured top tenor, note-perfect frontman, Klaus Meine whacking the cowbell with an ample of sticks and launching them into the crowd after just a few seconds of bashing much to the fans delight (well the ones who caught one anyway). It's very much a classic-laden set includes 'Tease Me, Please Me', 'Wind Of Change'; 'Dynamite'; 'Love Bites'; 'Rhythm of Love'; 'Hit between the eyes'; and the obvious closer 'Rock You Like A Hurricane' are amongst the anthems belted out tonight.
You could tell by the glee on their faces that the Scorps were having a blast - loving every rockin' second of every song and posing on that stage like they were the headliner. Still on great form today and with the crucial element of their classic formation still on board, the Scorps may sting but certainly never stink. Stay with us lads, you ain't over yet. Let's hope they'll be back to these shores soon for a tour all of their own - we'll be there for certain - betcha life on it!!
After a 20 minute or so interval, we await the entrance of the metal Gods themselves - Downing, Tipton, Hill and Travis take the stage and I am wondering where Rob's got to at first. When his voice lets rip to opener 'Electric Eye', my eyes are directed to the lone figure standing up in the pulpit at the back of the stage. Finally stepping down towards the end of the tune, his studded coat and leather strides are clad in almost more metal than we hear in their show tonight. That'll be quite hard actually as a solid two-hours of headbanger's delights proceed crush the skulls of each and every one of the several thousand sharing the room with the Brummie fivesome. 'Metal Gods', 'The Ripper' and 'Touch Of Evil' are amongst the following fistful before a couple of tunes from much raved new album 'Angel Of Retribution' impress me into believing the reviews I've read.
Now, bands usually put their most well-known song either at the beginning or at the very end of their set, don't they? Strangely enough, 'Breaking The Law' finds itself placed neatly somewhere towards the halfway stage of tonight's proceedings but this fails to affect the reception it picks up when messrs Tipton and Downing strike that first note. Another two newies, the ridicule inciting-ly titled 'Deal With The Devil' and 'Hellrider' follows then for the rest of the night, it's back to business for the rest of the night , the highlights being ballistic renditions of 'Green Manalishi' and 'Painkiller' but the best is saved for the encores.
The lads return by deafening demands for a blinding high-speed attack of 'Hell Bent For Leather' (which features Rob's entrance on the shining silver Harley that's even miked up !! . Metal don't get better than this - but hang on it does when ''Living After Midnight' is presented to us - a perfect end to a perfect show (or so you thought) - then just when you expected those dreaded house-lights to light up the arena, the brummie legends are back to fulfil our needs with the classic 'You've Got Another Thing Coming'.
The best Easter Monday any metalhead could ever dream of finally ends. Judas Priest, came, they saw, the ruled, and very reluctantly…they went, but not as reluctantly as we left Hallam FM Arena this evening. And who's to bet that the following day, a few of us will be getting out our guitars and enjoying a bit of 'Breaking The Law '. One problem is… I always end up getting caught.
9.5/10
By Dave Attrill (with additives from Glenn Milligan)
JETHRO TULL - Sheffield City Hall, Tues 17 Feb 2004
There must be something polluting the air that's making these long-living rock acts maintain their business successfully while the world has changed several times over. Deep Purple have more than obviously inhaled it with their sell-out UK jaunt 2 years back. It also seems that the equally evergreen Jethro Tull have been touched by whatever this is floating around in our atmosphere as an almost filled-to-capacity city hall shows.
Ian Anderson storms on like the sort of maniac only half his age would be expected to, the 53-year-old setting the rules for stage presence in addition to the expectations for the night. The ensuing 1hr 50 min set is grabbed firmly from both ends of their 37-year life span and pulled together, capturing everything great in between, too. 'Nothing Is Easy', 'Beggars Farm', 'Farm On The Free Way', 'A Week Of Moments', 'Mother Goose', 'My God' and the triple-headed medley of 'Songs From The Wood', 'Too Old To Rock' and 'Heavy Horses' follow the fans orders to the letter - timeless numbers one and all.
The more recent material the Tull treat us to, from latest disc 'Christmas Album' plus numbers from Anderson and guitarist Martin Barr's solo works also disappoint few, largely to the various styles staying within preferred confines. The last three songs of the night are all from the legendary 'Aqualung' LP, the title track, followed by storming encores 'Wind Up' and 'Locomotive Breath' sending the crowed roaring to a similar degree as Deep Purple do when the opening bars to 'Smoke On The You-know-what' are struck.
As if the standard of musicianship weren't entertainment enough, Ian had his own little piece of light comedy ready for in between every number, "This is a song called 'Eurology' which has nothing to do with study of the wee-wee hole" and "This song was written in 7/8 time so you'll have to dance to it at 3 and a half steps" plus referrals to those who had in their past mistaken the band for comedian Jethro and also Lars Ulrich's compliments about them 'not putting out another album this year' at the 91 Grammys.
You see, these veteran rockers are old but they ain't miserable. Nor were 2000 odd others here tonight after witnessing a performance thought incapable of by trend-obsessed media hecklers as well as the lesser-minded doubters who cautiously shelled out 18 quid or so for the night. Jethro Tull could still be here in ten years time but if they aren't their music will still go unforgotten for decades to come.
A classic night for the very most original fans of hard rock. Oh yes and the bloke still stands on one leg.
9/10
By Dave Attrill
Steevi Jaimz-
Nottingham Rock City, 22nd September 2001
Toby Jepson -
Nottingham Rock City, 27th July 2002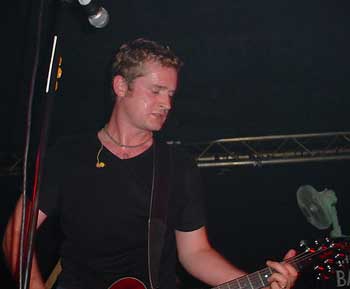 After sadly missing Ricky Warwicke's heavy acoustic support set which by all accounts was pretty good that mixed Almighty tunes with his current cuts, I get in there in time to witness Toby screaming the Little Angels classic, 'Young Gods', as featured on the epic album of the same name after being presented with a pass by Brian Jepson (Tobe's Dad) in order to gain excellent vantage points in the packed, sweaty small live room. This point in the show felt more like the closing number because the liveliness of the fans was wild - the stage although small seems to suit Toby and he commands those wooden boards like an Army Seargent.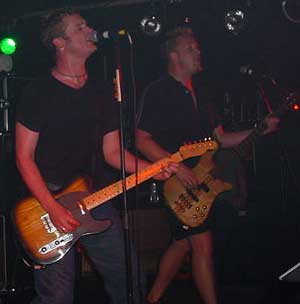 Noticeable straight away is the fact that the rock star image has bitten the bullet - gone is the long curly golden locks and leather look of the 80's heyday and in its place is a bloke next door look - short cropped hair, studenty jeans and trainers - looking more like a member of The Stereophonics or Blur than an ex-frontman of one the U.K's well missed Rock bands - although Toby did tell me that he never wanted to have that image after 30.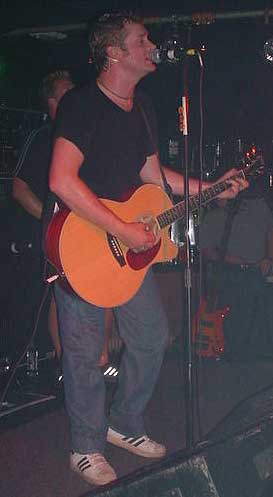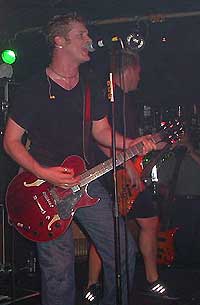 Toby on Acoustic and Electric
With Slash-like style, pose and ability, Guitarist, Nick Dunne,is a supersonic riff-miester general who plays the Little Angels material better than you'd have heard if you gone to an 'Angels gig all those many moons ago - now that's pretty scary.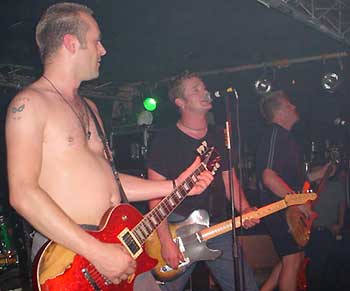 The new songs from the 'Re-fresh' E.P. and self-titled album help up extremely well next to epic classics like 'Don't Prey for me'. It was no doubt very satifying for Toby to see many copies of the E.P. sold after the show.
Many of the followers had been present at several gigs on the tour like Patrick, who was given the golden opprtunity of singing along on stage with Toby during 'Too Much, Too Young' on-stage - an ultimate experience if ever there there was one and a major highlight during the show.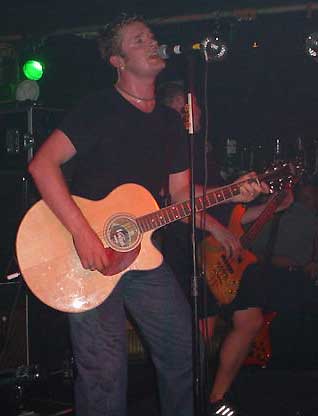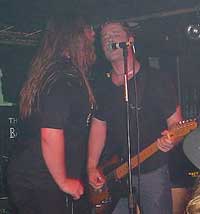 Shortly after the gig, the whole band came out to meet the audience at the merchandise stand - and what a friendly loveable group of guys they are.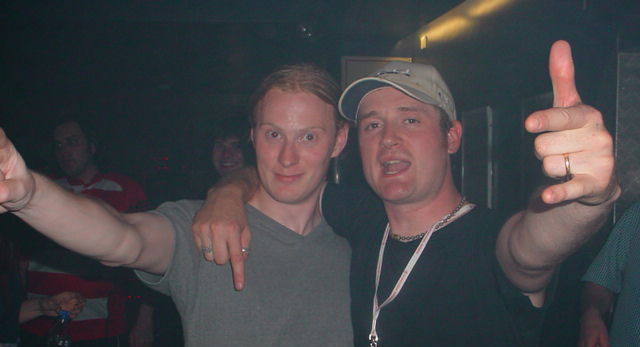 Andy (a fan from Sheffield) pictured with Toby
This set was 100% proof that you don't have to have all the glitz and the glamour to put on a triumphant rock 'n' roll show - all you need is fresh, vibrant, exceptional music alongside a likeable personalities - which they most definitely had.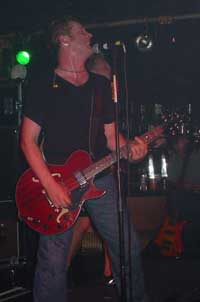 This was the last gig of the tour after which, Toby was having few months off from the road - the next time on stage will be when then they headline a festival in Scarborough. 'Til then, keep the rock alive.
10/10
By Glenn Milligan, BA Hons CS
Toby Jepson's March 2002 UK Tour
Set List:
Breakdown, All Roads Lead to You, Some People are more equal than others, Young Gods, Slipping through Your Fingers, Inside Out, Forgiveness, Don't Pray For Me, Unwind, Radical Your Lover, I won't be with you, Womankind, Refresh Yourself, Too much Too Young, Harder all the time, The Way that I live (encore)
I have just had the pleasure of following Scarborough's finest - Toby Jepson - around the country on his first tour for over 7 years. The shows came and went, and we're now left with just the memories, a slight ringing in the ears, and doubtless the Refresh EP permanently on play!
The set comprised mainly of the rockier tracks from Jepson's repertoire. Following "Breakdown" with "All Roads Lead to You" and "Some people are more equal than others", Toby and his band were on to a winner right from the start.
It wasn't just old material that was played and Toby took every opportunity to remind the crowds that "this tour is about the future". To that end, we were given a sneak preview of a new track "Inside Out". Thumbs up from me, and looking around I didn't see any thumbs down! I think we can look forward to seeing that track appear on an album sometime soon…
A third of the way into the set, things slowed down for the classic Angels song "Don't Pray for Me" in which Toby proves his vocals have lost none of their haunting power.
Also included in the set was the crowd-pleaser, "Too Much, Too Young", and boy did the crowds go nuts each night when those familiar chords and drum claps started. In Manchester, I was dragged on stage to sing with Toby. Christ knows, I wouldn't wish my singing voice on my worst enemy, but fuck me, I enjoyed it and what a privilege. It meant a lot, and will be 5 minutes of my life I'll never forget, thanks Toby!
Without any doubt, the old Angels' classics proved to be popular, dauntlessly put across, and as good as ever before.
Often at London gigs, audiences lack enthusiasm; indeed I've been to several gigs in town where I swear most people were asleep. Not so at the Garage on 28th March. The crowd with me down at the front were great, moshing and head-banging away.
The title-track of the EP, "Refresh Yourself" was shown to be made for the stage and in time, as people become more familiar with it, will be one of those songs where you just have to punch the sky.
Each night, Toby was the charismatic front man he has always been, encouraging the crowds to sing along. Nick Dunne plays to the crowd (well the girls anyway), and just revels and comes to life when he's in the spotlight. Matt - in the boiler room at the back - plays with a vengeance, if he played any harder, his sticks would surely break!
In a set that was all too short Toby Jepson has put British rock back on the right tracks. Full of life and energy the lads gave it their all each and every night in a brilliant performance that covered material from the Refresh EP, from the Toby and the Whole Truth era, and generously interspersed with the material from the Angels' days.

The last night in Liverpool had a party atmosphere, with banter and streamers, and I think everyone had a blast. Hands-up if you saw Roger pouring the glass of water down Dave's neck during the final bow?
By the time the band closed the set with an ear-splitting, head-bang with "The way that I live" the crowds down at the front were begging for more Toby's vocals soared, Nick's guitar screamed, and Dave Kemp's sax hit all the right spots. But alas, the house lights came on.
Toby will tell you he has no favourite gig, that they all were good for different reasons. I'll second that opinion - each gig was very different, each had its own highlights. Toby has proved once again that he can provide an enthralling live show and write strong, memorable material.
For those of you who, for some reason or another, could not make it to any of the gigs this time (shame on you), Toby and his fine new band kicked ass!
By Iain Roy
http://www.bigbadworld.net
Johnny Zhivago - Corporation Nightclub, NMB, Sheffield 26th November, 2001
First band up were Johnny Zhivago (not to be confused with Dr. Zhivago of course - which is an ancient film from yonks back). This Zhivago are an all-out rock 'n' roll experience that ought to have played to a packed house. Musically fitting in somewhere between Hanoi Rocks, Motorhead, The Backyard Babies and at times G'n'R - they pocess an abrasive, powerful confidence that suggests they're used to the many rough 'n' ready venues dotted up 'n' down America and the U.K. for that matter
On stage for around 30 mins they mince up a spicey slab of songs that make Green Day look like wanna-be's. Take the number 'One bad day', where one of the vocalist/guitarists explains - 'At least we haven't had two bad days - yesterday - we had an incident with a crowbar!!!' - whatever that was all about - great rockin' number all the same - as was the entire set- they closed with a ditty called 'Rocket '69' - an uptempo effort that I prefer to the old blues number of the same name.
Top Notch support - pity about the low attendance - because these guys have definitely got more entertainment value than the garbage on t.v. on a Monday night.
8/10
By Glenn Milligan, BA Hons CS