Kiss/Taking Dawn – Sheffield Arena, Saturday, May 1st, 2010
You wanted the best – but did you get the best? – find out in a bit but while you hear about the support band who grabbed the hefty special guest spot. Going by the strange name of 'Taking Dawn' – taking dawn where? you may ask or are they referring to the opposite of dusk – who the hell knows.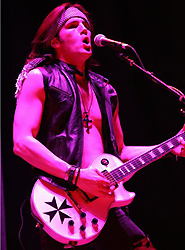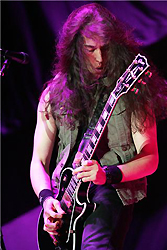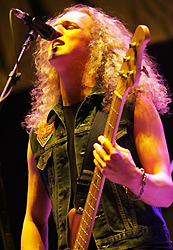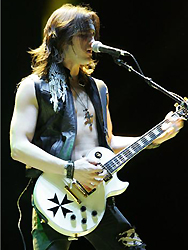 Anyways, these guys have come all the way from Las Vegas, Nevada in order to support the well known New Yorkers tonight – well not exactly true because they'd recently supported Airbourne (my mate Al witnessed them at Rock City) and they couldn't get back to the USA because of the Icelandic volcano dust cloud, therefore they thought they'd join their buddies Kiss – you believe that – didn't think so – lol.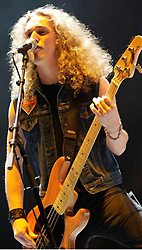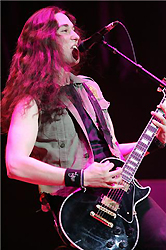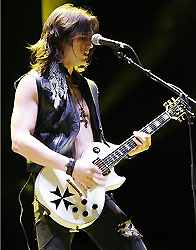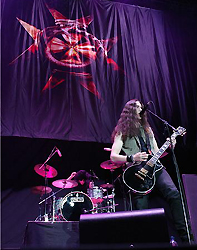 Musically it was kind of like Crimson Glory (according to Tony Watson) meets Skid Row bit without the memorable songs to be brutally honest with you. The sound quality was muddy a lot of the time making the bawly lead vocals incredible intelligable. They had plenty of confidence, worked the stage area well and openened with a number called 'Vodka Revolution' and finished with a pelted out cover of Fleetwood Mac's 'The Chain'.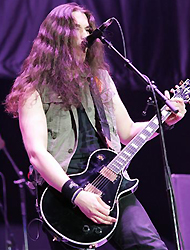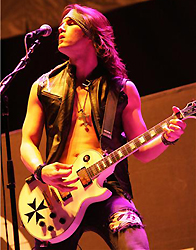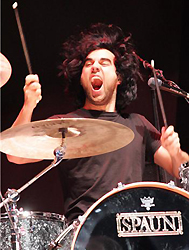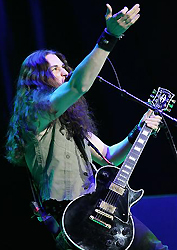 The classic cover ditty featured the lead man run around the stage left side of the floor and up onto the side posing to the crowd while playing away before leaping over the barrier (despite its height) and back to the stage again where he threw his guitar to the ground and left with the rest of the band.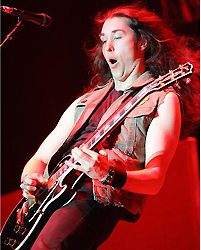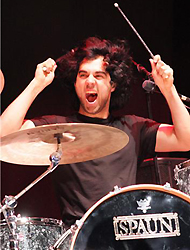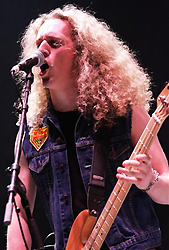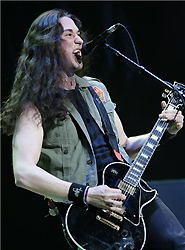 Not sure if they enjoyed the gig or not it's hard to tell. They did try to have us all chanting 'England' several times in one of their songs to get the patriotic bonding going with us. They went down kinda iffy mixed bag but no doubt we'll here more of these guys in the future since they are also playing 'Download Festival in June.
5/10
Set List:
Modern Day Delilah/Cold Gin/Let Me Go, Rock 'N' Roll/Firehouse/Say Yeah/Deuce/Crazy Crazy Nights/Calling Dr. Love/Shock Me/Eric & Tommy Jam/I'm An Animal/100,000 Years/I Love It Loud/Love Gun/Love Gun/Black Diamond/Detroit Rock City.
Encore:
Lick It Up/Shout It Out Loud/I Was Made For Lovin' You/MSO Ensemble/God Gave Rock 'N' Roll To You II (Argent Cover)/Rock And Roll All Night.
Not seen the healdiners since Donington 1996 and that was the original line-up of Gene, Ace, Peter & Paul and I missed the new line-up of Gene, Paul, Tommy & Eric when they played that very place a couple of years ago – well I weren't missing 'em this time. This was also the 1st night of their European Tour to make the occasion even more worthwhile.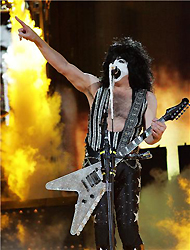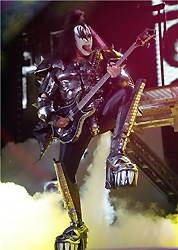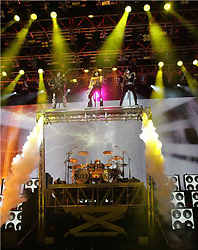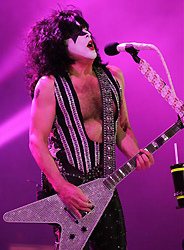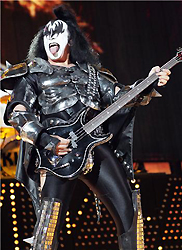 We got the usual 'You wanted the best, you got the best' intro and we see the guys walking from the backstage area to the front before their truly maginificient entrance on a large hydraulic craned stage over stage from behind the main one – this was very cartoonesque and dreamstate to say the least and mightly colourful – an entranced I'd not seen before in my life.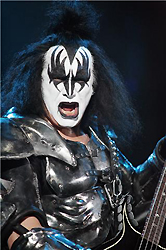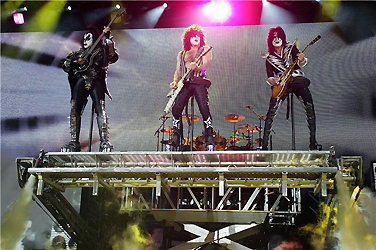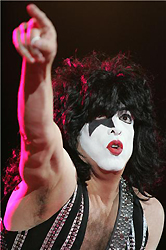 Indtead of going into one of their own age-old classics they started up with a number from their new release Sonic Boom 'Modern Day Delilah' and then went into the familiar live staple territory of 'Cold Gin' with plenty of cocky poses and ballsiness from Gene Simmons.I think many were surprised to hear 'Le Me Go, Rock 'N' Roll' the not very much heard 12 bar special from the heydays of the band and the Hotter Than Helliness of 'Firehouse' with Gene givin' it his all and nicely flown flame at the end of the song direct from the mans gob thanks to a mouthful of fuel of some sort. He need a good drink of water after it as well – can't see the fuel flavour being too good – lol.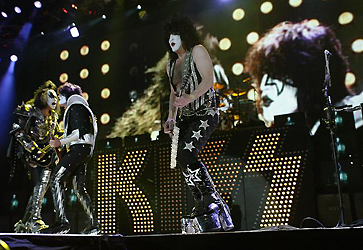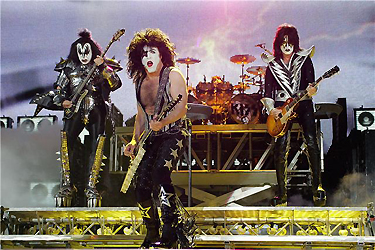 Back to the now we go after for more from 'Sonic Boom – this time with the hard-hitting 'Say Yeah' or should that be 'Say Yeah Yeah Yeah' as the addictive chorus goes. 'Deuce' provides a ton of explosions and fire from the back of the stage and we can feel the heat up here in our seats in Block 102 – I dread to think what the temperature is down there on the stage – coupled alongside with the hot lights and hefty, heavy costumes they must be f*ck*n' sweltering and sweating cobs – there's little wonder that most of these guys are stick thin or the best part of. Paul Stanley tells us that there are no backing tapes, no one under the stage playing and no extra pre-recorded backing vocals either – it's just us 4 guys up here on stage performing for you which gets a mass of applause.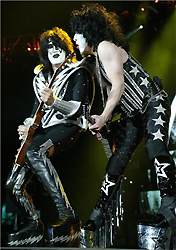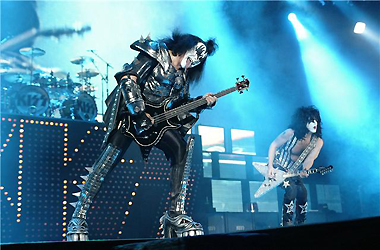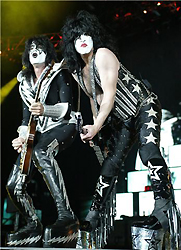 He also goes on to say that fans say why don;t you play this and why didn't you play that, so they have tried to put a set list to please everyone it seems and intruduces the overplayed time-life, rock club song 'Crazy, Crazy Nights' that he sets the audience sing quite a bit of at times to no doubt save his vocals for better songs in the set. Now here's a shock and surprise for y'all – Tommy Thayer's gonna sing a song for us – a number from the 'Sonic Boom' album I thought. Wrong! And how pleased I was that I was wrong because they did an exception version of one of my personal Kiss faves 'Shock Me' and kick me and whip me if I'm not toally correct on this by saying that Tommy sounds very much like Ace Frehley – they'll have him doing 'Rocket Ride' or 2000 Man next – or is that boosting the dreams a bit too far and upsetting Ace a bit.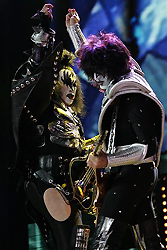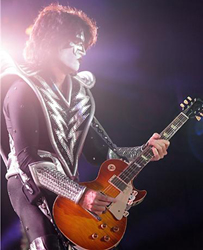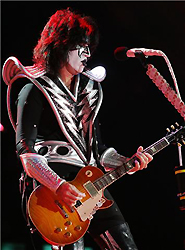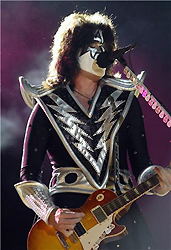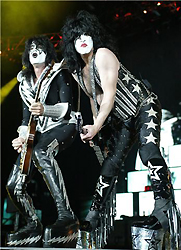 Kiss have never been a band to shy away from solo spots and tonight ain't no excpetion with Gene & Paul dissapearing off for a piddle and a breather – no back stage antics theses days – it's all professional – hahaha. Thayer gives us a killer solo accompanied with Singer that's followed up with a solo Singer drum solo as Tommy needs a breather and a piddle too. Then Tommy's back on the stage with a Gibson that fires explosive sh*t at the stage lighting rig few times with Eric joining in on the fun when a fake lighting bit falls down due to eric firing bazooka – no need to worry though as its made outta foam. Tommy is up there giving it his all on a mimi stage that rises him up in the air that sees Eric Singer's drum riser burn into action as well – and he is hight up enough as it is. Drums rise and tommy on right hand side. More explosions take place as well before Gene & Paul join the newbies (well one is I guess) back onstage for Sonic Boom's 'I'm An Animal'.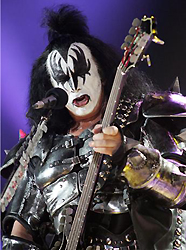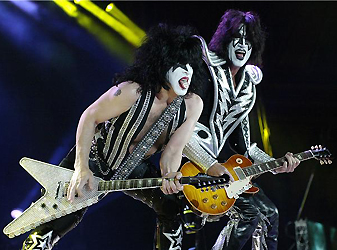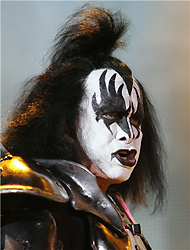 I see that for 100,000 years that Gene is on his famous axe bass. There's some audience participation too and Paul has us punching our fists in the air and screaming 'Hey' at the top of our lungs. In good old Kiss tradition the bat winged vampire does another one of his party pieces, bangs out his bass notes and spits out his fake blood before going up into air on strings and up onto a stage above the lighting rig. The crowd love it – as if they wouldn't. It's a f*ck*n' good job that he ain't afraid of hights as its a long way up to say the very least and from up there in the gods he performs 'I Love It Loud' before coming back down to earth for 'Love Gun' with starting accapella vocals from Paul before they crank into the song properly.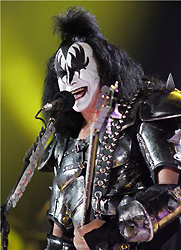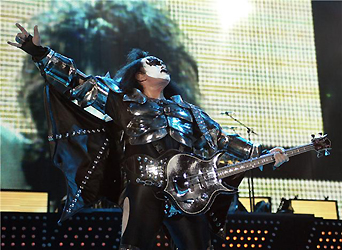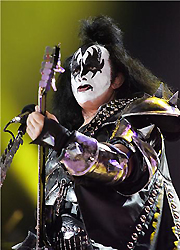 'Black Diamond' is up next – man we are being totally spoilt tonight that features an opening longish solo from Mr. Stanley and there's a big silver ball above in the stage in the centre in case we haven't notice it - lol. It goes to show that apart from being an incredible drummer, Mr. Singer is an exceptional vocalist as well – there's a clue in his surname I guess – sorry – bad cheap ass joke line there on my part. Tommy Thayer can pose like the best of them during the instrumental section of the song and is on his knees looking up to Paul and Gene waling away on his Sunburst Gibson.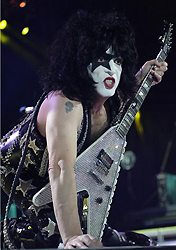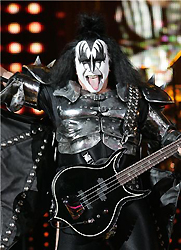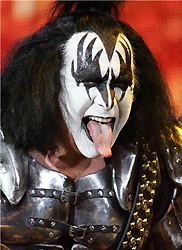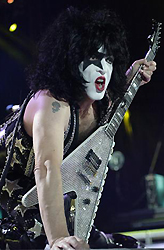 Paul talks about Detroit for a bit saying that it's a lot like Sheffield (hmm – crimewise I think he may be right there) but I know what he meant by that because there's a lot of industry (well there used to be) but it's a very happening town when it comes to bands at times – unless he says that at all the gigs – I am guessing that will be the case but you never know. Funnily enough there are tons of explosives on song during D.T.R. It also seems that Gene's bass is a bit worse for wear as his bass tech has to place some black electric tape above his bass output – well things don't last forever do they and theres no doubt that axe has had a lot of hammer over the years. The song (or should I say main set' is finished off with a sh*tload of explosions after Singer's signalling with the sticks. After which they all depart from the stage.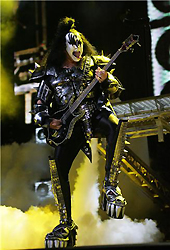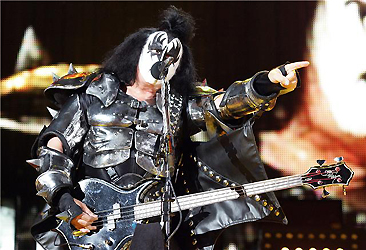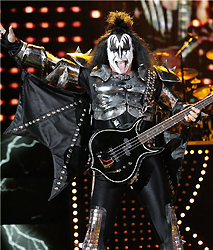 When Kiss return Paul tells us that they ain't gonna keep coming on and off stage again and again but are gonna stop up there and give us the longest encore ever' amd then exclaims, 'We're gonna play' and they immediately kick into the 80's classic hit 'Lick It Up' that features tons of fire flamage from the back sides of the stage not to mention them also playing the main riff of The Who's 'Won't Get Fooled Again' in the middle of the song. Quality stuff indeed and nobody can help but sing along either – like they did in all the well known numbers played tonight.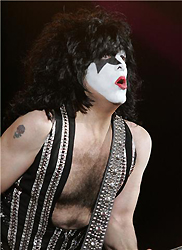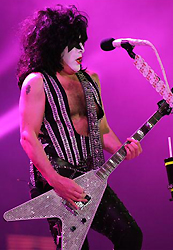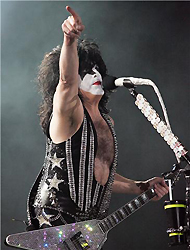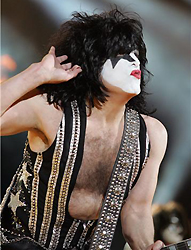 It's Destroyer chapter 3 time next and they are on the home-run just about with 'Shout It Out Loud'. Sounding good boys. Paul Stanley then asks us if we wanna meet him because he wants to meet us (Kiss Platinum Package not mentioned either – lol). Every screams yeah or words to that effect or just screams in general and he is transported via flying wires in good old Slippery When Wet Jon Bob Jovi style over the centre of the crowd onto a stage in front of the mixing desk for 'I Was Made For Loving You.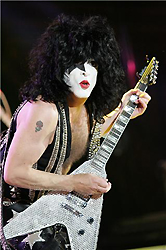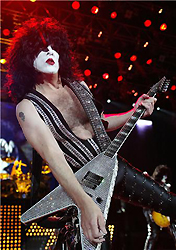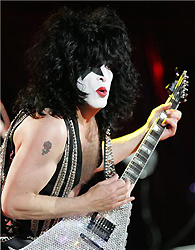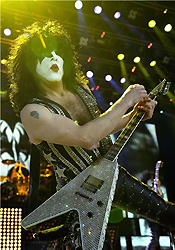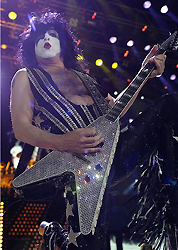 This is still lapped up as the late 70's disco dancing classic gets many singing and a bopping – wonder what he thought when he saw all the empty seats towards the back of the arena. It don't seem to bother him much though as he solos a bit for us too on the guitar before being flown back main tage for 'God Gave Rock N Roll To You II' with plenty of stars on screens that include John Lennon, Jimi Hendrix, their own late, great Eric Carr Last and many more – just a pity we can't get the cigarrette lighters going anymore like in the good old days – the smoking ban is good but they've took it a bit far.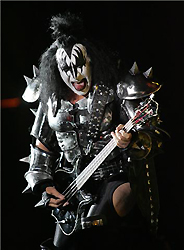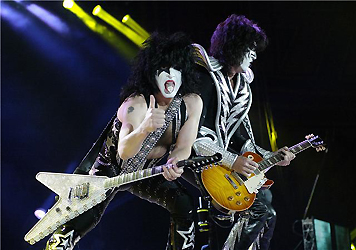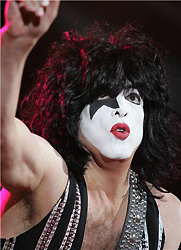 Of course the final song is 'Rock N Roll All Nite' that sees Gene and Tommy up on high mini stages at either side of the stage as well as cannons shooting out white bits of paper at the left and right of stage and mixing desk area into crowd filling place – jesus I'd hate to be a cleaner in there after that lot. Stanley smashing the just brought on to use guitar that was paid for by the front row signifies the end of the show but what an amazing show it was – it's gonna take some beating this one.
10/10
Review By Glenn Milligan
Photos by Glenn Ashley