NAMM Metal JAMM 2014 –
The Whisky A Go-Go, West Hollywood, California, USA, Tuesday 21st January 2014
For a start it's always good to get back into one of my favourite venues that is of course, The Whisky – in fact I plan my trips around the shows they put on because it's so damn good here. Anyways, before I go off on a total tangent lets talk about tonights show – kicking it off on the microphone is that well known DJ who goes by the name of Metal Sanaz who always found her way onto everyones myspace page back in the day who introduced the start of this years NAMM JAMM of Rock 'N Roll and Heavy Metal Classinness of the last 30 or so years with artists up here dating back to the mid 70's and early 80's.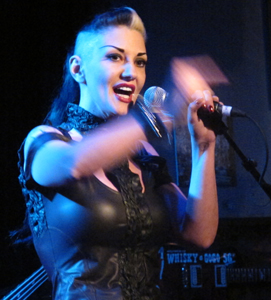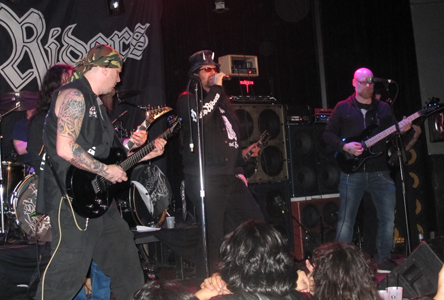 The ring leader of the night is Neil Turbin – the original singer of Anthrax, now as many know, the frontman of Death Riders who kicks it off with Deep Purple's 'Burn' & Dio's 'Straight From The Heart' in classic style that included Michael Angelo Batio (Guitar), Michael Devin of Whitesnake (Bass), Rowan Robertson (of Dio) on guitar, Glen Sobel (of Alice Cooper) on Drums where we get presented with some classic Van Halen in the form of 'Hot For Teacher' sung by The Iron Maidens Frontess, Kristen Rosenburg - not to mention 'Eighteen' with Mr. Levin on lead vocals & Andreas Martongelli (Arthemis) on guitar.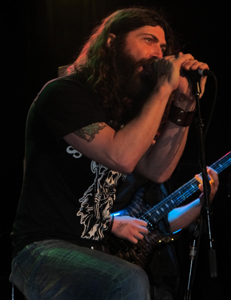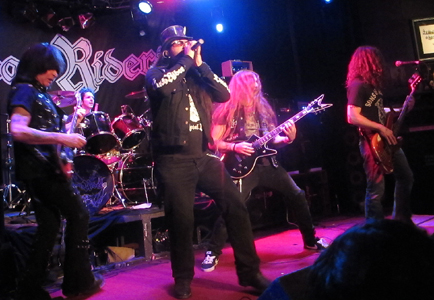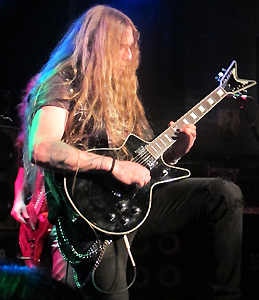 The first milestones of the night though in a true sense of the word came from Ted Nugent's frontman, Derek St. Holmes alongside Howie Simon at times who delivered perfect renditions of a trio of cracking hits that form major points in his bosses live set that go by the name of 'Hey Baby'; an extended and momentous 'Stranglehold' that was jammed long and lovingly before closing off with that party piece hit that is 'Cat Scratch Fever'.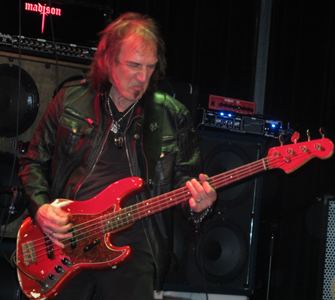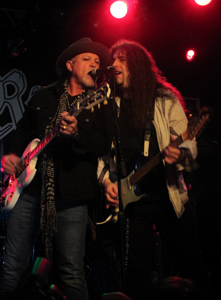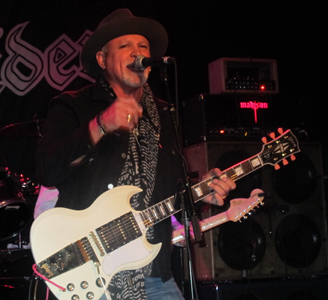 The excitement was made even greater by the appearance of REO Speedwagon's guitarist, Dave Amoto on bass too for a cool change – man this was magnificient especially when they hit us up with a second to none performance of 'Renegade' by Styx, fronted by August Zadra (Dennis De Young Band) with Jeff Bowders (Paul Gilbert/Puddle Of Mudd) manning the drum kit. Six string action also came courtesy of Thane Farace & Xander Demos too - man were getting totally spoilt tonight.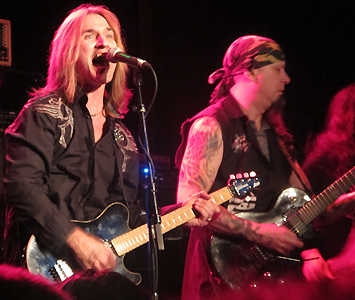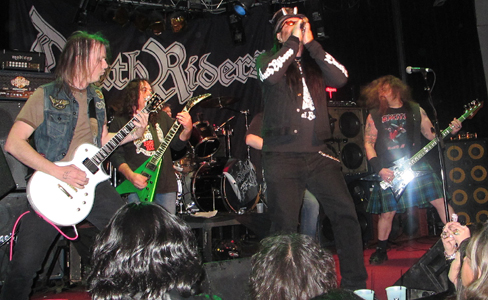 Neil Turbin takes the reigns of the microphone again and screams Whitesnake's 'In The Still Of The Night' for all it is worth – jesus that's a hard song to pull off and it shows at times too with a recognise immediately guy on stage with him who comes complete with a stunning green Jackson – none other than maestro Ralph Santolla (Deicide) for Saxon's 'Wheels Of Steel', As a major bonus, we also get Clammy, bassist of Exciter, the dude came all the way from Canada to be here tonight – nice! Not to mention Thane Furnace (Ghost of War), Per Nilsson (Scar Symmetry), Drummer, Matt Thompson (King Diamond) & Guitarists, Eli Santana (Holy Grail) & Robert Cardenas (Agent Steel/Possessed/Malice).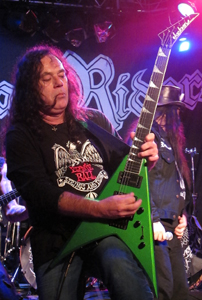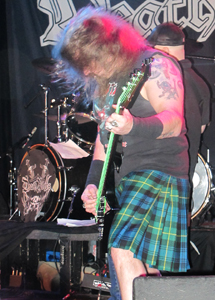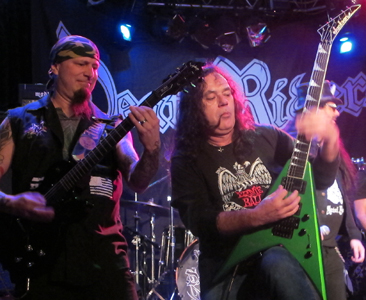 Getting old school is the name of the game here it seems and what better way than pumping out those triplets and air siren sounds with the cracking female tribute to one of the UK's finest Metal exports who go by the name of The Iron Maidens who deliver an army of NWOBHM classics such as 'Aces High' for about 20 or so minutes whose line-up along side mainstays, Kristen Rosenburg, Courtney Cox, Annie Grunwald and Linda McDonald also features Joe Gettler (Razormaze) & Bill Hudson (Circle II Circle).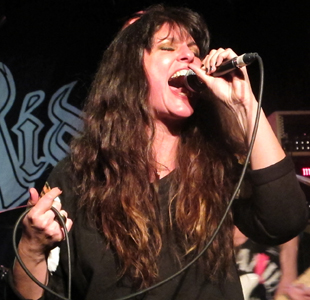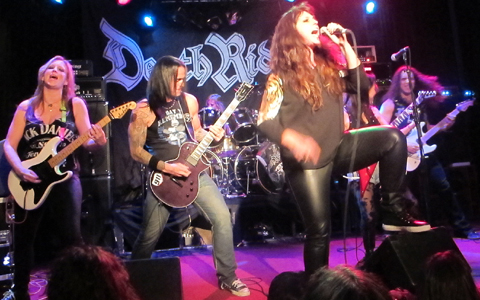 Starz - anyone remember them? Well tonight we get two past and present vocalists from the band, Michael Lee Smith & Brandon Harkin who lash it up for a couple of numbers that I kinda recognise but they were never really a band that made a big impact in the UK so my knowledge of their material is very vague to say the least but I am sure 'Cherry Baby' was one of the stand-outs if my memory serves me right and 'X-Ray Specs' too making another magic moment for the night with plenty of other folk up on that stage - man, they'll remember this!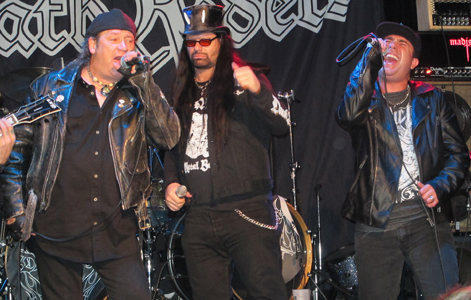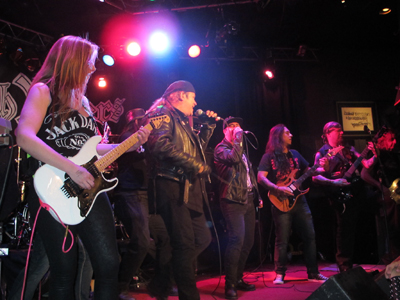 Then it simply couldn't get any better when Mark Boals dressed in an awesome leopardskin look jacket too the stage (who now fronts DIO's Disciples and Soul Sign) for a healthy handful of songs by Ronnie like 'Holy Diver' before getting another drummer eventually to the stage to sing the song that made him in the first place when he was with Yngwie J. Malmsteen – the unforgettable epic, 'You Don't Remember, I'll Never Forget' that was completely the highlight of the entire night for yours truly that I completely lost myself in which doesn't happen very often – I could now die happy after hearing Mark perform this! Even Howie Simon was up on stage for it from Talisman/Jeff Scott Soto band which was the icing on the cake not to mention the highly renowned in the business, David Reffett plugged in on the electric wood too.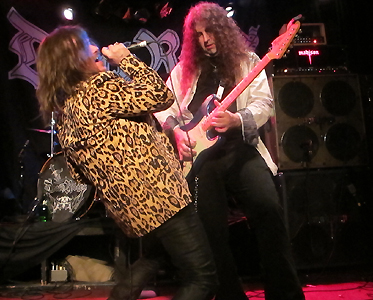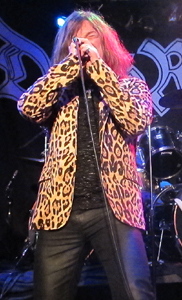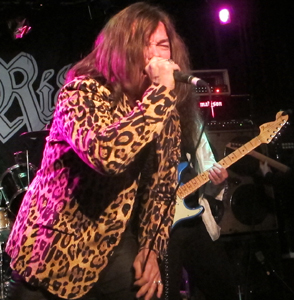 The night closed the way it had begun, with Neil Turbin cracking into a few tunes like another DP classic – this time the turn of 'Highway Star' before ending the night with the old Anthrax not too heard too often ditty 'Metal Thrashing Mad' before the house engineer cut the power because they were over curfew. Haha – that's Rock 'n' Roll right?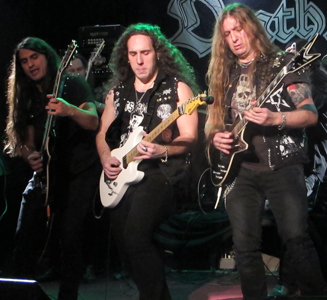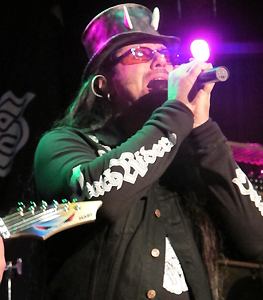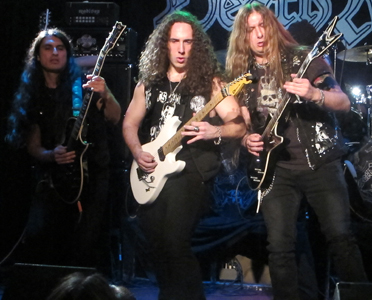 A fun packed extravaganza of all things loud which was only let down at times by the long pauses between song of the songs due to various musicians leaving the stage while others were waiting to go on – that aside – truly outstanding. Has anyone got a guitar lead?
8.5/10
By Glenn Milligan

Nickelback/Daughtry - Motorpoint Arena, Sheffield, 7th October 2012
I'm not a massive Nickelback fan but after catching them on their Dark Horse tour a few years ago I was seriously blown away by how hard they rocked live. The bands latest album 'Here and Now' passed me by as average and I wasn't at the front of the ticket queue when the band announced the new tour, even though they were being supported by one of my favourite bands right now, Daughtry. So when the wife announced she had managed to get onto the sound crews guest list I threw caution to the wind and headed out to the arena to see if Nickelback could match the last tour!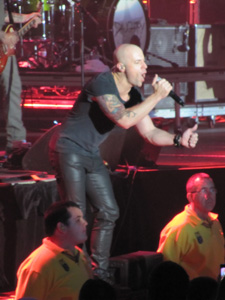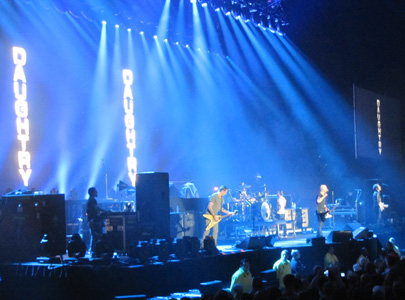 We had great seats down the front and settled down for the opening act. For those of you who are unfamiliar with Chris Daughtry, he was a contestant on 'American Idol' and came around 6th. 3 albums later he has left the talent show for dust and is rocking! Playing a great mix of all 3 albums the band really kicked ass, Chris' vocals were a little lost in the mix in places but overall it was a great show with the promise that they would return to the city.
Then it was onto the main event. As I have said the last Nickelback tour really blew me away, lights, flames, video screens and sheer spectacle. But tonight there was a totally different feel, a more stripped back affair. No bells and whistles this time out, maybe the economic downturn has started to take its toll.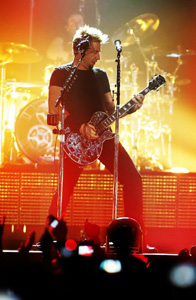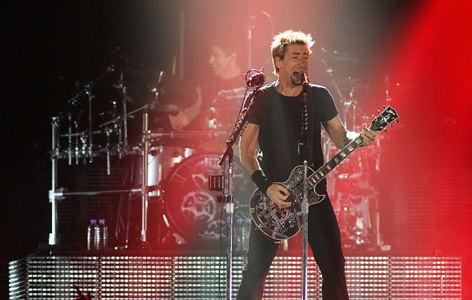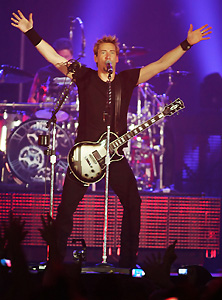 But this didn't stop the guys rocking. Opening up with 'This Means War' from the new album Nickelback set the tone for the rest of the show rocking through 'Something in Your Mouth' and another new track 'Bottoms Up' before going into the classic 'Photograph'.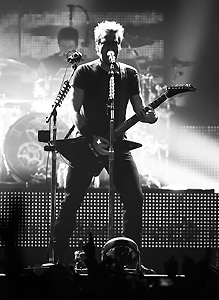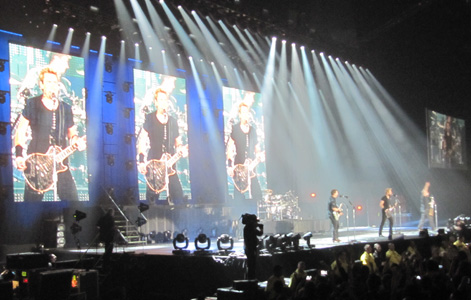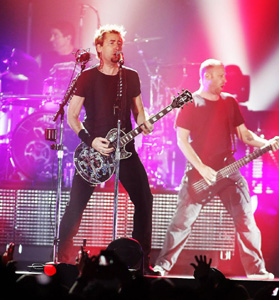 The guys are obviously having a ball up on stage with some great banter and lots of drinking! They introduce Robbie, one of the guitar techs who join's them on 'Far Away' to great applause from the packed crowd. Now I have to add that I have seen tons of bands at the arena but tonight the sound was exceptionally good. Not being biased due to the tickets coming from the sound crew but hats off to Orris Henry and the team for doing a great job.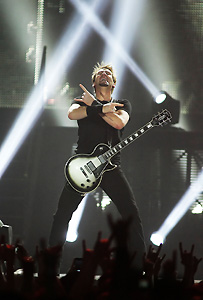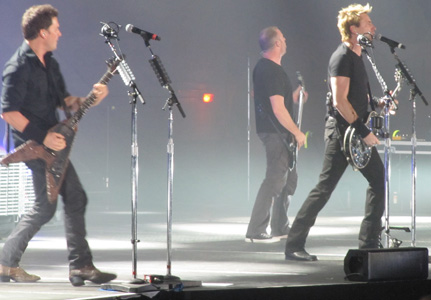 The band played 5 tracks off 'Here and Now' and I realised that I had to return to this album and what an album it is! They throw in a few old classics including 'Someday'; 'This Afternoon'; 'How You Remind Me' and 'Rockstar' where Chris Daughtry joined them onstage to sing along! The crowd bounced clapped and sang along to it all, it was a sight to see.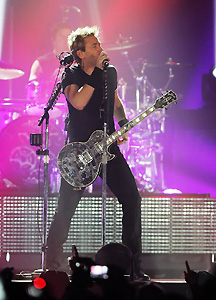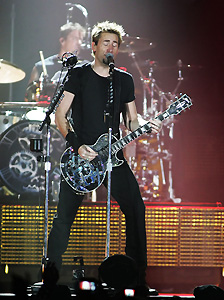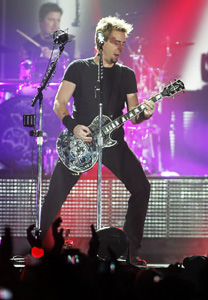 Talking of sights, if you have never seen Nickelback then you have missed out on t shirt cannons and beer throwing! I have never seen a pint of beer thrown so far and caught so well without spilling much! Chaos can't describe it but it does come close.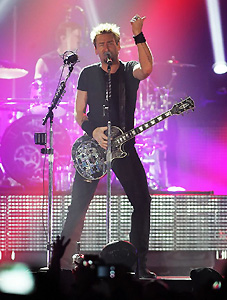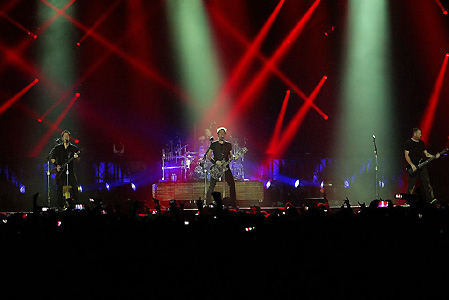 But as with all great shows they come to an end and the band closed this great night with 'Gotta Be Somebody' and 'Burn it to the Ground'. No fire, fireworks, explosions or rockets but I don't think anybody missed them. This was no frills hard rocking at its best. I still wonder how we got onto that guest list, but sometimes it's best just to stop wondering and enjoy!
8/10
Review by Johnny Trowbridge
Daughtry Pictures by Angela Trowbridge
Nickelback Pictures by Glenn Ashley (Front Shots) & Angela Trowbridge (Side Shots)
Nimmo Brothers/Electric Sermon -
The Boardwalk, Sheffield, Saturday 23rd October, 2010
Set-List: Hell's Coming With Me/Crystal Green/In Fair Verona/Struttin' On Fire/Fairies Wear boots/Burnt Chapel Love/Baby Get Gone/Scotch Drunk Blues.
Well I found out about these guys by a buddy of mine, Julie Hess, Wife of Wilbur Hess (Vocalist/Guitarist of Strongheart - who are based in West Monroe, Louisiana). Julie brought the guys over (also from West Monroe) to play a short UK Tour, as well as so the guys could get to set foot on the Boardwalk stage since they'd so many amazing things about Sheffield and this very venue.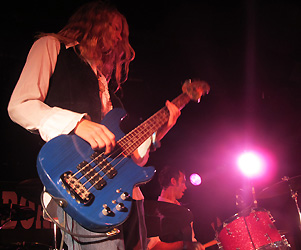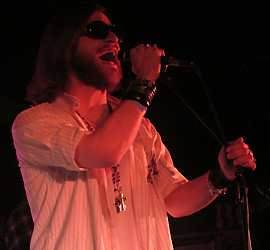 Beforehand the guys were real excited about getting out in front of the audience tonight as I was doing an Interview with them and as soon as they hit the stage they lit it on fire with their loud bluesy sabbathy like rock. Frontman greet the crowd straight away with plenty of natural southern twang with a mass of y'alls to aus all.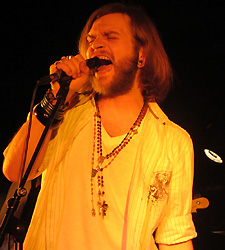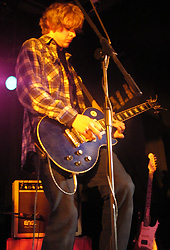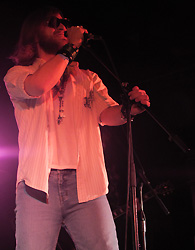 The opening song was all about drugs - cocaine especially, "Don't try and tell me you've never done it", he quips before asking us if we'd like to hear some Black Sabbath - in a venue like this it's a pure no-brainer of an enthusiastic 'Yeah' from the crowd and we are treated to a tasty extensive 'Faries Wear Boots'.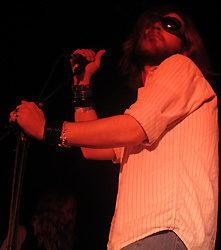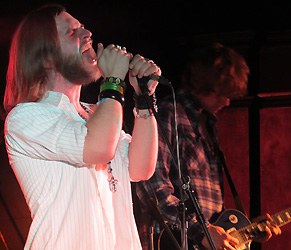 To say that the 'Sermon are together and extremely tight would be a complete understatement of words as they held it together beautifully (maybe the wrong word but you know what I mean), I guess majestically is a better phrase with killer sound and confidence from all members of the band who have it all tied together like old masters of the game, informing us that Wilbur couldn't be there tonight but he was with them in spirit.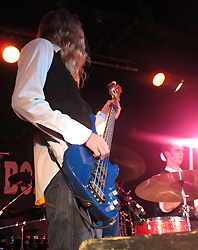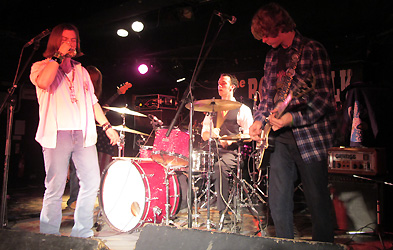 They recieved a really good reception from the congregation in here tonight, even for their slower bluesier numbers as well. Electric Semon simply didn't wanna leave the stage with signals off Julie to cut the set ready for the Nimmo Brothers to hit it. There were some exceptional guitar solos and plenty of posing and throughout but backed up by essentially good musicianship which spoke for itself.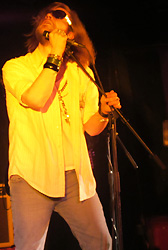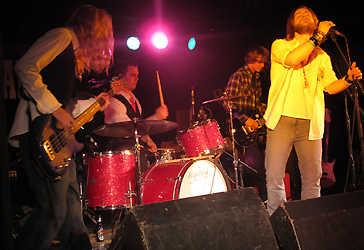 Pity they didn't get longer onstage as they were simply sensationally southern and well worth checking out on CD as well.
10/10
Set-List: Flat Broke/Thrill Is Gone/Gotta Slow Down/Waiting For My Heart/Reason To Believe/Long Way From Everything/All Because Or You/Bad Luck/Nothing In Chicago For Free/If I Could see through Your Eyes/A Better Day/Black Cat Bone/Shape I'm In.
What a crazy night this turned out to be with The Nimmo Brothers bashing out plenty of comepetent blues/rock and started a set with their own 'Flat Broke' and going into the BB King Classic 'The Thrill Is Gone', not to mention plenty more of their outstanding original stuff which pleased the crowd no end.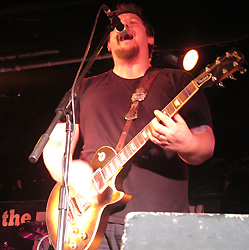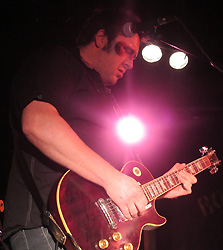 To top it off they featured Bobby Arachiga from Strongheart manning the drumkit which added extra kudos to the cream of the crop pairs latest outing at the Boardwalk.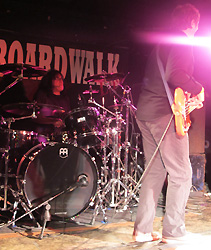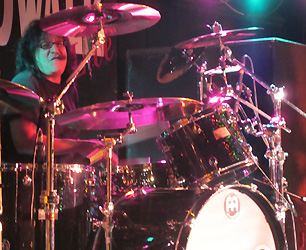 Bobby played a great drum solo that only lasted around 2 or 3 mins as pushed on time - French Freddy said it was a lot longer at their Glasgow gig though. They played typical english blues with excellent guitar-work all round and killer bass licks.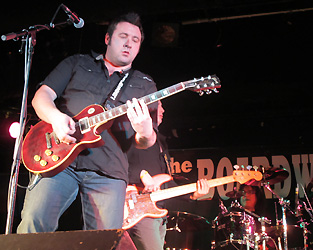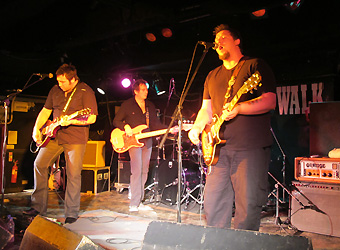 Some of the material was a very groovy kind of blues like a Peter Green type of thing. They were Lovely bunch of guys on stage and worked well as a unit - especially since it was Bob's 2nd gig with them which is incredible really.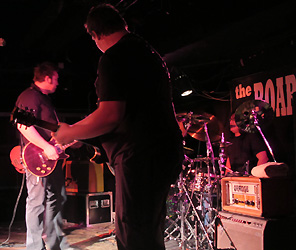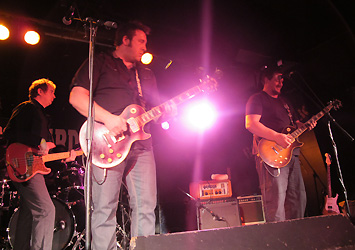 The Nimmo's were really good with the crowd and talked a lot with a mass of humous banter in-between their songs and even threw in an AC/DC cover at the end of their set - this being the always crowd pleasing 'Live Wire'. Bands of this stature can do no wrong around with the Sheffield audience and will no doubt be back to play here again in the near future.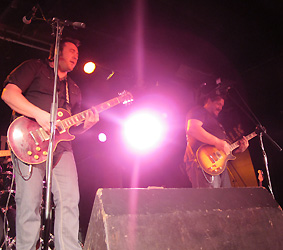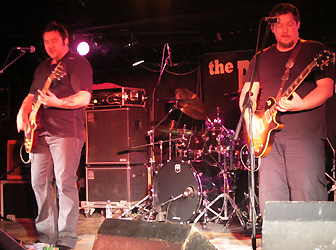 How can you top blistering blues from both sides of the pond.
8/10
By Glenn Milligan
NAISIAN/BACK TO THE SEA/MALEVOLENCE/AUGUST 80 –
West St. Live, Sheffield, Sunday, 23rd August, 2009
The weekend, for the deserving metaller, lasts right to the very end once more as another healthy blend of hot local talent disturbs the Sunday peace in Sheffield. Saying that though, one familiar name from before sit amongst tonight's four and is possibly why there is a respectable turn out for this day of the week at a town centre pub.
August 80 are a three-parts-male-one-part-female outfit who sound to be churning out rather run of the mill hardcore when they first kick off but three tunes into the six and something bizarre happens. A progressive edge is shown and this has becomes pure and totally unflawed by the end of their set with a driving guitar style from the nice young lady playing lead, that reminds me of the sadly defunct Foe. I'm beginning to wonder if it's two different bands with the same four members by this but if it had been, I'd definitely like to hear more from the latter incarnation.
7.5/10
Malevolence are a four-piece metalcore combo who spend 30 minutes making a lot of noise and frankly little else of substance apart from a small but sweet acoustic interlude. Could be worse but barely entertaining enough to keep me in the room til they'd called it a night.
5/10
Back To The Sea are back to the place I first saw them, nearly four long months before. With their impressive display at Louth also strong in my mind, I expect and get the same fireworks this time with all the sparks. Brutally precise and grindy especially for a one-guitar band, they make not a bit less noise. I may possibly have said this before but BTTS seem to sound more and more like Pantera each time round, though they do an above- passable impression of Machine Head tonight when Faru suddenly drops flat on the deck. Recovering with a swift glass of water and concerned words from friends, he decides not to continue with the surviving half of the tune they have been playing at the time - which was a pity as its one of their better ones -and opt to crack on with the rest of the list, but with impressive material and riffs that actually stick with you, what's half a song between friends? Tighter than an angry Scotsman's stranglehold, they vary their pace along the way and playing tracks you can tell apart more than doubles their credit even if their frontman still sounds as demented regardless of guitar tempo. These guys are still yet to grace us with a full –length gig but hearing them more frequently enables us to familiarise with their stuff an d hopefully I'll actually remember one or two titles next time I'm down.
8/10
Naisian end off the evening in about as unusual way as I've ever seen a multi-band bill being wound up before. The prog influenced quartet (bloody hell, everyone's come in fours tonight) play largely instrumental material with a well blended amalgam of sounds and rhythms. No keyboardsman visible amongst personnel is pretty unorthodox but matters little given the educated use of effects pedals on top of their instrumental versatility without using them as a tool to hide behind as many so-called virtuosos delight in doing. Fans of Porcupine Tree should approve of these guys as I certainly did, though I have to say I am less than impressed by most of my fellow clientele's attitude as about two thirds of the turnout seem to have disappeared following Back To The Sea's set – one or two appear to have fully mitigating reasons but not about 30 of them. Another band that deserve chance but as always this relies upon support.
7/10
By Dave Attrill

Nickelback/Black Stone Cherry – Sheffield Arena, Sheffield, Friday 29th May, 2009
Black Stone Cherry came onto an intro tape of Deep Negro Spiritual number then burst in with their own heavy cut. Drummer, John Fred Young is high on his stool, not to mention plenty of splinters flying off his sticks. I gotta say that they are miles better than when I saw with the 'Leps last year in both sound, confidence & choice of songs. An early highlight is a track that 'Looking at the sky' in the chorus. "Have a good time – forget the b*llshit of the day", Frontman, Chris Robertson tells us.
The 'Cherry make full use of the stage and that includes the side sticky out bits as well (oh such good use of the English language there). Love the number 'Please Come' where afterwards, Chris swaps his guitar and goes into ZZ Top's 'Just Got Paid' that evolves into the epic bluesy 'Soulcreek' with its 'Yeah – Yeah - Baby wont you come with me' in its chorus. "You havin' a good time", Chris asks us again and gets us all to scream for him as loud as we can. Next number 'ready and willin' or whatever it was called has plenty of spinning hair especially from the blonde guitarist and bassist.

'Lonely Train' is one hell of a charging song that's become a fave of mine. The new single 'Things My Father Said' is a lovely ballad and a perfect tribute "If you got peeps you lost and really loved". "You guys ready for 'Maybe Someday" Chris asks us – Of course we are. Which at this point, their blonde guitarist, Ben Wells has us all to our feet as it's their last song for last gig of the Nickelback tour. We can't resist and are all up for this one that goes straight into their well known cover of Hendrix's 'Voodoo Chile (Slight Return)' with the bands stick-slammer whacking those thick strings on Jon Lawhon's Bass. There's even some guitar playing on heads and plenty of posing. After it's all over on the note front, all of Black Stone Cherry come to the front of the extended stage, thank us, and throw a bunch of plectrums and a used towel to crowd which of course is fought over.
Looking forward to seeing them back in Sheffield again soon.
Nickelback Set List –
Something in Your Mouth/Because of You/Photograph/Figured You Out/Savin' Me/Far Away/Highway to Hell (AC/DC Cover) Vocals by Chris Robertson of Black Stone Cherry/Gotta Be Somebody/If Everyone Cared/If Today Was Your Last Day/Rockstar/Burn It to the Ground/Drum Solo/How You Remind Me/Too Bad.
Nickelback Encore – Use Somebody (Kings Of Leon Cover) Vocals by Ryan Peake/Someday/Animals.
Nickelback explode into action near literally after some explosions signify the start of the gig – man this was so loud. They have also spared no expense and have a large video screen up so even those at the back can see what's going on. We even get explosives at end of the 1st number, 'Something in Your Mouth' . "I wanna hear you f*ck*n' scream' Chad shouts and they launch into 'Because' with a pink g-string landing on the stage – he ain't Tom Jones ya know lady - hahaha. After a rant about High school or Secondary School as they call it in the UK and the fact when he was young, he weren't thinking about mortages as they were bothered about saying, "Please God – help me get laid this weekend – this is called 'Photograph", and launch into the great known ballad with plenty of crowd singing and on the video screen we see some photos of Sheffield landmarks past and present like the twin towers, local footballers, some dodgy flats, and the front of city hall etc along with candid funny pix of band either side as well – touching stuff indeedy.
So after mellowing us out a bit Chad exclaims that, 'Now it's time for a rocker - the ladies love the 1st line of this – let's see how it goes. The band are on the big screen on these shown on smaller tv screens with the 'back themselves coming to the front of the mini stage too. What more fire ?– again from the back with even more flames to follow later in the song. Seems they are full of pyro tonight – at this rate Rammstein may even get jealous – ok, maybe not.
Their new extra member who goes by the name of Timmy comes onstage for 'Figured You Out', featured on acoustic guitar and not so later on, on the keyboards behind their drummer. Talk about Timmy chanting – the madness rears its head from now until the end of the gig whenever he emerges – or even when he's hidden from view – lol. Another "One for the ladies – if you know it sing along – I personally don't - hahaha, so I don't bother – it's called 'Far Away'.
A cool bit is due on us next though when Chris, Singer of Black Stone Cherry joins Nickelback on for a rendition of AC/DC's 'Highway To Hell' with Mr. Robertson on lead vocals – stay on stage dude !! Oh well – it was good while it lasted. No doubt it's a one off treat with it being the last night of the tour me reckons. Lovely sparks from over at back and squares made up of little golden lightbulbs for 'Gotta Be Somebody' from the 'Dark Horse' album (stealing album titles from the late great George Harrison lads? With 'If Everyone Cared' taking it down a bit in pure world thoughfulness that is a piano led ballad about famine etc and features footage of Bono from U2 in Africa etc, I disappear for a well needed toilet break – sorry guys – the coke got the better of my bladder.
I emerge from the lavs seeing the band then come on the mini stage where they are playing another thoughtful song 'If Today Was Your Last Day' that sees Chad on acoustic guitar. Now if you ain't heard the next one in the last few months I don't know where you've been as it's time for 'Rockstar' with that is introduced with yet another Chad rant where he asks us who wants to tour the world, have a car and be a rock star – of course plenty of cheers and hands go up for this – lol – that sees the guys blast into the hit single.
Back to the main stage with something I've never seen before as 4 Crew members are then on stage with t-shirt snipers – an invention of Nickelback's it seems. The crew members brought on 1 by 1 and they fire t-shirts up and out into the audience while the well-off Canadians play an instrumental version of Metallica's 'Sad But True' and some other number. 'Burn It To The Ground' follows next, with….. you've guess it – some more back pyro – which pumps out on the 'heys' of the chorus. A Drum solo is next where the riser comes out to the front of the main stage and goes up in air a couple of meters or so.- maybe more and at times swivels left and right – talk about show offs – though it don't beat the heyday of Motley Crue with Tommy Lee spinning up and over. It is a Good solo though - if a bit long – but at least it gives the rest of the band a breather. There's a ton of explosions at the end of the solo that brings the rest of the 'back to the stage who play a short instrumental.
Another song that I recognize is partied to next - 'How You Remind Me' – the song that began it all for this band on a large scale – 'let me hear you' screams Chad – we are heard to say the least. Another member of the 'back wants everyone up on their feet with devil horns for next number' he gets it funnily enough – this one being another hit single 'So bad' where 2 of the guys are out to mini stage and more pyro flames flare up– red, green and blue I think – or summat like that.
Then it's another few songs for the encore (as above in the encore list) that includes a Kings Of Leon cover in 'Use Somebody' – now that's where I recognize that one from. Now with a pile of indoor fireworks signifying the end of the gig - the band are gone of course after a few guitar pix and drum sticks are thrown into the crowd. Good gig, nice lights and loads of momentous pyro – it was like the time I saw Kiss here in 1992 all over again minus those New York Rockers of course.
10 /10
By Glenn Milligan

Nashville Pussy –
Rescue Rooms, Nottingham, Saturday 25th April, 2009
'Alright Pussy Pussy Pussy, come on in Pussy lovers …..this is a Pussy blowout - if we don't got it, you don't want it, if you can find cheaper Pussy anywhere…. F*CK IT!!! ha ha ha'. What a start – and that's just the intro tape – dialogue from the "pussy' scene stolen from Tarantino's B-movie Dusk to Dawn, followed by Tom Jones and 'Whats new Pussycat' – it's just so the right thing to do for this band.
It's 7:30, I've bearly wiped the froth of my top lip from the first swig of my first beer and the so called co-headliners are on ridiculously early, and as Blaine later points out – "Come to the US, we don't do that shit there". This doesn't stop the band coming out all guns firing, knocking out 3 songs bearly coming up for air, just to tell the crowd it's a "Good Night for a Heart-Attack" and hitting us with a track off their latest album "From Hell to Texas".
We get a set of just over an hours worth of material old and new tonight, particular faves being 'High as Hel'l, 'One Way Down' & 'Hate and Whiskey' – speaking of which the roadies do an absolute sterling job of plying the band members with copious amounts of kentucky's finest.
Rontrose Heathman from the Supersuckers joined the 'pussy' on stage to take over briefly on guitar leaving Blaine to head out as frontman for their cover of Nutbush City Limits.
Heading into the last quarter of the set, were treated to the standout track of from the new album, 'I'm So High' as well as their very own ode to Slade with 'Why Why Why'. If you're a newcomer, then these lyrics are stereotypical ""Well she was flatter than a pancake and nowhere near as sweet / got real good at giving head and fixing stuff to eat / but then I caught her and her uncle making out in a ditch / and I asked myself did I shave my balls for this?!" Personally, I'm a NP oldtimer and just can't get enough of their unique, albeit some may say generic, southern fried swagger. They got the perfect recipe, and unlike the Colonel's, the spices in this mix ain't no secret – it's just sex, drugs and rock n roll – simples!
This was my first time seeing them live in the flesh (i.e – not on DVD), without doubt it's a blistering experience, they put on a hell of a show and play as if their lives absolutely depended on it. It was over in a flash, Ruyter ripping the strings off the SG signaling we ain't gonna get an encore – damn right too, cos that would be un-cool.
Apparently, tonights show is being recorded, hopefully that will get pressed and we'll have a new CD for the collection in the not too distant future, cos ya can never get enough Pussy can ya?
8/10
By Jon Hardcastle

NILE/Grave/Belphegor/Omnium Gatherum –
WULFRUN HALL, WOLVERHAMPTON 22nd September, 2008
Another terrific multi-band bill – I wasn't going to say no to 12 pounds for four death metal bands.
Sadly, as usual, the early start caught me out and I missed the first part of Omnium Gatherum's fine melodic death metal set. The Finns' half-hour slot featured plenty of songs from their excellent new CD 'The Redshift'.
8/10
Austria's Belphegor joined us at 8:00, but I was very disappointed with their thirty five minutes of blackened death metal. I find that style tries to be all things to all men, and I don't enjoy listening to growling about Lucifer I'm afraid! They finished with 'Bondage Goat Zombie' which was performed in a gimp mask, so I guess there is some ultra-dry humour at work.
4/10
When you mention Swedish Death Metal, two bands usually crop up – obviously At the Gates, and their pals from Visby, Grave.
Ola Lindgren was superb on vocals as Grave took us through their catalogue, featuring plenty of songs from Dominion VIII (their 11th album!) and reaching right back to the classic Into the Grave. I particularly enjoyed 'Turning Black'.
7/10
Grave's 45 minutes finished at 9:35, and the crowd quietened to a subdued hush as we awaited the arrival of the finest death metal band that plays songs about ancient Egypt.
Nile's hour began at 9:55 with the crescendo of noise that heralds the new CD. As we all know it is essential to have a strong singer to perform death metal well – Nile have three, and Wade, Sanders and Lollis took turns to dazzle us with their unearthly growls.
Nile - 9:55 – 11:00
What May Safely Be Written/Sacrifice Unto Sebek/The Blessed Dead/Papyrus Containing The Spell To Preserve Its Possessor Against Attacks From He Who Is In The Water/Cast Down the Heretic/Ithyphallic/Excreation Text/The Black Flame/The Essential Salts/Annihilation of the Wicked/Black Seeds of Vengeance/Unas Slayer of the Gods.
Although Nile played a shorter set than on their recent US tour to adhere to an 11:00 close, we got an hour of brutal frenzy that probably revived several mummies in Wolverhampton Museum.
I particularly tapped my feet to 'Papyrus Containing The Spell To Preserve Its Possessor Against Attacks From He Who Is In The Water', 'Annihilation of the Wicked' and a stunning 'Black Seeds of Vengeance' that left several casualties on the floor of the ballroom.
9/10
By Roy Evans
Nine Inch Nails/Ladytron -
Civic Hall, Wolverhampton, 30/08/07
Set Time ~ 9:05 – 10:50
Set List ~ HYPERPOWER!/The Beginning of the End/Heresy/Terrible Lie/ March of the Pigs/Closer/Survivalism/Burn/Gave Up/Me, I'm Not/The Great Destroyer/Eraser/Only/Wish/The Good Soldier/The Frail/Into the Void/You Know What You Are/The Day The World Went Away/Down In It/The Hand That Feeds/Head Like A Hole/Hurt
Birmingham got a marathon set from Trent on Tuesday, to make up for the cancelled show in March. He treated us to 23 songs too, and we got to see the giant TV screen that he used at Reading (it wouldn't fit through the Academy doors!) Plus he finished with 'Hurt', which was apparently omitted from the Birmingham set.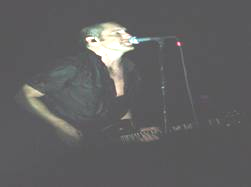 As usual the tatter town crowd was quixotic – t-shirts pledging allegiance to Slipknot, Slayer and the Ramones were in evidence, along with some band called 'NIN'. Smokers were not allowed pass outs, which made the multitude of oiks clutching multiple plastic cups of lager even more irksome. Nobody ever went home and beat their wife and kids after smoking 20 Rothmans, but hey ho. The venue was hot as a greenhouse at 7:15, which made me feel sorry for the Spiral members crushed down the front.
Ladytron came on at 7:55 and played a stirring 35 minute set – they are the best band named after a Roxy Music song that I have seen this year. Highlights of their Gary Numan/Kathy Kirby inspired set were 'He Took Her To A Movie' and 'Seventeen'. The crowd liked them a lot.
Fresh from what their website suggests was a rather traumatic two day stay in Birmingham, Nine Inch Nails bounded on at 9:05, and played a wonderful set. Making the most of their last theatre show for a while (Trent commented on how 'happy' he will be playing European festivals for the next month), the band treated us to an excellent selection of material from their extensive catalogue. The TV screen that so impressed me in the daylight at Reading on Sunday was absolutely stunning in the dark – I have rarely seen more imaginative use of light and dark to compliment a live show.
Trent was also in a generous mood, hurling tambourines and even microphones into the crowd. It may have gone a bit far when guitarist Aaron North flung himself into the front row during 'Down in It', but he does tend to leap from the stage on any good night.
Highlights included 'Heresy', 'Closer', all five songs played with the screen, and inevitably 'Hurt'.
10/10
By Roy Evans

NUCLEAR ASSAULT - 'Bonded By Metal Tour',
Sheffield Corporation Wednesday, October 8 2003
Time for something a tad different amongst the various other acts representing the eighties metal revival in the UK of late. New York thrash veterans Nuclear Assault are co-headlining this all-dayer with San Fran scene rivals Exodus and almost found themselves blown offstage by fellow US ol-timers Agent Steel, plus genre newcomers, Callendish circle, God Dethroned and Mortician. Tearing into an intense 50-minute set the audience make it crystal clear straight away who they're here to see, as one of the most violent moshpits I've ever observed gets under full swing in synchrony.
John "I ate a few too many pies while I was away" Conelly enjoys the evening in equal measures and shares in the delight of belting out such old killers as 'Critical Mass', 'Betrayal', 'Fight To Be Free', 'New Song', 'New Song', 'Trail of Tears' and 'Game Over' once again, as well as his old customary crowd-surf-with-guitar routine, towards the end of the set. All but one of the original faces line the stage - messrs Lilker and Evans are in attendance, but a new man appears to fill Anthony Bramante's boots, however the crowd don't complain when they're just enjoying a generous serving of some of the most powerful metal on the planet.
A glorious night of recalling my teen years - and musical habits of such time - I hope these lads are back on a full-scale basis. I would be very interested to see if they can still make albums like they used to after all this time.
10/10
By Dave Attrill
Owing to circumstances behind his control, Dave was forced to miss the Exodus set. If you were there on that night, and were impressed by their perfomance, perhaps you might like to send us your own write-up. Mail on www.metalliville.com, with your name, address and if possible, a recent pic of yourself

NOVEMBRE - BRADFORD RIO, 5th December 2001 (see 'O' section - support to Opeth with Katatonia)