.38 Special –
CoCo Fest, Sunsplash Water Park, Cape Coral, Florida, USA, Saturday November 10th, 2016
The 10th Annual Coconut Festival that took place in Cape Coral Florida the weekend of November 10th through the 13th was a smash hit with the community. Especially the entertainment for Saturday night's CoCo Rock Night featuring none other than .38 Special. For the second time playing this awesome festival, it was no doubt a night to remember.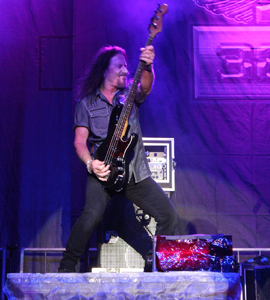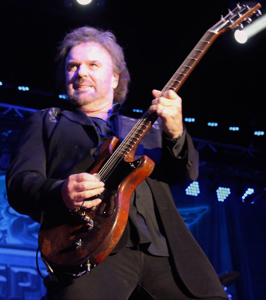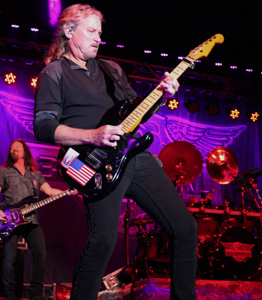 4 years ago, .38 Special played the CoCo Fest and racked in a huge crowd. This year was no exception...After a booming presentation of fireworks the band took the stage and commenced to rocking the house with favorites such as 'Caught Up in You', 'Fantasy Girl' and 'Hold on Loosely'...just to name a few...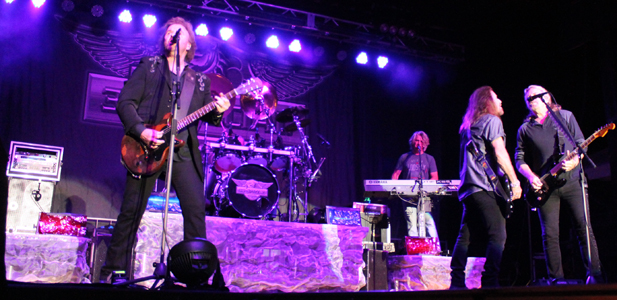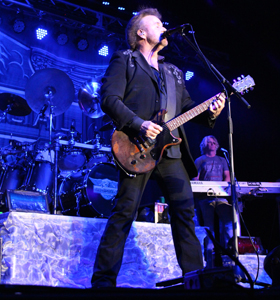 Don Barnes , Lead singer, came out to a wonderful welcome, and along with guitarist Danny Chancey, drummer Gary Moffatt, keyboardist Bobby Capps, and banging the bass the one and only Barry Dunaway, .38 Special reminded everyone of the fantastic music that this band rocks into you! There was supposedly a 'seating side' and a 'standing side' of the audience, but by the end of the evening almost everyone was on their feet dancing and singing along with Don and the boys.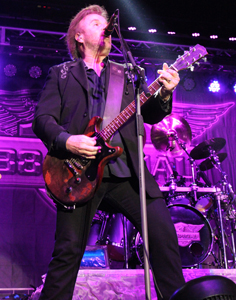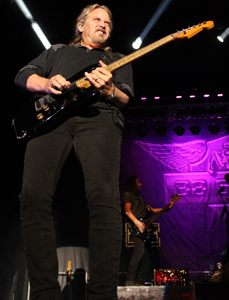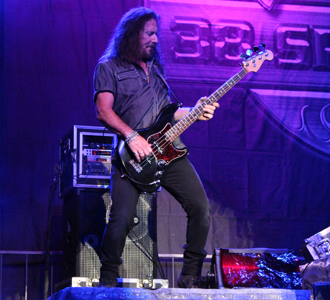 These guys have been playing together for years and really know how to entertain a crowd. As the band continued 'Rockin' Into the Night' the crowd became more and more engaged with the feel good vibe that only .38 Special can give you! Cape Coral Parks and Recreation and Sunsplash Water Park, along with all of their sponsors, are to be commended for bringing this band back to the Festival, and 'Back Where You Belong'.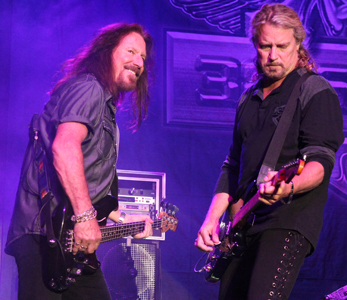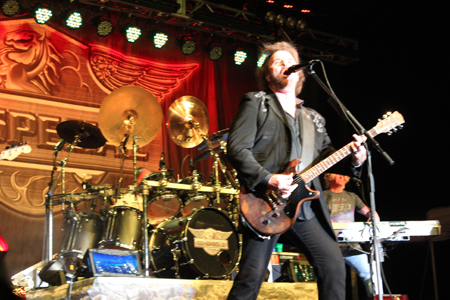 .38 Special! You are always welcome in Cape Coral!
8.5/10
By Juliana Kenyon-Anderson
Toseland/Baranovich – Corporation, Sheffield, Friday 30th September, 2016
Set List: Have A Nice Day/Maneater/Fire In The Sky/Tie Your Mother Down/Morning After/Hyde.
Tonight is very much a local show for both the bands reviewed concerned. Anyways, first up was my old buddy, Frontman, Steve Baranovich in his own band called 'Baranovich' funnily enough who warm up and delight us with a series of original songs and a notable Queen fave thrown in there well that everyone would know.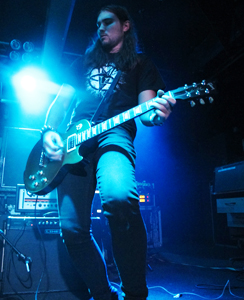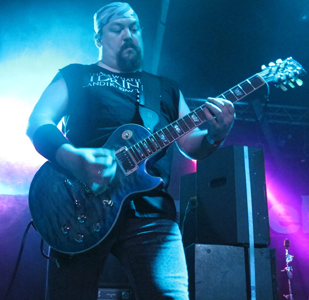 In fact, they managed to wake up a very quiet audience and get some interaction with them. I was especially impressed with the song 'Maneater' which was one of theirs and not a version of the Hall and Oates song.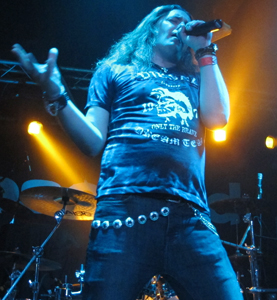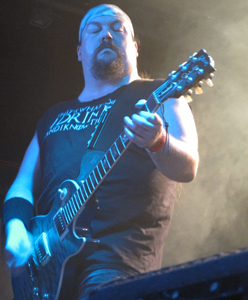 Mr. B and the band whose also comprise of Myke Thornton & James Allen (Guitar), John Atkinson-Croad (Bass) and Darren Blank (Drums) are pretty damn tight and have a lot of fun up there during their 30 minute set. The man himself has come a long way since his Jury's Out days and all the other bands he has fronted over the years.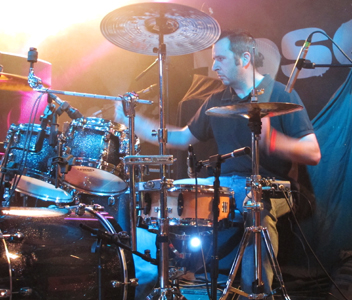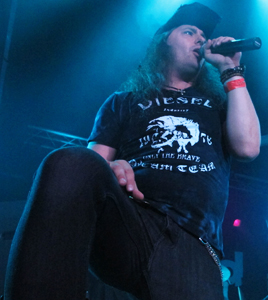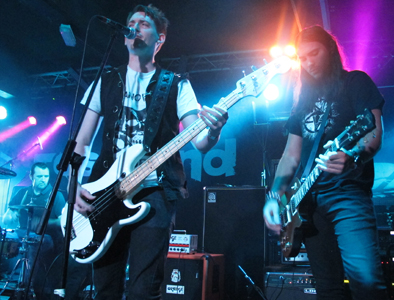 I look forward to seeing this enjoyable unit again soon. Sadly I missed The Illustr8ors but I'll have to see them on their next big support slot.
Set List: Cradle That Rage/Puppet On A Chain/Nothing You Can Do About It/Stranger Things/Gotta Be A Better Way/Good Eye Blind/Life Is Beautiful/Never Love Another/Kingdoms/Fingers Burned/Too Close To Call/Living In A Moment/Waiting For The Answers/Hearts & Bones/Crash Landing.
Encore: Singer In A Band/Renegade/We'll Stop At Nothing.
Being moved up from the small room to the big room was a marvellous step right from the word go. The lights went down and one by one the Toseland band members ambered to the stage amid wild screams from the girls up front! Now when James himself made his entrance it was piercing and he loved every second of it.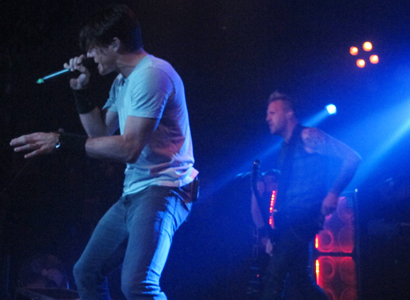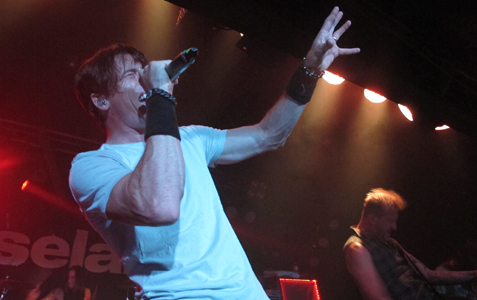 The local lads home and what a privilege it was for all there with as much hamming as possible coming from our very own Mr. T. "Yorkshire, Yorkshire", he bawls at us and then starts up with a Sheffield Wednesday chant at the only show he can away with doing on the entire 20 date UK Tour – in fact he did it a few times in the night to get everyone going!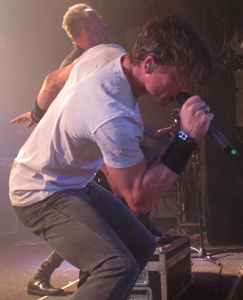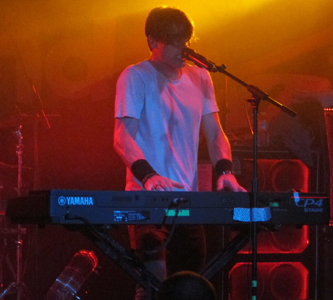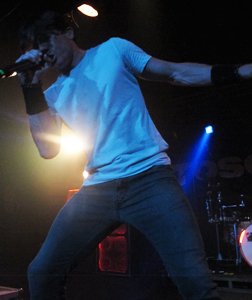 He asked fans during the set where they came from and there were shouts of "Kivo, Kivo" – short for Kiveton Park where James is from – brilliant! Even North Anston got mentioned if I remember right- oh and Harthill too, courtesy of my Brother Paul, with James shouting "Who's that?" as the bawl must have got the cogs and ears spinning – hahaha! With regard to the songs tonight, we were entertained by material from all points of the mans career to date.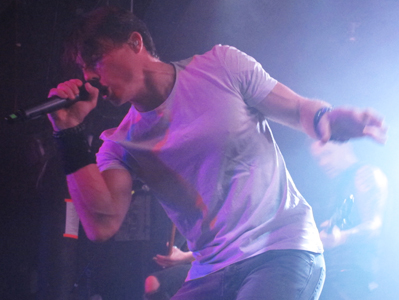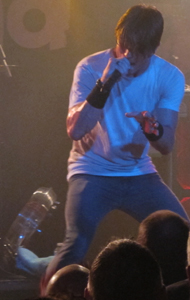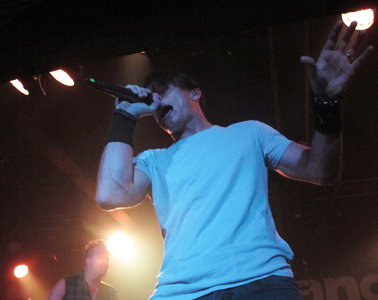 Highlights of the set included new numbers like the opening 'Cradle That Rage' & 'Puppet On A Chain' to classics like 'Fingers Burned' that saw James take to his Korg keyboard – a song that has a great Elton feel to it or the gorgeous 'Life Is Beautiful' that also see him tickle those ebony and ivories. Then there was what has become my personal favourite from the new album going by the name of 'Waiting For The Answers'; the ballsy rocker 'Hearts & Bones' from the E.P. of the same name that should have been a massive hit to be honest or the kickin' at ya 'Gotta Be A Better Way'.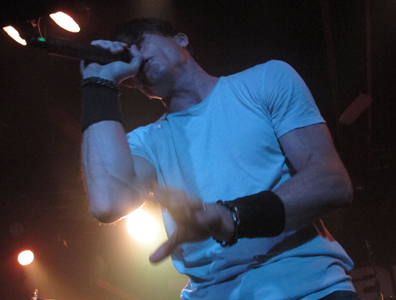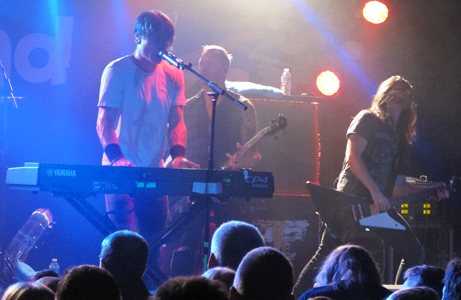 The band themselves made up of Zurab Melua & Ed Bramford (Guitar); Roger Davis (Bass) and Joe Yoshida (Drums) are of an outstanding standard. There are some majorly enjoyable solos in many of the songs tonight and exceptional rhythm work right the way through too. Mr. Toseland himself is as agile as hell throughout the gig and he wears you out just watching him.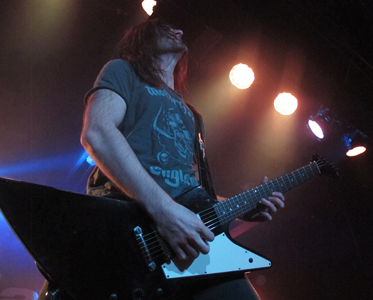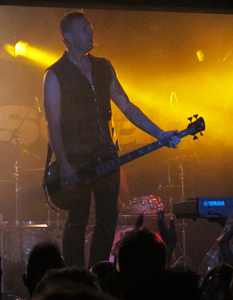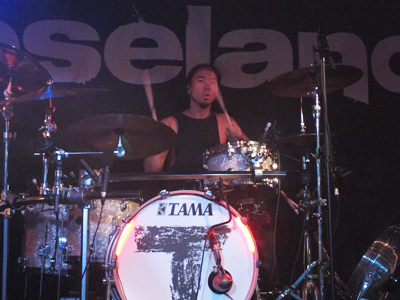 The stamina this guy has is unbelievable to say the least since he is constantly bounding around like an Athlete training for the Olympics. Along with the strobe lighting which added to the visual electricity felt in the room, there also was a strong pulsing tight vibe on the stage that spilled into the wildness of the audience who went crazy form beginning to end!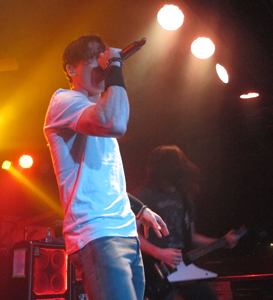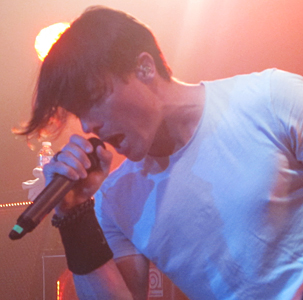 The encore was an cracking triple whammy of songs that have become live anthems especially 'Renegade' whereas during 'We'll Stop At Nothing' he had the crowd belting out the main line for a while. He was totally revelling in it and lapping it up in gargantuous amounts – rightly so too! At the end, James thanked everyone for coming and even sang totally acapella after the last note had been played proving he can really sing with no safety net of musicians – the mark of true talent right there! Within minutes of that he was down with the rest of the band members for a complimentary meet and greet for all and sundry.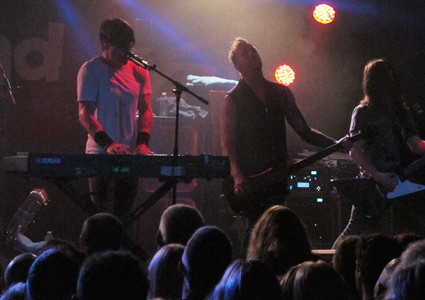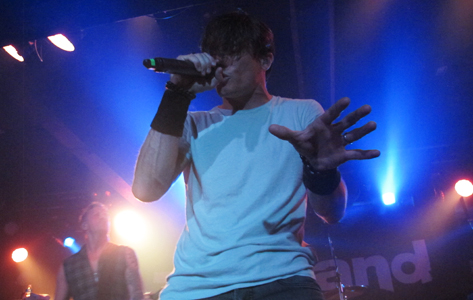 This saw them chatting with fans, signing CD's and even an arm at one point, plus of course photograph with them, whereby they took as long as it was needed for everyone to get a hug and a hi and a scribble or two. To say James is amazing with his fans would be an understatement – everyone is given VIP treatment here. The only qualm I have of the set was the the guitar frequency was too much in the same range as Jame's voice which made it hard to make out the words to the songs which mainly occured when he was singing in his top register.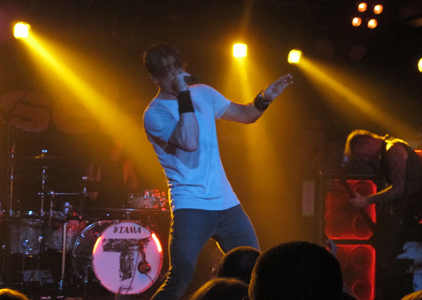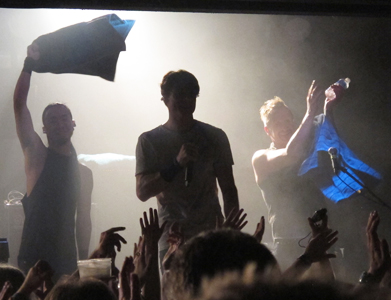 Overall though, a homecoming success that James Toseland and the entire band can most definitely be proud of!
10/10
Review by Glenn Milligan
Photographs by Glenn & Paul Milligan
Bernie Torme/Coyote Mad Seeds –
The Local Authority, Sheffield, Saturday 10th September, 2016
Set List: Extremis/Get Outta My Way/A Reason To Live/Shock (The Cure)/Luck Is For Losers.
Well I've seen this bands name in and around Sheffield for the last few years and often wondered what they were about and if they were any good. Turns out they are blinding, nice 'n' loud and one hell of a tight three piece of a unit made up of Members: Joe Elsey (Guitar/Lead Vocals); Chris Whitehead (Bass/Vocals) Rik Smith (Drums).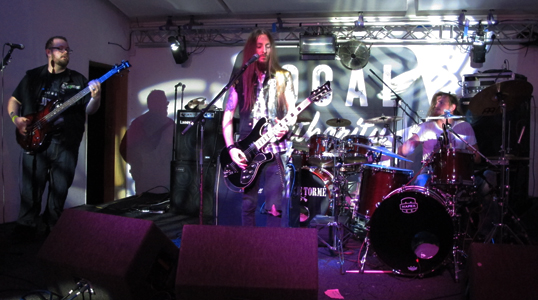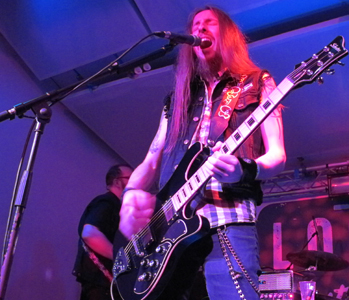 The songs grab your attention and are remarkably well-structured and keep you interested too, not to mention it's always a joy to see Schecter's being played on home turf too! Musically these guys are pretty tip-top as I keep saying too much – Hahaha- immediately placing me in mind of Wolfmother meshed in with some Sabbathy type styled riffs and more…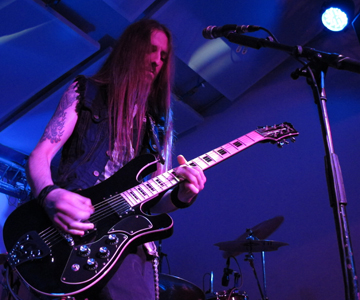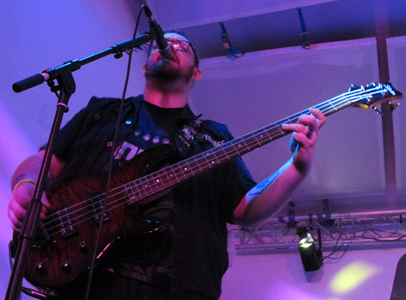 Frontman, Joe tried damn hard to get everyone out of the bar area of the venue to the stage side of the room but these folk are a hard crowd to hypnotise – well some of 'em anyway! Hightlights of this straight to the point 5 song set included the marvellous hooked filled closer 'Luck Is For Losers'.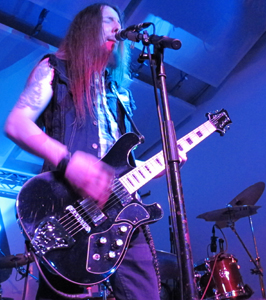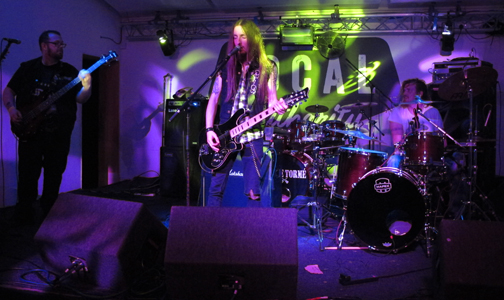 One to be proud of Steel City!
Set List: Wild West/Bullet In The Brain/Blood Run Cold/Turn Out The Lights/Pain Song/Flow/Star/Dirt/No Easy Way/Stoneship/Drum Solo/Can't Beat Rock 'n' Roll/Trouble/New Orleans.
Encore: Smoke On The Water.
Now the last time I saw Bernie Torme was at the sadly now gone Boardwalk a few years ago alongside John McCoy and Robin Guy in GMT but this time he is out alone with own fantastic trio cracking out a killer selection of solo songs and one or two from other areas of his past. The sound in here was exceptional as always which I why I like 'The Local Authority' so much as well as the always interesting psychedelic lightshow. All it needs is to resurrect 'Liquid Len'.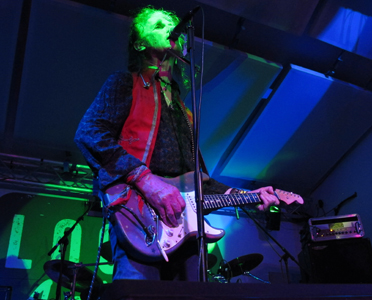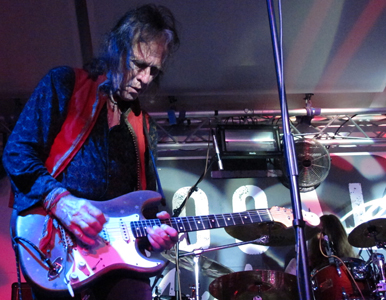 This was one of those classic mesmerising shows that you talk about for years to come since his stance, image and guitar work captures your eyes and ears from the word go. The Stratocaster Gypsy as he has become known in certain quarters has not lost hia touch one bit. There's a saying of 'You can't teach an old dog new tricks' but I think this Southern Irish Pedigree knew many of them already.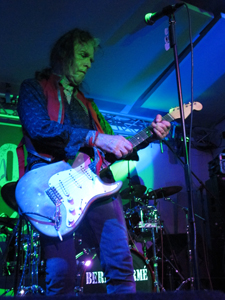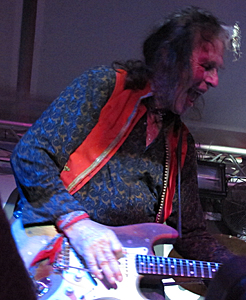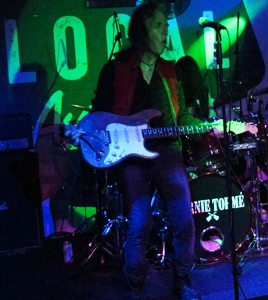 Highlights include the stomping rock-blues-boogie of 'Blood Run Cold' that sees him start up on harmonica and throw it in later too before the verses; the full-on 12-bar like rocker called 'Pain Song' that reminds me of Thin Lizzy; the riff to die for 'Star' or the always excellent ditty 'No Easy Way' from the Gillan days.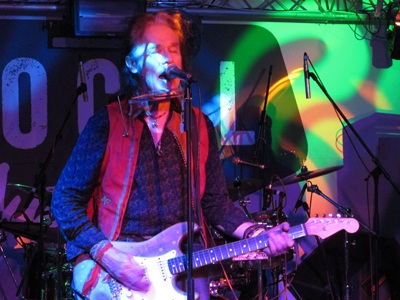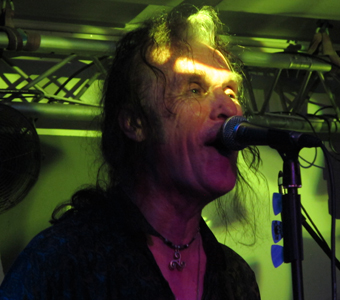 He had us singing some parts of songs like the 'Hey' section of 'New Orleans' from the Gillan times or 'You Cant Beat Rock 'N' Roll' from the GMT era that went down a storm with all in here not to mention the solid drum solo from Ian Harris, who later told me that he wacked his hand and he was in agony – you would have never known!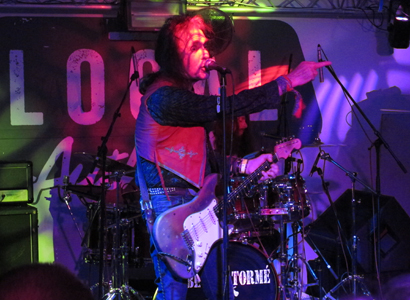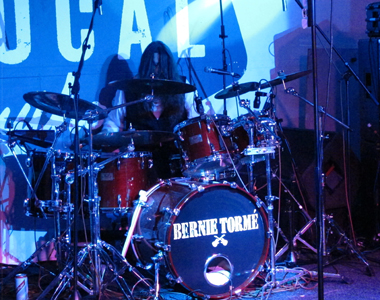 Throughout the set, there were excellent backing vocals from bassist, Chris Heilmann as well as real stand-up solid deep rhythm work too on that 4-stringer between him and Ian. This gave Bernie perfect maneuverance so he could fly over and loop in and out both vocally and musically in each of the songs played that night.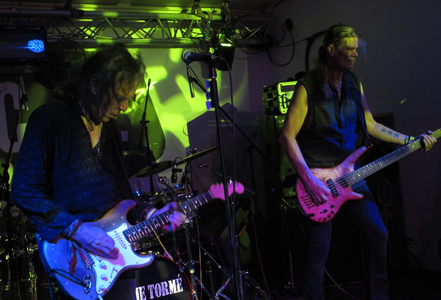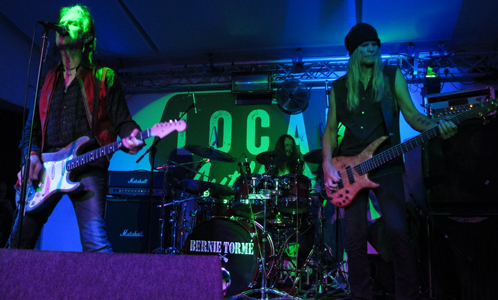 At one point Bernie had his Strat held up in the air where it wailed away for us as well as using his teeth – such a showman – placing me in mind of Jimi Hendrix immediately. After the supercharged set the trio encored with Deep Purple's 'Smoke On The Water' – a cheeky way to end it due his association with that that bands frontman. There may have been smoke but there wasn't a mirror in sight – just tremendous safety net free playing up here in Sheffield.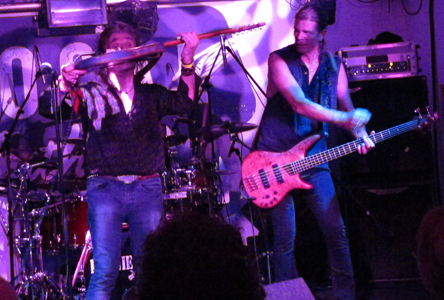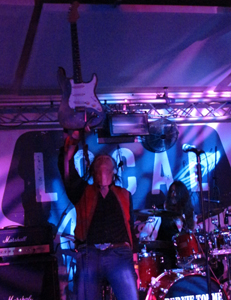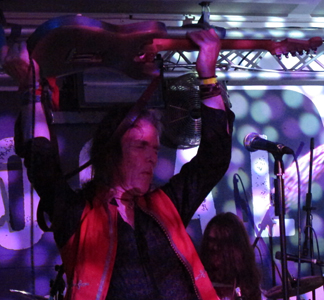 Afterwards, they all came straight out, talked to the fans, had photos with them, signed autographs and sold plenty of t-shirts and albums. Another superb night!
10/10
By Glenn Milligan
Tonic/Living Colour/Kaleido –
Bike Night, Nevermind, Cape Coral, Florida, USA, Saturday April, 9th, 2016
Talk about beautiful bikes and amazing music. What better time than to go to Nevermind Awesome Bar and Eatery and catch some 'awesome' bands and enjoy a beautiful evening outside rocking it out?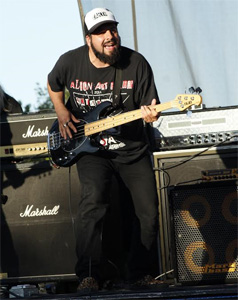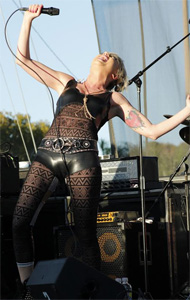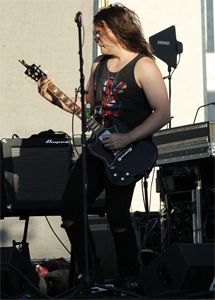 Kaleido, the first band to take the stage, knows exactly how to start it up right and get the crowd going. Christina Chriss is a very talented vocalist and knows how to take command and rock the entire crowd. Trust me...she gets your attention...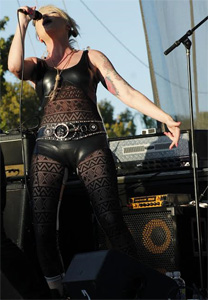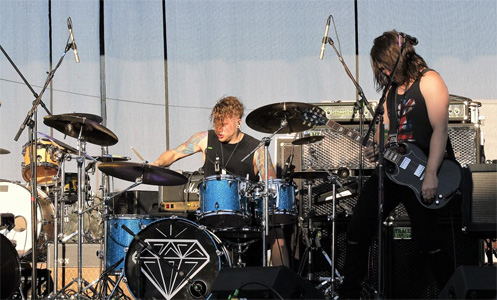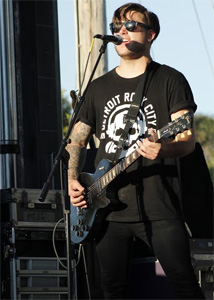 This band from Detroit engaged with the audience with all of their energy. Throwing it out right through to the end. Check them out...there's a little something for everyone in their music. I must admit they were quite entertaining!
7.5/10
Speaking of a little something for everyone, Living Colour was up next to entertain the full house of fans at Nevermind. Their diverse music, with combinations of Heavy Metal, Funk, Jazz, Hip-Hop, Punk Rock and even some for those who love Alternative Rock, is what makes Living Colour such a great experience musically. Everyone can relate to their music in one way or another.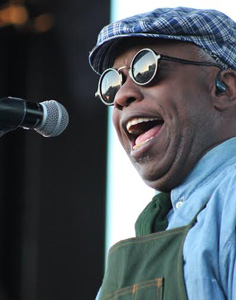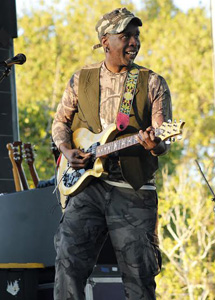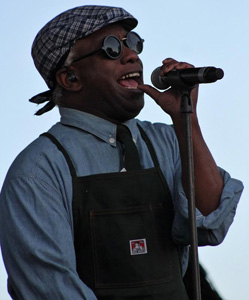 It was very cool to see so many people just hanging out and enjoying the night together in a fantastic environment! Kudos to Nevermind for making that happen. Living Colour's 'Cult of Personality' was definitely the highlight for everyone there, as this song is known all over, by all people. Vernon Reid plays the guitar like no other...while Corey Glover's lead vocals are known to many. Just to hear his voice you know it's him!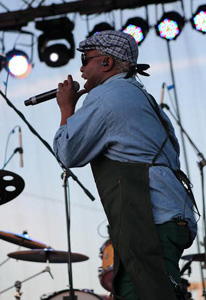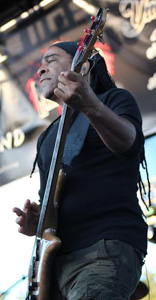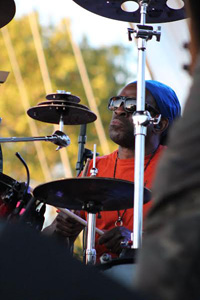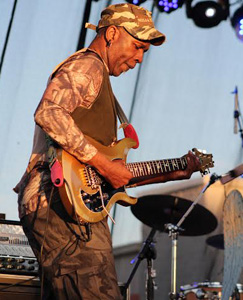 Will Calhoun smashes the skins and keeps the beat like the giant heart of the band, and Doug Wimbish's bass skills are to be commended! It was fascinating to watch them perform live! A very entertaining, well oiled machine...Thank you gentlemen for a great night of great music!
8.5/10
The Headliner Tonic put on an amazing performance of their own to bring the crowd to a whole new place. The melodic voice of Emerson Hart, coupled with the heavy guitars makes for an unbelievable musical experience. Their stage presence is like they are just your friends (very talented friends I might add) hanging out up on the stage and playing just for you! I truly enjoyed this band.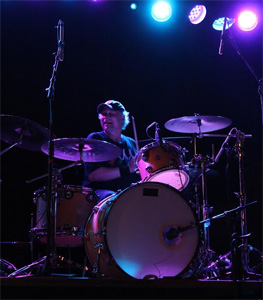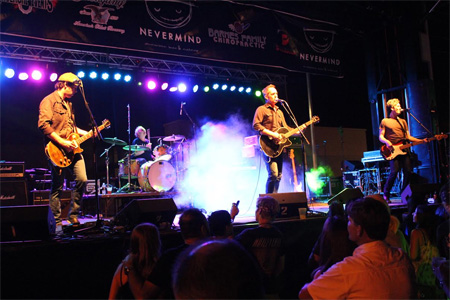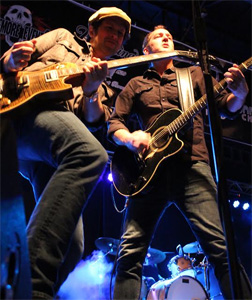 I knew more songs than I had originally thought I did, and now I know why the name Tonic, in the music scene, ha ha ha, has been one to stick in my head. I I commend you for letting all of us sing... as we should probably have left that up to the band...you guys made us all feel like rock stars!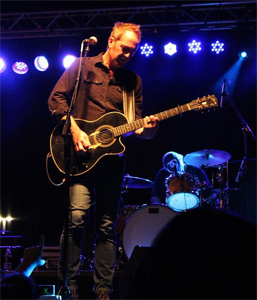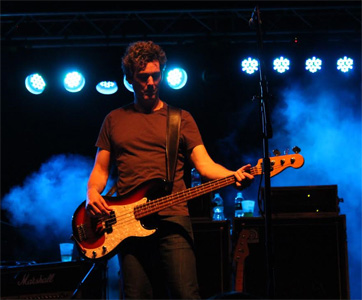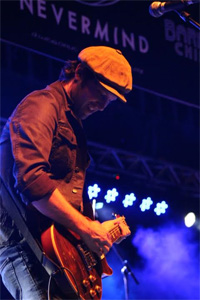 Great performance and I for one, would love to see them live again! Cheers with my glass of gin to Tonic! Great show guys!
8/10
To Nevermind, I thoroughly enjoyed the show in it's entirety and thank you for hosting it on Bike Night in Cape Coral. You just made a huge contribution to the music scene for Cape Coral and surrounding residents. I'm gonna have to come down and try the food...it looks and smells amazing!
By Juliana Kenyon-Anderson
Tyketto/Bonfire - Sheffield Corporation, Sunday March 23rd 2014
Set List: Bells Of Freedom/Tony's Roulette/Nevermind/Hot To Rock/Don't Touch The Light/Fantasy/Sword And Stone/Give It A Try/Drum Solo/Under Blue Skies/Sweet Obsession/Bang Down The Door.
The spell of anniversary tours recently continues with a double headliner of 80s bands. First up was German anthem rockers Bonfire, as is expected with bands from that era not all are original members. Vocalist, Claus Hessman and guitarist Hans Zimmer are only original members not that you can tell as they launch into opening track 'Bells of Freedom'. Claus runs the length of the stage, blonde mane still present, and vocally on form.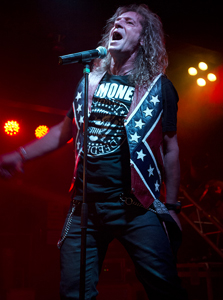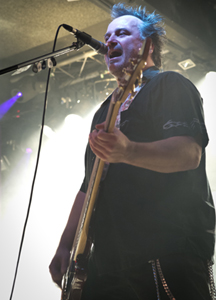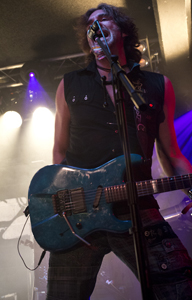 They are Germany's answer to Bon Jovi with excellent guitar anthems swirling keyboards and shout it out lyrics. Stand out ballad 'Give It A Try' got the audience singing along whilst 'Sweet Obsession' featured some great guitar licks.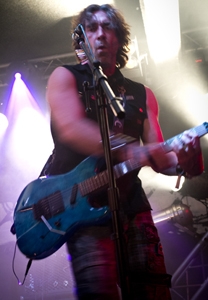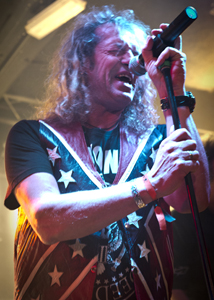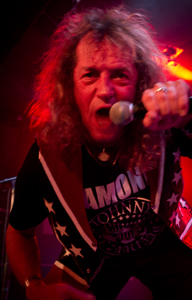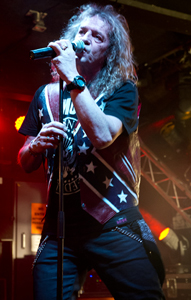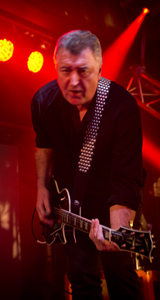 Surprisingly we got none of their biggest hits like 'Hard On Me', 'Champions' or 'American Nights' surely they could have squeezed one in instead of a drum solo?!
7/10
Set List: Burning Down Inside/Rescue Me/Faithless/Seasons/End Of The Summer Days/Sail Away/Meet Me In The Night/Dig In Deep (With Guitar & Drum Solo)/Lay Your Body Down/Sound Off/Standing Alone/Catch My Fall/Some Kind Of Wonderful/Wings.
Encore: The Last Sunset/Forever Young.
Tyketto were another band in the late 80s who never made it as big as they deserved to be, their debut album, 'Don't Come Easy' was full to the brim with radio friendly hits one of which they opened with in front of the sold out crowd 'Burning Down Inside'. No shirking of the hits for Danny Vaughan, hair down to his waist looking many years younger than his confessed 52 years of age!! Vocally strong but the crowd sang along anyway. He spoke of the bands career during tracks and his thanks to the hardcore fans for staying with them.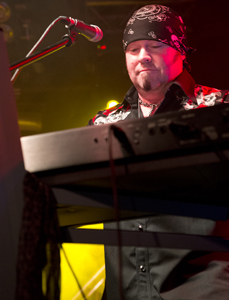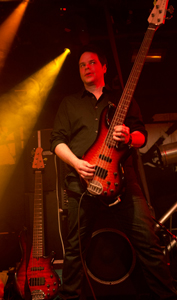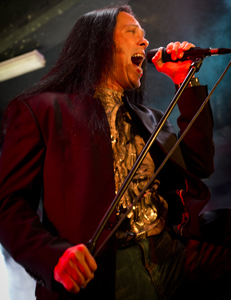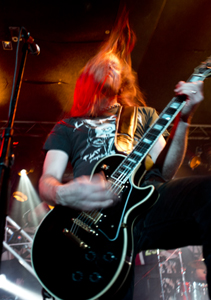 Slowing down for 'Seasons' you could clearly hear Danny Vaughan's smooth vocals were no different to 25 years ago. 'Dig In Deep' from 2012 album of same name featured a great guitar lick from new member Chris Green, popular with the female members of the crowd too! Although as with Bonfire there was a guitar and drum solo! Really?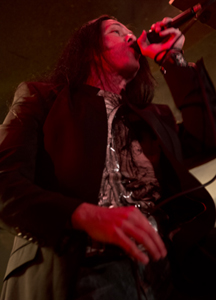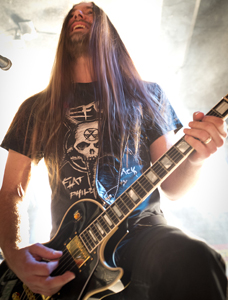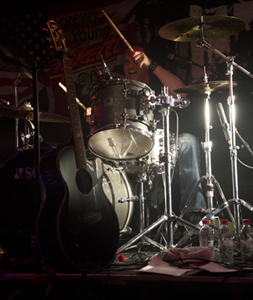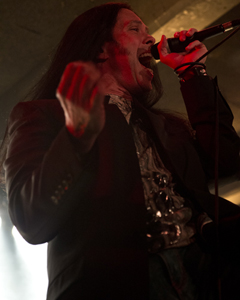 After that rather cliché interlude the band roll into 'Lay Your Body Down' with its acappella intro and rock 'n' roll groove another great track from the debut album. From New York City, Tyketto always had a strong UK following and could pass for British at times in their songs, more Def Leppard era than their New York associates White Lion on songs like 'Wings' with its big chorus, after which the band left the stage to cheers and chants of "Ty-ket-to".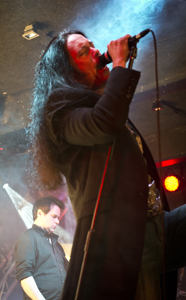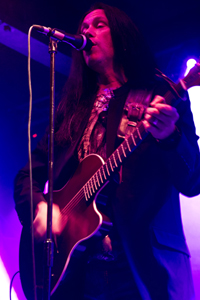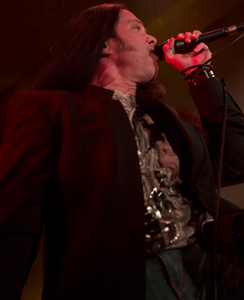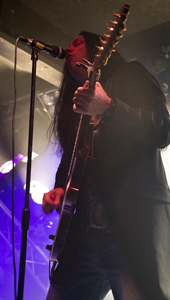 Encores are so predictable it makes me wonder why bands bother walking off! Anyway the cheers raised the roof of this sweaty club when the opening riff of 'Forever Young' started, the crowd tested the strength of the floor as they bounced along with fists raised encouraged by Danny Vaughan's outstretched microphone.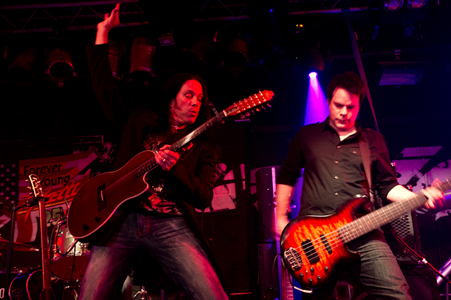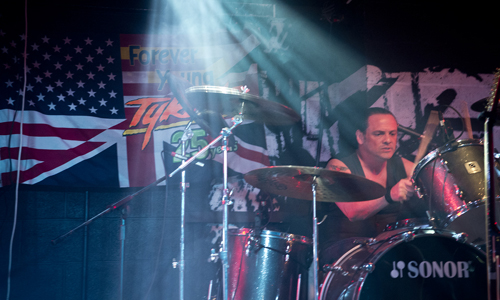 An appropriate song to finish a storming set, the band go on to shows in America now and announced they would be back in the Autumn for more shows.
9/10
Review By John Mather
Photographs By Michael Riley

Turisas – Corporation, Sheffield, Thursday, 20th February, 2014
Set-List: 10 More Miles/Take The Day/Holmgard And Beyond/Land Of Hope And Glory/Five Hundred And One/For Your Own Good/Battle Metal/We Ride Together/Miklagard Overture/Suaf.
Encore: Rasputin.
And it's my first gig at the Corporation this year – well it would have been the third but due to the extended USA trip and jetlag kicking me in I had to sadly miss a couple. I saw these guys a few years ago in this very venue and I was totally impressed then and to say I was looking forward to being here tonight and shooting this show would be a great understatement. The Finnish Five were on fire throughout their 80 or so minute viking assault on the Sheffield crowd.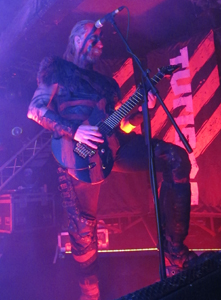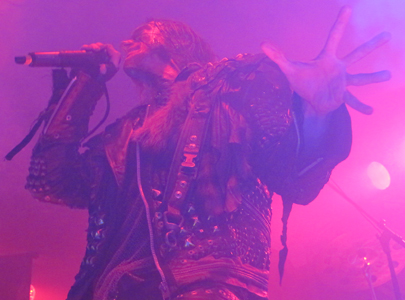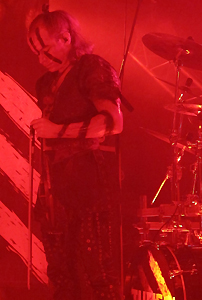 Covered in red and black war paint these battle metalheads meant business – in fact many of the crowd here were covered in it too. Man, I wouldn't fancy having to wash that stuff off before I went to bed – filthy bed clothes indeed – lol. A good buddy, Steve Froggatt and I laughed about before we went to the show – haha.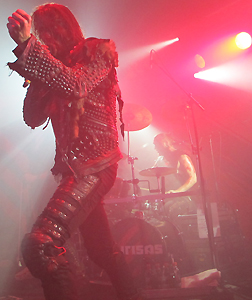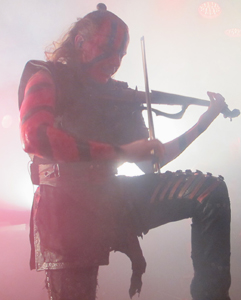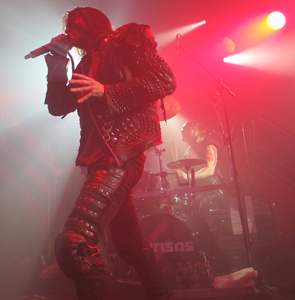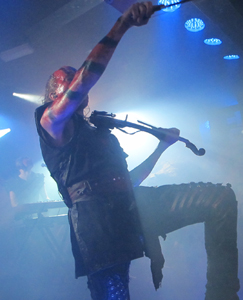 From the band hitting the stage there were swords in the air joyously swaying like they were slashing down the enemy at a cival war hundreds of years ago. The north love the norse of course and are like-minded souls showing no remorse. It's a sink or swim gig playing Sheffield and Turisas would have got Olympic medals for their performances in here.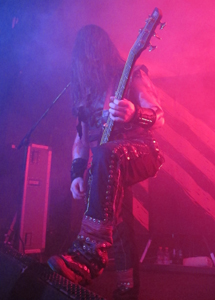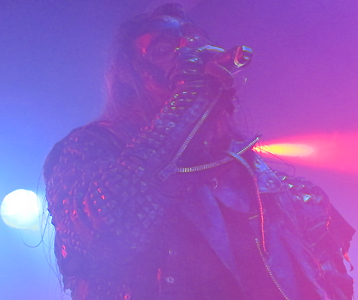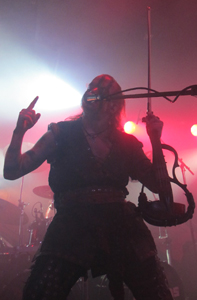 Musically this was folky, medieval and as atmospheric as hell in here with so much over the top pretense to it all but that's the way it was meant to be. A majestic panto set to Metal with violins and orchestral soundings coming from the keyboard which were the foundations for much of the songs with the other instruments and vocals built on top of this. How can you argue when you get outlandish brilliance like 'Battle Metal' that sings and wears it wounds like any strong fearless army would.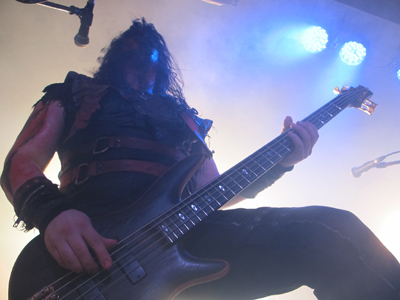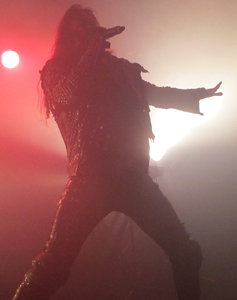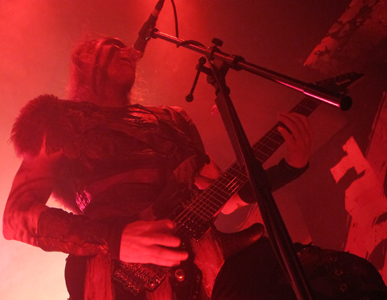 Some of it was like sci-fi film music mixed with cookie monster vocals but their were also was immensely complex prog-like arrangements and beautiful baritone and tenor singing their too with epic numbers like 'Miklagard Overture' with its pre-recorded choir ending – classical like but very spinal tap too. If the likes of Judas Priest went back in time then I reckon they would end up sounding like this as there is a lot of leather and studdedness going down on stage.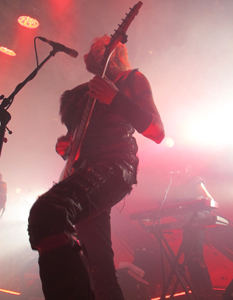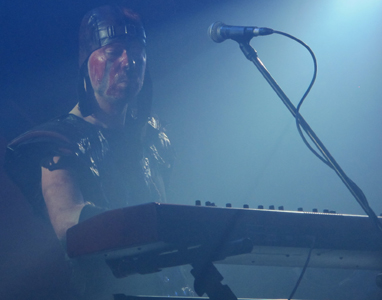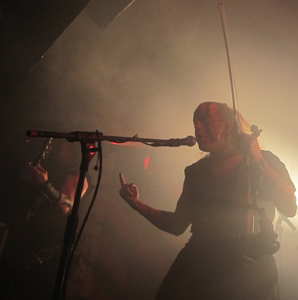 Then there was the thunderous power-metal of 'We Ride Together' that was like going back to 1988 and the glory of the best days of Helloween and such bands that had everyone singing along and going mental – hang on that was every song if I'm honest about it. Other highlights of the show included the opening swords and shields cry of positivity that is '10 More Miles'; 'Holmguard And Beyond' where no one needed asking to rock out with weapons in the air and rock out in barbaric splendour.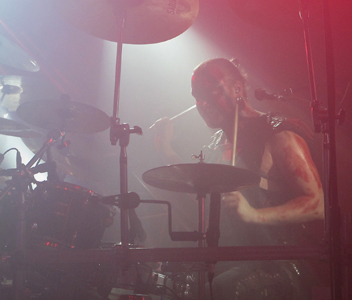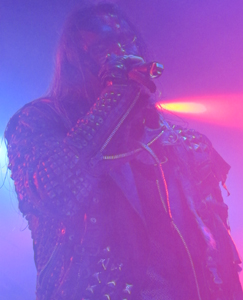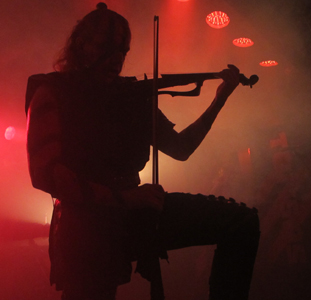 Of course, the coolest moments was the encore which I was personally looking forward to most of all – and yes countless people filmed it on their phone too. I am talking about that Boney M classic 'Rasputin' that Turisas slammed their stamp on and made it their own. The whole place went mental with all the Sheffield fans bawling their lungs out to this baby – well it'd be rude not to right?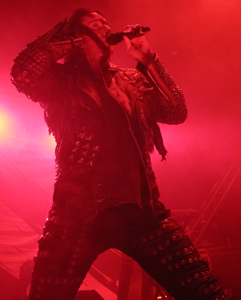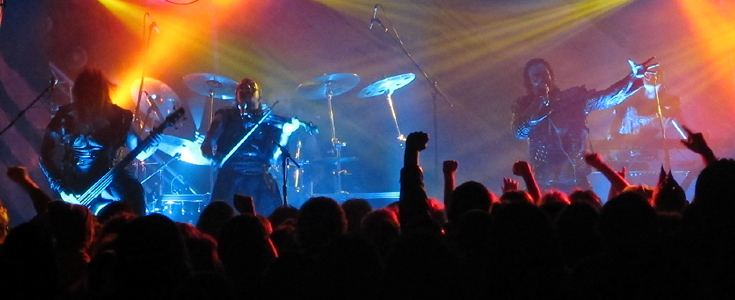 Well this gig was enjoyable as hell – see ya next time for sure!
10/10
By Glenn Milligan

Tracer/She's The Driver –
The Prince Of Wales, St. Hilda, Melbourne, Australia, February 14th, 2014
Set list: Lady Killer/El Pistolero/Dead Garden/Spaces/Wolf/Wrecking Ball/There's A Man/Maniac/Walk Alone/Too much/Devil Ride.
After returning late last year from an extensive overseas tour, Adelaide trio 'Tracer' are back on home soil and have just started set of Melbourne residency for the month of February. The first couple of shows were canceled due to singer / guitarist, Mike falling ill. However by the second week he was back in form and Tuesday night saw the first of their shows at the Cherry bar followed by the Village Green Thursday night. I headed into town to catch the first of their Friday night gigs at the Prince of Wales Public bar in St Kilda.
The Public Bar was quieter than I had ever seen it on a Friday night with a head count of around 30 punters in both sections of the bar. It was Valentine's Day and I could only presume the small crowed was a result of many of the regulars being off celebrating the night of love. In my usual form I managed to miss the first support act but made it in time to see 'She's the driver'. This band is a 2 piece in the form of a drummer and a singer guitarist. They were a bit of a surprise package managing to put together a pretty good sound with so few instruments.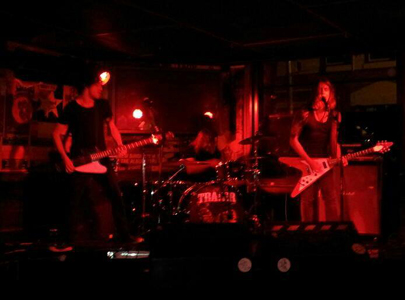 By the time Tracer took to the stage there weren't many more people in the bar than there was when I arrived. It didn't matter; all that were there were well and truly ready for some rock and roll to liven up the night. The boys didn't disappoint, I had never seen them live but I was immediately blown away. They play loud, hard rock n roll but with a disciplined edge, neat and clean rather than chaotic. They seem to have a sound all of their own and if they are influence by any band in particular I couldn't pick it. As well as an incredible sound the boys have boundless energy. The stage is small but bass player Jett managed to work the confined space to his full advantage, lunging and contorting himself into the speakers.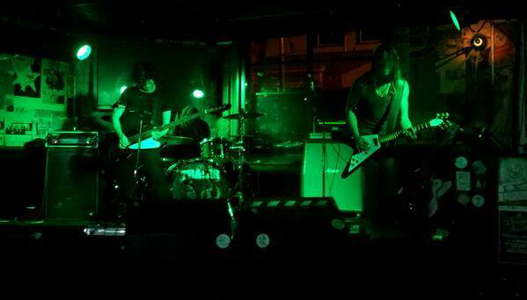 Andree beat the sticks relentlessly and by the end of the show was absolutely saturated with sweat. Mike was probably the most sedate of the 3 but the power of his voice made up for his lack of movement on the stage. Being such a small crowd the audience was reluctant to come to the front of the stage. Even after some coaxing early on from Mike most of the crowd remained cemented to their bar stools. By the mid way point the punters couldn't help but stand and move forward. After playing most of the show on a nice flying V, Mike changed guitars to an expensive looking white hollow electric from a selection of guitars at the side of the stage. From this he played a couple of more mellow blue numbers before changing guitars again and going back to some hard rock numbers.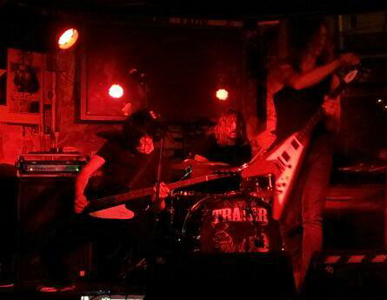 As Mike played, a stray guitar string became evident however he managed to play right through the song without missing a beat. Guitar string fixed and the band played out the last couple of songs finishing up with an awesome rendition of Black Sabbath's 'War Pigs'. I have to say these guys are pros, totally in since with each other. They look the part and have a great stage presence which kept the audience engaged for the duration of the show. Although the sound was great, the venue seemed too small and sedate for a band of this caliber. The set was over all too soon and the band thanked us all for coming and invited us back to check out next week's show. Without a doubt I'll be back to see them again before the months out.
10/10
By Liza-Lee Campbell

Trucker Diablo – Corporation, Sheffield, Friday 25th October, 2013
Heard the debut album a while since and they made a big impact on me with it so it was a totally no-brainer of a must to go and see them at last – their first ever show in Sheffield.
The gig was being held in the little room there and let me tell you that it as very rammed indeed at times with a nice equal mixture of peeps with plenty of females for a pleasant change. When the guys hit the stage we were greet with a really warm rumble sound of guitar and I knew that this was gonna be a good show with killer quality sound as well. Style-wise, imagine the attitude of the New York Bronx catapulted into the South with a Dixied up vibe to match without losing their act to the swampland and serving up a musical meal of hot, zesty, pulverising riffs that would place a smile on the faces of Zakk Wylde, Scott Ian and the late Dimebag Darrell.
Vocally it was really strong with everything coming out great in the mix I am pleased to say. Live the 'Diablo vibe is really warm and electrifying and you can almost feel the static emitting off those well-groomed goatees. The well receiving fans were in awe of this Northern Ireland based band with the guys themselves saying how happy they were to be starting the UK tour of in Sheffield and couldn't get over how well they were going down here it seemed.
Around 80 or so mins of pure loud 'n' proud fun with songs from last years album 'The Devil Rhythm' and 2013's 'Songs Of Iron' while on those boards including an instrumental snippet of some classic CCR. There was a mass highlight a plenty of great songs including 'The Rebel' with its 'Can you go any faster? Questioning in it; the cracking ballad that gives the lads chance to get their breath back that is 'Maybe You're The One'; the fast uplifting 'Drink Beer Destoy; the excellent 'Voodoo' and of course, 'Juggernaut' that started it all off for me in the first place!
These guys are a band that will roll into your town and rock it up real good!
10/10
By Glenn Milligan
Toyah - Corporation, Sheffield, Saturday 29th September, 2012
Main Set: Good Morning Universe/Creepy Room/Bird In Flight/Castaways/Rebel Run/Brave New World/Thunder In The Mountains/Voodoo Doll/Dawn Chorus/Angel And Me/The pact/Obselete/Jungles Of Jupiter/It's A Mystery/Neon Womb/Demolition Man/I Want To Be Free.
Encore: Warrior Rock/Danced/Ieya.
As soon as I knew this gig was taking place it was noted immediately in the diary since I reckoned we were in for a good show here in Sheffield with Miss. Willcox or is that Mrs. Fripp.It's a finely packed house in the big room for a 90 minute set that had musical elements of rock, punk quirkyness, slight opera at times combined pirotetting dance moves, plety of bouncing around and overall a phenomenal theatrical styled performance from one of the UK's best loved jackesses of all trades. Toyah was in the zone as soon as she walked out on to the stage and was extremely informal with the audience, exchanging banter jokes and a lot of laughter.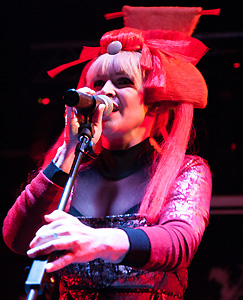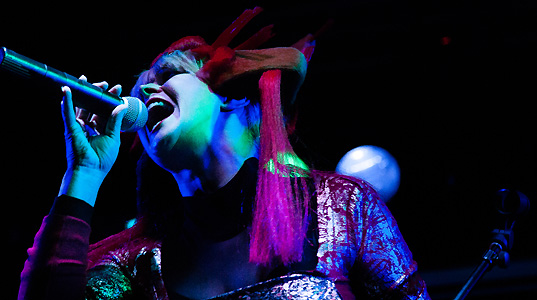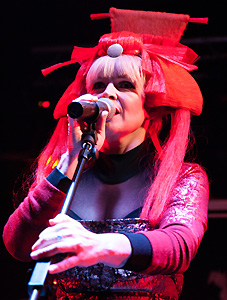 Her personality and humour up there was exceptional joking to the photographers about them taking pictures of a 54 year olds crotch and saying she loved them anyway. Voice-wise it was as though she had never been away from the stage and gave the impression that you had simply been transported back to the early 80's as she still has all the top dollar high notes intact and did not falter for a single second.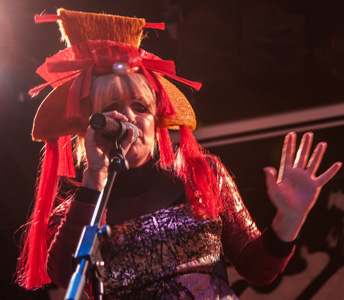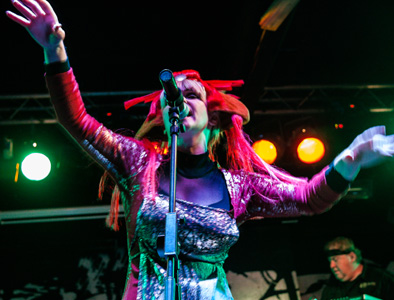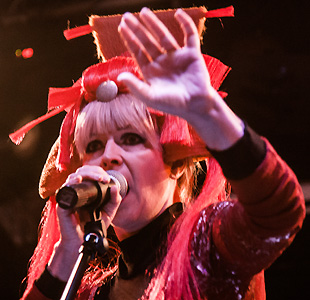 I was extremely impressed with the sheer high quality of the musicianship of her band who complimented Toyah perfectly in every song that was featured tonight. Highlights of the set included many songs from 'The Changeling' album like 'Dawn Chorus'; 'Creepy Room'; 'Castaways' & 'The Pact' that celebrates 3 decades since its release. It turns out that Miss. W hasn't been here in Steel City since 18th May 1981 and told us that she'd have been back soon if she'd realised that she'd have got this kind of reception.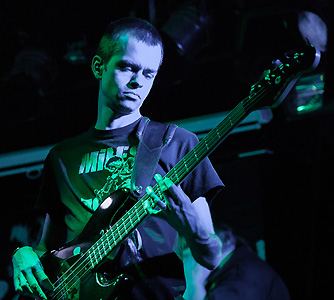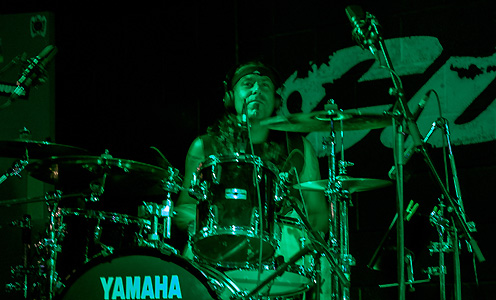 Outstanding cuts came in the form of the hit single that made her career that is of course 'It's A Mystery' (from the 'Anthem' album)'; 'Bird In Flight' with it's Hawkwind like Pop/Rock feel with plenty of spinning from the lady herself; 'Warrior Rock' with it's miltary like opening; 'Demolition Man'; the almost quirky power ballad 'Brave New World'; 'Thunder In The Mountains' as well as including the B-side 'Voodoo Doll' that she asked the title of from someone in the front row and the awesome quiet to powerfulness of 'Danced'.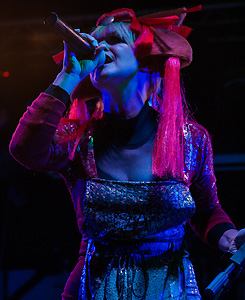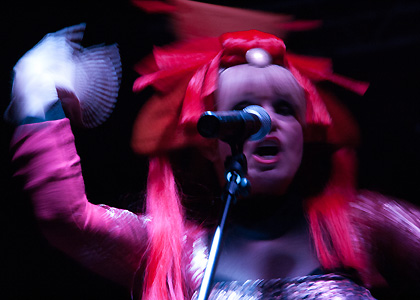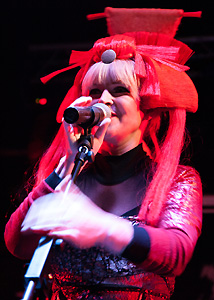 Or what about the 'Neon Womb' with it's blasting guitar work; 'I Want To Be Free' got loads of crowd singalong especially in the chorus especially in the 'Inside Out/Upside Down/Scream and Shout' sections. 'Ieya' was one of the most atmospheric songs I had ever experienced Brilliant! She told us she only had 15 minutes to do a signing after the show so came straight out to meet everyone, sign whatever you fancied and have a few photos with fans too. Man it was manic but everything was kept cool as the little legendary gem had a couple of minders to look after her.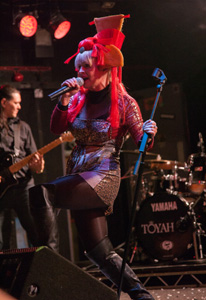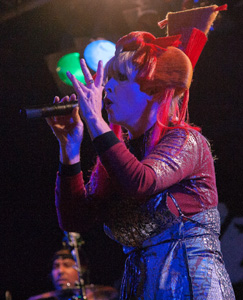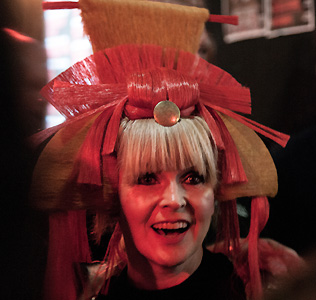 What a sweet person and a joy to see here in Sheffield. Come back soon!
10/10
Review By Glenn Milligan
Pictures By Nigel James
TEN/Serpentine/White Widdow - Corporation, Sheffield, Friday 25th May, 2012
Ten years since I was last gifted the privilege of Gary Hughes and the lads in performance and ten studio albums into their wonderful existence, Manchester's AOR mega lords return to South Yorkshire. Bringing only two other originals out of the old guards - Steve McKenna and John Hallowell - they at least bring in tow two more of the greatest melodic rock names to have risen on the surface since.
Australia's White Widdow , I am an instant fan of, delivering their Tyketto-likened hard rock to a really appreciative crowd in the Corp's 'small room'. The vocalist, a fair dead ringer for ol' Danny himself is a stage presence supreme and uses established faves new and old such as 'Cry Wolf' 'Tokyo Rain', 'Cross to Bear' and their established crowd anthem 'Broken Hearts Won't Last Forever', to copy every classic rock n'roll pose, mostly involving one foot against the amp stack and an extended microphone arm. The news later that this guy is set to become the new frontman in Welsh glam legends Tigertailz lakes me by surprise but at least he's heading from one good job to another.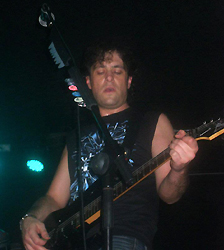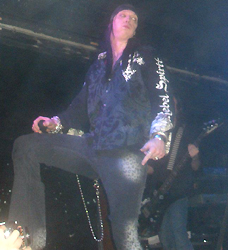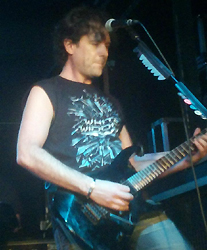 As Serpentine set foot on the boards, th appearance of newly recruited leader Matt Black incurs one or two of my neighbours to whisper didn't realise Bring Me The Horizon were on the bill this evening.' or words of that effect into my ear. Unlike the Sheffield scream-bore act, Matt is a truly talented Yorkshireman taking the helm of this lively British act from ex Shy TNT man Tony Mills….and turning out to sound practically identical while at it but hey I'd say that's rather good.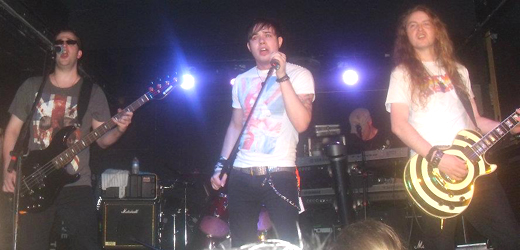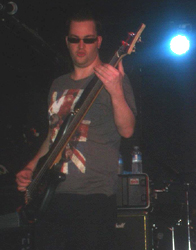 He is and they are, with hard hitting Survivor/Scarem-moulded belters like 'Lonely Nights', Philadelphia' and 'Heartbreak Town' rained down on you amongst other immediate favourites within their generous fifty-minute slot. Ladies start to cry in the latter half of the set, and most feel like it when these lads finally leave. But at least there's still the headliners to come.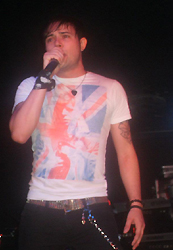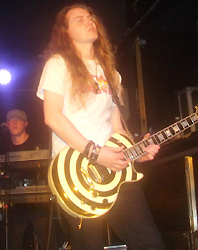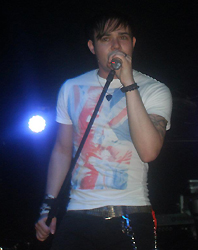 Ten must feel a lump in their throats as they set to opener 'Endless' , having probably forgotten what a Yorkshire crowd looks like nowadays. Gary Hughes, seemingly growing his hair back for the occasion is a giant on the stage, notwithstanding his actual physical stature and stalks it proudly like a man who owns every end of the boards as 'Spellbound' shrouds us all with its Magnum-esque magic. Only an hour-and-a-quarter to use as opposed to the 90-plus they used to have at their privilege, the favourites have to be considered wisely but it doesn't deter them from doing the ten-minute entries.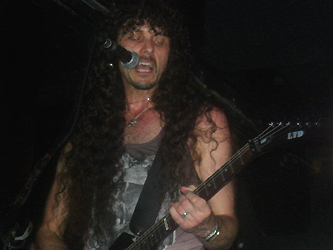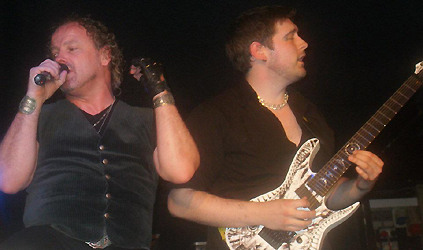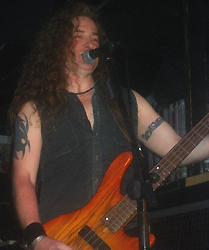 Sans intro, 'The Robe' is still one of the bands defining cornerstone's as much as on its arrival in 1997 and the choir segment sounds far more powerful than on disc, likely because of 100-plus punters singing along across the railings. Still unashamedly poodle-haired, John Halliwell keeps his corner of the stage, stuck for moving room as it is due to width and also Gary moving wherever he also tries to.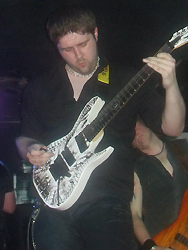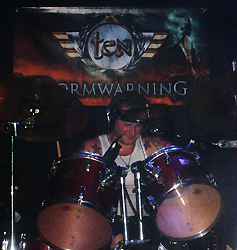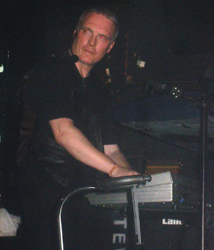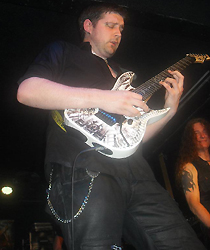 'Ten Fathoms deep' and 'after the love Has Gone' are another two numbers no Ten set, no matter how short can survive without and that's before counting the audience as well but recent material from last year's 'Stormwarning' album always has a fan or tow in the room, hence the quadruple onslaught of 'Hourglass And The Landslide', 'Love Song', 'Book Of Secrets' and 'Centre Of The Universe' to appreciative fists raised high at the front. Celtic bopper 'Red' closes the main body of the set as suitably as always before an imaginary walk-off-walk-on heralds 'Name of The Rose'.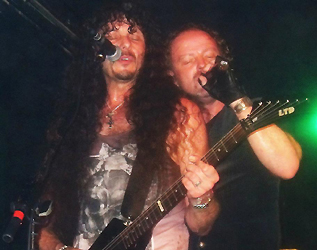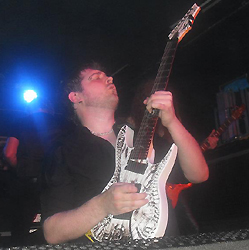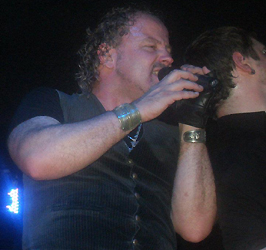 Still the pinnacle of their many powerful albums to date, the dominating title number is an incredible tour de course of modern hard rock with classic Whitesnake passion from Gary's gravely lines. Shorter than we are used to from a Brit headliner, these guys have come back k with a cunning vengeance to win the trust of their fans across the country, not that they lost it in the first place actually.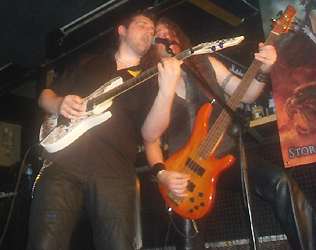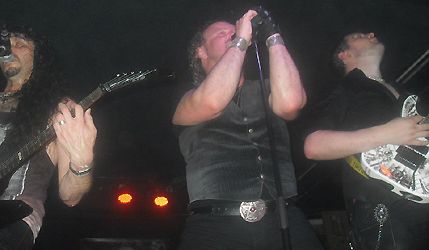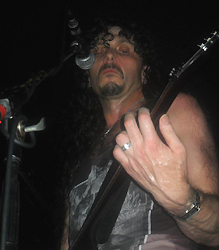 Young or old, one is never the wrong age to still appreciate what music and musicians like these mean to us in todays sideways rock n' roll industry but as Ten testify once again, strong talent and outright titanium performance always prevail.
10/10
By Dave Attrill
Mike Tramp & The Rock & Roll Circuz /Crimes of Passion -
Corporation, Sheffield, Friday, 14th October, 2011
COP SET LIST: Body and Soul/Save You/Love Is To Die For/Pretty In Blood/Hell and Back/Blackened Heart/Blown Away/Accidents.
For the local band, another local gig that continued to show why they are a much sought after opening act. Tonite Dale and the guys are treating the home fans to a preview of their new album, 'To Die For' which was released in Japan on the the 24th of Aug. this year. A UK/European release is currently under negation and tentatively scheduled for Feb. 2012.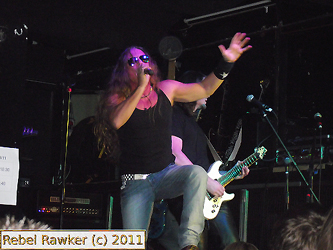 COP is aggressive yet structured and make a small stage feel like an arena as a non-stop aerobics class with a pounding dual guitar onslaught and bass lines that make the back of your throat wobble, have you tapping, swaying and shouting for more. COP only have a 40min set but they do know how fill it.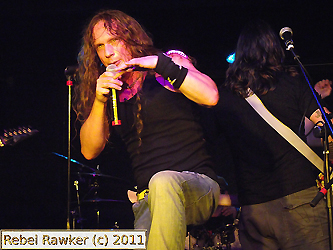 With the amount of sweat which is pouring off of Dale by the end of it you know he lost at least 10 pints but will make that up later at the bar. COP are currently supporting Mike Tramp & The Rock & Roll Circuz on their European tour until the beginning of November and then take a 2 day break before opening for Saxon and Anvil on their European Tour until early Dec.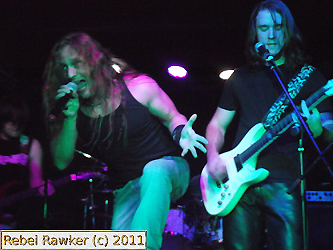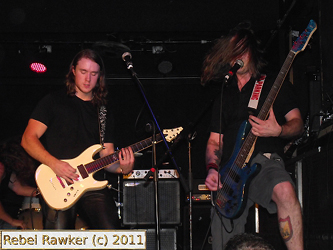 If you haven't seen COP live then you need to get to a show and find out why these guys are destined for bigger things in the future.
7/10
M.T's SET LIST: Gotta Get Away/Alright By Me/Little Fighter/Come On/The Soldier/Wish You Well/Don't Let Them Put It On You/World Is Changing/Broken Heart/All of My Life/Back to You/
When The Children Cry/No Tomorrow/Between Good & Bad/Hymn For Ronnie/More to Life Then This.
So needless to say I have been to a few shows in my time and the ones that normally stick in my mind are the ones that consist of good fans and a bit of beer and whiskey and most importantly a band that knows how to keep me entertained. The last time I had seen Mike Tramp was when he was with Freak of Nature over 15 years ago. I have been a fan of this gifted songwriter for some time and was a bit curious as to what tonight would bring as the last time he played here in 2009 he considered it to be the worst show he had ever played and let the world know about it. So I didn't have any high expectations.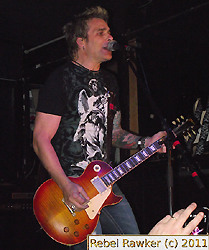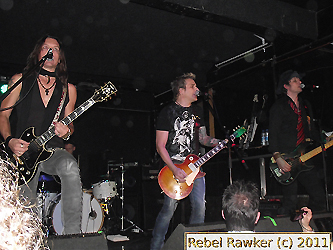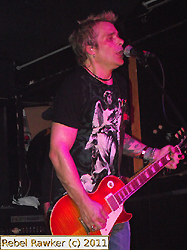 Tonights show is in support of the album 'Stand Your Ground' which was released earlier in 2011.So when the opening chords hit of 'Gotta Get Away' suddenly the crowd become ignited. Soren Andersen is a very gifted guitarist and his presence and antics show why he is constantly in demand and why the crowd was reacting in a frenzied manner. Mike's voice is in top form as he moves from the rockier guitar rifted tracks to the more subtle ballads.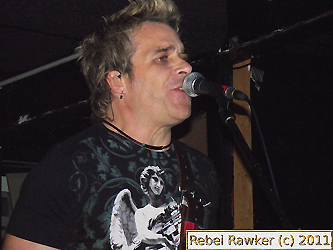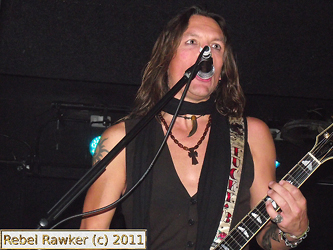 If any body was expecting a White Lion greatest hits tour they would have been disappointed as only 3 tracks in the 90min set were from that period of Mike's career. But, the fans didn't care instead what that received was a fantastic display of songs, and technical musicianship from a group of players who were there for one reason only.......the music !!!!! The songs covered everything from poltics, to love, to break up, the meaning of life . This was a Rock n Roll Circuz and Mike Tramp as the ringmaster ensured that the band delivered and the crowd enjoyed.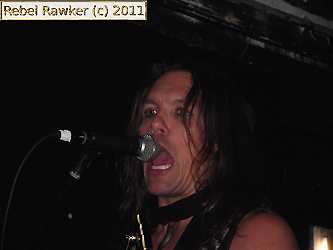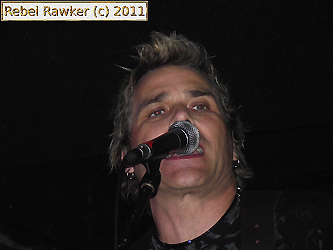 From improvisational blues interpretation of 'When Children Cry' to 7 minute rock epic, 'The Soldier Never Started a War'. Closing out the show the tribute to the late great Ronnie James Dio, 'Hymn for Ronnie' was a definitive crowd pleaser. It all ended with the great title track from Mike 2003 solo album 'More to Life Then This'.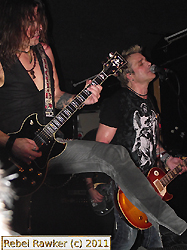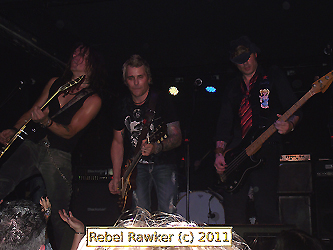 By the end of the night everyone I spoke to could only say how much they had enjoyed the show..So for Mike and The Circuz it was a job well done … for me it was great to see somebody who has been in the business over 35 years get up on a stage for the music and nothing else.. I won't leave it another 15 years before I see Mike Tramp again..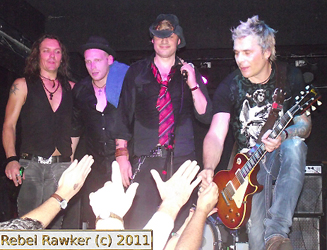 Mike Tramp and The Rock & Roll Circuz will be touring through till early Dec. throughout Europe so if you get a chance to see 'em don't miss it..
8/10
By Geno D
Tigertailz/Spit Like This -
O2 Academy 2, Sheffield, Wednesday 18th May, 2011
Spit Like This Set List: Dragged Kicking And Screaming/Oh No! Here We Go/Zero To Sixty/Normalityville Horror/Obscene/Teen Angel/Sick.
Spit Like This hit the stage in front of about 25 people which frontman Lord Zion counted 1 by 1 and pleasured the fans with scariness and songs from their various albums and EP's. A lot of which was very ramshackled punked out and tuneless with unexpected twists and turns of direction that left some of us baffled.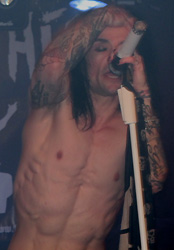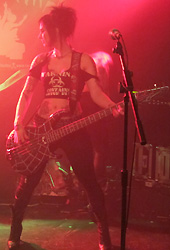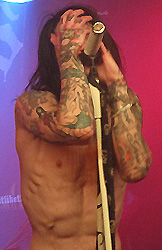 They even messed up one of their numbers and told us as well - lol. Imagine Murderdolls crossed with the Sex Pistols on a really bad acid trip that does not get any better mixed in with The Rocky Horror Picture Show and you are somewhere close to what 'Spit Like This' sound like.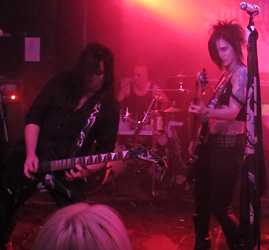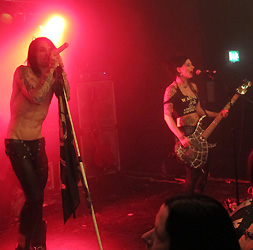 At least they don't take themselves serious.
5/10
Tigertailz Set List: Sick Sex!/Wazbones/Living Without You/I Can Fight Dirty Too/Brain The Sucker/Long Live The New Flesh/Robin Guy Drum Solo/Love Overload/Heaven/Noise Level Critical/Shoot To Kill/Lick It Up/Natural Born Animal/Jay Pepper Guitar Solo (Robocop)/Tear Your F*ck*n' Heart Out/Call Of The Wild/Love Bomb Baby.
Tigertailz - the only Sleazy Glam band from Wales are a different ball game altogether who absolutely blow the fans away, whose attendance appears to have nearly doubled. Only Kim Hooker and Jay Pepper are left from the Bezerk line-up of the band, as they sadly lost Pepsi a a couple of years ago and Ace left way back before the re-unuion (but did take part in one feat. original vocalist, Steevi James, who sang on the debut 'Young And Crazy' album). In the band with Jay and Kim now are Robin Guy (of GMT - GuyMcCoyTorme) on drums and Sarah Firebrand on bass.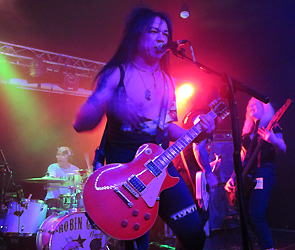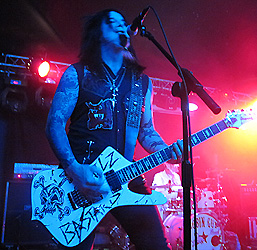 They are so pleased to be in Sheffield and say the name of the City several times throughout the set. They really are humble, down to earth characters with a great sense of humour. Jay forgot they supported Ace Frehley a few years ago at Corporation - with Kim making fun of him immediately and the audience laughing too at his expense - all in fun though. Mr. Hooker said we looked undernourished and offered out his giant bag of cheesey Doritos which he says they live on and even informed that him and Jay had wrode up on the bike from Cardiff that day and were soaked - we made it all worthwhile for them.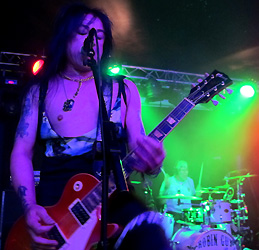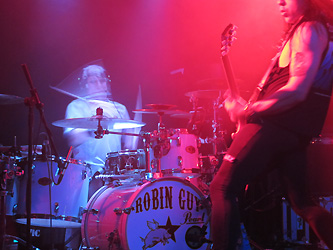 There was a healthy helping of songs from the 'Bezerk!' album which included 'Noise Level Critical'; 'Call Of The Wild' & 'Sick Sex'. Robin Guy's drum solo was unbelievable incredible and it's little wonder that previous bosses of his inlude the likes of Iron Maiden's Bruce Dickinson as he is a total marvel with the stick gymnastics that are twirled and rolled around the kit with 100% total ease.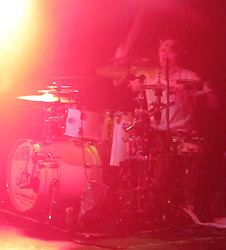 They are all in exceptional voice throughout the night, especially frontman, Kim Hooker who hit all the high notes without a single problem - and that's without instrumental backing at times as well. He also had us singing for him in classic songs lke 'Heaven' which he said is dedicated to the ones you love that aren't with you anymore and for those who still are - or words to that effect. He was impressed with the crowd in here when we belted out the chorus of the Kiss cut 'Lick It Up' and said, 'You Guys Can Really Sing!' - you betcha we can - even in hayfever season!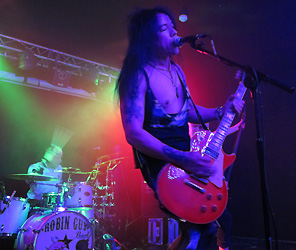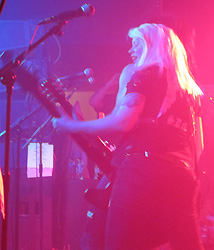 At one point he had to move to Sarah's microphone as his slipped down and had to be readjusted - but didn't miss one word. Jay Pepper asked us how many Status Quo fans were in the audience - I think about 2 of us admitted to it and he gave us a bit of 'Whatever You Want - splended Sir! and Jay was a real sport too and wacked out some soloing for us on his axe - 1st time I ever heard anyone blast out the theme from 'Robocop as well with even a bit of AC/DC creepin' in after as well.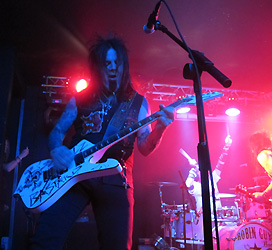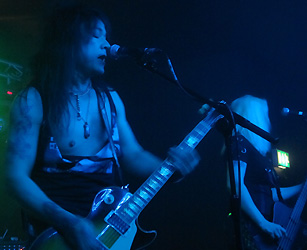 It was good to see that they didn't ignore some of the material from the 'Young And Crazy' album and were treated to kickin' songs like 'Shoot To Kill' and 'Livin' Without You' which no doubt only the hardcore knew - hahaha - shame on those few at the front that didn't - hah. Of course 'Love Bomb Baby' closed the set - they did wanna play for longer (and apologised for the fact) but were told they had 5 minutes left on the stage - oh the joys of corporate rules! So we missed out on their covers of 'Deuce' and 'Crazy Horses' - dammit - but what we did get overall was f*ck*n' out this world - there should have been more of you there - no excuse - 'The Apprentice' ain't worth stoppin in for - lol.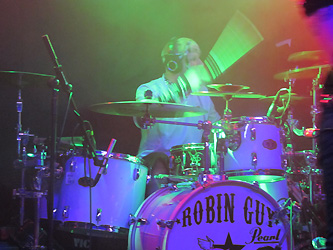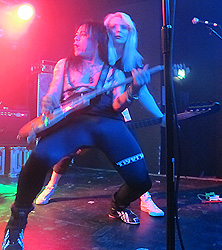 After the official closure of the set they had us and them singing to the extra choral parts of 'Heaven' and immediately after went to the merch table to meet everyone, sign autographs and have one or 2 pix with peeps as well. One hell of a brilliant night and a total credit to Wales and the UK overall!
10/10
By Glenn Milligan
Trigger The Bloodshed/Bleed From Within/The Dead Lay Waiting -
O2 Academy 2, Sheffield, Monday 7th June, 2010
With the hot but miserable look on the weather I arrived late for the first support band, which was The Doors (lol – funny one there Kayleigh - Editor). Some people that stood outside look bored and bothered. I don't know whether it was due to the weather or the gig that had started so far.
After we got in, The Dead Lay Waiting was still setting up at quarter to eight. The crowd was literally a handful of people between the ages of 16 –19. First up was The Dead Lay Waiting, who categorised into the emo, screamo genre. The singer was really passionate during the set list and he really got the crowd going, who were head banging and giving it some welly. The lead vocals were clear as well as the back-ups from the rest of the band. They played a good set with songs from their 'We Rise' Album.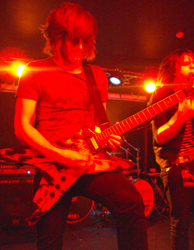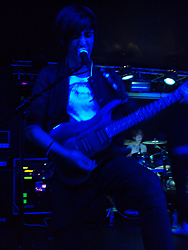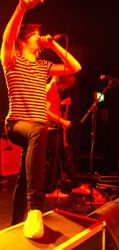 There wasn't one minute that the crowd gave up pitting and head banging which showed they were well known and showed how to put on a good show, the crowd was really giving it some. The singer made everyone get involved including me by jumping up and down, talking to us and getting into the music by jumping off the speakers, doing splits as well and leaning into the crowd to grab them. They made the crowd excited as they told us with enjoyment they were playing at Download Festival in a couple of days, with bands such as Rage Against The Machine, Lamb Of God, Trigger The Bloodshed & Stonesour Etc.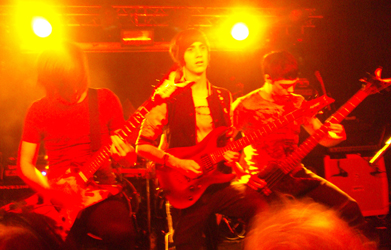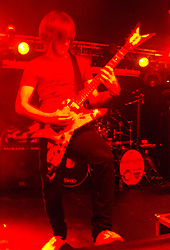 After The Dead Lay Waiting the crowd seemed cheery and excited for Bleed From Within. It took a while as members of staff dismantled the drum kit and swapped parts. While Bleed From Within was setting up and testing microphones, the band members from The Dead Lay Waiting stood with the crowd and eventually came up to me, Jason, Alex and others that were hanging around us, they shook our hands whilst tell us about t- shirts, cd's and wristbands that were up for sale, they were polite and friendly as they spoke to us and had pictures taken by crowd members.
As Bleed from Within came on, The Dead Lay Waiting stood near stalls and watched. Yet again they got the crowd going with more people involved as they put on a good performance, the band stood categorised with Bring me The Horizon as the singer looked like an Oli Syke's wannabe with the sleeve tattoo and hair growing into the style. I would have to say they were much better than BMTH as they were quite good, showed excitement and wasn't a band that was 'up themselves.'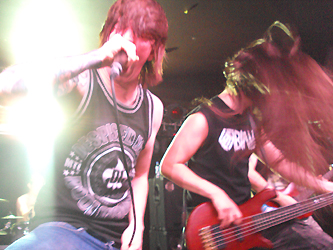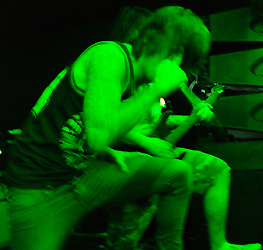 A downfall though was that some of the time the death growls that the singer did, you couldn't hear what he was saying and was all muffled up, some crowd members who had listened to them knew what they were saying as they mouthed along whilst head banging again and fisting the air. Bleed From Within played songs from their albums 'Empire' and 'Humanity' with songs such as '……'. They put on a excellent show and really got the crowd giving it some during songs, they left the stage with an appealing announcement for Trigger The Bloodshed.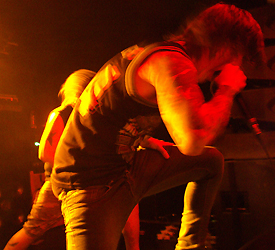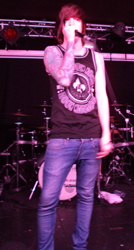 Whilst waiting for Trigger The Bloodshed to come on, Jason and me spoke to the singer from 'The Dead Lay Waiting' and managed to get a ticket and photo pass signed 'with love,' whilst waiting for Trigger The Bloodshed to appear, we all stood outside due to the sweat and heat off people. Outside we could hear the music playing whilst they set up and sung along to Slipknot, and had a laugh whilst cooling off.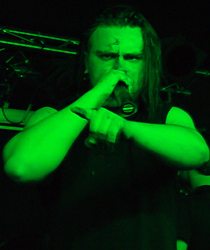 As soon as we heard drums being sorted we didn't hesitate to stay outside, so we all went back and stood at the front whilst the band were microphone checking and playing tunes on guitars. As they started the crowd went wild. With excitement, enjoyment and a hell of a lot of pitting. The singer had managed to put blood pellets in his mouth and a discussion started about whether he's bust his lip or his nose as we jumped up and down and swung our heads around. As the singer head banged during guitar solos blood from the pellets had gone everywhere and on everyone.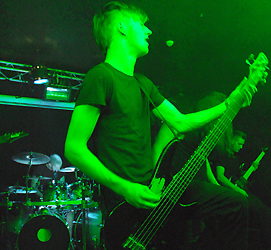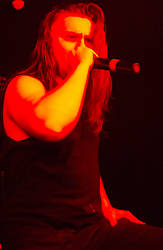 They played most songs from 'The Great Depression' album and 'Purgation' album with songs such as. Again there wasn't one second that the crowd didn't stop with head banging and pitting, it really was a night to remember. Trigger The Bloodshed had co-ordinated the guitarist when to head bang, move around and act enthusiastic, which made it all go well and put on a good performance, and showed how professional they are. The set list was well organized, well presented and to be honest was really good. Trigger The Bloodshed left the stage pretty pleased with themselves at the fact they were playing at Download as well.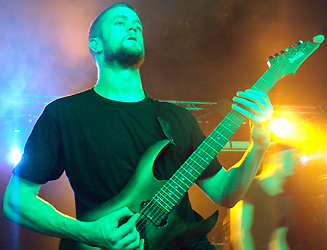 It was an amazing night.
8/10
By Kayleigh Watson
Please Note - For:
Martin Turner's Wishbone Ash - The Boardwalk, Saturday, 20th February, 2010
Please see W page of Live Reviews.
Terrorvision/Rebel Yell's –
02 Academy, Sheffield, 13th December 2009
Rebel Yell
Rebel Yell started the show in freezing conditions to engulf the crowd with upbeat rockabilly style music. The guys came on and played professionally with an energy that would get any ice frozen crowd going. Not often do you see the parents of bands but the woman at the front with their T-shirt on was giving it some right welly and good of her for supporting her son.
Terrorvision

Set List:-
Alice What's The Matter/Oblivion/Stop The Bus/Discotheque Wreck/Middle Man/Still The Rhythm/Ten Shades Of Grey/Stab In The Back/Pretend Best Friend/Time O' The Signs/What The Doctor Ordered/Some People Say/What Makes you Tick/Friends And Family/Tequila/Suffocation/Mr Buskerman/Celebrity Hit List/Josephine/D'Ya Wanna Go Faster/My House/Perseverance.
The funsters Terrorvision from Bradford were going through a 5 date tour plus one at Hard Rock Hell 3 in Pontins, entered the blood freezing 02 venue. There could be more people here, but I must admit the gig becomes more private, like a special show for diehard fans. Like at Hard Rock Hell 3, Tony Wright even looks dolled up for the occasion in a grey suit and trainers and after a bit of jumping around he was sweating like a pig.
The set runs through 'How To Make Friends And Influence People' from start to finish, with Tony Wright saying "We may have guessed which song is next". Even the 'Tick, Tock' recording was included at beginning and end of the set.
As the rest of us were just warming up, Wright added, "I bet this is the warmest this place has been all day...!" before 'Pretend Best Friend'.
The band played tracks from across other albums, with a couple of rarities for the hardcore fans. 'Suffocation' and 'Mr Buskerman' are from their compilation album 'B-Sides and Rarities' as well as a couple from their 'Good To Go' album, then the original 'Tequila' a slowed down jazzier version, that is sung like you've had a few too many. 'Josephine' from the same album is up with 'Celebrity Hit list' from 'Regular Urban Survivors'.
The encore carries on with the excellent 'My House', followed by the catchy 'Perseverance', with a finish at 10.30pm, just right for a Sunday night. This jig was just a fun, energetic show for all, what a shame about the freezing conditions and the sticky floor.
9/10
By Tony Watson

Testament/Onslaught/Warbringer –
Corporation, Sheffield, Monday, 20th July 2009
We waited years- a whole 22 of them - for metal heavyweights Testament to visit Sheffield and suddenly come twice in the space of six months. Having whet many a happy metaller's appetites with their support slot at the Judas Priest/Megadeth show, corporation management suddenly recognised the San Frannie quintet's still existent potential for decent ticket sales from a steel city headliner.
As a bonus they brought along not only Brit thrash legends Onslaught but also California's latest additions to the current generation of the speed metal family, Warbringer, who impress the already full Room 1 from 'go'. A kinda five-piece Slayer both to look at and to listen to, their twin guitar batterings bring UK hotties Evile and Gama Bomb instantly to mind, along with nearly the entire Bay Area band population itself, topped by very pleasantly Araya-like rasps from their vocalist while the solos themselves are pleasantly sweet fast and accurate.
Their slot only allowed them to get six numbers to the ears of the appreciative metalheads in here tonight, therefore a full length Warbringer gig should definitely not be far off, for they have made a sizeable portion of fans out of the 600 people they meet this evening... well me plus about 599 others, should I say. Welcome to the world of real metal, lads.
8/10
By Dave Attrill
Next up were another great band from the UK and I talking of none other than those metal titans who go by the name of Onslaught, who haven't been seen or heard in these parts for quite a good while. By all accounts of fellow metalliville scribes, Dave and Tony, they only have one original member from back in the day – this being their drummer.
That aside, it makes absolutely b*gg*r all difference to their show as they give us a full-on thrash assault with old and newer classics alike and informing us that some of the numbers are available on their new live cd that was on sale tonight.
A real impressive set with guitar solos a-plenty, not to mention some amazing interstellar well-controlled vocal acrobatics that you don't hear enough of these days. I do hope it isn't long before we see them jumping on this 'ere stage in the future as they go down tremendously – who said metal is dead and buried? Only them that want it to be – these guys prove it's truly alive and well and will be for many more years to come.
10/10
By Glenn Milligan
I can remember watching Testament the first time they came to Sheffield when they backed Anthrax at the City Hall. How times have changed.
It seems Testament have been quite for some time and all of a sudden they hit the UK in February backing Judas Priest and Megadeth before hitting the road by themselves by starting their UK tour at the Corporation in Sheffield. If you are new to Testament live, what a way to be engulfed by their passion, fury, aggression and violence. Testament hit the stage like a rolling wagon that wasn't going to stop for nobody or nothing.
Testament ripped through 'The Formation Of Damnation', 'The Evil Has Landed' and 'More Than Meets The Eye' off the new CD 'The Formation Of Damnation' to name a few but also tormented the die hard thrash fans with a good mixture of old stuff such as 'Over the wall', 'New Order', 'Into the Pit', 'Practice What You Preach' and 'Souls of Black' which got most of the crazy fuckers kicking the shit out of each other.
The down side to this gig was that Chuck had to change his microphone twice, which to me let it down slightly, but I also struggle to see how anyone can express themselves as a band with such a small stage. But never mind it was still awesome.
9/10
By Tony Watson
Thunder - City Hall, Sheffield Saturday, 4th July 2009
Thunder, well what can I say. I blame my wife, as it was her who got me into them and I tell you for nothing, I'm glad she did.
Thunder are one of the best entertaining bands I have seen, every time I have seen them, I get a greater respect for these five guys. They not only produce the goods but also know how to entertain the crowd. There was a rumour going round it was their last tour, so maybe we were expecting something different, but I'm glad they did what they do best, which is rock the ass off everyone.
From the start of the gig to the end, Thunder rocked, rolled, shaked and grooved and invited all the audience to do the same as they professionally produced a show that would give anyone the full admiration of such a classic rock band. Thunder played most of the classics such as 'She's so fine', 'Everybody wants her', 'Love walked in' and 'A better man' to name a few but this didn't give anyone any idea that they may not see this wonderful band play again. They never even said this is our last tour, so was it a rumour or not.
Lets hope not as this is a band that knows how to rock and knows what the audience wants.
10/10
By Tony Watson
THUNDER/Airrace - City Hall, Sheffield, Saturday, 4th July 2009
SET LIST - Backstreet Symphony, River Of Pain, Blame It On The Radio, Until My Dying Day, Gimme Some Lovin', Empty City, The Devil Made Me Do It, I'm Dreaming Again, Laughing on Judgement Day, You Can't Keep a Good Man Down, Love Walked In, I Love You More Than Rock 'n Roll, A Better Man, I, Dirty Love.
Ten years ago, Thunder broke it to the world that they were calling it a day, in order to disperse and follow pastures new. We, the loving faithful, largely believed this at the time to be a case of 'too-bad-to-be true and were proved right when the guys returned 3 years later after the comparative (lack of..) success that the Bowes/Morley and various other projects had garnered.
Come to 2009 and it may be even more likely to be for ever this time but we've still got one more evening with rock's five favourite British gentlemen to savour. AOR newcomers Airrace warm proceedings up to high degrees with a set that swings the clocks back about 25 years, back to the era when it was not a crime to sound like Journey and Van Halen (aah, the days). Almost definitely guaranteed a hammering in Kerrang, this UK six-piece needn't worry about getting one here - their material is incredible live and a listen to their CD is highly looked forward to.
A major rule of playing your last gig(s) is that not only you go out the way you want to be remembered but come in that way too if at all possible so the stomp of that title tune form their legendary debut album is the obvious choice for Thunder to introduce themselves to 2200 adoring acolytes this time round. When 'Backstreet Symphony' was last performed at the City Hall, I missed the entire tune through finding my seat again in the dark a consequence of leaving it to the last second to go back in, children - so the gig is made special before its even begun.
River Of Pain follows right behind' and the crowd totally love it as always. The comedy begins early today as Danny teases the punters at the end of 'Until My Dying Day' before finally kicking into the last chorus with majestic voice'. A song I'm going to miss, hearing this incredible ballad onstage again at last was a treat. 'Gimme Some Lovin', 'Empty City' add to the emotional moments having been favourites from the early days then 'Devil Made Me Do it' caps off the brace with swagger, despite this time sadly lacking the shirt-waving young ladies in the dress circle that caught as much people's attention as the belter itself, before. Maintaining a latter-era element, 'I'm Dreaming Again' is an excellent Thunder tune that captures all of the ballad-esque hallmarks off the first two LPs.
Eventually, after another couple of classics from both ends of the Croydon boys catalogue, the daddy of them all comes with 'Love Walked In', the tune that many a tearful housewife has attended to hear live one last time. Quite abruptly departing the boards to return again, 'I Love You More Than Rock n' Roll' and Harry's trademark guitar moment 'A Better Man' duly entertain for all the right reasons and fetch a towering reception. We soon find out why the main set ended so early as 'Dirty Love' returns, complete with ten minute sing-along-a-Danny session which serves to fulfill their promise to cap the show off in Thunder's best remembered manner.
And so, what, may I ask, will we remember Thunder best for..............where do we begin exactly. One list that goes on forever, a major entry would read 'Five top British blokes playing classic good old straight ahead rock n' roll songs with all suss and not one single ounce of arrogance' because that in a nutshell is what they have always proved themselves to be nothing other than, to all to have ever met them in their life as a music fan.... Oh, and of course also for putting on an effing blinder of a show in Steel city once more. The only time they've played here on a Saturday, they had to save the best til the last.
You will be missed lads.
10/10
By Dave Attrill
THUNDER
1987 - 2009

TRIPSWITCH/CLIMATE OF FEAR/ BACK TO THE SEA /WE WERE SUPERHEROES -
Mayfair Club, Louth, Friday, 29th May, 2009
Getting to see a gig outside Sheffield for the first time in about 4 years is a privilege not to be ignored by the Attrillmeister even if it was at only 3 hours notice from my assorted friends, who include one of the four participating acts.Setting up equipment in a local youth club in the middle of a council estate, I'm curious to what audience we are supposed t o attract though one's initial doubts are soon quelled by the sight of a couple of dozen eager young metalheads gathered in the car park outside.
Young Schoolgate five-piece 'We Were Superheroes' are up first, frankly making a poor first impression of the evening in peddling out some very school-age metal, i.e. bog standard shoutcore racket. The guitaring doesn't literally remain bland all the time but this is still not enough to save them- in fact my mate Ian finds them so bad he leaves the room after one tune.
4/10
Sheffield outfit 'Back To The Sea' follow up an impressive showing at West St Live earlier in the month with another solid assault of their unique stoner-core sound. The only single-guitar act of the evening, their man Daren doesn't need another axe being ground alongside his as front man Faru's sonic tensity doubles for the role.
Battering rhythms of Roots-era Seps are heard at least once per number but their classy metal grooves just as relentlessly sustain the ferocity of the mix. Proving an instant hit with the local kids, as the moshpit demonstrates, their first visit to Louth Mayfair club may not be their last.
8/10
Climate Of Fear are more school-agers but better schooled than WWS were- put into more comprehensible words, they have songs. Though it's a case of two guitars capped by near-incessant screams in account of vocals, there's a much more diverse edge, with some welcome alt.rock intervals, and they do know how to inject melody in when one least expects.
A surprisingly tight and substantial onslaught plus awesome stage presence from the vocalist, not that he ever is on the bleeder, these lads set out as many do, to impress and well…. seemingly have succeeded. More again, please lads.
7/10
Taking on board the fact that this currently renders the score as reading two-bands-good, one (bordering on) -sh**e at this stage, headliners Tripswitch have it cut out for them to live up to the two preceding acts. Like BTTS, these guys are a thirty something HC outfit playing the sort of noise they ought to know better than at their age but stuff it, they play it great with grindy lines on both guitars and bass and are comparable to a throw-in of the other troupes produce.
Looking as if they've seen a good few other bands in their time, in appearance TS are a mixed bunch of characters but this doesn't ruin their noise and their old-school HC appears to have come with a reputation - (they do have a stall selling Tshirts and discs). Banter with the moshers is good too, throughout with a stray garment contributed by one of the kids in attendance also contributing to the humour.
A good night rounded off by a band who certainly know how to entertain though most here tonight have been so for the last 3 hour duration either way. While not one of the most prolific of places fro a metal gig to be staged, Louth certainly has earned its place on the map today.
8/10
By Dave Attrill

TYKETTO/Crimes Of Passion -
Corporation, Sheffield, Sunday, 1st February, 2009
I'd feared that the news of these lads shedding one member from their promised original line-up might have incurred the return of a few tickets for tonight's gig. Oh, yeah, like Tyketto's fans are that shallow – if anything, PJ Zitarosa's reputation has swollen with his work on Danny's first two Vaughn albums, looking at the Corp's amazing well-packed out room 1, a good 4-500 hundred braving the snow for the show.
Three quarters of that audience are already comfortably inside the door as Crime of Passion kick off and believe me when I say that Dale and the guys have made a few new fans in their three years or so of existence. For those not in the know, they have a deal and a debut album to their laurels and a fair amount appear to have snapped up a copy already so it's not only the wives and girlfriends participating in lip-synching activities today as a lot of the material from the disc gets rolled out in their lovable Van Halen-fulled style.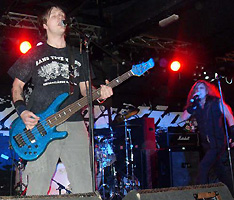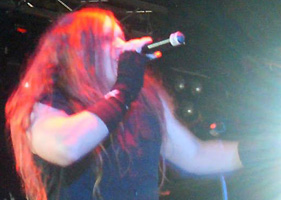 Sign of work on their next one show promise with newie 'Careful What You Wish For' bringing a powerful chorus vocal with it and even has yours truly singing along before the last chords come along. Mr Radcliffe keeps stage presence maintained to his usual high standards by rarely standing in the same one spot for more than two seconds, prancing up and down across the boards in time to the tunes. Missing out one or two early favourites doesn't go unnoticed and I'm surprised 'Exit Wound' didn't make the list for this 45 minute slot but with luck a headlining show will soon be happening for these lads again... and they're also back here with 'Statetrooper' six days from now. A passion for these guys is hard not to have now.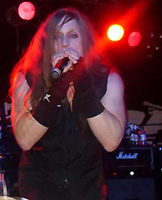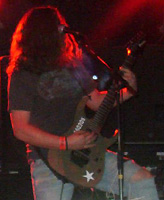 Tyketto needn't worry about their audience not suitably warmed up, then. Danny Vaughn is the last man to walk on – well you know what they say about the most important man - but saying that, you think that one of the non-original members standing centre stage whilst applying the first chords maker people wonder if they got the right gig. An impecccable dead-ringer for Anthrax's Scott Ian PJ Zitarosa does probably worry the first-time Tyketto gig goer further on that issue but his work with DV over the past nine years secures his welcome.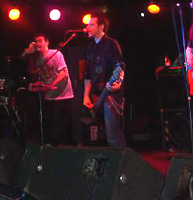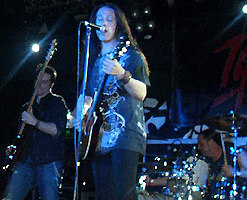 A bit of initial confusion over what tonight's opening number will be is caused by the brief guitar intro as Danny first stirs up a bit of noise from our side of the barriers then the unmistakable words of "Stand up, get down..."..." finally set the record. The punters can't wait to get the pogoing under way any more than the big man himself can to pick that mike up and begin with the crowd participation only one song in. The treble assault of 'Lay your Body Down' itself, 'Rescue Me' and 'Wings' has to be heard to be believed, especially the energy with which the latter is applied fro an AOR tune, and brings back memories of Metallica's classic opening trio of 'Enter Sandman', 'Creeping Death' and 'Harvester of Sorrow' from their early nineties tours. New 'old' number 'big Wheels, from their recent odd n' sods comp is an excellent number I'm already familiar with from you tube footage of their Firefest show and is one I've been looking forward to and even without 2nd guitarist Tony Marshal onstage its sounds mighty.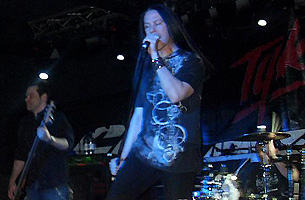 The one minor blotch on the shows' proceedings subsequently ensues with a painful solo stint from Zitarosa: don't get me wrong, this geezer's string-abilities are without question but I still recognise a liberty when one is taken. Thankfully putting a stop to it after only three minutes, Danny and the rest of the guys re appear and begin a 'Strength In Numbers' session, consisting of the title song itself, 'Catch My Fall' and 'End Of Summer Days' all three personal faves of mine and many others.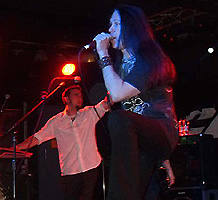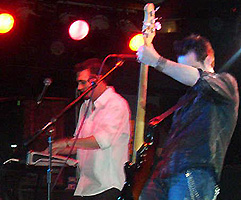 Stepping an album back again....oh yes... 'Sail away' is one of Danny's finest acoustic/vocal offsets with its addictive toe-tapping rhythm followed by everyone in the room and its all go and then some for the next two. 'Burning Down Inside' shows off new key-ster Bobby Lynch's talents at the start and unlike most other outfits, Tyketto are good enough to let their ivory-mangler a place right at the front of the stage. 'Standing Alone' has been their most demanded live number from day one- seemingly even more than 'Forever young' it appears at times and the smoking ban as expected has done sweet eff-all in effect against the number of lighters I see waved aloft.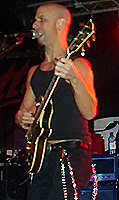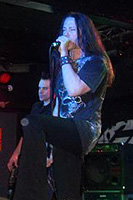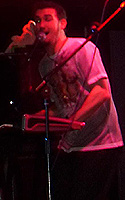 'Til The Summer Comes' is another studio leftover from the olden days and is as warmly received as regular inclusions (I'm wondering if bootlegs of this superb track had actually been leaked, back in the day). A similar tune in rhythm 'Last Sunset' sells by its blues-ish acoustic bounce on CD but just rocks out in a full-decibel environment. 'The Last Sunset' is their top ode to the blues element and the sing-a-long does not necessitate any vocal hold-offs from the Dan-ster as he is just about drowned out by his public per se. Erstwhile set opening stomper 'Walk On Fire' has our man doing that traditional mike stand twirl only Axl Rose could have coached him in once he swiftly ditches his semi acoustic though retrieves it again for the last chorus.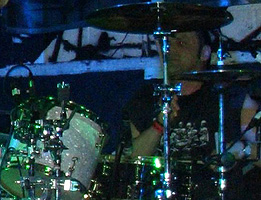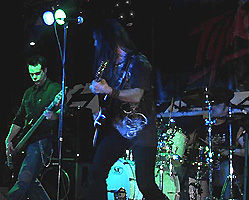 And now...we're under way with the encores and everyone strained to the last drop of energy fro the evening, Danny knows exactly what that is saved for....don't we, children.... ' . The front three rows all at once bounce in synchrony, some nearly meeting the ceiling as the anthem of a (hundred) thousand hard rock club floors globally gets away. Why 'Forever Young' didn't get a top 40 position on this side of the pond why still a long unsolved mystery seems increasingly irrelevant nowadays as there's not a person here still to have learnt the words to one of melodic hard rock's greatest choruses. Keeping said tune 'til last as always is an easily answerable question - no tune could really sound as powerful after it and being a chap not to fix what has never been broke, Danny Vaughn knows when its time for the curtain to come down.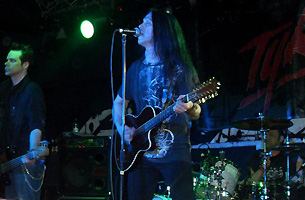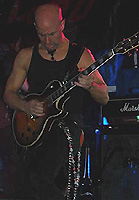 An awesome set from the guys again and Crimes Of Passion - whose past incarnation Deadline supported the 'Ketto on their previous Steel city run just over four years earlier - shows that forever young is indeed something we yearn to always be for true music will never die for every day as long as we don't either.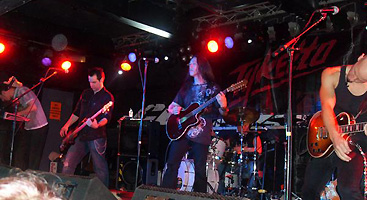 Ta again to Mr. Hobson as usual for making it possible.
10/10
By Dave Attrill

Recent releases by these acts:
CRIMES OF PASSION - S/T(Vigilante/Universal)
Debut album from Rotherham hard rockers who spawned from AOR act Deadline in 2005, combining the best of Van Halen and Harem Scarem with a modern edge.,.
TYKETTO -The Last Sunset: Farewell 2007 (Self-Released)
Collection of studio leftovers from the 'Strength In Numbers' and 'Don't Come Easy ' days plus one or two live cuts of established favourites.

Thunder/Heaven's Basement/Get Vegas -
City Hall, Sheffield, Sunday 23rd November, 2008
Well I ain't been out to Steel City to see a gig since July and its over 3 years since I seen the headliners as well. On a cold night I ventured out with a hot-water bottle, hat, scarf and three layers of clothing - yep you know when Winter is coming. But me and my buddy Al did not regret a minute of it, even though we both have got dodgy backs and just recovering from cold in my case - hahaha - I make it sound like we are 80 don't I - lol - oh well - there ya go - and we is only in our mid 30's.
Anyways after finding a decent car park, braving the cold on the short walk to the city hall, we pick up our tickets and down a beer each in the downstairs bar, only to bump into Steve from Sheffield band 'In the Name Of' as well as Al, the drummer of another Sheffield Band 'Seventh Son' and sadly missing the majority of 1st band, 'Get Vegas' (they were on too early man!) but I can say they were a decent enough band but I reckon they were just a bit too on the alternate/indie side to really cut the meat with the sold-out crowd. Good to see one of our other Metalliville Scribe's Tony Watson and his wife Rachel at the gig too who we chatted to for a wee while.
Well we weren't missing the next band, not for a pint of anyone's beer, so after relieving the bladder (well beer goes straight thru ya don't it, even more so when its cold, we sat down, well Al did (as I took some photos - as seen below) and enjoyed the uplifting 'Heaven's Basement.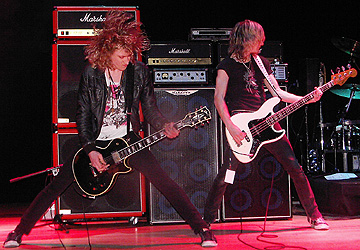 They who were previously known as 'Roadstar' who were previously known as 'Hurricane Party' - but find out about the name & line-up changes elsewhere because I ain't going into all that right now - so take it from us, they are 'Heaven's Basement' alright - unless they change their name again - god forbid - scuse the pun!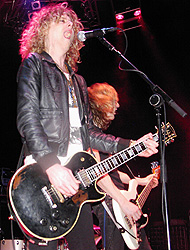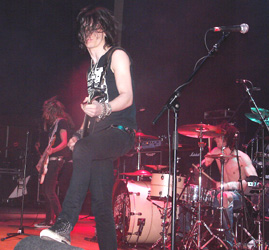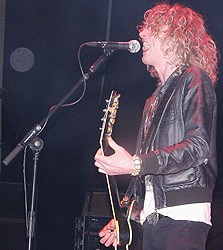 These lads are a really tight unit whose material is a cross of 80's Hard Rock & Hair Metal mixed in with bit of 70's Classic Rock and a wee snippet of Southern flavourings - you can say that they went down perfect for all and sundry and I must admit that the appreciation got louder and louder as their set went on.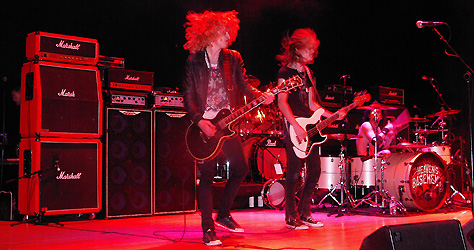 Their frontman even came out into the audience to drum up the excitement a lot - something that not many have the guts to do and even said something like 'Come on Sheffield, Thunder won't let you sit in your seats' and wanted to see everyone up, rocking out to their latest songs - it worked a treat as well! You could tell that these guys could really work a stage and their were rock poses galore from every member of the group.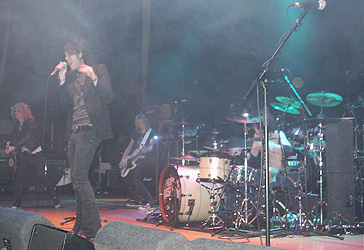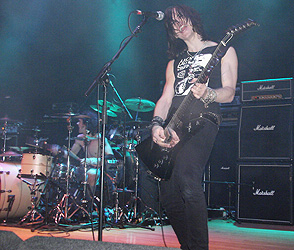 Strong vocals and killer musicianship, not to mention songs that have some sort of nucleus of staying power - I dare say that Heaven's Basement have these skills beautifully honed to prefection and there's no doubt that many will be going down to check them out at Corporation (Sheffield's Rock Club on Milton St.) on 14th December for a repeat of this angelically brilliant band. Join them!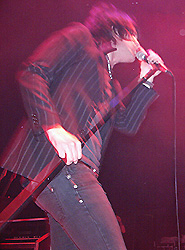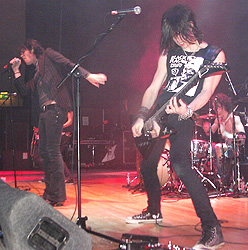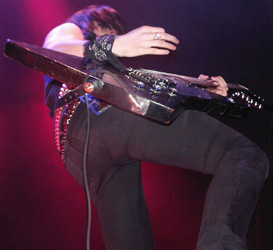 Anyway, after a short break the lights go down and we hear the familiar sounds of AC/DC's 'Thunderstruck' with screams of Thunder from the fans to Brian Johnson's vocal line, we then get a bit of pyro and the band hit the stage, firing it up straight way with the old age classic 'Backstreet Symphony' and the crowd go bezerk when Danny strolls onstage.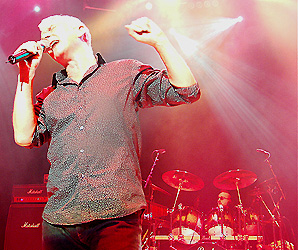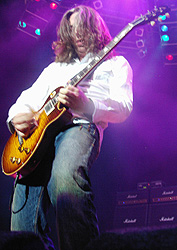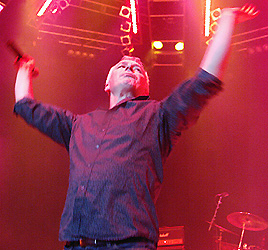 This number is followed up by one that we can download immediately after the show as Mr. Bowes puts it, that turns out to be 'On the Radio ' - the opening number on the new album 'Bang' followed up by the memorable ballad about the homeless 'Low Life In High Places' with Luke Morley on acoustic guitar. There is a funny moment towards the end as Danny plays with the crowd as he lets them beat him to the final high vocal sections much to his and our amusement. '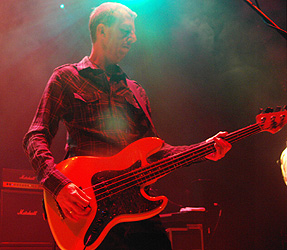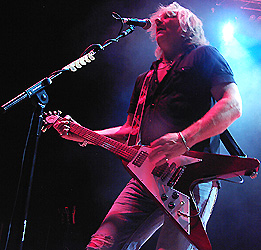 Great to hear the piano in 'Like A Moth To A Flame' orwhatever its called as well as another one about sex called 'Dirty Dream' about wanting his best mates girlfriend and having sleepy visions of her. Danny gets us to scream 'Hey, Hey, Hey Hey' back to him, asking us if we are still OK, are you havin' a nice time? - as if we'd say no! Even asking those at the back or on the balconies.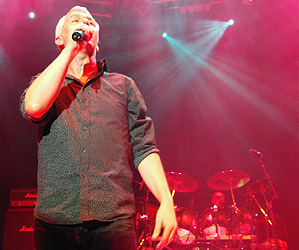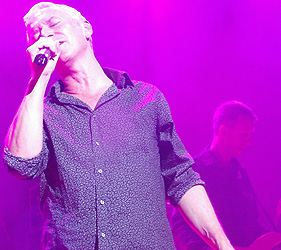 They slow it down with the well known ballad 'Love Walked In' and I pick up the fact on how strict the security are in here tonight, making fans put their mobile phones and cameras away. Anyway, danny works up the crowd more getting us to scream louder, saying that we are very, very noisy on a sunday - well it is a rock 'n' roll show matey - not 'Songs of Praise' - lol.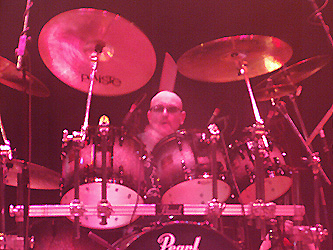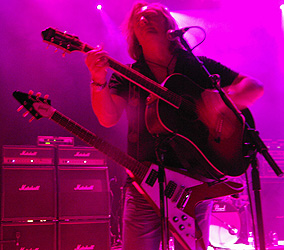 Is Danny ever satisfied as he then gets us to clap, wave, waggle our fingers and jump up and down during the energetic 'Can't keep a good man down'and letting us chill out and get our breath back for 'Don't wait for Me' - nice solo on the Flying V Luke!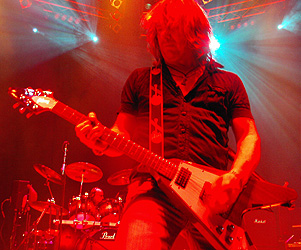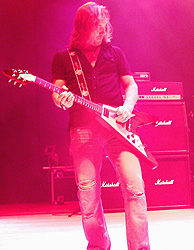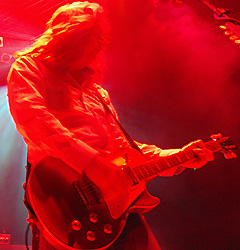 I thought the introduction to the band was really funny when Harry James was introduced minus kidney stones (who ahd to pull ot of a show or 2 and have them removed - luckily a mate of theirs called John was able to man his stool). Again Danny had us singing on the comeback 2002 single 'I love you more than rock 'n' roll'. Then after the song leave the stage and all are screaming for more.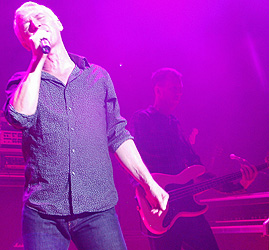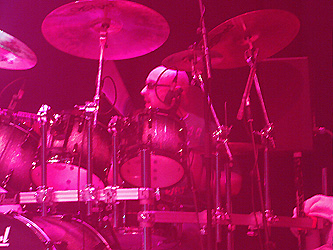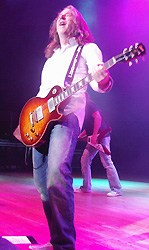 Thunder re-appear after a ton of crowd noise and crank up 'Candy Man' and the brilliant 1st album epic 'Higher Ground'. He asks us if we know whats coming next, joking that one of the fans looks rather clueless when asked - as every Thunder fan knows that the last song is always 'Dirty Love' -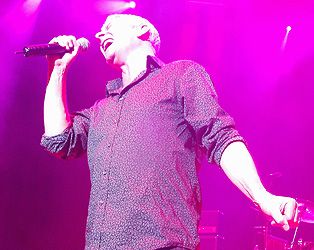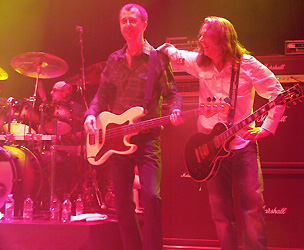 Their well-known anthem that I remember hearing them play at Donington 1990 (OK, I listenened to it when it was broadcast live on Radio 1 - them were the days). 'I see you, walking by, you got that far away look in your eye....' - you knows the words baby! They bash out the song in full splendour and it goes down great lads and lasses!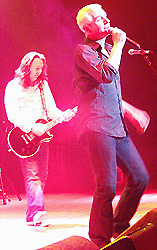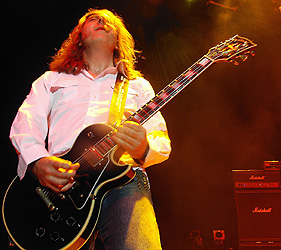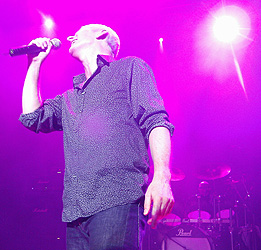 Here's to Thunder hitting Steel City again soon as we know there will be many more occasions.
10/10

By Glenn Milligan
TIANMEN/FLATLINE/ART's GOT A GUN/HUNDRED MAN HORDE -
Casbah, Sheffield, Thursday, 11th December, 2008
Thanks to relatively lower bus fares mid week, I am able to attend city centre venues on a more frequent basis to sample the current local scene's shinier gems.
Only a fortnight on from witnessing Maeven and In The Name Of pull them in at the Dove & Rainbow I take a trip down the murky black stairs of the Casbah to see another clutch of Steel City noises. Once again, its two established names and two others I have yet to have encountered even by name that I am standing watching this evening.Hundred Man Horde play majestic brand of old school scream core metal with the vocals being the only contemporary component. Their sound is otherwise engineered by everything great written between 1970 1978 in metal and their classic rhythms sound incredible for a one-guitar outfit.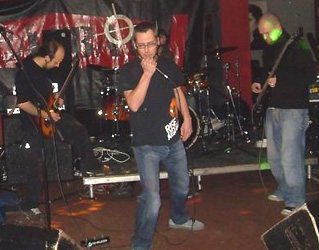 A more-than-just-a-little noticeable Iron Monkey whiff rises in the smoke but hopefully nothing illegal too. A good solid act with a reputation in front of them, about forty five more people fill the room before half of their set is finished and the clapping is reasonably loud.
Art's Got A Gun are vocally almost the same thing but with a punk metal edge that leaves no space for relent and uses it all for ferocity as they belt from one 100mph number to the net. Hearing the same number seven times over seems a little less a worry about halfway in and it soon takes hold of me that each song stands on its own. Gleefully bereft of stage presence difficulties, their vocalist is more often seen on the piece of floor in front , pulling all forms of demented shape throwing but their style, matched with NYHC kings Vision of Disorder isn't exactly the most misfitting of combinations as it is.Took three tunes to drill in but not at all bad, - I would still however need to check these lads out a second time, preferably as a headlining act to make a stronger judgement.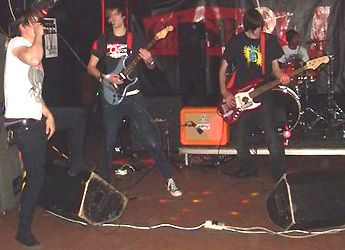 A band that needs the least introduction, Flatline might still need one for those in the shame of not having heard of this excellent band before. I've watched these guys progess through their five years in existence and the dominant quantity of brand new material on tonight's show is yet another token of their constant slodarity as songwriter and song-player. Still retaining their impressive fusion of hard rock and grunge, the former of the elements is more strongly felt with their latest workings and applause is as much reserved for these as for favourite oldie 'Degradation' which comes as a sweet half-time orange in the match. As with Art's Got A Gun', one man has to spend the set standing somewhere adrift of the stage although bassist Tom has an excuse, as being the only band with more than four members , there just isn't the space for all of them.
Not that John doesn't take up plenty himself, obviously along with most of the attention, as he attacks his solos on his low -slung axe with Slash like strut and does this fella know how to headbang or what? Looking forward to the next number, I notice to my horror, that after just seven tunes, they are suddenly nowhere to be seen on the stage. Mightily impressed with what I did get to see of them tonight, I am as much less so with the Casbah people for only allowing a band with such a swelling profile only 28 minutes stage time.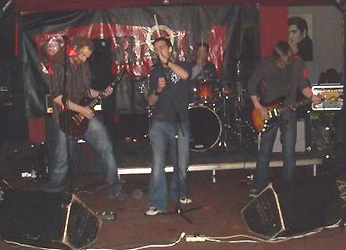 Finishing the day are Tianmnen, who appropriately for a band named after a world famous square, pretty much square in their musical output. As with the first two acts, the vocals are largely of the scream-oriented type but here they sing too and play very well, absorbing me quite promptly with their, at best described, prog-core style.
Struggling to wash the slightly sour taste left in my mouth by the criminal brevity of Flatline's set I may be at the start but the par-able creativity of these four young men takes attention off everything. A mostly industrial sounding act with hardcore, old –school metal and the aforementioned progressive take all demonstrated in balanced ratio, and again with a vocalist not content with just standing on the middle of the stage holding a mike, I will look forward to seeing these guys again for certain.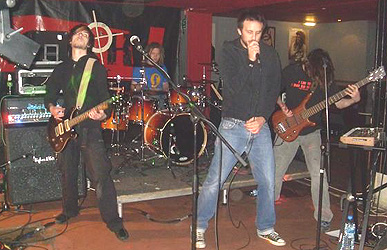 A fantastic and promising programme once again, the only flaw is as mentioned before, that why are highly revered scene acts like Flatline considered worthy of only 30 minutes stage time especially when they finish at only 10.30 – come on, guys its not Sunday here. And to think there was a twice bigger crowd here than Ricky Warwick two months earlier.
Next time, I hope this is rectified or a fifth band included.
9/10
By Dave Attrill

TARA'S SECRET -
Moorfoot Tavern, Sheffield, Saturday, June 28th, 2008
Surely this can't be right. They only split like a year ago. No mistake though, the boys are back, and in our town too as bonus, for their first gig since their rather short-lived sabbatical.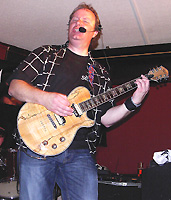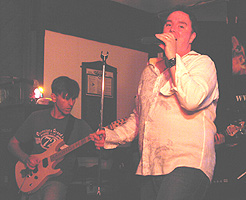 Putting a full-two hour set on in a pub for no admission charge is one fine way of saying sorry for ever having even considered packing up so obviously my incentive to attend was healthily established here.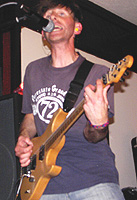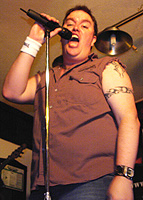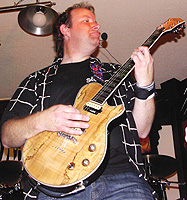 Frontman John Trowbridge, has managed to keep hold of guitarists Craig and Richard but brings a brand new rhythm section even though until I was told of changes to the line-up, I still assumed it was the same five that I'd last seen in action three years before, at the Herringthorpe Centre in Rotherham.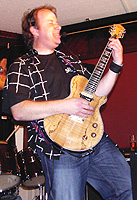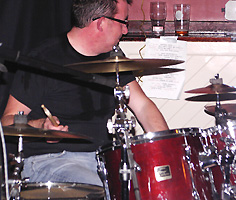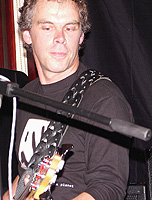 Giving their absence, opening with a new number is possibly a less than best idea but 'Natural High' is immediately what we're on as regarding the tone of the evening. Chequering covers and own produce for the ensuing forty minutes.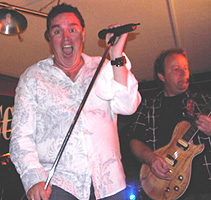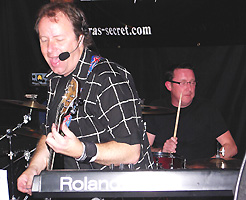 'Drive Me Home', 'Wild Frontier' and 'Closer You Get' recieve a reception warmed up in respective synchronies by high octane runs through 'Why Can't this Be Love', 'Aint Talking About Love' and 'Fool For Your Lovin' (come on, you know the bands) but we are humming along to each and every number, no matter the composer.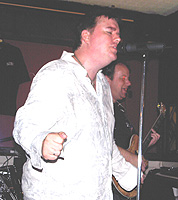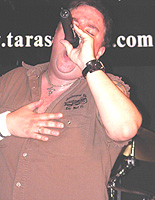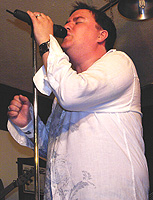 An hour gone, there's no stopping these chaps tonight as a couple more of their own self-crafted belters sandwich a barnstorming 'Saturday Night's Alright For Fighting' before they proceed to pull the bravest stunt an AOR act dare - to cover a song by a 70's DISCO BAND.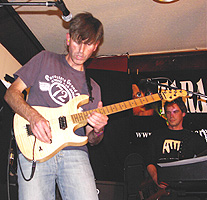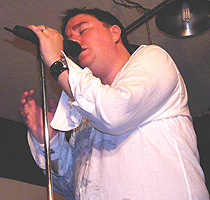 Swedish melodic rock favourite Tommy Denander's old outfit Prisoner did however get away once with performing Britney Spears 'Crazy' on an album so what's the crime in digging up Kool & The Gang's 'Ladies Night' eh guys? especially when you turn it into a full force hard rocker than replicate the manufactured dross backing the original artists of the piece.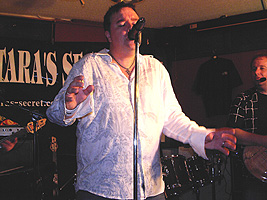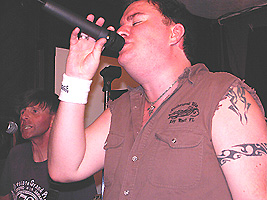 An eerie reggae re-work of Bon Jovi's 'Livin' On A Prayer' catches a lot of attention - the different playing style totally failing to deter a sing-along but I think that using the vocal medley from the 94 acoustic re-mix helps too.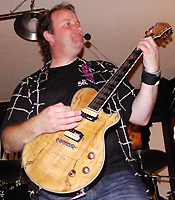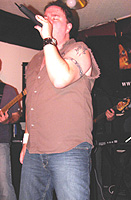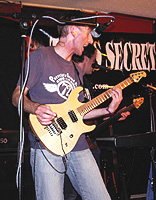 Sticking purely to originals from hereon in, it is a directly balanced mix of old and new with 'One More Chance', 'Love Shy', 'Homeland', 'Train Of Love', 'Final Regret' and 'My Reward' - who ever met a band who could put all their covers in the first half of their set instead of at the end?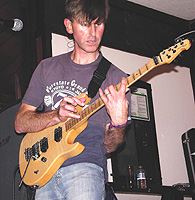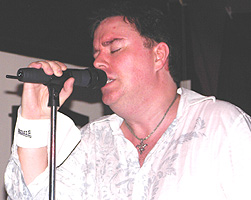 Dave, their new bass-boy also shows his multi-instrumental abilities alongside Craig's by also sticking in some solid keyboard work on one number so in the process reminding people its not only the songs that this band are good for, as well as generous set durations.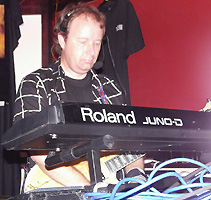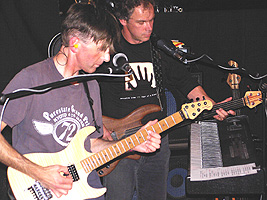 Not having a dressing room at the Moorfoot Tavern means that the lads just step out of view while we cheer them back for an encore. and yes, we they've got time for two more. 'In Movies' gets Buffy and select others dancing along in the background but not as much as the next song should, Zeppelin's 'Rock n' Roll', a title which sums he set up in two words ... and a letter.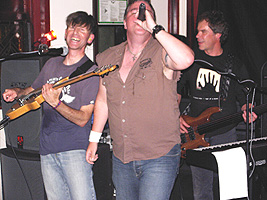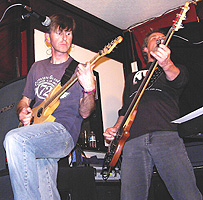 A great Saturday night for classic rock fans is witnessed tonight and an even greater band witnessed playing it. Tara's Secret celebrate their return in style with a strong and faultless play and one it is hoped will be repeated.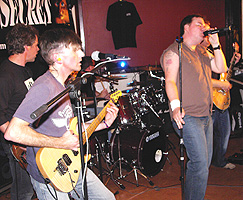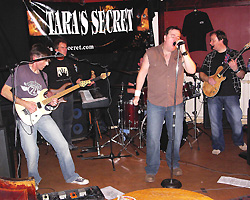 In the meantime, another album from these lads is keenly awaited.
9.5/10
By Dave Attrill

Tesla –
Corporation, Sheffield, Thursday 19th June, 2008
Well we missed out on seeing them in November but not this time around. Tesla were Sheffield bound and the best came to those who waited as we got an extended set due to the support band not being able to make it over due to whatever reason.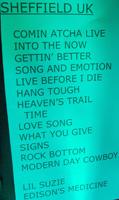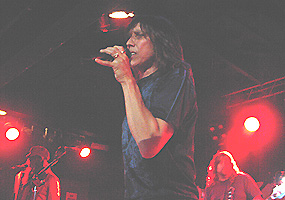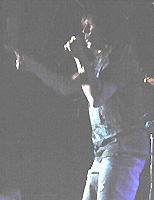 It had been 22 years since the band had played here - 1st time with Def Leppard and the 2nd time was a sell-out in their own right – tonight thought the big toom was a good half full – so about 300+ fans had turned out to see them.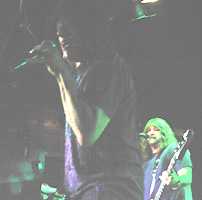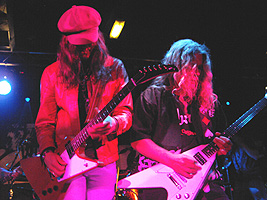 Charged up and ready for action they were too with Guitarists, Messrs Dave Rude and Frank Hannon making their presense know first alongside Drummer Troy Luccketta, by duelling on a solo that led into the way to start a Tesla show, the powerful 'Comin' Atcha Live' where Jeff, sounding in fine high voice led the way forward throughout the 90+ minute set of classics (with a newie or 2 chucked in for good measure).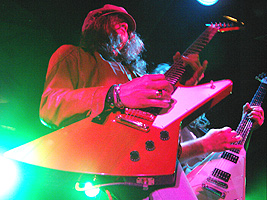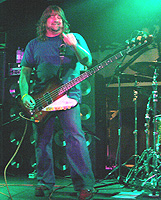 Brilliant vibes were guaranteed with Jeff joking that no-one had asked how he was doing and keeping the audience happy with a variety of favourites like 'Getting Better' and melodious ditty fondly known as 'Song & Emotion' that was written about a friend of theirs from Sheffield.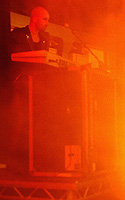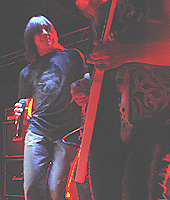 They really did sound great up their on the big Corp' stage with everything totally audible despite being pretty damn loud. Major highlights included 'Love Song' that had a really exquisite extened electric and acoustic introduction that saw everyone get the chance to sing the 'I know' section of the song'; the slide playing bluesiness of 'Time' & the positivity of 'What You Give'.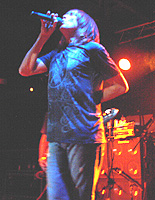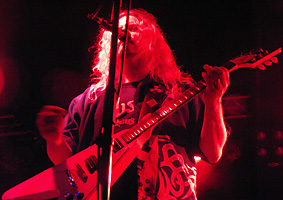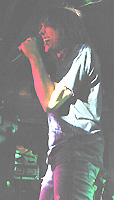 "It's Party Time', screams Jeff Keith that sees them launch into that famous cover called 'Signs' that I love to see my buddies Bryce Barnes & Joey Monroe do in Fort Myers that was originally by the Five Man Electric Band – a real revolutionary number that has stood the test of time where the front flies the 'F*ck You' flag in the can't get in without a membership card section of the song – brilliant.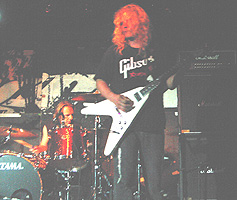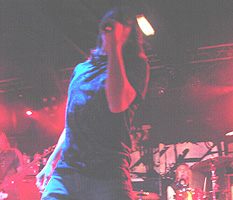 We get another cover too, this time a sprinkling of UFO – the hit-hard 'Rock Bottom' that Telsa recorded for their covers album 'Real To Reel' that had plenty of guitar solo widdling in it and then of course their rock dance-floor hit, 'Modern Day Cowboy'.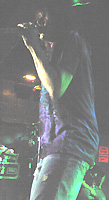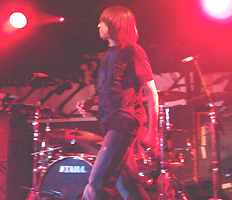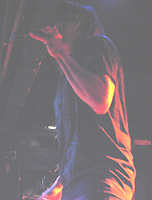 The number sees the interstellar notes being hit by Jeff with no problem at all – unbelievable as well – matching the record perfectly without a vocal flaw in sight (or should I say sound). The fans go crazy and even crazier when Tesla leave the stage.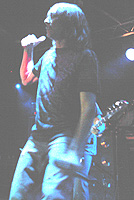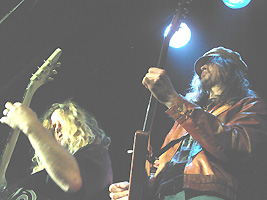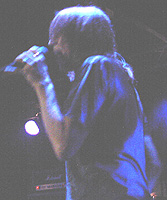 They ain't gone for long though as they entertain us with a couple more hits – the splendid crank up the bluesiness with 'Lil Suzie' and lastly but by no means leastly another piece of perfection in 'Edison's Medecine'. Due to the set being so enjoyable it seemed to go in a flash.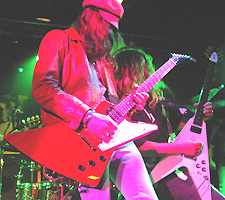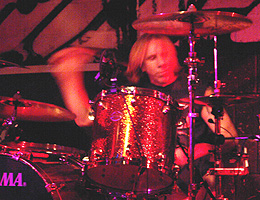 All had a great time though - there's no doubt about it with the guys wanting to return to a venue that really impressed them. Corporation claims another USA well-established Rock band to its boards – something that I'm really proud to say.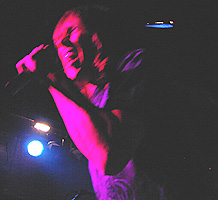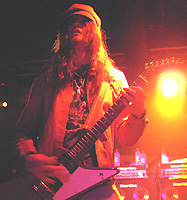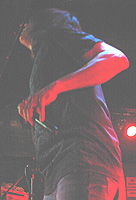 Afterwards all the guys came out to meet the fans, posing for pictures and signing everything that anyone wanted – a real friendly set of guys who are completely professional and totally approachable – credit to you lads – there's no doubt that you will be coming back at a later date.
10/10
By Glenn Milligan
Turisas – Corporation, Sheffield, 2nd March, 2008
Wow – this kind of music really exists – Nordic Folk Rock (you got the copyrights to that one Rach!) or as they put it Battle Metal. They came in their Viking Longboat all the way from Hameelinna, Finland. I wonder if while they were here they bumped into the other Finnish musos – this being the Sleazekings 'Hanoi Rocks' as I saw them the night before elsewhere.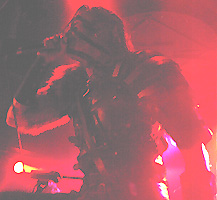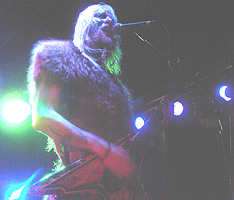 Coming on in red and black warpaint, these guys and a girl on accordion really meant serious business and they gave it to us as well. Musically it was like a cross between Skyclad, Blind Guardian, Sheffield's own Bal-Sagoth and a lot of Classical & Traditional Folk music from that part of Europe. Many of their hardcore fans got in on the act too sporting swords, furry costumes, sandals, horned helmets and warpaint too – not very often that happens around here let me tell ya!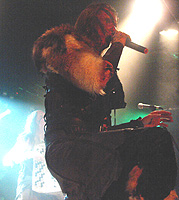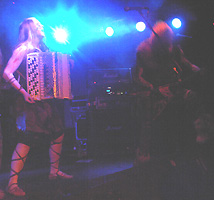 Never have I witnessed anything like this at Corporation – the frontman really knows how to work the crowd, mentioning Sheffield at every foreseeable chance. It was like he was getting paid a royalty for saying it – every utter of the word created a massive cheer.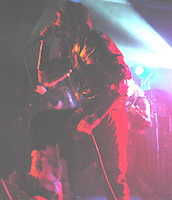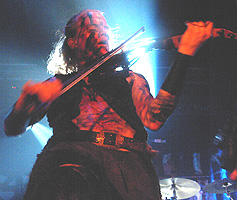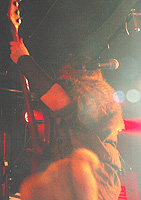 Their violinist had a real good rapport with the Sheffielders too asking if his instrument was better than guitar and he managed to get them on his side as well – nice one dude!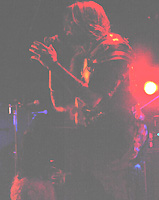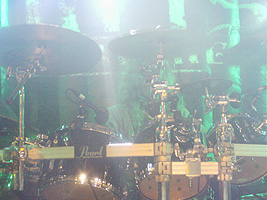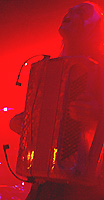 The accordion player had only been with the band at one weeks notice and they considered her to be better than their previous member and those her watching appeared to agree. Highlights of the set included – well all the f*ck*n' lot really but I was really impressed with their version of Rasputin by Boney M – haha – no I am being serious there and their epic 'Battle Metal' that was their last number of the night.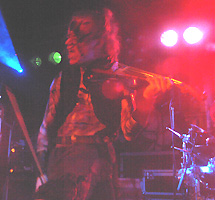 No doubt they will return again, judging by the absolute up to the buffers filled room tonight. The Vikings definitely conquered when it came to putting on a good show as this was visually and musically stunning.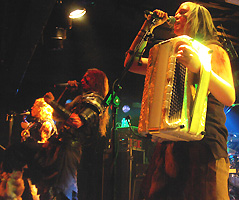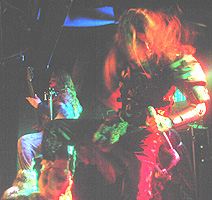 Think I'll go to Valhalla as opposed to Heaven if this performance is anything to go by.
10/10
By Glenn Milligan

THIN LIZZY/Diamond Head -
City Hall, Sheffield, Tuesday 4th December, 2007
Yes that's right, the night after the Thunder gig. Thin Lizzy's fifth visit to Sheffield in four years should have been an exciting near sold-out event with the promised inclusion of Queensryche on the bill, but only a fortnight before do we learn that the Seattle melodic metal legends first Steel City show in thirteen anni, is sadly not to happen.
The result is a totally empty upper balcony inside the very same room that had been packed for Thunder the previous evening but if they choose to miss a surprisingly decent show by the reformed and newly five-strong Diamond Head, that's their loss entirely.
I remember having the four-star bored out of me by these lads when they performed an acoustic show at Nottingham Rock City some years back so I have reason to feel a little cynical as I approach the city Hall this evening but worries remain outside, with the cold December air, as I come in to hear 'The Prince', one of three songs famously covered by Metallica in their eighties heyday.
A virtually unrecognisable Sean Harris, now sporting a freshly bleached short back and sides is flanked by two guitarists as they update their sound for the Nought-ites approach but still they go down well with the throngs of gumbies in attendance. 'Helpless' soon arrives then of course it is finally time for the big daddy of DH numbers, and the first time I have ever got to hear 'Am I Evil' in its ten-minute entirety other than on Hetfield and co's 'Garage Inc' CD - they normally cut off after the second chorus, remember.
With a newie or two in tonight's assortment that seem to go down near to a treat, these pioneers of the N.W.O.B.H.M. movement have suddenly re-appeared as if time has frozen itself for two-and-a-half decades, with this solid as ice performance and it prayed that their positive attention tonight aids the possibility of them being beckoned back for a headlining set next year.
The big T.L. turn up, and turn on the volume and, opening with that song beginning with 'J.....' become latest acolytes of the religion titled 'bands play entire classic album', with 'Live and Dangerous' being, as promised, the lucky subject. Yes that's right, they are playing a live album live but obviously we have reason to stand up and scream again to these lads as said 1978 set did include 85 per cent of the legendary foursome's firm nuggets. It's been a quick seven months since the Deep Purple/Styx tour and for those who were heathens to miss on that occasion, the chance to make up, threefold could hardly be better matched, tonight.
Their new bass geezer seems to be still clicking onto the fact that he is standing up on a stage with legends Scott Gorham, John Sykes and Tommy Aldridge either side of him but still enjoys himself with the music, as everyone else inevitably does this evening. 'Don't Believe A Word', 'Cold Sweat', 'Emerald', 'The Boys Are Back in you-know-what' and countless more classics that are never, for the love of God - or the late great Mr Lynott himself - omitted from any Lizzy set kick off vast arrays of ageing rockers gyrating, air guitar in hand almost non-stop for the full ninety-five minute stretch.
Encoring twice, even, we are kept waiting for a couple of numbers that sadly never arrive, including that one with the title merely relating to a spirit-type beverage contained inside a glass implement but aside from that, the guys again leave nothing else amiss and 1600 happy Lizzy fans can be seen re-emerging across Barker's Pool at the end of the night.
A fine Christmas pressie for classic rock fans - a copy of the DVD release of 'L.A.D.' wouldn't be too bad either.
9/10
By Dave Attrill

THUNDER/Lauren Harris -
City Hall, Sheffield, Mon 3rd December, 2007
If Sheffield City Hall were to revise their fire emergency roll call list, they'd be best off adding the names Danny Bowes, Luke Morley, Ben Matthews, Chris Childs and Harry James on the bottom. You just can't keep Thunder away from the place - it's a fact.
I also thought Irish hard rock starlets Glyder were back with the package tonight as well, but no.... is turns out we have one Miss. Lauren Harris occupying the opening slot instead. Maiden man Steve's li'l girl impressed with her support stint on tour with her dad's act a year earlier but her AOR-edged eighties rock sound sounds more in place on a bill like this - and applause is brought from a big part of the 2000+ filling the City Hall seats tonight.

The main men themselves appear and as much as I rate 'Dirty Dreams' one of my favourites from the 'Robert Johnson's Tombstone' LP, I would class it as a touchy choice for set opener. Never mind, everyone is pleased as parrots to greet the Croydon legends back again, and of course, we WILL get 'Backstreet Symphony' somewhere on the set., (won't we kids).
Plenty more to come from their latest ful-lengther, including the pounding title number, Danny introduces 'Devil Made Me Do It' by asking us if we feel sexy. The taking off of tops and swinging them around above heads by a throng of pretty young females in the middle balcony during said number, I'd think, establishes the answer there. Not one to be outclassed by audience antics, Dan the Man as always takes his trademark advantage of the immense stage space this venue offers, touching every corner of it at some stage throughout just about EVERY tune, though he has Mr. Morley to dodge on most occasions.
The favourites don't leave too many sitting still in the seats as if that is ever the case at a Thunder show, and 'River Of Pain', 'Love Walked In', 'Love You More Than Rock n' Roll' and the odd selection or two off their new six-tracker as well as of course, 'Backstreet....' eventually, bounce across the room at us like a volley of musical beach balls. One near-deflating hole to the set though is the exclusion of immortal live-anthem 'Dirty Love' though a rampant reinstatement of 'Flawed To Perfection' replaces it as the set's obligatory sing-a-long-a-Danny stint, extended to the same quarter hour length for such purpose.
While a few do whinge, en route through the foyer afterwards about their best loved number's non-performance, the interesting re-vitalisation that Thunder have afforded their live set here in 2007 means predictable is not quite the word in question despite what we have come to expect from these lads every time - or should I say 'year' - they descend on a stage near us. A British institution for nearly two decades, they still win their followers over, today and with more and more disc-fulls of great material to deal out, they don't show any hint of fading for a long time ahead.
Thunder-struck we are, once again.
9/10
By Dave Attrill

Tyla/The Medecine Bow/Jezabel –
The Corporation, Saturday 10th November, 2007
Back like he never left, rock n' roll's favourite Brummie returns to the little room in the Corp once again, less than a year since he last exited stage right and of course, two hotly anticipated new acts open proceedings. Jezebel are from our own beloved steel city and fronted by Jay, a fellow client and mate at the club itself.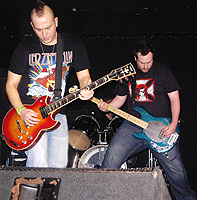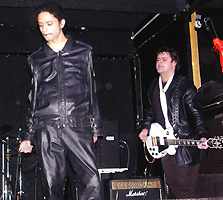 Their half-hour-set encapsulates msot of what we are used to hearing in the Reservoir Rocks room each Saturday evening and literally so with their astonishingly accurate run of GNR's 'It's So Easy'.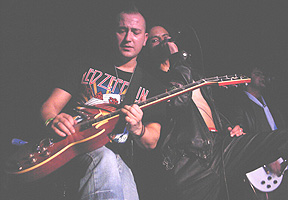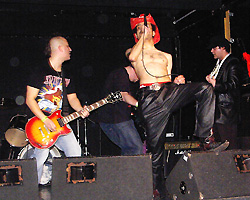 Their self-composed offerings do not disappoint either, a vibrant blend of pop, blues, sleaze, hard rock and AOR, digesting merrily with an applausive crowd within the room, already 35+ strong when they begin.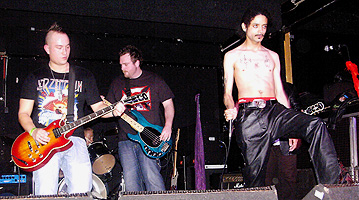 Medecine Bow sadly struggle to gel 'til half way in though their James Dean Bradfield look-alike frontman's husky range turns their sleaze-punk down a mercifully more diverse road.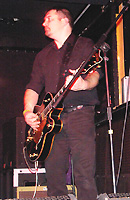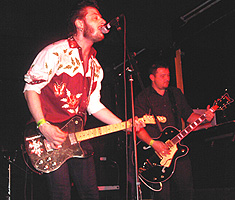 Quite unusually, the second half of their set belts especially with a seemingly endless country-tinged closing track that gets the whole crowd going, and ready for the Dog to emerge from his kennel once more.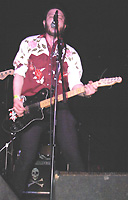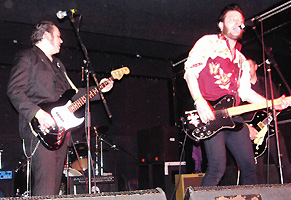 This is the man we've been waiting for – the lone Dog armed with his big Gretsch and a handful of heart-warming passionate songs- oh and a drummer too who Tyla asked about 5 minutes before hitting the stage – thing is, you could hardly tell – it's like they'd rehearsed quite a bit together – this was spontaneity of the best kind – pure pros up there tonight.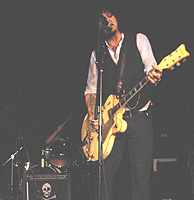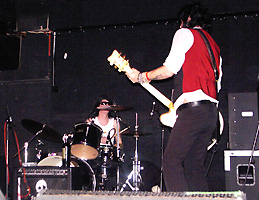 The great thing about Tyla is that on his own he doesn't appear to bother with a set list – he simply plays what feels right for the moment – so therefore he can guide the proceedings and excite the audience with a rocker or bring them down a bit with a soul-fully warm ballad.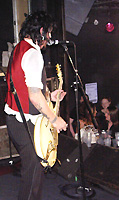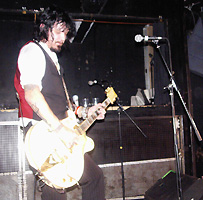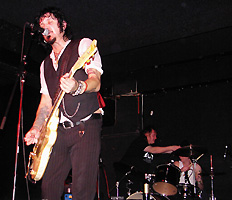 He was on top form as club owner Mutley perfectly puts and I couldn't agree more with him – and this was both musically and vocally. You could just tell he was in a real joyous mood and so happy to be there – he loves coming back and playing this venue and it shows greatly.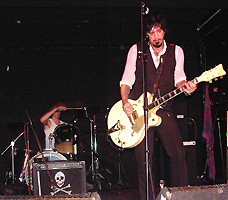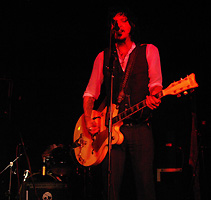 Audiowise this gig was pretty much perfect, I think I only heard a feedback scream once as well – all elements were very clear – the large white six stringer produced a really full sound and filled the room, with the low notes fully compensating without the need for a bass guitarist at all – so just having a drummer up there with him was a perfect pairing.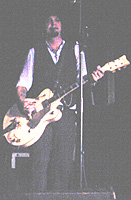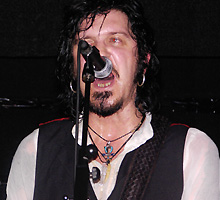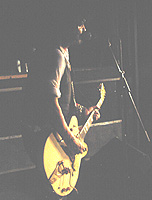 Highlights of the set included some of his solo compostions like 'Woolworths Girl' 'Restless' and a number called 'Sweet Saviour' to name but a few and of course a healthy handful of brilliant singalong classics from the Dog's D'Amour heyday such as faves like 'Billy Two Rivers'; 'The Last Bandit'; 'Heroin' & 'Drunk Like Me'.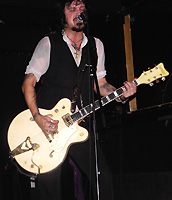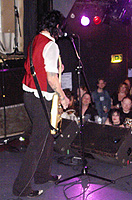 Of course the famous dance floor numbers like 'Satellite Kid'; 'How Come It Never Rains' and the monumental 'I don't want you to go' were all inclusive as part of the live deal and before you ask, yes these cuts guaranteed plenty of singalong sections with most of the room getting in on the act.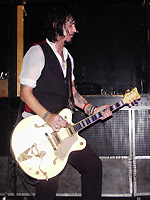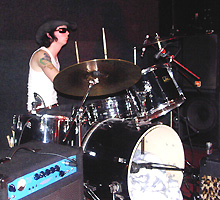 Arguably one of the best shows I have ever seen Tyla do – can't wait to see him back again – same time next year if not before.
10/10
By Glenn Milligan

Tara's Secret -
The Victoria Inn, Coalville, Nr. Leicester 04/05/07
I have read about this band & heard about this venue – now it's time to put them both together and kill 2 birds with one stone. My right hand man, Dave Attrill loves this band so I wanted to get my oars in on the action as well since they were about to chuck the last white rider towel in and close the last pair of stage curtains very soon – more sooner than many of us realised actually (even band members weren't aware of this either !!) Not the fullest night in here, much the pity but the busiest one is the Saturday, so owner John says.
After having the good old how ya doin' chats, getting the gear out the cars and settting it up on the stage, soundchecking, havin' another beer or two and listening to pre-recorded music and having a few more chats (since the support band failed to materialise) it was time for the music live onstage with Tara's Secret. Hey that was very cool of you to get one of the band members dads on rhythm guitar – only kiddin' – who tonight debuted his brand new Carvin Green Goblin Guitar that had been imported especially from the USA that very same week !!
Now this was a solid melodic rock effort set of a good 90 or so minutes that included some outstanding original cuts from their 'Tomorrow The World' album that included the classy bouncin' Rock you like a Hurricanin' 'Drive Me Home'; the Pink Floyd opening like 'King of Metalliville', sorry I mean, 'King of Meville' – sorry lads, I couldn't resist that one that burns up into a galloping purple like rocker'; the Stonesy meets Primal Scream's 'Getcha Rocks off' like 'Train of Love' that comies complete with Woo-hoo BV's as well.
We get the cheesey 'Fantasy Girl' in the set that ain't exactly a fave of one or two in the audience - not to worry as frontman, Johnny Trowbridge made it up to us by performing the best number of night which was 'The Light' with its anthemic climatic arrangement and epic gargantuan chorus – a song that's an easy match to the best Bon Jovi power ballads out there – best thing I've heard since I saw my buddies Tribal Tongue perform in The Beached Whale, Fort Myers Beach Fl. – Johnny has a voice that has elements of Meat Loaf, Danny Vaughn (of Tyketto) and funnily enough Jon Bon Jovi – I kid you not darlings !!
It was immensely funny when all the band apart from frontman, Johnny Trowbridge left the stage because they were all desperate for a p*ss – well beer does go straight through ya don't it – lol. This gave Mr. T the opportunity to give us a solo rendition of Poison's 'Every Rose has it's Thorn' on the lead 6-stringers axe (Richard Beardsley – who entertained us with a classic 'Eruption' by Van Halen with a bit of Led Zep chucked in for a bit of spice 'n' flavour) - nice one. Then they are all back on stage for a bit of classic Whitesnake which goes over really well.
Johnny announced at the end that this was the last time that Tara's Secret would ever perform at The Vic. Inn, we later found out it was the last gig ever, since the proposed last gig failed to happen at The Moorfoot Tavern on Saturday 12th May for whatever reason. Anyways, let's get back to the review of the Vic Gig !! So yeah this was the last ever Tara's Secret gig but albeit, they made it a great one and it'll stay in my memory for a very long long time (because they had an awesome Metal disco on afterwards – only kiddin' !! – well they did have a Metal disco but Tara's Secret were awesome and no doubt sadly missed by fans all over the area.
9/10
By Glenn Milligan

Thirty Seconds To Mars/We are the Physics –
Birmingham Academy 23/04/07
Transferred to the main room after quickly selling out the 600 capacity smaller venue, and judging by the audience reception, Thirty Seconds To Mars appear to be the next emo act to ship multiple units.
The rather short evening began with a twenty-five minute set from Glasgow's We Are The Physics, who demonstrated their encyclopaedic knowledge of Devo's repertoire in their entertaining but extraordinarily brief contribution. Highlights included 'We Are Three' and 'Less Than Vanity', but really they played so little it was hard to form an opinion.
5/10
Having kept us waiting forty-five minutes, Thirty Seconds To Mars' set began majestically with Carl Orff, and singer (and Hollywood actor) Jared Leto immediately grabbed the crowd by their throats. In an absurdly short fifty minute set the band performed the majority of songs from their latest CD 'A Beautiful Lie'. The crowd sang along with every song, with 'The Kill' receiving a particularly rapturous reception. Other highlights in the set included 'Savior', 'Battle of One' and a pretty version of 'Echelon'.
Evidently it is an emo custom to not play an encore, as at 10:40 the band left the stage and the house lights were lit.
A fine set, and Leto will be a huge star, but I saw little evidence that emo as a musical style will be any more lasting than nu-metal proved to be.
7/10
By Roy Evans

TUFF/SHAMELESS/PRETTY BOY FLOYD + SWEET SEDUCTION – Corporation, Sheffield, April 22nd
One of the best nights I have ever witnessed in the small room at the Corpo' – pity most of ya missed. It was glam and sleaze all the night through and it was thoroughly enjoyed throughout.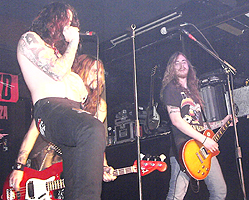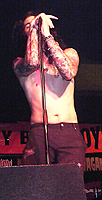 Starting off the gutz was 'Sweet Seduction' from just up the road – Nottingham if me old memory serves me right. It's simply no wonder that these guys were awarded the tour support for these UK dates as they were as beefy as hell, givin' it all they got and workin' their b*ll*cks off with songs from their 2 CD's that were reviewed on this here website a few months ago.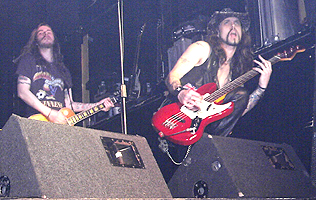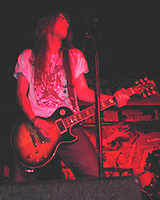 These include the brilliant 'Good Time Girl' that's featured on their myspace page (as they told us); and an interesting version of AC/DC's 'Whole Lotta Rosie'. 'You're quiet out there', he said, 'Well it's Sunday, they've all just come out of church ", said another member' – lol – well it's true. A truly brilliant, vibrant band who are a stones-throw away from a record deal in my humble opinion.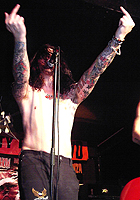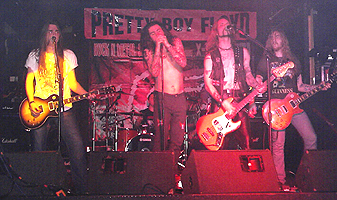 Within a few mins – well they were on a Sunday night curfew – what? 2 bands in 1 – that's a newie on me – the 'Shameless/Pretty Boy Floyd' outfit which was a f*ck*n' outstanding idea since it made it possible to get the best songs from the original bands albums fired out in a spankingly good order plus make it financially viable from a touring point of view – since having 3 complete bands gigging in 1 package is rather expensive.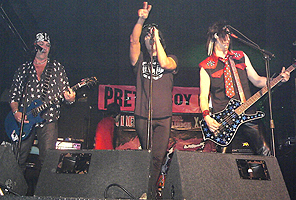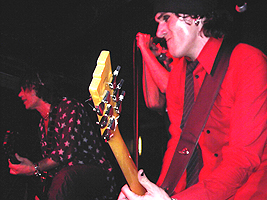 So for those of you who didn't already know that'll be Guitarist, BC and Alex from Shameless with Steve 'Sex' Summers (who works with both bands anyway) with guitarist, Andy Brings and drummer, making the line-up complete.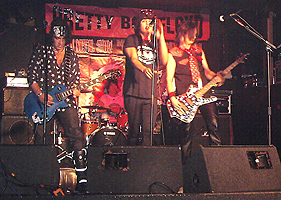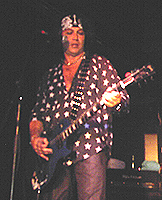 This is jam packed with all of your fave Pretty Boy Floyd numbers from the 'Leather Boyz with Electric Toyz' album such as 'Your Mama won't know 'Rock 'n' Roll Outlaws'; '48 Hours' (to rock) of course which we sang along with by the request of Steve – not that some of us needed much coaxing at all.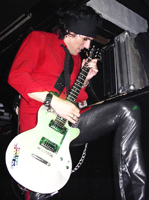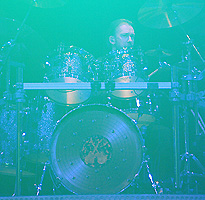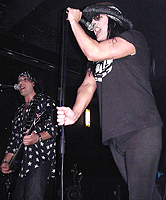 Immense that one of my faves was included – the class ballad that is 'I wanna be with you' still one of the best love songs from LA, California – yes Steve can still get up there and reach those interstellar notes and he's backed up by the rest of the boyz az well.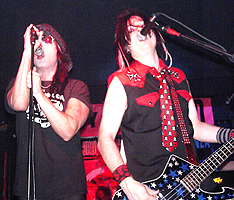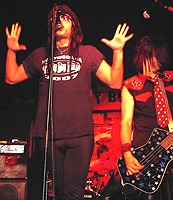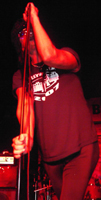 Some good Shameless material was also played as well like 'Queen 4 a Day' from the album of the same name and material from the new album 'Famous 4 Madness' which I must get hold of as well as some of the other Shameless albums. Well worth mentioning is a cover highlight in Motley Crues 'Live Wire' - nice !!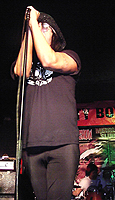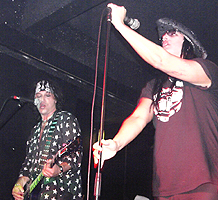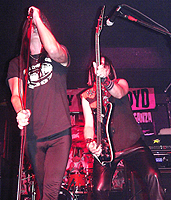 Such a vibrant buch of songs it was as well - then Steve thanked us and said Stevie Rachelle was up on stage next after a few cool tunes like Guns N Roses etc. We had enough time to hit the lav, chat with a mate or 3 and get a drink in, then the musos hit the stage again, this time as TUFF with Stevie Rachelle on lead vocals. 'Ain't this the Sheffield, the home of Def Leppard' he asks and gave us plenty to get excited about with classic slices of sleaze.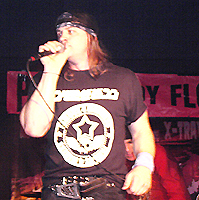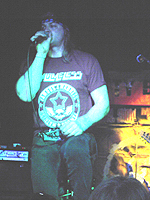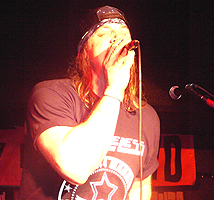 Songs in the set included numbers from 'What goes around comes around' such as the anthemic 'The All New Generation'; the attitude filled 'Good Guys Wear Black' (with crowd singalong on the chorus) and the gorgeous ballads 'So Many Seasons' and the was-featured-on-MTV smash hit 'I hate kissing you goodbye'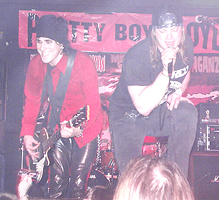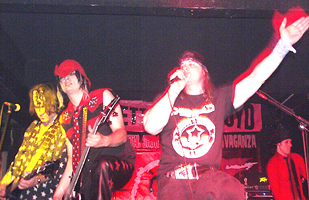 that Stevie dedicated to the Promoter of the Tour - the part of the night where you light your cigarrette lighter now please and fly it high and proud in the air - as these songs are worth it.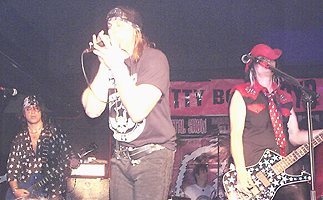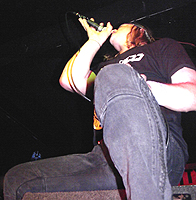 A new Shamless number was also aired and Stevie introduced with the fact that it was a song that featured his brilliant voice or something like that - well if you got it then flaunt it and this boy has it for sure.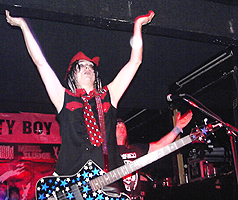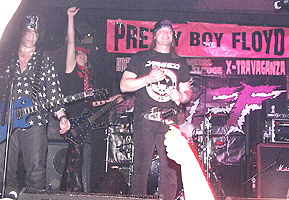 Just a pity that 'American Hair Band' wasn't included in the set though – oh well perhaps next time. Brilliant Set non-the-less and went down well with those there.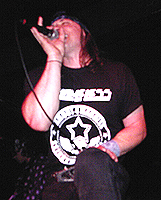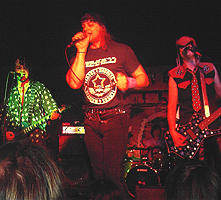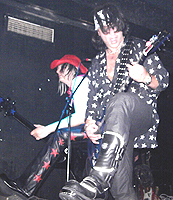 Then after a few mins break Andy decides to show us what he can do on the mike and asks us repeat a chant of 'We will not forget The Ramones' and it's 'Hey Ho, let's go' straight into 'Blitzkrieg Bop' that sounded great – wahey nice one Andy !!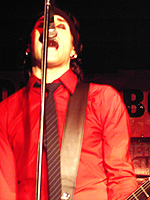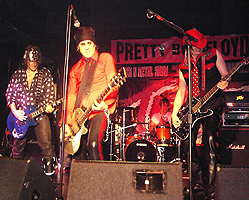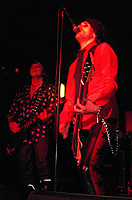 Steve Summers makes a welcome return to the stage for a couple of 'Pretty Boy Floyd' songs like 'Rock N Roll is gonna set the night on fire' & 'Leather Boyz with Electric Toyz – or summat like that, closely followed by Stevie Rachelle back up on the boards.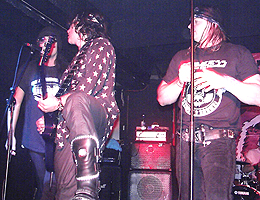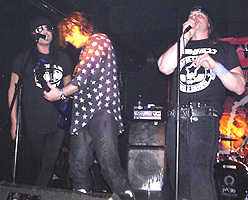 Then Steve Summers invited all the members of Sweet Seduction up for a stupendous firin' rendition of the Kiss fave 'Shout it out loud' to finish the rock n roll off with where just about everyone on stage has a good sing on. Absolutely 'F*ck*n' Superb it was too!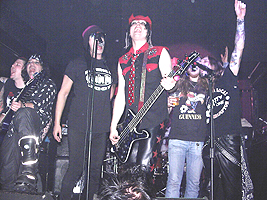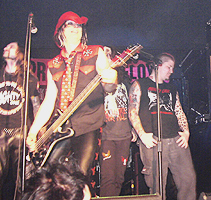 Then it was down to the merchandise area where the bands had a good chat with the audience members, posed for piccies, sold some cd's and signed a good few autographs. Despite those of you who didn't show up – it was an outstanding night of sleaze, cock rock 'n' glam the way we like it – you should've been there as everyone had a most enjoyable Sunday night that came out.
10/10
By Glenn Milligan
TYLA + In The Name Of -

Corporation, Sheffield Saturday, 2nd Dec. 2006

An impression that someone is using these increasingly frequent visits to Sheffield from the Quireboys and Dogs D'amour to showcase the latest local rock n' roll talent becomes increasingly hard to avoid, and this applies to this apparently unplugged visit from the latter's frontman.

Sheffield's very own 'In The Name Of' feature a familiar name behind the mike in Steve Baranovich, who formerly fronted 'Jury's Out' and the very short-lived 'Cruel Device', whose one and only gig – at the also no-longer-existent Classic Rock Bar that I had the honour to review.

Nearly two years on and I.T.N.O are a much more successful venture for Steve, two guitarists instead of one this time, and two who take to his musical direction a little more than the chap who played in his previous outfit. This of course means eighties hair rock which they write and play very well, and heavily under the influence of Danger Danger – distilled substances with a fair few drops of Trixter, House Of Lords and Attraction splashed in too. Time only for seven tunes, there may be, but I am already naming favourites, 'Back Inside My Life' and 'Win Win Situation' in particular.

Time for Tyla and his acoustic sound turns out actually to be an electric one, using the large semi-acoustic he has strummed out many a classic Dog number on fro the last decade (or two). The only difference is no drums, bass, keyboards or lead guitarist for his chords to hide amongst which makes this more enjoyable than virtually all the Dogs gigs I have seen since the Arena one in '02.

Known for not taking too kindly to the odd PA pegging out mid play, his amp behaves very well tonight, so instead it is the behaviour of the crowd during one tune that incurs the big man's wrath. Asking the crowd for a bit of quiet as the new number is dedicated to a recently deceased friend, he establishes well and truly that he hasn't said this for a laugh when at the end of the first verse, he cuts off as some people at the back fail to respect his request. 'If you're not going to be quiet, go and get your money back and f*** off home!" he snaps at the offending fans. "You wouldn't talk during a movie, or at a funeral, would you?!" to frankly understandable applause from the rest of the crowd.

Well I can safely tell you no one takes that liberty again for the following four minutes but once he's back into the back catalogue (good one, Dave) he knows there's no guarantee of silence, and a surprisingly long encore of four songs, including top two 'Last Bandit' and 'I Don't Want You To Go' typically justifies a rowdy reception, even in his opinion.

Clocking in at 70 minutes it's a show longer than his band manage to muster and the songs make for more leisurely listening played in this form so perhaps more solo shows would actually pay (that's not saying that I don't like Dogs D'amour by the way, Ty.).

Another splendid Saturday night in Sheffield's no. 1 rock n'roll ranch.

8.5/10 - both artists

By Dave Attrill

Thunder + Glyder -
Sheffield City Hall, Sun 26th November 2006
When I saw Thunder last play here in January, I frankly found them a bit of a damp squid in comparison to the stormer of a set Toby Jepson had played in support, even if the Croydon boys had played their proverbial poop holes off as usual.
Ten months on, the ex Little Angels man is not back again with them but in his place, four lads almost equally capable of wasting the headliners, are. I reviewed the debut album by Irish foursome Glyder earlier this year and was very impressed by their Thin Lizzy influenced take on hard rock, so here was a chance to see how it shapes up on stage. Put it this way, forty minutes simply ain't enough by a long shot – they are every bit the live powerhouse as they are the studio one and the blend of material from the album, two or three newly written numbers and a cover of Lizzy's 'The Cowboy Song' more than sees their job as a warm-up act well and truly done. Along with other recent newcomers The Answer, the Emeral Isle appears to have re-established its knack for producing quality classic rock talents, me thinks.
South London have produced one in their time too. They're called Thunder of course and this evening they mean no less than business. For the sake of old times, more likely than anything else, they ditch previous opener 'Loser' in favour of old starting staple 'Backstreet Symphony', the stomping title tune from that legendary first record.
Sixteen years on and not a stale spot to be seen, it sits comfortably as cats next to following track 'Dirty Dream', one of quite a fair handful from their corking new disc, 'Robert Johnson's Tombstone'. It's not long however before Danny Bowers sets about dishing out his routine reprimand to those not yet in possession of a copy of their latest long-player.

"I'm going to pick on you now" he says as he introduces another 'R.J.T.' cut. "This song is one you don't know"
Shame on those people in my opinion too, I reckon as "Million Facers' is a superb slice of Thunder classiness that they could have written anytime over the past two decades with suss they have never shed, as are 'What a Beautiful Day', 'My Darkest Hour', 'The Devil Made Me Do It' and '…Tombstone' itself, the latter two, my personal favourites from the record. Announcing that '…Devil..' is due out as a single the following month, Danny jokes with us again "Buy five copies each and you'll get us back into the charts…no, ten.". On the subject of jokes, the band's resident joker himself, Harry James enjoys his usual session of banter with the gathering as he swaps sticks for strings for 'A Better Man' and is craftily left to perform the last minute and a half of the song alone.
Yes, of course we get a few of the old chestnuts in the Thunder gig tree and a couple more than on recent shows/tours, most surprising of all being 'Laughing On Judgement Day' - howl long ago did we last hear that one in Sheffield? Alongside this, there's 'River Of Pain', 'Love Walked In' and 'Gimme Some Lovin' amongst others. Although it comes at the expense of 'Higher ground' 'An Englishman on Holiday' and 'Just Another Suicide', - those few omissions are strictly the only things that come close to ruining tonight's proceedings.
Thunder can't put a foot wrong and even a record-length 35-minute encore, rendered so by 'Dirty Love's seemingly endless sing-along extension is an integral part of the Thunder live experience. These lads still love to entertain, undoubtedly with Danny and guitarist Luke Morley both jumping round the stage like a pair of Zebedeees having a fight but that's simply just another trademark from these guys when they tread boards in a town near you, or is that almost fall right through them?
An absolutely solid-gold gig, their greatest Steel City fling of the five they've (and we've) enjoyed since reforming in 2002, with not one tedious second - no, not even that aforementioned sing-along-a-Danny session, endured at all in the two hours since the lights were dimmed, Thunder have every right to play Sheffield twice one year.
The weather may be dry outside tonight by when this thunder can be heard inside, I know which roof I'd run to.
9.5/10
By Dave Attrill

THIN LIZZY -
City Hall, Sheffield, Wednesday 22nd March, 2006
Set: WHISKEY IN THE JAR, DON'T BELIEVE A WORD, DO ANYTHING YOU WANT TO, CHINATOWN, WAITING FOR AN ALIBI, COLD SWEAT, JAILBREAK, ARE YOU READY, DRUM SOLO, STILL IN LOVE WITH YOU, SUICIDE, WARRIOR, BAD REPUTATION, EMERALD, COWBOYSONG, THE BOYS ARE BACK IN TOWN, enc. ROSALIE, BLACK ROSE, 2nd enc. DANCING IN THE MOONLIGHT
Originally touring under the name Sykes/Gorham or Ain't Lizzy in the late nineties, anyone needing further proof of how serious John and Scott seem to be about doing it full time again might have to force us into retirement overnight. Obviously, the reason for this year's tour is to commemorate 20 years since the passing of band legend Phil Lynott, one of the greatest and most characteristic figures in rock history.
Quite possibly the reason as to why 'Whisky In The Jar not only makes it back on the set since this line up, also featuring Marco Mendoza (Whitsnake, Soul Sirkus) and Michael Lee (Quireboys, Little Angels) has been touring under the Lizzy banner again but as their opening number.
Tonight's set is focused on 20 years for memories, not just of Lynott himself but of songs that have changed the face of rock n' roll forever, songs that here today in 2006 still are a cue for guitar wielding teenagers to grab their instrument and get down to it. Putting 'Don't Believe A Word', 'Chinatown', 'Waiting For An Alibi' and 'Jailbreak' so early in the evening may probably make most wonder if they are committing that most cardinal sin of all of in shunting all their staples into the front end of the show but all songs on a Thin Lizzy live show match that description.
Just watching the numerous guys on the floor, all ages between 14 and 50, giving it plenty on air guitar shows the amount of impact all the 21 tunes we hear tonight have on generations of rock fans old and new. As does watching the tears beginning to well on one or two punters' Chevy Chases as classic after classic continues to be belted out with the earlier hereinto mentioned reason for this tour etched firmly in the minds by the picture of Mr Lynott projected onto the backdrop.
Scott Gorham, one of the finest guitarists ever to have graced the planet is at no less than his typically astounding self and particulary rips like a b**t**d tonight, especially on the instrumental following 'Still In Love With You'. Though his commitment with this tour probably sadly indicates no more 21 Guns, his incredible guitar work has still found a good home to go back to for a while. It's just a pity that we can't hear 'Knee Deep', 'Little Sister' or 'Jungleland' as often as we can 'Bad Reputation', 'Emerald' or their ever inescapable anthem 'The Boys Are Back In Town' but not everything can be had in one lifetime can it. Encoring yet a second time for 'Dancing In The Moonlight', everyone still caries on making noise when they disappear backstage fro the third time but anyone still waiting for 'Killer On The Loose' ends up disappointed as the lights go up. A surprising omission but it made way for Whisky In The Jar, one of countless cornerstones of a career that rates as one of the most unforgettable in music.
Phil would not only have been proud, his ghost would have been sitting at the back savouring every second. This is the third, full tour the Lynott-less Lizzy in little over as many years. Let's hope we can back get together and celebrate the memory of that great man again in 2007.
10/10

By Dave Attrill
RECOMMENDED
Thin Lizzy - Greatest Hits (2003) 36 –track double pack containing all of the classics hear in this set plus plenty others. Highly recommended for new Lizzy fans.

21 Guns – Salute BMG (2002) The stunning debut from Scott's US melodic rock act. Very hard to find in UK stores these days but available from most hard rock mail order outlets or going poking about in any second hand stalls in town may prove worthwhile.

TARA'S SECRET @ Primed 6 -
Herringthorpe Centre, Rotherham, Saturday May 14th 2005
Opening one of the Classic Rock Society's popular annual events for up-and-coming local acts, Tara's Secret have got their name about quite a bit in their brief life span so far. Their debut album picked up rave reviews in several hard rock mags across the country, including 'Fireworks' and having heard the taster, am not without anticipations this evening.
These five lads fulfil them for the best of their forty-five minutes with a show that absorbs from the off. Amongst their own unique take on melodic hard rock, they provide enough to keep most UFO and Van Halen fans happy, and their most significant number 'Rock On The Radio'(is that title right by the way?) is a comical if important stab at the fashion obsessed leanings of the country's stations who all but seem to have forgotten that our music ever existed.
In the end, it seems like I was robbed in missing their set at the C.R.B. as they have plenty of other decent numbers like the ones they played tonight that they didn't have as much time to include.
Nice stuff anyway.
8/10
By Dave Attrill

THIN LIZZY -
Sheffield Octagon, Saturday Feb 5th, 2005
When Scott Gorham and John Sykes decided to tour again under the Thin Lizzy banner a couple of years or so ago, many would be mistaken for not thinking it was just a cheap n' crafty way to boost the ticket sales. Those who like me saw their rollicking show at the Leadmill in November 03 were amongst those proved most in the wrong at the venue virtually packed out on the night. On account of this, these Lynott-less legends, equipped again with Messrs Mendoza and Lee, return to play this even larger venue, which we learn, has sold out over a week before the gig.
The set is practically identical to that of fifteen months ago, comprising of all the faves, though minus 'Whiskey In The Jar' - again, but 'Jailbreak', 'Waiting For An Alibi', 'Don't Believe A Word', 'Chinatown', 'Killer On The Loose', 'Emerald' and immortal signature tune 'Boys Are Back In Town' are played with even further balls than before.
Scott and John switch solos continuously throughout the show and pull them off like they were only penned a day back, Mr Gorham ever the master of the trade, enjoying every minute. John's voice also seems to taken more of a form of that akin to his late boss since I previously heard him so probably that, along with their usually ode to 'the king of rock' was probably a boost to their morale.
Encoring twice, firstly for 'Suicide' and an extended 'Emerald' and then reappearing for closing belter 'Rosalie' it appears that Thin Lizzy still have quite a bit of oxygen left in their tanks than first though, amongst things because tonights show is practically faultless and I could see next to no faces minus smiles in the Octagon - in fact the punters appeared to be getting louder with every number played.
Whether they'll be round again still remains a slight question but I think they've been convinced now that 19 years after Phil's death, their fans are ready to move on but still hold true regard to where these classic tunes came from.
9.5/10
By Dave Attrill

Tyketto + Deadline + Teer -
Corporation, Sheffield, Thursday 11th November, 2004
On everyone's lips since it was announced in January, Tyketto's reunion tour finally rolls into ol' Sheffield city. The New York foursome, who consist of their complete original formation for the first time since 1991 have also brought another feared losst fave of mine over the pond. Floridan fivesome Teer were last seen performing to a rapturous reaction at the Gods 2000 and as next to nothing had been heard of them in the four years since, I was wondering if fate had dealt them an undeserved blow after that excellent debut. With all but one of the same line-up in tow tonight, Dan Michaels marches up and down the stage almost non-stop and whilst some of the pickier old-school spectators may resent his collar-shirt and corduroy attire, no one can complain about this chaps voice tonight - the only thing ruining it for him is that it is butchered by an appaling PA mix. Guitarists Shane and Nathan don't look too unhappy to be back either, the latter seems to have been doing some serious eating since last time I saw him, judging by that waistline. John Teer and the new bass fella - sorry mate, I didn't catch your name, enjoy the party too as a direct blend of old and new material through their eight-song platter includes live staples 'Heaven' and the sonmg which introduced them to most, 'Romeo' and yes I do catch a few people next to me singing along. Just don't be this long gone again lads, we might end up a bit Teer-ful.
Deadline are one band no melodic rock support bill seems safe from nowadays, having opened up for Enuff Z'nuff, Firehouse and less than a fortnight back, Mike Tramp even though they were announced as guests for this tour at the time the whole thing was made public itself. Playing a practically identical set to that one the other week, the now-signed Rotherham quartet have just released their debut album and play through about three quarters of its content tonight. 'Just One Night' again fails to make the list but we still have 'One Touch', 'Out Of Reach', 'Love's A Battle' 'Only You' and established anthem 'Losing Myself' to warm up to as usual, top songs one and all.
And then at 9.35pm the magic moment finally arrives as the music on the PA fades and four figures stride onto the stage. For Danny Vaughn and in most cases Michael Clayton, Sheffield has by no means been a rare stop off, this being Dan The Man's sixth visit to Full-Monty land in the last three years but the first with messrs St James and Kennedy in tow. Kicking off as I strangely enough predicted, with 'Walk on Fire', the Tykes load up all their old guns and fire off every round down to the last bullet tonight, playing through the entire 'Don't Come Easy' catalogue (I should think so too) and a considerable portion of second belter 'Strength In Numbers'.
Danny, ever happy as a pig-in-s*** as he is when he plays Sheffield, springs back and forth across the stage, as if he were on a bit of elastic, constantly picking up and putting down his two various guitars - nice 12-string by the way, Dan - and Brooke St James performance on all their classic numbers is timeless - his use of distortion effects on the first of his two solo spots tonight failing to ruin anyone's fun at the same time. Bassist Jimi Kenndy who I only recognise by his modern day look thanks to seeing him with his other band Blow-Up (supporting Vaughn in Nottingham, '01) keeps to his own part of the stage, walking towards and back away from the front, obviously still a bit shy. Michael Clayton is the only man to have remained in the band through all the other line-up changes, even the spell they spent under the Vaughn moniker, in Brooke's absence but still having played these songs over the years gives him the firm edge over the others.
As I said already, the set concentrates purely on their first two discs, the only exception being the cover of Queen's 'Now I'm Here' and then to wind up the night. there can only be one tune fit for finishing off this evening. All together now... "FO-O-R-R-EVER Y.." (alright Dave, we get the picture). A blinding evening by the most important event in this scene to hit UK shores this year - sorry - decade, whether this is a one off or a full re-established revival for the 'Ketto remains to be decided but for tonight it more than satisfied ten-fold either way. With classic hard rock ever more rumoured on the commercial market menu, and a well packed out room this evening, our music seems to be climbing further out from the doldrums every day.
10/10
For those who missed it, here's a look at the mouth-watering set you could have heard tonight.
WALK ON FIRE/WINGS/MEET ME IN THE NIGHT/STRENGTH IN NUMBERS/STRIP ME DOWN/SOLO/BURNING DOWN INSIDE/NOTHING BUT LOVE/CATCH MY FALL/STANDING ALONE/ GTR SOLO/RESCUE ME/LAY YOUR BODY DOWN/SEASONS/SAIL AWAY/Encores NOW I'M HERE/LAST SUNSET/FOREVER YOUNG
MIKE TRAMP + Deadline + Silverjet -
Corporation, Sheffield, Saturday 30th October, 2004
Like Sheffield's not full of enough tramps as it is? All we want, you'd think, is another one arriving. Except this particular 'tramp' does not sit in cardboard boxes outside the High St McDonalds all daytime, go for a p*** in the subways every two hours or eat discarded fish n' chip leftovers sitting on top of overfilled litter bins.
Instead he gets upon a stage and entertains people with some truly fine melodic rock tunes. Yes we are talking about Denmark's finest musical export, if you don't count the drummer from a certain San Franciscan metal act, who hits Sheffield for the first time since White Lion many moons ago when yours truly barely understood what the term 'hard rock' actually meant.
Two bands, who need next to no introduction to Sheffield's dedicated hard rock following, prelude his set. Silverjet (8/10) have only been a live unit for about a month or so at this time and this being the third time I've seen them really gets me into what they're about even though I was impressed from the start. Their recent 3-track EP 'Amalgam Sessions' accounts for almost half of their 25-minute set tonight but guitarist Dave appears to be savouring almost every second of it.
Rotherham's Deadline (9/10) go from strength to strength with every showing and although tonight's set was bereft of 'Just One Night', one of their three finest tunes -and my personal fave too - the now signed act showcase some of guitarist Andy's further soloing talents through their latest material. With their debut album, and another slot here, supporting Tyketto only a week and a bit away, this finally signed act couldn't predict a brighter future if they tried.
The headliner tonight couldn't have predicted the chaos that threatens to jeopardise his long-awaited return to British shores. When your lead guitarist returns to America due to reasons beyond their control, the words 'Up s*** creek spring to mind for more than a few performers worldwide. Mike Tramp had already found himself landed in hot water in London, the day before forcing Mike to resort to an acoustic show in the capital (not to mention Sheffield's 'Silverjet' not being able to play a single note of their set due to an over-run headliner soundcheck !!!).
By way of luck, a mate from Copenhagen stepped in for the rest of the tour who some of the White Lion and solo material. Thankfully as Mike fills rhythm guitar duties himself on all numbers, an electric set is created on the spot and carried off with miraculously little fault. Though not the biggest Tramp/White Lion expert on the planet, I soon get into the swing and I pick up the hint from the punters reaction to 'Wait' and 'You Can't Take My Rock n' Roll' that these were two of his greatest hits, and a singalong during the latter here includes an amusing jibe about Arsenal.
Closing with a medley that is Neil Young's 'Rockin' In The Free World' with a few bits n' bobs of other classics stuffed into the middle, Mike seems to have forgotten about the difficult stringing tonight's list together on the spot has been and the set's 1hr 45 min longevity is the most unexpected godsend. Making the most of little, Mike Tramp pulled a very brave feat in announcing his predicament tonight and (successfully) keeping us all in the room, let alone how he enabled the whole thing to still go ahead. A firm word of warning to other musicians preparing for playing live though do check your members' pre-occupational situation thoroughly before hitting the road - you might not be so lucky as Mike was.
8/10
By Dave Attrill
(This review is based on Dave's personal opinion and bears no relation to anyone elses view of the gig!!)
The 3 Legged Cat -The Countryman,Derbyshire, 11th June 2004
It's a funny thing abour retirement, but I find less time to do things like update the web site, write these reviews and remember to inform people that we're playing so they can come along. Sorry, anyone who would have liked to come along and didn't realise we were playing. I did remember to tell the Derbyshire Times about the gig but it failed to appear in the paper.
Anyway, as usual at this venue, a good crowd of people turned up and we were not short on vocal support.
The last time we played here, we arrived without the mixer or something similar. This time it was the mikes - again. It seems crazy that we continue to leave something behind. One of these days we'll be playing too far away to rectify it; this time Andy went back to meet Jane in Chesterfield to pick them up.
I think I've said before that my 3 favourite venues are The Lion, Clowne Community Centre and The Countryman. The crowd here was absolutely brilliant all night. The change of ownership has done nothing to diminish their enthusiasm and they were dancing away well before we'd finished.
I think we were all taken aback by the reception to the first song. Paul said later it concerned him that the night could only get worse from then on. Not so. At the end of the night someone said to me that it's a rare thing for people to be whistling and cheering the first song there, so maybe our material just suits this audience. Someone else said we should play there more often. Well, the good news is, we will be. We
were booked for 3 more dates there at the end of the night.
So, a brilliant night and our thanks to everyone who came and gave us such a great reception.
Mick wrote the sets which were subsequently changed by Paul and Andy to:
1: BMW, White room, WBM, BMF, Substitute, Ride on pony, Babe I'm gonna leave you, Aqualung
2: The king will come, Floyd medley (original), How far Jerusalem, Crossroads, Wishing well, Don't believe a word. Encores: Gimme all yr lovin, Brown sugar,
Purple Haze
Can't remember where the next gig is. I think it's the festival which I'be been told first we were starting then that we were headlining. I'm none the wiser. Check out the gig list on the web site.
http://3leggedcat.members.easyspace.com
By Ade (The Bands Guitarist)
Therapy? -The Leadmill, Sheffield,
Saturday 22nd November 2003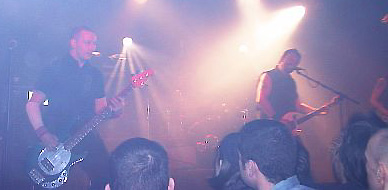 When it comes to getting in the Mosh pit these days my usual statement is "I'm getting too old for this shit". But sod it this is a Therapy? gig after all. So with a promise that I was only going in the Pit for the first two or three songs I worked my way into the heaving, sweaty mass of bodies eagerly awaiting the entrance of one of the best live bands I have ever seen in my life.
Andy, Michael, Martin and new drummer Neil come out with all guns blazing - straight into Going Nowhere followed by Teethgrinder and everyone goes crazy.
The brief pause after the first song is usually the moment for us to give Andy Cairns the warm Sheffield greeting of "You fat b*st*rd!!!". Damn, he's lost weight. Felt a bit cheated on that score. Never mind, on with the show.
Following a welcome to Neil Cooper who joined the band last year we are treat to Nobody Here But Us among others from the new album and of course plenty of classic stuff from Therapy?'s extensive arsenal of material, including Knives, Church Of Noise, Dancin' With Manson, Stop It Your Killing Me, Straight Life and Sister. And of course it wouldn't be a Therapy? gig without Potato Junkie now would it?
The only let up in the furious pace came with A Moment Of Clarity, one of my personal favourites.
With my promise of bailing out of the Pit early now a distant memory I eventually emerged battered, bruised, sweaty and knackered with a huge grin on my face to find to find my mate Steve waiting with a welcome pint of Guinness (God bless ya, mate). I just downed the pint in time for the encore. Therapy? finished the set with their brilliant cover of Joy Division's Isolation.
As ever, another fantastic gig from Therapy? I've been following these guys for years and never seen a bad gig. They always give 100%. If you've never seen them before, go check them out next time round, you'll not be disappointed.
10/10
by Chromedome

THIN LIZZY - Leadmill, Sheffield, Friday November 7th, 2003
The idea of using their old name again was always a definite liberty in the taking but Scott Gorham and John Sykes obviously knew it would sell more tickets than 'Ex members of..' Or whatever. My first visit to this venue is one of impression, the room holding up to about 800, three quarters filled tonight (nice one).
The opening number of the set is given away immediately -that siren on the intro tape can mean only one song and so 'Jailbreak' lets rip as do the audience. This is only the start of a mouthwatering 85-minute set that leaves nothing, bar one, out. 'Waiting For An Alibi' and 'Don't Believe a Word' are handled by the lads in rollicking form. Sykes dedicating the latter and 'every song in the set to the king of Rock n' Roll, Mr Phil Lynott' . Yes I should think so indeed, young man.
John has more work on his hands than most of course with being the lead vocalist as well but he handles Phil's old duty splendidly and Scott, going without saying, an equally talented musician levels it up in his one duty, making those solos as memorable as the day they were written. Classics 'Chinatown, 'Cold sweat', 'Sun Goes Down', 'Bad Reputation' and one of my all time favourites 'Killer On the Loose' are given a better new lease of life than their deceased leader could have ever wished for. 'Still In Love', 'Cowboy Song' and 'are you ready' follow, keeping momentum well and truly in the sustained region of things but it's the next number that everyone's come to hear of course.
'The Boys Are Back In Town' is about an accurate description of tonight as you're going to get and played at what seems like twice the speed of the recorded original, sends the punters off their trolleys and a reasonable fraction of the crowd have their air guitars out as could only be expected. Encores 'Suicide', 'Rosalie' and 'Black Rose' storm by to unfaltered appreciation and then before you can say 'Whiskey In The Jar', 'they are gone and that's the one criminal omission from an absolutely classic night for those who still love classic rock n' roll.
The legendary Phil Lynott may have been dead for nearly two decades but his legend lives on and tonight, no one was about to forget it.
9/10
By Dave Attrill
Thunder - Rock City, Nottingham, 20th May, 2003
Talk about packed - you could hardly move in the large live room. It looks like Thunder have definitely made a successful comeback, thanks to their appearance on the November 2002's 'Monsters of Rock UK Tour'.
Nottingham were romped up with the intro of the very fitting 'Thunderstruck' by AC/DC to get them in the mood for tonight's ripper of a gig that began with one of those songs that started off their glory - 'Back Street Symphony' - so Danny's big long barnet is no longer in place, but by god that voice is stronger than ever - it's often said that things mature with age and this mans lead larynx simply backs up that assumption -it's like putting the original album on!! Words can't say how impressive it was.
'So how many of you have bought the new single?', Danny asks before Thunder shoot into the soon to be live favourite 'Loser', (the opener on the new album 'Shooting at the Sun') which saw quite a few hands going up in the venue - many even know the words as well in and sang out in fully fledge bawl-out Thunder fashion much to Danny's delight.
Now this was a set full of new and old classics played perfectly and you could feel the electricity that formed an energetic current between everyone present. When you are presented with a set that included 'River of Pain'; 'Like a Satellite' (that saw the fans take over the song) and scream before Danny hit the high notes); the epic 'Higher Ground'; the aired last November true in style rocker 'Somebody get me a spin doctor' the gorgeous ballad, 'Don't wait for me, goodbye' and the newie 'Everybody's laughing' (complete with a chorus accapella of 'Everybody's Laughing, Everybody's high' from the floor choir) it was impossible not to be very impressed.
And that ain't all after the final main song of the set, the gargantuan Donington 1990 spectacle that is 'She's so fine' we were spoilt with a special guest in the house - ex-Rainbow, current Deep Purple Painist, Don Airey who joined them for a joyous whirl through The Rolling Stones 'Brown Sugar' and if that ain't enough we got to witness Drummer, Harry James on acoustic guitar for a beautiful rendition of 'Better Man' before the proceedings came to end with that song .. well it can only be that one can't it - the long when it's live classic 'Dirty Love' (that saw a bit of 'Satisfaction' by those 'Stones again knitted in that fitted in like it was written for that purpose alone).
Well what can be said, no-one wanted to go home but all good things must come to an end - let's do it all again in November.
10/10
By Glenn Milligan, BA Hons CS
TIKABOO PEAK + DEADLINE -
Classic Rock Bar, Saturday 7th June, 2003
Their first appearance at the ever-popular Ecclesall Road venue since it opened in late '02, Sheffield's no. 1 melodic rock mob shouldn't find it too hard to attract the crowds that other local faves like Toastplant Project and CRF have pulled in on most weekends. In fact, keeping 'em out is quite a challenge as they are eventually squeezing through the doorway for a first peek at the Peak in eighteen months.
With six impressive new songs sharing the set with established faves 'Restless', 'Lonely World', 'Not In Your Nature' and 'Better', the sole remaining number from their 'Paranoid Mind' disc, the lads are back in devastating form and deserve a deal even more than ever, now. Welcoming enthusiastic new drummer Ben on board alongside Jerome, Rich, Pat and the ever charismatic Dale, the style has also changed with the line-up, aiming at a slightly more contemporary target but still as best desrcribed a beffed-up version of their former selves. The cover of White Sister's 'Promises' is wisely reinstated though inserting it into the middle of one of the new songs was less than advisable and the set ends all too quickly after only three-quarters of an hour. There's little doubt that old belters like 'Calm Before The Storm', 'Tell Me I'm The One', 'Safe And Sound' and 'Blood From A Stone' which all can no longer be performed publicly due to apparent legal purposes, will be sorely missed by the friends they've made through them in the bygone years but it's good to know Tikaboo Peak can always write worthy replacements. Splendid stuff, lads.
I must of course not neglect to mention that Rotherham four-piece Deadline who play before them this evening are another band I'd firmly recommend checking out. Unless you already have had the privilege, their material is a mix of Tyketto, Skin, Van Halen and U2 and songs such as 'Stop', 'Losing Myself' and 'Love's A Battle' have earned them good crowds over the years including a support slot with Mitch Malloy in 2001 (also on this site).
Two bands going places and destined to travel further in the near future.
9/10
By Dave Attrill
Tuff - Nottingham Rock City, 12/10/02
Stevie Rachelle and his band Tuff are very much hard-edged cock rockin' stars 'n' stripe debonairly and l was truly impressed just how much Nottingham warmed to the band - but they do seem to play Tuff records down here in the Rig unlike other clubs I could mention but refrain myself from doing so. Plenty of classics tonight which pleased the well initiated hardcore fans - 'do you wanna, do you wanna go down down' of course we do Stevie down to that 'Bridge' who wouldn't?
Stevies' a stinger of a singer and with his ferocious Alice Cooper swagger he cries hands up if you've got a black leather jacket hiding in your wardrobe - this ones for you' and ripped into 'Good Guys wear Black' - well quite a few of us were wearing them tonight - gotta do it properly though haven't you? - proper cock rock - LA Style as is 'The AII New Generation' with its 'Girls, Girls, Girls' throwback lyric line.
Exceptional stage presence and musicianship from these LA Sleazers was a guarantee with the place goin' crazy when they launched into the encore American Hair Band' that salutes many that are well worth a mention such as the 'Crue, Slash, Skid Row and the Bullet Boys'.
This was a real hot night that was cramped and pushy at the foot of the stag: but that's rock 'n' roll for ya and it don't get no finer than artists like this. These guys should be real big - I just want 'em to raise the roof of the main live room the next time they come across the pond to play for us.
10/10
By Glenn Milligan, BA Hons CS
TEN - HERRINGTHORPE LEISURE CENTRE, ROTHERHAM, SATURDAY MAY 18th, 2001
TERRORVISION - Nottingham Rock City, 29th September 2001
Terrorvision. They came, they saw, we loved 'em and then they went. But not without putting on a virtual blinder of a show at Britain's No1 metal venue. Opening act Vex Red had been and gone by the time Metalliville's sole representative for the night, arrived (really, Dave, that's disgraceful). Yours truly opted tonight for a back row seat - or, more appropriately put, standing space - for my seventh and very sadly last chance to enjoy such nuggets as 'Alice What's The Matter', 'Middleman' and 'Discotheque Wreck' at such decibels. As it's their last time out, old time's sake wisely decided for a track from their 1993 debut 'Formaldehyde' .
I never thought 'My House' was the ideal opener for a live gig (smashing tune it may be) but the crowd still went mad right on cue. Tony Wright's troupe then proceeded to bring us up to date with material from the last two albums, which I am a tad less keen on, but live, they slayed with the best of them. 'Tequila' and 'Fists Of Fury' were saved til near the end, as you'd expect for their biggest hit singles, Wright also playing guitar on the latter. Most importantly of course, it was the earlier material that was leant on the heaviest with the 'How To Make Friends And Influence People' stuff bearing the biggest set presence. This evening virtually everything went into the pot. 'Some People Say', 'Urban Space Crime', 'New Policy One', 'Tea Dance', 'What Makes You Tick', 'Still The Rhythm', 'Easy', 'Pretend Best Friend', 'Perseverance', 'Celebrity Hit List', 'Bad Actress' plus the classics I've already mentioned.
One or two more might have been included, such as 'Don't Shoot My Dog' or 'Jason', which I hadn't heard since the first time I'd seen 'em, that long three-quarter-of-a-decade ago, back in April 1994. Only when the lads encored for a second and final time with a roof-ripping rendition of timeless belter 'Oblivion', did it dawn on me what an emotional night it was for not just myself but the rock world as a whole. Strangely, though, as Tony, Mark, Leigh and Shutty finally disappeared into the dark for the last time, I left the room, still confident that the amicable grounds on which the group chose to disband means that they hopefully may not be gone for ever. After all, The Almighty reformed, didn't they.
TERRORVISION
1990 - 2001
9/10 By Dave Attrill
!!!Tikaboo Times Two!!! -
TIKABOO PEAK - Earl Of Arundel & Surrey, Heeley, Sheffield, December 2001.
A pub which now runs its own regular rock night, organised by the city's No1 melodic hard rock act is surely expected to host a few shows throughout the year by the band, and Tikaboo Peak have the perfect excuse to take their music to the people again. It has been the best year so far for the band, this being their fifth set since the Primed festival in Rotherham back in February.
The Earl is their practise place too (albeit in the room upstairs) so they obviously know where everything goes when they set up shop for the evening. The twelve-song show opens with 'Safe And Sound' and from then it's all systems go for the promising five-piece, as past faves like 'Blood From A Stone', 'Dreamland', 'Own World' and 'Paranoid Mind' introduce themselves to further impressed pairs of ears. Personal live fave 'Calm Before The Storm' is now just before the halfway point of the set whereas it used to be almost right at the end of the night, and still as always comes straight on the back of the previous tune with no gap.
During a few moments in the set, the amps start to let the side down big time, and poor old Jerome's guitar talents seem to be wasted as his soloing is practically inaudible at one stage. 'Tell Me I'm The One' has a slight restructuring nowadays on the live front - the final bridge following the solo stays instrumental and this evening there's a brief second of silence before Dale kicks in with the last chorus, other instruments immediately following.
'Restless' and 'Lonely World', which were first played at the Corporation, opening for Bob Catley, about a year back are now joined by latest newie 'Not In Your Nature', a slower tempo track this time but still another welcome product added to the Tikaboo catalogue. 'Promises' by White Sister is the only cover on their set nowadays, the rendition of Madonna's 'Frozen' having been dispensed with long ago, but is still met with rapturous reaction and a bit air guitaring visible amongst the various AOR freaks in the minute but loyal crowd. I won't be surprised if they have a permanent invitation to this venue.
9/10
By Dave Attrill
PSI PHI/TIKABOO PEAK - BAR 8, City Centre, Sheffield, December 2001
A week later and they are at it again, but this time, joined by another jewel in Sheffield's Up-And-Coming Hard Rock crown. Psi Phi (pronounced Sci Fi, in case you were wandering) first attracted my attention, and deservedly so, at the First Contact mini-festival at Sheffield Corporation, in September 2000, and having seen them three time since -including this time round, my fondness for their totally unique brand of experimental melodic rock only grows with time. I am still lost for titles even now although the songs can tell themselves apart really. The three-piece look surprisingly comfortable on the dining-table-sized stage, though quite obviously not much room is allowed for moving around. The group are often said to be influenced by everything from Rage Against the Machine through to Rush and everything in between - and yes there are plenty of Lifeson/Lee/Peart inspired moments on offer here. There is actually a song called 'Science Fiction' in their catalogue, and on their set tonight, apparently the lyrics deal with issues concerning quantum mechanics or something of that kind. The extremes of their diversity are tested with the storming country rocker, 'Let The Good Times Roll' towards the end of their set. I think you have, tonight, boys.
So on we go with their rival Sheffield act, and gig reviewees for the second time this month, Tikaboo Peak. Playing basically a three-quarter length version of their set from the Earl, a week earlier (no joke intended) their amp sound more on planet earth tonight. Pity, they don't have time for all twelve songs again, though, but the set is still well edited and the nine surviving selections go down a treat with the thirty-five-or-so who have an inch of decency to attend. Sadly, even then, it's mostly just close friends and associates who have made the effort to come to the Campo Lane boozer this evening and I find myself competing with mates Tex and Rick in the band photography match, during the shows. The five-piece find time for all the faves, once more, and yep, the cover of 'Promises' gets in as does newie 'Not In Your Nature', which I'm very glad about. A good mix tonight with only five songs being from the 'Paranoid Mind' disc with later compositions 'Lonely World' and 'Restless' now mainstays of the set making up the numbers.
A flawless forty-five minutes from a true big band of the future - pity about the venue size - and audience size at that.
10/10
By Dave Attrill