Gilby Clarke/The Darling Stiletto's - The Viper Room, West Hollywood, California, Monday, 20th January, 2014
Wow nice – 2 former G'N'R members in 1 night in 2 different bands. Well Okay, Matt Sorum is here but this is a brand new Darling Stilletos that he has placed together with his wife – a band that they originally formed a few years ago. He is proud to now call her his wife too and isn't she beautiful he exclaims to us all there – we can't argue with him – lol.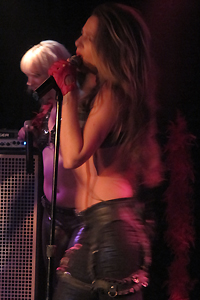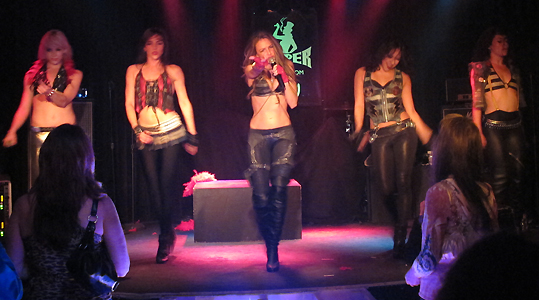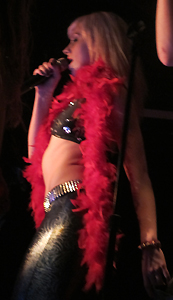 Anyways, these are hot new chicks froma all around including 1 from the UK – the British Bitch as they called her much to my amusement – well many can be – especially the good looking ones. Now these scantily clad girls strutted their stuff and were perved and goggle eyed at by both men and women alike as they were so visually ravishing - om nom nom indeed who moved with killer choreography and opening with a number that I reckon was a DS original because it was new to me.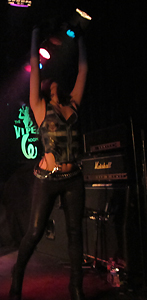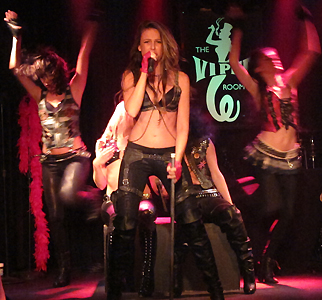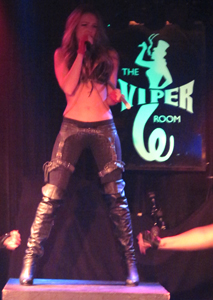 Their voices were exceptional too – crystal clear and prominent and made you direct your ears straight towards them. They delivered a variety of snazzy covers to us by the likes of Queen, AC/DC and many more. They had a guy out from the audience and had him sit down while they launched themselves at him and around his body much to his pleasure.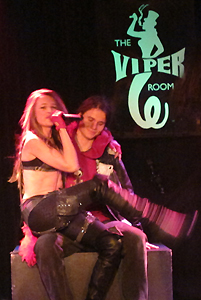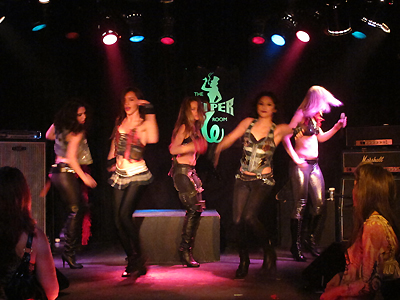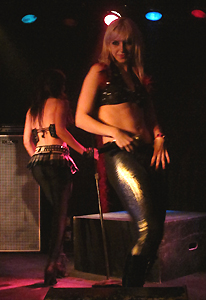 They even invited the audience to take pictures of them, place them on their instagram page in which they chose a winner to drink shots with them at the end of their set – cool eh? Throughout these harlots meant business and I reckon they will do will in all things musically artistic of course.
Set List: Wasn't Yesterday Great/Under The Gun/Motorcycle Cowboys/Black/It's Only Rock 'N' Roll/Be Yourself/It's So Easy/Cure Me Or Kill Me/Knocking On Heaven's Door/Dead Flowers/Alien/Tijuana Jail.
Well last time I saw Mr. Clarke was over the road at the Whisky which was pretty packed. With this being a smaller venue, it made it pretty hot and steamy to say the least and not a lot of room as you can imagine. The G. C. three piece had a different stick man this time since main stool sitter, Troy Patrick Farrell was on the East coast doing shows with a different band – man that guy is so in demand. In his place though was the drummer of Faster Pussycat, Chad Stewart who has also played in The Yardbirds and Pretty Boy Floyd in the past few years.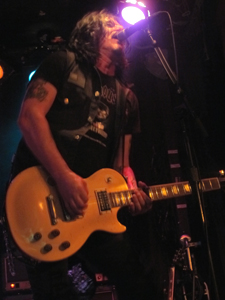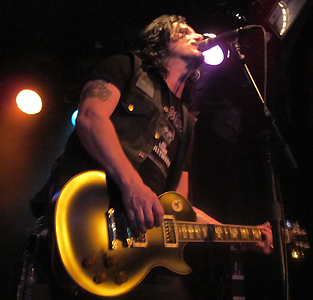 Gilby himself must have done a deal with the devil because like me he never seems to age either and plays that obligatory Sunburst Gibson that he and that other ex-Guns 'n' Roses guitarist are famous for. E.J. Curse, also of Silent Rage is still there on his right hand side as ever on Bass Guitar and also firing off some top dollar backing vocals. In fine form they are too with Gilby sporting those cool shades throughout – well you need to as it's so damn bright on that stage with those intense lights, posing like his life depends on it – well it is his job I guess and a great one he has as well.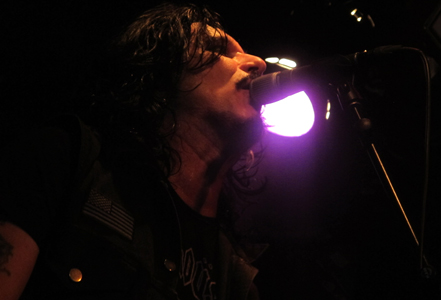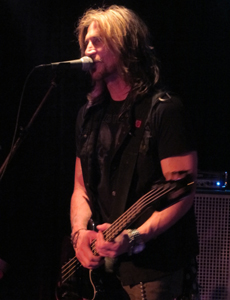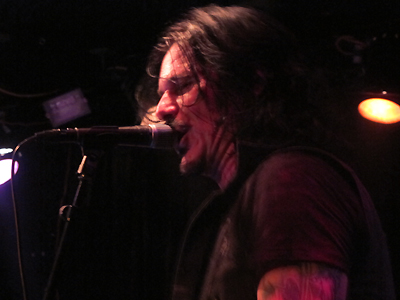 Due to strict timing at The Viper this is a way more compact set that I saw back in November 2012 but this fact makes it way tighter as a result – though that was a great show all the same. At one point Gilby swapped his black Gibson for his Sunburst since he was getting a less appealing tone and volume than what he wanted – the sound was far superior too for some reason or another as well. Setwise, most of the favourite numbers were featured that was made up of songs from his solo career with highlights being 'Under The Gun' & 'Black'.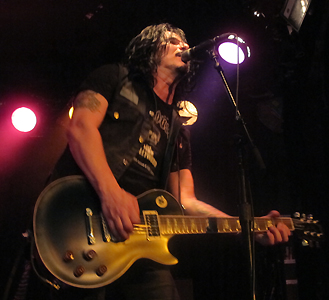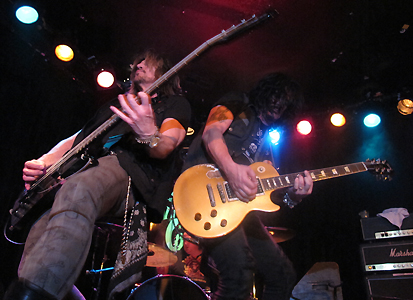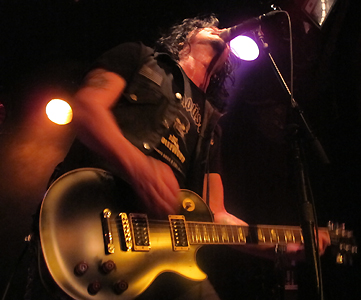 There were some excellent Rolling Stones covers in 'Dead Flowers' and 'It's Only Rock 'N' Roll', not to mention throwing in a coupler of cuts by that band that Mr. Rose still fronts with E.J. taking vocal lead on 'It's So Easy' and back to Gilby for 'Knocking On Heaven's Door' that we all sang along with too – as if we wouldn't. It's always great to hear 'Cure Me Or Kill Me', not to mention a cut from his last album 'Swag' that we reviewed back in 2002 – the track in question being 'Alien' before the musical gates were eventually locked shut on the closing notes of 'Tijuana Jail'. What a great way to party on Martin Luther King Day and grace yourself back into the realms of Hollywood Baby!
10/10
By Glenn Milligan
Gilby Clarke/Stonebreed - The Whisky A Go-Go, West Hollywood, California, USA, Friday, 9th November, 2012
Set List: Back Home/Can't Stop The Rain/Judgement Day/Whiskey Well/Break!/Last Dollar.
Seems I've become something of a regular to the Whisky now while I've been here and why the hell not - it's a fantastic venue where many people play and tonight it's the second time where I catch Stonebreed. A local fave and friends of mine too. It's always a joy to see them play with this set being no exception to the rule.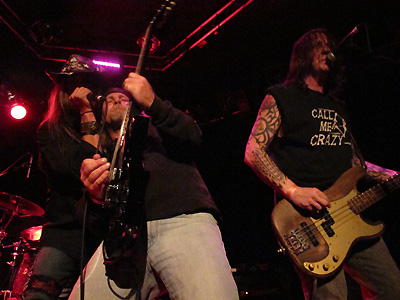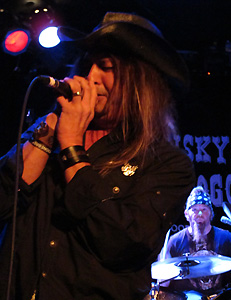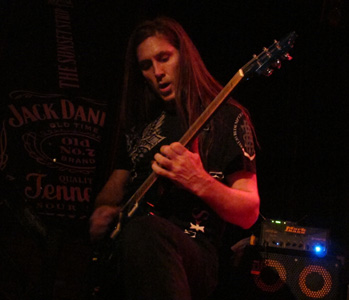 A band who are still blending in hard rock, southern rock and sleaze into one big wholesome melting pot and they wear their pride and love for their profession all over faces. All the many fans are here to see them, as as they call themselves 'The Stonebreeders' - a perfect title indeed who latch onto every note, thump, crash and word that the 'breed deliver.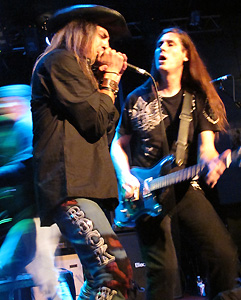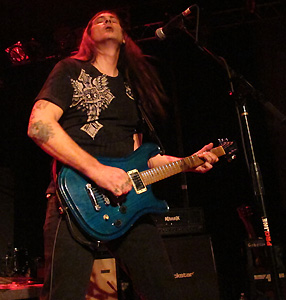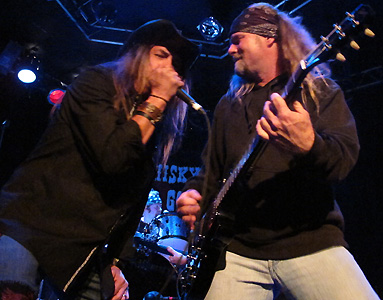 You simply can't go wrong with the joyous numbers like 'Judgement Day' and the sad but tongue in cheek 'Last Dollar' that always sees a 'breeder handing a buck to frontman, Carlos. An utterly brilliant set. These boys have never let me down yet.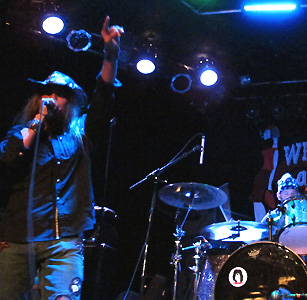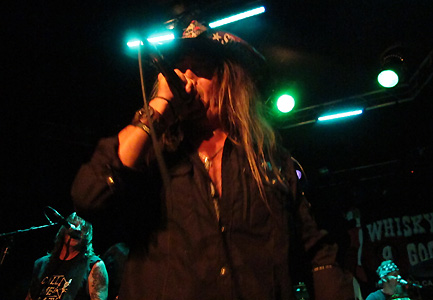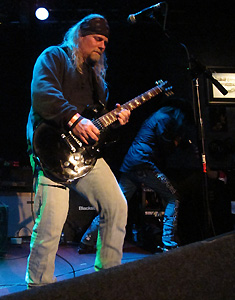 Fantastic!
Set List: Wasn't Yesterday Great/Under The Gun/Motorcycle Cowboys/Black/Be Yourself/It's Only Rock 'N' Roll/It's So Easy/Kill Me Or Cure Me/Knocking On Heaven's Door/Surrender/Tijuana Jail/Dead Flowers.
Well it's 10 years since I last caught Gilby in concert and he announced that this is his 2nd bi-annual gig at the Whisky and I.m glad I managed to capture him this time around.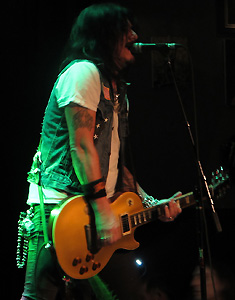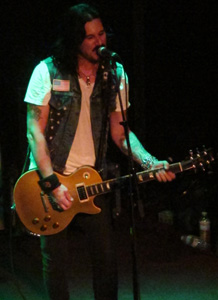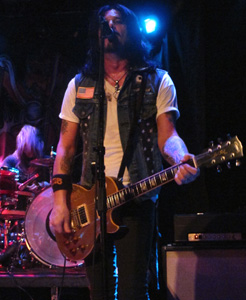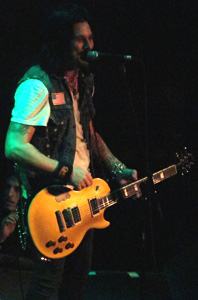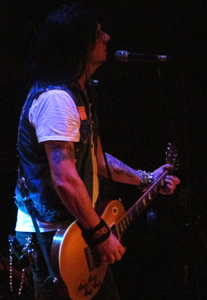 Onstage with him is EJ Curse on Bass Guitar from Silent Rage and Drummer, Troy Patrick Farrell (also of White Lion) who I also saw the previous saturday manning the sticks for The Bullet Boys. Anyway, these guys are as tight as hell and froth up the Whisky soaked crowd with plenty of songs from Gilby's solo career - the man has been at it a good while since he left that band featuring a certain Saul Hudson - no introduction needed there.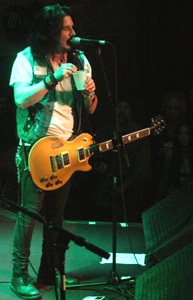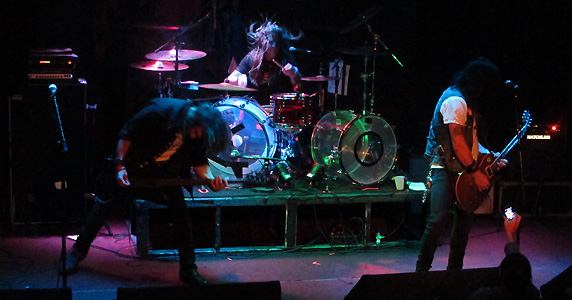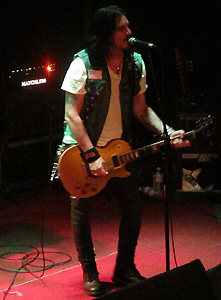 He looks so damn cool up there and like my buddy Tchad Drats says, "He has the word Rock Star written all over him" and that's without having to actually do anything. Gilby has this incredible presense on stage which not many new artists have these days. He oozes persona and then he cranks up that Les Paul and makes it talk, showing you that hours of practice make it all worthwhile.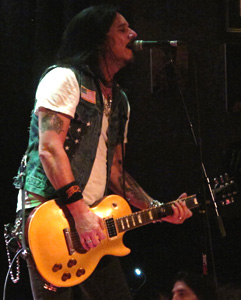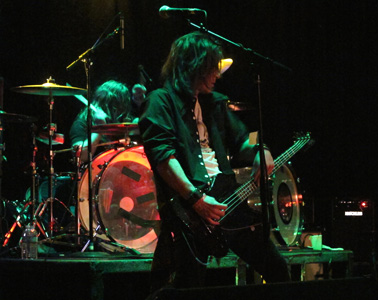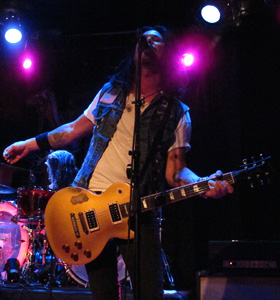 EJ Curse gets to give us some Guns N Roses 'It's so Easy' which although not an Axl soundalike (and why should he be) does a great job of it. Seems Gilby still has an immense love for The Rolling Stones and pipes up the place with a rendition of 'It's Only Rock 'N' Roll' that's a sure fire win-win song that is nailed no problem not to mention my old fave 'Dead Flowers' that I remember him perfecting back at Rock City Nottingham back in 2002 when the webzine was still in its infancy.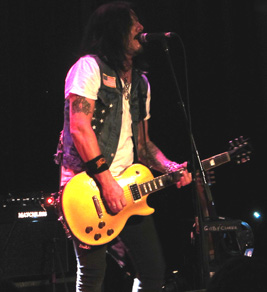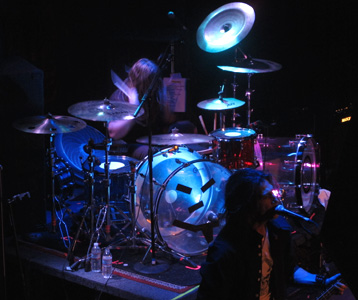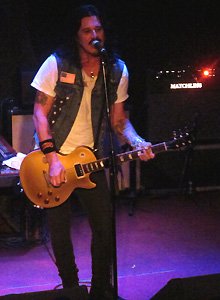 There were various highlights in the set (like all of the above weren't anyway) such as own penned numbers like the maybe death nelled 'Cure Me Or Kill Me'; Tijuana Jail' (where else would you rather be); 'Knocking On Heaven's Door' in which Gilby said we sang like angels and the best he had heard the Whisky do and a cover of Cheap Trick's 'Surrender' that featured a friend of his brought up on stage, a nice female guitarist called 'Frankie Clarke' who fitted in perfectly with the trio - now a quartet with the one song band addition'.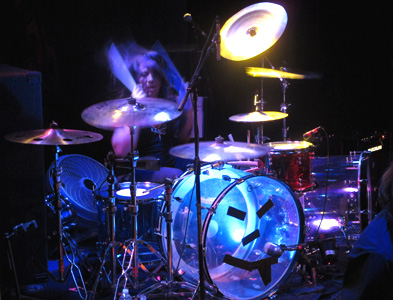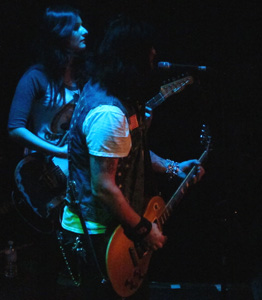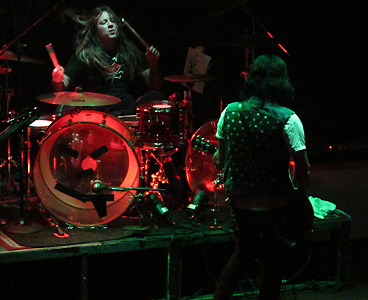 Gilby also talked about the time when the Whisky shut its doors for about 5 or 6 years and told us that he played that last gig where many of his buddies also happened to be including Taime Down of Faster Pussycat who also happened to be there tonight. After the last note was played and the last word was sung, Gilby, EJ and Troy came out to hang with us upstairs, chat with friends and fans and sign autographs too.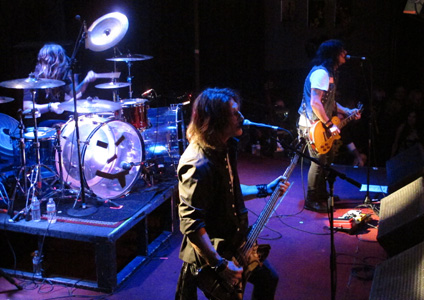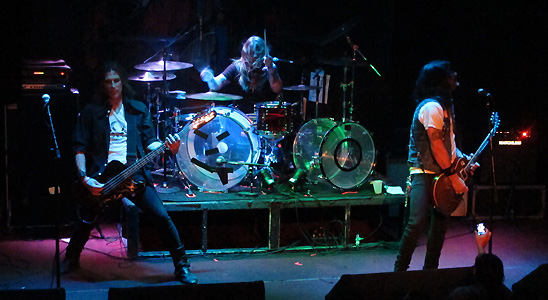 What can I say apart from another fun packed wild 'n' busy night at The Whisky.
9/10
By Glenn Milligan
Stacie Collins - Corporation, Sheffield, Thursday, 18th October, 2012
Set list: It Ain't Love/Don't Doubt Me Now/Baby Sister/Ramblin'/The Lucky Spot/If You Wanna Get To Heaven/I Wouldn't Do Ya Like That/Hey Mister/Tied To You/Carry Me Away/Ain't Got You/Ooh Las Vegas/It Hurts To Beathe/Show Your Mama/Jumping Jack Flash.
Well it ain't many times around here that we get presented with an act as purely rooted as this. Naughty 'n' Nice from Nashville, Tennessee we get the hot 'n' raunchy Stacie Collins and her band that features on Bass, Al Collins( also of Jason & The Scorchers); Jason Graumlich on Guitar & Drummer, Brad Cummings.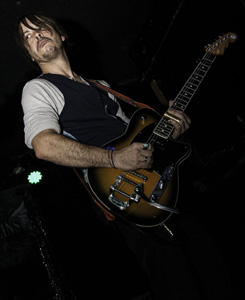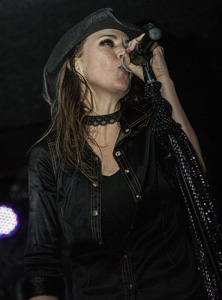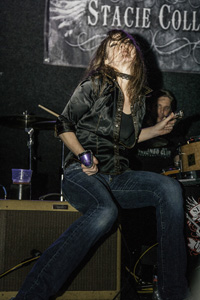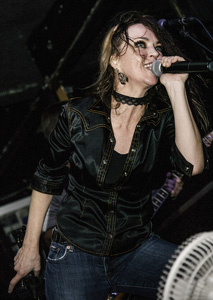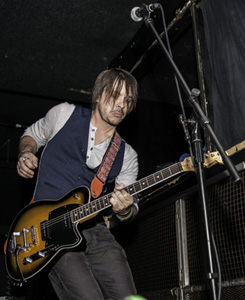 There's an immense amount of energy up that small stage from the gutsy get-go and the peeps in here get fired up with knockout hard 'n' kickin' country, blues and rock sounds from this amazing 4 piece band who actually ended up playing two sets since the support band was a no-show. They are so tight and you can tell that they simply live and breath the gorgious sounds that are often lazily termed Americana. Stacie hardly seems to stop still for more than about 2 or 3 seconds, stomping around on those boards, giving some aerodynamic high kicks that only thats cowgirls and maybe cheerleaders can do - which is solidly even the more so impressive in those real deal leather boots she is wearing.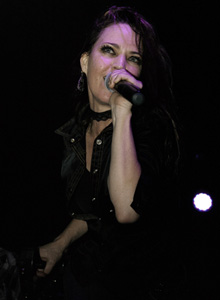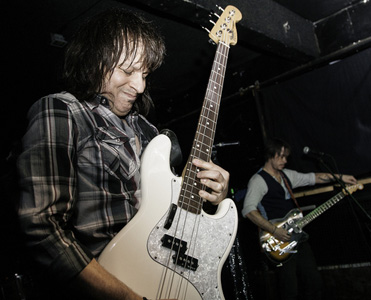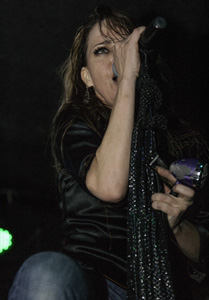 Then there's the honky-tonk moves that give the likes of The Dukes Of Hazzard's 'Daisy Duke' a clear run for her dollars - in fact it's like we have been transported back to Boss Hogs 'Boars Nest' but tonight there's no fight just a gang of folk who are lapping up some extremely enjoyable Tennessee brewed tunes (some even producedby none other than Dan Baird) and no doubt wishing they could witness a band like this at least once a week. The guys in question didn't note-drop once no matter how fast or intricate they played and provided solid 'n' sweet backing vocals throughout the night. We even got a song from Al Collins too to give Stacie a break but she backs up on harp all the same.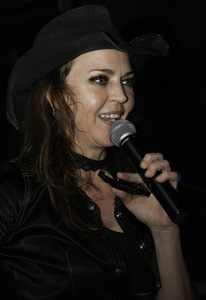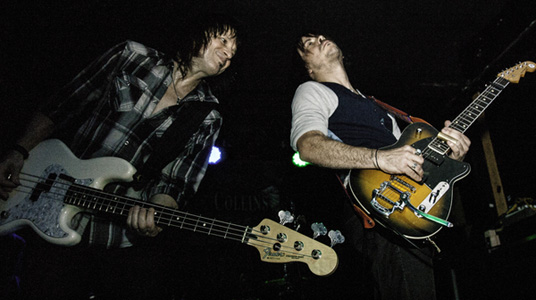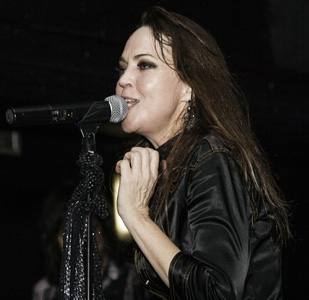 Stacie's vocals are very full and lush and needless to say extremely authentic and then there's the phenomenal harp playing to consider as well which is fast, ferocious and frighteningly full-on with those shrill, screaming notes reigning over all what is going on in the background. She's the best blower I've ever heard when it comes to this type of organ! It sounds even more impressive since she uses a harp mike that's had plenty of hammer but does the job perfectly. Mrs. Collins swaps them harps between songs and even manages to get close to the sound of a piano accordion in one instance too for 'Carry Me Away'.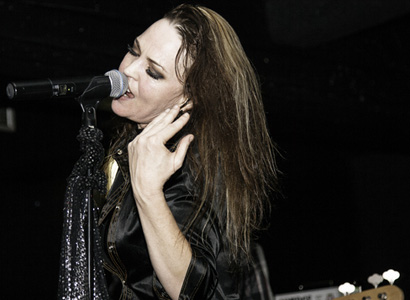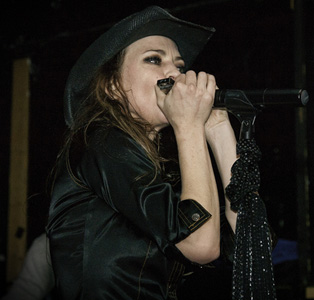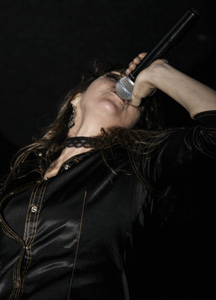 She's one not to keep the rockin' out to the stage and joins us in the audience area, dancing alongside the fans and playing plenty of harp on our level too before climbing up onto the right speaker (her left) and kicks wailing ass on there, ensuring not to bang her head on the high speaker that many of us are guilty of. Between songs she talks a plenty and even jokes that she's glad we speak English as when she is in Germany they don't understand what she's saying and want her to play the songs instead. Jason had a guitar cable problem at one point but while he was sorting it Stacie took care of the solos by harping them instead - true professionals indeed and even joked about him coming out too - haha - but not like that and says sorry to a member of the audience for it.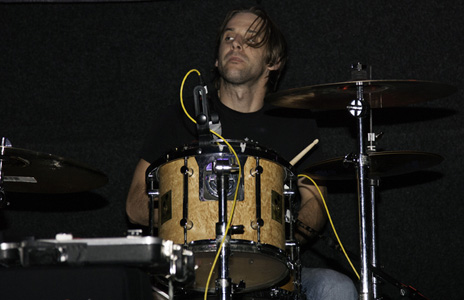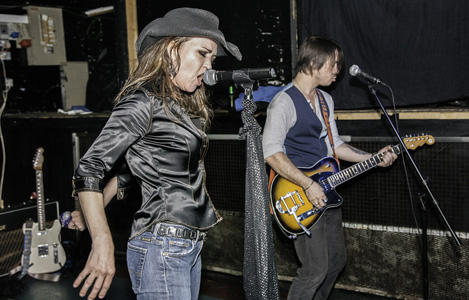 Songwise it's a nice repetoire of numbers from all of her albums with plenty coming from current release 'Sometimes You Gotta' that include the awesome groover 'Hey Mister' that opens the album 'I Won't Do You Like That' about dealing with being dumped by somebody and the classic rockin' 'Tied To You' mixed in with other great cuts like 'Baby Sister' about her sister back in Bakersville; 'Ohh Las Vegas' and 'The Lucky Spot' about her Mum and Dad. Later we get a cooking rockin' medly that featured some Rolling Stones in there like a 'Bitch' (a short instrumental section) and 'Jumping Jack Flash' as well with Stacie doing some mean Mick Jagger impressions. And how can I not mention a killer cover of 'Ain't Got You' as well.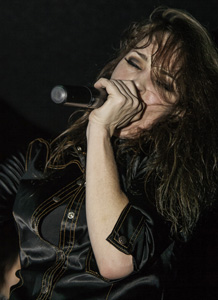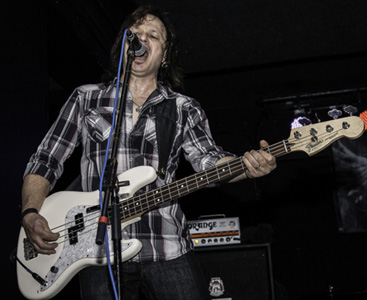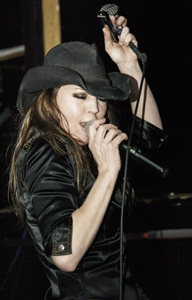 Other cool things that happened in the night include the fact that she not only thanked her band but many of her friends and fans as well as crew members and our very own Stage Manager, Lee at The Corporation whose name she kept getting wrong - but it's ok because he could have called her Tracey if he wanted to - lol. It was great to see Stacie sup down a shot too - always reminds me of being in the USA myself when I hear that word said by a cool American muso.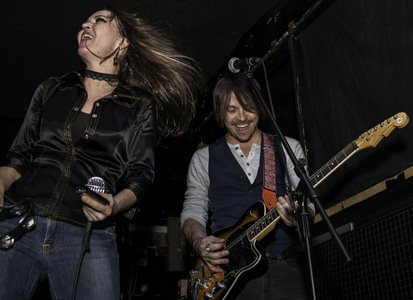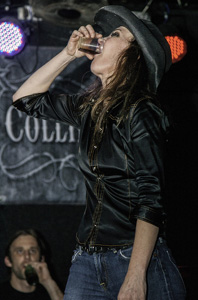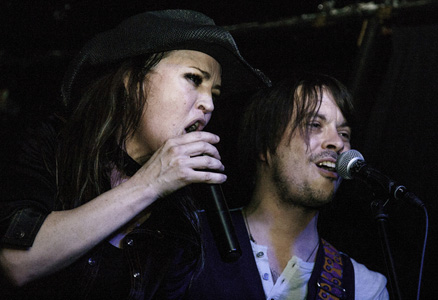 After the show itself the band and Stacie in particular came out to meet everyone, sign merch and have photos with us all. Here's to this Country Harp Queen and her band coming back soon.
10/10
Review By Glenn Milligan
Pictures By Nigel James
Crazy Lixx/Fatal Smile/Suicide Tuesday - Corporation, Sheffield, Sunday 9th September, 2012
Not long since I was in this room last - 4 days in fact and it's back again for another sure night of stonking sleaze and rock 'n' roll. Another great 3 band line up indeed that starts off around 7.15 with a ferocious sleazy glam band from Nottingham who go by the name of Suicide Tuesday.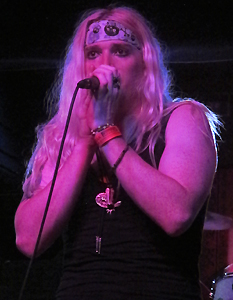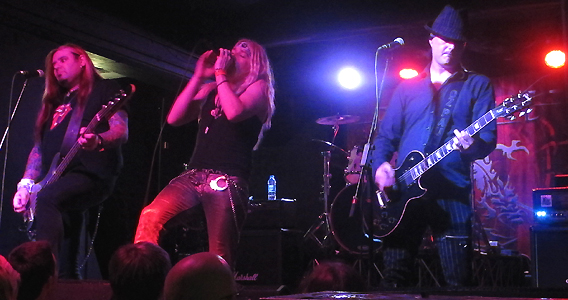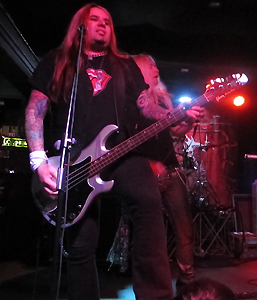 These guys have a tough job warming up the sparse crowd in here with their full-on hit 'em hard workings of pile driving blasts about debauchery and everything else in the day of being in a good ole group. They pull it off bit by bit with their blonde haired frontman showing Sheffield how it should be done. There's no pussy-footing around with these guys and have some powerful songs that include 'Last Time Around' ; 'Are You Ready?'; 'Bitter Sweet' and 'Church Of Sin'.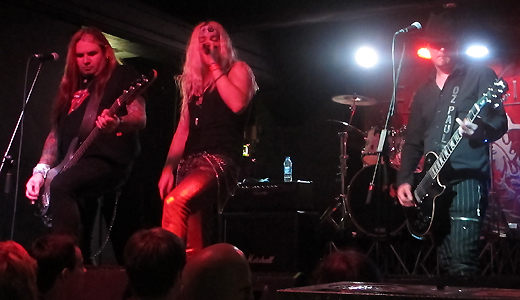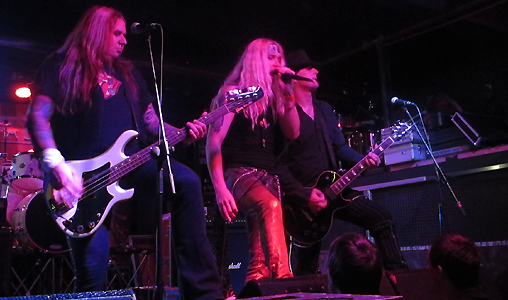 They are loud, proud and ready to make friends and get themselves known in these parts and further afield - an impressive start to what is yet to come on a Sunday night in Steel City in September.
8/10
After some pre-recorded Led Zeppelin we get to check out who last played this room in about 2008 with 3 well known LA Glam outfits. Fatal Smile from Sweden have the image, the music, the light show and the smoke bombs to top it all off. Consisting of MR. Y - Guitars; Blade - Vocals; Alx - Bass and Philty - Drums they start off with their current single from their latest release '21st Century Freaks' entitled 'Welcome To The Freakshow' that is a cross between Rob Zombie and Marilyn Manson, Murderdolls and Alice Cooper mixed into one. F*ck*n' Exceptional!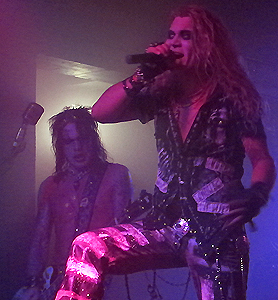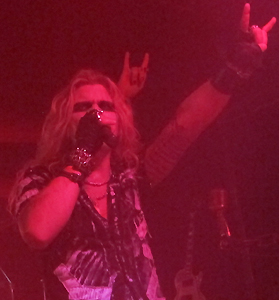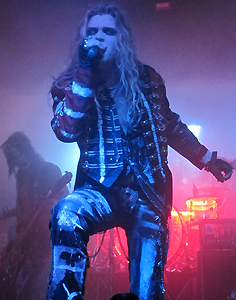 They are arena bound following the likes of Kiss with their heavy as hell surreal feel of obliterating Metal & Euro-sleaze that was the last of their 3 UK shows this year. Throwing his jacket off early on in the set as it's so hot up there, Blade blows the place away with his powerful, loud, high and operatic at times vocals, with the other guys backing him up with sincere perfection. Not heard BV's this good in ages either. He also comes complete with scarefactor contactson the eyes too for extra visual effects.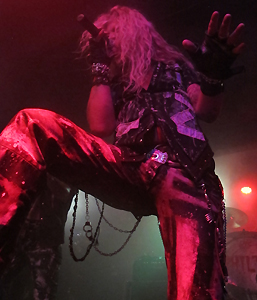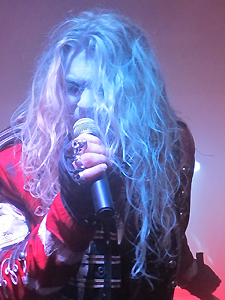 Personally, I think they derserved to be the headliners tonight as they put so much into their set and flabbergast the people here tonight with songs old and new that even include a ballad called 'For The Last In Line' that was written a few hours after the passing of Ronnie James Dio who we gave a cheer for before the song started to hit the PA. They really made an impression on us and it reminded me of visiting his grave last April as well.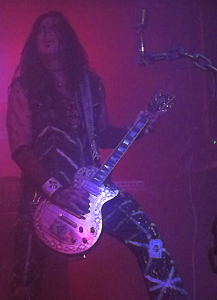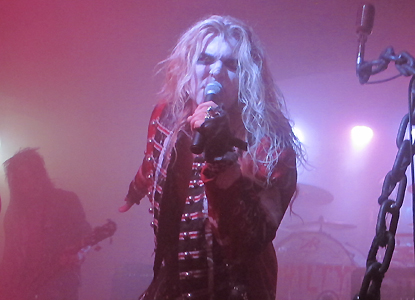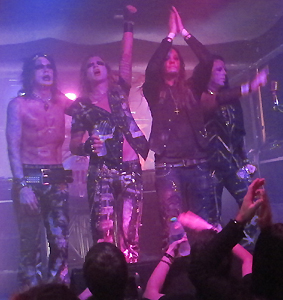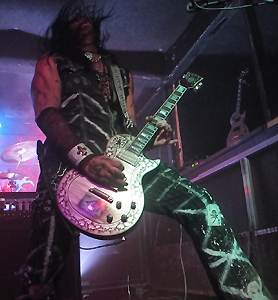 Back to the rockin' aspect though - the entire set was one big party with numbers like 'Neo Natural Freaks'; 'S.O.B.' & Hip Mother F*ck*r delighting everyone in here tonight.
10/10
I hate to say it but compared to Fatal Smile, Crazy Lixx seemed a bit of an anti-climax but were a damn fine 4 piece rock band all the same giving the fans here exactly what they wanted which was a outstanding set of 80's rock styled numbers that were in the vein of bands like Trixter, early Bon Jovi, Warrant etc.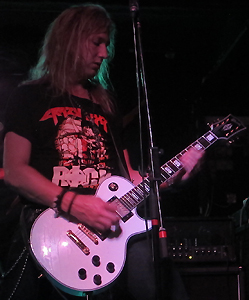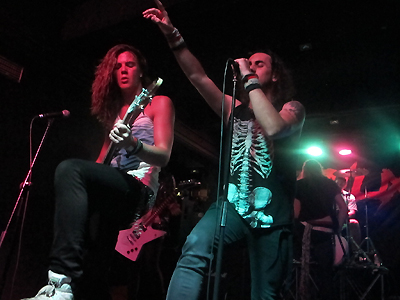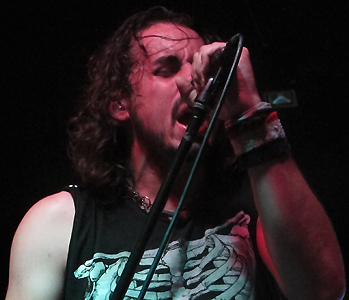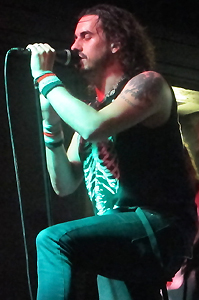 Featured at the Sheffield show was a cross section of material from all of their three albums that included six songs from their current release 'Riot Avenue' with 'Whiskey Tango Foxtrot' and 'Church Of Rock' standing out from the pack. Their singer, Danny Rexon could not talk so chatting was kept to a bare minimum with one of the guitarists doing a bit of talking instead.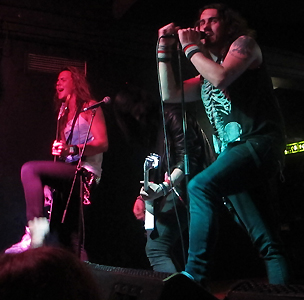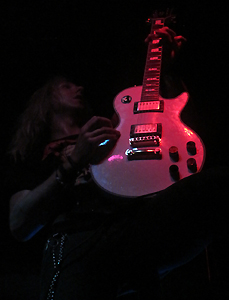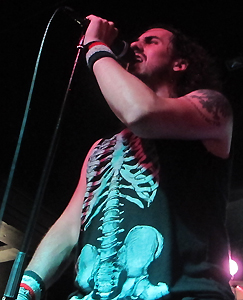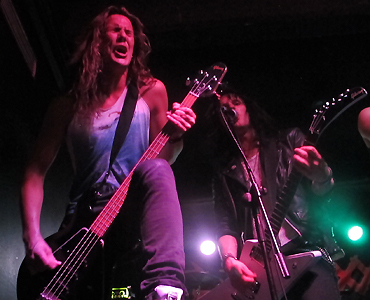 Most of the time though they let the music and songs in general speak for themselves with songs like 'Hell Or High Water'; 'Blame It On Love'; 'Voodoo Woman' and 'Rock & A Hard Place' being surefire high points of the night. Plenty of posing was a guaranteed from the 'Lixx and it was really cool to see a drum riser in place in the small room as well which don't happen to often.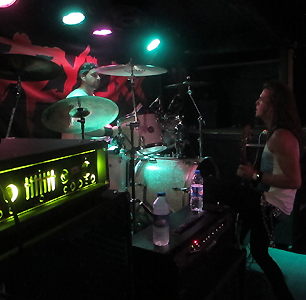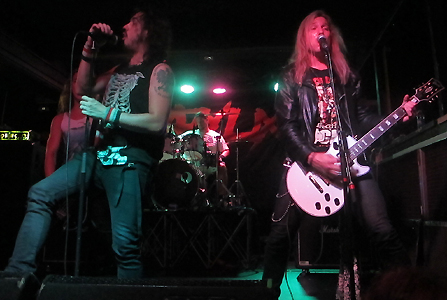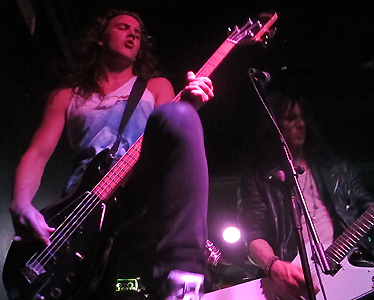 Because of the vocal problems the set was in fact cut short by at least 15 minutes or so but it was good of the band to put on a killer rock 'n' roll fun-packed show never-the-less as many artists may have simply cancelled at last minute. Get well soon mate.
8/10
By Glenn Milligan with input from Steve Froggatt
Crash Diet/Pretty Boy Floyd/Stonebreed -
The Key Club, West Hollywood, Ca.Saturday, 12th November 2011
Well it was only a few days previous I was in this very venue and how packed it is as well. The night had been going since about 6pm but I chose to review the last handful of acts as they meant the most to me so here's a straight to the point account of it.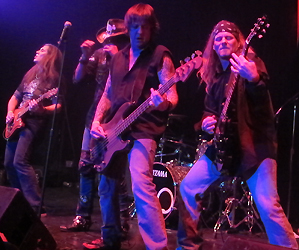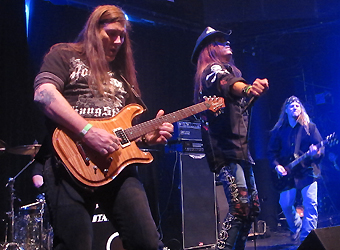 The 1st band are Stonebreed who I haven't seen live since April 2009 who are fronted by Carlos - a band who mix old school cock rock with southern rock - imagine Salty Dog and Circus of Power and it's somewhere along those kinda lines with 'Shoot You Down' being a brilliant example that opens the set or the ballsy 'Whiskey Well'.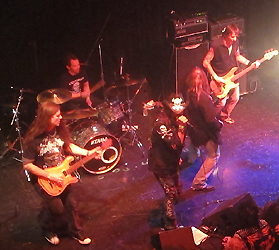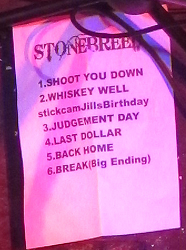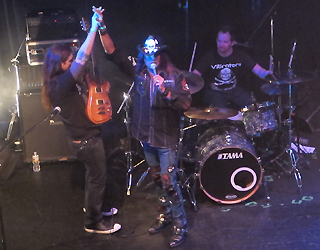 They don't have too long on the stage - maybe about 25 minutes but they make the most of it getting the crowd going and revved up pretty quickly early on into their set that includes new number 'Judgement Day' and the powerful closer that is 'Break' that tonight gets a big ending. They also delight us with the solwish bluesy almost seattle and stoner like 'Last Dollar' in the middle of the of the proceedings that I fondly remember them playing at another well known club down the strip.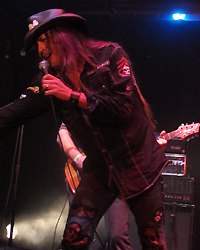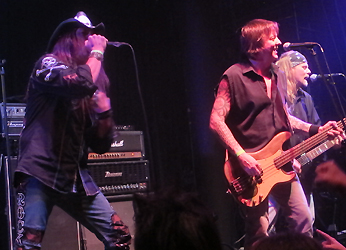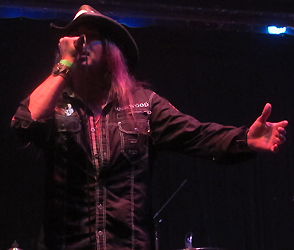 Stonebreed are a band that are most definately one of the those bands that can be considered the 'Cream Of Southern California' and have the respect of many people all over the area which is no doubt why they are so high up on this very large bill tonight as there were about 9 other bands on stage before them. One of these days I expect them to do a UK and European run with one of the well-known bands of the Southern and Sleaze genre as the other folk over here in the 'ook would love them too. Credit to ya Carlos and every member of the Stonebreed sect for that matter as well - a solid unit with plenty of oomph and professionalism.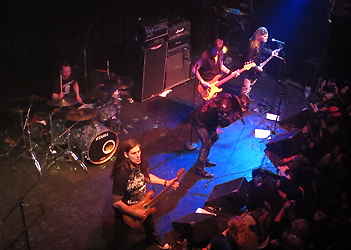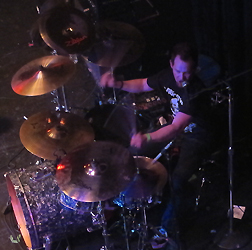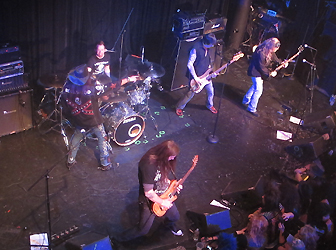 Pretty Boy Floyd are absolutely legendary in these parts and all over the world for that matter - who I have seen a handful of times and never cease to amaze and impress with just how good these guys are. Still in the unit with fabulous frontman, Steve 'Sex' Summers and Guitar maestro, Kristy 'Crash' Majors is Criss6 who has a bit more hair than when I saw him in December 2009 at Corporation, Sheffield.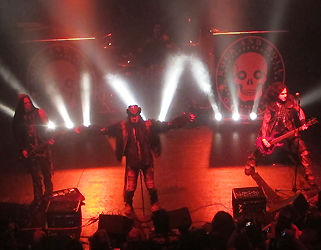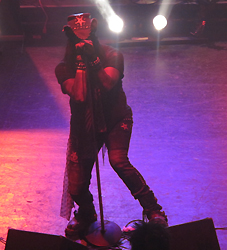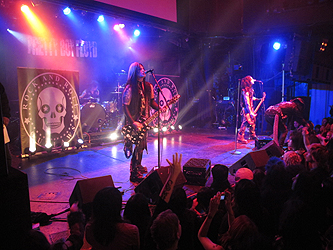 Now on drums taking the place of Troy Patrick Farrell is ex-Murderdolls and Anti-Product member, Ben Graves who would be a sure-fire strong contender and representer of the USA if drumming was officially recognised as one of the events at the 2012 Olympic Games.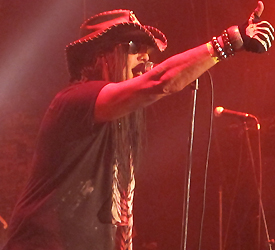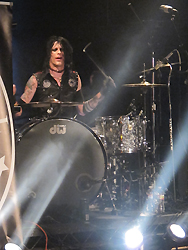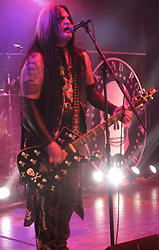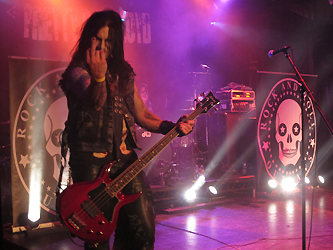 The 'Floyd set is highly represented by that famous album of theirs that is 'Leather Boyz with Electric Toyz' which is something that us hardcore fans don't mind a bit with milestones including the title track itself, '48 Hours', 'Rock And Roll Outlaws' and 'Rock & Roll (Is Gonna Set The Night On Fire)' which we lap up with ecstatic, overjoyous love and enthusiasm no matter how many times we hear these tunes.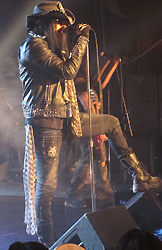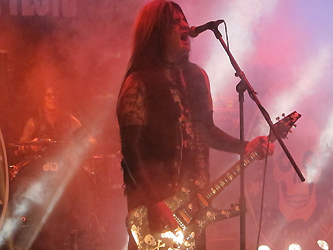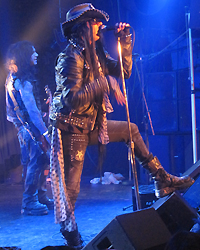 We also get classics such as 'Tonight Belongs To The Young' and 'Good Girl Gone Bad' from the 'A Tale Of Sex' EP that I always wanted to hear live over here cos you get the 'In Hollywood' lyric of the song while you are literally in Hollywood - brilliant - made my night!!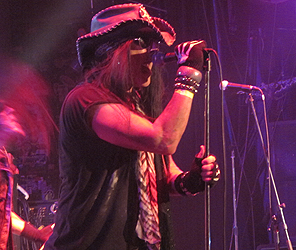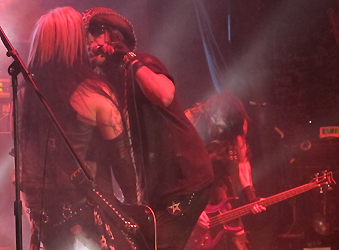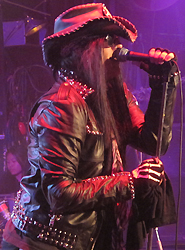 Ben got his own section to knock out a killer drum solo and we also got teased by Steve when he launched out a few cds and t-shirts into the audience too. The lighting and sound of the set was absolutely excellent as well and it was a magnificient co-headlining gig from Pretty Boy Floyd who got us revved up and singing along to the songs without a need to ask us at all.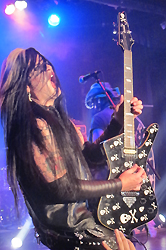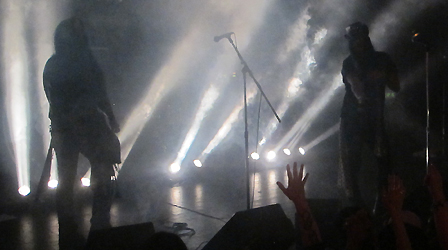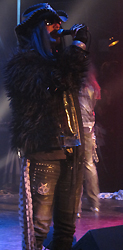 This is gonna take some upstaging and I wouldn't want to be in a band who has to take on that feat. They got the look, they got the songs, they got the presence - that's perfection.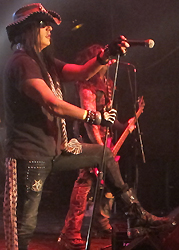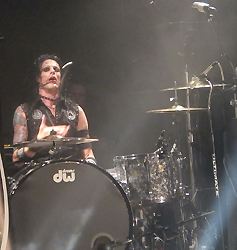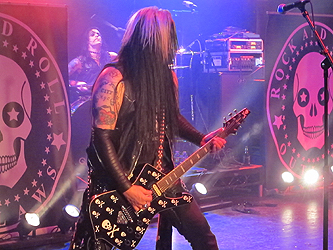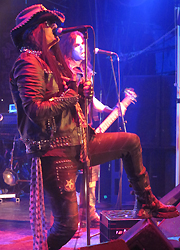 Co-headliners, Crash Diet from Sweden are a damn good band who really rocked this place out and went down a storm in here. They came across like real seasoned performers which they most probably are and that giant mohican of their frontman, Simon Cruz really makes you sit up and take notice. At the end of the set he dives into the crowd - something that none of us were expecting - did anyone catch him as he seemed to totally dissappear - or so it seemed to where I was standing.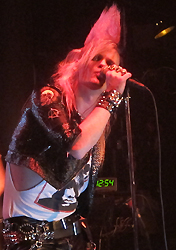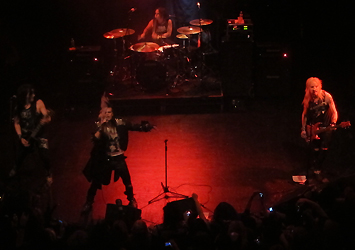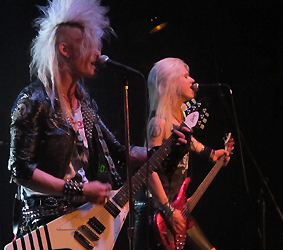 Highlights of their set that include 'Generation Wild', the title track of theri current album that actually started the proceedings that reminds me of Thrills in the Night' by Kiss; the melodic rocking 'Breakin' The Chains' (nothing to do with Dokken I may add - lol) as well as Mr. Cruz asking America if they are riot before kicking into the hard 'n' pacey 'Riot In Everyone'.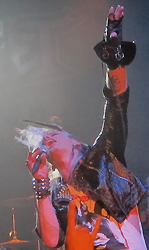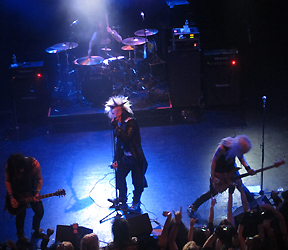 Then there was the Steel Panther come Motely Crueness of 'Queen Obscene' loaded in for hot pleasure too. There was plenty of cool guitar solos, courtesy of Martin Sweet during the songs and my god can these guys play or what! Check them out if you get the chance as they are doing quite a lot of touring throughout Planet Earth.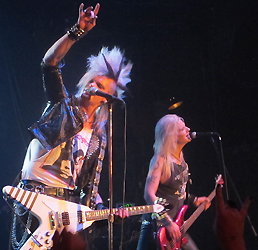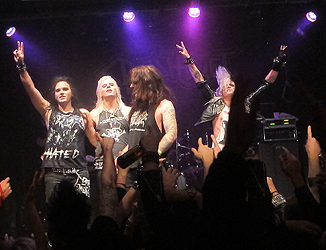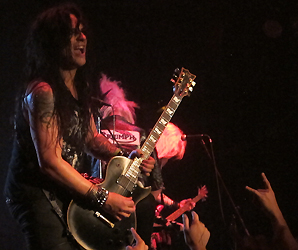 All in all an incredible concert - why can't every night in Hollywood be as good as this - about as close as you are gonna get to the heyday of the 80's which I sadly missed out on.
10/10
By Glenn Milligan
Crimson Glory - Camden Underworld, London,17th July, 2011
The assembled throng filling the Underworld have had to wait about 20 years to see the band in UK again. Thanks to renewed interest in the band and support on Facebook, Crimson Glory have come to the end of a European tour here in London. Bringing new singer, Todd La Torre (replacing sadly departed original vocalist, Midnight) for the first time to fans -whose only experience of him is via leaked YouTube clips has paid off. He has been wildly accepted by faithful fans of the band. Being of similar vocal range and style to Midnight, it's un- canny how he was unknown previously. In him the band have found the man to help take them forward.
Kicking off with the fast paced 'Mayday' got everyone fired up, this was a band never sounding better! By the time the power trio of 'Lady of Winter', 'Azrael' and 'Queen of The Masquerade' ripped the speakers apart, the crowd were in rock heaven. The riff duet of Jon Drenning and Ben Jackson threw shapes and crunched riffs that had power and melody! Backline groovers bassist Jeff Lords and drummer Dana Burnell were crystal clear on middle eight of 'Masquerade', keeping the strange time signatures intact.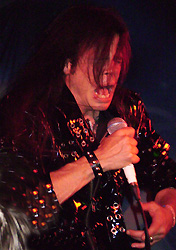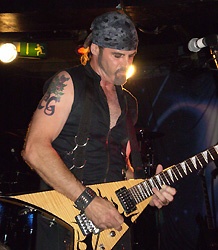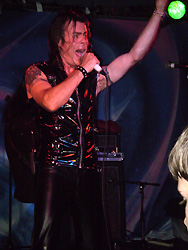 Previous vocalist Midnight wasn't forgotten, La Torre's voice saw to that, but Jon Drenning paid homage to him before slowing things down with the epic 'Painted Skies'. Todd holds his own in the soaring vocals of this track, whilst adding little parts of his own vocally. Wisely sticking to firsttwo classic albums the band played a crunching set with many highlights two being 'In Dark Places' and of course 'Lost Reflection' which sent a shiver down my spine, Todd La Torre paying his own homage to Midnight's epic song by wearing a silver mask a la original line up.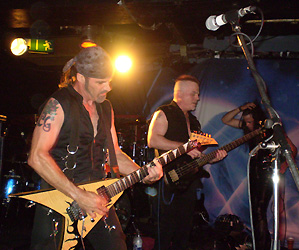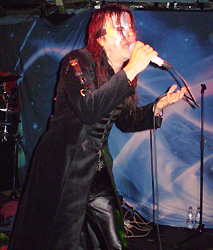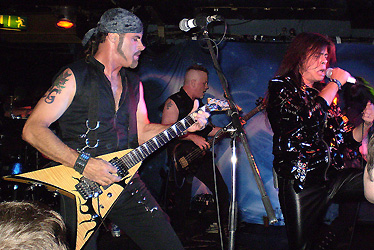 The intimate capacity of The Underworld made it all the more special , palms were slapped and plectrums grabbed!! The band really appreciated the support given, and stayed around after to meet and greet. If what Jon Drenning said about new material comes true it will be brilliant. Fantastic gig. Hope next tour is a lot sooner than another 20 years though!!
9/10
By John Mather

CUCKOO CLOCKS/Heebie Geebies - Harley, Sheffield, Wednesday 4th May, 2011
Taking place at this trendy hotel bar just off the top end of West Street, the sadly shortened two-band local fest consists of two interesting acts vibrantly traipsing the Sheffield scene of late. Heebie Geebies set foot on the boards first after having kept me waiting around til half past nine for the privilege. Their chirpy Police-influenced alternative rock assault is a big hitter with high slung guitars and haircuts reading 1980 right across making up the favourable combination. Songs you can jump up and down to and sharp staccato lines enrich their sound dominantly. Though played for only twenty five minutes to not even as many people, (reminding me of US guitar god Danny Danzi at the Corp back in 1999) the potential impact they'd make in a bigger venue is felt.
Cuckoo Clocks are visible geniuses of the crossover game. The male/female fivesome trade in folk, indie, prog and acoustic pop all in one tight-as-hell pack, topped and though minus their flute player tonight, fill out the rest of the instruments to sparkling effect. Despite playing a set barely longer than the preceding act, pushing eight of their most catchy anthems including two of my favourites from the four track EP at us sends a tremendous vibe across without effort. Quite inevitably, both band friends and gig regulars sing along from the go though I'm not far behind, two tracks in, frontman Paul being a man who knows how to be heard clearly behind the mike.
Air guitaring aplenty at the front commencing with my own personal fave 'Cuckoo Time' and onwards', it doesn't need to be told aloud that these chaps (and chapesses) know how to stir up a spirited mood with guitarist Rich never ceasing to smile for a second as he strums his red SG merrily away. As one late departs the venue already humming couple their 'hit's to date right back down to the bus stop Cuckoo Clocks stay a commonly recurring name on my lips having impressed me substantially on a first full listen to afford them more time again before long. With an album soon due for release you are advised to get yourself down to see them and give this great little outfit a chance.
8/10
By Dave Attrill
CRIMES OF PASSION/Silverjet/Stonerun -
O2 Academy 2, Sheffield, Saturday 19th Feburary, 2011
They've managed to get Metallica, Megadeth and Anthrax back on the same bill after about 25 years, so why the %$*&$@# has it taken eight to get Sheffield's top three hotshot hard rock machines to share a stage for the first time? Likely this might also be the reason, along with the headliners uncontrollably swelling reputation that they've sold out a 300-capacity stand-up venue, with only one of these three outfits still with the same name they had from their inauguration all three are still immensely lethal live machines for anyone who's managed to catch up with them today.
As Stonerun get proceedings off to an unexpectedly punctual start, the human stage typhoon that is Tommy Jones is already at it before the first chords are struck, gyrating his hair and in fact his entire body around as if he appears to be in a wind tunnel with a fast-rotating floor. Fighting this manic distraction, the new material makes its presence felt almost in second place with five new numbers allowing time for only as many off the three Eps. Not very good at remembering all the titles, 'Silver', 'populace' and ' Slowdown ' are as powerful and instant as the stuff already existent on disc and there appears to be more than just the members girlfriends singing along already tonight.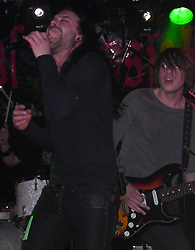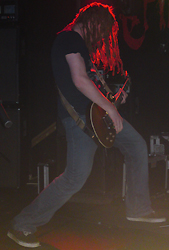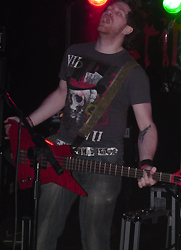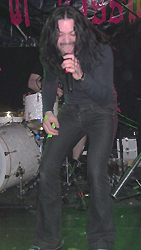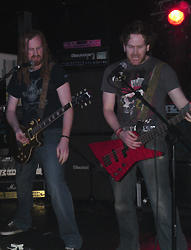 Of the already-pressed element, all personal faves, bar one make the list, 'Disease', 'Scissor Choice', 'Don't Blame Yourself' and 'Something in The Water' with its impressive blues solo from John catching another likely new barrel load of fans in their hometown. At 37 minutes, it feels like the headliner at the Corporation last year all over again albeit a significantly different set but a significantly strong(er) one again once more. The Stone continue running everyone else well and truly into the ground. Excellent.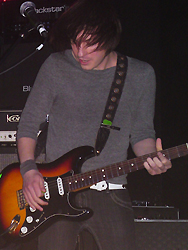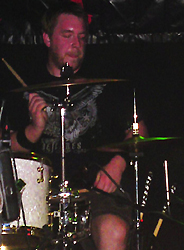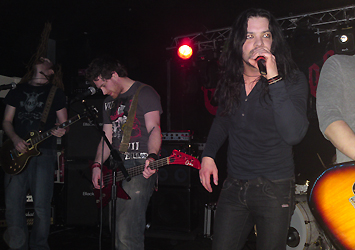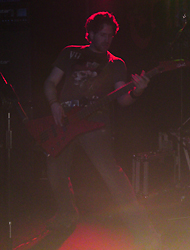 Silverjet are a band it seems no one can stop any more. Whatever they play, when ever they play it, people just can't not like them and unlike most acts making a penny or two out there today, the love actually comes first from the composers themselves. Although they proceed to alienate fans of old faves like 'Deuce', 'Ode To Spike' and 'Won't See Me Bleedin'' by only performing stuff this evening from the latest two cds, its easy for SJ to get away with it as they continue to band out more of the same, ever-infectious sixties-flavoured ditties.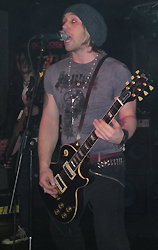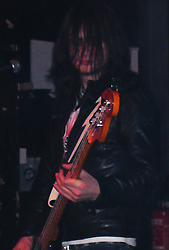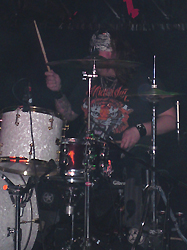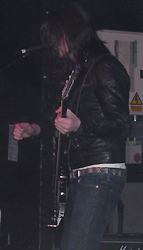 Seven of their newest numbers dominate the ten entries on tonight's A4 sheets sello-taped across the boards, leaving only room as is for three from the second album but I'm already amongst many instant fans of 'Red Alert', 'End of The Day', 'Valentine', 'What It Takes' and 'Pills' and finding it hard to dance around at the front of the crowd without looking stupid. Sally Gallo slots very well into the boots vacated by Andy Mewse, the former Maeven guitarist taking an instant fondness to their style itself even though she always appears to wear a serious expression on her face whilst playing. Dave Kerr roars the roof off throughout each and every number as ever, so its good at least for the venue that they only play for forty minutes but for us its still always an hour too short. Incredible as normal, chaps…and chap-ess as you are nowadays.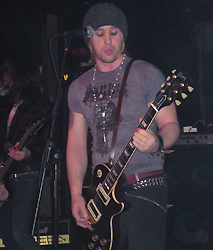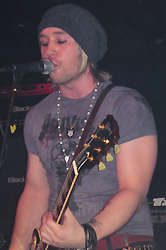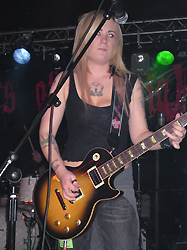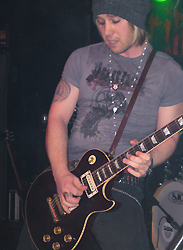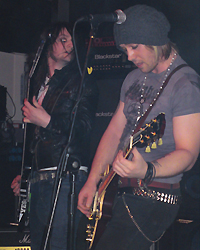 Sixteen months away is time for a band to get a lot done. Crimes of Passion throat Dale Radcliffe's previous act Tikaboo Peak return after a hiatus even longer with an all-new set , including six freshly penned cuts. C.O.P now come back with eleven and still chuck in a couple of past faves. A couple of landmarks tonight before we go further; apart from being the tenth anniversary of the first time I saw their previous incarnation Deadline with the only then member still currently in the ranks (drummer Kev Tonge), secondly its also only the second time I have witnessed a band perform an entire new album live. The difference is that Iron Maiden already had 'Matter of Life and Death'on the shelves before they arrived at Sheffield Arena, but an ironic similarity is existent in the brand new bunch of numbers we are treated to this evening.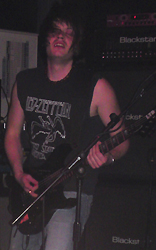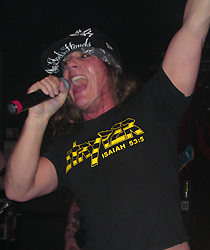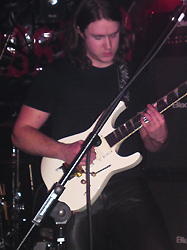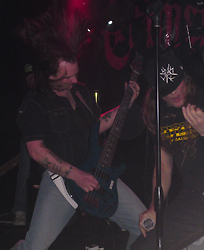 Heavy and purely metal driven than ever before, Crimes of Passion would not surprise me if their name was to change yet again as Dale's voice is all that links them with even their first album. Though Andy Lindsay's incendiary contributions are sadly missed, two excellent stringers in Harry and Charles take his place and immediately hone their more directly metal influenced style. Maiden being the top of this such list ,as said, that establishes the crack long before I catch more than one intro echoing 'Wasted Years' and the whole set rolls into one 90 minute long nauseating metallic lump. New boy Harry Griffiths even does an impressive Steve Harris, with his foot on the amp at least three times per number whilst actual bassman Simon Fearn does the resident headbanger duties incessantly through each and every number, bouncing back and forth from the back of the stage to the front , and back again.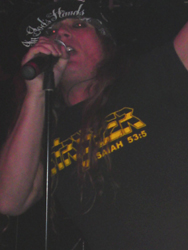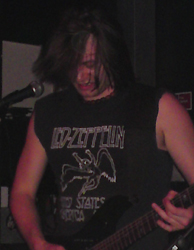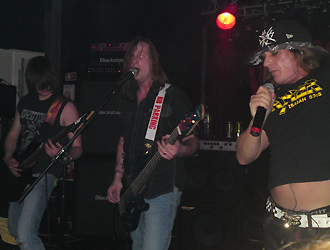 Sadly I'm unable to pair titles with tracks at this early stage, but out of the eleven new numbers, at least nine are instant killers with frighteningly heavy guitar lines and on-off thrash segments that don't sound like they've been added for a laugh. Two old favourites are included as promised, for no set would be acceptable without 'Pretty In Blood' or 'God Made Me Your Angel' plus of course the compulsory cover of 'Holy Diver' that sounds even more settled into the set with their current sound formula. Dale is still the showman at forty years of age, delivering his routine trolley load of banter, including mocking the chants of 'Simon' at their bass player as a possible crazy obsession with the eighties toy of same name.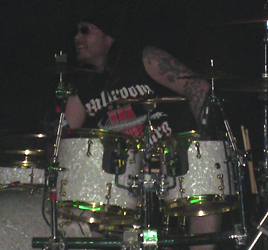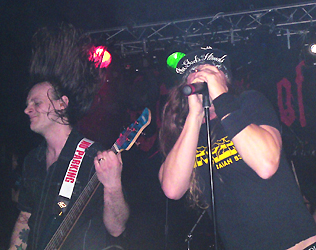 Along with making almost more noise than the band do, a large fraction of tonight's followers are visibly of the sub-30 department, demonstrating COP's growing appeal towards a younger generation of metal fans that has already been appeal with their first cd. Whether they are ignoring the 'if it ain't broke….' principle with their change of style is not to be speculated on, one thing that can definitely be made public is the passion boys are extremely passionate about that they do and the temerity to play an entire new album of material months before its release is worth of only praise in that respect.
Awesome stuff, it is just hoped I know some of the new lyrics by the next time I'm out for these guys.
9.5/10
By Dave Attrill
CRIMES OF PASSION + Point Blank Fury + Hooker Bentley - Corporation, Sheffield, Saturday 28th November, 2009
As a band of South Yorkshire origin , one would deem frequent visits to a Sheffield venue the norm for Crimes of Passion. Yet still per fifteen support slots we see, the ratio only seems to grace us one headlining appearance by the erstwhile Deadline chaps.
Feareth ye not, they have finally answered our cries and also made up for it extra by introducing us to a couple of other promising new combos on top. Midlanders Hooker Bentley are a creative if not confusing four piece outfit, who start their spot flogging off every vital seventies classic rock influence available to them and sound poised to give The Answer a run for their money. Funnily enough, the Bad Company meets Led Zep grooves eventually dissolve about 3 songs along the way, into something dramatically different whilst still holding our attention. Obviously a recent style change can be one cause for their sudden transition to a very grunge-oriented assault but they still instantly gel with impressive groove lines and a strong vocal suited to all formats of their product. Purists only prepared to give bands who do just one thing the time of day will not take too warmly to this lot but that's their loss - this Bentley drives in on a high gear and leave screeching their tyres.
Fellow Brummies, Point Blank Fury make their way on shortly after and again turn out to be a little mix of things so it appears a trend is in the setting for tonights billings. Only this time the musical landscape falls into the eighties as they sway between trad metal, hard rock and almost soften things to AOR degrees during their 40 minute trek and with the rowdy mannerisms of the people in attendance, appear to have brought a reputation along with them. Point Blank's tunes contain very well-flowing solos that have more than a little Maiden-ism to them and frontman Rob Duconte's' s classy rasps provide a universal essence to ease both halves of the quite possibly style-divided throng into them. An enjoyable set from start to end, the quintet's line in fashion-forbidden metal takes me from the start and with a hectic touring schedule for the early months of '010, there will be a welcome likelihood of another slot from these lads.
Tonight marks quite a special occasion for Crimes of Passion, not just that its something like once or twice between a blue moon that we get a headliner from them, but also their capability to sell out a show, which puts them up a step further than what Deadline achieved. On top of that, we get something other than 'The Me I Lost' as opener this time, said crowd favourite being demoted to second behind 'Die Alone' but we love it just as much. Hearing to my disappointment before the show that there is no new material to come tonight, it understandable to just settle into to a good ol' singalong to long established staples such as 'Dream of Me' and 'Exit Wound' and enjoy the sight of Dale Radcliffe leaping round the stage like a possessed pogo stick with every chorus line. (not that he exactly stands still during the verses either). Then totally unexpected, they do bring forth a couple of recently penned tunes.
'Be Careful Wot You Wish For' and 'Body & Soul' are more or less picking up where the album left off going on their formulae, and having been around on the list for a little while now given the applause that comes there is strong promise for their second disc. All but one of the pre-released favourites still to come, 'Breathless And Beautiful', God Made Me Your Angel' and' Pretty In Blood' are a powerful brace when placed together and the moshpit - yes at a melodic rock gig - is testament of the new-found ferocity shared with their swelling following. The obvious encore' Dio's 'Holy Diver' makes its inevitable entry and Andy pulls the solo line off with driving gusto, as usual pointing his instrument towards the sky more often than horizontally. Waiting in anticipation for a second return to give us 'Where No One Speaks Your Name' the lights go up as soon as the guys have gone but after their longest set at 73 minutes there's little reason to be disappointed. They play many a great show in the time I've known them, and Crimes of Passion…well they've just added another one. Interesting and less predictable, they've clearly saved it to the end of the year for a reason.
Great work again chaps.
9.5/10
By Dave Attrill

ROGER CHAPMAN – ROBIN2, BILSTON 3rd May, 2009
21:00 – 22:40 ~
Kiss My Soul/He Was, She Was/16 Tons/My Friend the Sun/Two Pieces of Silver/Sweet Bird of Youth/Cross-town Lover/Blind Willie McTell/The Weaver's Answer/Jesus and the Devil/Ramshackle/Oh Brother/Burlesque/You Keep Me Hanging On/Who Pulled the Night Down?/Midnight Child
The Birmingham show on Family's farewell tour was one of my first ever concerts (36 years ago(!)) so I thought it was just about time I went to see Roger Chapman again. A sizeable bank holiday Sunday night crowd saw openers Claptout Acoustic play an enjoyable 30-minute version of Eric Clapton's 'Unplugged' album. 'Tears in Heaven' and 'Layla' were good.
Chapman and band came on dead on nine, and launched into a nice 'Kiss My Soul'. Considering this was the first show of the tour the band were as tight as a gnat's chuff, and they needed to be as Chapman deviated from the planned setlist with baffling frequency. His voice is as extraordinary as it was forty years ago, and I was stunned to hear the brilliant 'My Friend the Sun' early on.
Other highlights of this excellent show including a fine take on Bob Dylan's 'Blind Willie McTell', and a surprise 'The Weaver's Answer' which thrilled me to bits.
Guitarists Geoff Whitchurch and Steve Simpson were given plenty of space to stretch out on a lengthy 'Who Pulled the Night Down' which ended the main set. Good fun, see you in another 36 years!
By Roy Evans

CHILDREN OF BODOM/Moonsorrow/Kiuas – LONDON ASTORIA 8TH MARCH 2008
I could have paid my seventy-five pounds (yes really) and gone to see Neil Young at the Hammersmith Odeon tonight, but instead I opted for the Spinefarm Records evening at the Astoria (Better value at sixteen quid).
As you will recall from my Helsinki adventure, there is something nice and odd about Finnish people, and the three bands who entertained us tonight each wore their idiosyncrasies on their sleeves. It was certainly the only death metal evening I have attended where every band had a keyboard player.
I saw Bodom here two years ago, and it was great to see that this evening's show was a complete sell-out.
Kiuas
Kiuas started the evening at the criminally early time of 6:30, and gave us thirty minutes of folk metal with a melodic death slant. They were let down somewhat by the exceptionally poor sound, which sadly did not improve significantly all evening, but still managed to give us energetic versions of some of the songs from their 'The New Dark Age' CD.
7/10

Moonsorrow
Tulen tytär/Kylän päässä/Pimeä/Raunioilla/Ukkosenjumalan Poika/Sankaritarina/ Pakanajuhla
These guys followed swiftly on at 7:15, and their forty-five minutes was in some ways the highlight of the evening. Singing solely in Finnish, twin leads Ville and Henry Sorvali impressed the crowd with their guttural invocations of something unspeakable from the dark forests. Ville's chest was smeared with blood, presumably from the deer he slaughtered just before the show (or something).
9/10
Children of Bodom ~ 8:20 – 9:45
Sixpounder/In Your Face/Living Dead Beat/Follow The Reaper/Children of Decadence/Everytime I Die/Needled 24/7/Hate Me!/Chokehold/Angel's Don't Kill/Blooddrunk/Tie My Rope/Mask of Sanity/Deadnight Warrior/Downfall
8:20 and on came Children of Bodom to a magnificent reception. The sound remained shoddy even for their set, and they did display a bit of rust having not played since the autumn, but it was a good show – not least because they reached deep into their catalogue and dug out such rarely played classics as 'Children of Decadence' and 'Mask of Sanity'. This was my fourth Bodom show – not as good as the Earthshaker festival set, but great fun anyway.
They featured a couple of numbers from the new CD 'Blooddrunk', and I'm relieved to report that it seems to be a good deal more aggressive than the rather disappointing 'Are You Dead Yet'.
This could be the record to break them – they are certainly spending a good deal of time in the US for the next few months, as well as a high-on-the-bill Download appearance. I would love these guys to go mega arena, they deserve it.
9/10
By Roy Evans

Alice Cooper/Motorhead/Joan Jett - Hallam FM Arena 6th November, 2007

Knew this would be a good un' - especially since I had never before witnessed Joan Jett and her Blackhearts. Don't think she's been over here in quite a few years so there ain't any wonder that she receives such a rapturous response.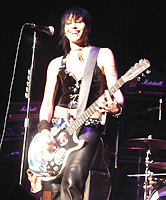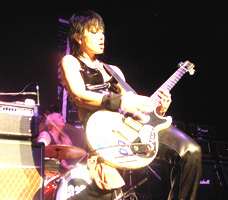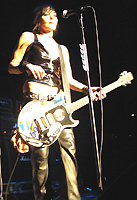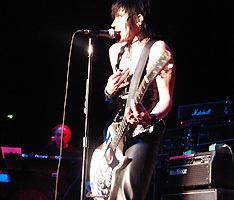 Her voice is as raspy and venomous as ever and she's still as foxy chick like you remember her. Great band backin' as well - they've been there a while though and who can tell if they are original members or not. I'm sure that power was lost in the guitar at some point, which saw her getting everyone clapping with her to kill the time.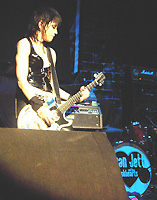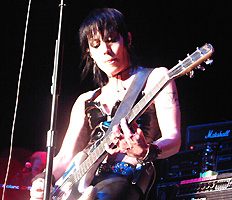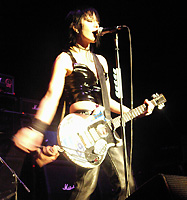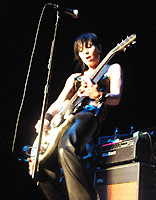 Sorry to say that I didn't catch all the set BUT highlights in the set included included a cover of The Sweet's 'AC/DC' - 'she's got another woman as well as me' Joan screams and of course her 2 hit singles this side of the pond 'I Love Rock 'N' Roll' & 'I hate myself for lovin' you' - which guaranteed a sing-a-long from the Sheffield crowd.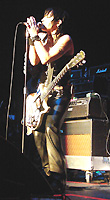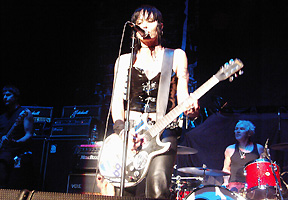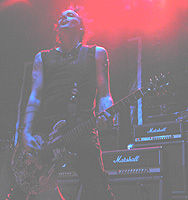 8/10
1st time at Hallam FM Arena it was too for the mighty Motorhead - as they usually do a headline gig at the City Hall about this time of year. The sound was as obliteratingly raw as ever - just the way us 'head fans like it, but I feel that the echo in the the large arena, diluted the vibe and aggression of the brutal songs of their selection.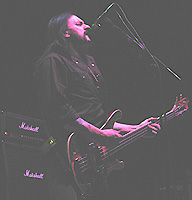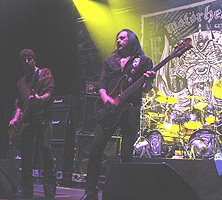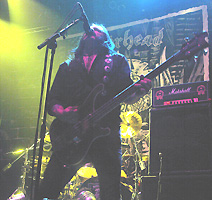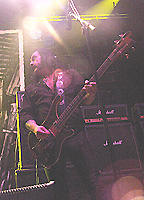 For us fans who have witnessed Lemmy and crew several times, this was more or less a cut down version of the set we saw on the last Tour - but of course we didn't mind that at all with highlights including 'I got mine' from 1983's 'Another Perfect Day'; 'Killed By Death' with it's sound effects on Lems voice towards the end on the chorus.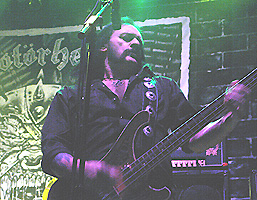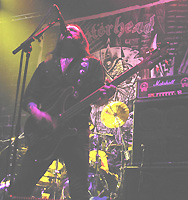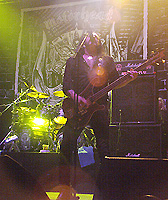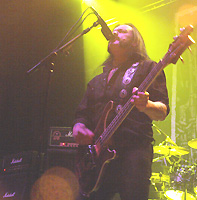 Other numbers included 'Be My Baby' that featured a very enjoyable drum solo by Mikkey Dee (as opposed to playing 'Sacrifice' where it usually fits in the middle) and a crackin' version of 'Whorehouse Blues' that saw Mikkey have a bass drum and cymbal set up at the front set up for a bit of percussion plus of course on acoustic with Phil Campbell.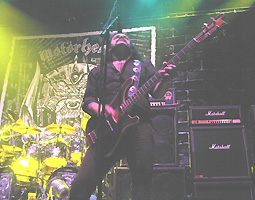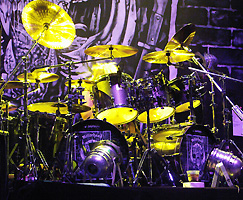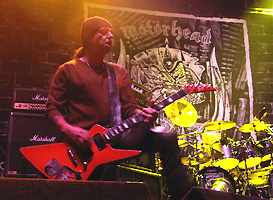 What the f*ck happened during the last part of 'Overkill' though – it appeared that the band had been pulled – or so Lemmy appeared to think – we then saw the band walk off stage without a thankyou and bow as normally happens when Motorhead play – guess they were rather p*ss*d *ff which brought an anti-climax to a damn fine performance.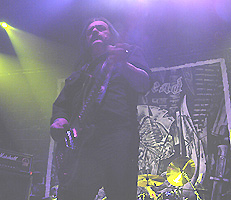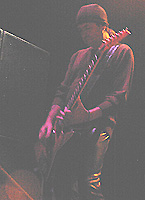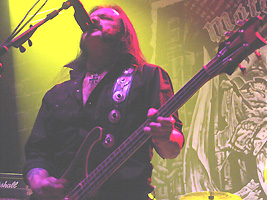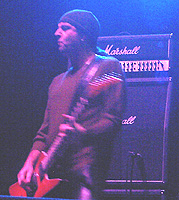 9/10
Alice Cooper Setlist: It's Hot Tonight / No More Mr Nice Guy / Under My Wheels / I'm Eighteen / Is It My Body? / Woman Of Mass Distraction / Dirty Diamonds / Raped And Freezin' / Muscle Of Love / Feed My Frankenstein / Halo Of Flies (with Drum Solo) / Welcome To My Nightmare / Only Women Bleed / Steven / Dead Babies / Ballad Of Dwight Fry /Medley: Devils Food - Killer - I Love The Dead / School's Out / Billion Dollar Babies / Poison / Elected.
Alice Cooper and his band came on looking quite frankly brilliant - Guitarist, Keri Kelli grown a load more hair since the last Coop gig in this here City. 'It's Hot Tonight' opened up this class show - and it certainly was in both performance and heat throughout the set.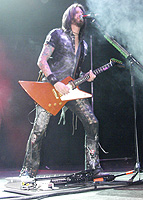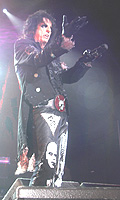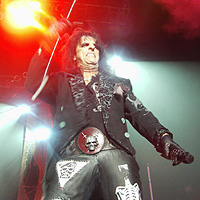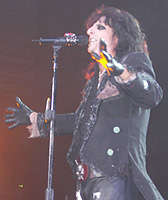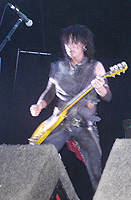 3 songs in and the man originally christened Vincent Furnier is seen onstage with a lifesize puppet of himself which he throws about and canoodles also. Nice crutch bro - that his band take pokes from while its in the sinister mans hand - it seems pretty obvious where Brian Warner stole his prop from them - wonder if he buys old one off Alice sometimes - you never can tell can ya!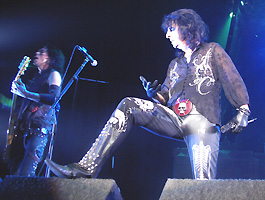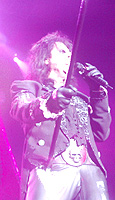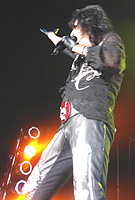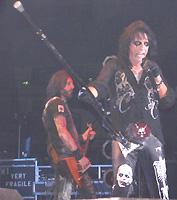 Songwise it's a nice all-round collection of oldies and more recent compositions like 'Dirty Diamonds'. Brand new penned cuts are left out of the set due to the new album still being on the shelf - lookin' forward to hearin' that if it's anything like the last two. Alice is being the sick dad again onstage and is seen to be pushing a pram during 'Dead Babies' who can't answer for themselves. The twisted geezer then hammers a steak through the babies heart and shows us his ghastly work - lol. I was really impressed to hear the old classic 'Raped & Freezin' - he ain't played that in a few years.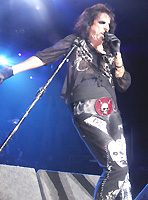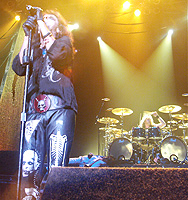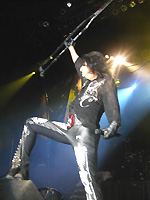 It's always spot on to see Eric Singer do a gripping drum solo and impresses all and sundry in the building and of course his Alice's daughter 'Calico' is always around the stage at the appropriate moment of a particular song dressed as a young helpless girl that gets beat up by you-know-who or as the naughty nurse in the mental institution.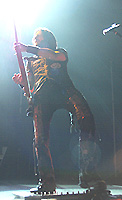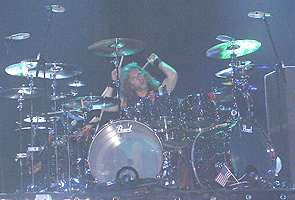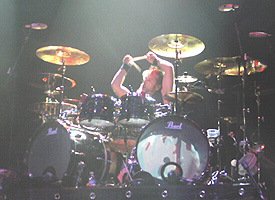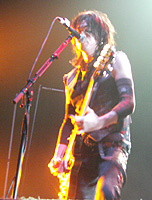 We get a long version of the macabre sounding 'Halo Of Flies' that gives Alice chance to have a breather and his band members to shine also. Wahey, they perfromed the song that goes down a storm at funerals 'I Love The Dead' - you know what, I wouldn't mind havin' it at mine actually - lol! Does Alice Cooper actually age - although he is getting towards pension age he still claims 'I'm Eighteen' regardless of how long he has been pumping out his horrorifying rock epics.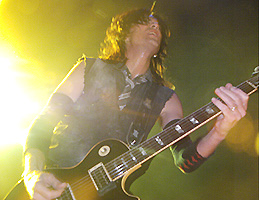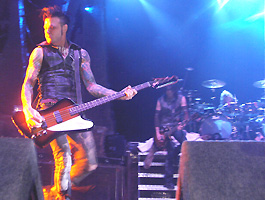 Other highlights included the famous 'Welcome to My Nightmare'; 'Only Women Bleed'; 'Steven' and my fave 'The Ballad of Dwight Fry' where he dons his usual straight-jacket, before breaking free at the end, 'I gotta get outta here, I gotta get outta here' which of course he does, only to be captured shortly after and for a change 'Hanged' – a grisly death that he hasn't been treated too for decades.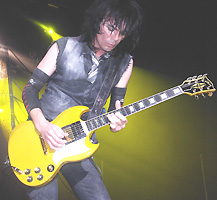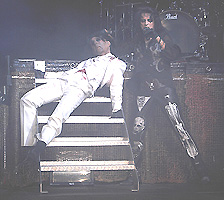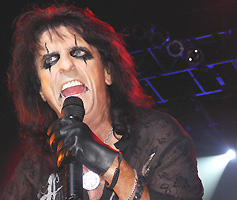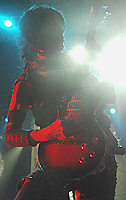 Of course, he rises back from the dead with Schools Out, Poison & of course the perfect finisher 'Elected' whereby giant balloons are kicked into the crowd which are burst by those in the audience bit or by Alice with his sword after he's gpt rid of all his green Cooper notes.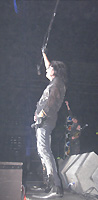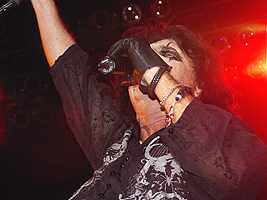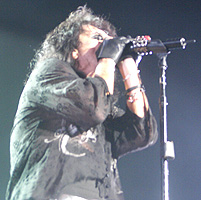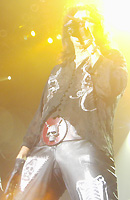 Like the inclusion of the Presidents fighting on the stage and the crew members with their walk-signs 'Vote for Alice' everybody – you know it makes sense – well in Rock 'n' Roll terms it does for sure.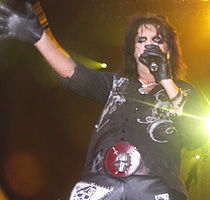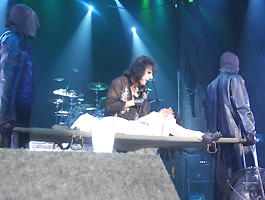 Brilliant as ever !
9.5/10
By Glenn Milligan

BOB CATLEY + Demon –
The Boardwalk, Sheffield, Thursday, September 11th, 2006
SET LISTS
DEMON:- NIGHT OF THE DEMON, INTO THE NIGHTMARE, THE PLAGUE, BLACKHEATH, STANDING ONM THE EDGE, SIGN OF A MADMAN, HURRICANE, LIFE ON THE WIRE, DON'T BREAK THE CIRCLE.
BOB CATLEY:- MOMENT OF TRUTH, BLINDED BY A LIE, SCREAM, FAR AWAY, SPIRIT OF MAN, RETURN OF THE MOUNTAIN, STORMCROW & PILGRIM, FIRE WITHIN ME, DAYS OF NO TRUST, MY AMERICA, THE PAIN.
Wha…… he was only here five months ago… no let me just check this a second…. No, unbelievable as it may be, the little man with the large lungs is here once again and even though it is an acoustic do tonight, two visits to steel city in less than a year is a tall order.
Strangely enough, we meanwhile have an electric support slot from Brit metal vets Demon. I've known of the Stoke six-piece for many a year though only by name but boy do I have an introduction to their music tonight or what. Mixing trad metal, melodic hard rock and a hint or two of prog, their twin-guitar Sabbath sound has me rooted from the first chord as they treat those who are in the room tonight because of them to band classics like 'The Plague', 'Sign Of A Madman' and what I understand to be their main anthem 'Don't Break The Circle'. A new tune ' Standing On The Edge is one of the best of the nine they have time for and by the noisy reception they get on leaving, I predict ( and hope for ) a possible return for these lads as headliners in the coming year or two.
Then the Cat' man cometh, bringing not only Vince but also bass player Gavin Cooper with a second guitar instead of his usual weapon. Try all he might, Bob Catley can not drown out the crowd who set about adding their own vocals as soon as he applies his in full gear. Expectedly the set is a near identical version to the April one but slightly shorter, and one or two live cornerstones, including 'Dreams' are swapped for further material from latest album 'Spirit Of Man' - why not, it is a bit good.
'Scream' works particularly well unplugged given the tempo of the original version and the po-goers aren't quite put off either. 'Far Away' is also one of the man's finest tunes but it is the one cut from his finest album, 'When Empires Burn' that freezes me right down the spine, 'My America' almost inevitably the greatest song Dare missed out on the chance to pen. Wait, I apologise, there's one tune from his very finest album, 'Wings Of Heaven' that being 'Days Of No Trust, the finest Magnum cut of all and the only one on tonight's list.
Bob ends proceedings by announcing 'Magnum will be touring again next year so leave Magnum songs til another time' as to ease any uproar but this guy's followers are less harder to please than most. There's time for one more number, namely 'The Pain' - another Catley solo classic - and just when I thought the seventy-odd punters couldn't get any louder, well I was amazed I managed to hear the guitars over this lot.
Due to quite a late start, no encore looms despite the crowd chanting him back for five minutes after he's left, but after the aforementioned song about Elvis that closes his main set, Bob it appears has left the building, the lights eventually going up to establish the fact. The shortest headlining show I've seen from Bob Catley ever, at seventy-two minutes that's even less than we had from Mitch Malloy here a couple of years earlier. Many hope the Magnum set continues to stay its full welcome but this chap is one fellow who will never outstay his. Another mesmerising performance that was only damaged by its brevity, but not one smidge by the absence of electric guitars for this outing. Back in another five then, Bob?
9/10
By Dave Attrill

Alice Cooper/VoodooSix/Lauren Harris –
The City Hall, Sheffield, Monday 29th May, 2006
Second time I've seen Alice at the City Hall – 1st time was on the Brutal Planet Tour. A few years on and he's back again with a couple of new bands in two in support slot.
First up is a great female rock singer with long black hair and cockney voice called Lauren Harris – it turns out she is the daughter of Steve Harris of Iron Maiden. She cranks out some solid hard rock with her band and the set includes a cracking cover of Gun's 'Steal Your Fire' and it all went down well tonight.
Next up were 'Voodoo Six' – a name I've heard of but not seen the band – I got my chance tonight and was mightily impressed. They have got the same guitarist as Lauren as well so it's a good job that both bands are touring together. The vocalist has got a real powerful voice that haunts back to the fullness quality of the 80's when bands on major labels had great singers as opposed to a lot of the 'corporate jump on the bandwagon crap' that's signed up these days. Voodoo Six have the moves and the attitude, not to mention the honesty like saying, 'This is our new single, buy it because I'm skint'. Like ya style as you tell it like it is.
And onto the headliner, Alice Cooper is in his prime – on and off the golf course or stage. He and the band that features likes of Eric Singer of Keri Kelli give us a goos 100 minte or so set of classic hits plus newies from the 'Dirty Diamonds' album including the title track itself where he threw song diamond necklaces into the crowd – bet they weren't real though – ha ha!
Was good to see him have a real snake on stage with him – wonder if he borrowed it for the day from the reptile shop down Attercliffe – only jokin' matey. Calico Cooper (Alice's daughter) was struttin' her sexy stuff about the stage as a nurse, a ballerina and as a Californian chick as well – she's always a pleasure to see as her dance moves are incredible. As has been the usual case Alice got beheaded – but you could see him get out of the way which kinda made it too cheesey and overtly fake for my liking – wish he's come up with a new way to die on stage (in the act that is as his performance is always far too good for that). All of the usual thrills and spills were there like the Nuthouse/Mental Asylum sequence of 'The Ballad of Dwight Fry' and 'Only Women Bleed' and well known cuts like 'Poison'; 'Welcome to my Nightmare'; '18' and the closing songs 'Under My Wheels' and 'Schools Out' that included all the big balloons that get burst over the crowd.
No doubt he'll be back again soon for another sell out show in Sheffield – I am putting my money on early or mid next year when a new album will no doubt be out.
An excellent night of rock 'n' roll.
10/10
By Glenn Milligan

CRIMES OF PASSION + Silverjet + The Fury - Boardwalk, Sheffield, Friday 5th May 2006
They've got more than their fair share of space on Metalliville's pages as it is but with a new name, we might get away with mentioning them a few further times. For those not in the know, it's Deadline with a new name, sound and singer, the latter being accounted for by none other than Dale Radcliffe, one of Sheffield's most prolific underground rock vocalists.
The Fury have come to being by similar principle themselves. Formally known as Induce, a line-up change and alteration of musical output caused another such mutation but their current Led Zep alike grooves sound quite welcomed.
Another band already an established live favourite, Silverjet warm the gathered fifty-odd up with thirty five minutes of their infectious Quireboys-meets-Stones produce which includes impressive newies 'By The Way' and 'Broken' amongst established faves from their two CDs (and another one is due in June). Sadly personal fave 'Deuce' is not on the list tonight, neither is 'Ode To Spike' to the surprise of their other close followers so those also attending the following day's gig in Rotherham will hopefully pray for one or two alterations to the set list.
And so the Rotherham boys themselves hit the boards after a swift fifteen minutes instrument swap-over and let rip with a near-identical set to that I saw about a month earlier at the Moorfoot Tavern. The one difference apart from the order of the songs is the addition of new number 'The Me I Was', settling in neatly alongside other certified gems 'Pretty In Blood', 'Dream Of Me' and 'Exit Wound' which are all available on their debut 3-track EP (see CD reviews section).
The crowd seems to have swelled by about 50 percent for these guys (come on, Silverjet aren't that bad) obviously still expecting Andy Lindsay to shred with the same level of panache that pinned songs like 'Love's A Battle' and 'Just one Night' into our minds over the years - the bloke deserves much bigger profile. The lads end the hour-long run with their other already firm favourite, an incendiary cover of Warrant's 'Mr Rainmaker' which I often thought one of the most overlooked hair rock tunes of all time even though everyone in this room appears to be lip-synching. Their new material has still alienated one or two as I have noticed some of Deadline's loyal followers absent but Crimes of Passion have at least come up with plenty of worthy replacements.
Hopefully they'll find a few labels out there too, with interest, because this stuff has as much potential as 'Mind the Step' did if not more.
9/10
By Dave Attrill

BOB CATLEY + Lost Weekend – The Boardwalk, Sheffield, Saturday 15th April 2006
Three years without an appearance by Bob Catley in his solo guise seems an eternity these days. Of course, as I reminded us all on the 'Spirit of Man' review, it's been largely down to recent work in the Magnum department but then again, that has probably helped these last three years pass like rockets. Last time ol' Bobby boy graced the boards of Snig Hill, he brought no less than the incredible Danny Vaughn with him, who for many blew him offstage without trying.
This time out, Brit AOR faves Lost weekend have the honours. The Halifax outfit have shared one or two bills with Catley at past Gods festivals but the arrangement is made the more appropriate by vocalist Paul Uttley being honoured with songwriting duties regarding 'S.O.M.' - Paul Hodson now concentrating on work with scene counterparts Ten. Owning only one album by the Lost boys, I still enjoy the three quarters of the set concentrated on the remainder of their Lizzy-meets-UFO influenced catalogue, including a couple of newies before finishing with a hat-trick from 'New Religion', which has me singing along, and I notice some of the others at the front know them well enough to do likewise too. A change of line-up has said goodbye to keyboardsman Irvine Parratt and without anyone else to attend to the ivories this time, they have recruited a second guitarist, giving the still excellent Dave Thompson's solos some rhythmical support.
Time for Birmingham's no1 son to set stage. Coming on with the intro from 'S.O.M', Bob apes fellow midlander Ozzy Osbourne by asking the punters to make some noise before kicking off with the first tune which instead turns out to be 'Moment Of Truth' but there no lessening the loud reaction of the 200 gathered believers, few of which, apart from me, are below 35. Noting by the amount of lip-synching , how many people have already got or heard the new disc, it must be disappointing for some that he will only play three tunes from it tonight, the other two being the belting 'Blinded By A Lie' and the catchy title cut.
Considering though that first album faves 'Dreams' and 'Scream' have a collective playing time of over quarter of an hour Bob has got his priorities right this evening, the chief benefit of which being that we are back up to three Magnum songs on the set this time. The night's biggest surprise is, apart from playing 'Sleepwalking', the stunning acoustic rendition of 'Days Of No Trust'. Frankly, the noise the awe-stricken audience makes in return stops short of drowning out the tune completely. Or is this because this is the only tune on which poor ol' Vince o'Regan's guitar work (on what turns out to be Kip Winger's old 12-string) is actually audible?
If you remember the 2003 show, the PA did not behave too wonderfully and I was hoping that things would be improved on his return but to everyone's horror, things go even further in the same direction, only his solos being possible to make out above the bass line and I am not the only one spitting teeth about this as Catley's mum Ollie tells me later. A regulation romp through Clarkin cornerstone 'Lonely Night' preceeds the only tune from 'When Empires Burn' played to night (WHAT?), the lovely Ten-meets-Dare flavoured ballad 'My America' which is a very moving piece itself, lyrically centred on the Irish potato crisis, and then it's time, save fro the obligatory encore of live staple 'The Pain' to call it an evening for another night of melodic rock magic from one of the most talented men on the planet.
Given how often he tours, Bob will doubtless be in his sixties when he next returns – even though there is another Magnum offering on the way ahead of that – but given that Lemmy and most of Deep Purple are still at it at that sinister age what harm's it going to do Bob Catley in joining in?
10/10 (for music)
By Dave Attrill
FACT. For this tour Bob was joined by Oliver Wakeman, (son of Yes legend Rick) replacing Paul Hodson on keyboards.

Children of Bodom – The Astoria, London, UK, Thursday 27th January, 2006

Set time: 8:45 - 10:15
Set list: Living Dead Beat; Sixpounder; Hate Me; Silent Night Bodom Night; In Your Face; Angels Don't Kill; Drum Solo; Bodom After Midnight; Bodom Beach Terror; Follow The Reaper; Needled 24/7; Guitar/Piano Duet; We're Not Gonna Fall; Punch Me I Bleed; Hate Crew Death Roll; Are You Dead Yet?; Chokehold; Everytime I Die; Downfall
It was a freezing cold day in London when Children of Bodom brought their jaunty melodic death metal back to the capital for the first time in a while. Support bands One Man Army and Ektomorf did their best to inject some warmth into the proceedings and fared reasonably well. The crush in the stalls was downright disturbing & I was left with the view that the Astoria had been over-sold, as I've never seen so many people in there.
The venue needed to close by 10:20 for a club function and Bodom's set began at a quarter to nine. The stage set-up was impressive, the centre-piece was a fifties car that served as a light rig and platform for Alexi Laho's many leaps in the air.
The band played an excellent set featuring songs from four of their five albums (Only 'Something Wild' was ignored). Most impressive were 'Silent Night Bodom Night' and six songs from 'Hate Crew Death Row', their best CD in my opinion.

The sound at times left a little to be desired, as the guitars were sometimes drowned by the bass. There was also sometimes an air of mid-tour auto-pilot mode & to be fair it was the 28th show of the tour, it can't be easy keeping the effort level on ten night after night I guess.
So overall a great show, not as good as at Earthshaker in the Summer, but roll on this year's Bodom festival shows.
By Roy Evans

ALICE COOPER / TWISTED SISTER -
Hallam FM Arena Sheffield, Tuesday, November 15th, 2005
Dubbed more than likely as glam metal double bill of the decade, the teaming together of these two scene 'institutions' with a collective history of nearly 70 years, sold like hotcakes right from the minute tickets went on sale in January.
Ten months on and I am indeed wondering if the promoters of the Arena have done the right thing in only letting out half the room as very few empty seats can be seen amongst the available 4000.
Such has been the demand to see the reformed Twisted Sister - yes that's all five original geezers – in fact that they know themselves only a full length show will satisfy. So sorry Viking Skull, who were due to open proceeding tonight but your services are now not required. Dee Snider, who apparently had a say in said bill alteration, looks every bit the chap he did two decades back with his blond curly locks back in full growth while Jay Jay French only differs from the past in that he is now blonde.
Messrs Ojeda and Pero have put on the pound since then but at least the face paint again too if not to tell it's them without namechecking. Mark Mendoza is recognizable only by one or two of his tattoos and now looks more like someone who has spent the last fifteen years in a WWF wrestling ring – insult this bloke at your peril. All in all they look very well for their fifty-odd years they'd each trod the earth, but it takes a lot more than appearance or age to stop these five New Yorkers delivering the full monty to their dedicated followers and do they do just that.
Several thousand fists - or in most cases pairs of, hit the air as hit after hit reels off the list. 'The Kids Are Back!', 'Under The Blade', and 'I Am, I'm me' are blended in amongst seventy five percent of the 'Stay Hungry' album, their immortal cornerstone from 1984, which has recently seen a total rerecording. However it's of course still the original writings of '...Hungry', 'Captain Howdy', 'Burn In Hell', 'SMF', 'Don't Let Me Down' and 'We're Not Gonna Take It' with which we are re acquainted tonight.
Being a co-headlining do means an encore is required from the Sister and an almost double speed version of 'I Wanna Rock' inaugurates the evening's ultimate pogo-fest. Snider, still the showman all these years on, duly amuses the crowd with his inter-song banter, the biggest hit being his swipe at the uptight British media types who complained about them 'still using profanity' Great English accent by the way Dee. Great show too, er ... Dee, Jay Jay, Mark, Eddie and A.J. No make that absolutely effing blinding - a show that has been waiting as have I, twenty eight years to happen. I may have been too young too remember them first time round but at least they know the next generation care too. Let's just hope they've got time to Twist again before they twist out for ever.
10/10
Alice Cooper has been a regular visitor to Sheffield over recent years, even more regularly than Def…you-know-who, some could tell you, but three whole years since he last set foot in Steel City, things of course have happened. Or in some cases haven't. Though as many have shown up for him as they have fro T.S., Alice was always destined to look a damp squib after Dee and co's battering display.
The Coop' keeps it short and sweet, trimmed down to only 95 minutes this time round allowing exclusively fro classic stuff and almost not at all fro his ill advised alternative ventures of 'Brutal Planet', et al. 'No More Mr Nice guy', 'I'm Eighteen', 'Hey Stoopid', 'Feed My Frankenstein' and 'Lost In America' are songs no gig of his can go without but you'd think he could by now have either updated those stale stage theatrics or chuck them altogether. There's only so many times we can watch the fella being bundled away in a straitjacket, beheaded or chased round the stage by that nurse again. People are beginning to yawn halfway through the set and it's probably only due to the back-to-back romp through his two biggest anthems 'School's Out' and 'Poison' that he rescues the interest of most of them.
Closer 'Under My Wheels' raises some surprisingly loud applause given this case but that's probably because they all know the lights will go up at the end of this number. Being the honest injun, it is actually a respectable enough performance from ol' Coopy and still in quite good throat, despite what a tabloid review of this same gig recently said, but for many it was definitely Dee day.
We may still be not worthy, Alice my old mate, but we were even less worthy of the Sister this evening.
8/10
By Dave Attrill

BOB CATLEY - The Boardwalk, Sheffield, 4th June, 2003
Y' know, most of the small-minded younger of today's trend-glued planet rock population would tell you they'd rather jump in a bath of their own shit than watching a 55-year old man crooning away in front of them. Well, this particular middle-aged male person can croon away forever, in my presence. Why? Because he's Bob Catley, that's why.
Way into the tour kicked off at The Gods fest ten days earlier, I've rarely seen the same act twice in a shorter space of time and tonight, I'm expecting little difference between this and the Penningtons one. Practically identical, it is, as Bob roars into action with 'Children Of The Circle' the first of five picked from the phenomenal 'When Empires Burn' CD just released at this time. Knowing the new songs helps and I'm ready, this time to sing along with 'This Is The Day', '..Empires..', 'My America' and most importantly 'I'll Be Your Fool', and I'm quite impressed at already seeing a good few other moving lips in the crowd, too.
The word 'sing-a-long' goes for everyone come the turn of classic Catley numbers 'Dreams', 'Scream', 'The Pain' and again the only two Magnum numbers of the set, 'Lonely Night' and 'Start Talking Love' send the party swinging as far as in full will allow. As at Bradford, Danny appears alongside Bob for 'Lonely' with acoustic contributions not penned at the time of the original, but I'm sure Tony Clarkin won't mind, and keyboardist and new Catley songwriter, Paul Hodson earns himself his own ovation from the assembled followers at the end of the night.
Again, top rung rock from one of Britain's best (ever), and without the minor sound gremlins that tried to pick at the systems, the previous week in Bradford, makes for an even better night out in Mr Catley's company once more.
9.5
By Dave Attrill
CRF - Classic Rock Bar, Sheffield, UK,
Saturday March 8th 2003
There are some things that strictly speaking never suffer with age and amongst such are the genius guitar gymnastics conceived by the late Mr James Marshall Hendrix esq. Even with the man no longer around to play them, someone has to remind the criminally under-informed of who inspires the zillions of electric guitar owners walking the world to this day. And could the songs be in better hands than those of three highly trained gentlemen called Chris Rick and Fred or as collectively and more commonly known, CRF? - I think not. 'Purple Haze', 'Voodoo Chile' and 'Fire' are amongst the several that frontman Rick seems able to just pull off note perfect like he was handed his first guitar when he was in a cot. 33 years of practice have evidently paid off in that case because anybody walking into a pub nowadays during his performance would think Jimi's ghost haunts it day and night.
Accompanied by French drum virtuoso Fred, who's allocated his solo spot by now as standard in a CRF gig (during the Led Zeppelin classic 'Moby Dick') and Strongheart Bassist Chris Mc Mahon, the trio also perform the Clapton chestnut 'Cocaine' and Cream's 'Sunshine Of Your Love, AC/DC fave 'Live Wire' and old Deep Purple nuggets 'Black Night' and 'Smoke On The you-know-what' hard justice. Chris's party piece of bass and keys together on selected songs testifies the professional market that he, and the other two lads all really belong in.
My good Metalliville mate, Glenn Milligan fronts the closing two numbers of the second set - Poison's 'Every Rose Has Its Thorn' (and does a decent stab at it too) and the AC/DC's 'Whole Lotta Rosie' sounding like a deadringer for W. Axl Rose. Encoring with an over the top 'Wild Thing' that comes complete with finger-tapping and guitar thrashing from Rick (as well as a drenching from well known local character 'Drew').
It shows though that the pristine emulation of the great works of such icons as Messrs Hendrix, Blackmore, Clapton and Young is but a job in its own right and should be left to people like Rick, Fred and Chris who understand and appreciate the beauty of it, and in the process, enable us to share it with them. Another good night's work, lads. Be sure to check their next visit to the Classic Rock Bar on May 3rd, 2003.
Ecstatic Stuff and quite a finish to a perfect night of Partyville at this prestigious venue - The Classic Rock Bar that was started by Rockers for Rockers.
9/10
By Dave Attrill
Crown of Thorns - Bradford Rio 26/10/02
A warm-up gig for their appearance at Maxims, Wigan the following day to get the band in the spirit of things - they were due to play Manchester previously but I was informed by 2 friends of the band from California and Toronto that it had been cancelled due to flooding or something of that nature.
Not a brilliant attendance at Bradford though - a handful of about 50 fans !!! But their reception was warm never the less for a band who'll been around for at least 12 years. The concert itself was exceptional both musically and vocally as well as very pleasing to the eye - hence the awesome phonies. On-stage for over an hour of Crown of Thorns covered a selection of songs mainly of the hard-edged melodic rock genre taken from the various stages of their career ranging from the debut to the the newly released 'Karma' that went down real well like such as the track 'Believer'.
The 'Thorns seemed to enjoy themselves throughout and on one occasion Jean Beauvoir asked the audience 'What we are called'?' - 'Crown of Thorns' they immediately cried which saw the quartet burst into the song of the same name - a class introduction if ever I saw one. They surprised us by playing a mouth-watering cover of The Beatles 'Don't Let Me Down' that encompassed some terrific vocal harmonies that went down triumphantly.
Not too long after they had hit the last note, the whole band came out to meet the audience, sign autographs and have the odd picture taken - well quite a few actually.
This was a night well worth looking forward to - next time you ought to attend at least one of their gigs because you completely missed out. It's about time that Crown of Thorns got noticed more as they offer nothing more than sheer excellence.
8/10
By Glenn Milligan, BA Hons CS
Cannibal Corpse - Bradford Rio 22/11/01
CATHEDRAL - BRADFORD RIO'S, September 2001
BOB CATLEY + TEN - HERRINGTHORPE LEISURE CENTRE, ROTHERHAM, SATURDAY MAY 18th, 2001
Like their recent shows at the Godz and Sheffield Corporation respectively had never happened really, these two giants of the UK melodic rock scene have joined forces to trek their homeland. I grab a word or two with Gary Hughes round the back, a short while before they are due on, but this is truncated by the band's final sound check which requires Gary's participation, naturally. I make my way into the by now amazingly crowded lower gym where I saw the Primed mini-fest featuring Tikaboo Peak, etc, three months earlier and already I appear to have lost my possible place at the very front.
The Mancunian sextet get things off to a rollicking start, again with 'Feel The Force' followed by 'The Robe' and 'Bright On The Blade'. Thankfully, all six members are clearly visible this time, as I had a struggle (even on tiptoe), at the Gods to be able to see little Vinny Burns over at the far side. This time, the stage is about ten feet wider than the Wigan venue's so our Vin can enjoy it at the front with the best of them. Two more selections from 'Spellbound' ensue, sadly neither including 'Red', before the crowd's pleas for some material from the 10/10 rated 'Babylon' CD finally prove fruitful - the tunes in issue being 'The Stranger' and a couple of songs later, 'Silent Rain' where Gary dons his six string too. They disappear for three minutes to return clad in hideous Hawaiian shirts but their barnstorming rake through 'Name Of The Rose' soon takes our minds off everything, save of course for the music which is very unhideous, but you have to merit a band sometimes for their sense of humour in the dressing department. They are British after all. Hughes actually adds to the laughs with 'Bob Catley's support act for tonight, Ladies and Gentlemen, Ten and The Beach Boys'. We wait to see if the band will stick around for 'Don't Cry' but yet again, it's not on the set list tonight - neither is 'Wildest Dreams' which is traditionally coupled with 'Name….' Live as they are on the album. So that's them gone then. And so's a point for that, I'm afraid. 9/10 (Dave)
And to the man of the night, Mr. Catley is he, and with another batch of barnstorming tunes out, in the form of latest stunner 'Middle Earth', since last December, the gauntlet is thrown down to Gary and the lads. Interestingly enough the two acts are sharing keyboards man for this European tour¸ as Paul Hodson is also on temporary loan to Ten, following the departure of the legendary Don Airey, a recent - and rather popular - hired hand now with some of his old muckers in new Brit supergroup Company Of Snakes. The rest of Bob's band is as was those five months earlier, with Hodson, Al Barrow (Ex Hard Rain) on bass, bandana-clad guitarist Vince o'Regan and the guy called Craig at the stool.
The lights drop, just as I re-emerge from the latrine prompting me to make a mad squeeze for the front again only to be forced back by some rather angry-looking fellow spectators. I bump into a mate from up the road (in Dore) just as the fist note of the set is struck, so hence, no time for chitchat there. The stage lights up and there our host for tonight is. Thankfully, Bob Catley kindly sports the top hat he wore at the end of his Christmas gigs, so seeing whereabouts he is on the stage is thankfully zero on the difficulty scale tonight. 'Return of The Mountain King' one of the true highlights of the incredible new album is as wise as choices for set openers go, even if he'd be doing good to choose a wiser make of amp in future. Frankly, he might as well have sung without a mike for those first three songs - because the sound quality through his equipment during the early stages of his set is little short of an insult to his phenomenal vocal talent. 'City Walls' is subsequent and this song should echo from them in years to come. 'All In Vain' goes back an album to 99's 'Legends' which itself was also a concept album, dealing with famous figures through history and as to how some of them no longer walk the earth. 'Dreams' and 'Scream', the opening pair of magnificent epic speeders from the 'Tower' CD ensue but then we have to return to the Middle of the Earth again, to enjoy 'Stormcrow and Pilgrim'.
Then, bang on time, Bob pops the inevitable question. 'I see plenty of Magnum T-shirts in the crowd tonight. You wanna hear some Magnum songs, yeah?' Enough said, Bobby boy. 'Vigilante'. 'Start Talking Love'. 'Lonely Night'. 'On a Storyteller's Night'. The same block of four played last time but hey, we like 'em. Obviously still no sign of 'Days of no Trust' on a set list yet though, is there. Never mind, the Midlands midget is savouring every one second of it, as is I and I dare say the few hundred and ninety-nine around me aren't too unhappy either. Another old fave from Catley's lone ventures 'Fear Of The Dark' closes the set but we don't want him to go yet, do we kids? A few minutes of foot stamping, hand clapping and chants of 'More' is all it takes to win this guy's reappearance.
The reward for such loyalty is 'The Fellowship', the exquisite closer from 'Middle Earth', which was already heard live at the previous UK tour. Time though for one more song. Yep a Magnum one. I brace slightly though I have a rough idea of which one to expect. Bob speaks 'This one is called…. DAYS OF NO TRUST!' Did I just hear that right, Bob!??!!!! Yes I certainly did. One of Magnum's greatest ever moments kicks in for the first time in the presence of yours truly, let alone in a Bob Catley solo show. Yep, a sing a long is predictable so a brief section of the chorus is quietened down on the instruments to be loudened up by his public instead. Then, all too soon, that's it. Over. But to hear the song that started it all off for me, all those ten years ago…. I feel that lump forming inside my throat pretty fast.

10/10
By Dave Attrill
Gilby Clarke - Nottingham Rock City, 6th April 2002
Following Jizzy Pearl was gonna be a tough act to follow (and I got the impression from the audience that they burned out after Love/Hate or had simply come to see those guys alone). Unlike Jizzy's bunch, Gilby's trio didn't get the same mad reception (he's very much a new name over here - hopefully promotion through Spitfire/Eagle-Rock Records can change that) not to mention the bass player even mystified all by shouting 'Hello London'. This is Nottingham - London was last night !! said Gilby who saved his ass by explaining that he never knew where he was.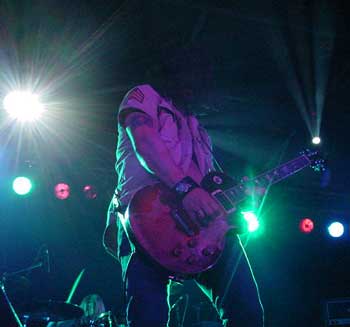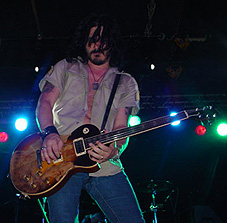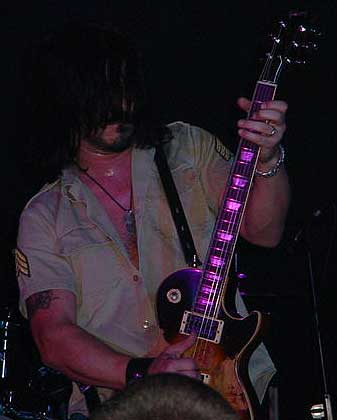 No set list was used at all from what I could see and Gilby appeared to be working and building his way through the gig depending on the atmosphere and overall reception of the crowd. When an old Slash's Snakebit ditty was announced, that Gilby actually said was his favourite, the venue vibe got warmer, enabling the band to try out new material like the rocking 'Under the Gun' and the moody melodic honesty of 'Crocodile Tears' about a not-so-loved ex-girlfriend (from new album release, 'Swag'). The term 'Crocodile Tears' was featured in The Who's hit single 'Substitute' and talking of that legendary Cockney quartet, a superb rendition of 'Won't get fooled again' was played minus keyboards - that pre-programmed riff was all done by Mr. Clarke on the guitar - awesome - like Paul Stanley from Kiss used to do in the early 80's.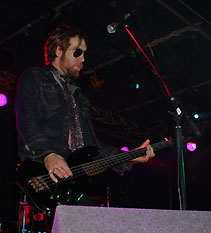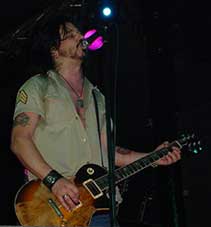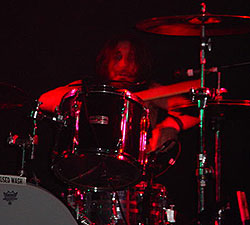 Kicking out an extended 'Tijuana Jail' (from the 'Hangover' album) appeared to go down well as did the Bob Dylan come G'n'R classic 'Knockin' on heaven's door' - "I can't sing many of those songs, but this one I can" exclaimed Gilby - it proved to a momentous crowd singalong spot - you simply can't go wrong with that one.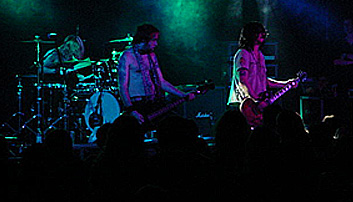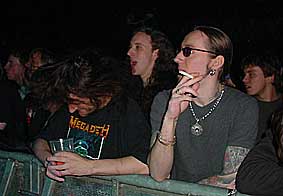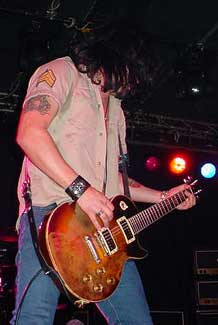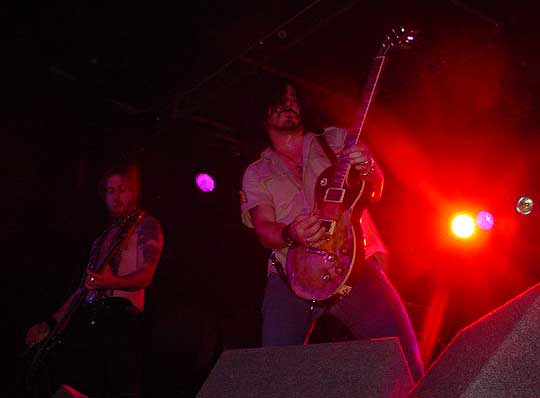 Encoring with The Rolling Stones late 60's no. 'Dead Flowers' that incorporated 'Used to Love Her' ensued that many went home or should I say to 'The Rig' happy - it wasn't a really long set but it was pretty good all the same- next time hopefully there will be more original material and less covers.
7/10
By Glenn Milligan, BA Hons CS
ALICE COOPER - Manchester Apollo
Wednesday May 16th, 2001

I can't really say I'm the biggest expert on Alice Cooper there is, I am an expert on what is a great show and what ain't…and yep, it's a great one tonight. More or less identical to the 'pantomime' we witnessed last August at Sheffield City Hall, it is still a pleasure to see it again, as the Coop plugs his package spanning 32 years in the business, which is a remarkable achievement when you're being straightjacketed, beheaded and repeatedly attacked by manic nurses running onto the stage.
Alice also likes to give us the best of his wardrobe's career too, it appears as every time he returns from one of his various macabre stage ordeals, he has something different and quite often, stupid, on. Alice doesn't seem to be one for speaking on stage much - I've recently learned this is usually the case. What he does give us is his line from last year's UK jaunt. "I come all the way over here to Manchester, England and there's this guy down the front here in a Marilyn Manson shirt. That really pisses me off!" and later on "You're probably wondering who these good looking American men are" as he gives us a run through his latest backing line-up.
The most notable face is without doubt drummer Eric Singer whose other bands over the years have included Kiss amongst others, but there's no 'Detroit Rock City' or 'Crazy Crazy Nights' to be heard tonight. What we do get is weighty amounts from the recent 'Brutal Planet' CD and the rest is a neat collage pulled out from the other deep shelves, including 'Poison', 'Billion Dollar Babies', 'Feed My Frankenstein', 'Elected', 'Caught in a dream' and the song that never dies - 'School's Out'. He was entertaining enough on channel 4's 'Stadium Rock Top 10' programme last year, but nowhere near as enough as he is on a concert stage. The man formerly known as Vincent Furnier is as evil in the new millennium as he was in the last.
9/10
By Dave Attrill
CRF - Tuxedo Blue, Sharrow Lane, Sheffield, Saturday March 2nd 2002

You after a more interesting Saturday afternoon than watching bl**dy football? If so, make your way up to this jolly little boozer in Sheffield and you will be rewarded by one of the city's leading hard rock covers acts, as I was an this particular Sat PM.
Big Life and Toastplant Project have already proven themselves worthy of the pub circuit's premier league but CRF are quite an act to gasp at. It's not every day you see some local lot pull off eight note-for-note Hendrix covers in rapid succession and maintain a straight face, but this acclaimed Yorkshire trio have obviously putting in some hours practice. Thankfully though, there's no use of teeth as plectrums this time round by guitarist Rick Wilson, in memory of the ill-advised stunt sometime performed by the deceased guitar legend.
By the way we do get other band's stuff too, plus the odd guest vocalist, with regular Tuxedo performer Ian Whitehead and Metalliville's own Glenn Milligan both putting on impressive performances behind the mike. The most noticeable presence here this afternoon was that of CRF's French drummer Fred, who also works with the Toastplant lads. Can he play drums or what?! That solo spot that they let him have was as truly deserved as the patrons' approval it gained. He also plays for a third band at the moment, I gather, and with a man of his talents beyond any kit, he's a chap most bands will be queuing up for soon.
9/10
By Dave Attrill